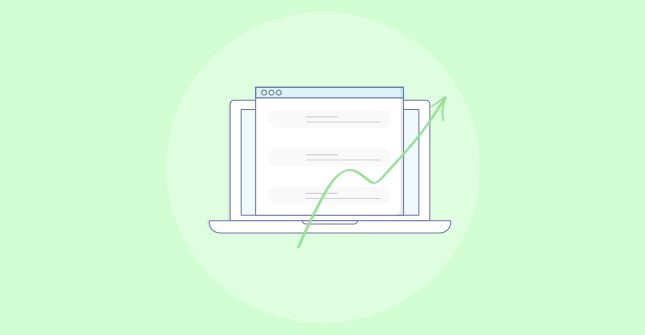 According to HubSpot, typical landing pages will only generate a conversion between 5 to 15%, but highly optimized landing pages can push that number to 30% and this can be done through with proper landing page optimization tools.
Consider this: Even if you increase your conversion rate by 1%, you lower your Customer Acquisition Cost (CAC) proportionately. This means more leeway for reinvesting the budget across paid campaigns and keywords.
Landing page optimization today is more crucial than ever. Luckily, we have tons of reliable and cost-effective tools to help us with this process, leaving us with no excuse not to optimize the landing pages.
Even though there are many choices, not every feature-packed tool offers what you need. To help you choose, we have created a detailed list of 12 of the best landing page optimization tools out there so that you don't have to look any further.
So without further ado, let's dive in and first understand what the process of landing page optimization is about before moving on to the tips to choose the best tool followed by our list.
What is Landing Page Optimization & Why Do You Need It?
Simply put, Landing Page Optimization (LPO) stands for a process that involves enhancing or improving the elements on your website to attract more visitors and improve conversions. The key part of landing page optimization is that historical data and evidence are used to change the website instead of a hunch.
One of the best parts of landing page optimization is that you can collect data from your customers through surveys about your landing page before it even goes live. This will help you ensure that you deliver what the customers need at the very first instance.
A landing page is the first page that a customer will see of your website or business. Because you only get one opportunity to create a lasting impression, optimizing your landing page has to be your key focus.
Also, landing pages are specifically designed to generate sales and are often the go-to destination for paid online marketing campaigns. A significant amount of money and other resources are spent directing traffic to landing pages to improve conversions and overall business success.
This is the reason you cannot shy away from optimizing your landing pages, as it is one of the most effective ways to improve conversions, generate sales and lower your customer acquisition costs.
Read Also– To get a more detailed understanding of Landing Page Optimization, take a look at The Beginner's Guide to Conversion Rate Optimization
What Is Landing Page Optimization Software?
Landing page optimization tools are designed to make optimization easier and more effective. These tools primarily help you make changes to your landing pages and then determine the level of effectiveness and expected conversions from them.
The technology behind landing page optimization software makes it easy for non-experts to easily build and optimize landing pages without additional knowledge of HTML codes or website development.
Most landing page tools offer tons of different functionalities for optimizing landing pages, but here are some of the bare minimum features that you can expect from them:
Drag and drop builder and editor to design pages.
Professionally built templates to help you create beautiful landing pages without any hassle.
A comprehensive analytical platform to analyze the performance of landing pages.
Add custom CSS and Javascript for added customization and functionality.
Now that we've mentioned the features, you must be wondering what features you should look out for if you are in the market for landing page software.
Read Also-  Guide To Creating Landing Pages That Converts
How to Choose the Best Landing Page Tool?
"A perfect software" is just a cliché that runs around the industry a lot. When you are in the market for landing page software, look for a tool that fits your needs closer than any other tool out there.
To make it easier on you, here are 5 essential elements to look for in an ideal landing page testing tool.
Read Also: 5 Survey Questions to Increase Landing Page Conversions
Professionally Optimized Templates
Landing page conversion optimization tools exist so that you can skip hiring an optimization professional and do things on your own. One way of doing it is by using professionally built templates that are visually appealing to your audience and optimized for high conversions.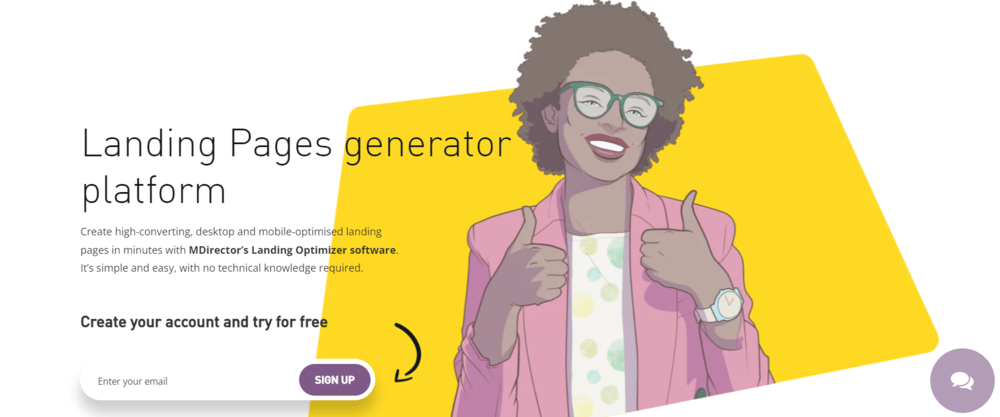 ---
Having a few dozen possible landing page templates is the way to go because companies with 30 or more landing pages generate almost 7 times more leads than the companies with 10 or fewer landing pages.
This is a must-have feature that will save you a lot of time and ensure superior ROI and professional results.
Mobile Optimization
A substantial number of visitors and conversions can be allocated to the mobile users for every business. And this is something that is only going to get bigger as the number of mobile users has seen a drastic surge in the past few years.
This is why landing page conversion optimization tools should always have the ability to optimize landing pages for every possible device that a customer can access.
Mobile use is only going to get larger, and mobile optimization will gain more traction for a professional sales funnel.
Read Also: 11 Best Mobile in-app Feedback Tools
A/B Testing
Testing is a vital part of optimization, and it is the only way of guaranteeing desired results. When you come across different markets and launch different campaigns, the response you generate will also be different, and ideologies and principles that worked in one market may not necessarily work in others.

---
This is where A/B testing is effectively used to collect customers' feedback about what they would like to see on your landing page, and it will help you ensure that you deliver just that.
Read Also: Best AB Testing Tools
Integrations
Generating leads and not being able to do anything with them will eventually make all efforts completely pointless. You should always turn a generated lead into a sale for converting those leads and closing the sales funnel.
This is exactly what integration does; it allows you to connect your lead-generating landing pages with your lead-nurturing or sales software and customer management systems for effective conversions.
Multiple-User Accounts
A landing page conversion optimization tool should provide the flexibility for multiple users to work and optimize landing pages. Being able to access the builder from anywhere and by anyone is crucial for modern-day marketing.
The accounts should be tailored for repeated use, and you should be able to pick up the work from where your team left off instead of starting it all from scratch.
Therefore, the ability to save your work and the flexibility to allow multiple people to work on the same page is what you should always look out for.
Related Read– If you want to learn about the best Landing Page Optimization practices, have a look at Make Conversion Optimization Work for You: Landing Page Best Practices
12 Best Landing Page Optimization Tools
Picking out the right tool for optimizing your landing pages is just as important as any other thing. This choice will potentially define the future of your business and the overall success of your landing pages.
Here's a list of the 12 best landing page optimization software in the market:
1. Qualaroo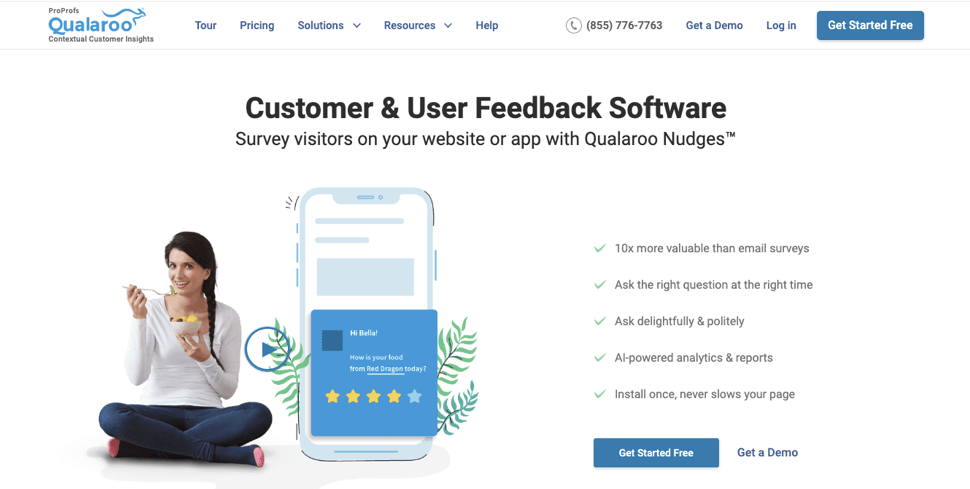 ---
Qualaroo is arguably the most comprehensive landing page optimization tool and decked-out customer feedback and research tool that collects user data in real-time. Qualaroo helps you understand why the users leave your website, get confused, or do not end up converting. It uncovers actionable insights through on-site surveys, which you can effectively optimize landing pages or entire websites.
Features
It only takes a few minutes to set up and you can start gathering feedback instantly.
Professionally designed survey templates with over 12+ question types to collect all sorts of data.
Supports multi-channel deployment with over 6+ options, including website, mobile browser, mobile app, link survey, and SaaS products.
Establishes A/B testing hypotheses by analyzing the data using IBM Watson Sentiment Analysis and identifies the parts of the funnel that perform poorly.
Lays down the foundation for A/B testing by gathering customer feedback and helps in testing optimizations and making necessary changes.
Gather data using Exit Intent surveys to determine why potential customers aren't converting.
Analyzes the tests using in-depth analysis and reporting system.
Integrates seamlessly with popular tools like HubSpot, Mailchimp, and Google Analytics.
Price: Starts at $69/month. Free trial available.
Read Also: Best Customer Feedback Tools in 2023

---
2. Unbounce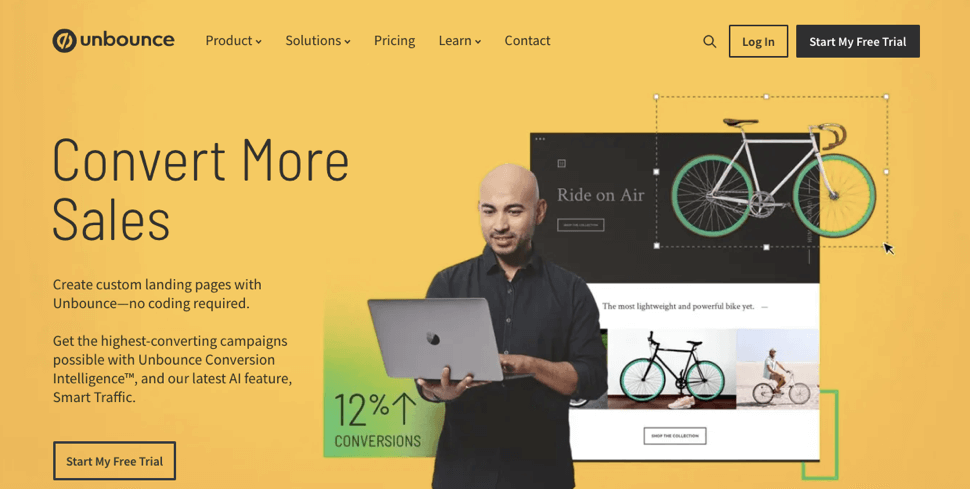 ---
Unbounce is a leading and extremely user-friendly landing page builder with tons of built-in features that you can use for your landing page optimization needs. Using features like drag and drop editor, marketers can easily customize their landing pages and create different variants with ease to conduct content experiments.
Features
Professionally designed templates for different industries with built-in features like a drag and drop interface.
Create any type of form that looks attractive to your visitors for improving conversions.
Predict and optimize your campaigns for maximum efficiency using smart traffic optimization techniques
Share relevant promotions and campaigns with your visitors using unlimited sticky bars and pop-ups.
Compare different variants of the website with the help of a built-in A/B testing tool.
Factors in mobile responsiveness to create responsive pages instantly for increased growth.
Built-in analytics system to show the performance of the landing pages.
Price: Starts at $80/month. Free trial available.
3. LeadPages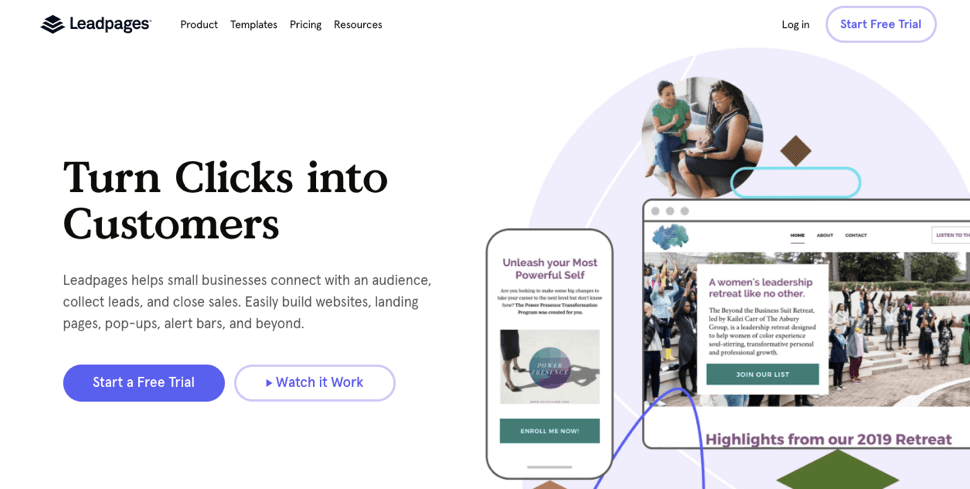 ---
Another very well-known landing page tool in the arsenal preferred by many landing page creators and internet marketers is LeadPages. It is solely a landing page creator, and many of the top bloggers out there use LeadPages. It is an easy-to-use software with a user-friendly interface that makes it easy for everyone to use.
Features
Contains a template market with hundreds of professionally built templates that the marketers can purchase individually.
Build your own templates and sell them on the marketplace for 100% commissions.
Sort the templates using conversion rates to choose one out there.
Conduct split tests for the landing pages to assess their overall performance.
Configurable pop-ups in the form of Leadboxes that can be used for content up-gradation.
Integrate Leadboxes seamlessly with popular email marketing services to increase website traffic.
Check and analyze performance with a built-in real-time analytics system.
Price: Starts at $37/month.
4. Instapage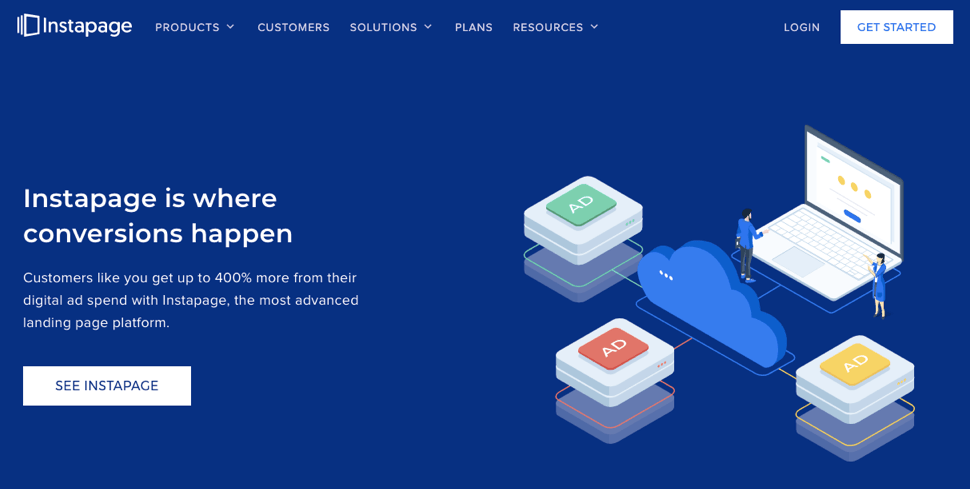 ---
Instapage is one of the top landing page builder tools that allows you to create landing pages from scratch, build different page variants, measure customer behavior and perform experiments. It offers all the important content builder features that you can use to create responsive landing pages.
Features
Easy to set up and use with the WYSIWYG editor makes editing less time-consuming.
Collection of over 200 professionally designed landing page templates that marketers can customize as per their campaign needs.
Built-in A/B testing tool allows you to test different variants of the landing page.
Visualize your ad campaigns using AdMap and connect ads with relevant landing pages effortlessly and all in one place.
Leverage built-in heatmaps to track user behavior on the landing page and assess their overall perception.
Identify sources of friction on the landing pages and make changes to boost conversion rates.
Integrates with some of the most popular marketing automation tools like HubSpot, Marketo, Autopilot, etc.
Price: Starts at $199/month billed annually. Free trial available.
5. Google Analytics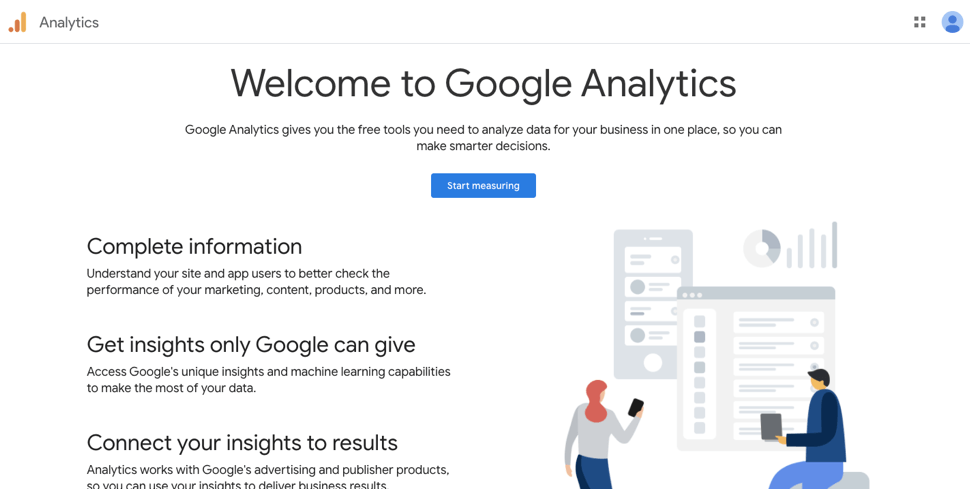 ---
Most digital marketers have already deployed Google Analytics to collect user data, analyze their behavior, and measure user experience on their landing pages. It offers a great perspective to the marketers if they want to evaluate how their website is performing. It gets as close to ubiquitous as any other optimization tool out there.
Features
Attach Google Analytics with a simple Javascript snippet which you can manually deploy on your header tags.
Analyze user behavior and conversion rates based on demographics, acquisition data, behavioral data, and referral sources.
Offers user analytics in real-time to ensure proper QA services on your website and potential customers.
Analyzes and presents user engagement and user experience metrics through bounce rates and Adword analytics tools.
Provides a baseline to determine if the changes have yielded any positive impact.
Visualizes the data in the form of charts and graphs that can be instantly presented.
Integrates seamlessly with other Google software and tons of A/B testing tools in the market.
Price: Free to use
6. Google Optimize
---
Google Optimize, unlike other landing page tools, offers a unique kind of toolset that contains different underlying analysis and randomization models. Google Optimize offers a better understanding of how the users are randomized and how they behave on each of the variants you test. It serves as an ideal tool for optimizing landing pages without the need for A/B testing if your website traffic is low.
Features
Ability to conduct A/B or A/B/n testing on your website to determine the best variant of the page.
Test multiple elements on your page and determine the best combination with the help of Multivariate tests.
Run up to 100 experiments at a time to test anything with much greater efficiency using Optimize 360.
Create variants of the web pages without any recording using the WYSIWYG editor.
A responsive visual editor lets you configure experiments for all sorts of devices.
Edit raw HTML codes, add Javascripts or CSS rules for a more customizable experience.
In-depth and clean reporting system to help you make smarter and quicker business decisions.
Price: Free to use
7. Convert.com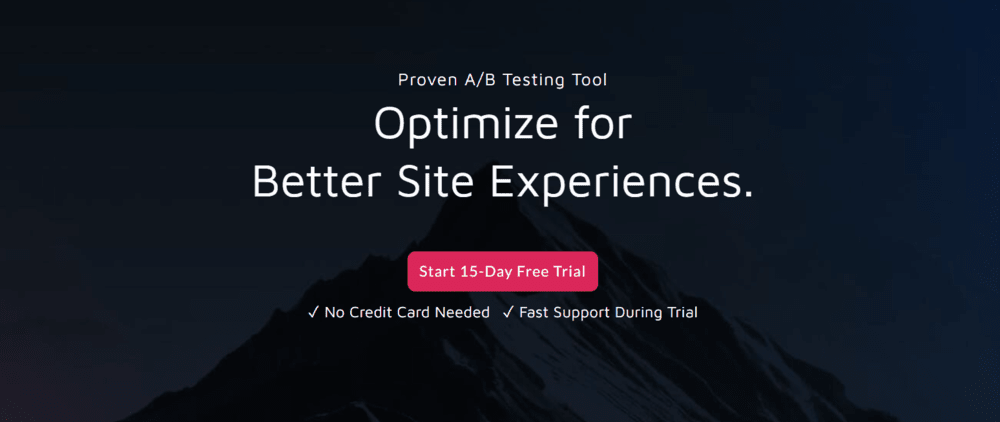 ---
Convert.com offers a robust platform to optimize landing pages and goes toe-to-toe with some of the simplest yet most useful tools out there in the market. It is an extremely powerful tool that offers incredible support and documentation to the users. With Convert.com, a marketer can easily test all their ideas using tons of in-built features.
Features
Simplifies page editing with the help of a visual editor using image swaps, menu configuration, and copy testing.
Built-in A/B testing, Split testing, and Multivariate testing to determine the best page variant and the combination.
Make changes across different linked pages to optimize the entire funnel and website simultaneously.
Segment traffic and fine-tune messages to improve site usability.
Make an unlimited number of client accounts on a single Convert.com account.
Run an infinite number of tests without any cap on testing variations.
Integrate with some of the most popular websites and online tools, including Google, WordPress, Shopify HubSpot, and many more.
Price: Starts at $699/month billed annually. Free trial available.
8. Hotjar

---
Hotjar is one of the most popular tools for knowing how your visitors are interacting with your landing page. It deploys heatmaps to help marketers determine and understand how the audience interacts with different landing page elements. Hotjar is used in over 180 countries and is one of the most solid platforms for landing page optimization.
Features
Engage with the audience directly using on-site surveys to drive future optimization decisions.
Narrow down session recordings using u-turns, rage, and referrers to watch how people interact with your website.
Run NPS surveys on your page and display result automatically on the dashboard.
Save your filter combination as segments and return to them whenever you need.
Analyze customers interaction using heatmaps and export analytics data as a CSV file.
Collect qualitative feedback about your page and customize incoming feedback as per your brand.
Forward user feedback to the delegated personnel on one or multiple emails for a quick resolution.
Set survey triggers that only pop up once users perform a certain action.
Price: Basic plan is free to use. Starts at $39/month.
9. Hello Bar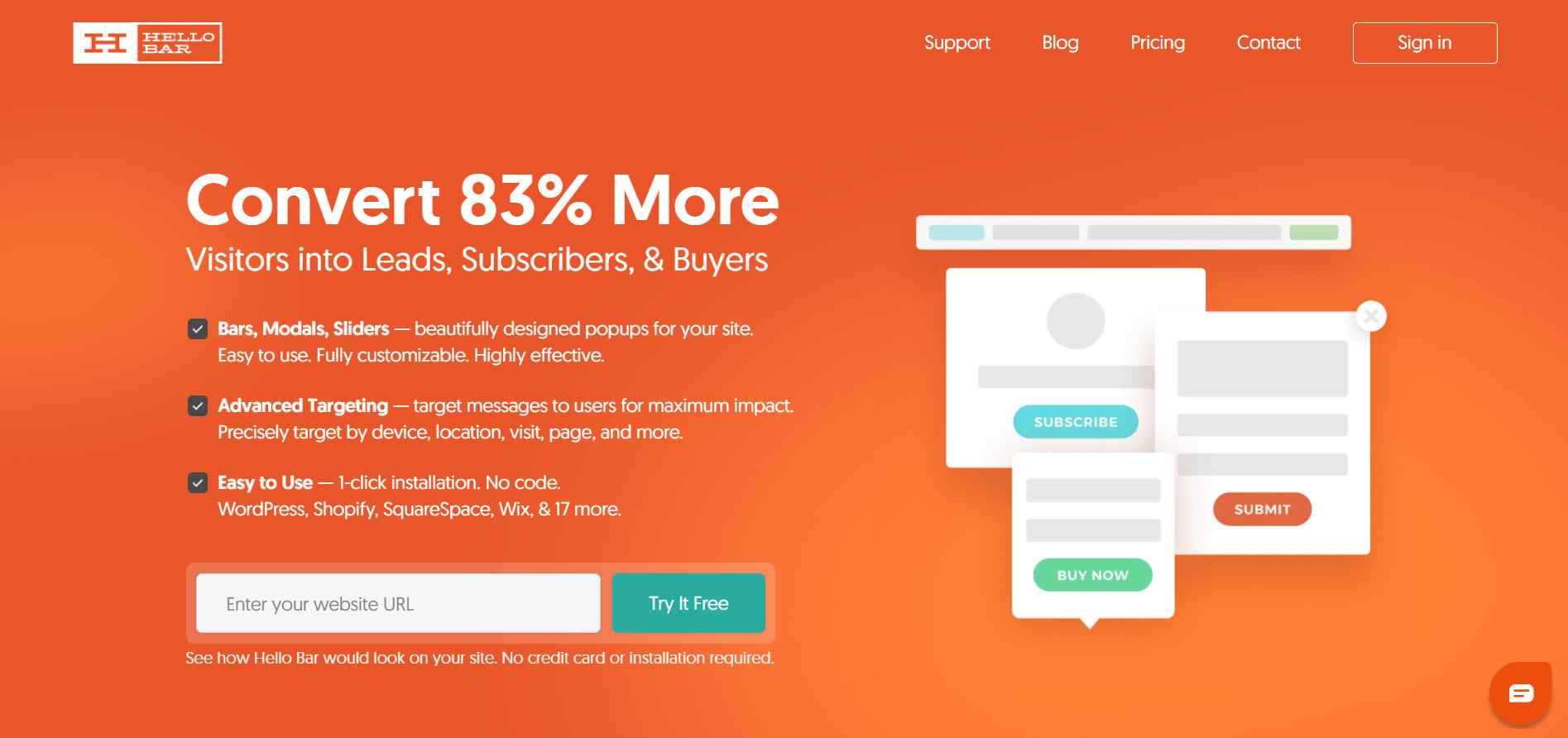 ---
If you're not familiar with it, the thin bar that runs along the top of your website is what Hello Bar offers. It helps website owners in landing page optimization in converting the visitors that land on their landing page into customers. The floating bar at the top allows you to gather leads, offer discounts, provide lead magnets, and share updates about your company or blog posts.
Features
The floating bar stays on the screen as the visitors continue to browse through your website.
Non-intrusive and does not annoy users, which automatically elevates user experience.
The editor is easy to use and does not require any additional technical knowledge.
Link your landing page using the bar across your website with an attractive call to action.
Promptly offer products and services along with discounts on your sales landing page.
Immediately begin email marketing once Hello Bar is installed on your website.
Integrates with some of the most popular tools like Mailchimp, Zapier, Salesforce, and many more.
Price: Starter plan is free to use. Starts at $29/month.
10. UserTesting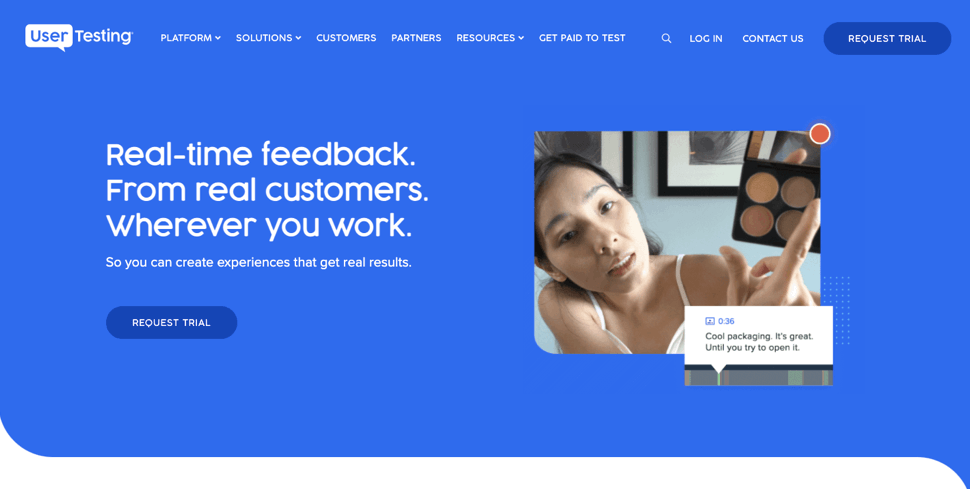 ---
UserTesting does exactly what the name suggests. Using this tool, you can ask your users to visit your landing page, navigate around it and test different features. Users then record their interaction with the website in the form of audio. You can analyze this audio to determine how well the website performs and what changes it will need to improve the user experience.
Features
Self-guided video recordings help create test plans, capture customer narratives and target your audience.
Capture four different data types, including audio, video, facial expressions, and clickstream data.
Gather feedback from any audience and have a wider reach using a contributor network.
Choose your own target audience using filters like device, age, country, and more.
Discover and analyze insights instantly and drive actions by sharing them across the organization.
Get much better and quality insights using powerful machine learning capabilities.
Ensure data security and privacy through SOC Type 2 certification and GDPR and CCPA compliance.
Price: It has a customized billing plan. Free trial available.
11. HubSpot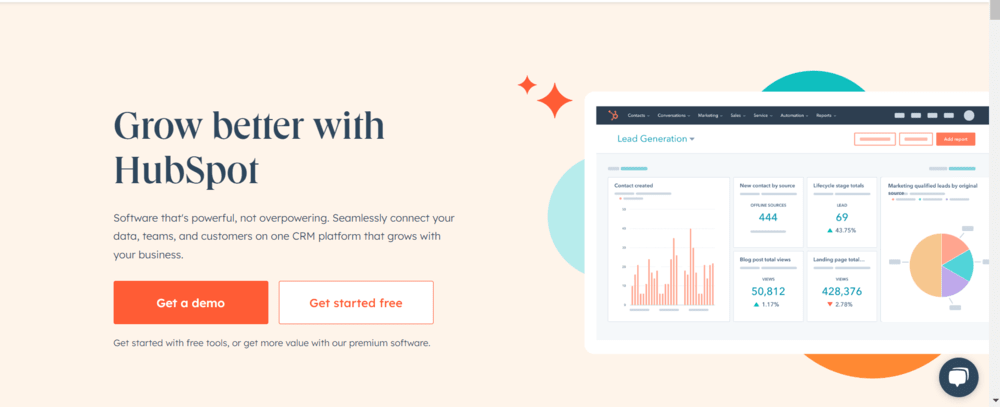 ---
HubSpot is not strictly a landing page optimization software. Instead, it is an all-in-one sales and marketing tool. However, it offers all the essential features that any marketer will need to create landing page campaigns and optimize their landing pages. So, if you're in the market for a full suite that can do all of the things, you shouldn't look any further.
Features
Free CRM tool that gives you access to behavior tracking information of the users across different HubSpot objects.
Design landing pages using in-built templates and spin around those pages without any help from the designers.
Create lists and segmentation of your contacts and users based on different criteria.
Create email marketing campaigns and send bulk emails which are customized with personalized tokens and call-to-action.
Automate the workflow, including emails, link building, and property filing, to speed up the task.
Track and analyze the performance of Facebook, Google, and LinkedIn ads.
Supports integration with popular social media platforms like LinkedIn, Facebook, and Instagram to connect multiple accounts and schedule posts.
Price: Starts at $45/month.
12. Optimizely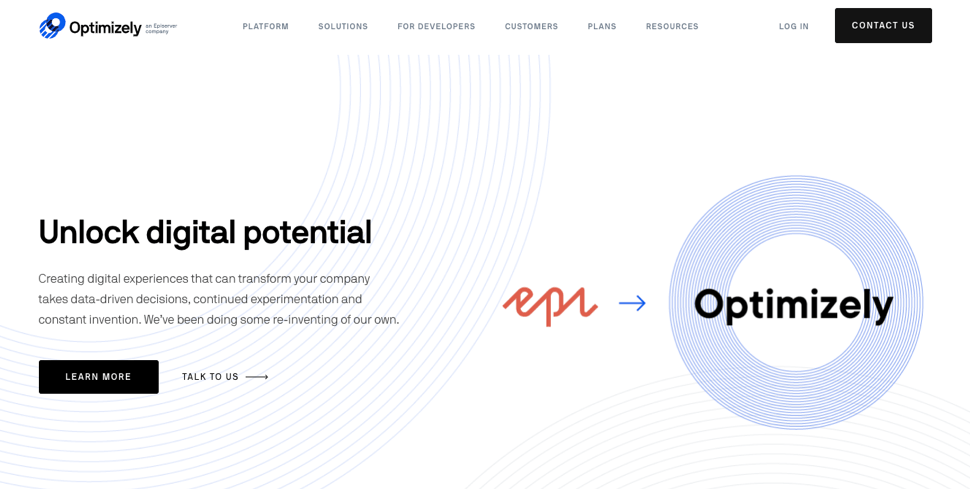 ---
Optimizely is another very popular tool and one of the best out there for conducting split tests on your website. It is an extremely powerful optimization and experimentation tool used by more than 20 Fortune 100 companies, including IBM, Microsoft, and Atlassian.
Features
Design landing page variations quickly and easily with the help of a codeless visual editor.
Run content experiments on multiple platforms like web properties, TV apps, IoT apps, mobile apps, and many more.
Run multiple content experiments on the same page without compromising performance using edge computing technology.
Launch features to all your users with just the toggle of a switch in Optimizely UI.
Randomize users for the rollout of features.
Define the segment of users to be included in the feature rollout using its targeted rollout feature
Optimizely web integrates with some of the most powerful tools online, including Google Analytics, Google Universal Analytics, Adobe Analytics, and many more.
Price: It has a customized billing plan.
Final Thoughts
Landing pages act as a cornerstone for every successful online business. Optimizing landing pages is arguably one of the best ways to capture your lead's information and move further down your sales funnel.
If you create landing pages and do not optimize them, you simply leave money on the table and go away.
With the ease of accessibility to some of the best landing page testing tools, there is simply no reason not to indulge in the process.
In case you're still unsure which one is the best fit for you, don't worry. We're here to help you.
Qualaroo can be an important part of your optimization efforts. Along with the analytics tools to tell you about your problem pages, and the biggest funnel drop-offs, asking visitors will help you uncover the reasons why people are leaving, and other insights that you can act on. Take a demo today and find out!
Want insights that improve experience & conversions?
Capture customer feedback to improve customer experience & grow conversions.