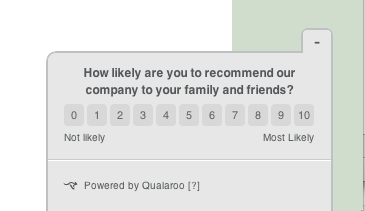 You can only grow if your product adds concrete value for a significant number of people. With two simple questions, Net Promoter Score (NPS) cuts through the BS and tells you point blank whether you're delivering that value to your customers, and how you can deliver more.
Unfortunately, customers hate completing even the shortest surveys. Most on-site surveys get a 5-20% response rate, and depending on how many customers you have to target, that might not be enough to draw actionable insights.
Getting the responses you need is easier said than done. From the customer's point of view, someone they pay is asking them to spend time on something that offers no immediate value. You need to flip the script by making your survey as seamless, easy, and enticing as possible. Here are the three best ways to make sure customers actually fill out your NPS survey.
1. Nail the Timing
Back when landlines were common, everyone was familiar with the experience of a telemarketer calling right in the middle of dinner. It was annoying to have a meaningful event interrupted, so most people would just hang up on them. If your NPS survey also has poor timing, then you'll get the same results as the telemarketers. You need to time your NPS surveys so they appear when customers are most willing to fill them out.
That has two components. In the most immediate sense, you need to time NPS so that it's not popping up at a crucial moment in their visit to your app or site. But looking at the customer's overall lifecycle, you also need to make sure your survey is reaching them at a time when they're familiar with your product and ready to give feedback.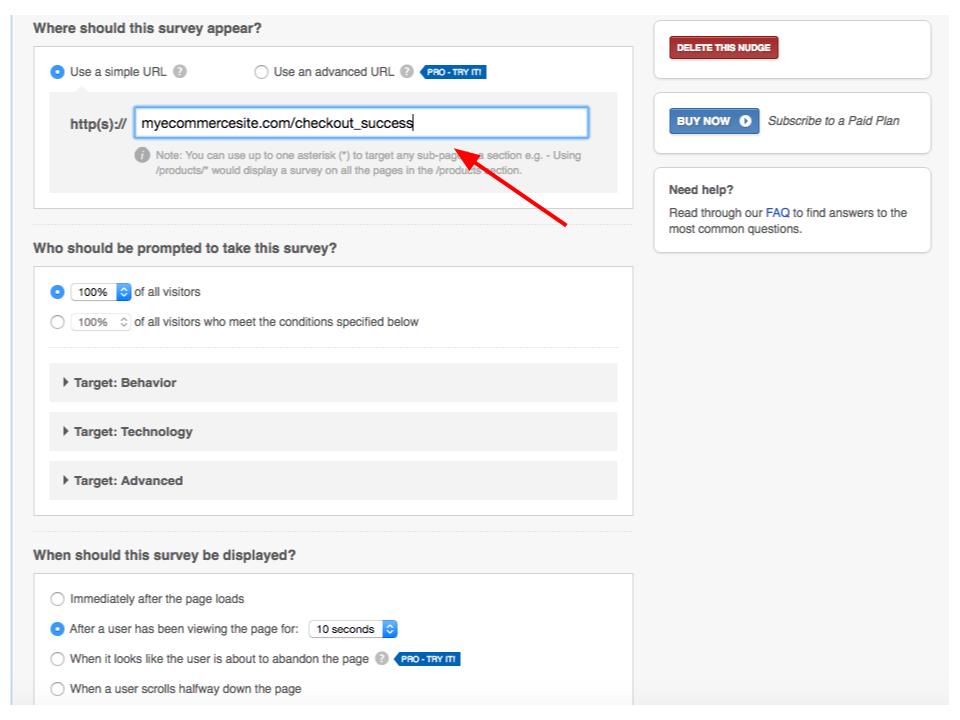 If you run an e-commerce store, you can schedule your NPS survey to appear only once customers have reached the checkout page
Here are a few tips to make sure your NPS survey is reaching your customers when they're ready and willing to fill it out:
Time the survey around users' actions. Every app or site has a key action associated with it. For an e-commerce store, that action is making a purchase. For a blog, it's reading a post. Whatever the action is, time your NPS survey to pop up after the customer has completed it. That's when they're reflecting on the experience and ready to give constructive feedback.
Look at the lifecycle. If a brand new customer sees an NPS survey pop up, they'll think, "Why the heck are they asking me this? I don't know yet." Target the customers who have been with you long enough to form an opinion.
Read the signs. Look for indicators that the customer has feedback in mind for you. You could use a behavioral analytics software like Amplitude to look for customers whose activity level in your app has gone way up or down. Or, you can target customers who have lodged a lot of support tickets lately. When they see the NPS survey pop up, they'll think, "Perfect, I have feedback I've been itching to tell these guys."
By timing your NPS survey just right, you ensure that completing it feels like a natural step to take for your customers and not like a chore.
2. Design a Seamless User Interface (UI)
Customers are naturally inclined not to fill out a survey, so any hitch in the process will be enough for them to throw their hands up and say, "Forget it." Your NPS survey's UI needs to be totally seamless if you want anyone to complete it.
Think about it this way. According to the user onboarding experts at Appcues, the average app loses over 80% of users within three days of them downloading it, mostly because of subpar UI. And that's when the customer has purposely sought out the app, thought it looked useful and decided to download it. Your NPS survey, on the other hand, just pops up out of the blue. That means it's even more critical that it be really simple for them to bother completing it.

NPS: fast, easy, and all on one page.
Here are a few tips to make your NPS survey's UI sleek and inviting for users.
Keep it all on one page. Don't make users load up a whole new page to fill out the survey. If you use Qualaroo, they can complete it on the same page you prompt them to do so. That speeds things up and tells them from the get-go that this will be quick and easy.
Emphasize the minimal time commitment. One of the big advantages of NPS is how short it is, so make that clear up front. Start your survey with a description telling users that the survey is only two questions long. Then, reinforce that with a progress bar to hammer home how little time the survey will take.
No e-mails. No usernames. Don't force customers to enter their email address or create a username before filling out the survey. That's just an extra hoop for them to jump through. All they should have to do is click, "Yes" to agree to take the survey, enter their NPS number, give a brief reason, and get on with their day.
Those tactics do more than ensure a smooth experience. They also signal to customers from the beginning how easy the survey will be, which makes them more willing to participate.
3. Offer Incentives
Three days before sending out a crucial survey to its 6,000 blog subscribers, Groove's marketing team realized they'd made a big mistake. They'd given their audience no incentive to participate. Groove managed to partner with other SaaS companies, who agreed to give away a few months on their platforms to lucky respondents. The result? 1,500 people completed the survey.
You're asking customers to do you a favor by filling out an NPS survey, so it's natural that they ask, "What's in it for me?" If you can head that question off with an intriguing reward, they'll be much more likely to fill it out.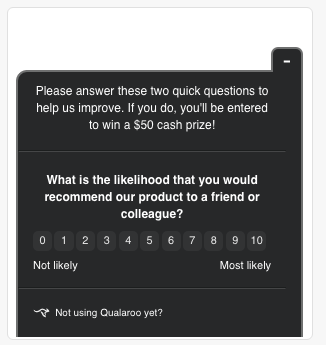 Here are three possible ways to incentivize customers to participate in your survey:
Cold hard cash. A small amount of cash is the most enticing reward, but also the most expensive on your end. You should turn the survey into a contest, and offer cash to a few lucky winners instead of every respondent.
Free product. This one's much easier to make happen. You can offer respondents a discount code, a gift card, or if you're in SaaS, a free month using your product.
Explain the greater benefit of NPS. If you can't afford a tangible prize, frame the NPS survey as the customer's chance to improve the product. You could even highlight a useful feature of yours that was born from customer feedback and reiterate to the customer that this is your attempt to make them more successful.
A reward flips the script for the customer and changes filling out your survey from a chore into a value-add.
Set the Stage for Ongoing NPS Data
Following these strategies will do more than increase the response rate on your next NPS survey. It'll also let you build a roster of customers willing to fill them out again and again.
The NPS survey isn't a one-and-done. It's designed to be sent to customers multiple times throughout their life cycle, so you can track your performance over time. If you give customers a positive experience with NPS, then the tool becomes a constant source of improvement.
Want insights that improve experience & conversions?
Capture customer feedback to improve customer experience & grow conversions.