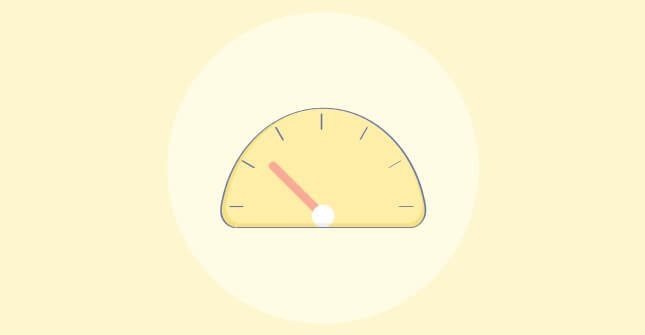 Time and time again, people ask, "Why to measure customer satisfaction" or "What is the need to get an NPS software?"
Well, measuring customer satisfaction is essential because happy and loyal customers are arguably the company's greatest assets.
And what can you do to measure customer satisfaction effectively?
There are several answers to that, but one of the most trusted ways of calculating the widely prevalent benchmark figure is- The Net Promoter Score (NPS).
It is highly regarded due to its simplicity, effectiveness, and ease of use.
But when it comes to asking the NPS questions to your target audience, you need to ensure that you have the best NPS software working for you to expand your brand identity and grow your reputation.
However, an NPS software offers a lot more than just those things, so why not just compare 20 of the best NPS software & tools out there to see which one will be the best for you.
But before that, let's go over some of the basics about the NPS tools and also look at what you should consider when choosing the best NPS feedback software.
Here are the 18 Best NPS Software & Tools in 2023
When it comes to conducting NPS surveys, tons of survey solutions are available in the market that can help you do so. Here are 20 of the best NPS solutions to help you make the right decision.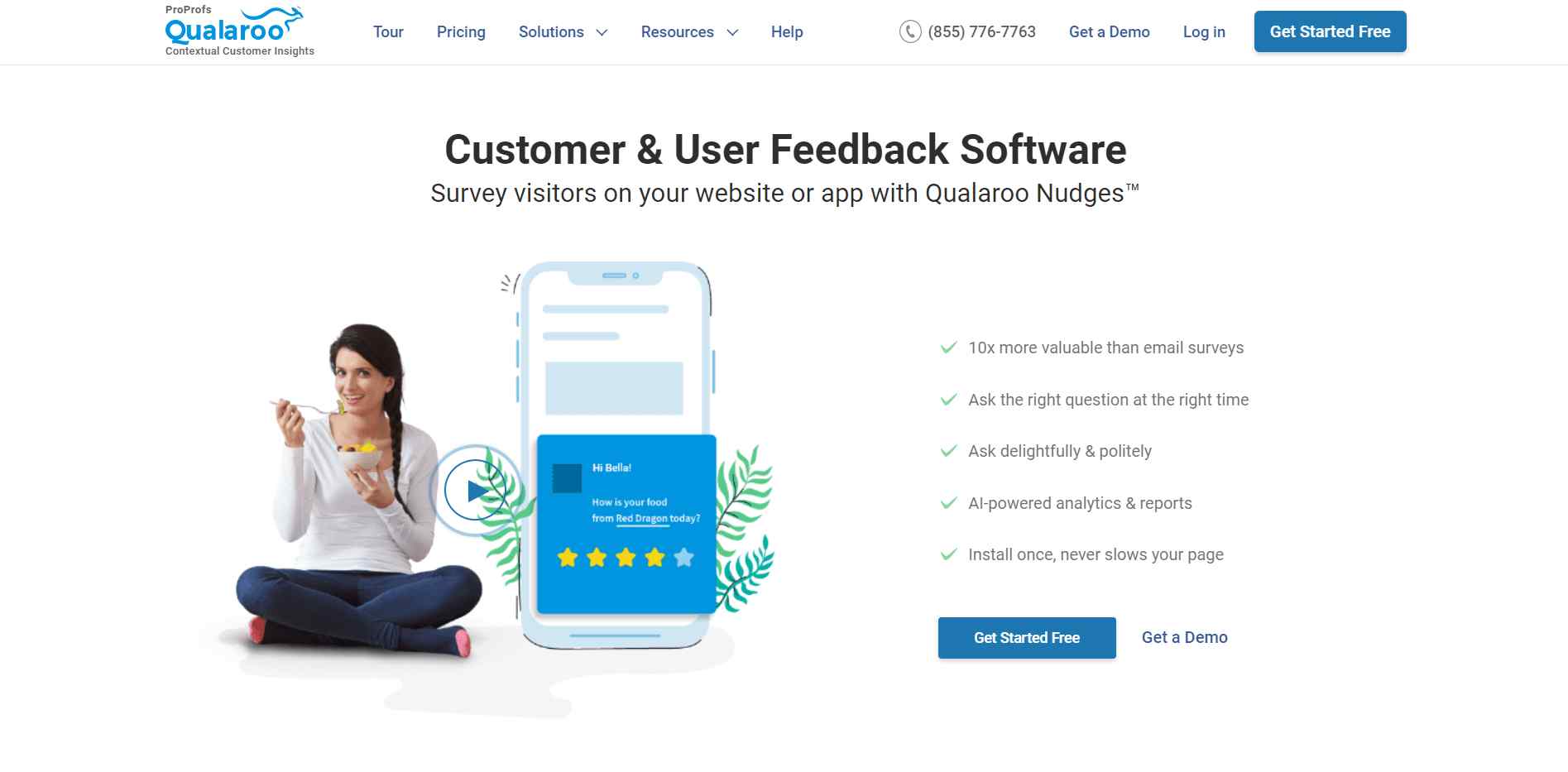 ---
Qualaroo is one of the best NPS tools for measuring customer satisfaction (CSAT) and gaining insights to reduce customer churn by deploying surveys through web browsers, links, emails, in-app and more channels.
It allows users to deploy NPS surveys as a part of their voice of customer research to determine the overall brand perception, customer satisfaction, and the impact of marketing strategies.
It supports a huge variety of integrations with popular tools (like MailChimp, Hubspot, and Salesforce) to enhance the quality and quantity of customer feedback – not just NPS.
Features:
Deploy surveys within minutes with its easy-to-create survey functionality.
Create beautiful surveys instantly with the help of 40+ built-in survey templates.
Track multiple satisfaction metrics through NPS scores displayed on the dashboard.
Offers different survey types like NPS, CES, CSAT, UES, and more to help you collect all types of data.
Always ask the right question the right way with 10+ question types.
Target specific customers with the help of advanced targeting modes.
Only collect data that is relevant to you with the help of branching and skip logic.
Pros:
Unobtrusive surveys offer a great surveying experience
Automatic analytics for quick and accurate reporting
Easily embed surveys on multiple channels and platforms
Cons:
The dashboard needs a little more functionality
Pricing: Starts at $80/month
Integration: Mailchimp, HubSpot, Zapier, Salesforce, and more.
---
ProProfs Net Promoter Score (NPS) software is excellent NPS software for understanding the loyalty of customers and discovering effective ways to increase it. Such ways are uncovered by analyzing the feedback gained through follow-up questions in ProProfs' customizable NPS surveys.
The tool supports multiple campaign management to share the NPS survey over numerous channels.
ProProfs' long experience with survey timing & design helps you avoid survey fatigue from messing up your painstakingly and specifically targeted survey results, whether they are for Customer Service Surveys or Post-Sale Surveys.
Features:
Create NPS surveys instantly with the help of professionally-built survey templates.
Ask questions of any kind with the help of 20+ question types.
Make your surveys represent your brand through built-in themes, customization, and white labeling.
Track NPS scores in real time and make effective decisions.
Uncover crucial data and insights by analyzing responses and through custom reports.
Pros:
Distribute surveys on more than six channels
360-degree view of customer experience
Categories NPS scores automatically
Cons:
No advanced analytics feature
Pricing: Starts at $25/month
Integration: Campaign Monitor, WordPress, Salesforce, and more.
Related Read: 10 Best Product feedback Software
---
---
Survicate is another great NPS survey tool that helps you capture customer feedback and deliver a better customer experience. It offers a bevy of features, the most notable being NPS surveys, website banners, web app popups, in-app surveys, email surveys, linked surveys, etc.
It works quite well on all major platforms: Windows, Mac, Android, and iOS. This NPS software also boasts of live chat and email support, a dedicated help center, customer onboarding, help videos, and webinars to make the user's experience completely smooth.
Features:
Launch surveys instantly with the help of 100+ built-in survey templates
Collect different types of data through NPS, CES, CSAT surveys, and more.
Collect quick website feedback with the help of a feedback button.
Publish surveys on multiple channels, including website, mobile, chat surveys, etc.
Manage customer insights from multiple different sources.
Pros:
Response monitoring and management
Easily add surveys to the intercom messenger
Cons:
Does not include optional questions
Can record multiple entries from the same customers
Pricing: Starts at $89/month
Integrations: ActiveCampaign, Amplitude, Drip, Slack, Zendesk, and more.
---
---
It collects NPS data by engaging, measuring, responding, analyzing, and growing (increasing) customer engagement. It is quite the complete NPS survey software for your business. The only significant barrier to entry may be its slightly steep pricing.
This Net Promoter Score measuring software has no-frills, an intuitive dashboard, and a feature that manages multiple campaigns. Each campaign can be monitored through its own dashboard.
Features:
Seamlessly collect feedback during the purchase process.
Send NPS surveys through multiple channels, including website, SMS, and link.
Send instant or recurring surveys for a higher impact.
Cover your customer base from any country with 27 language support.
Easily segment results by demographics, product line, and other meaningful data.
Pros:
Easy survey creation
Powerful analytics
Appealing and interactive design
Cons:
The data storage system needs refinement
No auto-save in the campaign wizard
Pricing: Starts at $100/month
Integrations: ActiveCampaign, Zapier, RudderStack, and more.
Related Read: Best Customer Experience Management Software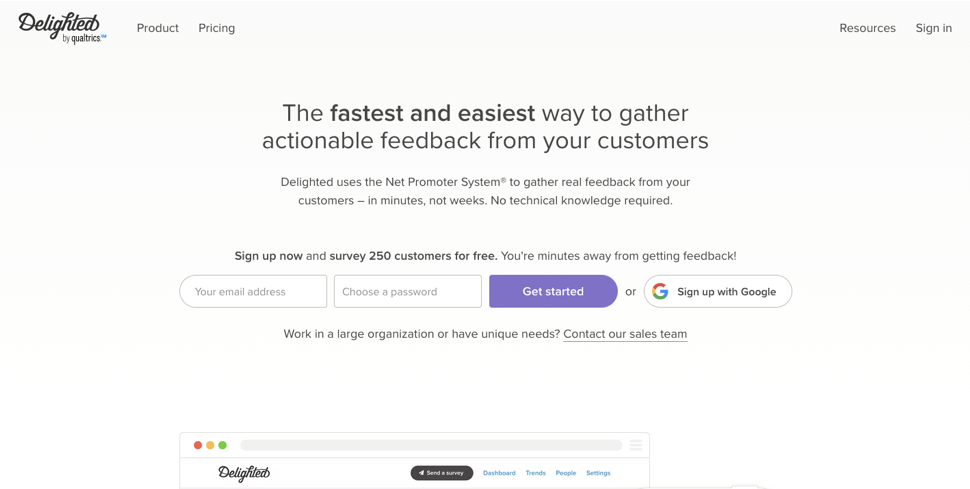 ---
Free NPS software is hard to find. Many features we have listed above come as part of the premium bundle of NPS survey tools. Take Delighted, for example. Its complete package has a helpful survey wizard to create surveys quickly from templates.
Also, its autopilot feature helps run surveys according to schedule and multiple survey distribution channels (web-based, email, messages, and links).
One of the things working in favor of Delighted is its visual appeal. You can serve SMS-based, email, and web-based NPS surveys (among other types) using this tool. Respondents can send in their responses by replying to the email itself without having to go to an external link.
Features:
Customize your surveys to represent your brand by adding logos and themes.
Address your audience members directly by tailoring your questions specific to their needs.
Get detailed insights by following up your NPS questions with open-ended questions.
Schedule ongoing surveys and add custom triggers for automatic surveying.
Get an overview of your surveys from the real-time dashboard.
Segment your data and analyze trends based on different metrics.
Pros:
Automatic feedback scoring
Prevet over-surveying
Multi-language support
Cons:
Cannot respond to feedback directly
Needs more advanced reporting features
Pricing: Starts at $224/year
Integrations: Shopify, Salesforce, Slack, and more.

---
The suite of tools Hotjar offers includes an NPS feedback tool that is headlined by a visual dashboard that enables individual analysis of customer responses. Their Feedback Poll feature provides an easy process to create NPS surveys.
There is a function to calculate the NPS score automatically as soon as the target audience starts submitting their responses to your NPS survey. This is especially useful if you need to keep a running tab on your NPS score.
The clientele of Hotjar includes big names like Adobe, SurveyMonkey (not for their surveys but for their heatmap and user session recording features), Unbounce, and Decathlon.
Features:
Use the built-in survey templates to create surveys instantly.
Receive feedback in real-time with the help of suggestion boxes.
Run on-site and standalone NPS surveys for all types of audiences.
Capture in-the-moment feedback by deploying survey popups and widgets.
Visualize users' interactions and actions on your website with heatmaps.
Get better security for your data through GDPR and PCI compliance.
Pros:
Easy to use
Switch between workflows easily
Interactive intercept surveys
Cons:
Limited data tracking
UI needs optimizations
Pricing: Starts at $31/month
Integrations: Slack, Segment, HubSpot, Zapier, and more.

---
InMoment (formerly known as Wootric) touts itself as an NPS survey software that increases customer lifetime value for clients. It can be used to look after the whole customer experience.
It gives companies an overall analysis of the voice of the customer by using machine learning to deal with large volumes of feedback at scale.
Features:
Easily set up and deploy surveys with the help of a built-in guide
Determine customer loyalty through hyper-targeted NPS, CSAT, and CES surveys.
Deploy microchannel surveys to always ask the right questions to the right customers.
Analyze trends and customer perception with the help of real-time sentiment analysis.
Customize the dashboard and set alerts to engage with the stakeholders and close loops.
Pros:
Use machine learning to analyze data
Monitor customer satisfaction on a regular basis
Cons:
Does not work well on mobile devices
Does not have enough filters for segmentation
Pricing: Available on request
Integrations: Salesforce, Adobe, Oracle, Slack, and more.
---
Nicereply is another NPS tool that has a strong focus on ascertaining NPS for support teams. This helps the most in keeping customer satisfaction (CSAT) levels high so that there is less probability of upset customers spreading negative reviews that can damage your business on social media and other platforms.
It helps you continuously track improvements with a variety of charts, time filters, and comparisons. The data from surveys can be displayed in your CRM software. Surveys can be triggered according to values set through the CRM as well.
Features:
Customize your surveys and give them a unique identity by adding your branding elements.
Track multiple survey metrics like NPS, CSAT, and CES all at the same time.
Receive notifications and alerts directly to your email whenever someone fills out a survey.
Increase your survey responses significantly by combining post-query resolution and in-signature surveys.
Trigger surveys based on actions that can be customized.
Pros:
Easy to set up
Comprehensive dashboard
Workflow automation
Cons:
Does not support a combined view
Does not display the number of participants
Pricing: Starts at $49/month
Integrations: Zendesk, Front, LiveAgent, Aircall, and more.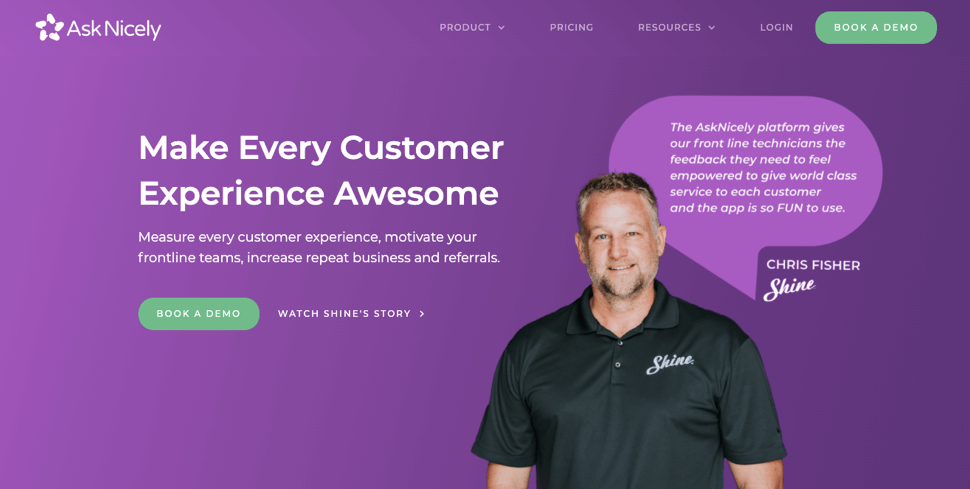 ---
The NPS tools of AskNicely include survey channel support and campaign management. It also has integrated support for Intercom to pair feedback messages with survey responses so that both can be analyzed together to draw or support insights from customer feedback.
One very useful feature it has in common with Qualaroo (and a few others mentioned above) is the ability to serve in-app NPS surveys.
Features:
Share your NPS surveys via email or SMS to target all sorts of customers.
Deploy conversations surveys or short surveys based on the occasion.
Set reminders and get notified whenever someone fills a survey.
Respond to survey respondents with the help of built-in chat windows.
Categorize the responses and get value out of them with the help of advanced analytics.
Send in-app tips and collaborate with your teammates.
Pros:
Personalized survey experience
Send follow-up questions easily
Cons:
Survey reminders do not work for SMS
UI is a little complicated to get started with.
Pricing: Available on request
Integrations: Qualtrics, Salesforce, HubSpot, Zapier, and more.
---
Qualtrics is an experienced management and technology platform that helps you make better decisions by leveraging customer insights, research, and concept testing. Using Qualtrics CoreXM's central research platform, anyone can capture feedback from anywhere in the world and use it to make better decisions.
The NPS surveys offered by Qualtrics are powerful and valuable enough to help individuals and organizations generate sales insights and optimize sales pipelines based on the analytics.
Features:
Build effective NPS surveys with the help of built-in templates and multiple question types.
Get an expert's recommendations for survey designs in real-time with the built-in ExpertReview feature.
Visualize all kinds of data in every possible way with 30 different visual graphs.
Collect feedback from over 27 different channels and meet your customers where they are.
Uncover trends and patterns by leveraging the built-in IQ feature.
Pros:
Collaborating opportunities
Easy and comprehensive reporting
Cons:
Limited customization
Has a steep learning curve
Pricing: Available on request
Integrations: Salesforce, Marketo, Adobe, and more.
Related Read: 11 Best Qualtrics Alternatives & Competitors in 2023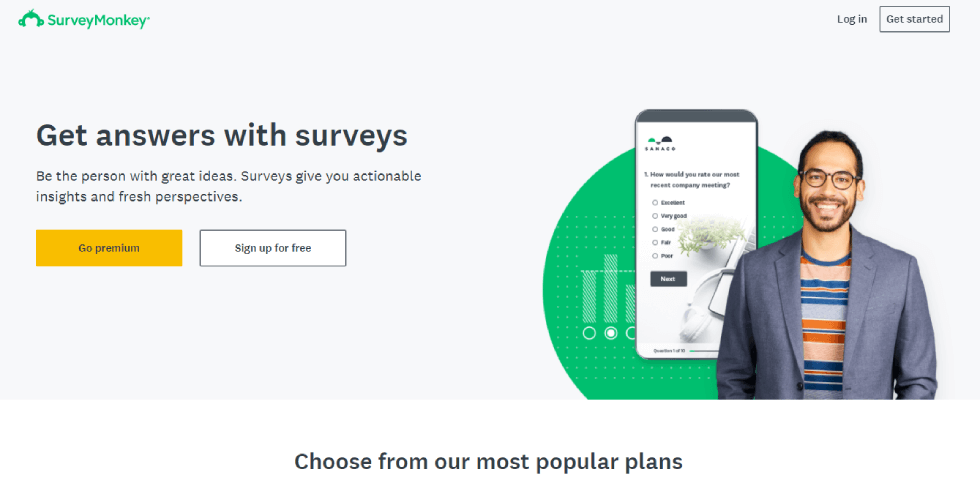 ---
SurveyMonkey is a popular online feedback and one of the best Net Promoter Score tools, which allows people to turn their feedback into actionable decisions and drive growth. It has tons of features and an easy-to-use interface to help you get started with it easily.
SurveyMonkey features a lot of collaborative and configurable attributes that make it an ideal survey solution for a lot of different occasions. It even comes packed with a range of security features to aid data security.
Features:
Build beautiful NPS surveys instantly with the help of built-in survey templates.
Build interactive surveys with the easy-to-use visual editor.
Gather only the relevant data with the help of branching and skip logic.
Get insights to improve your surveys with the help of the AI-based recommendation engine.
Create surveys that work globally with the help of automatic language translation.
Pros:
Ability to send anonymous feedback
Generates easy-to-digest reports
Cons:
Not easy to navigate through
Lacks flexibility in designing surveys
Pricing: Starts at $10/month
Integrations: Salesforce, Oracle, Zoom, Google Drive, and more.
Related Read: 15 Best Surveymonkey Alternatives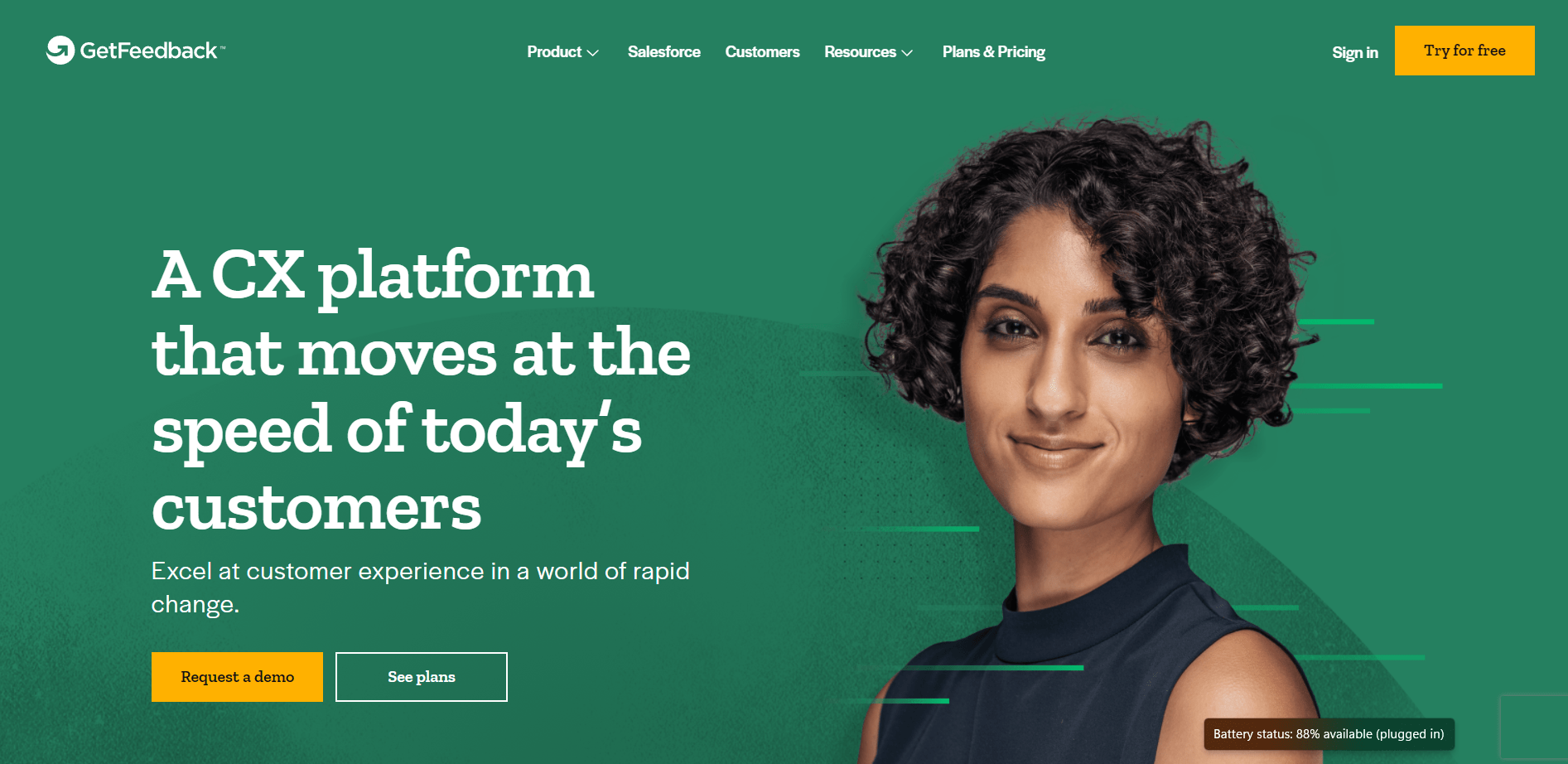 ---
GetFeedback is a powerful customer experience and an NPS tool that enhances customer experience and helps brands become more customer-centric. Using GetFeedback, you can capture in-moment feedback across different traditional and digital channels for maximum impact.
GetFeedback has an extremely agile CX platform that allows you to meet where the customers are and deliver experiences that can set you apart from the competition.
Features:
Launch multiple NPS programs at scale and easily manage all of them.
Set up and manage feedback touchpoints with ease throughout the customer journey.
Set triggers for your surveys based on lifecycle and other events that are captured by different systems.
Collect feedback from users on mobile applications by easily embedding surveys through mobile SDK.
Quickly spot trends and patterns by bringing all your data into a centralized location.
Get a better understanding of customer loyalty by tracking progress on touchpoints.
Pros:
Easy to create surveys
Extremely user friendly
Diverse customization
Cons:
UI for storing surveys seems counterintuitive
Weak user permissions
Pricing: Available on request
Integrations: Salesforce, Google Analytics, Slack, Jira, and more.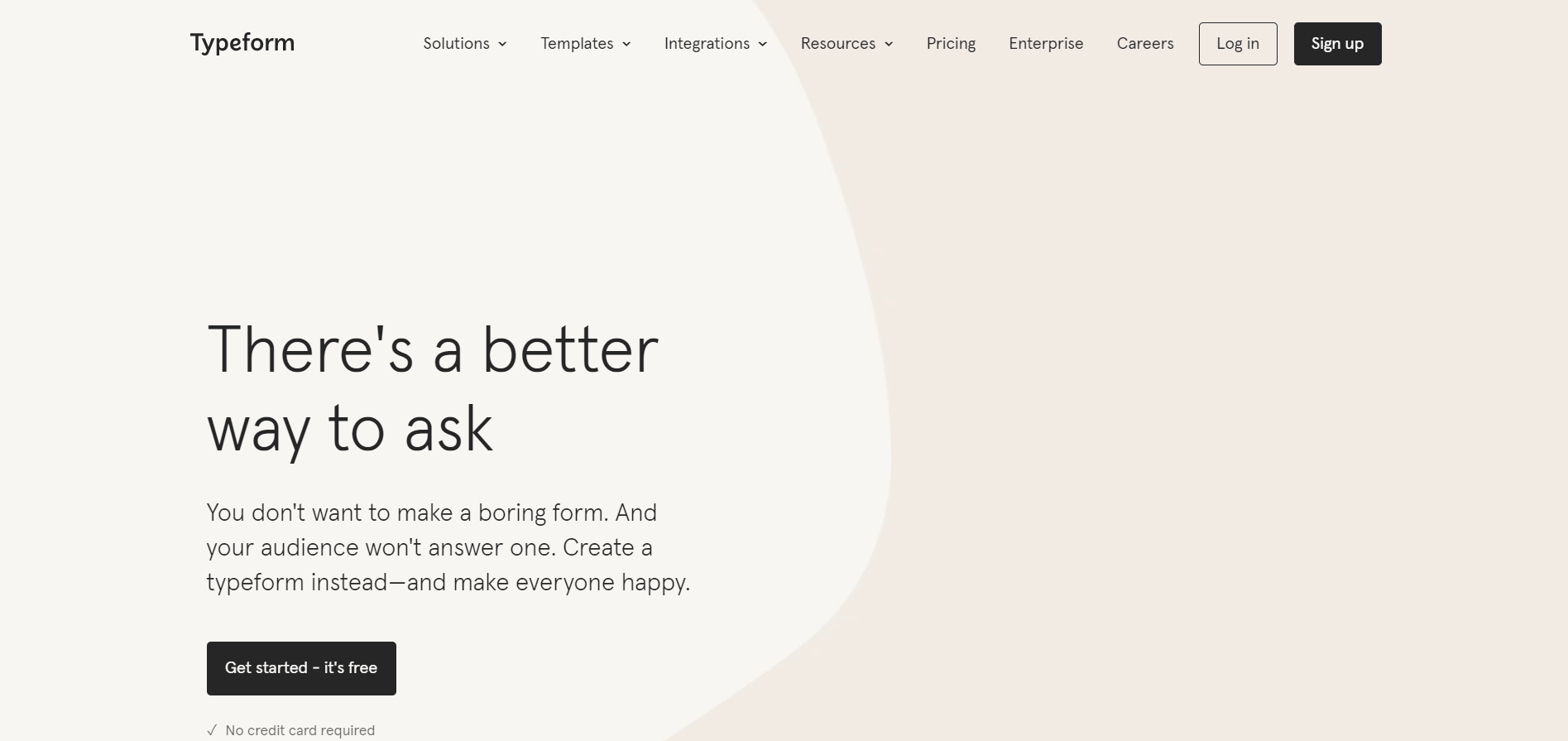 ---
Typeform is one of those customer feedback tools that users would love to engage with instead of ignoring it. Typeform encourages you to create conversational surveys and make them visually appealing to help you radiate a sense of your brand.
Typeform has a lot to offer, such as a live preview mode, in-depth analytics, and great insights that will help you maximize the effectiveness of your NPS surveys and make better decisions.
Features:
Streamline NPS data from different channels and sources with the help of a feedback management system.
Display one question at a time for better engagement and visuals.
Get a better response rate by sending surveys through emails.
Get valuable insights from data using the built-in reporting and analytics system.
Make decisions in real-time with the help of live result tracking.
Pros:
Responsive design
Conversational surveys
Cons:
Needs more language customizations
Needs more options for conditional logic
Pricing: Starts at $25/month
Integrations: Slack, MailChimp, Trello, Stripe, Shopify, and more.
Related Read: Best Typeform Alternatives

---
YesInsights offer extremely simple one-question and NPS surveys to discover what matters the most to your customers, prospects, and stakeholders and improve your business. You can conduct NPS surveys across all platforms through YesInsights and receive instant customer feedback.
Features:
Discover roadblocks that hurt your business through NPS surveys and eliminate them.
Uncover all the details about your customers using website survey popups.
Capture the contact information of your visitors through effective lead forms.
Target specific users and pages to get the relevant information through advanced targeting.
Boost your email response rates by deploying one-click surveys.
Trigger automatic emails and send them to your customers for follow-ups.
Pros:
User-friendly interface
Versatile surveys
Cons:
Limited functionality in base plans
Email surveys are just like any other competitor
Pricing: Starts at $20/month
Integrations: SendGrid, Drip, Campaign Monitor, Salesforce, and more.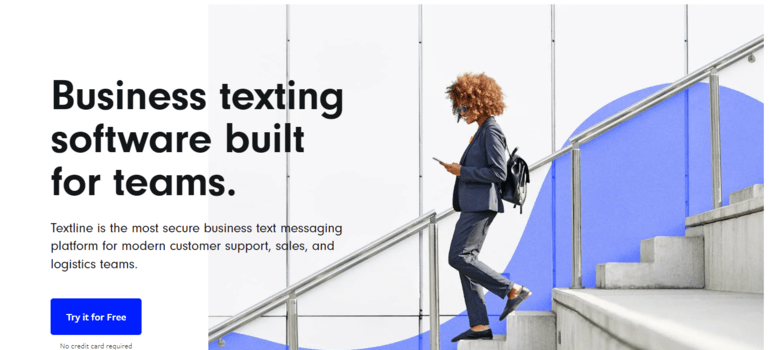 ---
Textline is a popular business text messaging application that gauges customer contentment through NPS surveys to provide support and close more sales. It opens up a two-way communication channel between the business teams and customers to add personalization and make people feel valued.
Textline can be set up with just a phone number, and then you get to choose how you want to engage with your customers to create the customer experience possible.
Features:
Get texts from your customers whenever they want with the built-in messaging feature.
Make direct two-way communication with the customers to resolve any problem instantly.
Gauge customer satisfaction with ease by conducting NPS surveys through SMS.
Monitor your traffic and responses to ensure maximum security.
Streamline the process of assigning jobs and make scheduling less complicated.
Pros:
HIPAA compliance for doctor's security
Auto-reply to customer messages
Cons:
Needs better access to analytics
The layout needs more improvement
Pricing: Starts at $59.97/month
Integrations: Talkdesk, Aircall, Salesforce, Slack, Twilio, and more.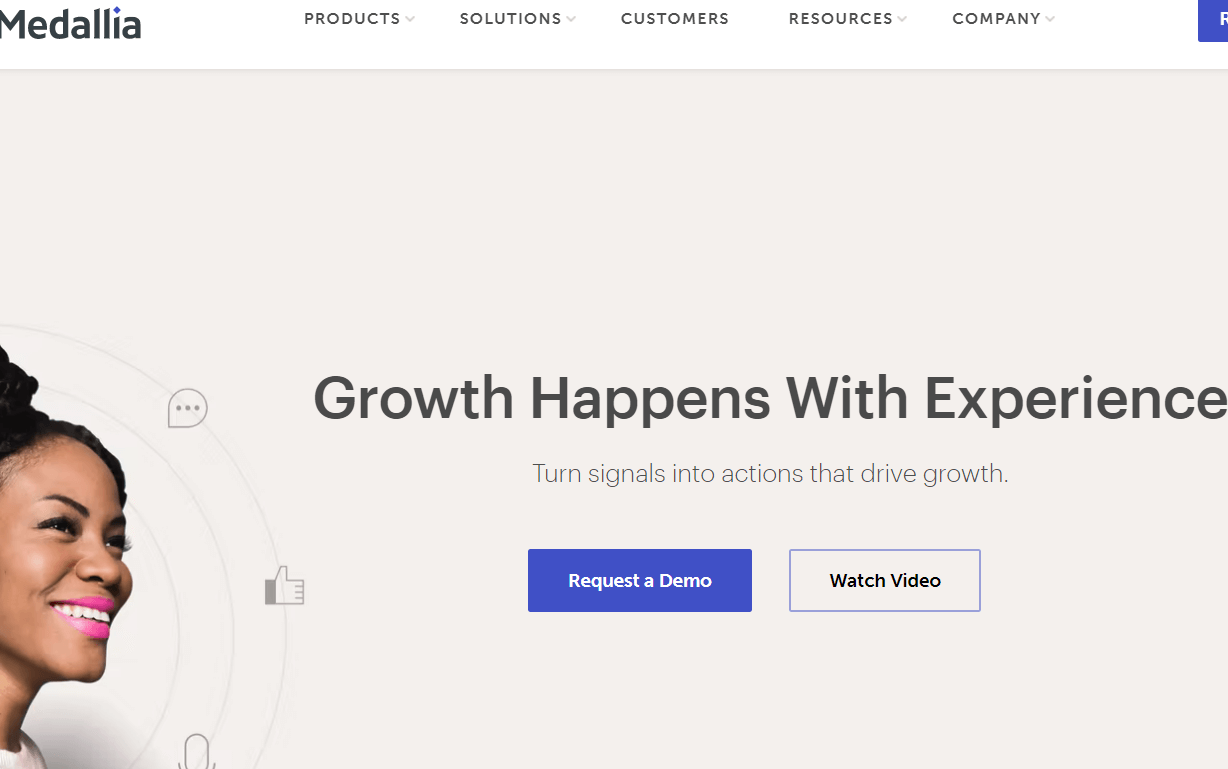 ---
Medallia is a cloud-based NPS survey platform that aims at understanding and managing customer experience and turning signals into actions to provide growth. Medallia features some of the most effective tools to capture customer feedback and experience from every area of interaction, including website, social media, in-app and more.
Organizations also get a deeper understanding of customer touchpoints by leveraging operational and transactional data through Medallia. It also features a built-in AI engine that feeds on the survey data to extract trends and patterns.
Features:
Capture every signal and get integrated NPS data from all channels.
Analyze and predict patterns and behavior with the help of AI machine learning models.
Empower your teams and make better decisions with tailored data and insights.
Deliver a better user experience with the help of instant data and added personalization.
Get a holistic view of customer behavior with social media, speech analytics, transcripts, and more.
Pros:
Fast and easy to use
Good progress tracking
Highly functional dashboard
Cons:
Automatic results need more customization
It does not look for keywords
Pricing: Available on request
Integrations: Salesforce, Adobe, Slack Jira, and more.
---
Cisco Webex Experience Management, as the name suggests, is a customer experience management tool that tracks and measures customer delight in real-time through NPS surveys. It aims to improve employee and customer experience and gain insights across all touchpoints by listening to the Voice of Customers.
You even get valuable insights across all your customer journeys by leveraging predictive analysis and journey path analysis that you can use to improve customer experience.
Features:
Make informed decisions with the help of predictive analytics that feeds on your data.
Get meeting-ready and comprehensive financial analytics automatically for better initiatives.
Uncover areas that impact customer experience with journey path analysis
Analyze customer sentiments with ease with the help of AI and machine learning systems.
Get alerts in real-time and close loops with customers with the help of a live ticketing system.
Pros:
Integrate with contact center agents
Published data with minimal delay
Cons:
Dashboard UI needs improvement
Pricing: Available on request
Integrations: Devo, Exabeam, Graylog, IBM Security, and more.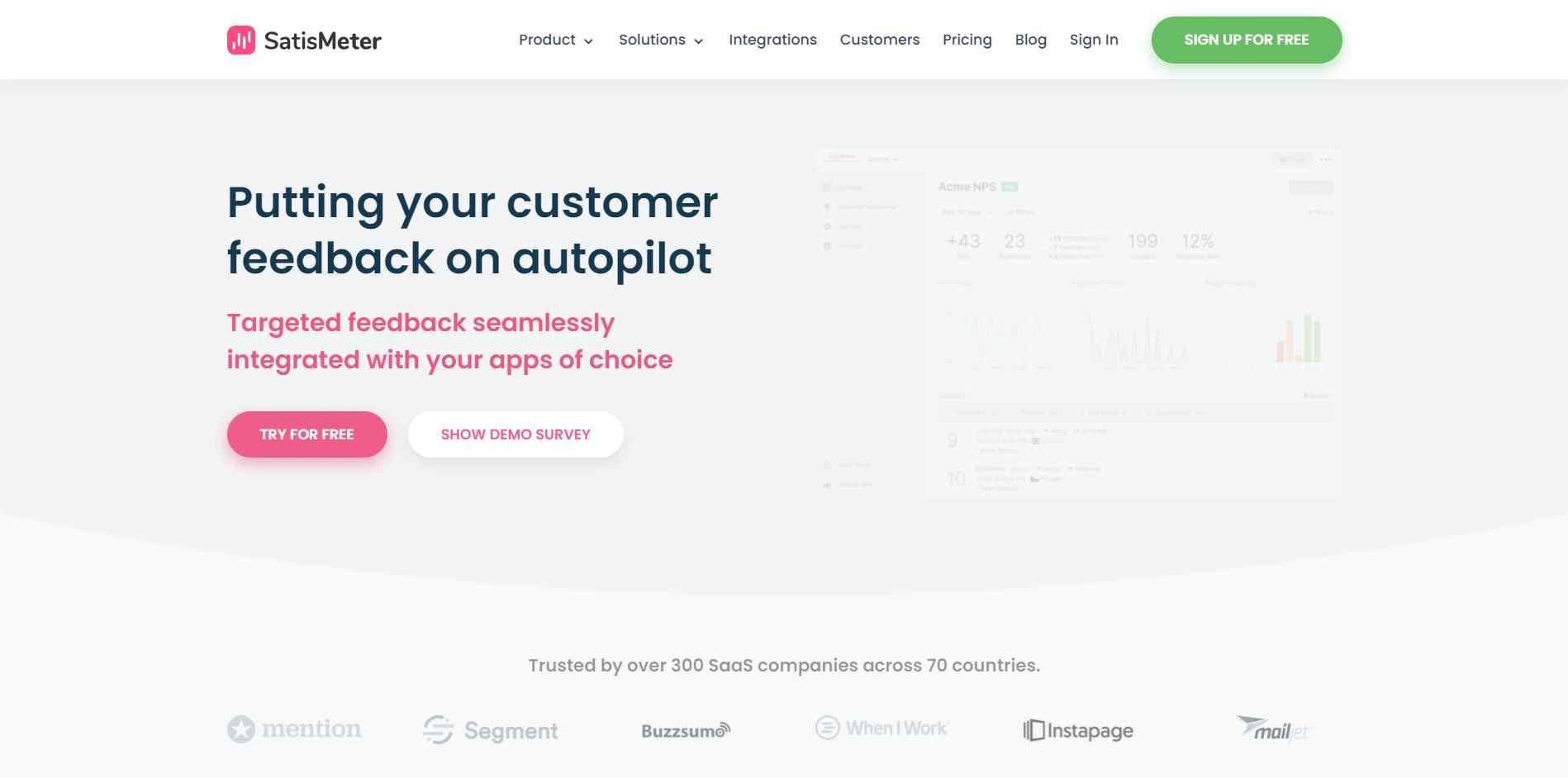 ---
SatisMeter is popular customer feedback and one of the best NPS survey platforms that automate all its NPS, CSAT, marketing, and custom surveys to collect data on the fly. It comes packed with features like advanced targeting and automatic triggers to measure customer journeys with precision.
SatisMeter is an extremely popular tool among innovative companies as it helps them reduce churn, understand customer perception and improve overall product development.
Features:
Understand your customer journey with the help of CSAT, NPS, CES surveys, and more.
Target specific customers and only gather relevant data.
Target users anywhere by launching surveys on websites, email, and mobile.
Gather all your feedback in a centralized place for a better overview.
Share your surveys easily and quickly via a public link.
Pros:
Easy scheduling
Organized data collection
Useful filters
Cons:
Cannot save filters
Needs deeper metrics
Pricing: Starts at $49/month
Integrations: Intercom, Segment, Shopify, Drift, and more.
10 Essential Features in the Best NPS Software
1. Ability to Run Multiple Surveys Simultaneously
While looking for ways to expand your business, you may want to have more than one survey campaign running simultaneously. Ensure that the NPS survey software lets you manage more than just one survey and offers complex scheduling logic to make sure that helps you reach out to the audience the right number of times to ensure you stay in touch while avoiding survey fatigue.
Getting restricted to one survey at a time stops you from pursuing different customer segments or trying A/B tests to see which strategic decisions are working in your favor
2. Deliverability
If you have to use third-party NPS software that carries its own branding while delivering surveys for you (like Google Forms), it might dilute your brand image. Consider factors such as this when you are deciding which NPS tools you employ to gather customer feedback. The more control you have over how your surveys are being delivered, the better you can target them.
Also, it is a good idea to check if there are limits on the number of surveys you can deliver to your mailing lists of prospects before purchasing a paid plan.
3. Contextual response
Many NPS surveys fall flat at meeting their purpose: uncovering the 'why' behind a respondent's score – especially for passives and detractors (i.e., those respondents marking their likelihood of recommendation as 7 / 8 and 6 or below, respectively). That is why, to be counted amongst the best NPS software, the feature of in-context survey serving is vital.
There are two awesome advantages of in-context NPS surveys: by controlling the exact time and place of the NPS question, you know beforehand which part of your product/website/app the respondent just went through, and hence, you get precisely relevant feedback to your follow-up questions.
Second, you don't have to limit yourself to just one NPS question at the end of the user experience (which may make the results so average about the overall experience that the responses lose relevance). You can ask the NPS Q (and 1 or 2 follow-up questions, in context) so that user/customer feedback is more accurate.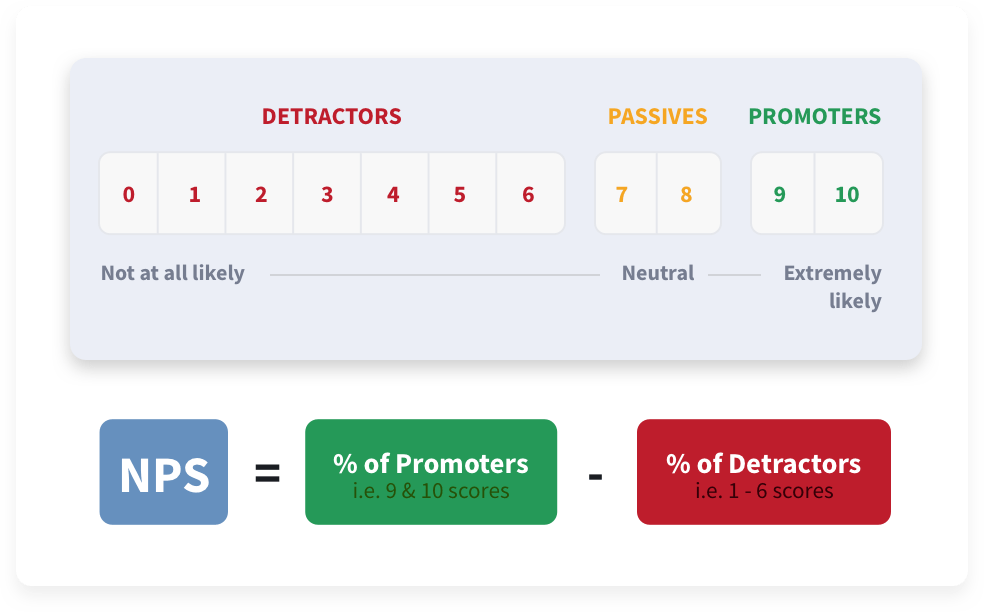 4. Customizability
Being able to white-label your surveys is a great way to deliver a consistent brand experience to your customers and survey respondents. Having a different brand name show up on your NPS survey may send mixed messages to prospects.
It is advantageous to have your uniquely recognizable and identifiable logo, name, and color palette on your surveys so that there is uniformity in the user experience leading to better survey response rates and feedback quality. If the NPS software you are considering doesn't let you white label the surveys, it may be best to look elsewhere.
5. Multiple channels
Concentrating on one way to deliver NPS surveys (or other types of customer satisfaction/feedback surveys) can make you miss out on important sources of customer feedback. That is why any good NPS software should offer multiple channels through which to distribute your surveys.
Recently, social media and messaging platforms have risen as a novel way to interact with your customer base – and explore new avenues for publicity!
6. Advanced targeting
Knowing who to ask is defined by the customer personas you build. The more accurate your targeting, the more relevant the responses, and consequently, the better insights you gain from customer feedback. Simply asking them how likely they are to recommend you to friends or colleagues delivers one number.
Advanced targeting gets you deeper into your target customers' mindset by identifying and asking ideal follow-up questions to the most relevant people.
---
7. Schedule control
Deciding the when and how of serving your NPS survey is crucial. If customers are approached at times or in situations when they are more likely to feel that they were interrupted, it is unlikely that they will fall into the category of promoters (respondents who mark 9 or 10 on the NPS scale).
The more control you have over the timing and delivery method of your survey, the better response rates and quality you will get.
8. In-depth reporting
Making sense of the large amounts of customer feedback is difficult if you try and do it manually. The ideal NPS software should have a good dashboard for reporting the insights, as well as multiple formats for exporting data to be processed by other software. In addition, using AI to carry out Sentiment Analysis lets you respond in real-time, mine feedback automatically, and visualize areas for improvement based on NPS feedback.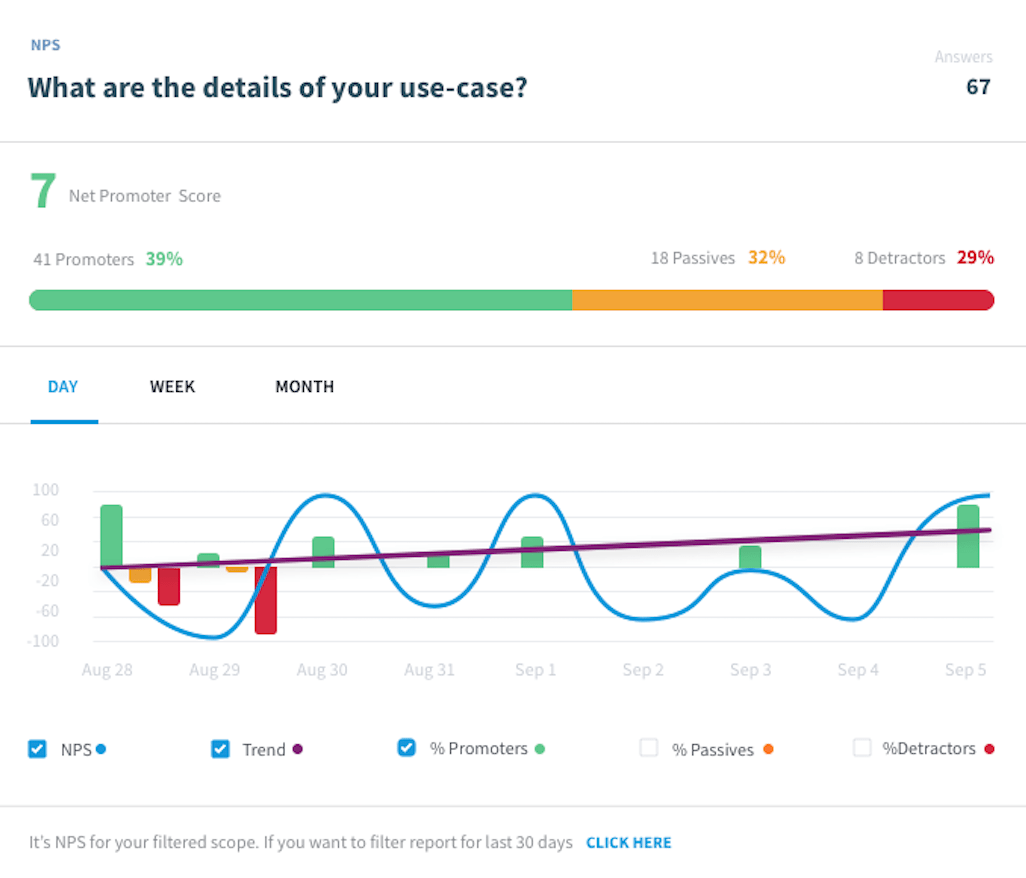 ---
9. Feedback looping
Closing the feedback loop is one of the modern interpretations of customer satisfaction theories. What this means in simple terms is that you should follow-up responses from customers with individualized actions as far as possible so that every customer feels heard.
The advantage of this approach is that your NPS score is more likely to increase as customers become more likely to recommend your product or service to their peers.
10. Varied integrations
Some NPS software tools play very well with other software to help you achieve your goals. It is a matter of fact that you will not use only one software for your entire business – you will use multiple tools for different purposes. That is why the best NPS software should integrate easily and advantageously with other software. Do check whether the software offers APIs (Application Programming Interfaces) in case you want a lot of customization in terms of development options.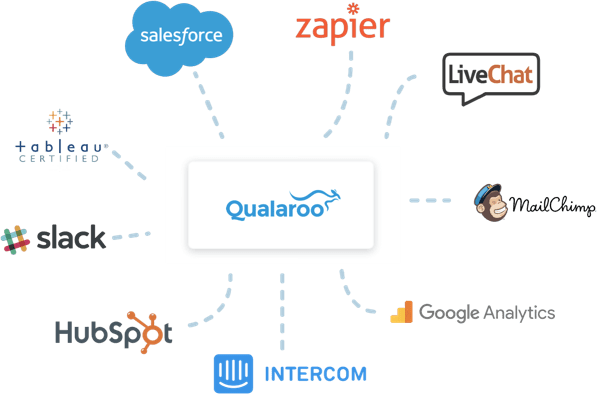 ---
Pros & Cons of 3 Major Types of NPS Software
There are three major types of NPS software: self-made (AKA in-house), survey software add-ons, and standalone.
1. Self-made NPS software
Incorporating the very basics of serving NPS surveys, you can go for this quick-fix short-term option after considering the following pros & cons.
‍Pros:
Investment: Since you control the cost, you choose how much to invest, in terms of both time and money, so you must trade-off wisely.
Manpower: Similar to cost, you choose the level of the team handling the creation and management of your in-house NPS survey software.
Control: Every facet of the NPS software, from the design of the survey to the collection and sorting of the responses, can be fully customized.
‍Cons:
Response rates: There is never a guarantee of high response rates which branded NPS survey software may provide in their package.
Respondent experience: If this is your first time creating and running an NPS survey, you might not be able to deliver the optimum survey.
Follow-up actions: Your self-made NPS software may lack many (if not most) of the follow-up functions that more professional software has.
When to use in-house NPS software:
Running your company on a tight budget? Have people with experience in customer feedback? Need an approx NPS from existing customers? Go for it!
2. NPS survey software add-ons
Consider this option if you are already using a customer feedback platform, or if you have been using software to manage your feedback, but it lacks NPS.
‍Pros:
Easy access: In most cases, the add-on is going to be of the plug-and-play variety, in which you just install and run the NPS add-on.
Quick implementation: Due to the above pro of add-ons being easy & quick to install & run, you start gathering NPS responses immediately.
‍Cons:
Integrating with existing case/feedback management systems: There is no surety that the responses will fit well in your current system.
Limited reach: It is highly probable that the add-on does not cover all the channels that you have been gathering customer feedback from.
When to use NPS survey software add-ons:
Reluctant to replace your currently running customer feedback management software? Is NPS something you won't use often? Try NPS software add-ons!
3. Standalone NPS software
If tracking (and improving) your Net Promoter Score is a process you feel is essential to your business, you should invest in a full-fledged NPS software.
‍Pros:
Complete solution: Once you have proper, specialized NPS software up & running, you will be able to analyze customer loyalty accurately.
Follow-up actions: The NPS software will let you serve relevant logic-driven in-context questions & set actions according to responses.
Long-term loyalty tracking: By measuring the effect of business decisions on customer loyalty, you gain actually actionable insights.
Cons:
Cost: Coming full circle to the pro of the in-house NPS software, the specialized NPS software might cost a bomb – but it will save your time. Also, if you consider it a one-time business investment, it pays off soon!
Focus loss: Once you start gathering customer feedback and it does not yield a good Net Promoter Score, you might lose sight of business goals and get sidetracked into being obsessed with improving your NPS. Don't!
When to use standalone NPS survey software:
If you expect that you will be collecting lots of responses (not just to the NPS question but to follow-ups as well) that will need high-level analysis, go for it!
Net Promoter Score: You Must Act Using Software's Data & Analytics
Any NPS software is only as good or as bad as how well you use it. The NPS tool you select for the features you need will collect data and measure the NPS score, but what matters is what you do to increase your NPS.
Your strategy to convert NPS detractors into promoters should be built keeping the best practices in mind, just as your chosen NPS software should be selected, keeping your business's unique needs in mind.
Bonus Reads:
Questions to ask before choosing an NPS software
We understand that making the perfect choice from so many options can seem like a daunting task.
However, we are here to make your task easier so that your chosen NPS software suits you to a T.
Ask yourself the following questions while deciding among the above (and other) NPS survey software.
Can the NPS software manage my customer base size?
Is there a limit on the number of surveys I can deploy?
Is the payment per survey or per received response?
Does it offer readymade templates for different applications?
Does it offer branching and skip logic functionality?
How does it help me analyze the feedback?
How good is its reporting dashboard and technology?
Can I customize and brand the NPS survey the way I want?
Is the survey interface simple, clear, and unobtrusive?
Does it offer a robust data backup system?
Can it easily integrate third-party applications? If yes, then which ones?
Can it help me sync the customer data from and to my CRM?
Does the service offer an API?
Which NPS Software Will You Try First?
Now that you know about the best NPS tools in the market, start weighing the pros and cons according to your business.
You can even start by going for trial versions to test the waters. Keep in mind that the right tool to measure customer satisfaction does not come with the most features but the right features that get the job done for you.
Qualaroo is a one-stop solution for all your NPS needs as it ticks every box when it comes to effective NPS surveying. It lets you deploy in-context surveys with extremely specific targeting options that your audience would love to participate in.
With the right survey tool at your disposal, you will never have to stay in the dark about your customers.
Now that you know about the best NPS software in the market, start weighing the pros and cons according to your business. You can even start by going for trial versions to test the waters. Keep in mind that the right tool to measure customer satisfaction does not come with the most features but the right features that get the job done for you.
Trying out such a tool for the first time? Then go ahead and give these a try. Not satisfied with your current software? Then perhaps it is time to make the switch to Qualaroo, which offers a complete NPS measurement solution.
FAQ
What Is NPS Survey Software?
As explained above, the Net Promoter Score survey is a widely usedcustomer satisfaction survey with one standard and predefined question that measures the likelihood of your customers recommending your business/brand/product/service to a colleague/friend/relative.
Customers respond on a scale from 0 to 10, and your NPS is calculated based on their responses using a simple arithmetic formula.
NPS software lets you run a Net Promoter Score survey according to the parameters you want – especially if you have zeroed in on the demographics you want to target with the NPS survey.
That is why advanced targeting is one of the essential features in any NPS software tool worth considering.
Why You Need Specialized NPS Survey Software
While considering the pros & cons of these three major types of NPS software, you must pay attention to the needs of your business to make this a high-priority choice.
Think about it: Net Promoter Score is a great measurement of your brand's word-of-mouth potential and positive image.
Your NPS surveys deliver even more actionable insights when integrated with other software you already use and advanced targeting — something for which specialized NPS software is uniquely suited.
So here are 20 of the best NPS software for you to choose from when you want to measure customer loyalty and ask in-context questions that are unobtrusive to the point that they delight customers!
Want insights that improve experience & conversions?
Capture customer feedback to improve customer experience & grow conversions.