Knowing their strength, i.e., their loyal customers, is as crucial as it gets for any business.
Why? Because companies can collect rich and actionable customer insights to see what they are doing right and where they need to improve. These insights are foundational to ever-evolving strategies and product and customer experience development.
A big part of doing this right is choosing reliable NPS software. Picking just one from a plethora of NPS tools is understandably an overwhelming task. So, why don't we help you out?
Let's check out the top 20 NPS tools to consider based on the following:
Their features
Pros and cons
Integrations
G2 ratings, and
Pricing
Without any further ado, let's begin.
Here Are the 18 Best NPS Software & Tools for 2023
When it comes to conducting NPS surveys, tons of survey solutions are available in the market that can help you do so. Here are 20 of the best NPS solutions to help you make the right decision.
---
Qualaroo is one of the best NPS tools for measuring customer satisfaction (CSAT) and gaining insights to reduce customer churn by deploying surveys through web browsers, links, emails, in-app and more channels.
It allows users to deploy NPS surveys as a part of their voice of customer research to determine the overall brand perception, customer satisfaction, and the impact of marketing strategies.
It supports a huge variety of integrations with popular tools (like MailChimp, Hubspot, and Salesforce) to enhance the quality and quantity of customer feedback – not just NPS.
Best for: Small to large businesses
Features:
Deploy surveys within minutes with its easy to create survey functionality.
Create beautiful surveys instantly with the help of 40+ built-in survey templates.
Track multiple satisfaction metrics through NPS scores displayed on the dashboard.
Offers different survey types like NPS, CES, CSAT, UES, and more to help you collect all types of data.
Always ask the right question the right way with 10+ question types.
Target specific customers with the help of advanced targeting modes.
Only collect data that is relevant to you with the help of branching and skip logic.
Pros:
Unobtrusive surveys offer a great surveying experience
Automatic analytics for quick and accurate reporting
Easily embed surveys on multiple channels and platforms
Cons:
The dashboard needs a little more functionality
Pricing: Starts at $69/month
Integration: Mailchimp, HubSpot, Zapier, Salesforce, and more.
G2 Review: 4.4/5
Customer review:
"Qualaroo has everything we were looking for in a survey tool. A no-code builder, AI-based sentiment analysis engine, text analytics engine, and NPS chart. It has a fully-fledged survey responses dashboard to study each response and act on it."
💡Pro Tip:
Use Qualaroo to automatically calculate your NPS along with collecting qualitative insights using its sentiment analysis functionality.
Get answers to all your questions. Sign up to learn more.
2. ProProfs Survey Maker
---
ProProfs Survey Maker is excellent NPS software for understanding the loyalty of customers and discovering effective ways to increase it. Such ways are uncovered by analyzing the feedback gained through follow-up questions in ProProfs' customizable NPS surveys.
The tool supports multiple campaign management to share the NPS survey over numerous channels.
ProProfs' long experience with survey timing & design helps you avoid survey fatigue from messing up your painstakingly and specifically targeted survey results, whether they are for Customer Service Surveys or Post-Sale Surveys.
Best for: Small to large businesses
Features:
Create NPS surveys instantly with the help of professionally-built survey templates.
Ask questions of any kind with the help of 20+ question types.
Make your surveys represent your brand through built-in themes, customization, and white labeling.
Track NPS scores in real-time and make effective decisions.
Uncover crucial data and insights by analyzing responses and through custom reports.
Pros:
Distribute surveys on more than six channels
360-degree view of customer experience
Categories NPS scores automatically
Cons:
No advanced analytics feature
Pricing: Starts at $25/month
Integration: Campaign Monitor, WordPress, Salesforce, and more.
G2 Review: 4.3/5
Customer review:
"I love the ability to create personalized, custom surveys. The ability to share the survey online in various places, with set parameters, and the analytics technology to review survey results. It was always great to showcase our positive scores and analytics to our executive board to support our marketing, sales, and outreach efforts. ProProfs Net Promoter Score gives companies the ability to see how they are performing through their customer's eyes – and that I think, is extremely important to driving success at any company."
💡Pro Tip:
Use ProProfs NPS for custom NPS reports for an easy decision-making process.
Related Read: 10 Best Product feedback Software
3. Zonka Feedback

Zonka Feedback is a comprehensive NPS feedback management tool that enables you to conduct NPS Surveys to gauge customer loyalty. You can also run Employee Net Promoter Score (NPS) surveys to collect insights about employee satisfaction and work culture.
The tool offers multiple survey personalization features like white-labeling, branding, custom theme, and follow-up questions to collect nuanced insights.
In addition, you can set up automated alerts and notifications for your team to update them about new responses.
Along with customization, Zonka Feedback provides detailed NPS reports, including Insights, Trends, Text Analysis, and more, to drill down into the responses and close the feedback loop.
Features
WYSIWYG Survey Editor with real-time preview to create stunning surveys
Supports multi-lingual Surveys to expand reach.
50+ ready-to-use survey templates and forms.
Offers skip logic, reminders, and response limitation option for better data quality.
Centralized inbox to track and manage feedback from multiple channels.
Flexible customization options for your surveys.
Provides 1400+ app integration APIs.
Pros
• In-depth reporting and behavioral analytics like sentiment analysis, heatmaps, etc.
• Ability to customize survey URL.
Cons
• More training videos are required.
Price: starts at $49/month
Integrations: Supports integration with Mailchimp, Campaign Monitor, Zendesk, Salesforce, custom API, etc.
G2 Review: 4.7/5
Customer review:
Zonka Feedback is a brilliant survey tool that provides a comprehensive solution to gather user feedback and opinions. The tool has really strong features such as an easy-to-use WYSIWYG Survey Builder, templates, answer piping and survey logic.
Pro Tip: Integrate Zonka Feedback with HubSpot to trigger surveys at crucial touchpoints in the customer journey through workflows. Sync back feedback data to Hubspot to give complete visibility to sales and marketing teams.
---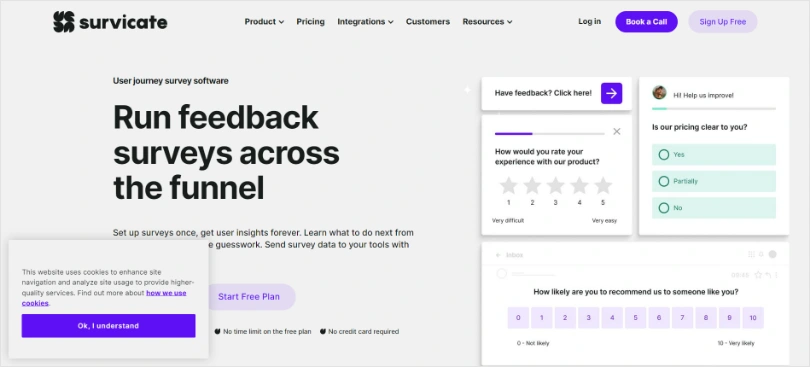 ---
Survicate is another great NPS survey tool that helps you capture customer feedback and deliver a better customer experience. It offers a bevy of features, the most notable being NPS surveys, website banners, web app popups, in-app surveys, email surveys, linked surveys, etc.
It works quite well on all major platforms: Windows, Mac, Android, and iOS. This NPS software also boasts of live chat and email support, a dedicated help center, customer onboarding, help videos, and webinars to make the user's experience completely smooth.
Best for: Mid-sized to large businesses
Features:
Launch surveys instantly with the help of 100+ built-in survey templates
Collect different types of data through NPS, CES, CSAT surveys, and more.
Collect quick website feedback with the help of a feedback button.
Publish surveys on multiple channels, including website, mobile, chat surveys, etc.
Manage customer insights from multiple different sources.
Pros:
Response monitoring and management
Easily add surveys to intercom messenger
Cons:
Does not include optional questions
Can record multiple entries from the same customers
Pricing: Starts at $89/month
Integrations: ActiveCampaign, Amplitude, Drip, Slack, Zendesk, and more.
G2 Review: 4.7/5
Customer review:
"Survicates questionnaires are incredibly customizable, making them suitable for nearly all forms of customer inquiry. We primarily use Survicate for our NPS and genuinely feel they provide the best tool for this. Their integrations with major platforms such as Slack, Intercom and Hubspot is a huge bonus too!"
💡Pro Tip:
Try Survicate if you are looking for the most flexible native integrations.
The power of surveys in your hands. Take the 14-day trial. Get a demo today.
---
5. CheckMarket (Formerly Promoter.io)
---
CheckMarket collects NPS data by engaging, measuring, responding, analyzing, and growing (increasing) customer engagement. It is quite the complete NPS survey software for your business. The only significant barrier to entry may be its slightly steep pricing.
This Net Promoter Score measuring software has no-frills, an intuitive dashboard, and a feature that manages multiple campaigns. Each campaign can be monitored through its own dashboard.
Best for: Mid-sized to large businesses
Features:
Seamlessly collect feedback during the purchase process.
Send NPS surveys through multiple channels, including website, SMS, and link.
Send instant or recurring surveys for a higher impact.
Cover your customer base from any country with 27 language support.
Easily segment results by demographics, product line, and other meaningful data.
Pros:
Easy survey creation
Powerful analytics
Appealing and interactive design
Cons:
The data storage system needs refinement
No auto-save in the campaign wizard
Pricing: Starts at $100/month
Integrations: ActiveCampaign, Zapier, RudderStack, and more.
G2 Review: 4.5/5
Customer review:
"I present to our leadership team, our NPS results obtained by Promoter and it has always led to a clear and detailed understanding of where we are. The graphs and charts give great visual representation of our scores and performance as a staff. If I ever have a questions or issue with the platform, the support from Promoter has always been 10/10."
💡Pro Tip:
Choose Promoter.io (CheckMarket) for its diverse distribution channels.
Related Read: Best Customer Experience Management Software
6. Delighted
---
Free NPS software is hard to find. Many features we have listed above come as part of the premium bundle of NPS survey tools. Take Delighted, for example. Its complete package has a helpful survey wizard to create surveys quickly from templates.
Also, its autopilot feature helps run surveys according to schedule and multiple survey distribution channels (web-based, email, messages, and links).
One of the things working in favor of Delighted is its visual appeal. You can serve SMS-based, email, and web-based NPS surveys (among other types) using this tool. Respondents can send in their responses by replying to the email itself without having to go to an external link.
Best for: Large businesses
Features:
Customize your surveys to represent your brand by adding logos and themes.
Address your audience members directly by tailoring your questions specific to their needs.
Get detailed insights by following up your NPS questions with open-ended questions.
Schedule ongoing surveys and add custom triggers for automatic surveying.
Get an overview of your surveys from the real-time dashboard.
Segment your data and analyze trends based on different metrics.
Pros:
Automatic feedback scoring
Prevet over-surveying
Multi-language support
Cons:
Cannot respond to feedback directly
Needs more advanced reporting features
Pricing: Starts at $224/year
Integrations: Shopify, Salesforce, Slack, and more.
G2 Review: 4.7/5
Customer review:
"We currently use Delighted in our Customer Success Department. We are able to send out our NPS surveys bi-weekly and receive feedback from our customers. This is extremely helpful as it gives us a report that includes promoters (scores 6 and above) and detractors (scores 5 and below). In addition to obtaining a score, the customer is able to leave helpful feedback in the comments."
💡Pro Tip:
You can easily schedule automated surveys using the Delighted REST API.
7. Hotjar
---
The suite of tools Hotjar offers includes an NPS feedback tool that is headlined by a visual dashboard that enables individual analysis of customer responses. Their Feedback Poll feature provides an easy process to create NPS surveys.
There is a function to calculate the NPS score automatically as soon as the target audience starts submitting their responses to your NPS survey. This is especially useful if you need to keep a running tab on your NPS score.
The clientele of Hotjar includes big names like Adobe, SurveyMonkey (not for their surveys but for their heatmap and user session recording features), Unbounce, and Decathlon.
Best for: Small to large businesses
Features:
Use the built-in survey templates to create surveys instantly.
Receive feedback in real-time with the help of suggestion boxes.
Run on-site and standalone NPS surveys for all types of audiences.
Capture in-the-moment feedback by deploying survey popups and widgets.
Visualize users' interactions and actions on your website with heatmaps.
Get better security for your data through GDPR and PCI compliance.
Pros:
Easy to use
Switch between workflows easily
Interactive intercept surveys
Cons:
Limited data tracking
UI needs optimizations
Pricing: Starts at $31/month
Integrations: Slack, Segment, HubSpot, Zapier, and more.
G2 Review: 4.3/5
Customer review:
"I like the fact that hotjar gives me clear visual data points about what's happening when my users are on my website. I also like the heatmaps that they have which helps me analyse which parts of the screen are my users going to the most."
💡Pro Tip:
Besides NPS surveys, with Hotjar, you can visualize user behavior with its heatmap and session recording features
8. InMoment
---
InMoment (formerly known as Wootric) touts itself as an NPS survey software that increases customer lifetime value for clients. It can be used to look after the whole customer experience.
It gives companies an overall analysis of the voice of the customer by using machine learning to deal with large volumes of feedback at scale.
Best for: Mid-sized to large businesses
Features:
Easily set up and deploy surveys with the help of a built-in guide
Determine customer loyalty through hyper-targeted NPS, CSAT, and CES surveys.
Deploy microchannel surveys to always ask the right questions to the right customers.
Analyze trends and customer perception with the help of real-time sentiment analysis.
Customize the dashboard and set alerts to engage with the stakeholders and close loops.
Pros:
Use machine learning to analyze data
Monitor customer satisfaction on a regular basis
Cons:
Does not work well on mobile devices
Does not have enough filters for segmentation
Pricing: Available on request
Integrations: Salesforce, Adobe, Oracle, Slack, and more.
G2 Review: 4.7/5
Customer review:
"The visualization of the NPS, trends, and feedback. They are very well designed and are very helpful for making a decision. On the other hand, the connection with Intercom was smooth and fast."
💡Pro Tip:
You can leverage InMoments' Predictive Analysis to drive the most actionable insights from customer feedback data.
9. Nicereply
---
Nicereply is another NPS tool that has a strong focus on ascertaining NPS for support teams. This helps the most in keeping customer satisfaction (CSAT) levels high so that there is less probability of upset customers spreading negative reviews that can damage your business on social media and other platforms.
It helps you continuously track improvements with a variety of charts, time filters, and comparisons. The data from surveys can be displayed in your CRM software. Surveys can be triggered according to values set through the CRM as well.
Best for: Small to large business
Features:
Customize your surveys and give them a unique identity by adding your branding elements.
Track multiple survey metrics like NPS, CSAT, and CES all at the same time.
Receive notifications and alerts directly to your email whenever someone fills out a survey.
Increase your survey responses significantly by combining post-query resolution and in-signature surveys.
Trigger surveys based on actions that can be customized.
Pros:
Easy to set up
Comprehensive dashboard
Workflow automation
Cons:
Does not support a combined view
Does not display the number of participants
Pricing: Starts at $49/month
Integrations: Zendesk, Front, LiveAgent, Aircall, and more.
G2 Review: 4.5/5
Customer review:
"We've been using Nicereply for over a year. They make it so easy to do CSTAT and NPS reviews from your customers. The reporting is really great too. It only took a few minutes to set up and add to our customer support system."
💡Pro Tip:
You can send in-signature email NPS surveys with Nicerply by incorporating them in your existing email templates.
10. AskNicely
---
The NPS tools of AskNicely include survey channel support and campaign management. It also has integrated support for Intercom to pair feedback messages with survey responses so that both can be analyzed together to draw or support insights from customer feedback.
One very useful feature it has in common with Qualaroo (and a few others mentioned above) is the ability to serve in-app NPS surveys.
Best for: Mid-sized to large businesses
Features:
Share your NPS surveys via email or SMS to target all sorts of customers.
Deploy conversations surveys or short surveys based on the occasion.
Set reminders and get notified whenever someone fills a survey.
Respond to survey respondents with the help of built-in chat windows.
Categorize the responses and get value out of them with the help of advanced analytics.
Send in-app tips and collaborate with your teammates.
Pros:
Personalized survey experience
Send follow-up questions easily
Cons:
Survey reminders do not work for SMS
UI is a little complicated to get started with.
Pricing: Available on request
Integrations: Qualtrics, Salesforce, HubSpot, Zapier, and more.
G2 Review: 4.7/5
Customer review:
"AskNicely works seamlessly with Intercom and was the easiest NPS software I found to get us started getting reviews as fast as possible! We also utilize Slack integration. Together they create a perfect feedback loop for us to close the loop with our users and is seen by our entire company!"
💡Pro Tip:
If you already have NPS survey responses but haven't calculated the score yet, AskNicely offers a standalone NPS calculator to help you calculate your NPS manually.
11. Qualtrics
---
Qualtrics is an experienced management and technology platform that helps you make better decisions by leveraging customer insights, research, and concept testing. Using Qualtrics CoreXM's central research platform, anyone can capture feedback from anywhere in the world and use it to make better decisions.
The NPS surveys offered by Qualtrics are powerful and valuable enough to help individuals and organizations generate sales insights and optimize sales pipelines based on the analytics.
Best for: Mid-sized to large businesses
Features:
Build effective NPS surveys with the help of built-in templates and multiple question types.
Get an expert's recommendations for survey designs in real-time with the built-in ExpertReview feature.
Visualize all kinds of data in every possible way with 30 different visual graphs.
Collect feedback from over 27 different channels and meet your customers where they are.
Uncover trends and patterns by leveraging the built-in IQ feature.
Pros:
Collaborating opportunities
Easy and comprehensive reporting
Cons:
Limited customization
Has a steep learning curve
Pricing: Available on request
Integrations: Salesforce, Marketo, Adobe, and more.
G2 Review: 4.4/5
Customer review:
"It works out of the box. We needed a product that helps us to analyze the user onboarding flow and receive feedback on our new features and improvements, so we can able to optimize the user experience even better. And we found Qualtrics for customer engagement and started working with it. We used a few other software previously, but Qualtrics has advanced features which are needed at that time. And the main thing is that we can integrate Qualtrics with many other platforms, which is great. To date, we are using the software on all our products to improve our CX and our products, and so far we are happy with the product."
💡Pro Tip:
Qualtrics offers a suite of products targeting every business aspect from marketing, designing, lead generation, to employee experience management. It's a great tool of choice for a streamlined process.
Related Read: 11 Best Qualtrics Alternatives & Competitors in 2023
12. Survey Monkey
---
SurveyMonkey is a popular online feedback and one of the best Net Promoter Score tools, which allows people to turn their feedback into actionable decisions and drive growth. It has tons of features and an easy-to-use interface to help you get started with it easily.
SurveyMonkey features a lot of collaborative and configurable attributes that make it an ideal survey solution for a lot of different occasions. It even comes packed with a range of security features to aid data security.
Best for: Small to large businesses
Features:
Build beautiful NPS surveys instantly with the help of built-in survey templates.
Build interactive surveys with the easy-to-use visual editor.
Gather only the relevant data with the help of branching and skip logic.
Get insights to improve your surveys with the help of the AI-based recommendation engine.
Create surveys that work globally with the help of automatic language translation.
Pros:
Ability to send anonymous feedback
Generates easy-to-digest reports
Cons:
Not easy to navigate through
Lacks flexibility in designing surveys
Pricing: Starts at $10/month
Integrations: Salesforce, Oracle, Zoom, Google Drive, and more.
G2 Review: 4.4/5
Customer review:
"SurveyMonkey is a user-friendly and versatile online survey platform. One of the things I like best about it is its intuitive interface, which makes it easy to create and distribute surveys, even for those with little to no prior experience in survey design. Another helpful feature is the platform's ability to analyze and visualize survey results, allowing users to quickly and easily make sense of their data."
💡Pro Tip:
Another great tool with Predictive Analysis that helps predict your survey completion rate.
Related Read: 15 Best Surveymonkey Alternatives
13. GetFeedback
---
GetFeedback is a powerful customer experience and an NPS tool that enhances customer experience and helps brands become more customer-centric. Using GetFeedback, you can capture in-moment feedback across different traditional and digital channels for maximum impact.
GetFeedback has an extremely agile CX platform that allows you to meet where the customers are and deliver experiences that can set you apart from the competition.
Best for: Mid-sized to large businesses
Features:
Launch multiple NPS programs at scale and easily manage all of them.
Set up and manage feedback touchpoints with ease throughout the customer journey.
Set triggers for your surveys based on lifecycle and other events that are captured by different systems.
Collect feedback from users on mobile applications by easily embedding surveys through mobile SDK.
Quickly spot trends and patterns by bringing all your data into a centralized location.
Get a better understanding of customer loyalty by tracking progress on touchpoints.
Pros:
Easy to create surveys
Extremely user friendly
Diverse customization
Cons:
UI for storing surveys seems counterintuitive
Weak user permissions
Pricing: Available on request
Integrations: Salesforce, Google Analytics, Slack, Jira, and more.
G2 Review: 4.5/5
Customer review:
"It is very easy to create surveys. My team especially likes that you get the NPS and that it links to Salesforce!"
💡Pro Tip:
You can automatically export feedback data into tools you already use with GetFeedback's flexible integration APIs.
14. Typeform
---
Typeform is one of those NPS feedback software tools that users would love to engage with instead of ignoring it. Typeform encourages you to create conversational surveys and make them visually appealing to help you radiate a sense of your brand.
Typeform has a lot to offer, such as a live preview mode, in-depth analytics, and great insights that will help you maximize the effectiveness of your NPS surveys and make better decisions.
Best for: Mid-sized to large businesses
Features:
Streamline NPS data from different channels and sources with the help of a feedback management system.
Display one question at a time for better engagement and visuals.
Get a better response rate by sending surveys through emails.
Get valuable insights from data using the built-in reporting and analytics system.
Make decisions in real-time with the help of live result tracking.
Pros:
Responsive design
Conversational surveys
Cons:
Needs more language customizations
Needs more options for conditional logic
Pricing: Starts at $25/month
Integrations: Slack, MailChimp, Trello, Stripe, Shopify, and more.
G2 Review: 4.5/5
Customer review:
"The Typeform has really helped me and my business to get more reviews and suggestions then ever. It is really easy to add and configure. I can easily update the questions which I want answers for and can simply update it whenever I want to."
Related Read: Best Typeform Alternatives
15. YesInsight
---
YesInsights offer extremely simple one-question and NPS surveys to discover what matters the most to your customers, prospects, and stakeholders and improve your business. You can conduct NPS surveys across all platforms through YesInsights and receive instant customer feedback.
Best for: small to large businesses
Features:
Discover roadblocks that hurt your business through NPS surveys and eliminate them.
Uncover all the details about your customers using website survey popups.
Capture the contact information of your visitors through effective lead forms.
Target specific users and pages to get the relevant information through advanced targeting.
Boost your email response rates by deploying one-click surveys.
Trigger automatic emails and send them to your customers for follow-ups.
Pros:
User-friendly interface
Versatile surveys
Cons:
Limited functionality in base plans
Email surveys are just like any other competitor
Pricing: Starts at $20/month
Integrations: SendGrid, Drip, Campaign Monitor, Salesforce, and more.
G2 Review: 4.8/5
Customer review:
"I like the method that is used in this software to receive and collect feedback through NPS surveys. It makes things easier since the customers will be able to answer the surveys in a fast way. It's a software that is amazing because of the facility to set up, you don't need to be a professional in these stuff to use this software. Also, the analytics are real."
💡Pro Tip:
YesInsights lets you embed and send one-click NPS surveys in your emails to boost the survey response rate.
16. Textline
---
Textline is a popular business text messaging application that gauges customer contentment through NPS surveys to provide support and close more sales. It opens up a two-way communication channel between the business teams and customers to add personalization and make people feel valued.
Textline can be set up with just a phone number, and then you get to choose how you want to engage with your customers to create the customer experience possible.
Best for: Mid-sized to large businesses
Features:
Get texts from your customers whenever they want with the built-in messaging feature.
Make direct two-way communication with the customers to resolve any problem instantly.
Gauge customer satisfaction with ease by conducting NPS surveys through SMS.
Monitor your traffic and responses to ensure maximum security.
Streamline the process of assigning jobs and make scheduling less complicated.
Pros:
HIPAA compliance for doctor's security
Auto-reply to customer messages
Cons:
Needs better access to analytics
The layout needs more improvement
Pricing: Starts at $59.97/month
Integrations: Talkdesk, Aircall, Salesforce, Slack, Twilio, and more.
G2 Review: 4.3/5
Customer review:
"It delivers what it promises. An integration with Apple Business Chat would be the best … Idk if its offered in the integrations …"
17. Medallia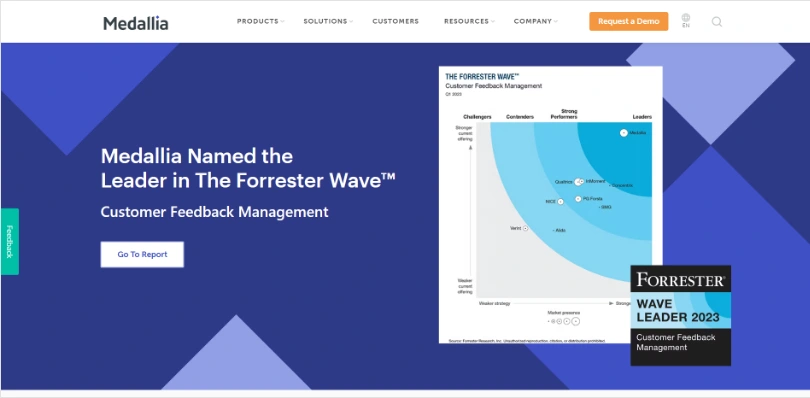 ---
Medallia is a cloud-based NPS survey platform that aims at understanding and managing customer experience and turning signals into actions to provide growth. Medallia features some of the most effective NPS tools to capture customer feedback and experience from every area of interaction, including website, social media, in-app and more.
Organizations also get a deeper understanding of customer touchpoints by leveraging operational and transactional data through Medallia. It also features a built-in AI engine that feeds on the survey data to extract trends and patterns.
Best for: Mid-sized to large businesses
Features:
Capture every signal and get integrated NPS data from all channels.
Analyze and predict patterns and behavior with the help of AI machine learning models.
Empower your teams and make better decisions with tailored data and insights.
Deliver a better user experience with the help of instant data and added personalization.
Get a holistic view of customer behavior with social media, speech analytics, transcripts, and more.
Pros:
Fast and easy to use
Good progress tracking
Highly functional dashboard
Cons:
Automatic results need more customization
It does not look for keywords
Pricing: Available on request
Integrations: Salesforce, Adobe, Slack Jira, and more.
G2 Review: 4.4/5
Customer review:
"I really like the account level or contract level campaigns I can customize and track. I like the fact that you can get near real-time notifications as folks respond. The survey questions for wins/losses are very applicable for gleening information that can be used in the next pursuit"
💡Pro Tip:
You can leverage Action Intelligence to identify customers in need of immediate attention and boost your customer retention.
---
Read Also: 10 Best Customer Retention Software To Consider in 2023
---
18. Cisco Webex Experience Management
---
Cisco Webex Experience Management, as the name suggests, is a customer experience management tool that tracks and measures customer delight in real-time through NPS surveys. It aims to improve employee and customer experience and gain insights across all touchpoints by listening to the Voice of Customers.
You even get valuable insights across all your customer journeys by leveraging predictive analysis and journey path analysis that you can use to improve customer experience.
Best for: Mid-sized to large businesses
Features:
Make informed decisions with the help of predictive analytics that feeds on your data.
Get meeting-ready and comprehensive financial analytics automatically for better initiatives.
Uncover areas that impact customer experience with journey path analysis
Analyze customer sentiments with ease with the help of AI and machine learning systems.
Get alerts in real-time and close loops with customers with the help of a live ticketing system.
Pros:
Integrate with contact center agents
Published data with minimal delay
Cons:
Dashboard UI needs improvement
Pricing: Available on request
Integrations: Devo, Exabeam, Graylog, IBM Security, and more.
G2 Review: 4.3/5
Customer review:
"Suitable for communication and team engagement. Creating channels and links to join for the intended crowd. Good analytical tool by integrating with other tools for the same. They offer cloud cherry customer support which is very helpful during first trials and installation. Well supported on all systems including a flexible android phone."
19. SatisMeter
---
SatisMeter is popular customer feedback and one of the best NPS survey platforms that automate all its NPS, CSAT, marketing, and custom surveys to collect data on the fly. It comes packed with features like advanced targeting and automatic triggers to measure customer journeys with precision.
SatisMeter is an extremely popular tool among innovative companies as it helps them reduce churn, understand customer perception and improve overall product development.
Best for: Small to large businesses
Features:
Understand your customer journey with the help of CSAT, NPS, CES surveys, and more.
Target specific customers and only gather relevant data.
Target users anywhere by launching surveys on websites, email, and mobile.
Gather all your feedback in a centralized place for a better overview.
Share your surveys easily and quickly via a public link.
Pros:
Easy scheduling
Organized data collection
Useful filters
Cons:
Cannot save filters
Needs deeper metrics
Pricing: Starts at $49/month
Integrations: Intercom, Segment, Shopify, Drift, and more.
G2 Review: 4.8/5
Customer review:
"Satismeter platform has helped us to gather our NPS survey's answers in a very organized way. Its system of filters is very useful, in addition it was extremely easy to integrate satismeter with our platform. We use the most the NPS survey, however, whenever I want to collect CSAT answers, I also use Satismeter and send the survey through email for my clients. Very easy and practical and no need of IT team to help me out. Another point that is worthy to mention is the customer success and support services, they are amazing, always available to help and listen to feedback!"
Now All That's Left to Do Is Pick the Right NPS Tool
Now that you know about the best NPS tools in the market, start weighing the pros and cons according to your business needs.
A helpful tip: Go for the trial version to see if it meets your requirements before committing fully to any tool.
All the tools in this list are crème de la crème to help you get the best out of your NPS program. Just a few pointers to keep in mind are:
It should have an automatic NPS calculator.
The score should be easily accessible and visible.
The tool should offer seamless integration with any CRM (customer relation management) software so that you can add individual scores to the right customer profiles.
The best practice is to go for a tool that lets you conduct other survey types to measure customer satisfaction metrics along with NPS like CSAT and CES.
For example, both Qualaroo and Qualtrics have dedicated templates for multiple survey use cases to give you a complete view of the customer journey.
So, with that, we wrap up our list of top net promoter score feedback software and hope you find the right fit.
Want insights that improve experience & conversions?
Capture customer feedback to improve customer experience & grow conversions.