There's an interesting phenomenon that helps casinos make a lot of money. Gamblers attribute winning to skill and losing to bad luck. It's this exact formula that keeps them at the Black Jack table long after they should have walked away.
Gamblers walk a very fine line. Each winning hand is just a single card away from a losing one and vice versa. A hot streak is just a series of near misses.
There's an important business parallel here. Sales walk the same fine line. It's easy to attribute a successful sale to your marketing campaigns, but each one is a Facebook notification or crappy wifi connection away from not happening at all.
The same is true for the near-misses. How many people actually wanted your product, but abandoned the process when shipping was too expensive or their mom called or their wifi crapped out? This perspective keeps you hungry to improve instead of resolved on your laurels.
Exit surveys help bridge the gap between the near-misses and the successful sales—it's like a safety net for prospective buyers. With a little feedback, you can start winning back buyers that might have drifted off. If you've never used them before, it's time to get started. Here are three important things you need to know.
1. You're losing a lot of potential customers. Just ask Google Analytics.
Imagine if you could get inside a potential customer's head as they navigate their shopping cart. What causes them to land on your site, add an item to their cart, then change their mind and close the tab?
This is the moment you lose them. And it's also the moment you can present an exit survey. Qualaroo's Exit Survey feature will trigger on a designated page when a user moves their mouse to close the page. It's an ingenious tool that provides incredibly useful business feedback.
Here's how it works.
First, take a look at your Google Analytics to get a better understanding of where you're losing people. Shopping carts are an obvious destination for exit surveys, but you're losing people on other pages too. It's easy to find Exit Pages—the pages where you lose the most people—in Google Analytics. Just navigate to "Behavior," then "Site Content," then "Exit Pages."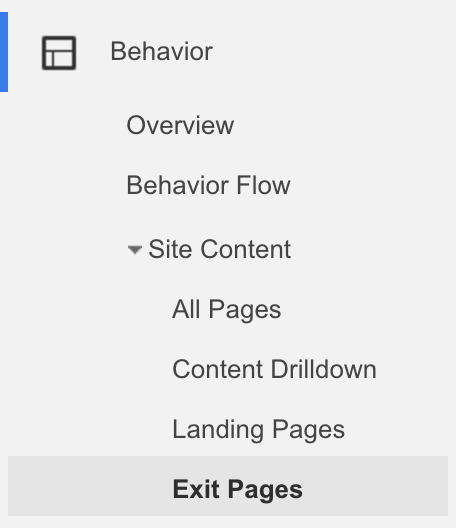 You'll get a list of pages, ordered by the total number of exits. Your worst performing pages will be on the top.
Here's what the data tells you.
The page URL
The total number of exits from that page in the last 30 days
The total number of pageviews on that page in the last 30 days
The percent of people who visit that page that don't visit another page
You can put exit surveys on as many pages as you'd like. Because users only exit the site once, you can implement them on nearly every page without worrying about annoying them with surveys. We recommend starting on at least 10 pages so you can start collecting data. The more data you collect, the easier it will be to identify trends that you can address.
Here are a few places you can use exit surveys, along with a common reason someone would exit:
Shopping cart – "Shipping is too expensive."
Ecommerce product pages – "I'm not sure this product does what I need it to do."
SaaS pricing page – "I'm just comparing pricing to their competitors."
Features pages – "I'm trying to understand if this product fits my needs."
In each case, their interest can be the spark of a conversation that can lead to a sale. And while this will get you started, it's important to look at your analytics to identify high-impact areas. Once you have the pages identified, you'll need some basic knowledge on the types of questions that generate good answers.
2. It's easy to collect really useful feedback.
One of the biggest challenges that online businesses face is the lack of face-to-face communication. If you were selling a pair of hiking boots to a customer in an outdoor store, the sales associate could answer questions, recommend a better-fitting boot and direct the customer to a great pair of socks to wear with them. Perhaps most importantly, a sales person could read the customer's body language and tone to get a better understanding of the customer's hesitations.
You can automate some of this online, but it's not quite the same. If a customers gets frustrated, there's no one to talk to. Do you really think they'll go through your phone tree to voice a minor complaint? And if they get distracted, there's no one to remind them of the task at hand.
Exit surveys can address both situations with a few simple questions.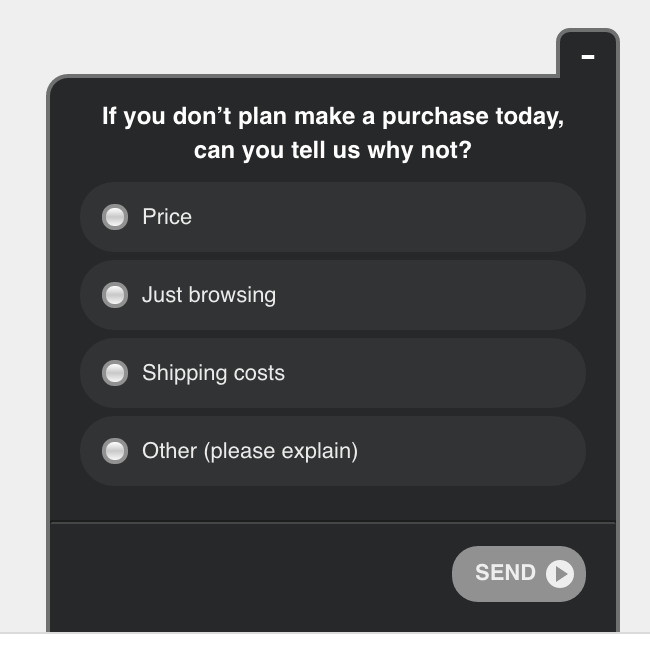 Of course, not everyone will fill these out, but the ones that do offer useful information that can help convert them as well as future customers facing the same issue.
It's best to start with a simple, direct question. If you're triggering an exit survey in a shopping cart, you can use questions like these:
"What would've convinced you to complete the purchase of the item(s) in your cart?"
"What was your biggest fear or concern about purchasing from us?"
"If you did not make a purchase today, can you tell us why not?"
"Do you have any questions before you complete your purchase?"
"Is there anything preventing you from completing your purchase?"
For each question, present a few multiple choice answers as well as an "Other" option where they can type a response.
3. Exit surveys can be the beginning of a fruitful relationship.
Answering a multiple choice question can trigger a follow-up. So while you can (and should) use their feedback to inform product and marketing decisions, you can also address the customer's immediate concern.
For example, if a near-miss customer is upset about the shipping cost, present them with a free shipping code.
That's a relatively simple example and one you can repurpose for a variety of different responses. You can take it a step further by passing the event data to Segment, where it can be passed on to a behavioral email tool like Customer.io. If a customer tells you that the shipping is too much, but still doesn't buy, you can trigger a follow-up email. Notice that Bonobos offers free shipping and 20% off to new customers.


The more data you have, the more you can do with it. Customer surveys are just the beginning.
Getting Started with Exit Surveys
It's not easy to get targeted traffic on your site. In addition to learning from every visitor, you can provide easy options for increased engagement. Take a look at the short video below to see how to create and implement an exit survey on your own site.
When you're ready, check out our free trial to kick the tires yourself.
Want insights that improve experience & conversions?
Capture customer feedback to improve customer experience & grow conversions.