Top 45+ Lead Generation Tools For Your Business
June 29, 2021
Do you know that almost 4 out of 5 marketing leads never convert into sales due to lack of proper lead nurturing?
Lead generation is not just about collecting information. It also involves scoring leads, qualifying, and nurturing them to convert prospects into customers.
Easier said than done!
To assimilate and bring the entire process into realization can be a daunting task. If not streamlined, it can lead to the loss of potential customers.
That is where lead generation tools come in.
In this blog, we will go through the important aspects of a lead generation tool and provide you with a comprehensive list of some of the best lead generation tools in the market. We have compiled a detailed list of tools with their features and pricing to make it easier to compare them and choose the right one for your business.
First, let's begin with the basics to understand what you need.
What Is Lead Generation Software?
Lead generation software is a tool that automates lead generation. Such tools can be used to generate leads from multiple sources like landing pages, social media, etc. These leads can further be used for lead nurturing and converting them into customers.
Depending on the channels to generate leads, each software works differently and has its own unique set of features, as discussed in the following section.
What Should You Look for in a Lead Generation Tool?
Though all tools work differently, they share some common aspects that you must look for while selecting the best lead generator tool for your business.
Choose a tool that is easy to master for your marketing and sales team. It should also have an extensive support service and plenty of help material to facilitate your team's smooth onboarding.
Targeting and Tracking Options
Ensure that the lead generation platform you choose offers audience targeting options so you can collect leads from the right visitors without annoying others. Just collecting the leads is not sufficient. You should be able to accumulate and track their interactions with your business in one place.
For example, CRO tools such as Qualaroo can help you target desired website visitors using surveys and lead forms to gather contact information. Similarly, lead management tools such as Salesforce will help you track and qualify the new leads.
Different lead generation tools offer various pricing options. They might provide a free account and paid plan. Often, there are tiers within the paid plans as well, so you can choose the correct option depending on your budget. Some lead generation platforms also provide a free trial, so you can test the tool before purchasing it.
Provide in-depth Sorting and Data analytics
Data analysis is an integral part of converting leads into customers. Not all visitors are your potential customers. So the tool should be able to help you sort out the potential prospects from the miscellaneous data. It should provide a lead categorization option so you can prioritize different lead types.
Ensure that the lead generation software tool you choose for your business should seamlessly integrate with your other tools, such as CRM, email marketing tools, etc. Interactions reduce manual work and promote data consistency across all the tools.
To make it easier for you, we have listed some of the best lead generation tools available out there, along with their salient features, to give a detailed overview of each of them.
Different Types of Lead Generation Tools
CRO and On-page Lead Generation Tools
In general, CRO tools have an average ROI of 223%.
These tools help to maximize your website's traffic engagement and generate new leads through forms, surveys, social proofs, and sticky notification bars.
Bonus Read on how to use CRO to increase customer engagement and conversions: The Beginner's Guide to Conversion Rate Optimization
1. Qualaroo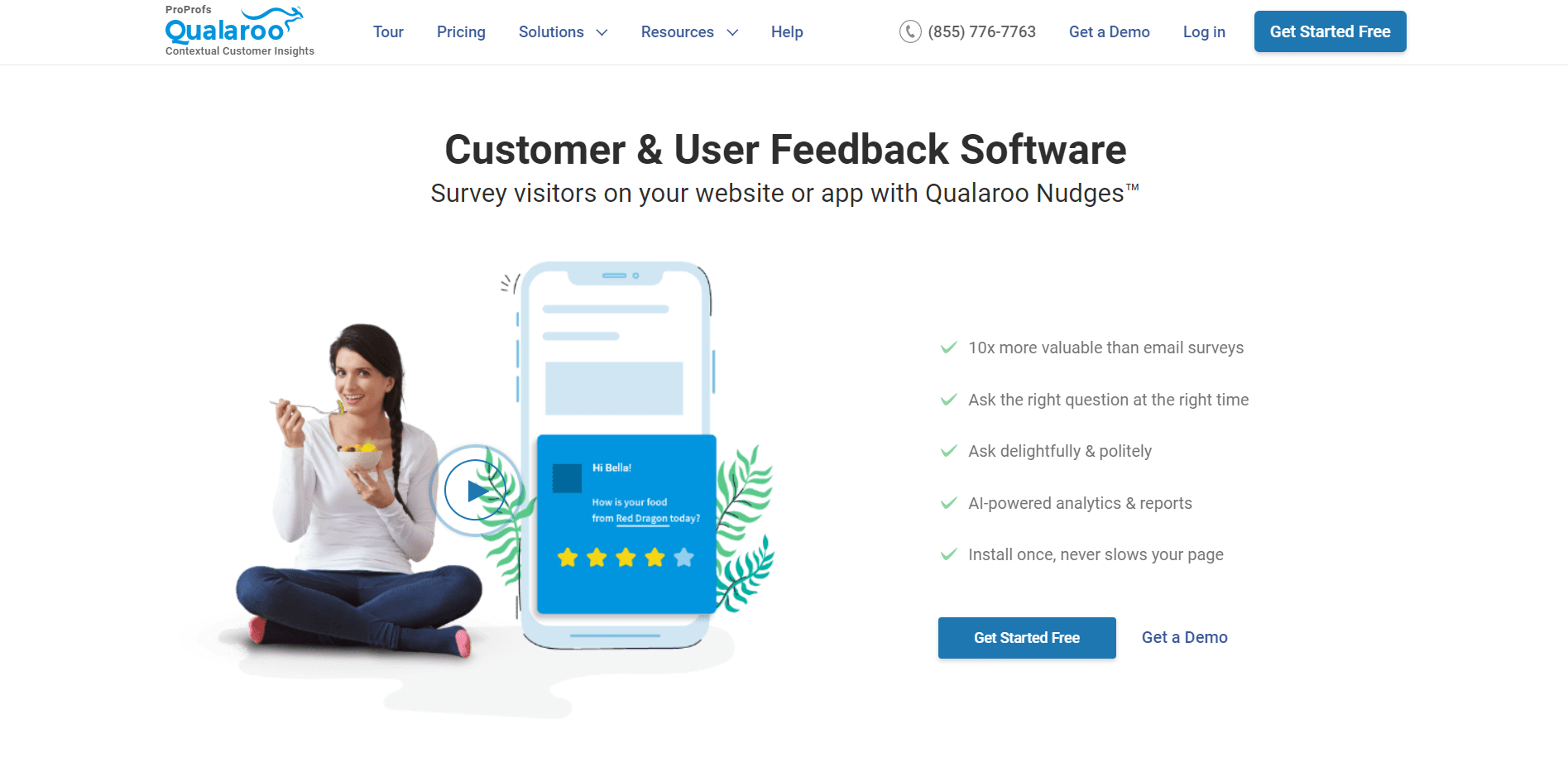 Best For: Survey, lead forms, on-site polls, behavioral insights
Integrations: Yes

Qualaroo is an effective tool to optimize CRO that lets you collect valuable feedback, behavioral insights, map users' journey, and generate new leads simultaneously.
How to Use Qualaroo as Your Lead Generation Platform:
Create feedback surveys and add a lead form at the start or end to generate new leads.
Embed an external link to the survey to redirect customers towards your mail and newsletter subscription page.
Add its popup survey Nudges™ to your website, app, mobile browser, and SaaS product to collect the voice of your customer and capture new leads from every platform.
Place the Nudges™ at the right places and ask the right questions to maximize lead generation on your website or app.
Offers pre-built templates, over 10 question types, conditional branching, branding options, and much more to create truly personalized surveys for visitors.
You can choose between multiple-choice questions, ratings, NPS, CSAT, and free-form answer types to design your surveys and collect behavioral insights from your visitors.
Choose how, when, and who to target with each survey and lead form using advanced targeting options.
Offers AI-powered sentiment analysis to track mood metrics and keywords across all customer responses and free-form answers.
Collect customer feedback to uncover issues and grievances, and build your hypothesis for A/B testing to optimize your product, website, or app.
Easily integrate with tools like Slack and Salesforce to collate the leads data, automate workflows, and plan follow-ups to nurture them into clients.
Price: Starts at $80/month billed annually
---
---
2. Picreel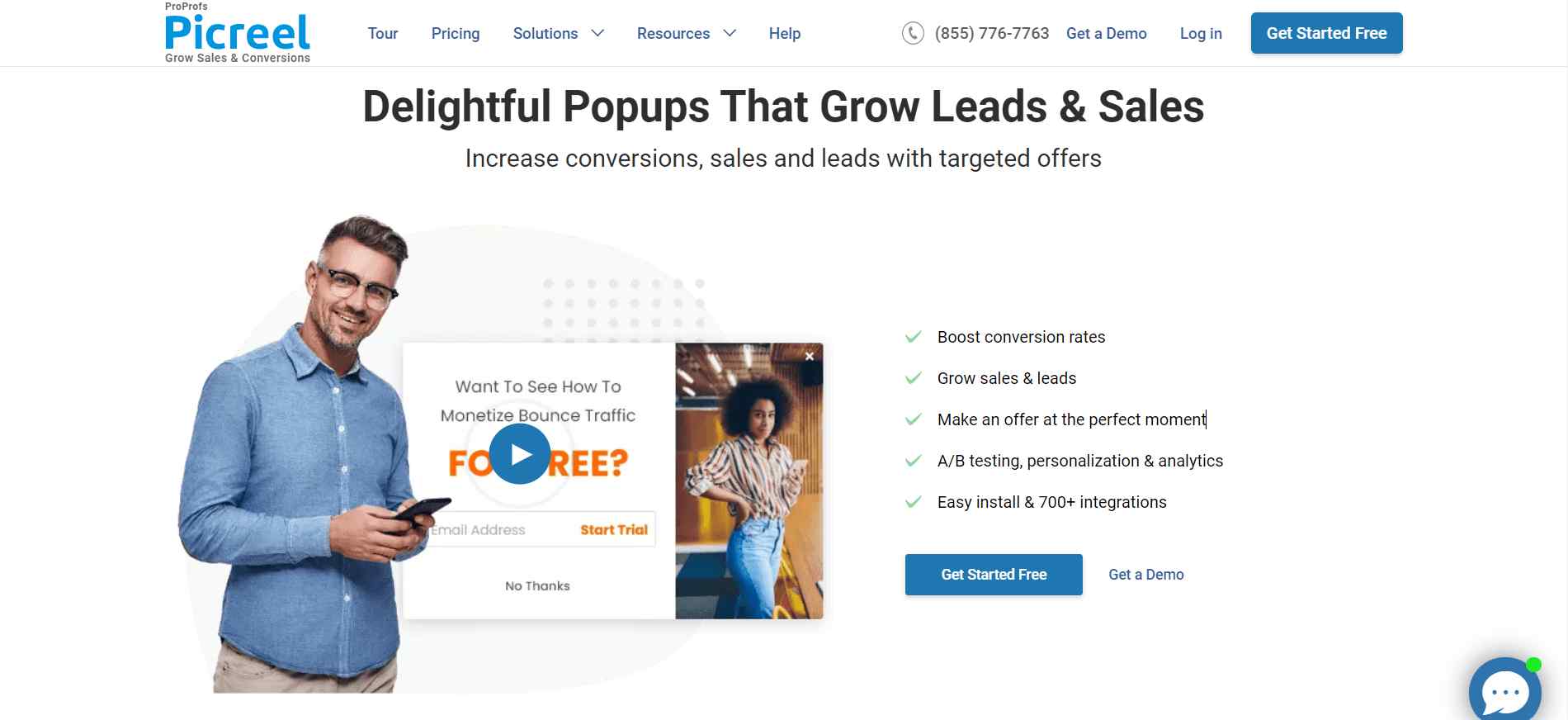 Best For: On-page lead generation, surveys, and lead forms
Integrations: Yes

Picreel lets you target visitor behavior to explore customer experience optimization and lead generation opportunities. It focuses on exit intent to help you understand customers' intent and prompt them to leave their contact information to build your prospects list. You can re-target the leads with follow-up conversations to convert them into customers.

How to Generate Leads Using Picreel?
Design personalized offers and rebrand them to suit your website using the visual editor.
Use overlays to display customized offers based on visitor's behavior, position on the page, or after a designated amount of time on the page.
Combine offers with lead forms to prompt visitors to share contact information.
Use Reelinks™ to show a lead form overlay when visitors click on a page link to allow them to join the mailing list or navigate to another page.
Embed survey overlays to collect valuable insights from exiting visitors.
Target visitors based on demographics, visitor type, referral site, etc., to maximize engagement.
It provides a mobile-responsive design for website overlays.
Measure the performance of your website and campaigns with the in-depth analytics dashboard. It shows the page visits, conversions, impressions, and other useful metrics for quick analysis.
Integrate with other applications to send the leads to your CRM tools and turn them into customers.
Price: Starts at $14/month billed annually
---
3. ProProfs Survey Maker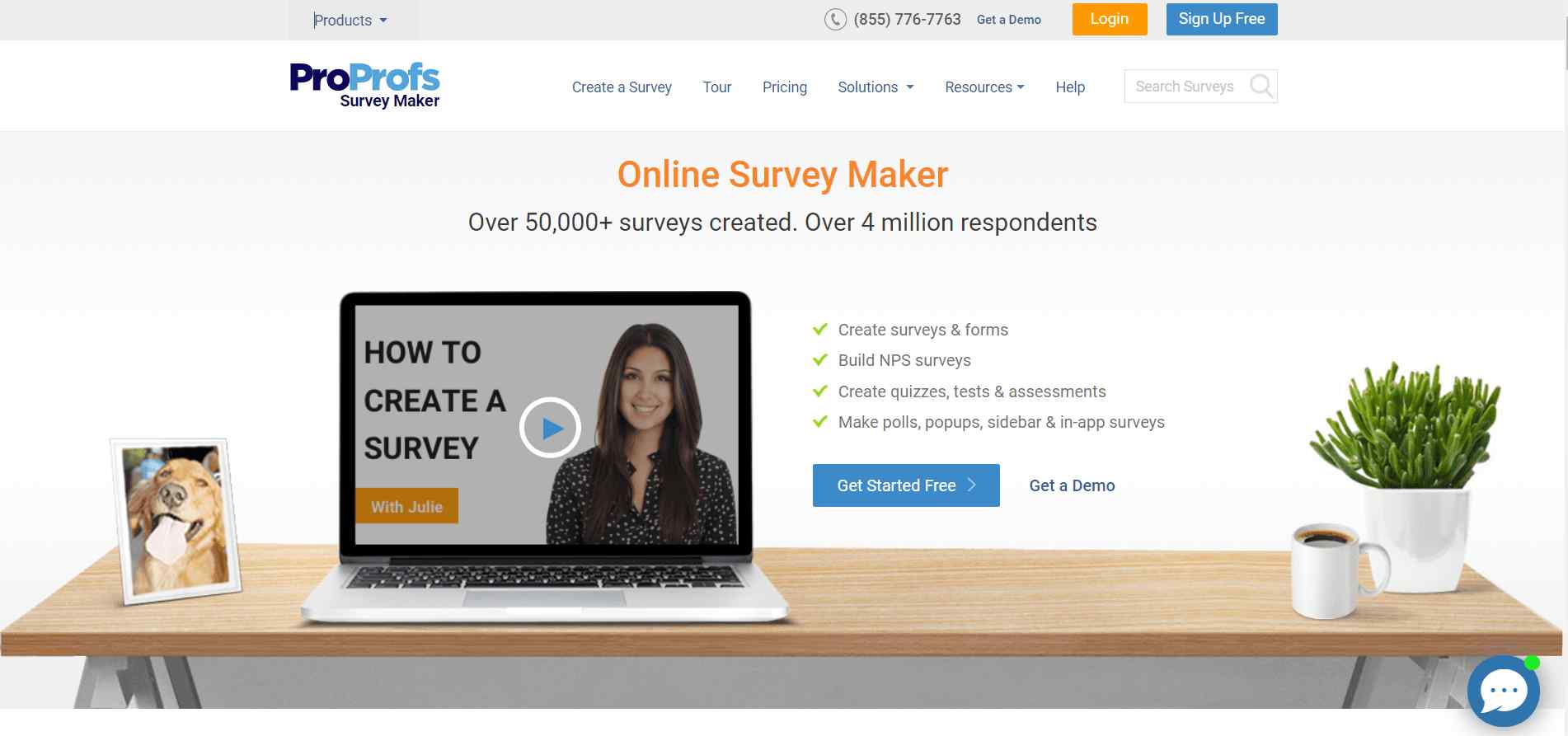 Best For: Surveys, polls, quizzes, scored surveys, web forms, and sidebar form
Integrations: Yes
ProProfs Survey Maker is another CRO tool specifically designed to maximize user engagement and prompt them to fill the survey forms. It offers a plethora of features such as scorecards, skip logic, 15+ question types, visual questions, and more to make your surveys fun, interactive, and personalized for your visitors.
How Can You Generate Leads With the Survey Maker?
Use the drag-&-drop editor to create beautiful surveys, web forms, polls, quizzes, sidebar forms, assessments, and more in minutes.
Use 100+ beautiful templates to create surveys and quizzes in minutes.
Send the survey and polls via mail, embed them on your website, and share them via social media to maximize the response rate.
Design polls to know the consensus of your visitors regarding new updates and changes.
Prompt the users to leave contact information with fun and immersive scored surveys and quizzes.
Use the sidebar form to add a non-intrusive feedback form, lead form, or contact form on your website.
Use the comprehensive reporting section for quick data analysis. You can see the survey responses, user details, survey scores, and more under the same screen.
Integrate with your CRM tools, such as Mailchimp, Salesforce, and Zendesk, to send across lead data and build prospect lists.
Price: Free Basic Plan. Paid plan starts at $0.05/response/month billed annually
---
---
4. Proof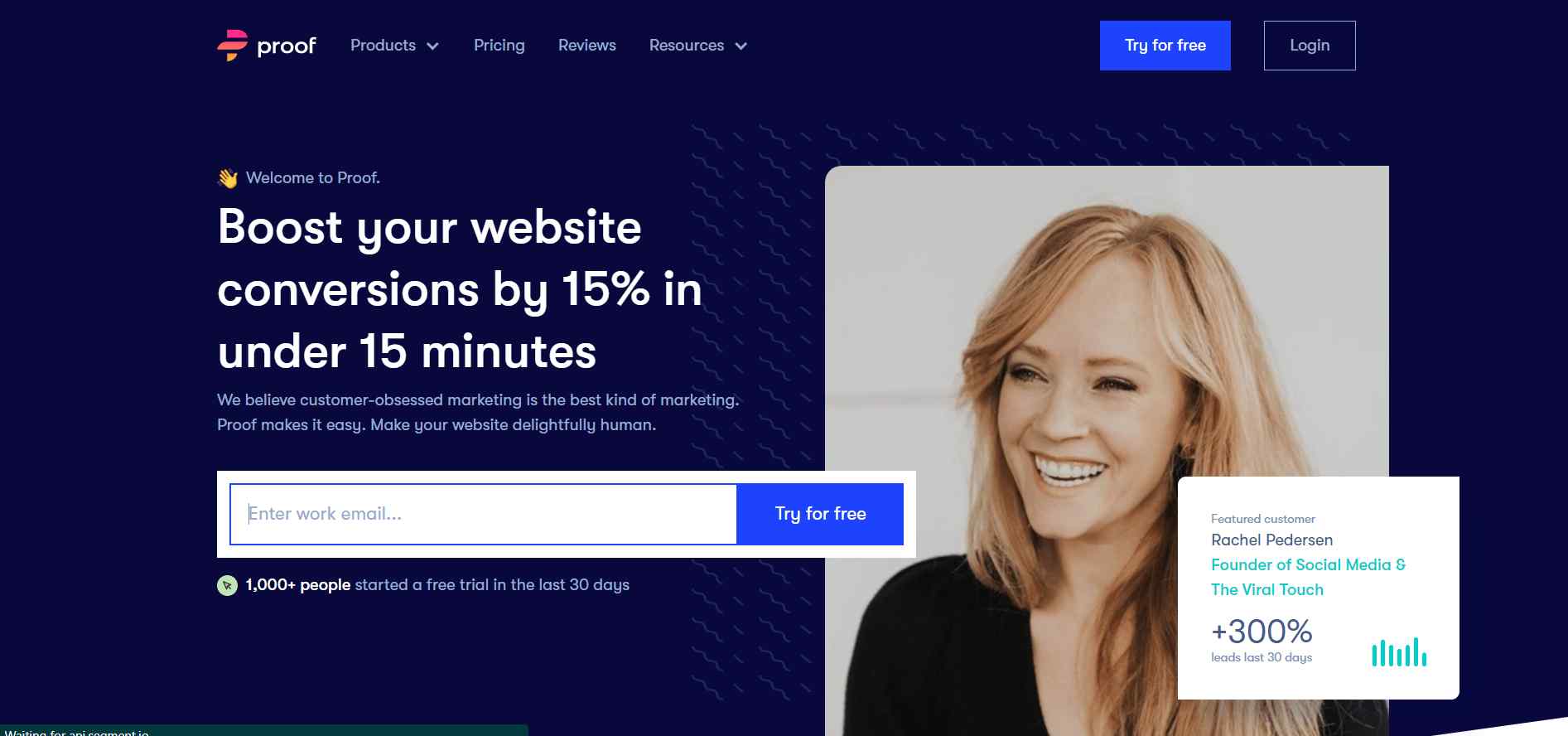 Best For: Social Proofs and experience, On-page lead generation
Integrations: Yes

Proof is a SaaS-based tool that prompts website visitors to take action by adding Social Proofs and experiences on your website. You can show how people interact with your website and products in real-time, making Proof a perfect tool to build brand credibility and trust among your visitors.
How to Generate Leads Using Proof?
Social proofs show notifications to visitors about actual people taking action on your website. These include recent activity, live visitor count, hot streak, and more.
Personalize your visitors' experience and generate new leads by building credibility and brand confidence through social proofs and experiences.
Prompt visitors to fill forms, place orders, and subscribe to newsletters by showing what other customers are doing on your website in real-time.
Price: Based on visitors. The plans start at $29/month
---
5. HotJar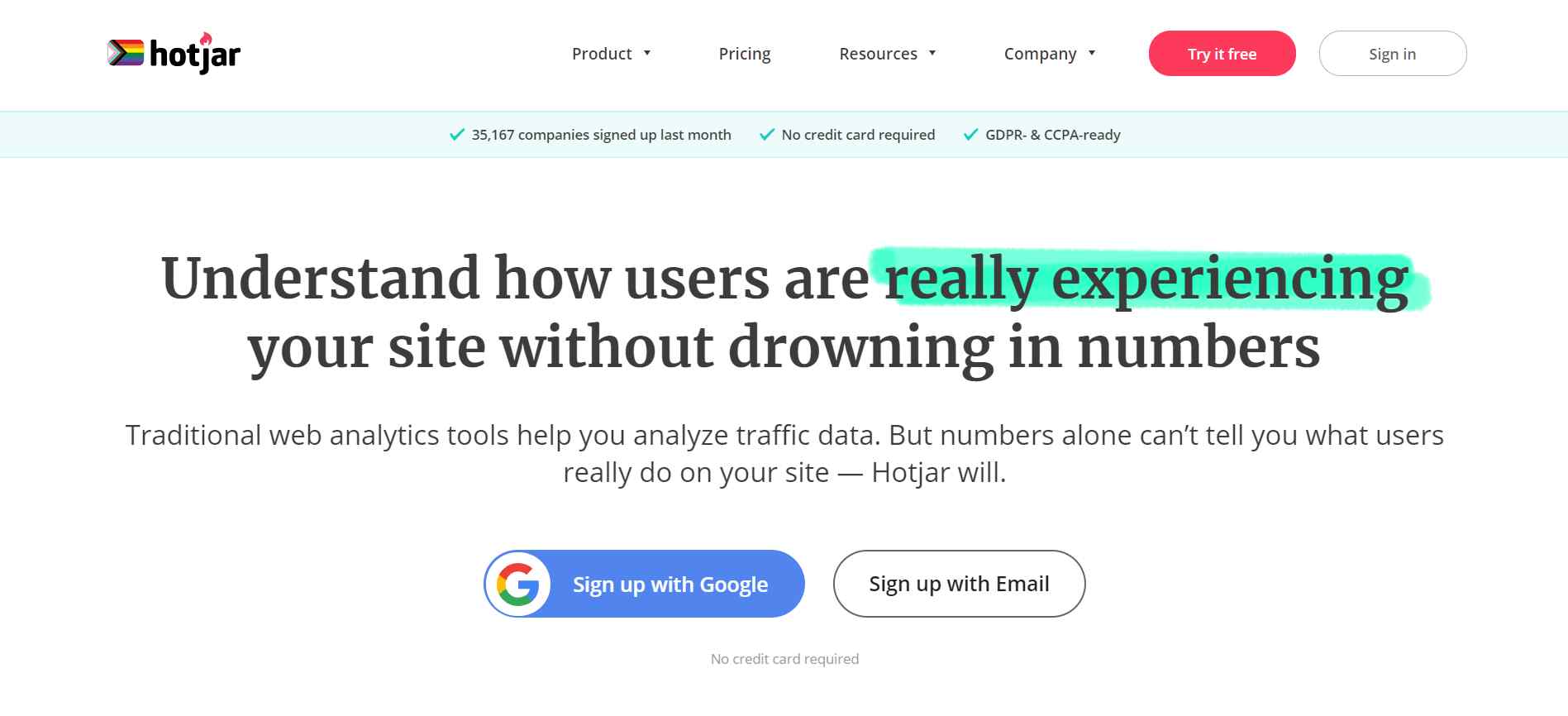 Best For: Surveys, feedback, and behavioral Insights.
Integrations: Yes

Hotjar is a visitor behavior analysis tool, and it is also great to get new leads through surveys, feedback, and on-site polls. This single tool provides an entire arsenal of features to map customers' journey, collect feedback, generate leads, understand customers' behavior, and optimize your website.
Why Choose Hotjar for Lead Generation?
It supports heatmaps and session recordings to study visitor behavior.
See what your visitors are clicking on and map their website journey.
Strategically place the surveys and feedback widgets on the website to collect customer feedback and visitor information.
Multi-device support. It works on desktop, mobile, and tablet versions of your website.
Allows integration with your CRM tools to build the prospect list for the sales team.
Pricing: Starts at $99/month
---
---
6. Sumo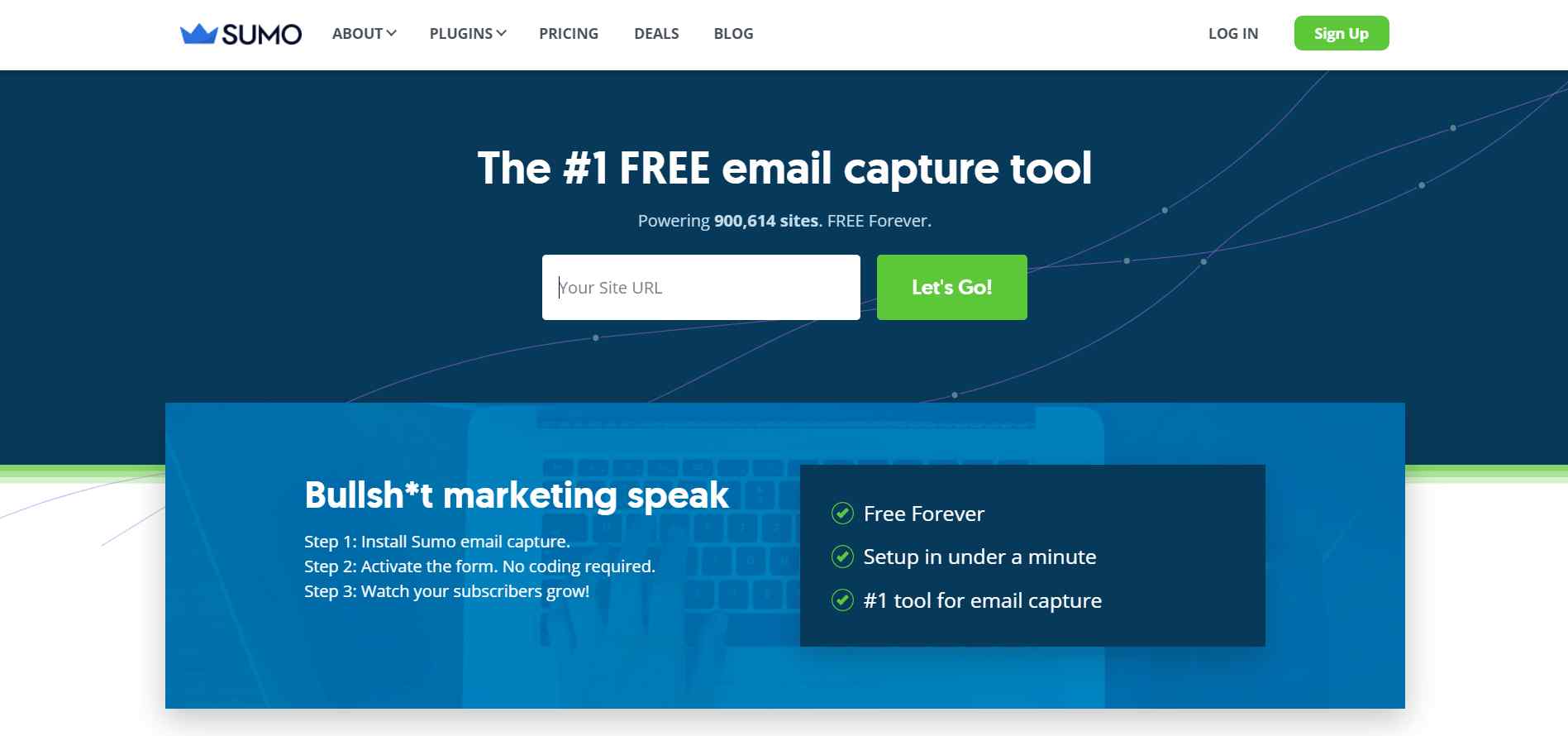 Best For: Smart Bars, list builder popups, and welcome mats.
Integrations: Yes

Sumo is a simple yet effective lead generation tool for your website. The makers of Sumo vouch that the tool can be set up in less than a minute and offer different apps, such as List Builder, Welcome Mat, Share, and Smart Bar for lead generation.
Here's Why Sumo Is an Easy-to-Use Tool to Generate Lead:
Add list-builder popups, Smart Bars, share button panels, and welcome mats to your website.
Prompt visitors to take action, such as fill forms or subscribe to newsletters to generate new leads.
Improve customer engagement and experience.
Easily integrate with platforms like Zapier and Mailchimp to manage the leads.
Price: Free basic plan. Paid plan starts at $50/month
---
7. WPForms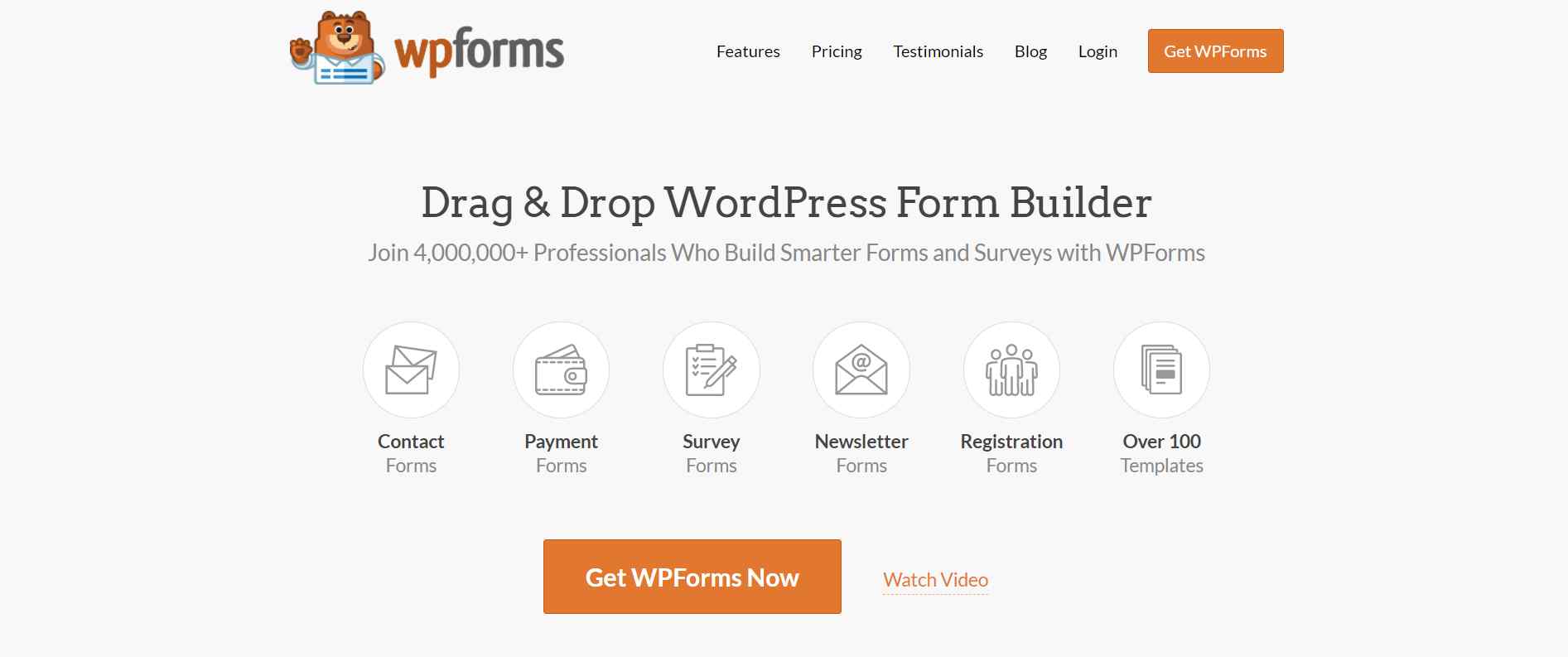 Best For: Survey forms
Integrations: Yes

WPforms is one of the best lead generation tools and customer feedback software that uses survey forms. It's a WordPress plugin that allows you to design and add forms to your website in minutes without writing a single line of code.
What Makes WPForms so Effective?
Create lead generation forms and surveys in minutes using the drag-&-drop WordPress form builder.
It is ideal for business owners, bloggers, designers, developers, and photographers.
Easily embed your forms in blog posts, pages, sidebar widgets, and footers to collect valuable feedback and generate new leads.
Responsive mobile-friendly view.
Integrate with mail service, such as Mailchimp to build your contact list and start mail campaigns to send interactive survey forms via mail.
The only limitation is, it works with WordPress websites.
Price: Starts at $79/year
Bonus Read: 30 Best Website Feedback Tools
---
8. Typeform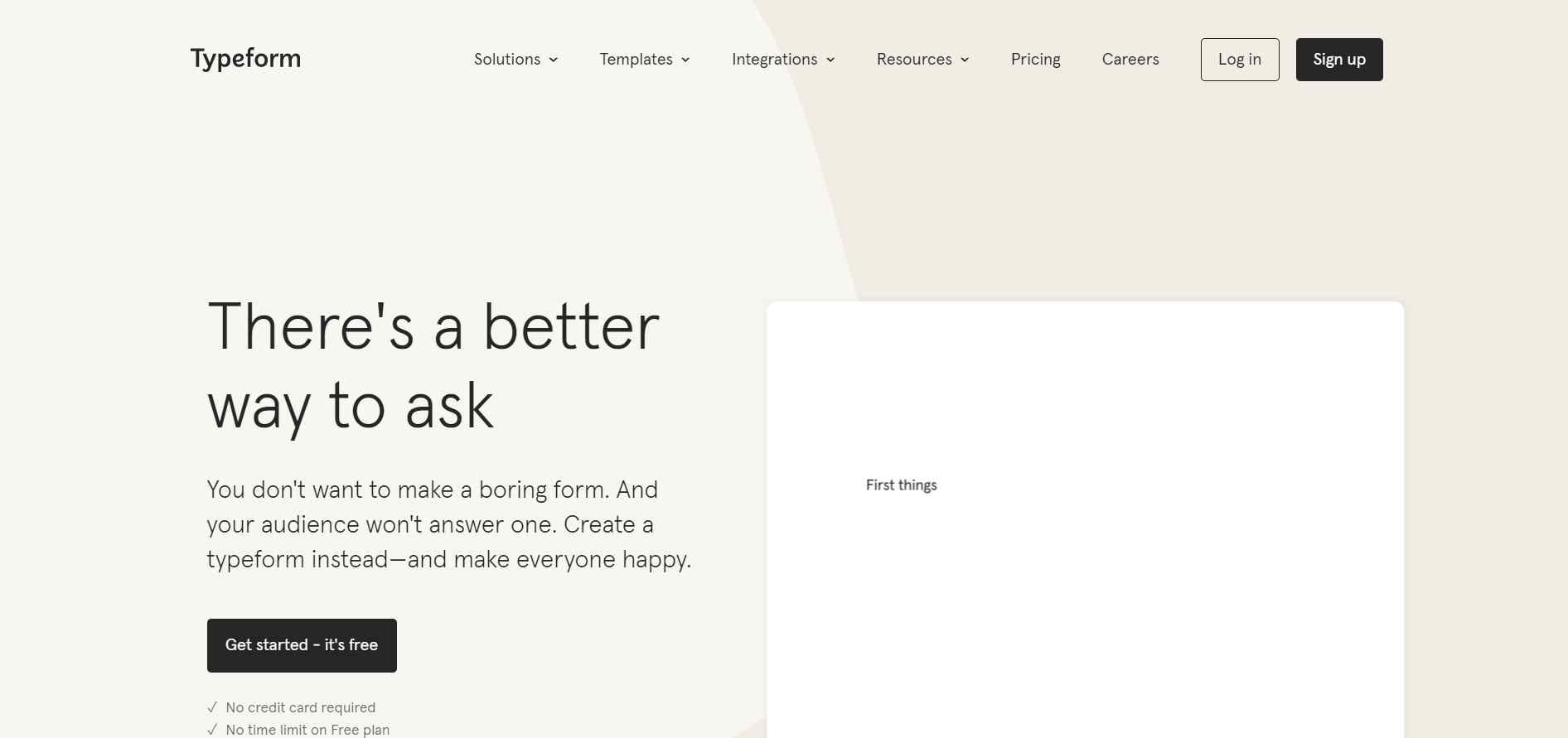 Best For: Survey forms and quizzes.
Integrations: Yes

What makes the CRO tools so effective in generating leads and nurturing them is their ability to ask personalized questions in the surveys to understand your prospects so you can take follow-up accordingly. Typeform does precisely that for you.
How Does Typeform Help in Generating Leads?
Use Typeform to create forms, surveys, and engaging quizzes for your website visitors.
Create surveys and forms in minutes using pre-built templates, custom layouts, and themes.
You can also use conditional logic to give a truly personalized experience to your respondents. It redirects the users to correct follow-up questions depending on their previous answers.
Add the survey to your website, share it with a link through social platforms, and send it to your contact list via email.
Offers integration with Slack, Mailchimp, etc., so you can export the data to your CRM tool and nurture your collected leads.
Price: Starts at $35/month
---
---
9. Survey Anyplace
Best For: Surveys, quizzes, and personalized personality tests.
Integrations: Yes

Survey Anyplace is a CRO tool to boost customer engagement with surveys, quizzes, and personality assessments to generate new leads. It adds value to your surveys and quizzes with personalized results to drive maximum visitor engagement.
How to Use Survey Anyplace to Generate New Leads?
Create personalized personality quizzes, marketing questionnaires, lead generation quizzes, and surveys.
Provide extra motivation for customers to take your surveys and quizzes by providing a useful result at the end of completing it. It can be a score, advice, maturity level, or personality type.
Send the personalized result and advise via email or auto-generated pdf report.
Embed the questionnaire and survey on any device, i.e., iOS or Android phone or tablet, native app, Facebook page, web app, and other compatible devices to maximize customer engagement and lead generation.
Integrate the tool with your CRM tool to export the data and pursue the prospects.
Price: Starts at 33/month
---
10. Unbounce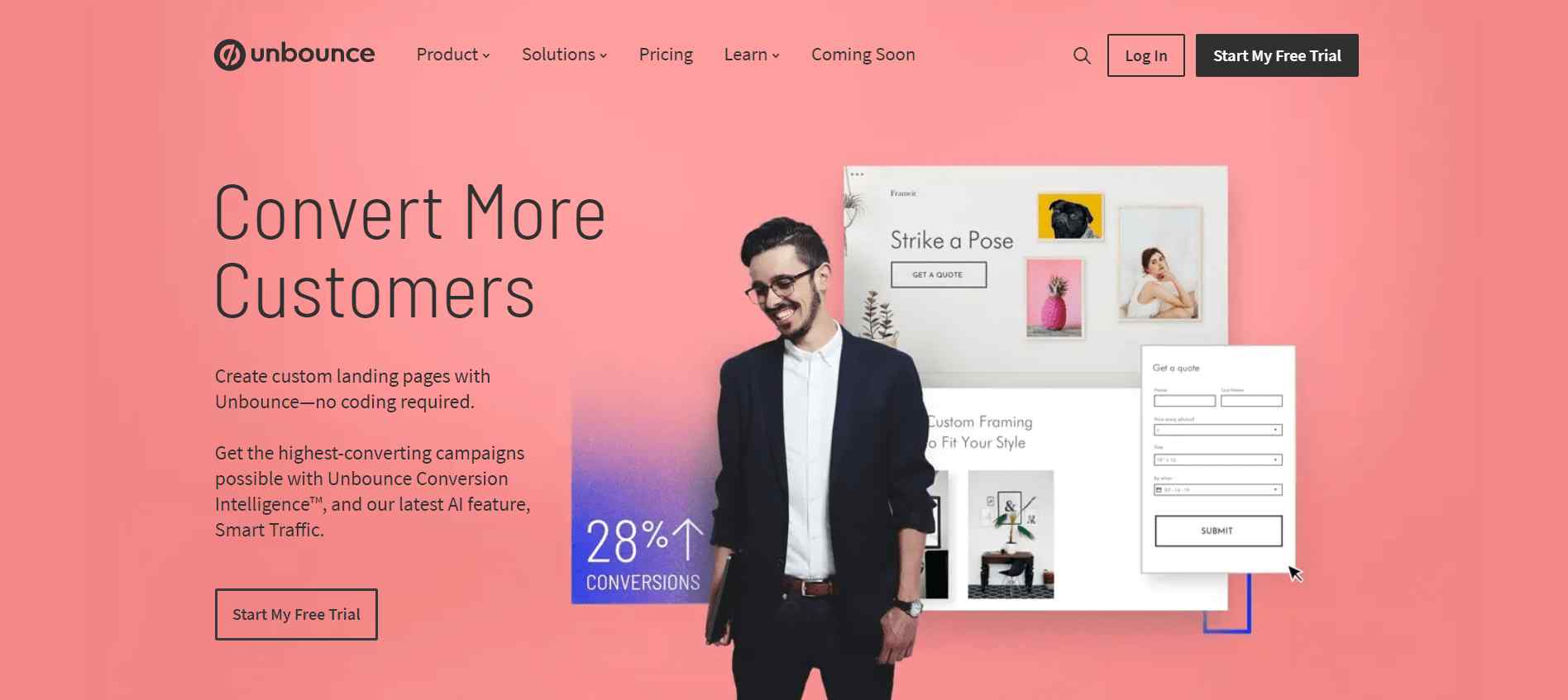 Best For: Landing page optimization, forms, pop-ups, and sticky bars.
Integrations: Yes

Use Unbounce to bring your website alive with exciting landing pages, forms, and sticky bars to prompt user action and increase engagement.
How to Use Unbounce as a Lead Generation Tool:
Create and optimize beautiful landing pages using drag-&-drop landing page builder and 100+ templates to drive visitor engagement and reduce bounce rate.
Create and embed lead forms, opt-in, popup, and sticky bars on your website to collect visitor information.
You can launch popups and sticky bars when visitors arrive on a page, abandon a page, click an element, scroll down, or whenever you want.
It also supports A/B testing. Experiment with messaging, UI design, and forms to validate what works for your visitors and what doesn't.
Real-time data dashboard to check how your pages and tests are performing.
Integrate with other tools, such as Google Analytics, Slack, etc.
Price: Starts at $80/month
---
---
11. Leadformly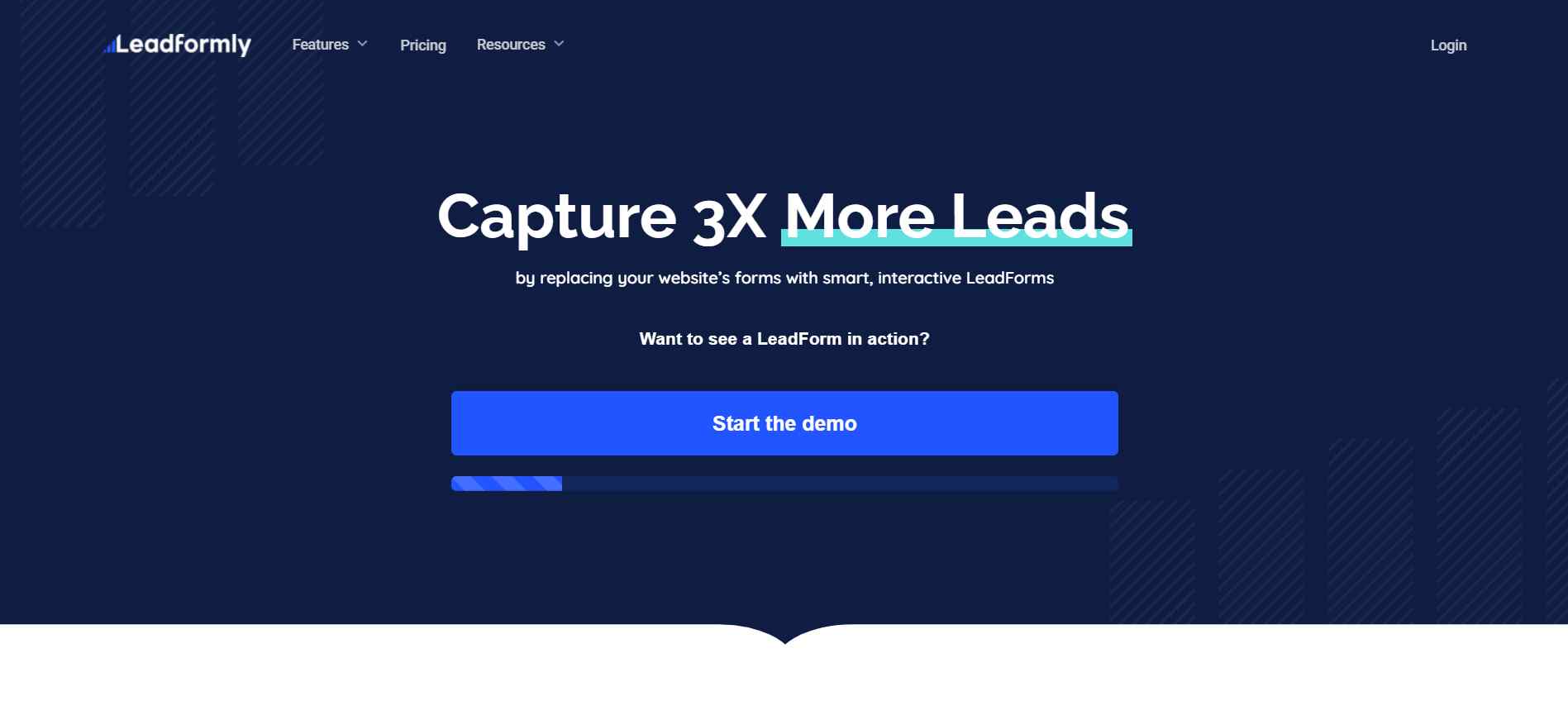 Best For: Conversion rate optimization tool, website lead forms
Integrations: Yes

Leadformly is a conversion rate optimization tool that helps you capture and collect leads using lead forms. It comes packed with powerful features to help you design interactive and intuitive lead forms to maximize the ROI on your lead generation process. With Leadformly, you also have access to extensive support and self-help material such as video tutorials, knowledge base, community forums, and product experts.
How to Generate Leads Using Leadformly?
Use the drag-&-drop form builder to create lead forms, embed them on your website in minutes, and collect new leads.
It offers 50+ easily customizable templates, branding options, and mobile responsive designs.
Use conditional logic to show or hide questions based on respondents' previous answers.
Perform A/B testing to see which forms and designs are performing better.
Integrate and send the captured leads to over 200+ CRM tools.
Price: Starts at $37/month
---
12. Hello Bar
Best For: Sticky bar and banner on the website

Hello Bar is a relatively simple lead generation tool than the others discussed in the list. However, it effectively draws visitors' attention and prompts them to take action, such as clicking on CTAs and filling the survey forms.
How Does Hello Bar Act as a Lead Generation Tool:
The Hello Bar widget adds an unobtrusive sticky banner on the top or bottom of your website.
You can customize the message and CTA on the bar to increase visitors' actions.
Prompt visitors to subscribe to the mailing list and fill forms to collect new leads.
Add product announcements to attract customers and increase conversions.
Add incentives, such as free pdf, ebooks, or discounts to motivate people to fill the survey forms.
Use geo-targeting to target specific audiences from desired locations.
Price: Free basic Plan. Paid plan starts at $29/month
---
Outbound Lead Generation Tools
These tools allow you to reach out to your prospects via emails, calls, and SMS.
13. Mailshake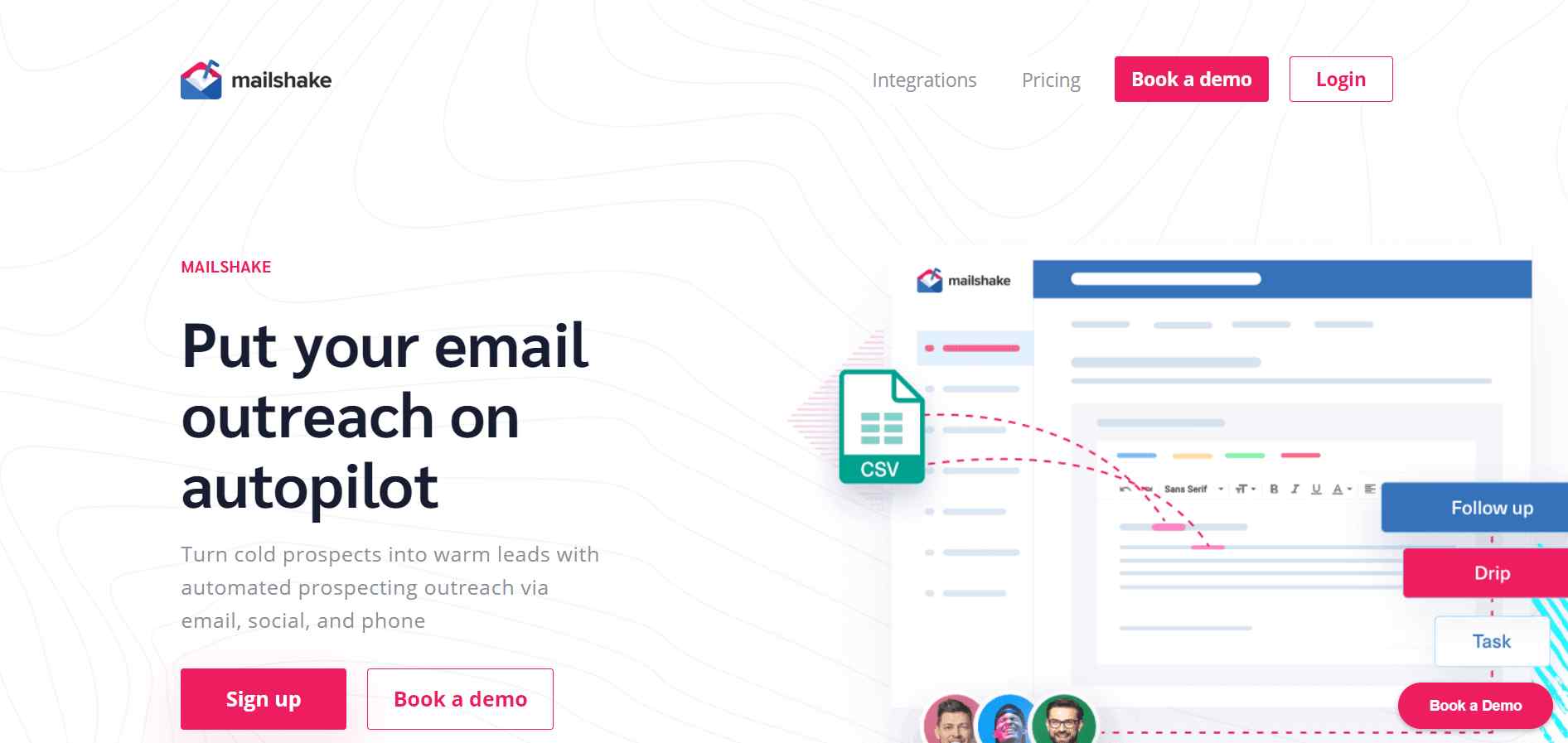 Best For: Email outreach, cold mails
Integrations: Yes

Mailshake is one of the most effective tools for mail outreach. It offers a plethora of personalization and targeting options for your cold mail campaigns.
How Does Mailshake Help in Generating Leads?
Send bulk emails to your contact list, generate new leads from replies, nurture them using drip mail campaigns, and convert them to your customers using Mailshake.
Provides a single dashboard view to manage your entire marketing campaign from one screen.
Other features include ready-made email templates, personalization options, alerts, an inbuilt phone dialer, automated lead status management, and mail status monitoring.
Easily integrate with other CRM tools, such as Slack, Hubspot, Salesforce, and much more.
Price: Starts at $59/month
---
14. Acquire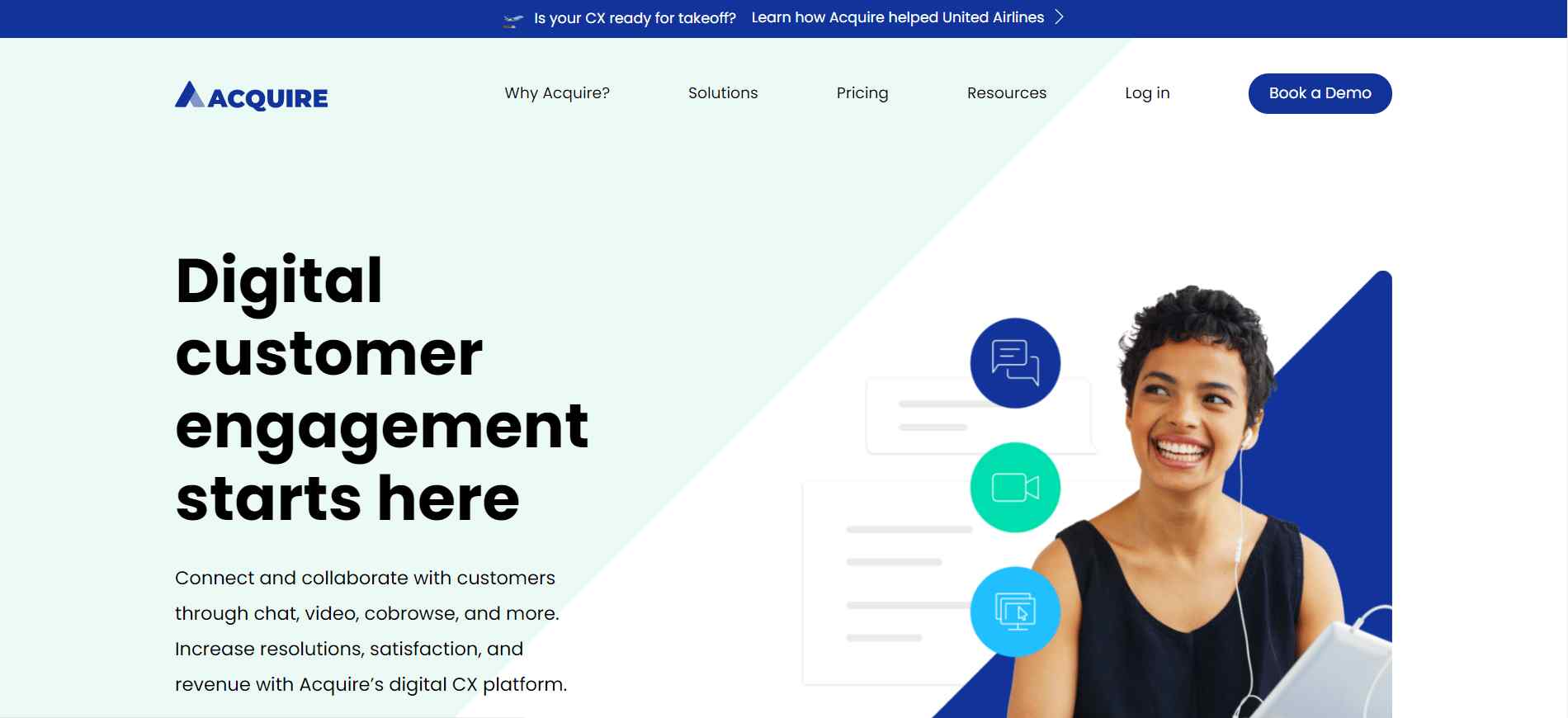 Best For: Email and SMS marketing, Live chat, and call
Integrations: Yes

With Acquire, you get an all-in-one customer engagement and lead generation tool for your business. It offers an integrated omni-channel approach to help you build a satisfying conversational experience for your customers irrespective of the channel they use to interact with you.
What Makes Acquire a One-Stop Solution for All Your Lead Generation Needs?
Acquire makes it possible to connect your customers via multiple platforms.
Engage your visitors via SMS, call, live chat, and emails to collect valuable information and find new prospects.
Keep things neat and clean by unifying all communications channels into a single dashboard.
Integrate with Zendesk, Shopify, Zapier, and other tools to export captured leads and manage them accordingly.
Price: Contact for a price quote
---
15. Mailchimp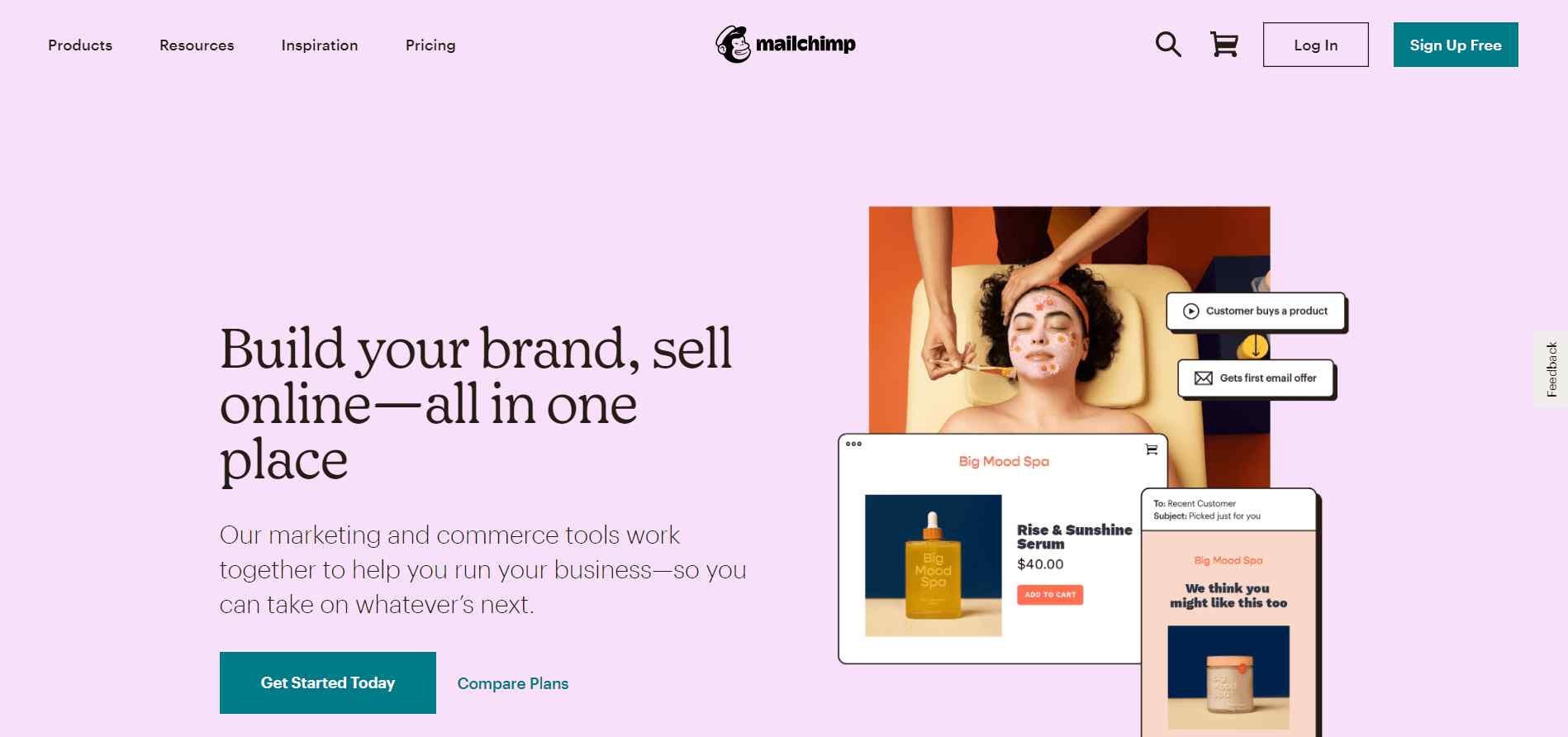 Best For: Email and social marketing, lead forms
Integrations: Yes

Mailchimp is another all-in-one marketing and lead management tool that offers email marketing, survey forms, social ads, and AB testing capabilities to build your marketing campaign.
How to Generate New Leads Using Mailchimp:
Use the drag-and-drop builder and pre-built templates to design engaging emails.
Publish posts on social media and create ad campaigns in Mailchimp to retarget visitors to your website.
Assist your visitors from filling the signup forms to buying the product using automatic follow-up emails.
Use behavioral targeting to auto-send messages according to visitors' actions, like a welcome message or a related product recommendation for a recent buyer.
Create and add customizable forms to your website's sidebar and footer to collect contact information.
Show popup forms based on conditions and customer interactions on your website to generate new leads.
Merge your contacts from all channels into the in-built Mailchimp CRM.
Compare industry benchmarks to study open rate, click rates, subscription rates, and other metrics to analyze your campaigns' success.
Lets you A/B test to see what is working for your audiences, such as different subject lines, images, layouts, and more.
Easily integrates with LiveChat, Zapier, and other tools.
Price: Basic free plan. Paid plans start at $10/month
---
16. Sendinblue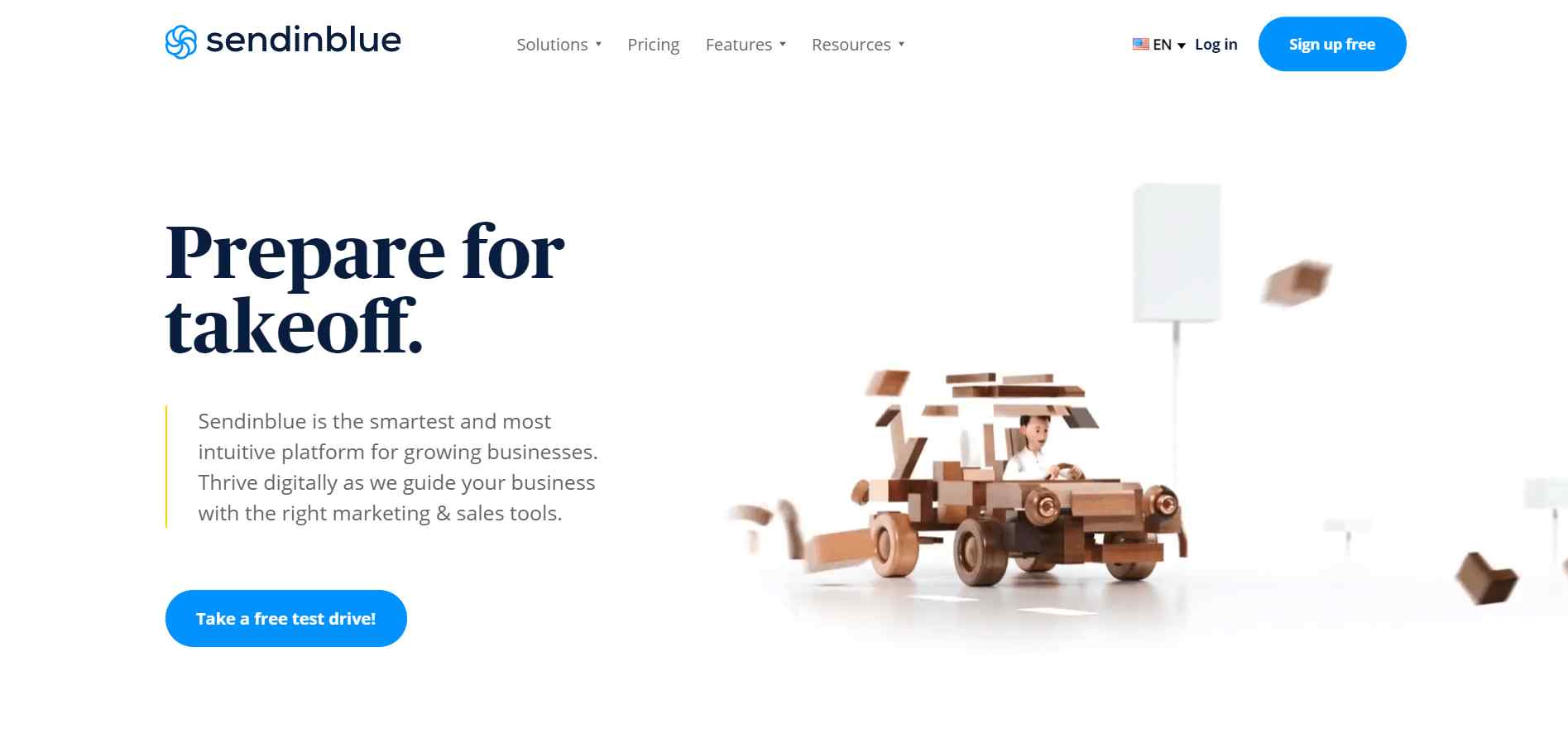 Best For: Email marketing and SMS marketing
Integrations: Yes

SMS Sendinblue is one of the best experience optimization and lead generation tools. It offers a plethora of features to optimize your website, maximize engagement, target visitors to collect leads, and streamline the sales process.

You can do it all with this single tool – email and SMS marketing, website live chat, marketing automation, designing landing pages, creating lead forms, and deploying Facebook ads.
How to Use SendinBlue to Generate New Leads:
Create, design, and deploy your email and SMS marketing campaigns to find new prospects.
You can install the live chat widget on your website for support and lead generation.
Build interactive signup forms using the drag-&-drop editor to collect in-depth information from the website visitors.
With Sendinblue Inbox, you can reply to your customers in real-time on email, SMS, and chat.
Inbuilt CRM to manage your contacts in one place. You can store and update all the information about your contacts, including relevant documents.
Use different lists to organize your contacts, such as the source of acquisition, step in the conversion funnel, or any other criteria.
Create tasks, add deadlines to them, and assign them to different team members.
Automate workflows with automatic lead scoring, transactional SMS and emails, and more to streamline your sales process.
Price: Free basic plan. Paid plans start at $25/month
---
17. Intercom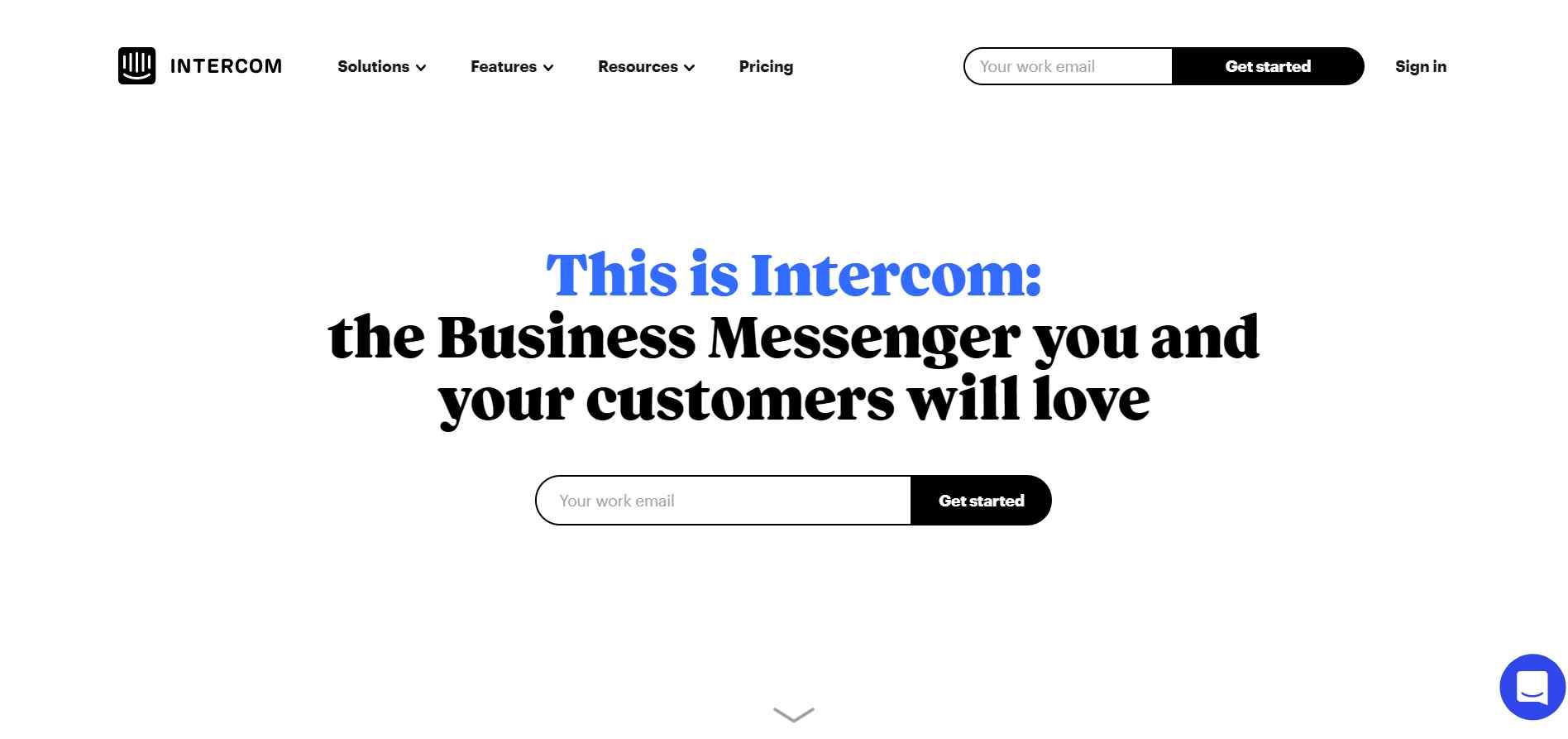 Best For: Live chat, chatbots, email marketing
Integrations: Yes

Intercom is one of the best conversational engagement software that will help you generate new leads and serve your website visitors simultaneously through live chat support and email marketing.
How to Use Intercom as an Online Lead Generation Tool?
Supports live chat, custom chatbots, outbound mails, in-product messaging, push messages, and notifications to maximize engagement with the visitors.
Use custom chatbots to trigger interactions automatically with the visitors via personalized greetings based on what they're doing on your website and collect valuable information.
Streamline workflows with advanced routing rules so the chatbots can chat, qualify leads, route, and schedule the meeting of new prospects with the right team.
Integrate and manage all the conversation channels from one place.
Reply to customers, start a live chat or call, and send outbound emails directly from the inbox.
Integrate Intercom with tools like Salesforce, Marketo, Stripe, Shopify, and more to sync data and automate workflows.
Price: Starts at $39/month
---
18. CallPage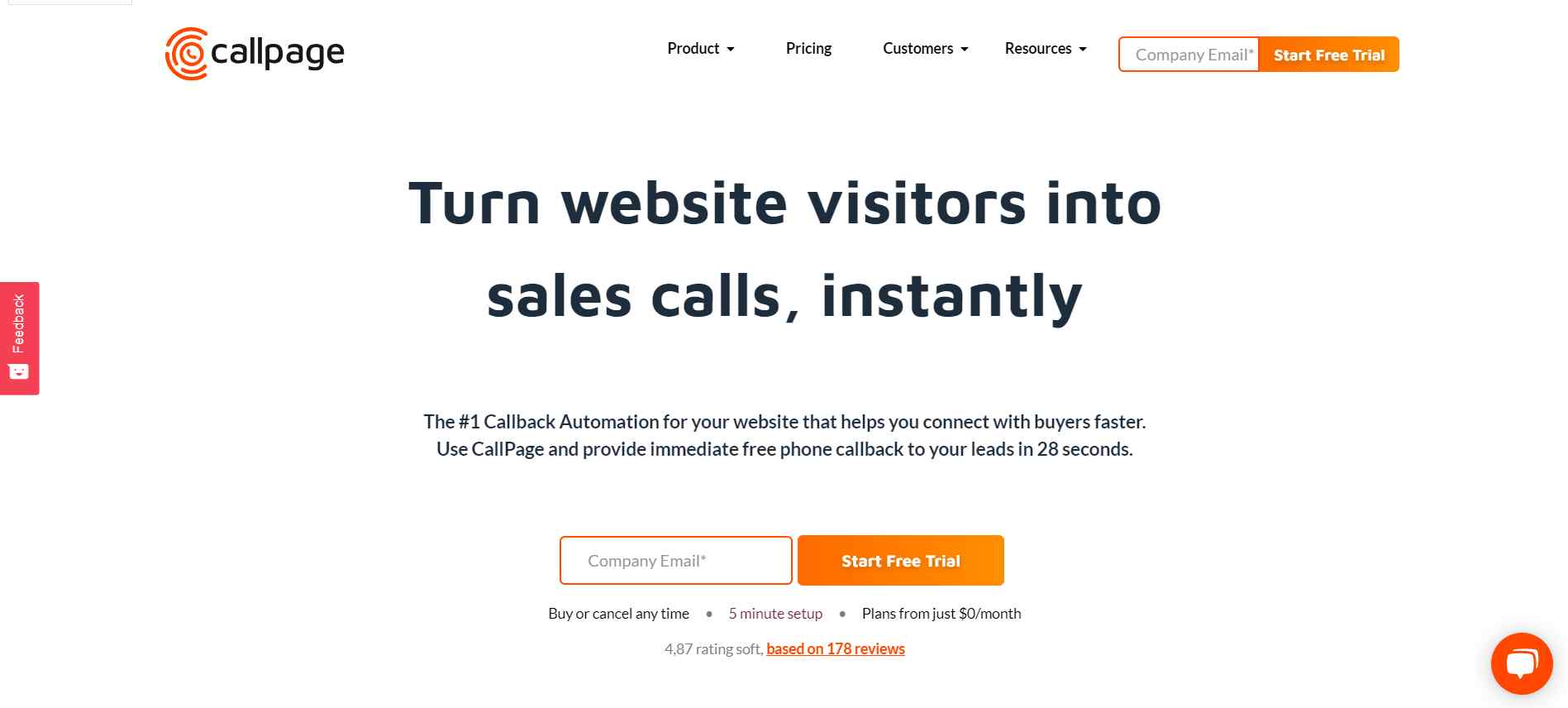 Best For: Callback automation
Integrations: Yes

CallPage is one of the best callback automation software that will help you connect with buyers immediately. You can collect leads from the website and contact them instantly without letting them wait on the phone.
How to Qualify Leads Using CallPage?
Add a fully customizable popup on the website to collect visitors' contact information.
Automatically transfer the data to the consultant and connect with the customer within 28 seconds.
A popup prompts the potential customers to provide their phone number >>The widget connects them straight to your consultant >> The consultant talks with your potential customer on their mobile or landline.
Offers mobile responsive popups.
Call your leads directly from the CallPage dashboard.
The analytics dashboard displays the client's data and interactions like source, date, time, name, the manager who spoke with the client, customer geolocation, and much more.
See call status and other information – received calls, missed calls, unanswered calls, and upcoming calls.
It supports several integrations, such as Salesforce, Slack, and other CRM tools.
Price: Free basic plan. Paid plans start at $159/month
---
---
19. Sendblaster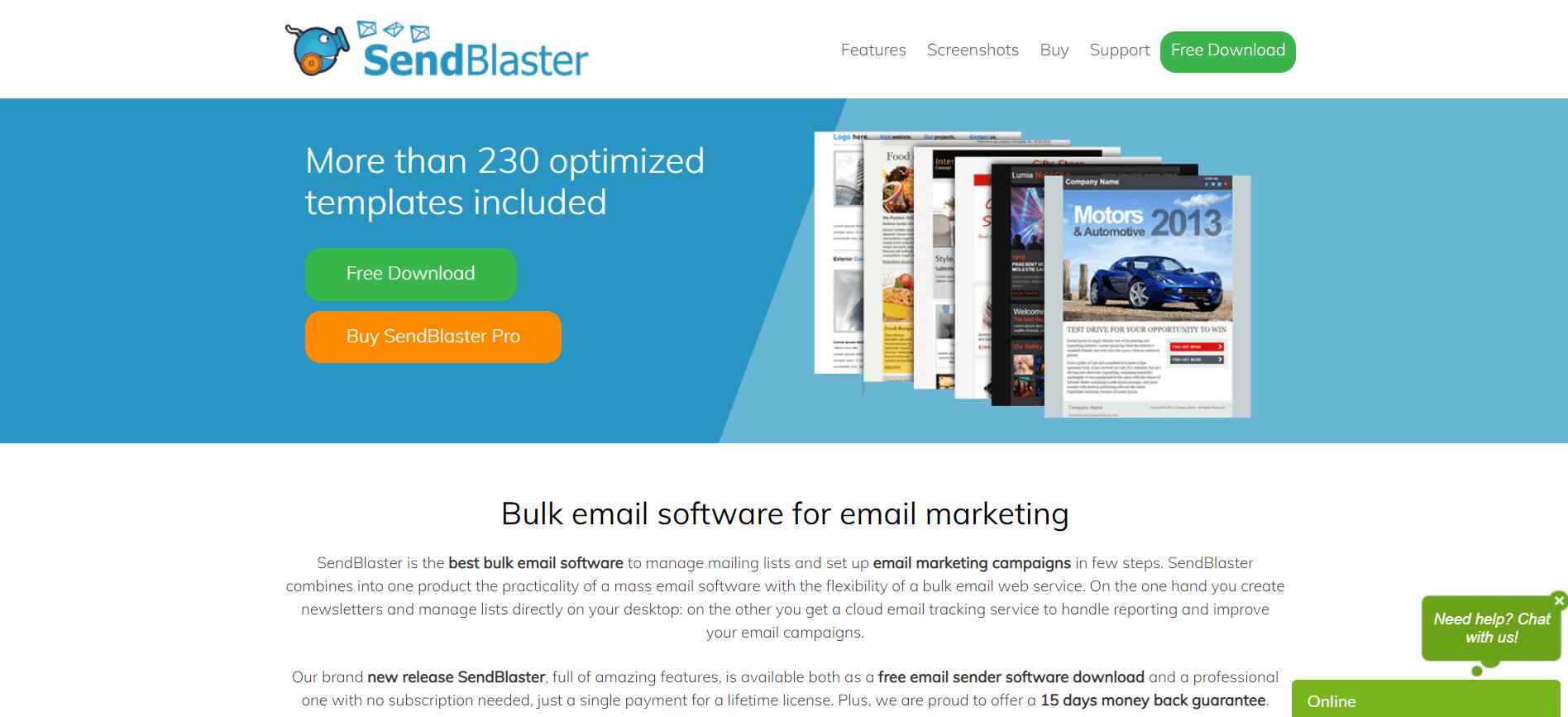 Best For: Bulk emails, email marketing
Integrations: Yes

Sendblaster is also an email marketing tool that lets you capture new leads through targeted mail campaigns. You can run mass mail campaigns, organize your mailing lists, and track your mail campaigns' progress from a single screen.
What Makes Sendblaster a Useful Lead Generation Tool?
Set up your email campaigns and send bulk emails to your contacts to generate new leads.
Pay once and use the product to send emails to an unlimited number of users.
It provides free templates to create professional emails in minutes.
Send different attachments to different users by creating programmable tags and storing the attachment path or file names in the database.
You can set rules to segment contacts and automatically organize your user lists.
Directly import customers' details into Sendblaster from another mail software like Outlook or Thunderbird.
Track your mail campaign progress, such as open and click rates, users' actions, responses, and more.
Price: $129 (one-time fee)
---
20. Wisestamp

Best For: Email outreach, Email marketing

Wisestamp is an application that lets you generate and manage professional email signatures for your cold outreach, as well as email marketing campaigns. Simply click through to the app, use one of the many templates to edit and generate a beautiful-looking email signature in minutes.
What Makes Wisestamp a Useful Lead Generation Tool
Can be easily installed on any email client of your choice, including Outlook, Yahoo, Mac, Office 365, or Gmail
Easily link to lead magnets from within your email signature in order to capture leads passively from your email messages
Include dynamic content from your blog, Twitter, or other social media networks to improve click-throughs and conversions from your email signature
Price: Free plan available. PRO plan is charged at $5.80/month (billed annually)

---
Live Chat Lead Generation Tools
These tools add live chat functionality to your website or app so you can connect with your visitors instantly, provide customer support, and collect important information.
21. ProProfs Chat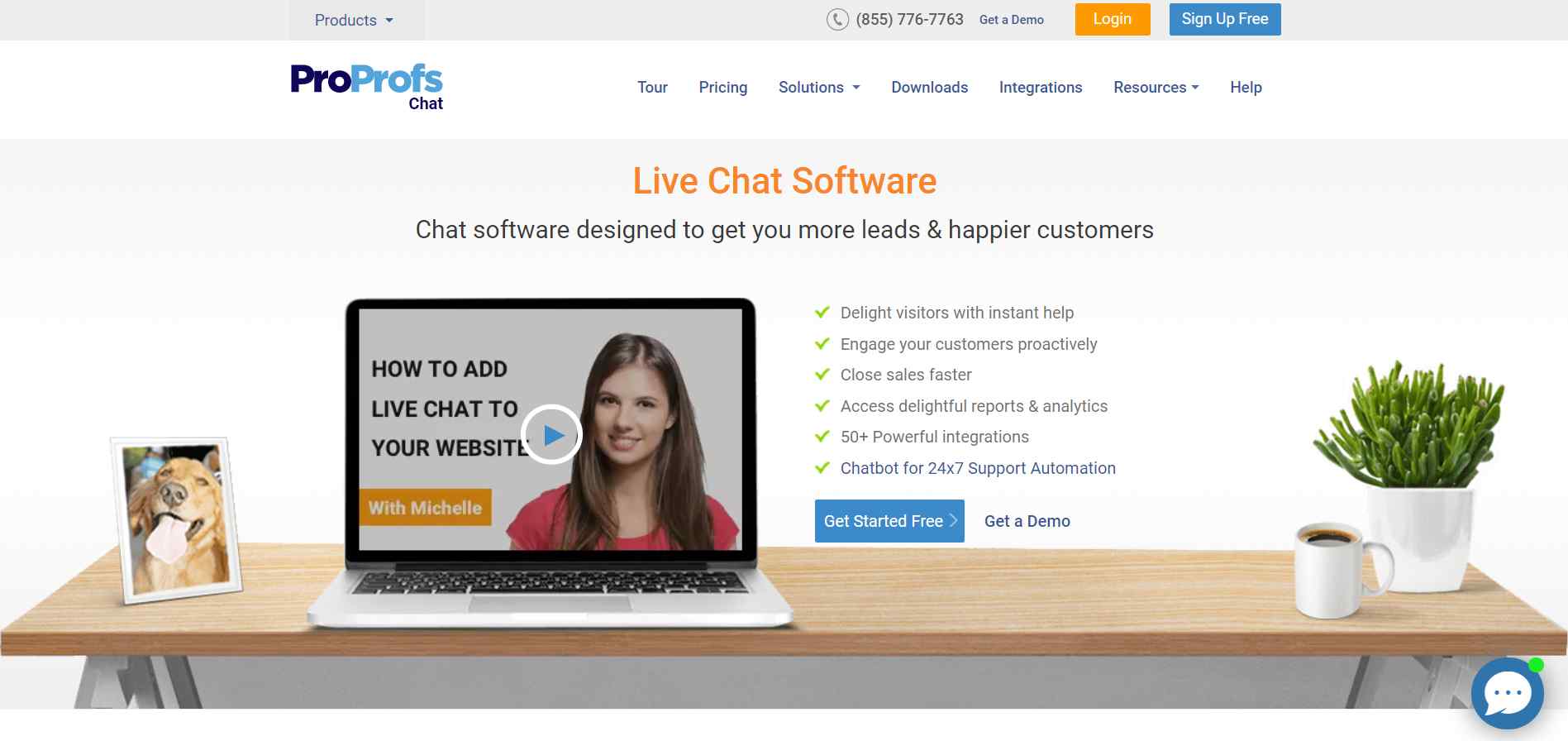 Best For: Instant Chat Support
Integrations: Yes

ProProfs Chat is a versatile tool that lets you provide instant support to your website visitors and collect leads. With features like chat anticipation, canned responses, visitor information, and agent performance metrics, ProProfs Chat makes your team faster and more efficient in handling customers' queries.
Why Choose ProProfs Chat?
Install live chat widget to the website to resolve customers' queries in real-time.
Add self-help material to the chat widget for instant help.
Store canned responses to reply to the frequently asked questions instantly without typing the answers again.
Add pre-chat lead forms to capture new leads on your website.
Set up live chat announcements to show product recommendations, service updates, and discounts to the visitors.
It also lets you configure chat routing rules to direct the customer to the right agent and uniformly distribute the workload.
You can set up advanced conditions based on visitors' location, chat history, keywords, etc., to route them to the appropriate agent.
Provides in-depth data reports to track the performance of your support team. The admin can monitor each agent's performance with chat ratings, total chats, missed chats, response time, and more.
Integrate with 50+ tools, such as Microsoft Dynamics, Google Analytics, and Salesforce to quickly analyze the data and streamline the sales process.
Price: Offers a free plan. Paid plan starts at $10/operator/month billed annually
---
22. Tawk.to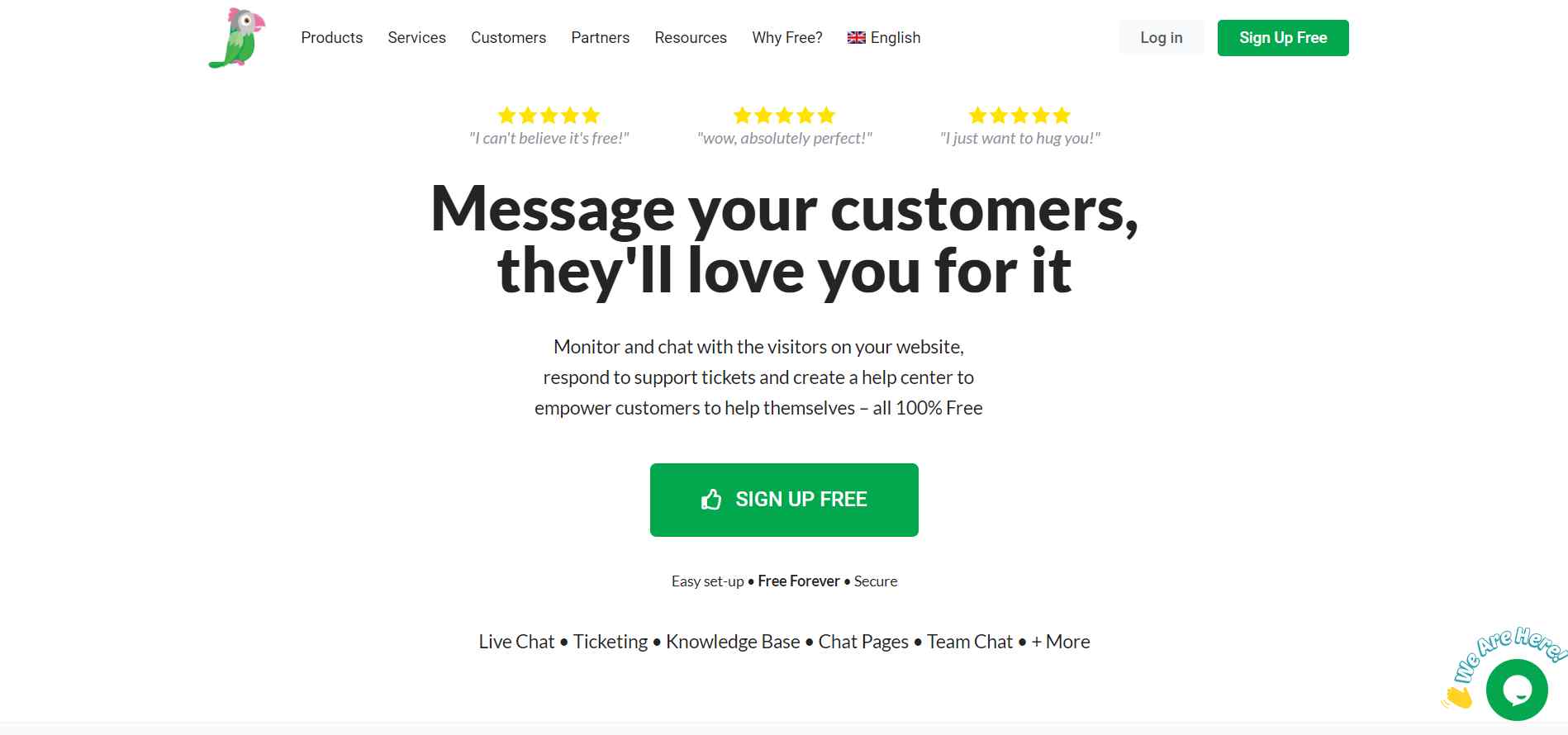 Best For: Live Chat and support tickets
Integrations: Yes

Besides being a live chat and ticketing platform, Tawk.io is also a perfect lead generation tool for your websites and app. In less than 30 seconds, you can get started with the tool. You can assist customers in their website journey and collect leads at the same time.
How to Use Tawk.to as a Sales Lead Generator?
The dashboard view allows you to monitor the visitors in real-time and shows their email addresses and locations.
Track the visitors on various pages in real-time.
Initiate the live chat with any visitor on any page to provide support and capture new leads.
Allows geo IP tracking, message sneak-peek, automatic visitor Information, and a built-in ticketing system, among other features to help you find potential prospects on your website.
Price: Contact for pricing
---
23. LiveChat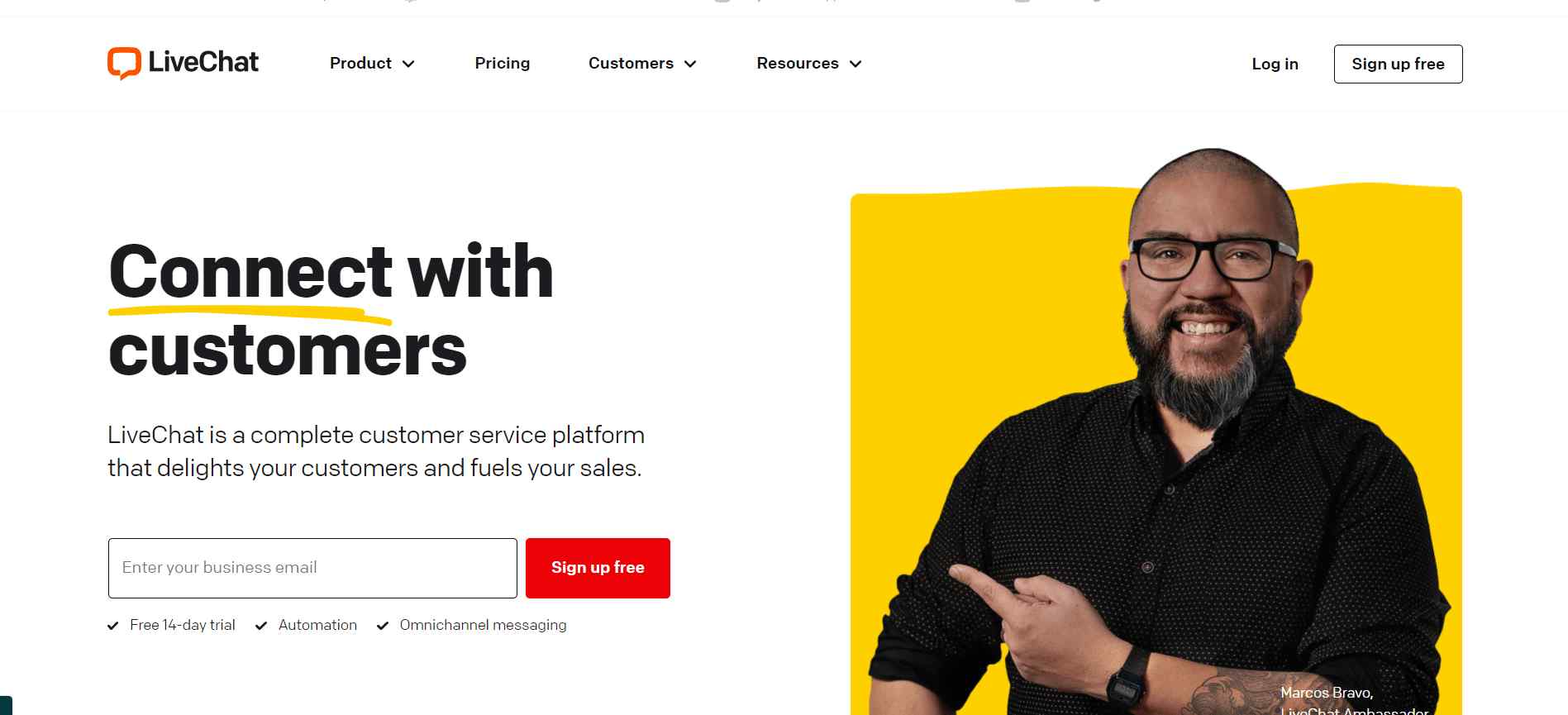 Best For: LiveChat, Chatbots

Continuing with chat tools for support and lead generation, LiveChat is among the best tools in the market. It is a complete customer service platform that offers both customer support and marketing tools for your business.
What Makes LiveChat so Popular?
You can add the LiveChat widget to your website and manage visitors from one place.
The analytical dashboard allows you to see the list of all the visitors on your website in real-time.
Use filters to identify potential prospects.
Add pre-chat lead forms and post-chat surveys to LiveChat to collect new leads.
Use the collected information with the integrations, such as CRM tools, Slack, and Mailchimp to nurture the leads.
You can use the Chatbot addon to personalize the visitor's experience and generate leads. Use the welcome chatbot, after-hours chatbot, and lead generation chatbot to improve customer experience.
Price: Starts at $16/month
---
24. Drift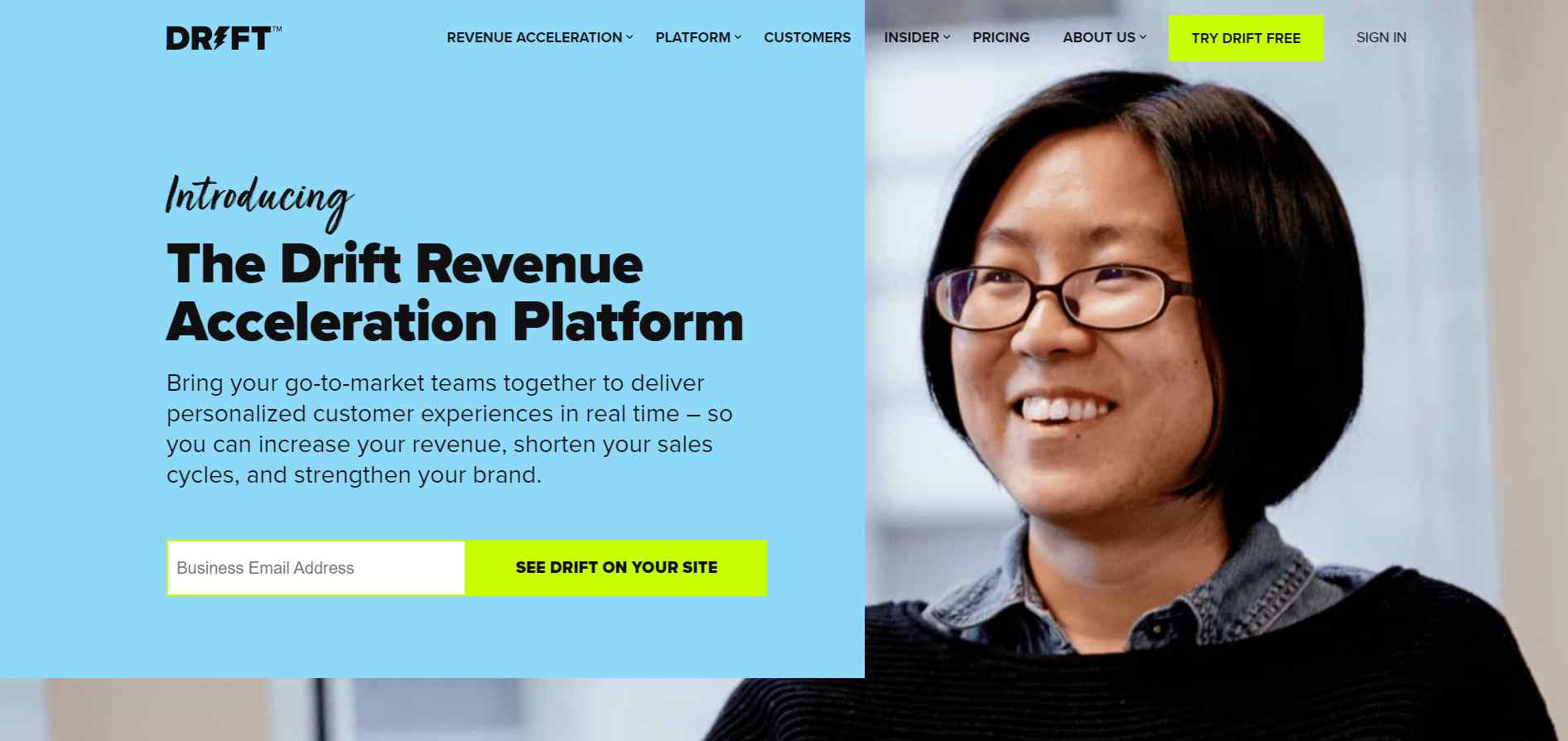 Best For: Live chat, AI chatbots
Integrations: Yes

Drift is a lead generation software and marketing automation tool that captures new leads with Live chat and AI-driven chatbots. It is a cloud-based platform that offers live chat, follow-up emails, relationship management, and AI-powered chatbots to fuel your sales process.
Why Is Drift One of the Best AI-Based Live Chat Tools?
It offers conversational chatbots that engage your customers to collect contact information, qualify the leads, book appointments with appropriate teams, and, if necessary, transfer the chat to an agent.
With the live chat feature, your visitors can interact with you immediately.
Anonymous visitor intelligence shows the visitors' public data, such as company name, industry, team member count, revenue, and location.
It also provides advanced analytics tools to show which conversation types on which pages generate the most leads and what customers ask on their chats.
Integrate with your CRM and ABM tools to automate workflows and send across the information collected by the Chatbots.
Price: Contact for price
---
25. Pipedrive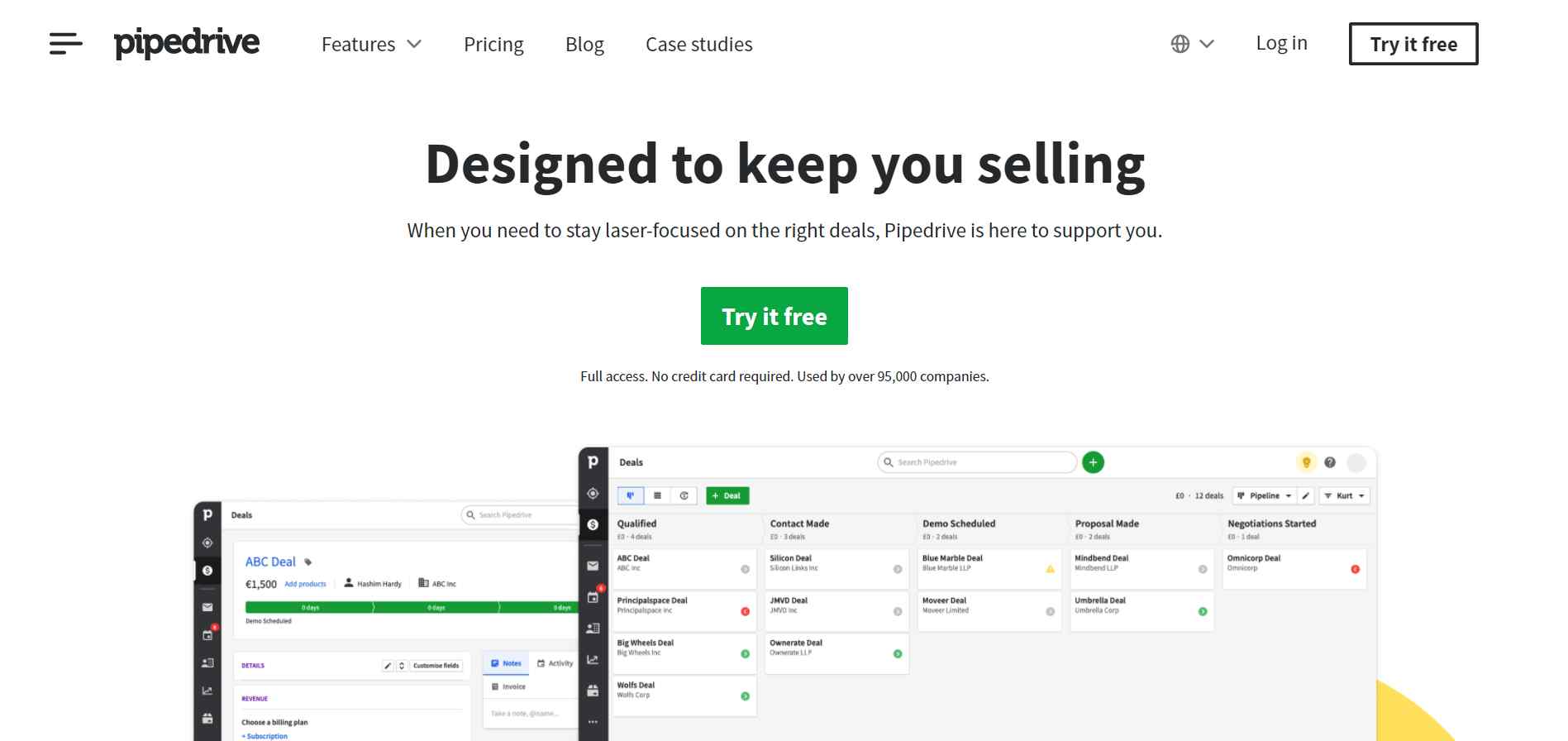 Best For: Live chat, chatbot, forms, caller
Integrations: Yes

Pipedrive acts as both; Lead generation tool and contact management software for your business. You can generate leads, manage contacts, and automate workflows to track your sales performance.
Why Is Pipedrive an All-in-One B2B Lead Generation and Management Tool?
Sync and pool prospects from various contact sources, such as Outlook, email, Google contacts, etc.
Retrieve extensive information about your contacts using just an email address and public data.
It allows you to pull the customer data automatically from Google, LinkedIn, Twitter, and other social sites into your CRM.
It also provides live chat, chatbot, website forms, and built-in caller features to automatically capture new leads from your website into your Pipedrive account.
Pipedrive updates your interaction history with the contacts under one dashboard so you can qualify leads.
You can also use custom labels to segregate the data.
Price: Starts at $12/month
---
26. MobileMonkey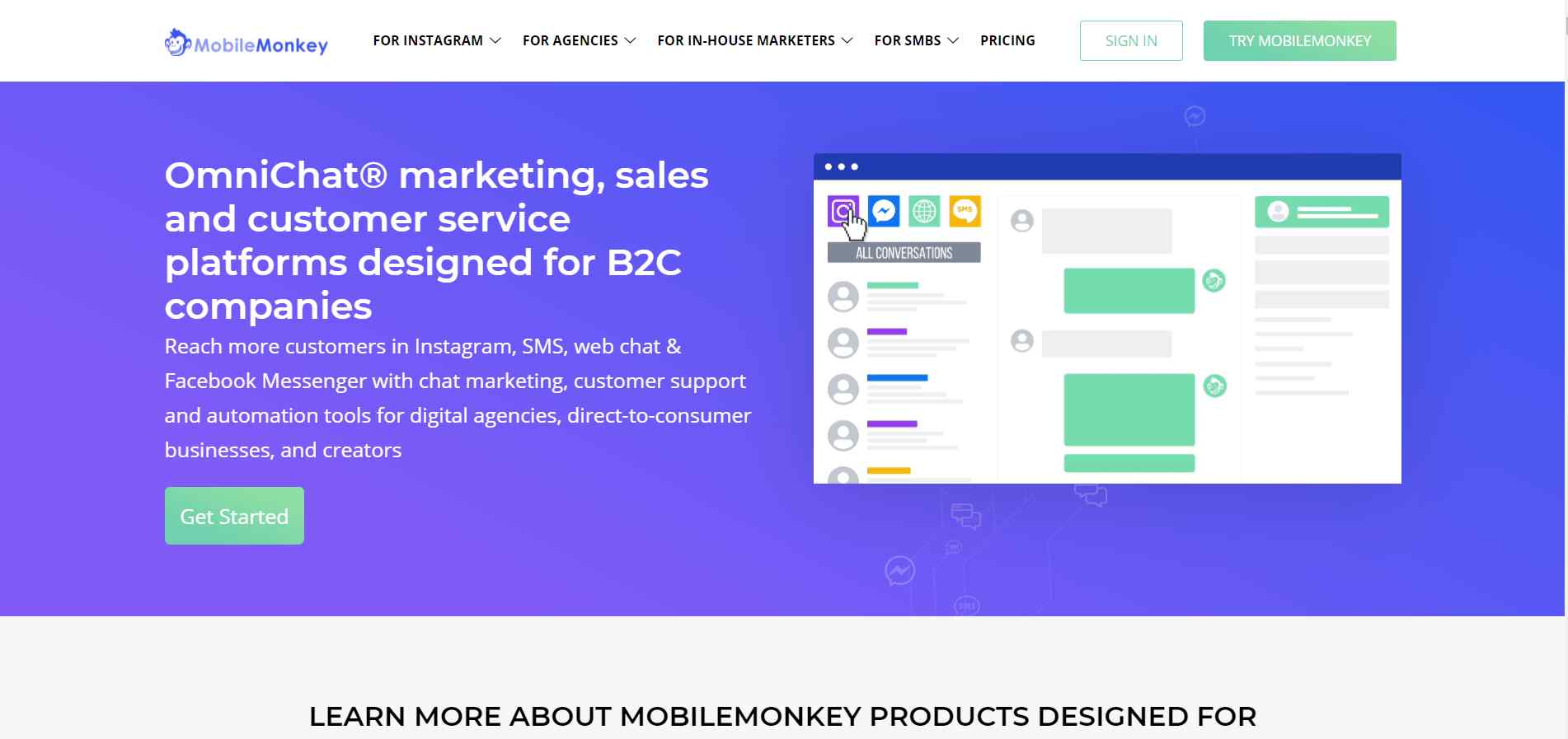 Best For: Chatbot, live chat, SMS marketing
Integrations: Yes

MobileMonkey is an automated chatbot-based lead capturing and qualification tool that handles lead generation from various channels, such as Website live chat, SMS, and social platforms.
What Makes MobileMonkey One of the Best Lead Generation Tools?
You need to design the campaign once in the MobileMonkey, such as creating chat blasts, chat drip campaigns, website chat dialogues, opt-in questionnaires, and subscriber forms. Once designed, It automatically uses the campaign to interact with the users and collect leads across all the channels.
So if a customer messages on Facebook, website chat, or SMS, the Omnichat engages him with an automated conversation to collect and qualify the lead.
Use the unified Inbox to see the conversations happening across all the channels. Start a chat or reply to any ongoing chat from a single screen.
It also automatically captures the names, emails, and phone numbers of those who interact with your social media posts to build the prospect list.
Integrate with CRM and email marketing tools to export the data and build relationships with your prospects.
Price: Starts at $19/month
---
Chatbot Tools for Lead Generation
These tools offer conversational chatbots to aid the customers and collect new leads in the process. Chatbots have evolved dramatically over the years, and today AI-based chatbots can assist customers during odd hours using conversation flows and NLP. They can work with the live chat agent or independently to help customers and gather information to generate leads.
27. ProProfs ChatBot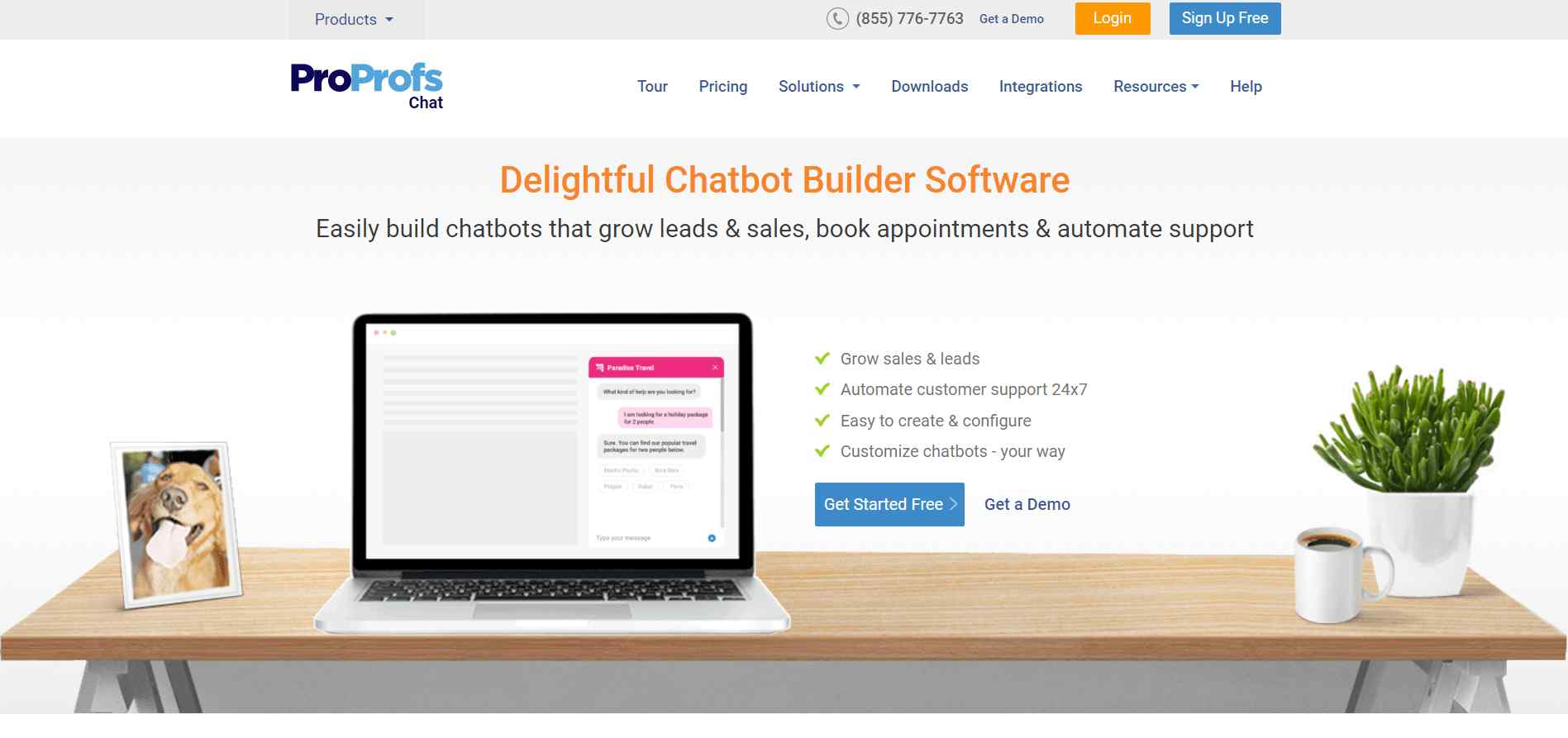 Best for: Automating lead generation, booking appointments, 24×7 customer support
Integrations: Yes
ProProfs Chatbot is a simple yet powerful tool that helps you build conversations that convert. Chatbot builder software reduces your support team's load by assisting customers with their routine questions without human intervention. It offers ready-to-use templates for various business needs, such as booking appointments, lead generation, customer support, and so on. You can connect your self-help articles with your chatbot and enable 24×7 support for customers. Design the chat flow based on your needs using the drag and drop interface and have your own chatbot up and running in minutes. Save your customers from filling those boring lead forms with a lead-gen chatbot, which remains in service of your visitors 24×7 and helps you keep them delighted.
What makes ProProfs Chatbot so effective in generating new leads?
Build conversational flows for the chatbots using the drag and drop editor.
Add interactions and questions using branching and skip logic to design completely automated chat flows for the customers.
Design your chatbot from scratch or use the pre-built templates to make your work easier.
Integrates with ProProfs Knowledge Base to show relevant information to the customers.
Assist customers 24×7 and collect leads at the same time using automated chatbots.
If connected with ProProfs HelpDesk, you can configure automatic support ticket creation for the users after they interact with the chatbot.
Price: Offers a free plan. Paid plan starts at $10/operator/month (billed annually)
---
28. Bold360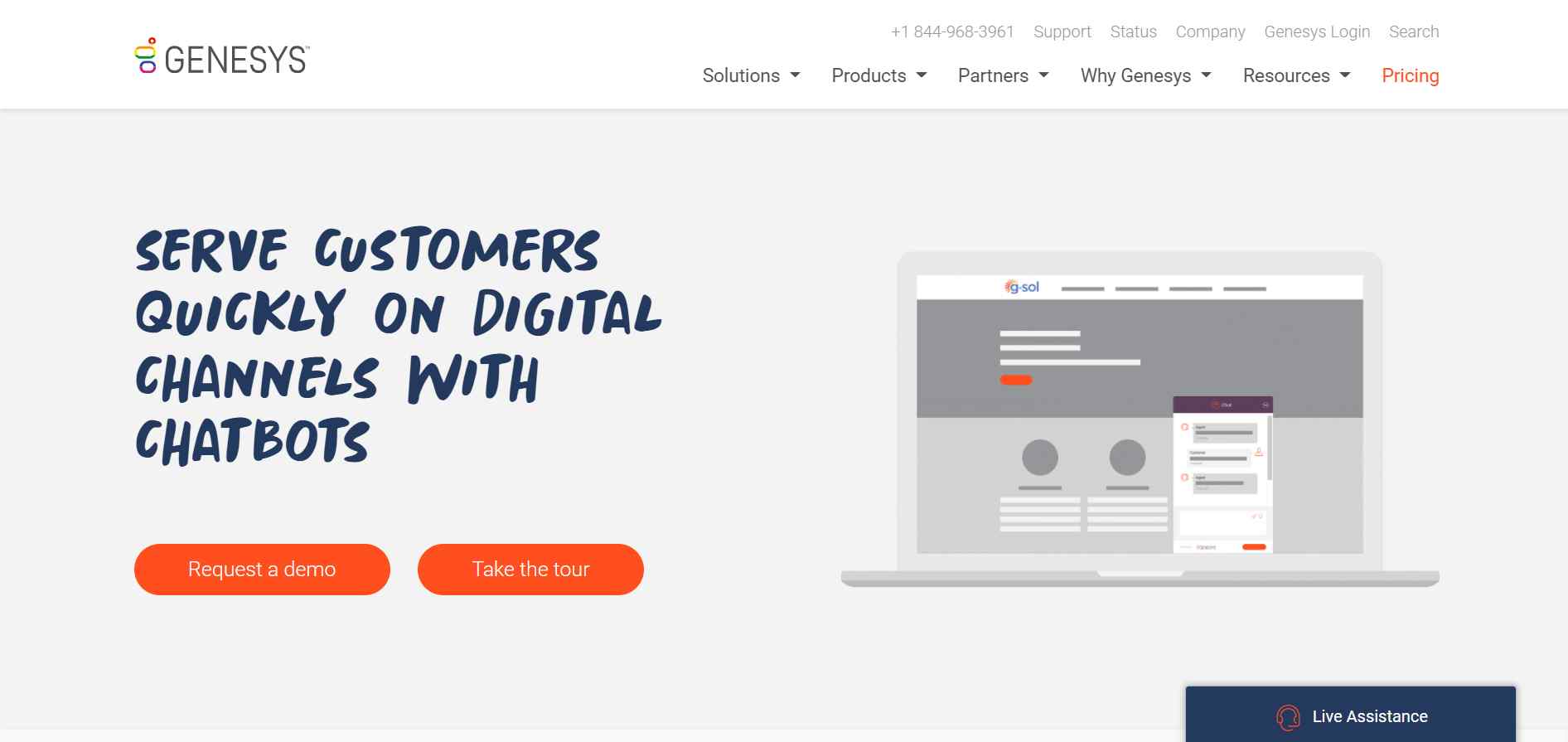 Best for: AI chatbots, social interaction tracking
Integrations: Yes
Bold360 offers integrated live chat and chatbot features for your business. It also acts as a central hub to manage all your communication channels to maximize customer engagement. Its AI-chatbots can understand and interpret the users' intents to provide the best solution and collect lead data at the same time.
How Does Bold360 Simplify Lead Generation for Your Business?
Offers smart AI-powered chatbots using NLP to assist the customers and collect information.
Provides AI-based conversational chatbots to interpret customers' intent and respond to their queries accurately.
Set rules to allow chatbots to proactively initiate a chat with the visitors based on their behavior and searches to maximize engagement.
Automatically transfers the chat to the agent if necessary.
Add surveys, lead forms, contact forms, etc., to the live chat to collect visitor information.
Manage all your conversations across various channels such as live chat, SMS, messaging, social media, and emails from the single dashboard.
The advanced AI analytical engine stores most asked queries into the knowledge base for self-service support.
In-depth data reporting dashboard shows you real-time information about chat usage, interactions, and other metrics.
Integrates with several other apps such as Zendesk, Google Analytics, Salesforce, and ServiceNow to improve data management.
Price: Request for quote
---
29. Botsify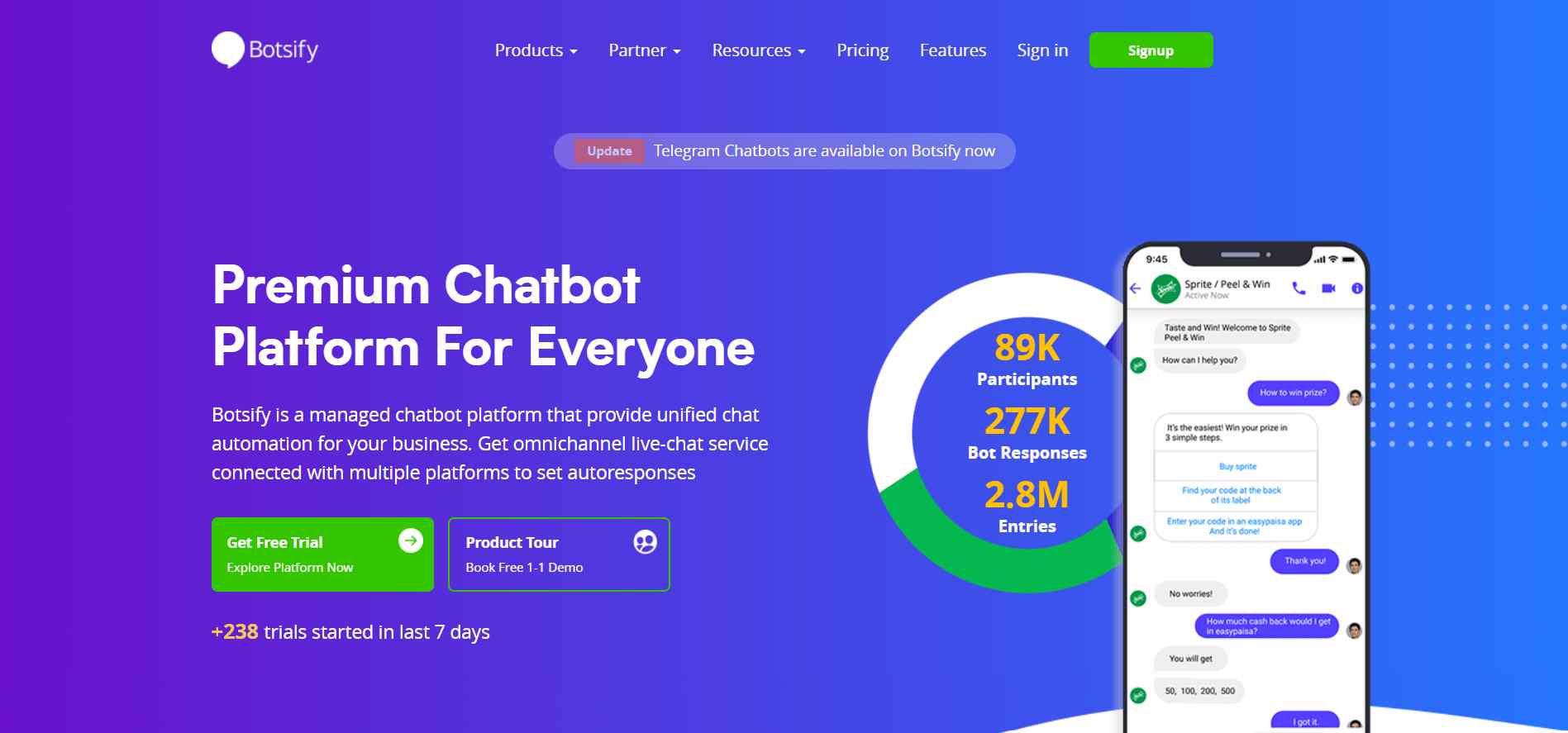 Best for: AI chatbots
Integrations: Yes
Botsify lets you create automated chatbots with custom conversation flows for different channels. The chatbots act as virtual assistants to assist customers and generate new leads through live chat. You can monitor all the ongoing live chats from a single dashboard.
How to Use Botsify to Collect New Leads?
Install live chat and chatbot support on your website, Watsapp, FB Messenger, and SMS services.
Deploy chatbots to start automating conversations with visitors and customers.
Collect lead information and assist them with their queries.
Monitor all the chat interactions from the same dashboard. You can take over the chat from a bot at any time if it fails to address the queries correctly.
Automatically shows users' details such as chat source, last interaction, email, and more, to keep you updated over the live chat.
Offers integration with Zapier and WordPress so you can send and manage lead data.
Price: Starts at $40/month billed annually

---
Lead Prospecting Tools
These tools automatically prospect new leads through their database, social media, or other sources based on your search criteria.
30. Datanyze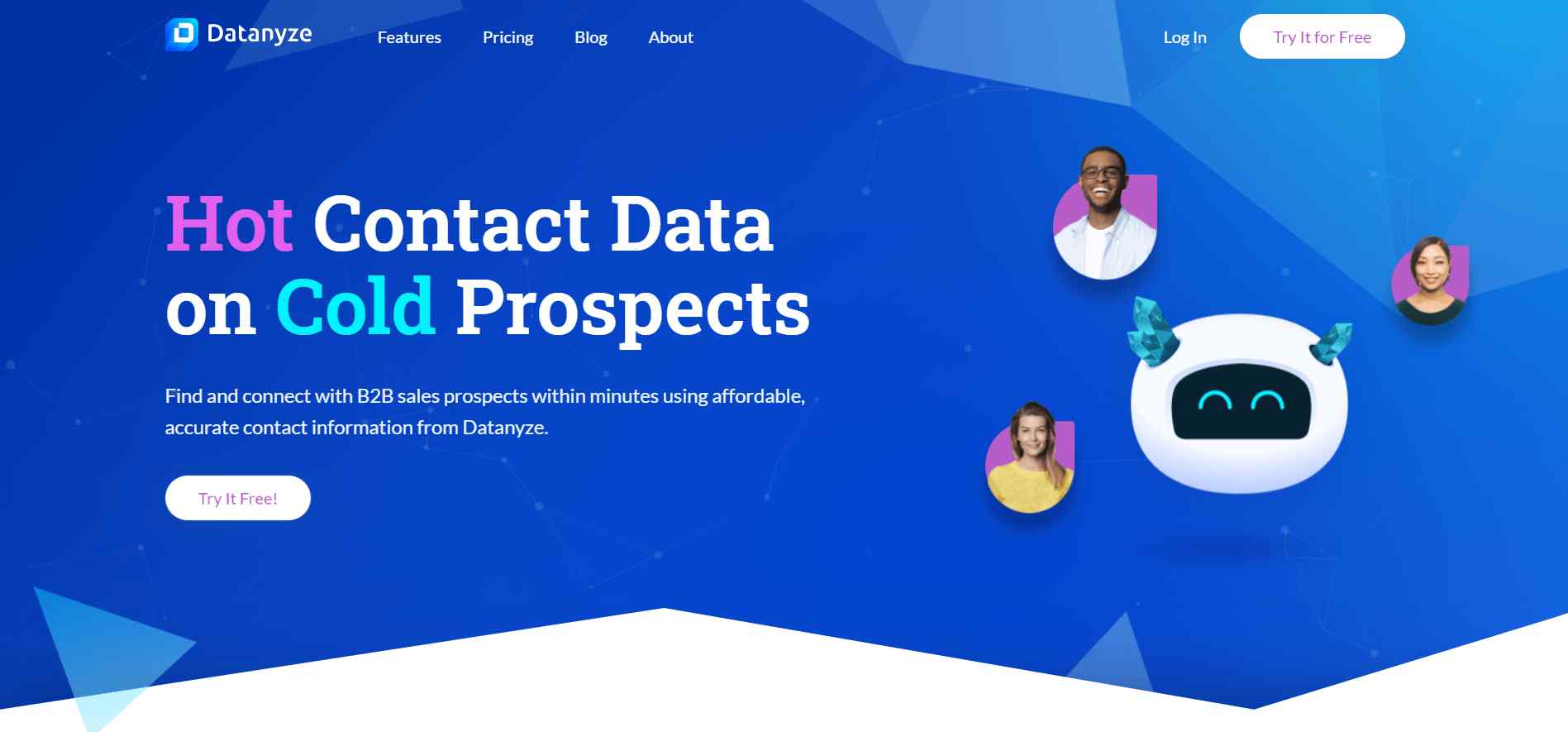 Best For: Lead prospecting using the in-built database
Integrations: Yes

Datanyze combines technology tracking, predictive analysis, and prospecting to generate leads for your business automatically. You don't need to hunt for new leads, Datanyze does the work for you to help you increase your prospect list.

How to Use Datanyze to Short-Circuit Lead Generation?
It gives you the best leads by monitoring and analyzing the technology choice across 35M companies.
Set your target technology and companies, and Datanyze will find the correct prospects accordingly. You can filter Datanyze's domain database to create lists of ideal accounts.
The Datanyze Chrome extension allows you to fetch firmographic data of the desired company, such as employees, emails, and contact information.
Add the prospect list to your account and export them to your CRM tools, such as Salesforce and Hubsoft to enrich the leads.
Set alerts to know when your prospects have dropped or changed a business solution to enable your team to reach out to them at the precise time.
Price: Contact for price
---
31. Growbots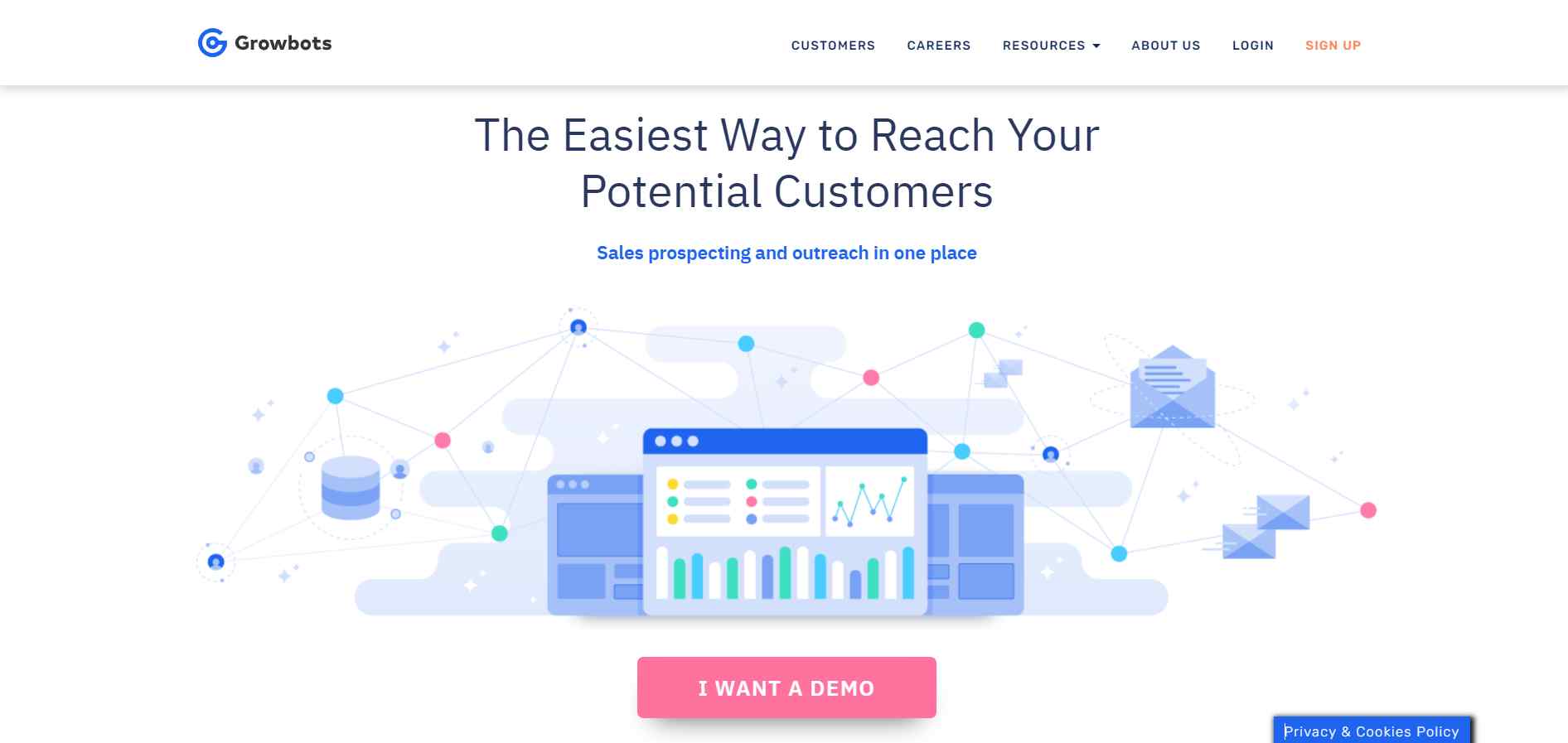 Best For: Lead generation via the database.

Growbots is a B2B sales lead generation tool. You can access their database of over 200 million contacts to search for new leads for your target industry. It lets you find targeted prospects for your business, making the lead qualification process much easier.
What Makes Growbots so Good in Finding New Leads?
It auto-generates the list of exciting prospects according to your target and offers automatic prospecting, self-updating database, multichannel sequences, and much more in one place.
Choose your contacts, and it provides you with their social media profiles, direct email addresses, and phone numbers.
Create your email campaign to connect with the prospects.
Using the analytics, you can see detailed reports, monitor your open rates, click-through rates, response rates, and identify the best-performing campaign templates.
Lets you A/B test different elements of your campaign, like email template variants and sending times.
Integrate seamlessly with Salesforce and HubSpot.
Price: Contact for price
---
32. LinkedIn Sales Navigator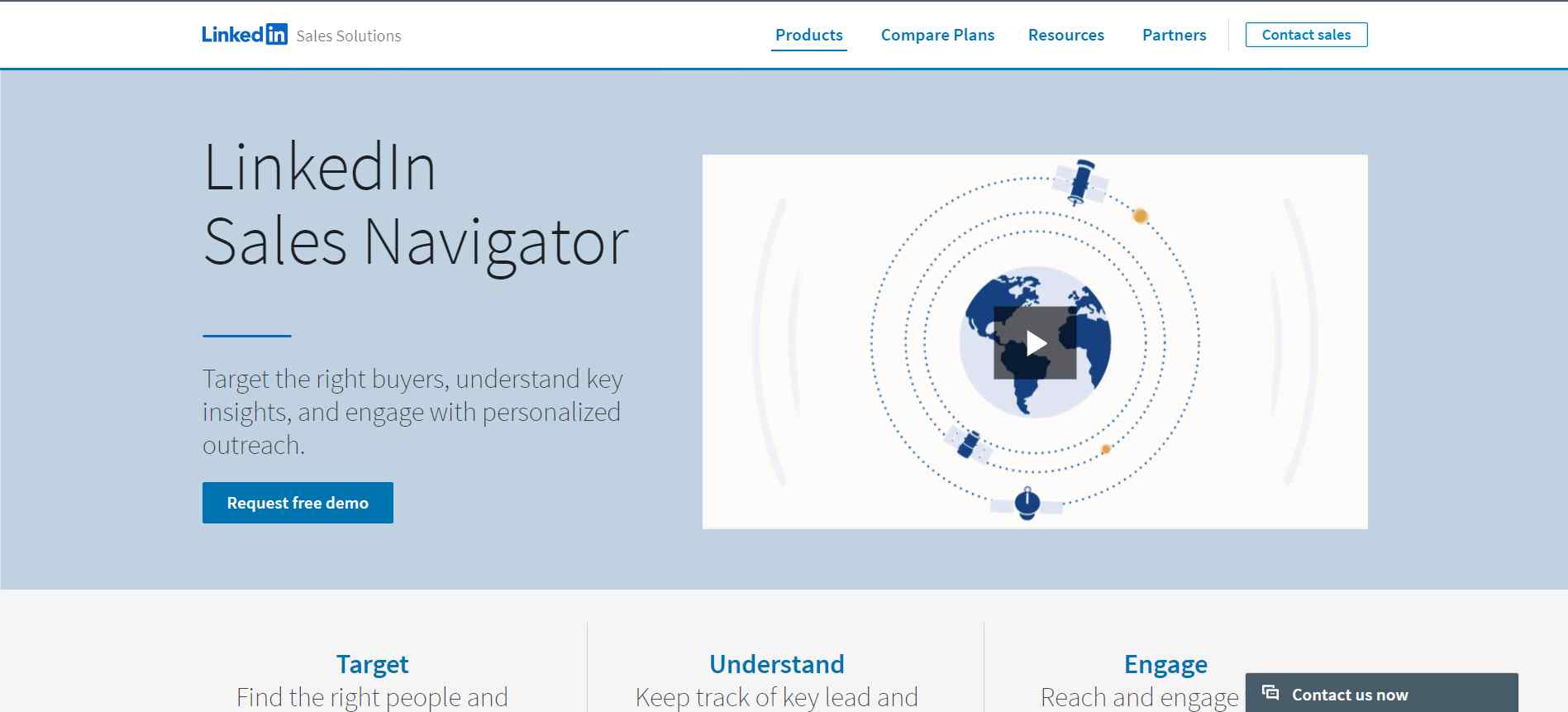 Best For: Lead generation through LinkedIn
Integrations: Yes

LinkedIn Sales Navigator gives you a list of new prospects and leads using LinkedIn according to your search criteria. Since LinkedIn is a professional platform, it makes LinkedIn Sales Navigator perfect for finding highly relevant leads for your desired industry.
What Makes LinkedIn Sales Navigator So Effective?
Search for new leads using advanced targeting options, such as industry, geography, and seniority.
It also provides a lead recommendation feature for your target industry, account, and business.
You can save leads directly to your CRM.
Send Inmail messages to Linkedin members to engage with new prospects.
Reach out to over 500 million members on LinkedIn through in-mail messages, even if you're not connected to them.
Organize your leads using custom tags and export the same tags to your CRM to allow data continuity across both platforms.
Price: Contact for price
---
33. Lead Forensics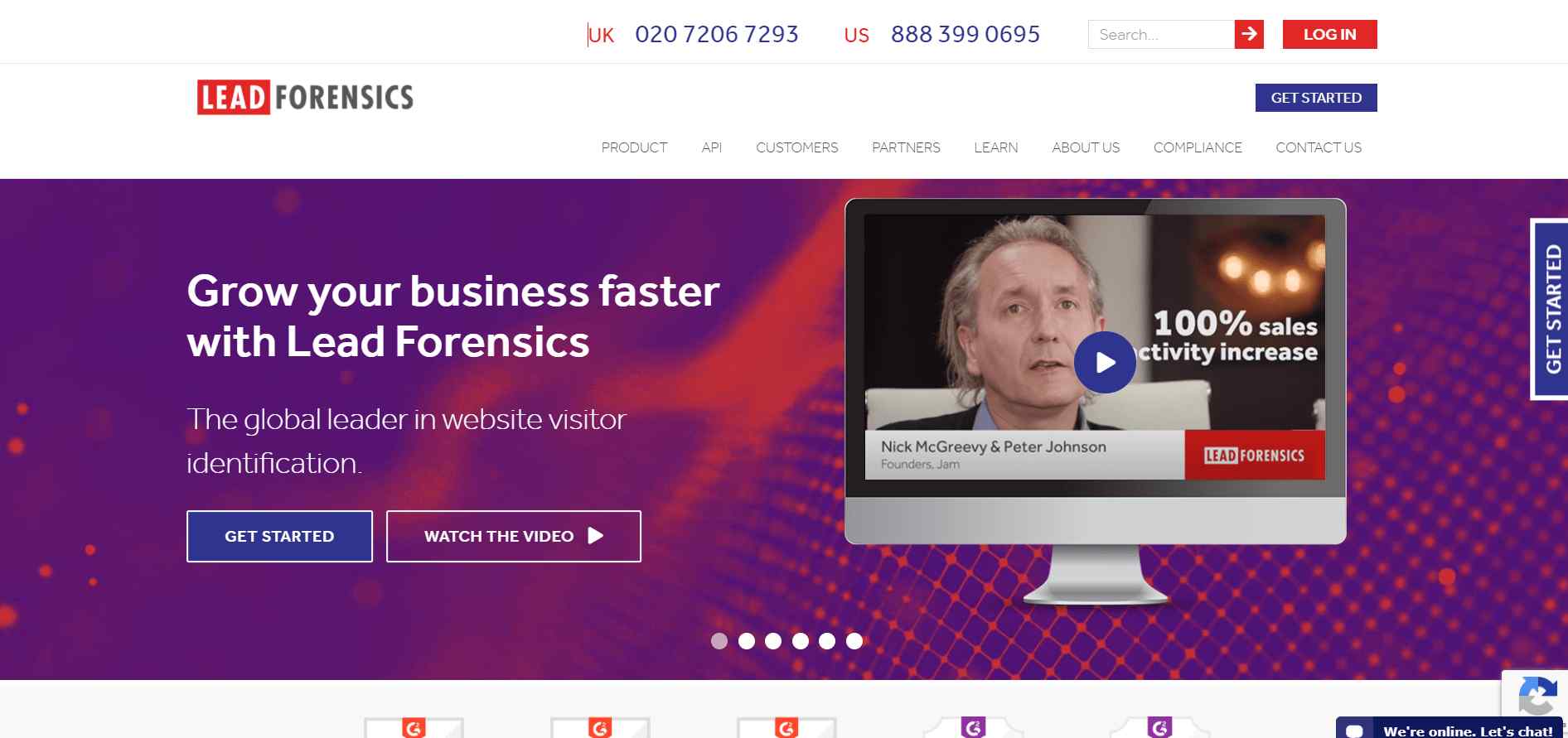 Best For: On-page lead prospecting
Integrations: Yes

Lead forensics is one of the best lead generation tools that find new prospects for you by using your website visitors' IP addresses. Your visitors are your closest prospects because they browse your website to find what they are looking for. Thus, targeting them first to discover new leads makes perfect sense.
How Does Lead Forensics Search for New Leads?
You can instantly identify your anonymous website visitors' contact details, including business name, contact information, demographics, and financial data.
It automatically finds the details of your visitors and sends them to your CRM tool in real-time.
Get insight into the visitor's on-site visitor behavior to see how many times they visited, pages viewed, and time spent.
It offers integration with various CRM tools, such as Salesforce.
Price: Contact for price
---
34. D&B Hoovers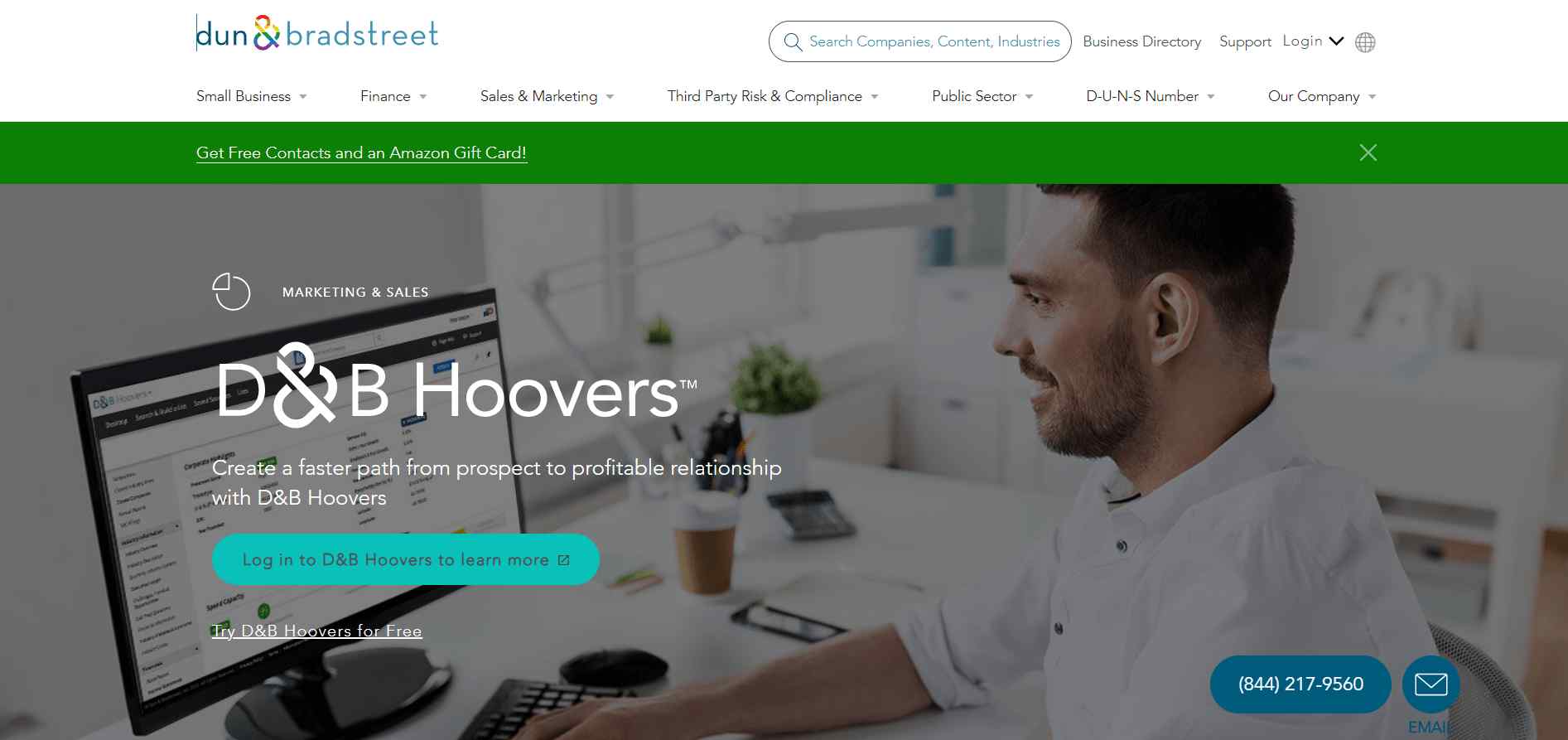 Best For: Lead prospecting using inbuilt database
Integrations: Yes

D&B Hoovers has a database of over 170 million business records comprising industry analysis, company profiles, and reports, making it one of the best b2b sales lead generation tools. It is a perfect sales acceleration tool that offers dynamic search, real-time triggers, and comprehensive company profiles to enhance your list-building capabilities.
How Does D&B Hoovers Generate New Leads?
It identifies potential leads based on your search criteria and produces the list of best available opportunities in real-time.
Access the company profiles to identify key personnel and decision-makers to add them to your prospect list.
With seamless integration to CRM, you can export the prospect list and convert the opportunities into real sales.
It regularly matches the prospects' records in your CRM with Hoover's database in real-time using the D&B optimizer. Hence, you always have updated records at your fingertips.
It also provides you with real-time updates about new opportunities that emerge in your account list.
Price: Contact for price
---
35. OnePageCRM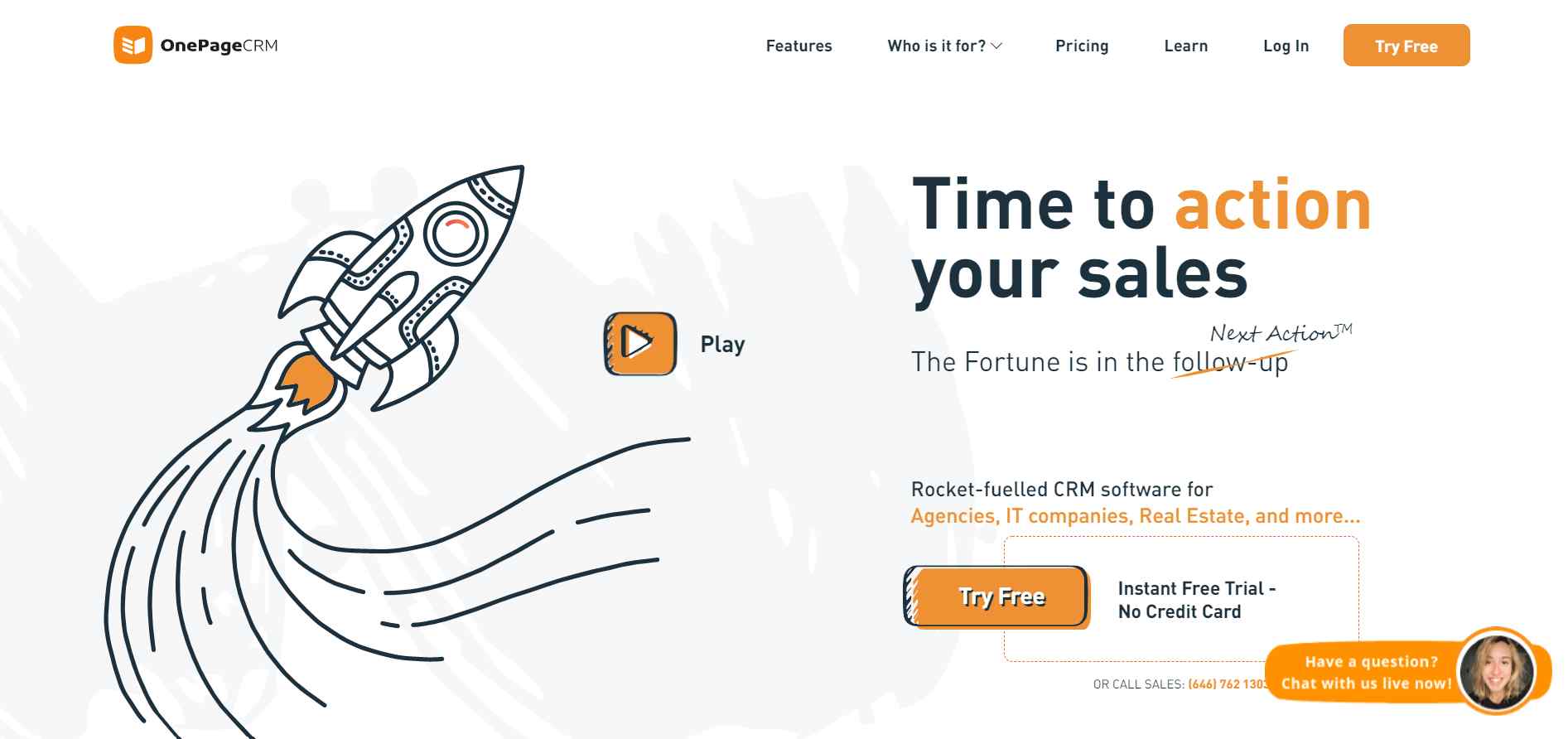 Best For: Lead generation using social platforms
Integrations: Yes

OnePageCRM is a powerful lead generation tool that helps you find the details of the prospects from social media sites and adds them to the contact list. From lead capturing to pipeline management, OnePageCRM has it all. You can manage contacts, set up bulk mail campaigns, automate workflows, monitor your sales pipeline, and more.
How Does OnePageCRM Use Social Media to Generate Leads?
Enter the person's email address in the contact form, and it auto-fills other social details, such as organization, job title, and contact information.
You can use its Chrome extension to source leads from anywhere on the internet.
Add the potential prospects to the contact list with one click.
Use the inbuilt CRM to automate several tasks for your leads and customers, such as set follow-ups, prioritize leads based on labels, and more.
You can see custom reports in a couple of clicks and always stay up-to-date with your team's sales progress.
Can be integrated with various apps like Zapier, Mailchimp, and Google contacts.
Price: Starts at $15/month
---
36. AeroLeads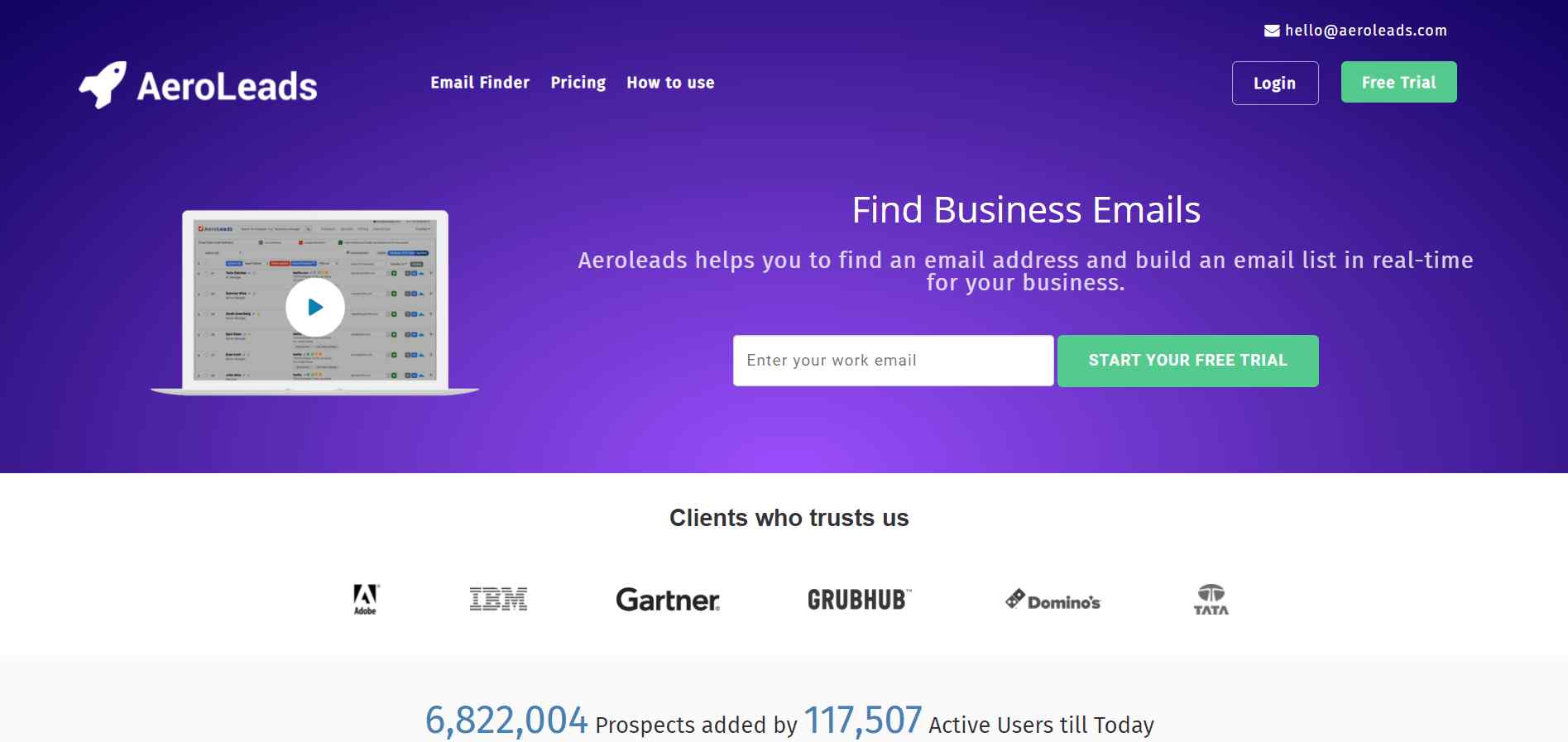 Best For: Lead prospecting and generation through social platforms
Integrations: Yes

Aeroleads is another lead prospecting tool that helps you generate new leads using social network sites, such as LinkedIn, CrunchBase, and AngelList. It can help you find as many as 15 data points about your prospects through a simple email address and company name.
How to Use Aeroleads to Search for New Leads?
Automatically search sites like Linkedin, CrunchBase, Inbound.org, AngelList, GitHub, and others to show your prospects' data points.
Fetch public business information, such as full name, job title, location, generic company emails, and business phone numbers of the leads based on their email address and phone.
Integrate with CRM tools like Salesforce, HubSpot, MailChimp, and Zapier for better lead management.
Directly transfer the collected leads to your CRM tool with a single click.
You can also export the data to CSV.
Price: Starts at $49/month
---
Advertising and Referral Marketing Tools
'93% of the B2B buying process starts with internet research.'

These help you bring in new leads through paid advertisements and referrals.
37. Extole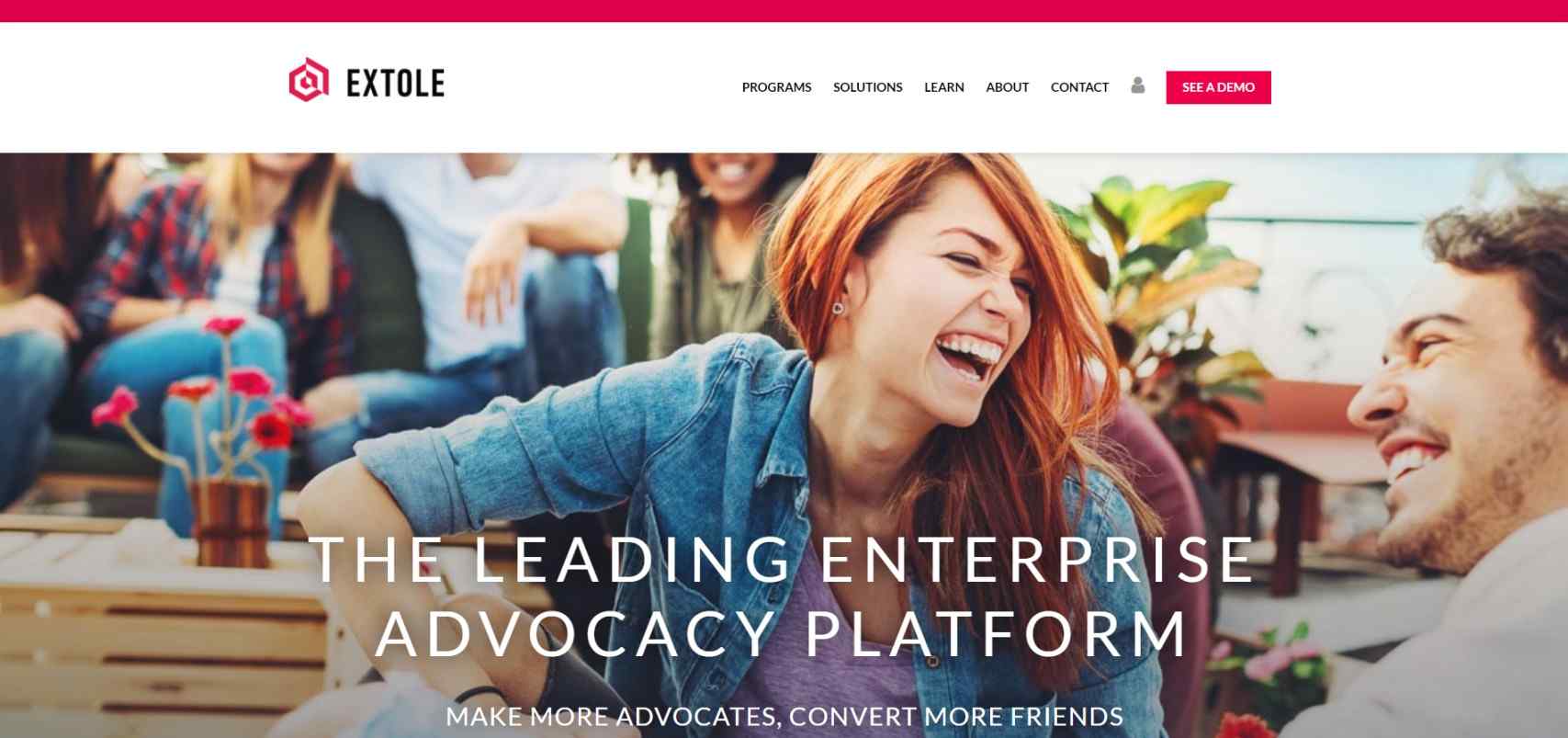 Best For: Referral and affiliate marketing for lead generation

Extole is an all-in-one referral management software that lets you bring in new business through word of mouth.
How to Utilize Extole as a Lead Generation Platform?
It offers different referral and loyalty program types to entice customers into joining them.
These include drop-a-hint, nominate a friend, refer a friend, and more.
Turn customers into advocates so they can refer your business to others and bring new leads.
Customize the rewards via open-loop cards, gift cards, coupon codes, and even services like Apple iTunes and Uber.
Build your referral network by encouraging people to join the program through social platforms and email marketing.
Price: Contact for price
---
38. ReferralCandy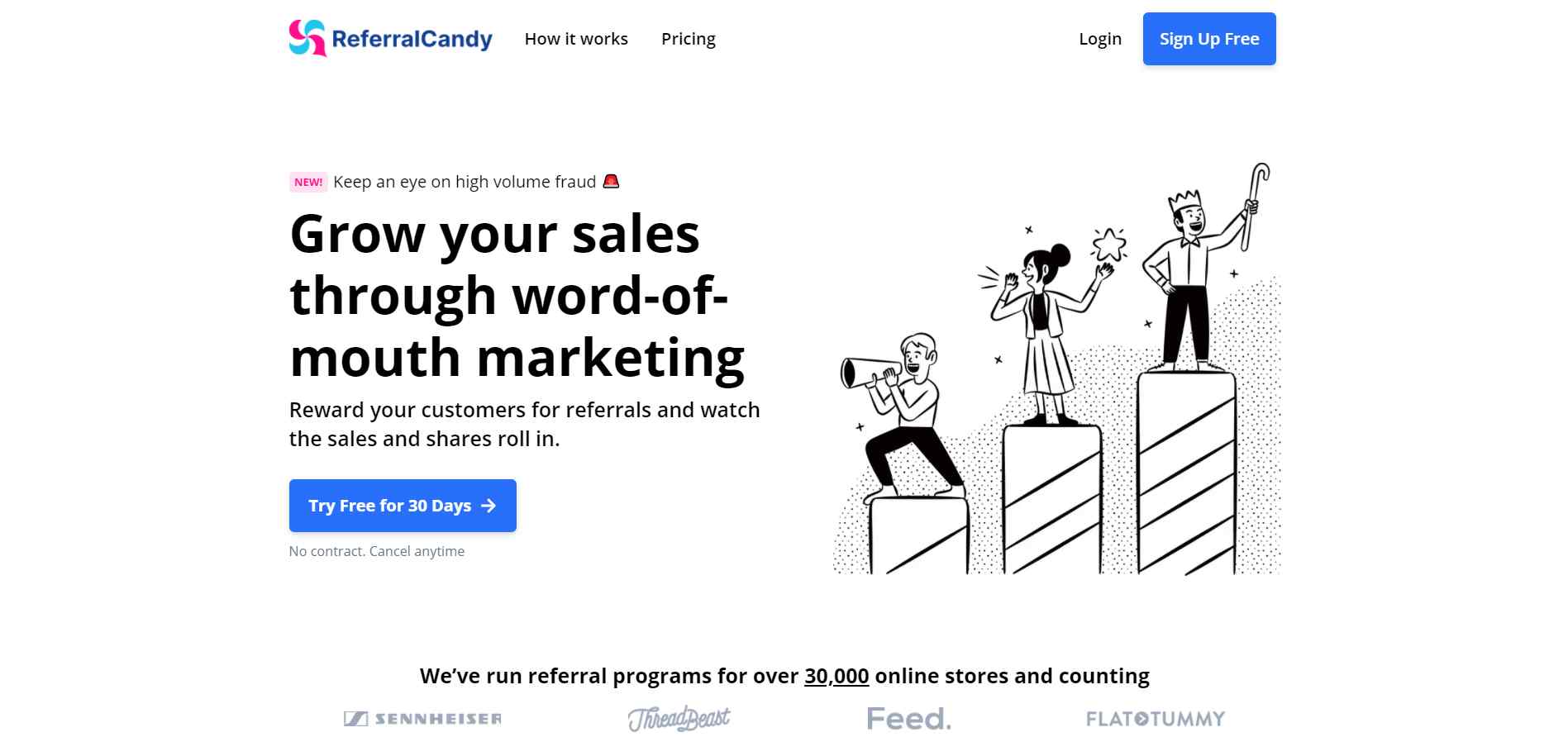 Best For: Referral marketing, affiliate marketing
Integrations: Yes

ReferralCandy is another referral marketing tool that is also great for generating new leads. The referral incentives make the program very useful to bring new leads through affiliates. You can easily grow, track and manage your affiliate network with ReferralCandy to uplift lead generation and conversions.
How to Use ReferralCandy to Build Your Affiliate Network and Bring in New Business:
Send the referral program invitation mail to your current customers' list.
Add the affiliate program signup links on your website pages.
Customize rewards to prompt affiliates to bring in more leads. You have complete control over the rewards payout and can easily automate it.
Provides in-depth information about the referral program so you can see your star affiliates, compare industry benchmarks, track new sales from referrals, and see top traffic sources.
Use new sales and traffic sources to increase signups.
Price: Contact for price
---
39. Google Ads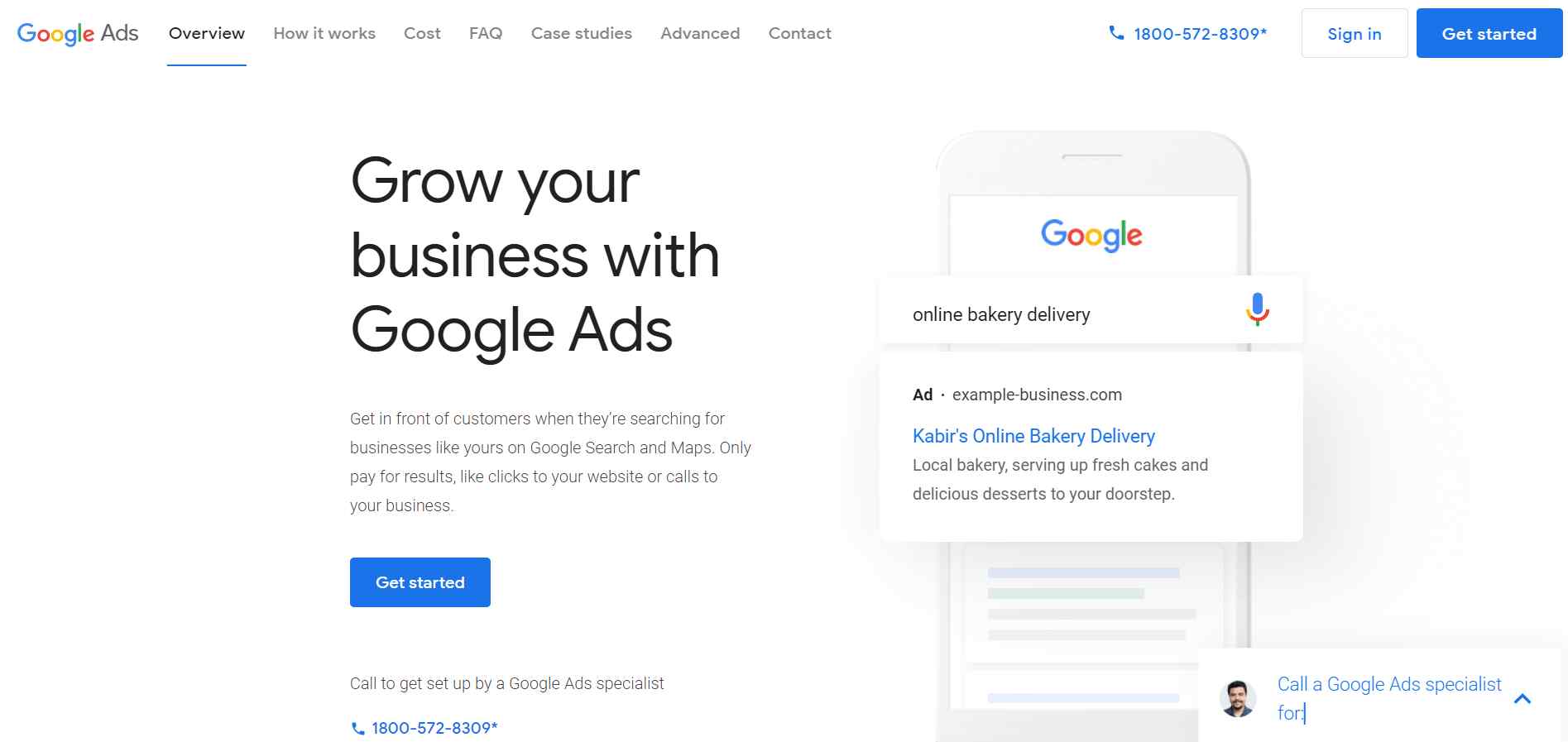 Best For: Lead generation through paid ads

Advertisements are as old as marketing itself. With Google Ads, you can put your brand on the biggest search engine on the planet, with over a billion searches every day. Just design your campaign and Google automatically shows your ads to the relevant audience. It gives you full control to run your ad campaigns as you like it.
How Does Google Ads Work?
Google Ads brings your brand and products in front of your audience right on the search engine result pages.
Show well-timed ads to your audience based on their searches, browsing behavior, and search history to increase traffic and bring new customers. Reach out to the customers at the very moment they are looking for products or services like yours.
Manage your ad campaigns- set goals, monthly budget caps, bidding rules, targeting options, custom messages, and more.
Track your campaign progress with real-time analytical insights, such as website visits, total clicks, remaining budget, ad views, low-performing keywords, and quality scores.
Set up Google campaigns for free. You only pay when someone takes action on your ad.
Price: Campaign based
---
Social Media Lead Generation Tools
'B2B Companies generate three times more lead through social media than other traditional channels.'
These tools empower you to utilize your social media outlets' true potential to bring new leads via social engagement.
40. Hootsuite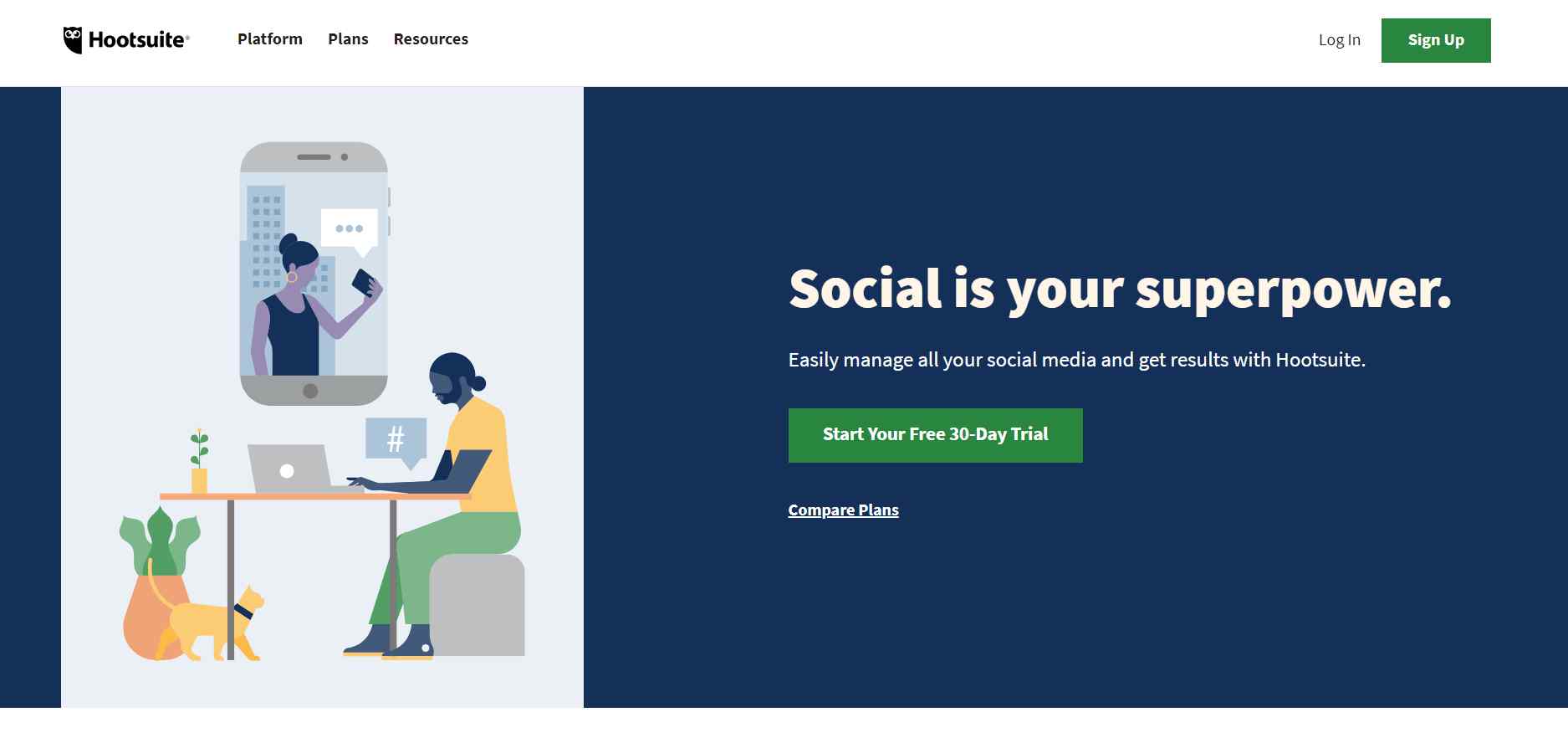 Best For: Inbound lead generation tool, social media marketing
Integrations: Yes

Hootsuite is an all-in-one social media management tool to boost your social presence and gain influencers. You can generate new leads using social posts and other activities. If social platforms are the new frontiers to expand your business, Hootsuite paves the way to do it.
Short-Circuit Lead Generation Using Hootsuite:
Publish >> Engage >> Monitor >> Advertise >> Acquire >> Analyze
Hootsuite acts as a central hub for all your social platforms and allows you to manage all social activities efficiently.
Analyze the latest trends, publish new posts, do competitive research, and see your posts' performance across every social platform from Hootsuite.
Reply to comments, collect information, and open up your business for new leads via social media.
Integrate with other tools, such as Slack and Zendesk to nurture the leads into customers.
Price: Starts at $29/month. A free plan is also available
---
41. Discover.ly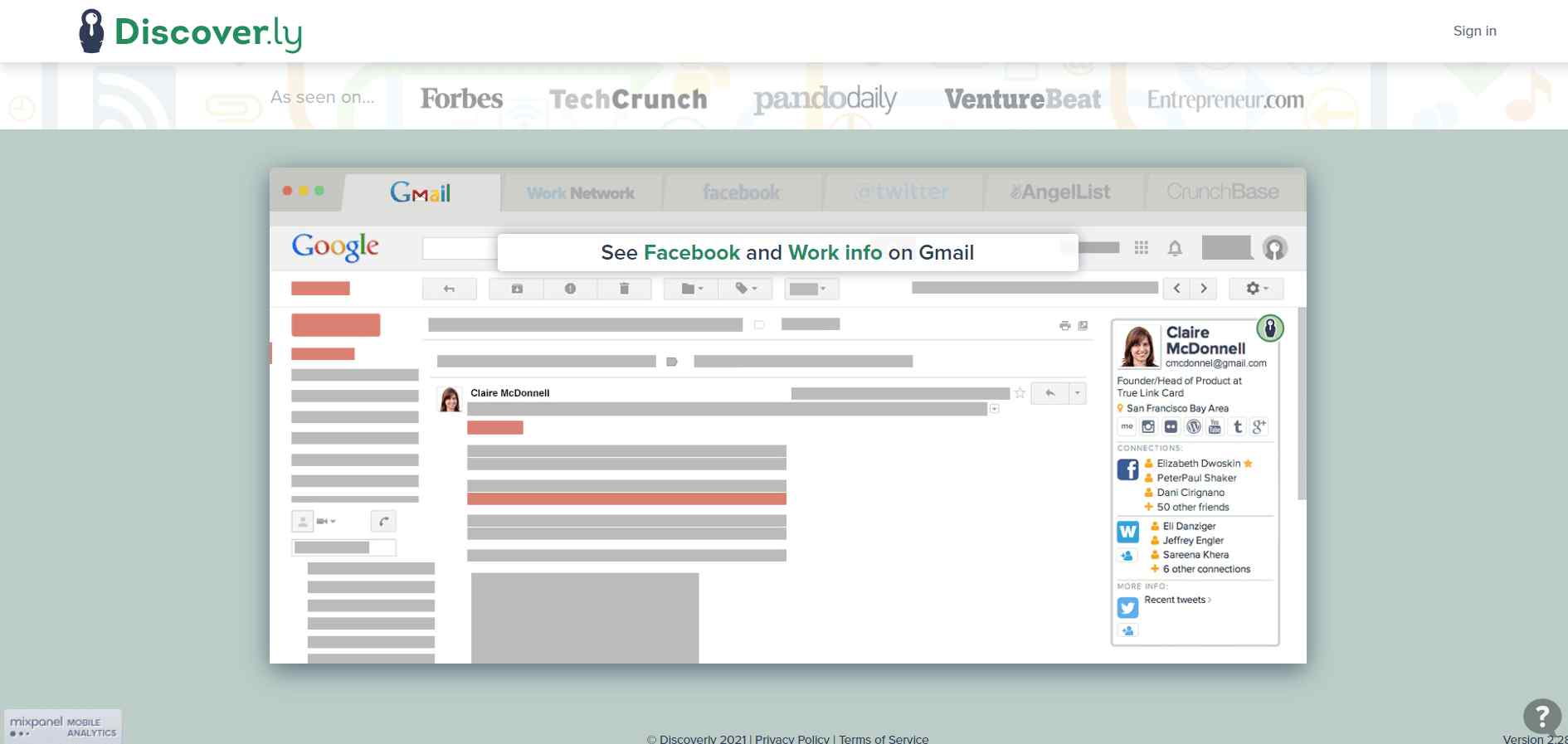 Best For: Lead generation through social platforms
Integrations: Yes

Discover.ly is a browser extension that helps generate leads by showing additional information from various social media platforms about the profile you are currently viewing.
How to Use Discover.ly to Generate Leads?
It automatically searches the social profiles of potential prospects.
Enter the contact details, and it automatically shows you the public information available on other sites to build your prospect list.
Discover.ly instantly finds information about exciting leads so you can get in touch with them for new opportunities.
You can integrate it with other CRM tools to export the prospect list and start your marketing campaign.
Price: Contact for price
---
42. BuzzSumo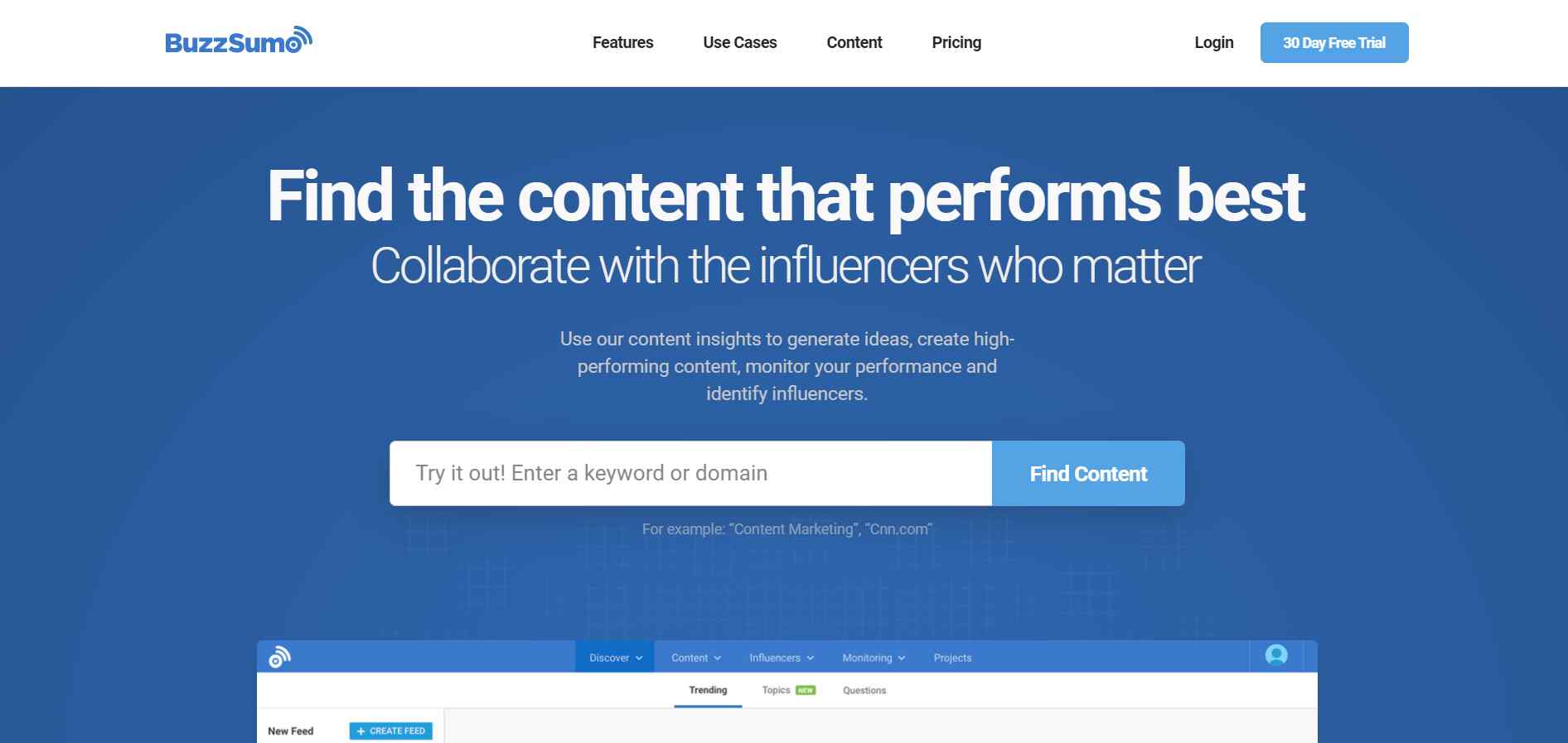 Best For: Social media engagement tool

BuzzSumo is another social media engagement tool that helps to generate leads through social platforms. It's a cloud-based platform that helps you discover the best engagement content and ideas across social media to build your brand influencers.
How Does It Help to Generate Leads:
BuzzSumo helps drive more traffic to your website by increasing your social media presence to generate new leads and conversions.
Track social media trends, analyze hot topics around your business, and contact influencers.
BuzzSumo gives you in-depth insights into popular keywords, trending topics, rising post, and search volume data.
See what people are saying about the current and emerging products in your industry.
You can also perform competitive analysis to generate new ideas, create high-performing content, engage your followers, and collect information.
Price: Starts at $99/month
---
43. Quora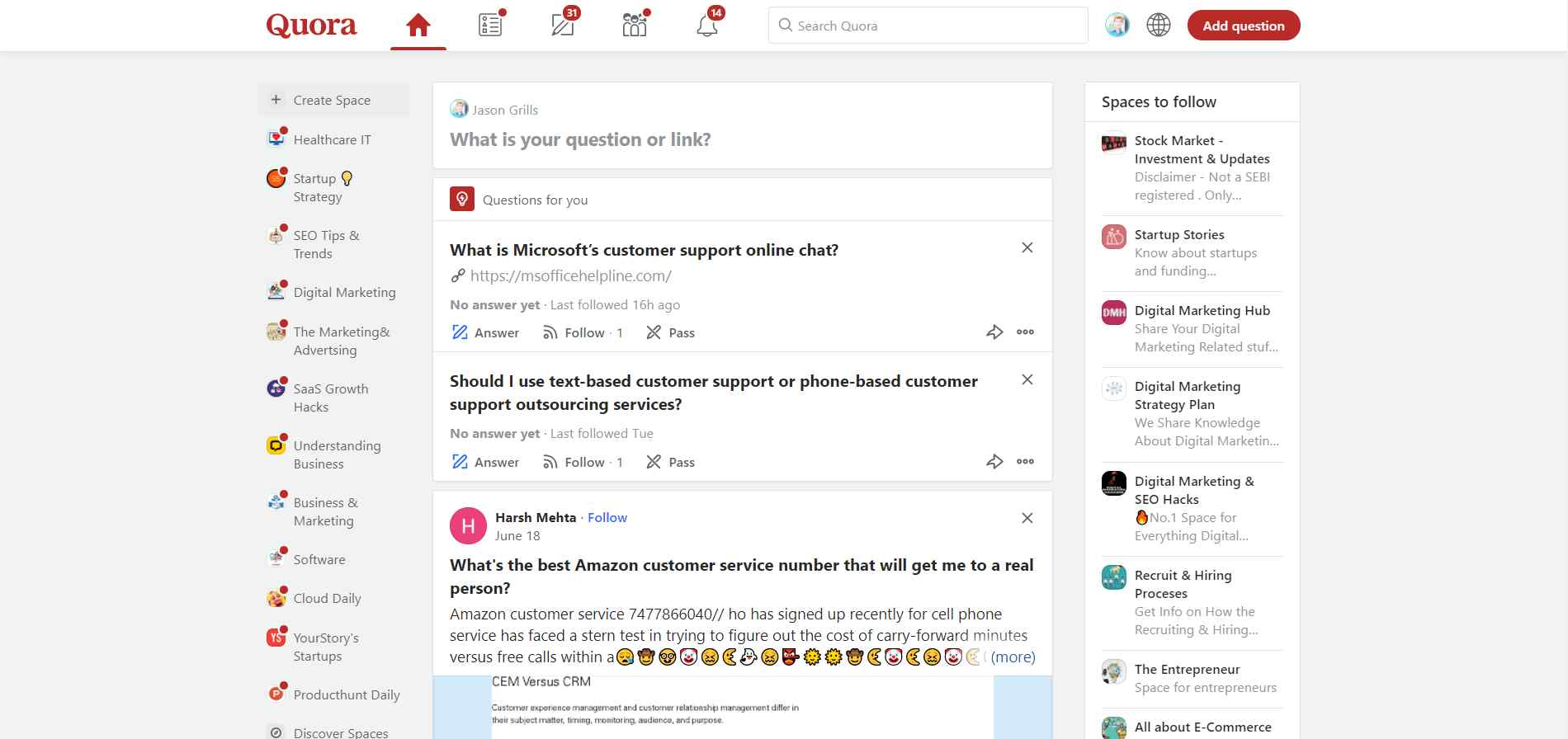 Best For: Inbound lead generation, Q&A forum

Quora can be a powerful lead generation platform where you can find people asking questions about your industry topics. And if you can convince them about your expertise in providing the solution, you can generate new leads and drive traffic to your website.
How to Use Quora for New Leads?
Provide quality answers to questions and attract people to your business.
Collect upvotes on the answers to feature them on the top to maximize visibility.
Add links to your answers to drive traffic to your website.
Post insightful questions that people might search for on the internet and provide the answers/solutions.
Build brand credibility by genuinely answering the questions posted on Quora.
Price: Free
---
44. ProProfs Discuss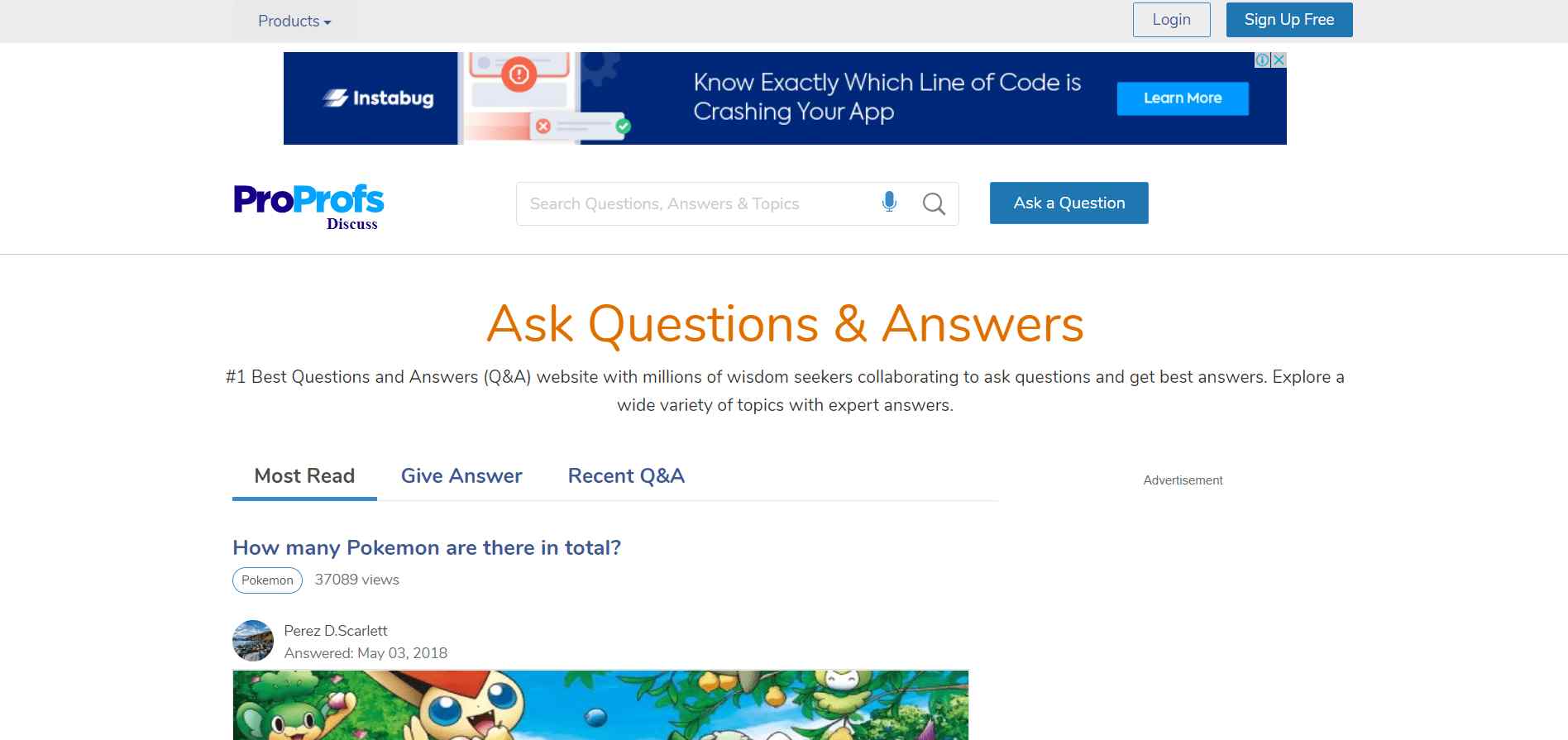 Type: Q&A forum
Just like Quora, ProProfs Discuss is another Q&A forum where people post their questions. It provides a tremendous opportunity to show the users that you can efficiently provide the solution they are looking for by answering their questions and attracting them to your business.
How to Use ProProfs Discuss to Generate Leads?
Find the questions that suit your industry or expertise and answer them to engage users.
Collect upvotes on the answers to maximize visibility and build credibility.
Reply to the answers posted by other users to add more information and improve the answer.
Share your answers on social media to increase your followers and customer base.
Post your own questions to which people would like to hear a viable answer or solution to build your brand image and attract new customers.
Price: Free
---
CRM / Lead Management Tools
These are not lead generation tools, but you cannot streamline your sales process without proper management software.

45. BigContacts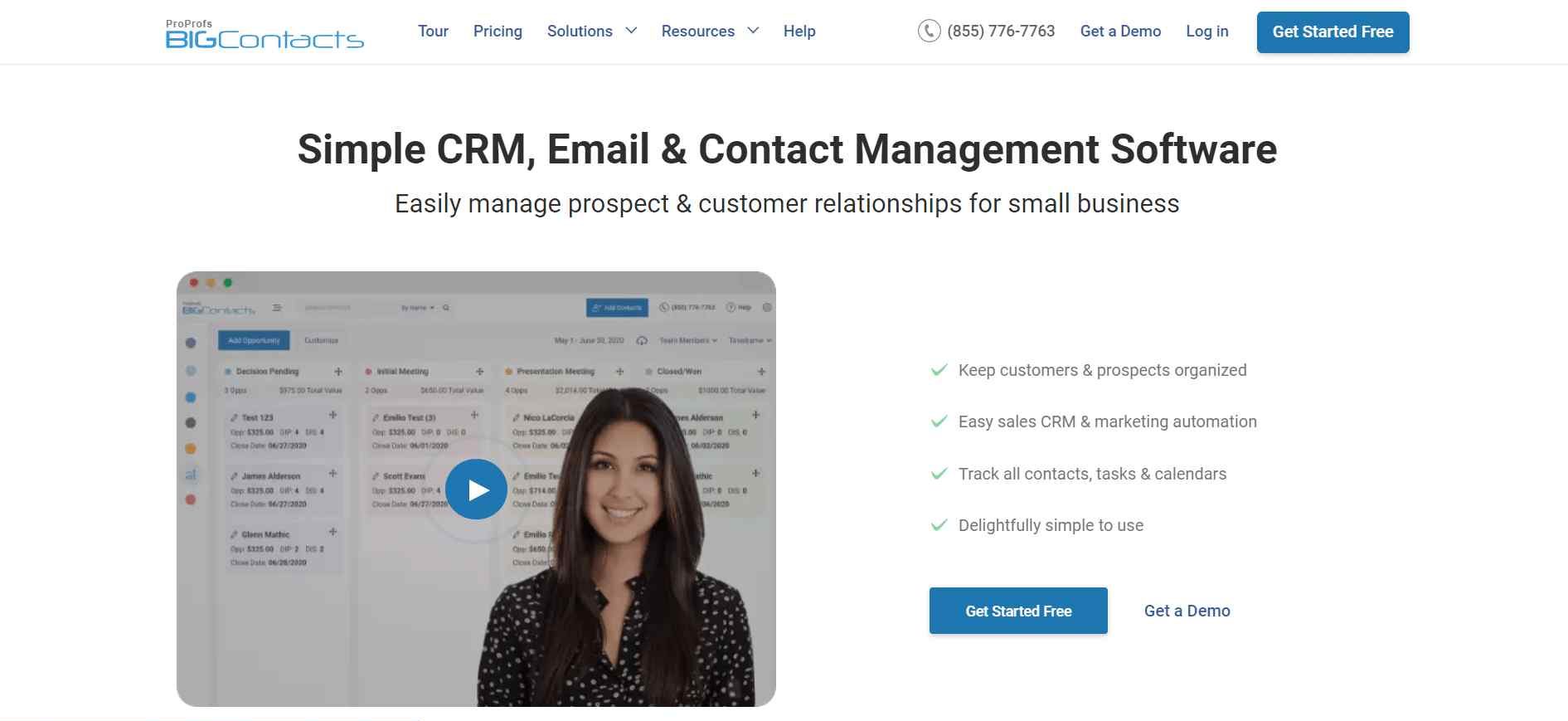 Best For: CRM, email marketing
Integrations: Yes

BigContacts is a powerful CRM and sales management tool that lets you manage customer relationships and prospects in your business. It is a very cost-effective solution for small to medium-sized companies that want to fix conversion funnel leaks to reduce lead mismanagement.
How to Use BigContacts to Streamline Lead Management?
Import your contacts to BigContacts via spreadsheet, email, forms, and webhooks. Track all the interactions from a single screen.
Organize your contacts based on activity, opportunity, or last interaction to improve management.
Design automated drip mail campaigns to nurture the leads. You can configure automated emails based on key events, the prospect's position in the conversion funnel, contacts' actions, or behaviors on your site.
Design professional emails in minutes with pre-built templates and a flexible drag-&-drop editor.
Use detailed reports to track your marketing campaign's progress and sales activity. You can sort the reports using filters or generate system reports to analyze various marketing, sales, and contacts activities.
Integrate seamlessly with other tools, such as Zendesk, Mailchimp, Google Contacts, and HubSpot.
Price: Starts at $5/user/month billed annually

---
46. Doodle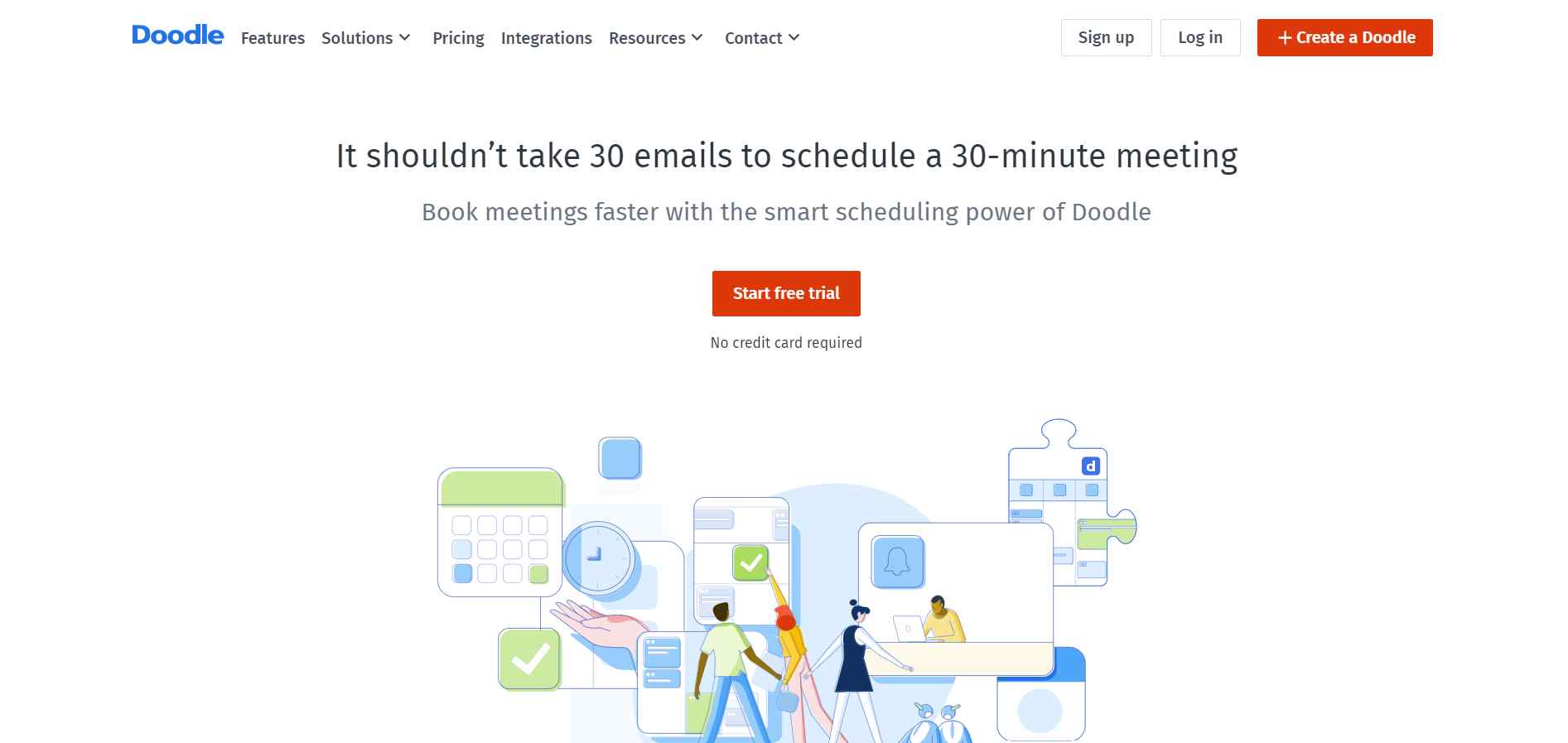 Best For: Lead management tool
Integrations: Yes

Though not a lead generation tool, Doodle is a time-management tool that prevents the loss of prospects because of miscommunications, delays, and lengthy mail correspondences.
How Does Doodle Help in Preventing the Loss of Potential Prospects?
Doodle's scheduling tools help you fill the sales pipeline and schedule meetings with clients.
You can schedule multiple meetings at once.
Create your own shareable Doodle calendar link, include the availability slots, and share it with your prospects. Your prospects can select the slot that suits them.
Notify them about any changes in the meeting timings directly from the Doodle dashboard.
Connect your Google Calendar or Office 365 with Doodle, sync meetings to your calendar automatically, and avoid double-booking.
Price: Starts at $6/month
---
47. Keap CRM
Best For: All-in-one CRM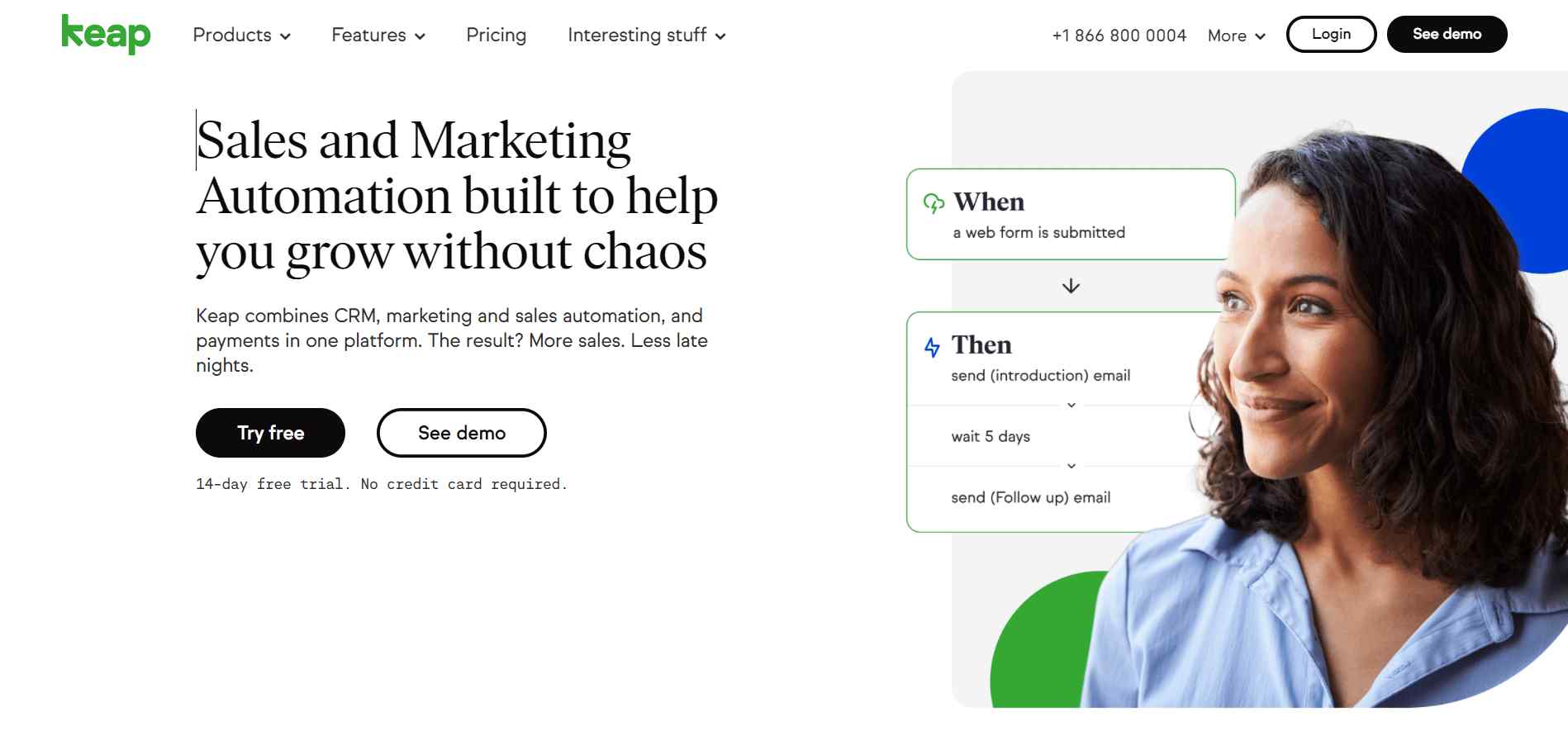 Best For: All-in-one CRM
Integrations: Yes

Keap is a lead management software to streamline your sales and conversion process across all channels. You can collect new leads by adding forms on your website, qualify them using email and SMS marketing, and nurture them with the inbuilt CRM tools.
How to Nurture Leads Using Keap CRM?
Sync all your contacts from Outlook, Gmail, etc., and manage everything in Keap.
Pull contact details into Keap from your iPhone, a spreadsheet, or business cards to stay updated on your business relationships.
Reply to your client's email, SMS, or phone directly from Keap CRM.
See all the conversations in one place. Set up alerts about new messages.
Use advanced automation to send automatic follow-ups, automate lead qualification paths, schedule meetings, and run drip campaigns to maximize conversions.
It offers a single dashboard view to show all your messages, tasks, appointments, and reports under a single screen.
Create and add lead forms to your website to collect information from potential prospects.
Price: Starts at $59/month
---
48. Zapier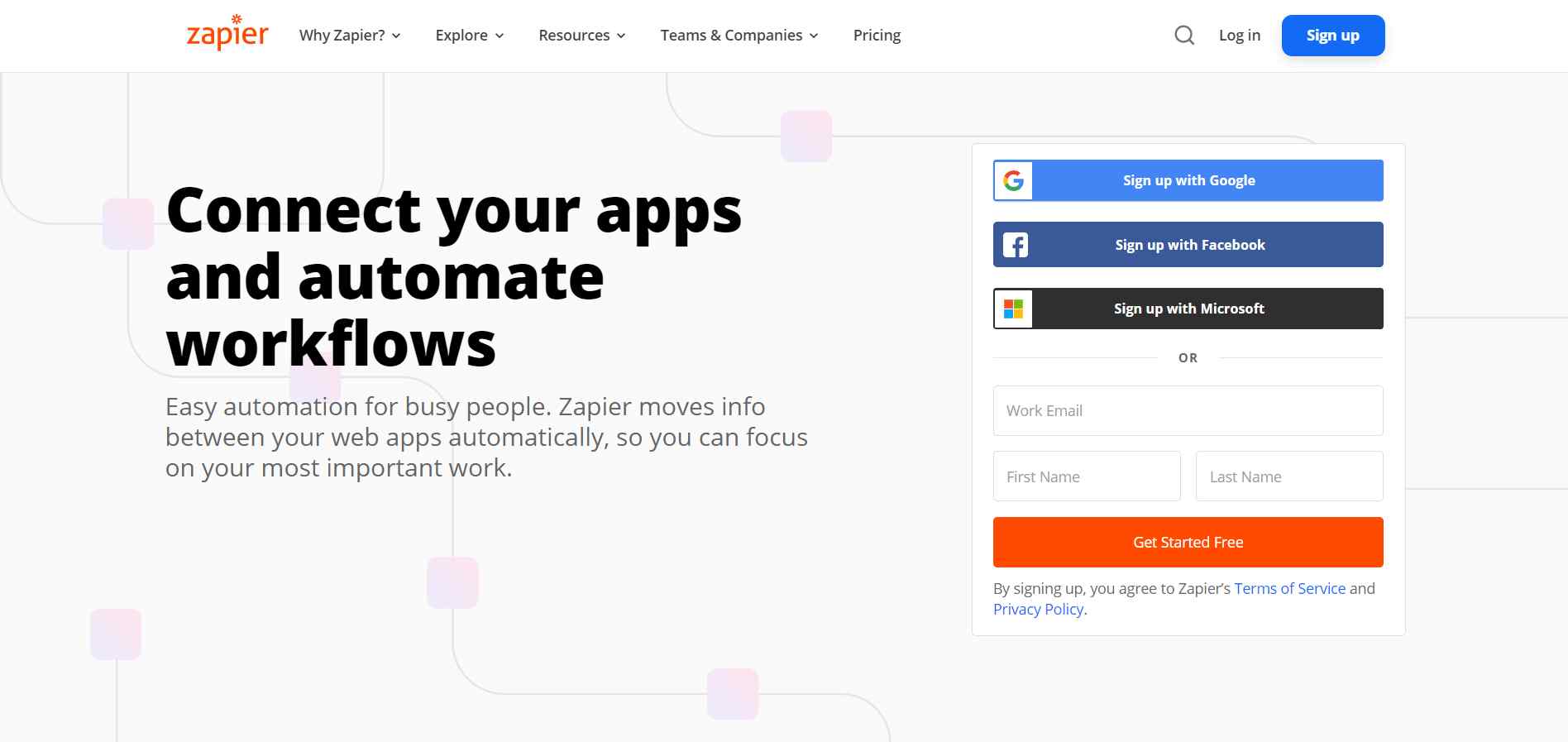 Best For: Workflow automation and lead management software
Integrations: Yes

Zapier allows you to connect different web apps and automate tasks between them to keep everything updated at all times. You can connect over 3000 applications and automate routine tasks between them to save time and effort.
How to Automate Workflows Across Different Applications Using Zapier?
You can automate workflows across various apps using triggers and actions.
For example, if someone subscribes to your newsletter on Facebook >> it triggers an automatic action to send data to Mailchimp and add the lead to the subscriber list >> then it sends you an alert about the new lead.
Automate lead qualification workflow to send automated messages to new leads.
You can set alerts for the sales team about new leads, lead status, and other updates.
It also allows you to configure workflows to share content across social media.
Automatically add new leads from various channels to your spreadsheet or database.
Integrate with apps, such as Facebook Lead Ads, Slack, and Google Sheets to keep everything organized.
Price: Free basic plan. Paid plans start at $19/month
---
49. Salesforce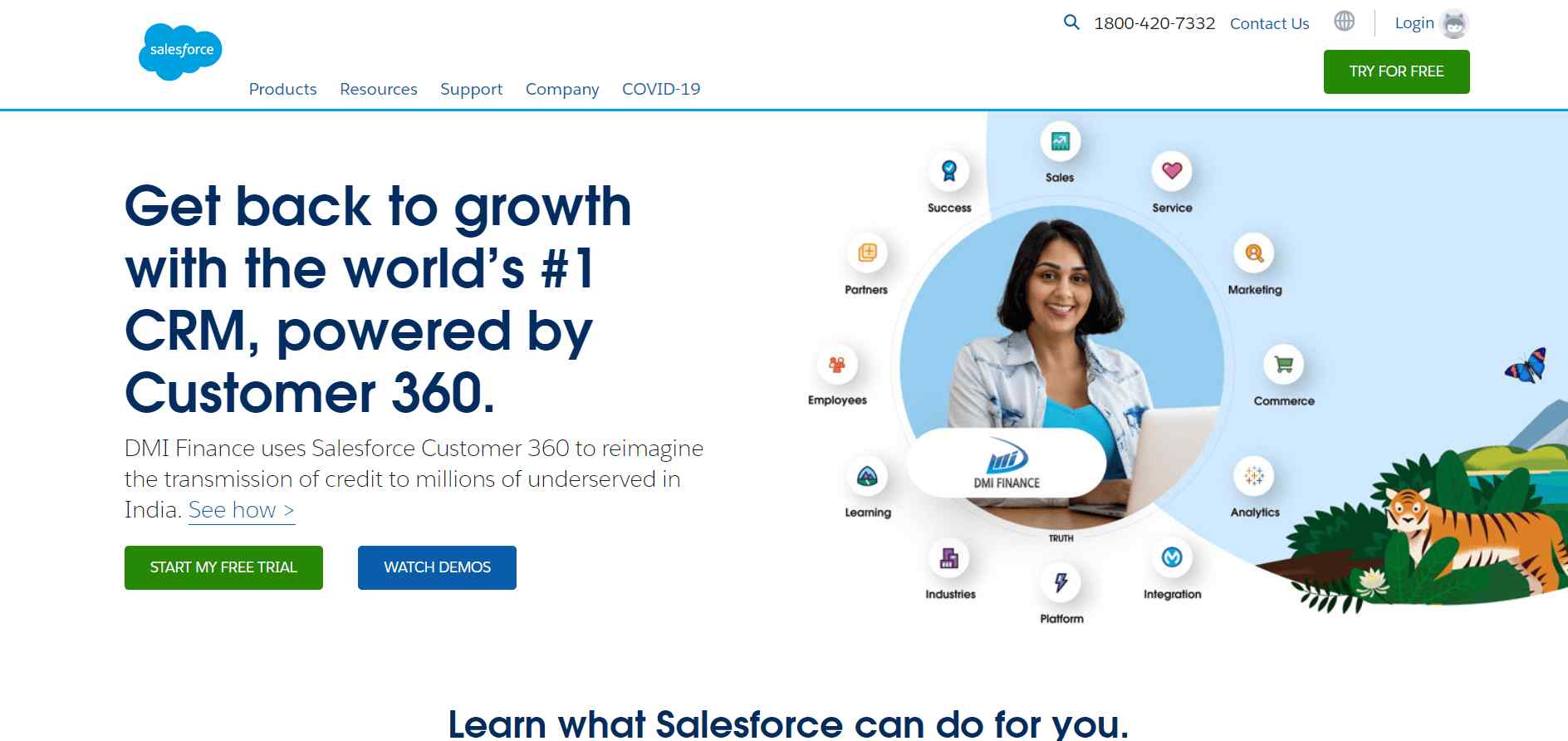 Best For: Lead management software
Integrations: Yes

If you are into marketing, then it is highly unlikely that you haven't heard or worked on Salesforce. It is one of the best sales and lead management software in the world. It lets you manage customer relationships, automate workflows, track your sales pipelines, identify sales opportunities, and much more.
What Makes Salesforce One of the Best Lead Management Software?
It includes tools to manage leads, sales teams, customers, workflows, and much more.
You can track all your sales activities, social insights, key contacts, and interactions within Salesforce.
It offers opportunity management and sales insights. You can automate the sales process, get real-time insights, view dashboard updates, track sales pipelines, see important deals, analyze rep performance, analyze reports, and much more to boost productivity.
Integrate all the communication channels to the single easy-to-use console and manage all the interactions with prospects and customers in one place to eliminate miscommunication.
You can also create automatic email alerts, auto-assign tasks, and automate discount deal approvals.
Salesforce also provides AI-Einstein to help you dig through the data, find winning interaction patterns across all channels, auto-run predictive analysis, and automate workflows to make the sales process easier.
It easily integrates with several applications, such as Slack, Quickbooks, etc., so you can easily maintain data continuity across all your tools.
Price: Pricing may vary with the type of solution needed. Starts at $25/month
---
Conclusion
With this, we conclude the list of best lead generation and management tools. Picking the right tool depends on various factors, such as target channels, audience, scope, budget, and scalability. You may have to go for free trials of some of them before you find the one that suits your requirements. It is also possible that you may need more than one software, depending on your business. But once you have lead generation software integrated into place, you can utilize your marketing strategy's true potential, build your customer base, and increase conversions.

FAQs
What are the ways of lead generation?
You can get new leads by:
Using quizzes, surveys, polls, etc. for lead generation.
Conducting giveaways and contests.
Engaging directly with your users via chat, emails, calls, and social media.
SEO
Running Paid Advertising Campaigns
What is the first step in lead generation?
The very first step is to do extensive market research and plan your approach. You need to analyze your visitors' touchpoints, map buyers' journeys, and evaluate your target audience. Only then can you figure out how to contact your visitors to maximize lead generation.
---
Do you want a free Survey & Feedback Software?
We have the world's most versatile user research & feedback survey tool starting at $0
More posts
September 30, 2021
A positive and memorable customer experience has a huge impact on whether your customers will keep using your service in the long term or move onto your competitor. Such customer experience encompasses a wide range of factors, from customer service interactions to personalization and user journey optimization.
Read more