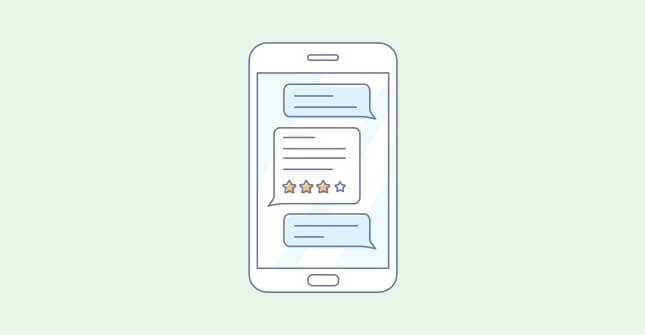 In-app feedback or users' feedback is a prominent part of any app development process. As a developer, you get to know the flaws you have in your app, what users want, and what can be improved. Now, with the in-app feedback option, you give your app users the freedom of sharing their experience instantly.
In other words, in-app feedback is a feature adopted by developers to shorten the process, and the time to receive feedback. With just a single pop-up, submitting feedback is possible for the user.
Suppose, your app doesn't have an in-app feedback feature. What will happen then? Well, users will use other platforms like social media to provide feedback. Bad reviews, given through social media platforms, can be harmful to the goodwill of the app. As social media platforms like Facebook have a network of 2.8 billion users, you definitely would not want to see your app trending with negative reviews there.
What kind of smartphone software uses In-app Survey Tools?
In-app feedback tools are used in various types of smartphone-based applications. We are describing them further before approaching the real discussion.
Mobile websites– Websites scalable for smartphone devices.
Native apps– Smartphone apps designed for specific operating systems such as Android, iOS, or Windows.
Native apps with webview– These internet-based mobile apps open a browser within the app to execute any action.
What is in-app feedback?
In-app feedback tools are used to provide a shortcut to submit feedback to app users. In other words, with the in-app feedback process, the user can rate or submit the feedback directly from the app screen.
For instance, you can instead of making users go to app stores to submit feedback, give them a shortcut so they do not have to go through a long process of opening multiple applications. Take Uber for example. After every ride, you get an option of rating it with options of stars, and a few short feedback along with the option of long feedback submission. This in-app feedback technique helps Uber in keeping a track of the quality of their services through instant feedback riders submit.
---
Importance of collecting in-app feedback
As mentioned above, In-app feedback tools are used to maximize feedback being collected for your smartphone app. Furthermore, you will find a few points to explain the importance of in-app feedback tools.
1- In-app feedback tools make feedback collection faster
2- Increases user satisfaction as submitting feedback gets convenient for them
3- Instant and accurate bug report generation
4- An insight into users' app usage behavior
How Does in-App Feedback Work
From app optimization to implementing new features, user feedback is the only way to get accurate qualitative input about how well your efforts resonate with actual app users.
Different in-app feedback tools provide various methods to capture user insights, such as:
In-app popups
Feedback boards
App rating prompts
Feedback sidebar
Embedded survey forms
Feedback widget
You can place these at different touchpoints to capture in-the-moment feedback. The data sets from different methods are consolidated under one screen to start with data analysis. Most tools also have advanced analysis techniques to make data mining easier and faster. These include:
Sentiment analysis engine
Text analytics
NPS score tracker
Custom charts and more
Once you catalog and categorize the feedback into actionable insights, you can quickly send them to the relevant team to start closing the feedback loop. With the right in-app survey tool, you can even respond to the users to update them about the status of their issues.
What are the best tools to collect in-app user feedback?
It can be quite confusing to choose one! To create an excellent feedback system, you will have to choose the right tool. And by integrating with your app, you have to make it easier for the user to provide feedback. That's the whole point of it, isn't it? Well, moving further, we are discussing a list of the best in-app feedback tools for your business.
We have collected each tool's features, pros, and cons after hand testing it first. So let's get to it.
1. Qualaroo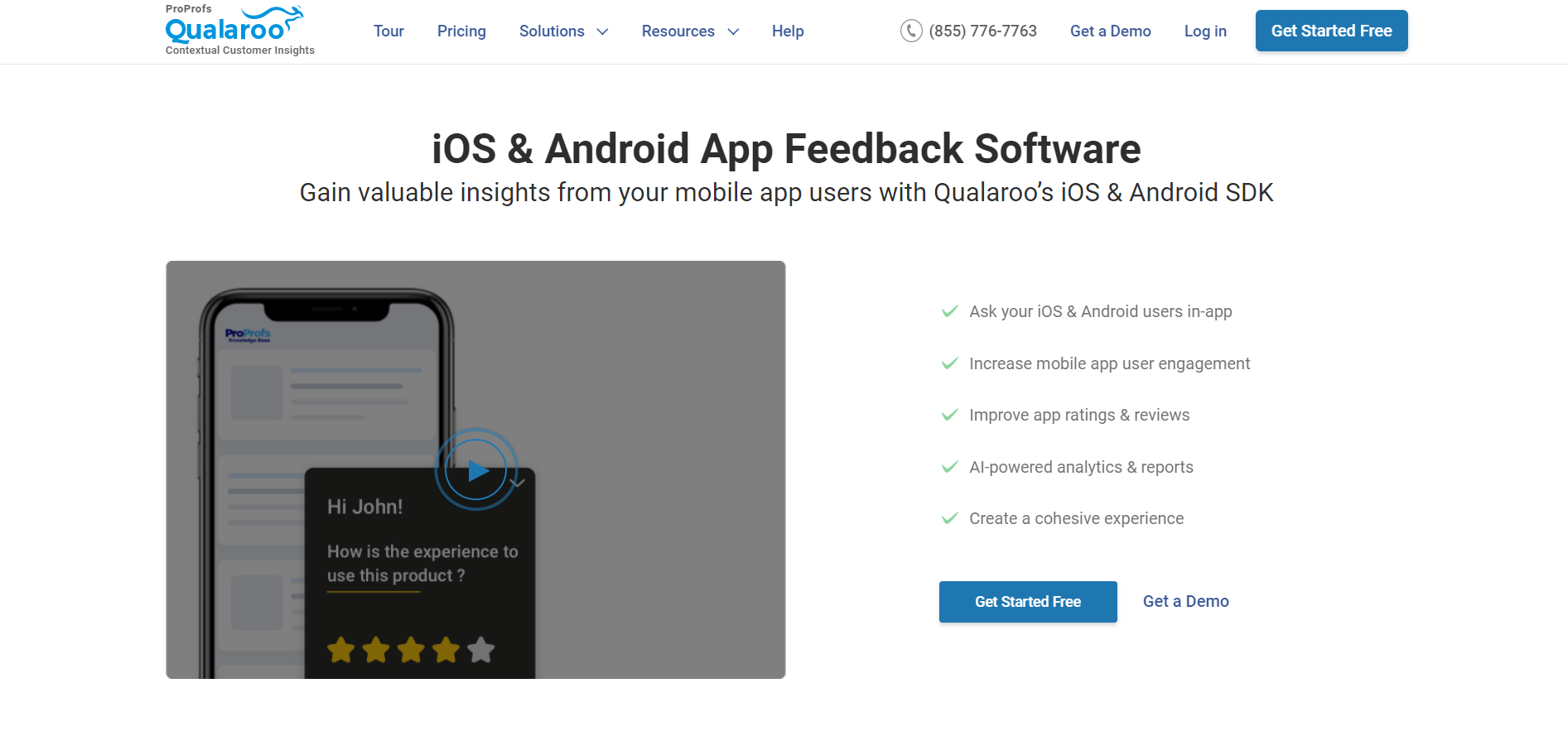 ---
Qualaroo is a one-stop solution for all your survey needs on your mobile app, website, product, and. As an in-app feedback tool, it gives a dominating competition to its alternatives. You can create and embed in-app survey popups or Nudges™ on both iOS and Android mobile apps. It also provides in-app rating prompts to collect app store ratings from users and boost your app's credibility.
With little to no learning curve, Qualaroo is an ideal choice to collect user data for app optimization, experience management, marketing research, design improvement, and lead generation.
Best for: All kinds of surveys, multiple deployment channels, in-app feedback surveys, and rating prompts, AI-based analytics
Suitable for: Small to large businesses
Integrations: Yes
What makes Qualaroo one of the best in-app feedback Tools?
Design surveys and embed them in your app.
Also supports surveys for your website, product, mobile browser, and email.
Intuitive survey editor to guide you through every step to design the surveys.
Use features like real-time survey preview, 40+ pre-built templates, 12+ question types, question branching (skip logic), 50+ language translations, white labeling, and others.
Provides advanced click-to-activate targeting options based on location, browser, behavior, device, and other attributes.
Provides AI-based sentiment analysis and a word cloud engine for quick feedback analysis.
Inbuilt NPS score tracker chart to categorize and show real-time NPS scores on a time chart.
Supports integration with 40+ 3rd party tools.
Pros:
Multi-channel reach to consolidate feedback data under one tool.
One of the in-app NPS benchmarking tools.
Cons:
The reporting section UI can be improved.
Lacks the option to respond to the survey response.
Price
Starts from $69 per month.
Bonus Read: Best Lead Generation Tools
2. SurveySparrow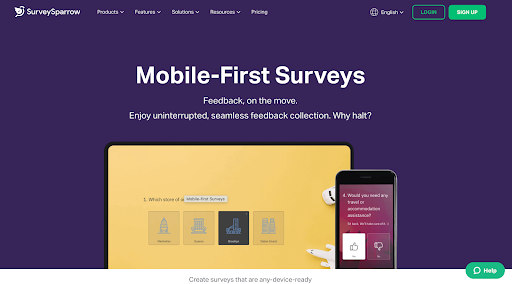 SurveySparrow fares exceptionally well when it comes to collecting in-app feedback. It helps you create engaging online surveys to capture user insights easily. With seamless integration, extensive customization options, real-time feedback capabilities, and advanced question types, SurveySparrow can empower businesses and individuals to gather valuable insights, enhance the user experience, and make data-driven decisions.
Best for: Conversational surveys
Suitable for: Small & Large Businesses
Integrations: Yes
Features
Create stunning conversational surveys that are engaging and human-like
Supports single-page and multi-page surveys
Custom workflows to streamline tasks and close the feedback loop
Design fully-fledged payment forms for collecting online payments securely.
Branding and white-labeling options.
In-built sentiment analysis to categorize feedback automatically.
Pros
User-friendly interface
Seamless integration
Real-time feedback collection for prompt issue resolution.
Multiple feedback collection channels like website, app, social media, and email.
27+ question types to choose from
Comprehensive analytics and reporting capabilities.
Automated follow-ups for better engagement and higher response rates.
Cons
Certain advanced features might be limited to higher plans.
Price
Contact for q quote. $19 Per Month
---
3. ProProfs Survey Maker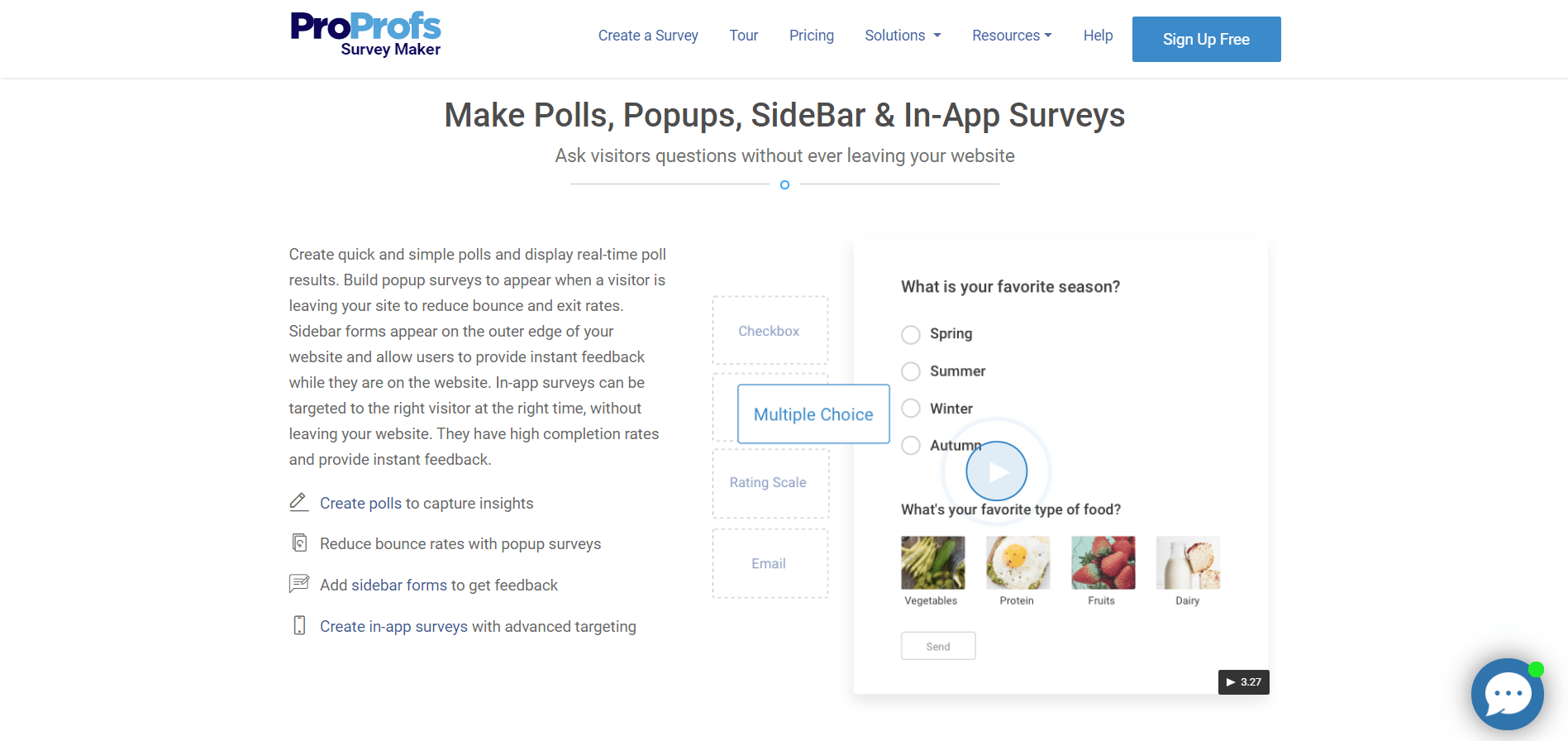 ---
ProProfs Survey Maker tool provides interactive ways to collect in-app feedback from your users. Create personalized in-app surveys, scored quizzes, tests, personality assessments, and one-click polls to engage your app users and increase response rates on your survey campaigns. Integrated with your mobile app, this in-app feedback tool can also help you collect reviews and ratings for the app store faster. With over 100+ pre-built question templates, skip-logic, nuanced targeting options, and customizable themes, you can create highly targeted surveys and quizzes to collect accurate data from relevant users.
Best for: Surveys, polls, scored surveys, quizzes, sidebar form, and web forms
Suitable for: Small to big enterprises
Integrations: Yes
Features that make Survey Maker an ideal in-app feedback tool:
Visual survey editor to create engaging surveys, quizzes, and polls.
Use 100+ templates, skip logic, scorecards, 15+ question types, visual questions, and more.
Embed surveys on your website and mobile app.
Add the feedback sidebar to your mobile app to collect new suggestions and run polls.
Built-in detailed reporting dashboard to monitor survey campaign's performance.
Integrate with your tools like Mailchimp, Zapier, and Salesforce.
Pros
Provides free 100k questions and 100+ ready-to-use templates.
Add a scoring mechanism to your quizzes to make them more engaging.
Cons
It would be good if there were more customization options for the templates.
Price
Starts from $19 per month.
Related Read: Best NPS Software
4. Apptentive

---
Apptentive in-app feedback tool has a fantastic reputation in the app development industry. The tool has a customer response rate of 90% and a 70% higher retention rate of 90-days compared to average mobile apps. Moreover, the feedback tool lets you have a detailed insight into the users' behavior to make the feedback process easier. With qualitative and quantitative insights, startups or developers can use this tool to improve app quality with the help of targeted user feedback.
Best for: In-app surveys, rating prompts, broadcast popups, message center
Suitable for: Small to large businesses
Integrations: Yes
Why is Apptentive a good fit for an In-app feedback tool?
Design multiple in-app survey types to collect customer feedback.
Provides precise targeting options based on location, user activity, behavior, characteristics, and more.
In-built sentiment analysis engine to categorize the feedback into user emotions.
Send in-app rating prompts.
Add in-app notes to broadcast updates, discounts, and important information to app users.
Use the analytical dashboard to monitor the app and survey performance. Track the app store ratings, tags, sentiment distribution, trending phrases, and more.
Incorporates a message center to respond to survey responses.
Pros
In-depth targeting options to show the surveys to the right people at the right time.
The in-app broadcast messaging works like a charm to notify users about limited deals.
Cons
The sentiment analysis dashboard can be difficult to navigate.
Price
Contact for a quote
5. Doorbell.io

---
Doorbell.io is a customizable feedback tool designed to install on your app or website within 2 minutes. The tool can integrate with 30+ services such as Asana, Slack, Front, Woopra, Jira, and Salesforce Desk. You can capture instant feedback and respond to the customers from the same tool. Doorbell also offers the Doorbell Android app to manage feedback on the go.
Best for: In-app surveys, message center, bug reports
Suitable for: Small to large businesses
Integrations: Yes
Here's why we have added Doorbell to the list of best in-app feedback tools:
Collect targeted feedback using the feedback forms.
Works on websites, iOS, and Android apps.
Provides features like multilingual support, customizable designs, white-labeling, and more.
Reply to the customer feedback, assign the conversation to the teams, set user access permissions, and add internal notes for other team members.
Customers can attach screenshots of the issue while submitting the feedback to improve reproducibility.
Use the intuitive dashboard to monitor and analyze the feedback like NPS score in real-time.
Supports sentiment analysis engine to dig through the feedback.
Integrate with other tools to automate workflows.
Pros
Provides website and app feedback tools in one.
Easy to collaborate with the internal teams to act on the feedback using internal notes.
Cons
Needs more survey options like complex branching.
The reporting dashboard is quite simple. It can be improved for a better UI.
Price
Paid plans start at $29/month
Bonus Read:  30 Best Website Feedback Tools
6. Instabug

---
Instabug provides more services than integrating with the app to get user feedback. With Instabug, you can use surveys or feedback systems to find out what your app users think. If your app is in the production or beta stage, Instabug can provide you with detailed insights. These insights are based on regular users, stakeholders, and others who matter for the app. With customizable survey questions, you can determine if your app lacks something; if your competitors are offering something better.
Best for: In-app surveys and bug reporting, message center
Suitable for: Small to large businesses
Integrations: Yes
Let's see some features of the Instabug in-app survey tool:
Design in-app surveys and use advanced targeting options to show them to the right users.
Use surveys during testing and when the app goes live to spot bugs and issues.
Users can attach screenshots, voice notes, and screen recordings to the surveys to help you reproduce the issues.
Automatically collects network logs, users' metadata, and other information with each reported bug.
Use the reporting section to filter the feedback by NPS scores, timeframe, and keywords.
Respond to the users' feedback to keep them updated about the bug status.
Initiate in-app chats with users to gather more information about the bug.
Collects automatic crash reports with details like network request logs, running environment, stack trace, and other elements.
Monitor the app's health to spot spikes, bugs, slow network calls, or crashes.
Pros
One of the best in-app feedback tools for beta testing and gathering early feedback.
Ability to attach files to surveys to collect visual feedback.
Cons
No way to remove multiple obsolete dSYM files at once.
Price
Paid plans start @124/month, billed annually
7. Uservoice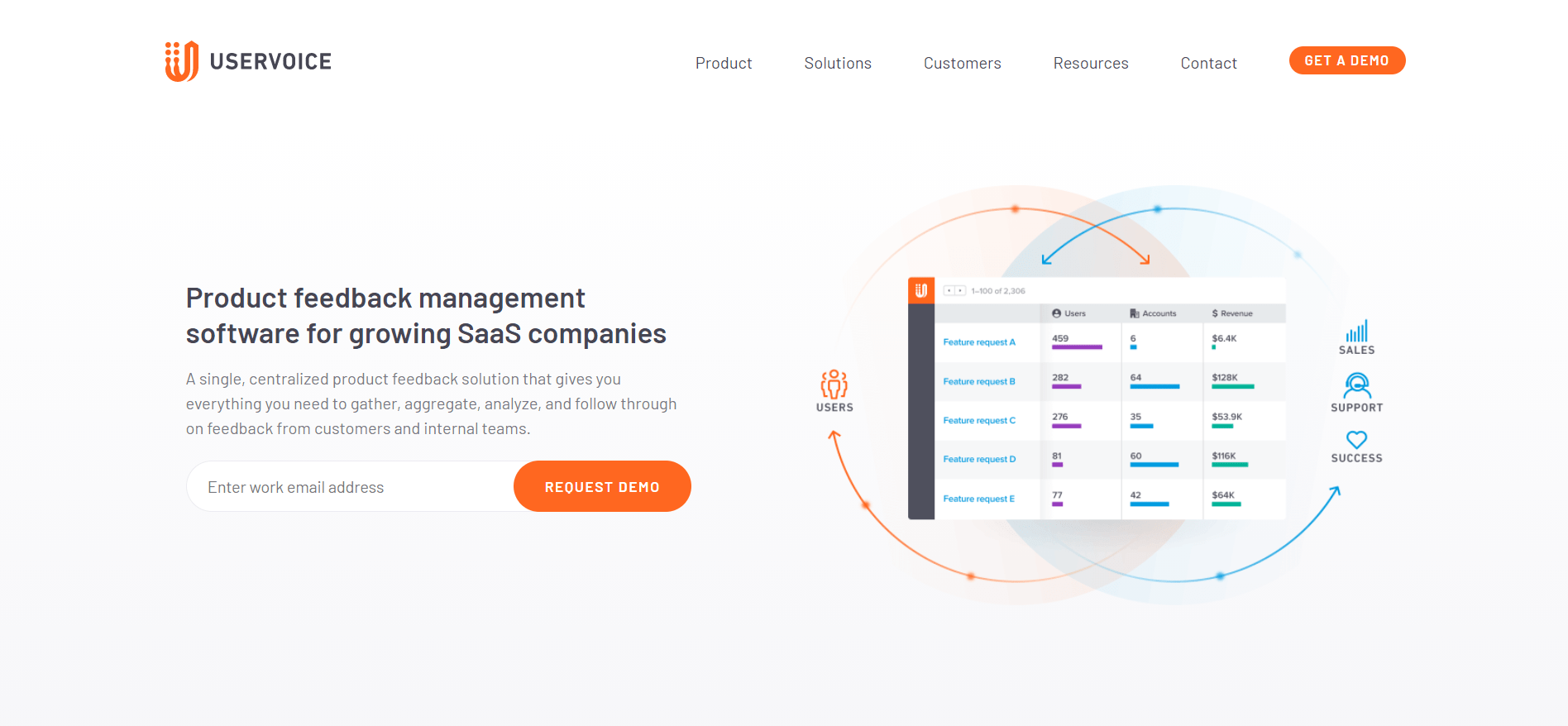 ---
Richard White founded UserVoice with Lance Ivy and Marcus Nelson in 2008. The organization was founded after extensive research and understanding of the customer. UserVoice has a product feedback management system that provides real-time feedback, including data such as the user activity before, during, and after leaving the feedback.
The FullStore connector gives you a detailed insight into what the user was experiencing before leaving the feedback. You can view the session replays to visualize their in-app experience.
Best for: Web feedback portal, in-app feedback widget, sidebar for internal feedback.
Suitable for: Small to large businesses
Integrations: Yes
What makes UserVoice one of the leading in-app feedback tools?
Add the feedback widget to the mobile and web app to collect feedback from the users.
Deploy in-app NPS surveys to gather NPS scores.
Import respondents' data into UserVoice from other tools to improve feedback analysis.
Build a feedback portal to entertain new feature requests, suggestions, issues, and opinions.
Users can post their ideas, upvote, and comment on other posts.
Track most voted ideas or new posts, and add status to any post to update users about its progress.
Initiate 1-to-1 and 1-to-many in-app discussions with app users to collect feedback.
Share the user feedback with internal teams.
Built-in detailed dashboard to organize the feedback data from different channels in one place.
Integrations available – Zendesk, Slack, and more.
Pros:
Gives a bird-eye view of your users' most sorted app features to help you build product roadmaps.
Facilitates inter-department collaboration to work on the posted ideas.
Cons:
Interface can be confusing for new users. Needs a solid onboarding process to help users find the desired settings.
Price
Contact for a quote
8. HelpShift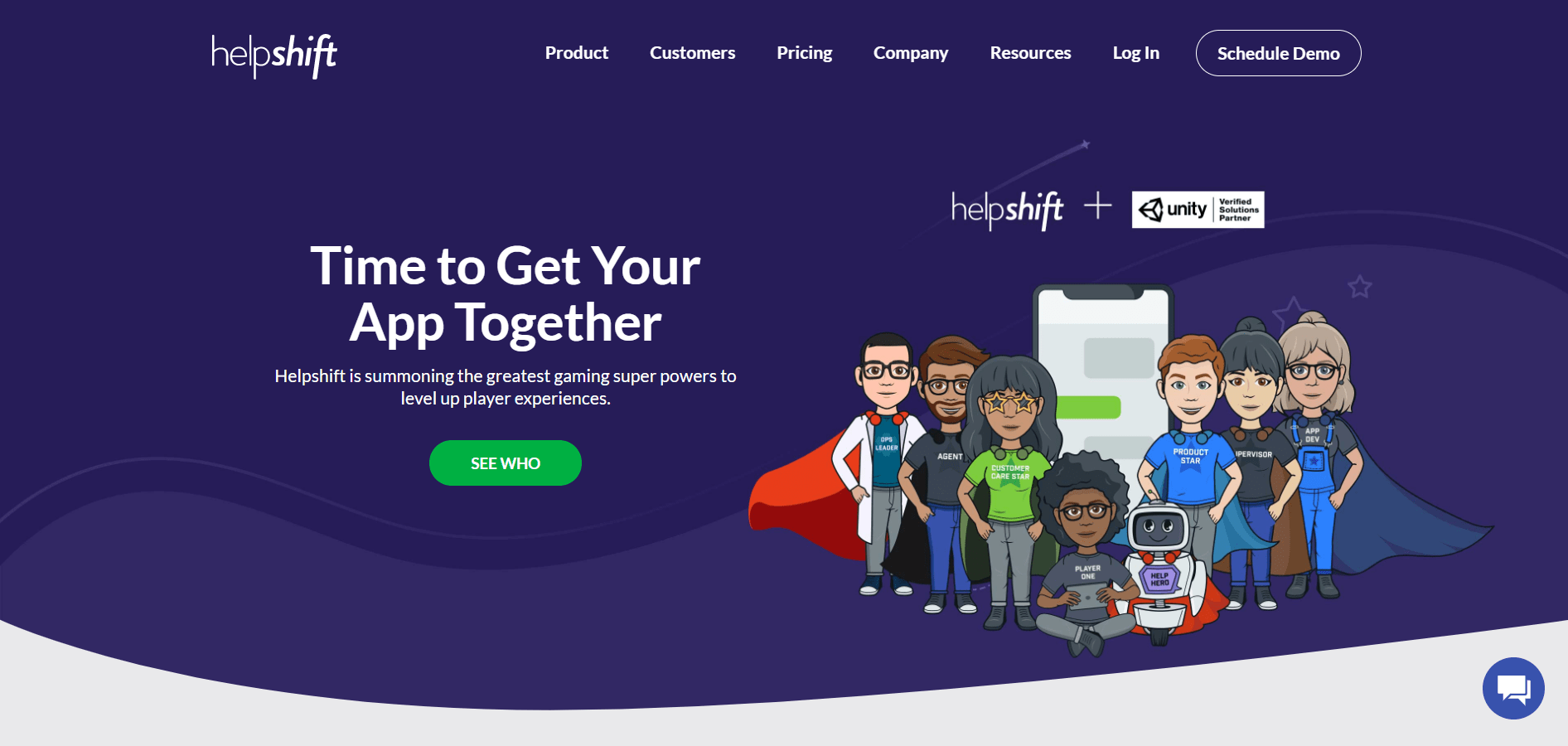 ---
This chat integration tool makes sure that your app user doesn't have to close your app to submit feedback or ask for help. With the help of machine learning, the tool provides a conversational tone to users for capturing personalized feedback. Helpshift also offers chatbots to provide customer service assistance. To put the cherry on top, you have the freedom of adding your preferred FAQ translations to support the audience of different languages. Make sure to toggle "On" on FAQs for each language to publish them.
Best for: In-app customer support, live chat, chatbots, Knowledge Base
Suitable for: Small to large businesses
Integrations: Yes
How can Helpshift help you as an in-app feedback tool?
Provides live chat tools and AI-based conversational chatbots for mobile apps.
Features a visual bot builder and ready-to-use bot templates to create conversation flows for your chatbots.
Use the live chat widget to provide support, gather in-app feedback, and capture leads from your app.
Supports asynchronous messaging, which means that the users don't need to be on the chat to communicate with you. They can leave a message and get notified when the agent answers it.
Provides a Knowledge Base portal for your app to add guides, FAQs, trending topics, and other self-help materials for the users.
It also supports a Help Center for the web to entertain user tickets.
Monitor your chatbots and agents' performance with the in-built analytical dashboard.
Use the AI-based chat routing, intelligent agent dashboard, and automated issue classification to improve SLAs and productivity.
Integrate with other tools using APIs and webhooks.
Pros
Complete package of customer success tools under one platform.
It has also partnered with Unity to enable in-game conversational support to players.
Cons
Costlier than other similar tools in the market.
Limited capability of Internal analytics. You'll probably need a BI integration to make the most out of your data.
Price
Contact for a quote
---
9. Survicate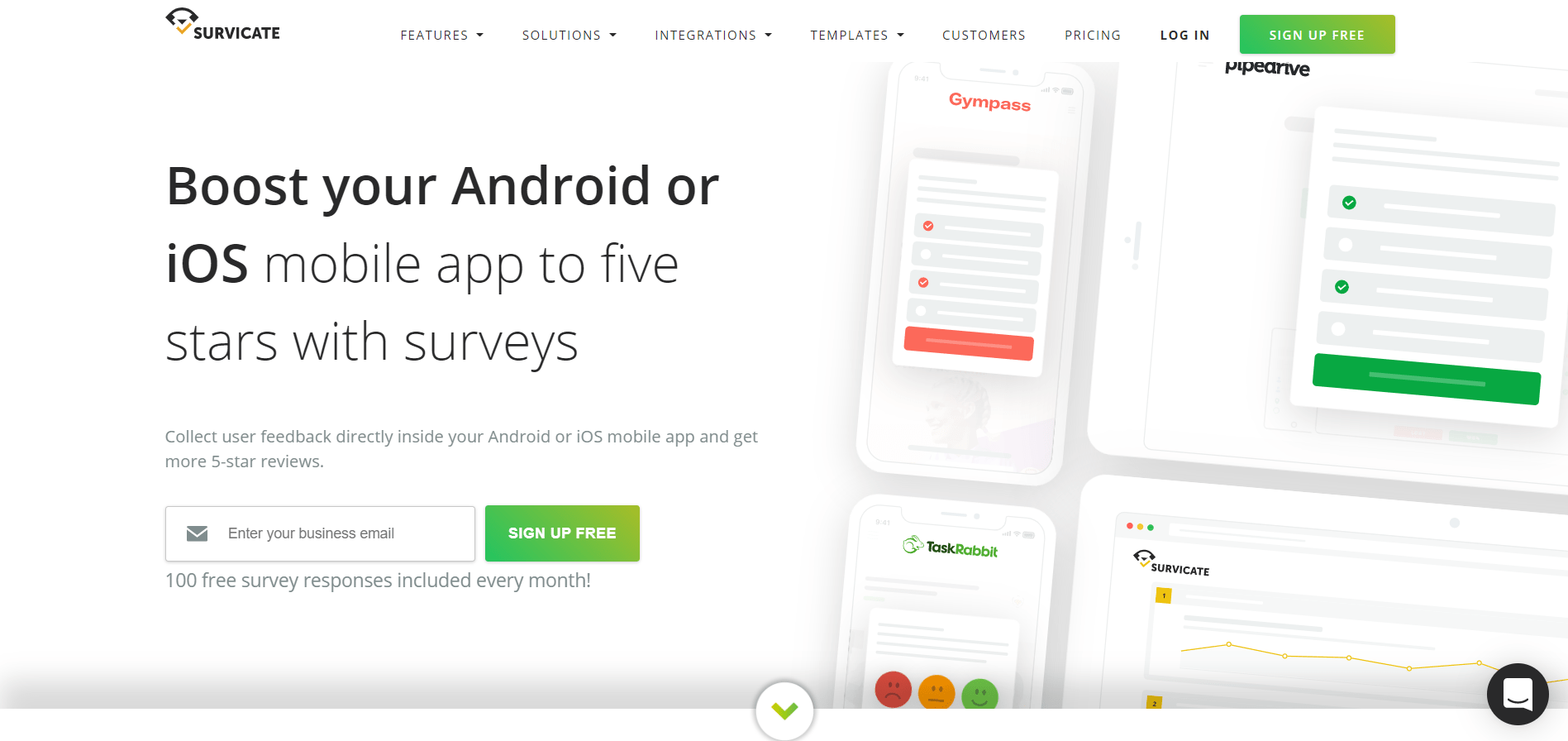 ---
Survicate has been serving the app market since 2013 to make feedback convenient for app users. You can collect feedback in the form of stars, emoticons, surveys, etc. It also provides the freedom to target specific users within a single app and collect feedback. Survicate's clients include big names such as Atlassian, NGINX, and Sendgrid.
Best for: Multi-channel surveys, in-app user feedback, in-app Feedback button, centralized feedback hub
Suitable for: Small to large businesses
Integrations: Yes
Why is Survicate among the leading in-app feedback tools?
Use the no-code visual editor to create focused in-app feedback surveys.
Offers pre-built templates, theme customization, question branching, dialog box or full-screen layout, and more.
Add a feedback button to the mobile app to collect unsolicited suggestions, issues, and ideas.
Supports in-depth targeting options to display the in-app survey to the right users.
Automatically saves responses from abandoned and incomplete surveys.
Built-in Feedback Hub to manage survey data and responses from multiple channels in one place.
Use the analytical dashboard to track survey performance metrics like completion rates, page views, and response rate.
Offers integration with 50+ tools for workflow management.
Pros
The integration stack covers all the major tools used in almost every business.
A plethora of options to customize the survey as you want.
Cons
You cannot use the same survey in multiple languages.
Price
Free basic account. Paid plans start with $89/month, billed annually.
Related Read:  Best Online Survey Tools & Software 
10. PollFish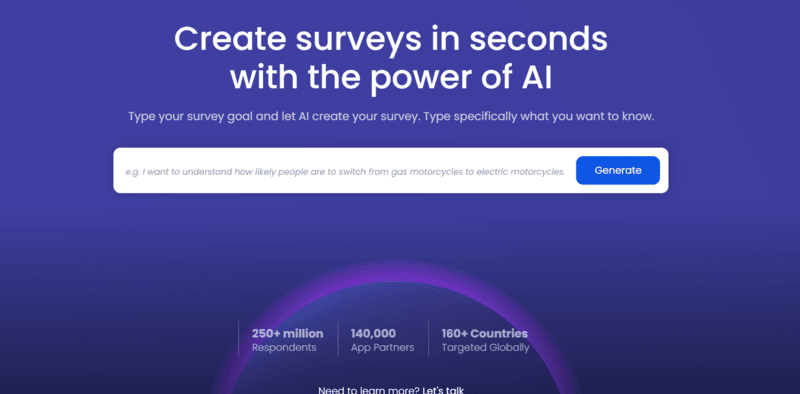 ---
Pollfish has a huge range of surveys to collect user feedback from the app itself. This in-app survey tool offers survey services to find the target audience. So, you can be assured that the insights you receive through this tool will be accurate and based on real-world data. The process of integration is not hectic as well. Choose a template, customize the survey, and deploy it anytime you want. Pollfish is currently serving the app industry with 140,000 app partners, 550 M+ consumers, and 160+ countries.
Best for: 3rd party surveys, market research
Suitable for: Small to large businesses
Integrations: Yes
What makes Pollfish a suitable in-app feedback tool?
Collect in-app feedback using 3rd party survey distribution on over 140K apps with Pollfish.
Provides an easy-to-use survey builder to create surveys and questionnaires.
Offers skip logic, screening questions, 11+ answer types, and embedded media to design personalized surveys.
Target desired audience by using various in-built filters based on age, device, location, education, work, OS, and other attributes.
Pollfish then shares the surveys to the right people through their mobile SDK partners and 3rd party providers.
Pros
Ideal for collecting large survey data samples by targeting the right audience.
Instant access to the desired demographic audience.
Perfect in-app feedback tool for market research and evaluating prototypes.
Cons
Lacks proper onboarding setup to familiarize new users with the features.
Pricing is based on per response, making it expensive for large samples.
Price
Starts with a pay-as-you-go plan with $0.95 per completed survey
11. HelpStack
---
HelpStack has an open-source code that you can integrate with your mobile apps. The convenient customer support tool makes the in-app feedback process convenient. In situations of glitches or errors, customers can directly fill in the feedback note and submit it from the screen. Moreover, an integrated chat option is available to have real-time conversations with app users.
Best for: In-app ticket and feedback system, in-app knowledge base
Suitable for: Small to medium businesses
Integrations: Yes
Here's why HelpStack is one of the best app feedback survey tools:
Provides a complete toolkit to offer in-app support to the users and gather feedback.
Lets app users submit in-app query tickets to raise concerns, report issues, and provide general feedback.
Users can also attach screenshots of the bug to help you reproduce it for faster resolution.
Respond to the users to update them about the current status of their queries.
Automatically attaches the user's meta-data with each ticket.
Also, offers an in-app Knowledge Base to create help articles and guides for the users.
Provides HelpStack theme customization options to align it with your mobile app design.
Pros
It's an open-source platform that offers a lot of customization opportunities.
Initiate real-time chat with users to address their issues and collect feedback.
Cons
Lacks a dedicated survey system to collect targeted feedback.
Price
Free (open-source)
12. SurveyMonkey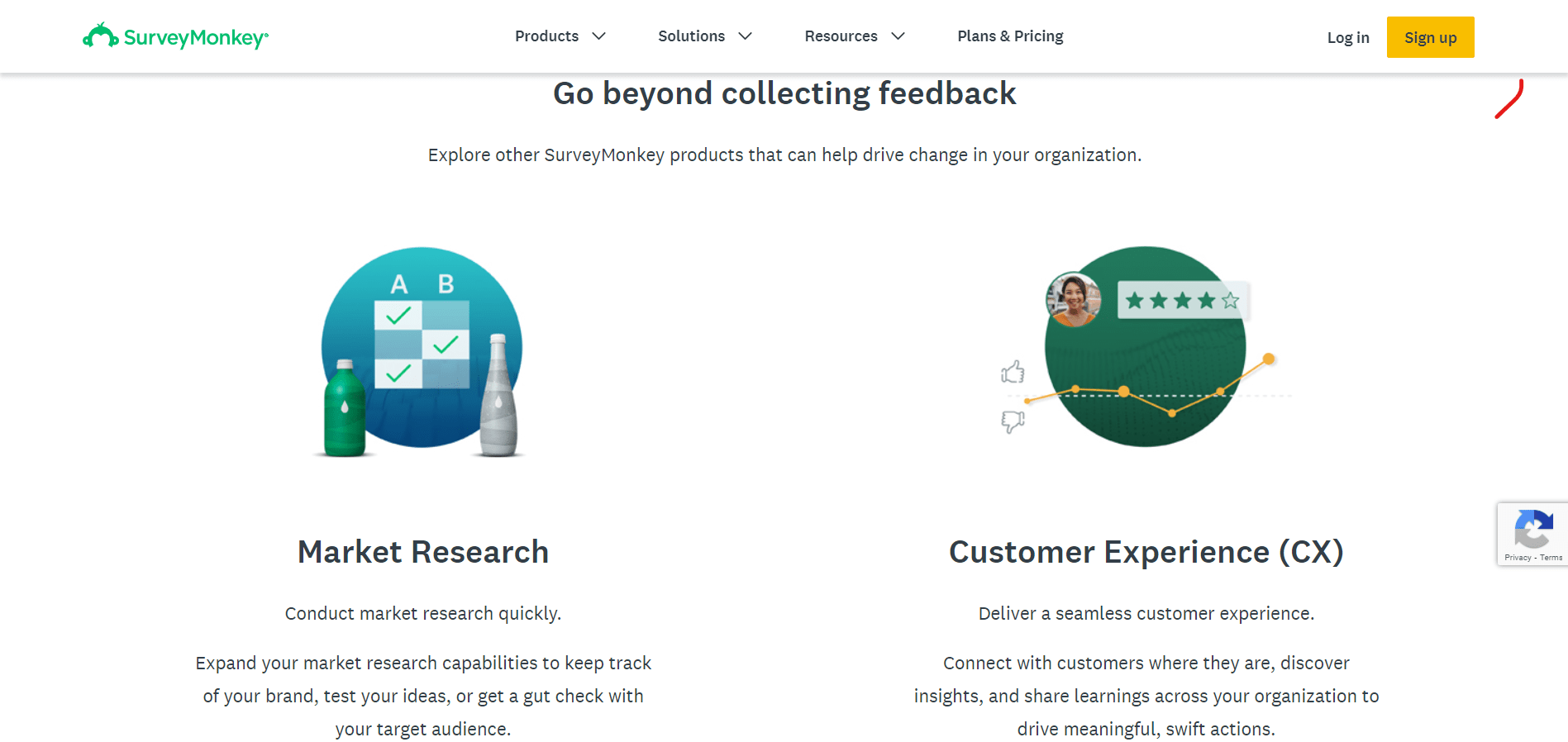 ---
SurveyMonkey has been serving the market since 1999 to address the survey needs of various clients. You can use SurveyMonkey to collect business data, demographical data, customer information, and much more. Recently, SurveyMonkey started serving the app development market as well. With its new SDK release, the tool is available for app integration. You can integrate SurveyMonkey in your mobile apps to collect feedback and ratings, among other information. In addition to that, you also get detailed insights and real-time results for surveys you release on your apps.
Best for: Any survey type, in-app rating prompts, AI-based data analysis
Suitable for: Small to large businesses
Integrations: Yes
Why does SurveyMonkey make the list of best in-app feedback tools?
Create and share in-app surveys, quizzes, and polls.
Add a progress bar, scoring mechanism, question randomization, and other elements to make surveys more interactive.
Offers skip logic, design customization, multiple answer types, and survey language translation.
Ask for app store ratings with in-app rating prompts.
Built-in AI-based sentiment analysis engine, word cloud, and NPS score calculator to analyze the data quickly.
Use filters to create custom reports and categorize the responses using custom tags.
Integrate with tools like Mailchimp, Slack, Hubspot, and more.
Pros
Easy to set up and use.
Offers more niche survey customization options than other similar tools.
Cons
Analytical dashboard needs a major revamp to include better data presentation methods.
Sometimes the users may experience slight glitches while creating the surveys.
Price
Starts at $31/month, billed annually
13. Mopinion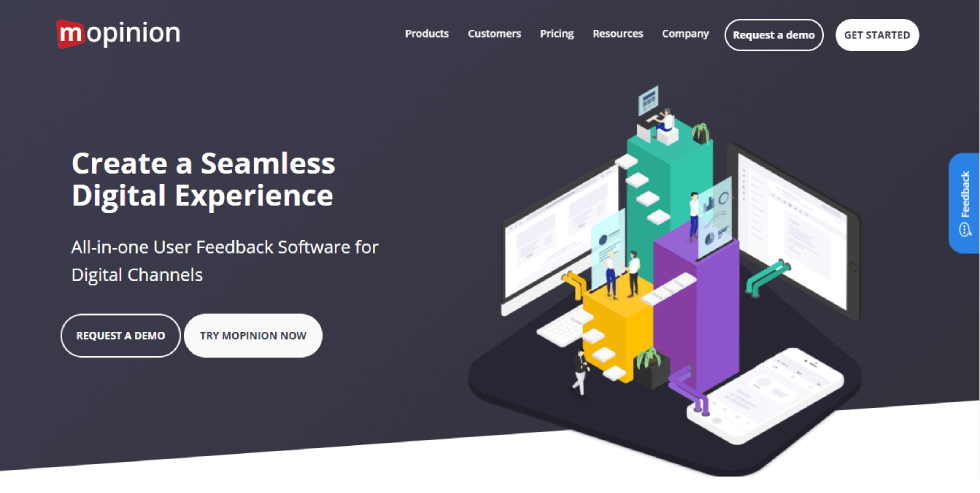 ---
With Mopinion, you get a powerful in-app feedback tool to boost your app's usability and experience with powerful user insights. The platform provides all the necessary features to create successful app survey campaigns. What's more, it's not limited to apps only. You can use the same tool to gather feedback through your website, email, social media, and more.
Best for: Different survey types, multi-channel deployment, in-app feedback survey, sentiment analysis
Suitable for: Small to large businesses
Integrations: Yes
Features that make Mopinion one of the best mobile app feedback tools?
Drag-&-drop survey builder to design surveys in minutes for the mobile app, website, and email.
Provides pre-built templates, multiple question types, theme customization, white-labeling, auto-language translations, skip logic, and mobile responsive design.
Automatically captures users' metadata with the survey feedback.
In-depth targeting options based on metadata, behavior, customer type, demographics, and other attributes.
Create custom dashboards to analyze the feedback data using charts and graphs.
Provides sentiment analysis and text analytics engines to mine the feedback data.
Automatic categorization of responses with tags like issue, bug, pricing, UI/UX, etc.
Supports integration with workspace tools like Google Analytics, Hubspot, and Marketo.
Pros
The users can attach screenshots of the bug to help you visualize the issue.
Works with native, react-native, and Cordona apps.
Cons
In-app feedback surveys are locked in higher tiers.
Price
$229/month, billed annually
14. Pendo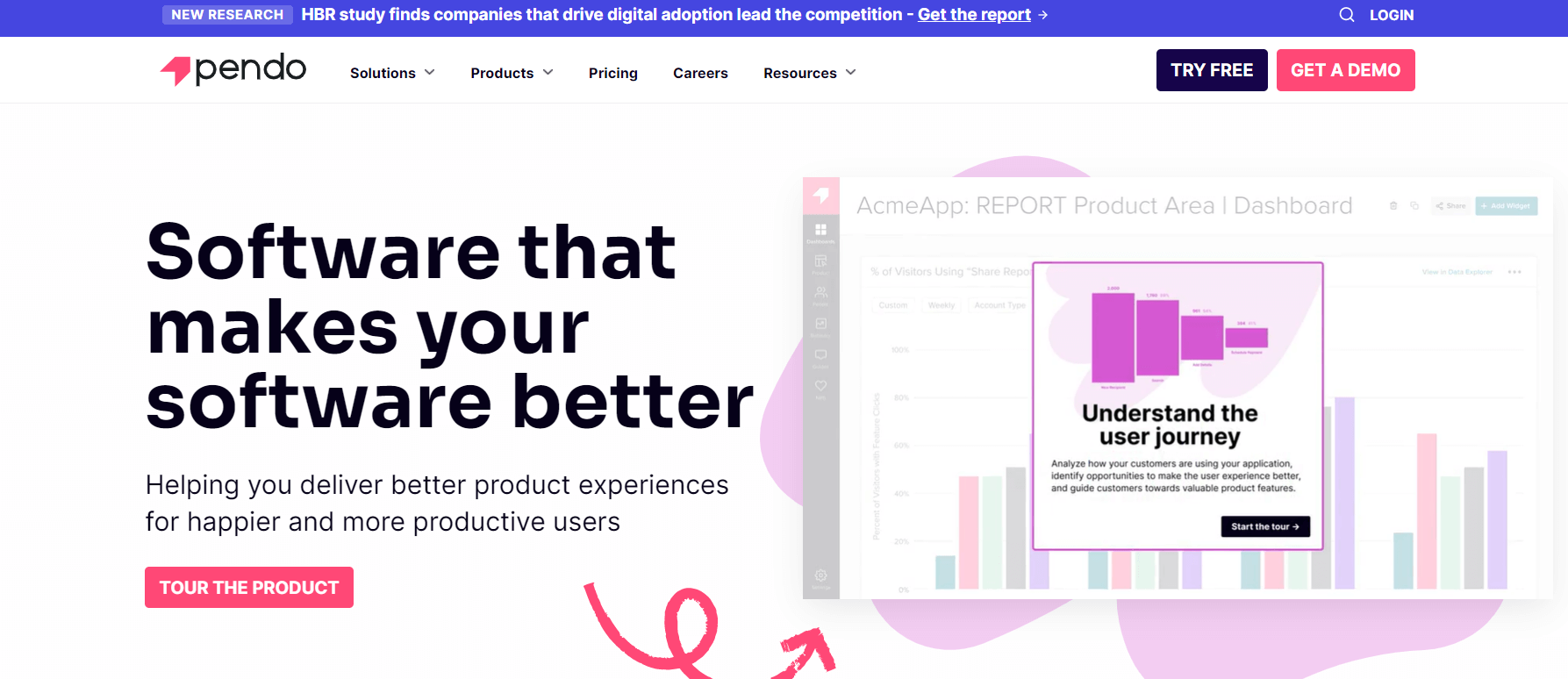 ---
Pendo is a complete product adoption and CS personalization platform that offers an array of features to deliver the best in-app user experience. You can create a detailed onboarding process, collect in-app feedback, and provide customer support to active users. And the best part is each product can be purchased separately, which enables more flexible budget allocation.
Best for: In-app surveys and message prompts
Suitable for: Small to large businesses
Integrations: Yes
What makes Pendo a perfect in-app feedback tool?
Create personalized in-app surveys and polls to gather customer feedback from the app users.
Filter the feedback data based on different attributes like feature, user cohort, segment, and more to spot trending ideas.
Set the feedback status to update the users about the progress of their requests as declined, released, planned, etc.
Offers in-app messaging to broadcast guides, how-to tips, and other helpful steps to users.
Display in-app prompts to show step-by-step instructions to improve app onboarding and product adoption.
Built-in analytical dashboard to track how users are interacting with your web and mobile app.
Provides widgets and custom charts to analyze the data as required. Track feature adoption, trends, usage, and other metrics using custom charts.
Integrate with your workspace tools such as Figma, Drift, Salesforce, and more.
Pros
Ability to broadcast in-app messages to display new updates and deals.
Provides an in-built onboarding tool.
You can cross-reference behaviors and clicks with the user feedback to get a complete picture of users' in-app journey.
Cons
No option for users to take in-app screenshots for reporting the issues.
UI for creating guides is limited in functionality, making it difficult to work with it.
Price
Contact for a quote
15. Delighted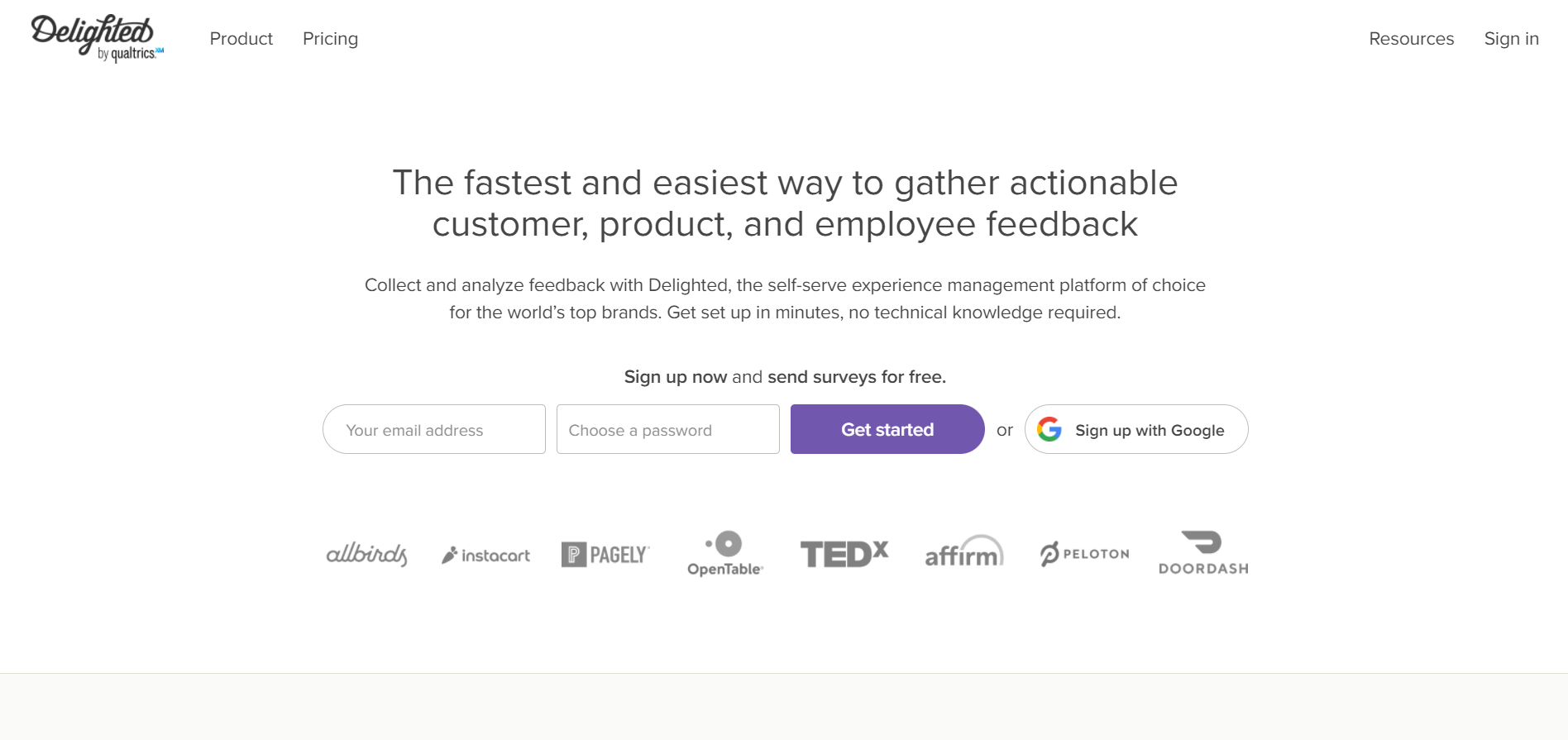 ---
Delighted is another omnichannel feedback management tool that lets you capture customer insights from various channels. As an in-app feedback tool, you can use it to design short-form or long-form surveys to target specific users and learn about their experiences. The tool also supports in-depth data analysis features to help you close the loop quickly.
Best for: iOS app surveys, In-depth data dashboards, and reports
Suitable for: Small to medium businesses
Integrations: Yes
Here are some features that make Delighted your go-to in-app feedback tool:
Create and deploy surveys on your iOS mobile app in minutes.
Design a single-question survey or include up to 12 questions in it.
Offers 7+ response types, skip logic, design customization, question randomizer, and mobile-responsive design to create personalized surveys.
Provides an in-built reporting dashboard to analyze the feedback.
Use filters to segment the data based on demographics, comments, location, tags, customer type, and other properties.
Provides an automatic real-time NPS score tracker.
Leverage sentiment analysis engine to create custom reports.
Supports seamless integration with tools to manage dataflows.
Pros
Captures data from incomplete or abandoned surveys as well.
One of the best tools for NPS benchmarking.
Cons
Limited targeting options as compared to other similar tools.
Works only for iOS apps.
Price
Basic free plan. Paid plans start @ $224/month, billed annually
16. Usabilla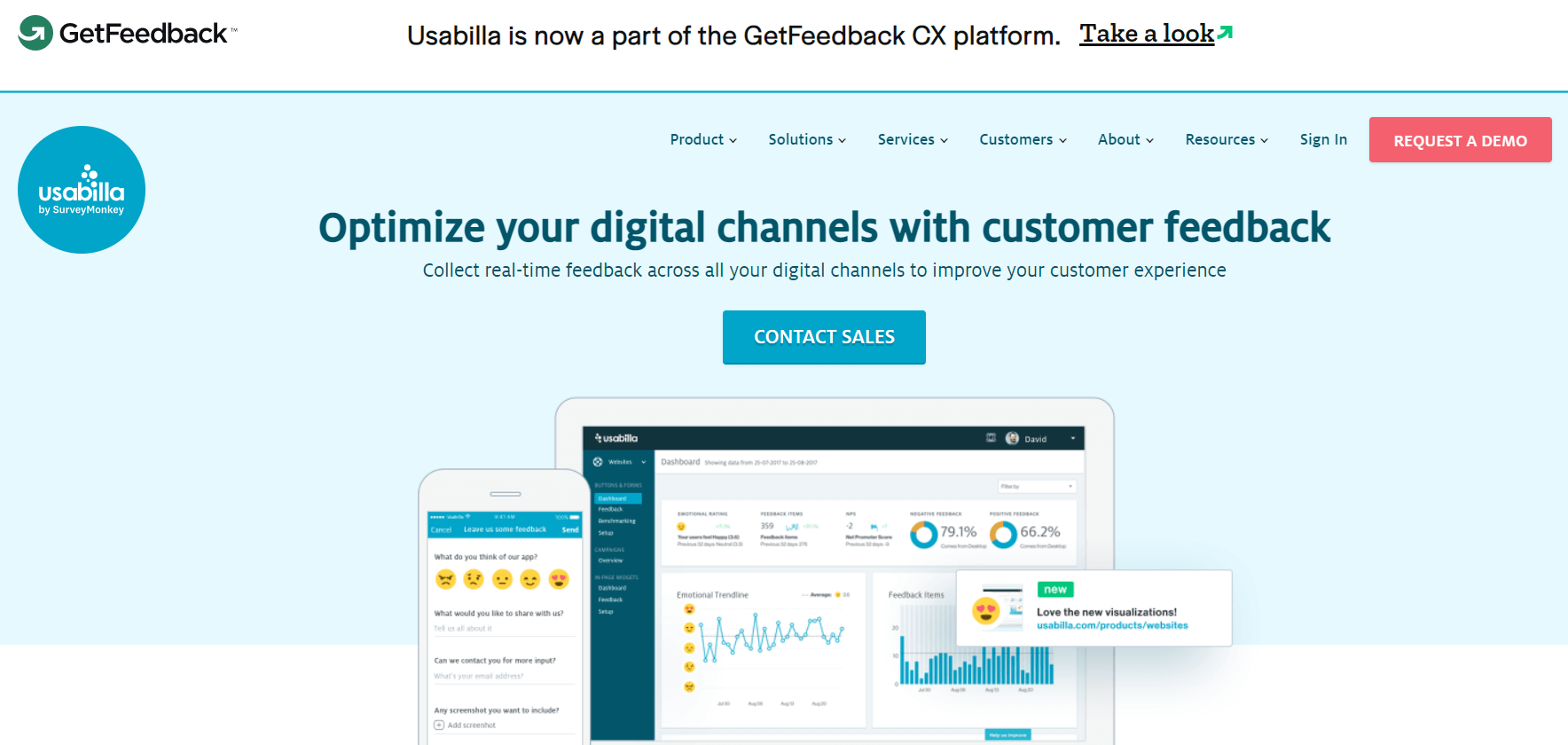 ---
Recently acquired by SurveyMonkey, Usabilla is a perfect voice of customer solution for your app and website. You can easily track the digital touchpoints across multiple channels to optimize every user interaction. Used by big brands like Philips, Audi, and Tommy Hilfiger, it lets you gather in-app feedback with popup surveys to design a user-centered mobile experience.
Best for: Multi-channel survey deployment
Suitable for: Small to large businesses
Integrations: Yes
How to use Usabilla as an in-app feedback tool?
Create personalized in-app surveys with multiple response types, ready-to-use templates, language translations, theme editor, and slide-in options.
Use the precise targeting options like device, location, launch schedule, response limit, and OS to collect in-context insights.
Pass users' metadata with survey responses.
Provides a visual dashboard to track and analyze the feedback.
Leverage sentiment analysis engine, NPS score tracker, and detailed charts to monitor the survey campaign's performance.
Integrate with 15+ tools to manage workflows.
Pros
Users have the option to attach screenshots to the feedback.
Feedback widget available to collect unsolicited feedback.
Cons
Can be an expensive tool for some users.
Price
Contact for a quote
Conclusion
There is nothing like a perfect app existing in the market yet, or ever will! But, an app serving users with specifically what they are looking for, can be very rewarding. Now, that is possible only by communicating with the audience.
The feedback given by real users can be very useful for tasks, such as mobile application maintenance, feature updates, rating improvements, and more.
Additionally, tools like Qualaroo also provide an opportunity to target users when they are not on your app, adding another dimension to your feedback campaign at an affordable price. So, look for a tool that provides multiple avenues to capture app users' insights. It will help you scale up your feedback program in the future without the need to switch to another tool.
Go through the tools mentioned above to find the one that fits your requirements for today and tomorrow.
Bonus Read
---
Author bio – Andrea Laura is a very creative writer and active contributor who loves to share informative news or updates on various topics and brings great information to her readers. Being writing as her hobby, Andrea has come out with many interesting topics and information that attracts readers to unravel her write-up. Her content is featured on many mainstream sites & blogs.
---
Want insights that improve experience & conversions?
Capture customer feedback to improve customer experience & grow conversions.