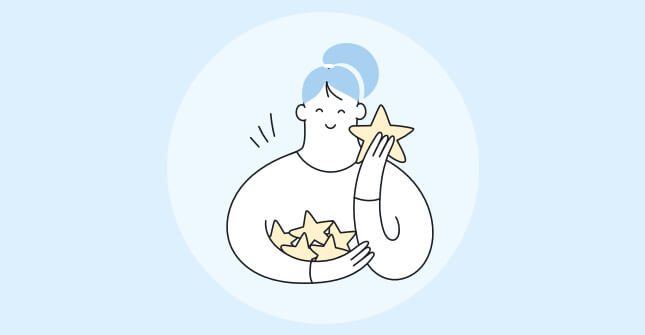 Customer feedback tools make it easier to collect, sort, and analyze data. Even in the early days when companies used the post or snail mail asking the population for their thoughts, customer feedback was a priority.
How times have changed with the arrival of the internet!
Now, businesses have a vast range of online survey options to choose from while looking for the best customer feedback tool and software for their needs to the proverbial 'T.' This blog lists and categorizes the top customer feedback tools in the market.
Most of the top tools can fit into more than one of these categories as it makes sense for the companies creating client feedback tools to provide a wide range of features.
But first, we need to look at the factors that deem collecting customer feedback indispensable for every business in this age.
Customer Feedback Software & Tools in 2023
Voice of the Customer (VoC) & Feedback tools
Voice of Customer tools let you make well-informed product decisions by gathering, sorting, and analyzing customer feedback, ideally using advanced software.
Some of the Voice of Customer tools specialize in customer experience management (CXM), while others are generic feedback-gathering platforms.
Choose the right customer feedback tool for you by looking at the features you need (social media feedback, prototype feedback, free-form response analysis, etc.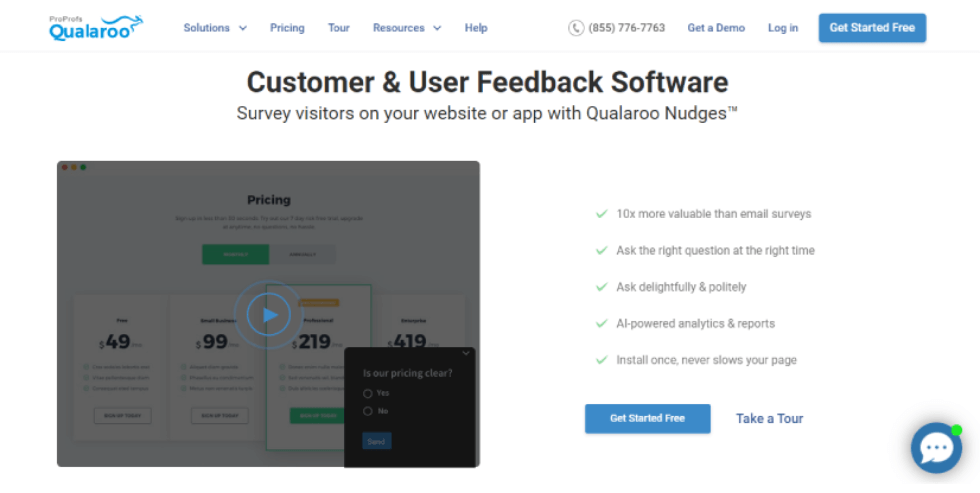 ---
Qualaroo is the best customer feedback tool due to its feature-rich and customizable templates and versatile abilities. Its proprietary survey widget is called Nudge™ and offers a subtle way to ask the right question to the right user at the right time. You can create different types of surveys like NPS, CSAT, UES, CES, etc using Qualaroo templates easily that's what makes it the best customer feedback software.
With feature-rich & customizable templates that guarantee high response rates, advanced targeting mechanisms, and easy survey setups, Qualaroo has gained a solid reputation as a customer and product feedback tool. Its Artificial Intelligence-based Sentiment Analysis is powered by IBM Watson's Natural Language Processing capabilities and makes feedback analysis a breeze.
Choose it for: Intuitive reporting, pop-up surveys, advanced targeting, multiple survey types.
Suitable for: Medium to large businesses.
Features:
Takes only a few minutes to set up and start collecting feedback.
Comes with pre-designed templates for different types of surveys like NPS, CSAT, CES, UES, and more.
Shows NPS score on the dashboard and helps track different satisfaction metrics.
Offers a variety of questions from open-ended, closed-ended, dichotomous, Likert, MCQ, etc.
Supports branching logic to get user feedback without wasting time.
Has integrations with popular tools like HubSpot, Mailchimp, Marketo, Zapier, and more.
Let's you display your branding and personalize the surveys accordingly.
Helps you schedule and set a survey for a particular time or make it appear at random intervals.
Pros:
Excellent for collecting quick feedback or pulse check with its Nudge™ pop-up surveys.
Makes user research easier with its various survey types and customizable features.
Checks the pulse of customers in a non-intrusive way.
Supports embedding surveys in the design templates so you can test them and collect feedback.
Cons:
The dashboard is too simple and can be improved
Reporting could be more comprehensive
Price: Starts from $69 per month.
---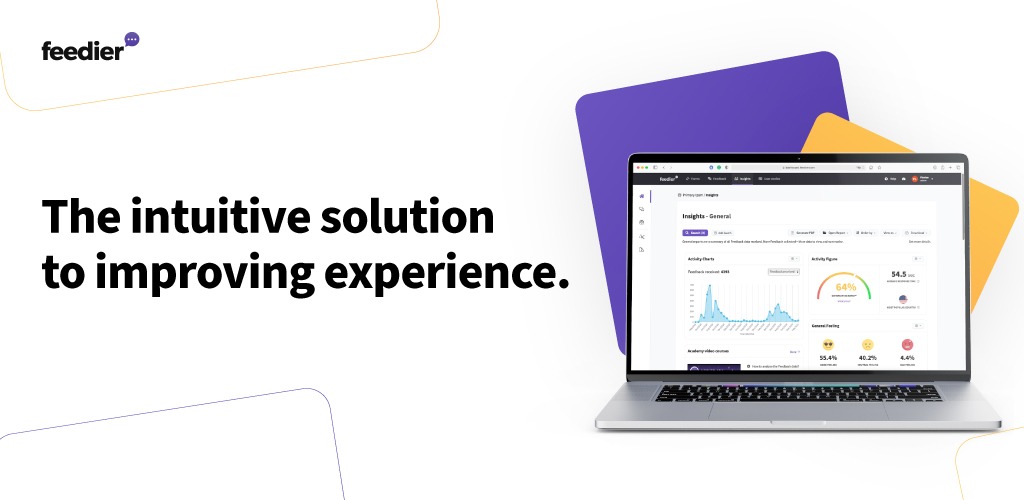 ---
Feedier (IXM) is an experience management solution and one of the best customer feedback solutions, which lets you easily listen to the Voice of the Customers and examine it in real-time through different channels and features such as NPS, data correlation, and text analysis based on automation.
Choose it for: Communication Management, anonymous feedback.
Suitable for: Small to large businesses.
Features:
Comes with comprehensive reporting tools like pie charts, bar graphs, and more.
Offers features like advanced filters, tags, keyword managers, etc.
Lets you download data in excel exports for easy collaboration.
Helps with survey gamification
Lets you create surveys for websites and in-app
Offers question branching, skip logic, progress tracking, and offline response collection.
Pros:
Easy to use
Integrates forms with reviews and rewards
Cons:
Some of the terms used in the tool may be confusing to some people
Widget shows only the overall feedback
Price: Available on request.
Related Read: 10 Best Exit-Intent Popup Tools to Increase Customer Retention
---
InMoment is an amazing feedback analysis tool that aims to bring positive results for companies and find solutions to optimize their customers' experience with a CX management solution. Its cloud-native XI Platform has three types of clouds: Customer Experience Cloud, Employee Experience Cloud, and Market Experience Cloud.
Choose it for: Market research, customer feedback analysis.
Suitable for: Medium to large businesses.
Features:
Helps manage the big data from the dashboard for the CX professionals and business leaders.
Offers customer journey maps that help in driving up customer retention rates.
Captures customer feedback individually and collectively through case management and action planning tools.
Comes with text analytics to gauge customer sentiment.
Offers an all-in-one reporting platform.
Pros:
Offers holistic CX management
Enhances customer lifetime value (LTV)
Layers text and sentiment analysis
Cons:
Customization is a little tricky
Price: Available on request.
Related Read: Best Customer Experience Management Software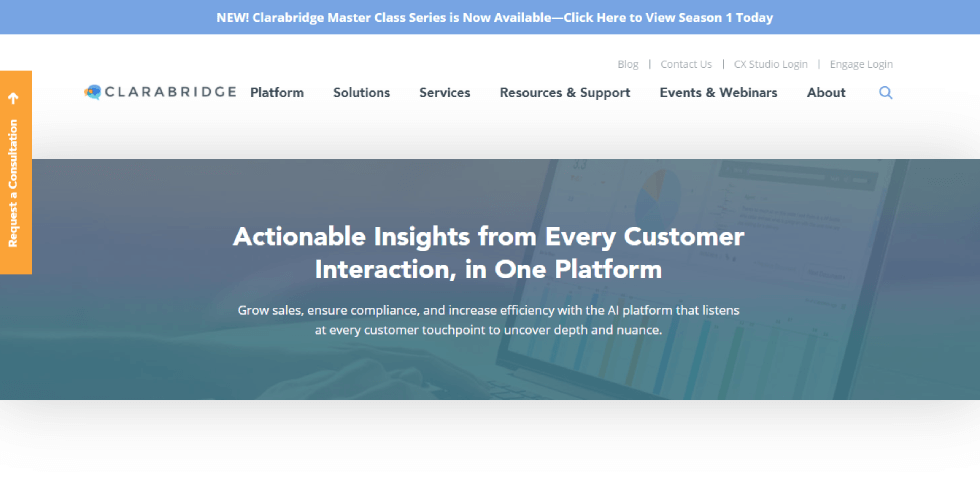 ---
Clarabridge solutions are purpose-built for customer experience, drawing actionable insights from every customer interaction in one platform. Clarabridge for Customer Experience provides interactive tools for gathering customer feedback. Clarabridge Engage connects with customers where they are and provide superior customer experiences through conversation analytics and engagement software.
Clarabridge solutions are purpose-built for customer experience, drawing actionable insights from every customer interaction in one platform. Clarabridge for customer experience offers interactive tools for gathering customer feedback.
Choose it for: Text analytics, real-time service alerts, natural language processing.
Suitable for: Small to large businesses.
Features:
Has features like Clarabridge Engage, which connects with customers on different platforms and provides superior customer experiences through conversation analytics.
Offers pre-designed templates to speed up the survey creation process.
Has a CX Studio feature that sends alerts when it detects nuances within the feedback text, ensuring precision and relevance.
Pros:
Ease of reporting
Sentiment analysis that gauges customer emotions towards a brand from verbatim responses
Cons:
Responses do not attach to individual threads
User interface should be more intuitive
Price: Available on request.
Related Read: Best Lead Generation Software in 2023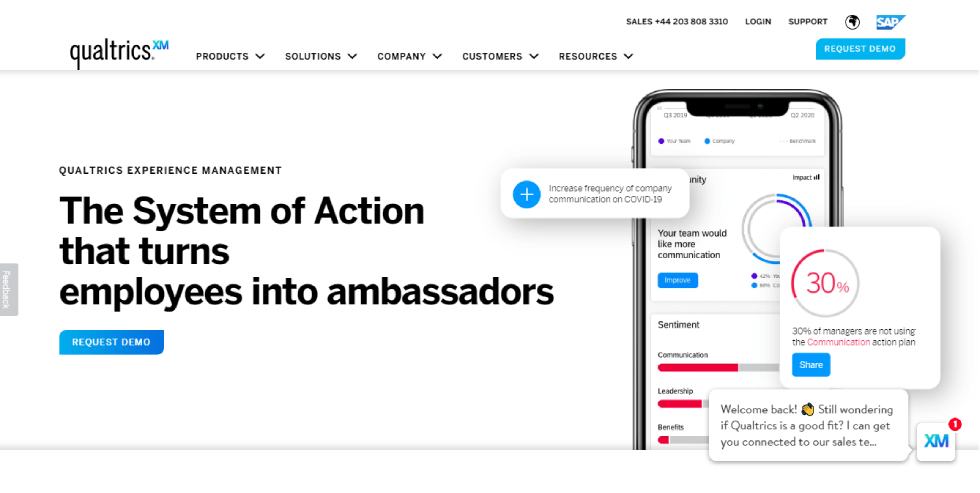 ---
Qualtrics, an experience management, and customer feedback software, automatically shows recommended actions to the people in the best position to make changes, helping organizations drive continuous improvement.
You can collect feedback using this client feedback software at every meaningful touchpoint and instantly analyze their comments.
Choose it for: Collecting real-time feedback, multi-channel survey deployment, predictive intelligence analysis.
Suitable for: Small to large businesses.
Features:
Offers multiple question types and pre-built survey templates that help build surveys effectively.
Comes with EmployeeXM (Employee Experience Management system). It helps enhance employees' experience by creating listening posts at every key moment and offering recommended actions to every concerned person in the company.
The expert review feature reviews various questions and offers real-time survey design recommendations.
Offers integration with Adobe, Marketo, Salesforce, etc.
Help visualize data in 30 types of graphs.
Let's you share analyzed reports in different formats like CSV and PDF.
Has multiple survey types like NPS, CSAT, CES, exit-intent, and more with several question types.
Pros:
Simple reports analysis
Crosstab and reporting capabilities
Cons:
Limited customization
Slow process to add contract data to directories
Price: Available on request.
Related Read: 11 Best Qualtrics Alternatives for 2023
---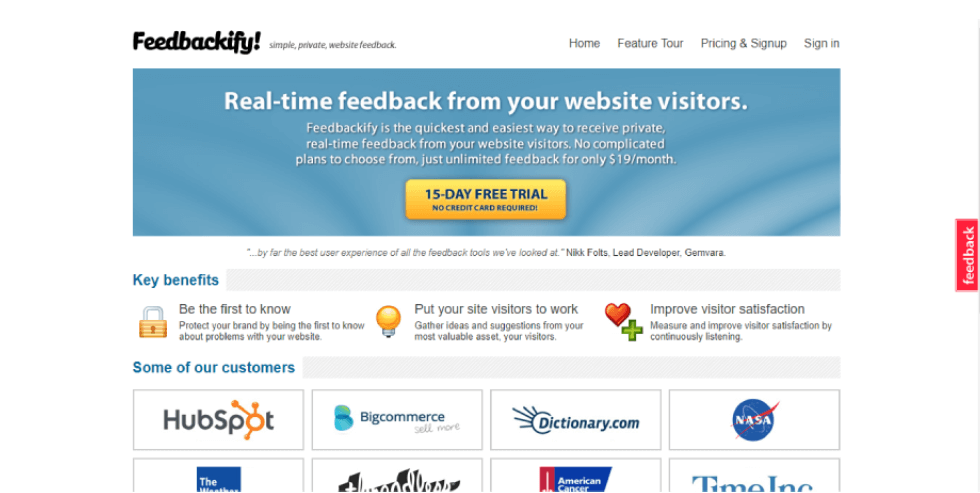 ---
With Feedbackify, you can start an instant feedback process for your site visitors with no registration required, leading to vastly lower feedback drop-out. This customer feedback tool offers features that offer private conversations between customers and companies to protect both the brand and customers' privacy.
Choose it for: Feedback collection and deployment.
Suitable for: Small to medium businesses.
Features:
Comes with a form editor that helps with customization.
Let's create forms with rating questions.
Drag-and-drop interface facilitates adding custom feedback categories.
Design and branding customizations available.
Helps you create a feedback tab configurator to create a customizable feedback tab that you can add to your website or mobile app.
Launches feedback form with a simple link.
Pros:
Offers 30-second signup and 5-minute integration
Has a dashboard to view all the collected feedback in real-time
Cons:
Dashboard needs improvement
Price: Starts from $19/month.
7. Verint Foresee (formerly Verint ForeSee)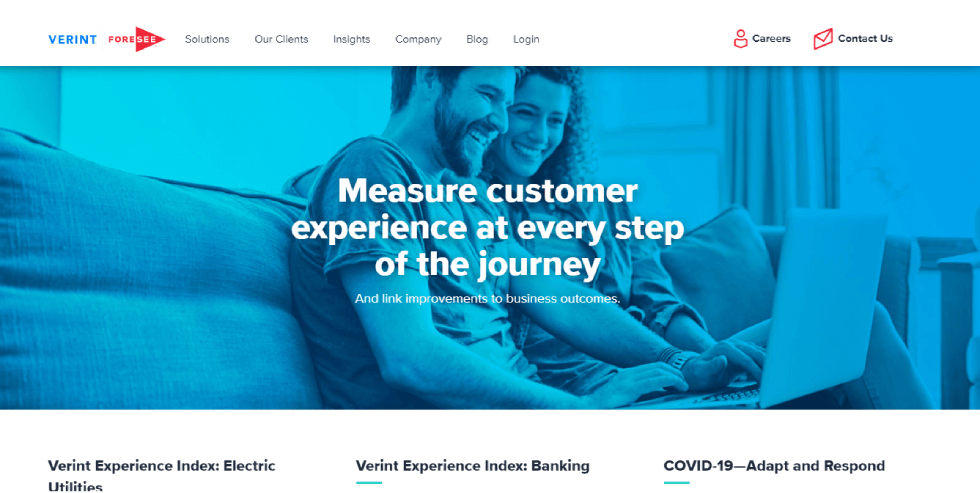 ---
Now known as Verint Predictive Experience, ForeSee is a Voice of Customer solution that helps you collect feedback from different platforms, such as mobile apps, websites, and on-location. Using Artificial Intelligence capabilities, users can draw strategic insights that help align and strategize CX goals.
Choose it for: Experience management, Workforce management, Feedback collection.
Suitable for: Mid to large businesses.
Features:
Lets you set benchmark for responses.
Has features like heatmap to track user activity and explore user behavior.
Helps track customer feedback performance metrics ratings and performs root cause analysis.
Facilitates team collaboration.
Text analytics helps assess customer journeys.
Supports session replays.
Comes with integration with third-party tools like Google Analytics, Adobe Marketing Cloud, and more.
Pros:
Helps collect responses and facilitates solutions through rule-based criteria.
Cons:
Their stat tool needs improvement
Manual data maintenance may be required
Price: Available on request.
---
OpinionLab works on the concept that you should listen to customers but pay more attention to reacting quickly to their feedback.
Many industry-leading brands trust OpinionLab to optimize customer experience (CX) and drive engagement across channels. In 2016, OpinionLab joined forces with Verint to create the broad Voice of Customer solution.
Choose it for: Customer experience management.
Suitable for: Small to large businesses.
Features:
Comes with a custom web portal.
Offers customization of surveys.
Lets you design surveys from scratch and with templates.
Digital behavior analytics offers customer session replays.
Easy integration with Google Analytics.
Comes with an experience Cloud that offers in-depth insights.
Helps collect customer behavior data to gather qualitative and quantitative insights.
Pros:
Great at tracking responses
Easy to deploy surveys with templates
Easy to use reporting
Cons:
Doesn't offer a variety of survey types
Limited customization for templates
Outdated reports
Price: Available on request.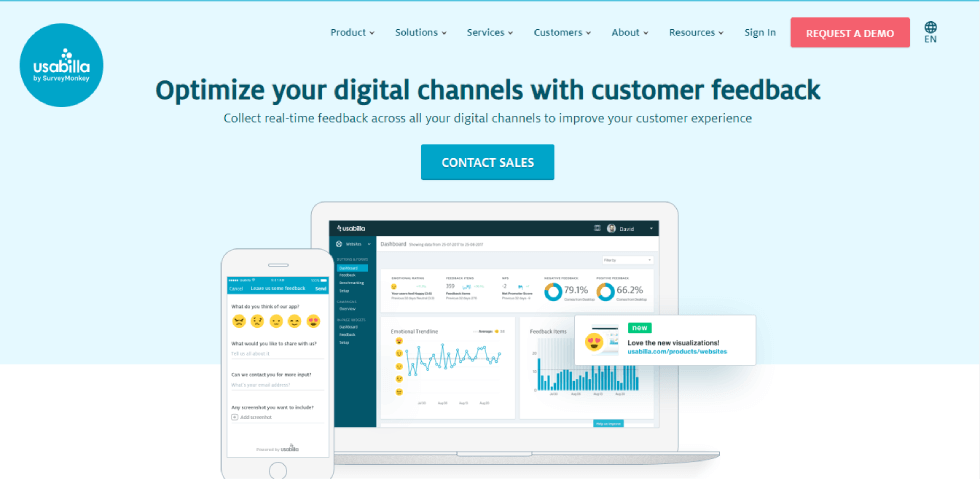 ---
Usabilla is another one of the top customer feedback management platforms that helps brands become customer-centric with better digital experiences. Usabilla helps gather customer feedback and comes with a feedback button that you can place on the pages of your website, mobile app, or even the entire website.
Choose it for: Collecting real-time feedback and multi-channel survey deployment.
Suitable for: Small to large businesses.
Features:
Usabilla's API feature lets companies pull feedback data collected in the tool and save it in a company's system environment.
Helps collect real-time feedback on different platforms like in-app, on-website, prototypes, etc., to improve the customer experience.
Offers feedback widgets to add on any page or at the end of certain content to collect in-context feedback.
Has a slide-out poll to collect emotional responses and ratings.
Helps visualize the gathered insights in the forms of bars, pie charts, bars, graphs, etc.
Supports integrations with Zendesk, Salesforce, Google Analytics, Zapier, and Slack.
Dashboard displays conversion rate and impressions.
Can manage multiple websites, apps, and products.
Pros:
Captures Voice of Customer
Collects quantitative plus qualitative data
Easy-to-create, manage and implement triggered campaigns
Lets users submit screenshots in their feedback responses.
Cons:
Non-customizable passive feedback surveys
Limited customization of the feedback button
Price: Start at $49/month.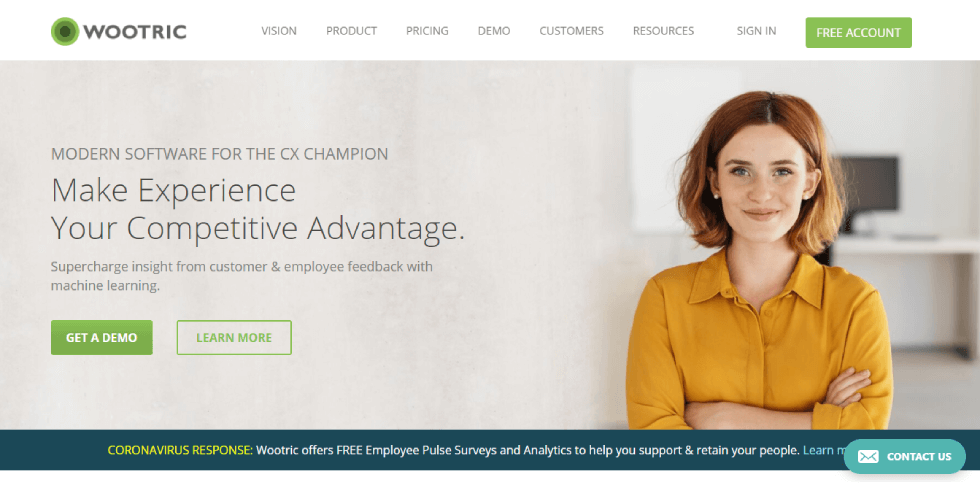 ---
Wootric is a customer experience (CX) management system that helps gather feedback over the customer journey, analyze large-scale data, or drive growth and increase revenue.
Lots of feedback comes in from all kinds of channels–surveys, support tickets, online reviews, employee engagement data–making it tough to see the big picture.
Choose it for: Basic feedback analysis with Machine Learning, Multi-channel survey deployment.
Suitable for: Medium to large businesses.
Features:
Comes with an automated setup process that guides you in creating and deploying your NPS surveys. You can also automate the tool's feedback collection and basic analysis to a certain extent.
Wootric uses machine learning (ML) for feedback analysis.
Apart from emails, Wootric offers in-app surveys as well. There are many options to add characteristics that help keep an eye on customer health and retention.
Supports integration with different tools for exporting data and controlling workflows like HubSpot, Zapier, and Segment.
Pros:
Monitors customers' satisfaction on a monthly basis
Uses AI for in-depth analysis
Cons:
Mobile responsive version doesn't perform well
The filters don't work sometimes
Price: Starts from $99/month.
Online Survey Tools
Online survey tools let you ask the right questions and get relevant in-context answers through unobtrusive questions. A thorough analysis of these answers reveals insights into website visitor intentions and consumer behavior.
On-page popup surveys are one of the most common types of customer feedback online surveys used to collect insights. The better your online surveys merge with your website, the more delighted your customers are likely to be while providing feedback, thus improving response rates.
---
ProProfs Survey Maker is a versatile and easy-to-use survey tool made for marketers, event planners, educators, and businesses.
Its drag-and-drop user interface (UI) is used for making surveys that collect customer feedback, conduct marketing research, measure students' performances, and achieve various goals.
The tool can be integrated with another powerful tool- ProProfs Help Desk, letting you track all incoming customer issues and better analyze customer pain points.
Choose it for: Survey deployment, Multiple survey types.
Suitable for: Small to large businesses.
Features:
Users can design online surveys of all types, simple or complex.
Lets users choose fully customizable survey templates.
Creates surveys for websites and mobile apps.
Comes with a vast question library to create surveys on the go.
Offers skip logic, reporting, and analytics.
Allow you to target each page using custom URLs.
Pros:
Deploy surveys on different platforms using multiple channels like emails, SMS, etc.
Offers more options to collect feedback such as personality quizzes for buyer persona, polls to gauge customer preferences, etc.
Has a non-intrusive sidebar feedback button which you can add to your website.
Cons:
Limited survey types
Slight learning curve for the survey editor
Price: Starts from $19 per month.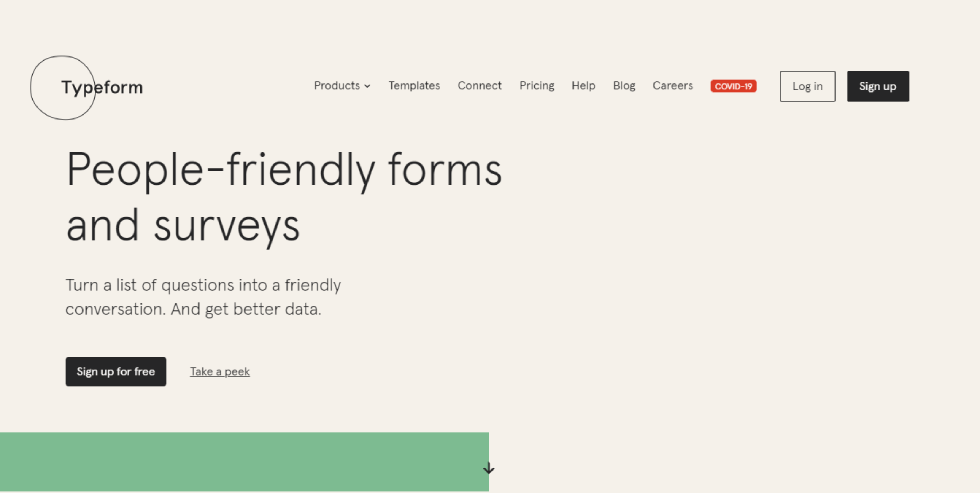 ---
Typeform, a customer feedback management platform, merges design and functionality. It lets you ask users one question at a time, making it seem like a real conversation! On the technical side, it is a simple web-based software you can use for creating surveys or apps without writing any code.
This combination of low technology on the front-facing side with sturdy backend results in high completion rates.
Choose it for: Multi-platform survey deployment, conducting multi-channel surveys.
Suitable for: Small to large businesses.
Features:
Supports feedback management to streamline data from different channels.
Makes feedback loops and offers holistic feedback to help companies make data-backed decisions.
Email distribution to ensure surveys get a high response rate.
Features like reporting and analysis systematically present the feedback data to derive valuable insights.
Has flexible features that enable businesses from different industries to enhance customer experience, increase awareness of education among employees, and more.
Offers live results tracking and facilitates real-time decision-making.
Comes with features like online polls, question branching, skip logic, rich media in surveys, poll management, and more.
Pros:
Design responsiveness
Works well with all browsers
Library of pre-designed templates
Cons:
It's a little complicated to create sophisticated surveys
Can't change the payment structure
Price: Starts from $25/month.
Related Read: 12 Best Typeform Alternatives to Check-in 2023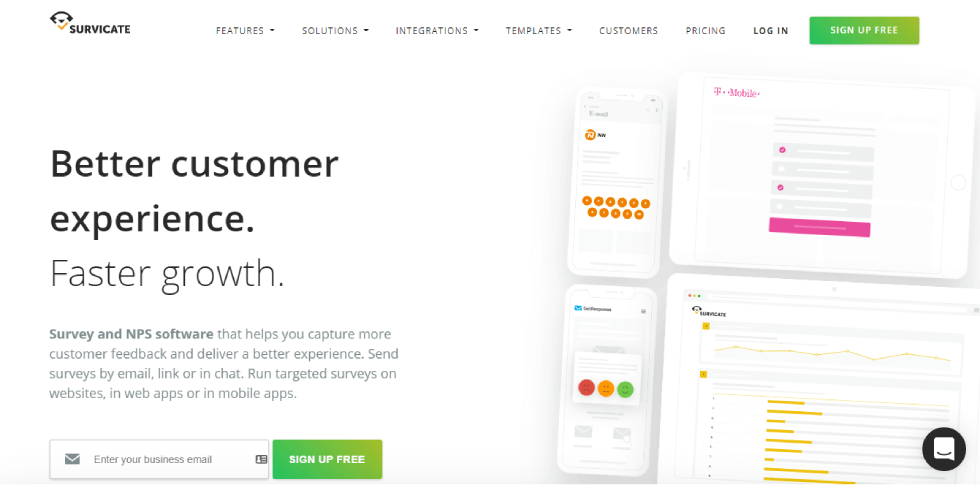 ---
Survicate is a robust feedback survey and management software that enables companies to collect more customer insights and deliver a better customer experience.
This customer feedback tool offers website, web app, in-product (in-app) surveys, email and link surveys, and mobile app surveys for Android and iOS. Survicate also offers two standalone products:
Feedback Hub for managing customer feedback from multiple sources in one place
Feedback Button for collecting quick website feedback.
Choose it for: Collecting real-time feedback, predictive intelligence analysis, and multi-channel survey deployment.
Suitable for: Small to large businesses.
Features:
Helps you publish different surveys on multiple channels such as websites, web apps, mobile, and chat surveys.
Offers 100+ pre-built survey templates to speed up launching surveys.
Lets you design surveys like Customer satisfaction surveys, CES, NPS, and more.
Supports integration with other tools like ActiveCampaign, HubSpot, Google Analytics, etc.
Effectively manages customer insights from numerous sources.
Pros:
Feedback Hub offers response management and monitoring.
Helps add surveys to Intercom Messengers.
Cons:
Doesn't offer optional questions
The basic plan offers limited features
Price: Starts at $89/month.
Related Read: Best Survicate Alternatives in 2023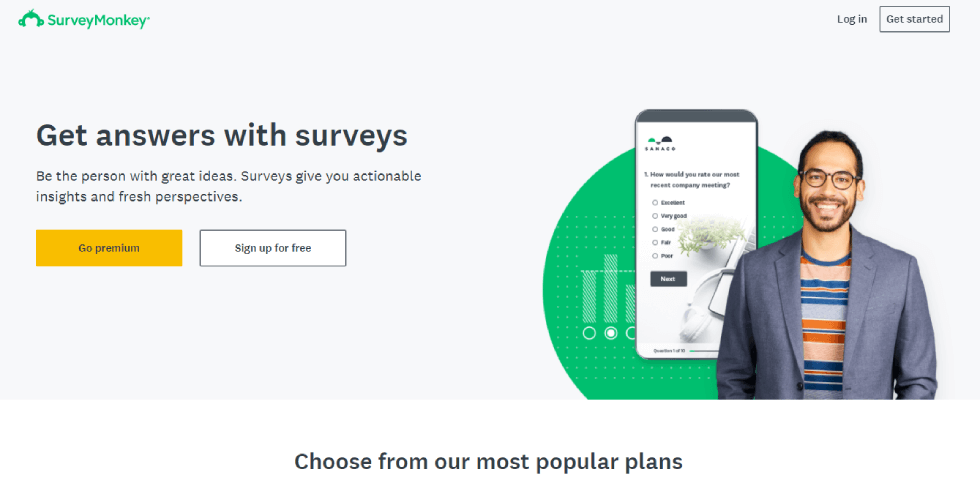 ---
SurveyMonkey builds new ways for people to share their voices and opinions. They combined an enterprise-grade platform with a suite of specialized market research and customer experience solutions and numerous business-critical integrations.
Its products are designed to put the power of feedback in the hands of organizations of all sizes.
Choose it for: Conducting multi-channel survey, employee feedback management, market research, user research.
Suitable for: Small to large businesses.
Features:
Offers pre-designed survey templates to let companies build effective surveys.
Helps add elements to surveys and quizzes such as progress bar, scoring system, question randomization, and more.
An AI-based Genius engine automatically calculates and predicts the completion rate for designed surveys and highlights parts that need improvement and which will work.
Has an easy-to-use visual editor to design interactive and intuitive surveys.
Offers seamless integration with tools like Salesforce, HubSpot, etc.
Comes with skip and branching logic to help you create surveys that gather contextual feedback.
Has different answer types to offer to facilitate designing customized surveys.
Comes packed with survey language translation to design globally applicable surveys.
Sentiment analysis feature that helps collect qualitative data.
Pros:
Automatic summaries through graphs, charts, etc.
Anonymous feedback is possible
Cons:
Becomes costly if you want advanced functionalities
Glitches in the website
Price: Starts from $31/month.
Related Read: 15 Best SurveyMonkey Alternatives & Competitors in 2023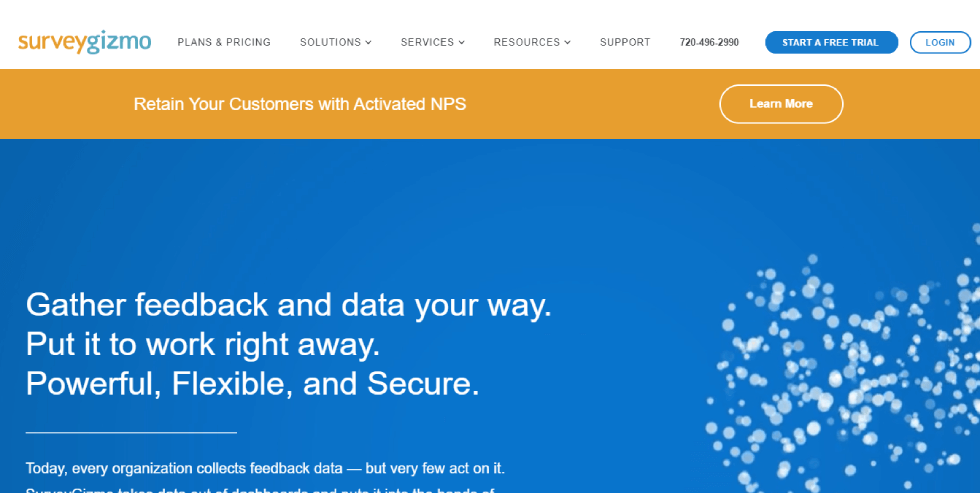 ---
Alchemer has one advantage: its low-code design and architecture run a cloud-based integrated customer feedback platform. It combines the best survey software technology with ease of use. The integrations with other systems are quick and automated to put feedback at the forefront.
Choose it for: Survey customization, reporting, survey management, and mobile surveys.
Suitable for: Medium to large businesses.
Features:
Highly supports customization in branding, skip logic, branching logic, and mobile in-app surveys.
Loaded with multiple survey question types to enable businesses to collect customer insights the right way.
Comes with excellent reporting and analyses functionalities that assist in understanding the meaning behind the statistics.
Offers pre-designed professional survey templates to save time and resources.
Offers great multi-lingual and multi-media surveys.
Supports BI tools and integration with platforms like Webhooks, Salesforce, etc.
Pros:
Data exporting
No extra costs per response
Reports are available in multiple downloadable formats
Cons:
Price: Available on request.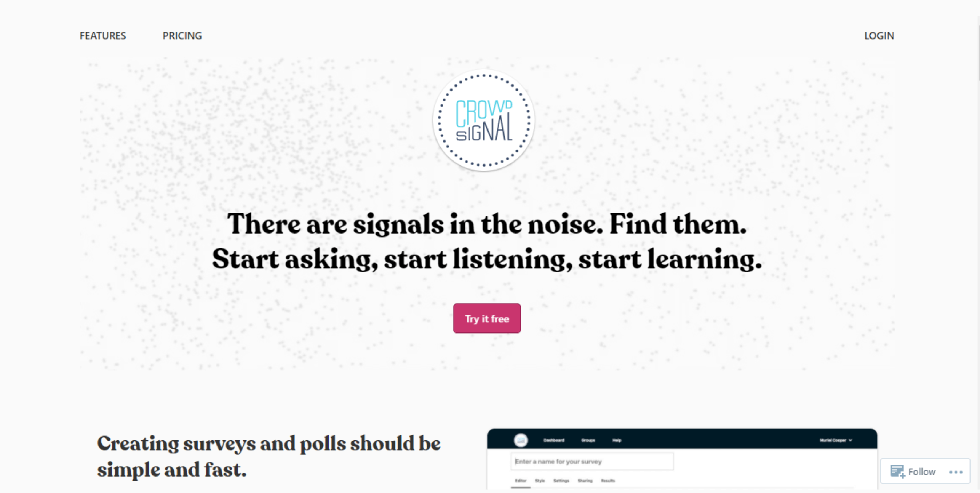 ---
Formerly known as PollDaddy, Crowdsignal is a feedback management tool that can create surveys and polls for your website, blog, and social network profiles. Crowdsignal polls are simple and flexible, letting you customize their styles to match your website social networking profile or email campaign and find out what your visitors are thinking today.
Choose it for: Design polls and surveys for different platforms.
Suitable for: Small to large businesses.
Features:
Creates customizable surveys and polls to support the personalized branding of a business.
Lets you track live customer feedback results that assist in making decisions in real-time.
Offers templates for polls and surveys to check customers' pulse with the help of the right survey questions.
Facilitates distribution of surveys via emails and feedback management.
Comes with skip and branching logic for surveys.
Lets you add rich media such as videos, GIFs, images, and audio in the surveys.
Pros:
Offers responsive polls and surveys
Easy to use
No need for coding knowledge to set up
Streamlined reporting feature
Cons:
Collects multiple responses from the same respondents
No setting to delay showing poll answers to the participants
Price: Starts from $25/month.
---
Nicereply is a commonly employed customer feedback software service that measures service quality. You can measure the usual metrics like CSAT, NPS, and CES 2.0 per agent, team, or company-wide, and then check the data in the support software you use through integrations.
NiceReply has claimed that you get three times more feedback even as you send fewer emails. We don't know about that, but you can track KPIs and generate reports with their tools.
Choose it for: CSAT, NPS, CES surveys.
Suitable for: Small to Large businesses.
Features:
Offers significant customizations for branding and visuals that help create stunning survey questionnaires.
Effectively tracks multiple customer survey metrics like NPS, CSAT, customer health score, and CES for each agent, team, and organization-wide.
Comes with post-query-resolution and in-signature surveys, which increase response rate by 200% when combined.
You can receive notifications and reports directly to your emails and Microsoft Team channels.
Comes with multiple integrations with the native helpdesk and third-party tools like Front, Zendesk, Freshdesk, Helpscout, LiveAgent, and more.
Supports survey triggers based on customized actions.
Pros:
Easy-to-use dashboard
Simple setup
Automation for many features
Integration with multiple third-party tools
Cons:
Even shows closed surveys
Doesn't display count for participants
No combined view for multiple ongoing campaigns
Price: Starts from $49/month.
Bonus Read: 30 Best Website Feedback Tools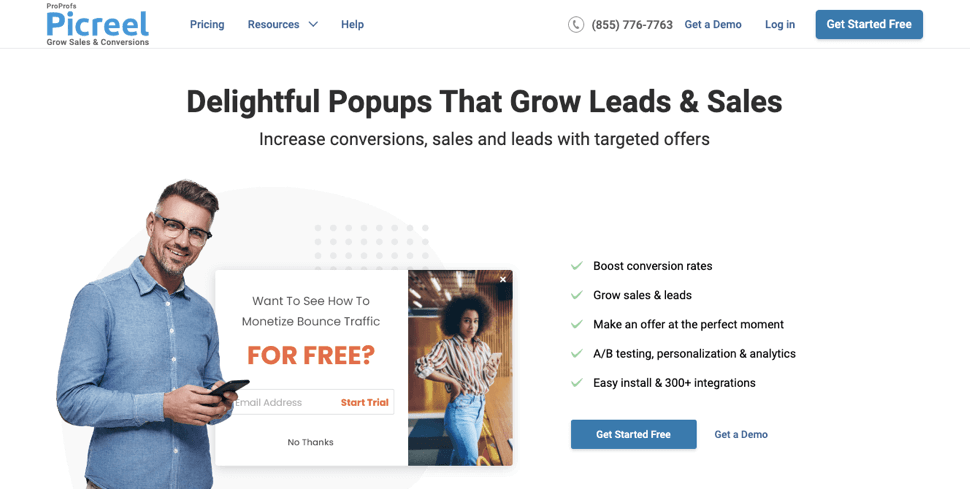 ---
Picreel is a conversion pop-ups and feedback collection tool that is feature-rich as it lets you create custom pop-up surveys and supports multiple integrations. The pop-up tool is very easy to set up and comes with 100+ pop-up templates, valuable for marketing, sales, and lead generation processes.
Choose it for: Exit-intent pop-ups, customized survey pop-ups.
Suitable for: Small to large organizations.
Features:
Offers ad personalization, mobile integration with different operating systems, interactive elements for surveys, and more.
Offers triggers that target leaving visitors with customizable conditions.
Helps you send targeted offers to your website visitors. It's a great way to reduce the bounce rate.
Provides several overlays, surveys, and link forms.
Comes with exit-intent customizable pop-ups, list building, advanced real-time cursor tracking, and advanced lead capture.
Provides pre-designed and customized templates.
Offers advanced targeting, segmentation, onsite retargeting, etc.
Helps with real-time analytics and A/B split testing.
Comes with 700 integrations with tools such as Mailchimp, Zapier, HubSpot, Wix, and many others.
Pros:
Different pop-up survey templates
Easy to use
Exit-intent pop-ups
Cons:
Features may glitch sometimes
Price: Starts from $14/month.
---
Not your typical survey tool, Userbrain also offers testers to businesses to collect in-depth customer insights. The customer feedback tool lets you create surveys and helps create user tests. It enables testers to record videos, capture screens, and enable users to share experiences via audio comments on the product.
Choose it for: Real-time reporting, feedback management, sentiment analysis.
Suitable for: Small to large businesses.
Features:
Offers features like task management, issue tracking, access control, tagging, audience targeting, and status tracking.
Helps you conduct tests based on demographics, including age, gender, and location.
Helps design test scenarios that you can share with participants.
Assists in creating an automated schedule for user testing.
Comes with templates for surveys with rating scales, multiple-choice,open-text, etc.
Pros:
Great response speed.
Easy to target participants.
Cons:
Doesn't support mobile surveys.
Confusing video creation feature.
Price: Starts from $69/month/tester.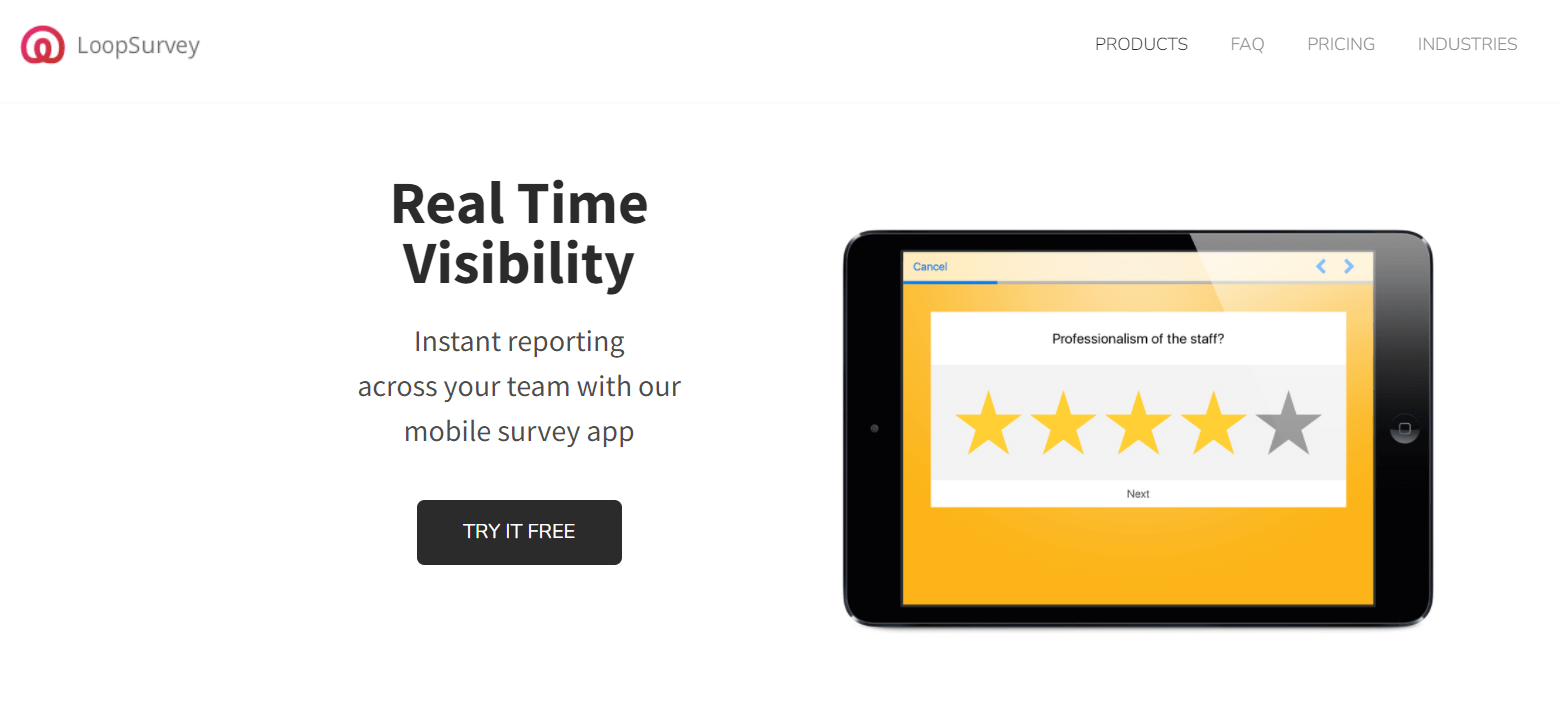 ---
LoopSurvey is a real-time product feedback tool that lets companies gather quick customer responses. It comes with many features that add value to your feedback collection process.
Choose it for: Mobile surveys and branded surveys.
Suitable for: Small to Mid-sized businesses.
Features:
Comes with a mobile survey app that offers instant reporting ​across your organization.
Offers features such as email alerts, text alerts, real-time editing, and skip and branching logic.
Supports branding surveys as per your company's branding.
Has various question types to offer for creating engaging surveys.
Adds custom logos to surveys.
Runs surveys on multiple devices.
Surveys are auto-synced to the cloud for easier feedback management.
Provides real-time results across different devices.
Helps export data to Excel.
Pros:
Easy to use
Excellent interface
Provides summary to individual responses
Offers MailChimp integration
Cons:
Not for big and complex organizations
Limited features
No survey templates
Price: Starts from $199/per year.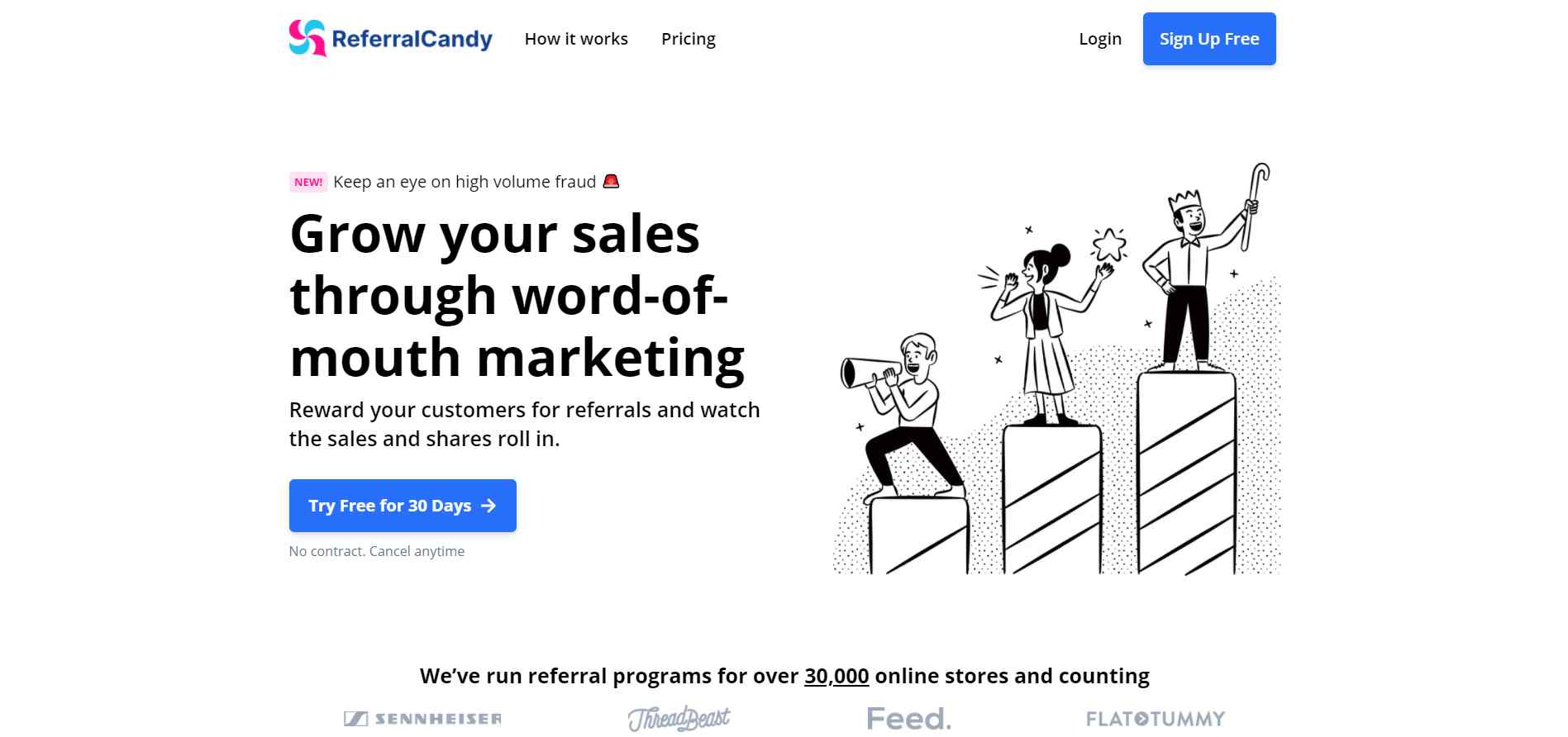 ---
Refiner.io is one of the excellent feedback tools for data management and collecting rich customer insights. Its features ensure you have successful survey campaigns. Refiner.io is an excellent option to conduct contextual feedback and market research.
Choose it for: Multi-channel survey deployment and feedback hub.
Suitable for: Small to medium-sized business.
Features:
Let's you design surveys with 10+ question types.
Supports branching logic, real-time survey preview, response randomizer, branding options, in-depth targeting options, and theme customizations.
Lets you design and publish surveys for your website, mobile app, prototype, and share them as URL links via email.
Comes with pre-designed 40+ professional templates.
Offers a reporting dashboard that facilitates detailed analysis of multiple survey campaigns at once.
Provides a feedback hub that centralizes the responses from all feedback channels.
Has an NPS survey dashboard that shows the NPS score.
Pros:
Easy survey creation
Centralized feedback management
Cons:
Analysis dashboard lacks filters and custom charts
Lacks sentiment analysis
Price: Starts at $49/month.
Visual Feedback Tools
By integrating customer feedback platforms and visual feedback tools that record heatmaps, user actions, on-page, and on-site customer behavior, you get a deeper understanding of how to improve user experience (UX).
Since the actual activities performed are recorded in real-time, you can see how and where users hesitate or face difficulties in doing activities on your website. From this data, you can find out what is working and what isn't and then fix the identified issues.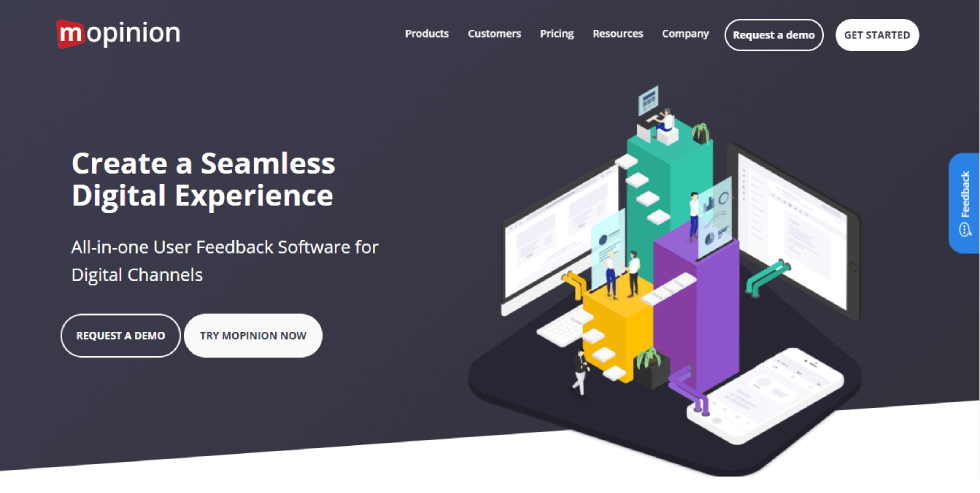 ---
Mopinion is a feedback management tool that offers customer feedback analytics software for websites and apps. The Mopinion platform has been developed for analyzing large amounts of customer feedback data from digital channels.
Choose it for: Conducting the multi-channel survey, Multi-channel data collection, and Text Analysis.
Suitable for: Small to medium-sized business.
Features:
Offers customer segmentation to target selected customer demographics.
Has an intuitive dashboard that shows data reports for analysis.
Helps with negative feedback management.
Comes with predictive analytics that gauges the effectiveness of surveys.
Offers reporting and analytics.
Supports sentiment analysis for you to gauge customer sentiment towards your company.
Pros:
Adjustable dashboard
Customizable surveys and forms
Lets respondents add screenshots to surveys
Cons:
Not suitable for startups and small businesses due to pricing
Dashboard crashes at each connection
Offers random results sometimes
Price: Starts from $229/month.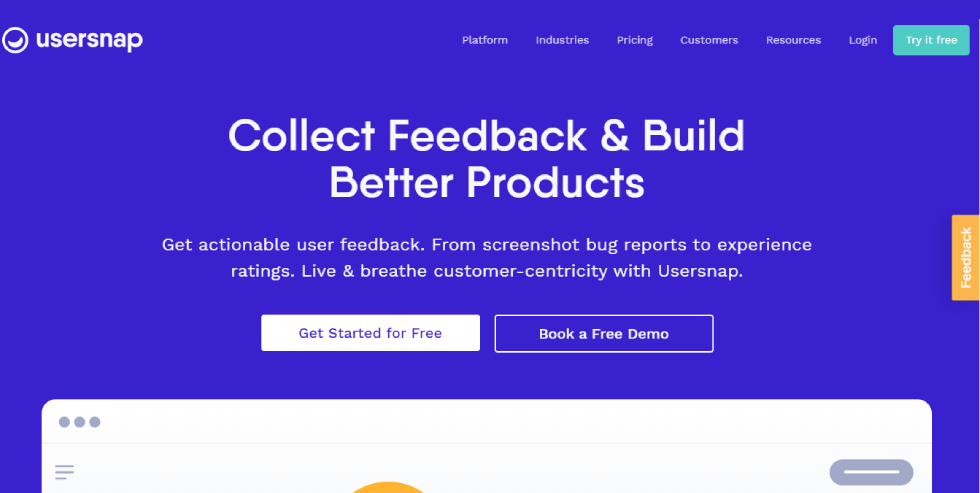 ---
Usersnap is best-seller software known as the visual 'Bug Tracking and Feedback Tool,' employed by web developers, designers, and customer care managers. It lets you act on the voice of customers by enabling screen captures, surveys and feature requests.
Choose it for: In-product feedback, customer satisfaction measurement, In-app forms.
Suitable for: Small to mid-sized businesses.
Features:
Helps measure NPS & CSAT scores with its surveys.
Offers sentiment analysis tool to analyze customers' verbatim responses and gauge their sentiment.
Lets you add a dedicated feedback button to your website so customers can send in their issues and suggestions.
Comes with a feedback menu that offers multiple feedback options such as linking your support chat or help page, etc.
Offers visual tickets along with the screenshot mode that facilitates pinning comments.
Pros:
Great customer support
Multiple survey types
Sentiment analysis
Cons:
Poor web performance
Limited customization for widgets
Price: Starts from $9/month.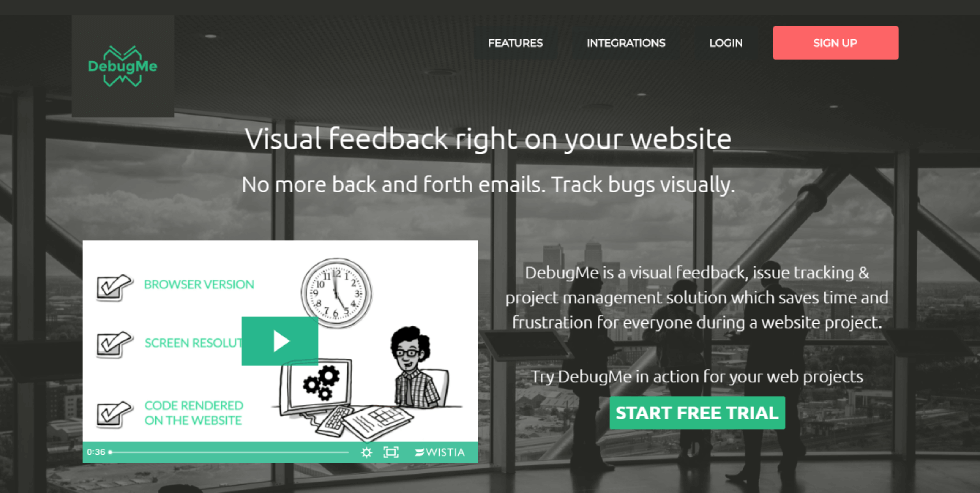 ---
DebugMe is a visual feedback collection tool that offers issue tracking & project management solutions to save time and reduce frustration for everyone during a website project. Their tool is all about adding value to your development workflow.
DebugMe is a visual debugging solution that saves time and frustration for customers, designers, testers, and web developers.
Choose it for: Task management, ticket management.
Suitable for: Small to mid-sized businesses.
Features:
Helps with task management to facilitate feedback.
Supports bug tracking.
Offers a feedback toolbar that annotates any page for reporting issues.
Offers a kanban board that lets you see feedback and bugs.
Integrates with Visual Studio, Pivotal Tracker, Trello, Jira.
Pros:
Tracks bugs
Feedback management
Cons:
No survey templates
Limited survey options
Limited customization
Price: Starts from $16/month.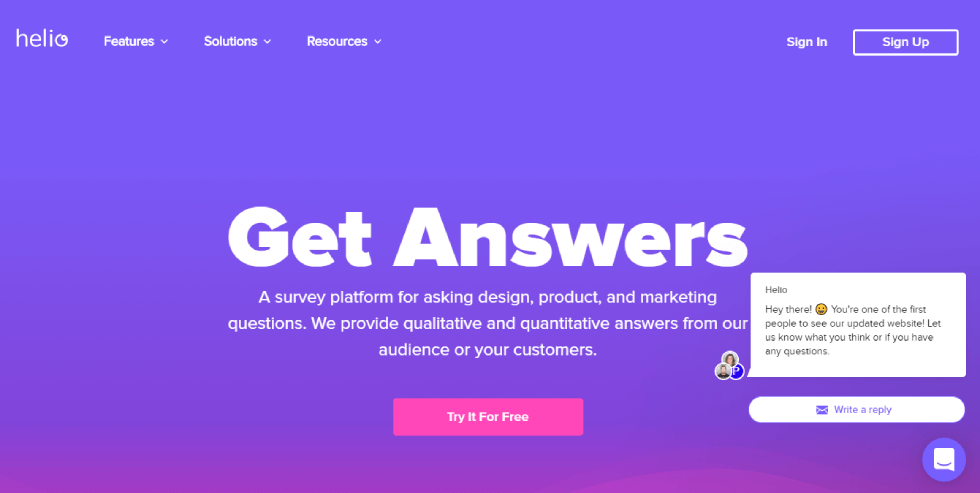 ---
Helio is a survey platform for asking design, product, and marketing questions. It provides qualitative and quantitative answers from general audiences or your customers. Its advanced behavior filters reach a unique audience in minutes to give a clear understanding of the overall customer experience.
Choose it for: Testing prototypes and creating feedback loops
Suitable for: Medium to large businesses
Features:
Set up surveys in minutes using simple but powerful questions
Choose from a readymade audience or collect feedback from your own participants
Pull only the relevant data using powerful filtering tools
Get raw and unscripted qualitative feedback from the participants
Add and store media in the library and share it with your teams
Pros:
Highly intuitive interface
Extremely well-built information architecture
Click testing feature is very effective
Cons:
Does not have the rank order feature
Branding and customizations can be a little difficult
Price: Available on request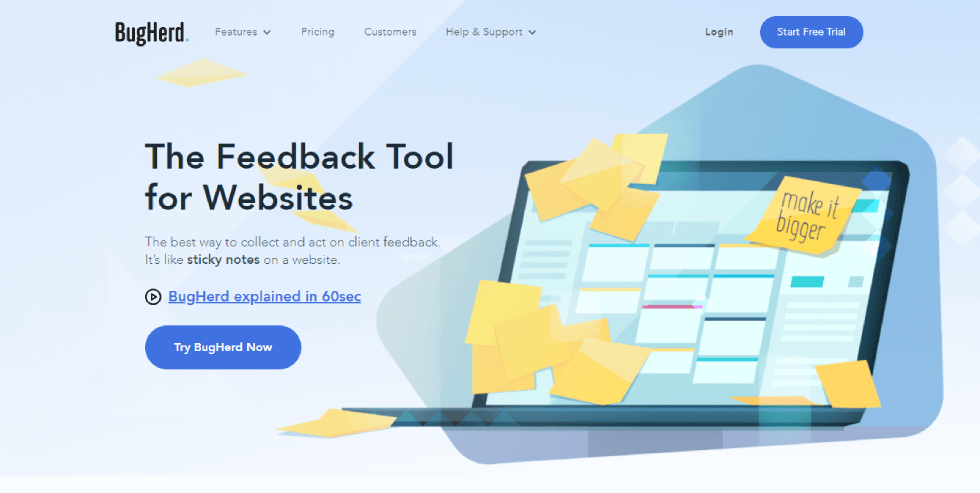 ---
BugHerd claims to be the easiest way to collect, organize, and act on client feedback. It's just like using a sticky note on a webpage to collect visual feedback. The BugHerd browser extension and sidebar can send complete and contextual info from the feedback or bug submitted (including screenshots).
Choose it for: Collecting, organizing, and acting on website feedback
Suitable for: Small to medium businesses
Features:
Easily set up either through javascript snippet or browser extension
Simply point and click to enter feedback without any complications
Give feedback by recording a video of the screen
Pin feedback to website elements
Includes commenting in real-time
Invite unlimited participants to give feedback
Pros:
Create unlimited projects
Update bug information from anywhere through version control sync
Personalized dashboard for a unified control
Track bugs via chrome extension
Cons:
Difficult to use in other browsers besides chrome
Does not work on mobile
Does not support cross-browser collaboration
Price: Starts at $39/month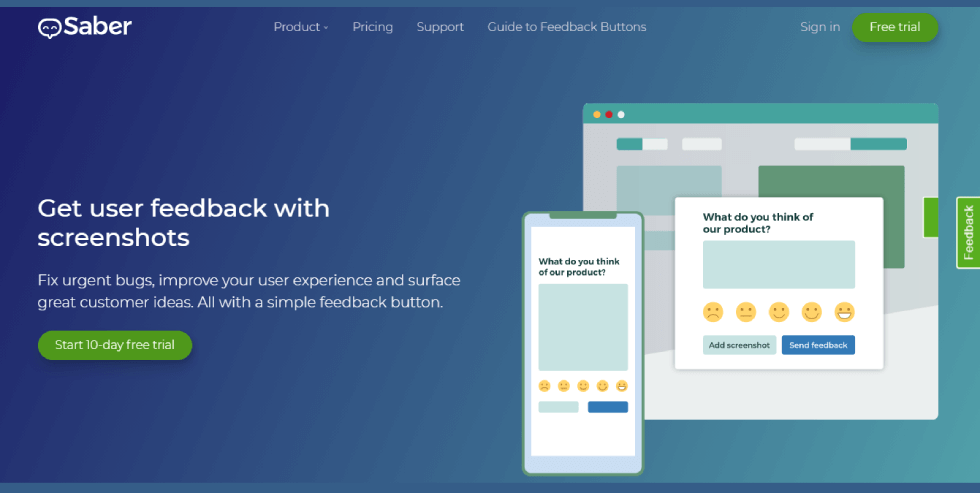 ---
Saber Feedback is a feedback button you can add to any website. It lets your users ask questions and report errors from anywhere on your website. Best of all, users can annotate feedback reports with screenshots that highlight the problems they are reporting.
You can use these feedback reports and screenshots to improve your product. It integrates with many popular project management tools, so issue reports automatically become issues, tasks, or stories.
Choose it for: Collaborating with participants to debug products
Suitable for: Small to medium businesses
Features:
Choose from a set of ready-made feedback fields or create your own
Keep forms simple and relevant using form logic
Get a real-time preview to improve user experience
Users can capture screenshots to describe a problem
Style your feedback button by making cosmetic changes
Pros:
Select content chunks instead of individually dragging and dropping
Built-in translation in 13 different languages
Get feedback emailed directly to you
Cons:
It cannot be closed right away when crowded with tasks
Price: Starts at $39/month
Community Feedback Tools
Community feedback tools let you manage large amounts of social media and crowd-generated feedback. These feedback collection tools help you make sense of unorganized and mostly free-form unsolicited comments and posts from Twitter, Instagram, Facebook, Snapchat, TikTok, etc.
Also, they usually help you manage all your social media channels in one place. One of the essential things to keep in mind while choosing a community feedback platform is the availability of an in-built feedback analysis tool or engine.
So, here are our top picks for the best customer feedback tools for crowdsourcing ideas and engaging with your online community.: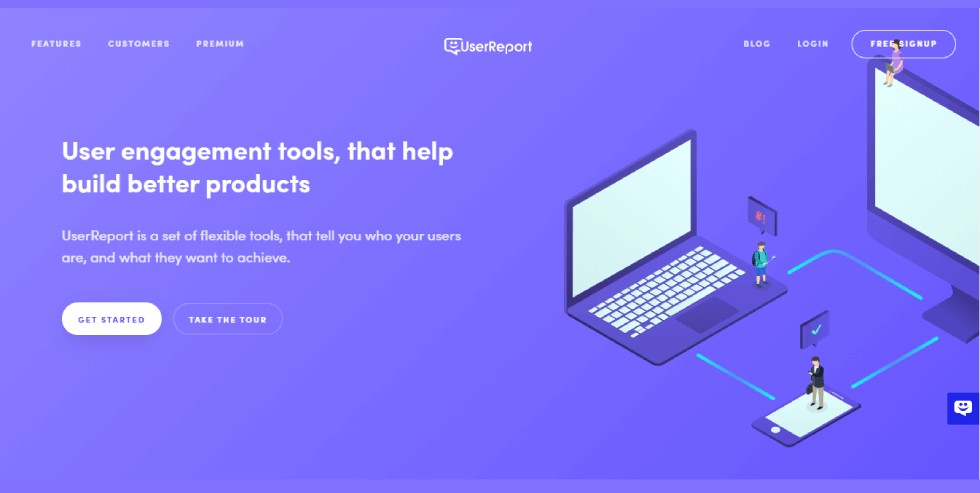 ---
UserReport measures usability and shows where different kinds of visitors click on your website. It is one of the best customer feedback solutions that lets users voice their ideas on how to improve your website through feedback forums. You can track and record your visitors' demographic information to better understand your customer segments.
Choose it for: Feedback Widget, survey widget
Suitable for: Small to large businesses
Features
Provides two widgets – the survey and feedback widget for mobile apps and websites.
Use pre-added questions, 60+ language translations, mobile responsive design, design customization options, and white labeling for both widgets.
Create an online customer feedback forum (feedback widget) to collect new ideas and suggestions.
The users can click on the feedback widget to open up the feedback forum. They can upvote others' ideas, report bugs, and submit new ideas.
Click on the survey widget to open the survey.
Inbuilt reporting dashboards to track and analyze the survey feedback.
Filter the data based on geography, user demographics, devices, and more.
Compare the experience of different segments with custom reports.
Monitor overall satisfaction score, survey performance, and other metrics with a click.
Pros
Easy to set up and use. No learning curve
The feedback forum (widget) is excellent for collecting ideas for product roadmaps.
Cons
Lacks the option to send the surveys to customers
Limited survey customization options
Price: Contact for a quote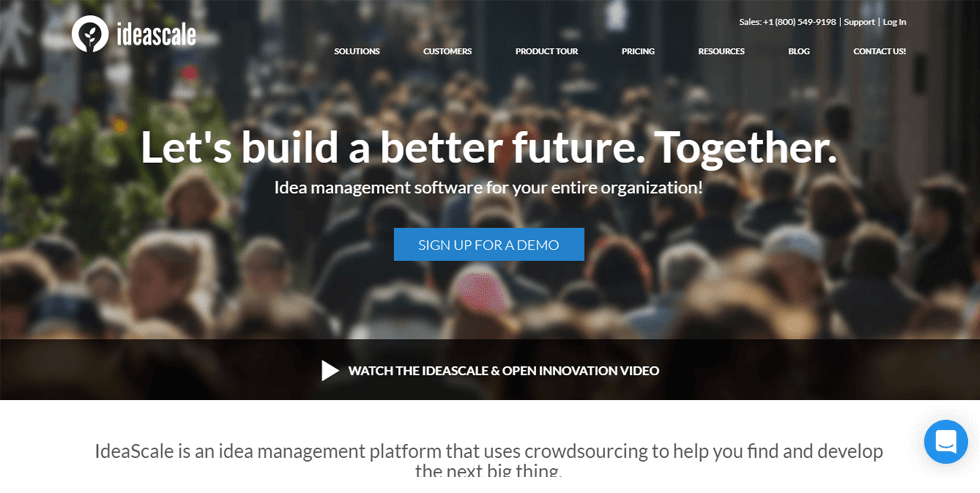 ---
IdeaScale is a cloud-based product feedback tool licensed as an innovation management platform. It relies heavily on crowdsourcing principles and practices. It's a great customer feedback management platform to build living/breathing Digg-style communities.
You can grow your online community and encourage them to contribute towards product development using the online feedback forum.
Choose it for: Feedback boards, crowdsourcing ideas
Suitable for: Small to big businesses
Features
Implement a feedback board to collect ideas from your users, customers, and visitors.
Add custom fields to segregate important ideas from general customer feedback.
The members can submit their ideas and add relevant visual elements like images or videos.
They can also vote and comment on other posted ideas.
Set visibility and idea submission criteria on a per-campaign and per-idea basis.
Send email invitations to encourage visitors to join the feedback boards.
You can also send a status update about users' ideas on their email addresses.
Assign and post ideas to any team member, link similar ideas together, give star ratings to best ideas, and more.
Built-in NLP engine automatically identifies an idea's subject matter and assigns relevant tags.
Provides AI-based text analytics to uncover important keywords, themes, and trends among the ideas.
Pros
The SSO feature comes in handy to signup for the feedback community.
Ease of customization and creating custom reports.
Internal teams working on the same idea can collaborate easily without using a separate tool.
Cons
Tons of internal settings and sub-settings in each community that require time for learning.
The follow-up opportunities can be improved
Price: Contact for quote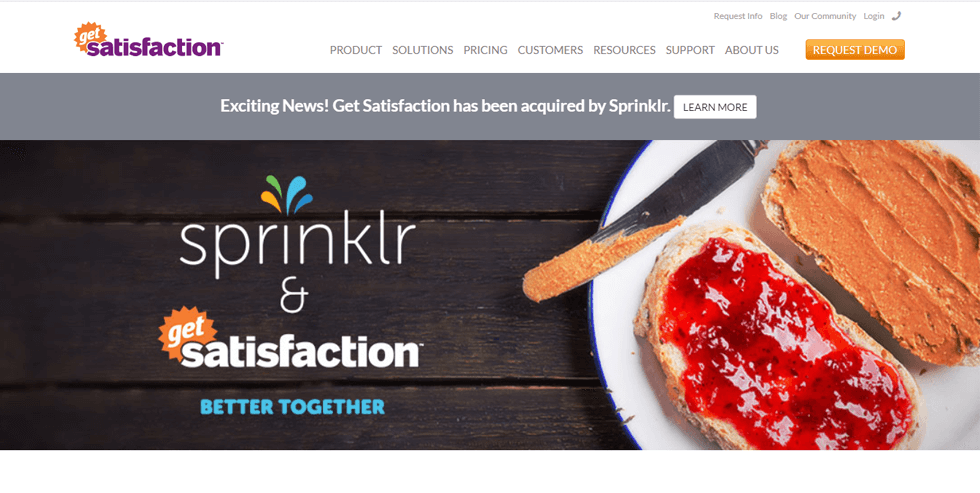 ---
Get Satisfaction is a customer engagement platform that helps companies build better relationships with their customers and prospects. It is a customer community software platform for technical support based in San Francisco, California. It is a customer satisfaction tool that assists midsize to large firms with community management, customer engagement, and feedback analysis.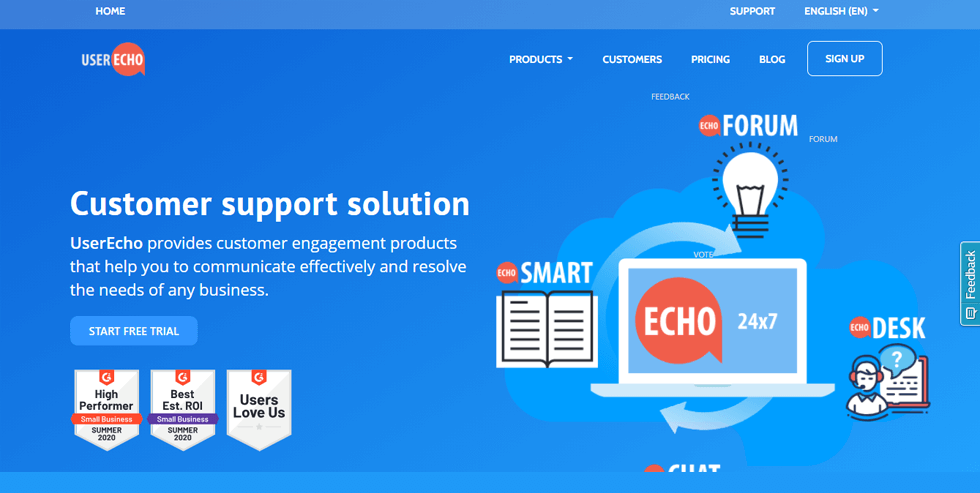 ---
UserEcho lets you crowdsource ideas and provide customer support at the same time. It includes a feedback forum, a Helpdesk, a Knowledge Base, and an Online Chat widget. The system provides an intelligent search engine that offers the user already prepared answers from the vast community-generated Knowledge Base.
Choose it for: Knowledge Base, feedback Portal, ticket system, live-chat
Suitable for: Small to large business
Features
Implement the customer feedback portal to let users submit suggestions, ideas, and feedback.
The users can post new ideas, upvote the existing posts, request new features, monitor their post status, and use private mode to leave feedback.
You can also install a help center (knowledge base) on your website and mobile app.
Use the help center to publish guides, FAQs, articles, and other materials using the WYSIWYG editor.
Provides an analytical dashboard to track customer feedback, view count, best-performing articles, and other metrics.
Supports a sidebar feedback widget for your website and mobile app.
Offers an inbuilt help desk system to address and resolve customer queries via tickets.
Manage and respond to tickets from social media, website, email, and app.
Add tags, leave internal notes, assign tickets to team members and update the ticket's status.
Send CSAT surveys after the ticket has been resolved.
Use the live chat widget to provide real-time customer support.
Open multiple chat windows, save transcripts, and create tickets from the live chat.
Track live chat metrics like agent activity, average response time, CSAT scores, and chat sessions.
Integrate with other tools such as Slack and Jira.
Pros:
Offers multiple means to collect feedback and improve customer engagement
Funnels all the communications in one place, which saves time and effort
Cons:
The documentation can be improved to offer more flexible onboarding
Price: Starts at $19/month per user, billed annually
Read More: Best Knowledge Base Software & Tools In 2023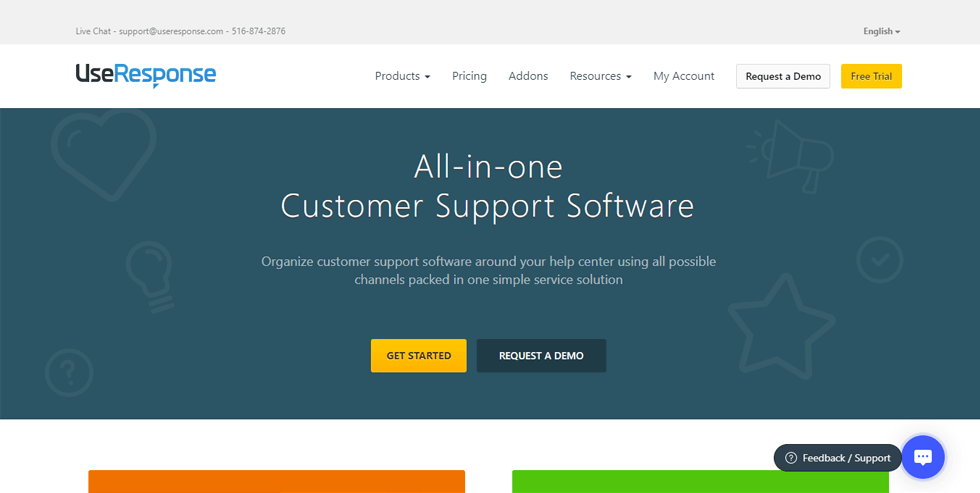 ---
UseResponse is a customer support solution and feedback management tool that uses the cloud to provide complete CRM solutions. It organizes user feedback tools around your customer support channels to capture highly targeted insights. The platform is available as both a self-hosted solution and a cloud-based option.
Choose it for: Feedback portal, live chat, knowledge base, ticket system
Suitable for: Small to large businesses
Features
Offers both feedback boards and widgets for your website and mobile app.
Uncovers customer issues, new product ideas, and customer feedback.
The users can post new ideas, add upvotes on existing topics, and comment on other posts.
You can add internal notes to each feedback for internal teams.
Add the current status on a feature request or idea to keep the users updated about its progress.
Tracks the most requested features, trending ideas, most upvotes, and other conversations from the dashboard.
Offers a ticket system to address customer complaints, pain points, and grievances.
Add the Help Desk (ticket) widget to your mobile app or website.
Uses the centralized inbox to instantly track customer feedback and manage incoming messages via social media, email, and widgets.
Respond to customers, create queues for each support agent, and get real-time updates on new requests.
Send CSAT surveys to customers via mail after the resolution of tickets.
Monitor your agents' productivity, SLAs, average ticket resolution time, TATs, and CSAT scores.
Also supports a knowledge base portal to add FAQs and help articles.
Use the standalone live-chat widget on your website and app.
Integrate Messenger, WeChat, Whatsapp, and Line to handle chats from all the channels in one place.
Pros:
Perfect for crowdsourcing ideas and developing product roadmaps
It's one-stop customer support and engagement platform
Offers value for money with in-depth features
Cons:
Requires some learning time. It can be hard to find the desired settings with so many features.
Price: Starts at $1490 per year
NPS Survey/Customer Loyalty Tools
The Net Promoter Score Survey is a standardized metric worldwide to gauge long-term customer loyalty. That's why, it is essential to discuss user feedback tools that handle NPS surveys perfectly. These customer feedback solutions handle NPS score collection and provide real-time visual insights into changing scores so you can close the feedback loop quickly.
---
ProProfs NPS is an easy-to-use net promoter score software that helps you track and monitor customer loyalty. In a few steps, you can create a net promoter score survey for your customers and capture their feedback that gets categorized automatically into promoters, passives, and detractors. In short, you get to see the overall customer sentiment and act upon the average score you get to make changes to your existing services.
Choose it for: NPS surveys, presentation-ready data reports
Suitable for: Small to big businesses
Features
Create NPS and eNPS surveys in minutes using pre-built templates and an extensive question library.
Add relevant follow-up questions using 20+ question types and skip logic.
Share the surveys via the website, email, app, link, SMS, and social media.
Provides in-built themes, customization options, white labeling, and more to design delightful surveys.
Track daily, weekly, and monthly NPS scores in real-time to take immediate action.
Create custom reports and analyze individual responses to uncover valuable insights.
Integrate with other tools like Salesforce and Mailchimp.
Pros
6+ distribution channels to get a 360-degree view of customer experience
Automatic NPS score categorization and tracking make benchmarking easier
Cons
It would be good if there were advanced analytical techniques to analyze the feedback data.
Price: Starts at $25/month billed annually
---
CustomerSure tries to give its clients a method to connect their customers' feedback and their companies' bottom lines. It's a perfect feedback collection tool for NPS, CES, and CSAT surveys. Their consultants and technical support also lend a hand in making your business measure customer loyalty accurately.
Choose it for: NPS, CSAT, and CES surveys
Suitable for: Medium to big businesses
Features
Design NPS, CSAT, CES, and other surveys in minutes.
Offers multilingual surveys, theme customization, white labeling, and other features to design targeted surveys.
Share the surveys over email, SMS, web, app, and more to gather online customer feedback.
Set up real-time alerts to get notified about new responses.
Monitor and track trends in real-time with detailed NPS, CSAT, and CES score charts.
Analyze the data with advanced filters and study individual responses.
In-built text analytics to draw insights from all responses automatically.
Create personalized reports and assign access permissions for different team members.
Segment and export the data to spreadsheets for further analysis.
Integrate with your workspace tools to trigger surveys automatically based on desired events and manage dataflows.
Pros
Supports advanced audience segmentation to study the performance of individual cohorts.
You can track the NPS score history of each respondent to gauge their customer journey.
Cons
Bit expensive, which makes it unsuitable for small businesses
Price: Starts at €199/month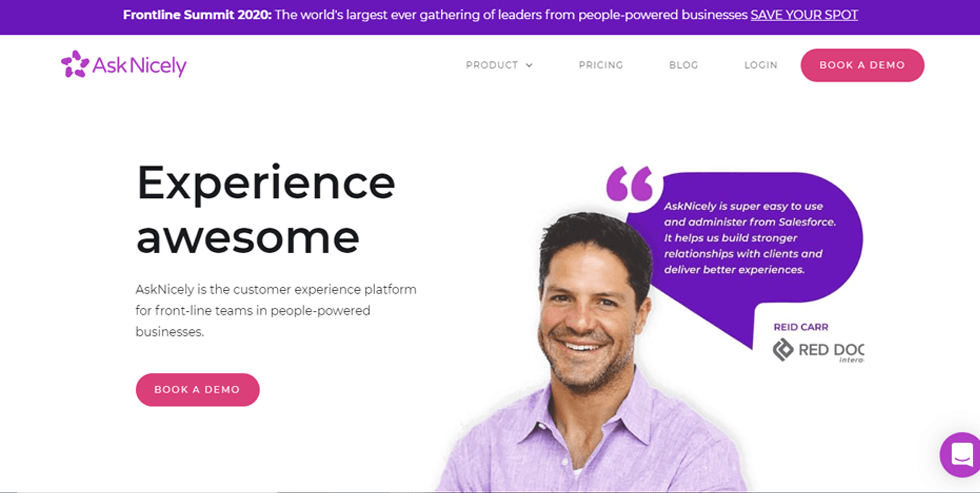 ---
AskNicely helps businesses measure customer happiness by collecting feedback based on the NPS framework prompting businesses to take immediate action. It's one of the best customer feedback tools for NPS at an affordable price to increase customer retention and referrals for revenue expansion.
Choose it for: Outbound surveys, employee performance tracking, survey cards, message center
Suitable for: Small businesses
Features
Create and share NPS, CES, and CSAT via SMS, web, or email to collect customer scores.
Design short surveys or multiple-question conversational surveys.
Provides multiple question types, skip-logic, theme customizations, and survey preview to build survey cards.
Set reminders to get alerts when the user submits the survey.
Provides a chat window to respond to survey respondents via email or SMS.
Tag other team members using internal notes.
In-built dashboard to monitor your survey campaign's performance.
Track NPS trends, individual survey responses, average scores across devices, follow-ups, and alerts.
Supports advanced text analytics to categorize the responses.
Comes with an AskNicely app to track your agents' performance and NPS scores.
You can send in-app tips and recognitions to your teams.
Pros:
One of the best NPS survey systems in the market.
Conversational survey card is an excellent feature to pose follow-up questions to the respondents. It can make the survey experience more personalized.
Cons:
Survey reminders work only on email, not SMS
Limited distribution channels
Price: Contact for quote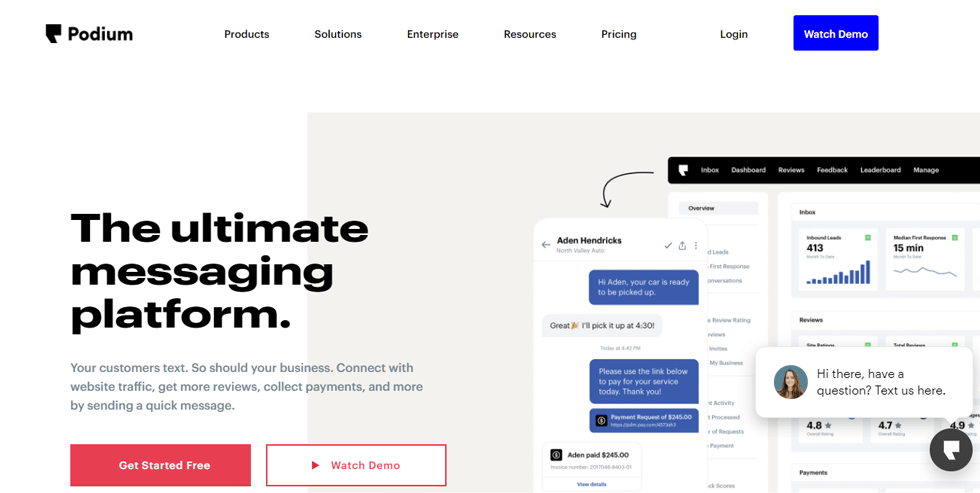 ---
Podium is a complete customer feedback management platform that lets you collect customer feedback online and offline using SMS campaigns.
The tool is centered around convenience for customers and helping business owners respond effectively to customers. That's why it also features a unified inbox to manage conversations across multiple channels from a single dashboard.
Choose it for: Centralized inbox, survey and rating invites, Podium app, WebChat widget for website
Suitable for: Small to large businesses
Features
Create SMS survey campaigns to maximize ROI and response rate.
Send survey invites to collect feedback for your website, App Store, Play Store, Facebook, and other review sites.
Deploy pulse surveys to gather customer feedback across various touchpoints.
Schedule automatic post-interaction branched surveys.
Set up alerts about new survey responses and review submission.
Integrate the WebChat widget with your website to generate leads and provide customer support.
In-built centralized inbox to manage conversations in one place.
Channel customer interactions from your website, mobile app, Webchat, mail, Whatsapp, social media, SMS, and other channels into the unified inbox.
Use the Podium app to help customers on the go.
In-depth analytics dashboard to monitor and track your goals.
Pros:
Provides real-time 24/7 support with the Podium ap
Promotes a higher response rate with SMS review invites.
Cons:
Can be a little expensive compared with similar tools
Integration APIs can be sometimes glitchy and cumbersome
Price: Contact for quote
Related Read: Best Net Promoter Score (NPS ) Software & Survey Tools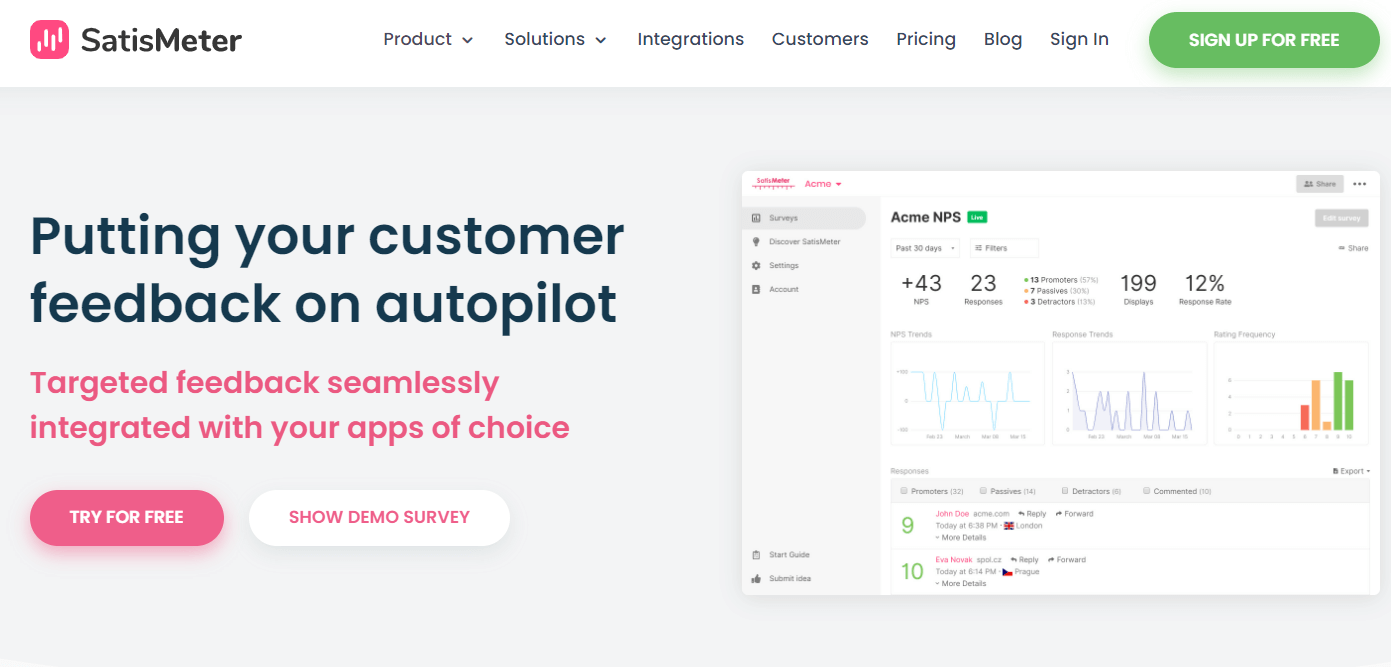 ---
What makes Satismeter one of the best NPS and customer feedback tools is its in-built features to collect insights across multiple touchpoints. The data is collected under one dashboard to help you close the feedback loop quickly. It's highly affordable and easy to use so that you can set up your survey campaign in hours.
Choose it for: Multi-channel survey deployment
Suitable for: Individuals, small to medium businesses
Features
Design surveys, such as NPS, CES, CSAT, PMF, and others to gather targeted customer feedback.
Add the surveys to the website, app, or email. You can also send them via links.
Offers multiple question types, skip-logic, survey reminders, audience targeting options, survey design customization options, and 25+ language translations.
Automatically capture respondents' metadata to segment the feedback data.
Monitor metrics like response trends, survey scores, number of responses, response rate, and others.
Pros:
Very effective tool for NPS tracking and benchmarking
Intuitive survey editor. No learning curve required. You can start designing the surveys instantly.
Lenient pricing structure
Cons:
Needs to add more targeting options
Limited answer types restrict the questions you can pose to the customers
Price
Starts at $49/month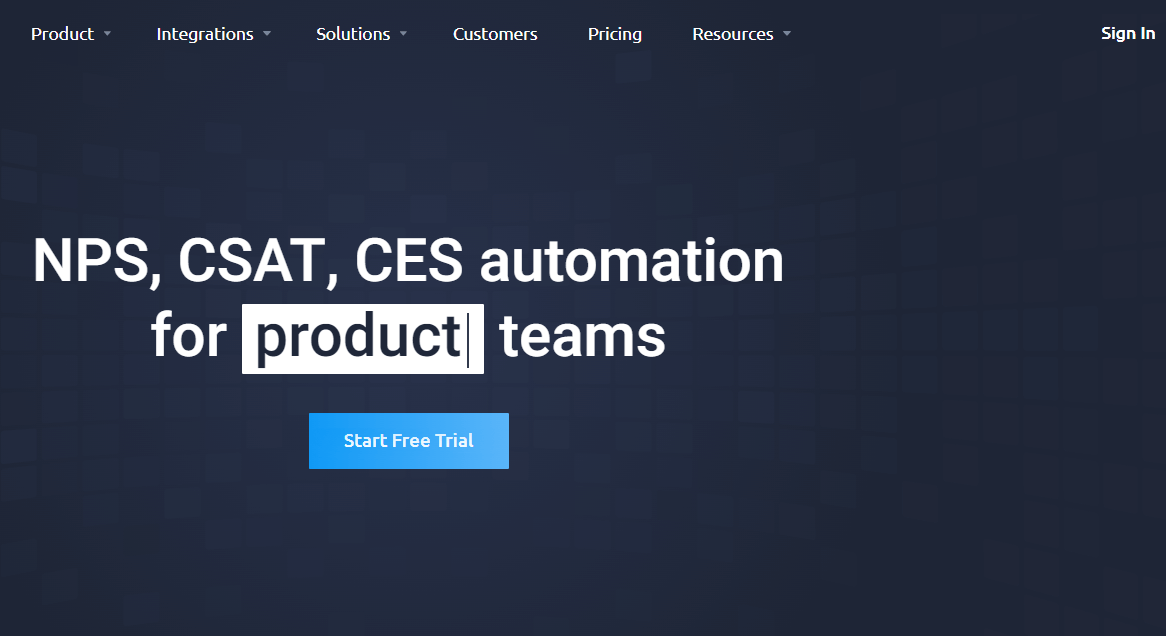 ---
Retently combines the customer feedback tool and experience management platform into one to empower customer success teams. You can capture in-the-moment feedback with NPS, CSAT, and CES surveys to understand users' journeys.
And with its integrated advanced feedback analysis tools, you can identify and close critical feedback loops in time to drive seamless experiences.
Choose it for: NPS, CSAT, and CES surveys
Suitable for: Small to big businesses
Features
Create NPS, CSAT, and CES surveys in minutes with the intuitive survey editor.
Use pre-built templates, advanced audience targeting, theme customization, white labeling, multi-language support, and more to deliver a personalized survey experience.
Share the survey via the website, mobile app, email, Kiosks, SMS, and links.
Set a schedule to send surveys and their follow-ups automatically.
Get automatic alerts when a respondent fills out a survey.
Provides an inbuilt A/B testing kit to optimize survey campaigns.
In-depth reporting to track scores across different channels, spot trends, and analyze individual responses.
Track NPS score history of each respondent to visualize their journey.
Built-in sentiment analysis and text analytics engines to mine through the feedback.
Assign feedback to team members, add internal notes, and add current status to any feedback.
Supports 3rd party integrations with your workspace tools.
Pros
Advanced analysis techniques to make feedback management easier
No separate tool is needed to collaborate with other teams to close the loop
Instant notifications about new responses
Cons
The self-onboarding process can be improved
Price: Starts at $50/month billed annually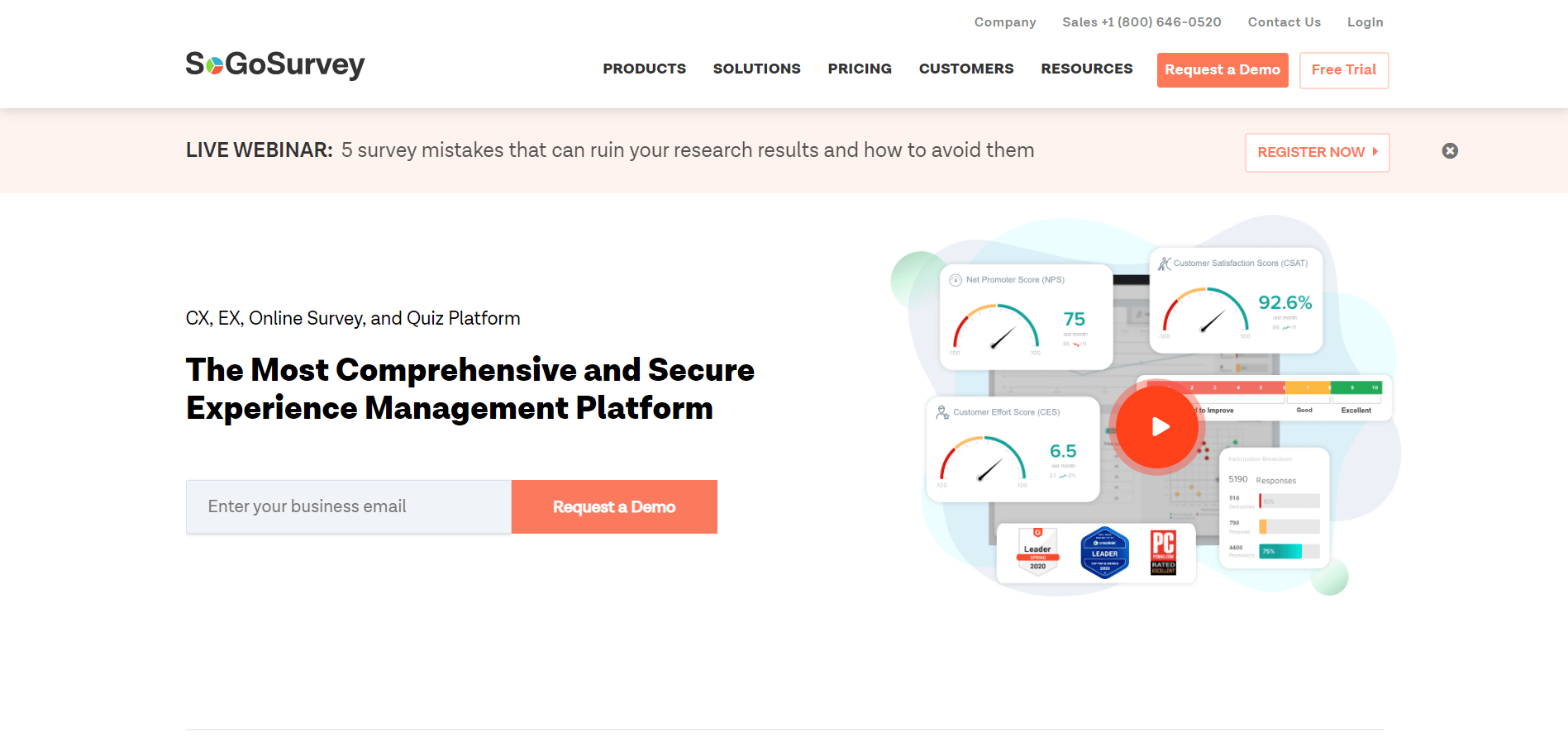 ---
SoGoSurvey gives you a complete feedback collection tool to gather 360-degree employee feedback and targeted customer insights. The platform comes with a user-friendly interface, advanced analytics, practically no learning curve so you can make the most out of your survey campaigns. This user feedback tool helps you focus on closing the loop quickly rather than manually uncovering the insights.
Choose it for: NPS and other survey types
Suitable for: Small to big businesses
Features
Supports multiple question types, skip logic, anonymous surveys, white labeling, multilingual surveys, and more.
Lets respondents attach a file to the survey response (if allowed).
Also provides dedicated panel services to help to find the right survey participants.
Share the surveys via the website, email, social media, SMS, link, and offline.
Set survey schedule to send survey invites and reminders automatically.
Detailed analytics and reporting to mine through the feedback quickly.
Create segmentation reports, custom reports, comparison reports, pivot-table reports, and more to uncover valuable insights.
Export your data in various formats like XML, HTML, SPSS, CSV, and Word.
Pros
You can reach the required sample size quickly with the Panel services.
The analytics section offers extensive information on survey performance.
Export the reports in multiple formats with a click
Cons
Needs more styling options to make customization easier
No option to add internal notes to individual responses
Price: Starts at $25/month
Online Customer Review Tools
Every customer has a voice, and the companies that make them feel heard and valued tend to be more successful and held in higher regard by customers. This is easily understandable because showing empathy with customers usually results in better word-of-mouth marketing.
Online customer review tools let you gather reviews from customers and respond to them on a peer-trusted platform. Forum management and grouped response analysis are some functions that such tools have developed to help businesses manage their online reputations better.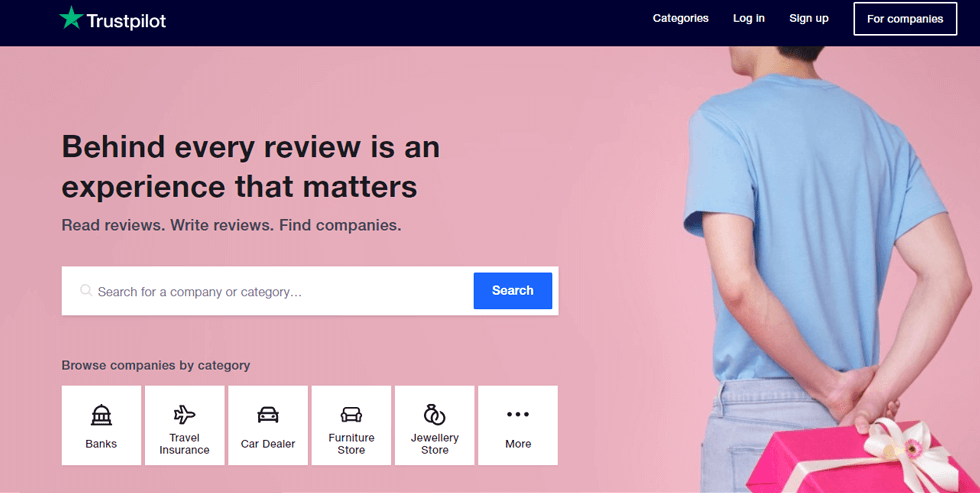 ---
Trustpilot is a Danish consumer review website founded in Denmark in 2007, which hosts reviews of businesses worldwide. Nearly 1 million new reviews are posted on it each month. The site offers freemium services to businesses.
Choose it for: Gather online reviews, build website credibility
Suitable for: Small to big businesses
Features
Collect verified customer reviews to showcase the impact of your product on their businesses.
Schedule automatic review invitations to collect reviews regularly from the customers.
Import the reviews directly from Google MyBusiness profile.
Supports automatic fraud detection to prevent unfair practices and false reviews.
Use Trustpilot widgets to embed reviews on your site, email signatures, newsletters, and more.
Pros
One of the most extensive review sites in the market
Customers can instantly search about your company to read the reviews
Cons
The pricing can be a little steep for some users
Price: Starts at $200/month. Free plan is also available.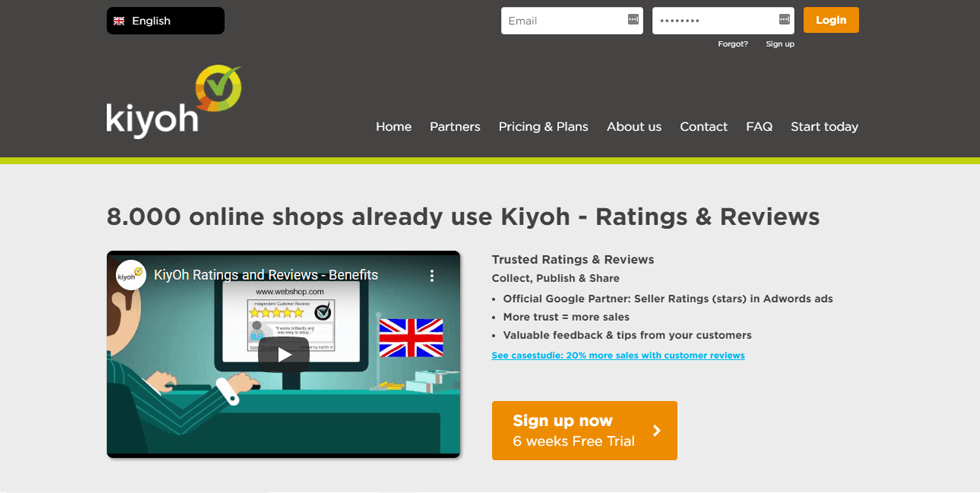 ---
KiyOh is one of the most trusted user feedback tools that carry out independent assessments to ask your customers about their opinions regarding your online real estate, like your website, app, or mobile platform.
It's their way of increasing customer confidence in your brand by showcasing active customer reviews on your online platforms. It also helps you with SEO to get higher ranks for your website in search engine result pages (SERPs).
Choose it for: Collect and publish verified reviews
Suitable for: Small to medium businesses
Features
Collect and publish customer reviews on your shop and product page.
The reviews are also indexed by the search engines, which helps in SEO.
The reviews are also visible in the SERPs and Google snippets.
Send out personalized invitations to the customers via mail, WhatsApp, SMS, Facebook, or other channels.
Use the Kiyoh widget to publish the reviews on your website, emails, invoices, or socials.
Pros
Ability to collect reviews from multiple channels simultaneously
Embedded email invites make review collection easier
Cons
Needs an improved analytics section to study and manage the reviews
Price: Starts at €24.95/month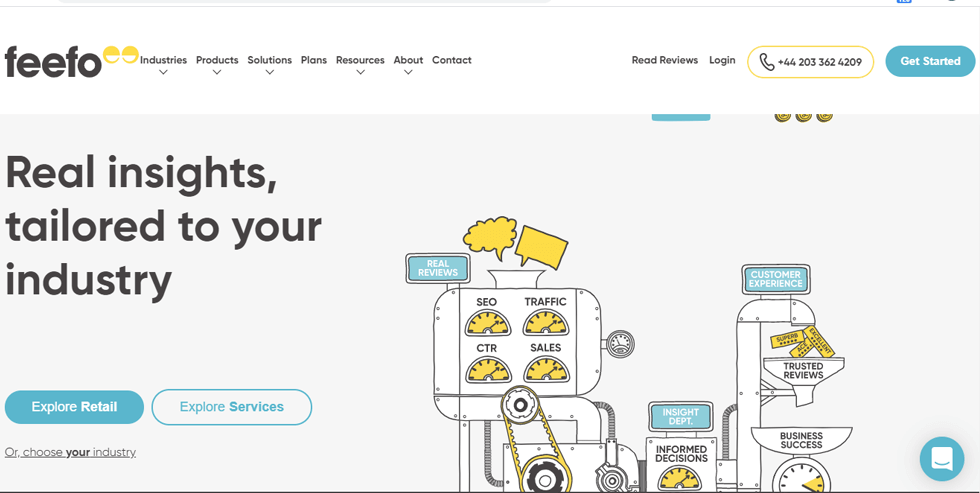 ---
Feefo takes great pride in helping its users build the best customer experience they can. Feefo connects them directly with their customers to gather authentic reviews. Real feedback means real insight, and Feefo gives clients the tools to establish stronger customer relations and make better-informed business decisions.
Choose it for: Review collection
Suitable for: Small to medium businesses
Features
Create and send personalized review requests to customers via mail or SMS.
Schedule texts to deliver the SMS at the right moment to improve response rates.
Set up alerts based on the NPS score submitted by the customer to act on it quickly.
Add seller and product ratings to your Google Ads, Facebook Ads, and SERPs.
Use the Feefo hub to manage reviews across all channels and respond to customers.
Supports inbuilt reports to help you track the performance of your review campaigns.
Provides an integrated sentiment analysis engine to uncover insights from the reviews.
Pros
Collect reviews for your offline stores and website from the same tool
Capture photo and video reviews to improve customer engagement
Cons
Needs improvement in reporting UI and review tagging for better control
Steep pricing structure
Price: Starts at €79 per month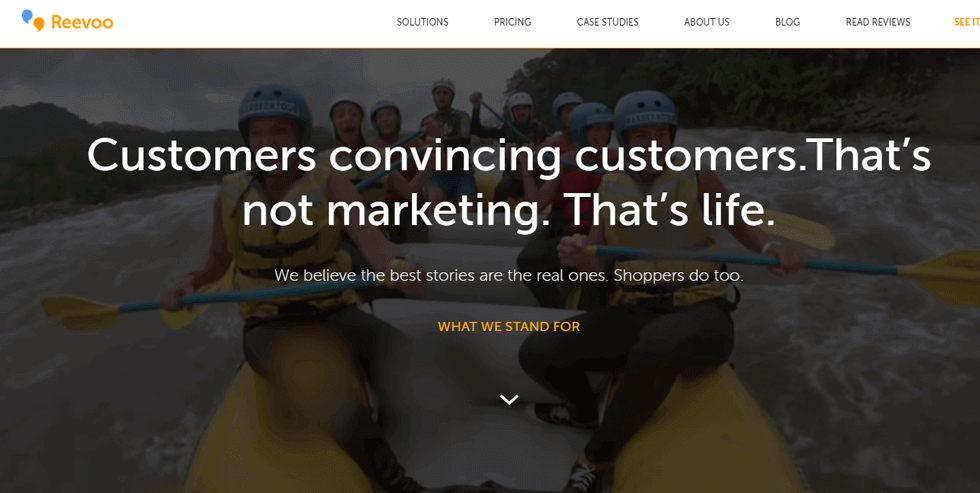 ---
ReeVoo has developed a 'smart' feedback collection tool that collects customer stories, user reviews, and more of such relevant content for businesses. ReeVoo claims that its software gathers at least one new story or response from real consumers every three seconds, which is quite an impressive start to quote.
It's among the best customer feedback tools that give potential buyers insights into others' experiences to help them make buying decisions.
Choose it for: Collect reviews, user-generated content
Suitable for: Small to big businesses
Features
Collect reviews from your authentic customers to ensure credibility.
Provides the option to collect both seller and product reviews.
Send review invites to confirmed customers to collect star ratings and data about their experience.
Publish the reviews on Google and Facebook to attract new customers.
Has an authentication system in place to pass only genuine reviews and prevent spam.
Showcase the reviews and user-generated content on your web pages using ReeVoo widgets.
Pros
Easy to set up and use
Provides highly authentic reviews from verified customers
Anit-fraud detection is quite effective in filtering false reviews
Cons
No option to add reviews to your email signatures or social profiles
Price: Contact for quote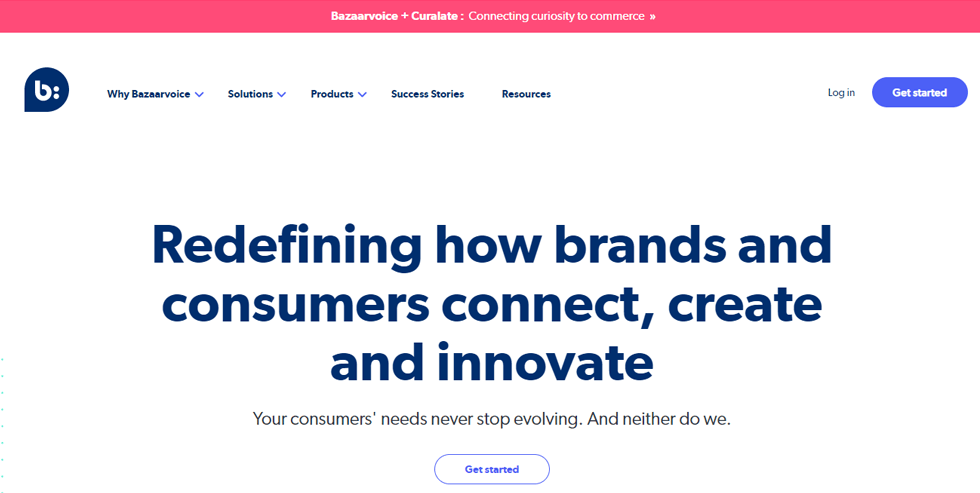 ---
Bazaarvoice provides an intuitive customer feedback management platform that lets brands to collect and display several types of authentic user-generated content (UGC) on their e-commerce websites. The types of UGC include product ratings and reviews, shopper questions and answers, and curated social content.
Choose it for: User-generated content
Suitable for: Small to big businesses
Features
Collect and publish UGC, like text-based reviews, social media posts, photos, and videos on your web pages.
Integrate reviews and visual content from different social sites into your product pages.
Provides sampling campaign option to collect reviews and feedback before launching the product.
Respond to customer reviews to address their concerns and thank them for their feedback.
Inbuilt Q&A dashboard to improve visitor engagement and help them simultaneously.
Set a schedule to automatically post your reviews on different channels at regular intervals.
In-depth reporting with sentiment analysis to help you track performance metrics and trending data.
Pros
Respond to the reviews on all sites from a single dashboard
Smart analytics to gather data for product recommendation campaigns
Cons
Implementation can be very demanding
Need a better false review detection system
Price: Contact for quote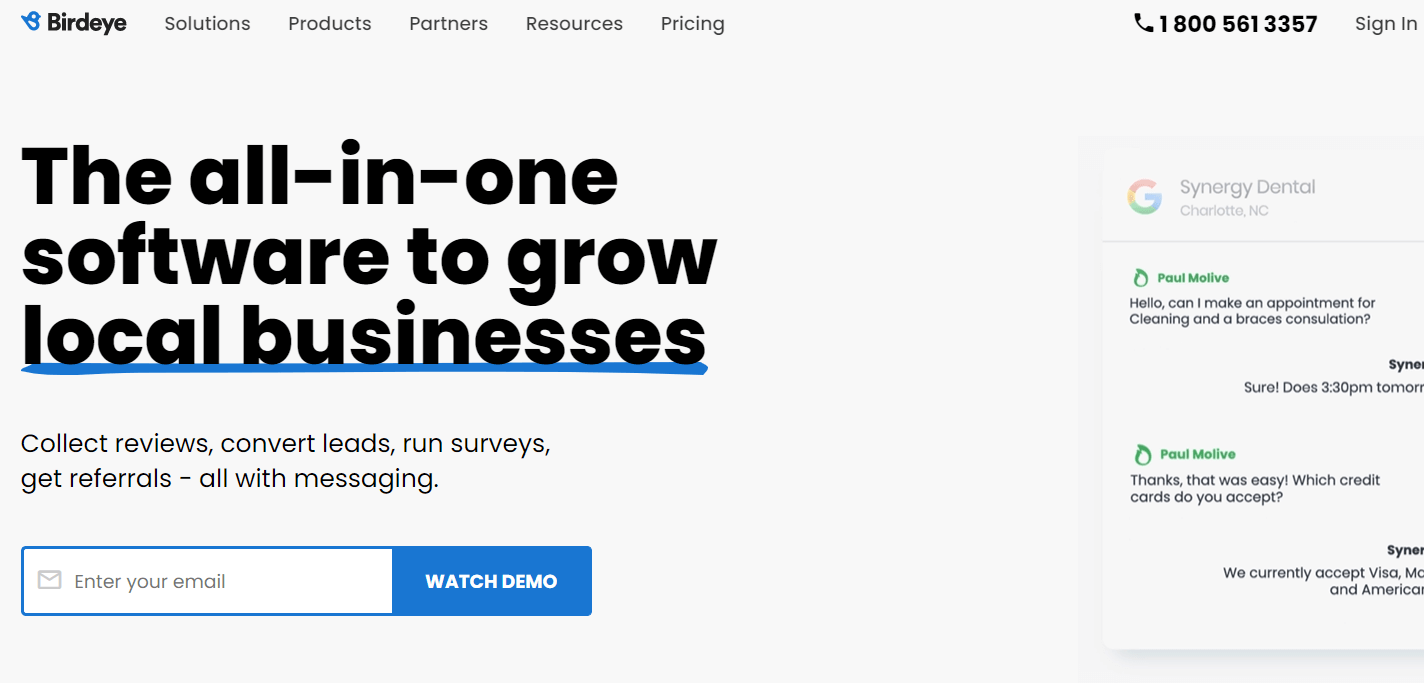 ---
Birdeye provides a one-stop solution to create user-generated content, run surveys, earn referrals, and more to boost conversions and lead generations. You can create listings on multiple platforms and track your ratings across hundreds of locations from the same tool.
Plus, with target surveys, you can collect real-time customer feedback to optimize their experience.
Choose it for UGC, reviews, referral, surveys, customer support
Suitable for: Small to big businesses
Features
Create and manage product listings across hundreds of locations.
Track each location with an advanced analytics dashboard.
Collect and manage the reviews from all the channels in one place.
Send review invites and redirect customers to the desired sites to publish reviews.
Respond to customer feedback to resolve their issues.
Inbuilt system to run loyalty and referrals programs to earn more leads.
Provides centralized inbox to manage customer communications in one place.
Supports live chat widget to resolve customers' queries in real-time and collect reviews.
Send conversational surveys over SMS to get targeted insights.
Use the survey feedback ratings into your reviews.
Pros
Integrated review management system and customer feedback tool in one place
The review dashboard is very intuitive and easy to navigate
Highly scalable, depending on your requirements and customer base
Cons
Social listening needs to be improved to filter out irrelevant data
Needs more integration APIs to connect workspace tools
Price: Contact for quote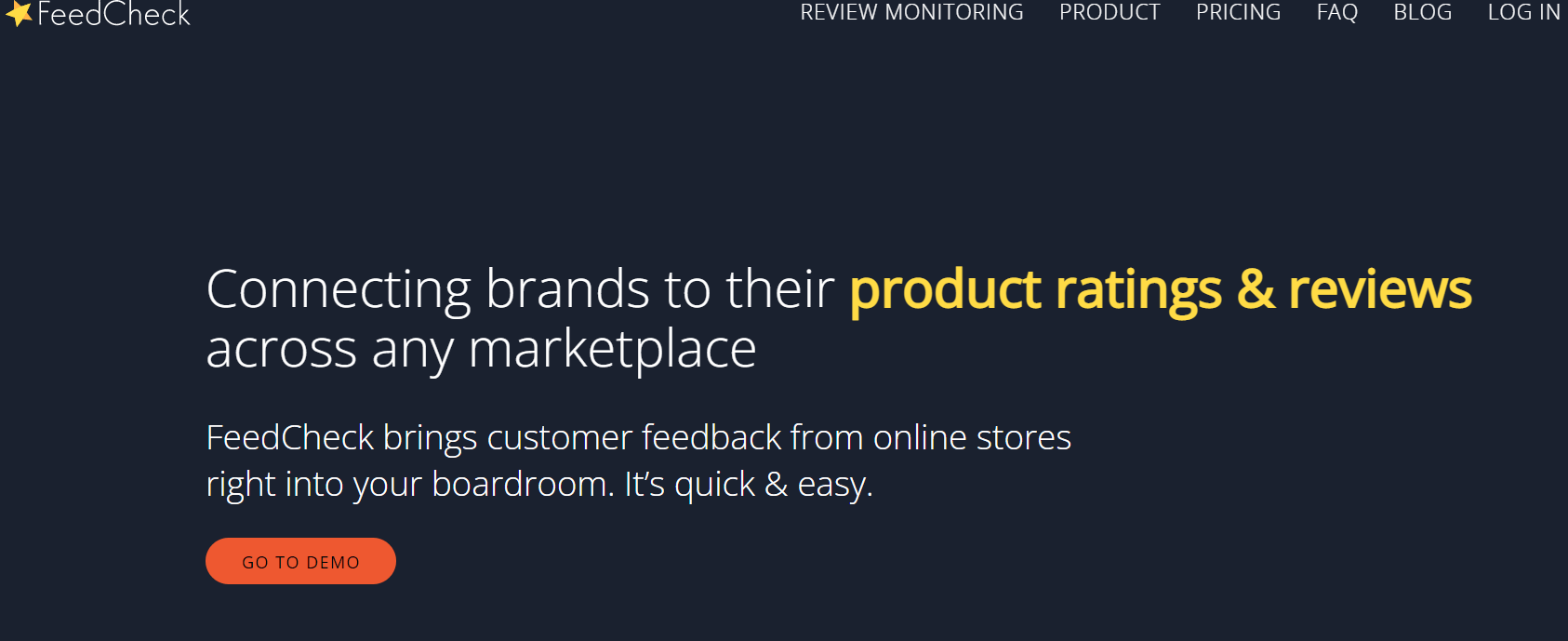 ---
FeedCheck brings customer reviews and ratings from all over the internet to a single dashboard. You can analyze reviews across various product listings to gauge the perception of your products in customers' minds.
Choose it for: Customer reviews
Suitable for: Small to big businesses
Features
Capture and collate reviews from all the sources in one place automatically.
Set automatic alerts about newly published reviews.
Respond to the reviews on time from a single dashboard.
You can track review resolution status, filter the data, and group reviews for improved management.
Run competition analysis to get insights about competitors' product reviews.
Compare your product reviews with that of competitors to see how your products are performing.
Use the inbuilt analytics engine to view total reviews, average review rank, review time series, and more.
Pros
One of the best tools to simultaneously manage reviews on sites like Amazon, Target, BestBuy, etc.
The competitive benchmarking feature is great for finding new product features that people love.
Cons
An expensive tool as compared to others on the list
Price: Starts at $129/month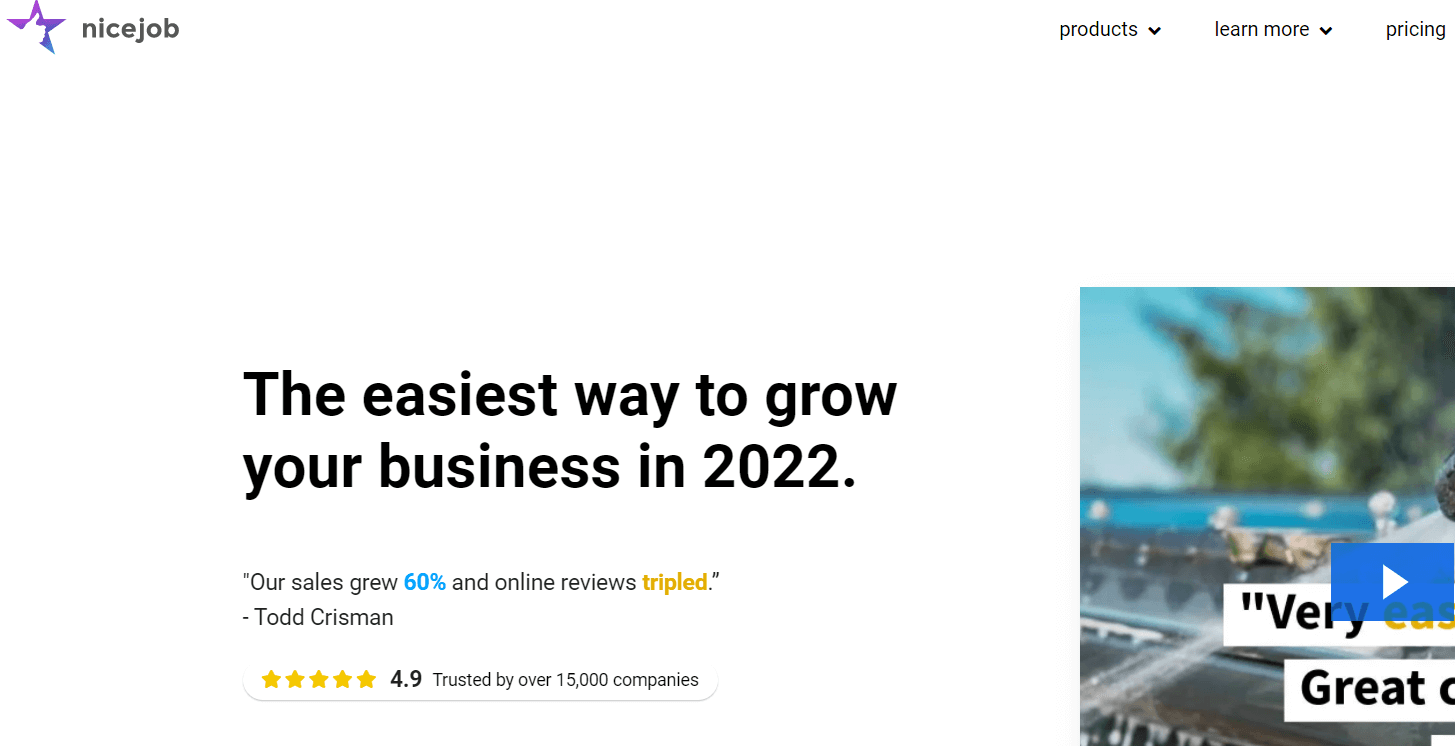 ---
NiceJob lets you collect and manage reviews from over 10+ channels to boost your online reputation. Its AI-based engine automatically manages social media engagement to show your reviews and user stories to the right people and increase sales. Its ease of setup and use makes it a perfect website feedback tool for any business.
Choose it for Online reviews, microsite, social proofs
Suitable for: Small to big businesses
Features
Send automated review invitations to collect and publish reviews on Google, Facebook, and other review sites.
Use the NiceAI feature to send automatic reminders to people who haven't filled the reviews.
The AI-based engine automatically distributes the reviews on various sites and listings.
Share user stories across social media to boost engagement.
Add ratings and user stories to your website using the in-built widgets.
You can also send personalized recommendation invites via email or SMS.
Ask people to recommend your brands to spread word of mouth.
Add recommendation link to social media channels, website, and email signature.
Pros
The AI-based UGC management system makes the job easier
Automated review collection helps shift focus on acting on feedback rather than collecting it.
Cons
Lacks tool for social media listening
Needs more widgets and customization option
Price: Starts at $75/month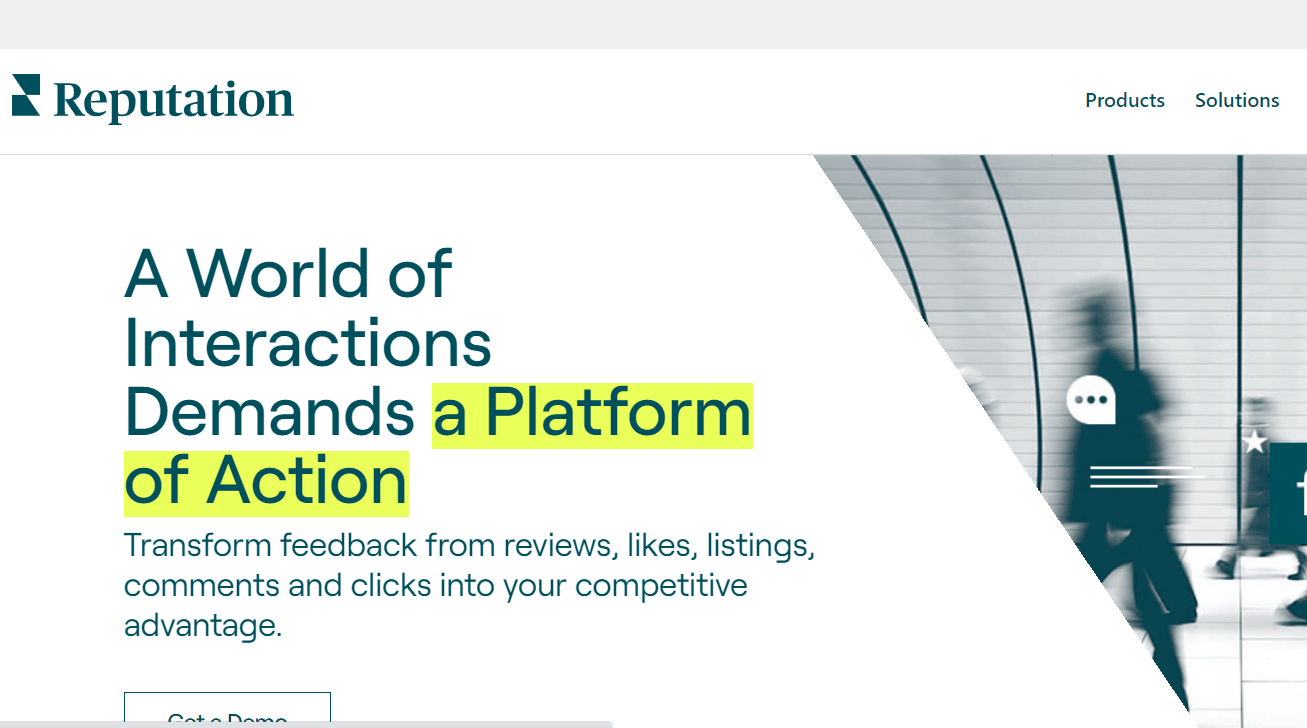 Reputation is another online reputation management tool that lets you transform the reviews, user stories, and listings into brand-building elements to bring new customers. From product listings on multiple websites to survey feedback, you can do all this and more with the same platform.
Choose it for: Listing management, reviews, surveys
Suitable for: Small to big businesses
Features
Add and manage listings across multiple platforms and hundreds of locations.
Track the performance of each listing location individually using in-built analytics to maximize ROI.
Monitor customer reviews on hundreds of 3rd party websites.
Send review requests for each location via mail and SMS to maximize the response rate.
Instantly publish the reviews across your website and other social channels like Facebook, Twitter, and Google.
Provides an in-built sentiment analysis engine to analyze the reviews in real-time.
Integrate review requests into your surveys to increase review volume.
Also, offers a dedicated review building service to help you build an online Google presence.
Design and send surveys to your customers to collect feedback.
Add a feedback sidebar button on your website to collect suggestions and queries.
Track and interact with posts, replies, and comments across social platforms from a unified inbox.
Pros
Provides multiple customer experience tools in one
User-friendly listing manager UI
Centralized inbox to easily manage all the communications in one place
Cons
Some users might experience minor glitches while working on it
Price: Contact for quote
User Experience Testing Tools
A combination of survey tools and functionalities is required to carry out effective user testing. This combination is usually found in user interaction testing tools that record user sessions, capture feedback, monitor remote testing, etc.
For any stage of development that your product or service or website, or app may be in, user interaction testing helps you progress to the next stage with the confidence that your target demographic is more likely to go for your final version.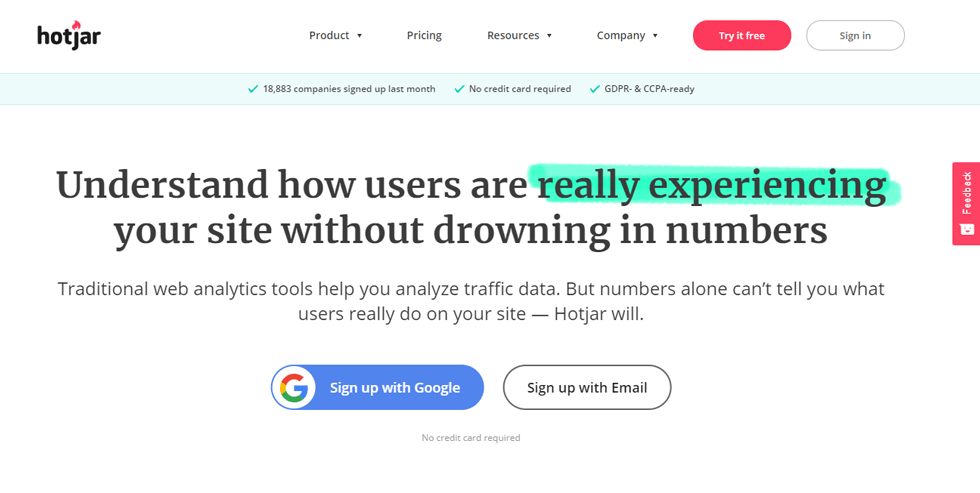 ---
Hotjar is a behavior analytics company that analyzes website use, providing feedback through tools such as heatmaps, session recordings, and surveys. With Hotjar, you can collect user feedback and turn more visitors into customers.
Hotjar also adds value to any data and insights from tools like Google Analytics by running it through their behavior analytics software.
Choose it for: Discovering, consolidating, and communicating user needs
Suitable for: Medium to large businesses
Features:
Create surveys within minutes using the built-in survey templates
Receive feedback about specific elements in real-time with the help of suggestion boxes
Get live playback of the users on your website for a greater detail
Visualize how users behave on your website with the help of heatmaps
Capture feedback at the moment with the help of unobtrusive widgets
GDPR and PCI compliance for a better level of security
Pros:
Lightweight and simple to use
Intercept surveys are extremely flexible
Easily switch between different tasks within the tool
Cons:
Slightly counter-intuitive interface
Limitations in tracking the sessions
Price: Starts at $31/month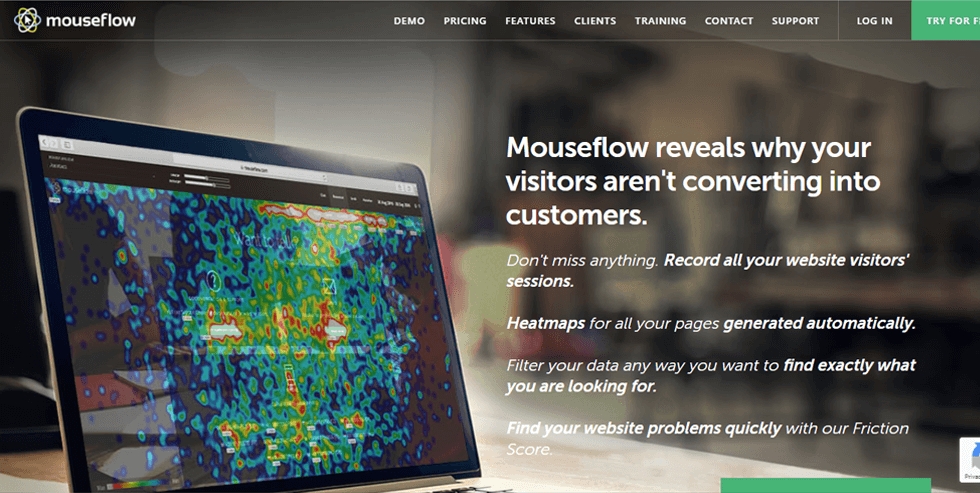 ---
Mouseflow records an anonymized recording of user activity for every website visitor, "just like CCTV." It can show you every click, mouse movement, scroll, and more. There are multiple ways to filter and segment the recordings. With session recordings and heat maps, you can learn how visitors behave on-site and use that knowledge to improve conversion rates.
Choose it for: Identifying pain points and boosting conversions
Suitable for: Medium to large businesses
Features:
Replay sessions to understand your users' journey and learn from their behavior
Reveal digital customer journey hotspots using 6 different types of heatmaps
Strengthen weak points in the customer journey by building and optimizing lead funnels.
Uncover issues and improve usability through user behavior analytics treatment
Capture real-user insights and recover lost conversions using custom triggers
Pros:
Form tracking is extremely effective
View and filter heatmaps by device type
Good customer support
Cons:
Old fashioned interface
Heatmaps images do not render sometimes
Price: Starts at $24/month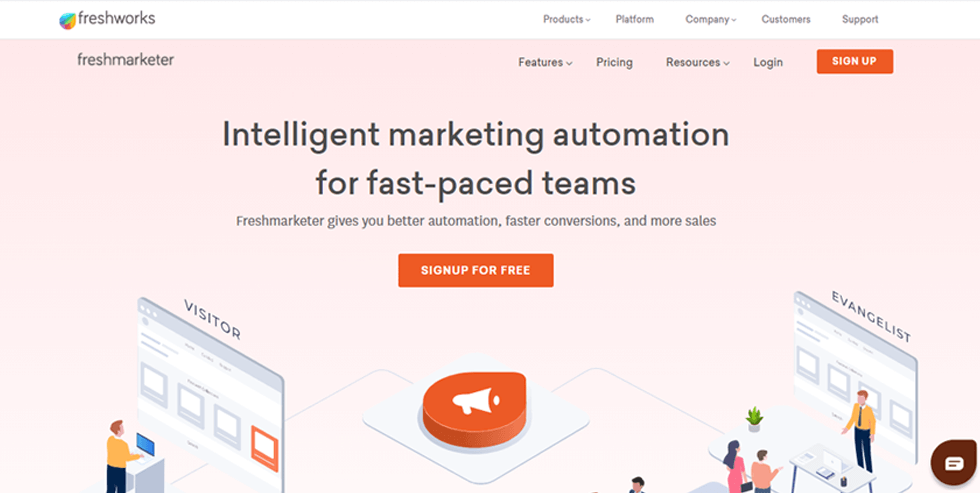 ---
Freshmarketer (by Freshworks, a SaaS company renowned for its best-selling software Freshdesk), has been built to utilize UX testing automation for improving conversions and boosting sales.
Freshmarketer comes in two variants: a standalone tool or as a part of the Freshworks bundle. If you already use one or more of their software tools, this expands their utility.
Choose it for: Personalizing messages through marketing automation
Suitable for: Small to large businesses
Features:
Run experiments on your site to improve user experience and convert more leads
Get an end-to-end view of every customer and segment them according to their interest using contact management
Send personalized messages at scale and engage across channels with the right messages.
Communicate seamlessly across email and chat from within the CRM.
Understand user behavior and manage contact details through event tracking
Pros:
Conduct A/B tests without any coding
Generate heatmaps to see the number of clicks and engagement
Easily segment leads and import them into the CRM
Cons:
Contact sessions can be improved for quicker segmentation
Price: Starts at $19/month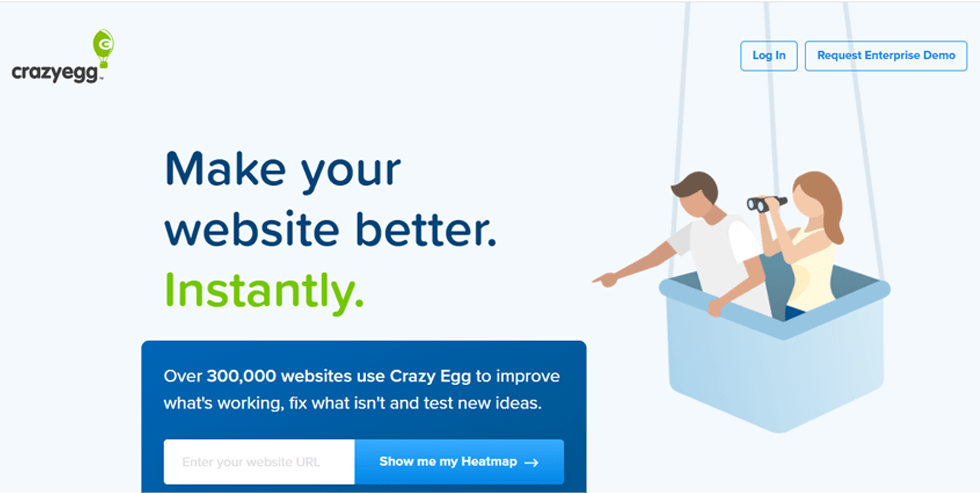 ---
Crazy Egg records the entire user session of a website visitor so that businesses can understand general patterns of how people browse their site or investigate a particular point in the buyer's journey where people are dropping off by seeing (in real-time or later) how people are interacting with their product or checkout pages.
Choose it for: Testing new ideas and implementing website optimizations
Suitable for: Medium to large businesses
Features:
Learn how your visitors respond to certain elements through user testing
Understand how users engage with different versions of your website through Snapshots
Get a virtual representation of where users click on your website with the help of heatmaps
Get a representation of individual clicks on your website with the help of confetti
Learn how far down a page visitors go before leaving using scroll maps
Pros:
Easy to set up and analyze heat maps
Data visualization on scroll maps is very helpful
Cons:
Users need to explicitly track individual pages
'Compare Snapshots' feature is never automatically selected
Price: Starts at $24/month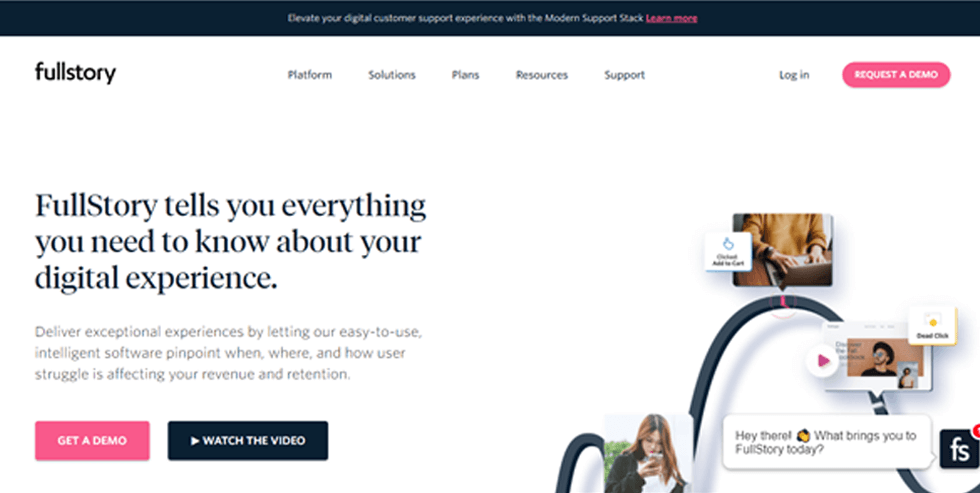 ---
FullStory is used widely to record every user interaction from the point of entry into your website or app without any tagging. User session data comes in handy to uncover hidden opportunities and understand visitor behavior. Businesses have been using FullStory to generate proactive insights and build custom reports based on user session data.
Choose it for: Delivering better digital experience through user data
Suitable for: Medium to large businesse
Features:
Increase revenue by identifying issues with real user sessions
Increase organizational efficiency by troubleshooting and remediating bugs through contextual data
Add, remove and manage events retroactively
Assign custom names and descriptions to events using defined events
Dive deeper into the data and run an analysis using conversion funnels
Pros:
Easily create segments and monitor them
See exactly what the users do on the website
Get quick snapshots of quantitative data
Cons:
Fails to render websites on occasions
Cannot isolate specific customers
Price: Available on request
Social Feedback Tools
Social feedback tools are slightly different from run-of-the-mill customer feedback tools because they are mainly used to track user feedback through a social media 'listening' feature that helps brands understand how their users/customers are talking about them on social media platforms.
This proactive approach lets you manage instances of customer dissatisfaction hurting your brand – especially if it becomes viral on social media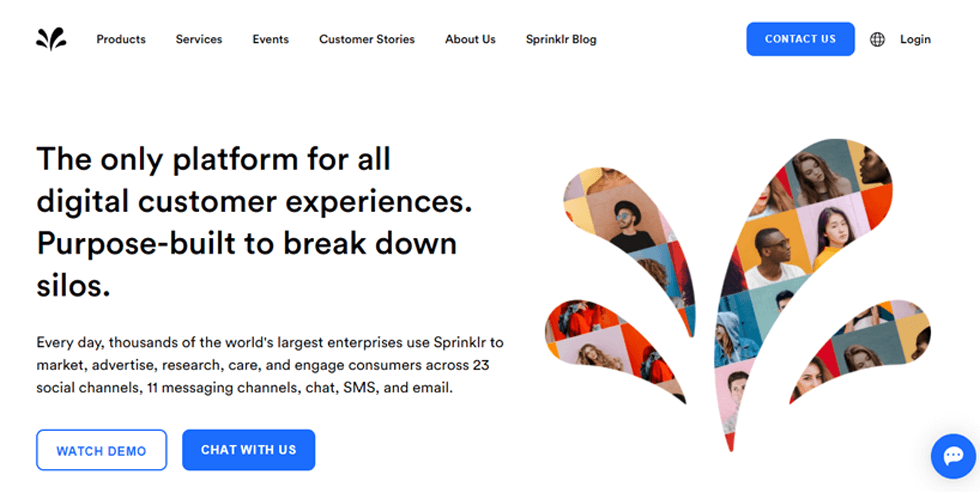 ---
Sprinklr claims to offer the world's most complete enterprise Social Media Management System (SMMS) through the cloud, purpose-built to help large brands create, manage, and optimize valuable social experiences that customers will love across 20+ social channels and brand websites.
Choose it for: Creating insight-driven strategies to deliver a better customer experience.
Suitable for: Medium to large businesses
Features:
Interpret data from all channels on one platform for conducting research
Connect with customers on 30+ modern channels and improve engagement
Respond faster with personalized, data-driven 1:1 customer support
Automate workflows and processes and drive more first-contact resolutions
Reduce cost by automating routine inquiries with conversational AI bots.
Pros:
Easily work on multiple cases at once
Respond quickly to customer requests on any channel
Automate conditions and triggers to send surveys
Cons:
UI can be made more logical
Analytics need more details and customizations
Price: Available on request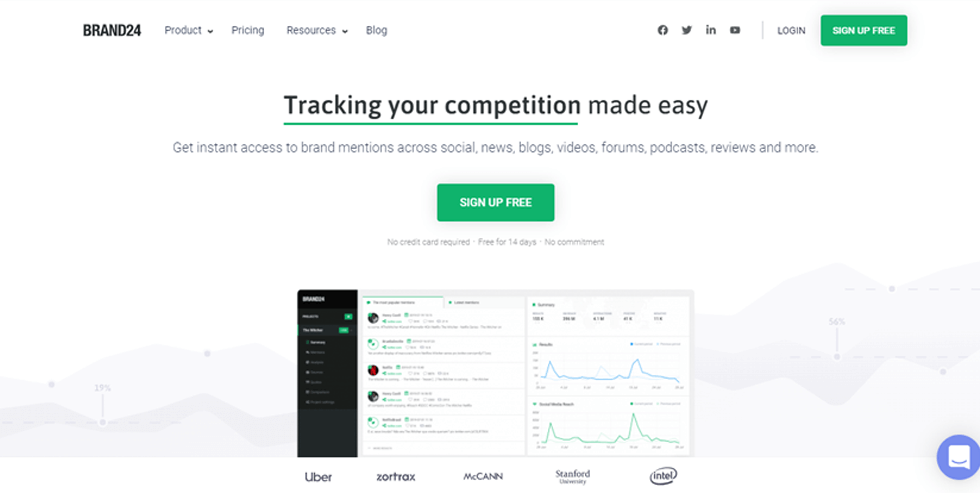 ---
Brand24 is a social media analytics platform that tracks your chosen keywords across popular social media platforms. Based on numbers and quality of keyword and brand name mentions, Brand24 calculates social media reach and monitors hashtag performance.
Moreover, its AI-driven sentiment analysis helps protect brand reputation, find marketing insights, and improve customer service.
Choose it for: Getting instant access to social mentions and tracking competitions.
Suitable for: Small to medium businesses
Features:
Discover what people say about your brand with the help of mentions feed
Identify sudden changes in the discussion volume with the help of the discussion volume chart
Uncover every detail about who is talking about your brand with the help of mentions analytics
Learn about customer attitudes using sentiment analysis
Turn your data into PDF, Xls files, and infographics with flexible exporting
Pros:
Real-time monitoring of social media
Information is updated almost instantly
Straightforward to use
Cons:
Setting up the grouping tool is a hassle
Price: Starts at $49/month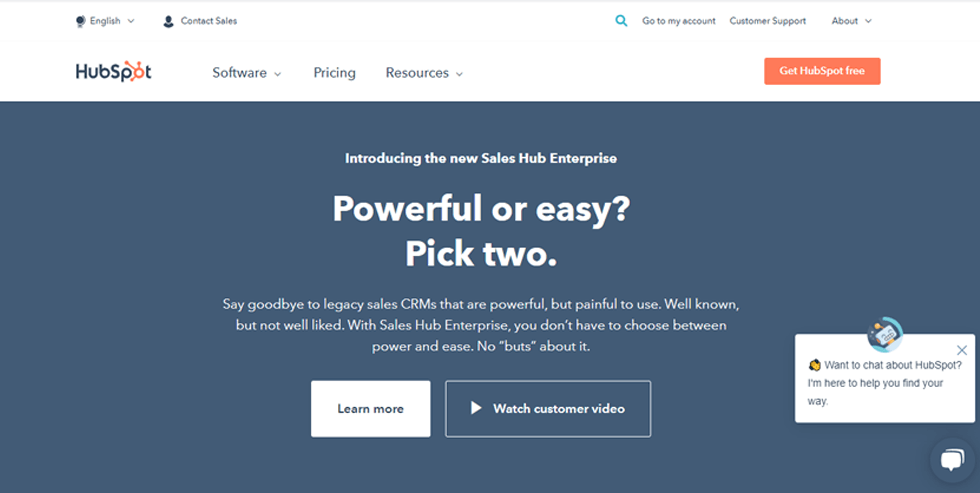 ---
HubSpot is a versatile platform for taking care of most major customer-facing business processes. HubSpot has a wide range of offerings that cover tools for carrying out social media marketing, customer support, search engine optimization, content management, and web analytics. HubSpot also integrates well with Salesforce, NetSuite, SugarCRM, Microsoft Dynamics CRM, and other related software.
Choose it for: Data enrichment and managing all the forms in a single system.
Suitable for: Medium to large businesses
Features:
Create smart forms that can adapt to user's browser history
Deploy unlimited forms to convert anonymous visitors into leads
Set reminder tasks and follow up actions with your leads
Set up automatic email follow-ups whenever someone fills a form
Features a built-in data analytics engine for quick analysis
Pros:
Easy to install and deploy
Integrates seamlessly with other Hubspot applications
Powerful segmentation options
Cons:
The styling needs more flexibility
Reporting system needs more refinement
Price: Starts at $45/month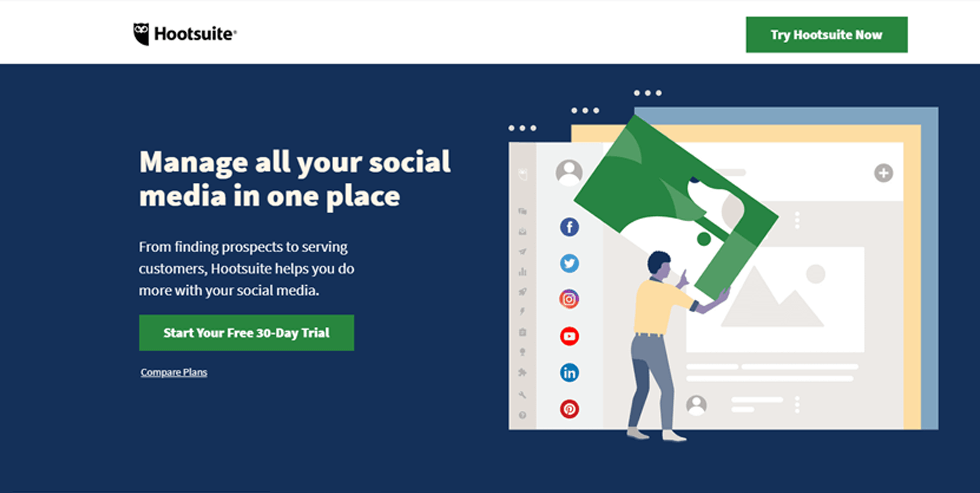 ---
Hootsuite supports direct social network integrations for the most popular social platforms like Facebook, Twitter, Instagram, YouTube, and LinkedIn. It is a well-rounded social media management platform that can handle every task a social media manager can.
Practically, with Hootsuite, businesses can curate keyword-relevant content and schedule their posts to reach the right targets, thus boosting revenues through social media marketing.
Choose it for: Scheduling posts across all social networks and saving loads of time.
Suitable for: Medium to large businesses
Features:
Craft new posts and schedule on multiple social platforms at the same time using the publishing feature
Get an overview of all your social media channels and monitor your posts
View upcoming scheduled content and collaborate in real-time with real-time recommendations
Interact with users from a different network in a single stream
Measure your performance across all social networks using built-in analytics
Pros:
Customize posts for each platform
Receive notifications on your phone
Schedule posts for an entire month in advance
Cons:
Cannot tag personal LinkedIn accounts
Posting multiple photos on Instagram can be a little inconvenient
Price: Starts at $49/month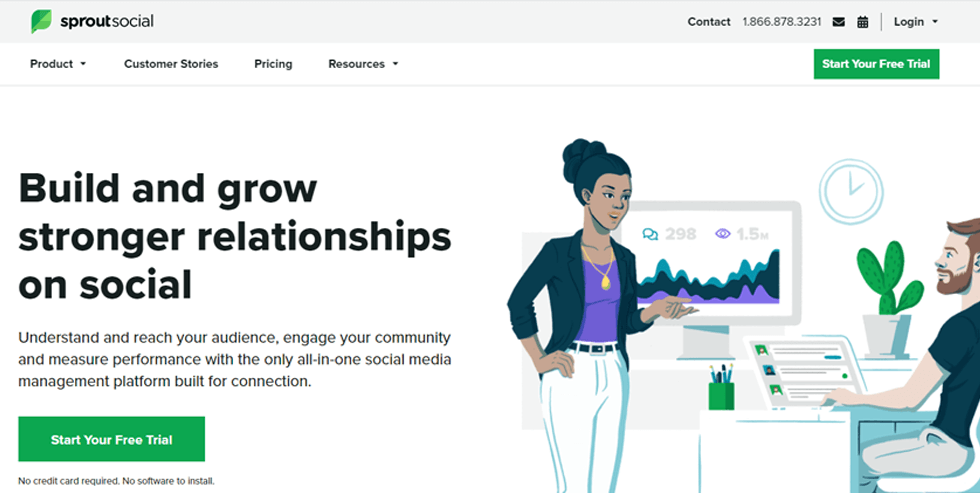 ---
According to them, you can form real connections with those who love your brand through the power of Sprout Social. It is a social media management and optimization platform for brands and agencies of all sizes. Their platform gives companies a single hub for social media publishing, analytics, and engagement across all of their social profiles.
Choose it for: Usability and customer support and satisfaction through social media management.
Suitable for: Medium to large businesses
Features:
Streamline and effectively scale engagement efforts with a unified social inbox
Plan, create and deliver social content as a team effortlessly
Drive strategic decision making across the organization with the help of built-in analytics
Uncover trends and actionable insights with the help of social listening
Drive better marketing results by amplifying your social reach through employee advocacy
Pros:
Assign tasks to team members with ease
Puts all your social notifications in one place
Sophisticated content scheduling
Cons:
There is a considerable learning curve
Not the most user-friendly platform
Price: Starts at $99/month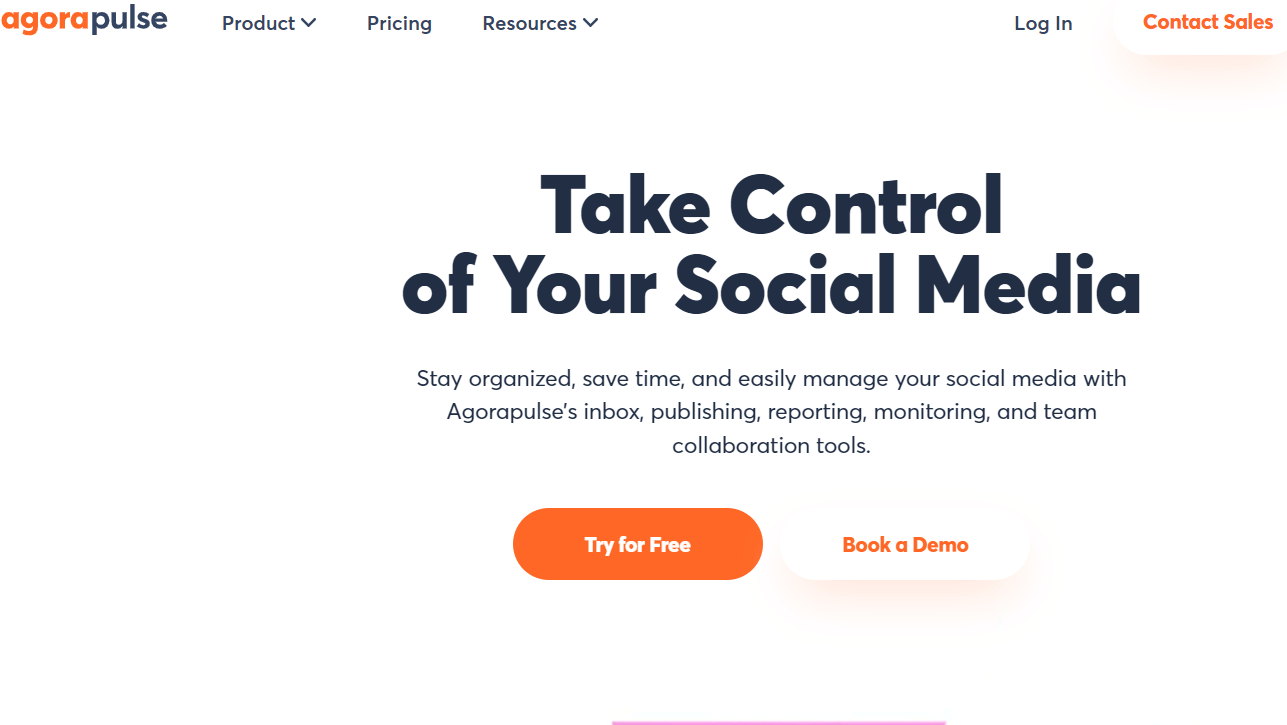 ---
Agorapulse is a popular social media management tool that lets businesses manage their social media messages, schedule and publish content, identify key influencers and create insightful reports.
It offers a unique social inbox system that lets social media managers prioritize and respond to all queries, communication, and complaints from customers. It even integrates with popular social media platforms for posting across them.
Choose it for: Managing and organizing social media inboxes and collaborating with teams.
Suitable for: Small to medium businesses
Features:
Manage all your social media messages with the help of a unified social inbox
Plan, collaborate, and schedule content through intuitive publishing
Discover trends and insights about your brand with social listening
Create beautiful actionable reports with the help of insightful analytics
Get fast and friendly customer service anytime you need
Pros:
Extremely well-built user interface
Supports UTM tracking
Integrates with Canva
Cons:
Facebook messages do not sync sometimes
Does not support batch edit and delete
Price: Starts at $99/month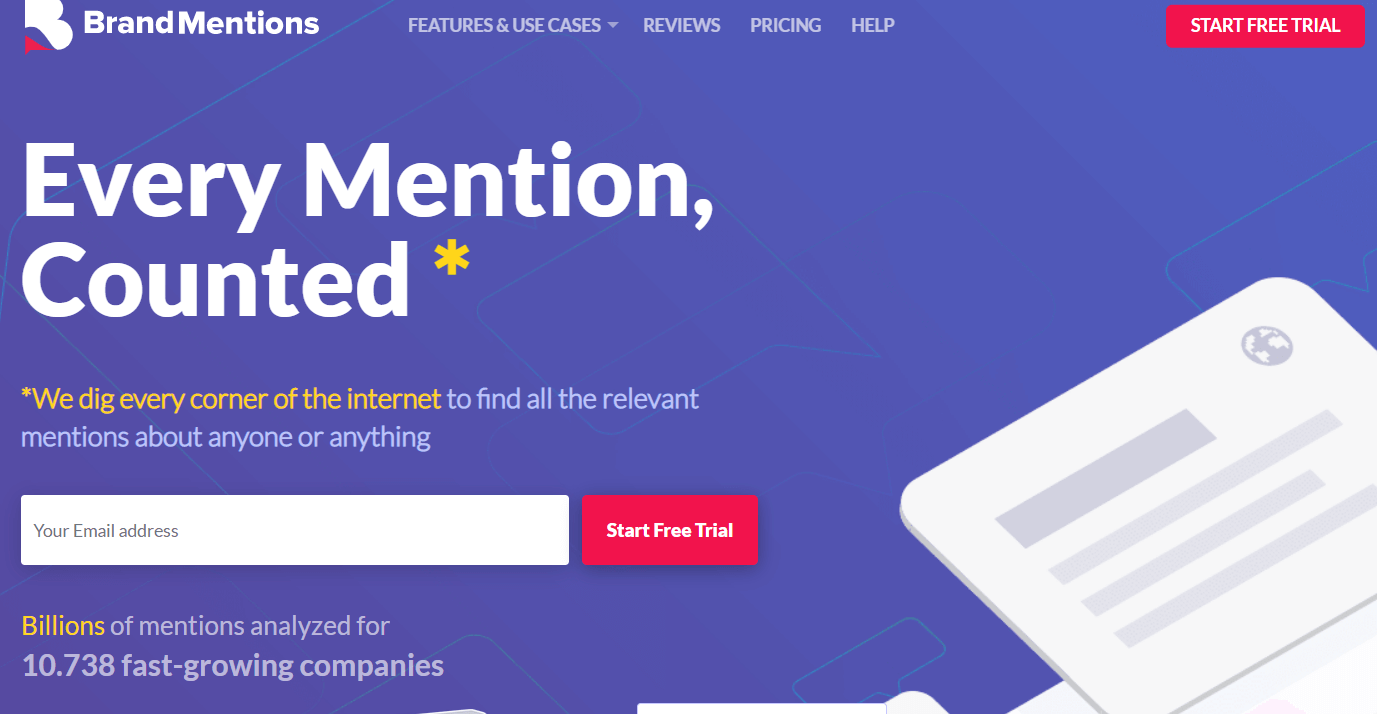 ---
BrandMentions is a social media monitoring tool that helps businesses manage brand reputation, analyze competition, and more. It searches for all the digital corners of the mentions of your brand or a relevant keyword for your business. BrandMentions offers the most effective way of monitoring your brand on the internet.
Choose it for: Improving your market strategy based on who is talking about your brand and when
Suitable for: Small to medium businesses
Features:
Get fresh mentions of your brand and market straight to your inbox
Get instant alerts whenever someone talks about your brand
Monitor the performance of your own brand and competitor using the social media tracker
Shape and stay in control of customer perception with the help of reputation management
Receive customer feedback 24/7 and know what your audience wants
Pros:
Easy to track digital impressions
Easy to use dashboard
Intuitive management panel
Cons:
Custom PDFs need more details
Price: Starts at $99/month
Video Feedback Tools
Video feedback tools put you in the customer's shoes, letting you see what they did while interacting with your product or service. This enables you to capture the user experience quite closely.
To add even more value to the screen capture, you can combine this with unobtrusive surveys that blend in and do not intrude upon the customer experience. This approach lets customers share in-the-moment opinions, yielding insights that are 10X more valuable than email surveys.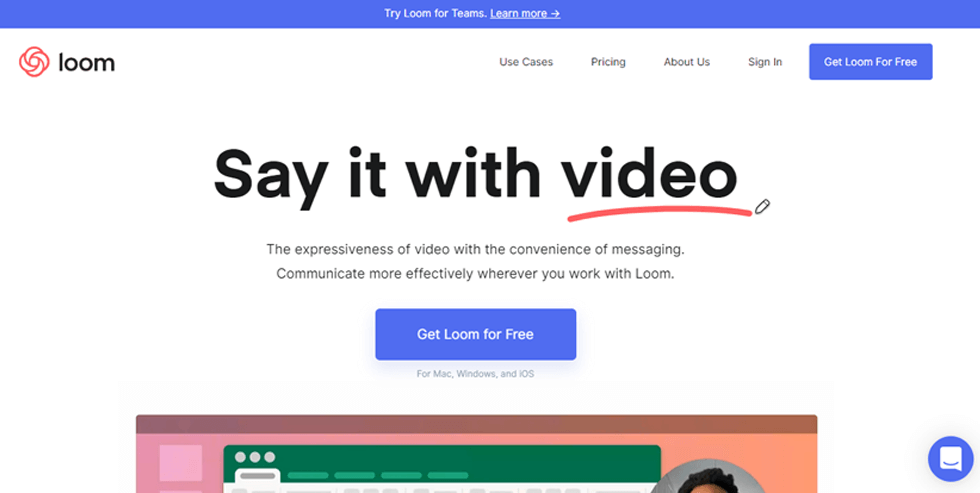 ---
Loom combines the expressiveness of video with the convenience of messaging. It's an effective way of communicating with co-workers and even family. Businesses can benefit from using this screen recording tool to capture how visitors and users interact with their website features, web page CTAs and other visual components of the user experience.
Choose it for: Recording videos and collaborating with team members in a separate workspace.
Suitable for: Small to large businesses
Features:
Send videos instantly without scheduling or typing
Be both fun and formal with as many takes as you need during recording
Include videos with your pull request to speed up the feedback process
Dive deeper into the details with visual feedback and visual decisions
Create sales pitches and close deals even when you are not in the room
Pros:
Easy to use and record videos
Easily edit and cut snippets from the recording
No software setup or configuration required
Cons:
Video merging or cropping features do not exist
Cannot upload videos directly to Youtube or Google Drive
Price: Available on request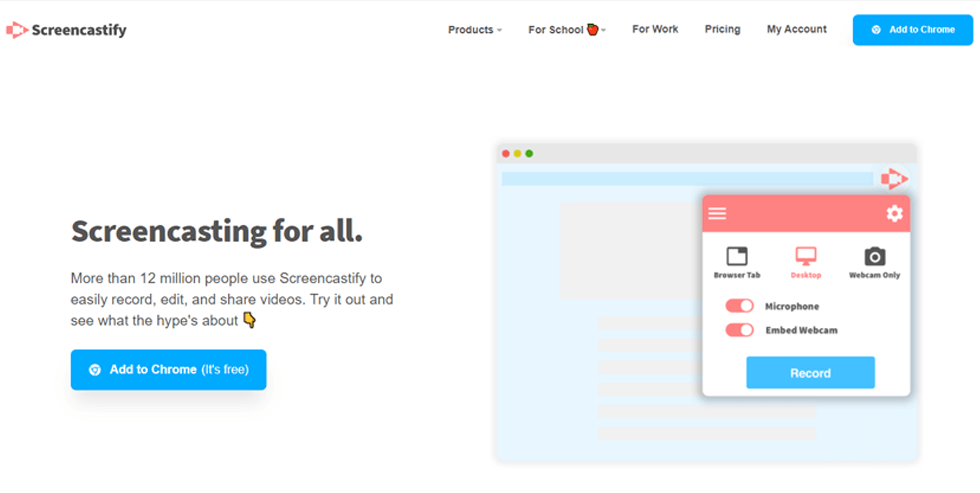 ---
Screencastify is a free screen recorder developed for the Chrome browser from Google. No download is required to run this screen recording tool. Users can record, edit, and share videos in seconds.
Videos are automatically saved to Google Drive from where you can share these further. Companies use this video feedback tool to learn customers' experiences with their products and improve them.
Choose it for: Creating tutorials, customer support, product demo, and training videos.
Suitable for: Small to medium businesses
Features:
Increase one-on-one interaction with learners by adding videos to your schedule
Easily record and share videos through your browser extension
Edit videos seamlessly to create a perfect piece
Securely assign and collect video submissions from individuals by creating and sending magic links
Stay connected with your learners by collecting quick check-in videos
Pros:
Control everything from the browser extension
Save videos directly to Google Drive
Add titles, text, and images to videos
Cons:
Cannot add custom sounds to videos
The video editor is a bit laggy
Price: Starts at $29/year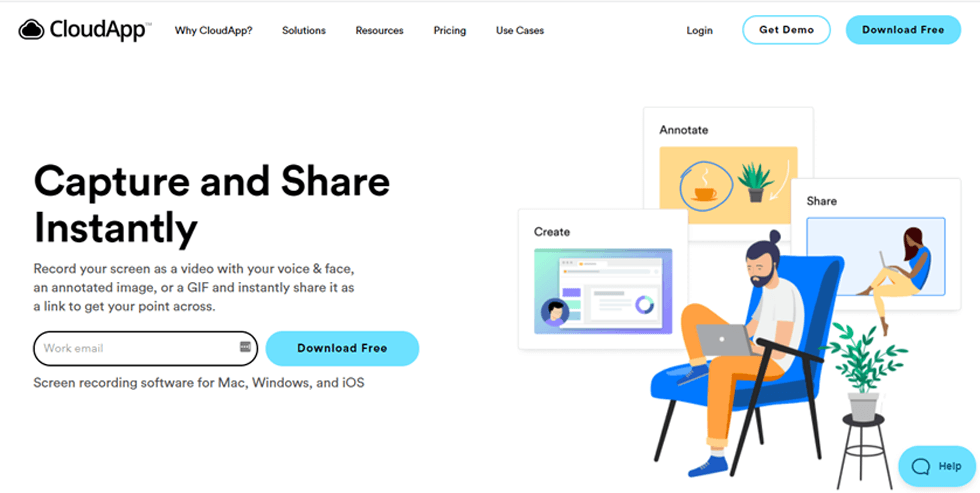 ---
CloudApp is a screen recording and feedback software that doubles up as an image and video sharing platform for social media. It has features that support HD video, screencasts, GIFs, marked-up images, and screenshots. Its output can be used for sales and marketing on social media, product design and software development, and customer success and support.
Choose it for: Unifying recording and sharing videos along with screenshotting annotations.
Suitable for: Small to medium businesses
Features:
Drop-in annotations into your videos for a much deeper context
Release products faster with the help of asynchronous screen recording and improve collaboration
Create personalized videos, images, and Gifs to stay connected with your stakeholders
Add screen-recorded videos to improve bug reporting and add speed to any issues
Revamp your marketing campaigns by using screenshots, videos and Gifs in your marketing emails
Pros:
Store information directly to the cloud
Easily embed screenshots into emails
Get guidance from built-in online tutorials
Cons:
Redownload the application after every update
Annotations can be a little complicated to create
Price: Starts at $9.95/month
---
VideoPeel is a remote video capturing platform that lets businesses capture, analyze, respond and share videos from their customers. It helps businesses multiply the amount of their user-generated video content by almost 10 times so that they can drive over 20% plus conversions, traffic, and consumer insights.
Choose it for: Remotely capturing videos and making buyer journeys more authentic.
Suitable for: Small to Medium businesses
Features:
Submit videos without logging in or signing up
Customize the built-in video campaign templates to maximize submissions
Easily handle permissions with a single click or a signature
Request videos from your audience or stakeholders across multiple channels
Capture 163 different types of videos for different business objectives
Pros:
Easily leave reviews just by your phone
Leave video reviews in the browser just with the link
No scope for fake reviews through videos
Cons:
Some individuals are not comfortable with being taped
Cannot send testimonials back to customers
Price: Starts at $69/month
---
Verbate.co is like any other customer feedback software out there, but instead of answering questions in writing, people respond on smartphone videos. It involves a global focus group of customers testing your product and giving you in-the-moment feedback from their homes and offices. Verbate also specializes in engaging team feedback and generating video content for marketing purposes.
Choose it for: Creating video surveys for online research
Suitable for: Small to large businesses
Features:
Know exactly where and how your product is used from start to finish with user experience journeys
Optimize products before or soon after launch through in-home or real-life product usage testing
Choose the perfect concept or positioning route and optimize it through concept development studies
Inform the group members about every detail with pre and post-tasking for groups
Bring consumers into the boardrooms and promote actions through consumer closeness programs
Pros:
Upload respondents' details via CSV
Easy to use interface
Invite people via SMS
Cons:
Cannot edit the title of the video
Price: Available on request
Importance of Customer Feedback
Before you start collecting customer feedback, it's crucial to understand why you need to do it and what you can achieve. This way, you will have a robust strategy for collecting feedback based on a realistic goal.
We can go on and on (and we have in our Voice of Customer Guide) about why customer feedback for your business is like fuel to your car, but here are some crucial points.
1. Identifies Improvement Areas in Your Products and Services
Listening to what your customers have to say about your brand and their experience with you will let you explore the areas of improvement.
Sometimes, the smallest of issues unnoticed by delivery and development teams may cost businesses a lot of their customers as they hamper a smooth customer experience.
In this case, it's wise to ask the customers. Collecting their feedback about your products, services, satisfaction, and experience will help you analyze the bottlenecks customers face in their interactions with you and their pain points.
Once you have an idea of those, you can create strategies and actively resolve the issues.
2. Helps Make Business Predictions and Gauge Customer Sentiment
Knowing how your customers feel about your products and brand gives you deeper insights if you know how to look at the data. For instance, customers' free form responses and feedback are a great way to gauge their sentiments.
Technology such as Sentiment Analysis helps analyze written feedback, highlights the ones used the most and concludes what emotions they convey.
Besides this, feedback empowers you to make specific business predictions to take a proactive approach to combat obstacles. For example, through an NPS survey, if you find that 30 customers out of 100 are detractors, then you can predict the churn rate and take preventive measures.
3. Rich Source of Testimonials and Reviews
Written customer feedback, be it in the forms of comments on social media, reviews on your website, third-party forums, or survey responses, is excellent to use as customer testimonials.
It helps you encourage prospects and potential customers to purchase since no marketing is more convincing than the good old positive word-of-mouth.
4. Assists in High-Level Planning and Strategy
If you know how to gather and analyze customer insights the right way, you will be amazed at what you can do with them.
Besides customer experiences and reviews, customer feedback is a rich ore of raw data waiting for you to filter out the information you need.
For example, you can identify different demographics, multiple customer journeys, different use cases for your products and services, new features to introduce, new marketing channels, and a lot more.
All this information is gold and valuable in creating high-level strategies and planning the best moves for your company.
Features to Look for in Your Customer Feedback Tool
With so many options to choose from, we understand how confusing and overwhelming choosing just one tool can be. To help you out, we have listed some must-haves of an excellent user feedback tool.
1. Easy to Use
If a tool is difficult to use, you might as well search for a better alternative. A tool should help you collect feedback in a simple way without complicating the process. So, consider ease of use as one of the main deciding factors when choosing a feedback collection tool.
Because if you find the tool hard to use, it will take you more time to learn it and then do what you are supposed to, i.e., collect the feedback.
2. Should Have Features and Functionality You Need
If you are going to pay for user feedback tools, you might as well get the best features out there. A good tool will not just let you conduct surveys but offer different types such as popup surveys, in-app surveys, on-site surveys, and much more.
Multiple types of surveys focus on different customer satisfaction metrics and let you gather different insights into your customers and their preferences, experiences, and satisfaction.
3. Integration Support with Significant CRMs and Marketing Tools
A tool becomes even more valuable for a company when it works remarkably on its own and works even better with other platforms. Integrating platforms and tools ensures smooth and streamlined workflow and data sharing. So, always look for a tool that can integrate with multiple platforms.
---
4. Must Support Customization
Customization and personalization are crucial factors for every business. It helps boost branding and showcase a unified brand image. You should customize your surveys as per your branding before deploying them on your digital assets.
5. Price Should Be Reasonable or, at the Least, Worth It
It doesn't make sense to pay hundreds of dollars for a tool that does not offer you everything it should according to your needs. For small and medium businesses, a reasonable price point is a deal-sealer, but for large organizations that can afford to spend more, there can be no compromise in terms of functionality.
So, even if a tool is a bit expensive, make sure it's worth what you are paying. Because in the end, even if you paid a little more than your original budget and got the best results out of it, there's no money lost there.
Armed with this knowledge, let's now dive into the list to help you choose the best customer feedback tool that'll give your business what it needs.
Conclusion
With this lowdown about the various categories of customer feedback tools, it will be easier for you to choose the one that best fits your business's needs! All you need to do is choose the one that covers your overall needs in the best way keeping the pros and cons in mind and you're all set.
💡 Pro Tip: Qualaroo covers most aspects of what the best customer feedback software entails. No wonder then that businesses all over the world use its real-time feedback platform to gain valuable insights about their customers and prospects every day.
Want insights that improve experience & conversions?
Capture customer feedback to improve customer experience & grow conversions.