We all know that customer feedback is crucial for any business to grow and succeed. Without feedback, how will a business know what it is doing right and what needs improvement?
It is key to unlocking a business' potential by ensuring a seamless customer experience.
Speaking of feedback, there are a ton of customer feedback tools out there to help businesses collect and analyze feedback. From surveys to chatbots, the options are endless!

But with so many choices, choosing the right tool for your business can be overwhelming.

So, whether you're a small business owner or part of a large corporation, don't let the abundance of customer feedback tools stress you out.
We've compiled a list of the best customer feedback tools, so you don't have to spend hours researching and comparing.
This article will cover the following points for all customer feedback tools to help you make the right decision:
Introduction
Choose it for (best-known functionalities)
Suitable for (size of organizations)
Features
Pros & Cons
Price
Integrations
G2 review
Customer review
Now, let's begin!
23 Customer Feedback Tools & Software For 2023
Here's our list of top 23 customer feedback tools that we've picked with much consideration based on their features and other aspects.
---
Qualaroo is among the best customer feedback tools due to its feature-rich and customizable templates and versatile abilities. Its proprietary survey widget is called Nudge™ and offers a subtle way to ask the right question to the right user at the right time. You can create different types of surveys like NPS, CSAT, UES, CES, etc., using Qualaroo templates easily, making it the best customer feedback software.
With feature-rich & customizable templates that guarantee high response rates, advanced targeting mechanisms, and easy survey setups, Qualaroo has gained a solid reputation as a product and customer feedback tool. Its Artificial Intelligence-based Sentiment Analysis is powered by IBM Watson's Natural Language Processing capabilities and makes feedback analysis a breeze.
Choose it for: Intuitive reporting, pop-up surveys, advanced targeting, multiple survey types.
Suitable for: Small to large businesses.
Features:
Takes only a few minutes to set up and start collecting feedback.
Comes with pre-designed templates for different types of surveys like NPS, CSAT, CES, UES, and more.
Shows NPS score on the dashboard and helps track different satisfaction metrics.
Offers a variety of questions from open-ended, closed-ended, dichotomous, Likert, MCQ, etc.
Supports branching logic to get user feedback without wasting time.
Has integrations with popular tools like HubSpot, Mailchimp, Marketo, Zapier, and more.
Display your branding and personalize the surveys accordingly.
Helps you schedule and set a survey for a particular time or make it appear at random intervals.
Pros:
Excellent for collecting quick feedback or pulse check with its Nudge™ pop-up surveys.
Makes user research easier with its various survey types and customizable features.
Checks the pulse of customers in a non-intrusive way.
Supports embedding surveys in the design templates so you can test them and collect feedback.
Cons:
The dashboard is too simple and can be improved
Reporting could be more comprehensive
Price: Starts from $69 per month (billed annually).
Integration: Mailchimp, Zapier, HubSpot, Salesforce, and more.
G2 Rating: 4.4/5
Customer Review:
"Qualaroo has everything we were looking for in a survey tool. A no-code builder, AI-based sentiment analysis engine, text analytics engine, and NPS chart. It has a fully-fledged survey responses dashboard to study each response and act on it."
---

---
ProProfs Survey Maker is a versatile and easy-to-use survey tool made for marketers, event planners, educators, and businesses.
Its drag-and-drop user interface (UI) is used for making surveys that collect customer feedback, conduct marketing research, measure students' performances, and achieve various goals.
The tool can be integrated with another powerful tool- ProProfs Help Desk, letting you track all incoming customer issues and better analyze customer pain points.
Choose it for: Survey deployment, Multiple survey types.
Suitable for: Small to large businesses.
Features:
Users can design online surveys of all types, simple or complex.
Lets users choose fully customizable survey templates.
Creates surveys for websites and mobile apps.
Comes with a vast question library to create surveys on the go.
Offers skip logic, reporting, and analytics.
Allow you to target each page using custom URLs.
Pros:
Deploy surveys on different platforms using multiple channels like emails, SMS, etc.
Offers more options to collect feedback such as personality quizzes for buyer persona, polls to gauge customer preferences, etc.
Has a non-intrusive sidebar feedback button which you can add to your website.
Cons:
Limited survey types
Slight learning curve for the survey editor
Price: Starts from $19 per month (billed annually).
Integration: Mailchimp, Salesforce, Zendesk, Campaign Monitor
G2 Rating: 4.3/5
Customer Review:
"Using the build-in template to creating a survey is very easy and fast, as most of the item is already here and i only need to choose which question sets that compatible with my survey objective."
Related Read: 10 Best Exit-Intent Popup Tools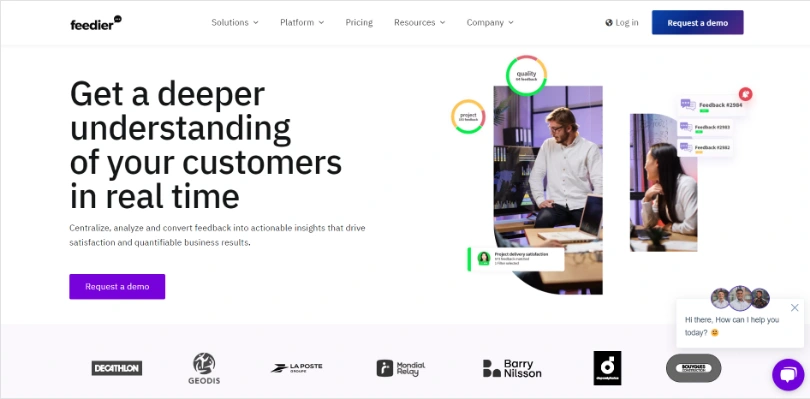 ---
Feedier (IXM) is an experience management solution and one of the best customer feedback solutions, which lets you easily listen to the Voice of the Customers and examine it in real-time through different channels and features such as NPS, data correlation, and text analysis based on automation.
Choose it for: Communication Management, anonymous feedback.
Suitable for: Small to large businesses.
Features:
Comes with comprehensive reporting tools for feedback like pie charts, bar graphs, and more.
Offers features like advanced filters, tags, keyword managers, etc.
Lets you download data in excel exports for easy collaboration.
Helps with survey gamification
Lets you create surveys for websites and in-app
Offers question branching, skip logic, progress tracking, and offline response collection.
Pros:
Easy to use
Integrates forms with reviews and rewards
Cons:
Some of the terms used in this customer feedback tool may be confusing to some people
Widget shows only the overall feedback
Price: Available on request.
Integration: Salesforce, Zapier
G2 Rating: 4.5/5
Customer Review:
"The graphics on the platform make it enjoyable to complete and fast. There are a lot of choices and templates that help you create the perfect survey for you. The help desk is also there every time I've needed it, with solutions to my problems."
Related Read: Best Exit-Intent Popup Tools to Increase Retention
InMoment is an amazing feedback analysis and customer feedback tool that aims to bring positive results for companies and find solutions to optimize their customers' experience with a CX management solution. Its cloud-native XI Platform has three types of clouds: Customer Experience Cloud, Employee Experience Cloud, and Market Experience Cloud.
Choose it for: Market research, customer feedback analysis.
Suitable for: Medium to large businesses.
Features:
Helps manage the big data from the dashboard for the CX professionals and business leaders.
Offers customer journey maps that help in driving up customer retention rates.
Captures customer feedback individually and collectively through case management and action planning tools.
Comes with text analytics to gauge customer sentiment.
Offers an all-in-one reporting platform.
Pros:
Offers holistic CX management
Enhances customer lifetime value (LTV)
Layers text and sentiment analysis
Cons:
Customization is a little tricky
Price: Available on request.
Integration: Salesforce, Adobe, Oracle, Slack, and more.
G2 Rating: 4.7/5
Customer Review:
"The visualization of the NPS, trends, and feedback. They are very well designed and are very helpful for making a decision. On the other hand, the connection with Intercom was smooth and fast."
Related Read: Best Customer Experience Management Software
Zonka Feedback is a powerful omnichannel customer feedback management tool. It aims to help businesses measure customer satisfaction and improve the experience through feedback-driven actionable insights.
You can send surveys across different touchpoints in the customer journey through multiple channels such as email surveys, SMS Surveys, in-app SDKs, offline surveys, links, QR codes, and more.
With these surveys, you won't just collect customer insights but action-based feedback to improve the overall customer experience.
As a full-suite feedback and experience management software, Zonka Feedback offers in-depth survey reports and analytics, real-time alerts, CX automation, workflows, and the ability to close the feedback loop effectively.
Choose it for: Customer feedback and experience management
Suitable for: Small to large businesses
Features:
Customizable surveys tailored to match your brand identity.
Real-time analytics for understanding customer sentiment and tracking performance.
Helps measure CX Metrics like NPS, CSAT, and CES.
Supports branding and customization of logos, backgrounds, colors and themes.
40+ ready-to-use templates for all different industries.
Pros:
Strong data security and compliance.
Multi-language support for diverse audiences.
Performance tracking and actionable insights.
Cons:
Can have more question types and metrics added.
Price: Free 7-day trial. Starter pack at $49 per month.
Integrations: Salesforce, HubSpot, Zendesk, Slack, Intercom, and more
G2 Rating: 4.7/5
Customer Review:
"Zonka Feedback is a brilliant survey tool that provides a comprehensive solution to gather user feedback and opinions. The tool has really strong features such as an easy-to-use WYSIWYG Survey Builder, templates, answer piping, and survey logic. The developers have invested a lot of time in creating this platform and have thought about everything that brings surveys to life. They have a good knowledge base for a new user to start using their platform. The amount of features available on this platform is tremendous and they have covered a lot of ground in making sure that they can cater to the requirements of different industries. Overall, an excellent tool to have in your toolbox!"
---
Qualtrics, an experience management, and customer feedback software, automatically shows recommended actions to the people in the best position to make changes, helping organizations drive continuous improvement.
You can collect feedback using this client feedback software at every meaningful touchpoint and instantly analyze their comments.
Choose it for: Collecting real-time feedback, multi-channel survey deployment, predictive intelligence analysis.
Suitable for: Small to large businesses.
Features:
Offers multiple question types and pre-built survey templates that help build surveys effectively.
Comes with EmployeeXM (Employee Experience Management system). It helps enhance employees' experience by creating listening posts at every key moment and offering recommended actions to every concerned person in the company.
The expert review feature reviews various questions and offers real-time survey design recommendations.
Offers integration with Adobe, Marketo, Salesforce, etc.
Help visualize data in 30 types of graphs.
Let's you share analyzed reports in different formats like CSV and PDF.
Has multiple survey types like NPS, CSAT, CES, exit-intent, and more with several question types.
Pros:
Simple reports analysis
Crosstab and reporting capabilities
Cons:
Limited customization
Slow process to add contract data to directories
Price: Available on request.
Integration: Salesforce, Marketo, Adobe, and more.
G2 Rating: 4.4/5
Customer Review:
"It works out of the box. We needed a product that helps us to analyze the user onboarding flow and receive feedback on our new features and improvements, so we can able to optimize the user experience even better. And we found Qualtrics for customer engagement and started working with it. We used a few other software for customer feedback previously, but Qualtrics has advanced features which are needed at that time."
Related Read: 11 Best Qualtrics Alternatives for 2023
---
---
Another incredible addition to our customer feedback tools list is Feedbackify. It allows you to start an instant feedback process for your site visitors with no registration required, leading to vastly lower feedback drop-out. This customer feedback tool offers features that offer private conversations between customers and companies to protect both the brand and customers' privacy.
Choose it for: Feedback collection and deployment.
Suitable for: Small to medium businesses.
Features:
Comes with a form editor that helps with customization.
Let's create forms with rating questions.
Drag-and-drop interface facilitates adding custom feedback categories.
Design and branding customizations available.
Helps you create a feedback tab configurator to create a customizable feedback tab that you can add to your website or mobile app.
Launches feedback form with a simple link.
Pros:
Offers 30-second signup and 5-minute integration
Has a dashboard to view all the collected feedback in real-time
Cons:
Dashboard needs improvement
Price: Starts from $19/month.
Integration: Tealium
G2 Rating: N/A
Customer Review:
N/A
Related Read: Best Lead Generation Software in 2023
Now known as Verint Predictive Experience, ForeSee is a Voice of Customer solution that helps you collect feedback from different platforms, such as mobile apps, websites, and on-location. Using Artificial Intelligence capabilities, users can draw strategic insights that help align and strategize CX goals.
Choose it for: Experience management, Workforce management, Feedback collection.
Suitable for: Mid to large businesses.
Features:
Lets you set a benchmark for responses.
Has features like a heatmap to track user activity and explore user behavior.
Helps track customer feedback performance metrics ratings and performs root cause analysis.
Facilitates team collaboration.
Text analytics helps assess customer journeys.
Supports session replays.
Comes with integration with third-party tools like Google Analytics, Adobe Marketing Cloud, and more.
Pros:
Helps collect responses and facilitates solutions through rule-based criteria.
Cons:
Their stat tool needs improvement
Manual data maintenance may be required
Price: Available on request.
Integration: Zendesk, Vonage, Salesforce,
G2 Rating: 4.0/5
Customer Review:
"We use ForeSee to gauge the customer engagement piece of the business. ForeSee allows us to break down where we need to focus so we can address customer experience issues in real-time. This is used across the entire company and the proper sample size gives you an accurate portrayal of your wins and misses."
---
Another one of the top customer feedback tools is the Verint Digital Feedback. It works on the concept that you should listen to customers but pay more attention to reacting quickly to their feedback.
Many industry-leading brands trust OpinionLab to optimize customer experience (CX) and drive engagement across channels. In 2016, OpinionLab joined forces with Verint to create the broad Voice of Customer solution.
Choose it for: Customer experience management.
Suitable for: Small to large businesses.
Features:
Comes with a custom web portal.
Offers customization of surveys.
Lets you design surveys from scratch and with templates.
Digital behavior analytics offers customer session replays.
Easy integration with Google Analytics.
Comes with an experience Cloud that offers in-depth insights.
Helps collect customer behavior data to gather qualitative and quantitative insights.
Pros:
Great at tracking responses
Easy to deploy surveys with templates
Easy to use reporting
Cons:
Doesn't offer a variety of survey types
Limited customization for templates
Outdated reports
Price: Available on request.
Integration: Contentsquare, Google Analytics
G2 Rating: 3.9
Customer Review:
"OpinionLab was used solely by the digital marketing team. Its main purpose was to secure user intel on page design and functionality. It gave the digital marketing team another "set of eyes," in identifying issues on specific pages, as well as, gather insight on potential enhancements during specific testing phases of the marketing and member websites."
10. GetFeedback (formerly Usabilla)
---
GetFeedback is another one of the top customer feedback management platforms that helps brands become customer-centric with better digital experiences. It helps gather customer feedback and comes with a feedback button that you can place on the pages of your website, mobile app, or even the entire website.
Choose it for: Complaint monitoring, negative feedback management, customer segmentation.
Suitable for: Small to large businesses.
Features:
The dashboard is rich and provides 360-degree feedback insights through analysis reports.
Customizable surveys, reporting, and analysis support feedback management.
The platform offers predictive analysis functionality to aid in making data-driven decisions.
Mobile surveys and multi-channel communication are supported.
The survey feature has branching logic to target specific individuals with relevant questions.
A vast question library is included to simplify survey creation.
The platform can integrate with tools like Jira, Slack, Salesforce, and more.
Pros:
Customizable surveys for flexibility.
Quick survey deployment for efficiency.
Trigger settings for targeted surveys.
Cons:
Limited templates
Salesforce integration is expensive
Price: Available on request.
Integration: Salesforce, Google Analytics, Slack, Jira, Zendesk
G2 Rating: 4.5/5
Customer Review:
"In a nutshell, you get a Survey -> Response -> Answer three tiered structure, meaning that you don't have to configure every time you mix up your survey design to b more complex. Finally, the forthcoming managed package is now being updated to bring a nice home page with it, with some nice top down analytics. This is great stuff and brings a lot of hope for the future of the platform. That Salesforce use it as their preferred surveying platform over their own on platform one is telling."
---
Typeform, a customer feedback management platform, merges design and functionality. It lets you ask users one question at a time, making it seem like a real conversation! On the technical side, it is a simple web-based software for customer feedback you can use for creating surveys or apps without writing any code.
This combination of low technology on the front-facing side with sturdy backend results in high completion rates.
Choose it for: Multi-platform survey deployment, conducting multi-channel surveys.
Suitable for: Small to large businesses.
Features:
Supports feedback management to streamline data from different channels.
Makes feedback loops and offers holistic feedback to help companies make data-backed decisions.
Email distribution to ensure surveys get a high response rate.
Features like reporting and analysis systematically present the feedback data to derive valuable insights.
Has flexible features that enable businesses from different industries to enhance customer experience, increase awareness of education among employees, and more.
Offers live results tracking and facilitates real-time decision-making.
Comes with features like online polls, question branching, skip logic, rich media in surveys, poll management, and more.
Pros:
Design responsiveness
Works well with all browsers
Library of pre-designed templates
Cons:
It's a little complicated to create sophisticated surveys
Can't change the payment structure
Price: Starts from $25/month.
Integration: Slack, MailChimp, Trello, Stripe, Shopify, and more
G2 Rating: 4.5/5
Customer Review:
"The Typeform has really helped me and my business to get more reviews and suggestions then ever. It is really easy to add and configure. I can easily update the questions which I want answers for and can simply update it whenever I want to."
Related Read: 12 Best Typeform Alternatives to Check-in 2023
Survicate is a robust feedback management tool that enables companies to collect more customer insights and deliver a better customer experience.
This customer feedback tool offers website, web app, in-product (in-app) surveys, email and link surveys, and mobile app surveys for Android and iOS. Survicate also offers two standalone products:
Feedback Hub for managing customer feedback from multiple sources in one place
Feedback Button for collecting quick website feedback.
Choose it for: Collecting real-time feedback, predictive intelligence analysis, and multi-channel survey deployment.
Suitable for: Small to large businesses.
Features:
Helps you publish different surveys on multiple channels such as websites, web apps, mobile, and chat surveys.
Offers 100+ pre-built survey templates to speed up launching surveys.
Lets you design surveys like Customer satisfaction surveys, CES, NPS, and more.
Supports integration with other tools like ActiveCampaign, HubSpot, Google Analytics, etc.
Effectively manages customer insights from numerous sources.
Pros:
Feedback Hub offers response management and monitoring.
Helps add surveys to Intercom Messengers.
Cons:
Doesn't offer optional questions
The basic plan offers limited features
Price: Starts at $89/month.
Integration: ActiveCampaign, Amplitude, Drip, Slack, Zendesk, and more
G2 Rating: 4.7/5
Customer Review:
"Survicates questionnaires are incredibly customizable, making them suitable for nearly all forms of customer inquiry. We primarily use Survicate for our NPS and genuinely feel they provide the best tool for this. Their integrations with major platforms such as Slack, Intercom and Hubspot is a huge bonus too!"
Related Read: Best Survicate Alternatives in 2023
---
SurveyMonkey builds new ways for people to share their voices and opinions. They combined an enterprise-grade platform with a suite of specialized market research and customer experience solutions and numerous business-critical integrations.
Its products are designed to put the power of feedback in the hands of organizations of all sizes.
Choose it for: Conducting multi-channel survey, employee feedback management, market research, user research.
Suitable for: Small to large businesses.
Features:
Offers pre-designed survey templates to let companies build effective surveys.
Helps add elements to surveys and quizzes such as progress bar, scoring system, question randomization, and more.
An AI-based Genius engine automatically calculates and predicts the completion rate for designed surveys and highlights parts that need improvement and which will work.
Has an easy-to-use visual editor to design interactive and intuitive surveys.
Offers seamless integration with tools like Salesforce, HubSpot, etc.
Comes with skip and branching logic to help you create surveys that gather contextual feedback.
Has different answer types to offer to facilitate designing customized surveys.
Comes packed with survey language translation to design globally applicable surveys.
Sentiment analysis feature that helps collect qualitative data.
Pros:
Automatic summaries through graphs, charts, etc.
Anonymous feedback is possible
Cons:
Becomes costly if you want advanced functionalities
Glitches in the website
Price: Starts from $31/month.
Integration: Salesforce, Oracle, Zoom, Google Drive, and more
G2 Rating: 4.4/5
Customer Review:
"SurveyMonkey is a user-friendly and versatile online survey platform. One of the things I like best about it is its intuitive interface, which makes it easy to create and distribute surveys, even for those with little to no prior experience in survey design. Another helpful feature is the platform's ability to analyze and visualize survey results, allowing users to quickly and easily make sense of their data."
Related Read: 15 Best SurveyMonkey Alternatives & Competitors in 2023
---
Alchemer has one advantage: its low-code design and architecture run a cloud-based integrated customer feedback platform. It combines the best survey software technology with ease of use. The integrations with other systems are quick and automated to put feedback at the forefront.
Choose it for: Survey customization, reporting, survey management, and mobile surveys.
Suitable for: Medium to large businesses.
Features:
Highly supports customization in branding, skip logic, branching logic, and mobile in-app surveys.
Loaded with multiple survey question types to enable businesses to collect customer insights the right way.
Comes with excellent reporting and analyzes functionalities that assist in understanding the meaning behind the statistics.
Offers pre-designed professional survey templates to save time and resources.
Offers great multi-lingual and multi-media surveys.
Supports BI tools and integration with platforms like Webhooks, Salesforce, etc.
Pros:
Data exporting
No extra costs per response
Reports are available in multiple downloadable formats
Cons:
Price: Available on request.
Integration: HubSpot, Salesforce, Tableau, Slack, etc
G2 Rating: 4.4/5
Customer Review:
"Alchemer is deployed across many department[s] in our business and is used for many purposes including running internal and external surveys. With this software, we can easily know what our clients think about services and know where to improve to be better. Internally, we use this software when collecting data from different departments using custom forms. With these forms, we can initiate processes, manage data easily, and much more. Alchemer has been very beneficial."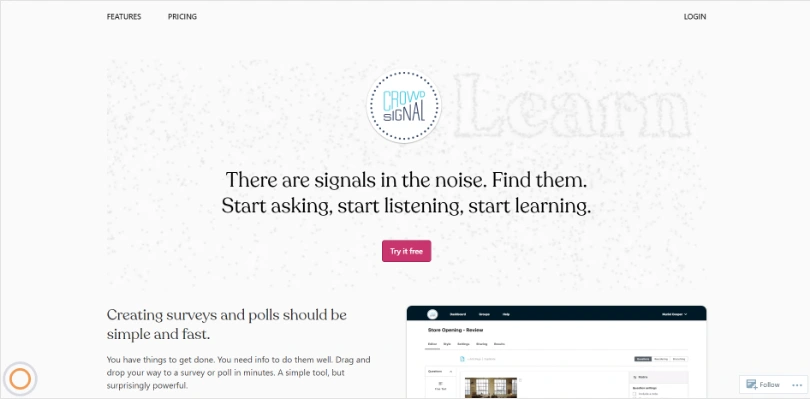 ---
Formerly known as PollDaddy, Crowdsignal is a feedback management tool that can create surveys and polls for your website, blog, and social network profiles. Crowdsignal polls are simple and flexible, letting you customize their styles to match your website social networking profile or email campaign and find out what your visitors are thinking today.
Choose it for: Design polls and surveys for different platforms.
Suitable for: Small to large businesses.
Features:
Creates customizable surveys and polls to support the personalized branding of a business.
Lets you track live customer feedback results that assist in making decisions in real-time.
Offers templates for polls and surveys to check customers' pulse with the help of the right survey questions.
Facilitates distribution of surveys via emails and feedback management.
Comes with skip and branching logic for surveys.
Lets you add rich media such as videos, GIFs, images, and audio in the surveys.
Pros:
Offers responsive polls and surveys
Easy to use
No need for coding knowledge to set up
Streamlined reporting feature
Cons:
Collects multiple responses from the same respondents
No setting to delay showing poll answers to the participants
Price: Starts from $15/month. Free version available.
Integration: WordPress
G2 Rating: 4.2/5
Customer Review:
"I need a survey tool that my research team can access on their iPads. The free version is too limited (too few survey responses per month and too few questions per survey). The pro version is almost limitless for our purposes, and is $29 per month less our educational discount coupons."
---
Nicereply is a commonly employed customer feedback software service that measures service quality. You can measure the usual metrics like CSAT, NPS, and CES 2.0 per agent, team, or company-wide, and then check the data in the support software you use through integrations.
NiceReply has claimed that you get three times more feedback even as you send fewer emails. We don't know about that, but you can track KPIs and generate reports with its tools for feedback.
Choose it for: CSAT, NPS, CES surveys.
Suitable for: Small to Large businesses.
Features:
Offers significant customizations for branding and visuals that help create stunning survey questionnaires.
Effectively tracks multiple customer survey metrics like NPS, CSAT, customer health score, and CES for each agent, team, and organization-wide.
Comes with post-query-resolution and in-signature surveys, which increase response rate by 200% when combined.
You can receive notifications and reports directly to your emails and Microsoft Team channels.
Comes with multiple integrations with the native helpdesk and third-party tools like Front, Zendesk, Freshdesk, Helpscout, LiveAgent, and more.
Supports survey triggers based on customized actions.
Pros:
Easy-to-use dashboard
Simple setup
Automation for many features
Integration with multiple third-party tools
Cons:
Even shows closed surveys
Doesn't display count for participants
No combined view for multiple ongoing campaigns
Price: Starts from $59/month.
Integrations: Zendesk, Front, LiveAgent, Aircall, and more.
G2 Review: 4.5/5
Customer review:
"We've been using Nicereply for over a year. They make it so easy to do CSAT and NPS reviews from your customers. The reporting is really great too. It only took a few minutes to set up and add to our customer support system."
Bonus Read: 30 Best Website Feedback Tools
---
AskNicely helps businesses measure customer happiness by collecting feedback based on the NPS framework prompting businesses to take immediate action. It's one of the best customer feedback tools for NPS at an affordable price to increase customer retention and referrals for revenue expansion.
Choose it for: Outbound surveys, employee performance tracking, survey cards, message center
Suitable for: Small businesses
Features
Create and share NPS, CES, and CSAT via SMS, web, or email to collect customer scores.
Design short surveys or multiple-question conversational surveys.
Provides multiple question types, skip-logic, theme customizations, and survey preview to build survey cards.
Set reminders to get alerts when the user submits the survey.
Provides a chat window to respond to survey respondents via email or SMS.
Tag other team members using internal notes.
In-built dashboard to monitor your survey campaign's performance.
Track NPS trends, individual survey responses, average scores across devices, follow-ups, and alerts.
Supports advanced text analytics to categorize the responses.
Comes with an AskNicely app to track your agents' performance and NPS scores.
You can send in-app tips and recognitions to your teams.
Pros:
One of the best NPS survey systems in the market.
Conversational survey card is an excellent feature to pose follow-up questions to the respondents. It can make the survey experience more personalized.
Cons:
Survey reminders work only on email, not SMS
Limited distribution channels
Price: Available on request.
Integrations: Qualtrics, Salesforce, HubSpot, Zapier, and more.
G2 Review: 4.7/5
Customer review:
"AskNicely works seamlessly with Intercom and was the easiest NPS software I found to get us started getting reviews as fast as possible! We also utilize Slack integration. Together they create a perfect feedback loop for us to close the loop with our users and is seen by our entire company!"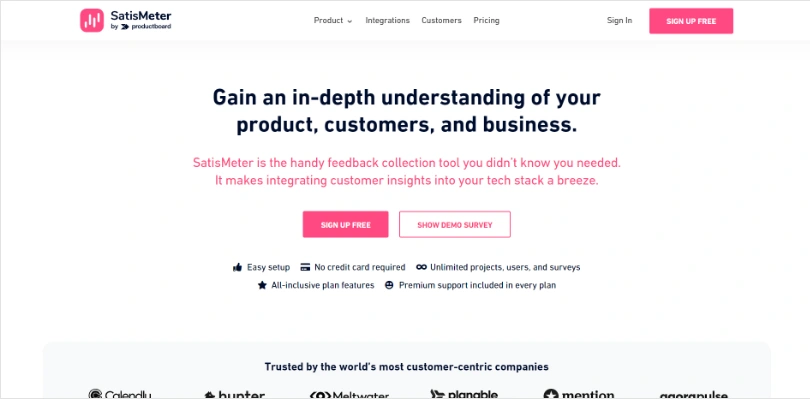 ---
What makes Satismeter one of the best NPS and customer feedback tools is its in-built features to collect insights across multiple touchpoints. The data is collected under one dashboard to help you close the feedback loop quickly. It's highly affordable and easy to use so that you can set up your survey campaign in hours.
Choose it for: Multi-channel survey deployment
Suitable for: Individuals, small to medium businesses
Features
Design surveys, such as NPS, CES, CSAT, PMF, and others to gather targeted customer feedback.
Add the surveys to the website, app, or email. You can also send them via links.
Offers multiple question types, skip-logic, survey reminders, audience targeting options, survey design customization options, and 25+ language translations.
Automatically capture respondents' metadata to segment the feedback data.
Monitor metrics like response trends, survey scores, number of responses, response rate, and others.
Pros:
Very effective tool for NPS tracking and benchmarking
Intuitive survey editor. No learning curve required. You can start designing the surveys instantly.
Lenient pricing structure
Cons:
Needs to add more targeting options
Limited answer types restrict the questions you can pose to the customers
Price: Starts at $199/month. Free up to 25 responses/month.
Integrations: Intercom, Segment, Shopify, Drift, and more.
G2 Review: 4.8/5
Customer review:
"Satismeter platform has helped us to gather our NPS survey's answers in a very organized way. Its system of filters is very useful, in addition it was extremely easy to integrate satismeter with our platform. We use NPS survey the most, however, whenever I want to collect CSAT answers, I also use Satismeter and send the survey through email for my clients. Very easy and practical and no need of IT team to help me out. Another point that is worthy to mention is the customer success and support services, they are amazing, always available to help and listen to feedback!"
---
Not your typical survey tool, Userbrain also offers testers to businesses to collect in-depth customer insights. The customer feedback tool lets you create surveys and helps create user tests. It enables testers to record videos, capture screens, and enable users to share experiences via audio comments on the product.
Choose it for: Real-time reporting, feedback management, sentiment analysis.
Suitable for: Small to large businesses.
Features:
Offers features like task management, issue tracking, access control, tagging, audience targeting, and status tracking.
Helps you conduct tests based on demographics, including age, gender, and location.
Helps design test scenarios that you can share with participants.
Assists in creating an automated schedule for user testing.
Comes with templates for surveys with rating scales, multiple-choice,open-text, etc.
Pros:
Great response speed.
Easy to target participants.
Cons:
Doesn't support mobile surveys.
Confusing video creation feature.
Price: Starts from $99/month/tester.
Integration: Google Analytics 360, Figma, Adobe XD
G2 Rating: 5/5 (very few ratings)
Customer Review:
"Userbrain is elegantly simple. Type in the goal you'd like the user to achieve. Then wait. Soon after, you can download a video that shows the user completing (or not!) the task. A user typically spends 8-15 minutes working on the task. That's why Userbrain isn't cheap, but it's absolutely worthwhile.
Downloading the video is the best part because it's easy to share with your colleagues. We actually have user testing video viewing parties, but without the popcorn."
---
Hotjar is a behavior analytics company that analyzes website use, providing feedback through tools such as heatmaps, session recordings, and surveys. With Hotjar, you can collect user feedback and turn more visitors into customers.
Hotjar also adds value to any data and insights from tools like Google Analytics by running it through their behavior analytics software.
Choose it for: Discovering, consolidating, and communicating user needs
Suitable for: Medium to large businesses
Features:
Create surveys within minutes using the built-in survey templates
Receive feedback about specific elements in real-time with the help of suggestion boxes
Get live playback of the users on your website for a greater detail
Visualize how users behave on your website with the help of heatmaps
Capture feedback at the moment with the help of unobtrusive widgets
GDPR and PCI compliance for a better level of security
Pros:
Lightweight and simple to use
Intercept surveys are extremely flexible
Easily switch between different tasks within the tool
Cons:
Slightly counter-intuitive interface
Limitations in tracking the sessions
Price: Starts at $32/month. Free version with 35 daily sessions.
Integration: Omniconvert, Optimizely, Slack, Segment, Zapier
G2 Rating: 4.3/5
Customer Review:
"The ability to observe user behavior makes Hotjar a uniquely powerful tool that provides marketers with the insights they need to build the kind of websites that users like to engage with."
---
CrazyEgg records the entire user session of a website visitor so that businesses can understand general patterns of how people browse their site or investigate a particular point in the buyer's journey where people are dropping off by seeing (in real-time or later) how people are interacting with their product or checkout pages.
Choose it for: Testing new ideas and implementing website optimizations
Suitable for: Medium to large businesses
Features:
Learn how your visitors respond to certain elements through user testing
Understand how users engage with different versions of your website through Snapshots
Get a virtual representation of where users click on your website with the help of heatmaps
Get a representation of individual clicks on your website with the help of confetti
Learn how far down a page visitors go before leaving using scroll maps
Pros:
Easy to set up and analyze heat maps
Data visualization on scroll maps is very helpful
Cons:
Users need to explicitly track individual pages
'Compare Snapshots' feature is never automatically selected
Price: Starts at $29/month
Integration: WordPress, Google Tag Manager, Joomla, Wix.
G2 Rating: 4.2/5
Customer Review:
"CrazyEgg is simple to deploy, and the process to set up data capture within their platform is also simple. This allows us to get to the data collection and analysis very quickly.
---
FullStory is used widely to record every user interaction from the point of entry into your website or app without any tagging. User session data comes in handy to uncover hidden opportunities and understand visitor behavior. Businesses have been using FullStory to generate proactive insights and build custom reports based on user session data.
Choose it for: Delivering better digital experience through user data
Suitable for: Medium to large businesses
Features:
Increase revenue by identifying issues with real user sessions
Increase organizational efficiency by troubleshooting and remediating bugs through contextual data
Add, remove and manage events retroactively
Assign custom names and descriptions to events using defined events
Dive deeper into the data and run an analysis using conversion funnels
Pros:
Easily create segments and monitor them
See exactly what the users do on the website
Get quick snapshots of quantitative data
Cons:
Fails to render websites on occasions
Cannot isolate specific customers
Price: Available on request
Integration: Gainsight, A/B Tasty, Delacon, Jira, etc.
G2 Rating: 4.5/5
Customer Review:
"It's been indispensable for our customer service and our tech teams and has helped us understand user behavior. No more wondering where the user got stuck when you can just watch their fullstory. It works in real time too."
---
UserReport measures usability and shows where different kinds of visitors click on your website. It is one of the best customer feedback solutions that lets users voice their ideas on how to improve your website through feedback forums. You can track and record your visitors' demographic information to better understand your customer segments.
Choose it for: Feedback Widget, survey widget
Suitable for: Small to large businesses
Features
Provides two widgets – the survey and feedback widget for mobile apps and websites.
Use pre-added questions, 60+ language translations, mobile responsive design, design customization options, and white labeling for both widgets.
Create an online customer feedback forum (feedback widget) to collect new ideas and suggestions.
The users can click on the feedback widget to open up the feedback forum. They can upvote others' ideas, report bugs, and submit new ideas.
Click on the survey widget to open the survey.
Inbuilt reporting dashboards to track and analyze the survey feedback.
Filter the data based on geography, user demographics, devices, and more.
Compare the experience of different segments with custom reports.
Monitor overall satisfaction score, survey performance, and other metrics with a click.
Pros
Easy to set up and use. No learning curve
The feedback forum (widget) is excellent for collecting ideas for product roadmaps.
Cons
Lacks the option to send the surveys to customers
Limited survey customization options
Price: Available on request.
Integration: Google Analytics 360
G2 Rating: 4.5/5
Customer Review:
"UserReports had helped me get timely feedback and feature requests from customers. This has also helped me to get bug reports from the customer. This has really helped us improve."
---
UseResponse is a customer support solution and feedback management tool that uses the cloud to provide complete CRM solutions. It organizes user feedback tools around your customer support channels to capture highly targeted insights. The platform is available as both a self-hosted solution and a cloud-based option.
Choose it for: Feedback portal, live chat, knowledge base, ticket system
Suitable for: Small to large businesses
Features:
Offers both feedback boards and widgets for your website and mobile app.
Uncovers customer issues, new product ideas, and customer feedback.
The users can post new ideas, add upvotes on existing topics, and comment on other posts.
You can add internal notes to each feedback for internal teams.
Add the current status on a feature request or idea to keep the users updated about its progress.
Tracks the most requested features, trending ideas, most upvotes, and other conversations from the dashboard.
Offers a ticket system to address customer complaints, pain points, and grievances.
Add the Help Desk (ticket) widget to your mobile app or website.
Uses the centralized inbox to instantly track customer feedback and manage incoming messages via social media, email, and widgets.
Respond to customers, create queues for each support agent, and get real-time updates on new requests.
Send CSAT surveys to customers via mail after the resolution of tickets.
Monitor your agents' productivity, SLAs, average ticket resolution time, TATs, and CSAT scores.
Also supports a knowledge base portal to add FAQs and help articles.
Use the standalone live-chat widget on your website and app.
Integrate Messenger, WeChat, Whatsapp, and Line to handle chats from all the channels in one place.
Pros:
Perfect for crowdsourcing ideas and developing product roadmaps
It's one-stop customer support and engagement platform
Offers value for money with in-depth features
Cons:
Requires some learning time. It can be hard to find the desired settings with so many features.
Price: Starts at $166/annually/2 agents.
Integration: Jira, Confluence, Slack, Salesforce, HubSpot.
G2 Rating: 4.7/5
Customer Review:
"UseResponse takes care of integration and helps in every step. The software contains several product-parts that can be switched on and off as needed. This company is highly customer-centric and tries to always meet customer needs.The software is highly customizable without leaving the standard. UseResponse makes sure that they keep it updatable, even if they implement many changes due to customer wishes."
Importance of Customer Feedback
Before you start collecting customer feedback, it's crucial to understand why you need to do it and what you can achieve. This way, you will have a robust strategy for collecting feedback based on a realistic goal.
We can go on and on (and we have in our Voice of Customer Guide) about why customer feedback for your business is like fuel to your car, but here are some crucial points.
1. Identifies Improvement Areas in Your Products and Services
Listening to what your customers have to say about your brand and their experience with you will let you explore the areas of improvement.
Sometimes, the smallest of issues unnoticed by delivery and development teams may cost businesses a lot of their customers as they hamper a smooth customer experience.
In this case, it's wise to ask the customers. Collecting their feedback about your products, services, satisfaction, and experience will help you analyze the bottlenecks customers face in their interactions with you and their pain points.
Once you have an idea of those, you can create strategies and actively resolve the issues.
2. Helps Make Business Predictions and Gauge Customer Sentiment
Knowing how your customers feel about your products and brand gives you deeper insights if you know how to look at the data. For instance, customers' free form responses and feedback are a great way to gauge their sentiments.
Technology such as Sentiment Analysis helps analyze written feedback, highlights the ones used the most and concludes what emotions they convey.
Besides this, feedback empowers you to make specific business predictions to take a proactive approach to combat obstacles. For example, through an NPS survey, if you find that 30 customers out of 100 are detractors, then you can predict the churn rate and take preventive measures.
3. Rich Source of Testimonials and Reviews
Written customer feedback, be it in the forms of comments on social media, reviews on your website, third-party forums, or survey responses, is excellent to use as customer testimonials.
It helps you encourage prospects and potential customers to purchase since no marketing is more convincing than the good old positive word-of-mouth.
4. Assists in High-Level Planning and Strategy
If you know how to gather and analyze customer insights the right way, you will be amazed at what you can do with them.
Besides customer experiences and reviews, customer feedback is a rich ore of raw data waiting for you to filter out the information you need.
For example, you can identify different demographics, multiple customer journeys, different use cases for your products and services, new features to introduce, new marketing channels, and a lot more.
All this information is gold and valuable in creating high-level strategies and planning the best moves for your company.
Things to Look for in Your Customer Feedback Tool
We understand how confusing and overwhelming choosing just one tool from a pool of promising customer feedback tools can be. To help you out, we have listed some must-haves of an excellent user feedback tool.
1. Easy to Use
If a tool is difficult to use, you might as well search for a better alternative. A tool should help you collect feedback in a simple way without complicating the process. So, consider ease of use as one of the main deciding factors when choosing a feedback collection tool.
Because if you find the tool hard to use, it will take you more time to learn it and then do what you are supposed to, i.e., collect the feedback.
2. Should Have Features and Functionality You Need
If you are going to pay for user feedback tools, you might as well get the best features out there. A good tool will not just let you conduct surveys but offer different types such as popup surveys, in-app surveys, on-site surveys, and much more.
Multiple types of surveys focus on different customer satisfaction metrics and let you gather different insights into your customers and their preferences, experiences, and satisfaction.
3. Integration Support with Significant CRMs and Marketing Tools
A tool becomes even more valuable for a company when it works remarkably on its own and works even better with other platforms. Integrating third-party platforms with customer feedback tools ensures smooth and streamlined workflow and data sharing. So, always look for a tool that can integrate with multiple platforms.
---
4. Must Support Customization
Customization and personalization are crucial factors for every business. It helps boost branding and showcase a unified brand image. You should customize your surveys as per your branding before deploying them on your digital assets. So, choose the customer feedback tools that allow you full customization and offer branding options.
5. Price Should Be Reasonable or, at the Least, Worth It
It doesn't make sense to pay hundreds of dollars for customer feedback tools that do not offer you everything it should according to your needs. For small and medium businesses, a reasonable price point is a deal-sealer, but for large organizations that can afford to spend more, there can be no compromise in terms of functionality.
So, even if a customer feedback tool is a bit expensive, make sure it's worth what you are paying. Because in the end, even if you paid a little more than your original budget and got the best results out of it, there's no money lost there.
Actionable Insights Are Just a Choice Away
Choosing suitable customer feedback tools can make a difference in how and what insights you collect. With our list of top customer feedback tools, you can easily compare the features of each tool and find the one that best suits your business's unique needs.
Remember, collecting and using feedback to improve and better serve your customers is key to success.
You can gain valuable insights, improve customer satisfaction, and drive business growth with the right customer feedback tool. So, once you find the tool you like, act on the actionable insights and improve your overall customer experience.
💡 Pro Tip: Qualaroo covers most aspects of what the best customer feedback software entails. It's no wonder that businesses worldwide use the real-time feedback platform to gain valuable insights about their customers and prospects every day.
Want insights that improve experience & conversions?
Capture customer feedback to improve customer experience & grow conversions.