User experience or UX surveys are your best bet to get actionable insights that can help you create a rich customer experience.
But do you or your customers look forward to filling out surveys on any given day?
Nope.
Can you do something about it? Absolutely yes!
The key to this is designing delightful user experience surveys that can fetch you deep insights into customer behavior, trends, demographics, and preferences. And this should come naturally into your process.
If they haven't, it's never too late to do right by your business.
To get you started, we'll begin with the basics and cover everything from types of UX surveys and how to create flawless user experience surveys to the best practices that will help you create a kickass user experience.
What Are User Experience (UX) Surveys?
User experience surveys are a tool and a methodology used during user research, apart from A/B Testing, usability testing, task analysis, and more. User surveys fetch quantitative and qualitative data that you can leverage to get a holistic view of your customer experience.
Pro Tip: If you wish to explore other methods besides UX surveys, we suggest giving our in-depth guide on user research a read.
You can deploy user experience surveys on digital products like websites, mobile apps, and prototypes at multiple touchpoints in a customer's journey. You can also deploy software user experience surveys to understand how effective the design and features of your tool are.
These surveys help companies understand the type of customer demographics they have, explore new products/feature opportunities, and gauge the performance of existing products and services.
---
Why Do User Experience Surveys Matter?
Here are a few points to establish the importance of UX research surveys.
They offer a cost-effective way to collect customers' insights of great value.
Investors and stakeholders eat up statistics more than they trust gut instincts. UX surveys collect rich quantitative insights that add to your vision and help you make solid business proposals with numbers to support them.
Collect feedback from your customers directly using user experience surveys on your website and mobile app about your products and services.
UX surveys are great for collecting quantitative data to validate your hypothesis and back your qualitative insights.
User experience surveys facilitate iterations in products, services, and processes based on rich customer feedback.
UX design surveys help the design team to make decisions based on what customers tell them about the user interface of digital assets.
You can quickly identify your product and service's early adopters with the responses you get on your user research survey.
CASE STUDY- TWILIO
Twilio offers APIs for developers to create communication apps like SMS, video-calling and messaging.
Since Twilio has a diverse product portfolio, its team wanted to refine the onboarding experience. Their customers have different onboarding needs, so the best thing at their disposal was to ask customers for their experience.
In the words of the Product Manager for Twilio's Experimentation Platform, Laura Schaffer, "There are so many ways to approach this challenge. The hard part usually isn't coming up with the hypotheses for what might work best – it's knowing which are the right ones to try first."
With Qualaroo, the team prioritized hypotheses for experimentation using customer insights.
"In less than 5 minutes, teams can go from having almost entirely opinion-backed ideas to having ones that are data-backed by targeted customer feedback."
---
---
Types of UX Surveys
User or customer experience is an umbrella term with many different components. And because of this, there are types of surveys catering to each purpose that comes under UX. Let's start with the one you already anticipate.
[Related Read: What is Customer Experience Management?]
Customer Satisfaction Surveys (CSAT): These surveys measure how satisfied your customers are with your services and products.
---
Net Promoter Score Surveys: You can differentiate your loyal customers from dissatisfied customers on the brink of churn using NPS surveys.
---
The survey asks customers how likely they are to recommend your company to others. The higher the score, the more likely they are to recommend your brand.
---
User Journey Experience Surveys: These surveys aim to explore the elements customers approve of and what needs improvement throughout their journey.
You can deploy them at several customer journey touchpoints, such as the check-out process, product page, shopping cart, onboarding process, and so on. This process can help you create accurate customer journey maps.
Customer Effort Score Surveys: Better known as CES surveys, they gauge how easy it is for customers to interact with your brand, i.e., achieve a goal such as resolving issues with customer support. The higher the score, the easier it is for them to do something with low effort.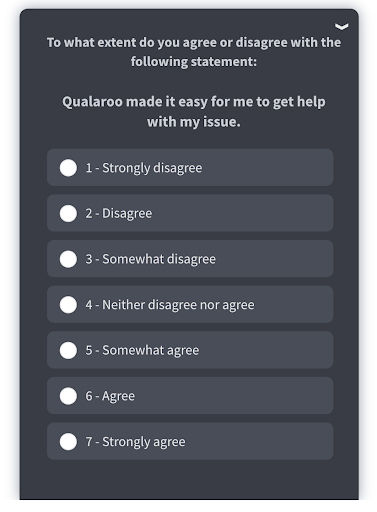 ---
System Usability Surveys: System usability surveys aim to gauge your software product's performance. It collects your customers' feedback on components that account for usability.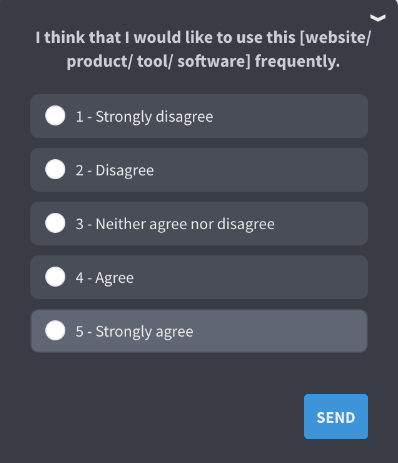 Exit-intent Surveys: You can deploy these on the pages with high bounce rates to ask customers why they are leaving the website without completing the customer journey.
---
The insights from exit-intent surveys let you pinpoint elements on your website that drive away your visitors so that you can fix them and avoid a high bounce rate. You can set triggers for these surveys to appear at a specific time and after the visitor takes a specific action on the website.
To deploy these, you can use user feedback survey software like Qualaroo, which helps create different types of UX surveys for feedback, and Picreel, which specializes in exit-intent pop-ups to make customers stay.
7 Simple Steps to Design a Flawless UX Survey
Let's move on to the part you've been waiting for: how to create UX research surveys. Follow these 7 steps, and by the end of it, you'll know how to build and deploy surveys that can get you actionable customer insights.
Step 1: Set Outcome Expectations for Your Survey
Begin by identifying what purpose you want your survey to fulfill, i.e., "What to Ask."
Develop a clear understanding of the information you need for resolving a particular issue. You need to choose which type of survey you will primarily use and focus on at this stage.
Pro Tip: Do not try to fulfill multiple purposes with one survey. That is, you shouldn't ask too many different things in one survey. Doing so will only give you mixed and unclear responses.
Step 2: Find Your Targeted Audience
If you want accurate insights, you need to have an answer to "Who to Ask." If you choose an unsuitable target audience to collect customer insights, the data you'll get will be good for nothing.
For example, if you want to ask customers about their onboarding experience, then target only the customers who went through the onboarding process and not those who opted for the 'Skip' option.
UX Survey Tip: We will give you a peek into one in-house UX survey example.
To ensure we collect our NPS data from the right customers, Qualaroo shows its NPS surveys to customers when they are on the dashboard and using the tool.
This way, we can make sure we are only asking customers who are actively using our tool.
Step 3: Create UX Survey Questions
When you know why you want to collect customer data and from whom you should collect it, you can easily decide your approach for "How to Ask."
Now is the time to ask the right questions. But don't forget to ask in the right way. Do not frame leading questions and keep the focus on your UX issues.
If you want to create flawless UX research surveys, keep reading to discuss the best practices later in the article.
A Read You Won't regret: 26 Common Types of Survey Errors and How to Correct Them
Step 4: Set Order of UX Survey Questions
If you order the questions incorrectly, your survey will be subjected to order bias (refer to the above-recommended article for a detailed explanation).
Here's an apt example:
Suppose you first ask your customers what they like about Feature A and then ask them their favorite feature from your product/service.
Then, customers are more likely to answer in favor of Feature A since the first question indicated your priority for it.
Wrong question orders will also put off respondents from completing the survey. Additionally, keep in mind to maintain a logical flow of questions when using branching and skip logic in your surveys.
Useful Read: Skip Logic Survey – A Complete Guide on How to Design Branching Surveys
Step 5: Ace Your UX Survey UI
Besides ensuring you ask the right questions in the proper order, don't forget to make the UI of your UX design surveys friendly and practical.
The placement of the survey options, submit button, and even how you present your question play a significant role in the customers' engagement with your surveys.
Related read: 16 Best UX/UI Tools for Designers and Researchers 
Step 6: Test and Iterate
Once you have successfully designed your user experience survey, it's time for the test drive. We would suggest you target a small fraction of your targeted audience first with your survey to see what kind of responses you get.
If you think something isn't adding up in your survey, you can always improvise it until you are sure of it.
Feedback survey tools like Qualaroo allow you to custom target the traffic on your website and control how many people you want to show your survey to and under what conditions.
---
Step 7: Analyze the Insights
When you reach this step, all you have to do is focus on studying data the right way and procure accurate insights. Different types of data require different ways to analyze it. Here are a few examples:
If you conduct an NPS survey, choose a survey tool that automatically calculates and displays your NPS on the dashboard.

If you added open-ended questions to your survey, then you can quickly analyze the responses using a Sentiment Analysis feature.
This feature analyzes each written response, highlights the most used words and phrases, and mentions what emotions customers feel towards your brand, services, or products.
For a CES survey, you can calculate the score using two formulas: Text-based and Numeric
For a text-based survey like this:
---
Use this CES formula:
CES = % of responses as "Difficult" ― % of responses as "Easy"
For a numeric scale survey like this: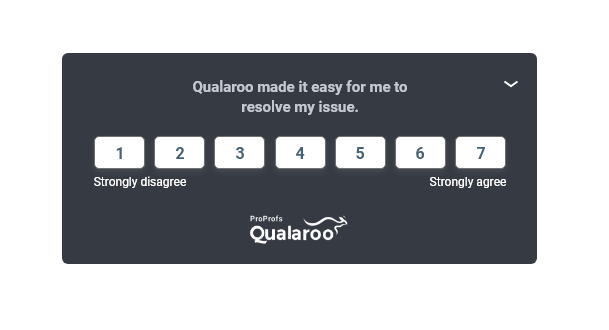 Use this CES formula:
CES = Total sum of individual CES
⸻⸻⸻⸻⸻
Total number of customers who responded
Now that you know how to create engaging surveys let's discuss the best practices you can use to ensure a high response rate.
10+ Best Practices for Delightful User Experience Surveys
Creating user experience surveys that can get you accurate insights isn't as easy as it seems. But it becomes easier with the right UX survey tips. Here are some tips for UI/UX survey questions to keep in mind while framing your UX survey questionnaire.
1. Simple Language = Easy to Understand
Would you like to respond to a survey that uses this kind of language?
"Would you please enlighten us with your valuable experience with our digital product ABC?"
We hope not. At best, the language used is just an exaggeration of "How would you rate your experience with the product ABC?"
If you want to make your surveys engaging, keep the questions' language simple and easy to follow.
Also, avoid industry jargon and replace them with words that don't require a google search. For example-
Jargon: "Would you be interested in a Rapid app development platform?"
Simple language: "Are you looking for a platform that helps create an app without coding in a couple of hours?"
Don't Ask Multiple Things in One Question
When designing UX survey questions, ensure you don't ask multiple things at once. It confuses the respondents, and their answers become ambiguous. For example –
Wrong Question: "How satisfied are you with our features and user interface?"
Now, if customers rate 8, you don't know if they rated your features or the UI.
3. Lookout for Biases
There are multiple types of survey biases based on questions, answers, and the order of the questions. Watch out for these biases –
Question order bias: Refers to how you frame and order your questions that affect responses.
Confirmation bias: Occurs when you only ask the questions that confirm your hypothesis.
Primacy bias: Concerns with the preference of respondents to choose the options on the top.
Recency bias: When people favor the options at the end, the recent ones.
Hindsight bias: When respondents think the events that occurred were predictable.
Assumption bias: Refers to the situation when a researcher frames questions assuming the respondents' knowledge level.
Clustering bias: Occurs when respondents find patterns in the questions when there are none.
4. Use Open-Text Questions Too
Although question types like MCQs and ratings are beneficial to collect quantitative data, the open-ended questions fetch you qualitative insights.
Questions with open-ended answer types allow your respondents to freely explain their experiences and obstacles so that you can take corrective actions.
5. Where to Ask: Target Right Survey Channels
Besides the obvious platforms like websites and mobile apps, you can also deploy your user experience surveys on your product prototypes.
For existing products or services, you can use on-site and in-app surveys. And if you are preparing to launch a new product or service, you can add surveys to your prototype to make sensible iterations.
You might like to read: 18 Best Prototyping Tools for UI/UX Designers
For example, you can share your prototype with a sample target audience. You can ask the respondents UI survey questions to see how they like the interface and similar questions targeting different UX components.
---
6. When to Ask: Choose Your Survey Touchpoint
UX comprises every element that customers interact with, affecting their experience with your company or product. So, you need to carefully consider touchpoints for your UX surveys, depending on your goal.
For example, if you want to improve the traffic on your pricing page, ask your customers what information is missing that would help them when they are about to leave.
7. Keep Surveys Crisp and Relevant
Customers abandon the surveys in the middle that take forever to complete and aren't relevant to them. An ideal survey only asks four to five questions.
As for the relevancy, you can use screening questions (screeners) to ensure the respondents who finally take your survey are qualified for it.
Screeners filter out the unsuitable candidates so that the surveys are relevant to the customers.
8. Survey at Intervals
Try not to bombard your customers with surveys and publish them at intervals. It's also a good practice not to launch multiple surveys at the same time since you may disrupt your customers' experience.
9. Leverage Skip and Branching Logic
Your customers may not be comfortable answering every question. In which case, you need to ensure they can skip it by using the skip logic.
You can use branching logic to collect qualitative and quantitative data. For example, if you ask customers to rate their satisfaction, you can add a follow-up open-ended question asking them the reason for their rating.
---
10. Show Survey Progress
Want to increase customer engagement on your UX surveys? Start showing a progress bar at the top of your survey questions.
This way, customers know how many questions are left to answer, and they won't feel anxious while taking the survey.
11. Incentivize Your Surveys
You aren't alone if you suffer from a high survey abandonment rate. Sometimes, even if your surveys are flawless, some customers may not go through with them since there is nothing for them in them.
So, why not give them something to look forward to?
You can incentivize your UX surveys with discounts, gift coupons, and deals, so customers feel motivated to complete them to avail the benefits.
Related read: 30+ Proven Ways to Reduce Shopping Cart Abandonment
CASE STUDY: UDEMY
Udemy is an online learning platform offering free and paid online courses. Since the platform has users worldwide, their courses need to be sufficient for every student who speaks a different language.
Naturally, Udemy deployed machine learning algorithm-based captions, so the courses are accessible to everyone. To check on the user experience after this update and how effective it is, Udemy considered asking the users.
The company deployed Qualaroo's UX survey on all their courses with auto-captioning asking students if the captions are helpful and accurate so they can improve the service if need be.
With the feedback from the surveys Udemy was able to make product optimizations that improve the caption editing capabilities for instructors. This feature made their content more accessible to people around the world.
---
UX Survey Examples: Templates & Questions
We have divided the UX survey examples based on survey types making it easy for you to identify questions for every purpose.
---
Marketing Research Survey Template
Marketing surveys are placed at the beginning of the customer journey when a new lead arrives at your website or mobile app. The surveys help understand new customers' demographics to create customer personas.
[Related read: Lead Generation: A Complete Guide with Strategies and Examples]
How did you first hear about us?
Which other options did you consider before choosing our [Product name]?
Which of the following best describes your role in the purchase process?
Which of our competitors, both online and offline, did you consider before choosing our [Product name]?
What comes to your mind when you think about our product/website?
What are the main problems you want to solve with [Product]?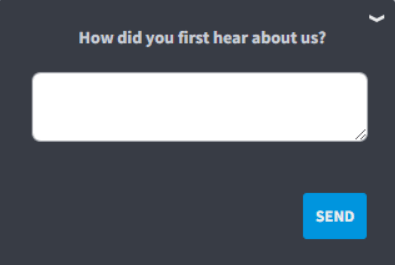 ---
---
NPS Template
Use an NPS survey when your customers are deep in their customer journey and have used your product/service.
Once they have used it enough to form a genuine opinion, you can launch NPS on-site or in-app to gather feedback.
What is the likelihood that you would recommend [company or product] to a friend or colleague?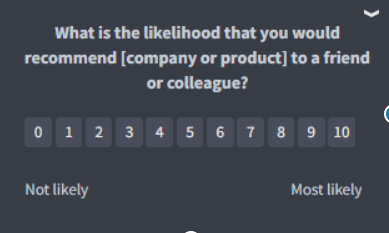 ---
---
Customer Satisfaction Survey (CSAT) Template
You can also conduct CSAT surveys when customers have had the time to use your services/product for sufficient time so they can answer honestly. Here are a few CSAT question examples.
If we ask you to rate our product/website out of 10, what score would you give us?
How would you rate your overall satisfaction with our product?
What could we have done better?
How would you rate our service on a customer satisfaction scale of 1 – 10?
Which of the following words would you use to describe our product/service?
Useful
Reliable
Overpriced
Impractical
Unique
Poor quality
How well does our product/service meet your expectations?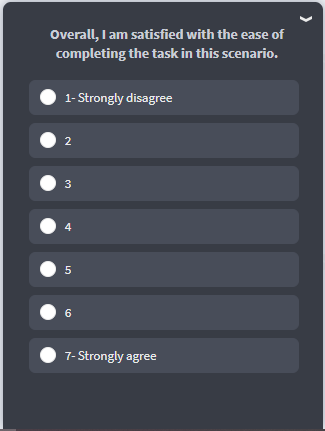 ---
---
Exit-Intent Template
Exit-intent templates are deployed before the end of the customer journey when visitors are about to leave your website.
The survey helps you retain leaving visitors to turn them into customers and go through with the customer journey.
Did you find what you were looking for?
Is there something missing on this page?
What stopped you today from completing the purchase?
Is there anything you would like us to help you with?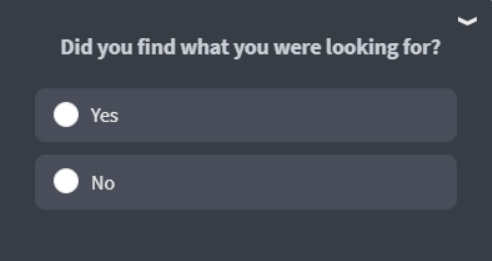 ---
---
UES Template
You can use UES surveys when customers are actively using your tool so that the experience is fresh when they provide feedback.
This way, they can answer honestly about how much effort they had to make to achieve a goal with your product.
To what extent do you agree or disagree with the statement: ABC product made it easy for me to do (mention activity/purpose).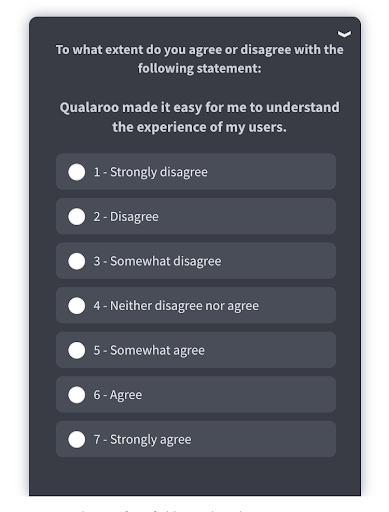 ---
---
CES Template
Customer Effort Score surveys are deployed after a customer avails of any service to gauge how easy or difficult it was for them to do it.
Do you agree with this statement? Customer support made it easy for me to resolve my issue.
How easy is our product/website to use, in your opinion?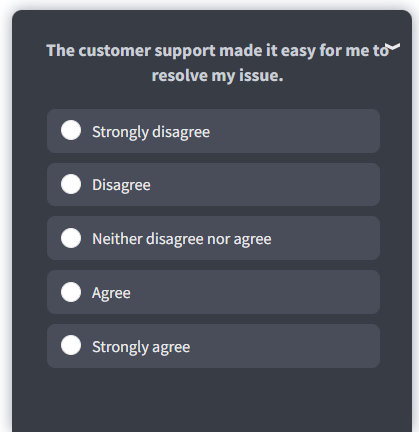 ---
---
SUS Template
You can launch System Usability Scale surveys when customers are using your software product to see how it performs.
I think I would like to use this [website/ product/ tool/ software] frequently.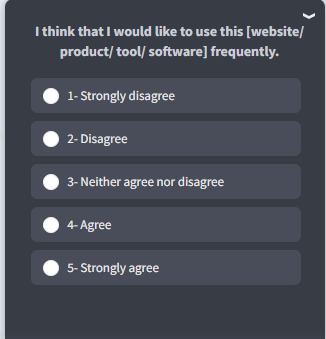 ---
I found the [website/ product/ tool/ software] unnecessarily complex.
I thought the [website/ product/ tool/ software] was easy to use.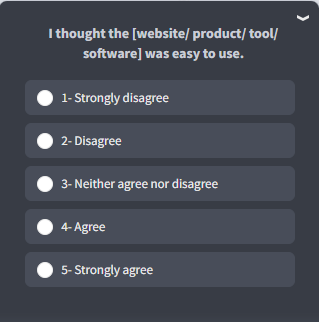 ---
---
Product Opportunity Survey Template
Product opportunity surveys are placed in the middle of the customer journey to explore which features and services are most popular among customers and which ones are no longer relevant. You can also discover new and trendy features to add to your products and services.
Is there anything here you never use?
What would you change in our product if you had a magic wand?
What are the three features most valuable to you in our product?
Please name three crucial features you think we are missing in [Product]?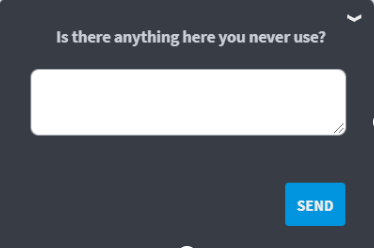 ---
---
Other UX Survey Questions
Please tell us about your experience with [Product]?
How was your onboarding experience within the app?
What products do you use other than ours to perform similar tasks?
Is our pricing clear to you?
Which payment/ delivery method do you prefer?
Which features were confusing to you?
How did you first learn about our product/website?
What do you like the least/most about [Product]?
What stopped you from getting our subscription?
Please share with us the one time you found our product/service to be highly satisfying?
On a scale of 1 to 10, how upset would you be if [feature name/product/service] was no longer available?
Design Engaging Surveys, Redefine UX
Now that you have a holistic view of user experience surveys, what's stopping you from getting them for your business?
You can never go wrong in your user research with the right customer experience tool and the knowledge of creating delightful UX surveys.
You only have to implement what you know with the tool you choose. And in no time, you will have rich customer data to improve your customer experience.
Want insights that improve experience & conversions?
Capture customer feedback to improve customer experience & grow conversions.