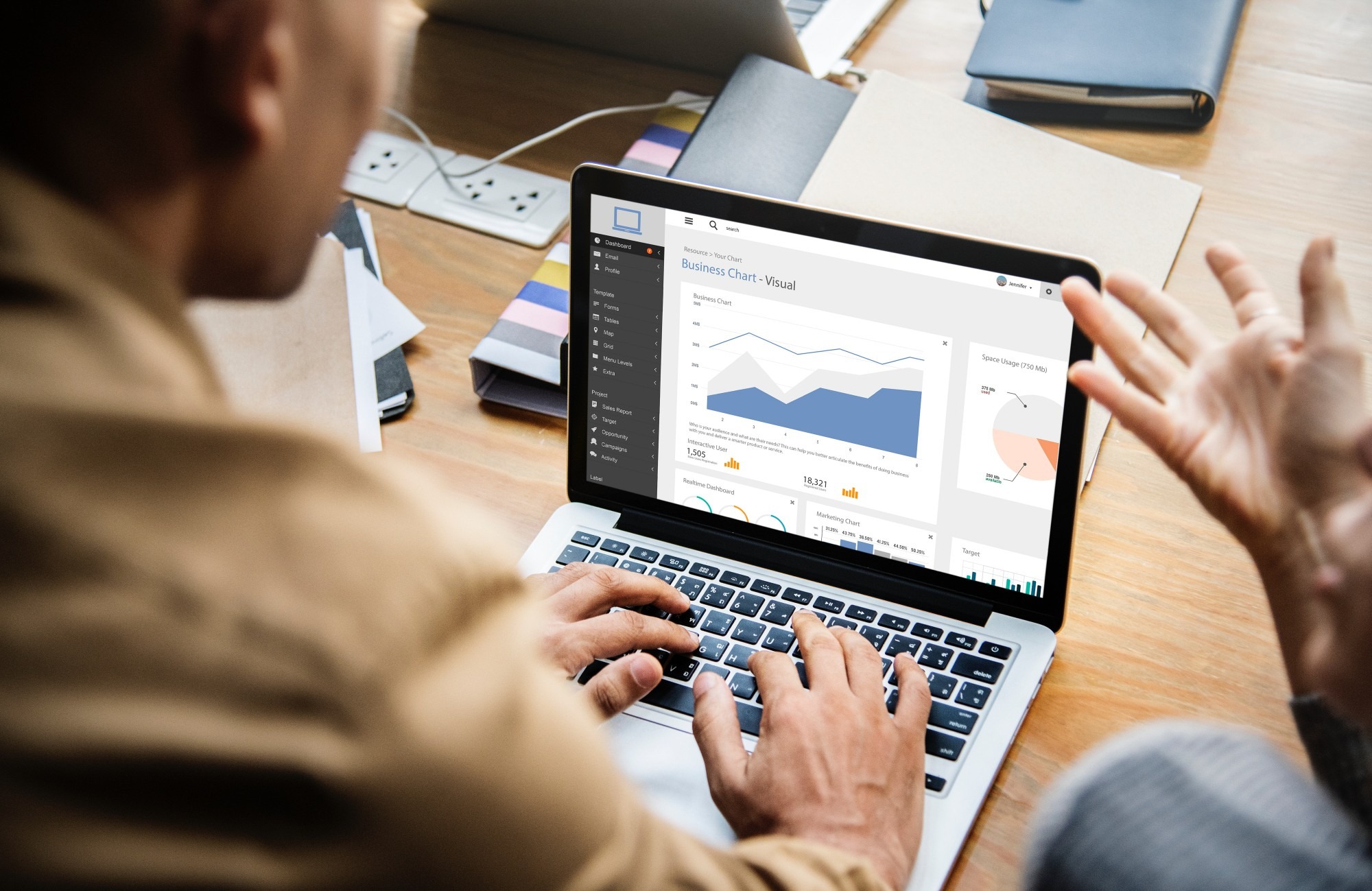 When researching the user experience, there's a lot to consider. Getting into the mind of your user is no small task, but it can reap great rewards. From creating a seamless web or mobile experience to better understanding how to market your products or services, user experience research is key to knowing how to provide value to your customers. But before you get caught up in complex research methods, there is a baseline measurement of the user experience every team should start with: how satisfied are visitors on your site?
It's a simple but expansive question, and there are a lot of ways to go about figuring out the answer. To help jumpstart your user experience research, we've rounded up three essential ways to measure on-site satisfaction.
Customer Satisfaction
Customer satisfaction is the most direct way to measure on-site satisfaction. Typically this type of survey will ask "How satisfied are you with [experience/product/website]?"
Responses are often measured on a 3 to 7 point scale with the highest figure typically being very satisfied, and the lowest signifying the least satisfied. Check out the example below from a Qualaroo customer.
To execute this survey, we recommend using a radio select tool as well as logic branching available. Based on the responses you receive, you can follow up with questions unique to all user responses. For example, you can direct people who indicate that they are highly satisfied to review your product or service. On the other hand, you can reach out to dissatisfied customers for a follow up conversation to learn more about what they'd like to see improved.
Net Promoter Score
Net Promoter Score, better known as NPS, measures the likelihood that a visitor or customer will recommend, or promote, your product or service.
With slight variations, an NPS survey asks: "How likely are you to recommend [experience/product/website] to a friend or colleague?"
The answer option accompanying this question is an 11 point scale from 0 (not at all likely) to 10 (highly likely). See an example below from glasses retailer Warby Parker.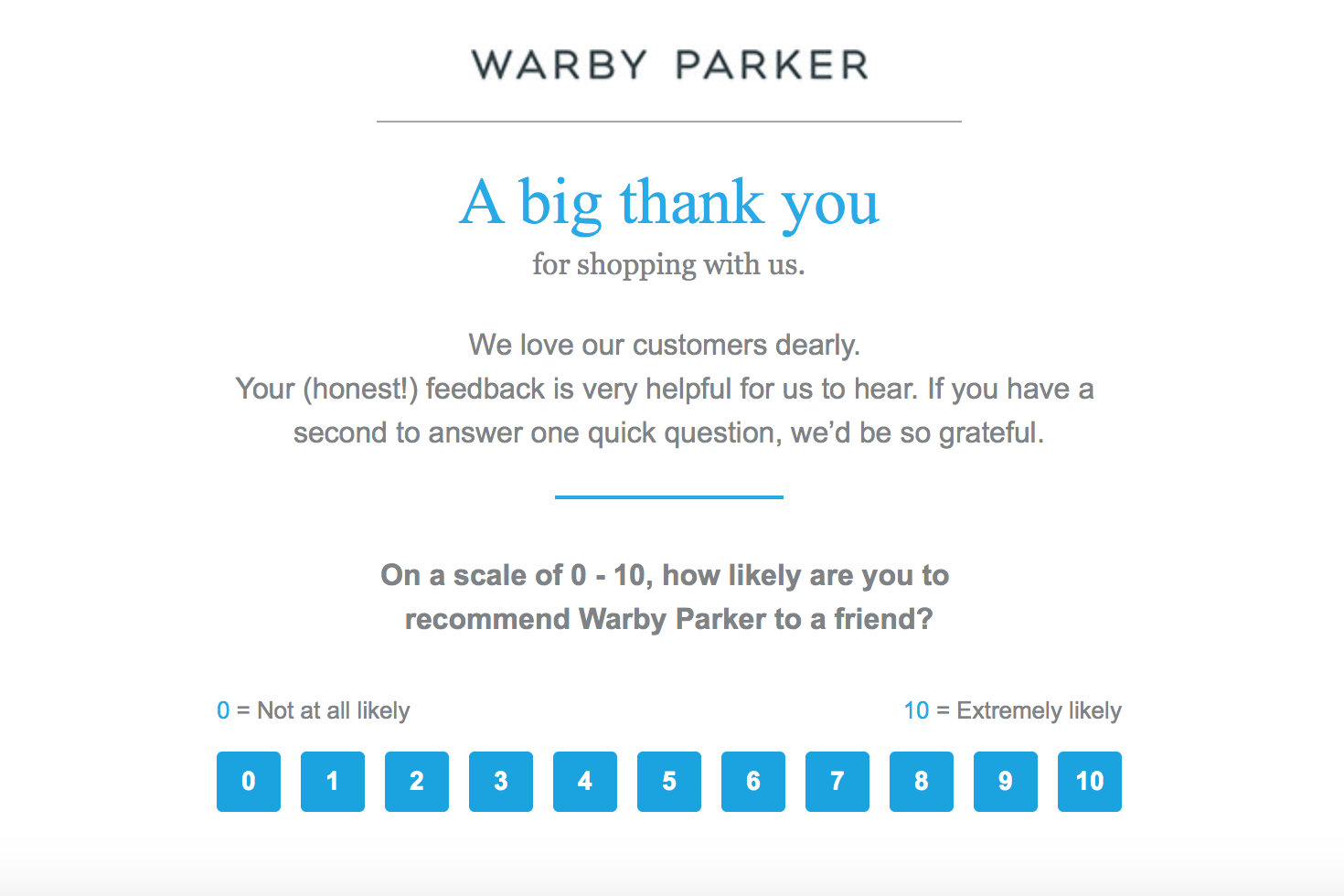 Responses are categorized as follows:
Detractors = 0-6

Passives = 7-8

Promoters = 9-10
The NPS score is an industry benchmark and is calculated by subtracting the percentage of detractors (those who select 0-6) from the percentage of promoters (those who select 9-10).
NPS is a popular measure of customer satisfaction because it has many strengths.
With NPS, you can gauge satisfaction over time by measuring your customers' willingness to recommend your product. Additionally, similar to the Customer Satisfaction score, you're able to follow up with each user differently based on their indicated response. Finally, there is evidence to support the claim that a higher Net Promoter Score is correlated with higher organic growth.
On-site Success
Our final measure of satisfaction is to survey whether or not a customer is successful in achieving their goals on-site. You can measure this question by directly asking:
"Were you able to accomplish your goal onsite today?"
Answer choices typically include: "Yes easily, Yes with difficulty, and No".
One Qualaroo customer approached this survey as follows:
Once you receive a response, you can follow up with "What were you trying to accomplish today?" to identify a user's goals. Other follow ups can include "What stopped you from accomplishing your goal?" to help identify difficulties onsite and "What made it easy for you to accomplish your goal today" to identify strengths.
One or all three of these practices can be used to better understand your user experience through the lens of customer satisfaction. The key to best leveraging any of these strategies is to ask appropriate follow-up questions and act on pertinent feedback sooner rather than later. Asking appropriate follow-up questions will help you get to the why behind your customers' and prospects' decisions.
Interested in discussing customer decision analysis and how to get to the why behind customer decisions on-site? Sign up for some time with the Qualaroo team.
Want insights that improve experience & conversions?
Capture customer feedback to improve customer experience & grow conversions.