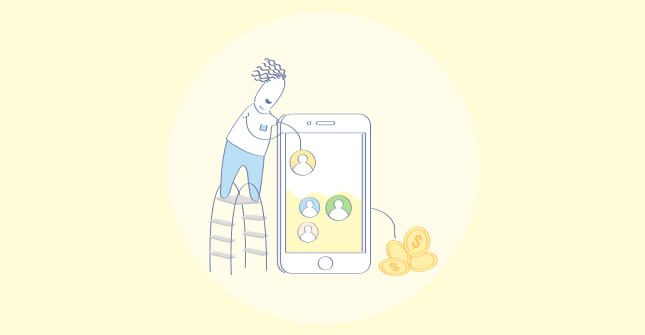 Conversion rate is the indicator of your app's effectiveness in the market and can guide you towards your goal.
Mobile apps took over the world even before the global pandemic. In 2018, total app revenue was calculated to be a staggering USD 108 billion. According to BoA, the number is expected to grow double by the end of 2020. Currently, there are 4.3 million apps on the two most popular app stores, Google Play Store, and Apple App Store.
A crowded marketplace is just one of the reasons which make the conversion of onlookers into returning users, an extremely challenging task for app owners. In this article, we will discuss what is Mobile App Conversion Rate, how to calculate it, and 23 ways to improve it. Let's start!
What Is Mobile App Conversion Rate?
In the mobile app world, Mobile App Conversion Rate stands for the number of desirable actions taken on your applications. Broadly MAC rate is calculated in two ways.
Either by the total number of app downloads
Or by calculating the number of users who make an app purchase.
Mobile App Conversion rate is an important tool for app developers and owners alike, as it signifies the performance of the app in the app store, among the final consumer base. It reflects how the final user is utilizing the app and what kind of impression your app is making in their lives. It helps identify the connection between the users who find your app, download it, register themselves, and also make in-app purchases.
How to Calculate Mac?
Calculating MAC is very easy and straightforward. Take the number of users who took action on your app, divide it by the total traffic that visited your app store page, and multiply it by 100.

Calculation of the Mobile App Conversion rate also depends on your industry. The user action which defines the MAC varies from industry to industry. The image below shows actions for various app categories that act as conversion points.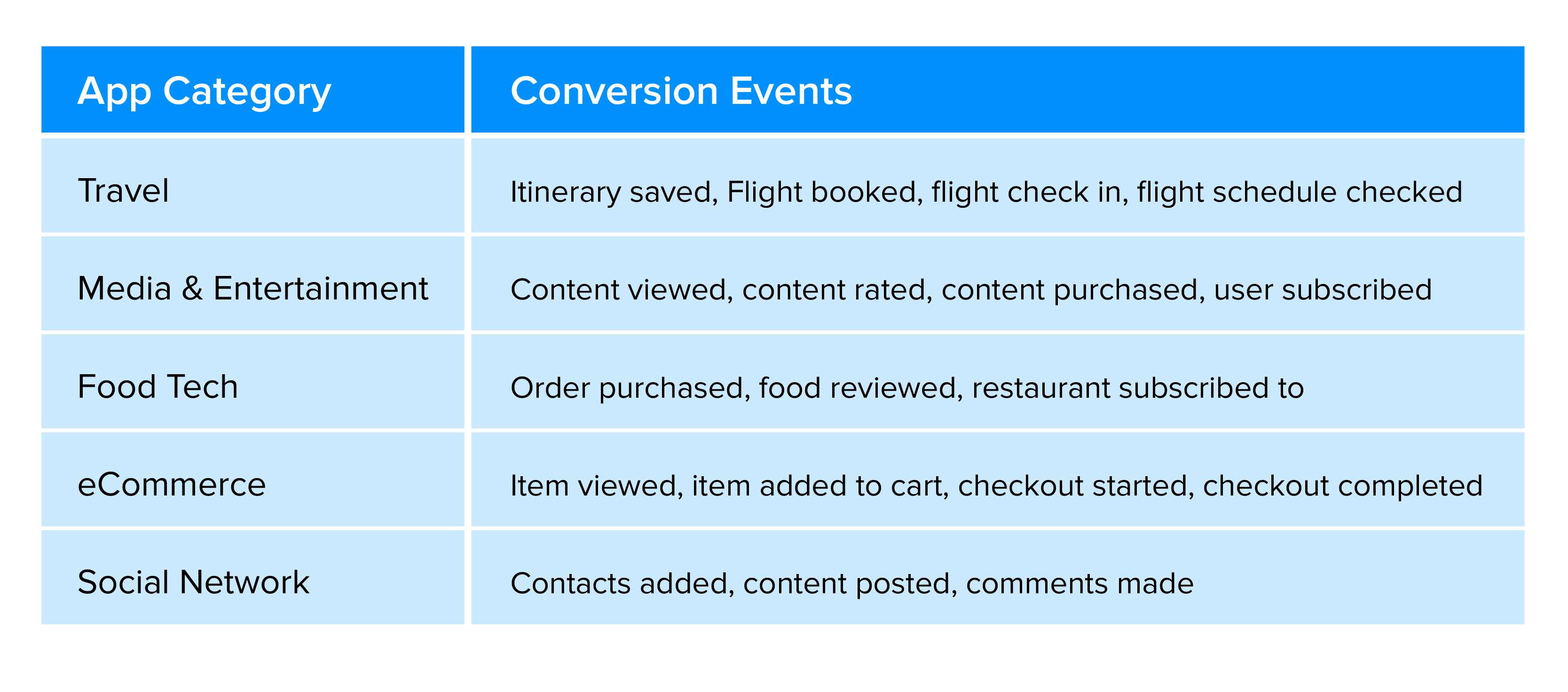 What Is a Good Mobile App Conversion Rate Standard?
Generally, a conversion rate of 1% is considered good. However, this rate criteria changes significantly depending on your industry. Below are shown the MAC rates of popular industries.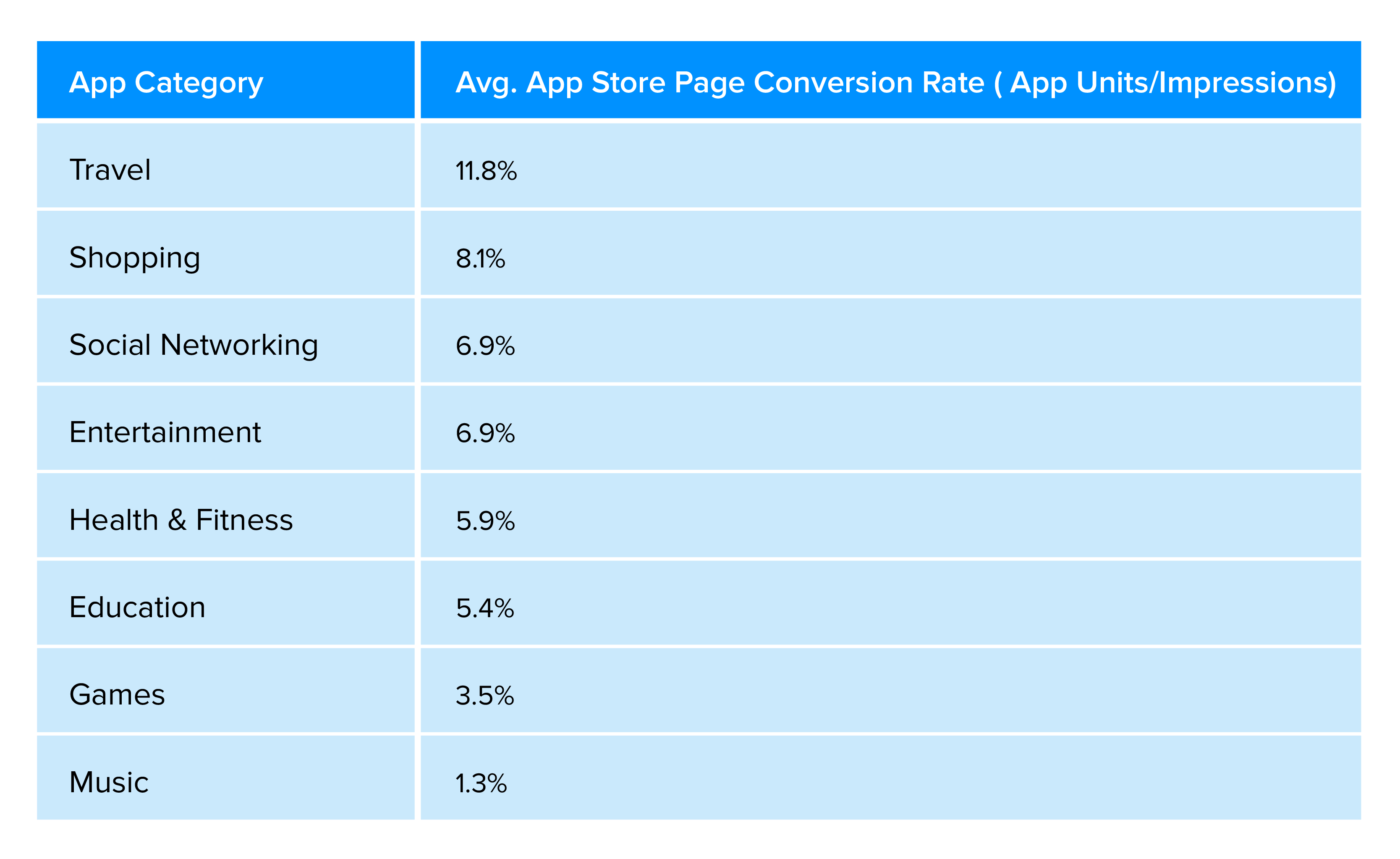 ---
23 Ways to Increase Mobile App Conversion Rate
Mobile App Conversion depends on factors that can be affected through various ways, tools, and strategies that can be used to get a higher rate for your app.
Here we will discuss 23 ways to increase your mobile app conversion rate.
1. Make Actions Easy for Your App Users
When a user is about to make a purchase, even a small hurdle can result in their retreat. To avoid this from happening you need to make sure that the conversion action of your app should be smooth, flawless, and intuitive.
Make sure you test the processing time and again until it is refined to its limits. Your payment gateways' integrations, security features, response time, etc. should all reflect the ease of doing business with you, in real-time.
Read Also: How To Grow & Retain Your Mobile App Users With A Feedback Engine
2. Streamline Your Processes and Address Friction Points
Remember that apps are always shaped to serve the user better. Identify friction points and bottlenecks in your user journey. See if your app needs email registration, gps tracking, or data privacy.
Many successful app marketers have highlighted how one extra step can result in thousands of users bouncing back. Recognize such friction points and remove them. Ensure that all the steps in your processes are absolutely necessary, and make it a delightful experience for users to go through them, by making the steps as unobtrusive as possible.
Collecting user feedback by deploying in-app surveys with Qualaroo can help you understand friction points. Such user feedback can help you fix critical problems within your app that are affecting your in-app conversions.
---
See how Airbnb got loads of flak from its host community for their tedious feedback process, right on their self-hosted "With Airbnb" user forum!
---
3. Utilize Split-Testing Tools
Use tools that can provide A/B testing for your wireframes, taglines, icons, and images. This step will give you clarity of what is working for you and what isn't. Check out various platforms and companies which offer such services and make an educated decision.
Related Read -  25 Best A/B Testing Tools
4. Leverage Mobile App Localization
Mobile App Localization is the process of adapting local geographical areas, cultures, and influences to appeal to different audiences from various locations. This step is necessary for app owners who want their products to grow globally and want to have an international presence. This naturally increases the number of final consumers you are serving and the number of downloads as well.
Bonus Read: 11 Best Mobile In-App Feedback Tools
5. Market Your App Separately for Ios and Android Platforms
Though Google Play Store and Apple App Store offer the same services, the traffic visiting those platforms is completely different and as an app owner, you will have to leverage this.
Understand the different characteristics and parameters of each app store and what their user base consists of. Mark their habits, spending abilities, interests, and responses, and make sure you create marketing strategies individually making the best use of those characteristics. Succeeding on one platform may result in positivity on the other platform but will not give you absolute success. For achieving that separate strategies are to be made and followed.
6. Optimize First Impressions for Users
Mobile app conversion rate is understandably closely tied to the first impression that users get of your app when they see its screenshots on the App Store or Play Store, and the user experience when they fire up the app for the first time after installing it on their smartphone or another device.
Think about it from your own experience. If you downloaded an app that promises to make tax filing easy for you, but it stuttered while it loaded for the first time, wouldn't you uninstall it consequently? We will expand upon the 'screenshots' part later in this list of tips to increase mobile app conversion rate, but we hope you understand the significance of making a great first impression upon users.
Related Read: Advance CRO Tips & Tricks
7. Do App Testing on All Supported Devices
Every device that you claim is able to run your app needs to be checked and re-checked for compatibility, no matter what the operating system – iOS, Android, Tizen, Microsoft, KaiOS, etc. That is why testing the compatibility of your app across is important not just on smartphones but tablets and wearables (depending on what your app does). This holds true in addition to desktops running MacOS, Windows, Ubuntu, etc. that are still used widely in offices and homes.
The more devices that you make compatible with your app, the higher your mobile app conversion rate is likely to be because it is highly unlikely that you'll ignore any user segments.
8. Use Push Notifications to Delight Users
Stand out from your competition by sending push-notifications that delight your users instead of annoying them. We are all well aware of how repetitive and boring messages from apps can become if not created with the express purpose of engaging users. Whether they are promotional codes for first-time users or loyalty benefits for long-time users, the wording and wit in your messages can make the difference between a person deleting your app due to excessively repetitive messaging and a new user installing your app right away after reading the push notification they receive when they enter the top, middle or bottom of your sales funnel. Once they start associating good emotions with your app, conversion rates are likely to rise up.
9. Implement UI/UX Optimization
The user interface and the user experience are other ways of stressing the purpose of the app you are developing. Marching on the lines of offering fast services at the convenience of the user and establishing two-way communication, your app's UI and UX should be created bearing in the mind the first reaction of your targeted user.
The app's UI/UX should be simple and should avoid a sharp learning curve. The design and the flow of the app should be intuitive, making use of the established pattern wherever deemed fit. However, it doesn't mean you shouldn't try to improve any existing functionality. Unless the changes proposed by you add a significant value or promote something new yet helpful, you should refrain from reinventing the wheel.
Read Also: Best 16 UX/UI Tools for Designers
10. Make CTA Buttons Prominent
A successful app design makes decision-making easy for the users and directs them towards the desired outcome. A Call-To-Action (CTA) button is a vital tool for increasing the chances of reaching your app's goal, whether it is promoting information, or sales.
CTA buttons have been found not only crucial for redirecting traffic on the desired landing page but also help apps in improving app conversion rate. SAP found that their conversion rate was boosted by 32.4% via their CTAs. Another survey indicates that 83%-93% of traffic on each page is generated via interlinks and CTA buttons.
Related Resource: How to Create A Landing Page That Converts
11. Cross-Promote Your App Based on Traffic Sources
Leveraging the traffic you have on other sources and platforms is ideal to be redirected towards digital properties like mobile and web applications. Websites, YouTube channels, and blogs can be used to create interlinks to cross-promote your app.
Think about writing blog posts or knowledge-based articles on your app's website to educate people about your app and keep them posted with any new feature updates or releases. You can also reach out to other authoritative sites for guest post exchange and link back to your app.
Pro-tip: Remember to optimize deep linking in your guest article. Any link click will redirect users to the app store to download and launch your app if they don't have it installed yet before continuing to view the in-app content. As such, your mobile app conversion rate will greatly increase.
This will also help in creating a digital ecosystem, helping you in the longevity of the business and expanding your brand presence.
12. Optimize Loading and Processing Speeds
Nobody wants to use a slow application. Users spend thousands of dollars upgrading their devices to meet the efficiency and speed, today's technology offers. Among the network, device, and user, if your app is the weak link that is compromising the speed and efficiency of the workflow, the user will not think twice before deleting your app.
Make sure you have optimized your app to deliver the best speed results in unfavorable situations. An app design is expected to deal with any fumbles in the network which can cause a temporary breakdown. I mean don't we just love how Whatsapp allows you to have smooth video calls even when the network reception is not so strong? That's something that has made Whatsapp dominate the market even after so many years of its inception and high competition.
13. Shorten Sign-up and Payment Processes
Another great way to improve the app conversion rate is by making the subscription and payment methods adopted by your app super easy. The more complicated you make it for the user to register or pay, the more chances are of the user turning away due to some difficulty or a complicated procedure. Reducing the need for providing information, promotes the chances of registration for your app.
Employing features like guest check out, where users can buy your services and pay for them without being registered or a member, will also help users become proactive while using your app. Also, it is vital to offer all popular modes of payment, leaving no excuse for the user to not make the purchase. Using online payment methods, PayPal, Cash on Delivery (CoD), and EMI payment options are a must for today's digitally enabled customers who prefer paying online.
14. Measure Metrics and Use Data Analytics
Data is not a newfound concept and people have been using information and statistics for ages to convey businesses. It's just, in today's time the amount of data collected and the scope of its application has increased tremendously. Today, data has become so relevant that it is pointless to commit to any business, let alone digital businesses if you don't want to leverage data for making vital strategies.
Measuring your metrics and analyzing data is also crucial for improving your app conversion rate. Targeting potential audiences of the right age, demographics, social class, and habits will do wonders while improving your app's conversion rate.
15. Define and Track the in-App Funnel
Understand the in-app funnel for your venture and work on a strategy to make those conversions. In-app funnel is a make-shift term coined for addressing a few key stages in the customer journey towards app conversion. In-app funnel is a make-shift term coined for addressing a few key stages in the journey towards app conversion. Each stage highlights what makes the user discover your product, consider it, converse about your offerings, start building relationships, and lastly get associated with you for longer durations.
Each stage requires specific strategies and should be constantly updated for better results. It is ideal for any app business to identify the in-app funnel stages and curate strategies for maximizing conversions.
16. Encourage User Participation
We have discussed how developing two-way communication with the user helps in achieving the growth of the business. Encouraging user participation converts your user from being a receiver to someone who is a part of your experience.
YouTube's comment section is one of the great examples of how a simple user participation functionality has proved vital for extending and promoting the network and sometimes surface timeless humor. Explore ways of encouraging users in participating more and more in your experience and develop a community of mutual growth.
17. Personalize User Experience (UX)
Personalization has always been a niche and an attraction for the able. Offering personalization options via your application is a vital function that is not limited to the riches anymore. Providing personalization options helps the user remember your name for way longer than the product you offered to personalize.
Personalizing your services justifies a higher profit margin and proves beneficial for the overall operation, provided it's done efficiently. Even the 100 years old company Royal Enfield Motorcycles, known for their machine's simplistic designs, is leveraging the app technology to allow each user to get personalized customization on their bike, right from the factory. Maybe that is one of the reasons for the recent booming of the company in ASEAN, Latin American, and European countries.
---
18. Utilize App Store Optimization
App Store optimization is one of the most prevalent techniques to draw traffic to an app's landing page organically. Optimizing your app store will not only make your app visible in the app store but will also increase the number of initials and in-app purchases. Using appropriate "keywords" in titles, descriptions, and other heads results in better app search engine rankings.
19. Write Compelling App Descriptions
App descriptions are your first chance to convince users towards your pursuit. App descriptions should be engaging enough to capture the attention of the reader in a few seconds and detailed enough to highlight the unique value addition of your app in the lives of the users. If done correctly, a crisp and sorted app description can be more effective than paid marketing strategies and help your app achieve a higher Mobile App Conversion rate.
20. Promote Your App Traditionally, Too
Lastly, promote your app on multiple platforms. Use traditional promotion techniques, print media, word of mouth, and anything you can use to attract users. Nothing is surprising about the benefits of old-school branding and promotion. Be it technology tools or FMCG brands, branding and promotions have proven their worth across the capital world and still hold significant relevance.
Make use of proven marketing techniques like events, celebrations, schemes, user interaction, etc, to make sure more users are aware of your services.
21. Improve in-App Usability for Better Conversions
Does your app serve as the platform for sending users to your other services or products? Or do you offer in-app purchases that are the real money-spinners for your business? Many of these processes should have been streamlined right in the app development phase, but little things can slip through unnoticed due to various factors (being too close to the product to evaluate it without bias, being unaware of user expectations, or not having an app quality control system).
These and other factors might be reducing in-app usability, so it is best if you carry out extensive user trials and beta testing to identify and fix usability issues (and improve them – gone are the days of 'if it ain't broke, don't fix it). Always be on the lookout for areas to improve.
Read Also: Best IOS & Android App Feedback Software
22. Increase Ease of Installation for Your App
Many apps fall into the trap of requiring too many steps to get the app up and running. User adoption will fall sharply with every extra step needed for the user to start deriving benefit from your app, so make it minimally invasive for them to do so.
For example, your current version of your app might require social media integration for the shareability features to start working. Is this really necessary? Instead, shift this requirement to get triggered when the user taps on the share button for the first time, so that it comes more naturally in the process flow.
It may take some surveying to figure out which factors are making installation cumbersome for first-time users, so you may want to ask your existing users about it without interrupting them.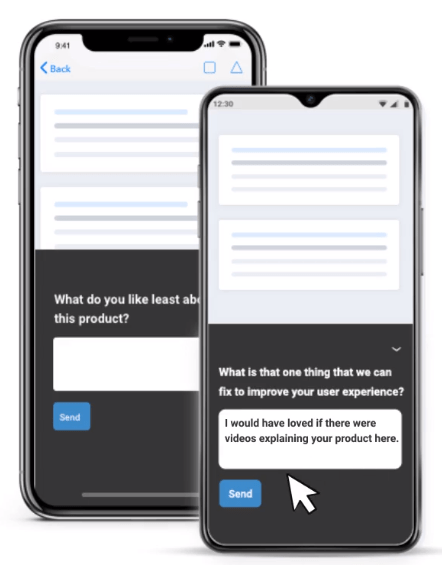 ---
23. Showcase Screenshots That Highlight App Value
The images of your app that prospective users see first can have a make-or-break effect on their decision on whether or not to install your app. Installing an app means giving up precious time, storage space, and data privacy for most users, so they consider many pros and cons in the split second it takes to make even impulse decisions.
The screenshots of your app should highlight the best benefits that users stand to gain from using it. There should be a flow to the images, either highlighting one benefit each or displaying the steps of the most valuable process that your app touts as its unique selling point – the USP.
Conclusion
Mobile App Conversion rate isn't some magic number that single-handedly makes your app a hit or a flop. It is an indicator that will tell you whether your current strategies are yielding effective results or you need to make certain changes. Every app owner needs to understand which factors are affecting their conversion rate and how they can be changed. Once you have developed a better understanding of this concept, you can leverage it to increase ROI, push sales, and meet your business goals.
---
This post was written and contributed by Sudeep Srivastava, CEO of Appinventiv.
---
Want insights that improve experience & conversions?
Capture customer feedback to improve customer experience & grow conversions.