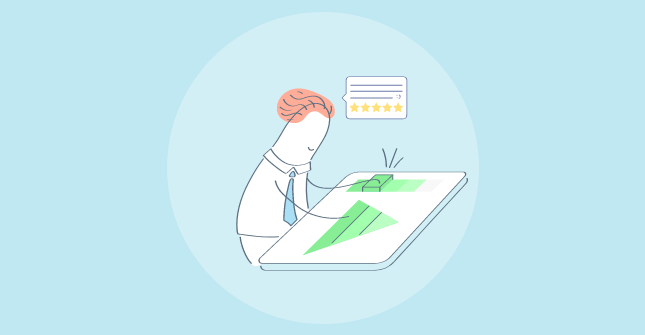 The SaaS market is growing steadily at 17% and is estimated to reach $171 billion U.S. dollars in 2023.
Gartner also says almost 85% of companies will have adopted cloud-native by 2025.
It means if you host a SaaS-based product, there is a huge target market for you to conquer.
What does this have to do with SaaS customer feedback strategies?
With a vast target audience also comes competition. As more companies switch to SaaS-based architecture and tools, You face fierce competition from other similar SaaS-based products.
To stay ahead of the curve, you need to ensure that your products resonate with the users' needs and expectations. The best way to do it is by stepping in their shoes.
With the help of focused customer feedback strategies, you can stimulate overall SaaS growth by delivering optimal SaaS-based solutions, bringing in new customers, and retaining the existing ones.
As we'll learn in this guide, this data-backed approach can prevent your acquisition costs from spiraling out of control and increase customer lifetime value.
Let's get started
Importance of Customer Feedback for SaaS Growth
Watch: What is Customer Feedback
Customer feedback needs to be an essential part of your SaaS strategies. Here are a few good points in favor of this argument:
Only SaaS customers can tell what features they want in your product.
With regular customer feedback data, you can spot broken paths, product-breaking bugs, and other critical product issues, which may otherwise go unnoticed.
You can analyze if an issue was an isolated incident for a particular SaaS client or is an actual bug affecting multiple users.
You can ask for suggestions and run beta tests to collect feedback before releasing new features and updates.
Your SaaS customer success teams can implement the feedback to provide a seamless service experience to generate happy clients.
With the marketing team, you can develop SaaS content marketing strategies to maximize ROI on your efforts.
The truth is that customer feedback can impact every aspect of your business to grow your SaaS business.
Benefits of Using Customer Feedback Strategies in SaaS
The good news is your business KPIs come as added benefits of using customer feedback strategies in your SaaS business:
Build Optimal Solutions
Your SaaS product is in continuous development and optimization mode throughout its lifecycle. You can use customer feedback at different stages to deliver optimal solutions.
From inception or design phase to product release, it lets you create value for money and avoid pitfalls in the process. By implementing continuous feedback loops, You can test your prototype's design, UI, and usability to make changes before committing to production.
In the same way, you can run usability tests during the development stages to see users' reactions and learn what can be improved. It would help to release an optimized product from the get-go instead of releasing a bloated product that does not appeal to the intended users.
For example, Twilio, a company providing programmable communication tools to giants like WhatsApp and Uber, uses feedback software like Qualaroo to understand and anticipate customer needs and develop solutions that can optimally solve customer's problems.
Read Full Case Study About: How Qualaroo Helps Twilio Hone their Customer Discovery Efforts
Retain Customers Through Continuous Optimization
Even a polished product can develop unexpected issues, crashes, and bugs that hinder a smooth user experience. If your users face such issues, they will terminate the services eventually.
It's better to contact each customer and ask if the product is working correctly. The question is how to do it without blowing your budget?
Using customer feedback.
With targeted SaaS feedback strategies, you can collect prompted and unsolicited feedback from users to run post-release optimization to make the product better. It can help you fix bugs and entertain new feature requests to improve user engagement and retention.
Generate High-Quality Leads
High-quality leads indicate that your marketing campaigns prompt the prospects to click on the CTAs.
How to make your messaging work magic with visitors?
Use customer feedback to learn about their needs, reservations, and motivations. It can help you create personalized campaigns to target specific audience types and present solutions to their specific needs.
The outcomes are high-quality leads and better conversion rates that justify your SaaS marketing budgets and lower the SaaS acquisition costs in the process.
Related Read: 60 Best Lead Generation Software
Increase Monthly Recurring Revenue
Regular high-quality leads, better retention rates, and higher CLV or customer lifetime value directly impact your revenue.
Suppose you can acquire new customers and retain them for a long time to cover up their acquisition cost and start earning a profit. In that case, it will automatically increase your monthly recurring revenue.
As we explained in the previous points, that's what channeling SaaS feedback strategies in your business does.
Customer Feedback Strategies to Grow Your SaaS Business
It's time for the main event. As we promised earlier, here are some practical ways to channel customer feedback into SaaS growth:
1. Use an Effective Customer Feedback Tool
The first thing to do is have a robust and scalable feedback system in place.
What do we mean by scalable?
A scalable tool provides a way to add more features to expand your feedback campaign if needed. For example, if you are just getting started with SaaS feedback strategies, you may use direct on-site or in-product surveys to collect customer insights.
As your customer base grows, you will need multiple avenues to target prospects, visitors, and verified SaaS clients. That's where scalability will let you use the same tool to accommodate increased demands without going to square one.
Another vital feature to look for in a feedback tool is data analysis assistance. What's the point of collecting customer feedback for your SaaS product if you cannot act on it quickly. Find a tool that also aids in uncovering valuable insights.
Survey tools like Qualaroo offer advanced features like sentiment analysis, text analytics, and an NPS dashboard to provide real-time insights and help you close the loop.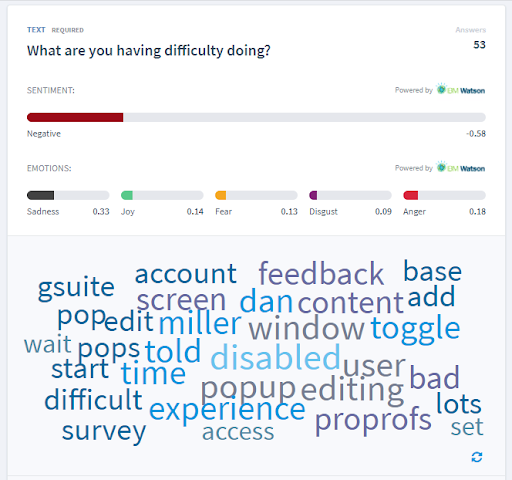 ---
There are plenty of options available in the market based on your budget and requirements. Choose the one that fits your needs.
Related Read: 11 Best B2B SaaS Marketing Strategies
2. Monitor Customer Experience (CX) Scores
Indexing the clients' experience is an effective SaaS feedback strategy to understand how customers perceive your product. Standardized survey metrics like NPS, CSAT, and CES can give a bird-eye view of different aspects of customers' experience. Let's quickly go through some of them:
Watch: How to create net promoter score survey
NPS is one of the most used customer experience metrics worldwide because it indicates long-term customer loyalty and product recommendation probability.
NPS survey is simple to deploy and provides a quantitative view of customer experience.
The users are asked to state the likelihood of brand recommendation to others on a scale of 0-10. The respondents are categorized into detractors, passives, and promoters based on their answers. A higher NPS score translates into a higher chance of retention.
CSAT is used for mapping how happy or satisfied your users are with your SaaS product. It can measure both transactional and overall customer experience. You can directly ask the users if the product features were helpful to solve their problems or not.
This CX metric tells you how your SaaS clients feel about the product's quality, UI, ease of use, and other attributes.
You can use various scales like emojis, star ratings, and numbered scales to register the response.
Like NPS, CSAT surveys are also easily trackable using time charts to give a real-time view of customers' overall sentiments.
69% of people state customer service as a top factor that affects their loyalty to a brand.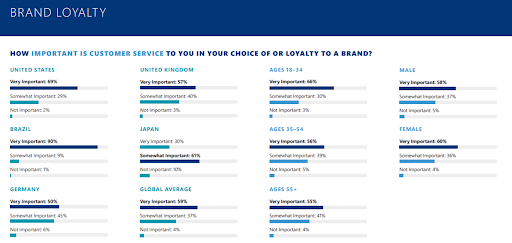 ---
CES helps you quantify the effectiveness of service-related interactions so you can create a seamless customer service experience. Developed by Gartner, it measures how easy it was for your SaaS users to get their queries resolved with the support staff.
According to Gartner, CES is more potent than NPS in predicting customer loyalty and retention for customer service experiences. So, if you are still not using the CES surveys, it's time to think about it.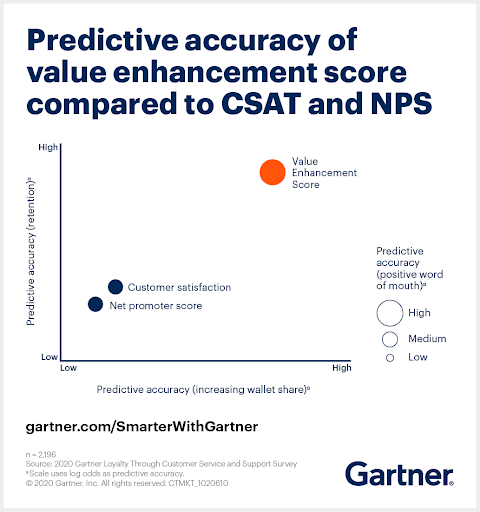 ---
As to how to use them, you can embed them directly in your SaaS product, add them to your website or send them to customers via mail or SMS.
Schedule your campaign to collect these scores at regular intervals to track any dips in time. You can then collect more data from customers to understand what's causing it.
3. Close the Feedback Loop
Once you have the CX scores, it's time to segment the responses into various groups, such as happy/unhappy customers, promoters/detractors, satisfied/unsatisfied users, and more.
Segmenting the data is a valuable SaaS feedback strategy to explore personalized opportunities for different SaaS customers. You can combine the CX scores with other metrics like CLV to visualize which users are prone to churn and which ones to turn into promoters.
For example:
You can identify high-value and happy customers to ask for ratings on Google and other review sites to boost your brand's credibility.
Retarget promoters and satisfied customers to enroll them into referral programs.
Focus on high-value unsatisfied customers as they carry a high churn probability. Get in touch with them and resolve their issues to prevent attrition and improve retention.
Prioritize reported issues and critical bugs to fix them ASAP.
Here is a practical example of how MonetizeCX cross-referenced NPS score with clients' purchase value: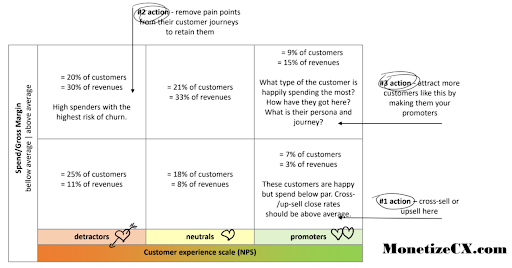 ---
4. Channel Your SaaS Feedback Strategies Into Marketing Efforts
There are different customer types and prospects along your sales pipeline. With customer feedback, you can understand each segment's motivations, preferences, and fears to build buyer personas.
Perform in-depth quantitative and qualitative customer research to understand how visitors behave on your web pages. You can add simple surveys to the least-performing pages to understand what can be improved to push visitors towards conversions.
Here are some questions to ask your visitors:
Did you find what you were looking for on the page?
Is the information clear?
What are your first impressions of this landing page?
What would you improve on this landing page?
What is missing from the page?
What's stopping you from starting the subscription?
Did you sign up for the trial? What stopped you from doing so?
Then use the data to align your USP (unique selling proposition) and product messaging with customers' needs. It will help develop a focused SaaS Content Strategy to build personalized marketing campaigns, optimize your landing pages and write engaging copies that convert.
The next step is to run A/B tests to see if the new page performs better than the original design.
5. Leverage Social Media Listening
As of 2023, there are almost four billion social media users worldwide, making it hallowed ground to discover what people think about your SaaS product.
Over 30% of customers share bad experiences, and nearly 49% share positive experiences on social media and other online platforms. These voices remain untapped if you are not monitoring them.
That's why social media listening is an essential tool for your customer feedback strategies to boost customer engagement, build your online community and promote SaaS growth. Installing a social media management system like Hootsuite can channel these voices into SaaS best practices and make the most out of it.
Here's how to ask customers for feedback using social media:
Monitor your brand's mentions, comments, and posts to gauge brand awareness.
Create relevant hashtags to increase brand exposure, discovery, and followers.
Reply to users' posts and comments to improve engagement and make customers feel valued. Even Apple hosts a dedicated Twitter support account to handle customers' comments and feedback.
Run social polls to collect SaaS users' opinions about new proposed designs and features in your product.
Related Read: 15 Best AI Sentiment Analysis Tools
6. Maximize Your Reach to Collect Feedback
Social media is not the only avenue to fuel your customer feedback strategies for SaaS growth. You can also utilize other channels to gather unsolicited feedback and uncover unknown issues.
For example, you can implement a feedback board in your SaaS product or website to let users post ideas, suggestions, and feedback. Users can also upvote other ideas and leave comments. It provides an internal community space for your users to share their feedback. You can pick the most trending or most voted feedback and act on them quickly.
Salesforce IdeaExchange is an excellent example of using the feedback portal to collect feedback. Salesforce, the world's leading SaaS-based CRM software, uses its idea board as one of the channels to farm for new ideas for its ever-growing product.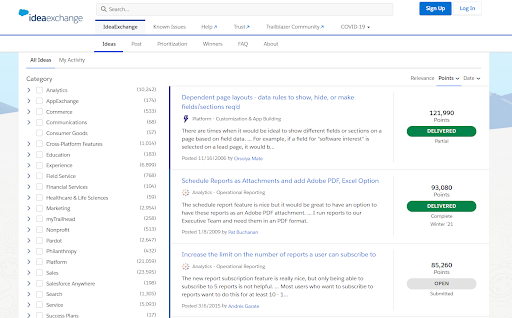 ---
In the same way, a helpdesk system can help uncover common customer issues related to payment, product dashboard, settings, etc. You can categorize the tickets using relevant tags and assign them to relevant team members to resolve the issues.
Another way to collect customer feedback for SaaS is by adding a live chat widget to your product and website. It has a two-pronged effect:
Provides real-time support to users to solve their issues and improve CES scores.
Give product tours to improve onboarding and product adoption.
Initiate chats with active users to collect target feedback about their product experience and build better relationships.
Remember, the crux of this exercise is to consolidate the insights from all the channels to spot general trends and understand users' journeys. You can then fix critical and recurring problems to reduce friction points and improve conversions.
Related Read: How to Use Customer Feedback for Product Growth
7. Run Competition Analysis Surveys
As mentioned earlier, the SaaS industry is growing fast, and you need to outperform your competitors to grow your SaaS product. One way to do it is by collecting feedback through competition analysis surveys and interviews.
Use email, website, and in-product feedback forms to pose questions to SaaS clients such as:
What are the factors that influence your buying decisions?
Have you used a similar product before? If so, what made you switch to our product?
Rate our competition based on the following attributes?
It can help you understand what makes your products better or worse than other similar SaaS products in the market. You can also find out what features customers cherish the most and what changes they want in your product.
Value-based pricing is another benefit of using customer feedback strategies in your SaaS growth. Add surveys to your SaaS product or website to investigate your pricing structure.
It can help you create a more granular pricing structure without affecting your profit margin to make your SaaS product more accessible to a broader target audience.
For example:
You can provide monthly and annual subscription options to make billing more flexible. Studies show that annual contracts tend to produce much lower churn than monthly subscriptions.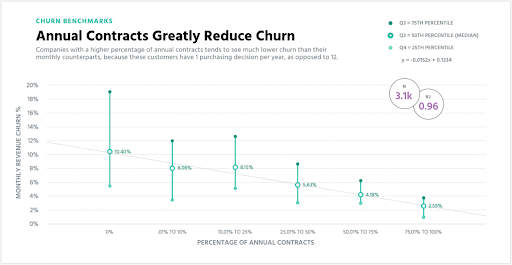 ---
If your prospects often request a free demo to help them make buying decisions, you can provide a basic free plan to let them try the product.
Add exclusive high-appeal features to different pricing tiers to provide more value for money like 3-month personal product training, 24×7 support, etc.
8. Use the Insights Into Your Product Roadmaps
There's a saying that customers are always right, but it means more to SaaS product managers. Ask what new features they want to see in the SaaS product to improve its usability.
If you don't keep pace with new technology to improve product usage, people will move to your competition, searching for better features.
Using customer feedback strategies directly in product development can increase engagement and retention. It lets you build better product roadmaps to release new features and updates based on users' consensus.
Here's how:
Use polls and feedback forms to collect votes on which features users want you to build next.
Cross-reference new feature requests with different customer segments based on their lifetime value to assign priority.
If a feature comes from a significant number of high-value customers, you can focus on building it for the next update to improve SaaS product retention.
Dig through the competitive analysis data to find the most popular product features your competitors offer and add them to your roadmap.
You can also add a dedicated product roadmap page on your website to show upcoming updates and entice new users. Complement it with a change-log section to show recent updates and inform users that you are constantly working on their feedback.
9. Leverage SaaS Feedback Strategies for Smooth Onboarding
A smooth onboarding is one of the crucial aspects for increasing product adoption. It's also the number one customer retention tactic to improve retention rates, as shown in the image below: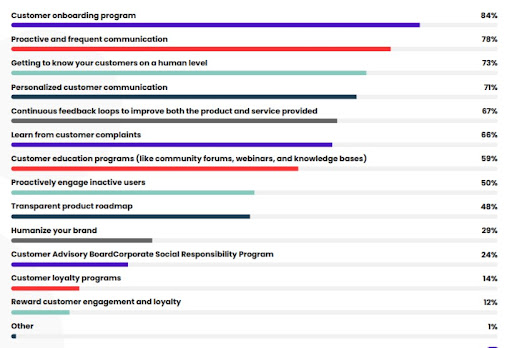 ---
It means a good onboarding can promote higher recurring revenue and CLV for your SaaS product.
But how does customer feedback fits into all this?
It helps you pinpoint the areas that need an introduction for new SaaS users. These can be issues like working with the dashboard, navigating the product, finding the required settings, and more.
Who better to tell about their roadblocks than the actual users? You can directly ask them using in-product feedback forms and surveys. Once you have data, plug it into your onboarding process to give new users a thorough overview of how the product works.
Then, collect feedback at the end of the onboarding process to optimize it further.
You can go the extra mile by compiling the most asked questions into an in-product knowledge base for quick access. Remember to embed a feedback form there to collect queries and update your help center.
10. Target Churned Customers
We have been talking about SaaS feedback strategies to prevent churn, but what would you do when it happens in your business.
Customer churn is an unavoidable by-product of any business. It's particularly detrimental for SaaS businesses as it affects customer acquisition costs, lifetime value, and recurring revenue.
If customers jump ship before they have generated more revenue than their acquisition cost, it will increase your CAC or Customer Acquisition Cost in the long run and may lead to budget cuts on your marketing campaigns.
That makes stopping attrition and winning back churned customers a top priority to ensure SaaS growth.
According to research by Bain & Company, a 5% improvement in customer retention can increase profits by over 25%.
Here's how to collect customer feedback for SaaS from churned customers:
Trigger an automatic feedback form when a SaaS customer cancels their subscription.
Add relevant questions to find out the reasons behind the cancellation.
You can also add an NPS survey to your collect CX scores.
How to organize customer feedback data and retarget the users?
Once you have the submitted form, use your CRM tool to look into the customer's usage history, like total purchase value, last login session, number of users, and more.
If it is a case of involuntary churn, get in touch with the customer immediately to resolve the issue and reactivate their account.
For high-value users, say with CLV of over $3000, dig into the feedback to uncover their problems and grievances. You can contact them to resolve these issues and win them back.
If the user states pricing as an issue, you can offer a personalized discount.
Other methods to activate churned customers include sending mail notifications to users who left the services 30 to 90 days ago. For example, you can send follow-up emails displaying newly added product features to entice them. If you run a loyalty program, create urgency by showing the points' expiration date to bring them back.
Five Useful Saas Customer Feedback Tools to Grow Your SaaS Business
Circling back to our first point, we have listed some of the best customer feedback tools that can help you develop successful customer feedback strategies to promote SaaS growth:
1. Qualaroo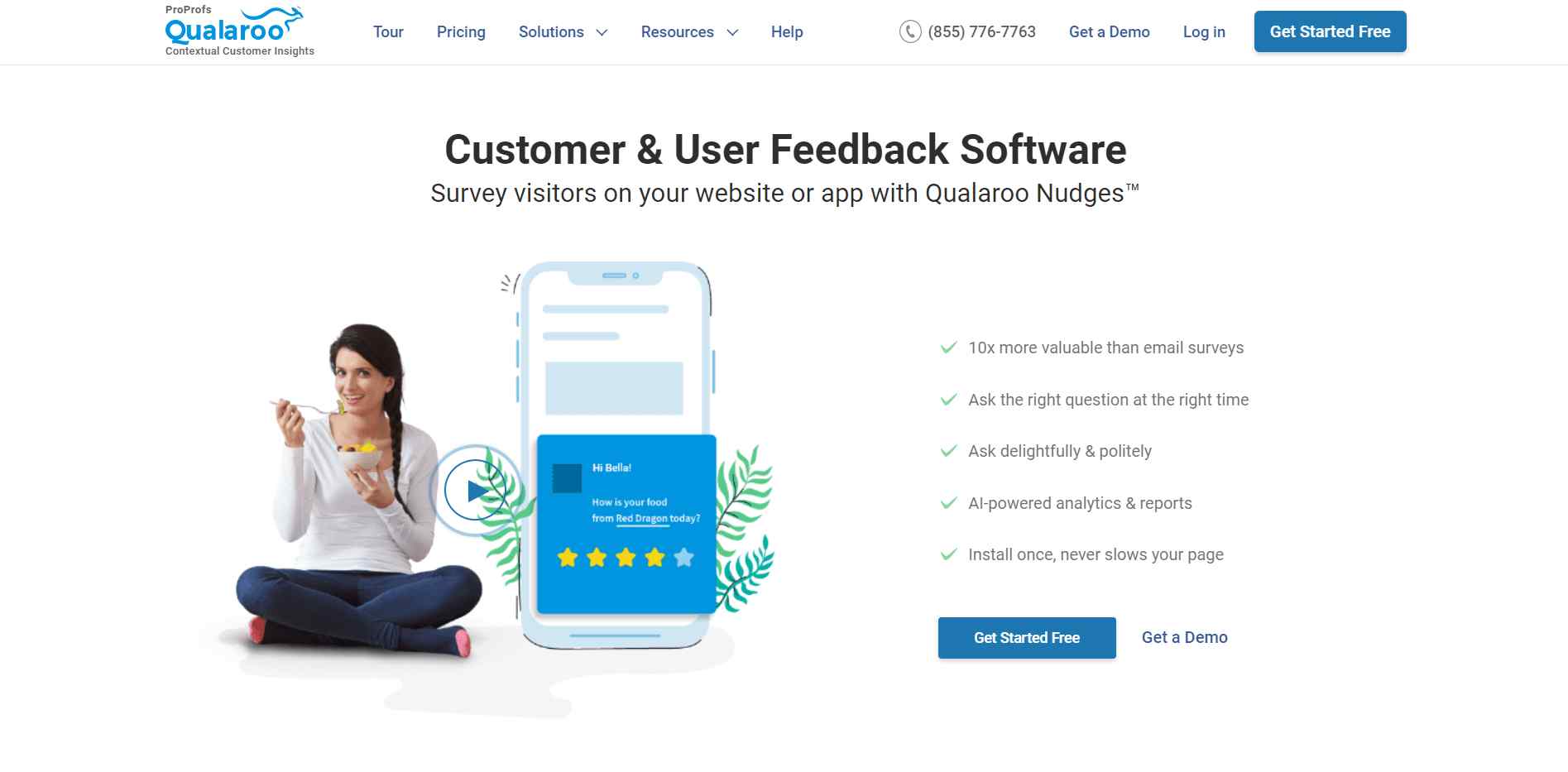 ---
Qualaroo is an ideal customer feedback tool that lets you collect valuable customer insights over six channels. You can create any survey type in minutes with the no-code survey builder. Then, add the survey Nudges™ into your SaaS product, website, email, or app to collect in-the-moment feedback about users' experience. With the inbuilt AI-based sentiment analysis and word cloud engines, you can analyze the feedback data faster to close the feedback loop quickly.
2. Hootsuite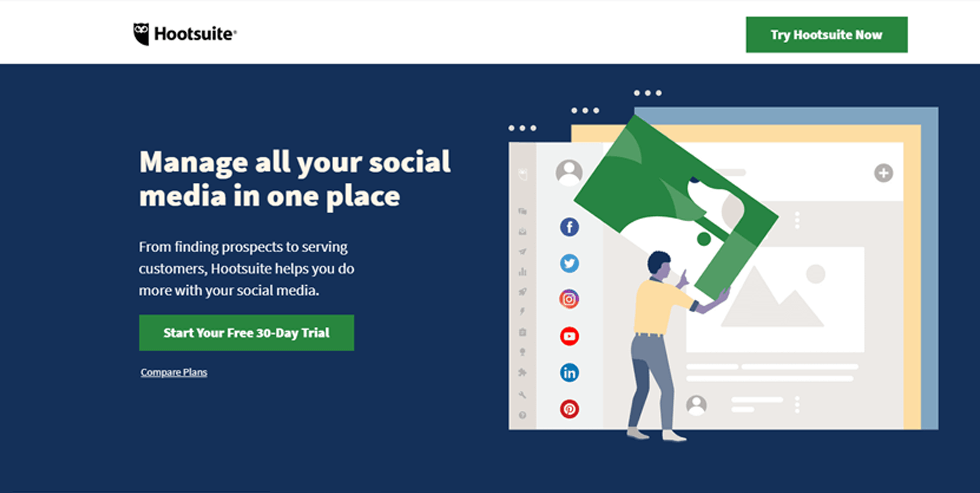 ---
Hootsuite lets you manage social media interactions in one place using a centralized dashboard. You can publish the posts on all the major social platforms like Twitter, LinkedIn, Facebook, Instagram, and more. It also lets you monitor your brand's mentions, comments, and posts to engage with users and grow your online presence.
3. UserVoice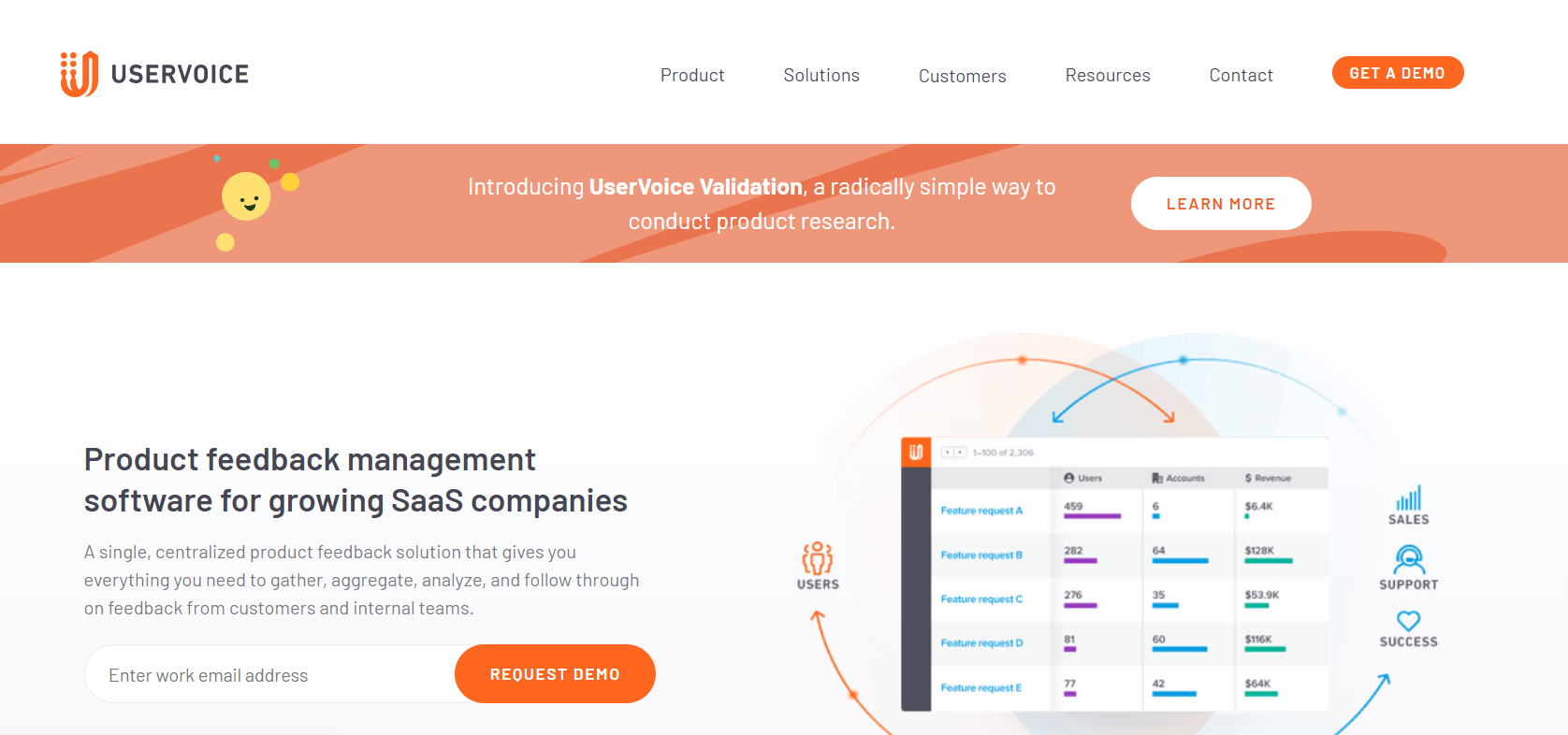 ---
If you plan to use a feedback board, UserVoice is the one-stop solution for you. You can create a feedback portal with a dedicated domain to allow customers to post their ideas, suggestions, and feedback. Other users can upvote and comment on posted ideas. You can also engage with the users via comment to build your SaaS community. Pic the most voted posts to channel the insights into your product development process.
Related Read: 10 Best UserVoice Alternatives for 2023
4. UserTesting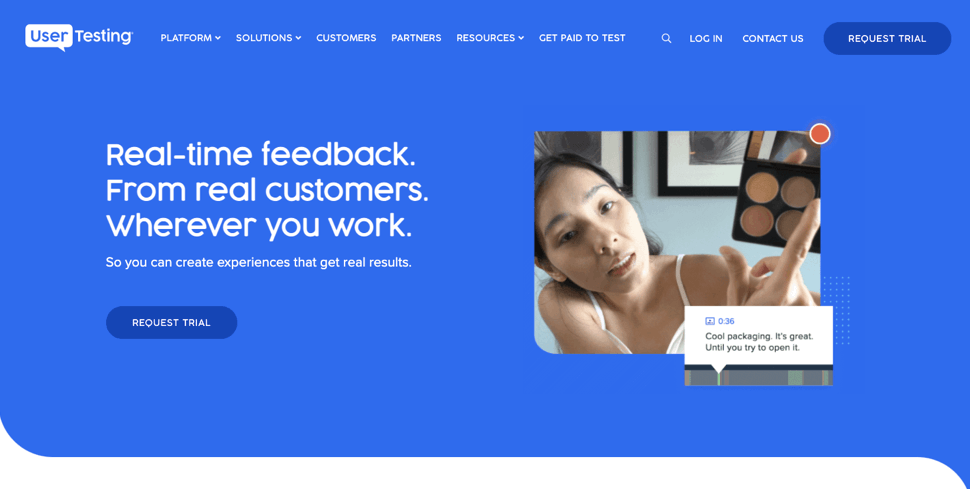 ---
UserTesting is perfect for running usability tests on your website, SaaS product, and app. You can create usability tests in minutes and choose the target audience's from UserTesting's participant panels. With features like video recording and screen recording, users can leave visual feedback as they perform the test. You can then pass the recordings to relevant teams to analyze and implement the feedback.You can then pass the recordings to relevant teams to analyze and implement the feedback.
5. Delighted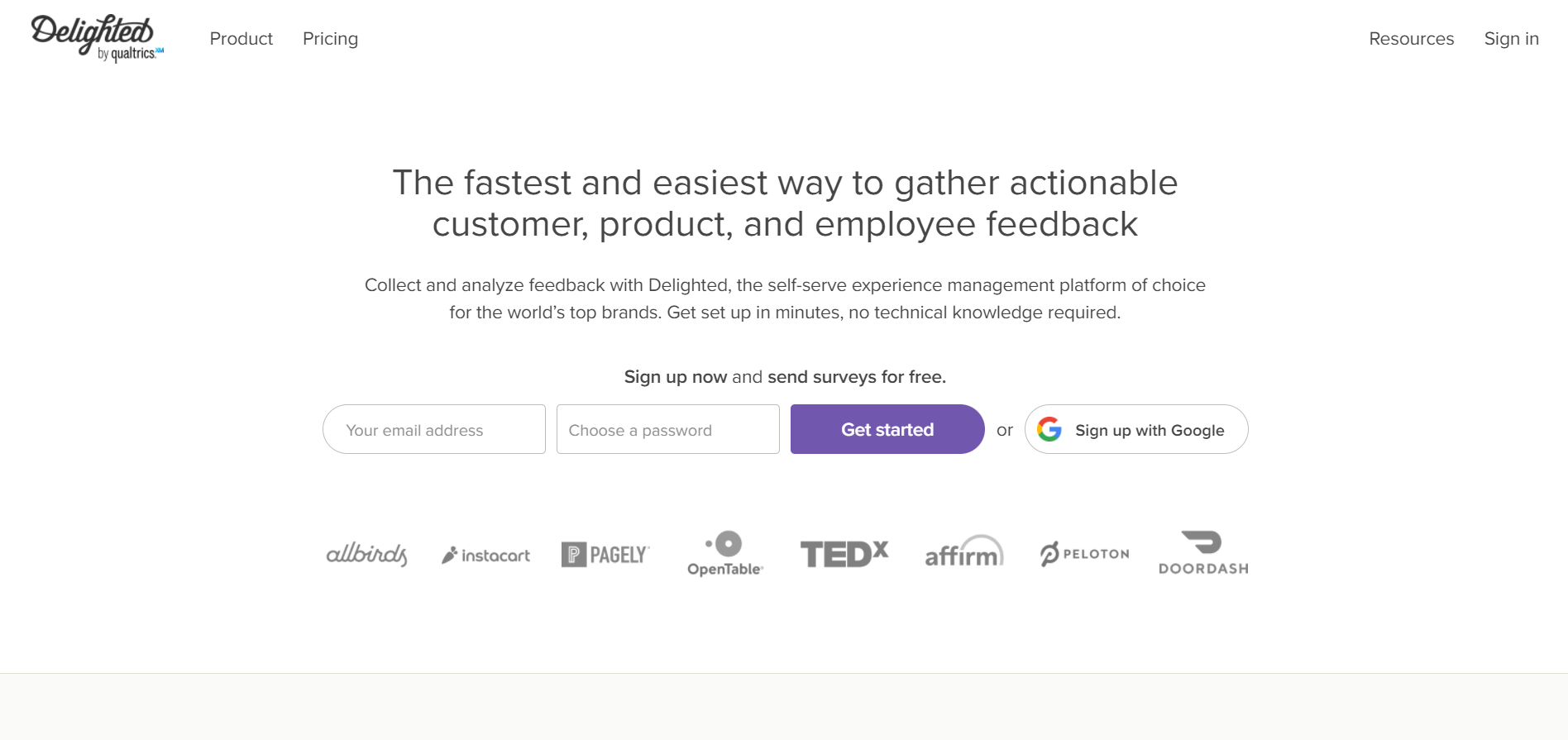 ---
Delighted is one of the best NPS platforms in the market to collect feedback from your users. You can create and deploy pulse NPS surveys through website, app, and email to gauge brand recommendation probability and customer loyalty. The tool incorporates a detailed NPS dashboard to let you track the scores in real-time using time charts. You can see the percentage of promoters and detractors at any given time and analyze individual responses to uncover crucial insights to fuel your customer feedback strategies.
Key Takeaways
As you can see, there are plenty of customer feedback strategies to grow your SaaS business. The best part is it doesn't need to burn a hole in your pocket. You can start with a simple feedback form on your SaaS product and website.
The idea is to give voice to your customers, solve their problems, build better products, and establish long-term relationships. These simple steps can make you stand out in the competitive SaaS environment.
Want insights that improve experience & conversions?
Capture customer feedback to improve customer experience & grow conversions.