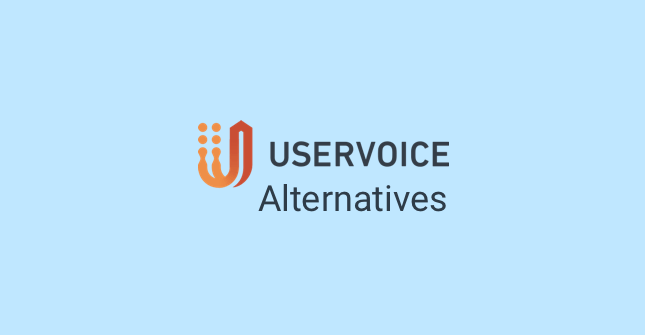 UserVoice is a great user insight tool, but it is always good to have other options at hand because everyone has different needs and preferences. That's why today we are talking about the best UserVoice alternatives.
We will start with UserVoice's overview to cover its main features and then present the list of the top UserVoice alternatives competitors in the market.
What we have covered for each tool:
Main features of the tool
Pricing structure
Pros & Cons
A case study for each tool
In the end, there is also a feature comparison table for a quick peek.
Let's begin.
What is UserVoice Software?
Whether it's customer insights or inter-team communication, UserVoice lets you handle both using a single tool. The tool works on both web and mobile apps. It provides a centralized space to gather ideas, suggestions, new feature requests and targeted feedback from customers using the feedback portal and personalized surveys.
You can create a web feedback portal with a dedicated domain and embed a sidebar feedback button to your apps like Slack and Zendesk.
Choose it for Web feedback portal, In-app feedback widget, NPS survey auto-prompts, Sidebar for internal feedback.
3rd party integrations allowed: Yes
Suited for: Small to large businesses
Features
View the trending ideas, most upvotes, new posts and set their current status to let the customers know about the progress.
Send automatic notifications to customers about any status change.
Connect with your users on 1-to-1 and 1-to-many in-app discussions to explore ideas.
Embed the sidebar feedback button to your existing tools like Jira and Azure to share the user feedback with other internal teams.
Provides an in-depth dashboard to combine and organize the data from different sources under a single screen. Filter the data based on customer segments, opportunity data, survey scores, and other parameters.
Easily integrate with other tools like Zendesk and Slack to automate data flow.
Pros:
You can quickly view the most sorted features and ideas among your users to add them to your development process.
It streamlines cross-department communication and can help in keeping everyone updated about who is handling different tickets.
Cons:
The interface can be improved to make it more intuitive and easy to use.
Case Study:
Sharegate, a B2B software company, used UserVoice to collect and embed the customer feedback data into its product roadmaps. UserVoice helped to gather and consolidate data from different sources in one place.
They were able to segment that data using various customer attributes to understand what their customers were requesting, who these customers were, and their impact along the conversion funnel.
It also helped Sharegate to bridge the gap between customer-facing teams and product teams. Instead of spreadsheets, they used the internal feedback Sidebar in their apps like Slack and Zendesk to log feedback on the customers' behalf and save it to UserVoice.
It improved the conversations between customer and product teams. The impact? They added 40+ user-provided product ideas into their roadmap in a single year.
Price: Contact for a quote
10 Best UserVoice Alternatives for 2023
1. Qualaroo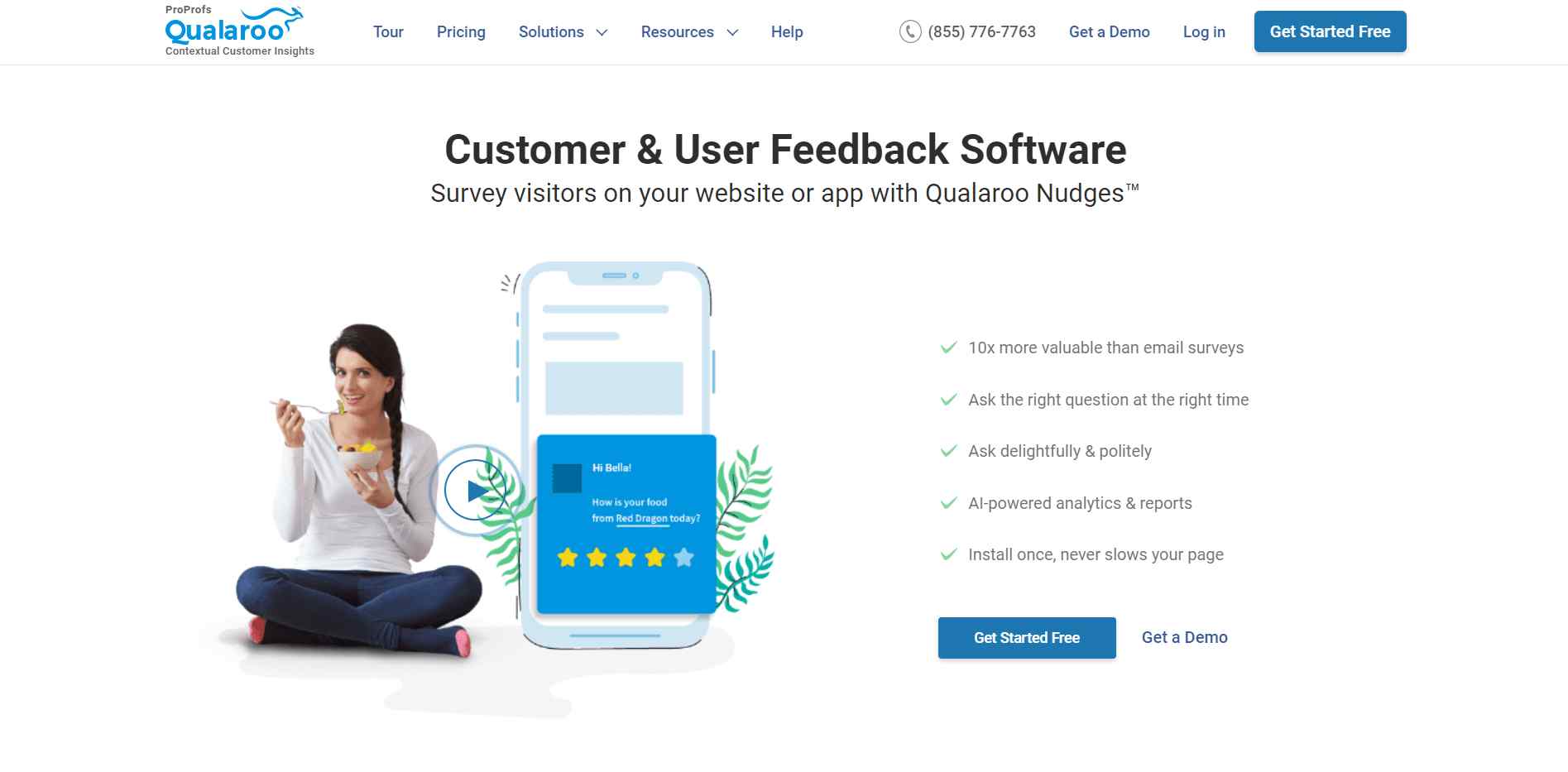 Qualaroo is a complete customer feedback management focused on prompted feedback methods to collect nuanced data points from the desired audience. With its targeted and unobtrusive survey Nudges™, you can gather customer insights, uncover their pain points, entertain new feature requests, do competitive study, perform user research, and test your design prototype templates.
Choose it for Multi-channel survey deployment, AI-based analytics, Design prototype testing
3rd party integrations allowed: Yes
Suitable for: Small to large businesses
Why Choose Qualaroo Instead of UserVoice?
Collect feedback data from multiple channels such as website, mobile app, email, SaaS product, or distribute them via direct URL links.
Use the intuitive editor with pre-built survey templates, 12+ question types, rebranding options, question branching, design customization options, and 50+ language translations to design personalized surveys.
Create quick interactive polls to know the user consensus on planned features, new updates, and other product roadmap ideas.
Add a feedback widget to collect unsolicited feedback from the visitors and customers.
With advanced targeting options, you can display the surveys to the right audience at the right moment.
Provides AI-based analytical tools – sentiment analysis engine and word cloud generator to fish out valuable insights from the free form comments and other feedback data.
It automatically categorizes the survey responses into user sentiments to let you close the feedback loop quickly.
Use text analytics to highlight the most used key phrases and words in the survey feedback.
With the advanced reporting section, you can monitor survey performance.
Create custom reports using different attributes like location, device, operating system, and more.
Allows integration with 3rd party tools like Zapier, Zendesk, and Google Analytics.
Pros:
It's one of the best tools for quick feedback analysis.
Inbuilt section for benchmarking your NPS scores.
Allows design prototype testing using survey feedback. Embed the surveys in your design templates to collect feedback from your team members, making design iteration quicker.
Cons:
Lack of feedback portal for people to post ideas.
Case Study:
Lalamove, an Asian logistics company, uses Qualaroo to streamline its customer discovery process. The insights from Qualaroo's survey Nudges™ are used by the product, marketing, and UI/UX teams to design products and engage customers.
The survey feedback helps them to understand how happy their customers are with the products and services. They also target the users based on their behavior and actions inside their web platform and app. The tool has enabled the company to design a seamless customer experience leading to a 20-30% monthly growth rate.
Price: Starts from $69 per month.
Read Also: 20 Best Customer Experience Management Tools
2. ProProfs Survey Maker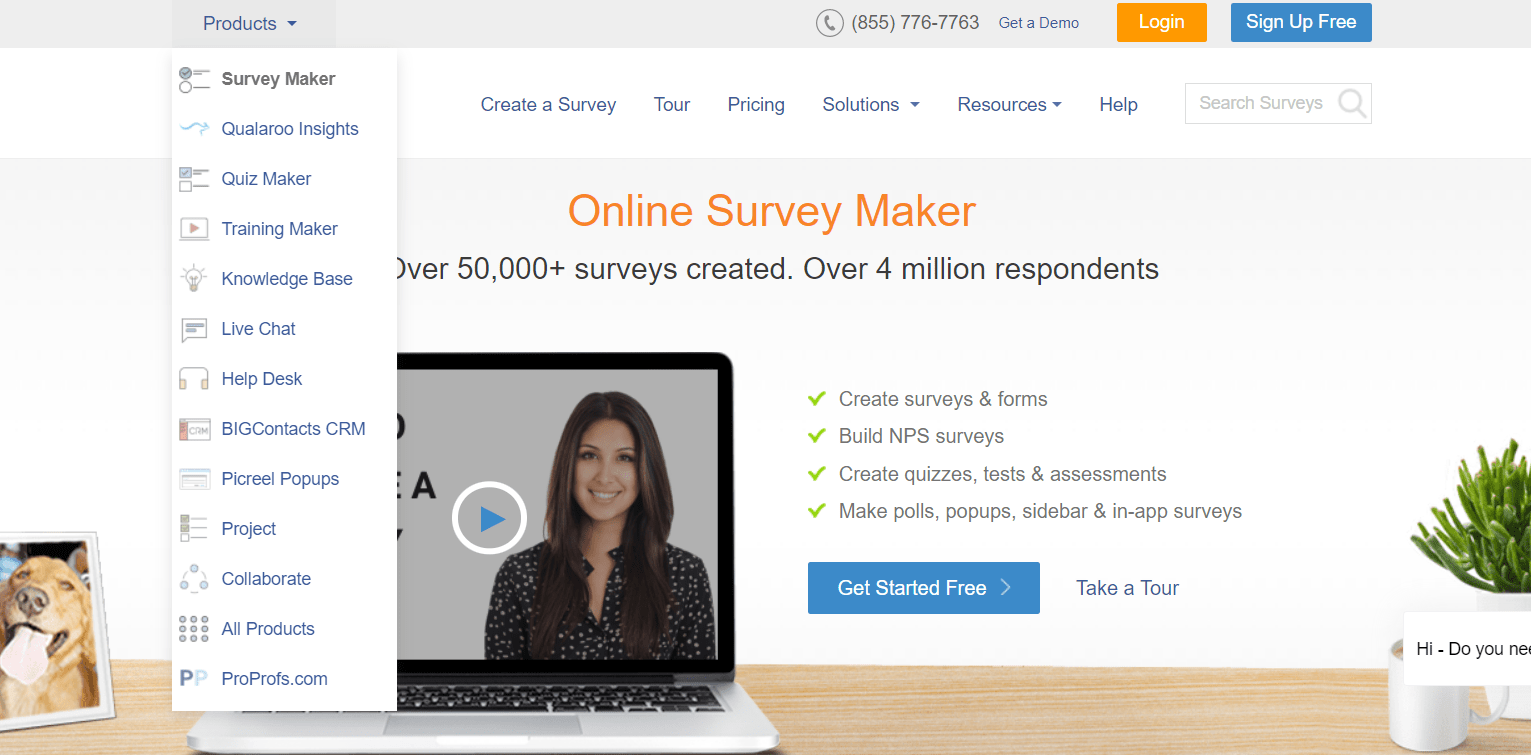 ---
ProProfs Survey Maker provides interactive ways to engage customers and collect feedback, ideas, suggestions, and leads. It combines multiple methods, such as survey, poll, quiz, assessment, and feedback widget in a single SaaS-based software. Plus, it works on your website, mobile app, and email.
Choose it for Multi-channel deployment, Surveys, Polls, Quizzes, Forms, Feedback sidebar
3rd party integrations allowed: Yes
Suitable for: Small to large businesses
What Makes Proprofs Survey Maker a Good UserVoice Competitor?
Create personalized surveys, polls, web forms, quizzes, sidebar forms, tests, questionnaires, and more to collect desired data points.
Use the drag-&-drop editor with 100+ templates, 40+ language translations, skip logic, design customizations, survey rebranding options, 15+ question types, scoring mechanism, and question randomizer to design targeted surveys and quizzes.
Embed your surveys and quizzes on multiple channels like website, email, and mobile app.
Embed a non-intrusive sidebar feedback button on your website.
Provides a detailed reporting section to track the number of survey responses, user data, quiz results, user scores, completion rates, and other performance metrics.
Seamlessly integrates with your tools such as Mailchimp and Zendesk to allow workflow automation.
Pros:
It has multiple methods to collect feedback, allowing you to target and engage different user segments with a different approach.
If you want quick feedback, use polls. If you want to collect leads, you can design interactive personality tests and ask for the respondent's contact information to send personalized results.
The extensive question library makes it easy to create surveys. They add more questions to it each day.
Cons:
The survey editor, even though intuitive, may take some time to get used to for new users.
Case Study:
Intel, one of the biggest technology companies, wanted to gather 'out of scope' data for their project. So, they decided to deploy surveys using ProProfs Survey Maker as it met their requirements. The tool provided a plethora of design options, a massive question library, and an easy-to-use survey editor to create highly focused surveys.
The survey customization options, detailed reporting section, and reliable customer support allowed the Intel team to quickly collect the required data points.
Price: Starts from $19 per month.
3. UseResponse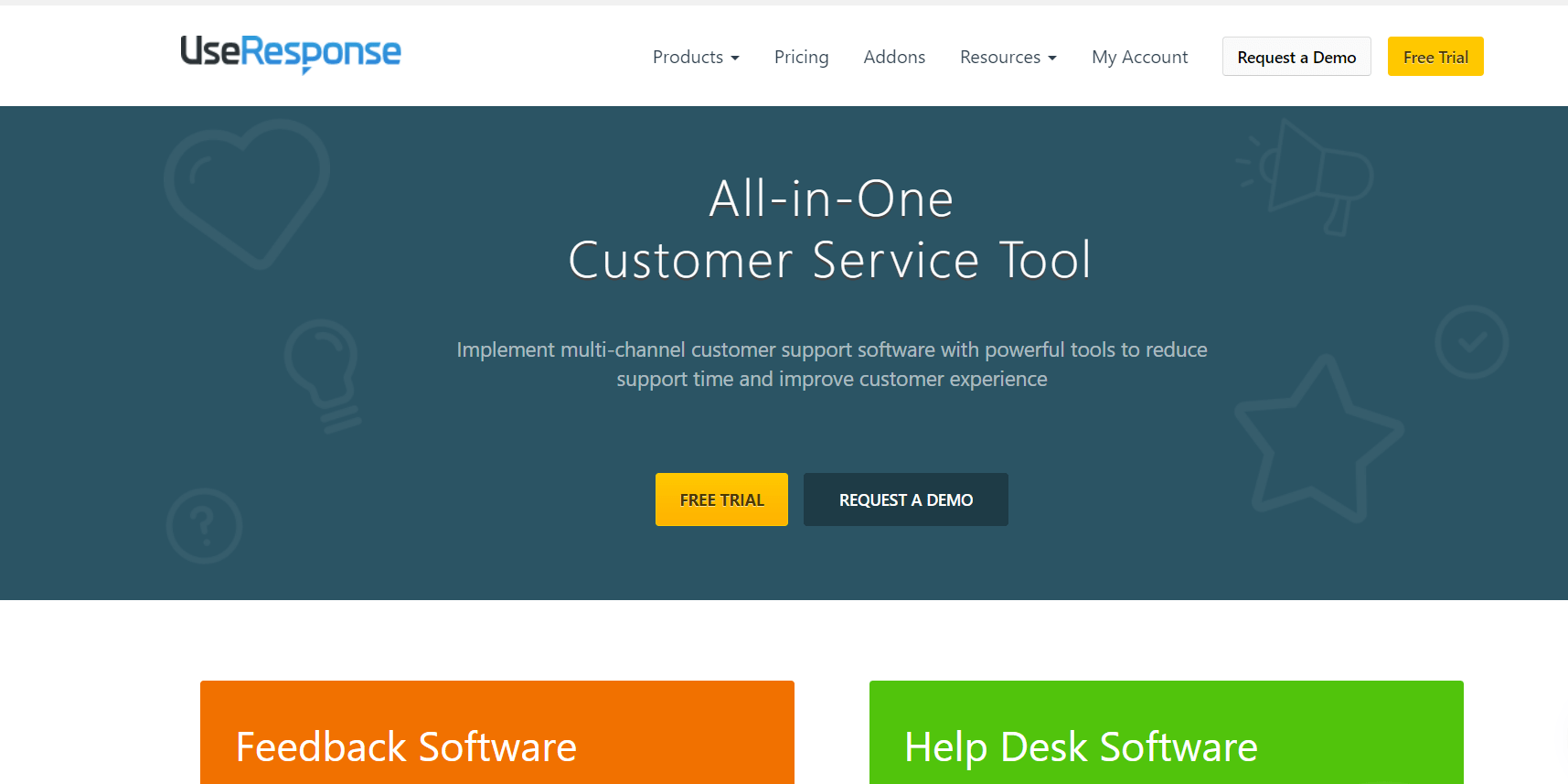 ---
UseResponse is an idea management and product roadmap software that empowers you with tools such as a feedback center, helpdesk portal, ticket system, and live chat. You can connect with your customers, prioritize potential ideas, promote self-help channels, and entertain feature requests to build products that sell.
Choose it for Feedback portal, Live chat, Knowledge Base, Ticket system
3rd party integrations allowed: Yes
Suitable for: Small to large businesses
Features That Make UseResponse One of the Best UserVoice Alternatives
It provides feedback boards and widgets for your website and mobile app.
Gather insights about new product ideas, customer issues, and feedback for your product. The users can share new ideas, upvote existing topics, and leave comments on others' posts.
Add internal notes to each feedback and share with your internal teams only.
You can assign a suitable status to any feature request or idea to update the users about its progress like planned, new, declined, etc.
View trending ideas, most requested features, most upvotes, and other details from the self-organizing dashboard.
You can also set up a ticket system to address customer grievances and pain points personally.
What's more, you can add a Help Desk widget on your mobile app or website.
Provides a centralized inbox to manage all the incoming requests from various channels such as social media, email, and widgets under one screen.
Get real-time updates on new requests, reply to your customers instantly, and create custom queues for each internal agent.
Send CSAT surveys to customers via mail after the closure of their tickets to collect satisfaction scores.
Track HelpDesk metrics to monitor the productivity and efficiency of your team. View SLAs, ticket resolution time, TATs, and CSAT scores.
It also supports a multilingual Knowledge Base portal for your website and app to guide customers with FAQs and help articles.
Provides a standalone live-chat widget for your website and app. You can also integrate other channels like Messenger, WeChat, Whatsapp, and Line so you can communicate with customers via any medium.
Connect with other tools for improved data management.
Pros:
A perfect tool to crowdsource ideas about your product roadmap.
It is a complete customer engagement and support platform.
It's easy to set up and offers value for money with extensive features.
Cons:
The admin interface and navigation can be improved to help find the desired features faster.
Case Study: Not available
Price: $1490/year
Read Also: 14 Best Live Chat Software in 2023
4. UserTesting
---
What makes UserTesting different from other tools in the list is the depth of data you can get from your users. With features like self-guided screen recording and live conversations, it eliminates the need for personal interviews.
The tool lets you collect feedback data and measure the usability of your website, app, or prototype product. You can choose the target audience from UserTesting's diverse panels or your own users. When it comes to using tools that let you put yourself into the customers' shoes, UserTesting is the one to go for.
Choose it for Usability tests, Market research, Screen recording feedback, Live conversation
3rd party integrations allowed: Yes
Suitable for: Small to large businesses
Why is UserTesting a Fitting UserVoice Alternative?
Test your website, mobile app, and product using UserTesting's Panel or your own customer base (My Panel section).
Design usability tests such as tree test, five-second test, navigation test, benchmark test, first impression test, pilot test, card sorting test, and discovery test.
The tests include questions and tasks that the participants must perform while taking them.
Understand your customers' pain points, evaluate your page content, build A/B testing hypotheses, and undertake market research.
Use the pre-designed test templates or create the tests from scratch.
The users leave their feedback via screen recording and video recording as they perform the test.
Choose the target audience with advanced demographic filters and screening questions to disqualify ineligible participants. The test will begin only when the user fulfills the conditions set by filters and screeners.
Analyze the clips and recordings to uncover insights and discover the reasons behind users' actions.
Edit, cut, or combine the clips to create highlight reels and further analyze multiple user responses to the same task. Download or share the videos with one click.
You can also schedule live conversations with your participants to dig deeper into their interests, preferences, and problems.
Integrate with your existing tools such as Jira, Slack, and Trello to share the insights and clips.
Pros:
It lets you experience what your users do and how they behave while interacting with the product.
Video and screen recorded experience provide more in-depth data points.
Plus, you can connect with the users via live conversation to ask further questions.
Cons:
It is designed specifically for testing, not for collecting prompted or unprompted feedback. It requires planning and takes more time than other methods such as surveys.
Lack of a feedback portal to collect insights from general users and correlate them with the test results to improve data reliability.
Case Study:
Expedia uses UserTesting to save over seven figures a year with fast customer feedback. Being a travel company, they were looking to scale their market research to create a customer-centric experience. UserTesting's My Panel and live conversation feature helped them reduce cost and time for interviews and reach an international audience.
They were able to set and deploy tests in minutes to collect valuable feedback resulting in improved scalability and rapid growth of their research team.
Price: Contact for a quote
5. Podium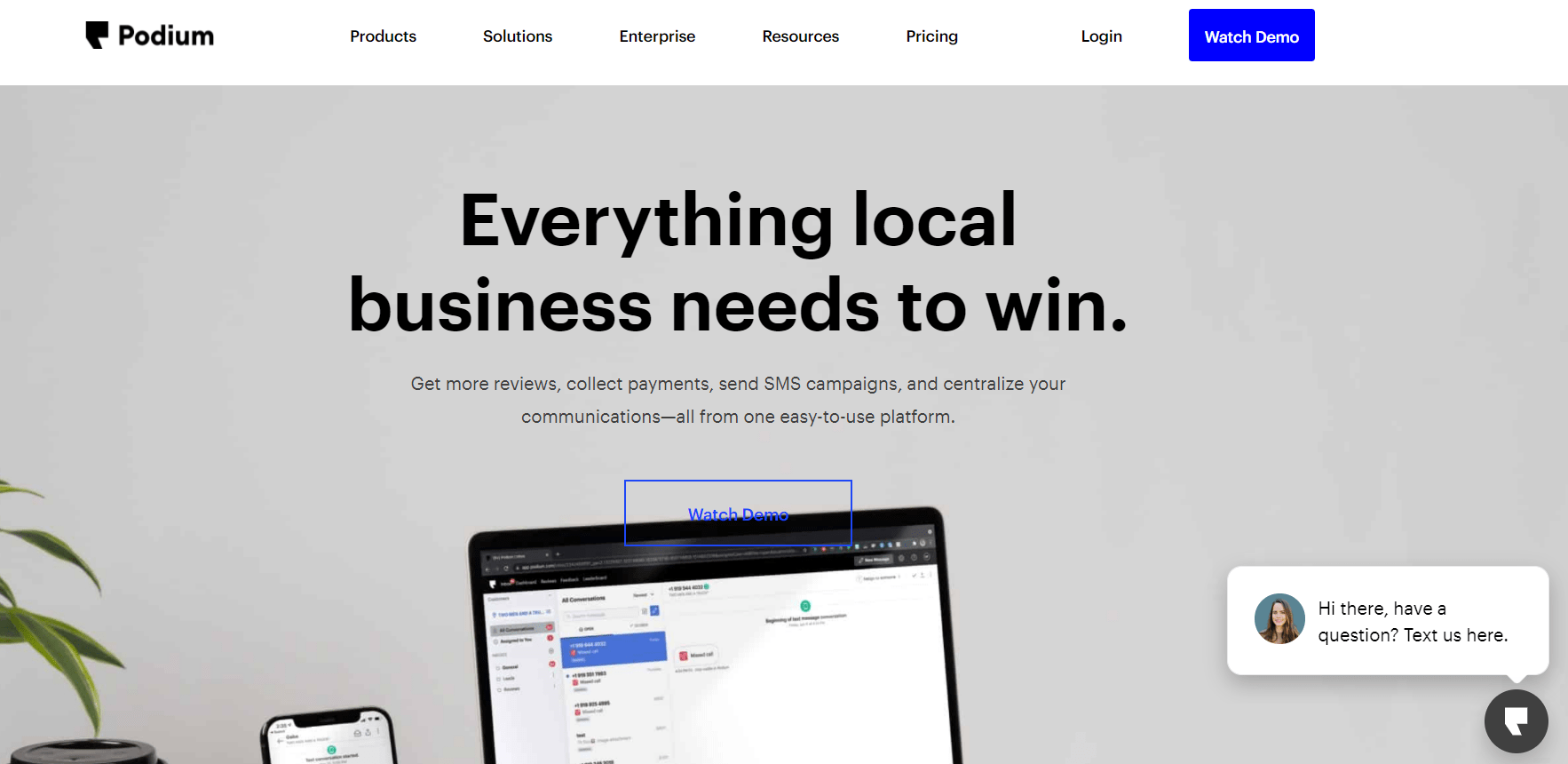 ---
Podium is an all-in-one interaction management tool that channels your SMS campaigns to collect feedback, engage customers, increase your ratings and provide real-time support. With a centralized inbox, you can manage the conversations and interact with your users across multiple channels from the same dashboard.
Choose it for Centralized Inbox, survey and rating invites, Podium app, WebChat widget for website
3rd party integrations allowed: Yes
Suitable for: Small to large businesses
How Can You Use Podium as a UserVoice Alternative?
Design and deploy SMS campaigns from Podium to maximize the returns on your efforts.
Just send a text to ask for reviews and ratings for your website or app on Google, App Store, Facebook, Play Store, or any other industry-specific review site.
Send short surveys to collect customer feedback at different touchpoints and channels. You can schedule automatic surveys after specific interactions and automated follow-up questions based on their responses.
Get notified whenever customers respond to the survey, review, or any conversation.
It also provides the WebChat widget for your website to collect leads, support visitors, and schedule consultations.
Offers a centralized inbox so you can handle all your conversations from one place. Bring every customer interaction from your mobile app, website, social media, Webchat, mail, Whatsapp, SMS, and other channels inside this unified dashboard.
Manage conversation threads, mark them as read or unread, and assign them to other teams to increase productivity.
You can also download the Podium app to chat with your customers on the go.
Use the in-depth analytics dashboard to track and measure your goals.
Pros:
The Podium app works like a charm to provide real-time 24/7 support to the customers.
It makes it easy to ask for reviews, and with SMS, you can expect a higher response rate.
Cons:
It can prove to be a little heavy on the pocket.
Integrating with your other tools can be cumbersome and glitchy.
Case Study:
LA Furniture, a family-run furniture retailer in Los Angeles, was looking to expand its marketing efforts beyond email campaigns. A lot of emails went straight to customers' spam folders, which resulted in a low response rate, communication delays, and missed notification updates on the customers' end.
Then, they started using Podium to send SMS to collect reviews and instantly connect with the customers to solve their issues. The centralized inbox helped them reduce their average response time to under a minute, resulting in satisfied customers. They have used Podium to increase their online ratings from 4.2 to 4.8 through targeted review invites.
Plus, the Webchat widget helped them in generating over 5000 new leads in nine months.
Price: Contact for a price quote
6. Upvoty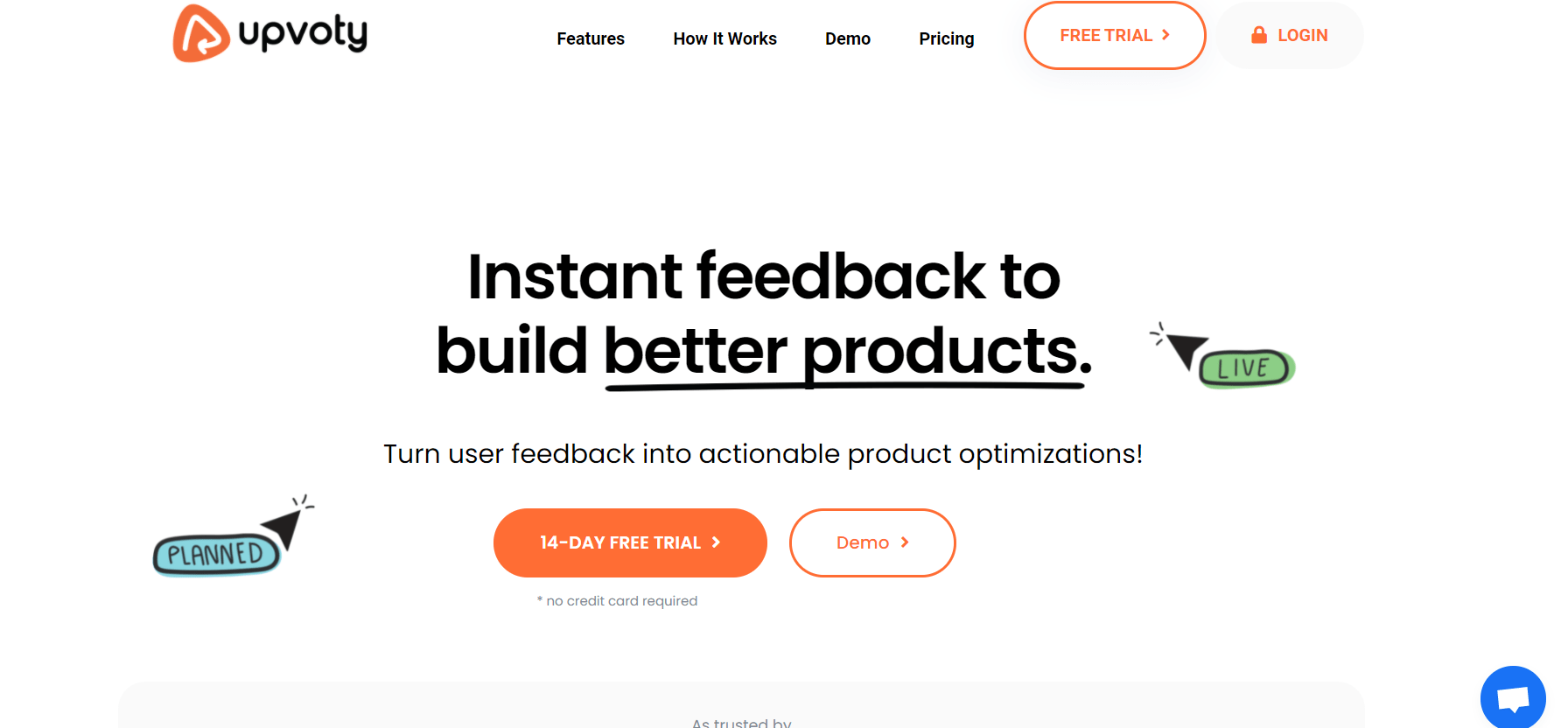 ---
Upvoty is another feedback software that makes it possible to visualize users' preferences using feedback boards. It is highly effective in finding what your customers want and including that feedback into your product roadmap. Its ease of use and high efficacy makes it an excellent alternative to UserVoice.
Choose it for Feedback boards
3rd party integrations allowed: Yes
Suitable for: Small to medium businesses
Why is Upvoty on the List of Best UserVoice Competitors?
Create interactive feedback boards for your domain, mobile app, and product.
You can create public (for everyone) or private boards (only accessible to allowed users).
The users can add their ideas, upvote, and leave their comments on others' ideas.
Entertain new feature requests, view upvotes on popular requests, set status on posted ideas, and interact with users on their posts via comments.
Also, publish the product roadmap on the feedback board to share current and planned product updates with the users.
It also features a changelog section to display major and minor updates.
Leave internal comments on the posts and assign them to appropriate members.
Offers seamless integration with other tools like Zendesk, Zapier, Intercom, etc.
Pros:
The single-sign-on feature makes it easy for users to leave feedback without tedious account registration.
It can help to streamline the customer feedback and bring it under a single screen.
Cons:
The dashboard can be more user-friendly with more filers.
No feedback widget for the website, mobile app, or product.
Case Study:
Supermetrics, a company that offers marketing and research tools, uses Upvoty's feedback boards to track internal and external feedback. It has helped them finetune their products and introduce new features that appeal to their customers.
Price: Starts at $15/month
7. Canny.io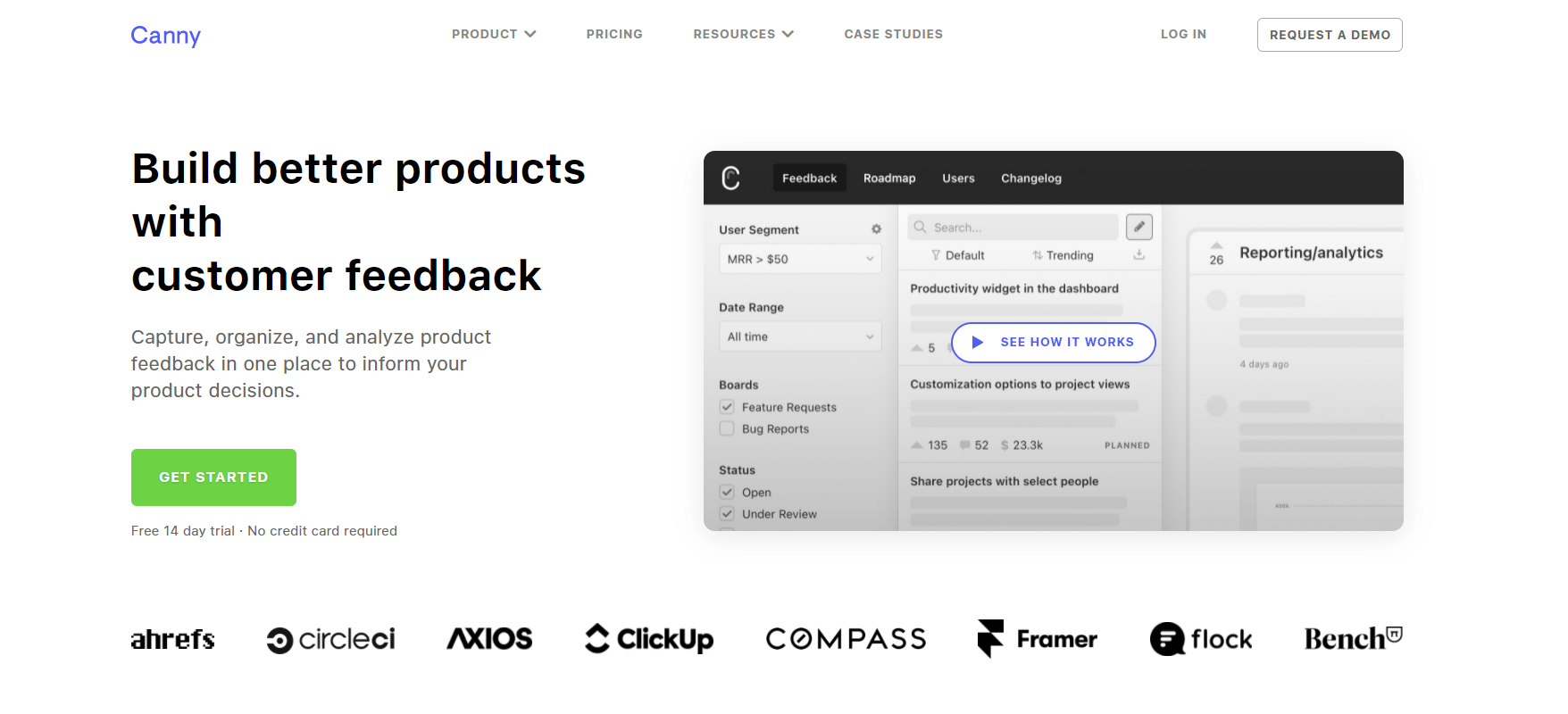 ---
Canny is one of those customer feedback management tools that let you capture, combine and analyze the insights in one place. It is a perfect tool to prompt users to leave their feedback at any point in their journey with a single click. Engage your users with a community feedback portal, simple feedback widget, or both.
Choose it for Feedback portal, Feedback Widget, New feature request tracking
3rd party integrations allowed: Yes
Suitable for: Small to large businesses
Why is Canny.io One of the Best UserVoice Alternative?
Embed the Feedback portal (Canny boards) into your website, mobile app, or product to collect feedback, explore new ideas, publish changelogs, and display product roadmap to your users.
All the above sections are present under a single dashboard for better navigation.
You can create a public board to accept input from any user or a private board to allow only specific users (internal or external) to interact.
The users can post their ideas, suggestions, new feature requests, upvote other posts, and leave comments on the feedback board.
Use the product roadmap feature on the board to keep your users posted about your plans. This section shows the user ideas that are being reviewed by your teams.
The changelog shows the released product updates to the users.
The integration tab lets you track the requested integrations by users.
Provides a detailed dashboard to track the feedback board activity. You can view post updates, activity trends and filter the data.
Categorize the posts using internal tags, set their status, and edit them in the admin dashboard.
You can assign posts to your team members and add internal notes to them.
Integrate with other tools to send feedback to the appropriate teams.
Pros:
It brings the entire process of collecting feedback from different sources, logging it into the system, and following up on it under the same tool saving your time and effort.
It can help improve interdepartmental collaboration as the feedback can be shared with internal teams in minutes.
Cons:
You can create the feedback interface for one product only with one account. It can cause issues if you cater to multiple products.
The pricing structure is user-based which can prove a bit expensive for companies with a large user base.
Case Study:
Ahrefs, one of the leading SEO tools, uses Canny to track new feature requests and include customer feedback into their product development cycle. Canny has made it possible to consolidate and organize the feedback and ideas scattered across various channels like Slack, Gmail, Google sheets under a single dashboard without manual work.
The customers can access the feedback section at any time. In addition, they can see the status of their requests. The product development team at Ahrefs uses the platform to prioritize their product updates and new feature releases to align them with customers' consensus.
Price: Starts at $50/month
8. UserEcho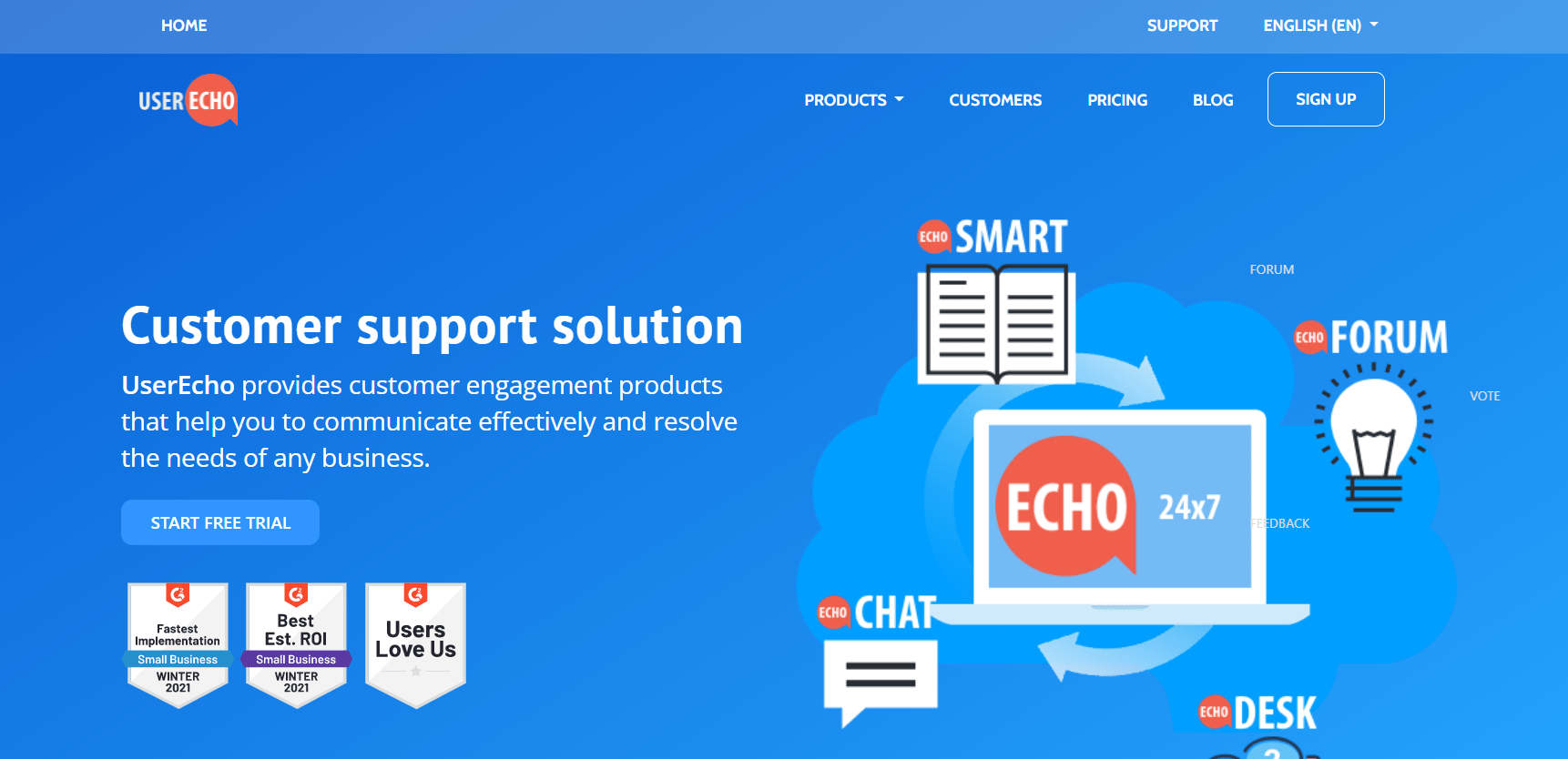 ---
Like UseResponse, UserEcho lets you hear the customer's voice across multiple touchpoints. It is comprehensive customer support and feedback solution that lets you connect with your users, provide real-time support, and gather ideas for your product roadmap.
Choose it for Knowledge Base, Feedback Portal, Ticket system, Live-chat
3rd party integrations allowed: Yes
Suited for: Small to large business
What Makes UserEcho a Suitable UserVoice Alternative?
Provides a community forum (feedback portal) for users to engage and submit ideas, suggestions, and feedback.
The users can post ideas, view proposed ideas, upvote, track the status of their posts, request new features, and leave feedback via private mode.
You can also add a Knowledge Base to your website and mobile app. Create and publish articles, guides, FAQs, and other self-help materials using the WYSIWYG editor.
Use the analytics dashboard to track the most viewed articles, view count, and other metrics.
Embed a sidebar feedback widget to your website and mobile app.
It also provides a HelpDesk system to entertain user tickets. Use the Helpdesk widget to collect feedback from customers.
Manage tickets from all the channels like email, social media, website, and app. Reply to the tickets, pin tags, add internal notes, and assign current status to them.
Send CSAT surveys to collect satisfaction ratings after the ticket has been resolved.
Use the live chat feature to provide real-time support to your customers. Save transcripts, open multiple chat windows, and convert chat sessions to tickets for better management.
It also has an inbuilt analytics dashboard for live chat to track activities across all the systems. You can monitor average response time, agent activity, chat sessions, and CSAT scores.
Seamlessly integrate with other tools such as Jira, Slack, Facebook, and others.
Pros:
It gives multiple methods to collect feedback and connect with your users.
You can also implement customer support elements using the same tool.
Cons:
The admin interface and editor can be hard to navigate and use.
Customer testimonial:
The developers at Textastic used UserEcho to collect feedback from their users. The cost-effective plans, feature-rich interface, and ease of use attracted them towards the UserEcho tool. It helped them collect valuable ideas and input for product optimization and roadmap.
Price: $19/month billed annually
Read Also: 30 Best Website Feedback Tools for 2023
9. Pendo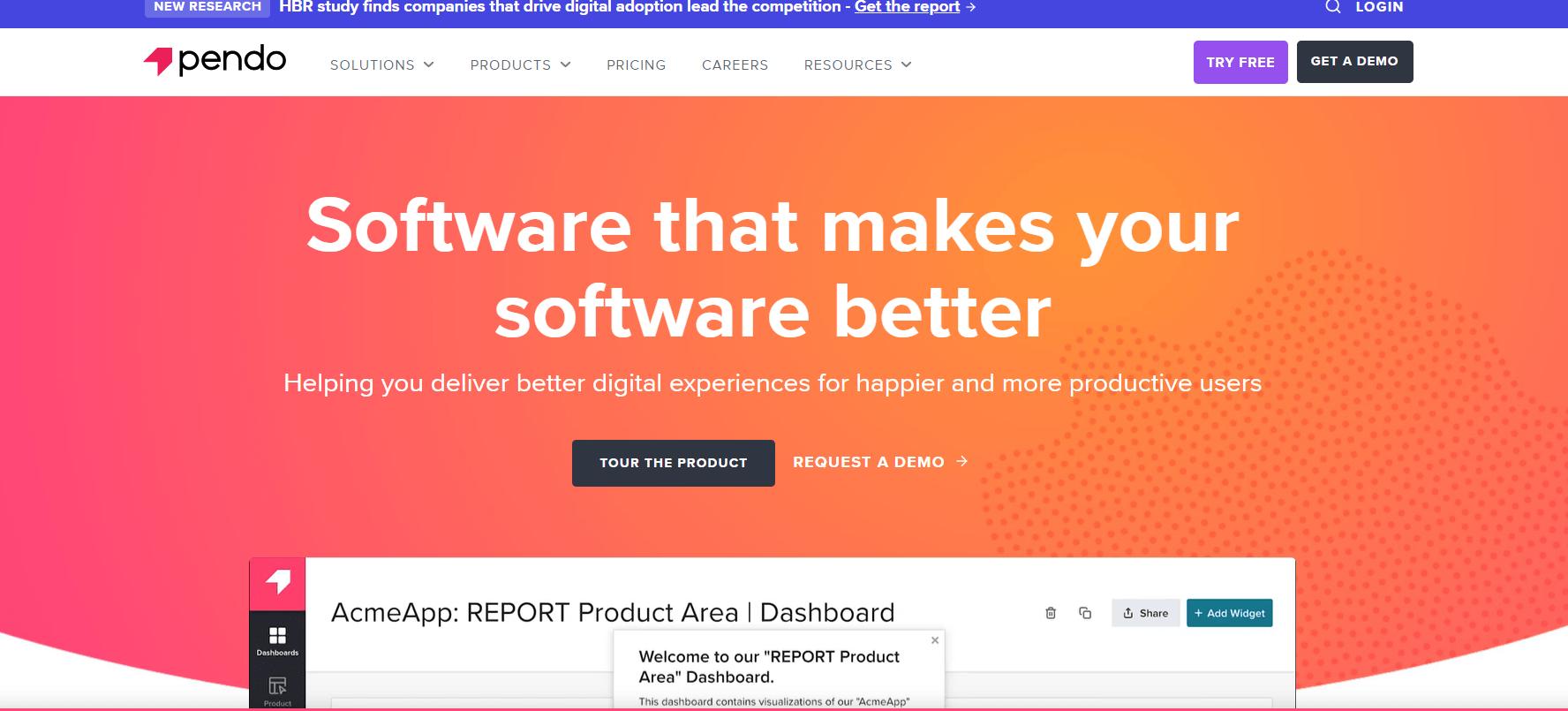 ---
Pendo is a product adoption and customer engagement tool for your mobile apps. You can handle multiple apps from the same Pendo account, allowing more flexibility in data management. With in-app surveys, you can collect valuable insights to optimize the app and use the in-app message prompts to update the users about newly released features.
Choose it for: In-app surveys and message prompts, In-app guides
3rd party integrations allowed: Yes
Suited for: Small to medium businesses
How is Pendo a Perfect Alternative to UserVoice?
Design targeted in-app surveys and polls to gather feedback from your app users.
To extract valuable insights and identify priorities, you can filter and categorize the feedback by segment, feature, user cohort, and other attributes.
Assign a status to the feedback to inform the user about the current stage of their requests like planned, declined, released, etc.
Provides in-app messaging prompts to broadcast important messages to users. You can also create self-help guides to facilitate smooth onboarding, provide support and improve product adoption.
Features a powerful analytical dashboard to study the feedback and track app usage metrics.
Add new widgets and charts to the dashboard and study the data as required. Track trends, usage, feature adoption, and other metrics using custom charts.
Integrate with other tools such as Drift, Salesforce, Figma, and more.
Pros:
A perfect tool to improve app onboarding and product adoption.
It is easy to set up, so you can start collecting insights in a few hours.
Cons:
The analytics dashboard needs to be more detailed to improve data segmentation and navigation.
Case Study:
Okta, a company that develops access control solutions for the IT industry, uses Pendo to understand how users interact with their platform. They use the analytical dashboard to track product usage, drop-outs, and product navigation.
Because of past and current feedback data availability in the same tool, they can extract valuable trends and insights for future analysis. They have also developed guides that have led to improved product engagement and increased adoption by 25% across the platform.
Price: Contact for a price quote
10. Aha!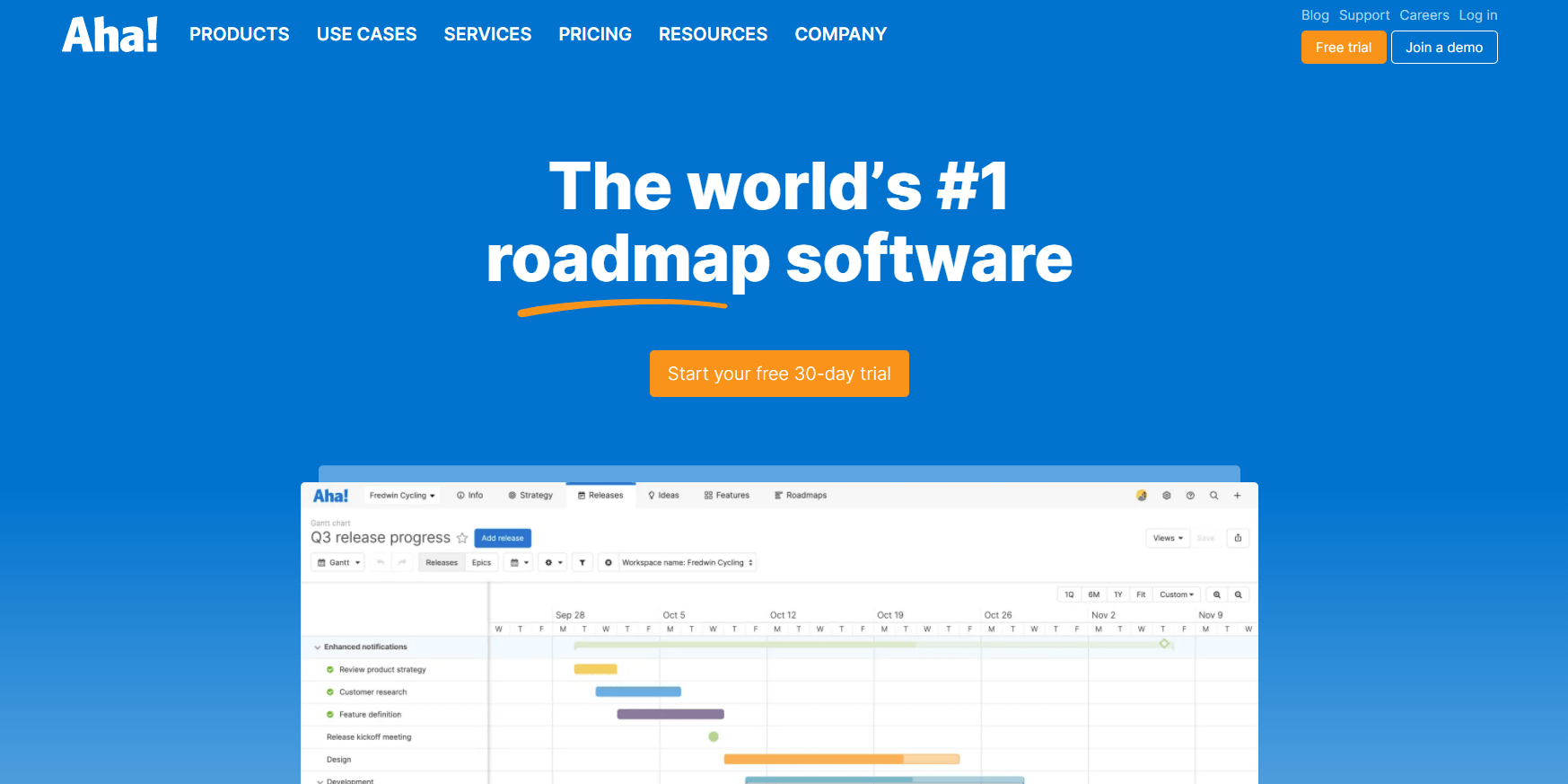 ---
Aha! is one of the best roadmap and feedback tools to crowdsource ideas on your website and mobile app. You can gather users' suggestions, prioritize the valuable ones, and arrange chat sessions with users to learn what they think about your product. The simplicity of usage and effectiveness makes Aha the perfect tool to optimize your product development cycle and build the best possible user experience.
Choose it for Feedback portals, In-app forms, Polls
3rd party integrations allowed: Yes
Suited for: Small to large businesses
What Puts Aha! Among the List of Best UserVoice Alternatives?
Create and add multiple idea portals to your website or app. The portal can be public (accessible to anyone) or private (accessible only to allowed users).
The users can post their ideas, upvote, comment on existing ones, search posted ideas, sort them by status, and see trending ideas in the portal.
Sends automatic notification updates to users about their ideas' status change, new comments, etc.
Manage the ideas using the inbuilt dashboard. You can track new and popular suggestions and the latest comments.
See details about each suggestion and request, set their current status, view user comments, assign the idea to an internal team member, add tags, and identify opportunities.
Host discussions and chat sessions with users to explore new ideas. Conduct in-app polls to get insights into your users' interests and preferences.
Allows integration with tools such as Slack, Microsoft teams, Salesforce, and Jira
Pros:
It works for both websites and mobile apps, eliminating the need to use separate tools to handle each channel.
There are loads of customization options to filter data and calculations. You can create multiple boards to organize your work.
Cons:
The UI is not as intuitive as compared to other tools in the list. It can be hard to navigate and find the required features.
Case Study:
Experian used Aha's idea center to centralize feedback across their different program tiers. When they categorized their products into three programs, it became harder to manage cross-product dependencies as the data for each program was stored separately. They were looking for a way to combine data from multiple sources to design their roadmaps.
With Aha's portals, they were able to combine the product plans for different tiers under a single platform. Since data and ideas were now stored at a centralized location, it gave complete visibility to different teams. They could track what was in progress and what was planned for the future. It also provided them with a cross-team structure and fluidity to track their progress.
They used Aha to capture and share product feedback, initiate roadmap conversations, and engage with other teams efficiently.
Price: $59/user/month billed annually
Feature Comparison Table For Best UserVoice Alternatives
Tool
Price
Free account available
Feedback type
Supported channels
Supports feedback board
Feedback sidebar
Advanced analytics
Centralized message center
UserVoice
Contact for a quote
N
Surveys,
idea portal, feedback widget
Website,
mobile app
Y
Y
N
N
Qualaroo
$80/month billed annually
Y
Surveys, prototype testing, usability testing
Website, mobile app, email, SaaS product, link
N
N
Y
N
ProProfs Survey Maker
$0.05/response/month billed annually
Y
Surveys, polls, quizzes, forms
Website, mobile app, email
N
Y
N
N
UseResponse
$1490/year
N
Feedback board, ticket system, surveys
Website, mobile app
Y
N
N
Y
UserTesting
Contact for a quote
N
Usability testing, live conversation, screen recording feedback
Website, mobile app, product
N
N
N
N
Podium
Contact for a quote
N
Surveys
SMS
N
N
N
Y
Upvoty
$15/month
N
Feedback board
Website, mobile app, product
Y
N
N
N
Canny.io
$50/month
N
Feedback board, feedback widget
Website, mobile app, product
Y
Y
N
N
UserEcho
$19/month billed annually
N
Feedback board, ticket system,
surveys
Website, mobile app
Y
Y
N
N
Pendo
Contact for a price quote
Y
Surveys
Mobile app
N
N
Y
N
Aha!
$59/user/month billed annually
N
Feedback board, Polls
Website, mobile app
Y
N
N
Y
Conclusion
These were the ten best UserVoice alternatives to check out for your business. Remember, the best tool isn't the one that enlists the most features, but the one that provides the optimal solution to your problems at the best price. So, use this comparative list to gauge the features of the tools and pick the one that fits your needs.
Learn More
Want insights that improve experience & conversions?
Capture customer feedback to improve customer experience & grow conversions.