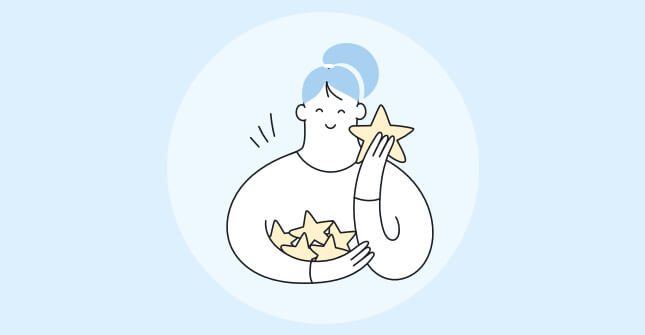 One of the most important metrics that instantly show how well your customers are satisfied with what you offer is the customer satisfaction score or CSAT score.
CSAT surveys are the standard way to gauge the happiness of the customer with your product or service. They give customers a voice. CSAT data can be qualitative and/or quantitative. There are customer satisfaction survey designs that gauge the emotional CSAT on a figurative scale, as well as those that calculate definite numeric scores. But what kind of CSAT survey gets you reliable responses and data?
Think about it – would you be more inclined to respond to a sleek, simple, and straightforward online survey or a cluttered, complex, and convoluted one? Most (if not all) people will understandably prefer the former.
And take the opposite perspective – you are the survey maker.
Would you prefer delighted respondents or turned-off targets?
When you are measuring CSAT, shouldn't the survey you serve to satisfy the customers?
Keeping such broad aspects of gathering CSAT feedback in mind, it is up to you to choose which type of CSAT survey you need. Then, you should design the customer satisfaction survey questions to fulfill the purpose of customer satisfaction surveys – keeping you informed about your customers' experience (CX).
But how do you decide the type and questions that will measure CSAT accurately?
Want to know the answer? The truth is that there is no one-survey-fits-all process or a universally usable survey template. Build your own survey to cater to the specific purpose you have in mind.
Ready to create a CSAT survey that nets you the feedback you need? Begin by understanding the basics and move onto the types of CSAT surveys, templates & questions to use. Finally, hone your skills by learning the best practices in this blog.
What Are Customer Satisfaction Surveys?
Asking the right questions at the right time is important to measure customer satisfaction accurately. Going wrong with your questions can be bad, because not only will it get you useless information, but you might also use that corrupted information to make erroneous business decisions. That is why the importance of customer satisfaction (CSAT) surveys cannot be denied.
Commonly used CSAT surveys are to-the-point to avoid irritating potential respondents and ask slight variations of these (mostly standard) questions. They are usually accompanied by options to choose from (or text boxes, in cases where customers' free-form opinions are sought):
How happy are you with [product name]?
How likely are you to recommend [product name] to a friend or colleague?
How could we improve your experience with [brand/product/service]?
Would you like to share any thoughts to help us improve [brand/product/service]?
Such CSAT surveys range from the simplest one-question types (Net Promoter Score(R) is the de-facto example) to in-depth technical questionnaires served to beta users and paid testers. Your survey design should depend on your specific purpose in customer satisfaction surveys.
---
Why Customer Satisfaction Surveys Are Important
Much like social media influencers need staunch followers to succeed, your business needs satisfied customers. Great companies are built on excellent reputations, and excellent reputations are built by satisfying customers so that they sing your praises.
But dissatisfaction in customers can occur due to unexpected reasons. That's why you need to keep your finger on the pulse of customers.
What better way to do it than with a well-designed CSAT survey?
A. Quantify Customer Emotions Into Numbers for Better Management
Since customer happiness and satisfaction is a sentiment, it is wise to find a way to quantify it. That is what a customer satisfaction survey helps you do.
The customer satisfaction survey campaign usually aims to calculate one number, such as NPS score or CSAT score, which is easier to analyze and track than manually monitoring each feedback separately.
---
Here's why you need a quantifiable measure to analyze results while creating a customer satisfaction survey: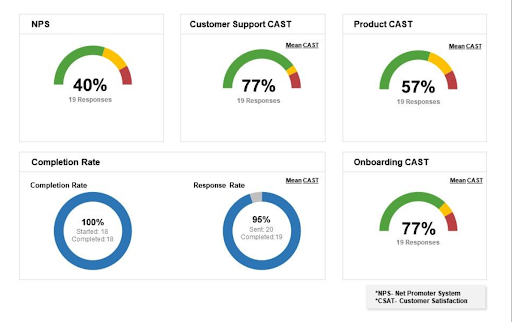 1. Quantify the Extent of Customer Satisfaction
Apart from the free-text questions, customer satisfaction responses record feedback on a spectrum like a Likert scale with a 1-10 rating.
It allows the customers to show their level of satisfaction/happiness more accurately instead of choosing a yes or no answer.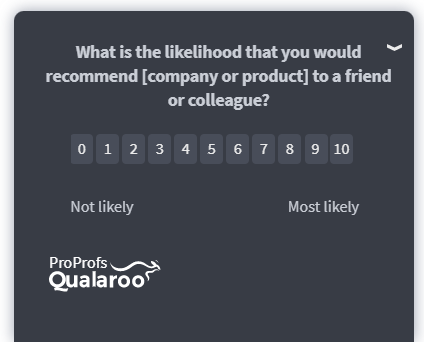 ---
Based on the answers, you can categorize the responses into different groups to tackle them individually, as done in NPS surveys.

---
---
2. Track the Impact of Your UX/UI Strategies
Having a consolidated number to work with instead of a whiteboard with hundreds of responses makes it easier to track the performance of your experience and conversion optimization efforts.
Creating a customer satisfaction survey makes it possible to get a bird's-eye view of customers overall sentiment using a number like CSAT score or CES score.
You can then dive into each response to uncover their pain points, issues, and other grievances, work on them, deploy the solution and relaunch the satisfaction survey.
Bonus Read: Top 19 UX Blogs You Should Follow
The fluctuation of the CSAT score helps you track the progress quicker and almost in real-time. It saves you hours of going through each response again to measure the impact of your strategies.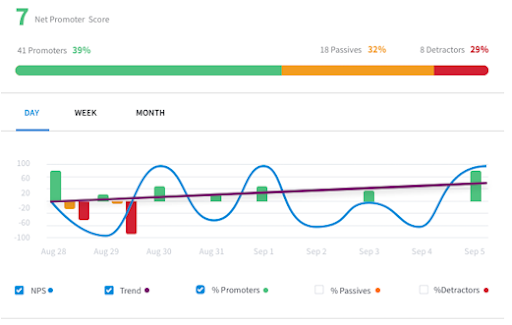 ---
3. Compare Satisfaction Across Various Channels
Customer satisfaction surveys are an essential part of designing and mapping the omnichannel experience.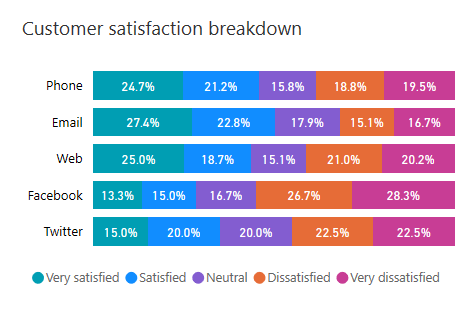 ---
Example
Suppose you have to map the shopping experience on your mobile app and website. So you deploy the customer satisfaction survey at the end of the checkout process on both channels.
Once the scores and feedback are in, you can quickly compare them. If the difference is significant, start analyzing the responses to determine what makes one channel more satisfying than the other.
You can apply the same strategy at different touchpoints across various channels such as websites, apps, products, service touchpoints, offline interactions, and more.
It helps to track customer satisfaction across different channels to design better solutions and optimize their experience.
Related Read: Customer Satisfaction Metrics to Monitor
4. Benchmarking Your Results
Another important aspect of expressing satisfaction as a number is benchmarking.
Over a third of the companies around the world use customer satisfaction surveys like NPS. Plus, there are a lot of firms that print NPS benchmark scores for different industries every year.
It means you have instant access to extensive data for benchmarking your NPS, CSAT, and other scores across your industry standard to see where you stand.
Here are the worldwide NPS scores across various industries for 2020: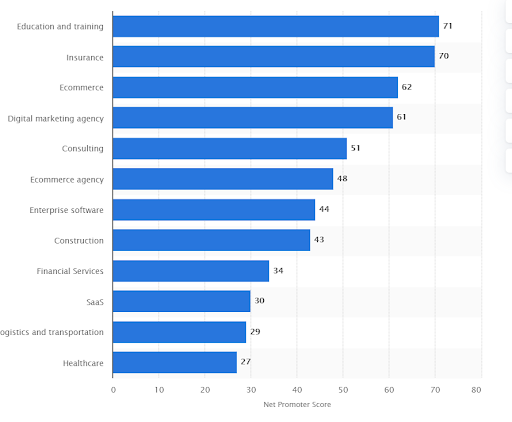 ---
Case Study – How Belron uses customer feedback to maintain a high NPS score
Belron, one of the world's top-ranked companies in the automobile windshield repair business, used AI to improve their UX and increase their NPS score.
"The products that Belron sells are what I call 'grudge' purchases. Nobody wakes up and says, 'I just wonder how much it would cost to get my windshield replaced,'" Stephen Payne, Customer Journey Improvement Manager at Belron, said. "You only come to one of our companies if you have damage and need it fixed immediately."
Read Also: Best Customer Journey Mapping Tool
While analyzing their feedback needs, Payne and Jamie Carter, the Voice of the Customer Manager at Belron, had 3 insights into their requirements:
The need to analyze customer's responses verbatim (exactly what they said, word-for-word)
NPS is valuable, but just one of the many pieces of the larger CSAT pie
The need to learn from shoppers who never become customers
"The products that Belron sells are what I call 'grudge' purchases. Nobody wakes up and says, 'I just wonder how much it would cost to get my windshield replaced,'" Stephen Payne, Customer Journey Improvement Manager at Belron, said. "You only come to one of our companies if you have damage and need it fixed immediately."
While analyzing their feedback needs, Payne and Jamie Carter, the Voice of the Customer Manager at Belron, had 3 insights into their requirements:
The need to analyze customer's responses verbatim (exactly what they said, word-for-word)
NPS is valuable, but just one of the many pieces of the larger CSAT pie
The need to learn from shoppers who never become customers
Analyzing open-ended responses: While the Belron team preferred rich survey data in the form of open-ended responses, they faced the same difficulty as many other user experience researchers: difficulty in combing through the data.
They used feedback software to collect and filter huge amounts of customer feedback efficiently using cutting-edge Artificial Intelligence.
"Using sentiment analysis, it took no time to view themes and patterns from customer responses. Fantastic!" – Jamie Carter, Voice of the Customer Manager
Digging deeper into NPS surveys: They also leveraged the software to look at bounces throughout the customer journey and overcome the 'recency effect' that creeps into NPS survey responses.
Learning from those who leave: The third insight about learning from shoppers who abandon the Belron website without getting their windshield fixed was taken care of with exit intent surveys.
B. Measure Transactional & Overall Customer Experience
Creating customer satisfaction surveys and placing them strategically at critical touchpoints across the customer journey lets you measure in-the-moment and overall satisfaction.
How does it help?
1. Get a 360-degree understanding of customer interactions
Customer journey is not a linear experience; it is an array of multiple interactions and touchpoints scattered across different channels.
Important touchpoints play a crucial role in forming a perception of your brand in customers' minds. For example, interaction with the support staff, ease of placing an order, using the website navigation menu, etc.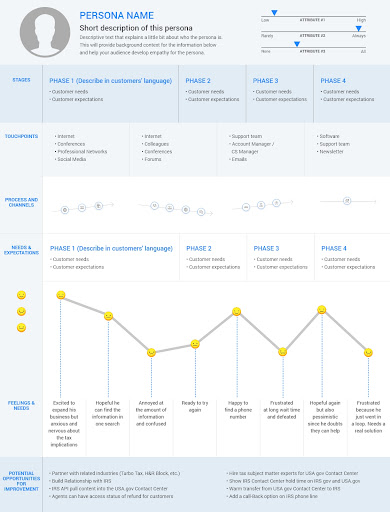 ---
With the right tool, targeted customer satisfaction surveys can bring feedback from various touchpoints and channels under one screen for easier analysis and tracking.
CSAT surveys can track these transactional experiences across all channels, while NPS scores can track long-term customer loyalty, as we will see in the next point.
---
2. Predict Long-Term Loyalty and Retention
Using customer satisfaction surveys like NPS & CES helps to measure customer loyalty, retention & repurchase probability.
The standard NPS survey asks a simple question:
On a scale from 0-10, how likely are you to recommend us to a friend or colleague?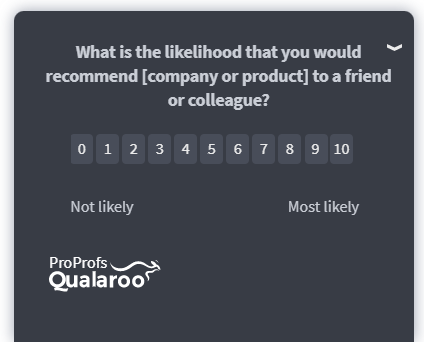 ---
Studies show that NPS is an indicator of long-term customer loyalty and retention. The industry leader in Net promoter score can grow twice as fast as the competition.
Read Also: Best NPS Software
---
In the same way, according to Harvard Business Review, CES (Customer Effort Score) is also a great predictor of long-term loyalty and repurchase probability. For service-related experiences like contacting customer support, it outperforms NPS in predicting behavior.
---
Case Study – How Gumtree uses all-around customer satisfaction feedback to improve its website
Gumtree, a leading classified ads website, caters to different customer types looking for various products like goods, cars, real estate posting, hiring jobs, and more.
The challenge was to hear from both advertisers and visitors to get a complete picture of how they behave on the website.
Gumtree used targeted surveys for different audience types based on product category, location, and interest to collect real-time customer satisfaction feedback from advertisers and visitors at different stages of their journey.
It also helped the team to benchmark the number and use integration APIs to correlate the survey data with their quantitative metrics to uncover deeper customer insights.
C. Segment Your Audience
Another important reason for creating a customer satisfaction survey is to group your customer base into different segments such as:
Promoters and detractors
Satisfied and unsatisfied customers
Happy or frustrated customer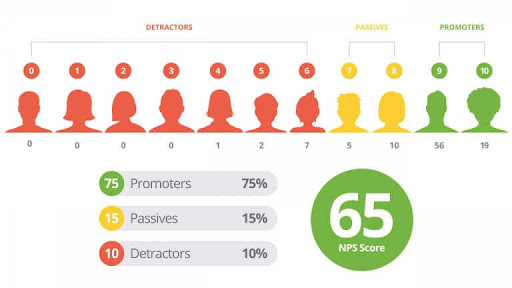 ---
Once you clearly understand how different customer types feel about your brand, you can reach out to them with different strategies to offer better services and explore brand promotion opportunities.
Here's how segmentation using customer satisfaction help in building your brand awareness and credibility:
1. Grow Your Brand
The NPS survey segments your audience into two groups: promoters and detractors. If you are using an identity feature such as Qualaroo's Identity API, you can associate the respondents with their contact information at your end, like email address.
You can then create personalized campaigns and offers to encourage the promoters to do your brand promotion.
It helps you leverage segmentation data to launch membership and referral programs for your most satisfied customers & turn them into your brand promoters.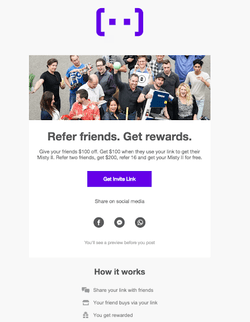 ---
2. Collect Reviews and Testimonials
Like the NPS survey, you can use CSAT surveys to identify your satisfied/happy and unsatisfied/unhappy customers.
Segmenting users based on a satisfaction rating gives the advantage of reaching out to happy customers and collecting reviews and ratings for your product page, website, App store, and other 3rd party review listing websites.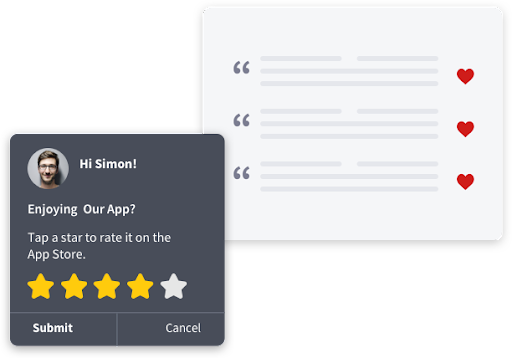 ---
According to Bazaarvoice's conversion Index Volume8, increasing the number of reviews impacts not only conversions but SEO and product insights as well.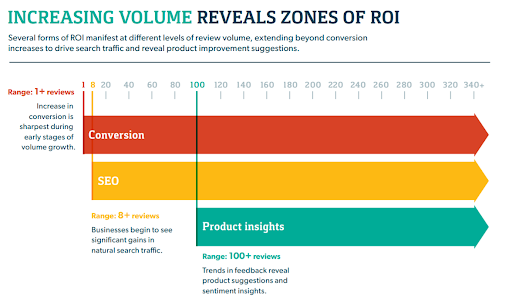 ---
You can use these reviews and testimonials on your homepage, landing pages, and other campaigns to build brand credibility and trust.
Related Read: Guide to Creating Landing Page That Converts
3. Personalize User Experience
Today, experience personalization is an essential aspect of the customer journey. It can increase both your customer base and conversions.
More nuanced customer segmentation based on demographic, psychographic, and other attributes can produce valuable insights to personalize the experience of different customer types.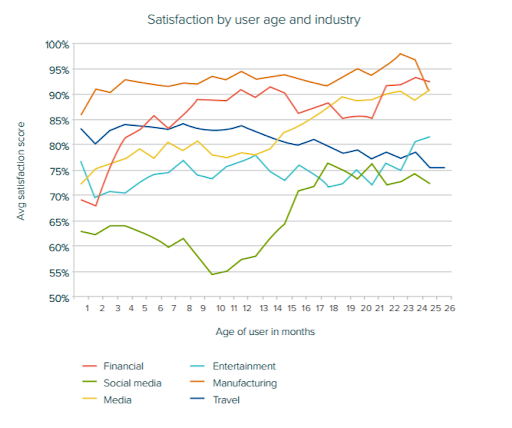 ---
Want to know about Market Segmentation for better audience targeting?
Take a look at our comprehensive guide on customer segmentation
You can gauge the satisfaction level of different audience types and design a personalized experience for them.
For example:
Adding an onboarding process for new users.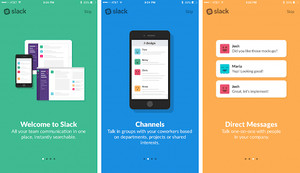 ---
Implementing one-click checkout for mobile app users.
Crafting unique selling propositions for different segments for your email and ads campaigns.
---
Creating a PWA (progressive web application) of your website for mobile browser users to improve performance. Pinterest increased their active weekly users by 103% by launching the PWA for their mobile website.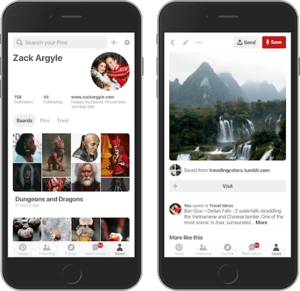 ---
That's why creating customer satisfaction surveys is necessary to understand your target audience for successful campaigns.
Case Study – Lego's market segmentation strategy to become the largest toy brand
As technology progressed, Lego looked for an effective strategy to market Lego Bricks over social media. It used customers' behavioral traits and feedback to understand their audience. They used the data to segment the customers into the following six groups based on purchase and usage rates:
Lead Users: People LEGO actively engages with on product design
1:1 Community: People whose names and addresses they know
Connected Community: People who have bought LEGO and [have] also been to either a LEGO shop or a LEGO park
Active Households: People who have bought LEGO in the last 12 months
Covered Households: People who have bought LEGO once
All Households: People who have never bought LEGO
The customer personas helped Lego understand how different customers interacted with the brand.
Lego picked the top three personas to build social interactions and user engagement with customers to encourage them to become their brand advocates. It helped to understand the customers better and build new products to improve customer satisfaction.
With active online engagement and listening to what customers have to say about their product, Lego has been able to turn customer feedback into new products, making it one of the largest toy manufacturers in the world.
---
D. Hear the Voice of Your Customers
Another big reason for creating a customer satisfaction survey is to listen to your customers. It helps to set up a conversational channel between the brand and its users.
You can gauge if they are happy with your products and services, what other features they want to see in the product, uncover points of struggle and collect other valuable insights.
Here's how:
Open up two-way communication
Using a targeted survey Nudge™ or a feedback form provides a way for customers to speak their minds. They can leave feedback, suggestions, and other important information for you about the website, product, or app.
Nudge™ or a feedback form provides a way for customers to speak their minds. They can leave feedback, suggestions, and other important information for you about the website, product, or app.
---
You can analyze the feedback and engage with the customer to update them about the status of their feedback and collect more in-depth information about the issue. It gives importance to the customers and makes them feel valued, helping form a positive brand perception.
Plus, you can use the feedback in your product roadmap to improve customer experience and satisfaction.
Read Also: 20 Best Customer Experience Management Tool
Types of Customer Satisfaction Surveys & Templates
Surveys for measuring customer satisfaction can be served in myriad ways through various types of questioning techniques, including but not limited to:
Paper questionnaire
Personal interview
Online poll
Mailing list survey
Email signature survey
Personal interviews and paper questionnaires are ideal for descriptive surveys that seek feedback from your customers (Example – "how can we improve your delivery experience?"). Email signature surveys, on the other hand, are better for pointed questions that do not require too much of the respondent's time (Example – "On a scale of 1-10, how likely are you to recommend us to your friends?").
When it comes to templates for CSAT surveys, the most popular types of CSAT surveys are those that ask one (almost standard) question. These are:
NPS(R) (Net Promoter Score)
CES (Customer Effort Score)
CSAT (Customer Satisfaction)
Now let's shed some light on these popular customer satisfaction survey designs.
The most famous (and trademarked) question for calculating NPS(R) is:
"How likely is it that you would recommend this company to a friend or colleague?"
The respondent (usually, existing customers are the target demographic) answers on a scale from 0 to 10. Based on this, they can fall under the 3 following categories:
Detractors: Those who choose a value from 0 to 6
Passives: Those who choose values like 7 and 8
Promoters: Those who choose values like 9 and 10
The NPS(R) score is simply the difference between the percentage of detractors and promoters.
If the customers consent to be identified, then sorting them based on their responses can give you the opportunity to turn detractors and passives into promoters through suitable actions.
Watch: NPS Survey Recipes – 4 strategies to gather high-quality feedback
---
CES is used when you need to know how easy or difficult it was for your customer to do something (compare similar items, access help articles, begin their trial of your product or service, etc.).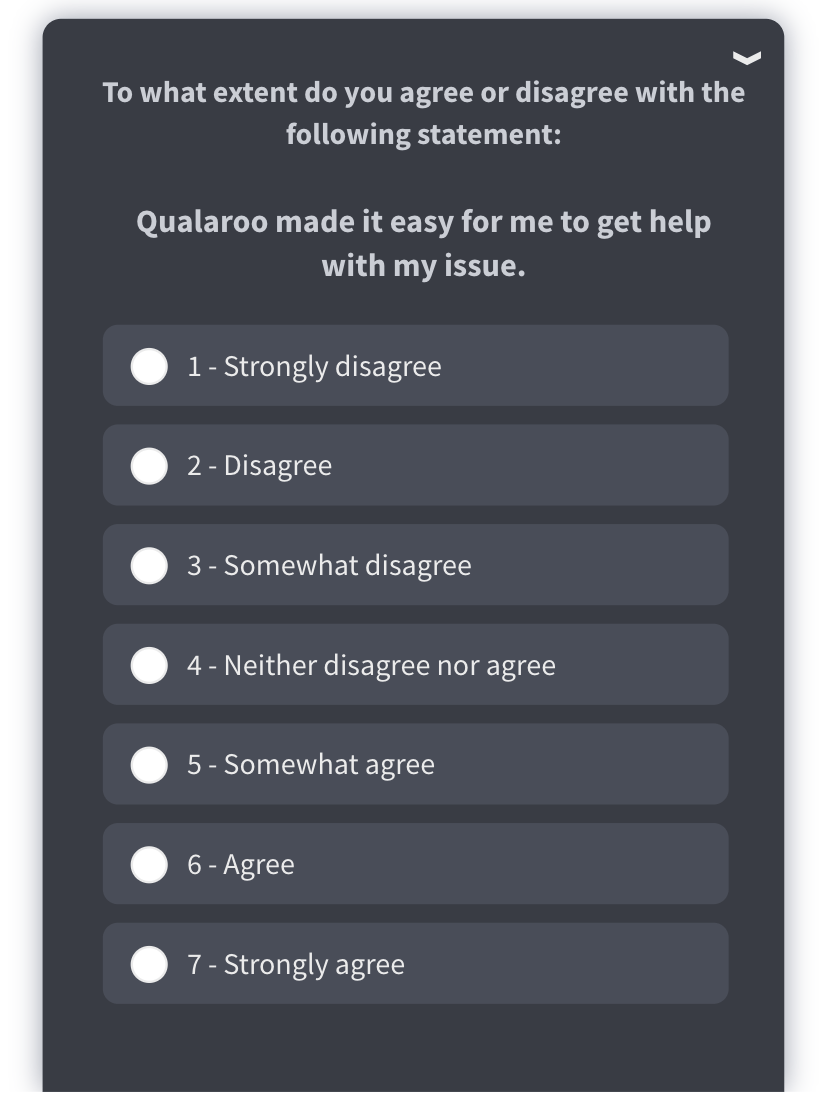 ---
Recommended Read: Feeling stuck coming up with questions to ask to get the info you need? Check out this handy list of questions, linked with targeting options to boot!
For a UX twist on CSAT, you can calculate the User Effort Score with Qualaroo's sample customer satisfaction surveys that take advantage of quite advanced targeting.
---
CSAT simply asks how satisfied the customer was with their experience. You can choose to follow up with open-ended questions or give the customer an option to share free-form feedback.
---
---
8 Question Types to Build Customer Satisfaction Surveys
Questions can make or break a survey. Bad survey questions can confuse respondents, cause survey fatigue and leave a bad impression overall even as they skip it to move on. Let's discuss some common question types you can choose from (along with their pros and cons) while creating a customer satisfaction survey to make sure you can get a good response rate with useful insights.
1. Single-choice Questions
Single-choice questions are those where the respondent can select only one answer from the given options.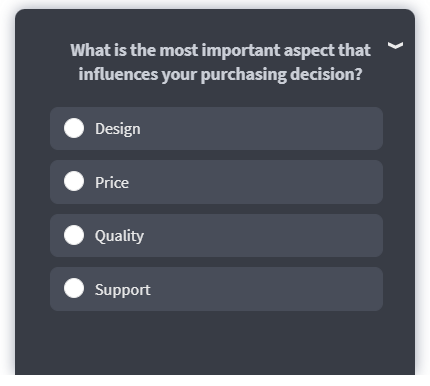 ---
For example:
What is the most important aspect that influences your purchasing decision?

Design
Price
Quality
Support
The main advantage of this question type is that they are easy to analyze and keeps your data set clean. But they also restrict the customers from adding any additional comments or feedback
2. Multiple-choice Questions
Multiple choice questions allow respondents to select more than one answer from the given options
---
For example:
How did you hear about our website? (Select all that apply)

Internet
TV ads
Friends & family
Email
Others
Multiple choice questions let you collect more data points than single choice questions, but they still don't take any free-hand input from the respondents.
3. Dichotomous Questions
Dichotomous questions carry only two response anchors – Yes and No. They are mainly used to divide the respondents into two groups.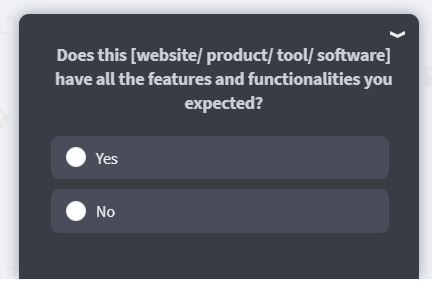 ---
For example:
Do you eat meat? (Yes/No)

If Yes, proceed to the next question
If No, show the thank you screen
You can add these questions at the start of the survey to screen the respondents. It will allow only eligible respondents to take the survey.
4. Binary Questions
Binary questions also have two response anchors, and the respondents can select only one of them. A dichotomous question is a subset of binary questions.
For example:
5. Likert Scale Questions
A Likert scale question notes the respondent's degree of agreement or disagreement with a given statement. The responses are arranged on a continuum scale ranging from increasing or decreasing degrees of positive/negative sentiments.
---
For example:
How satisfied are you with the shopping experience?

Very satisfied
Satisfied
Nor satisfied nor dissatisfied
Dissatisfied
Very dissatisfied
Likert questions make it possible to measure the extent of respondents' satisfaction instead of a yes or no response. You can use the 5-point or 7-point scale depending on the depth of information you want to collect from the users.
Though the 7-point scale increases the sensitivity of the feedback measurement, more options may introduce a paradox of choice, making it difficult for the respondent to choose the answer.
6. Rating Scale Questions
A rating scale asks the customer feedback on a numeric scale like 1-10 or 1-5. The most common example of such a question is the NPS scale, which uses a numeric rating scale of 0-10.
---
Here, the lowest number indicates a negative/unsatisfactory experience, and the highest rating means a positive/satisfactory experience with your product or service.
Other scales include an emoji scale and a star rating scale.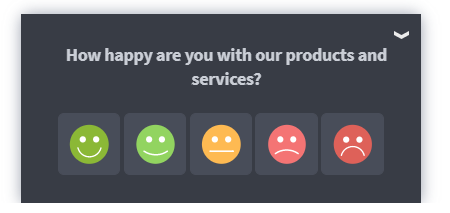 ---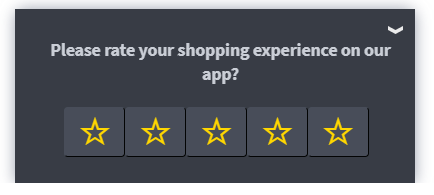 A significant advantage of the rating scale is its simplicity. Since the input is a single number, you can easily monitor it over time and see any fluctuations.
7. Matrix Questions
A matrix question combines multiple questions into one screen. The questions are arranged in a row while the response anchors are added to the columns.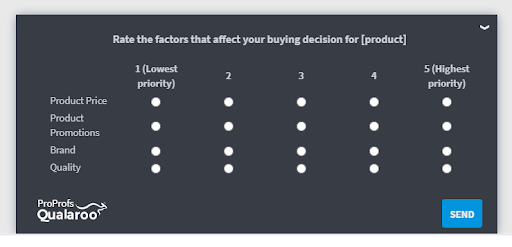 ---
The matrix question requires all questions to have the same response anchor to arrange them in an array.
This question type helps reduce the length of the survey. But it may also lead to straight-lining, where the respondent randomly selects the answers for all the questions without reading them properly.
8. Open-ended Questions
Open-ended questions have blank space for the respondent to enter the feedback in their own words. These question types let you collect nuanced data points from the respondent. You can ask for suggestions, explore new feature requests, and uncover previously undiscovered insights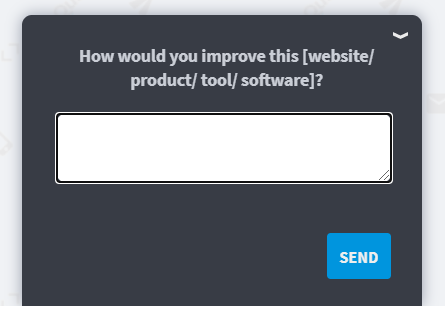 ---
Free-text questions are used as follow-up questions to gauge customers' behavior, interest, and pain points.
One major drawback of open-ended questions is they are hard to analyze. It requires more time and effort to make sense of the feedback.
Today, various survey tools offer advanced techniques like sentiment analysis or text analysis to make it easier to dig through the free-text responses and reduce manual work.
8 Best Practices Customer Satisfaction Surveys
Whether you are new to creating a customer satisfaction survey or regularly employing it in your business, there are some best practices to keep in mind while running the survey campaign, like:
1. Keep the Continuum Scales Consistent
The number one practice in our book is to keep the scale consistent every time while creating a customer satisfaction survey.
It makes it easy to track and analyze the scores over time.
Let's see it with an example. Suppose you use a 5-point Likert scale for your CSAT surveys. From a total of 100 respondents, 65 choose either 4 or 5 options as their response. So, your current CSAt score becomes 65.
Please rate your satisfaction with the recent purchase.
Very Dissatisfied
Dissatisfied
Neutral
Satisfied
Very Satisfied
Now, after six months, another team run a CSAT survey, but this time, they use an inverted scale running from positive to negative sentiments as shown below:
Please rate your satisfaction with the recent purchase.
very Satisfied
Satisfied
Neutral
Dissatisfied
Very Dissatisfied
Now you can see that 1 and 2 become favorable responses. You can still get a score of 65 if 65% of the respondents select these options. But it may confuse the interdepartmental teams while analyzing the responses and require more time to categorize the feedback.
In the same way, when using multiple Likert scales questions in the same survey, try to use a consistent scale so respondents don't get confused.
2. Estimate Your Sample Size to Get Reliable Results
Sample size estimation is a critical step while creating a customer satisfaction survey to produce reliable results.
The main reason behind this is to flatten the data curve. The more responses you collect, the more are chances that particular feedback conforms to the opinion of the majority of your audience.
It helps you separate the genuine feedback from the outliers and reduces the chances of you chasing the wrong feedback data.
There are numerous survey sample size calculators available online.
Just punch in the numbers, and you can have a rough estimate of the required sample size to reach the desired statistical confidence.
Statistical confidence is the probability of a result being wrong. For example, a 95% confidence level means the chances of getting a wrong result are 5 out of 100.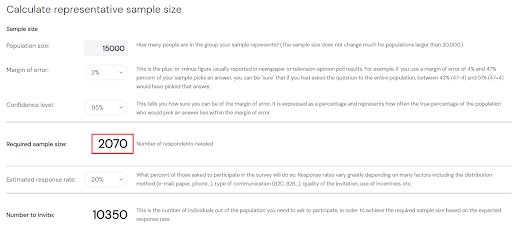 ---
You can see from the image above that you need at least 2035 responses before calling off the survey, with a statistical significance of 95%.
So, always estimate the sample size to focus on the optimization efforts in the right direction.
Tip: Deploy your CSAT survey on multiple channels to maximize response rate and reach the sample size quicker.
Related Read: How to Use Screening Questions in Your Survey – A Complete Guide
3. Keep Your Survey Short – Experiment With the Length
Another best practice while creating a customer satisfaction survey is to optimize its length, i.e., limit the number of questions.
There are plenty of studies that show the relationship between survey length and response rate.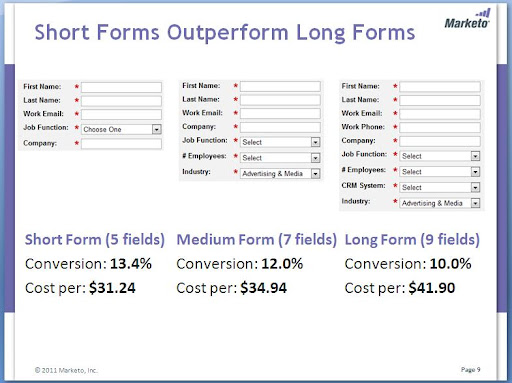 ---
As you can see from the image, shorter surveys tend to produce higher response rates. That's because such a survey takes less time to complete and does not annoy the respondents.
That's why it is necessary to experiment with the survey length to find the optimal number of questions for your visitors.
Here's how:
Start by doing a form analysis and analyzing the abandon rate to find the survey drop-off point.
You can also use screen recording tools to find where the respondents leave the survey incomplete.
Send the survey to other team members to estimate the average completion time and make changes to reduce it.
Compare the response rate from other survey campaigns to find the correlation between the number of questions and completion rate on your website, app, or product
4. Avoid Double-Barreled and Leading Questions
A double-barreled question carries two independent statements into the same question.
The problem with this type of question formation is that the respondent may have opposing answers to each question. But due to a lack of individual choice, they may not be able to answer it objectively
For example:
How satisfied are you with our services and support agents?
Here, the customer may be happy with the product or services but may not be happy with the agent.
That's why It is better to split the question into two to make it more transparent and easy to answer for the respondent.
A leading question carries an inherent assumption about the respondent.
For example:
How often do you drink beer?
Here it is already assumed that the respondent drinks beer. So, people who do not qualify for this question are forced to choose an answer or abandon the survey.
To overcome this problem, we can add a screen question to divide the respondents such as:
Do you drink beer?

If Yes – How often do you drink beer?
If No – Please specify the reason for your answer.
Now you can add question branching to show only relevant follow-up questions based on the respondent's answer.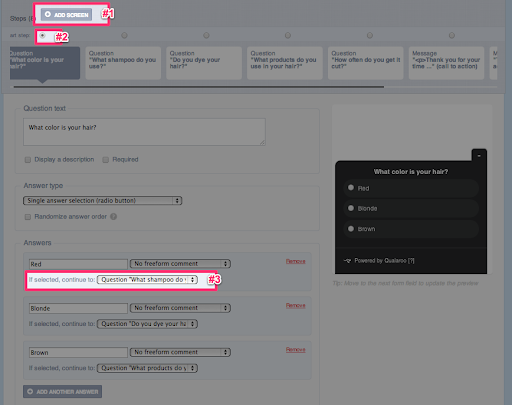 ---
5. Find out Your Best Survey Timing to Maximize Response Rate
While creating a customer satisfaction survey for emails or SMS, the best practice is to find the sweet spot for sending it to maximize the response rate.
Several studies by Mailchimp, CheckMarket, Experian, and others point towards the best days and times of the week to send the surveys for improving the CTR (click-through rate).
---
---
---
Use these studies as a reference point to find the optimal time for sending surveys to the customers.
Suppose among the target audience population of 10000, the average response rate for your surveys is 25%.
If you increase the response rate by 1% by finding the right timing, it equates to an increase of 1000 responses. It means you can reach the required sample size quicker to uncover valuable customer insights
6. Add Incentives to Improve the Response Rate. But Be Careful
Adding an incentive to the CSAT survey is an excellent motivator for the people to complete it. As you can see from the image below, an incentivized survey generally leads to a higher response rate.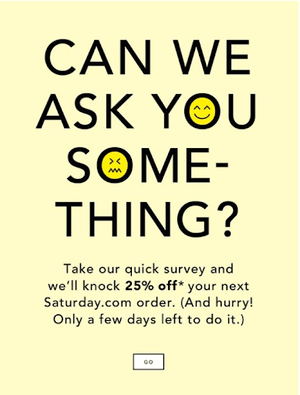 You can use discount codes, free shipping, personalized consultation, free ebooks, gift cards, or any other freebies as an incentive to encourage people to take the survey.
But be careful of biased and random answers. People may attempt the survey solely to get the discount. That is why a larger sample size will help flatten the curve and make data more precise towards correct feedback.
Bonus Read A Short Guide to Timing Customer Surveys 
7. Close the Feedback Loop Quickly
You can realize the true worth of your survey campaigns only if you quickly act on feedback data. The market trends, technology, audience base, and customer expectations are constantly changing. So if it takes too long to analyze and take necessary action, you risk losing customers.
Closing the feedback loop means systematically consolidating, analyzing, and categorizing the feedback to uncover the customer issues and pain points. You can then prioritize the critical issues and plan the course of action to work on them.
With hundreds of responses pouring in every day, the entire process may be cumbersome to manage.
So what can you do to make feedback data mining faster?
Use advanced techniques such as sentiment analysis, text analytics, automatic score calculators, and other methods to make sense of the feedback. These can save you from manually going through each response by automatically categorizing them.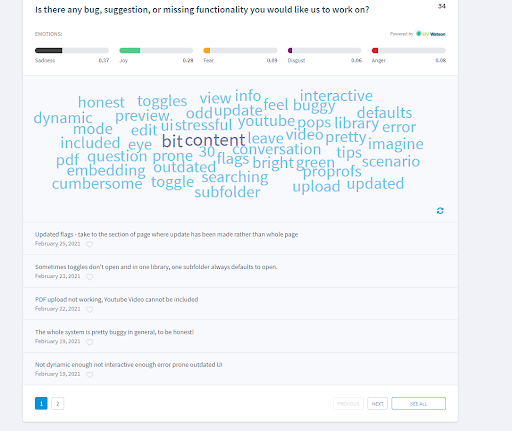 ---
Use integration APIs to automatically pull the data from survey responses to your CRM and other utility tools. For example, Qualaroo Slack integration auto-sends the response data from Qualaroo to the desired Slack channel in real-time. In this way, the relevant team can instantly pick it up and start working on it.
---
Once you have insights, prioritize the negative feedback first. Reach out to unsatisfied customers and solve their issues. Even for positive feedback, thank the respondents for showing them that you care.
8. Use Both Pop-Ups and Nudges
There are two ways to show the surveys to the audience – a pop-up and scroll-in widget (Nudge™).
---
With proper planning, you can leverage both ways to collect the feedback data from the right audience without annoying them.
For example:
Popup surveys need to be closed entirely before proceeding, but the visitors can minimize the Nudge™ and maximize it at any time during their time on the page.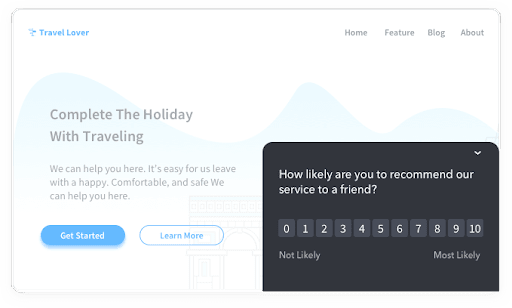 ---
Using a survey pop-up like the one shown below made using the Picreel tool for first-time visitors would not affect user experience. But if they are repeat visitors, using a Nudge™ makes more sense since they have already seen the pop-up.
---
If you have a blog page with informational content, a pop-up may interrupt the readers and lead to page abandonment. Using a Nudge™ will allow you to ask content-related questions easily.
If you have an incentivized survey, create the customer satisfaction survey as a pop-up to entice visitors and maximize the response rate. It makes it more eye-catching and easily legible
Make Your Surveys A Two-Way Street
CSAT surveys are only the means to the ultimate end – satisfying your customers.
Understanding what your customers think about you is complicated, but with the right feedback tools, it can be done quite accurately. In fact, surveys can help you establish a communication channel that lets your customers speak to you and simultaneously lets you show that you listen to them. By keeping the killer survey questions and best practices to design customer satisfaction surveys discussed here in mind, you can continuously keep achieving this to improve your offerings.
Want insights that improve experience & conversions?
Capture customer feedback to improve customer experience & grow conversions.