How To Design Customer Satisfaction Surveys
November 12, 2020
One of the most important metrics that instantly show how well your customers are satisfied with what you offer is customer satisfaction score or CSAT score.
CSAT surveys are the standard way to gauge the happiness of the customer with your product or service. They give customers a voice. CSAT data can be qualitative and/or quantitative. There are customer satisfaction survey designs that gauge the emotional CSAT on a figurative scale, as well as those that calculate definite numeric scores. But what kind of CSAT survey gets you reliable responses and data?
Think about it – would you be more inclined to respond to a sleek, simple, and straightforward survey or a cluttered, complex, and convoluted one? Most (if not all) people will understandably prefer the former.
And take the opposite perspective – you are the survey maker.
Would you prefer delighted respondents or turned off targets?
When you are measuring CSAT, shouldn't the survey you serve satisfy the customers?
Keeping such broad aspects of gathering CSAT feedback in mind, it is up to you to choose which type of CSAT survey you need. Then, you should design the customer satisfaction survey questions to fulfill the purpose of customer satisfaction surveys – keeping you informed about your customers' experience (CX).
But how do you decide the type and questions that will measure CSAT accurately?
Want to know the answer? The truth is that there is no one-survey-fits-all process or a universally usable survey template. Build your own survey to cater to the specific purpose you have in mind.
Ready to create a CSAT survey that nets you the feedback you need? Begin by understanding the basics and move onto the types of CSAT surveys, templates & questions to use. Finally, hone your skills by learning the best practices in this blog.
What Are Customer Satisfaction Surveys?
Asking the right questions at the right time is important to measure customer satisfaction accurately. Going wrong with your questions can be bad, because not only will it get you useless information, but you might also use that corrupted information to make erroneous business decisions. That is why the importance of customer satisfaction (CSAT) surveys cannot be denied.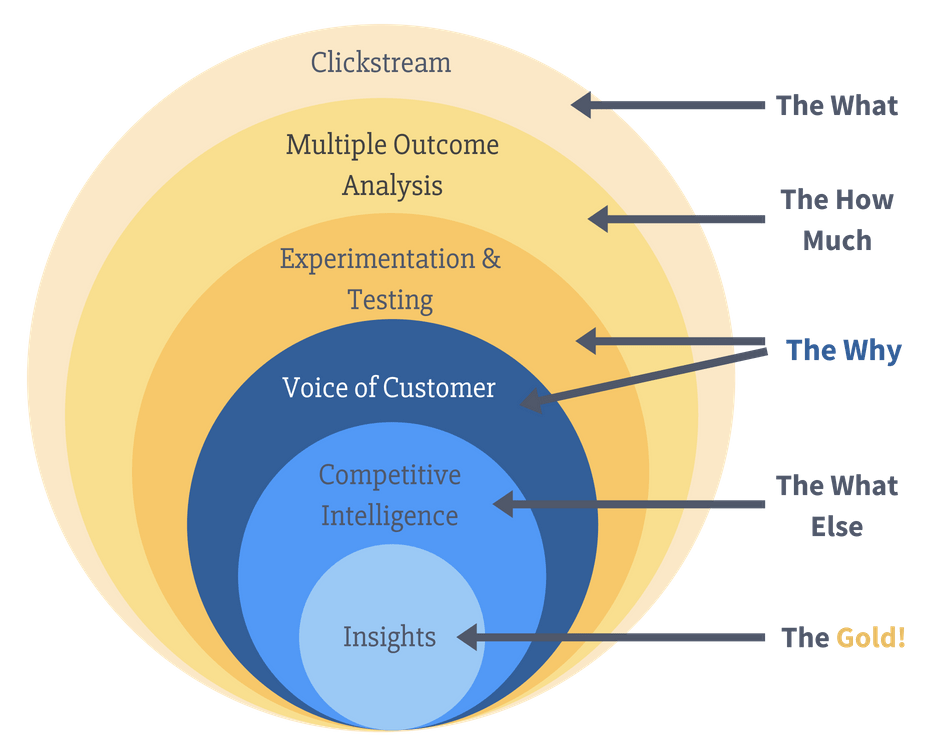 Commonly used CSAT surveys are to-the-point to avoid irritating potential respondents and ask slight variations of these (mostly standard) questions. They are usually accompanied by options to choose from (or text boxes, in cases where customers' free-form opinions are sought):
How happy are you with [product name]?
How likely are you to recommend [product name] to a friend or colleague?
How could we improve your experience with [brand/product/service]?
Would you like to share any thoughts to help us improve [brand/product/service]?
Such CSAT surveys range from the simplest one-question types (Net Promoter Score(R) is the de-facto example) to in-depth technical questionnaires served to beta users and paid testers. Your survey design should depend on your specific purpose in customer satisfaction surveys.
Why Customer Satisfaction Surveys Are Important
Much like social media influencers need staunch followers to succeed, your business needs satisfied customers. Great companies are built on excellent reputations, and excellent reputations are built by satisfying customers so that they sing your praises. But dissatisfaction in customers can occur due to unexpected reasons. That's why you need to keep your finger on the pulse of customers. What better way to do it than with a well-designed CSAT survey?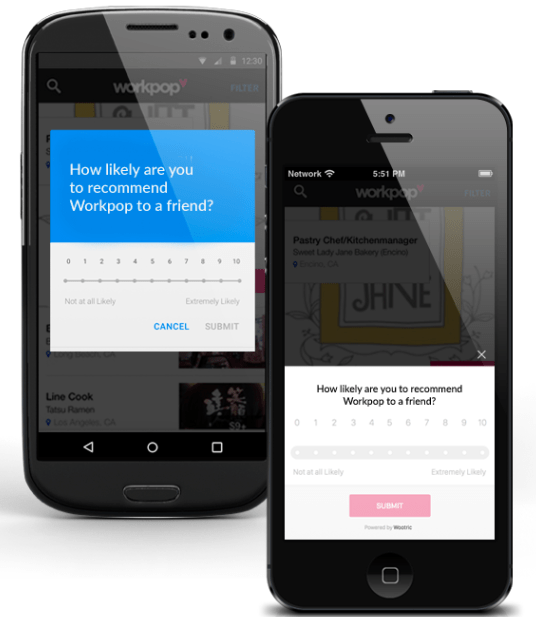 Image Source: www.neilpatel.com
CSAT surveys can identify areas to improve that you never would have thought needed improvement. CSAT feedback can help in:

Optimizing your website & retaining customers:

From landing page designs to CTA button placements, customers can tell you if something isn't having the effect you intended. If many of them are turning to your competition, CSAT surveys will help you identify the 'why' behind their leaving, so you can fix the gaps and keep your customers loyal to your brand.
Improving your customer service & turning detractors into promoters:

Quality checks and compliance are well and good, but your customers can bring major issues to your attention when given a chance – through a CSAT survey. When they are satisfied, they will spread positive word of mouth about you, too.
Launching new product features:

If loyal customers feel that your product is getting outmatched by competitors, getting outdated or it needs too many updates, they can demand new features from you via your CSAT survey.
Upgrading your service plans:

It is not unheard of that businesses have missed out on opportunities to increase their market share because somebody else (read: competitors!) lured customers away with better subscriptions. Find out what your rivals are offering to your customers and retain them by offering something better!
There are many more areas that can benefit from the feedback gained in response to CSAT surveys. Having even just one broad CSAT survey can also rein in your advertising and marketing expenditure while still delivering valuable insights.
Types of Customer Satisfaction Surveys & Templates
Surveys for measuring customer satisfaction can be served in myriad ways through various types of questioning techniques, including but not limited to:
Paper questionnaire
Personal interview
Online poll
Mailing list survey
Email signature survey
When it comes to templates for CSAT surveys, the most popular types of CSAT surveys are those that ask one (almost standard) question. These are:
NPS(R) (Net Promoter Score)
CES (Customer Effort Score)
CSAT (Customer Satisfaction)
Now let's shed some light on these popular customer satisfaction survey designs.
The most famous (and trademarked) question for calculating NPS(R) is:
"How likely is it that you would recommend this company to a friend or colleague?"
The respondent (usually, existing customers are the target demographic) answers on a scale from 0 to 10. Based on this, they can fall under the 3 following categories:
Detractors: Those who choose a value from 0 to 6
Passives: Those who choose values like 7 and 8
Promoters: Those who choose values like 9 and 10
The NPS(R) score is simply the difference between the percentage of detractors and promoters.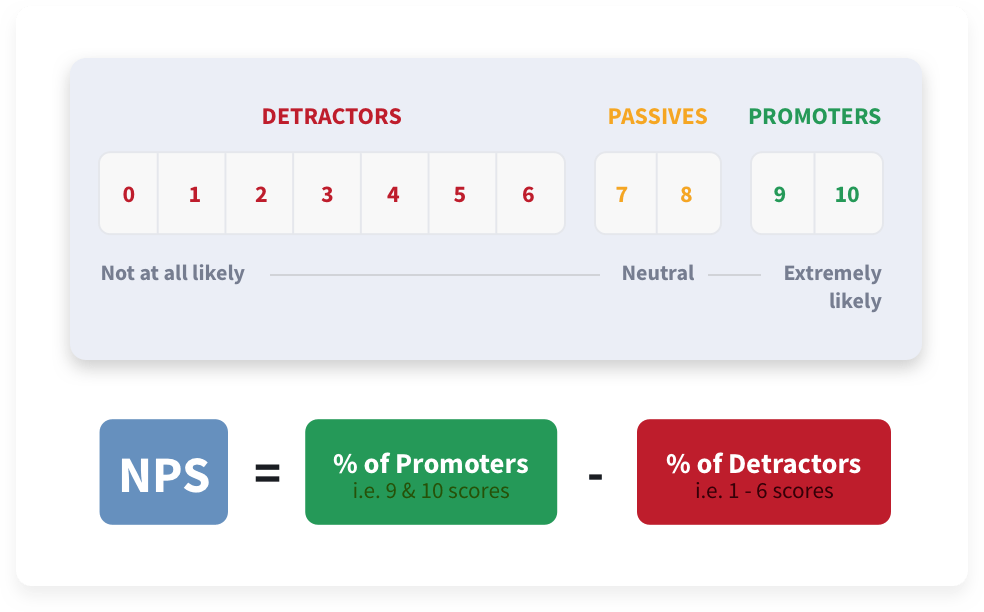 If the customers consent to be identified, then sorting them based on their responses can give you the opportunity to turn detractors and passives into promoters through suitable actions.
Watch: NPS Survey Recipes – 4 strategies to gather high-quality feedback
CES is used when you need to know how easy or difficult it was for your customer to do something (compare similar items, access help articles, begin their trial of your product or service, etc.).

---
Recommended Read: Feeling stuck coming up with questions to ask to get the info you need? Check out this handy list of questions, linked with targeting options to boot!
---
For a UX twist on CSAT, you can calculate the User Effort Score with Qualaroo's sample customer satisfaction surveys that take advantage of quite advanced targeting.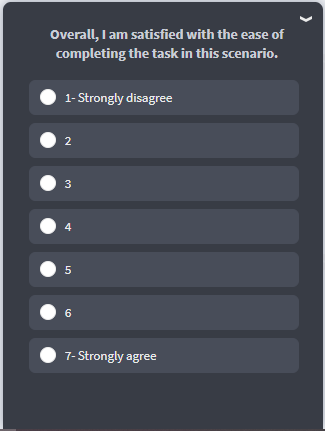 CSAT simply asks how satisfied the customer was with their experience. You can choose to follow up with open-ended questions or give the customer an option to share free-form feedback.
Customer Satisfaction Survey Questions
When singular questions are not suitable for the data you seek, you need to learn how to create a customer satisfaction survey that has questions that will get you the data.
Some straightforward questions need only be binary. That means they have only two opposite options <yes/no, agree/disagree, etc.> to test if the new feature you launched or the new sign-in window design you tried is to your customers' liking.
As another example, you may ask questions like these to investigate the bounce rate on your website's landing pages:

See dozens of more examples of contextual questions that will gather actionable data.
When you need quite deeply segmented data, offering multiple choices to the customer can get the job done. For example, if you have to measure the importance of new features you are considering adding to (or removing from) your product or service, you may list them and ask your customers to choose the one most (or least) important to them.

Pro tip: Make sure to keep the answer options very distinct from each other, else you might confuse your respondents.
How To Design Customer Satisfaction Surveys Uniquely
A unique design is what sets your survey apart from the run-of-the-mill questionnaires your customers probably run into. Here are some factors that you can give your own spin to so that every customer is delighted when they answer your CSAT surveys.
Inviting introduction – these can be very effective at putting your customers at ease right at the start so that they don't feel pressured while taking the survey.
Appreciative conclusion – customers are giving you their time and effort. Let them know you appreciate their inputs through thanks, or even freebies if appropriate.
Personalization – with the right software, you can insert your customer's name and details (obtained with their consent at the outset, of course!) into critical questions.
Progress bars – when respondents can see that it isn't far to go to the end of the survey (especially in-depth, long surveys), they are less likely to abandon them.
Best Practices To Design Customer Satisfaction Surveys
Whether you are trying to figure out how to design a customer satisfaction survey or do it regularly , it's good to keep some customer satisfaction survey design best practices in mind, like:
Begin the wCSAT survey by asking for your customer's overall opinion:
First, such general questions draw responses that are usually instinctive. They let you know if your product, service, website, app – whatever you are measuring CSAT for – is perceived well or poorly.
Second, it presents a great opportunity to ask more relevant questions through logic branching.
Use logic branching: If you currently use customer satisfaction surveys that are long, consider shortening them. With logic branching, provide the user the path of least resistance to the thank you note at the end. For example, when a customer does not have any negative opinions in response to one of the questions, you may skip the follow-up question(s) and take them straight to the end.
Ask in-context questions: Don't wait too long between their experience and you asking the relevant question. Feedback received in-context is 10x more valuable than after the fact email surveys.
Match your scale of options to the question: For example, the time-tested NPS(R) survey seeks an answer to the question "How likely is it that you would recommend [your company or product] to a friend or colleague?" on a scale of 0 to 10. This scale is necessary because it sorts responses into three divisions to use in the formula for calculating NPS(R). If you don't need such strict values, keep your scales up to 5 or 7.
Cut down the efforts to answer: The customer satisfaction survey design should ensure that customers shouldn't have to put in too much effort while answering the customer satisfaction survey questions. This is often overlooked when you have focus groups or dedicated reviewers as your respondents.
Offer freebies: Depending on your purpose for using customer satisfaction surveys, think about offering an incentive for the customer to finish the survey. Gift coupons, free trials, branded merchandise, giveaways – people love free stuff!
Follow the KISS method: Keep It Simple, Surveyor! – when you are creating a customer satisfaction survey. Straightforward vocabulary reduces survey abandonment. The same goes for the options to multiple-choice questions. The simpler they are, the likelier it is to get an honest response. Try not to force respondents into carrying out any calculations as far as possible for the same reason.
Respect people's privacy: Apart from surveys in which it is obligatory for the respondent to provide personal details, steer clear of demanding identifiable information. On a related note, make sure you use survey software that values data privacy.
Get extra insights: You may have missed some inputs from observant customers, through open-ended questions paired with free-form text boxes. For example, you may have focused on your checkout process in your CSAT survey, and then find out from the free-form answers that it is your cart that is proving hard to handle for many customers.
Identify your target demographic: Do this before you design and complete a customer satisfaction survey. If they are well-informed, knowledgeable members of your industry, you can be reasonably technical when evaluating CSAT based on their opinions. For widespread surveys covering a diverse demographic, use logic branching to sort responders according to their answers into different customer segments.
End by appreciating your customer's time and effort: Remember your own experiences of filling out similar forms to find out how and when you felt nice at the end of the survey. This is the perfect moment to thank your respondents, making them feel appreciated. After all, aren't happy customers what a business needs to grow?
Case Study – Belron
Belron, one of the world's top-ranked companies in the automobile windshield repair business, used AI to improve their UX and increase NPS score.
---
"The products that Belron sells are what I call 'grudge' purchases. Nobody wakes up and says, 'I just wonder how much it would cost to get my windshield replaced,'" Stephen Payne, Customer Journey Improvement Manager at Belron, said. "You only come to one of our companies if you have damage and need it fixed immediately."
---
While analyzing their feedback needs, Payne and Jamie Carter, the Voice of the Customer Manager at Belron had 3 insights into their requirements:
The need to analyze customer's responses verbatim (exactly what they said, word-for-word)
NPS is valuable, but just one of the many pieces of the larger CSAT pie
The need to learn from shoppers who never become customers
Analyzing open-ended responses: While the Belron team preferred rich survey data in the form of open-ended responses, they faced the same difficulty as many other user experience researchers: combing through the data which was difficult and time-consuming.
They used feedback software to collect and filter the huge amounts of customer feedback efficiently by using cutting-edge Artificial Intelligence.
"Using sentiment analysis, it took no time to view themes and patterns from customer responses. Fantastic!" – Jamie Carter, Voice of the Customer Manager
Digging deeper into NPS surveys: They also leveraged the software to look at bounces all throughout the customer journey and overcome the 'recency effect' that creeps into NPS survey responses.
Learning from those who leave: The third insight about learning from shoppers who abandon the Belron website without getting their windshield fixed was taken care of with exit intent surveys.
Make Your Surveys A Two-Way Street
CSAT surveys are only the means to the ultimate end – satisfying your customers.
Understanding what your customers think about you is complicated, but with the right feedback tools, it can be done quite accurately. In fact, surveys can help you establish a communication channel that lets your customers speak to you and simultaneously lets you show that you listen to them. By keeping the killer survey questions and best practices to design customer satisfaction surveys discussed here in mind, you can continuously keep achieving this to improve your offerings.
Do you want a free Survey & Feedback Software?
We have the world's most versatile user research & feedback survey tool starting at $0
More posts
January 8, 2021
Conversion rate is the indicator of your app's effectiveness in the market and can guide you towards your goal.
Read more