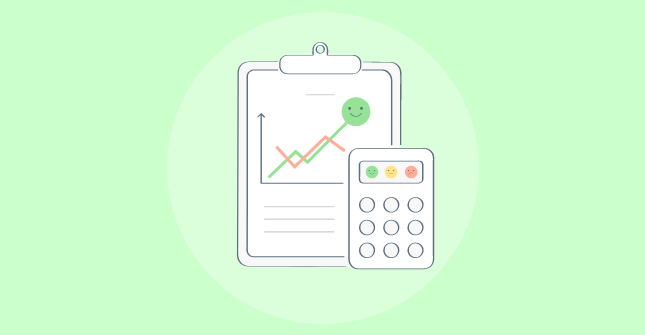 Okay, tell us something –
Would you rather go response by the response to analyze customer sentiment in feedback or leave it all to the expert of automation- Artificial Intelligence?
The smart choice is, of course, the latter.
Doing things manually, which you can automate, is a crime against your business as it takes a big chunk out of your valuable resources like time and capital.
And what's the best way to automate the process? – Sentiment analysis tools.
It can be difficult to get the right solution considering that there are several tools out there. So to help you, we have carefully curated a list of the best sentiment analysis tools giving you suitable options for different budgets, usability levels, and features.
Here's what the list covers:
Best for: Purposes the tool serves
Suitable for: Small to large businesses
Price: Starting quote
Features: Why you should consider it
Pros: What's best about the tool
Cons: What it lacks
What Are Sentiment Analysis Tools?
Sentiment Analysis tools are programs that leverage Machine Learning and Natural Language Processing technologies to analyze the customers' emotions behind the text.
In simple words, sentiment analysis tools help businesses understand the emotional intent behind the written and spoken customer feedback by gathering insights from different channels.
Businesses from across all industries use sentiment analysis to empower their sales, marketing, and customer support teams to create a collective seamless customer experience.
How Does a Sentiment Analysis Tool Work?
Sentiment analysis tool tracks responses from surveys, conversations with chat support, customer reviews on different online portals, etc. Then, the sentiment analysis tool analyzes the collected data and detect the words used in the feedback.
It picks out words that convey intents and emotions and present those words in a word cloud for you to analyze. A sentiment analysis tool also shows a range of various emotions present in the analyzed data.
This way, companies can understand the customer experience they offer and what areas they need to improve. They can also tell apart detractors from the promoters using the sentiment analysis to make unhappy customers happy again.
Sentiment Analysis Tools: What's In It for You?
It only makes sense to add something to your tech stack when it's beneficial for your business. And we get that big time.
So, how about we tell you the benefits of using a Sentiment Analysis tool to help you understand its importance for your business?
It helps you organize and report customer feedback from different platforms.
It automatically processes feedback from customers and assigns it emotional intents.
You can perform competitor analysis and find out what they are doing wrong so you can do it right and increase lead generation.
Lets you identify your loyal customers to enroll them in your loyalty program.
It highlights customer pain points you may not have foreseen so you can resolve them.
Sometimes, your target audience may not react the way you anticipate towards your marketing campaigns, slogans, and social media posts. You can leverage a brand sentiment tool to understand the effectiveness of your marketing campaigns.
With this clarity, let's move on to the core of our discussion.
The 15 Best Sentiment Analysis Tools in 2023
Here is our meticulously put-together list of top sentiment analysis tools to improve your customer experience and brand image.
1. Qualaroo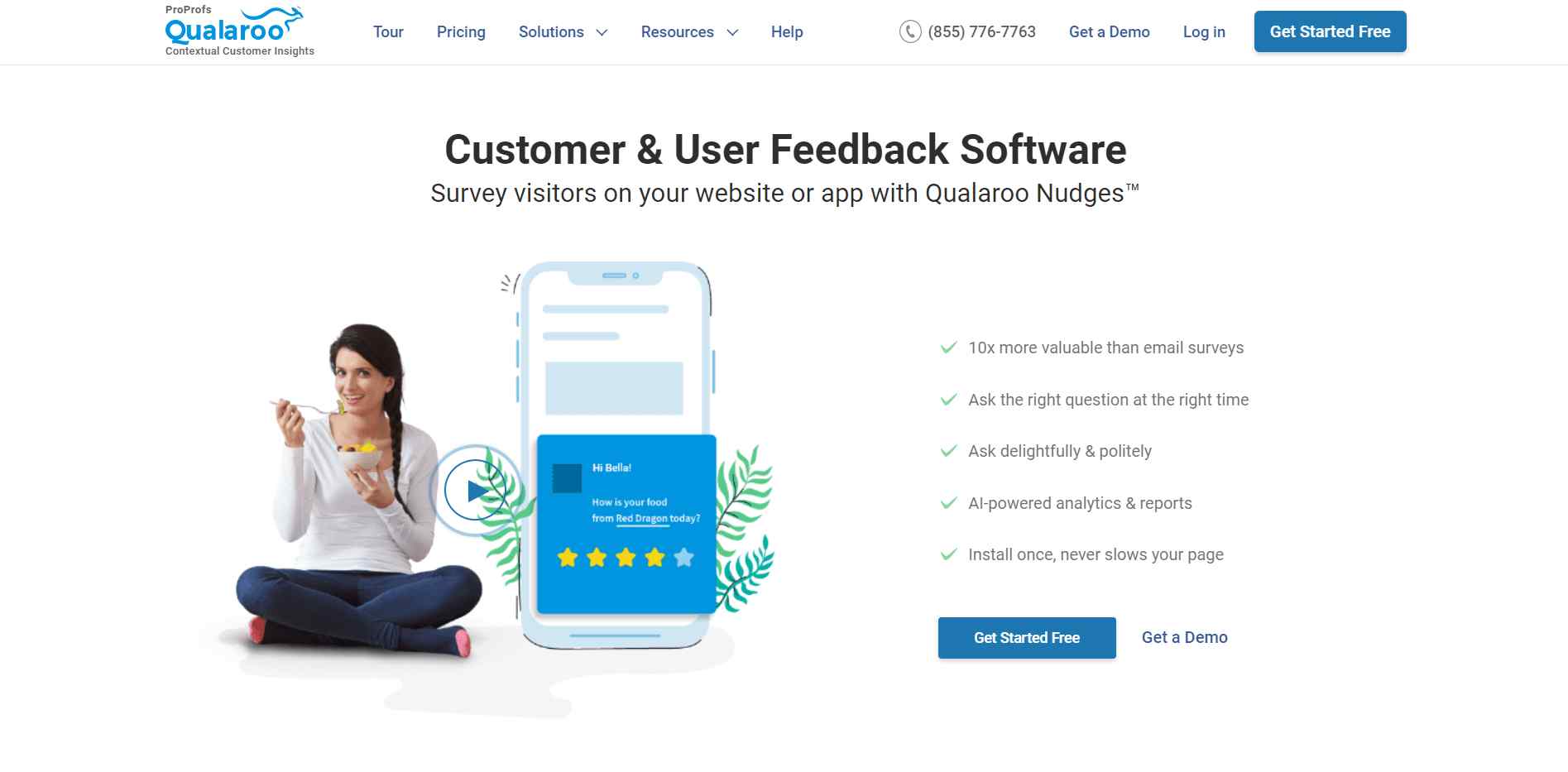 Qualaroo is a sentiment analysis tool known for its remarkable IBM Watson-powered sentiment analytics feature. This sentiment analysis software lets you analyze free-form responses from the surveys and segregate the feedback into categories.
You can also tag responses during your feedback mining to access them later. Qualaroo entirely automates your feedback analysis and mining process, leaving next to no manual work.
Let's talk about its incredible features in a little more detail.
Best for: Feedback sentiment analysis, collecting testimonials, text analysis, market, and user research
Suitable for: Small to large businesses
Price: Starts from $69 per month.
Features:
Lets you create various types of surveys to collect versatile qualitative and qualitative data such as NPS, CES, CSAT, Exit-intent, SUS, and much more.
Helps respond to customers in real-time based on the customizable CTAs designed as per the emotional sentiment scores of the responses.
Comes with a rich sentiment analysis dashboard that visualizes data into word clouds, charts, and bars.
Identifies main topic keywords from the open-text responses.
Helps you categorize responses based on the sentiment score.
Route responses to concerned teams based on the keywords in responses.
Offers integration with multiple tools like Salesforce, Zapier, HubSpot, etc.
---
Pros:
Imports data into tools such as Tableau, Google Data Studio, Chartio
Advanced Targeting
Cons:
Doesn't analyze social media data
---
2. HubSpot Service Hub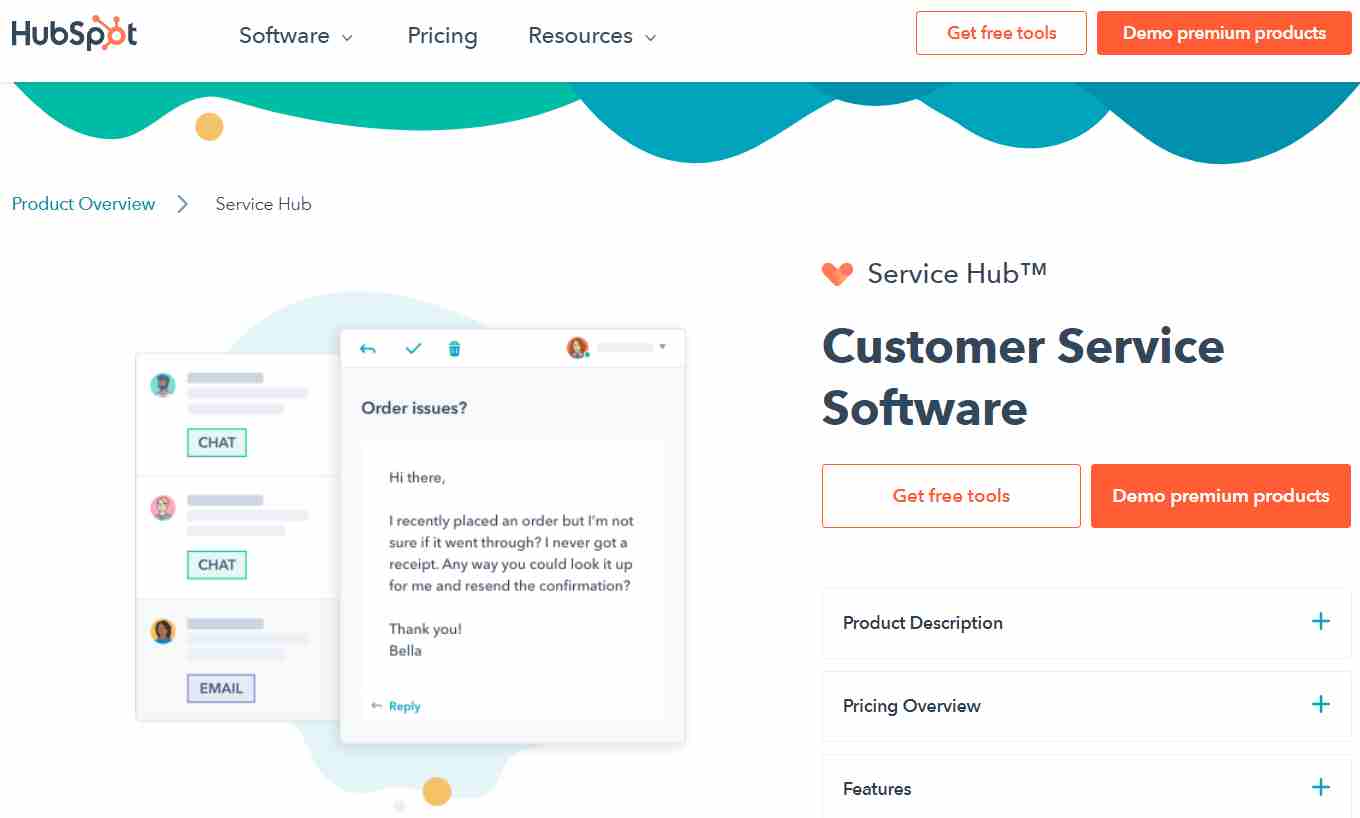 ---
HubSpot Service Hub is a well-known tool for its many features like text and sentiment analysis. It successfully breaks down the qualitative data into responses with negative and positive negative and neutral intent.
The tool has a comprehensive dashboard that helps analyze feedback quickly. You can easily integrate Service Hub with HubSpot's CRM to analyze responses from specific contacts.
Best for: AI-based sentiment analysis, market research
Suitable for: Small to large businesses
Price: Starts from $45/month
Features:
Filters out happy customers from unsatisfied customers based on the open-text responses.
Offers different types of surveys like NPS and CSAT to identify promoters and detractors and easily analyze their feedback.
Integrated with many tools like Zapier, Qualaroo, Salesforce, and more.
Comes with a suite of different products like CRM, Marketing Hub, Sales Hub, Operation Hub, etc.
Pros:
Great word clouds
Simple to set up
Intuitive and friendly UI
Cons:
Slow in speed
Pricing increases with the increase in contacts
---
3. MonkeyLearn
---
MonkeyLearn is one of the top ready-to-use online sentiment analysis tools. It provides accurate results using its complete suite of text analytics tools.
This free social media sentiment analysis tool integrates beautifully with your business ecosystem, thanks to its MonkeyLearn API. It means you can design a sentiment analysis model without writing code tailored to your business requirements.
Best for: Social listening, feedback analysis, free sentiment analysis
Suitable for: Mid-sized to large businesses
Price: Starts from $299 for team plan. Free version available
Features:
Helps create a custom sentiment analysis model without coding for accurate results.
Trains its model to recognize the industry-specific language.
Recognizes different emotions, such as joy, anger, frustration, concern, etc.
Integrates well with third-party platforms like Google Sheets and Zendesk.
Automatically tags comments.
Pros:
Labels text and responses
Easy setup
Low learning curve
Procures custom data within texts
Cons:
Limited integrations
Not suitable for small businesses or startups
---
4. Lexalytics
---
Another semantic analysis tool on our list is Lexalytics. The tool has many sought-after features like brand sentiment tracking.
It dissects the response text into syntax and semantics to accurately perform text analysis. Like other tools, Lexalytics also visualizes the data results in a presentable way for easier analysis.
Best for: Text analysis, semantic analysis
Suitable for: Mid-sized to large businesses
Price: Available on request
Features:
Uses NLP (Natural Language Processing) to analyze text and give it an emotional score.
Offers integration with valuable tools like Zapier, Angoss, Import.io, Voziq, Leanstack, etc.
Comes with a Semantria Cloud-based API that offers multiple industry packs with customizable language preferences.
Analyzes all kinds of documents on its Cloud API.
Offers support for 30 languages.
Pros:
Explores why customers feel the way they do
Full access to customize NLP analytics features
Compatible with Microsoft Excel
Converts reports into graphs and tables
Cons:
Only exports to Excel
No integrations
---
5. Brandwatch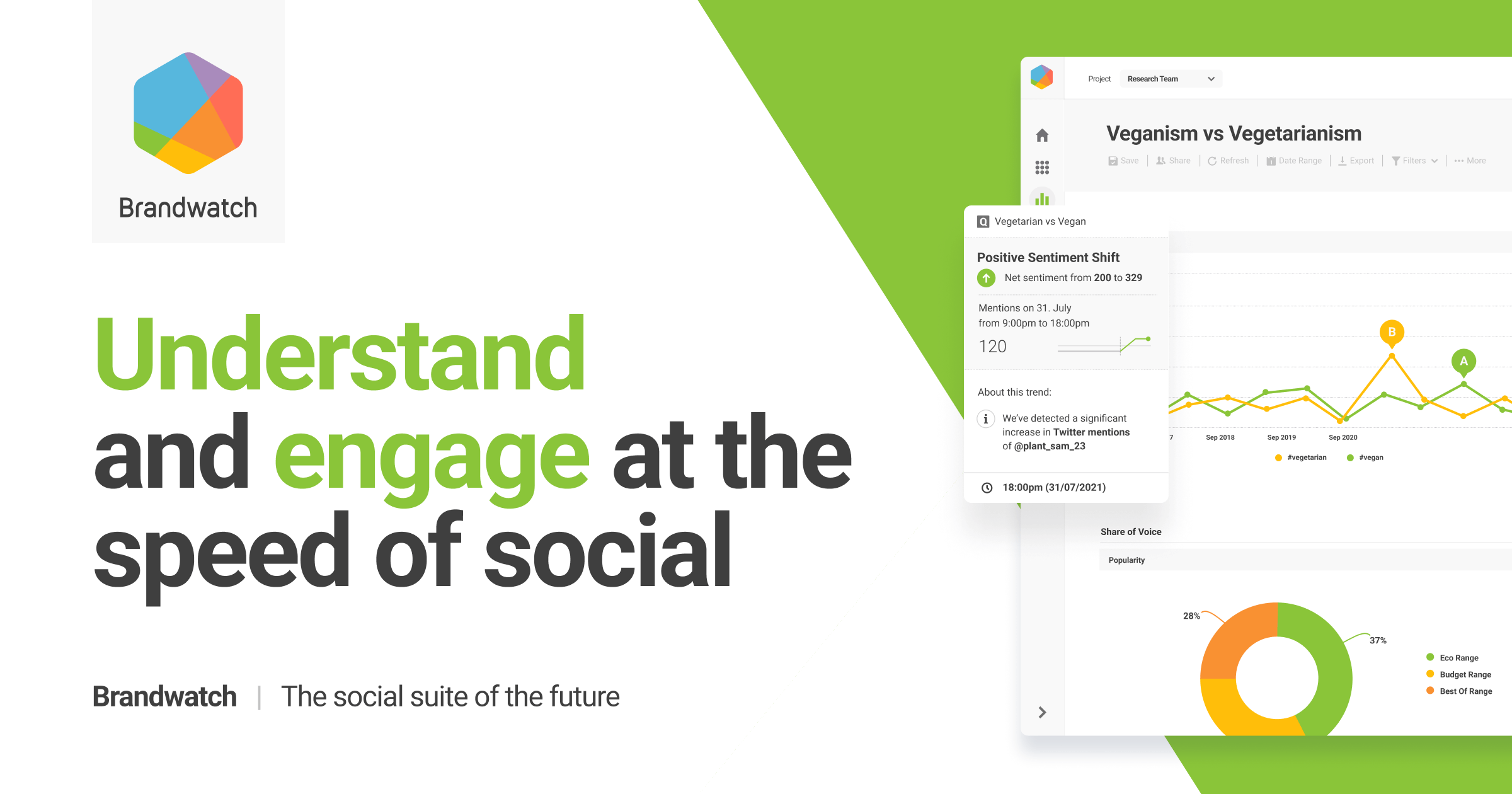 ---
One of the best social media sentiment analysis tools in the market is Brandwatch. It exclusively focuses on the feedback shared on online social media platforms such as Twitter, LinkedIn, Instagram, and Facebook.
You should consider this tool if you want to analyze and monitor brand mentions from different forums and online portals. The tool helps you detect customer pulse and their feelings towards your brand.
Best for: Image sentiment analysis, text analysis, social media sentiment analysis
Suitable for: Mid-sized to large businesses
Price: Available on request
Features:
Measures and tracks your brand visibility and change in customers' sentiment in real-time.
Comes with an in-built tool, Image Insights, that monitors and detects images with or related to your brand.
Compiles images associated with your brand into a list for streamlined analysis and tells you their source.
Tracks different metrics, such as aggregate followers, volume, latest activity, etc.
Measures how your brand images perform across different platforms with your target audience.
Pros:
Highly programmable setup
Supports deep categorization of online conversational data
Scalable and flexible
Cons:
Sometimes lags during larger categorization sets
---
6. Brand24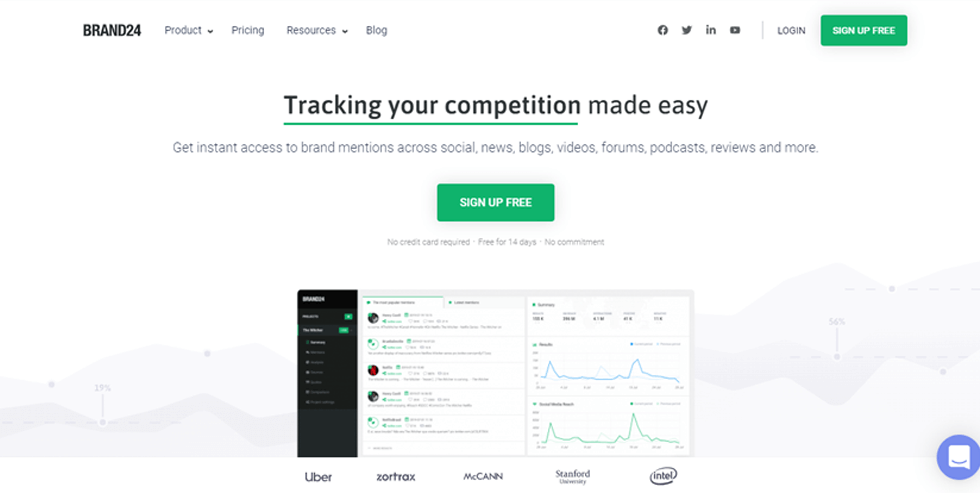 ---
Another popular social sentiment tool is Brand24. It is best known for its media monitoring features, one of which is sentiment and text analysis.
You can leverage this sentiment analysis tool for social media and web monitoring to collect insightful data in real-time.
Best for: Brand sentiment tracking, social sentiment analytics, market research
Suitable for: Mid-sized to large businesses
Price: Starts from $49/month for 1 user, $99/month for team
Features:
Tracks social media posts with your brand mentions using its algorithm.
Covers major social platforms, news sites, review portals, podcasts, newsletters, etc.
Monitors brand sentiment in social media posts, comments, and story mentions.
Supports benchmarking, audience tracking, behavior tracking, competitor monitoring, etc.
Helps with campaign management, trend analysis, feedback management, press monitoring, to name a few.
Comes with a volume chart that tracks discussion volume.
Facilitates integration with Slack and NapoleonCat.
Pros:
Remarkable customer support
Sends notifications for all social media mentions
Cons:
Expensive for small businesses
Limited keywords for languages besides English
---
7. Social Searcher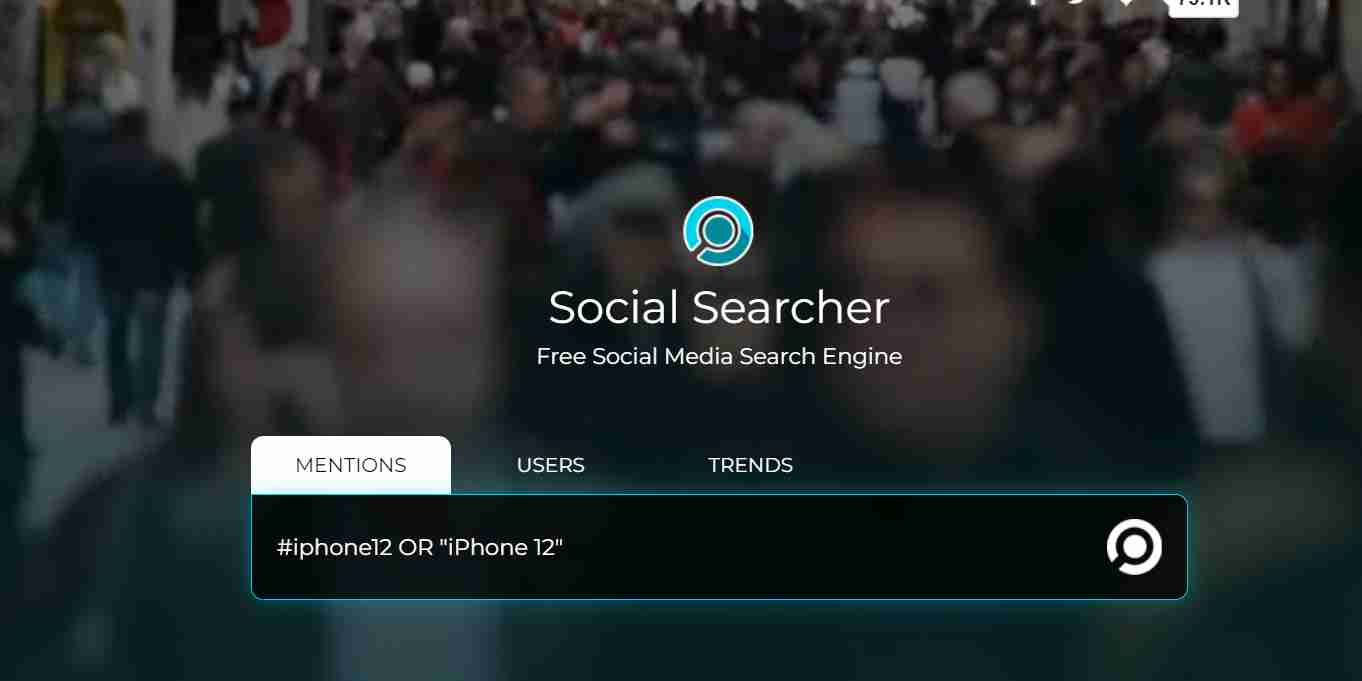 ---
Another great option as a free social media sentiment analysis tool is Social Searcher. The tool examines elements like keywords, hashtags, usernames, etc., that you enter into the algorithm and analyzes the tone of discussions around the topics.
You can also see reports from different platforms on different dashboard screens to analyze your standing on each platform effectively.
Best for: Social media sentiment analysis, user and market research
Suitable for: Small to mid-sized businesses
Price: Starts from 3.49 €/month. Free version available.
Features:
Has an API that helps businesses seamlessly integrate it into their business system.
In-built API also lets you integrate with many third-party tools.
Offers other tools like Google Social Search engine, Social Buzz, Media Monitoring, and more.
Can be used without registering.
Assigns green, red, and gray dots to all mentions to facilitate categorization.
Offers filters for emotions to see responses and comments representing a specific emotion.
Provides analytics separately for each media platform.
Integrates with Zapier, RapidMiner, and more.
Pros:
Responsive support
Native API
Cons:
---
8. MeaningCloud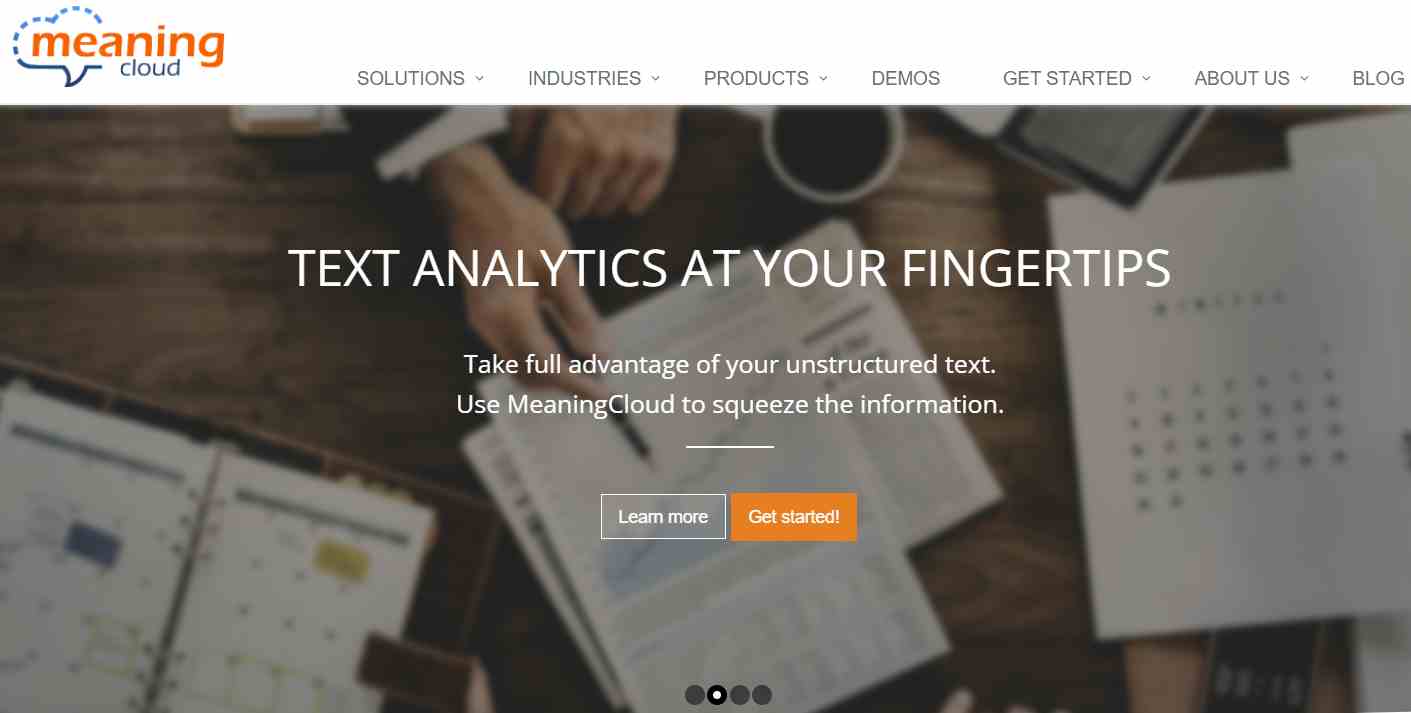 ---
MeaningCloud makes for a fantastic sentiment analysis platform that offers multi-language support using its sentiment analysis API.
The best thing about this tool is that it examines and shows which topics are talked about negatively, positively, and neutral. Here are a few more features that'll help you decide if this tool is for you.
Best for: Multi-language sentiment analysis, market research
Suitable for: Small to large businesses
Price: Starts from $99/month. Free version available
Features:
Offers a general or globalized view of customer sentiment towards your brand.
Enables you to add industry-specific words to your dictionary.
Analyzes and identifies between opinions and facts.
Great for detecting irony and sarcasm.
Supports multiple languages.
Identifies different languages in the content.
Pros:
Topic extraction
Text classification
Cons:
---
9. Talkwalker Quick Search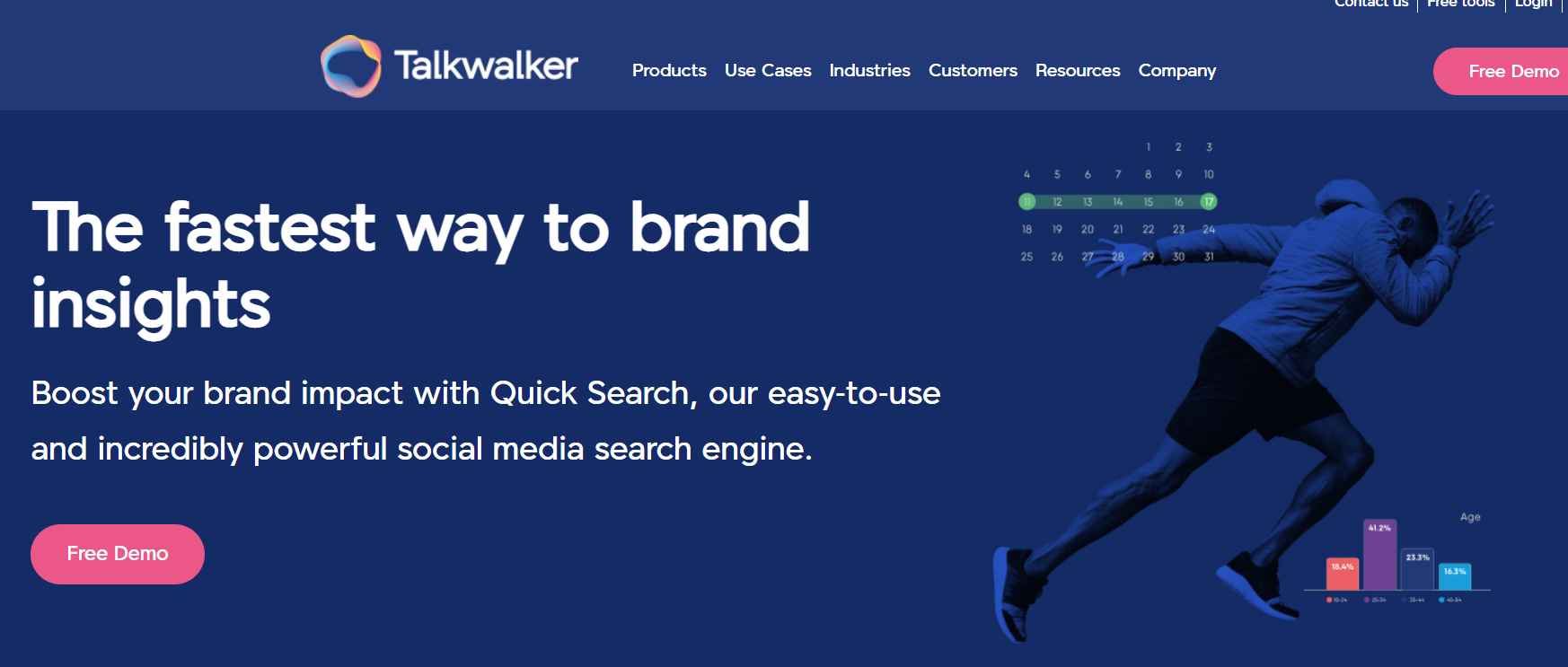 ---
Quick Search by Talkwalker is an online sentiment analysis tool perfect for your social media monitoring needs. It detects your social mentions, conversations, etc., and analyzes their intent.
You can consider this tool if you want to evaluate your campaigns' outcomes, identify content trends and ideas and discover influencers.
Best for: Social media monitoring, multi-language emotion analysis
Suitable for: Small to large businesses
Price: Available on request
Features:
Offers image recognition which helps businesses analyze the sentiment in written feedback and media like images.
Analyzes feedback in 20+ languages.
Helps you find hashtags, emojis, and themes for keywords.
Enables you to compare different brands or products for competitive analysis.
Analyzes volume, engagement, demographics, etc., for your campaigns.
Pros:
Customizable
UI is user-friendly
Cons:
Slight learning curve
Limited features
Lacks integration with third-party apps
---
10. Rosette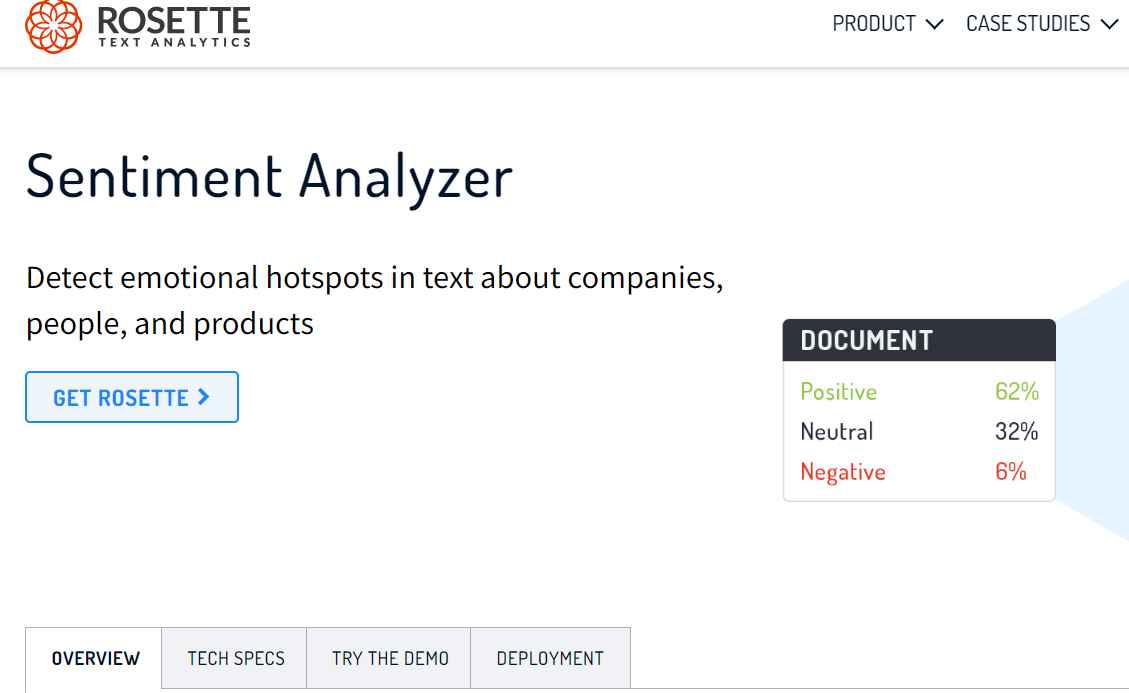 ---
Rosette is a suitable tool for you if you are a global enterprise and want to analyze feedback in many languages. It supports 30+ languages, which is an impressive number.
It takes the manual work of translating the feedback into a specific language to examine. It makes for an excellent Twitter sentiment analysis platform since the algorithm is trained on tweets.
Best for: Multi-language feedback analysis, sentiment analysis
Suitable for: Small to large businesses
Price: Starts from $99/month. Free version available
Features:
Efficiently analyzes slang in the content and assigns emotional scores.
Comes with an API that seamlessly integrates this tool with your business process.
Helps you collect sentiment data for different products through categorization.
Leverages morphological analysis to capture parts of speech.
Uses lemmatization which helps group inflected words to analyze them as a whole.
Offers Classification field training kit and Cloud functionalities.
Pros:
Name matching
Relationship extraction
Language identification
Cons:
Offers a maximum download size of 600 KB
Has a 50,000 maximum limit on characters
---
11. Repustate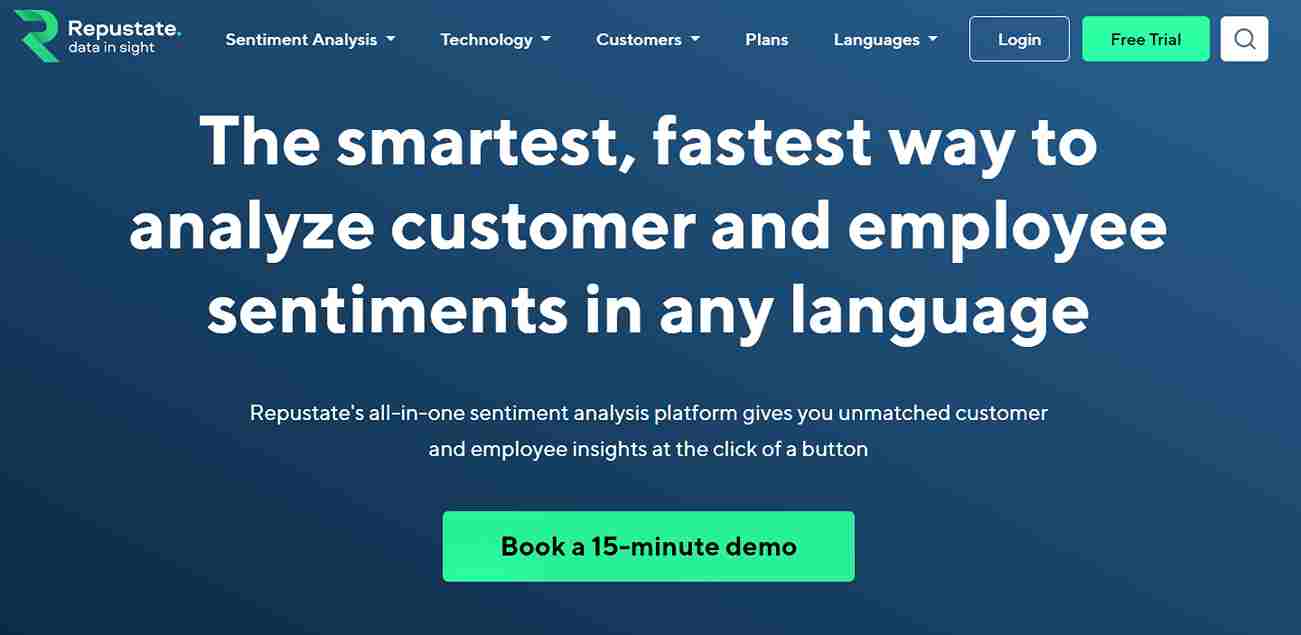 ---
Repustate is a sentiment analysis program with a text-analysis API that analyzes customer feedback accurately. The algorithm is excellent in detecting slang, short-form text, emojis, etc., to determine the underlying intentions in the text.
Best for: Social sentiment analysis, multi-language emotion analysis
Suitable for: Mid-sized to large businesses
Price: Starts from $200/month
Features:
Lets you train the algorithm in the alternate meanings of slang.
Lets you customize its API's rules to set a filter for industry-specific language.
Analyzes over 1000 comments per second.
Analyzes videos, images, documents, surveys, and social posts to bring you accurate sentiment data.
Integrates with social platforms like YouTube, Google reviews, Amazon reviews, Twitch, TikTok, and Douyin.
Analyzes content from 23 languages.
Pros:
Faster than other tools
No coding is required to set up the API
Scalable
Cons:
Limited integration with enterprise-grade tools
Not suitable for startups and small businesses
---
12. Clarabridge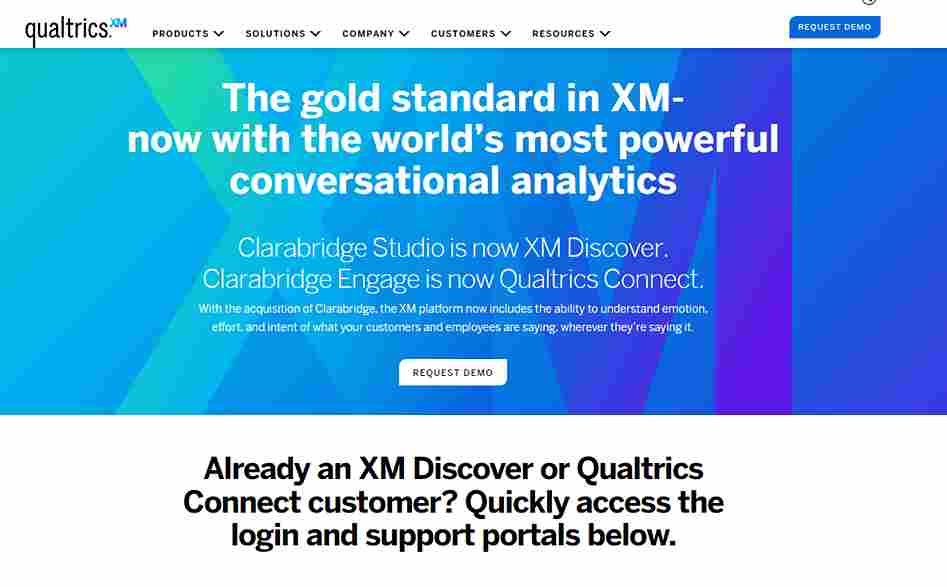 ---
Clarabridge is also a popular text analysis software that examines different sources of feedback such as emails, chats, social media, and surveys and shares the general sentiment.
The tool focuses on Speech Analytics and helps gauge customer sentiment in audio feedback data. Brands use this functionality for their sales and customer support processes.
Best for: Speech analytics, multi-language sentiment analysis
Suitable for: Mid-sized to large businesses
Price: AVailable on request.
Features:
Comes with a suite of customer experience management features like CX Social and CX Analytics.
Indexes different sentiments in the data using an 11-point scale.
Offers capabilities like transcription vendor agnostic and intelligent scoring.
Has expertise in navigating complexities during speech analysis.
Analyzes speech from call recordings and creates helpful content to resolve customer queries.
Integrates with Five9, inContact, Genesys, RedBox, Microsoft, Aspect, and Nuance.
Supports Natural Language Understanding in 22 languages.
Pros:
User-friendly
Responsive customer support
Multi-language support
Cons:
Sometimes automatically logs out of social media accounts
Response tagging doesn't work properly
---
13. Social Mention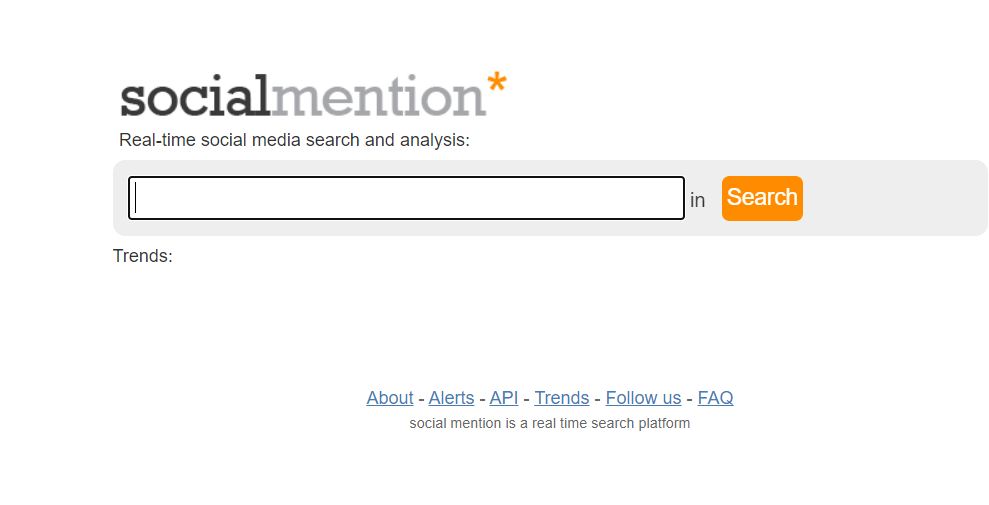 ---
Social Mention is a sentiment analysis website that helps with your market and user research and tells you what kind of buzz you have generated among your target audience.
You don't have to register or download any software since Social Mention lets you do it all from their website. You can add keywords to the search option, and it will pull the relevant data from all social platforms and display it to you as a summary.
Best for: Social media sentiment analysis, text analysis, online sentiment analysis
Suitable for: Small to large businesses
Price: Free
Features:
Tells you the ratio of people with different emotional stances for your brand, for example, the ratio of people speaking negatively vs. positively.
Estimates the percentage of people likely to keep mentioning your brand online.
Analyzes how the keywords you entered in the search are performing.
Tracks different platforms like Google News, Flickr, Reddit, Twitter, Instagram, etc.
Pros:
Real-time campaign and performance tracking
Predicts future performance
Cons:
Tracks old campaigns which tamper with the analysis
Can't analyze individual mentions
Lacks integrations
---
14. Hootsuite Insights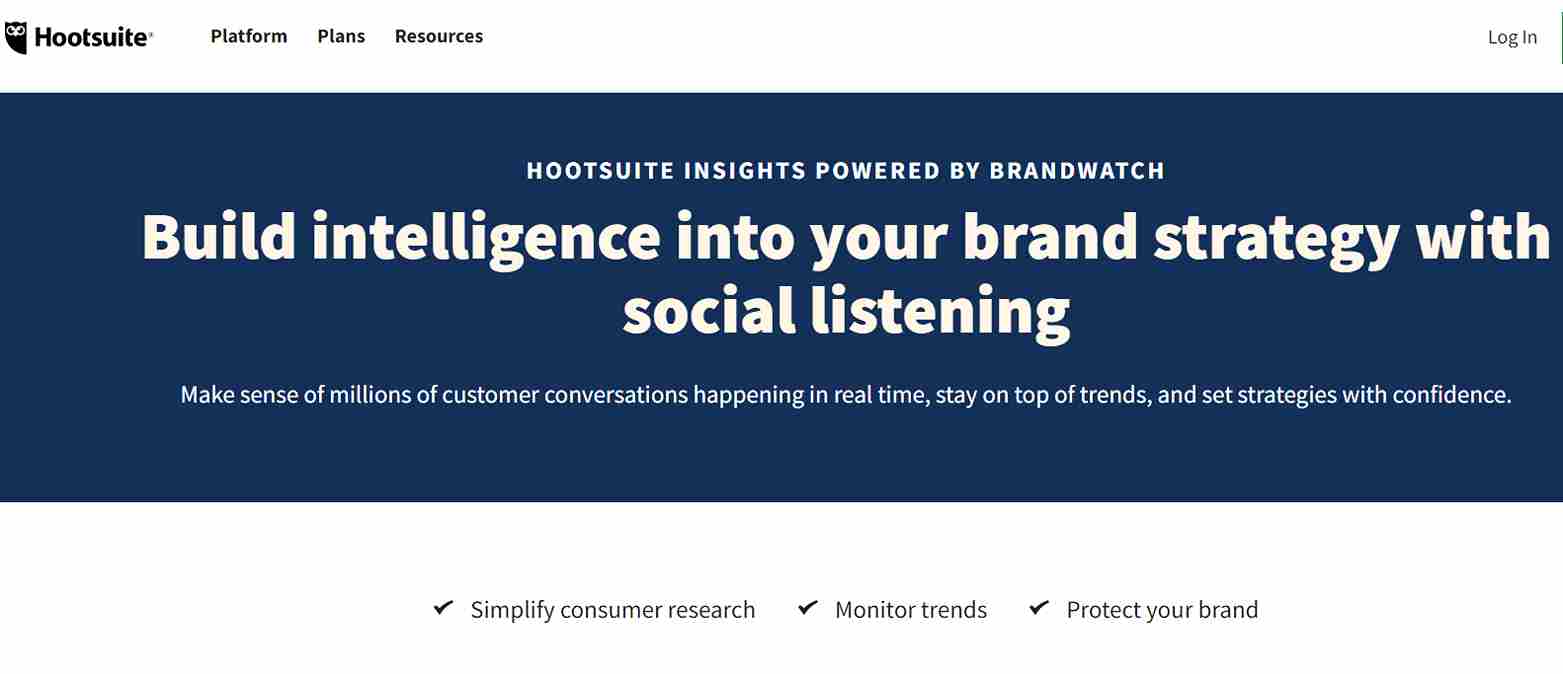 ---
Hootsuite Insights is one of the best brand sentiment analysis tools you can choose to keep track of your customer experience. It turns your data into valuable customer insights using its patented Iris™ technology.
The tool is famous for its many features, like setting alerts when there are unusual spikes of negative sentiment towards your brand.
Best for: Social media sentiment analysis, market research, multi-language emotion analysis
Suitable for: Small to large businesses
Price: Starts from $29/month. Free version available
Features:
Mines customer opinions and gauges the sentiment they represent in real-time.
Helps you monitor trends on social media related to your brand.
Analyzes millions of customer-generated content.
Identifies thought leaders and brand advocates.
Great for market research as it tells you the right time to roll new products.
Filters social mentions by gender, location, and language.
Provides support for 50 languages.
Lets you assign posts and conversations to team members to act on them.
Rich in integrations with tools like Radarly, Talkwalker, Brandwatch, Yext, etc.
Pros:
Supports collaboration
Daily/weekly summaries
Specific posts alerts
Unlimited mentions
Cons:
Tricky to keep track of lists on the sidebar with an extensive client base
---
15. Rapidminer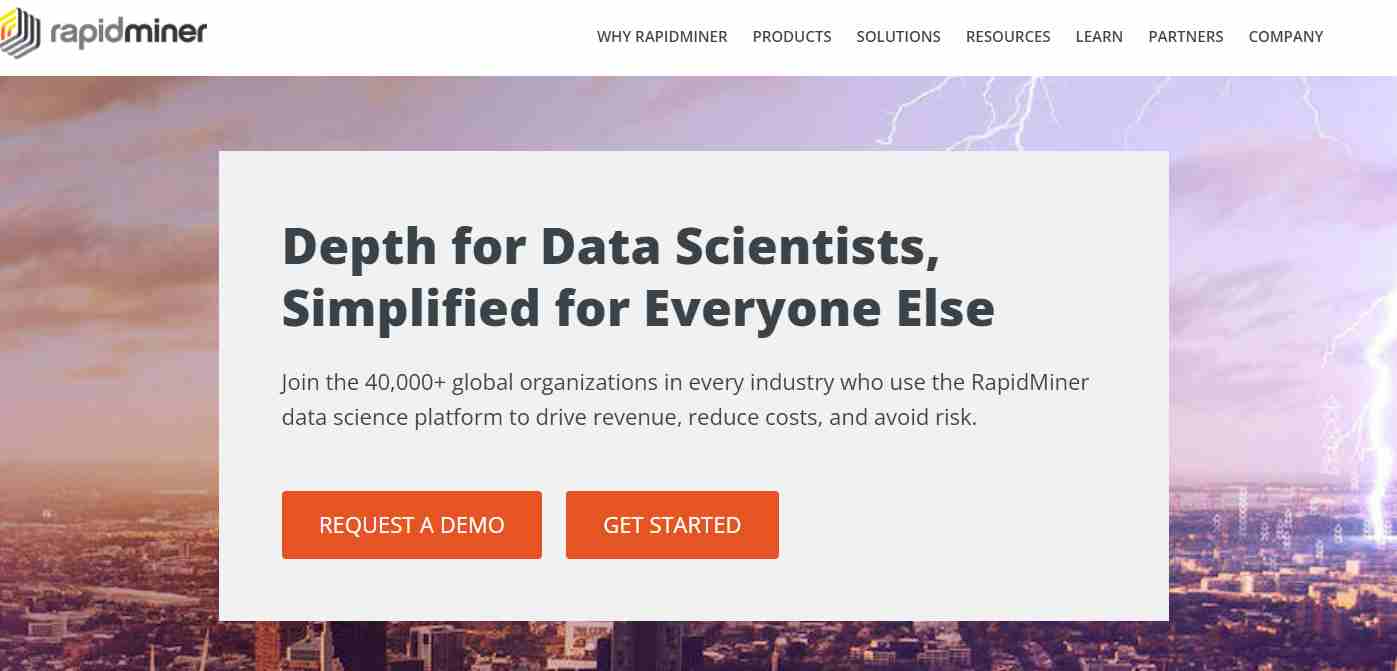 ---
Rapidminer is known for its text mining capabilities. It is a data science tool that facilitates sentiment analysis. It analyzes content from different sources to bring in qualitative insights.
Best for: Social media sentiment analysis, text analysis
Suitable for: Small to large businesses
Price: Available on request
Features:
Analyzes sources like social media, research journals, call center transcriptions, online reviews, forums, and patents filings for sentiment analysis.
Performs extraction, modeling, data cleansing, and deployment in the same environment.
Offers pre-built algorithms, model training, and data visualization.
Pros:
Pulls insights from unstructured data
No coding required
Cons:
Crashes frequently
Randomly omits data points sometimes
Steep learning curve
So, Did You Pick Your Sentiment Analysis Tool Yet?
Now, we understand that with numerous options comes confusion. Though we have listed the cream of sentiment analysis tools available in the market, a question still remains – which is the one for your business?
Out of all the options, here are our top picks.
If you are a small business on a budget or a large organization that wants to benefit from sentiment analysis, then go for Qualaroo as it's affordable, feature-rich, and highly effective.
If you want a tool specific to social media, you can try MonkeyLearn since it's a free tool. It offers various features and functions, such as its MonkeyLearn API that lets you train its algorithm model to detect industry-specific language.
And if you are looking for something specific like an image sentiment analysis tool, we'll recommend Brandwatch.
With that, we wrap up our list of best sentiment analysis tools and hope you can achieve your business goals with our recommendations.
Want insights that improve experience & conversions?
Capture customer feedback to improve customer experience & grow conversions.