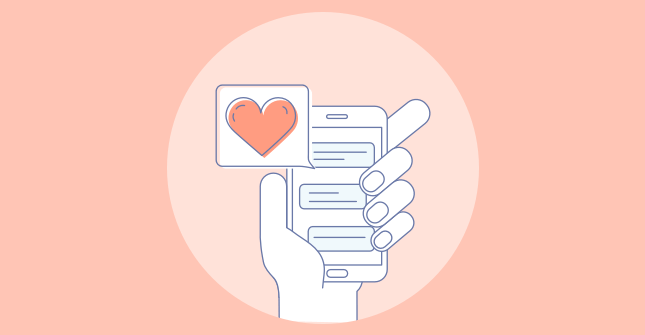 You may have heard about the best ways to gather customer feedback but have you thought of the right approaches to collect it without annoying the customers?
Consider this –
Americans receive over 7 billion survey requests per year. Only about 37% of those surveys actually get completed, at best.
You value survey feedback because you use it to help your customers. But if your customers feel inconvenienced with feedback requests, they see you as being pushy instead of helpful.
But why does it matter?
Although 74% of people prefer surveys or feedback forms to provide customer feedback, only 9% answer them thoughtfully.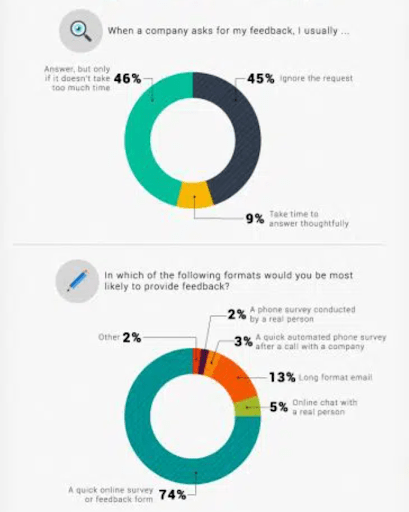 ---
This makes it essential to find ways to encourage the customers to provide feedback for improving the response rate and quality of those responses. It will help you:
spot the real issues faced by customers
identify the outliers from the data
separate unreliable answers
So read on to discover ideas on how to ask for feedback from customers without sounding pushy to make them feel valued and reduce survey fatigue.
Let's get started. What is Customer Feedback?
What is Customer Feedback?
---
Customer feedback is the information you collect from your prospects and users regarding their experience with your products and services. These are valuable insights that businesses channel into different departments to bring in better ROI.
For example:
Marketing teams use it to design personalized campaigns that focus on customers' problems and expectations to show optimal solutions for generating more leads and conversions.
It helps the UX/UI team to pinpoint product issues and optimize them to improve usability and customer experience.
Customer feedback also comes in handy to develop hypotheses for your testing methods, such as usability tests and A/B testing.
Read Also: Best Customer Feedback Tools
These are just a few practical use cases of establishing a customer feedback loop in your business. It puts your teams in the customers' shoes and lets you follow a data-backed approach while developing new strategies or testing new ideas.
Speaking on how to ask for feedback from customers, there are multiple channels you can employ depending on the scope and availability at your end. These include:
Emails
Surveys
Phone interviews
Personal interviews
Feedback kiosks
Social media
SMS
Most brands use multiple channels based on the number of touchpoints along the customer's journey to maximize response rate and get a complete picture of their transactional and overall experience.
Why is it Important to Ask for Customer Feedback?
Moving on from what to the why, the most fundamental reason to ask for customer feedback is to understand your target audience. Once you map what they want and how they want it, you can address the related issues & grievances to improve their brand experience.
Let's go through some of the key areas that can directly benefit from having a customer feedback management system in place:
---
1. Plan Your Product Roadmap
Using short polls on your website, app, or social media can help you plan your product roadmap and prioritize updates based on customers' expectations. Customer feedback makes it possible to explore new product opportunities and build better products.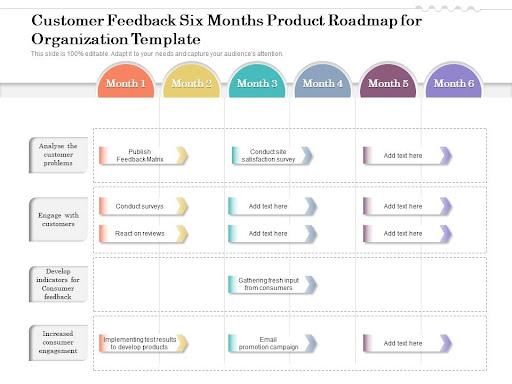 ---
You can also collect post-release customer feedback to see whether the update or new product is performing as expected or not. It will help you quickly uncover any previously overlooked UI/UX issues and fix them for future customers.
Case study: Twilio
Take for instance, Twilio, a cloud communications platform business, that uses customer feedback at different product development stages. They use customer insights from surveys to validate their product ideas, build testing hypotheses and run post-release optimization to deliver optimal solutions.
This helps them map the needs of each customer segment and follow a data-backed approach to improve customer onboarding, engagement, and retention rates.
Read the complete Twilio case study here.
2. Track CX Scores & Improve Them Over Time
CX scores let you track critical metrics like customer satisfaction (CSAT), customer loyalty (NPS), and ease of use (CES). These are quantified measurements of overall customer experience and are noted on a numbered scale, making it easy to track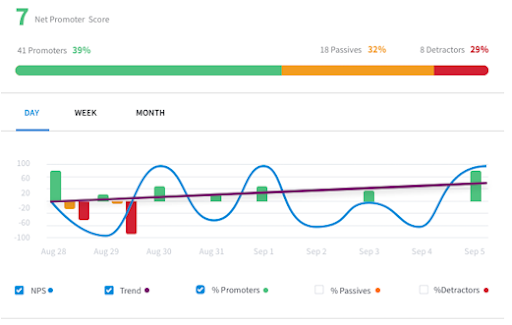 ---
Using CSAT and NPS charts, you can track the progress of your optimization efforts over time. It gives a real-time bird eye view of overall CX strategies and saves time as you don't have to dig through each feedback manually.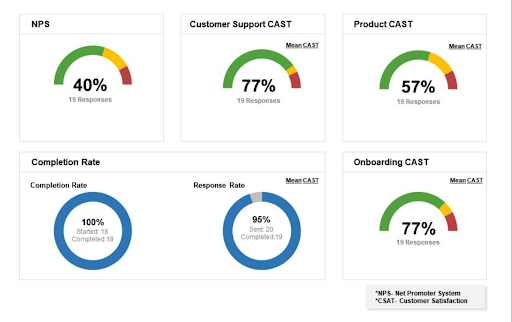 ---
---
3. Identify & Understand Different Customer Segments
There are different customer types in your business:
New visitors, prospects, repeat visitors, new customers, churned customers, etc.
Promoters and detractors
Unsatisfied and satisfied customers
Customer feedback lets you identify and target these customer segments individually. You can ask for feedback from customers to gain insights into their behavior, issues, preferences, and reservations. It helps create different customer personas to map their journey and optimize the overall experience using personalization techniques.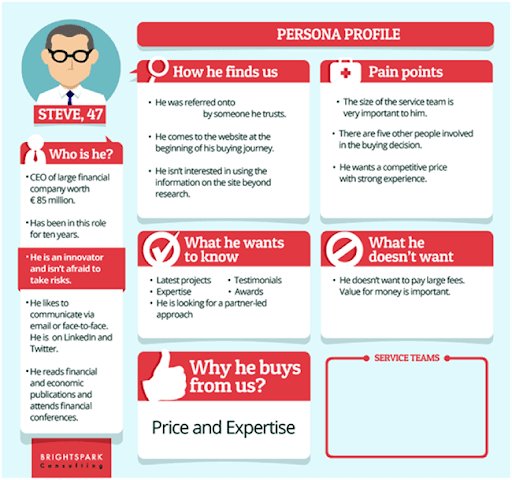 ---
Case study: AWA Digital
This is what AWA Digital did to help their client – Canon, increase conversion rates in different geographic locations. The AWA team collected feedback from these locations to map customers' fears, preferences and needs while purchasing a camera.
With this knowledge, the agency designed personalized campaigns for these locations that addressed the customer points. The efforts generated a 700% ROI for Canon.
Read the entire case study here.
---
Want to design your customer journey maps?
Take a look at our Comprehensive Guide on Customer Journey Mapping and download your free journey mapping templates.
4. Gain Insights to Streamline Your CRO Strategies
Conversion rate optimization(CRO) aims at improving the sales, sign-ups, and click-through rates on your website, landing pages, and marketing campaigns. But it requires you to understand what is and isn't working for your customers.
And who better to tell you about the effectiveness of your products and services than actual customers. And this is where customer feedback comes into play.
Case study: Hootsuite
Here is an example of how customer feedback can help streamline your optimization efforts to improve conversion rate. Hootsuite set out on a path to optimize its landing page to improve conversion rates. So the team deployed on-site surveys to understand if the provided information on the page was helpful for the visitors or not.
They found out that landing page content did not correctly communicate the tool's functionality, leaving visitors confused. What's more, visitors found issues with the page's content, placement of customer reviews, and lack of transparent pricing information.
The Hootsuite team used the insights to develop an A/B testing hypothesis and ran the test. Improving the pages based on the results from the test resulted in an increase of 16% in the conversion rate.
Read the entire case study here.
5. Build Long-Term Customer Relationships
Another reason to ask for feedback from customers is to channel the insights into your sales pipeline and find the right opportunities for nurturing the leads.
For example:
Combining customer feedback data with an effective CRM tool like BIGContacts can help segment customer lists based on demographic and behavioral traits. You can then design personalized email campaigns to target each of them.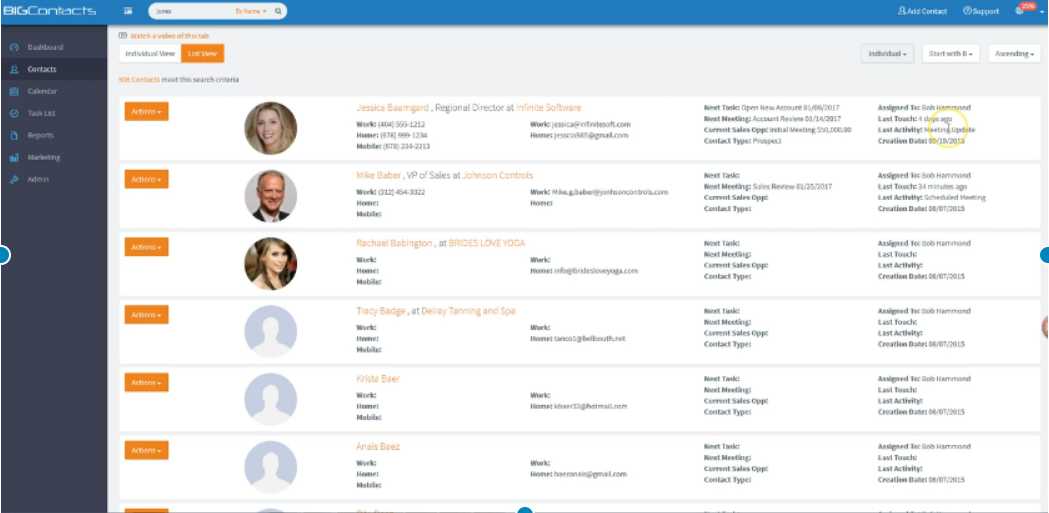 ---
Using experience scores such as NPS and CSAT can help you identify the churn probability of your customers to take the necessary actions to retain them.
---
6. Improve Business Metrics & KPIs
Ultimately, customer feedback is the impetus that can help improve key business metrics and KPIs such as retention, loyalty, conversion rate, revenue, customer lifetime value, and others.
Numerous studies indicate the importance of customer satisfaction metrics in predicting how customers feel about your products and services.
---
For example:
NPS score is an essential indicator of long-term customer loyalty and retention, which translates into a longer customer lifespan and higher revenue.
CSAT can help you map customer experience at different interaction points, which means higher satisfaction rates and improved customer experience.
By collecting customer feedback regularly, you can monitor these metrics, optimize their experience and create a customer-centric approach in your business.
With this in mind, let's explore how you can make the most from surveys while ensuring that customers respond the right way
12 Ways to Ask for Feedback From Customers Without Annoying Them
1. Create Gated Deals or Incentivized Surveys
A gated deal has a survey form or lead form attached to the discount offer, and the customer has to fill the form to access the discount code. This offer type is one of the most common ways to promote discounted deals and ask for feedback without annoying the customers.
An incentivized survey encourages people as it offers value to the customers in exchange for their time. It can help reduce survey fatigue and promote higher response rates.
Different studies also support this behavior, as seen in the image below:
---
---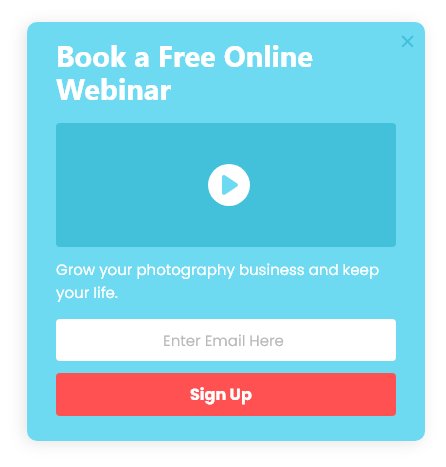 Create email headlines that reflect the offer in exchange for completing the survey to improve CTR and response rate. People are less likely to ignore the mail with an offer.
In the same way, you can leverage push notifications with unique headlines to drive people to the surveys.
But there is a caveat.
It's also possible that people may respond to the survey randomly to claim the discount. To counter this, collect more responses than usual to separate random answers from actual data trends.
2. Prefer Nudges, Widgets, & Sidebars Over Pop-Ups
---
Though the survey pop-up draws visitors' attention, sometimes it can be intrusive. It appears over the webpage, and visitors need to close it to continue. Constant pop-ups can annoy people and lead to page abandonment. Plus, once it's closed, you miss the opportunity to collect customer insights.
A simple workaround is using a survey Nudge™ or widget to ask for feedback from customers without annoying them.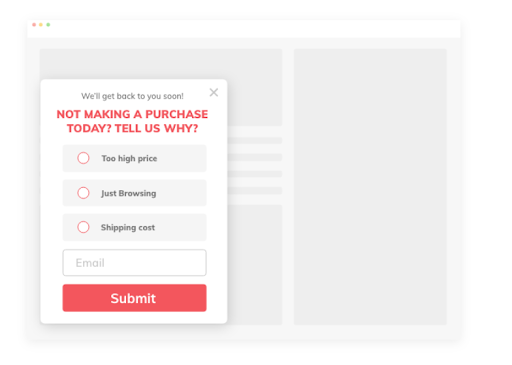 ---
It offers significant advantages over pop-up surveys:
It's a small survey screen that can be attached to your web pages.
It does not take up the entire screen.
The visitors can minimize it and maximize when they want to provide their feedback.
You can position it at any screen corner, so it does not interrupt the users/visitors.
---
Survey tools like Qualaroo come with many features to design survey Nudges™ and display them precisely to the visitors based on their actions and behavior.
---
In the same way, the feedback sidebar is another non-intrusive way of getting customer feedback. It's a simple button on the side of the webpage. The customers can click on it any time to leave feedback, suggestions, or complaints.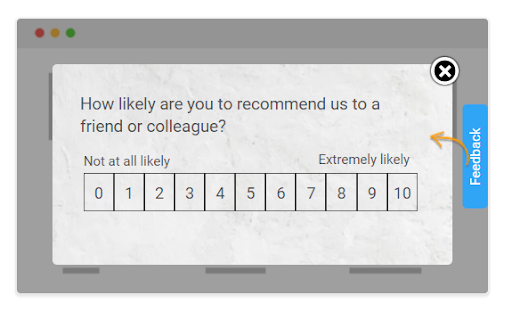 ---
Also Read: Top 10 Exit-intent Popup Tools
3. Track Behavior To Find The Right Timing
Nothing's more annoying than showing the survey to the wrong audience or asking irrelevant questions to the target audience.
Relevance and timing are the two most important factors to focus on while asking for feedback from your customers.
Targeting user behavior and actions can help you find the perfect timing to ask the right questions to the right audience without annoying them.
For example;
Showing a content-feedback survey to people halfway through the page instead of displaying it as soon as they land on the page. It helps gather more nuanced data as the reader is already immersed in the content and reduces page abandonment.
Surveying visitors when they click an element to collect more information about their behavior and preferences.
Not showing the same survey to the same visitor when they switch from one page to another or return to the same page without leaving the site.
Various advanced survey tools offer inbuilt targeting options to help show the survey to the right people. You can add the desired targeting conditions to the survey before embedding it on the web page.
---
What's more, using 3rd party integration APIs, you can add custom targeting options. For example, if you use Optimizely to run A/B tests on your website, you can integrate it with Qualaroo to target specific visitors to a particular test variation.
---
But integration APIs can do much more.
You can also push survey feedback data to your workspace tools to find the right opportunities to retarget customers and nurture the prospects.
For example:
Integrate Salesforce with Qualaroo and push survey feedback data from Qualaroo to Salesforce.
Push survey data from Qualaroo to Slack for quick feedback analysis.
---
4. Create Multilingual Surveys
If you are hosting your website in different locations, there is a possibility that people may view the website in their native language. In this case, showing the survey in one language can irritate the visitors and reduce your response rates.
For example, if someone views the web page in French and the survey appears in English, how will they answer it?
How to overcome this hurdle?
Instead of creating multiple location-based surveys, you can use dynamic language translation. This feature automatically detects the web page's language and translates the survey Nudge or pop-up language to match it.
---
Automatic language translation is a common feature provided by several survey tools in the market.
Why use automatic survey translation?
It can help you reduce survey abandonment and ask for feedback from different demographic customers.
Language barriers not only lead to survey abandonment but also cause misinterpretation of the questions. People may provide random answers without understanding the question correctly, which can skew your data results.
Another reason is visitor segmentation. Once the survey results are in, You can segment the data based on the language to compare the answers for each segment and take the necessary steps.
---
5. Leverage Social Media
Social channels engage over 4.4 billion people worldwide with an average activity time of more than 2 hours. It makes social presence a necessity for growing your business.
---
Social media also offers a great way to engage your core audience and listen to their experiences with your brand in the comments and posts. You can collect customer feedback from customers through brand engagement.
Plus, 47% of consumers prefer brands that promptly respond to their service-related queries on social media. This shows that customers also want to be heard and acknowledged by the brand.
---
That's why engaging people on social media can not only provide rich customer insights. It can also help you create a positive brand image and increase your customer base.
There are multiple ways to ask for feedback from customers on social media:
Social Polls
Polls are great to get a quick overview of customers' opinions about your products and services. You can create simple polls on your social channels like Facebook and Instagram to collect customer feedback.
---
---
B. Direct Messaging
Another way to leverage social media for user insights is direct messaging. You can use Facebook Messenger to send surveys to your followers' inboxes and ask for their feedback
---
One of the best ways to select people for this approach is to identify followers who regularly engage with your brand's posts, such as top fans on Facebook. These followers are less likely to get irritated after seeing personal survey requests in their inboxes. Plus, you can also ask for permission before sending the survey to respect their privacy.
C. Social Monitoring
Social monitoring lets you discover valuable customer insights by digging deep into your customers' comments and posts to extract valuable feedback.
But the sheer volume of comments and their unorganized nature makes social monitoring a daunting task. There are a few ways you make the process easier:
You can employ tools like Hootsuite to centralize the management of your social media channels. You can view, reply and manage all the posts under a single screen. It can help you separate critical insights from general posts more efficiently.
6. Use Behavioral Analysis Tools
Behavioral analysis tools provide visual feedback to help you experience the customer journey on your website or app. These include tools that let you analyze customers' behavior, interactions, and navigational patterns using heatmaps, eye-tracking, and screen recording.
You can see how customers interact with your website and their problems while interacting with the page elements.
Behavioral analysis tools are one of the best ways to collect feedback from customers without annoying them. It can help you uncover UX/UI issues and perform form analysis to optimize their experience. You can also test the correct placement of website elements to maximize visitor engagement and conversions.
For example, you can create gaze plots using the eye-tracking device to scan how people scan the webpage and how much time they spend on different page elements.
---
7. Add A Comment Section To Your Blogs
The comment section is another fantastic way to collect feedback without annoying your customers. Comments act as conversation starters that improve customer engagement and provide rich insights into how customers feel about content copy.
You can reply to the people's comments to answer their queries and ask follow-up questions about the piece.
The comment section has other advantages as well. Such as:
It can help you uncover customers' issues. You can engage people who leave complaints or grievances in your comments and ask them to contact the support team for a quick resolution.
Generate leads by redirecting people who are trying to inquire about the product to the official support channels. You can add short answers to their comment and then ask them to contact your technical team to schedule a free demo.
Comments also help build site credibility. The user-generated content is a marker of content quality for new readers.
8. Use Embedded Survey Forms
Embedded surveys appear as a part of the web page or email body. You can use these survey embeds to ask for feedback from customers without redirecting them to a new page.
According to a study by SurveyPractice, embedded survey forms in an email perform better than standard survey invites (via link).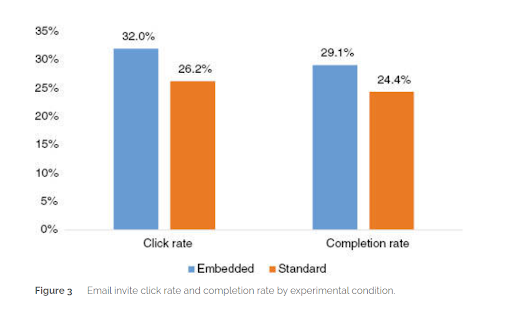 ---
The same goes for your web pages. Since visitors are not bombarded with sudden survey pop-ups, they are less likely to get frustrated. Plus, an embedded form lets them quickly fill the survey at any time while interacting with the page to leave feedback.
How to use embedded survey forms to ask for feedback from customers?
Add survey embeds at the end of your blogs to collect quick feedback from customers.

---
You can also add follow-up questions based on the respondent's answer.
---
Use embedded surveys in your email campaigns to collect NPS or CSAT scores.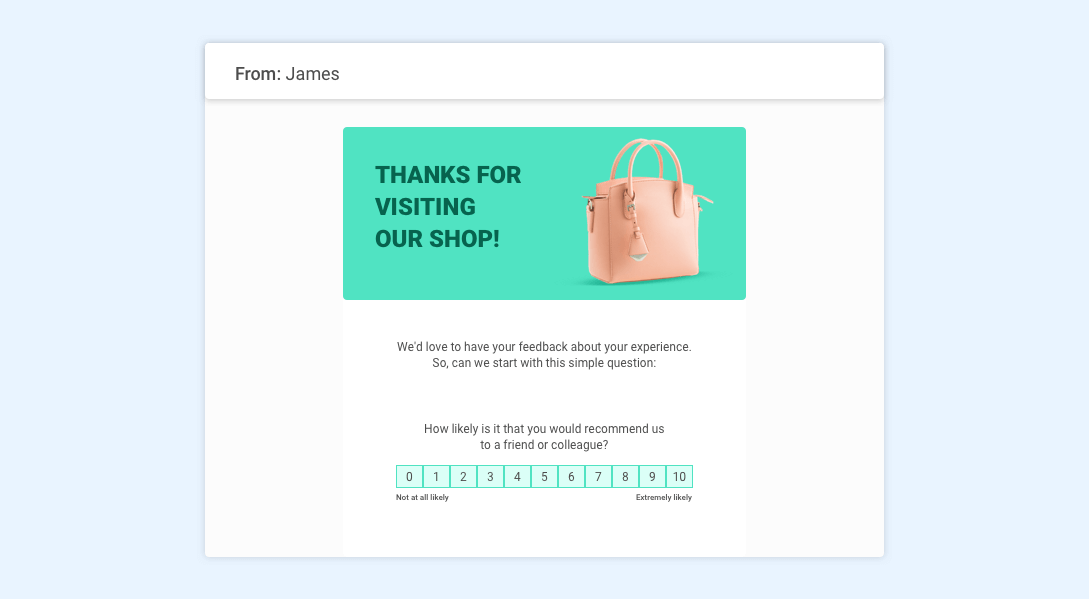 ---
If your survey contains more than one question, you can show the first question to the mail recipient, so they get redirected to the survey page when they answer it
9. Add pulse surveys after real-time service interactions
Pulse surveys are short surveys that contain one or two questions and take only a few seconds to answer. These are perfect for getting real-time feedback from customers after they interact with your support services.
People may not want to stick around for an extended survey after interacting via live chat or phone. That is where pulse surveys help you ask for feedback without annoying the customers.
Plus, live chat boasts a satisfaction rating of over 80%, more than any other customer service channel.
---
Since satisfied customers are less likely to get annoyed when asked for experience ratings, live chat and email offer excellent feedback opportunities.
10. How to use pulse surveys at service touchpoints:
Embed the survey into your live chat window to ask for feedback before the visitor closes the chat. It works on both your website and mobile app.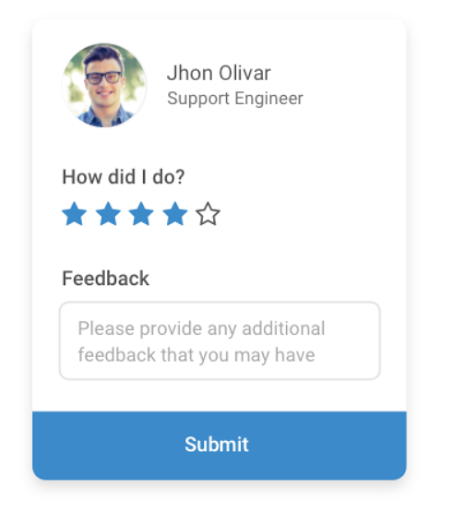 ---
Ask for quick feedback via IVR when a customer contacts you on the phone.
Install a small survey widget or intercept on your Knowledge Base to ask the following question – 'Was this guide helpful?'. You can then use branching to ask follow-up questions depending on their answer.
11. Install A Feedback Board On The Website & Mobile App
Crowd-sourcing is another way to ask for feedback without annoying the customer or interrupting their experience. And feedback boards or community forums are perfect for it.
A feedback or suggestion board is a web page where people can post their suggestions, feedback, and ideas about your products and services. Other users can then upvote the posts or leave a reply. As an admin, you can manage the board, interact with other posts and reply to people.
Since the users are your core audience, suggestion boards can produce richer insights than social media monitoring.
How to use feedback boards to collect customer insights:
Pick the most upvoted ideas to create and update your product roadmap.
Create small polls and add them to the board to collect votes from users. It can help you prioritize new releases as per customers' consensus.
Leave a reply to the customers about the status of their ideas.
You can also add a section about the planned product updates to the board so people can view it and share their thoughts.
You can reach out to users personally to ask for feedback via surveys. These users are less likely to get annoyed as they regularly contribute to the feedback board.
It's a great place to engage your customers, give them a platform to leave unsolicited feedback, and show them that you care about their opinions.
12. Try To Keep Survey Questions Optional
One of the significant causes of survey abandonment is asking too personal questions or adding questions that are hard to understand.
Suppose a respondent is uncomfortable answering a specific survey question. But if it's mandatory, they can't move ahead without answering it. In this case, they make one of the two following choices:
Either leave the survey incomplete
Or answer the question randomly
Either choice will give an unreliable data set that is as good as nothing.
That's why it's better to keep the question optional, if possible. It gives more freedom to the respondents and can improve the survey response rate.
Even if you are adding a discount or freebie to the survey, ensure that the deal matches the depth of information you are collecting from the customers.
For example, people may not divulge their personal preferences in exchange for a $10 coupon. But if you offer a free consultation or personal product demo, you can easily ask for more personal information from the customers.
Optional survey questions are a common inbuilt feature in many advanced survey tools. You can tick the checkbox to make the corresponding question optional. Leaving it unchecked makes the question mandatory.
---
Leverage the feature to collect the feedback nicely.
Best Practices & Tips on Asking for Feedback From Customers
Now that we have answered the question – how to ask for customer feedback without annoying them, here are some quick tips to get the best results from your surveys:
1. Optimize The Survey Length
Survey length, i.e., the number of questions in a survey, has a significant impact on response rate and survey drop off as seen in the image below:
We can clearly see that people are more prone to get frustrated by longer surveys because time plays an integral part in customer feedback. The reason is that the visitors may not want to give too much time to answer random questions without any immediate reward.
A study published in the Internal Journal for Market Research also found that 10 to 20 minutes should be the ideal length of your surveys to maximize response rates.
What's more, lengthy surveys can also lead to the rise in the tendency of people to answer the questions without reading them properly to complete the survey quickly. This will skew your data results even if you have a perfectly designed survey.
That's why it's imperative to test your survey length before sending it out.
2. Determine The Required Response Sample Size
We emphasize response sample size in all our blogs because it can help mitigate several survey challenges. Such as:
A sufficient sample size can help reach the required confidence level, which means you can be sure that the data is reliable. For example, a confidence level of 99% means there is a one in a hundred chance that the feedback data is wrong.
It can help to separate the random answers and data outliers from genuine customer feedback. Even if a small percentage of people answer the question randomly, you have a much larger data set of reliable results that can point you in the right direction.
The sample size calculator also takes the drop-off rate into account. It means you can calculate the actual sample size keeping the survey abandonment rate in mind.
---
Pro tip: Make sure to calculate the required sample size before you start asking for feedback from your customers.
Here is a sample size calculator to get started.
3. Be Regular But Not Incessant
Another excellent survey practice is to ask for customer feedback at regular intervals to keep track of your progress and gauge if your strategies are producing the desired effect on customer experience or not.
Select a suitable time difference between two consecutive surveys to get an actual reading of how customer perception has changed during that time.
For example:
You can design mail campaigns to automatically deploy NPS surveys after 30-60 days of last customer feedback from the same customer.
You can set the website or mobile app survey prompt to reappear for the same IP address after a fixed interval once the customer fills it.
In the same way, following up on your survey request is vital to increase your response rate and sample size. You can send survey reminders to people who haven't filled the survey via mail or notification.
A single reminder can increase the survey response rate by 14%, making it easier for you to reach the required sample size sooner.
Here are some ways to do it:
Add a small notification bar in customers' accounts to remind them to take the survey. You can set it to disappear automatically once the customer fills the survey.
You can space your survey reminders 48-72 hours apart to increase the chances of boosting completion rates.
Target IP addresses to show the survey to the customers on their repeat visit if they did not fill the survey during the first survey prompt.
The key here is to be more subtle while asking for feedback from customers. People are not usually enthusiastic about filling a survey. Repeated notifications may annoy the target customers, so plan your approach accordingly.
Look at the past customer behavior data to learn how customers behave towards survey notifications to make the necessary changes.
4. Mention How The Survey Will Affect The Customers
Each survey has a purpose, and mentioning the objective in your survey invites can help boost the response rate. It makes people understand that the feedback will help you to improve their brand experience.
---
---
If the survey is related to a recent interaction, you can mention a few details to jog the customer's memory about the overall experience. For example, Amazon adds the order details and date while asking for feedback from customers via mail.
It helps the customer recall the correct interaction while filling the survey form.
5. Use Funnel Technique
The funnel approach is used to make respondents comfortable with the survey before you ask more personal questions. Here, you start by asking general questions and slowly move towards more in-depth inquiry with each subsequent question.
For example:
Do you shop online?
How often do you shop online?
What are your favorite shopping websites?
What products do you usually buy online?
In the above example, the survey starts with a general inquiry and then moves into more specific categories with each subsequent question to narrow down customers' preferences.
But there is one more behavioral aspect that works with this approach – the foot-in-the-door principle. It states that when a person starts doing a job, they are more likely to complete it.
And as Leonard said to Penny in the hit sitcom Big Bang Theory – Once you pass the first two barriers, you want to see it through to the end; the same logic can work for your surveys.
Once the respondent starts to fill the survey, they are more likely to complete it. That's why it's good to start with basic questions before moving towards more personal ones.
Make Surveys Relevant and Enjoyable
Customer feedback is an essential tool in your arsenal to create a customer-centric approach towards development, optimization, marketing, and other aspects of your business. But it should not come at the expense of their brand experience.
That's why it's necessary to look past the methods when taking up the question – how to ask for customer feedback. You have to explore ways that make the survey experience more enjoyable and relevant to the customers.
A focused approach with the right feedback tool can open up new opportunities to collect in-depth customer insights without annoying them, such as new channels, nuanced targeting, subtle survey invites, and more. So start implementing the ways we mentioned in the blog and see what difference they bring to your survey campaign results.
Want insights that improve experience & conversions?
Capture customer feedback to improve customer experience & grow conversions.