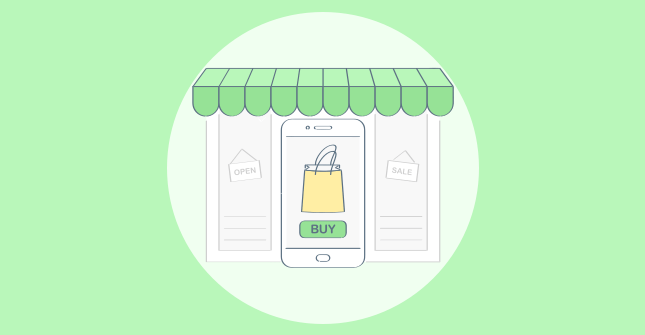 For e-Commerce businesses not paying close attention to user behavior, their worst nightmare may come alive – Shopping Cart abandonment.
People often believe the unpopular opinion that optimizing the website design is all one needs to convert the traffic on the website into conversions.
It is probably because a customer decides to buy a product before they come to the checkout threshold.
Well, that's not it.
An optimized checkout process is equally essential for a high conversion rate.
To know the underlying issues (and their solutions) behind this, let's start by understanding how it affects businesses while laying the groundwork on how to stop shopping cart abandonment.
Before we begin, having a look at some basics would help.
What Is Shopping Cart Abandonment?
Shopping cart abandonment happens when a potential customer adds desired products to a cart on an e-Commerce website/app but leaves abruptly without completing the purchase process.
There are many variables at play that lead to this situation – distracted customers, out-of-stock products, price comparison with competitors, and so on.
E-commerce businesses consider the analysis of cart abandonment rate important because it explicitly correlates with profits and conversion rate.
Why Is Shopping Cart Abandonment a Problem for Retailers?
It is crucial to understand the repercussions of cart abandonment on e-commerce businesses to dive into its possible solutions.
A higher cart abandonment rate leads to a low conversion rate, and consequently, businesses lose potential customers as the ripple effect. Besides this, it affects the sales funnel of a company and disturbs inventory management in some cases.
For instance, if an item is added to the cart but not purchased, it may get deducted from the forecasted inventory for a few days before getting restored again.
It can lead to miscalculations while creating procurement orders to replenish the inventory. These cart abandonment effects create hiccups in the smooth flow of the business.
Read Also: How to Optimize & Increase Ecommerce Conversion Rate
Shopping Cart Abandonment Statistics
The best way to get as close to reality and practical solutions is to analyze what's happening globally. So, let's have a look at some relevant statistics about cart abandonment in different industries.
According to Statista, the average online shopping cart abandonment in 2020 March globally was 88.05%, a significant rise from the last year.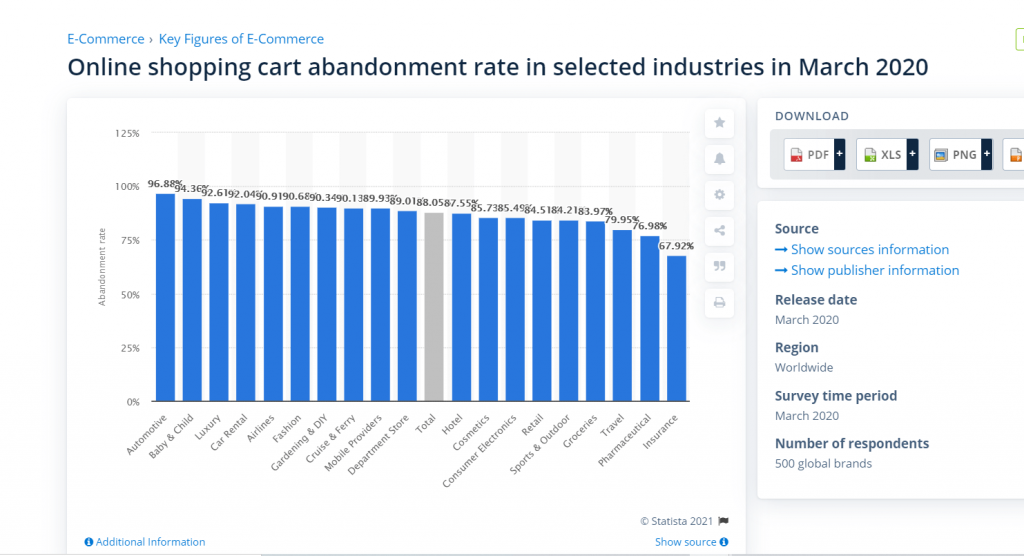 ---
2. A study conducted in 2020 by Baymard represents the top reasons for cart abandonment. The one that topped the charts with 50% was high extra costs.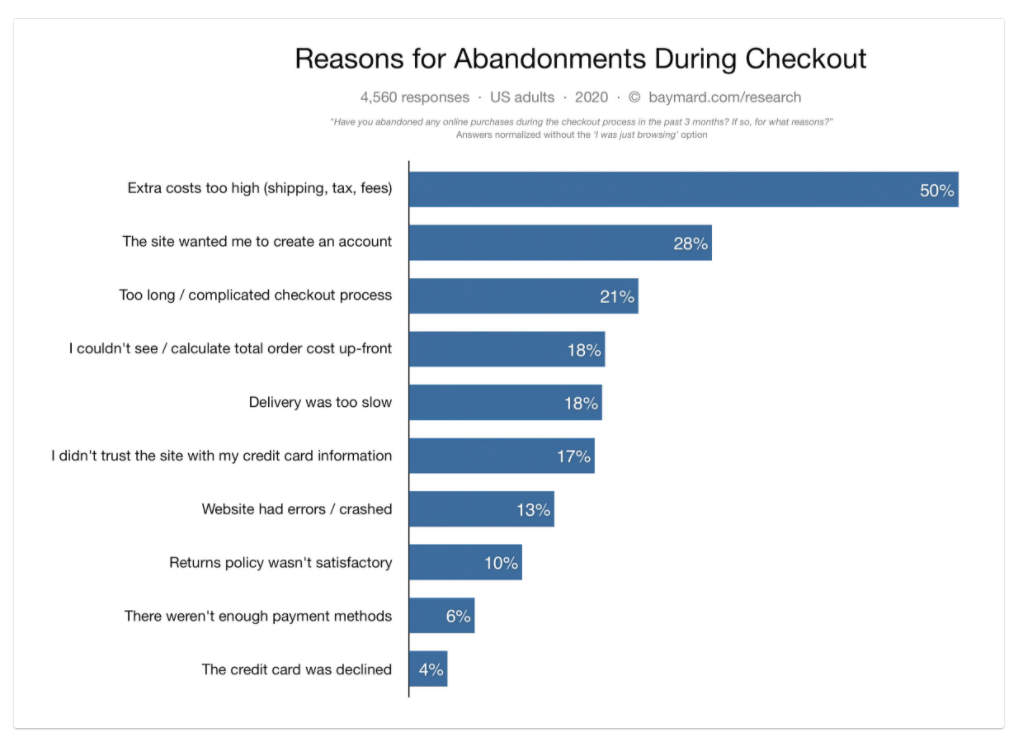 ---
3. The same study from Baymard found that 58.6% of online shoppers in the US had abandoned a cart in the last three months.
Top Reasons for Shopping Cart Abandonment
Here are some tip-of-the-iceberg shopping cart abandonment reasons to keep in mind to avoid them at all costs.
1. Long Checkout Process Without a Progress Indicator
One of the reasons why people enjoy shopping online is because of the time factor. They want to shop without wasting any more time than necessary.
If your checkout process does not fulfill this expectation, customers will simply leave the cart and shop elsewhere. It could also lead to customers turning into detractors, never to return.
To avoid it, you need to make sure that there is no friction in your checkout process, such as multiple forms. Also, sometimes customers do not like the vague checkout process, e.g., no progress indicators to guide them.
2. Lack of Trust Badges = Lack of Trust
It goes without saying how crucial it is to build the trust of customers in your brand. Not only does it encourage new/potential customers to shop with you, but it also helps to retain loyal customers.
A customer who is about to enter confidential information on your checkout page for the purchase will likely be skeptical if you have not established trust.
What you can do here is to make sure to add trust symbols on your websites, such as PCI-DSS compliance and other security badges like Comodo SSL.
Make them believe their data is safe with you and that you are a legitimate shopping partner. However, you need to strategize the placement well.
3. Unexpected Shipping Costs
Customers don't like surprises, at least in the case of charges. Some customers spend a good amount of time on your app/website filling up their shopping cart, only to abandon it in the end. Why?
Sometimes, it's the simplest things that tick the users off, one of them being hidden shipping costs or implicit policies.
You may not have mentioned the shipping cost information on the product page, at the time of adding the products to the cart or before the payment has to be made. Or, you may not have disclosed the negative delivery areas.
4. Lack of Payment Options
Sometimes, companies may overlook the importance of providing multiple options to customers. You cannot go far by introducing new choices in your products only and not the other aspects of customer experience.
One of the worst things you can do to increase your cart abandonment rate is to limit customers' payment gateway options. The lack of choice will undoubtedly spike the numbers.
5. Mandatory Account Creation
If there is one thing that customers appreciate and want from brands, then that's freedom; freedom for logging in, signing up, and indulging in a commitment by registering.
Most brands drive away a significant portion of potential customers by asking them to register as soon as they land on the website or download the app.
Creating an account is an essential aspect for you, but not for the customers. So, why not relieve them from this step altogether for their first few purchases? There are several brands that do this, such as Dell, Office Depot, Best Buy, ASOS (which even managed to halve its abandonment rate), and more.
6. Price Comparison Shopping
Customers like to shop smart. They like to explore their options and choose the product best fits their budget and quality expectations.
Price comparison shopping is one such technique customers employ, irrespective of the nature of shopping. They hunt down the best deals on the internet, no matter how many carts they have to create, and then abandon on multiple platforms.
7. Improper Placement of the Cart
The way you place elements on your website or app adds to the quality of experience customers will have with you. For shopping carts in particular, how you position them becomes a deciding factor for successful purchases.
8. Unsuitable Return and Refund Policy
An online business should stay away from obscurity around all kinds of information about the company. More often than not, an unclear or unfavorable return or refund policy can become a deal-breaker for customers.
Providing an unambiguous policy will avoid second-guessing on the customers' part, making them less likely to leave the cart without purchasing.
Why?
Because customers want the assurance of required assistance if they do not like the products.
9. Unoptimized Website
Even a second can change the mind of customers. A 1-second delay in website response results in a 7% decrease in conversions — something that is also true in the case of cart abandonment.
If your website manifests usability issues, you'll see its ripple effect in the rising cart abandonment rates.
Also Read: Best Website Survey Questions To Ask (with examples)
10. Shipping Duration
The longer your products take in shipping, the lesser customers will be interested in buying from you. Time is of the essence, and brands have long recognized this.
If you do not offer quick shipping options, do not be surprised if there is a surge in abandonment rates.
11. Absence of Loyalty Programs/Discounts/Coupons
We often talk about turning potential customers into loyal ones.
But what makes them loyal?
Brands develop innovative ideas for reward programs & discounts and offer coupon codes to encourage them to shop more frequently.
If you do not have such strategies in place, your customers will go to those who do. And if you do have, make sure they work properly.
How to Calculate the Shopping Cart Abandonment Rate
If you are here to know "How is the abandoned cart rate calculated?" then here is a simple way to do so.
To track the actual numbers, you will need to calculate the rate at which customers abandon their cart on your website. What this would do is help you analyze how bad the situation is and then strategize accordingly.
Of course, cart abandonment is a situation unavoidable, but what affects a business is its extent. Calculating the digital shopping cart abandonment rate is uncomplicated.
Number of total purchases completed
1 – ⸻⸻⸻⸻⸻⸻ X 100
Number of carts created
The way to go about it is:
Let's say that the number of carts created is 500, and the number of completed purchases is 200.
In this case,
200/500 = 0.4
1 – 0.4 = 0.6
Then, the eCommerce cart abandonment rate will be = 0.6 X 100 = 60%
While we are discussing cart abandonment rates, you may also like to know "How is Add To Cart rate calculated?"
In simple words, Add to Cart rate is the percentage of customers who add at least one item to the cart.
Here is how you calculate it –
Total number of sessions in which at least one item is added to the cart
⸻⸻⸻⸻⸻⸻⸻⸻⸻⸻⸻⸻
Total number of sessions
At this point, you may think, how will you know things are improving?
What is a good abandoned cart recovery rate? – The bare minimum to validate your efforts?
According to this report, on average, companies with average order values from $100 to $500 recover 4% to 5% of their abandoned carts. It means the lower the average order value, the lower the recovery rate.
Tactics to Decrease Your Shopping Cart Abandonment Rate
Re-evaluating your strategies is a good point for identifying the pitfalls leading to the increasing cart abandonment, but it's not enough.
What you need are reliable shopping cart abandonment solutions to change the course of things actively. Since we know how stressful things can be at this point you may start wondering:
"How do you stop shopping cart abandonment?"
Here are the best practices to solve your problem.
These practices are based on extensive research and expert advice. Once you try these tips, we are certain things will start to look positive.
1. Optimization of Landing Pages
Like everything else, your website should be up to date. All the pages on your website should precisely do what they are meant to do. For instance, your product landing page should provide every little detail related to the products and services.
Many times, brands fall victim to short-sightedness and cannot evaluate what the landing pages are lacking. One of the best ways to overcome this bottleneck is by using a survey feedback tool, such as Qualaroo that helps you understand what customers want using contextual and unobtrusive surveys.
Read how Hootsuite boosted its conversion rate by optimizing landing pages using Qualaroo.
2. Use a Progress Indicator
As mentioned above, the absence of a progress indicator will confuse the customers at the checkout stage. Having one ensures that customers are aware of their progress in the purchase process.
It is more convenient for customers if a website has a progress indicator to access how many remaining steps they need to complete to shop with you.
3. Create an Easy-to-Edit Cart
Nothing is more frustrating for customers than a rigid cart. Unlike offline shopping, where they can easily remove or add an item from the cart, users are dependent on the brand to provide them with a well-performing website with an easy-to-edit cart.
Add a thumbnail to every product with the feature of adding more quantity of the product, deleting it completely, or simply saving it for later.
4. Transparency in Costs
Nothing puts off a customer more than the hidden costs some brands impose when confirming the order. For example, some brands may show a product at a discount but add taxes when they are about to place an order, i.e., the checkout stage.
It never hurts to be transparent about your products/services' overall costs from the beginning. This way, users know they are not going to waste their time with you, and the ones who will create a cart may just complete their purchase.
5. Work on the Product Page
You can work on minimizing cart abandonment even before the customer reaches the cart itself.
How?
An optimized product page can pique the customer's interest in the product and do so much more.
An engaging product page is optimized with interactive product images, rich media, easy navigation, and UI/UX.
Also, make sure that it is mobile responsive since 65% of the e-commerce traffic comes from mobile.
Besides these, you can also add elements, such as:
'Buy now button' as a one-step checkout process
Comparison charts like Amazon
Customer reviews
Recommendations on items bought together
Return and shipping policy
---
Read Also: Optimizing Your Product Pages with Video & User-Generated Content
6. Use Thumbnails of Products
Using product thumbnails is necessary and a smart decision to ensure the best customer experience and, consequently, smooth sales.
Unlike shopping offline, customers cannot see or feel the products they are purchasing. Providing products' thumbnails wherever there is a mention of products allows them to be aware of the products and reassures them that they are buying the right thing.
7. Build Seamless Navigation Between Products and Cart
During shopping, customers tend to back and forth between product pages and their carts. It is where many eCommerce companies experience a rise in churn rate.
Too many steps or too many clicks make the navigation bothersome, making customers leave the cart without completing the action. Allowing customers to buy from the product page by reducing shopping steps is a great way to encourage users.
8. Checkout Process With Minimal Steps
Too many steps in the checkout process lead to too many customers lost.
Nothing comes close to frustrating customers than a long and tiresome checkout process.
Some companies become too involved in collecting customer information that they lose sight of a good customer experience. A small checkout process can also be as effective as a long one; you just need to figure out the necessary steps to add.
Pro Tip: A three to five steps process is enough for the purchase. However, make sure not to add too many fields in a single step.
9. Keep Testing the Checkout Process to Stay Relevant
A company is one of the best critics of itself. Introspecting and evaluating areas to improve from within helps companies come up with better solutions.
To do so, in this case, you should always test your website randomly. Experience your website first-hand and try to do everything a customer may do on your website every once in a while.
Then, you will see your services from the users' perspective and find out the unsaid problems users may face with you. Besides, you can always use session recording software, A/B testing tools, and feedback surveys to know how customers feel about your brand.
For instance, using a feedback tool, you can conduct Customer satisfaction surveys (CSAT), Net promoter Score surveys (NPS), Customer Effort Score, etc., to gauge how they feel about your services or products.
Here are a few questions you can ask abandoning customers in your survey to understand their experience:
To get feedback on your checkout process – "Was there anything about this checkout process that we should improve?

When a customer is about to leave your website without completing a purchase – "Is there anything preventing you from completing your purchase?"
To understand why customers leave without purchasing –
---
Ready to create a feedback survey? Take a tour of Qualaroo
10. Guarantee a No-Surprise Checkout
Surprises are good, but not when it comes to the checkout process. Online shopping is already prone to skepticism; we don't want rogue elements to make the checkout process inconvenient.
Sometimes, there might be a discount code request, a popup, or an error message. All these things can put off a customer, and they might leave without making the purchase. So, make sure that you do not put any such elements on the checkout page itself.
11. Make the Process Conversational
One of the trends to improve customer experience is to make the process conversation-like and enjoyable.
Unlike brick-and-mortar stores, such shoppers are online, and there is no direct interaction with a brand representative, so there is no personal touch a brand could offer the customers.
This is why sprinkling casual messages like "We are almost done" or "Hey, just one more thing left" makes the form-filling process during their shopping bearable.
Read Also: 20 Best Customer Experience Management Software
12. Optimize Website Speed and Performance
No customer has the time to waste on a slow website when they have so many efficient options available. Just like how you would maintain your offline store, you have to ensure your website/app's performance.
Users tend to leave a website if it takes more than 3 seconds to load.
That's why companies do not have much time or means to persuade the frustrated customer otherwise, besides resolving the performance issues and increasing the speed.
A few tips on how you can increase your page speed are:
Compress the images used on your website
Enable browser caching for customers so that when they visit your website again, it will load faster.
Always test your website speed and performance using two or more tools (try out Google Pagespeed Insights and Pingdom for the same).
13. Allow Guest Profile Checkout
A simple solution to the problem we discussed above, companies do not have to ask for the sign-in or registration right away. So, what else can they do? ― Allow guest checkout.
Through the guest checkout functionality, users who are in a hurry or only want to shop with you once will be able to do so. Although this may sound like giving up on those customers, it is not so.
They will leave with a positive impression of your brand and a great customer experience. And we all know how these things can benefit a business in the long run.
14. Add the One-Click Purchase Option
Some popular online retail businesses understood the need for a small checkout process and came up with the "one-click checkout."
Customers may have their cart filled on your website, but sometimes they just want to buy a particular thing. Then, the one-click functionality will allow them to buy straight from the product page since they will have the option of "Buy Now" along with "Add to cart."
15. Choose CTAs in the Shopping Cart Effectively
While designing the checkout process, one thing to keep in mind is always assisting and guiding the customers to the next step. For this, it is feasible to use CTAs (Call to Action) in the process.
Create headline-style instructions that are clear to see on the page. Don't forget to make these CTAs conversion-like for a better customer experience.
16. Add the Save for Later Functionality
As discussed in the easy-to-edit cart section, the "Save for Later" feature, better known as Wishlist, is a great way to provide more control to customers while shopping.
Users may not always want to buy a particular product at the time of purchase but wish to save it for later. They will not be able to leave it in the cart since they are purchasing other products.
So, it becomes obvious to provide them a space to save the things they want to purchase later. When they'll have better control over their choices, the chances of an abandoned shopping cart will minimize.
17. Provide Chat Support
Customer support in any form is indispensable for any eCommerce business. A customer may stumble upon an issue or query at any stage in the buyers' journey; this is when they test your company based on customer experience.
Always make sure that your live chat support and phone support options are always accessible to the customers. If you address their query right there in real-time, the chances of cart abandonment reduce significantly.
Also Read: 14 Best Live Chat Support Solutions
18. Make Contact Information Clearly Visible
Building customers' trust in your brand is a pivotal step in making them loyal customers. What's a better way to gain their confidence than providing all the relevant information about your brand, including your full contact information?
Companies usually follow the NAP (Name, Address, and Place) format and put this information on the page's footer, so the customers know where to find it every time.
19. Let Your Testimonials Do the Talking
Testimonials are one of the elements that strengthen the trust factor in customers and present your company as reliable.
Therefore, it is always best to add testimonials at all relevant places, including your home page and respective product pages.
20. Avoid Too Much Cross-Selling
Some brands become too immersed and invested in promoting and pitching all of their products to the customers; they forget doing this might confuse customers further.
Of course, customers also like buying suggestions and options (such as "Similar products" or "People also buy this with this product") but overdoing it can also backfire.
21. Add Trust Badges/Symbols
We discussed above how the lack of trust symbols on your website can make customers skeptical about your company's legitimacy. So, the best thing to do is to sprinkle these symbols on your website's relevant landing pages for customers to see.
22. Multiple Payment Gateways
It is one of the basics that you should not skip. E-commerce is a global platform where you'll receive prospective customers from across the world. It becomes imperative to allow them as many payment options as you can. To do so, you need to use a reliable eCommerce platform. This is where an extensible commerce platform comes in handy, as it enables you to integrate a wide range of payment gateways seamlessly.
If you will adequately facilitate customers, they would complete the purchase, effectively reducing cart abandonment.
23. Have a User-Friendly Return and Refund Policy
To make customers trust your brand and have confidence in your products/services, you need to give them a reason.
Unclear or business-centric return or refund policy can make the customers uneasy before they even make it to the checkout process, leaving the cart full of your products behind.
Clearly state all the terms and conditions and make the policy user-friendly as well.
24. Full-Disclosure of Shipping Details
Hidden costs are a nightmare for customers. They tend to trust such companies less, which adds hidden fees to their shipping details. Again, transparency is the biggest friend for any eCommerce company, so mention everything on your website clearly for users to make an informed decision.
25. Carefully Place Peripheral Links
If a lot is going on your checkout page, users may get distracted. For instance, companies like to place extraneous links (to promote other products as well).
Something like this only distracts them from their cart, and they may leave to check out those other products and get lost in the process, never to return to the cart.
26. Broaden your scope for currencies
If a company is inclusive, it imparts a positive impact on customers from around the world.
Instead of limiting options to only one currency, try to include all currencies to help customers relate to the product prices. This way, customers do not have to leave the cart to calculate your product/services' actual cost in their currency.
27. Make the Error Messages Helpful
While filling in the details during the checkout process, customers can make minor mistakes or accidentally skip specific information. If you cannot make the error clear, users will leave your website out of frustration.
To avoid cart abandonment due to such errors, make sure that the mistake is easy to find and correct as well.
28. Exit-Intent Functionality
As evident from the name, the exit-intent survey and pop-up are presented to customers when they are about to leave the website.
Many businesses use exit-intent surveys to understand why the customer is leaving without completing the customer journey. This survey helps in getting answers to important questions like:
"What stopped the user from completing an action?"
"What is missing on the page?"
"If you don't plan to make a purchase, can you tell us why not?"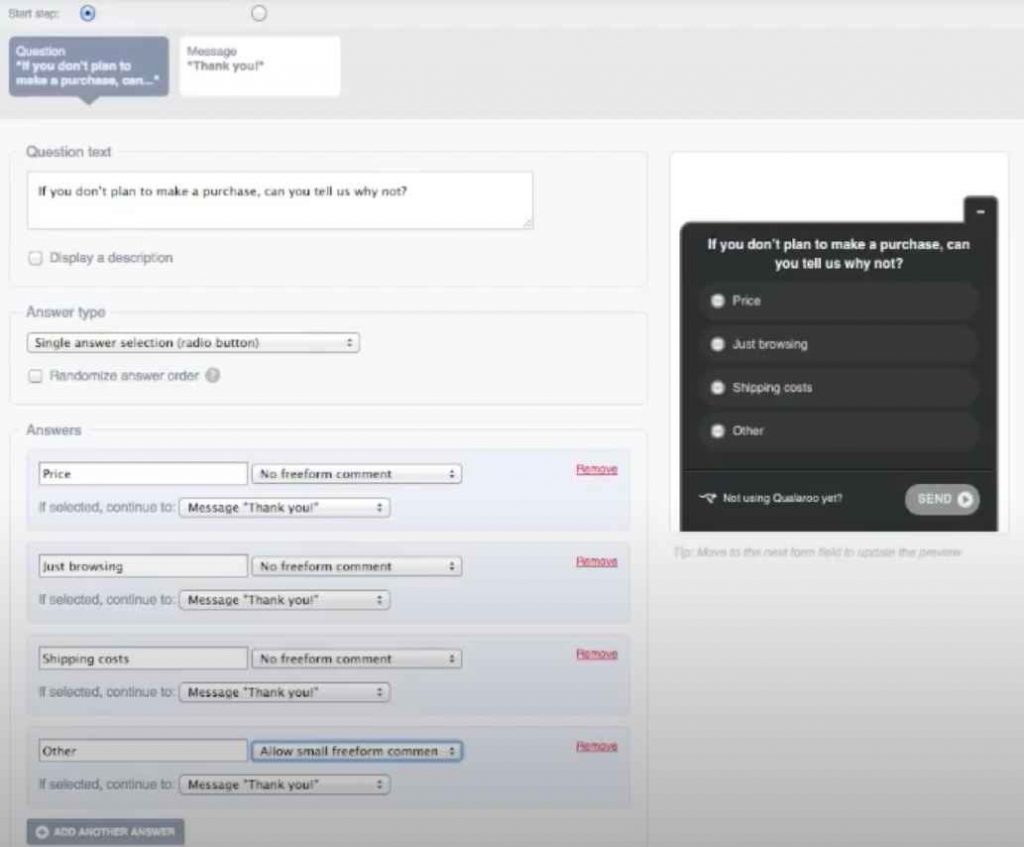 ---
With the help of branching logic, you can add relevant exit-intent pop-ups to your answer options, like discounts or incentives, to make your customers stay.
---
Check out what else you can ask to uncover issues and intent in this survey question library.
Qualaroo, among other services, offers easy-to-use exit-intent surveys with excellent and customizable templates. To understand how the Qualaroo survey works, let's have a look at a case study.
Case Study: Belron
Belron is a leading vehicle windshield company.
It saw a high bounce rate on the website from the customers who only shop with the company when they want a new windshield for their vehicle.
To understand the factors behind the high bounce rate, Belron used Qualaroo's exit-intent survey functionality. They asked customers why they were leaving without purchasing and learned that there was more than one customer journey for them to track, and the websites also lacked clarity at places.
Check out the case study in detail to know how they turned things around.
29. Offer Product Trial and Personalization
To ensure people add products to their cart, you can help them visualize and virtually personalize it as well. For this, you can leverage Augmented Reality technology, 360-degree product view, product videos, among other things, to make your products instantly more attractive.
Here's how Gucci does it on their iOS app:
---
Useful Marketing Tactics to Eliminate Cart Abandonment
Besides the strategies mentioned above, you can employ some marketing tactics to boost your efforts to reduce the adverse effects of shopping cart abandonment.
1. Send Cart Recovery Emails or Push Notifications
You have not lost the game yet, so don't give up. Even when the customer has left the cart and website, you can still follow up and win them back. The next question on your mind, in this case, would be:
"When should I send an abandoned cart email?"
The best time to send this email is after one hour since the customer has not returned to the cart.
Emails or push notifications reminding customers to complete their purchase saying "Your cart is waiting" are a great tactic to reduce the increasing cart abandonment rate.
You can attach a CTA leading them straight to their cart and checkout process.
Related Read: How to Grow your Email List – 42 Proven Techniques
2. Retarget With Abandoned Cart Ads
Remember how you browse a website for a few products, switch to any social media platform, and the next thing you see is ads for those same products?
Yes, that is what cart ad retargeting does. This strategy informs customers of the ongoing or new discounts on the products in their cart and encourages them to complete the process.
3. Record Sessions
To take it a step further, companies now use session recording functionality. Basically, it allows you to see how the users interact with your website, what they do on it, and how they navigate.
It allows you to analyze user behavior patterns and get the unspoken and real customer feedback by experiencing the second-hand experience.
Tools such as FullStory can make this happen for you once they are integrated with a feedback survey tool.
4. Analyze Feedback With Sentiment Analysis
Sentiment analysis is a functionality of Customer feedback tools used to analyze user feedback tone in general and break it down into the most relevant emotions.
Besides the feedback on statistics, sentiment analysis offers feedback into emotions; after all, they are the driving force behind a loyal customer base.
Companies such as Belron were able to gauge their customers' feelings towards them with Qualaroo's integration IBM Watson-powered Sentiment Analysis tool.
Another real-life example, the team at Udemy also collects feedback on their auto-captioning feature and has improved it further.
5. Display Social Proof
Apart from testimonials, using social proof such as product reviews and ratings on landing pages and even carts will eliminate the second thoughts from customers' minds.
They will more likely complete the purchase after being reassured with positive feedback on your products.
Apart from this, you can also work on making your online store better in the following ways to stop visitors from leaving abruptly.
Optimize Online Store to Lessen Cart Abandonment Rates
Conduct Feedback Survey to Understand Users' Issues
It is always better to ask the customers directly what they do not like about a business and what can be improved instead of speculating. Now, a website can have thousands of visitors every day.
How can one collect feedback from each one and then record it effectively?
For this purpose, you should use a feedback tool that displays the data in a readable and sensible manner. You should carefully pick the questions you will ask the prospects since too many questions will only frustrate them.
Check out these unique survey templates that can be used as-is or customized as per the need.
Must Read: 13 Ways To Collect Customer Feedback
Analyze the Collected Feedback to Understand User Behavior
Once you have the required data, it is time to identify the crucial information hidden in that data. All your efforts to conduct a survey will go to waste if you do not know how to extract useful information from the feedback.
Once you know all the customers' pain points and what they would like to improve, you can take active measures.
You can also use tools such as Advanced Ecommerce Analytics by Google to create conversion funnels and use the feedback to find the blind spots and correct them.
Practice A/B Testing
A/B testing is one of the strategies companies swear by. To gauge the reasons for cart abandonment, you should practice A/B testing regularly.
Make sure to change one variable whenever you are testing, say, your website, layout, content, product placement, and more. By doing this, you will be able to see what customers prefer and then make adjustments accordingly.
Also Read: 30 Best AB Testing Tools
Recover Your Abandoned Carts Now
Shopping Cart abandonment is a significant bottleneck for conversion rates. Actively implement the ways and tactics discussed in this blog and see how quickly you'll be able to curb this issue at the earliest.
With the right tools and strategies, e-Commerce businesses can successfully turn the tide in their favor. You can begin simply by learning from your customers via surveys that tell you exactly what makes them leave and what could make them stay. Then you can watch your sales numbers go to the north of the graph.
Want insights that improve experience & conversions?
Capture customer feedback to improve customer experience & grow conversions.