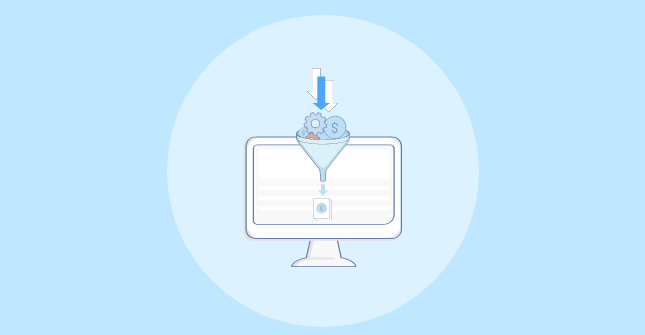 Optimizing your website needs proper website optimization tools, but with so many options available these days, the question is:
Which aspect of your website are you trying to improve?
Is it SEO, customer experience, design(UX), UI, information architecture (IA), or any other?
There are different website optimization tools, and your requirements will decide which ones you require.
For example, to improve user experience, you may start by asking them about their issues during the website journey. It means you can implement contextual survey software like Qualaroo on your website. If you want to run tests to improve the UI, you can use an A/B testing tool like Optimizely.
Quite challenging, isn't it?
Well. Not anymore.
We have put together the list of best website optimizer tools in this blog. Each tool offers unique features that can help you make your website better. We have added detailed features, what we like and don't like about the tool, and pricing information for each tool so you can make a well-informed decision.
Here's what the list looks like:
15 Best Website Optimization Tools for 2023
Here are our top picks for the best website optimization tools you can use in your business in 2023:
1. Qualaroo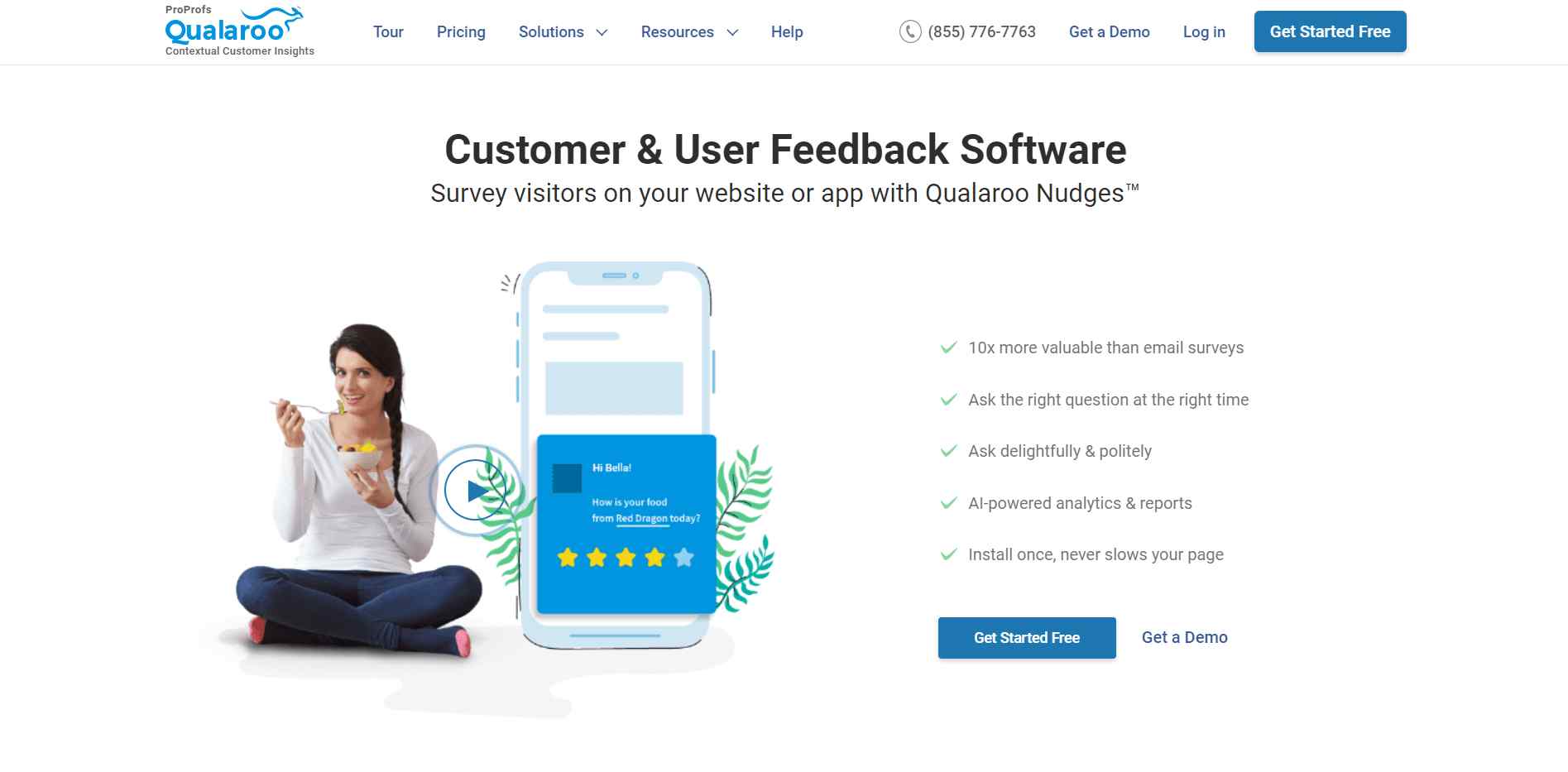 ---
Want to know exactly what's not working on your website? Getting specific information from your prospects using contextual surveys is the way to go. Qualaroo is a feedback-based website optimization tool that lets you capture the voice of the customer to pinpoint the issues visitors face on your website.
You can deploy targeted survey Nudges™ on your web pages and collect customer experience feedback. The tool offers multi-channel reach like website, mobile, SaaS-product, etc. Plus, the advanced AI-based analysis engine makes it easier to extract valuable insights and channel them into your website optimization and optimization strategies.
Best For: On-site surveys, AI-based analysis tools, multi-channel reach
Suitable For: Small to big businesses
Integrations: Yes
Features:
Provides ready-to-use survey templates to design different survey types like exit-intent, NPS, CSAT, SUS, etc.
Offers features like 12+ answer types, skip-logic, 100+ languages, and auto survey language translation.
Inbuilt AI-based sentiment analysis to dig through the feedback in real-time.
Leverage advanced targeting options to target the survey to visitors based on page, traffic source, visit length or depth, visit number, activity, and more.
Understand customer intent with intelligent question branching
Integrations available: Mailchimp, Marketo, HubSpot, Eloqua, Zapier, etc.
Pros
Easy to set up and use.
One of the best web optimization tools to test your prototypes and design templates.
Cons
The reporting section needs more filters and sorting options.
Requires more industry-specific survey templates.
Price
Starts from $69 per month.
2. Picreel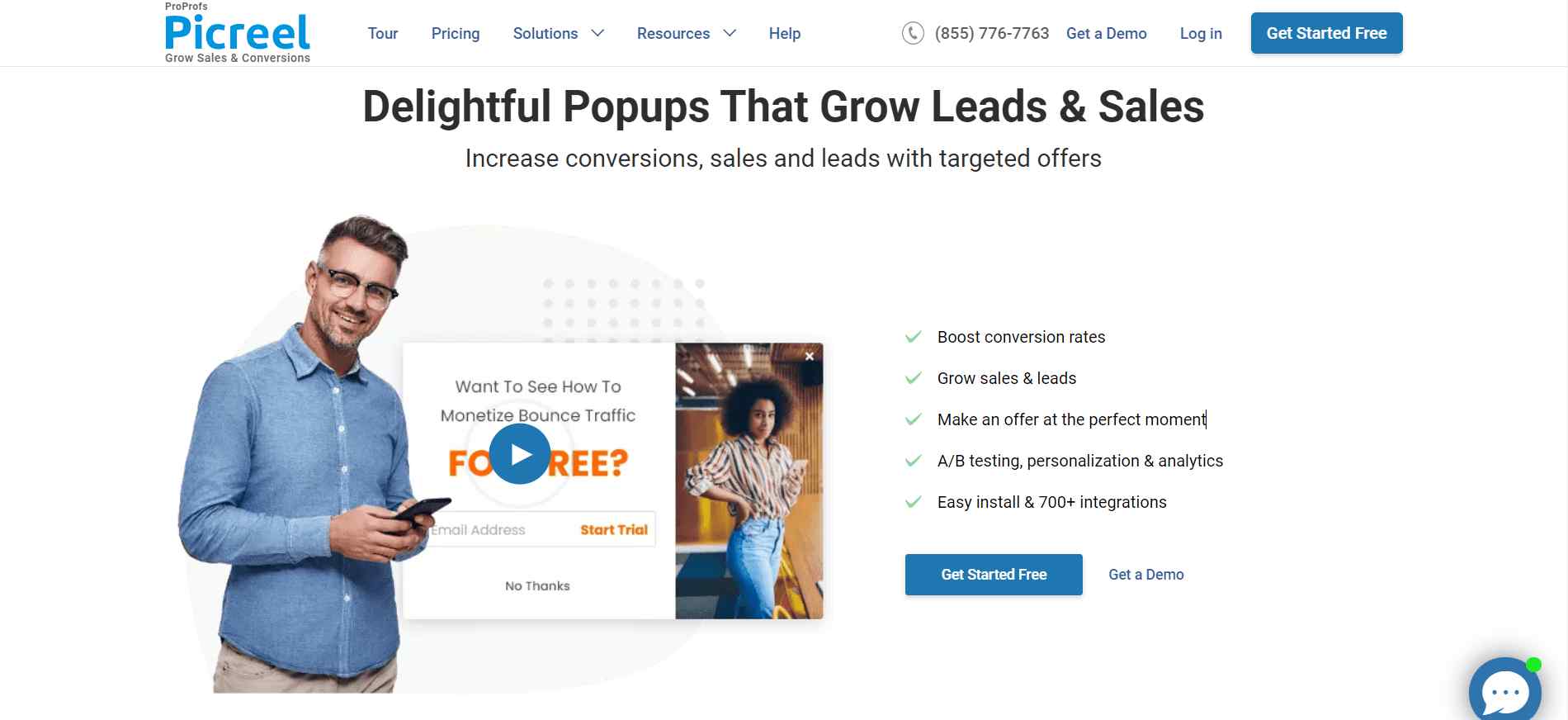 ---
Picreel is among the best pop-up-based website optimization tools to engage website visitors using gated offers and lead them to conversion. It lets you create beautiful pop-up overlays that visitors cannot resist. You can generate new leads, collect feedback from visitors, and push them towards the checkout to optimize conversions and lead generation.
You can even A/B test your offers and pop-ups to find the ones that bring the most engagement.
Best For: Pop-up overlays, discount pop-ups, lead pop-ups
Suitable For: Small to medium businesses
Integrations: Yes
Features
Easy to set up and use. Install in just 10 seconds on any website.
Provides a repository of 100+ beautifully designed pop-up templates.
Design deals pop-ups, discount overlays, lead forms, and other types of pop-ups.
In-built advanced targeting options to retarget the visitors.
Add interactive elements like CTAs and timers to your overlays to elicit actions.
Responsive design that works on any mobile device.
Integrate with other tools like Zapier and One-click.
Pros
In-built HTML and CSS editor makes pop-up customization easier.
More advanced targeting options than other similar tools.
Cons
A/B testing dashboard needs UI update. Feels a little updated.
Price
Starts from $14 per month, billed annually
---
3. Google's Page Speed Insights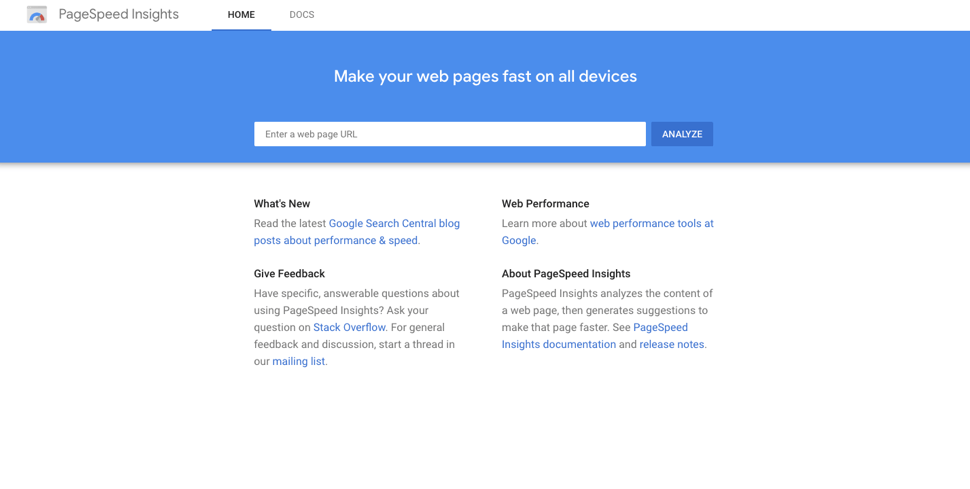 ---
Page load speed matters because it affects the page's SEO and visitor experience. And Google's Page Speed Insights is one of the website optimization tools for analyzing and improving page speed. You can run speed tests for mobile and desktop web page versions.
This web page optimization software spits out valuable insights about the factors that could be causing the page to load slowly. The results are relatively technical but highly insightful nonetheless.
Best For: Mobile & web page speed tests
Suitable For: Small to big enterprises
Integration: No
Features
Run page load tests on any web page.
Analyze factors and issues affecting the load times using in-depth reports.
Provides field and lab data together. The prior collects real-world user experiences, while the other shares performance issues.
Presents scores in a metric format like overall performance, improvements required, technical issues, etc.
Pros
Provides detailed load speed insights.
Compares page speed directly against Google's standards.
Cons
Not very user friendly
Sometimes, the results may vary if you re-analyze the same page.
Price
Free
4. Ahrefs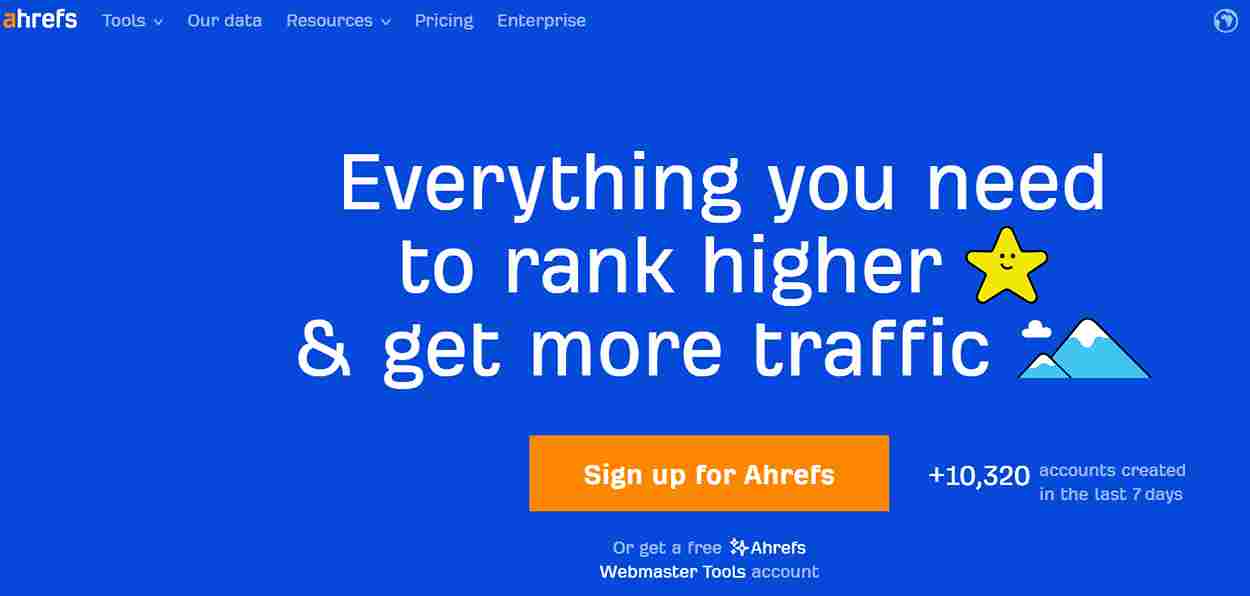 ---
Ahrefs is an SEO software Suite and on-page optimization tool that houses tools for link-building, keyword research, competition analysis, ranking, and site audits.
You can analyze your website link profiles, search ranking keywords, track backlinks on any page, and more. It is one of the best tools to create and optimize website content for SEO and visitor intent.
Best For: Keyword analysis, backlink tracking, SEO analysis
Suitable For: Small to big businesses
Integrations: Yes
Features
Explore ranking keywords and their related difficulty level, search volume, value, and other attributes.
Run site audits to pinpoint technical issues and backlink performance to optimize the pages.
Helps to run keyword research for Google, YouTube, and Amazon.
Track the top-performing sites and pages for a given keyword.
Discover content behavior and trends around a specific topic.
Categorize, segment, and export the SEO reports to CSV files.
Integrate with other tools like Tray.io and Rank Ranger using inbuilt integration APIs.
Pros
Illuminates insights into competitors' organic search and backlinking profiles.
Helps to gather new ideas for blogs, landing pages, and other website content.
Cons
Slight learning curve.
Needs inline tips and guides in the product menus.
PPC features can be optimized further.
Pricing
Starts at $83/month, billed annually.
5. SE Ranking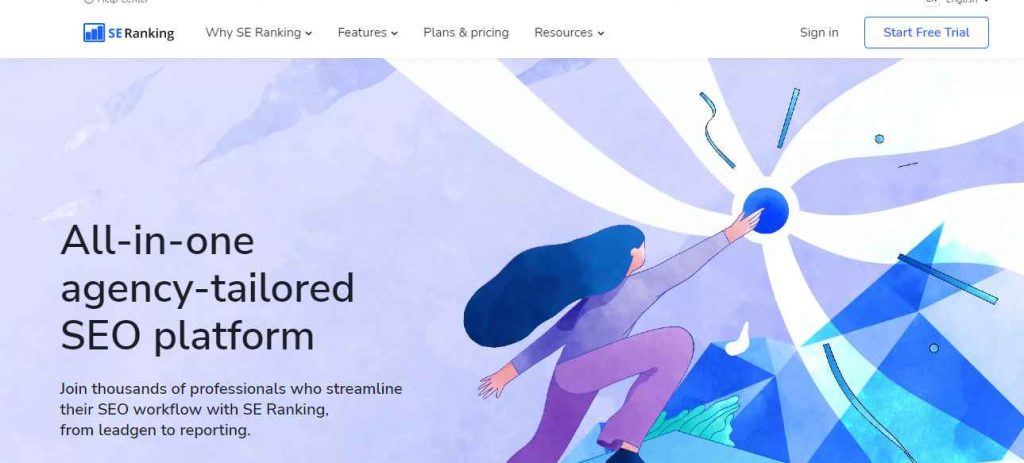 Want to attract more users through an organic search? SE Ranking is a complex SEO analysis and marketing platform that provides a set of helpful SEO tools for optimizing your website, such as rank tracking, site audit, on-page checks, keyword research, competition analysis, and backlink profile overview.
This SEO software helps digital marketers to gather and analyze website data, and makes website on- and off-page optimization processes easier and quicker. SE Ranking lets you run a website health checkup for critical technical metrics in terms of crawling, load speed, usability, and security.
Best For: Keyword rank monitoring, SEO audit reporting, on-page SEO check, competitor research, backlink profile analysis
Suitable For: Agencies, digital marketers, small and medium businesses, enterprises
Integrations: Yes
Features
Checks how ranking positions changed over time and provides additional keyword data such as search volume, visibility, competition, suggested bid, and other attributes.
Integration with Google Analytics and Google Search Console.
Website technical audit with automated reporting to keep an eye on issues that can affect website performance.
Analyzes how selected pages are well-optimized for a certain query and suggests improvements, comparing your pages to top organic competitors via an AI-based on-page checker.
Helps to find keywords with high ranking potential according to their difficulty score, search volume, cost per click (CPC), and paid competition.
Performs competition analysis in organic and paid campaigns.
Provides insights on link building opportunities and performs profound backlink profile analysis.
Pros
Provides detailed website SEO insights.
All-in-one solution.
Helps to make data-driven decisions in building SEO strategy.
Convenient interface.
Updated regularly.
Cons
The platform has a lot of tools and features that could be confusing at the start.
You have to pay extra for additional features.
Pricing
Starts at $49/month, billed annually.
6. Moz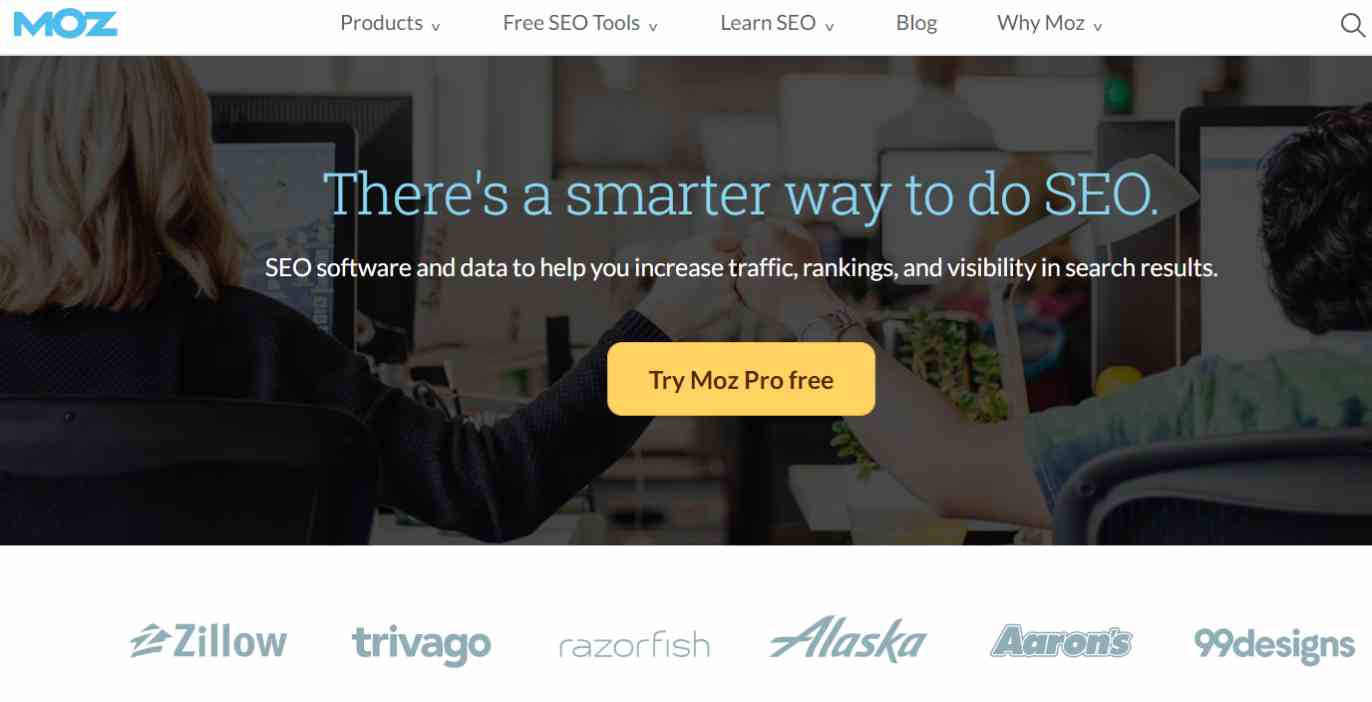 ---
Moz is one of the few free website optimization tools that give in-depth insights into your site's organic and local SEO. It focuses on keyword research to nail users' intent, drive traffic to your site, and improve SERP rankings. With Moz analysis, you can see what's working for your site, run audits, and track competition, making it a must-have option in your suite of site optimization software.
Plus, it provides the Mozbar Chrom extension to track SEO metrics on the go.
Best For: Keyword research, web optimization, site audit
Suitable For: Small to big businesses
Integrations: Yes
Features
Find target keywords to improve website rankings and SEO.
Monitor monthly volume, ranking difficulty, keyword suggestions, organic CTRs, and other stats for a given keyword.
Track your website's ranking, keyword rankings, search visibility, and traffic volume on pages.
Manage and improve your business's local listings on Google, Facebook, and other sites.
Run site audits to weed out issues hindering your SEO growth.
Perform competition analysis, automate insights, and customize alerts about your competitors.
Offers customer reviews management on Google.
Pros
Helps to understand visitors' behavior on your site.
Insights on link-building opportunities.
Cons
Needs a robust training module to guide new users.
Requires better video SEO analysis features.
Price
Starts at $79/month, billed annually
7. Hotjar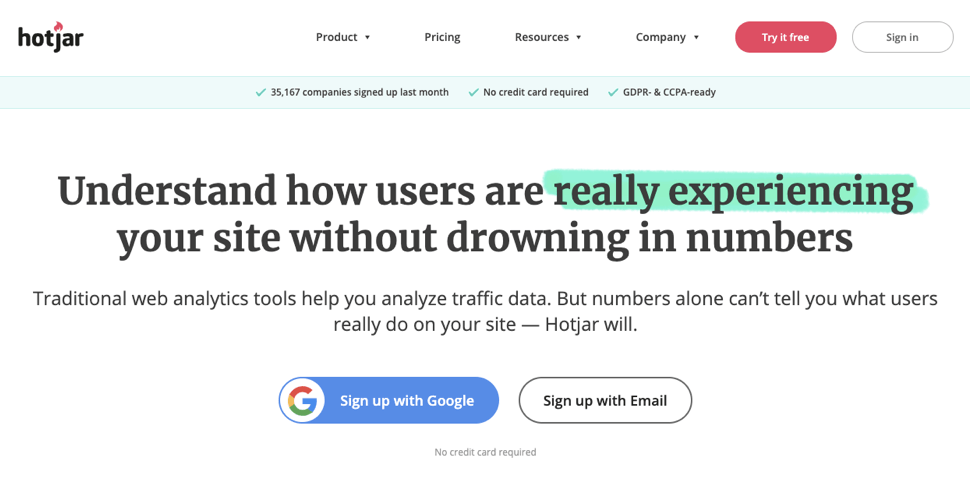 ---
Hotjar is a behavioral-based site optimization software that lets you understand how visitors interact with your web pages. It provides multiple tools like heatmaps, session recordings, and clickstream analytics to visualize users' actions on the website.
You can complement the behavioral data with qualitative feedback from surveys to understand visitors' pain points and make changes to improve their website experience.
Best for: Session replays, Surveys, heatmaps
Suitable for: Small to big business
Integrations: Yes
Features
Use heatmaps, session replays, and click-data to map customers' journeys on your website.
Collect data on every scroll, each click, and webpage interaction.
Use session recordings to visualize users' actions and pinpoint page issues.
Provides an intuitive visual builder to create targeted surveys and collect feedback.
Customize and add the feedback widget to the website to promote unsolicited feedback.
In-depth data analytics to analyze the data under one roof.
Pros
Multiple site optimization tools under one screen.
Flexible data filters and sorting options to categorize the feedback.
Ability to edit, crop, and study the behavioral data for better analysis.
Cons
Survey themes need more flexibility for customization.
Heatmaps for mega menus can be a little confusing.
Price
Starts from $31/month, billed annually
8. Screaming frog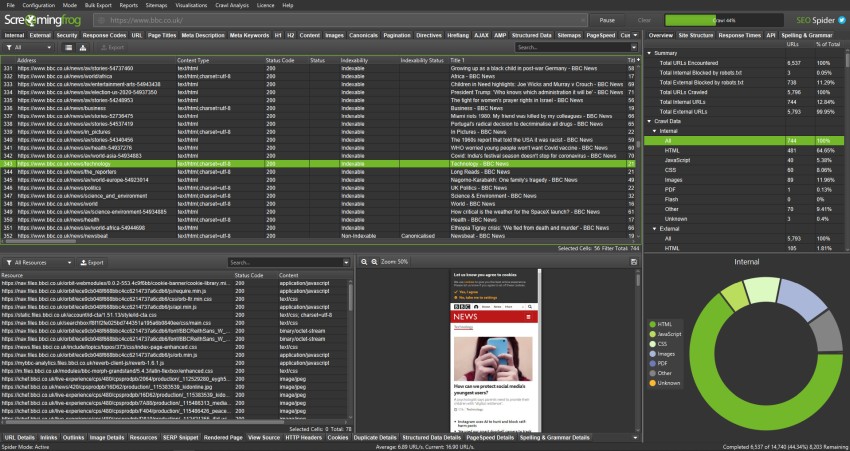 ---
Screaming frog is one of the best website optimization tools for conducting on-site SEO audits and analyzing the website architecture. It's a crawler tool that helps analyze sitemaps, detect abnormalities, find incorrect meta tags or duplicate content, track wrong redirections, and much more.
The tool also provides suggestions to improve the site's SEO and resolve technical errors.
Best for: Site audit, technical SEO
Suitable for: Small to big businesses
Integrations: Yes
Features
Run SEO audits on your website in minutes.
Find broken links, audit page redirects, discover duplicate content, and review metadata.
Create XML sitemaps and visualize site architecture to optimize your website.
Schedule regular site audits at desired intervals.
Integrate with Google Analytics and Search Console to track the progress of your SEO efforts.
Pros
Excellent web optimization software to diagnose technical issues.
Aids in sitemap cleaning.
Cons
UI can be a little intimidating for new users.
Needs flexibility in comparing multiple URLs for competitive analysis.
Price
Starts at €185/year
9. Google Search Console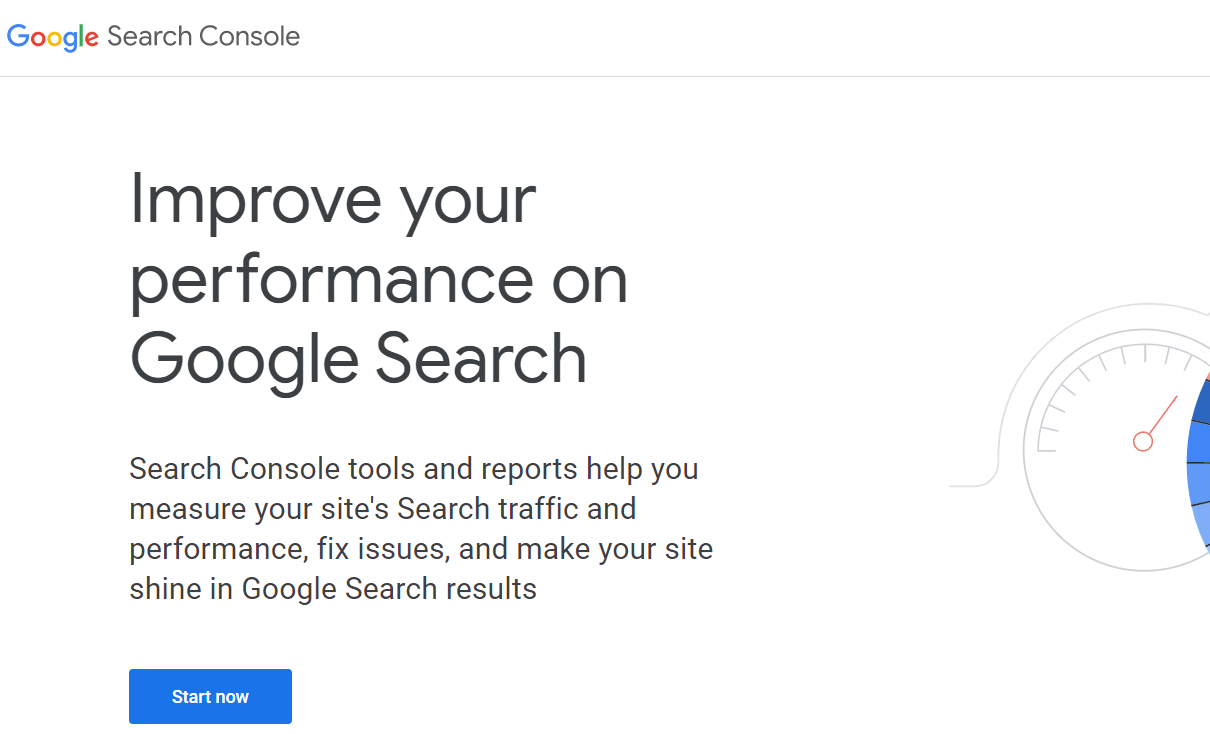 ---
Google Search Console is a website optimization tools pack that helps to monitor and troubleshoot your site performance in Google Search results. It's a collection of tools to track search queries, website traffic, ranking, crawl data, and other metrics to optimzie the website.
The best part is that it's free to use and provides in-depth data about the site's visibility on the SERPs. It is used by business owners, SEO specialists, and web developers to understand how Google sees the website.
Best for: Submit sitemap and indexing information, Track website performance
Suitable for: Small to big businesses
Integrations: Yes
Features
Run keyword analysis through search queries.
Track the website performance report with metrics like total clicks, total impressions, average CTR, and average position.
Check whether your pages are indexed with Google or not.
Submit pages and sitemap to Google manually for indexing.
Track backlinks to your site and find link-building opportunities.
Pros
Monitor the performance by queries, pages, and countries.
Multiple search and website optimization tools in one.
Cons
Cannot submit HTML sitemap.
Needs more filter options in the performance report.
Price
Free
10. Google Analytics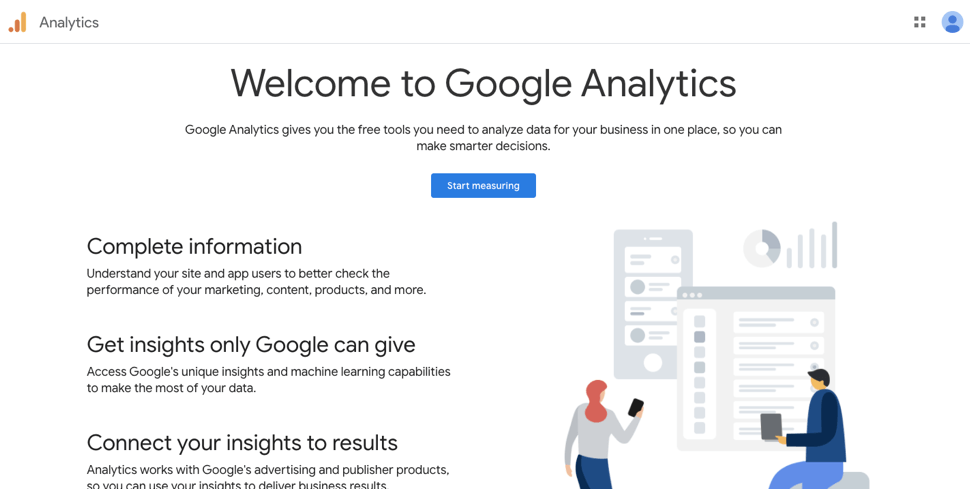 ---
Google Analytics lets you measure the effects of the site optimization strategy with numbers and metrics. It provides statistical and analytical data about the website's performance for SEO and marketing purposes. You can track page views, sources, top-performing content, and other metrics on time charts to see changes in visitor engagement and page rankings.
The data is presented in a statistical format to give you a bird's-eye view of the website's vitals in a glimpse.
Best For: Website Analytics & performance data
Suitable For: Small to big companies
Integrations: Yes
Features
Detailed reports on website conversion rate, bounce rate, time on page, page views, and other stats.
Track marketing campaigns and analyze what works using analytical data.
Generate audience reports to monitor demographic and geo-location data.
Provides flow visualization reports to map customers' journeys on the website.
Create custom reports using filters to extract the insights you need.
Set alerts for sudden changes in traffic or goals to keep you updated.
Supports predictive analysis to forecast the outcome of different strategies.
Pros
Standardized metrics allow benchmarking and competitive analysis across various tools.
Helps to track your target audience and improve your key performance areas.
Cons
Initial setup requires technical skills and help from the dev team.
Price
Free
11. Google Optimize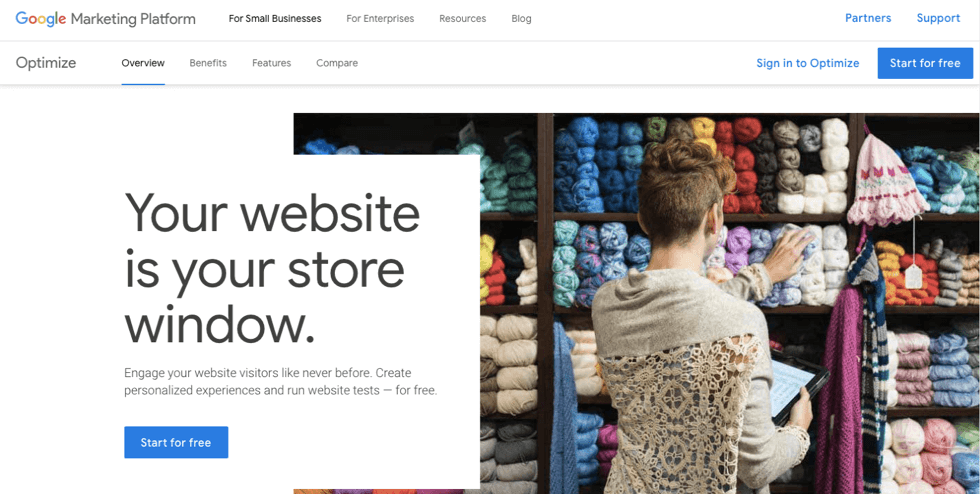 ---
Experimentation is one of the most used methods to improve your website, and Google Optimize is one of the leading website optimization tools for this purpose. It lets you test website layout, design, and content to make data-backed decisions. You can design different experiments to test different webpage elements to improve conversions and visitor engagement.
Best For: On-page optimization, A/B test, multivariate test, split URL test
Suitable For: Small to big businesses
Integration: Yes
Features
Set up Split URL tests, A/B tests, Multivariate tests, and Redirect tests.
Offers a visual editor to design test variations in minutes.
Distribute visitors to each variation based on device, location, source, and other attributes.
Set goals to compare the performance of the control page and variations during the test.
Utilizes the Bayesian method to calculate statistical significance, conversion rate, and other test objectives in real-time.
Pros
Provides a Chrome extension to create variations on the go.
Native integration with Google tools like Google Analytics and Search Console.
Cons
Cannot use attributes from Google Analytics and other tools to segment the traffic.
You can set up only five tests at a time. You need to upgrade to Google Optimize360 to run more tests simultaneously.
Price
Available in two versions – Optimize (Free) and Optimize360 (Paid version)
12. Crazy Egg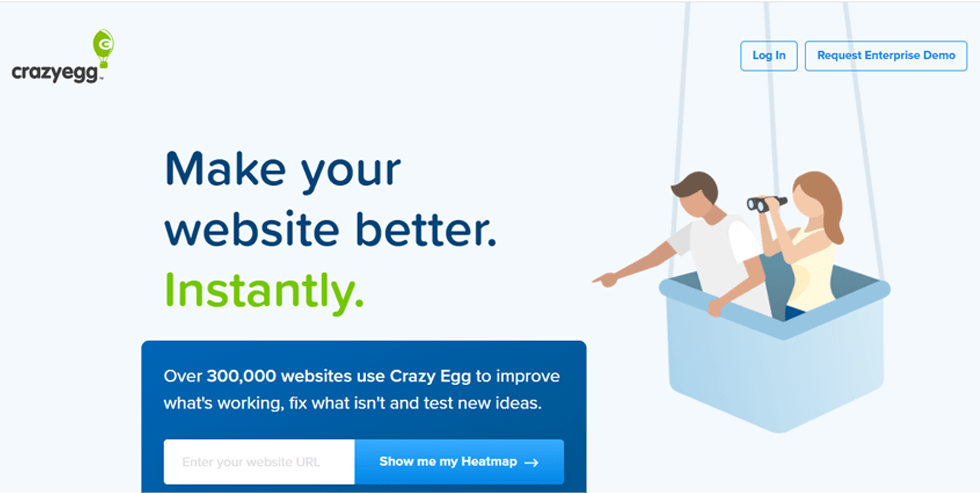 ---
Crazy Egg brings the power of behavioral analytics and website testing into one platform. It provides eye-tracking tools, generates heat maps, and tracks users' clicks on the website to collect behavioral data. You can then channel this data into building testing hypotheses for your experiments.
The tool lets you set up different tests without coding to optimize the site for conversions. You can also record visitor activity on the web pages using session recordings to collect data before and during the test, making it one of the best website optimization tools in the market.
Best For: Heatmaps, eye-tracking, clickstream data, A/B testing
Suitable for: Small to big businesses
Integrations: Yes
Offers heatmaps, session recordings, and click reports to collect behavioral data.
Set up A/B tests and split tests to optimize the website.
Use the intuitive editor to create variations without the need for a developer.
Run A/B tests simultaneously on multiple web pages.
Crazy Egg's engine identifies the winning variation and automatically sends the traffic to it to maximize conversions.
Pros
Helps to visualize visitor behavior.
Track most interacted elements on the pages.
No-code builder to create variations quickly.
Cons
The dashboard needs to show more A/B testing performance data.
Price
Starts at $24/month
13. VWO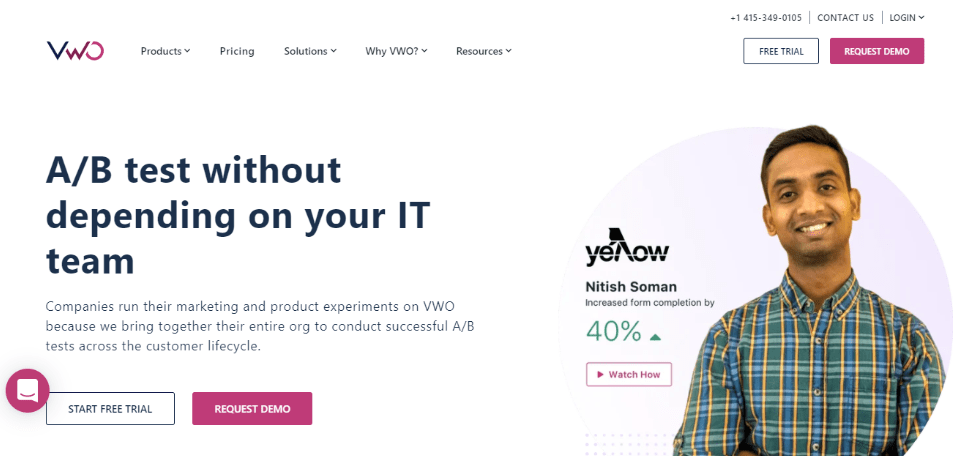 ---
VWO is another testing platform that makes our best web optimization tools list. Its full-stack experimentation abilities let you run both client-side and server-side testing.
It also offers multiple behavioral analysis tools like heatmaps, session recordings, and surveys to help you build your test hypotheses and collect customer feedback.
You can run multiple tests simultaneously to implement a continuous testing program, making VWO a perfect website optimizer tool.
Best For: Session recordings, experience personalization, surveys, A/B testing, heatmaps
Suitable For: Medium to large businesses
Integrations: Yes
Features
Run A/B tests, Split URL tests, and multivariate tests on your website.
Provides heatmaps, on-page surveys, session replays, and form analytics to collect real-time insights.
Perform funnel analysis to plug visitor drop-offs and streamline conversions.
Use the intuitive builder to design test variations in minutes.
You can also build and test various widgets like pop-ups and banners.
Also provides an advanced HTML/CSS editor for customizing the templates.
In-built Bayesian-powered analytical engine to measure test results of each variation in real-time.
Send visitors to each variation using in-depth filters and attributes.
Available integrations: Demandware, Magento, Google Analytics, Kissmetrics, etc.
Pros
One-stop solution for building website optimization strategy.
Track the effect of your A/B tests on various visitor segments by combining the testing and funnel analysis data.
Cons
It may take some time to learn due to advanced features.
Price
Contact for a quote
14. UserTesting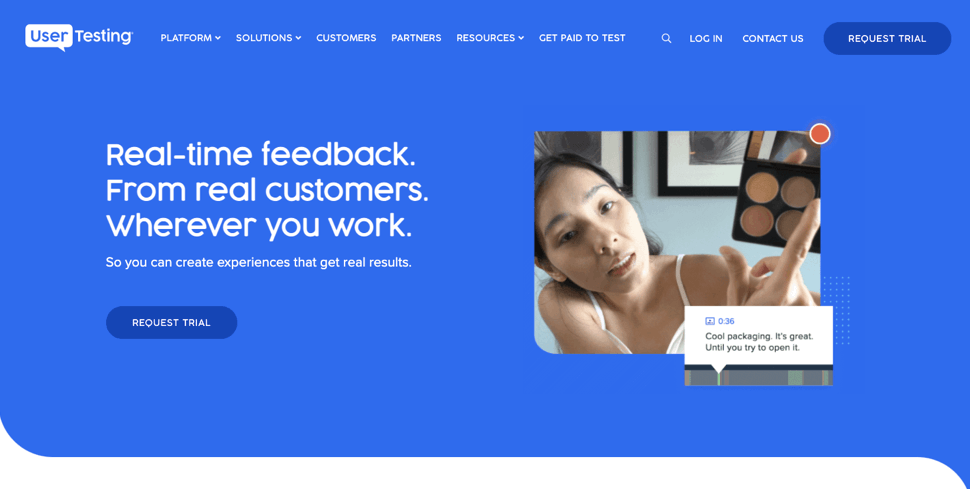 ---
If you are looking for website optimization tools to run tests during development, UserTesting is the one to go for.
The platform can help you design simple to complex usability tests to improve website architecture, navigation menus, and other elements.
You can observe the testers as they interact with your website to collect real-time insights and even schedule 1:1 interviews to ask follow-up questions.
Choose it for: Usability tests, screen recording feedback, live conversations, remote interviews, market research
Suitable for: Small to large businesses
Integrations Yes
Features
Run usability tests on your website, mobile app, and product without any coding.
Use UserTesting's participant Panel or add testers from your target audience(My Panel section).
Design multiple tests like navigation test, benchmark test, tree test, five-second test, first impression test, discovery test, pilot test, and card sorting test.
Pinpoint visitors' issues, improve your page content, build A/B testing hypotheses, and optimize the website's structure.
Offers ready-to-use test templates or customize your own.
Facilitates screen and audio recording to collect users' feedback during the test.
Add screener questions to disqualify irrelevant participants.
Edit, cut, or combine the video clips to analyze feedback from different users.
Download, export, and share videos with other team members.
Schedule remote interviews and live conversations with your participants to ask follow-up questions.
Integrate with other tools like Jira and Trello.
Pros:
Observe how participants behave and interact with your website.
Ability to capture real-time video and screen feedback during tests.
Cons:
Requires extensive planning and setup time.
Lack of other means to collect feedback like surveys.
15. Google's Mobile-Friendly Test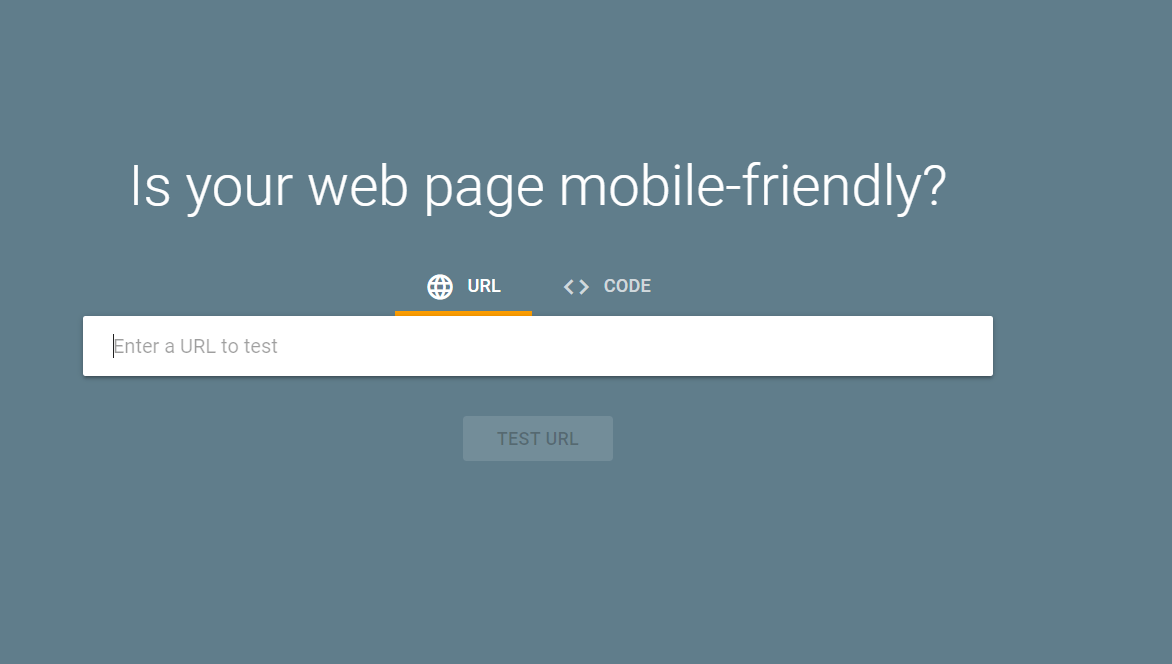 ---
---
The mobile-first approach is important for optimizing the website for mobile users and improving your site's SEO. That's where the Mobile-Friendly Test comes in handy. This website optimization platform lets you check how your website performs on smartphones, tablets, and other mobile devices.
The test takes a few minutes to run and returns valuable information about any issues causing problems when loading the web page on your mobile phone.
Best for: Checking if the website is mobile-friendly
Suitable for: Small to big businesses
Integrations: No
Features
Test your webpage or website for mobile-friendliness within minutes.
Shows the list of page issues (if any) impacting the website.
The tool also crawls the page during the test, which is essential for indexing and search rankings.
Pros
Doesn't require any additional setup. Just paste the URL and go.
Free to use and provides valuable insights.
Cons
The feedback is primarily technical, requiring the help of a developer.
Price
Free
16. TrymYUI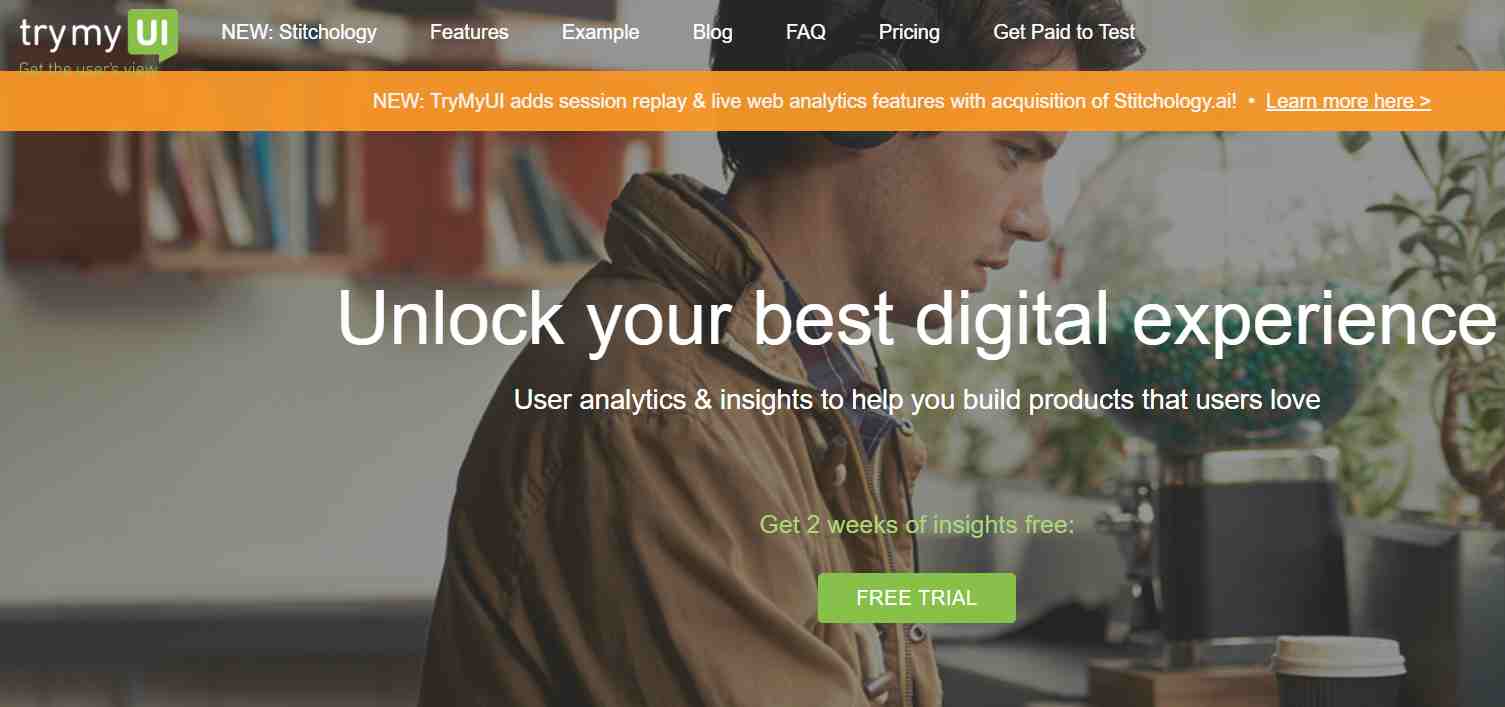 ---
From concept template to live website, TrymYUI can help you improve both with targeted usability tests. It's among the leading remote testing and website optimization tools that offer video-based feedback to collect real-time user insights. You can visualize where users get stuck or confused while navigating your website to fix usability problems in time. It also offers a dedicated panel of participants to help you find the right target audience for your tests.
Best for: Usability testing, website optimization
Suitable for: Small to big businesses
Integrations: Yes
Features
Facilitates moderated and unmoderated remote usability testing to optimize the website.
Test your wireframes, prototypes, and live website with ease.
Add pulse surveys to gather in-depth feedback during the test.
Use TrymY UI's tester panel or use your own participants.
Allows multi-member login, video transcript tags, and collaborative analysis of feedback data.
Supports video annotations and highlight reels to extract valuable insights.
Pros
Features advanced feedback analysis techniques for usability tests.
You can compare the test task difficulty in successive testing to see the design improvements.
Cons
UI feels a little dated as compared to other tools.
Price
Starts at $99/month
Grow With the Right Website Optimization Tool
There you have it. The top website optimization software in one place.
We intentionally build a diverse tool list so you can find at least one tool for a particular requirement.
If you still have difficulty finding the tool, start by putting the same tool types into one category and then go through each of them according to your priorities. It can help to reduce the effort and time. You can also choose based on the scope of the optimization strategies.
So, start building in-depth optimization processes with the right tool to grow your customer base and brand.
Want insights that improve experience & conversions?
Capture customer feedback to improve customer experience & grow conversions.