25 Best Customer Experience Management Software & Tools in 2022
October 4, 2021
A positive and memorable customer experience has a huge impact on whether your customers will keep using your service in the long term or move onto your competitor. Such customer experience encompasses a wide range of factors, from customer service interactions to personalization and user journey optimization.
According to Gartner's customer experience study, two-thirds of companies compete primarily based on customer experience. And for almost 50% of businesses, customer experience is the number one priority to drive success for the next five years.
To do that, businesses need a robust system to monitor and improve the customers' journey and experience. That is where customer experience management (CEM) software comes into play.
But with so many options available in the market, choosing the right software becomes a challenge, which is why we have compiled the list of best Customer experience management tools based on their features and pricing to help you select the ones that suit your needs.
What is Customer Experience Management Software & Why Do You Need it?
As the name implies, CEM software helps you measure and optimize customers' experiences along their journey from discovery to post-purchase interactions with the brand. Different tools cover different aspects of customer experience mapping. So it's possible you may require more than one tool at your disposal depending on your requirements.
For example:
Qualaroo, a feedback management tool, helps to collect customer experience insights through targeted, in-context surveys. You can gauge overall or transactional customer experience by surveying your audience at the right time, like after a purchase or after interacting with the support.
UserTesting, a usability testing tool, lets you gather data on how easy it is to use your website or app by conducting usability tests. The test participants perform a given set of tasks on the product or website and leave their feedback on the issues and problems with ease of use. You can then use this data to optimize your product to deliver an effortless experience.
A customer support tool like ProProfs Live Chat smoothens the customer's journey towards conversion by providing real-time assistance and resolution to their queries.
Importance of CEM software
Irrespective of your industry, customer experience management tools play an essential role in creating a customer-centric culture. There are plenty of reasons why you need one in your organization:
1. Uncover customers' pain points & expectations
The most crucial function of customer experience management software is understanding user behavior. It gives you an opportunity to hear directly from your customers and address their grievances and delights. It lets you know what is and isn't working for them, so you make well-informed decisions.
Not only that, you can quantify their experiences using various metrics like the net promoter score (NPS), customer satisfaction score (CSAT), customer effort score (CES), and usability test score.
Turn those experiences into measurable numbers so you can compare past and present scores and see if your optimization efforts were fruitful or not.
2. Optimize your website, product, or app
Once you hone in on the points of friction that hinder a seamless experience, you can use the data from the CEM tools like usability test results, customer insights from surveys, and feedback from support tickets to optimize your website, app, or product.
Today, many CEM tools also provide advanced techniques such as AI-based sentiment analysis, text analytics, centralized message center, and others to reduce the time to mine the data.
3. Provide smooth customer support & assistance
As mentioned in the previous sections, CEM tools also let you place help aids on your website or product. These involve live chat widgets, help centers, FAQ sections, ticket assistance, forums, etc.
It's also a good idea to have call routing set up, in case your customers prefer to speak to someone over the phone. This could help you manage large call volumes while still keeping customer support relatively smooth. This way you can have calls routed to another location when they're after office hours. Remember when it comes to customer support, even a single negative experience can make you lose customers so it's worth investing in making your support as smooth and professional as possible.
4. Improve engagement and conversions
A little bit obvious but crucial point nonetheless, mapping customer experience boosts user engagement and conversions. Think about it, when you know what customers are looking for and how they interact with your website, you can design optimal solutions and process flows to create a streamlined experience.
For example, adding a one-click checkout button to your mobile app or a 360-degree product view on the product pages.
And with increased engagement comes higher chances of conversions.
Now that you have an idea of how such tools help, let's have a look at the top tools in the market so that you can choose the one that's best for your business.
List of 25 Best Customer Experience Management Software Solutions
Different types of CEM software offer very different features to each other; however, they can easily be grouped into the four main categories:
Many of these apps offer some crossover between categories, such as combining helpdesk and self-service features; however, most focus primarily on one of the four categories.
Customer Feedback analysis software is vital for understanding customer sentiments in a quantifiable way. Depending on the platform, these apps can combine surveying with analysis of text, speech, and user behavior to tell you more about how customers respond to processes and features. In the same way, engagement tools let you target customer behavior to personalize their experience and solicit desired actions like clicking on an offer, signing up for the newsletter, etc.
1. Qualaroo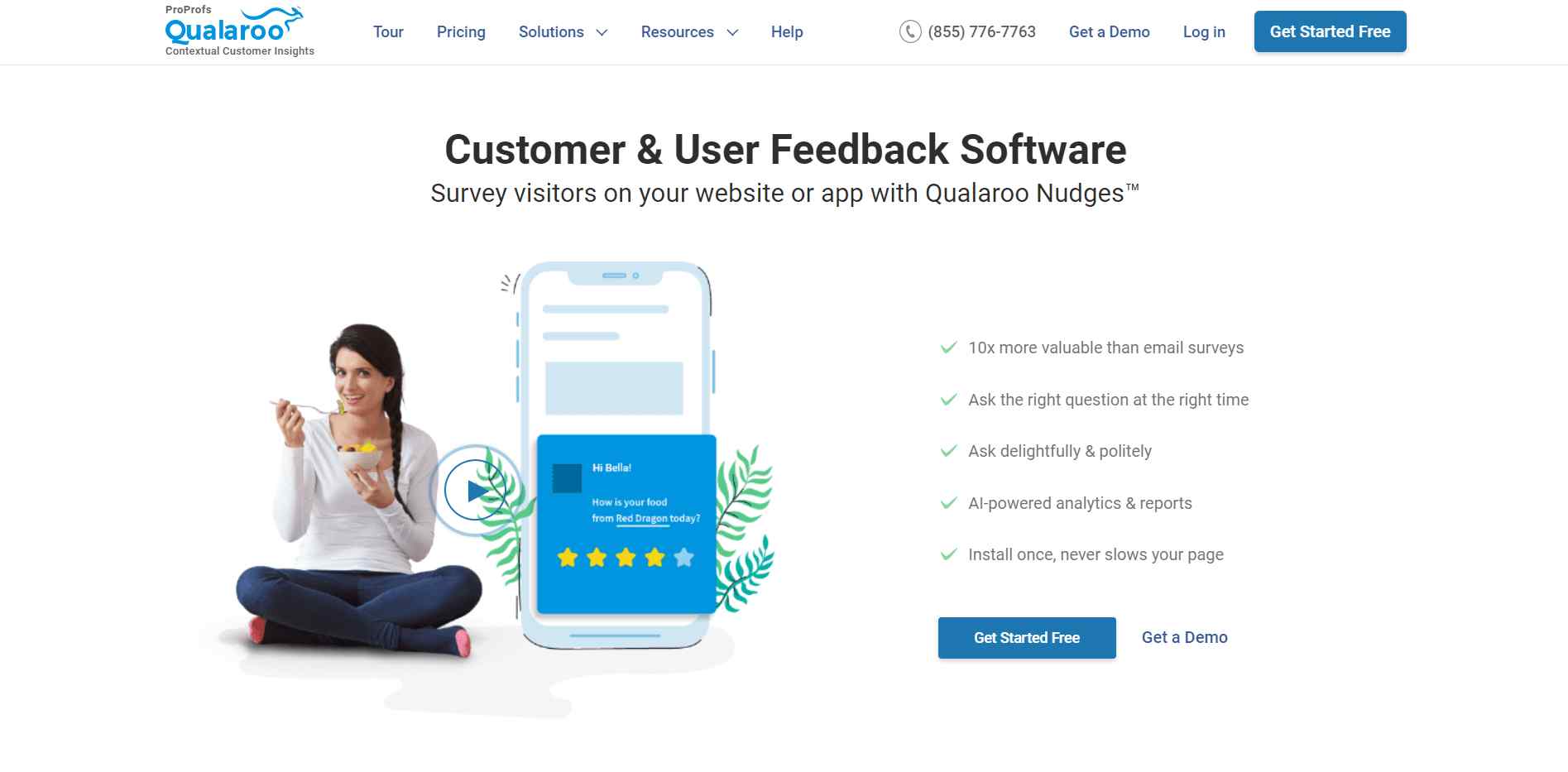 ---
Best for: Real-time behavioral insights, customer sentiment, surveying, and feedback
Qualaroo offers a unique method of gathering feedback in addition to powerful AI analysis of responses. It is one of the best customer experience management tools. The app focuses on delivering surveys to users in specific contexts to get their immediate feedback on a page or process. Unlike other methods of feedback gathering that contact users later and ask them to remember their experience, its survey Nudges™ can ask questions in real-time as your customer interacts with the site.
On the analysis side, Qualaroo uses IBM Watson AI to understand the sentiment and emotional responses and can automate responses based on that feedback, such as creating a live support ticket to help a frustrated customer. Besides identifying struggling users and helping them in real-time, this can help you spot flaws in your design or a particular process causing negative feedback.
Pricing: Starts at $80/month
---
2. ProProfs Survey Maker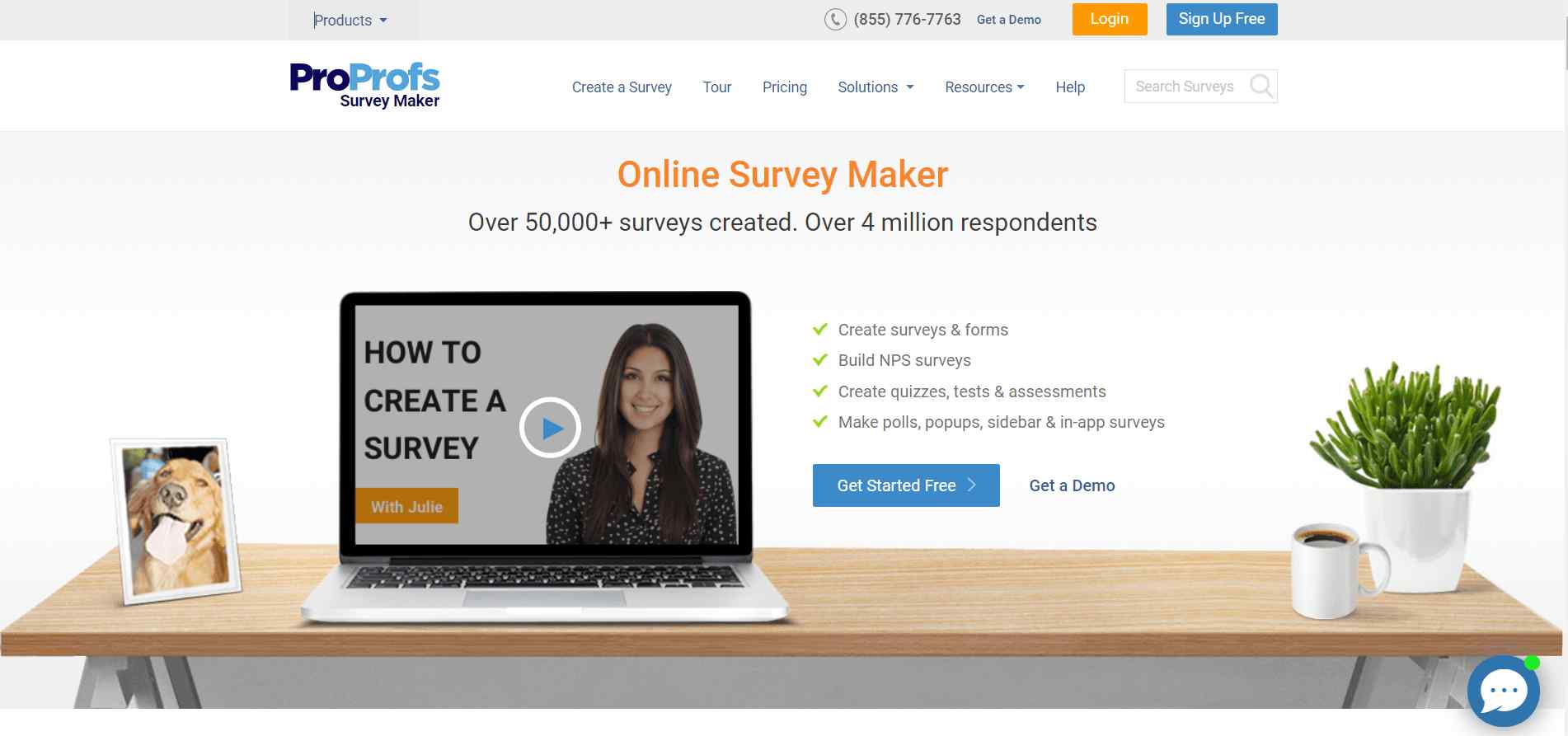 ---
Best for: Surveys, Web forms, Quick Polls, Scored quizzes, & feedback sidebar
ProProfs Survey Maker offers multiple interactive means of collecting customer feedback such as surveys, scored quizzes, polls, tests, web forms, and assessments. You can even add a feedback sidebar on your website to elicit unprompted feedback about the visitors' experience.
With the power to run surveys & quizzes across multiple channels at once and a drag-&-drop survey editor, you can launch survey campaigns in minutes. It also provides a detailed reporting section to track survey performance in real-time. You can analyze each response, monitor completion rate, and track quiz scores, among other metrics.
Price: Starts at $0.05/response/month
3. Picreel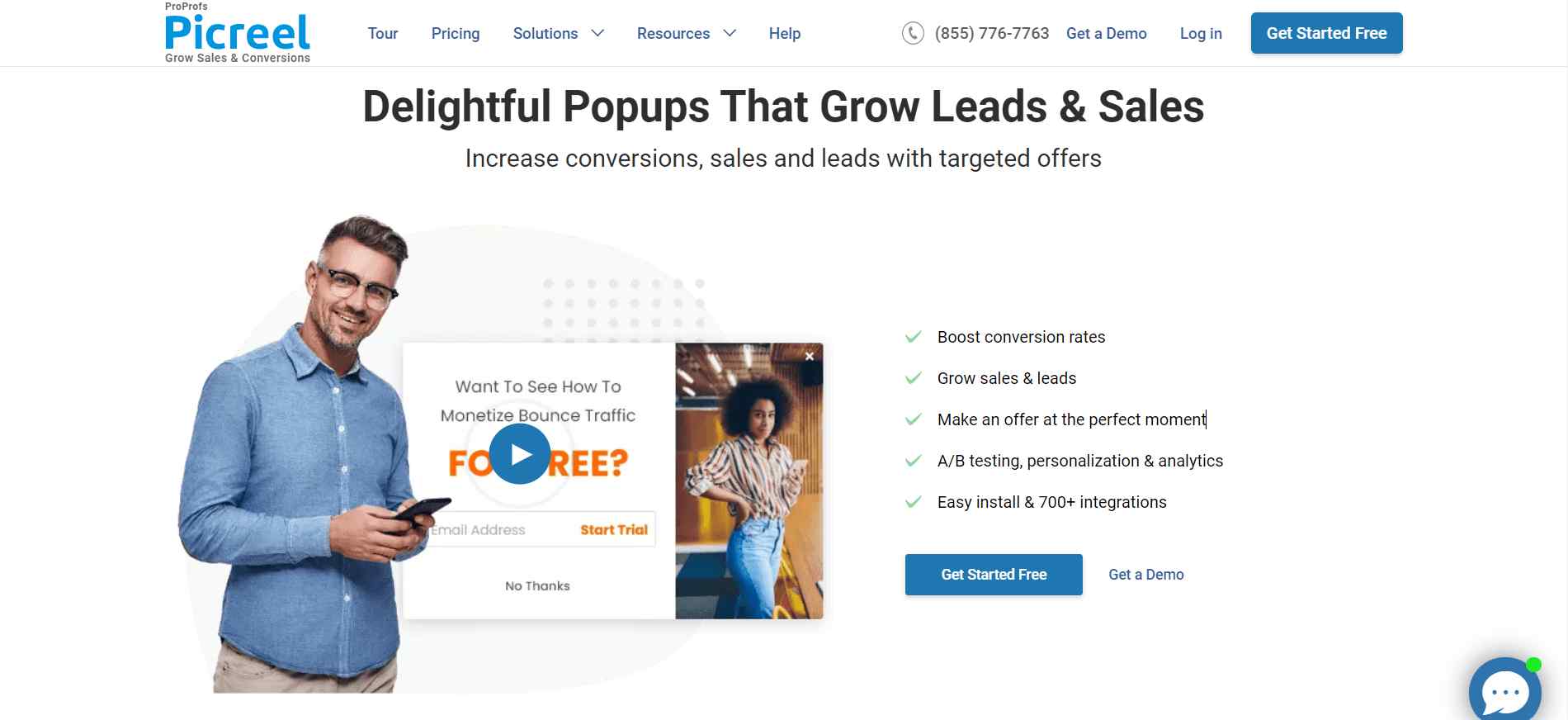 ---
Best for: Improving engagement, pop-up overlays, pulse surveys
Picreel's on-site retargeting features help improve the visitor experience on your website by showing exclusive deals, limited sales, discount offers, and other promotions using professionally designed pop-up overlays. Plus, you can also create short pulse survey pop-ups to collect customer feedback.
You can target different customer types and their actions to trigger the overlay at the right moment along their journey. Leverage the inbuilt advanced targeting options to show the pop-up to repeat visitors, exiting visitors, people on a specific device or location, and more.
It is a perfect tool to build your email list, increase conversions and enhance customer experience.
Price: Starts @ $14/month billed annually
4. Medallia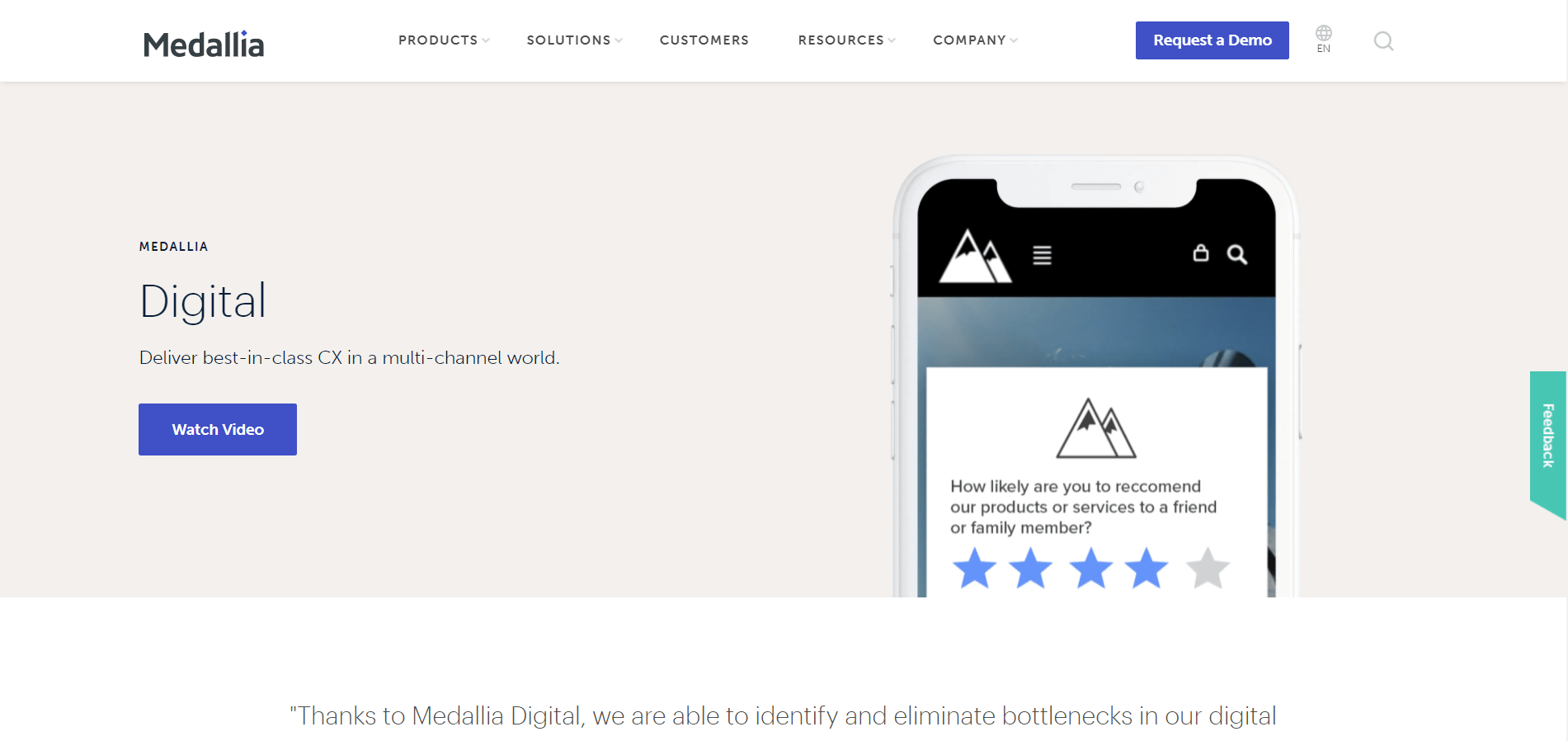 ---
Best for: Predicting customer needs, automating customer service workflows
Medallia analyses feedback from multiple channels to predict customer behavior and needs, detect unhappy customers who are at risk, and suggest appropriate actions to act on those insights. It can be a useful tool to support live agents, as it is able to automate assigning accountability and escalating tickets to optimize how your business responds to feedback.
Pricing: Available on request
5. TextMagic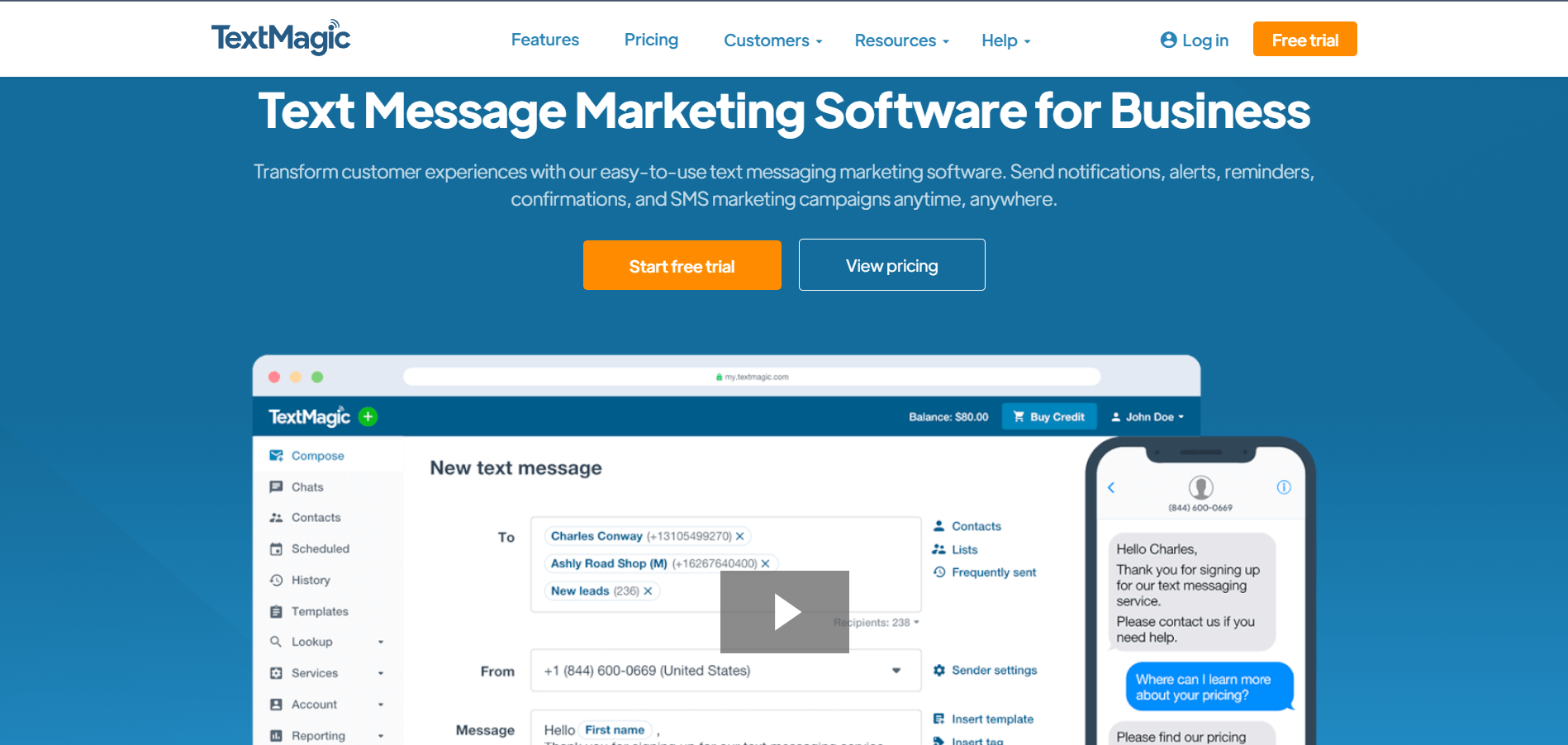 ---
Best for: Large-scale feedback gathering, direct interaction, fast responses
TextMagic is a trustworthy SMS service provider. It has tools for in-depth branching surveys to get detailed insights from individual customers. SMS surveys have the benefit of getting more personal feedback at a much higher response rate than many other channels, allowing a large amount of data to be collected quickly.
Pricing: Pay-as-you-go
6. Clarabridge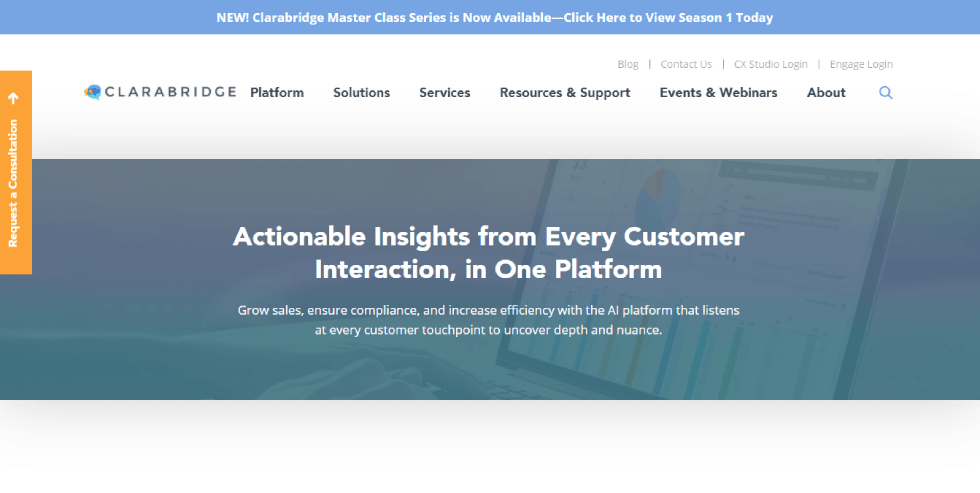 ---
Best for: Text analytics, natural language processing, real-time service alerts
Clarabridge analyses voice and text from customer interactions in every channel. It applies text analytics and natural language processing to all customer contacts, not just feedback, to get a complete picture of customer sentiments.
This makes it useful for managing customer experience in a large-scale contact center,with real-time alerts to highlight negative customer experiences as they are taking place.
Pricing: Available on request
7. Qualtrics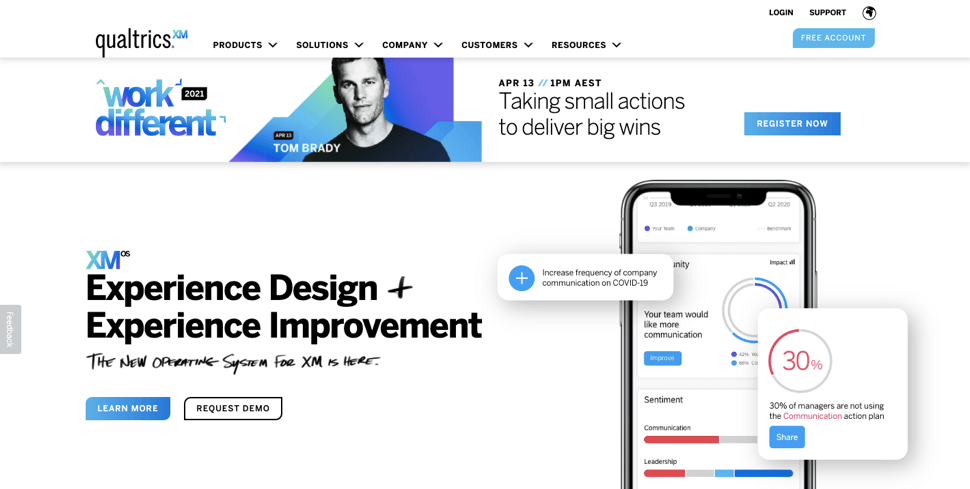 ---
Best for: Behavior and customer journey analysis, automated content and ad delivery
Qualtrics offers the tools to gather feedback and analyze user behavior throughout customer journeys. These features are combined with automated content and promotion delivery to boost conversions as well as the customer experience.
Pricing: Available on request
8. Satmetrix
Best for: Voice and text analytics, trend recognition, automated workflows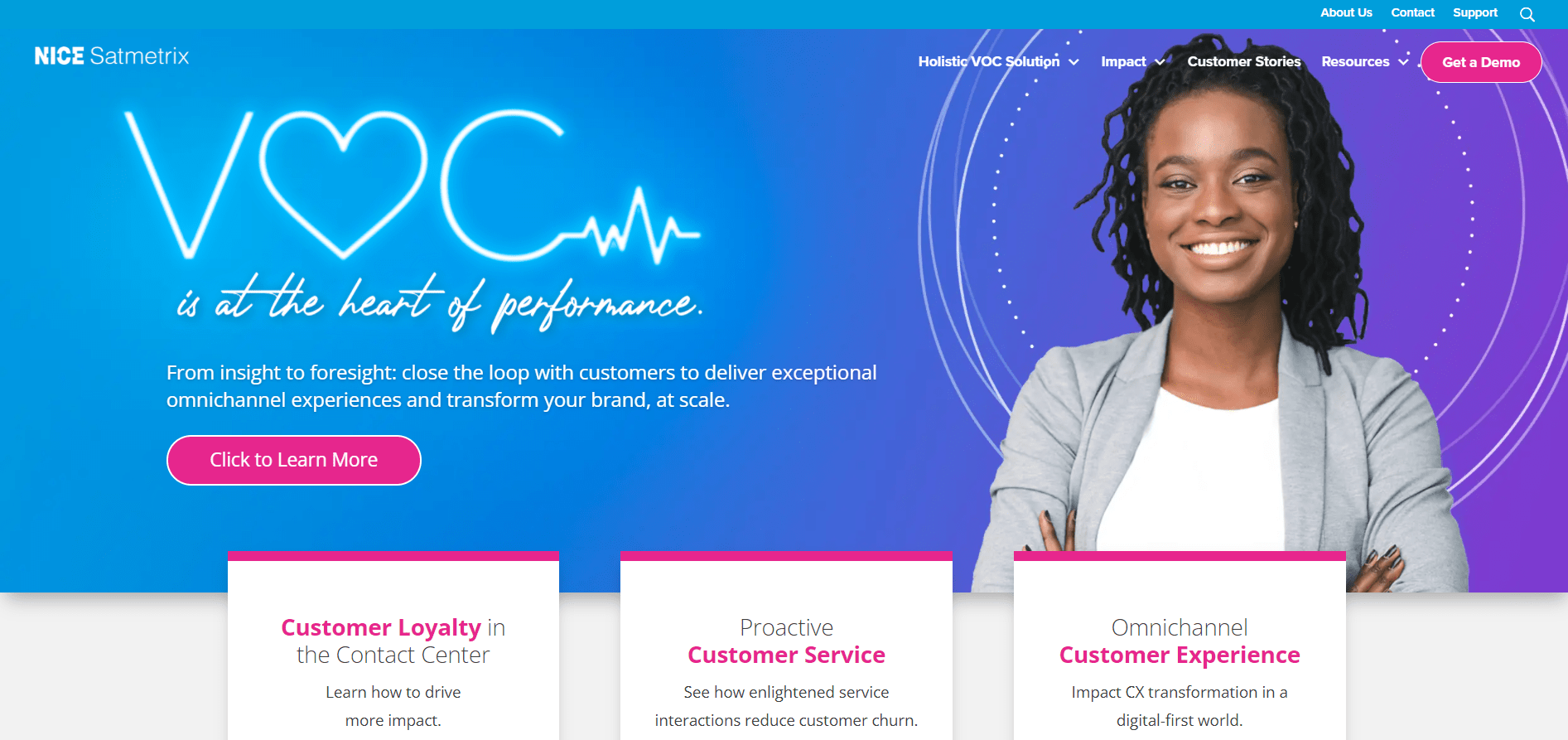 ---
Satmetrix uses voice and text analytics to gather feedback across channels, including support interactions as well as surveys and feedback requests. Satmetrix can highlight trends and patterns to pay attention to, giving you more information to reduce churn and save at-risk customers, and delivering automated workflows to support agents to ensure the issues it finds are addressed.
Pricing: Available on request
9. Adobe Experience Manager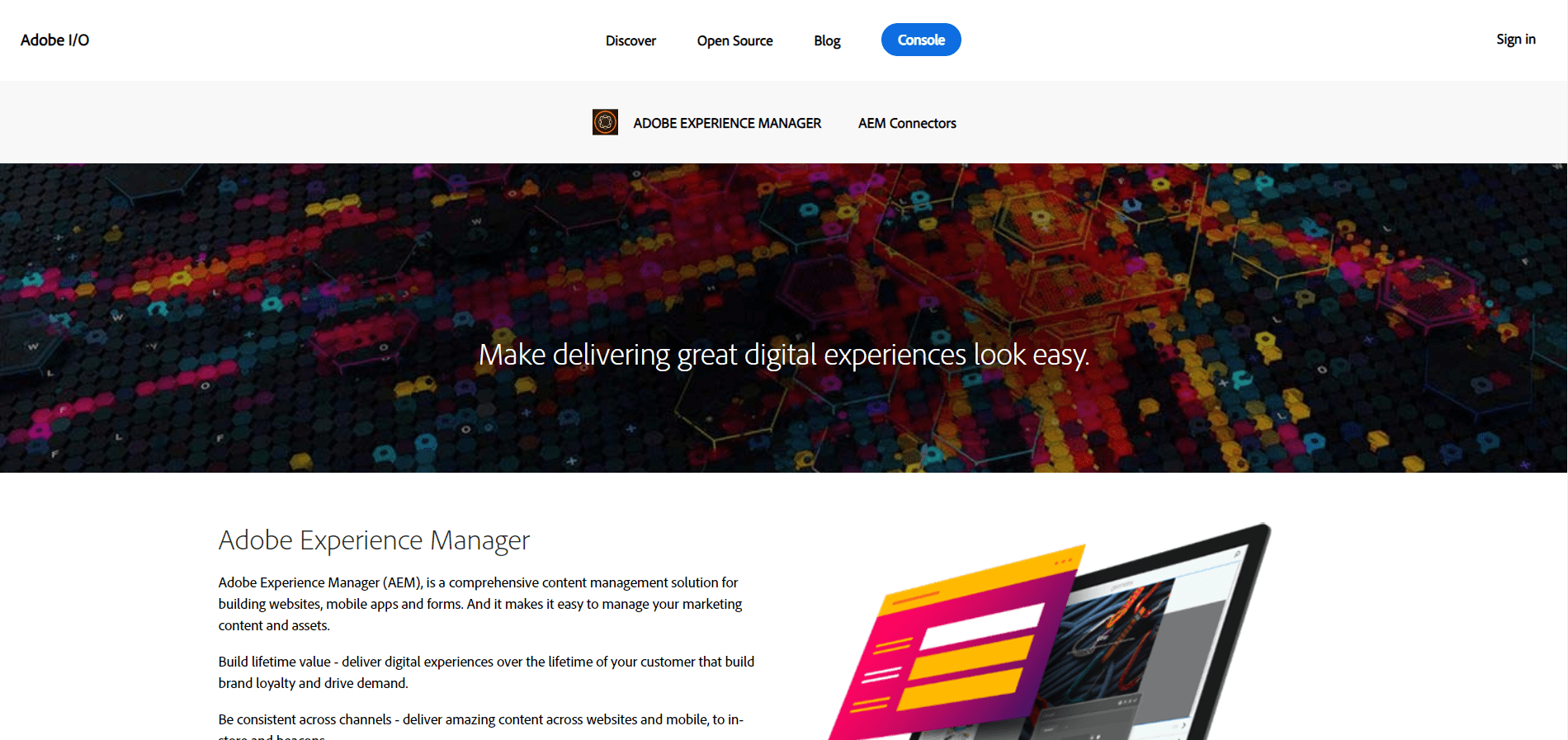 ---
Best for: Feedback and sentiment analysis
Adobe Experience Manager is primarily a content management platform; however, it has a number of useful AI-driven customer experience tools. These include automated insights into feedback and sentiment, as well as automated segmentation of your audiences according to their behavior and history. It also includes the tools to automate content delivery and support recommendations based on those insights.
Pricing: Available on request
10. ResponseTek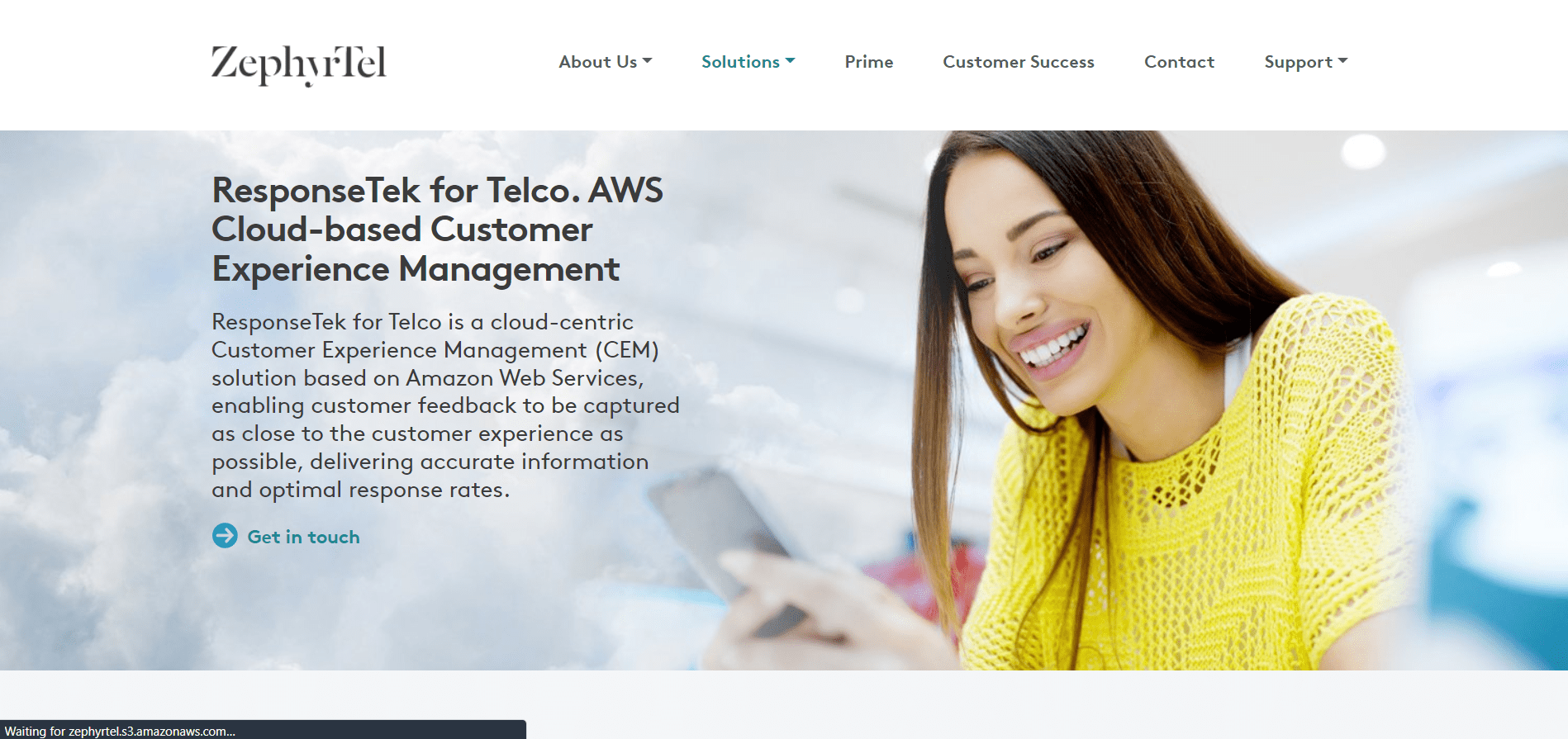 ---
Best for: Voice and text analysis, support agent training and feedback, automated interaction flagging
The unique selling point of ResponseTek is that its voice and text analysis packages provide insights on the support agent's side of a conversation as well as the customer. This has a number of uses in helping to train and improve the techniques of your support agents, as well as flag negative interactions in a contact center environment. Besides helping you spot training opportunities for your agents, this can also be useful for supporting agents after challenging interactions.
Pricing: Available on request
Related Read – Here is our list of Best Customer Feedback Tools
How intuitive and usable your app or website is to the average user is a crucial component of your customer experience. Usability testing software helps you identify and correct potential sticking points and frustrations in your designs and processes.
11. UserTesting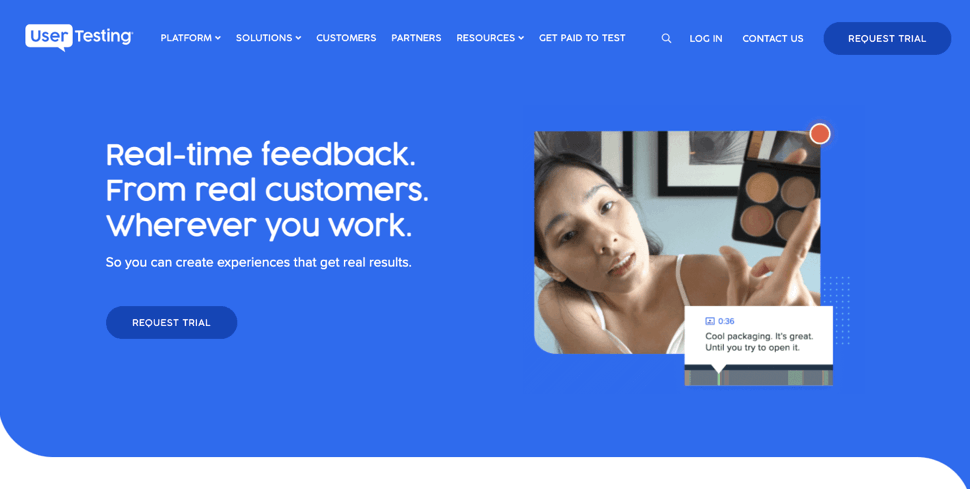 ---
Best for: Software and website testing, usability feedback
UserTesting is an ideal method for getting first impressions and accessibility feedback before your site launches or as you prepare to roll out an update. You can define the demographics you want feedback from and give them some tasks to complete with a few questions to answer at the end of the process. They record their thoughts in real-time, as well as their screen, giving you their honest and unfiltered impression.
This is great for digging deeper into individual feedback but lacks the automated tools to analyze that feedback, which will require the use of third-party voice analytics.
Pricing: Available on request
12. SAS Customer Intelligence 360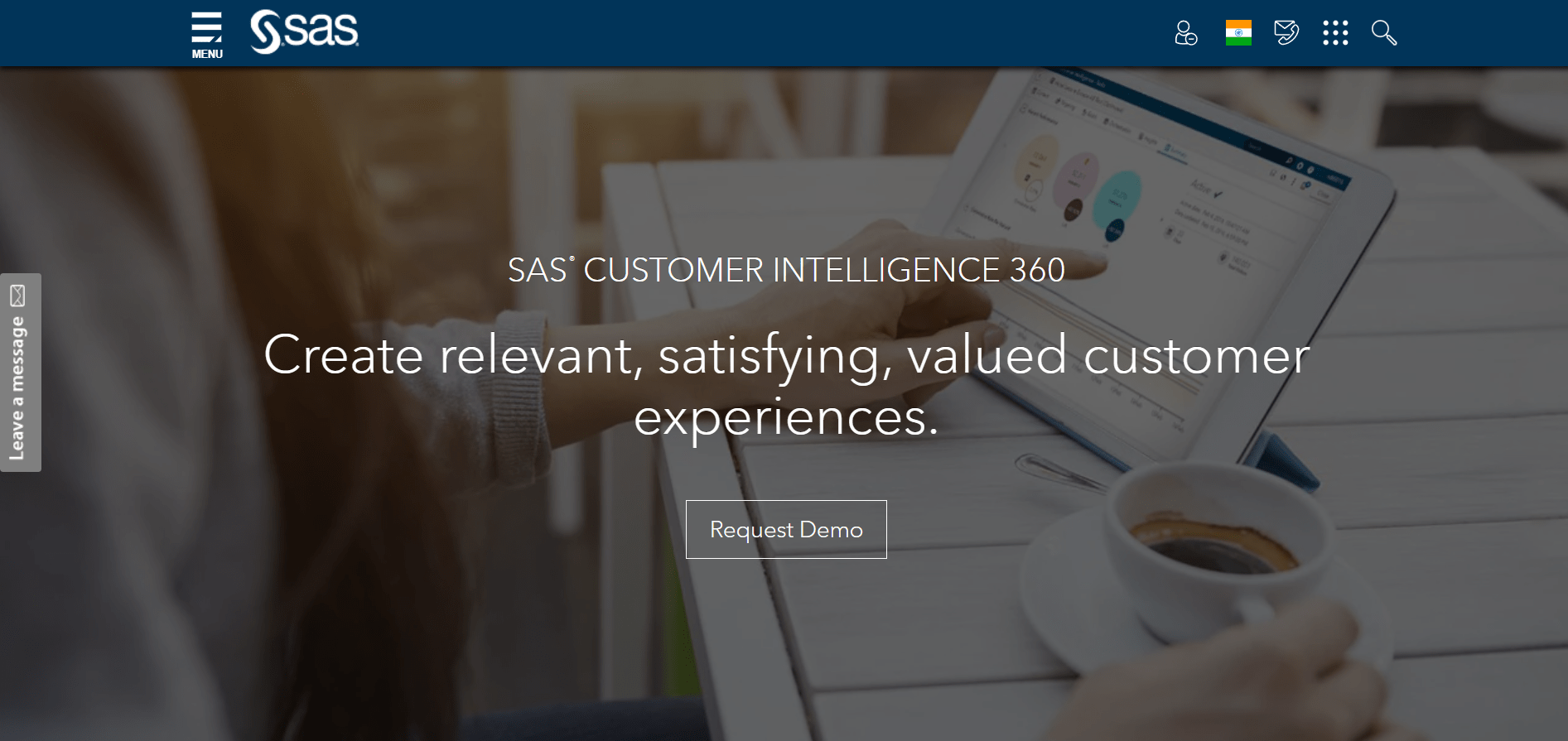 ---
Best for: Automated customer journey testing and optimization
Although primarily a tool for optimizing marketing campaigns, SAS offers in-depth tools for automated testing and optimization of customer journeys and processes of any kind, along with built-in visualization of the data it analyses.
Pricing: Available on request
13. UserZoom
---
Best for: Usability testing
UserZoom is designed to allow you to quickly create and distribute usability tests for in-development apps and sites. Feedback data and analysis are presented to enable rapid iteration based on the insights it provides fit in smoothly with development workflows.
Pricing: Starts at $500/month
Your customer support teams, and by extension the tools they use, are one of the most obvious aspects of the customer experience. There is a huge variety of helpdesk and support platforms, with budget, scalability, and the level of automation on offer being the main differences between them.
14. ProProfs Help Desk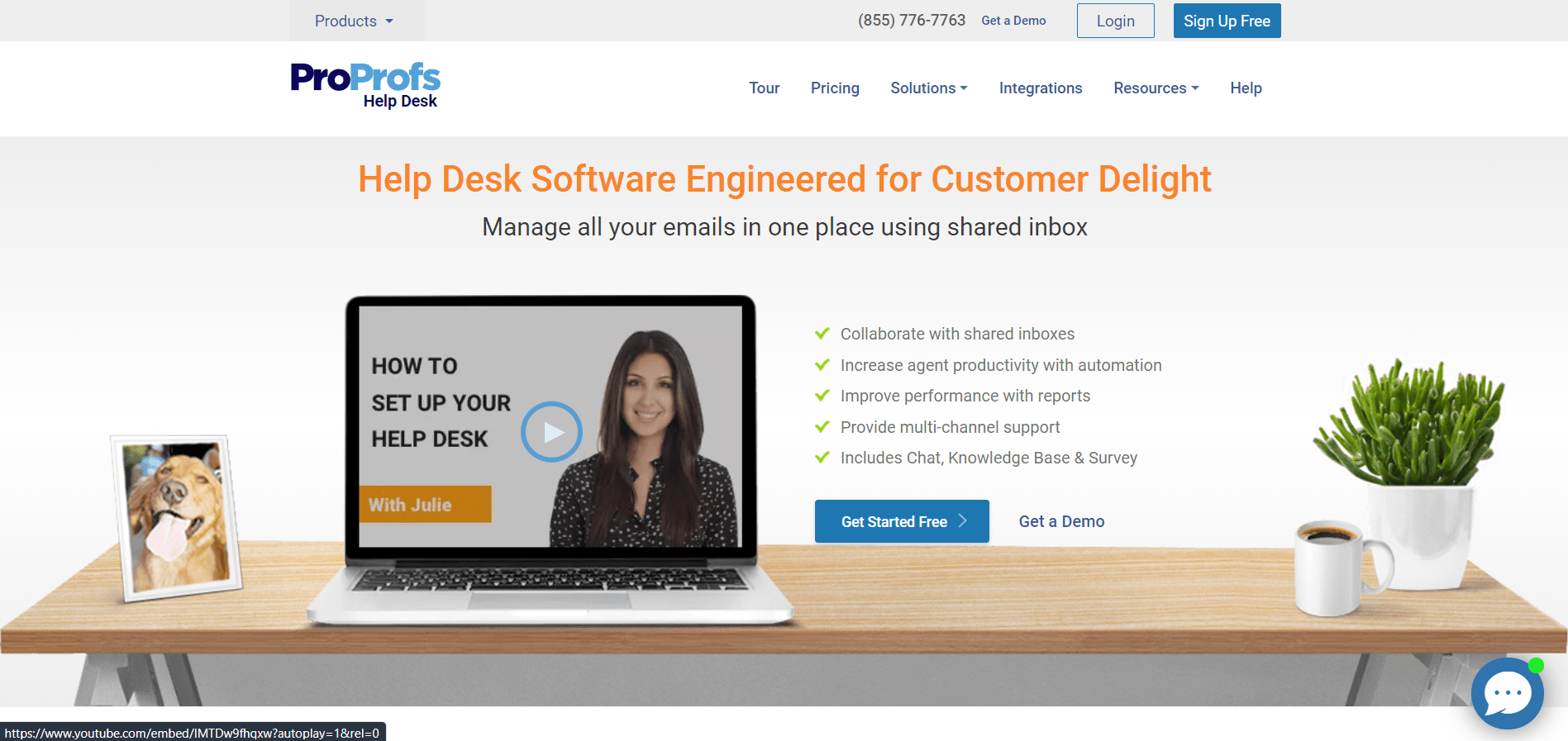 ---
Best for: Support tickets, Knowledge base
ProProfs Help Desk is a SaaS-based ticketing and knowledge base management system to provide quick support to your customers. It provides a shared inbox to handle tickets for different departments like billing, support, sales, etc., under one screen. You can also create a full-fledged knowledge base with FAQs, help tips, and guides to help customers find the required information.
Other features include setting SLAs for tickets, monitoring overdue alerts, creating child tickets, and sending surveys to collect feedback to assess the performance of your support channels. Plus, you can integrate it with the live chat system to automatically convert chatbot-driven interactions into tickets for proper follow-ups.
Pricing: Free basic plan. Paid plans start @$10/user/month
Related Read – Here is our list of 10 Best Help Desk Software in 2022
15. BIGContacts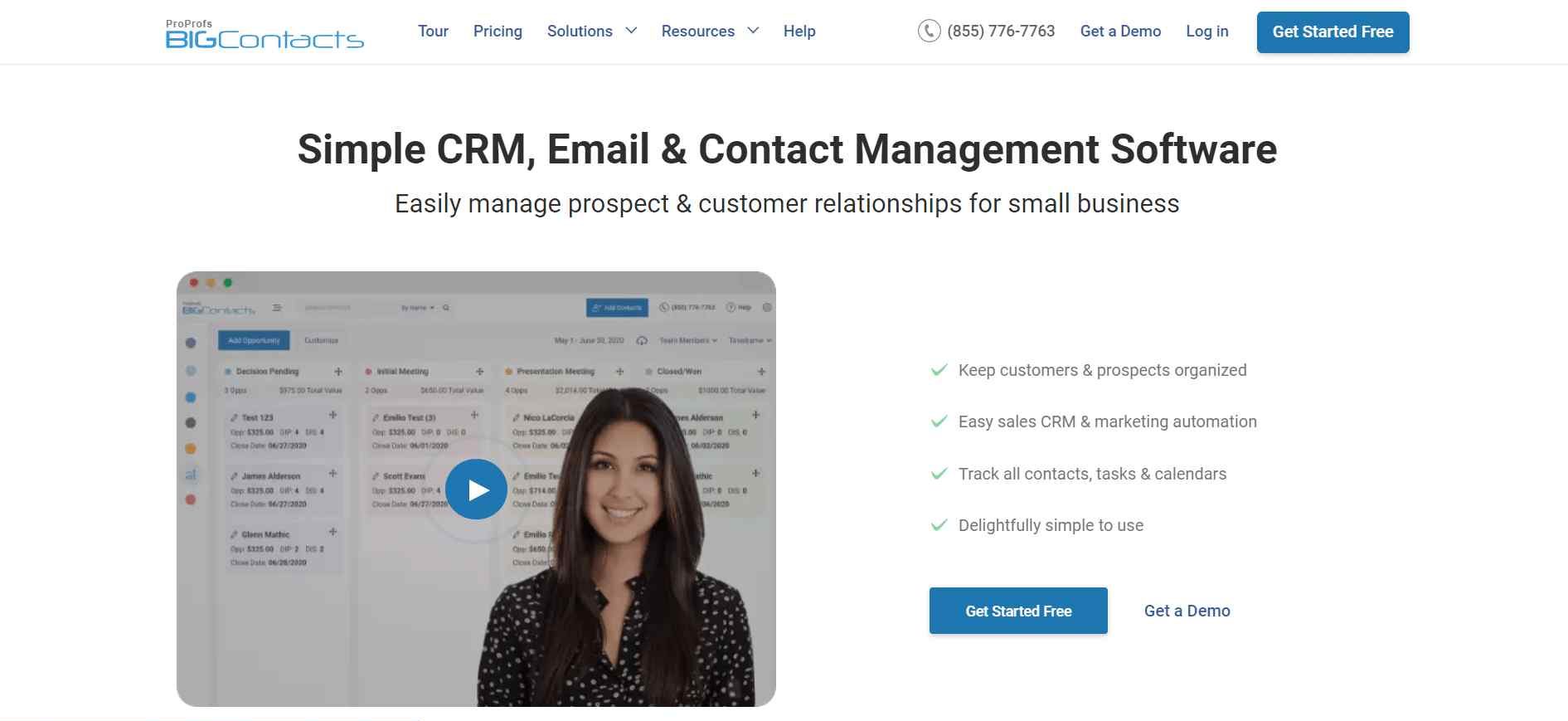 ---
Best for: Managing prospects, building email campaigns, streamlining sales pipeline
Big Contacts is the perfect CRM solution for small businesses to manage prospect lists and sales pipelines. You can import all customer communication in one place and track contacts by activity, opportunity, stage, last contact, and other custom fields. It also allows you to automate tasks, create marketing campaigns, identify opportunities, and create detailed reports to nurture the prospects into customers.
Price: Starts @$5/user/month
16. ProProfs Live Chat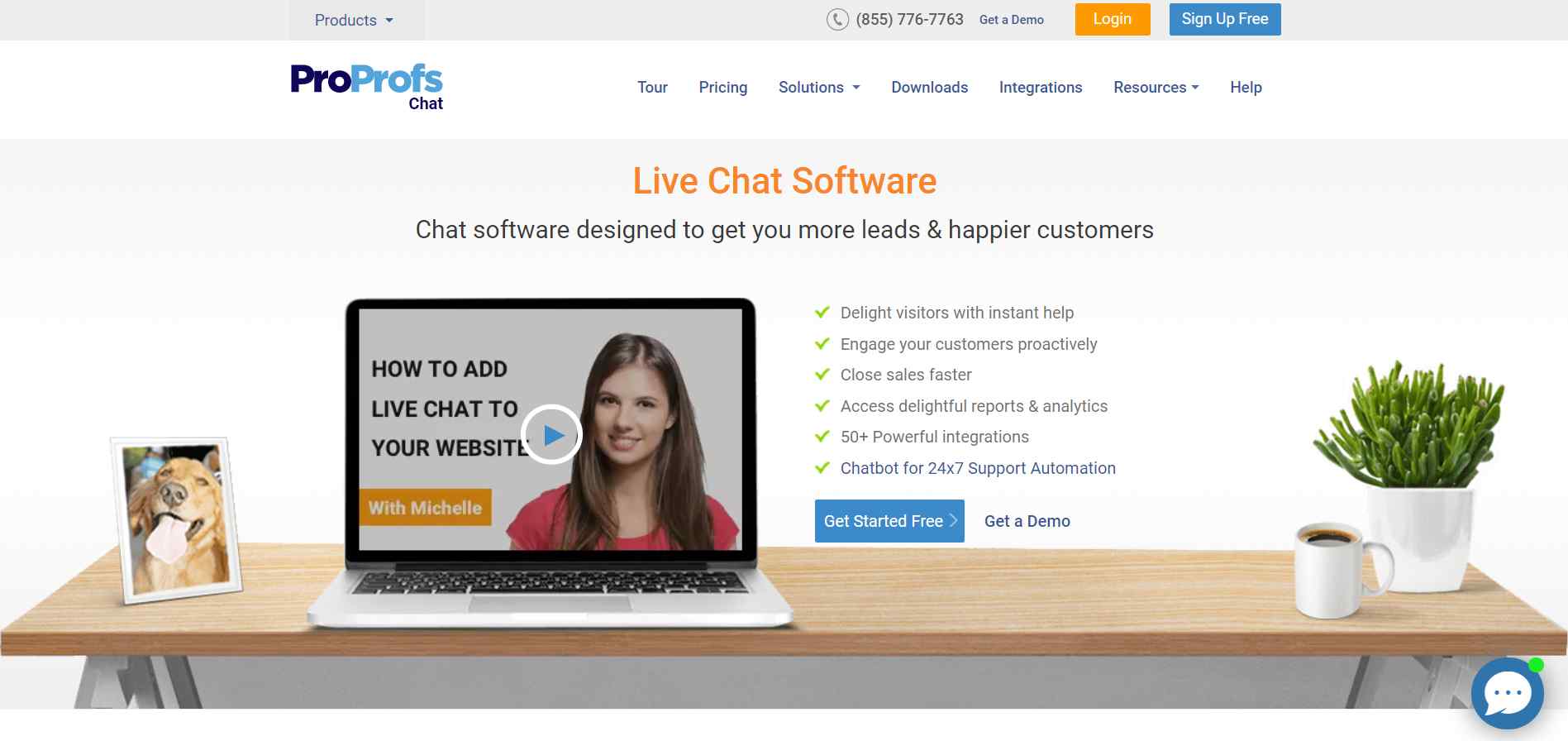 ---
Best for: Live chat, AI chatbot
ProProfs Live Chat lets you provide instant help to the customers and enhance their experience. Just add the live chat widget to your website or app, and you are good to go. Offer real-time support, instantly transfer chats to the correct department, use canned responses, and more to provide a quick resolution to your visitors. You can also set chat invitational pop-ups and product announcements pop-ups to improve engagement.
Another major feature of this tool is the AI chatbot integration option. You can build conversation flows for the AI-chatbot using the drag-&-drop builder to assist the visitors and customers even during odd hours.
Price: Starts @$10/operator/month
17. ProProfs Knowledge Base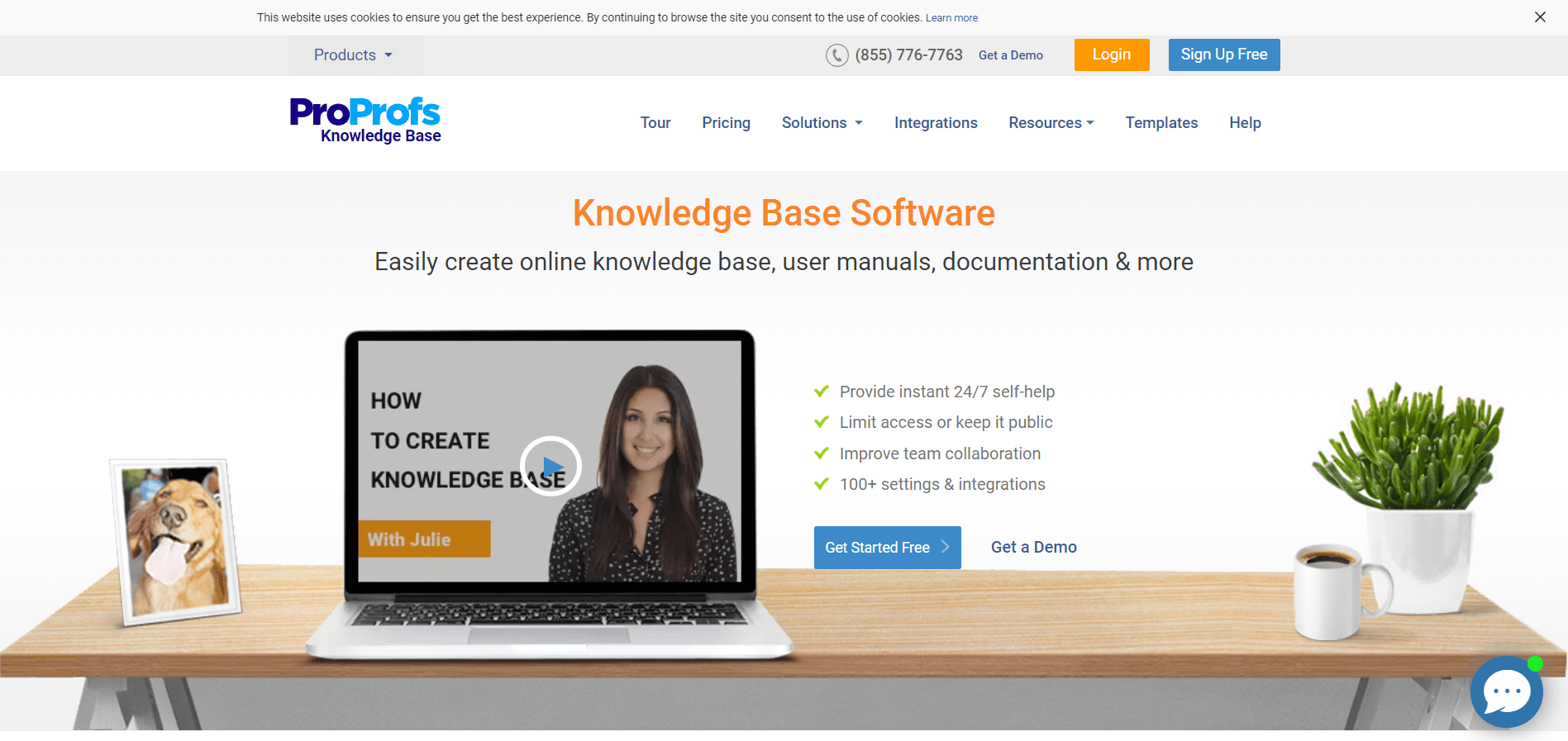 ---
Best for: FAQs, guides, manuals, help center
Customers prefer self-help touchpoints over calling the support services, which is why ProProfs Knowledge Base makes the list of best customer experience management tools. With over 100 design templates and flexible customization options, you can easily create help guides, user manuals, FAQ sections, a dedicated help center, and other resources to provide 24/7 self-help to customers.
The tool helps save both resources and time by relieving the pressure on your support staff. Other features include guided tooltips, mobile responsive design, comment & feedback section, and accessibility control.
It is simple to use and highly efficient in improving the overall customer experience.
Price: Starts @$30/author/month
18. ZenDesk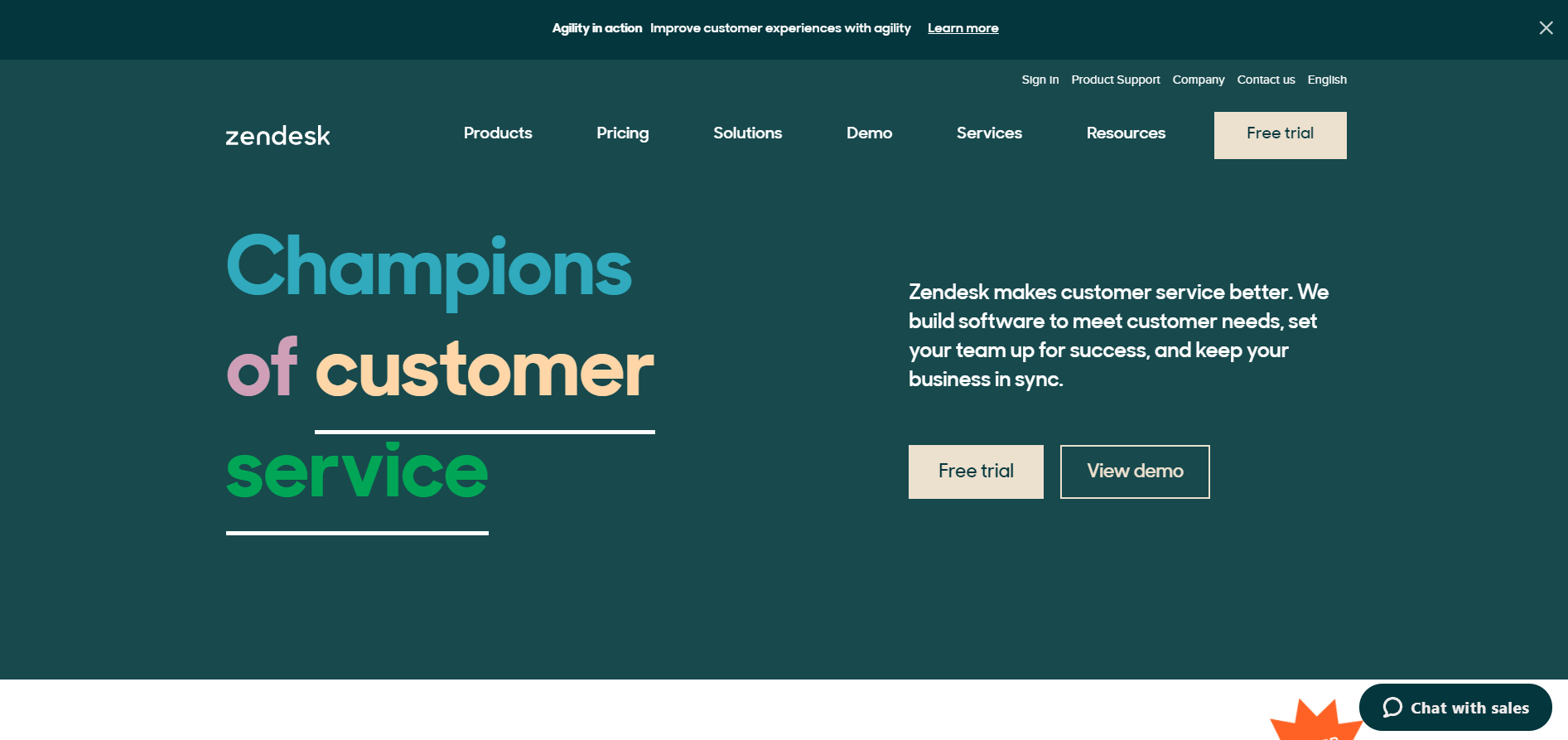 ---
Best for: Scalable for smaller businesses, wide range of integrations
ZenDesk is one of the most complete and customizable helpdesk platforms, thanks in no small part to the wide range of integrations available for the platform. It includes native features for automated responses and analytics, but any more purpose-specific apps you prefer to use for these functions are likely to offer a ZenDesk integration out of the box.
Pricing: Starts at $49 per agent/month
Related Read – Here is our list of 45+ Top Lead Generation Tools in 2022
19. Oracle Service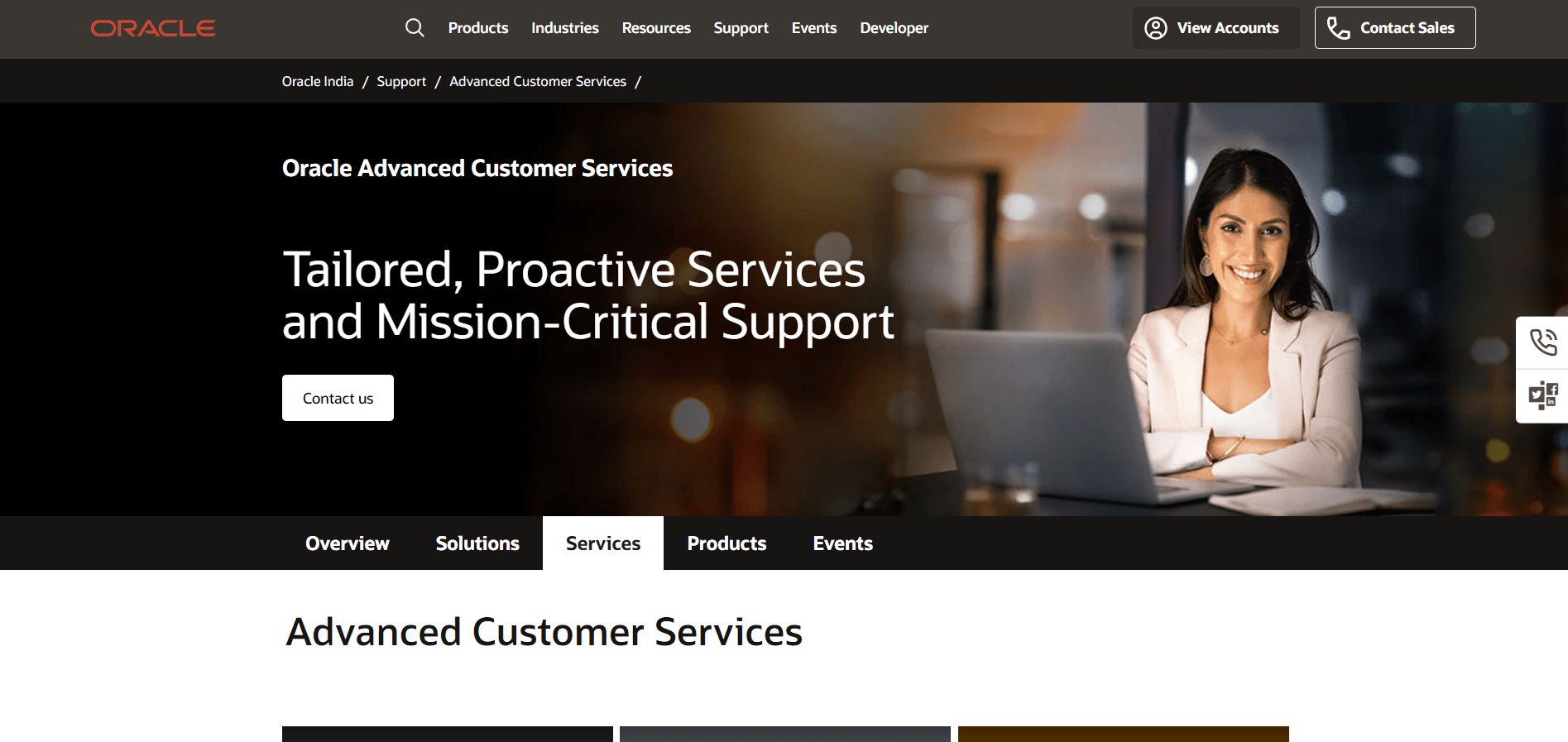 ---
Best for: Customer service automation, AI-driven experience personalization
Oracle Service is a helpdesk platform with a focus on AI-powered automation and prediction. It uses these to remove the unskilled busywork from support agents' day while using machine learning to deliver a highly personalized service to each customer.
Pricing: Available on request
20. Acquire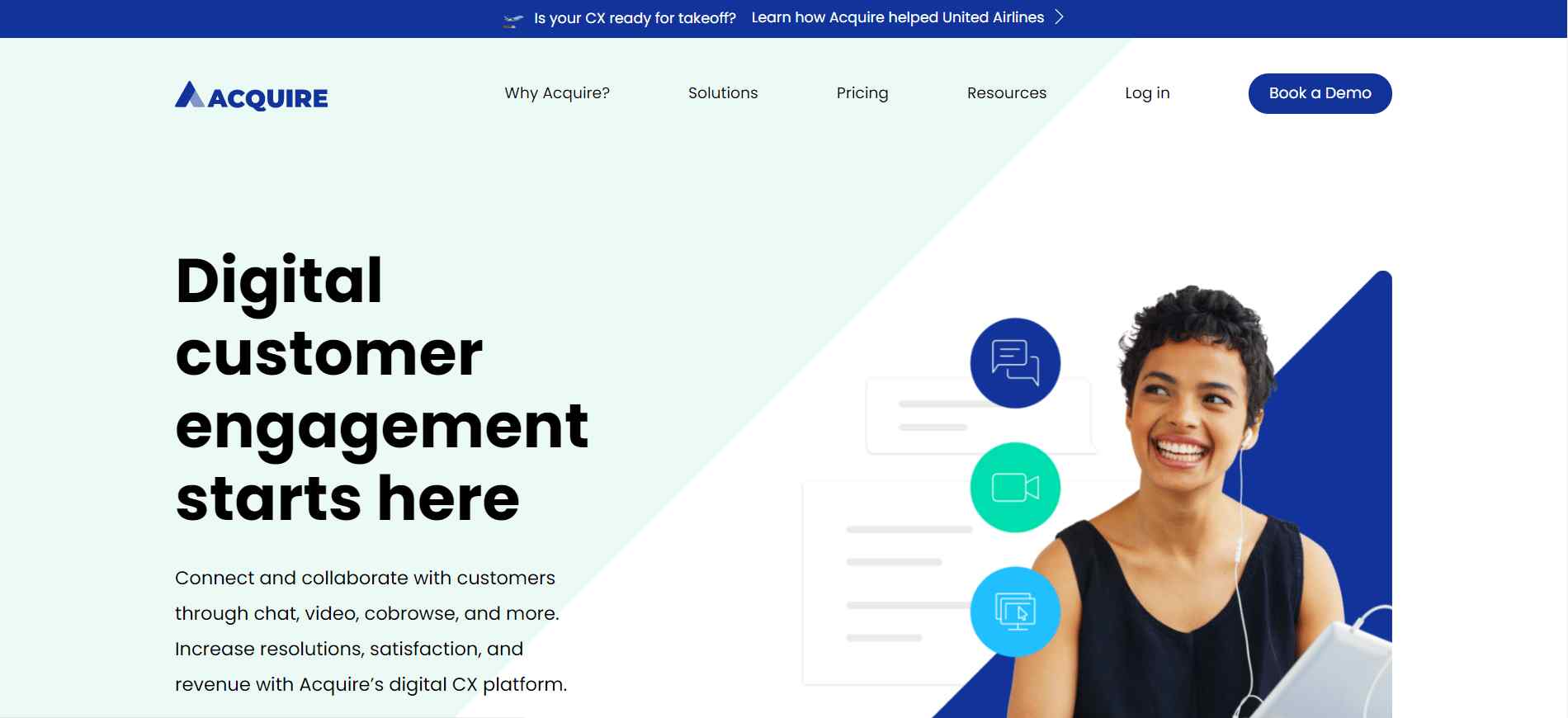 ---
Best for: Self-service optimization, automated service interactions
Acquire provides a unified helpdesk for all customer communication channels but stands out for its dedicated analysis package for self-service effectiveness. This makes it great for assessing and improving the impact of self-service resources and related systems such as chatbots and automated messaging.
Pricing: Available on request
21. LiveAgent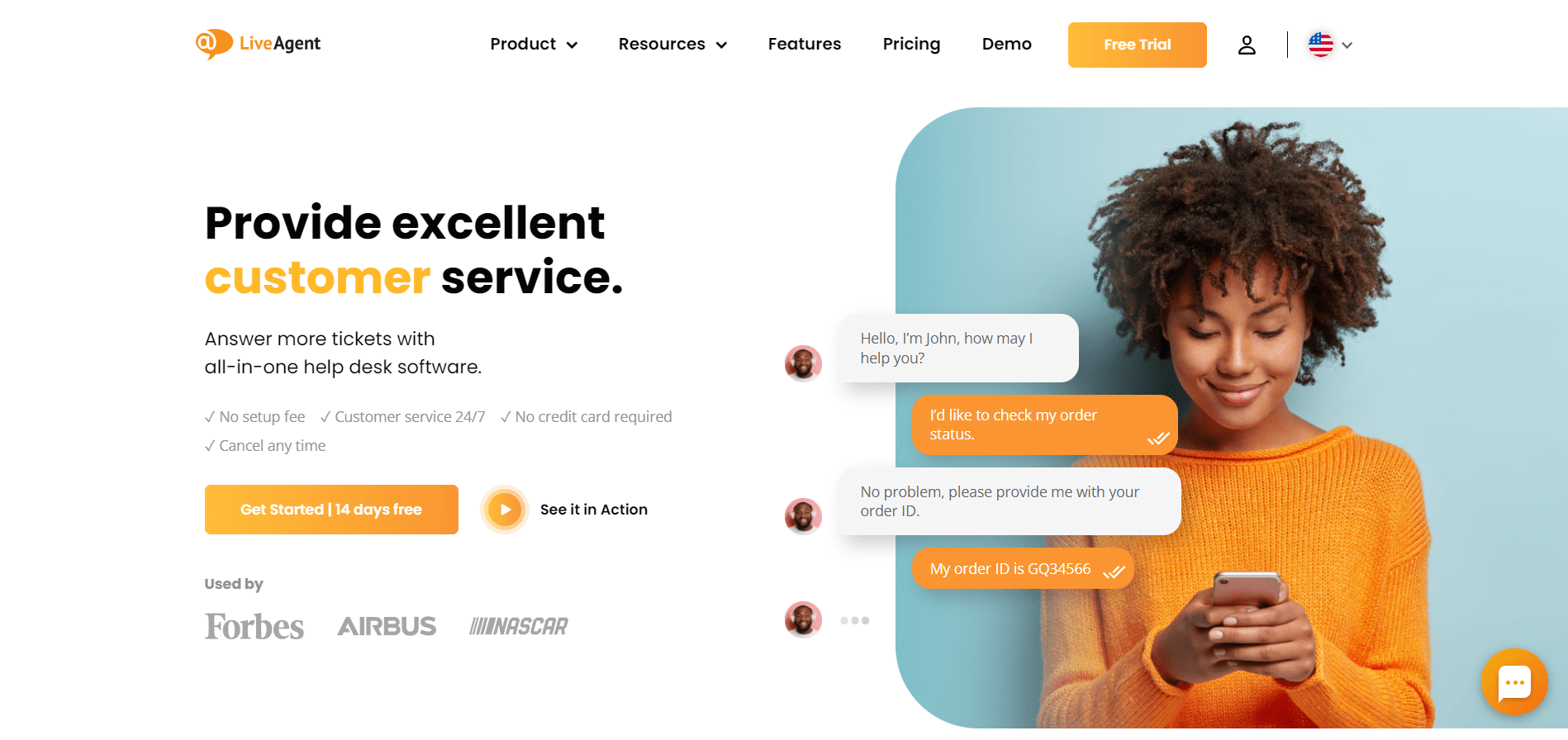 ---
Best for: Self-service resources, wide range of integrations with more specialized apps
LiveAgent is a general-use helpdesk platform that enables live support across a range of channels, including voice, text, and social media, as well as providing the tools to easily create customer portals, ticketing systems, and self-service resources. LiveAgent lacks in-depth feedback and behavior analysis but supports a wide range of integrations enabling you to get that functionality elsewhere.
Pricing: Starts at $15 per agent per month
22. OpenText Digital Experience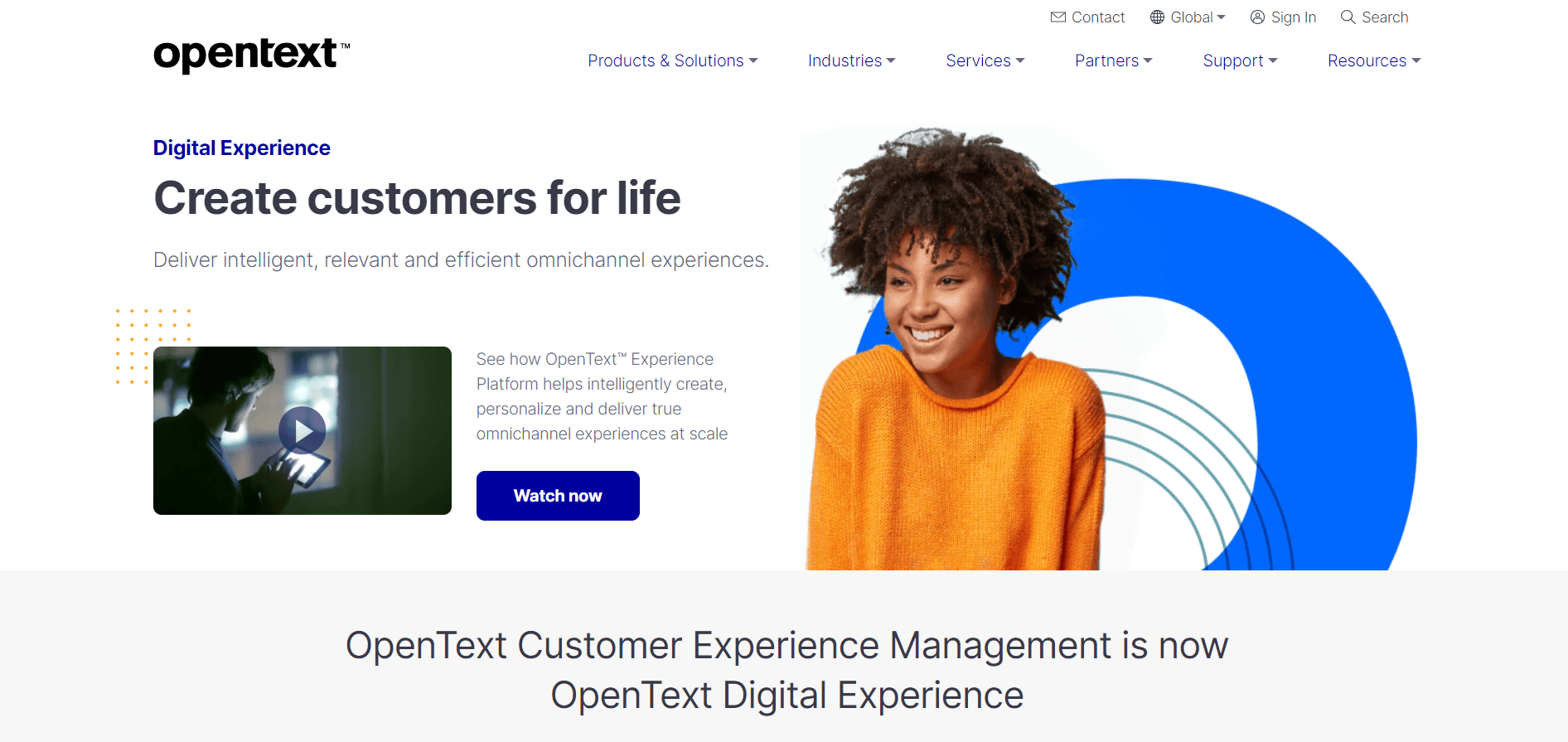 ---
Best for: Contact center, user analytics
OpenText Digital Experience combines contact center, content management, and analytics tools into one platform. This enables advanced AI assistance for support agents to allow for more personalized recommendations based on individual user insights.
Pricing: Available on request
Related Read – Here is our list of 30 Best A/B testing Tools in 2022
Self-service options and automated or AI-driven support are an increasingly central pillar of the customer experiences, as consumers show a growing preference for being able to resolve more issues by themselves, with 40% of consumers trying self-service before any other option.
23. Genesys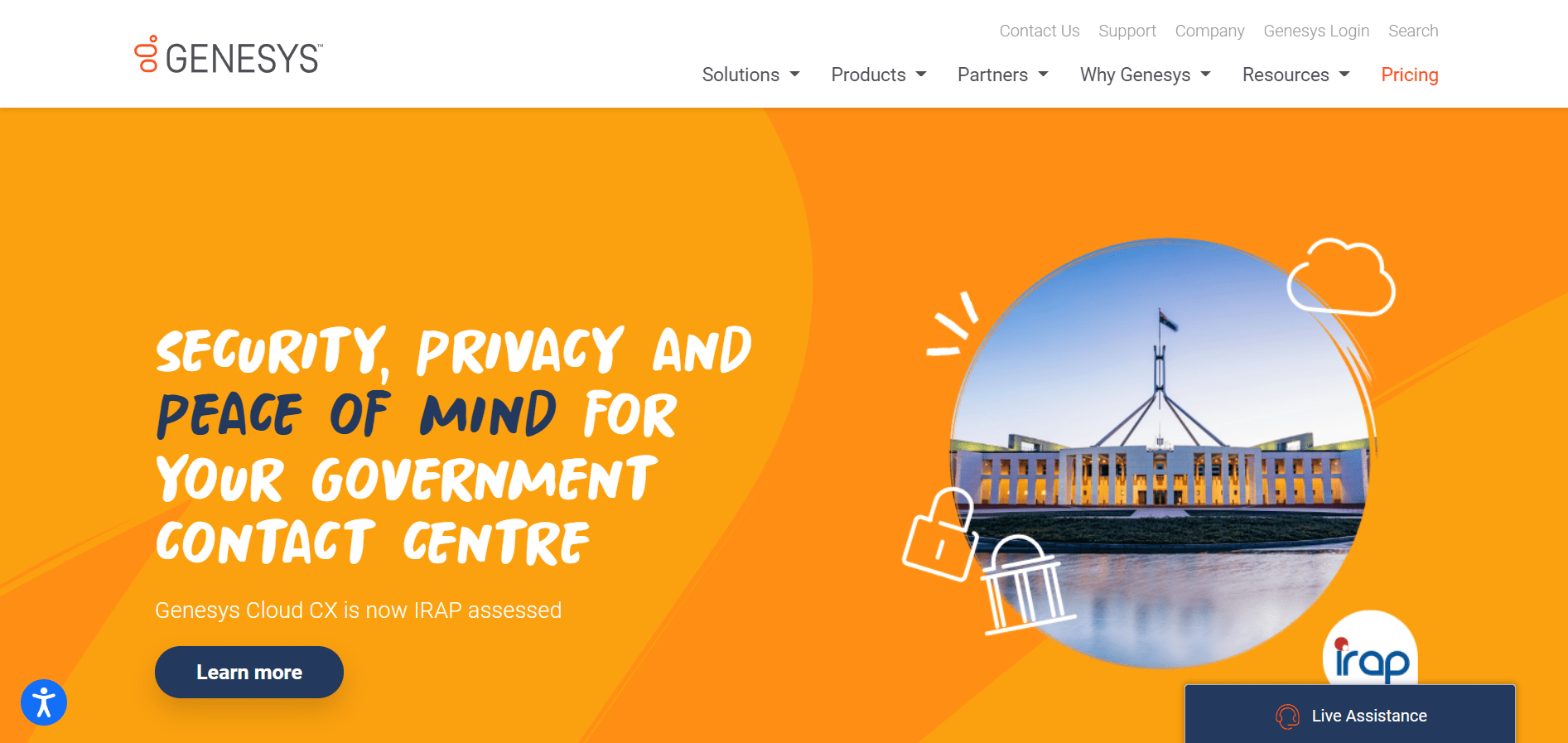 ---
Best for: AI-driven text and voice interactions, live agent coaching
Genesys offers a contact center package that includes advanced AI bots able to understand and converse in natural language via text and voice. Besides the usual helpdesk features, Genesys also includes machine learning-powered agent coaching by providing them with real-time feedback and insights.
Pricing: Starts at $75 per user/month
24. Sprinklr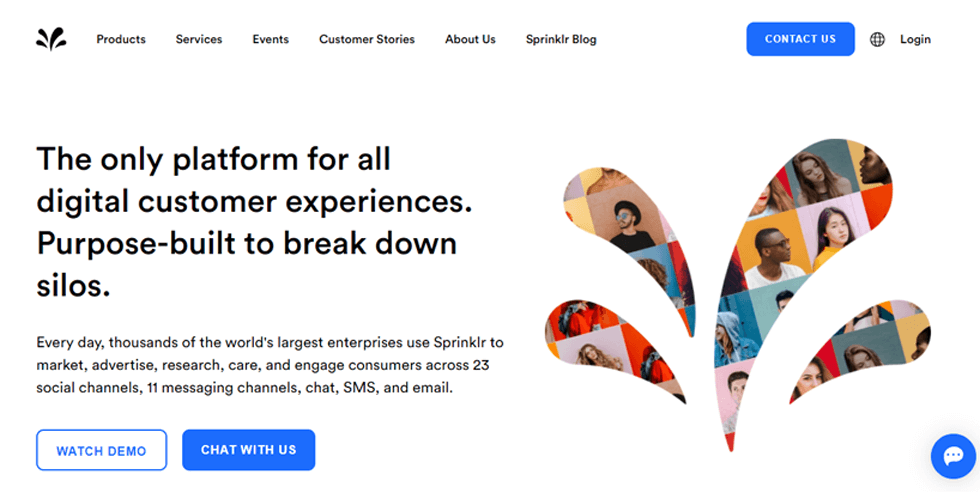 ---
Best for: AI chatbots, live interaction analysis, live agent support
In addition to providing AI chatbots, Sprinklr uses AI to support agents by analyzing interactions in real-time to predict intent and needs, providing resources to the agent as appropriate. Recommendations and actions are taken based on analysis of past interactions and user activity to provide a highly personalized service through every channel.
Pricing: Available on request
25. ContentSquare
Best for: Customer journey analysis, data visualization, development and design feedback
ContentSquare offers a range of tools to analyze customer journeys and visualize the results. This has the benefit of providing insights in a way that designers and developers can understand. The zone-based heat maps to visually indicate how many clicks and conversions part of a page earns are a standout feature for understanding where to prioritize.
Pricing: Available on request
Lift Your Customer Experience Management Game
Choosing the right Customer Experience Management software depends on the kind of feedback and insights you need. The software you need for understanding why customers don't use a particular feature, for example, is completely different from understanding how to improve a live support process.
While it is easy to go for a unified package and get everything you might need, this may not be the most cost-effective and scalable approach. It also won't provide you with the specialist tools for your specific needs. This can lead to managing a large number of integrations and apps to provide all the features you need on top of that, which may not be feasible for small businesses. So compare well and choose the tool that suits your needs.

Want insights that improve experience & conversions?
Capture customer feedback to improve customer experience & grow conversions.
More posts
June 28, 2022
Struggling with a leaky sales funnel? Discover some of the best B2C survey questions to identify problems in your sales funnel and improve customer experience
Read more