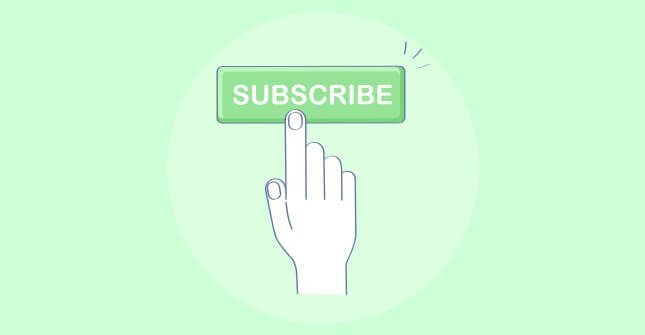 Do you find yourself losing sleep, wondering how to get more email subscribers?
We understand that your email list is an awesome asset to expand your customer base.
But how do you make it grow without spending money on buying email addresses/subscribers?
Databases sell you hundreds or even thousands of email addresses that probably belong to people who are not part of your target customer segments – so they are useless. What to do?
We give you not one but over 80 answers!
Even with social media marketing becoming the norm these days, email and newsletter signups remain dependable sources of new customers. Conversion rates from email marketing depend very directly upon 'open rate,' the number of receivers who click to open your email/newsletter.
Regardless of the industry that you are part of, achieving a high open rate is desirable, no doubt.
Apart from helping to increase email subscribers, our 'answers' will lead to a better open rate!
What is an Email List?
A mailing list is a collection of email addresses that you acquire from various sources like sign-up forms, lead-generating software, cold calling, and more.
If you receive Amazon's product updates, discount codes, and notifications about upcoming deals in your inbox, then you are on its mailing list.
But why do you need such a list? In a word – Revenue!!!
It's for the same reason Amazon sends you its promotional emails; to entice you to click on an exciting deal and make a purchase.
Even with so many technical advancements in consumer technology, email remains one of the most effective sources of gaining new customers and exploring repurchase opportunities among the existing ones. That's why you need a mailing list.
Why Do You Need to Grow Your Email List?
Often people switch to other brands, unsubscribe from the list, or stop opening the mails. That's why you need to find ways to grow your mail list continuously, or it will die.
But if you have a steady stream of incoming email addresses from new prospects, here are some benefits you can reap:
1. Improved Conversion Rates at Low Investment
If you have the right tool like MailChimp, you can start your email campaign for free. It means you can test the effectiveness of your mailing list with minimal investment.
If you observe improvements in conversion rates, you can purchase the premium plan to implement a dedicated marketing campaign at your end. If it doesn't work, you can make the required changes to optimize the campaign.
Either way, it's a great channel that fits into anyone's budget to start turning prospects into customers.
2. An Email Is Forever (Until Deleted, of Course)
Your website, ads, landing pages, and social posts are affected by ever-changing algorithms and stiff competition. You cannot tell if your intended audience saw your post or not.
But the mail you send remains in the customer's inbox, increasing the chances of a better click-through rate. And when they open it, you can track it with the analytics in your mailing tool.
So, keep your mailing list alive.
3. Create Personalized Campaigns
Emails are great to add a personal touch to the conversion process. Unlike ads or web pages, you can handpick the issues and problems of each customer and put together a detailed mail that explains how you are the best option for them.
Plus, the email thread keeps the interactions with your prospects in one place, making it easier to track for future correspondence. The bigger your mailing list is, the more leads you can convert.
4. Better Tracking With Detailed Analytics
Today, mailing tools have advanced inbuilt analytics that can provide extensive data on the performance of your mail campaigns.
You can track open rate, CTR, time of opening the email, percent of CTA clicked, OR/CTR ratio, and other niche details for each campaign.
If you have a large enough mailing list, you can also predict the best time to send the email to improve the open rate and CTR. It will also help you track customers' preferences by comparing which mail campaign types perform better over time.
Points to Remember Before You Begin
Before we get down with our list of tips for getting more newsletter signups, let's discuss a few common strategies applicable to the majority, if not all, such as:
1. Understand the Audience Demographics
Every customer is different, so there cannot be a single tip to win them all. That's why it is essential to know your audience. Different content and ideas will work differently for different people. Hence, the first thing to do is segment your customer base as per their interests and preferences. Once you know your audience, you can employ the tips that maximize the returns for your efforts.
2. Know Whom to Target
There are different customer segments such as new customers, old customers, visitors, and others, even within a specific demographic. You want to get more people to signup for your newsletters but not at the expense of their experience. Showing irrelevant content or popups may frustrate your visitors and lead to abandonment. Therefore, pick your targeting options very carefully.
3. Know Your on-Page Pop-ups for Maximum Engagement
Popups are among the best ways to encourage customers/visitors to sign up for your newsletters.
Surveys act as feedback loop management systems and potential lead generators because customers also want to leave feedback or review after interacting with a business.
On the other hand, deal popups entice visitors into taking action by creating urgency or showcasing fabulous purchase opportunities.
Then, popup subscriptions or lead forms ask the visitors for their contact information such as email address, phone number, etc.
If used correctly, popups work on almost every customer segment, from new visitors to loyal customers.
The following section will describe how you can employ these points while applying the tips on your website, app, or product.
85+ Ways to Grow Your Email List Fast in 2023
Let's take a deep dive into our long list of practical tips that help you get more email subscribers.
How to Grow Your Email List Using Email
1. Create Unique Email Content
Content is king. You will see this line repeated multiple times in this piece because it forms the center of any strategy to boost your email list.
Imagine your favorite YouTube channel, blog post, or podcast, and think, why is it your favorite? Most probably, the answer is better content than others. The same logic follows for your email campaigns.
You need engaging content to hook your recipients and improve subscriber retention rate.
Plus, if the content is valuable, informative, and addictive, people are more likely to forward those emails to help you gain more subscribers.
2. Create Captivating Email Subjects and Headlines
An average person receives over 40 emails per day. So, there is only a 1-in-40 chance that the recipient will open your mail. If people don't open your emails, it's all for naught.
And it can be a huge problem with new subscribers. Catchy headlines combined with actionable contentcan see both your open rate and CTR go up.
3. Include Signup Link in Email Signatures
Your corporate email can become a great way to grow your email list
if you add a link to the signatures of your entire corporation. This way, every employee's outgoing email becomes a potential channel for new signups to be added to your subscriber list.
4. Clearly State Email Frequency
People might not want to be bombarded with your "technology news round-up" daily, but they might dig the idea of a daily "best tech accessories deals' email. Survey customers to decide how often you will send a specific type of email and inform new subscribers upfront about it.
5. Deliver Exactly What You Promised
Think about it: how would you feel if you signed up to get brownie recipes in your inbox but started getting salad combos instead? Leaving aside the fact that salads might be better for you, they certainly aren't what you had in mind when you clicked on that "Sign Up for Delectably Delightful Treats' button, did you?
What'll you do? Unsubscribe, right? Just goes to show why you need to always deliver what you promised.
The route to driving up your email newsletter signup rate needn't be rocky. People subscribe to newsletters and informative content when they see value in them. The biggest hurdle is holding their attention and engaging them to see the value you offer. Figuring out how to increase email subscribers becomes easy once you determine which tips work best for your business.
6. Provide an Email Course
An email course is an excellent resource to show your prospects how to use your products to solve their problems. It is a series of lessons delivered through the mail over a predetermined period.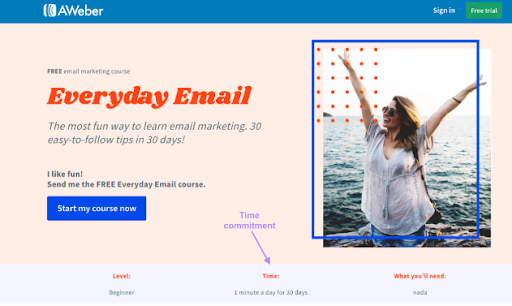 ---
Here's how you can use them:
Use surveys to find out what issues your customers face .
Then, align your product offering around those issues and design an email course that demonstrates how your product delivers the solution.
Design a drip mail campaign to send the email course to your existing subscribers and ask them to forward it to others.
Publish the course to other outlets like websites, apps, or social media to maximize its reach.
As stated above, the course content will act as the impetus for growing your email list. So make sure to nail it perfectly.
7. Encourage Subscribers to Share the Emails
Irrespective of your email campaign's goal, ask your recipients to share and forward your newsletters to their friends and family.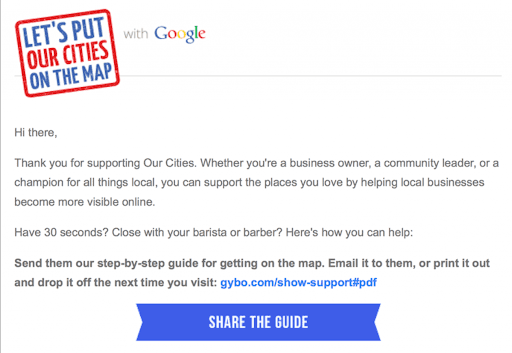 ---
Here's how to get email subscribers with shares:
Add a "forward to a friend button at the end of the mail.
Use referral incentives to improve the share rate.
How to Grow Your Email List With Your Website
8. Use Opt-in Forms to Capitalize on Your Website Traffic
Opt-in forms are a godsend to add relevant people to your email list. You can show the opt-in form when visitors land on your website or app to collect email addresses using incentives, product messaging, and catchy headlines.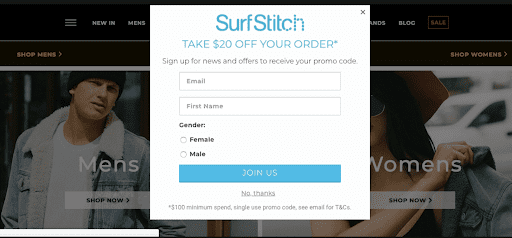 ---
And the beauty of these forms is that you can create a different pop-up for different pages and time them right to show personalized offers to the people based on their actions and behavior.
Pop-up tools like Picreel give pre-built templates, customization options, and visitor targeting so you can entice the visitors to sign-up for your newsletters when they are engaged with the page.
9. Target Exit Intent With Survey and Deal Popups
When the cursor of a website visitor (on desktop browsers) goes out of the frame of your web page, the visitor is likely considering exiting (or switching to another tab).
Triggering a pop-up that entices them to share what they were looking for can also serve as an email sign-up channel, especially if you tell them that you will write to them about their query.
---
How to convince leaving visitors to subscribe to the newsletter?
Show them a personalized offer or deal using pop-up overlays.
Use survey forms and add the discount code at the end to maximize engagement and collect insights about their experience.
Related Read: 10 Best Exit Intent Popup Tools
---
10. Target People Based on Visitor Intent
Knowing whom to target and when to target them gives you a great advantage over your competition. And interestingly, a feedback software like Qualaroo can help you understand intent down to a lot of specifics based on who the visitor is, where they are from, when they visit, how often they visit, and so on. If you are unsure about targeting visitors accurately, check out this article to get more subscribers!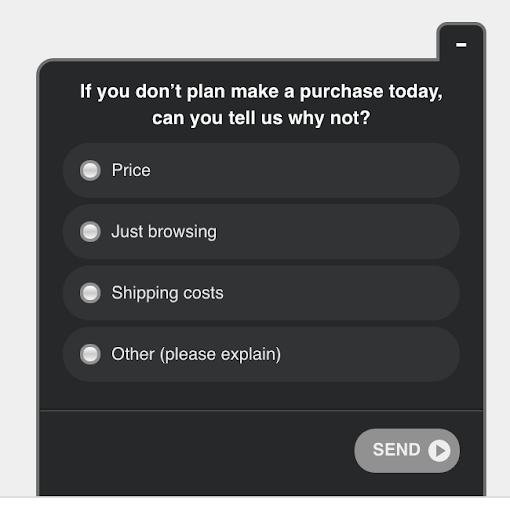 Here's how to do it:
User intent can indicate specific behavior such as scrolls, exit-intent, time on page, adding products to cart, clicking on the CTAs, etc.
Show surveys to ask for feedback and contact information.
Create urgency with limited-time deals using overlay pop-ups.
Add lead forms and offer free consultation or advice to capture contact information.
11. Tweak Your Pop-ups for Mobiles
The way your website functions on desktops and smartphones is different. Ensure you have optimized both versions for mobiles so that your email sign-up pop-up doesn't appear out of place because mobiles (smartphones) are fast becoming the preferred device for accessing the net.
Here's how:
Make sure that the surveys and overlay pop-ups are mobile responsive.
You can also create separate surveys for the mobile browser and app.
12. Optimize Lead-Ins for Smartphones
The way you guide prospective customers into your sales funnel with an email campaign on your desktop website differs from the strategy required to convert smartphone users. The lead-in process, design, and expected sign-up reward need to be decided accordingly.
13. Put in a Floating Sidebar Sign-up Form
As websites have become fancier with all sorts of bells and whistles, visitors have become accustomed to tuning out showy widgets and such. If you feel this is likely to happen with your website as well, then consider placing a sidebar form that is tucked away unobtrusively until clicked.
What makes a sidebar form so effective in growing your email list?
Sidebar form is a non-intrusive element on your webpage. It doesn't take any space or impede user experience. The visitors can interact with it at any time to provide their feedback.
You can also use collapsible survey pop-ups and widgets.
14. Use Social Proofs, Testimonials & reviews
Gone are the days of only showing a celebrity endorsing your product or service to make people want it. A lot of purchasing power is in the hands of millennials today, and they need a different strategy.
One of the surest ways to convince them that what you are selling is worth buying is to show "social proof." As Forbes put it, millennials "want it from trusted sources." Pay heed to this.
---
Here's how to use social proof to increase email subscribers:
Show what other visitors are doing on your website in real-time (e.g., customer John Doe just purchased an Apple iPhone 12 Pro Max in Boston for $999!)
Add testimonials and user stories on the home page and product pages.
Show the subscription pop-up when the visitor reaches the testimonial section to prompt visitors to take action.
15. Enable Sign-up Pop-Ups on the Homepage
Enabling pop-ups that appear when the visitor on your homepage shows exit intent serve a dual purpose – they act as a pull to convince the visitor to stay and allow the visitor to stay updated about your brand (by signing up for your newsletter). Use them judiciously, though.
16. Set up a Landing Page to Easily Share Your Ideas
Don't confuse the landing page with your homepage. A landing page is often a standalone page that targets a specific audience type with a unique selling proposition (USP) to maximize conversions.
Experiment between long-form, short-form, splash screen, sales page, and other landing page types to improve website visibility, SEO, and traffic to earn more email subscriptions fast.
Related Read: 12 Best Landing Page Optimization Tools
17. Target Top & Bottom of a Sales Funnel
Prospects at all points in your sales funnel are likely to use email as a source of gaining knowledge as well as taking action. Hence, do not leave out any target demographic from your attempts to grow your mailing list.
How to utilize the sales funnel to earn more subscribers?
Gather data about your visitor demographics and target each segment with a personalized offer or deal.
Target new visitors with free shipping or a first-order discount.
Target repeat visitors by creating urgency with limited deals.
Prompt leaving visitors to take action with deals and survey pop-ups.
How to Grow Your Email List With Optimization Strategies
18. Use CRM to Streamline the Lead Generation Process
With different prospect types along your sales funnel, you need personalized value propositions to educate them about the features and benefits of your products to turn them into customers.
And an effective CRM like BIGContacts can help to streamline the process, organize the prospect list, design mail campaigns, and document points of contact to increase the email subscription rate.
What's more, it helps to consolidate the leads and customer information from other applications and sources into one place so you can make the most out of your email marketing efforts.
19. Carry out Regular A/B Testing
A/B testing is a great way to figure out how to increase newsletter subscribers because it tells you which of the two (or more) strategies you are using is better.
Testing is also a vital part of feedback strategies for ambitious entrepreneurs who want to create great products with a fantastic user experience.
Here's What you can A/B test:
A/B tests your deals and offers overlay pop-ups to see what works to grow your email list.
A/B test lead form to optimize them.
Collect customer feedback using surveys and sidebar feedback forms to implement it into your A/B tests.
Test the position of your forms to find the sweet spot for getting more email subscribers
Watch: Insights for Smarter A/B Testing
---
---
Related Read: 25 Best A/B Testing Tools to Help You Convert
20. Push Notifications Across Platforms
Deliver a consistent user experience across your platforms – mobile, desktop, app – to show prospective customers that you have put in the effort to make them feel that they will get an equally consistent product or service from your brand.
Reinforce this in your sign-up forms by ensuring that the design of notifications pushed to app users is the same as for web visitors.
How to use push notifications for increasing mail subscriptions?
Combine push notifications with sign-up incentives to earn more subscribers.
Send regular notifications about upcoming sales and deals. Add a sign-up form on the landing pages to collect email addresses.
Leverage both web and mobile notifications to maximize your reach.
21. Follow Heatmaps & Click Maps
Put the CTAs that ask visitors to sign up for your newsletter or email list at the spots that attract their attention. There are various tools that generate heat maps for your website's landing pages and blog posts, showing you which spots visitors focused on and on which areas they hovered. These conversion spots are also identifiable through user session recording tools like FullStory.
---
How to make most of the heatmaps data and session replays?
Use heatmaps to find portions of the web pages that visitors primarily interact with. Use the data to place the email subscription forms at these places.
The session replays also highlight the issues with the forms to help you optimize them and increase the completion rate. Use the data for your A/B tests to try different CTAs and form positions and find the ones that work best.
22. Mark Form Fields With Placeholders
The process for interested people to sign up for your newsletter or email should be easy as pie. One of the ways to make it easier is to show the person pre-populated form fields.

---
Add placeholders into the form input fields to show the intended value or help-text to the respondents. It would make it easy for them to fill the form.
Point to note: The dummy text should disappear when they start typing. Else it can cause form abandonment!
23. Prevent Bots From Signing Up
Implement CAPTCHA (Completely Automated Public Turing test) through text or images that can't be read by 'bots' so that your email subscriber list doesn't become redundant. Obviously, you can use software that does this for you – but it can also cause abandonments, so use with care!
---
24. Incorporate Social Sharing Buttons
Whether it's your blog post, email campaign, social media post, product page, or infographic, make it easily shareable by using social share buttons.

If there is a one-click share button on the page, the chances that people will use it automatically increase, bringing in more visitors for you and thus growing your subscribers and customers.
25. Segment Your Audience
Segmentation is defined as putting your customers and target market into different groups based on various traits like date of joining, interests, common problems, preferences, and others.
And when you are trying to get more email subscribers for your newsletters, segmenting the audience base can help you deliver the right messaging for the right kind of prospects.
For example:
You can send referral emails to high-value and happy customers to maximize distribution.
Design new landing pages to entice visitors with different messaging and value propositions.
Retain and reactivate old subscribers who might have churned due to some reason.
Market segmentation is a must if you are looking to create highly targeted emails, ads, landing pages, and content.
26. Track What's Working
It goes without saying. If you don't know where you are headed, how will you reach your goal?
Tracking helps you keep informed of what does & doesn't work for your audience so you can make quick changes to bring maximum ROI on your efforts to grow your subscriber list.
Here's how:
Find out which type of emails have the highest CTR rates.
Target pages with the most conversions and find the reason behind this success rate. You can use surveys on the pages to ask visitors what they like the most about the page.
Experiment with the position of your sign-up form. Try placing it at the start, middle, or end of your product demo, onboarding process, or web page. Use the one that fetches maximum sign-ups.
27. Display Your Privacy & Data Usage Policy on the Sign-up Form
You know what we are talking about here. With increasing cyber-attacks and data breaches, everyone needs assurances before giving away personal information to any business.
And that's where 3rd party trust seals and a clear statement about your data usage policy can help you grow your email list by imbuing confidence in them.
And we have an actual life case study to prove it. The sign-ups for Blue Fountain Media went up by 37% after adding the data privacy seal from VeriSign on their email subscription form.
---
After
That's a decent outcome with just one small change. Ain't it?
So, if you don't do it already, maybe it's time to think about it.
How to Grow Your Email List With Social Media
28. Write a Specific Invite for LinkedIn
LinkedIn has emerged as one of the most reliable platforms incorporating social media elements with professionalism. So you would do well to create a high-level email signup invite that specifically suits your LinkedIn profile and allows you to expand your business connections, too!
29. Engage Audiences via Crowdsourcing
Social phenomena in the digital sphere can spread unexpectedly. One way to increase the visibility of your email signup form is crowdsourcing. You can get them to submit their ideas for new product names or features and require an email for it.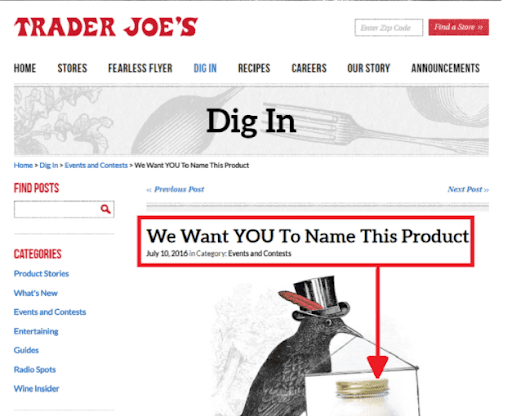 ---
30. Promote an Online Contest
One of my friends took part in a Pinterest contest that featured art pieces from the participants on the platform. She didn't win, but it was an excellent opportunity for exposure.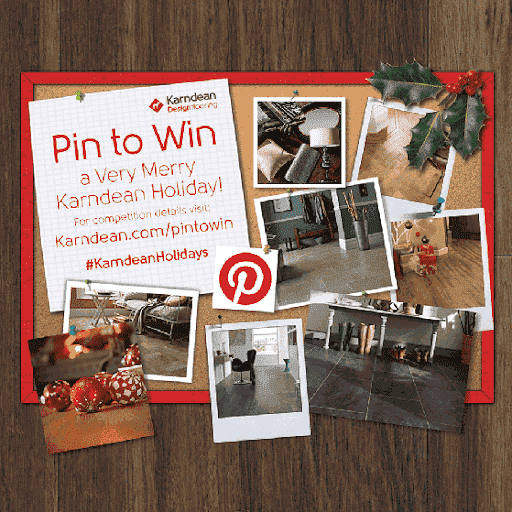 ---
And the brand would have also added hundreds of email addresses to its prospect list.
It's true for other social channels and touchpoints. An interactive contest or quiz with a giveaway is a great way to engage your social community and grow your email list fast.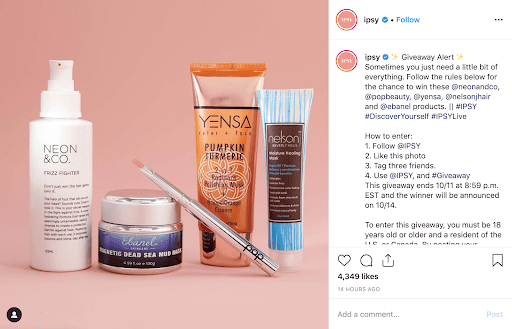 What's more, you can encourage them to share it with their friends to expand your online community.
Win-Win for you!!
31. Promote Gated Content on Pinterest
Pinterest is the home of great visual content. The platform provides a glimpse of images for a searched topic and then asks the viewer to sign up to access the entire page.
Use it to your advantage and promote gated content, such as infographics, flow diagrams, surveys template, customer journey templates, and more.
It will also help build your Pinterest followers if you have appealing designs.
And as mentioned in the last point, you can also host competitions to pin the best visuals from your followers on your account.
32. Add a CTA Button to Your Facebook's Cover Photo
If you want to know how to grow your email list using Facebook, start with your cover photo.
Your cover photo can increase user engagement if you place a call to action (CTA) in it. The CTA invites visitors to get a benefit (joining bonus, free trial, discount code, etc.) if they subscribe to newsletter broadcasts you send.
For example, HubSpot Academy added a 'Sign Up' CTA to their Facebook page, which gave "access to a special resource" to all who signed up.
---
Just click on edit below your facebook's cover photo, choose the button type, customize it and click Save. If you want to enhance your cover image, try using a tool like Picsart photo editor to edit and improve the quality.
It only takes a minute but will go a long way in prompting people to signup for your newsletters. Add it today!!!
33. Host Twitter Chats
What makes Twitter chats stand apart from other modes of lead generation on social media is precise targeting. Since each chat is centered around a specific topic, it will automatically give you niche participants interested in it.
---
As a host or moderator, you can ask questions, hold discussions, and collect email addresses from the participants to update them about future events.
Tip: Create a unique and short hashtag. Broadcast your chat invite using all the resources you have, such as email, website, and social media, to maximize participation.
34. Leverage LinkedIn Groups
LinkedIn is a unique social platform in how it connects people professionally.
So, you already have a filtered audience type different from casual followers, making your job easier. Your task is to find the correct prospects to grow your email list and business.
And that's where LinkedIn groups can provide the much-needed opportunity. Here's how:
Create a relevant profile that matches the audience type you are trying to reach (Of course, it should be genuine)
Create your own LinkedIn Group and send invites to your connections and prospects using LinkedIn's inbuilt search features.
Join other groups to build your network and grow your group.
Interact with your group, post updates, use giveaways, and share quality content to encourage others to join the group.
You might be thinking that it will take a lot of time to set all this up.
But the results are worth the effort. Once you have a growing member list on your LinkedIn group, you can ask for their email addresses in exchange for valuable giveaways to build your email list.
Plus, you can form 1-to-1 connections with the group members to nurture those leads.
35. Create Instagram Stories
Want to know how effective short videos are? Even the top video platform like YouTube implemented them to join the bandwagon after other apps tasted success with them considering how short the attention span of people is!.
This knee-jerk reaction from two behemoths of social media cements the importance of 15- to 60-second clips for today's short-attention-span audiences.
The reason is that these small chunks of condensed content give an intro to people about what your profile, website, business, or channel is about.
Here's how to grow your email list with Instagram stories:
Create 1-2 mins long videos to attract visitors.
Use Instagram stories to create catchy marketing slogans, short promotional videos, entertaining or silly memes, and more.
Create carousels on your stories and add the CTA to any page.
You never know which video might be the next viral thing on the internet that will put your Instagram page and brand in the spotlight.
Now all you need to do is include a CTA in your videos to get more email subscribers.
36. Add Subscription Link to Instagram Bio
The first thing that people see on your Instagram page is your profile. It informs them about your brand. So, why not use that attention window to promote your opt-in page.
You can add the link to your signup page in the Instagram bio to build your email subscriber lists out of your Instagram followers count.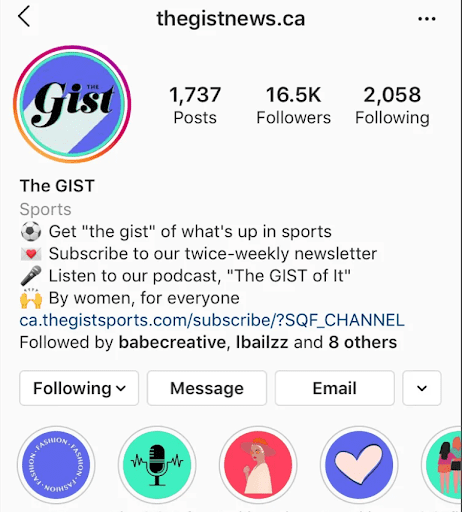 ---
37. Showcase the Benefits of Being on Your Email List
Once you have added the opt-in page link in your bio, the next thing is to promote the subscriber-exclusive benefits in your posts from time to time.
And here's the best part – unlike the bio, which allows only 150 characters, the Instagram caption space can hold up to 2200 characters, providing plenty of space to boast the benefits of your newsletters.
And then, there is also the comment section to engage with your followers and encourage them to subscribe.
38. Organize Instagram Sweepstakes
If you have ever participated in a lucky draw, you might remember the excitement of being the lucky one to win the mega prize.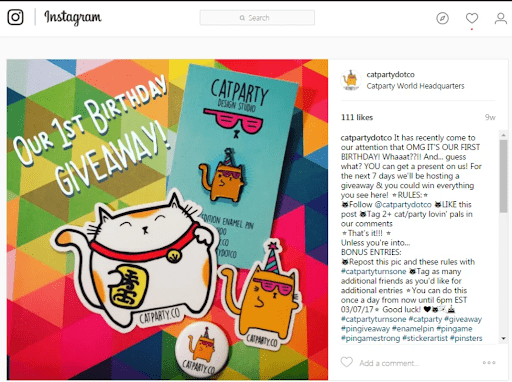 ---
You can spread the same feeling among your Instagram visitors by organizing Instagram sweepstakes. Here's how:
Decide the giveaway prize and the number of winners.
Choose the entry criteria. You can ask people to follow your account, fill out the contest form, tag three people in the post, share the post, and so on.
Create a catchy Instagram post about the sweepstakes and let the ball rolling.
Sweepstakes help get more followers, increase brand visibility, and grow your email marketing list.
Start planning one today!!!
39. Promote Your Upcoming Events
This one goes for every social media outlet you have in your business. Promote your events to earn both more attendance and subscribers.
Here's how:
Create a trendy hashtag to make it viral.
Use Instagram & Facebook stories to give broadcast details about your event.
Upload videos of previous events.
Combine contests and sweepstakes to spread the word as far as possible.
Add the link to your registration page in your posts and captions to capture email addresses from interested people
40. Do Facebook Live
Facebook live brings whole new possibilities to promote your products, do live sessions and interact with your followers. They are easy to make and provide a human element to people.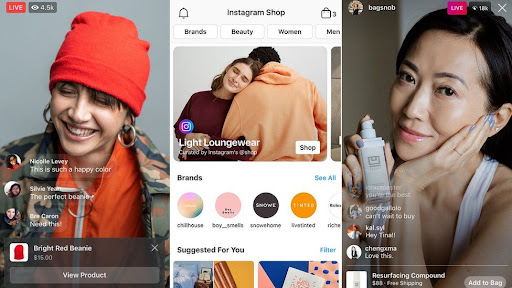 You can put the CTA at the end of the live feed, in the comment section, or even directly ask the viewers to subscribe to your mailing list for more updates.
41. Research Other Groups to Find out What People Need
Bring out the James Bond in you and spy on your competitors because competition analysis is one of the best ways to grow your mailing list.
It helps you understand your competition and observe what posts garner the most comments, likes, and views.
Here's are a few ways of building your email list with competition analysis:
Head to the Facebook groups that fit your target market and business solutions to take a peek.
Find out what questions customers usually ask and note down the common problems people face with the product.
Now, design your posts and updates around those issues to offer optimal solutions. To improve engagement, you can create courses, live webinars, demos, and workshops.
Use the caption or comment section to ask people to leave their email addresses and get their free copy of the course delivered in their mail.
42. Pin Your Comment or Post With the Opt-in Link
Whether it's your Facebook group, business page, Instagram account, or YouTube comment section, pinned posts or comments are a great feature to send visitors to your opt-in page and grow your email subscriber list.
How to Grow Email List Using Podcast
43. Create Meaningful & Unique Content
We told you we'd come back to this.
Just like your email, podcasts also demand compelling content. Make your podcast stand out of the competition with unique content and push viewers/listeners towards the sign-up page.
44. Use Calls to Action
It's a given that call-to-action is the staple to grow your email list fast. So, use it as often as possible.
Tools like Bitly or TinyUrl can help you create a short link to your subscription page, and you can share it with your audience.
And platforms like Spotify also let you add a custom CTA button to your podcast. Or, you can add a subscription page link to the podcast notes.
Do check out what your platform has to offer.
45. Offer Downloadable Content
Offering your podcast episode in a downloadable format like an ebook or pdf is one of the best ways to grow your email list. It provides value to your listeners for their time and a chance for you to collect their email addresses.
The downloadable file can contain:
main points from the episode,
instructions,
steps to do something,
or any other helpful content.
46. Bonus Episodes & Exclusive Content
Your loyal audience base is always looking for new episodes. So you can offer bonus episodes like behind the scenes to your subscribers and attract other listeners to sign up to your newsletters.
---
47. Exclusive Content
Just like bonus episodes, exclusive content for members like after-hours discussions, virtual games, group sessions, and more can help you build your email list and online community.
48. Create a Simple, Short, Memorable URL
If you plan to deliver your subscription link verbally during the podcast, make sure it's easy to understand and memorize. Use something like www.domainname.com/subscribe, or /join.
How to Grow Email List Using Content Optimization
49. Persuade Targets With Action Words
Action words drive people to do something. In this case, you want to grow your email list, so apart from the usual 'sign up' and 'register to know more' prompts, you can create tailormade action phrases that are aligned to that purpose.
An example for blogs: "Share what you thought" under the comments section and require an email to submit.
Some tips for making action words more actionable:
The action words should clearly specify the benefit or solution to the subscribers.
Use A/B testing to determine which actionable phrases work best to draw visitors' attention.
Use phrases such as 'Get instant access, 'Grab your freebies now!', 'Become a marketing pro,' etc.
50. Ask Targets What They Want to Read
You can heighten interest in signing up for your email by asking the target audience what they would like to know more about. This small step shows that you empathize with your visitors' intent. You just need a pop-up survey with an open-text field to collect their email address, and voila! More happy subscribers!
How to turn opinions into email capture moments?
Design quick polls and fun quizzes to ask for suggestions from your visitors on new features and ideas.
Add a subscription form to the quizzes and ask respondents to sign up for updates on upcoming quizzes to capture the email addresses.
Here are some of the questions to ask:
"What topics would you like to see us write about next?"
"Was this help section useful?"
"Did this article answer your question?"
"Were you able to find the information you were looking for?"
"What other information would you like to see on this page?"
Check out more questions in this specially-curated survey question bank!
51. Highlight Your Product's Features
The prime motive behind all your marketing and advertising efforts is to increase revenue. Revenue will increase when you have more customers, and email marketing is a time-tested customer acquisition channel.
But why should people become your customers or even join your email subscriber list?
Your product features, of course! Highlight them as much as you can.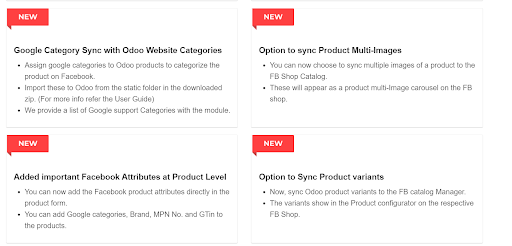 Here's how:
Add ribbons to the newly added features.
Highlight the features that set your product or service apart from the competition.
Add GIFs and images showing how the features work.
52. Weave a Story (for Millennials)
Millennials are convinced less by traditional 'push' advertising. They prefer relatable 'stories,' either from other millennials (in the form of 'social proof') or real people (testimonials from clients). That's why your email newsletter signup process would benefit from subtle 'storytelling.'
---
53. Show off Your Awards & Certifications
Certifications matter a lot for IT companies and manufacturing businesses, as they prove that your business meets the industry standards.
Knowledgeable audiences (especially in B2B-driven sectors) will look for certifications like ISO standards, data security, medical recommendations, food safety approvals, etc. Show them off in your email sign-up requests to instill trust.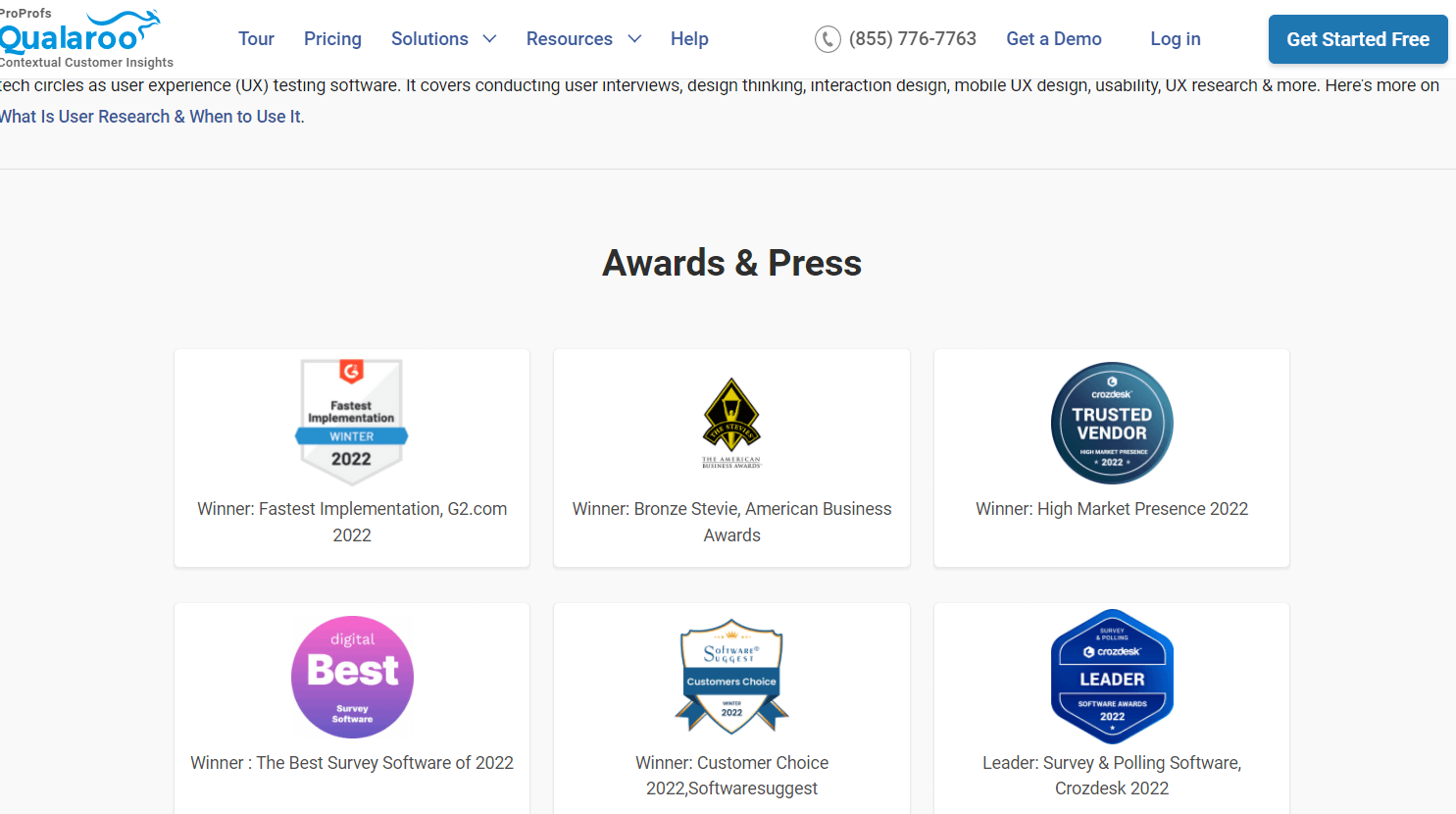 ---
Here are some ways to use your awards to grow your email list fast:
Put your awards gallery on the homepage and most-visited web pages to build credibility.
Use carousels to showcase multiple recognitions without taking too much space.
Place a small embedded signup form underneath the awards section to collect email addresses.
54. Create a Quiz
Amazon has its spin a wheel challenge, test your knowledge lucky draw, and other small quizzes to increase customer engagement. And you need an Amazon account to claim the prize, which requires using your email address. Voila!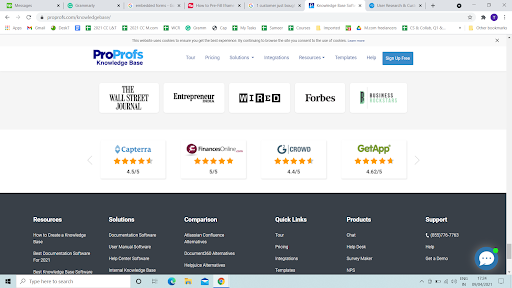 A brilliant strategy, right?
Quizzes are a fun and interactive medium to engage your audience. You can offer ebooks, discounts, or freebies to the winners to increase the subscription rate.
What's more, you can design personality quizzes to understand your target audience, uncover their issues, and map their preferences.
If handled the right way, you can:
Earn more subscribers
Use the quiz data in product development, optimization, and marketing strategies
And if Amazon can do it. So can you. Its pretty simple.
Here's how:
Use a quiz tool like ProProfs QuizMaker to design interactive gated quizzes like personality quiz, scored quiz with different question types like multiple choice, true or fals, hotspot, match the pair, fill in the blanks, etc. to increase engagement.
You need to create interesting outcomes that quiz takers find relatable
You can add a lucky draw or prize at the end of the quiz.
Add the quiz to your website, send it via email or directly share the link on social media.
Let the visitors take the quiz and ask for an email address when they submit it to send the reward or unlock great content that they are keen on reading.
55. Create Drip Content
Drip content means gradually putting out content over several days or weeks instead of giving it out at once.
This one sounds familiar? Yes, it is because it all comes down to content in the end.
Create gripping content that can be split into multiple segments like recipes, listicles, how-to guides, and more.
---
Then, design a campaign to give away the first part for free and ask readers to register on your website to access the other parts and receive notifications about advanced tips and additional content.
How to Grow Email List With YouTube
56. Use YouTube Shorts to Reel in More Viewers
Getting more viewers is the first step towards earning more email subscribers on your YouTube channel.
Not all people will sit through the entire video if they happen to chance on your channel.
So, how do you convince them to subscribe to your channel? Through YouTube shorts!
These are short, bite-sized videos for people with a sparrow's attention span.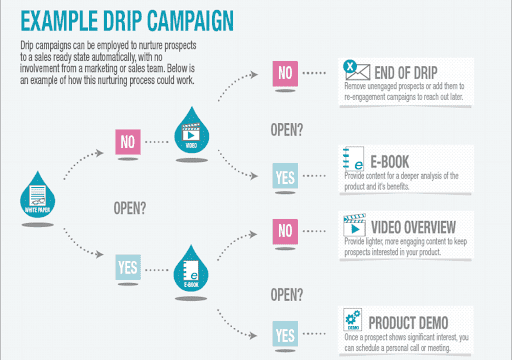 ---
You can upload 60-second shorts of your best videos to attract more viewers. Once they subscribe to your channel, the next step is to make them sign up for your email newsletter.
One popular YouTuber – Noel Deyzel, exploded on the YouTube platform through his short motivational fitness videos. Check it out.
57. Host Webinars & Live Stream
Webinars and live sessions (with the visuals from studio cameras either live-streamed or edited and posted later) are huge crowd pullers these days. What may have begun as something only for pop culture from Comic-Con has become a great way to capture your target audiences' interest.
You can have a pop-up form emerge right after the YouTube Livestream or webinar ends to ask what they thought of it or whether they would like to be alerted about more such events in the future.
You can even reuse the webinars by posting them on your website as a video and asking visitors to enter their email address to view the content like this: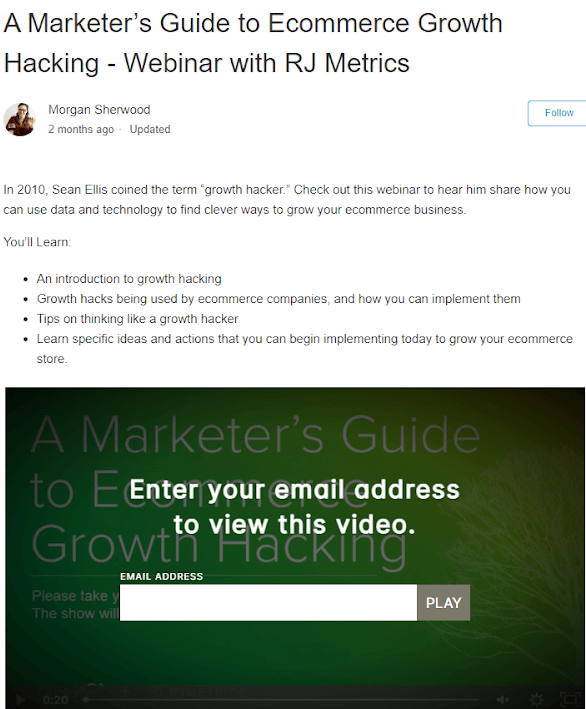 ---
Explore Our Amazing Marketing Webinars
58. Add Video Cards With the Link to Your Opt-in Page
Now, you don't have to wait for the video to complete to add your signup link.
We are talking about YouTube's interactive video cards that let you add clickable links on the top right corner of your video to send the viewers to any page.
So, while you are delivering quality content, you can entice visitors to visit your signup page or any other relevant link at the same time to grow your email list.
59. Use End Screens
Just like video cards, you can now add links to external websites or pages to your end screens to redirect the channel traffic to your subscription page.
So mix and match different points of interest to bring in maximum ROI for your time and resources on your YouTube channel to get more email subscribers in 2023.
60. Add Discount or Promo Code to Video Descriptions
We have added an entire subsection on incentives in this blog because of their effectiveness in growing your subscriber list.
So, why keep your YouTube Channel devoid of these enticing freebies?
Simply add the promo code with gated discount links in your video descriptions to increase both conversions and signups on your website.
---
61. Use Other YouTubers to Boost Email List
If you don't host a YouTube channel (By the way, it's a huge missed opportunity. Think about it.), you can use other channels to sponsor your products and add the incentive code as link to their video description to grow your email list.
62. Add Signup Email Directly to Video Description
Since we are talking about YouTube descriptions, the simplest way to increase your subscriber list is to add your email directly to the YouTube description.
How to Grow Email List Using Infographics
63. Use Infographics to Hook the Audience
With so much content out there, attention span is an important factor in pulling people to your website.
How effectively you can get your point across to the reader will affect your conversion and bounce rate. And infographics can help with both.
They offer multiple benefits to bring in more email subscribers:
They are short, beautifully designed, and deliver information under one gaze, without many scrolls. It makes them a perfect hook for new visitors to show them the quality of your content and even your value proposition.
They are easily shareable, which means if the content is entertaining, you can get free inbound links from other websites to get more traffic and thus more subscribers.
Again the information would be the most crucial aspect of your infographic strategy to get more subscribers because the content is still the king.
64. Use Infographics as a Content Upgrade
Expanding on the previous point, infographics are also excellent for consolidating important instructions, steps, and other points scattered across your pieces under one sheet.
For example, if you are hosting a cooking website, you can give the recipe using an infographic after the blog, so the reader won't have to scroll through the entire blog again and again.
Combine this with your email campaigns, and you've hit a gold mine to give your subscribers a solid reason to share your emails with others.
Here's how to use infographics to build your email marketing list:
Add a sign-up CTA pop-up over the infographic & ask visitors to subscribe for more content.
Lock the infographic behind a sign-up form to collect email addresses from the viewers who wish to use or download the infographic.
Add social media buttons for easy sharing.
How to Grow Email List Using Ads & Paid Media
65. Use Sponsors
You might have noticed the paid promotion tab on the left side of your YouTube video. You can be one of those sponsors.
There are channels with millions of subscribers, and you can take advantage of their viewership to add some of them to your mailing list.
Here's how:
Pick relevant YouTube channels and ask them to sponsor your product or website.
Ask them to add the link to your website, sign-up page, and landing page in their video description.
Publish your discount codes to your sponsors' videos.
And this trick is not only limited to YouTube. As mentioned above, you can make quick work of Facebook and Instagram influencers to grow your email list.
66. Embed the Sign-up Link in Your Brochure's QR Code
Why use QR codes when you can simply print the information?
Because with QR codes, people don't need to jot down the information manually into their phone or desktop.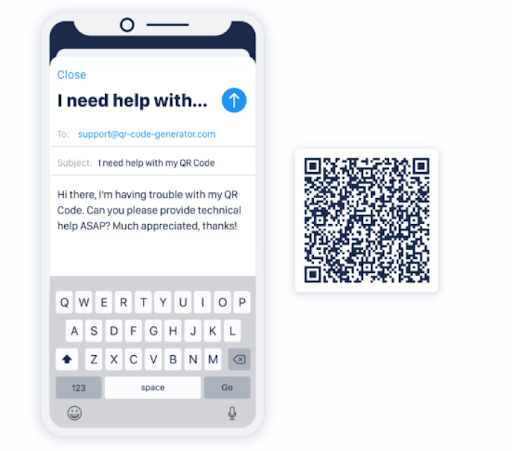 ---
Plus, QR codes can carry multiple information formats without taking much space or adding complexity to the content. These include:
Link to your sign-up page
Product video URL
Details about any upcoming calendar events
Discount or coupon codes
Contact details
67. Add QR Code to Your Business Card
Like the brochure, make sure to embed a QR code with your contact details and add it to your business card to retarget prospective customers to your sign-up forms and grow your mail list.
68. Take Advantage of Native Advertisements
Native ads camouflage themselves into the look and feel of the website or app they are displayed on to promote your content. Add them to relevant websites to bring traffic to your website and build your email list.
Here is an example of a native integrated ad from the New York Times:
---
69. Use Paid Search Ads
While native ads are subtle, paid search ads openly promote your website and products to generate more traffic. Talking about the effectiveness, over 90% of internet users see Google ads making them a perfect choice for businesses.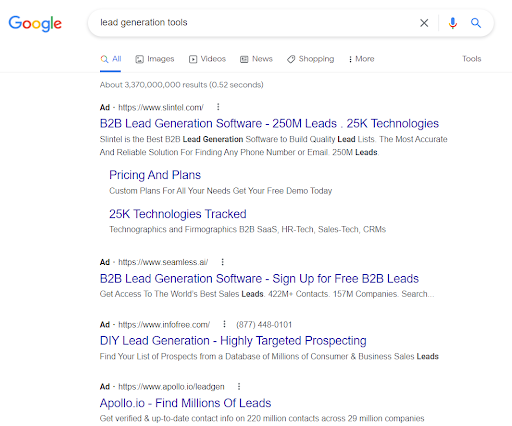 So, create your Google Ads account, set up your ad budget, and design your ad campaign to increase your website's visibility and subscriber count.
70. Create a Facebook Ad
After Google ads, the Facebook ads manager can be your best friend to boost your website traffic and conversions.
Facebook ads campaign manager is unparalleled in how it allows you to target your audience.
You can select your target based on age, gender, interests, connections, relationship status, languages, education, workplaces, and more. And there are multiple sub-options under each broad category, so you can focus on attracting the right audience for your business.
---
What's more, the Facebook ads algorithm uses users' activity, interests, browsing history, and even data from other mobile websites to find the right people to show the ads.
So, if you are not using Facebook ads, it's time to think about it to grow your email list in 2023.
71. Implement Text-to-Subscribe Service
There is a good possibility that you have an SMS channel to facilitate easy unsubscription from your newsletters.
So, if people can send a text to unsubscribe from the services, why not use the medium to grow your mailing list?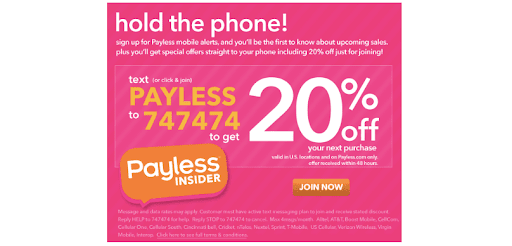 ---
It would work for any promotional channel you use, such as social media, TV ads, YouTube descriptions, native ads, brochures, and podcasts.
But wait, there is another use for such a service. You can also use it to collect registrations for your events via SMS
How to Grow Email List With Blogging
72. Utilize Your Most-Visited Blog Posts
Google Analytics (or any other SEO tools you use) will tell you which of your blog posts attract the most traffic. There are also other metrics like time spent on-site and click-through rate that identify your best-performing blogs. Leverage these blog posts by inserting subtle yet effective requests at appropriate places within the blog content and other places (like sidebars).
Here's how you can use your top blog posts to grow your email list:
Add survey popups and embed lead generation forms in blogs to capture emails and contact information. It will also let you collect visitors' demographic information.
Target moments in the visitor journey like position on the page or when they click a particular element or spend a certain amount of time on the page.
If you are using popups to show personalized offers, try to target leaving visitors. Ask for their email address in exchange for small giveaways.
73. Add a Sign-up CTA in the Comments Section
The voice of the customer is more powerful than ever today. Listen to what they have to say about your blogs, articles, and announcements by demarcating a space at the bottom of such web pages.
While you're at it, why not put in a CTA for signing up to your email subscriber list? You could use a customer satisfaction email template to ask for a valid email address for commenting.
74. Reply to All Queries & Comments
As we have mentioned above, the voice of the customer is quite important today. Make them feel heard by responding to all communications regarding the emails you will send to them.
---
Often people ask questions about product usage and features in the comments. It's an excellent opportunity to give them your official email address and ask them to drop a mail with their query for a personalized call or demo.
75. Charm Audiences With Witty Content
It takes something 'different' or 'catchy' to hold your target audiences' attention. They are bombarded 24X7 from all sides with advertisements and prompts. Unless your email sign-up form stands out from the rest, chances are it will get lost in the cacophony of digital ads.
Here's how to do it:
Target users' intent to show relevant content on the sign-up form.
Add actionable CTAs that depict the solution you offer and align them with visitors' intentions/problems.
76. Keep Content Simple & Minimal
Brevity is the soul of wit, wrote the Bard, and who are we to disagree? There is no reason why your sign-up request to your audience needs to be long-winded. Promote your benefit succinctly to get more email subscribers.
Use witty slogans to hold their attention and give them an easy way to sign up and sprinkle persuasive action words around your product offering.
77. Place Email Sign-up Links Mid-Page
In-line CTAs that fit the context and flow of the text above and below them can be effective drivers to grow your email list fast.
---
Use terms like "related reads," "further info," or "deep dive" within articles or blogs to intrigue the readers for more and ask them to sign up for emails once they click on the CTA.
78. Decrease Clicks With Embedded Forms
Nobody wants to jump through hoops just to add another subscription email to their inbox. Embedded sign-up forms reduce the number of clicks (and thus, steps) a person has to take to become a part of your subscriber list. Put them in sidebars or at the end of blog posts.
---
Here's how to get the most of your embedded subscription forms:
The embedded sign-up form should not cover the entire screen.
Moreover, it should not distort the page content.
Make the close button big so the visitors can close the form easily.
How to Grow Your Email List Fast With Incentives
79. Incentivize First-Time Subscribers
When it comes to requesting prospective subscribers to sign up for your email or newsletter, the first time's the charm. Once a prospect skips past the initial sign-up request, it may take some doing to convince them to sign up at a later stage. Overcome this challenge by creating an irresistible incentive for first-time email or newsletter subscribers – one that doesn't hurt your bottom line.
---
Here's how to get an email list for marketing with a first-time discount:
Personalize the offer by using dynamic content.
Target user behavior with different offer types such as free ebook, discount code, free shipping, 1+1 offer, etc.
80. Think of Unique Lead Magnets
Lead magnets are great for converting casual website visitors into email/newsletter subscribers. These small tokens cost you next to nothing yet help grow your email marketing list.
This strategy is particularly useful if you have just started to build an email subscriber base.
Here's are a few tips for growing your email list with lead magnets:
A lead magnet needs to be different from a discount. Use assets such as product trials, case studies, reports, complimentary software, etc., to increase visitor engagement.
Template collections are a great lead magnet as well.
81. Gamify Your Email Sign-up Process
Amuse the landing page visitors with games and quizzes before showing them the sign-up form.
Let them play a game of tic-tac-toe or spin a wheel with benefits on it, and make them feel like winners. For their reward, they share their email! You Win!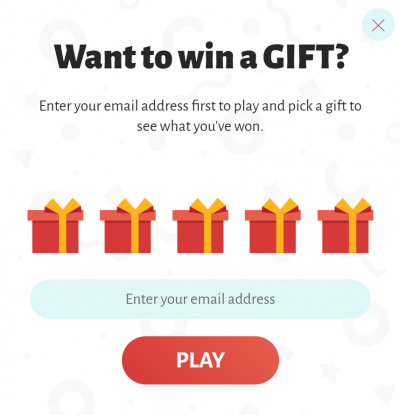 How can gamification add new email subscribers?
Add interactive quizzes to engage visitors.
Design tests and assessments such as personality questionnaires and ask them to leave their email address to receive customized reports and results.
82. Advertise Subscriber-Only Benefits
Encouraging landing page visitors to "steal this deal!" by becoming a member of your email subscriber list can work wonders for increasing email subscribers.
Benefits that work both ways – you draw in more prospects into your sales funnel while subscribers can be regularly encouraged to buy your offerings – are good for expanding your customer base in the long run.
Here's how to do it:
Offer personalized content and goodies on subscriptions.
Ask visitors what they are looking for and offer free customized plans or consultations to the email subscribers.
For example, a customized workout plan and meal plan for visitors who sign up for the newsletter.
83. Run Signup Giveaways & Contests
People love free stuff. Use this very human tendency to your advantage and offer free merchandise, trials, or ebooks (repurposed marketing collateral of your brand) to the people who sign up for your email or newsletter. Even a few of them becoming customers is good!
84. Offer Features as Subscription Trials
The features for which people will buy your product or service can also be great hooks to make people sign up for your emailing list. You can offer incentives that give them a trial of the best features for signing up with an authentic email address – one that requires verification.
85. Promote Your "Free" Incentives Fully
As we've mentioned, people love 'free' things that they can get with minimal effort – for our purposes, by signing up for your email newsletter. If you have certain things you can give to subscribers for free, you stand a better chance of making them sign up to your emailing list.
Here's how to grow your email subscriber list with free incentives:
Use survey data and session replays to understand what visitors expect from your target web pages. Know their intent to design personalized offers pop-ups that suit the CTA of the page.
Show different incentives to different visitor segments.
Send freebies and exclusive deals through push notifications to attract people to the landing pages and subscription forms.
86. Use Referral Programs
Last but not least are referral programs. The motivation to earn rewards and referral points can turn your customers into your promoters and sponsors. Ask them to bring in new customers and earn a discount on their subsequent purchases.
These programs are good for both:
Getting more subscribers and customers.
Promoting repurchase opportunities by bringing back the existing customers to use earned points.
Win-Win situation for you & your customers!!!
FAQs
How do you get your first 100 email subscribers?
Begin by identifying the demographic that you want to target with your emails, whether you intend to send promotions, share information, or spread the word about your brand. Next, we suggest building a landing page created specifically for getting your target demographic to sign up or subscribe.
The average landing page conversion rate for a B2B landing page is 13.28% and for a B2C landing page is 9.87%. Next, highlight the benefits in a blog post on your website. You can also contact a guest post contributor or a third-party website to host your custom-written post to attract new subscribers. Finally, implement an unobtrusive pop-up form on your web pages to get more sign-ups.
What is an e-marketing strategy, and how will it help me to get sales?
Email marketing is one of the most useful digital marketing methods. What you should do to get sales through email marketing is to take mobile penetration into account while devising your strategy.
Another offshoot of smartphone proliferation is the need for responsive design. Ultimately, track these three metrics to measure your email strategy's success: click-through rate, conversion rate, and click-to-open rate.
What are some free marketing tools?
We recommend trying out HubSpot, Sender, Qualaroo, Sendinblue, Omnisend, SendPulse, Benchmark, Mailchimp, MailerLite, Mailjet, Moosend, EmailOctopus, etc.
Want insights that improve experience & conversions?
Capture customer feedback to improve customer experience & grow conversions.