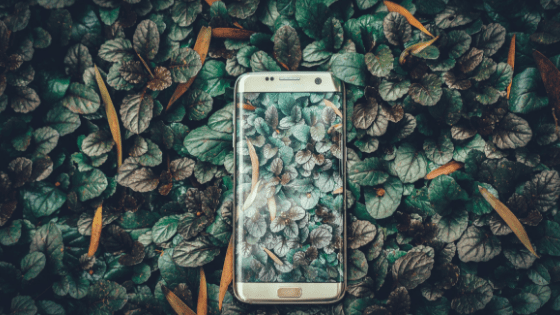 This article was contributed by Matthew Barber, Account Executive at Qualaroo.
Recently, I found myself grasping at straws trying to re-engage sales opportunities that went silent on me. The majority of the time I'm able to schedule follow up meetings on the first calls with my clients. However, there's always the occasional slippery prospect that refuses to commit to a follow up time or just doesn't know when they will have an answer for you. So… how can I, as a salesman, get them on the phone or capture their attention through email?
If you ask the typical sales person to craft an email for you to re-engage an opportunity that has "gone silent," you'll likely see something to the effect of "I'm wondering if you have had a chance to review…" or "I'm reaching out to set up the next meeting…" or the occasional "I'll hold my breath while you respond and I'll wait while I'm suffocating over here" tag-lines. To the average decision maker, those phrases might as well be camouflage, or full on white noise. For a sales person, the challenge is capturing a prospect's attention while allowing for a quick and easy response.
From a UX perspective, I also wanted to make the steps to respond to my email as easy as possible. The people that I reach out to have busy schedules with deadlines, bosses, families, and their favorite TV show or sports to track. The last thing they want to do is think about responding to a sales email and provide some sort of commitment to a call or the direction they are moving.
Instead of asking prospects for an update or another appointment, I've started using email link surveys asking if they're still interested in Qualaroo and prompting them to click (not type) Yes or No. I also wanted to make it a fun experience so I chose entertaining options for my answer buttons while sending mass emails that look personalized and engaging.
After they provide the first answer, they are then taken to a follow-up question screen where they can opt in to providing more context about why they are or are not interested in my product or services. Making this email fun, simple, and easy to respond to has been yielding more conversations with these clients who are difficult to engage with.
So, how did I make this all work? I utilized Qualaroo's email link survey software. This allowed me to put the first question of the link survey in the body of my email. Potential clients start the survey by clicking "yes" or "no" then continue into the next steps of the survey.
Here's a step by step look at how I did this with Qualaroo.
Step #1: send an email with the first survey question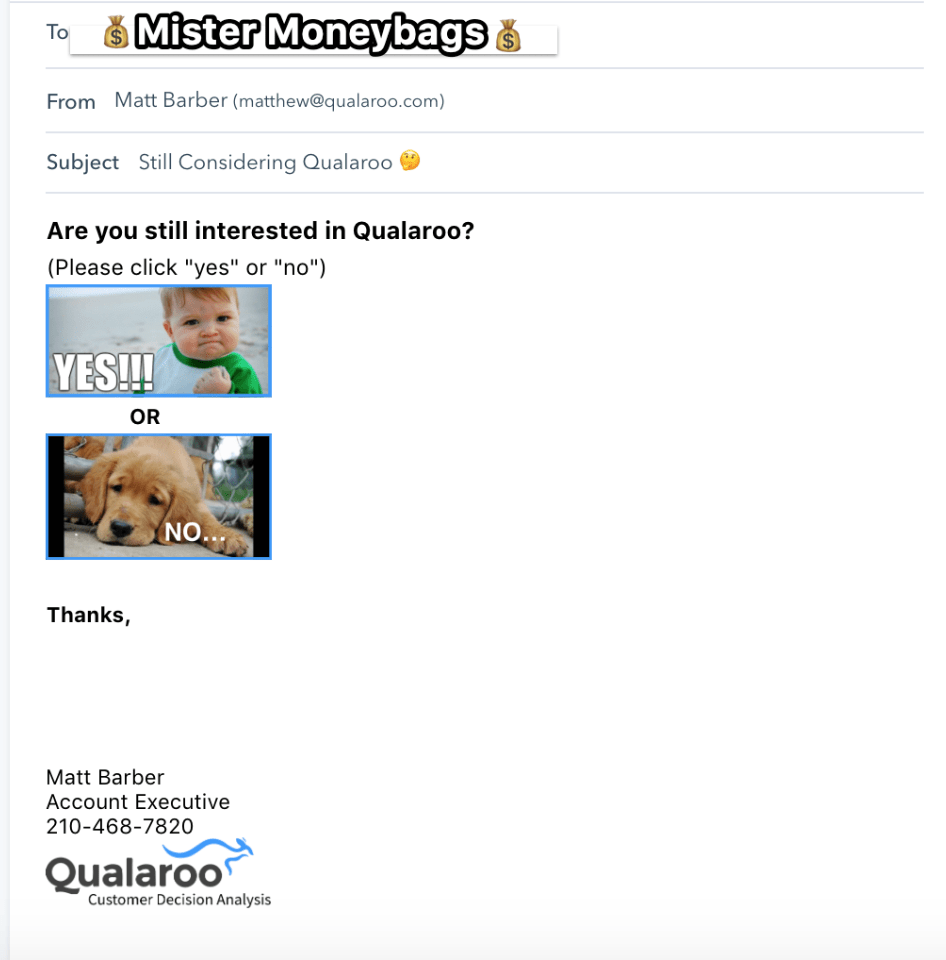 I'm able to track who responded and how they responded through an identity feature with Qualaroo's online survey tool. I can also control the question branch-chain logic so when someone clicks the button, two things happen, the response is recorded for me to view later, and they are prompted with a customized follow-up question. (ie. if they say "no" I can follow up and ask what kept them from being interested with suggestions like "too expensive", "chose a competitor", or "missing a feature"). Once I set it up, I created a template through HubSpot for my email and I simply go to a contact, select an email template to send them, add an identity token for tracking, and send. The process might take a total of 15 seconds.
If they answer "Yes" then for Step # 2A: ask what their timeline is.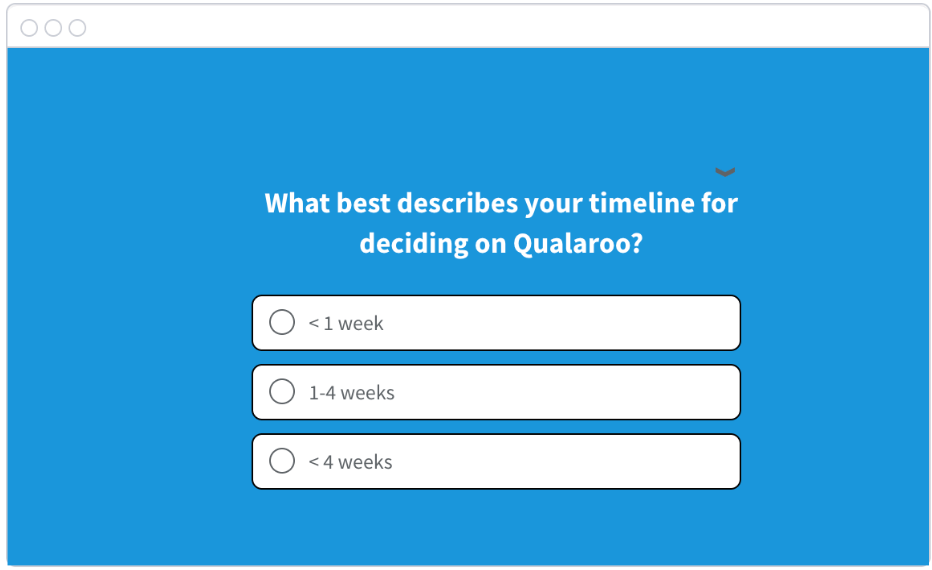 Step #3: provide an opportunity to schedule an appointment by redirecting them to your calendar URL.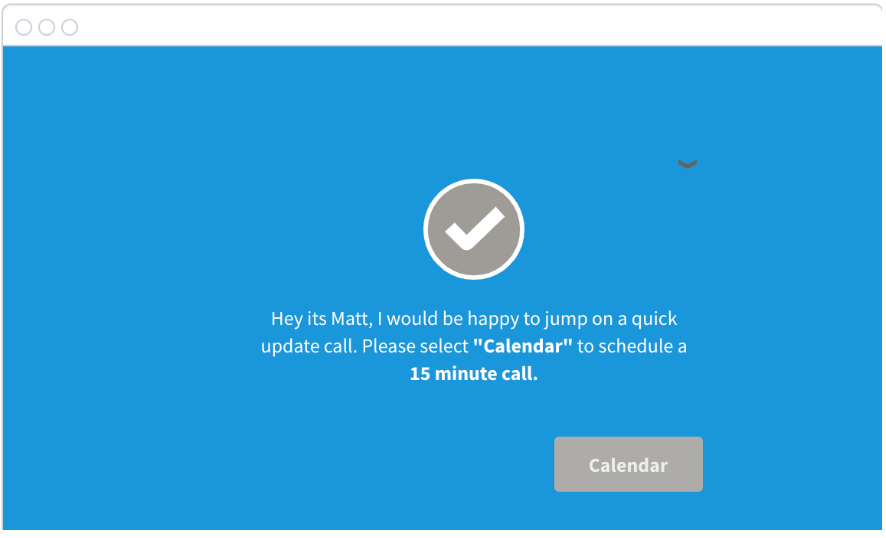 If they select "No" in the email question, Step #2: Find out why they are not interested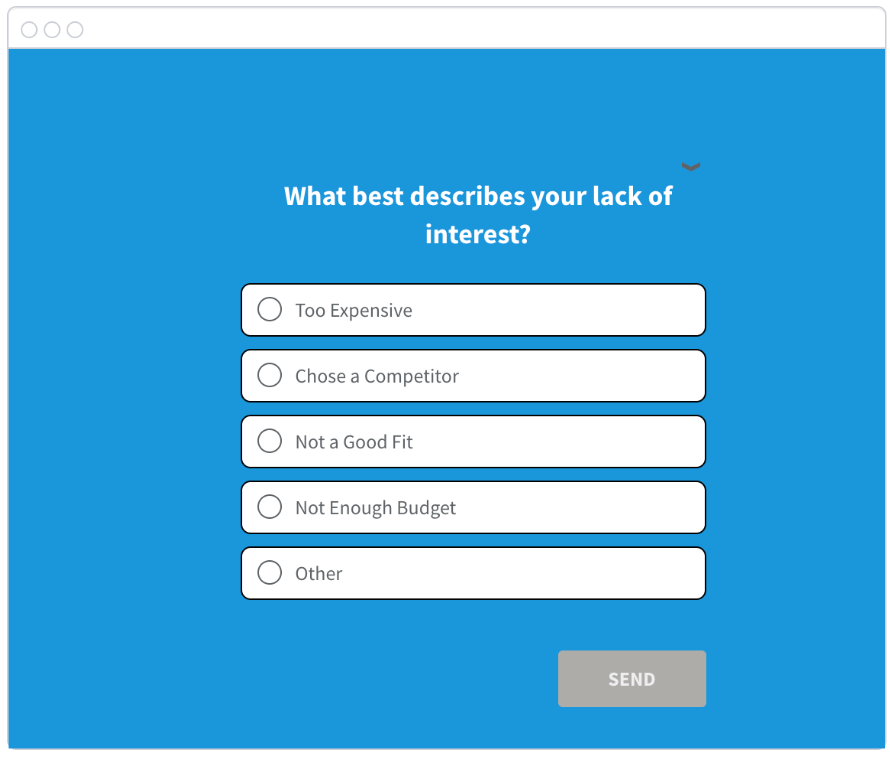 Step #3: Reengage or gain context around why they chose their previous answer (ie. Not a good fit then ask what they were wish you offered)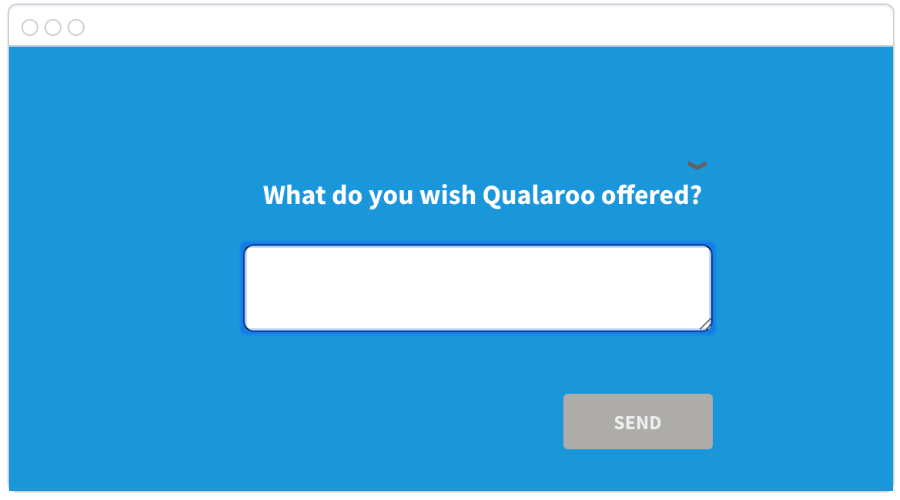 Step #4: Provide a message screen. You can simply provide a "thank you" or a call-to-action.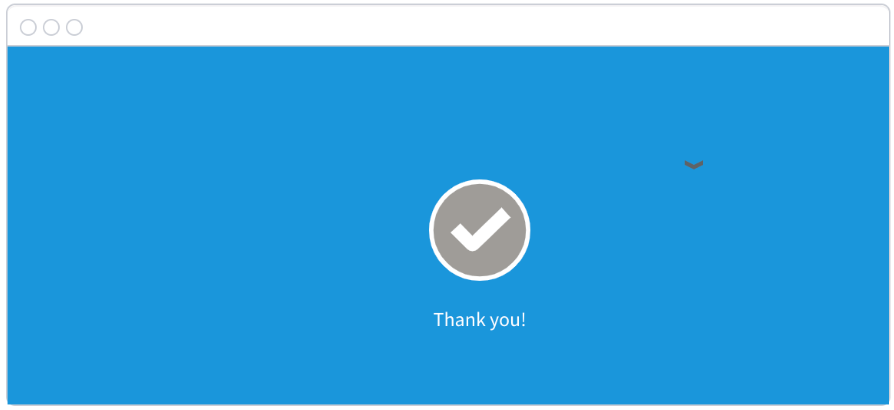 The Final Step: this is the most important part! Now that you have a reference or an objection to overcome, take action on the feedback you have received. The expectations have been set and now it's time to put on your salesmen hat and re-engage this opportunity.
This strategy combines simplicity, design, and a link survey to engage prospects in a fun but meaningful conversation. I was able to take the first question of a link survey and embed that into my email. I then used fun pictures for my answer buttons on the Yes or No question that I asked. I simply asked "Are you still interested in Qualaroo?" I have now begun to engage with people who had not responded to my previous 5+ emails. When reviewing your template as a sales person or a UX designer, ask yourself, would I respond to this email? Does this seem easy and not too involved? In a world where our email inboxes are crammed with work, personal, marketing, and spam emails make sure that yours is painless, fun, but definitely not camouflage. Be sure you know how emails spam filters work so you can reach the inbox in the first place.
If you're interested in using this particular tactic, contact me at matthew@qualaroo.com and I'm happy to walk you through it.
Happy Hunting!
Want insights that improve experience & conversions?
Capture customer feedback to improve customer experience & grow conversions.