If you've ever thought about why or how you should collect in-app feedback from your audience, you're at the right place.
User feedback can be great for getting an overview of your products from a fresh perspective to uncover problem areas and get new ideas.
Also, when it comes to collecting feedback within your mobile app, there is simply no shortage of mechanisms for doing so.
For this, collecting in-app feedback directly from the customers will help you dig deeper into the specific customer pain points and offer a better customer experience.
In fact, almost 87% of companies consider customer experience to be the driving force behind customer loyalty and retention.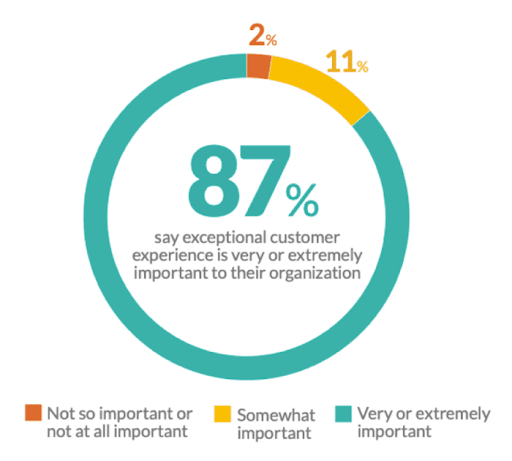 So why even ignore it in the first place?
In-app surveys work great when it comes to targeting a large number of users at the right time and gathering contextual insights from them.
Not just that, but acting on the feedback and making improvements right away will motivate your users to stick with you till the end.
Now, let's explore the ways in which deploying in-app surveys can bring your these results.
Why Should You Collect in-App User Feedback?
In-app feedback surveys provide a ton of contextual information that you can use in a number of ways, including improving your product, digging into the discussions about possible solutions, uncovering bugs, and collecting new ideas altogether.
Let's look at some of these reasons in detail to understand why collecting in-app user feedback is crucial:
1. Avoid App Abandonment
21% of all downloaded applications are only used once before the users eventually abandon them. Some of the top reasons for abandonment include 'the app not being easy to use or navigate' and 'the app not seeming to be useful.'
Let's say these problems exist in your mobile app too; how would you discover them?
The most popular and effective way of doing this is through user feedback.
In fact, confirmation page surveys or simply in-app surveys that are targeted towards an action related to exit intent can do the job. All you have to do is post these surveys on important pages like checkout pages or pages with the maximum bounce rate, and you'll get the intent behind the exit.
Surveys do this by gathering in-moment feedback from the customers about the elements of the application that they don't like or have a hard time understanding.
The UX designers can then analyze this feedback to pinpoint the exact reasons and prevent this abandonment through an onboarding process, which serves as a tutorial for the users.
It helps users get acquainted with the application and teaches them how to complete tasks and perform specific actions while using the application.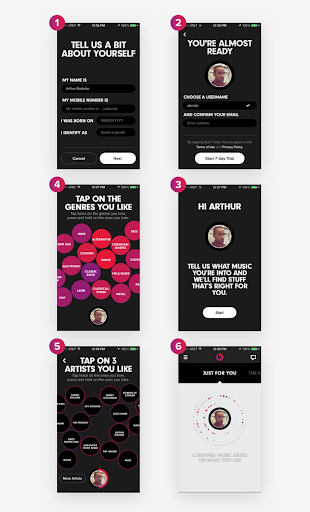 What's more, onboarding processes also help designers to get to know their users and uncover their pain points.
2. Monitor Performance
Monitoring your application's performance is a never-ending process and quite critical to success, especially when launching a new feature or a major update.
When it comes to mobile applications, several things are bound to go wrong.
Does that mean that you should wait longer to fix those problems? Nope! Because that way, you'll lose more users through churn.
One very effective methodology involves regularly collecting customer feedback to see how your application performs and gauge the overall user experience (UX).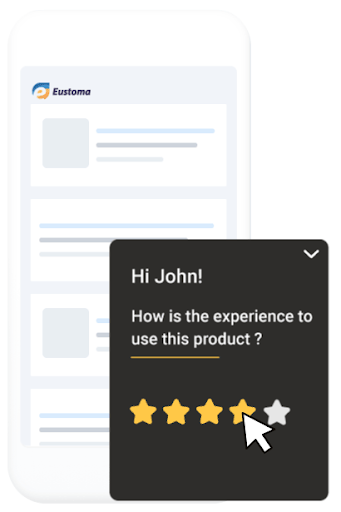 Case Study: Marketade
The Tactic: Marketade is a user research company that aims at turning user insights into better user experiences and business results. The company uses Qualaroo to collect feedback for measuring user experience, especially from the exiting visitors.
To enhance the usability of their client's website, the Marketade team piloted and launched ease-of-use and task surveys to gather both qualitative and quantitative data. The aim was to get an accurate idea of what website tasks frustrate users the most.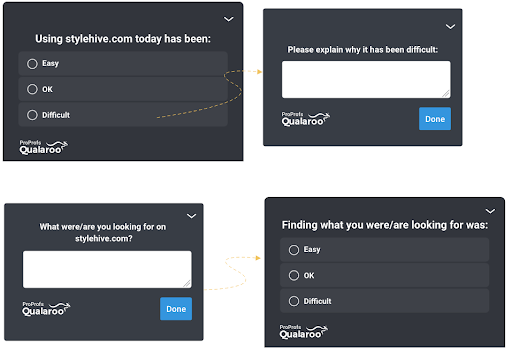 They analyzed the results to identify key areas of frustration that included-tracking medical records, searching & querying, and accessing contact information.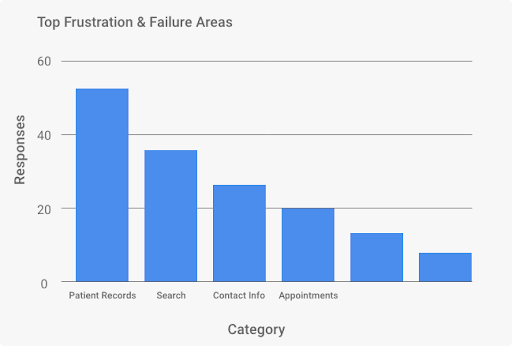 What we can learn from them: Both qualitative and quantitative data gathered from Qualaroo surveys helped Marketade gain actionable insights and benchmark usability scores, respectively. Eventually, they uncovered some major issues and improved the overall usability and the website flow.
3. Better Engagement
Stories or customer personas help you build a composite sketch of your audience segment.
Using in-app feedback platforms like Qualaroo can help you segment those customers into different stories and understand which features different customer segments expect from you.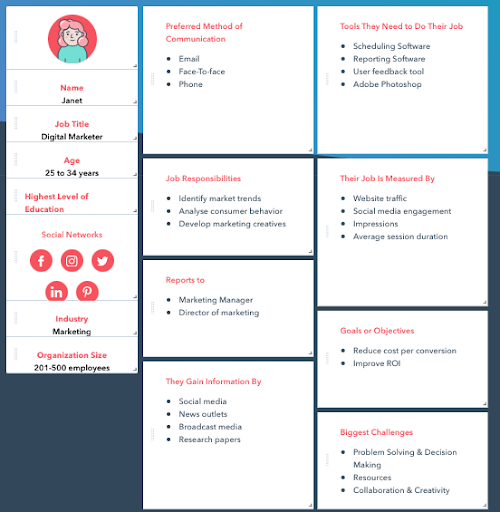 You can then work on building those features and designing user onboarding procedures, support, and other additional features for the customers invested in your product.
The metadata and the in-app feedback you gather from customers can also be extremely helpful in improving other areas of business, along with uncovering demographics, usage, OS, and more.
Netflix Case Study
The tactic: We've talked about Netflix before on the Qualaroo blog, and that's because their strategy is inarguably the most powerful. The content streaming giant constantly gathers data about its users and implicit feedback on how they feel about what they're watching.
This information is then applied to Netflix's algorithm, allowing the software to make real-time adjustments to viewer recommendations. Not to mention, the data provides valuable research material to Netflix's production team when deciding which projects to pursue.
Going beyond suggesting persoanlized titles to its users, Netflix uses the algorithm and user data to determine things like what order titles appear in and the words used to describe rows/categories of recommendations.
Netflix knows keeping users engaged is key to their long-term success, and based on their continued growth, that strategy seems to be working.
What we can learn from them: Not all user feedback is explicit. In fact, if you can get answers while avoiding asking your users a question directly, you absolutely should. We recommend gathering as much implicit user feedback or user data as possible.
Sign up for Qualaroo and start collecting feedback instantly.
4. Higher Response Rates
When the feedback system is built into your mobile application, it's available to your users when they need it the most.
It's something that traditional feedback mechanisms like email and call fail to achieve, which is why users are more likely to share their feedback through in-app surveys right when they face any problem.
And it goes without saying that the higher the response rate, the more reliable the insights you get.
Slack Case study
The tactic: Slack is so focused on user feedback they've actually built an option for users to send them a message with feedback directly within their platform. The command "/feedback" allows users to immediately submit feedback to the Slack team, giving the user the feeling that they have direct access to the provider.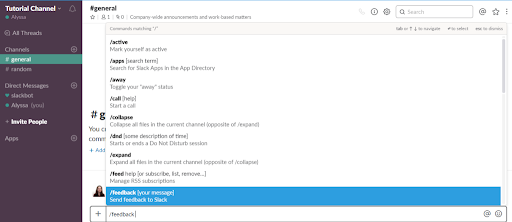 The beauty of this type of feedback is that it's incredibly intuitive. Slack is a messaging platform, and delivering feedback to Slack works just like using any other integration or sending a message within the app.
The users can deliver feedback about the app wherever they are in the app; they don't even have to move to a different channel or chat window or wait for an email survey.
What we can learn from them: Slack is a master of in-app feedback. Its process makes delivering feedback as accessible as possible, and the response rates and the quality of the insights also go up.
5. Product Planning
One mistake that most organizations make is getting ahead of themselves during the product planning stage and making things overwhelming for the users by bombarding them with feature updates.
The best strategy here is to have a slow start and test as you go to offer a better user experience.
In-app feedback surveys will help you gain insights into what product features are in demand from your users so that you don't misjudge any launch opportunities.
Canva Case Study
The tactic: As a design tool, Canva features must work quickly and effectively. Canva knows many users depend on their ability to create polished graphics quickly. To achieve this, it gives users the chance to provide in-app feedback as necessary.
The Canva feedback prompt is unobtrusive but also constantly present, so issues can be reported as soon as they come up. By placing the prompt in the bottom right corner, users can focus on their work and provide feedback with a click.
In their "provide feedback" prompt, Canva encourages users to provide screenshots and be as detailed as possible. Assuming that users actually follow this advice, Canva is saving its UX and support teams time by getting as much information as possible.
At the same time, Canva users also have a smoother experience because their issues can be resolved quickly with more information upfront.
What we can learn from them: Help your users help you! Canva has been tremendously quick in collecting feedback with their clever feedback prompt placement. It helps gather detailed insights that power their template library and provide a better user experience through instant query resolution.
By now, you should have a lot more clarity about why collecting in-app feedback is important. So now, let's take a look at some of the benefits of collecting in-app feedback.
Watch: How to Collect Mobile App Feedback
Benefits of Collecting in-App Feedback
Collecting in-app feedback is undoubtedly beneficial, but the question is – how beneficial? So let's go into the rabbit hole and understand some of the key benefits of in-app feedback surveys:
1. Cost-Efficient
App development is an expensive affair, and developers know all about it.
Not just that, but businesses aim to delight their customers at every touchpoint by making constant improvements to their products, which adds up to the cost even more.
With in-app feedback, businesses can clearly understand what the users need. They can then work to add or improve only the necessary bits and pieces to channel their finances efficiently.
Not just that, but mistakes in the prototyping stage are much easier and cheaper to fix when compared to that of the final product, which is why you can use in-app feedback to safeguard the product from any such mistakes.
Related Read– A Step by Step Guide: Testing Your Prototype
2. Time-Saving
Building applications without conducting any market research is simply an invitation to failure.
Instead, developers can leverage in-app customer feedback during the testing stage to identify areas of interest and problem areas from the perspective of their users.
Not just that, fixing problems with your prototypes is much faster when you use customer feedback and focus only on the important elements instead of just doing what seems right.
Also, when you listen to your users and give them what you want, you're more likely to increase the app retention rate, and you wouldn't have to wait for customers to churn to indicate existing problems with your application.
3. Identify User Psyche
Understanding your target audience is of utmost importance, especially in today's era of value-driven offerings.
That's where in-app feedback can collect information from the customer and about the customers to help businesses understand their target audience and offer much better value propositions based on that feedback data.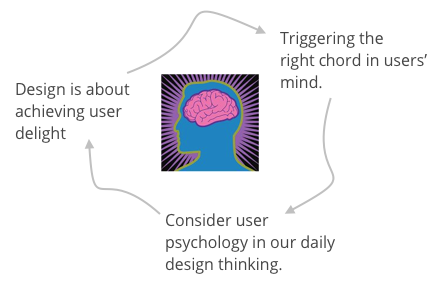 Businesses can also collect customer metadata relating to their demographics, OS, mobile phones, and more, which will help them build more accurate personas for marketing strategies.
4. Works 24/7
One thing that goes without saying is that in-app feedback works 24/7, 365 days a year. There is no downtime when it comes to online survey tools unless there is some malfunction we are talking about.
You can just add the feedback widget to the mobile app, and you're good to go. The users can fill out the surveys anytime to submit their feedback.
What's more, You can also schedule your surveys to appear during the most critical time frames using appropriate triggers and targeting options.
These time frames can be allocated by judging the number of active users on your application, and your scheduled surveys can target your customer only during the specified time.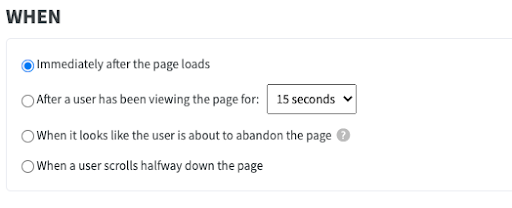 By doing so, you not only ensure a high rate of participation but will also save yourself from annoying your customers by not asking for feedback every time they hop on your application.
5. Identify Roadmap
As discussed in the points above, in-app feedback helps you clearly understand what features your users need the most. It can help chart a detailed roadmap of your product journey to speed up the development and optimization processes significantly.
In addition, in-app customer feedback will help you prioritize specific product features instead of wasting energy by jamming everything into your application at once. This way, your feature benefits can kick in sooner, and you can structure your development cycle much more efficiently.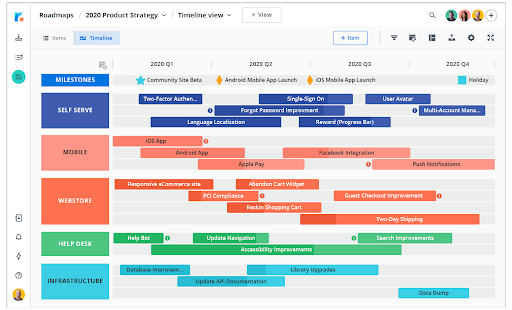 All of this will yield better results and save time and cost to improve ROI.
With the benefits of in-app surveys out of the way, let's look at the best ways to collect in-app feedback.
Related Read– Using Qualaroo to Prioritize and Launch New Features
Top 8 Ways to Collect in-App Feedback
The ease of feedback collection always comes down to how you plan on approaching it. There are tons of ways you can collect in-app user feedback, but picking the right ones is what will get the job done.
Let's look at some of them in detail:
1. Feedback Widgets
Feedback widgets have been a standard method of collecting in-app feedback from customers.
A feedback widget is a form of ticket you can embed in your mobile application, and customers can interact with that form and voice their opinions.
Feedback from these widgets can go a long way in determining everything — from how easy it was to find your application on the app store to its full-scale usability.
Here are some questions that you can ask in your feedback widgets:
How would you rate the usefulness of our application?
Was our application easy to find on the app store?
How satisfied are you with the performance of the application?
Were you able to achieve your objective using the application?
Would you consider purchasing our product again?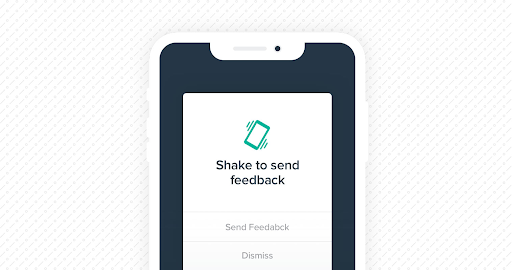 Check out More Feedback Widgets
All you need to do is simply select a question type from your online survey tool and show it in your app with a short description to create a good-looking feedback widget.
The trick here is to find the perfect timing when asking for reviews. If you do it too soon, your users may get aggravated because they haven't even used your app before forming an opinion.
Depending on the question you ask, your analysis will differ.
For instance: High scores on a rating scale will indicate happy customers, and low scores will indicate otherwise.
Similarly, happy-face emojis generated from your emoji questions indicate happy customers, and sad-face emojis help to track unsatisfied users so you can resolve their issues.
Related Read– What Survey Questions Should I Ask?
2. Nudges
Nudges™ offer a powerful mechanism for collecting data on your customers. They are a short (ideally two or three questions) version of traditional surveys that you can embed directly into your mobile app.
These also offer unobtrusive means to capture user feedback without appearing incessant or interfering.
You can deploy in-app feedback nudges to unobtrusively capture quick insights from users while they are navigating through the application.
It's really simple as well!
Just use an online in-app feedback tool, such as Qualaroo, to create a NudgeTM for your mobile app. Most of these tools also offer built-in templates to instantly design surveys and target them based on a variety of parameters, such as where the visitors are, who they are, when they visit, how often they visit the app and more.
In fact, you can even embed these NudgesTM into your mobile app prototypes to verify design decisions at every step of the process.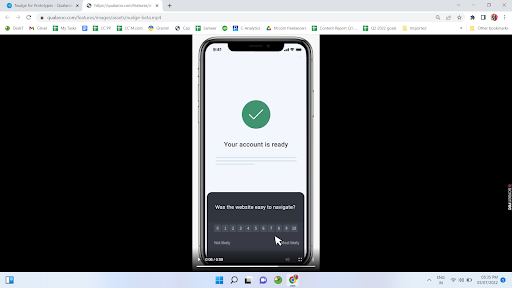 Here are some questions that you can refer to for building your own Nudges:
How easy was it to navigate through our website?
How would you rate the stability of our application?
To what extent are you satisfied with your purchase experience?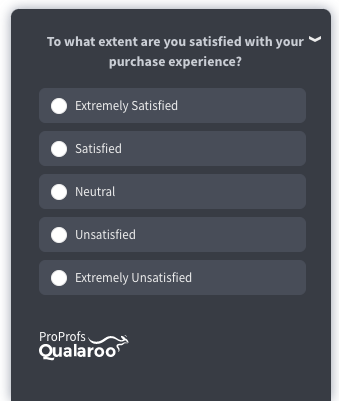 How would you rate the product selection on our product page?
Is there anything we can do to make the application better?
Watch: How to Create Net Promoter Score Survey with Qualaroo
3. Sidebar Forms
Creating stunning mobile applications is not easy, but gathering good and reliable feedback from your real-world users can go a long way to help you succeed.
To do that, you would have to look away from traditional survey methods like email or pop-ups and move toward sidebar forms.
A sidebar is a small bar or tab that typically sticks on the right or left side of your mobile application. The users can click on the tab to open the feedback form and fill it out.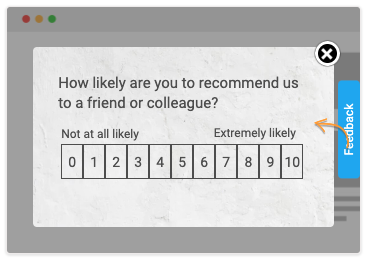 Sidebar forms are extremely helpful because they encourage users to take the survey at their convenience without distracting them from your app's main content. This method is great if you're looking to gather honest feedback while providing a great in-app experience.
Here are some questions that would work really well in a sidebar survey:
How would you rate our website on a scale of 0 to 10?
Is the information on our product page clear and readable?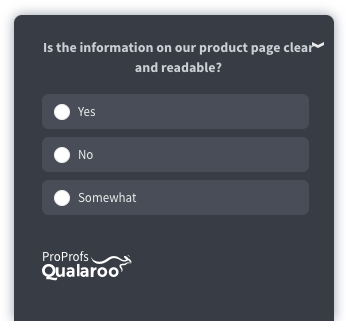 Did you face any issues while placing an order?
How long did it take for the website to load for you?
How likely are you to recommend us to your friends and colleagues?
What's more, creating sidebar forms is dead easy as well- all you need is an online survey maker tool like ProProfs Survey Maker, where you can choose from tons of templates to create forms instantly.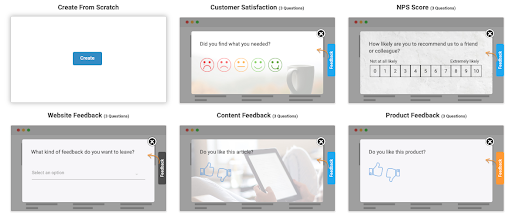 Bonus tip- You can also use your sidebars to attach CTAs, newsletter signup forms, and much more to boost the performance of your mobile app by engaging more users.
4. Live Chat
Live chat is another great way of gathering in-app feedback because it provides users with a human touch and lets them ask follow-up questions for clarifications about the products or app.
Live chat agents can resolve any problems the users face and then collect conversational feedback by posing follow-up questions.
You can also attach a post-chat survey to the chat window and ask for feedback about the support services. It's an effective way to optimize the chat services and mobile app.
For instance: A customer is confused about the in-app checkout page and is unable to complete an order despite being on the page for a long time. The live chat agent can then connect with the customer, help them complete the checkout process in real-time, and ask a follow-up question: "How would you like to rate your overall checkout experience?"
Such questions can encourage users to share their thoughts and opinions that survey prompts are not capable of.
Here are some examples of such questions:
Are you enjoying your experience using our application?
How would you rate the overall aesthetics of our website?
Are there any problems that you faced on the website?
Please rate the selection of features on our application.
Based on your experience, how likely are you to recommend us to your friends?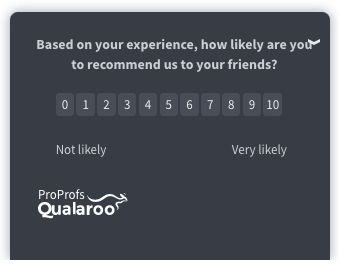 In fact, an AI-based chatbot is capable of this too. It responds to users using canned responses, natural language processing (NLP), and machine learning algorithms to enhance any mobile application's functionality.
You can easily program your chatbots with a series of feedback-collecting questions, and all your responses will be saved in the database for you to analyze later.
To deploy live chat or chatbots on your mobile application, you can use an online live chat application like ProProfs Chat to connect your users in real time through agents or AI chatbots and collect feedback through Post-Chat Surveys.
Also, when your live chat agents collect feedback data in real-time, you can get to work right away and let your users know that their problems are being resolved promptly.
5. Heatmaps
Unlike other techniques we have discussed above, heatmaps work in a slightly different format.
Heatmaps are a part of behavioral analytics tools that aren't visible to the users and are not required to give their direct input. Instead, heatmaps are directly embedded within the mobile application and record all the movements and actions taken by the users.
They help you identify what users want by looking at the places on your application they interact with the most.
Using this behavioral data, you can make specific and relevant changes in your mobile app to match your audience's behavior and improve the overall in-app experience.
To integrate heat maps into your mobile app, you can deploy tools like Smartlook or UXCam, and they'll handle the rest.
Finally, you'll need to decode the heatmap data. It's quite simple – Higher engagement areas will be hotter and indicated in shades of orange, whereas lower engagement areas will be colder and indicated in shades of blue.
Related Read– User Behavior Analysis: All You Need to Know
6. Session Recordings
Following up on our previous point- now you have the heatmap data, but there's not much to contextualize the insights.
For that, you can use session recordings to get a ton of background data on your users without asking it from them every time.
Session recording will help you get real-time data about your users, including:
The amount of time they spend using a feature
Which features do they like the most
Where do they encounter a problem or a bug
What do they click the most
Where do they bounce
By getting to the bottom of the data you collect from your in-app users, you can improve the overall stability of your application and provide a much better user experience.
Once again, you can use tools like Smartlook and UXCam to record user sessions on top of the heatmap to make the most of your data.
But if you're trying to save a few bucks, you can simply integrate your online feedback tool with a user behavior analytics tool. For instance: Qualaroo integrates seamlessly with SessionCam to analyze customer behavior on your mobile app effectively and identify potential barriers to conversions.
7. Usability Tests
Usability tests are designed to observe your users while they use your application during the development stages. The goal here is to understand how easy and friendly your application is to the new and existing users.
You can conduct usability testing to see how the usability of your application holds up against the pre and post-release updates and work on optimizing your product side-by-side.
There are plenty of other benefits of usability testing, including:
Identifying bugs
Determining in-app behavior
Reducing the cost of development
Creating better UX
Reducing churn
For instance: The Windows Insider Program is an open software testing program developed by Microsoft which allows real-world Windows users to register for pre-release builds that are only available for developers.
On the one hand, it allows users to get early access to new features to test and use them, and on the other hand, it allows developers to gauge the overall usability of Windows with the new features in place.
Google's Android Beta Program does exactly the same as it allows eligible mobile phone users an exclusive opportunity to enroll in the beta program.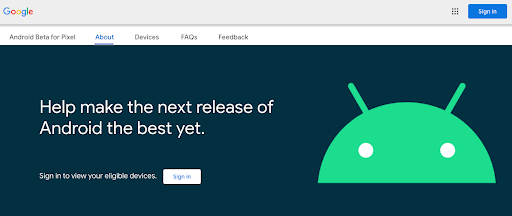 Same as before- the users get early access to the new features and even the whole new OS version. The developers then collect feedback to assess the overall usability and fish out imperfections before rolling out the official update.
You can also conduct follow-up surveys after the usability testing to pinpoint exact problem areas. Open-ended questions would be great here for letting users express their problems and issues with the newly added features and updates.
Here are some questions that will work extremely well in testing your application's usability:
How would you rate the design layout?
How easy was it to navigate through the application?
Was the information clear and easy to understand on the product page?
What would you like us to change on our checkout page?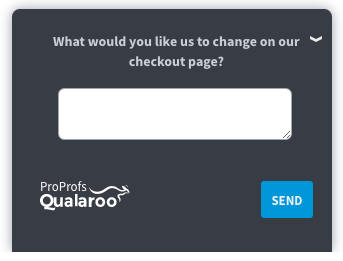 What would you like to see added to the application?
Gather contextual feedback and build better products. Sign up to learn more.
8. Rate My App Prompts
In-app rating prompts provide end users a dedicated platform to voice their opinions and help accelerate impactful changes.
But that's not the end because these prompts will also significantly increase the app ratings for your mobile app on the Android and the iOS app store- boosting your app's credibility and improving the overall brand awareness.
However, one thing to note is these prompts require slight effort from users as they'll have to leave the app and rate it elsewhere. This is why it's best to only show these prompts to the power users who regularly use your app and understand its value.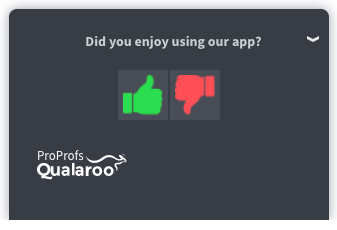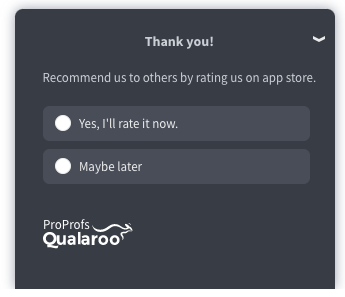 Targeting such users will also allow you to:
Increase app rating prompt's conversion rate
Improve the percentage of positive ratings
Gather loads of insights to make improvements
Also, as far as the timing is concerned, display these prompts to your power users when the sentiment is high. This happens when they successfully complete a task or achieve an objective on your application, like placing an order.
You can always use advanced targeting modes of your in-app feedback tool to ensure you only ask the right people and that your triggers are on point.
Now that we've looked at some of the best ways of in-app feedback collection, let's look at the best in-app feedback strategies you can pair with them.
Best in-App Feedback Strategies
Knowing where to collect your in-app user feedback data is only half the battle; the rest involves pairing that knowledge with some best practices to maximize the returns on your survey campaigns.
Let's look at some of these dos and don'ts to ensure reliable user feedback in the app:
1. Make Your Feedback Widget Discoverable
It goes without saying that your in-app feedback widgets should be easily visible and discoverable if you want users to click on them and take your surveys.
A popular way of ensuring that your feedback widget is not out of sight is by placing it on the header or footer as a menu item or an always-visible app icon. You also have an option to make your feedback widget static so that it never leaves the screen and always stays with the users no matter where they scroll or navigate to.
These feedback widgets can pop up when a user completes a series of actions or arrives on a particular page to collect useful insights.
Pro Tip: These feedback widgets offer the best results when placed in easy-to-spot consistent locations.
An always visible icon that stays on the screen's bottom right corner is also a pretty solid widget placement.
2. Keep It Short and Sweet
When it comes to your in-app surveys, your respondents might not have more than a couple of minutes to spare, and they will most often decide to take it or leave it within a few seconds.
And long surveys happen to be the top reason for abandonment.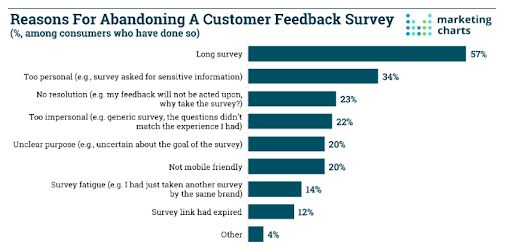 That is why when you build a survey, keep your questions short and as simple as possible so that one look from your respondents is enough to understand and answer them.
For instance: A short and simple question can look like this-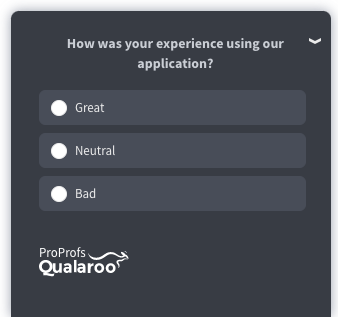 Short and simple questions improve your response rates and elevate your in-app user experience by making feedback collection seamless.
Also, it's best to use single or multiple-choice questions and complement them with one of two open-ended questions to collect in-depth insights from the app users.
If you want, you can use branching logic to show only relevant questions to the users based on their answers and shorten the surveys.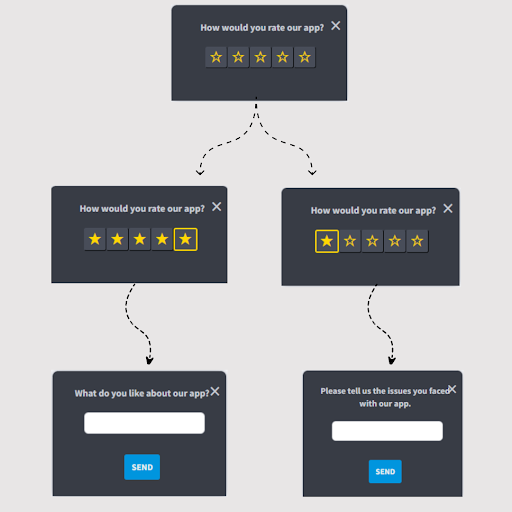 3. Leverage Open-Ended Feedback
What your users think is extremely important, so consider using open-ended questions to let them freely speak their minds.
Leveraging open-ended feedback questions can help you gather honest feedback about your products and services by not restricting your users with specific answer choices.
These questions can begin like this:
"Can you tell us more about…."
"What more can we do to improve our…."
"How can we make our…."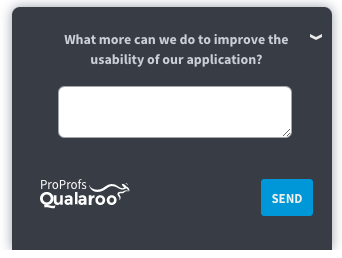 A great thing about open-ended questions is that you'll get some really good insights about your products and services from your power users, which you can use to make significant improvements.
4. Tell Users How Long the Survey Will Take
Transparency goes a long way in solidifying credibility and building trust in your customers.
When your customers come across a popup survey, they naturally debate between taking or leaving it because they are unsure of the commitment it might take from their end.
Nobody would want to invest 15 minutes in attempting a survey and giving feedback.
Not you, not me, or anyone for that matter!!!
You're already keeping your survey short, so why not just let your users know how much time it will take to finish it?
A win-win situation for all.
Here's an example of how you can do it: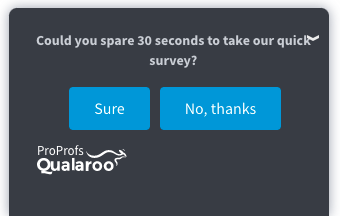 5. Close the Feedback Loop
From a customer's perspective- there is no better feeling than knowing that your favorite brand hears you and makes improvements to keep you happy.
In fact, a study conducted by Microsoft states that 77% of customers have a more favorable view of brands that collect customer feedback.
Acting on the insights and closing the feedback loop is the most impactful way of making your customers feel valued, and building trust.
But that's not all!
It also motivates your customers to keep coming back, improving churn rate and their overall lifetime value.
To analyze the feedback, you can start by segmenting your respondents based on the NPS and CSAT scores they provide in their surveys and prioritize focusing on the detractors and the unsatisfied customers, respectively.
However, the problem here is that analyzing all those responses and then segmenting them manually can take up hours or even days, let alone the resources that go into them. That's where advanced analysis techniques can come in handy, like NLP (Natural Language Processing) or an AI-based engine.
One of the easiest and most effective ways of doing this is by using the built-in analytics of your online feedback tool that will automatically identify trends and customer sentiments.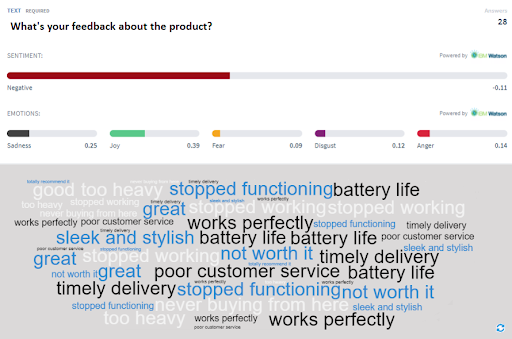 On top of that, the sentiment analysis engine will also analyze open-ended responses automatically and segment them into respective moods to identify the general sentiments of the customers.
With that, you can start working on making improvements and communicating to your customers when their problems have been resolved. Some popular ways of communicating to your customers for the same are:
Social media posts
Marketing communications
Newsletters
Notifications
Future surveys
With that, we have covered some of the best tactics and strategies you can use to collect in-app feedback. Now, let's look at the top 5 tools that you can use to collect in-app feedback.
Related Read– Mobile App Survey: A Complete Guide
Top 5 Tools for Collecting in-App Feedback
Collecting in-app feedback without an effective tool can leave you unorganized and knee-deep in insights without adequate means to act on them. But choosing the right tool can be tricky, if not impossible.
So we have listed 5 of the best in-app feedback tools for you:
1.Qualaroo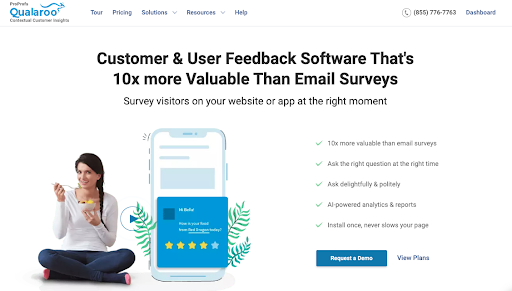 Qualaroo is one of the best website and in-app feedback tools that come packed with some of the most cutting-edge surveying capabilities. You can easily create unobtrusive popup surveys or NudgesTM that can be embedded on both iOS and Android mobile apps seamlessly.
With Qualaroo, you can also deploy in-app rating prompts to collect app store ratings from your users. In addition, you also get an easy-to-use editor, skip logic, and 100+ language translations that can help you enhance the functionality of your feedback widgets.
The built-in sentiment analysis engine helps to know what your users are saying about your app and make necessary changes along the way.
Watch: How to Create a Popup Survey
2. ProProfs Survey Maker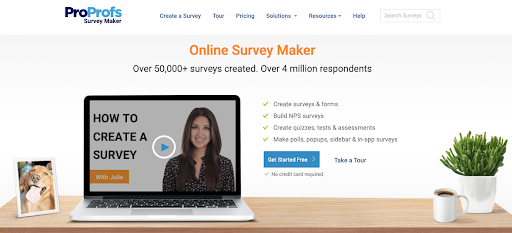 ProProfs Survey Maker is another popular in-app feedback tool that offers many interactive ways to collect customer data within your mobile application. You can easily create in-app surveys, quizzes, tests, assessments, and one-click polls to engage your mobile app users and add more responses to your survey campaigns.
The tool also gives you other features like precise targeting modes, skip logic, and built-in templates to gather highly specific and accurate feedback data.
3. Apptentive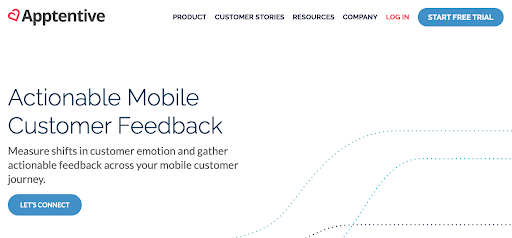 Apptentive is a great in-app feedback tool that has built a solid reputation in the mobile app development industry. Unlike other tools in the market, it boasts a response rate of over 90% and helps to collect detailed insights about users' behavior to make the feedback process impactful for everyone. It even offers different targeting options based on geography, behavior, user activity, and more to collect relevant data.
For the best quality of application development tools, it is very important that you partner with the right best app development software. But the real question is, how do you find such companies? Thousands of freelance app developers and mobile app development companies exist globally.
4. Doorbell.io

Doorbell.io is a highly customizable and easy-to-deploy in-app feedback tool you can set up within minutes and start collecting feedback. Apart from feedback collection, you also get features like responding to customer feedback, assigning conversations to teams, and adding internal notes for respective teams. It even has a dedicated android application that you can use to manage your survey campaigns on the go.
5. Instabug

Instabug is one of the most popular in-app feedback tools if you want to find out what your users think about your application while it's still in beta or production. The tool lets your users attach screenshots, voice notes, and even screen recordings to the feedback so that you can visualize and reproduce the problems at your end. In addition, you also get detailed survey insights so that you fix any major problems with your mobile app.
Related Read– 15 Best Mobile In-App Feedback Tools
Collect Feedback the Right Way
Collecting user feedback is an inevitable step if you want to make an app that agrees with your users and is optimized for conversions.
Listening to your users lets you design and implement strategies to deliver a better user experience. In a world where mobile devices dominate the market, a viable app can become the difference between a successful business and a failed venture.
All of this can be achieved by simply collecting in-app user feedback with the right survey tool.
Knowing the importance of collecting in-app feedback, the benefits of collecting it, the best ways of collecting it, and some of the top in-app feedback tools in the market you'll now be able to make informed business decisions about your in-app feedback strategy at all stages.
Just remember that with the power of the right user feedback tool in your hands, your in-app feedback will be unparalleled, and your offerings will be unmatchable.
Want insights that improve experience & conversions?
Capture customer feedback to improve customer experience & grow conversions.