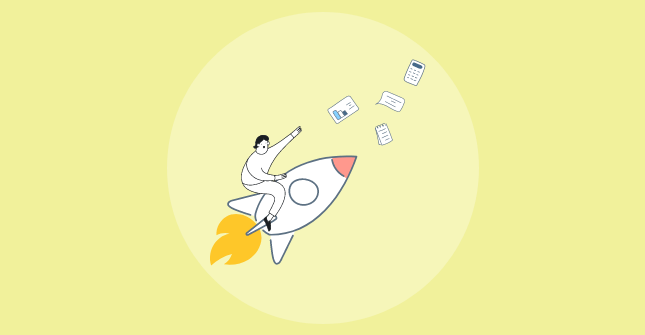 Are you looking for the best SaaS tools that can offer a host of benefits, including ease of installation, simpler data conversion, instant updates, and lower maintenance overhead?
But finding the right tools that can be useful for your business can be a huge task.
To help you with this, we have meticulously created a list of must-have SaaS tools that every business can benefit from in different ways in 2023.
Let's discuss each tool in detail and what makes many companies trust these popular SaaS applications.
While discussing, we will cover these points:
Introduction: Brief about the tool
Choose for: The purpose the tool serves
Suitable for: Business size
Price: Starting quote
Why should you consider the SaaS tool: Features in detail
Pros: What you should look forward to
Cons: What you should look out for
Before jumping into the list, let's clear our understanding of what SaaS tools are and why they are used widely by businesses from all industries and of all sizes.
What Are the SaaS Tools?
Software-as-a-service tools are software products that you can use through a cloud-based platform and pay for the subscription like you would for a service.
These tools aim to streamline your different business processes. You can find different SaaS tools to use as a startup, small or mid-sized business, and a large organization.
Why Do You Need SaaS Tools for Your Business?
As discussed in the beginning, with SaaS tools, you enjoy many benefits, including constant updates and integrations. There are many other reasons you should look into SaaS tools as a small, mid-sized, or established organization.
Here are a few convincing points to consider:
Scalable
If you're a fan of scalability, then SaaS tools are the way to go. You may think, "but wait, aren't in-house tools scalable too?"
You can scale an in-house developed tool as your business grows, but the cost of continuously updating it is too much compared to what it's worth.
It's especially not the best idea if you are a mid-sized company. Startups and small businesses shouldn't even think about it.
Instead, you can choose a SaaS tool offering constant updates which is more suitable for your business needs and budget.
Cost-Friendly
SaaS tools make more economic sense since they cost you a fraction of an in-house tool.
Besides small businesses, large companies invest in SaaS tools to streamline the processes without maintaining and committing to a single in-house tool.
Reduces Manual Work
With so many tools specialized in digitizing processes, you don't have to do the tedious manual work yourself.
For example, it's efficient to use an email automation tool rather than sending emails manually.
A Whole Lot of Integrations
A cherry on top is that effective SaaS tools come with tons of integrations you can benefit from. Integrations with third-party tools help assimilate new tools into your business ecosystem. They also prevent data silos and let you simultaneously enjoy features from different tools.
Now let's look at the list of top SaaS tools you can consider for your business.
Top 40+ SaaS Tools to Grow Your Business
To help you pick out the best tools for different purposes, we have segregated them into different SaaS tool categories. Let's have a look.
Online Survey Tools
These online SaaS survey tools will help you collect valuable and rich customer insights to design new products/services, aid market research, improve your customer experience, boost customer retention, and reduce bounce rates on your website.
1. Qualaroo
---
Qualaroo is a customer feedback survey software offering various professionally-designed templates to reduce survey deployment to a few minutes.
It is an excellent SaaS tool for small businesses and startups as it provides a myriad of features for affordable pricing, such as advanced targeting and reporting. You can collect in-context feedback by asking survey questions in a variety of formats and deploy it across various websites, apps, and even on prototyping tools.
Because of its awesome features, Qualaroo is trusted by brands such as eBay, Shopify, Udemy, British Council, Twilio, HootSuite, and many others.
Choose for: Creating surveys, pop-ups, exit-intent surveys, branching logic, advanced reporting & targeting
Suitable for: Small to large businesses
Price: Starts from $69 per month.
Why choose Qualaroo for designing delightful surveys:
Comes with valuable templates for surveys like Net Promoter Score, Customer Satisfaction Score, Customer Effort Score , Exit-intent surveys, Five-second tests, Product opportunity surveys, and so many more.
Lets you create highly personalized and branded surveys.
Lets you tag responses from the collected data.
Known for its advanced reporting, which comprises branching and skip logic.
Helps create media-rich and interactive surveys using images, videos, and audio.
Supports multiple languages to help you globalize your surveys.
Offers advance reporting, including Sentiment Analysis to facilitate data analysis.
Supports integrations with various third-party tools such as Zapier, Salesforce, HubSpot, Marketo, etc.
---
Pros:
Unobtrusive, contextual surveys
Multi-language surveys.
Visual Dashboard.
Automatically calculates NPS and displays it on the dashboard.
Cons:
No-industry-specific templates.
---
2. ProProfs Survey Maker
---
Survey Maker is yet another helpful tool from ProProfs but differs from Qualaroo. The tool lets you create different surveys like NPS and exit-intent surveys.
You can also design assessment tests, polls, and quizzes to publish on your website or include them in your training program.
Apart from these features, ProProfs Survey Maker also offers training makers as a part of its suite, including many tools. This way, you can do everything in one place.
Choose for: Designing polls, quizzes, surveys, forms, assessment tests
Suitable for: Small to large businesses
Starts from $19 per month.
Why should you choose ProProfs Survey Maker for creating surveys:
Helps design in-app and on-site pop-up surveys.
Offers scoring and branching questions features.
Let's you share survey links on social media.
Makes survey creation easy with its 100+ survey templates.
Comes with a drag and drop editor to make designing surveys easy.
Has a rich survey question library.
Offers great customization and personalization of surveys and quizzes.
Supports seamless integration with multiple tools, such as MailChimp, Zendesk, Salesforce, Constant Contact, and more.
Pros:
Multi-channel sharing of surveys.
Non-intrusive survey feedback button.
Cons:
Survey editor is a little tricky at first.
3. Picreel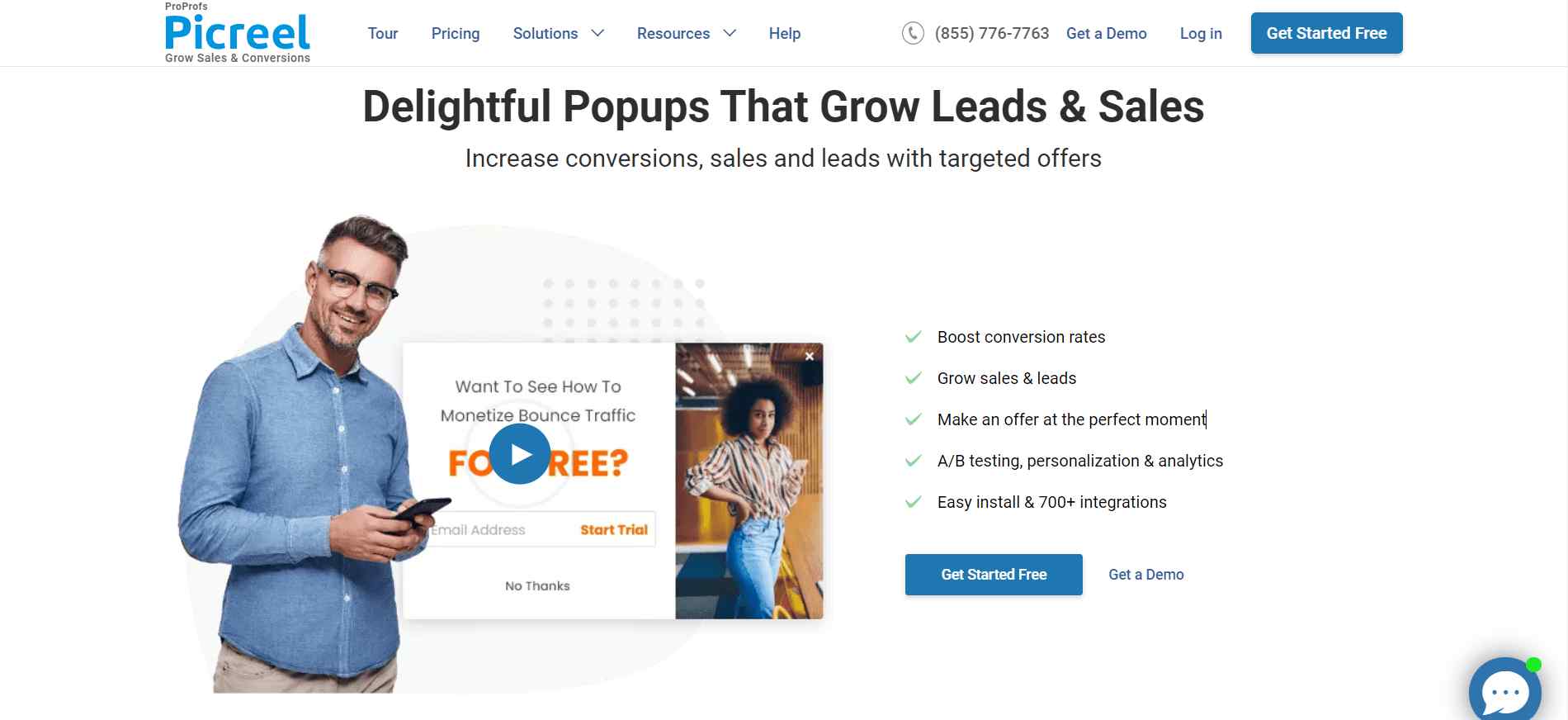 ---
Picreel is an amazing cloud-based marketing tool that tracks the visitors' movements on the website and displays pop-ups to help retain customers. It is great for your exit-intent strategy.
You can leverage exit-intent pop-ups to ask the leaving customers if there is any way you can retain them or motivate them via incentive pop-ups.
Choose for: Exit-intent and pop-up surveys
Suitable for: Small to large organizations
Price: Starts from $14/month
Why should you choose Picreel for designing surveys and pop-ups:
Offers an effortless 10-seconds installation and setup.
Comes with a library of pre-designed pop-up templates.
Helps design deals & overlay pop-ups, redirect links overlays, and lead form overlays for retargeting.
Supports advanced targeting where you can specifically target leads from on-site content, returning & new visitors, different referral sources, etc.
Lets you add interactive elements like CTA buttons, timers, etc.
Offers integrations with tools such as One-click, Zapier, ActiveCampaign, Webhooks, and a lot more.
Pros:
Easy to use.
Pop-up templates to deploy surveys faster.
Cons:
Doesn't have branching and skip logic.
Limited survey types.
4. SurveyMonkey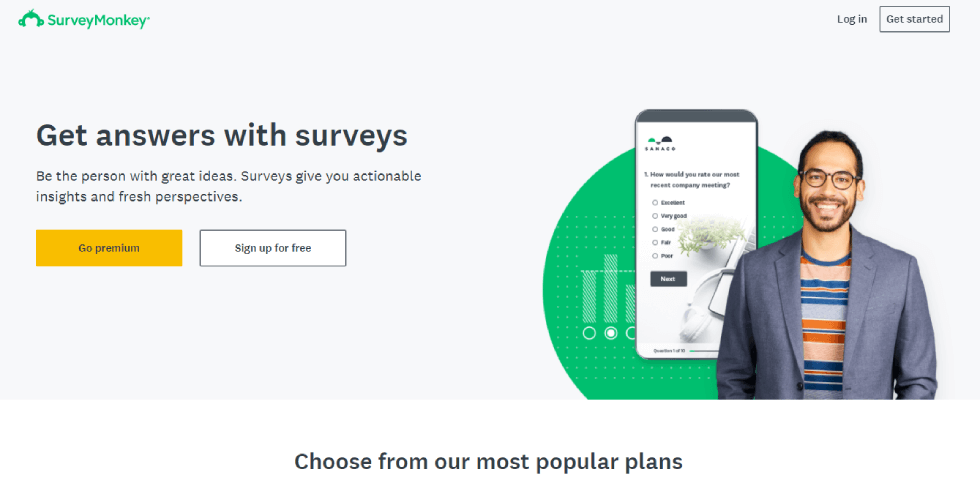 ---
One of the suitable SaaS tools for startups is SurveyMonkey. It is another feedback survey software that gathers rich customer and employee data. It has multiple features that assist in market research, user research, and more.
What's more, it offers templates for a variety of use cases including market research survey, customer satisfaction questionnaire, and more.
Choose for: Employee feedback management, market research, user research, multi-channel surveys
Suitable for: Small to large businesses
Price: Starts from $31/month
Consider SurveyMonkey SaaS tool because:
Has a visual editor for designing surveys.
Offers features such as adding dynamic components to your surveys like a survey progress bar, scoring mechanism, question randomization, etc.
Pre-built professional survey templates that help you deploy surveys faster.
Offers branching comes with language translation for surveys.
Has a Genius engine that calculates and estimates the completion rate of surveys by analyzing the survey components.d skip logic and different answer types.
Easy to create customized surveys.
Makes it easy to analyze data with automatic charts, graphs, and feedback summaries.
Supports integration with tools such as HubSpot, Automate.io, and Salesforce.
Pros:
Easy to set up.
Anonymous feedback option.
Cons:
Costly if you want advanced functionalities.
Glitches in the website.
Limited customization.
Related Read: 15 Best SurveyMonkey Alternative
5. Wootric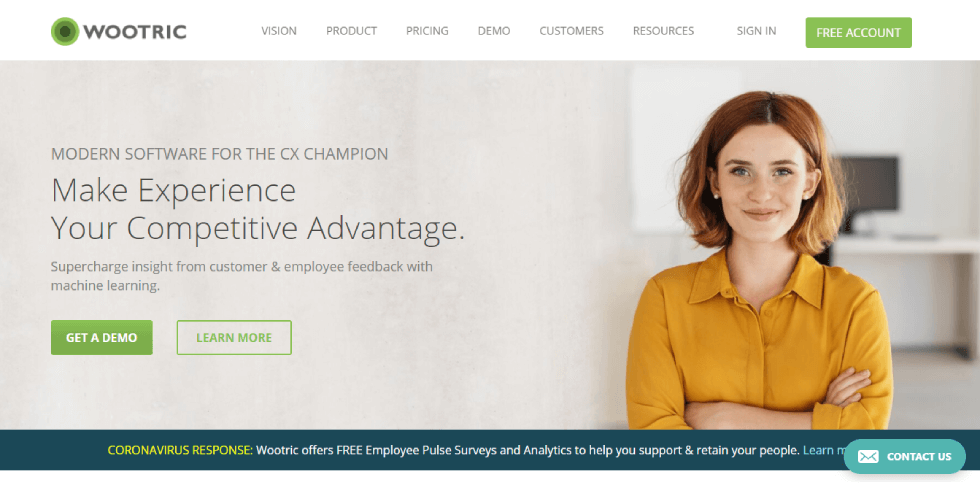 ---
Wootric, now part of InMoment, is another one of the top SaaS products suitable for companies from different industries and sizes. The platform touts itself to be more NPS surveys-focused software.
It claims to improve CLV (Customer Lifetime Value) and has features that look after the entire customer experience.
Choose for: Basic feedback analysis with Machine Learning, multi-channel survey deployment
Suitable for: Mid-sized to large businesses
Price: Starts from $99/month
Why should you choose Wootrics for creating engaging surveys:
Has an automated setup process.
Helps you automate collecting customer feedback and basic analysis.
Supports in-app surveys, on-site surveys, and survey sharing via emails.
Integrate with numerous tools for different purposes (exporting data and managing workflows) like HubSpot, Zapier, Segment, etc.
Pros:
Helps track customer satisfaction and NPS monthly.
Offers AI for in-depth analysis.
Cons:
Mobile responsive version needs improvement.
SaaS Internal Communication Tools
These tools enable organizations to keep their communication streamlined on one platform. You can use SaaS internal communication tools to boost collaboration within the company and streamline your projects and processes.
6. Slack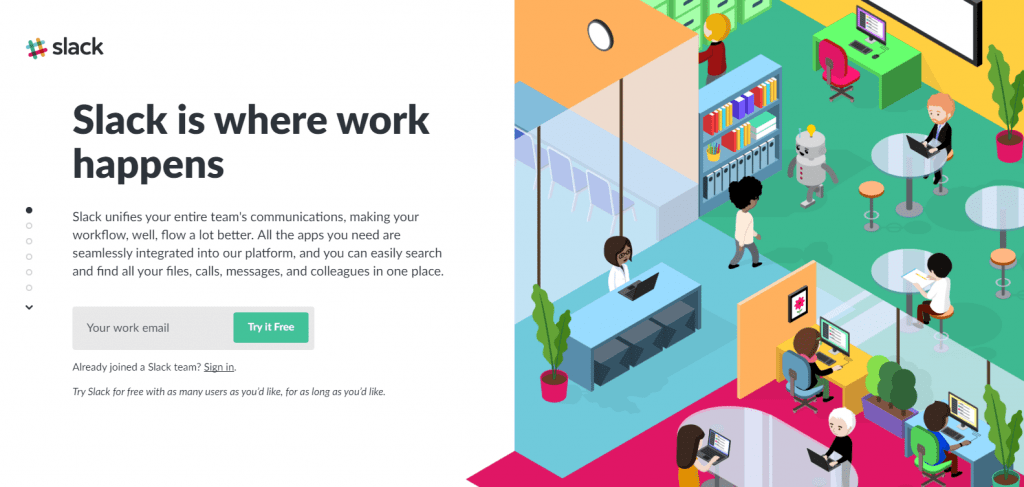 ---
If you want something more advanced than Hangouts and Microsoft Teams, go for Slack. It's a great communication tool to interact internally in the company.
Thanks to its enhanced chatroom, this popular SaaS tool facilitates inter and intra-team collaboration in real-time.
Choose for: Collaboration, Internal communication
Suitable for: Small to large businesses
Price: Starts from $2.67/month/user
Why Slack is a choice of many businesses:
Lets you make edits to send messages and delete them.
Helps you share files in one location in its Chat Workspace.
Provides topic-oriented chat rooms known as 'Channels.'
Has a built-in video call and phone facility with which you can easily switch from chatting to calling.
Offers screen sharing during video and voice calls.
Comes with a built-in Slackbot that helps navigate the tool, resolve queries, and set reminders.
Provides numerous integrations such as Google Suite and other project management tools.
Pros:
Channels help compartmentalize communication for more clarity.
Built-in screen sharing, voice, and video calls.
Cons:
7. Calendly
---
Calendly helps schedule meetings efficiently without the need for a chain of emails. It offers powerful features that make collaboration easier. Calendly offers administration controls and security as well.
Choose for: Schedule meetings, collaborate
Suitable for: Small to large businesses
Price: Starts from $8/month/seat
You should go for Calendly because:
Helps users manage availability preferences, send out personalized meeting invitation links, and create different event types.
Can manage buffer time between meetings and enforce scheduling notice periods.
Lets you set conditions so you can route the right meetings to the right people.
Offers integrations with Zoom, Slack, Google, Zapier, Salesforce, Microsoft, etc.
Pros:
Automates scheduling.
Lets you sync Calendly to the Outlook calendar.
Cons:
Customization and integrations could improve.
Costly for the features it offers.
8. Zoom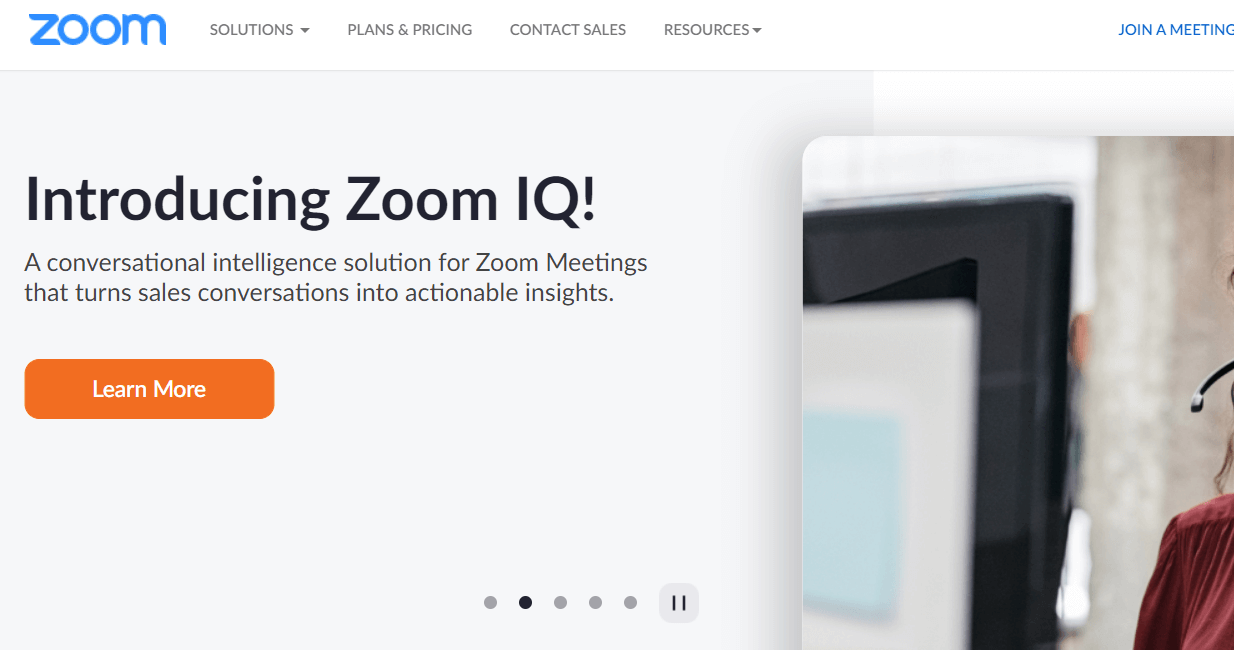 ---
Zoom is a video teleconferencing software and a popular one at that, making it a great choice of SaaS tool for you. It lets you make real-time video and audio calls by sharing a link. It's a great collaboration tool for virtual as well as in-person teams.
Choose for: Video conferencing, audio call conferencing, screen recording, screen sharing
Suitable for: Small to large businesses
Price: Starts from $14.99/month/host
Zoom is a great SaaS internal communication tool as it:
Offers mobile and web apps along with the easy setup.
Comes with Zoom Phone Hardware as a service.
Lets you route calls on the web.
Offers features like call forwarding, call recording, call blocking, etc.
Enables you to change your background during meeting calls.
Comes with tons of integrations with other apps like HubSpot, MailChimp, Instagram, and more.
Pros:
High-quality video and audio calls.
Supports up to 100 participants on a single call.
Ad-free navigation.
Up to 50 breakout rooms for separate meetings.
Cons:
Plugins are sometimes incompatible with Android and iOS platforms.
Android app could be more intuitive
Sales SaaS Tools
Sales is an integral part of every business, and you need the right and trusted tools to make the process more effective. You can refer to our recommendations for Sales SaaS tools and choose your pick.
9. HubSpot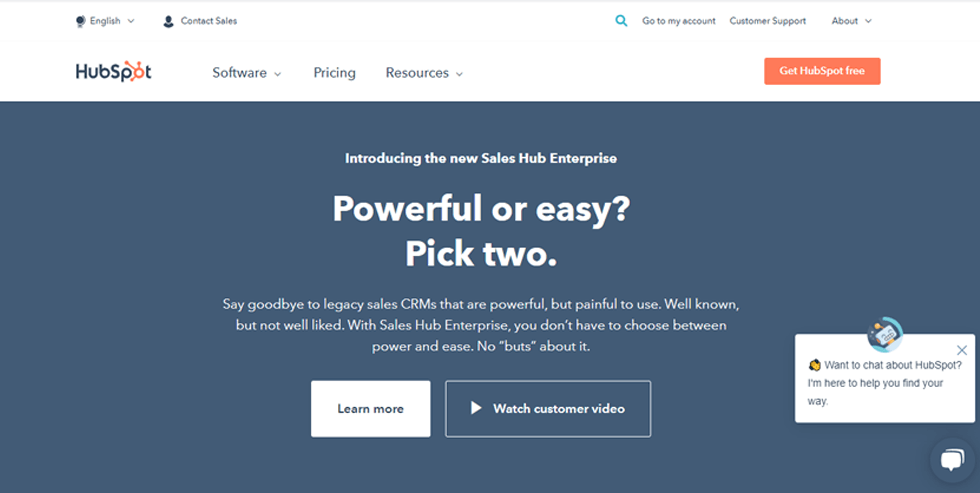 ---
It won't surprise us if you already use this SaaS sales tool. HubSpot is a well-known CRM platform offering a suite of multiple tools.
These tools facilitate customer support, social media marketing, SEO, content marketing and management, analytics, etc.
Choose for: Data enrichment and managing all the forms in a single system
Suitable for: Medium to large businesses
Price: Starts at $45/month
Why choose the HubSpot SaaS sales tool?
Design delightful forms that adapt to customers' browsing history.
Lets you set task reminders to follow up on your leads.
Helps launch multiple forms to convert website visitors into leads.
Support email automation for easy follow-up on users.
Comes with built-in analytics.
Integrates well with Qualaroo, Salesforce, NetSuite, Microsoft Dynamics CRM, and other tools.
Pros:
Seamless integration with other HubSpot tools.
Rich segmentation.
Easy installation.
Cons:
Reporting system needs work.
10. Pipedrive
---
Pipedrive is a contact management and lead generation software that helps manage contacts, acquire new leads, automate workflows, and much more. It also offers a mobile app using which you can easily access data from any device. This sales SaaS tool also offers a robust contact management system with detailed insights.
Choose for: Live chat, forms, caller, chatbot, email outreach
Suitable for: Small to large businesses
Price: Starts at $12/month
Why should you choose Pipedrive as your lead generation tool:
Helps you sync leads and contact sources like email, Google Contacts, etc.
Automatically pulls data from LinkedIn, Google, and other sources into the CRM.
Offers features such as chatbot, live chat, built-in caller, website forms, etc.
Has a drag-and-drop editor to create targeted email campaigns.
Constantly updates interaction history with contacts.
Lets you segregate the data using custom labels.
Pros:
Customer reporting.
Offers lead management and live chat.
Cons:
Can be more user-friendly.
11. EngageBay (Sale CRM Tool)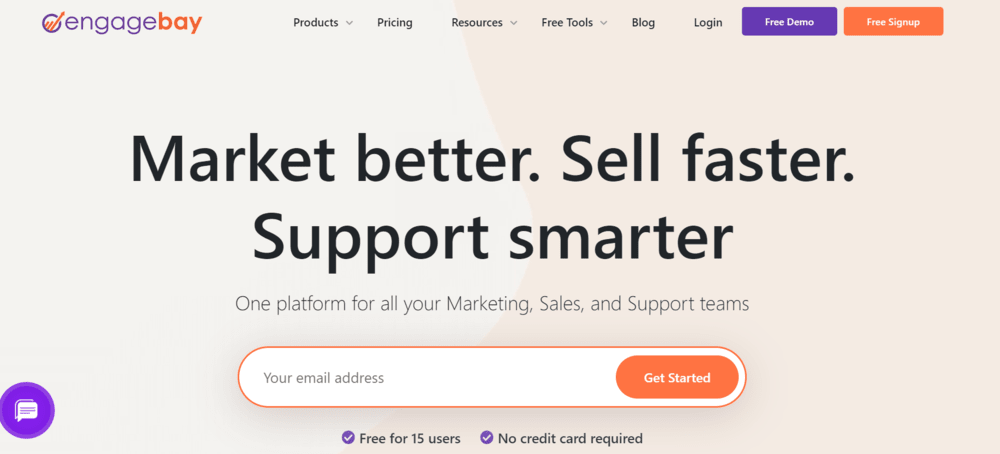 ---
EngageBay is an affordable sales CRM and automation software for small businesses and solopreneurs. It streamlines sales pipelines and makes closing deals easier.
Choose for: Sales automation, project management
Suitable for: Small to medium businesses, solopreneurs
Price: Starts at $11.99/month
Why choose EngageBay as your SaaS sales tool?
You can automate your sales processes with ease using the built-in multistep workflow builder
You can place and receive calls using the in-CRM telephony software
2-way calendar sync lets you manage all your events and appointments from one place
Sales dashboard lets you view all your performance metrics from one place
Pros
One of the most affordable platforms
Offers 360-degree view of your customers
Free-forever integrated CRM software
Cons
Not enough native integrations for sales yet
SaaS Email Marketing Tools
Email marketing is still a popular way to convert leads into customers. So, it's best to get on this bandwagon with top SaaS email marketing tools available in the market. Here are some options you can consider.
12. MailChimp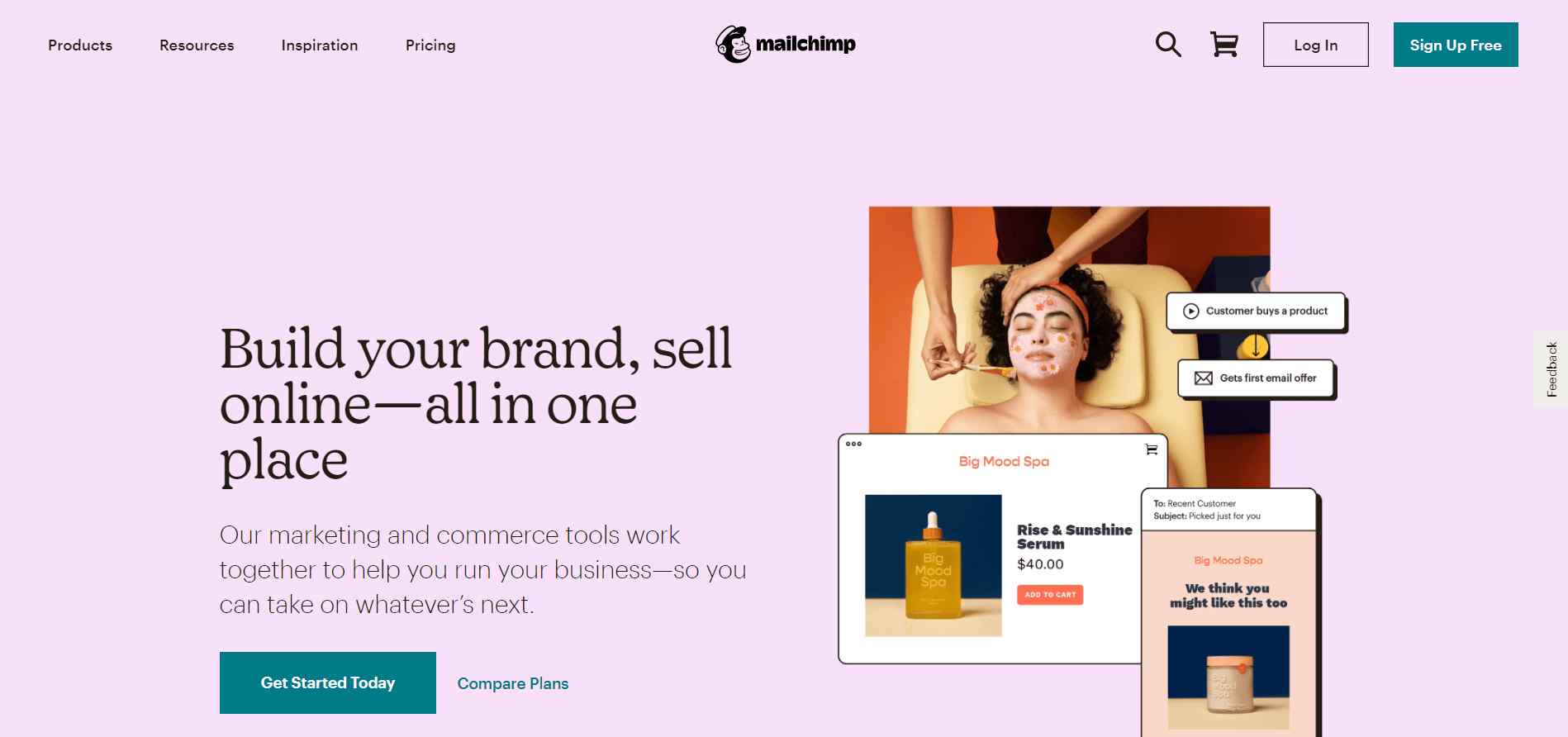 ---
When it comes to SaaS email marketing tools, MailChimp is an all-in-one solution out there. It offers AI-powered tools to smoothen your business processes. You can send automated messages and emails to customers and design successful ad campaigns.
Choose for: Email automation, marketing campaigns, targeted ads, lead forms
Suitable for: Small to large businesses
Price: Starts from $9.99/month
Why is MailChimp touted as an all-in-one marketing tool:
Helps send postcards, design landing pages, perform analytics, reporting, etc.
Offers mobile preview.
Lets you send a high volume of automated outbound emails.
Helps you personalize emails.
Supports performing A/B testing and basic reporting.
Comes with a drag-and-drop builder and email templates.
Helps create ad campaigns in MailChimp and publish posts on social media.
Enables you to send automated follow-up emails to assist customers through their buying journey.
Supports behavioral targeting to send emails.
Pros:
Free plan supports up to 2000 contacts.
Customize templates with HTML/CSS editor.
Campaign analytics.
Cons:
Templates are very basic.
The mobile app has limited features.
13. ActiveCampaign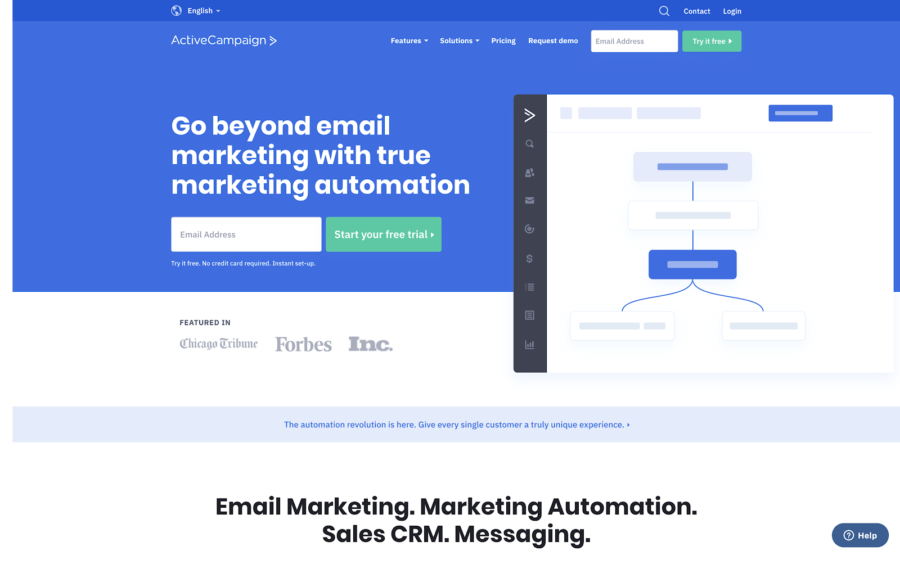 ---
ActiveCampaign is touted as an all-in-one SaaS marketing automation tool equipped with an in-built sales CRM.
The automation software helps nurture leads and design automated lead capturing campaigns based on conditions that you can set. It also offers a drag-and-drop editor to edit emails in a jiffy.
Choose for: Customize email templates, marketing automation
Suitable for: Small to large businesses
Price: Starts from $9/month
Why should you choose ActiveCampaign for marketing automation:
Offers a marketing automation builder which makes it easier to design your campaigns using customizable templates.
Has a CRM known as Deal that automates sales follow-up and takes care of much of the manual work in closing deals.
Comes with a landing page creator that helps you convert website visitors into customers through signups.
Has a Messages feature that lets you add chat support to your website.
Offers integrations with different tools such as Shopify, Jotform, Salesforce, etc.
Pros:
Easy to use automation builder.
Integrated sales and marketing platform.
Campaign analytics reports.
Cons:
Steep learning curve.
Becomes expensive as your contacts grow.
SaaS Customer Support Tools
Helpdesk tools are crucial for empowering your support team and making managing and tracking tickets more streamlined. Here are some options.
14. ProProfs Help Desk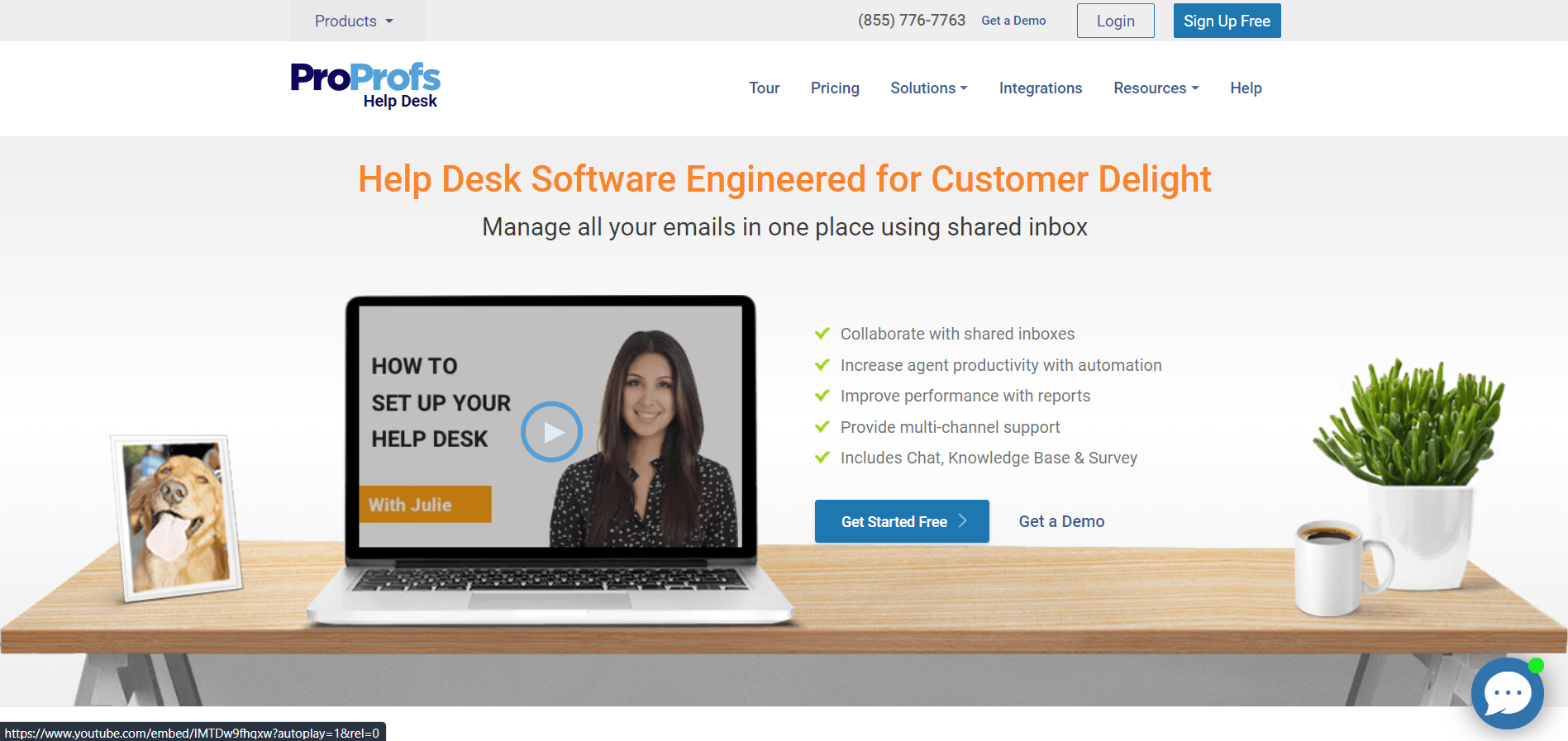 ---
Another top SaaS software from ProProfs is the Help Desk. The software uses a trusted cloud service from IBM to ensure the security of the customer data. With ProProfs Help Desk, you can track, manage, and prioritize support tickets.
Choose for: Customer ticketing, ticket management
Suitable for: Small to large businesses
Price: Starts from $10/month
How ProProfs Help Desk helps businesses optimize their ticking system:
Comes with a shared inbox that lets admins assign and manage inboxes such as billing@, contact@, help@, sales@, and support@.
Offers multi-channel support with ease of collaboration.
Supports internal commenting so that the tickets are assigned to the right team and are resolved quickly.
Supports canned responses and issue tracking.
Offers an in-build feedback survey tool that collects customer insights in real-time using surveys like NPS.
Comes with a feature called "Child ticket" that lets admins assign multiple agents to one ticket.
Offers integrations such as live chat and knowledge base.
Pros:
Expedited ticket resolution.
Easy to track support performance.
Cons:
Assigns tickets randomly to agents.
Can't personalize automated messages to customers.
15. Freshdesk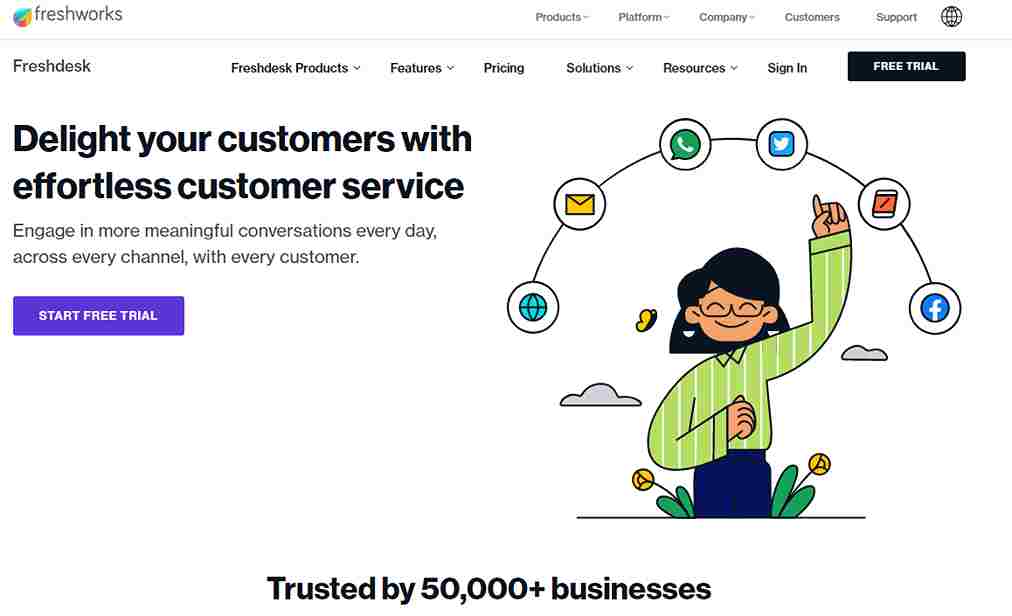 ---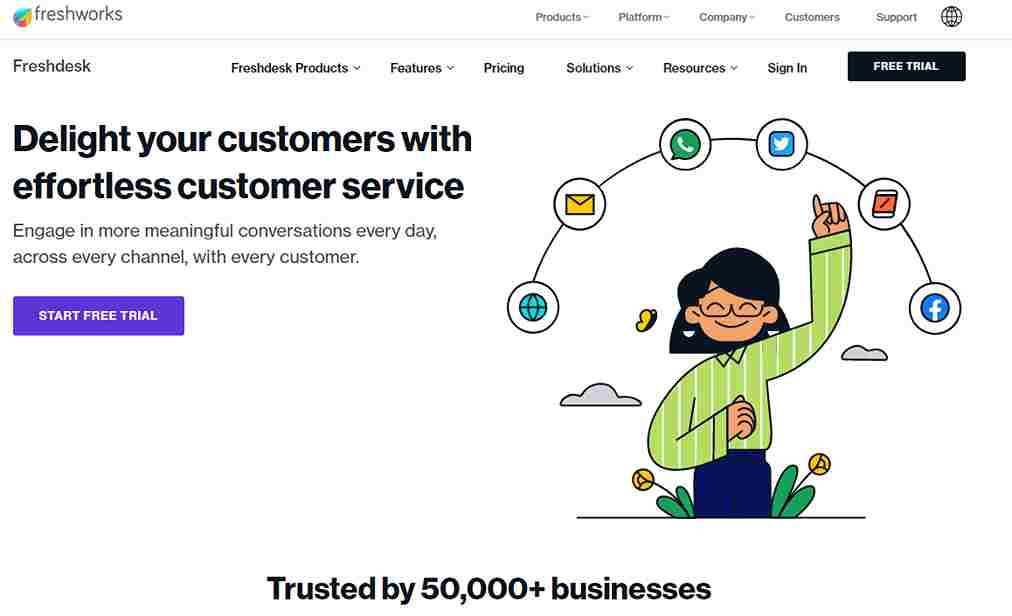 Freshdesk is one of the top SaaS products for customer support service. With this tool, you can offer seamless customer service at every touchpoint.
Freshdesk enables you to monitor customer interactions and communication through phone, chat, email, social media, etc.
Choose for: AI Chatbots, Monitor customer interactions, omnichannel helpdesk
Suitable for: Small to large organizations
Price: Starts from $15/month
Why should you choose Freshdesk:
Helps you enhance the productivity of your agents using smart automation features.
Offers AI chatbots along with branded help centers.
Enables you to track key performance metrics using analytics.
Freshchat feature lets agents chat with customers to resolve their issues.
Enables you to convert customer complaint emails into tickets.
Freshcaller feature integration with Freshdesk lets you take customer phone calls.
Missed calls are converted into tickets.
Converts your Twitter mentions, direct messages, and comments into tickets.
Pros:
Team collaboration.
Helps add to-do tasks in a ticket.
Offers advanced automation of workflow.
Cons:
No SMS integration.
Automation is limited.
16. Salesforce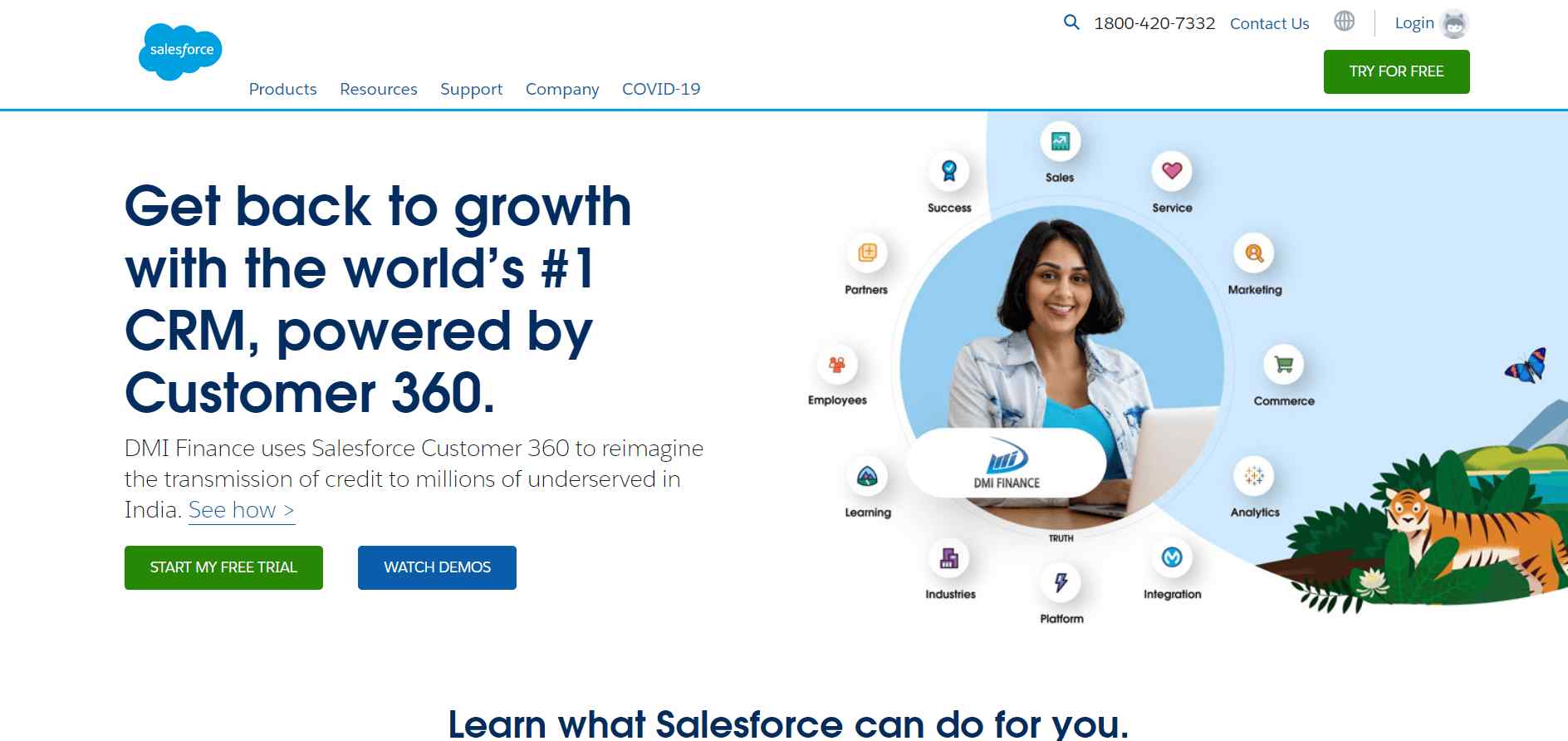 ---
One of the top software on the list of SaaS products is Salesforce. It is a great customer relationship management software suitable for all businesses.
The software lets you communicate with hot leads, log calls, manage the dashboard, and much more.
Choose for: Sales automation, CRM, automate business process
Suitable for: Small to large businesses
Price: Starts from $25/month
What makes Salesforce CRM a great tool?
Visual Workforce builder helps create applications using Process builder without coding to automate processes.
Comes with a drag-and-drop builder.
Helps you create, edit, and delete records.
Lets you manage contacts, internal account discussions, activity history, customer interactions, etc.
Collects and displays crucial customer insights from different social media channels right in the dashboard.
Opportunity Management feature enables users to see the stages leads are in, products, quote, competition, etc., that help close sales.
Integrates with apps such as Quickbooks, Slack, MailChimp, Jira, Dropbox, etc.
Pros:
Tool is mobile and web-friendly.
Role-centric user permissions available.
Offers Single sign-on.
Cons:
Needs more integrations
Custom fields can be a bit confusing and disorganized.
Pulling specific reports could use more simplification.
Customer Support is not always easy to navigate.
17. Zendesk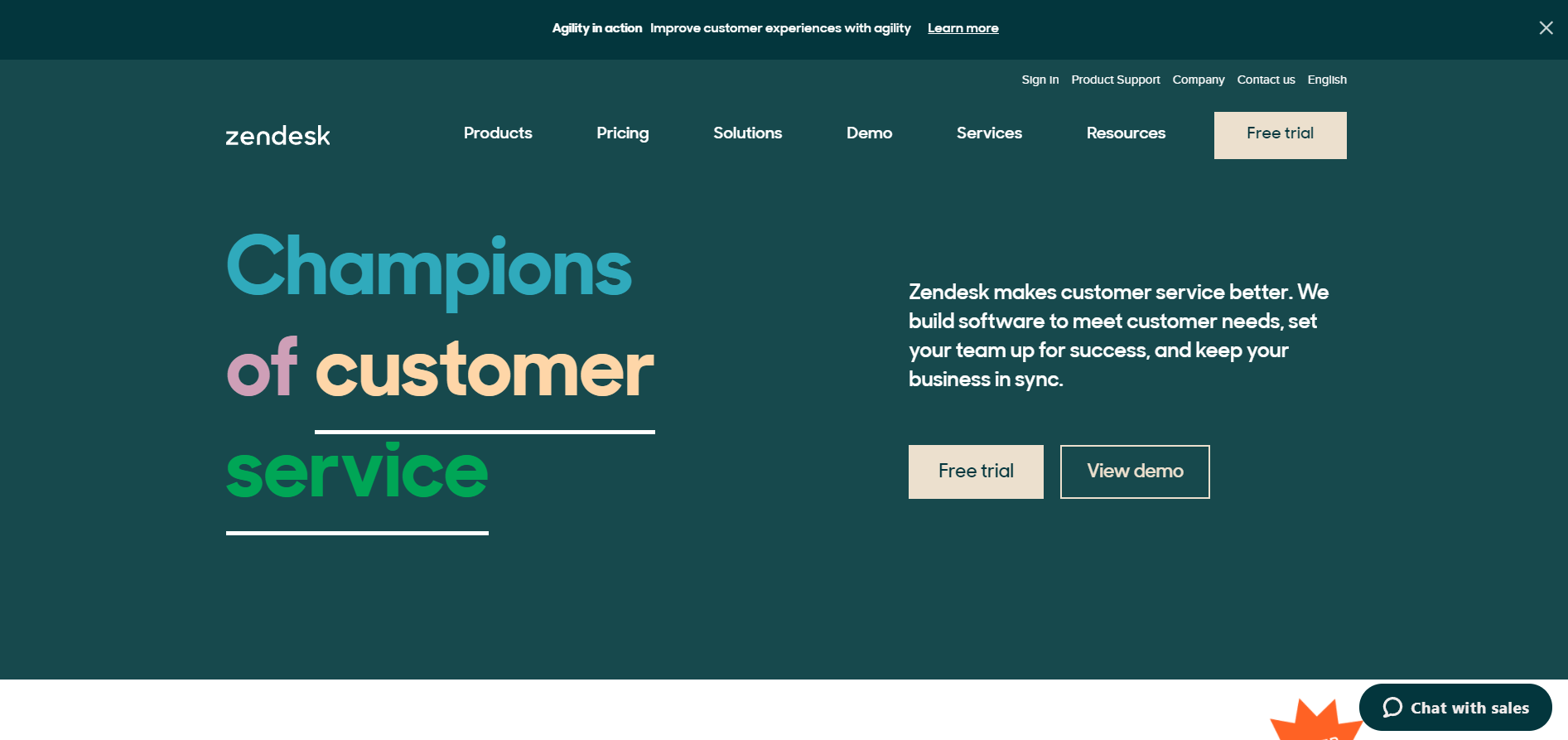 ---
Another SaaS tool for small businesses is Zendesk. It is a help desk platform that offers companies rich conversational experiences across social media apps and websites. It offers an effective and easy way for customers to reach your support.
Some of the popular features by Zendesk are API access, customization and branding, canned responses, integrations with other tools, measuring metrics like CSAT, authentication, and more.
Choose for: Help desk automation, ticketing and collaboration, service level agreement management
Suitable for: Medium to large businesses
Price: Starts from $49/per agent
Why should you choose Zendesk as a SaaS automation tool:
Gives real-time updates on activities in the system, such as support personnel viewing tickets, making updates, attending to tickets, and more.
Helps share information between teams via private comments.
Offers request forms and ticket fields.
Lets your support personnel see custom views of ticket status, assignee, etc.
Comes with a service-level agreement (SLA) facility enabling users to establish parameters for tickets.
Provides integration with Trello, Zoom, Salesforce, and more.
Pros:
Mobile API enables support representatives to tend to tickets via mobile divides.
User-friendly interface.
Cons:
Slow speed with multiple integrations.
You need to buy analytics separately to see reports.
SaaS Project Management Tools
Businesses must keep track of their projects and manage them most efficiently. For this, you can use the below-mentioned SaaS project management tools.
18. ProProfs Project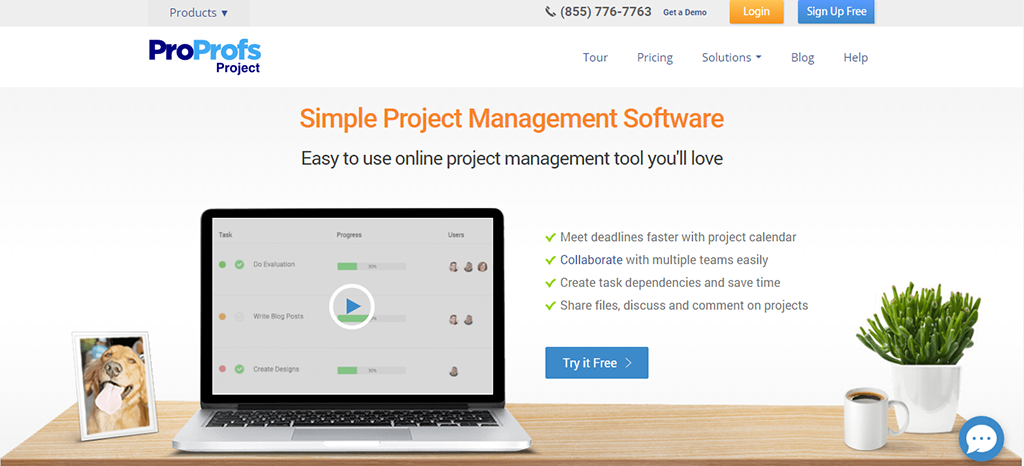 ---
ProProfs Project is a reliable SaaS project management tool. Users can manage and organize work and collaborate seamlessly within teams.
The tool also lets you assign due dates and monitor the progress of multiple projects. Additionally, the tool facilitates reports analysis and tracking deliverables' TAT and invoices.
Choose for: Project management, collaboration
Suitable for: Small to large businesses
Price: Starts from $2/user/month
How ProProfs Project helps businesses manage their projects:
Single Dashboard to manage projects.
Track project progress on a single platform.
Estimate delivery dates and reallocate resources accordingly.
Helps track time spent on projects by teams.
Collects feedback on tasks through comments and notifies through email notifications.
Offers data visualization through the Gantt chart feature.
Enables you to measure progress using analytical reports.
Supports automated invoice generation.
Pros:
Powerful reporting.
File sharing.
Archive projects feature.
Color coding to segregate project elements.
Automated invoicing
Cons:
Sometimes it lags.
Limited integrations.
19. Trello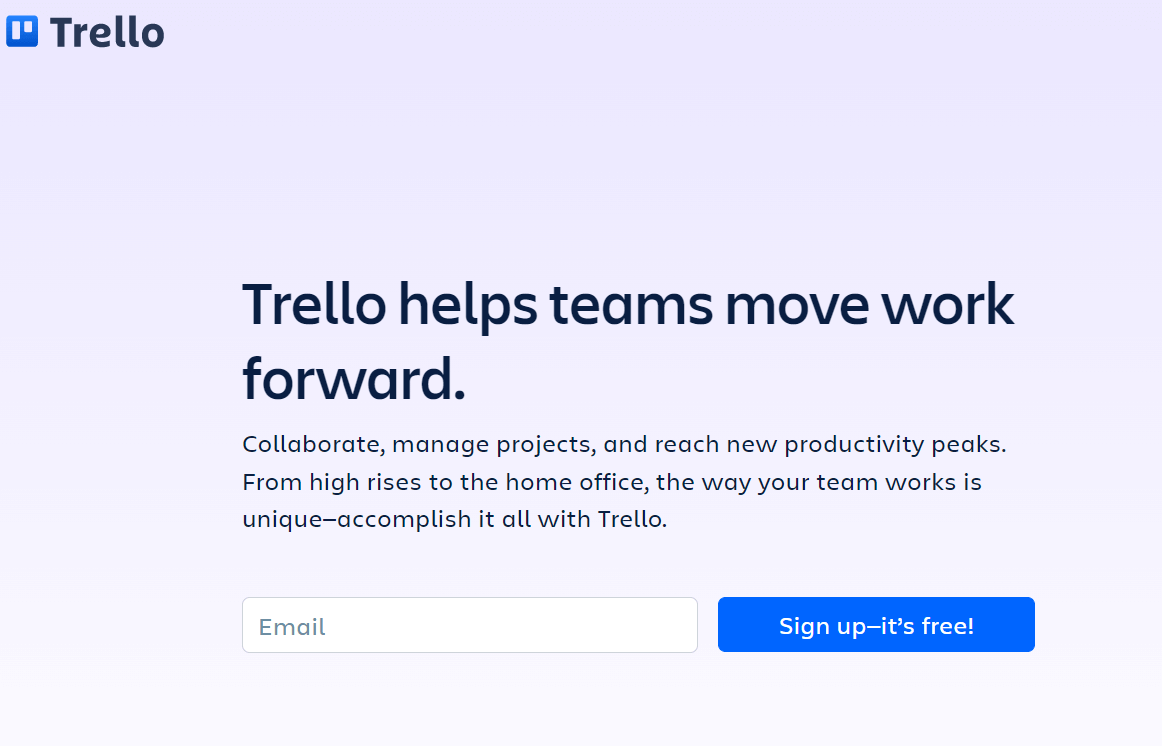 ---
Among the best SaaS collaboration tools is Trello, an online project management software suitable for startups and small businesses.
Trello makes collaboration between teams throughout the organization easier. You can easily manage multiple projects and make constant updates.
It lets all members add/remove members from projects, set due dates, and color code projects, to name a few features.
Choose for: Project management
Suitable for: Small to mid-sized businesses
Price: Starts from $5/month
Why should you choose Trello for your business:
Helps with time management for projects using cards.
Offers drag-and-drop editing.
Helps you add labels and tags to activity cards.
Lets you create different dashboards for all projects in which you can add task cards.
Send deadline alerts.
Offers SSL data encryption.
The user interface is mobile-friendly and offers a mobile app compatible with all devices.
Automated email notifications.
Enables you to upload data on Dropbox, Google Drive, and Box.
Integrates with Adobe XD, Jira, Slack, and more.
Pros:
Responsive design.
Has a Kanban system.
Offers different boards for each member and project.
Cons:
Internet-dependent.
Doesn't send commenting alerts.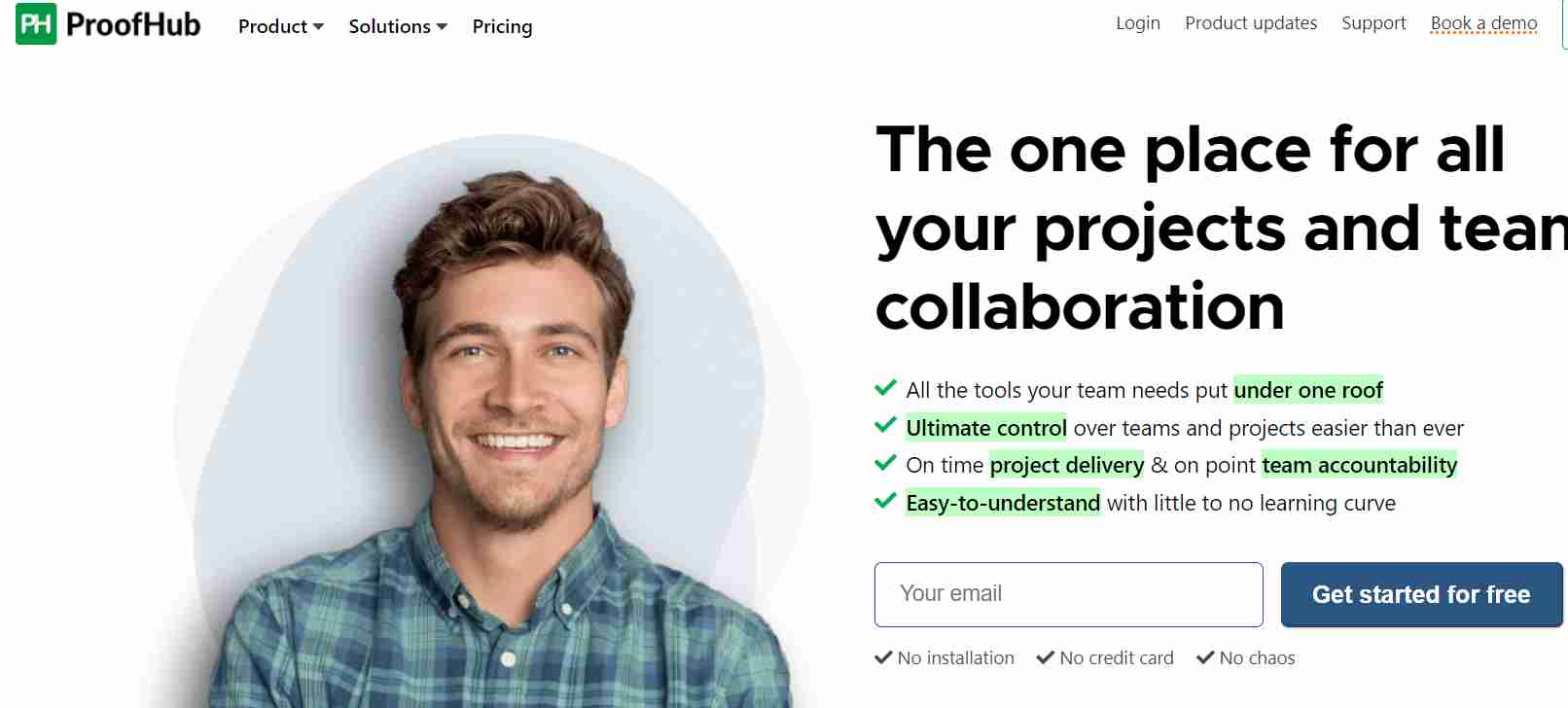 ---
ProofHub is a cloud-based project management and collaboration tool designed to let teams run, discuss, track, report, and complete projects on a single platform.
It has integrated group chat, rapid project discussions, workflows and boards, project reports, and many other strong features.
It allows teams of different sizes and industries to collaborate and communicate on projects in a simple and flexible manner from a single location. It is accessible for both Android and iOS operating systems, allowing even remote teams to stay connected. In addition, you get a free trial before purchasing the paid version.
ProofHub is trusted by companies like Netflix, Disney, Trip Adviser, Nasa, Bosch, and many more because of its outstanding features.
Choose for: Project management, team collaboration, & proofing all at one place
Suitable for: Small to mid to large sized businesses
Price: $5.40 /user/month
Why people choose ProofHub for better project management & team collaboration:
Manage projects from task assignment to tracking and completion on a single dashboard.
Project managers can use this tool to create custom reports and track resource usage and project progress.
The Gantt chart feature, among others, is used to visualize the data.
You can use analytical reports to track development.
It has a proofreading tool that allows userās to leave comments on documents and designs posted on the network.
Chat, discussions, announcements, third-party integrations (Dropbox, Google Drive, OneDrive, and Outlook), file transfer, and more are all available.
Available in a variety of languages, including French, Russian, Italian, Dutch, Chinese (Taiwan), and others.
Pros:
Support agile methodologies
Multilingual capability
Dashboard with useful tools
Setup is simple and quick.
Competitively priced
A good mix of features and simplicity.
Cons:
No premade specific templates
Lacks budgeting tools
21. Asana
---
Another one of the top SaaS productivity tools is Asana. The software is known to help teams increase productivity by workflow management.
Like Trello, Asana also lets managers create and assign tasks to members, schedule deliverables, and collaborate efficiently. It sends notifications as the deadlines approach or when new tasks are added.
The users also get pre-designed templates for marketing projects and product development.
Choose for: Virtual workspace collaboration, task management, project management
Suitable for: Small to large businesses
Price: Starts from $10.99/month
Do right by your business with Asana to manage projects as it:
Offers Single Sign On (SSO) as a security and privacy feature.
Has robust two-factor authentication for logging in.
Comes with advanced account permissions where managers can determine which members have access to which tasks.
Facilitates designing, prioritizing, and scheduling tasks in various formats like the kanban system and timeline charts (Gantt).
Comes with a shared team calendar that collectively sends notifications for events.
Offers document storage.
Has a reporting dashboard that represents the status of all the tasks and projects.
Pros:
Has a free plan.
Empowers managers with permissions.
Has workload monitoring functionality.
Customizable dashboard.
Cons:
Limited exporting capabilities.
Doesn't track time.
Only allows one person per task.
No desktop app.
22. Teamwork

---
Teamwork is a project management tool that gives you everything you need to stay connected, keep communication flowing, and get full visibility over your project's process.
It's trusted by world-leading brands such as PayPal, Spotify, Disney, and Netflix.
Choose for: Project management, task management and team collaboration.
Suitable for: Small to large businesses
Price: Starts from €10/user/month
Why choose Teamwork for your business:
Break work and projects into tasks and layers of subtasks to track every detail
Communicate with colleagues and clients in real-time without having to switch platforms
Write and share content on a project, capture ideas and collaborate easily
Automate your workflows and cut out repetitive tasks
Group all your team or company projects into one Kanban view and easily spot the bottlenecks that put your plan at risk
Track time on every task and properly bill for all the hours your team works
Record custom details for your projects or tasks
Pros:
Connect with all your favourite tools
Manage projects and work on the go through a mobile app
Track your to-do's by creating tasks only visible to you
Spend less time in email by keeping all project communications in one place
Solve problems faster through instant chat
Instantly add client and team requests into Teamwork
Cons:
23. Salesmate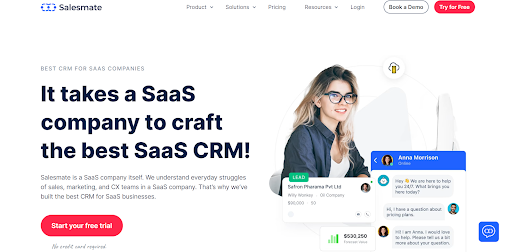 If you are looking for a top SaaS tool for data and pipeline management, Salesmate is the one to go for. It's a cloud-based CRM platform that helps manage contacts and streamline prospect interactions. The tool offers comprehensive solutions for sales, marketing, and CX teams.
You can create multiple pipelines, track user activity, schedule meetings, generate forecasting reports, and more. And the built-in email campaign manager and form builder lets you target potential leads to bring them into the pipeline and push toward conversions quickly.
Choose for: Contact and lead management, sales automation, in-depth reporting, and analytics
Suitable for: Startups, small and medium-sized businesses, and large enterprises
Price: Starts at $12 per user per month, billed annually
Why consider Salesmate as a SaaS tool for your business:
Organize and track contacts, leads, prospects, and customers in one place.
Create, customize, and manage multiple sales pipelines effectively.
Automate repetitive tasks, like sending follow-up emails, assigning leads to sales reps, and updating pipeline stages.
Supports shared inbox to keep all the teams on the same page and reduce miscommunication.
Track sales activity, transcripts, and records to close the deals faster.
Integrate with other workspace tools like ActiveCampaign, Google Calendar, HubSpot, and more.
Pros:
Design custom workflows to automate sales and lead management processes.
Built-in dialer to improve productivity and communications.
Customizable sales forecasting reports.
Cons:
Costly if you want advanced functionalities.
24. Tableau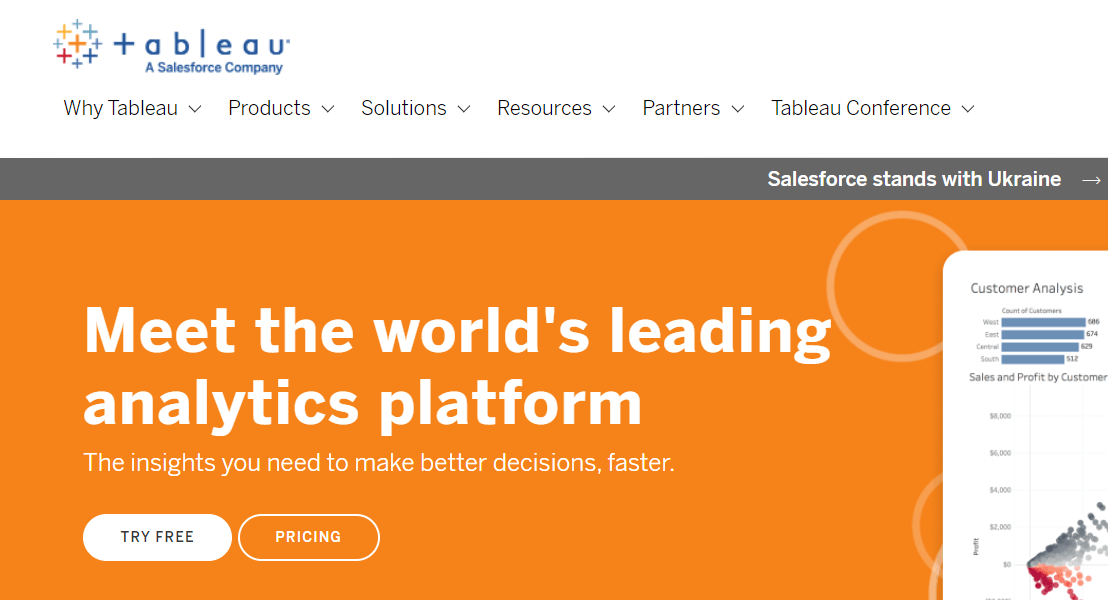 ---
Tableau is one of the business intelligence SaaS visual analytics tools that let companies from different industries collect customer data and understand what it signifies.
It helps you track customer behavior and visualize the data to simplify the analysis. The best part is that the tool doesn't have a steep learning curve, making it user-friendly.
Choose for: SaaS BI solution for data visualization, visual analytics
Suitable for: Mid-sized to large businesses
Price: Starts from $70/month
How Tableau helps businesses visualize data to detailed analysis:
Comes with a feature-rich dashboard that helps you analyze data and collaborate efficiently in real-time.
Offers licensing views.
Share data from different sources such as on-premise, on-cloud, etc.
Lets you export data from external sources as in-memory data.
Enables connection to live data.
Offers multiple visualization tools such as pie chart, Gantt chart, bars, treemap, boxplot, etc.
Has heatmap and flow features that help track customer behavior on the website.
Pros:
Has choropleth and point distribution maps.
Nested sorting.
Drag-and-drop integration.
Revision history.
Cons:
Has security problems.
Limited BI Capabilities.
25. Docusign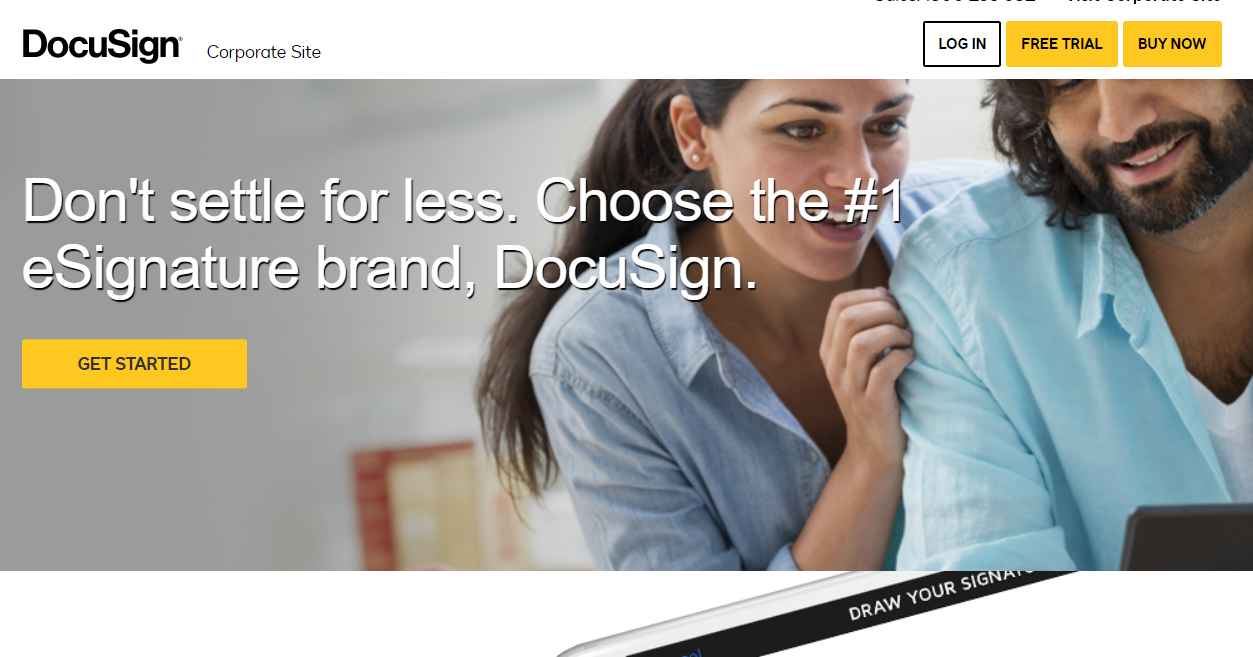 ---
DocuSign is a great tool for SaaS small businesses to create dynamic and compatible documents like signature documents accessible through different platforms.
The tool also helps you secure collected data and assemble your documents in one place.
Choose for: Signature documents authentication and creation, virtual documents
Suitable for: Small to large businesses
Price: Starts from $19/month
Why should you choose DocuSign to create versatile documents:
Lets you authenticate the signers.
Helps you assemble and securely share your documents.
Lets you design virtual agreements in any file type.
Automates and standardizes critical processes and enables you to set steps involved in the process and their order.
Integrates well with around 350 apps.
Has data controls features that ensure you don't make data entry errors.
Automatically populates fields and collects data during agreement signing.
Lets you create legally binding contracts in 40+ languages.
Pros:
Mobile signatures.
Remote access to documents.
Payment method integration into documents.
Cons:
No mass download of documents.
Can't save a signature set.
26. Atlassian Confluence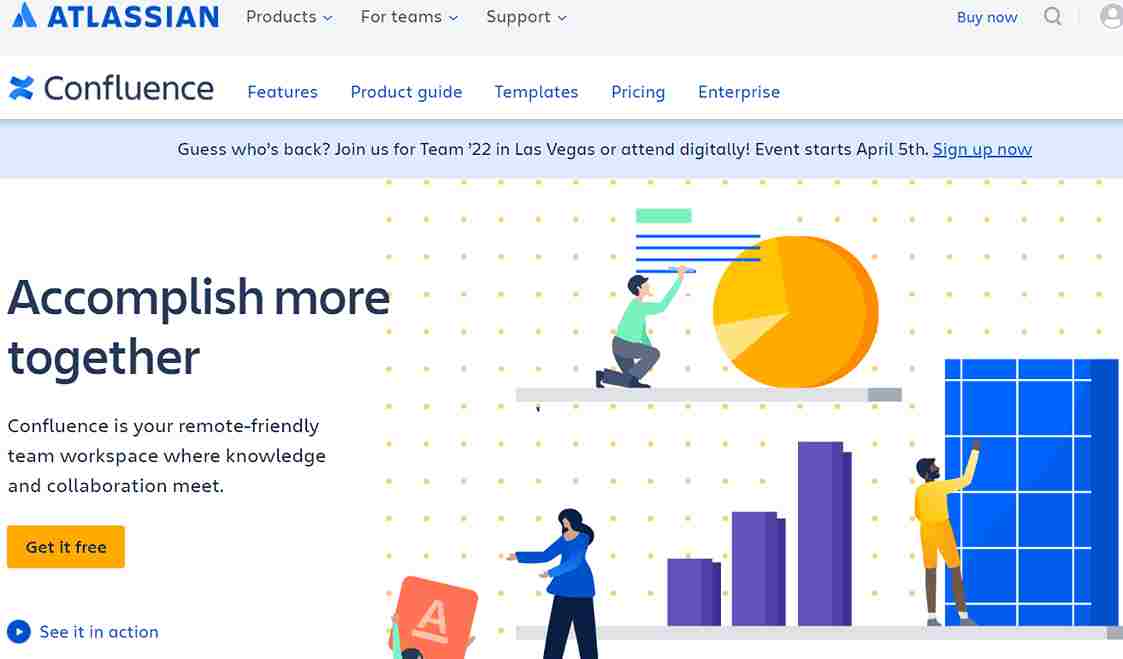 ---
Another SaaS project management tool is Confluence by Atlassian. It is more than a file-sharing and document tool; it is a collaborative platform. You can create, collaborate, and manage projects such as product launches, marketing campaigns, and more.
It offers dedicated spaces which you can organize and manage. You can add members from different teams and connect spaces across all teams.
Choose for: Team workspace, collaboration
Suitable for: Small to large businesses
Price: Starts from $10/month/collaboration
Why should you choose Atlassian Confluence for team collaboration:
Integrates perfectly with other products from Atlassian.
Lets you customize Atlassian apps from the Marketplace.
Enables you to share documents with many users and control the permissions, such as who can edit and access them.
Manage restrictions on space permissions to make documents compliant.
Offers an Anchor feature with which you can jump to different document sections.
Has customizable HTML plugins
Helps you add multimedia and dynamic content to documents.
Offers other features like automatic versioning, full-text search, instant previews, and pinned comments.
Pros:
Document linking.
Document templates.
Page analytics.
Cons:
Becomes expensive as collaborations grow.
Formatting of the documents is tricky.
Spelling and grammar checker doesn't work correctly.
27. Jira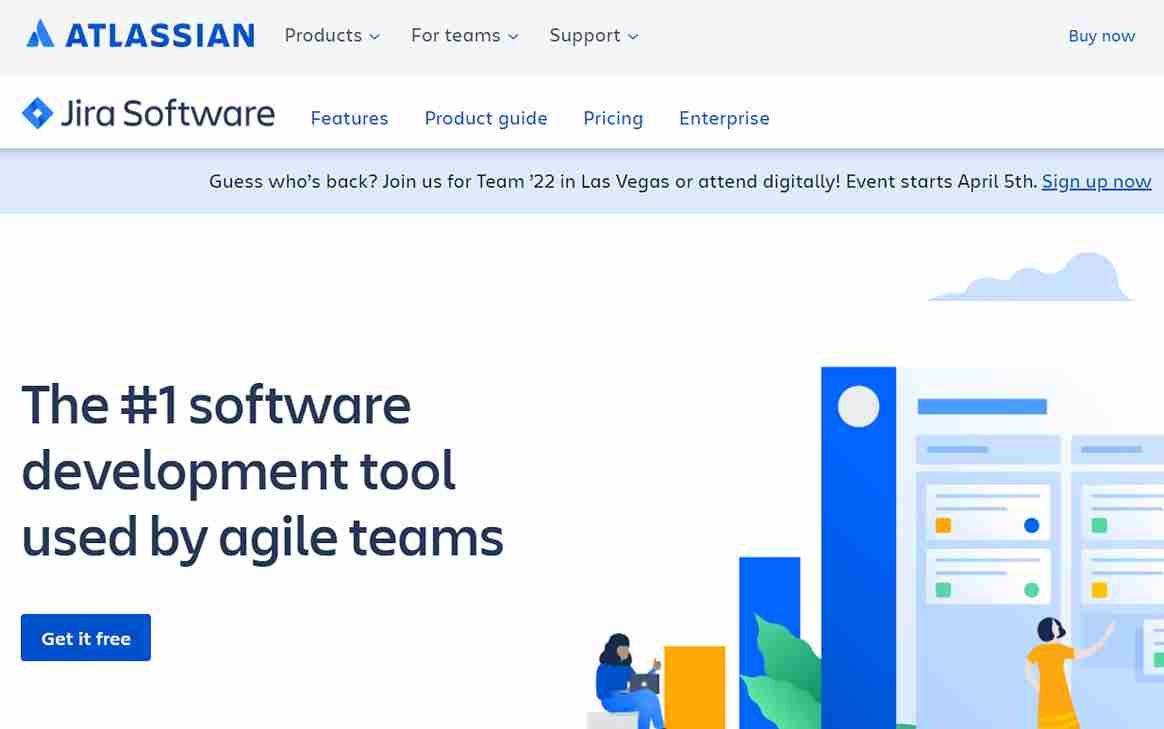 ---
Jira is another tool by Atlassian that focuses on issue tracking using cloud-based technology. Besides, the platform is created to manage team coordination as well.
The tool facilitates bug tracking throughout the development cycle. It makes the planning easy and manages coordination between team members.
Choose for: Agile project management, bug tracking
Suitable for: Mid-sized to large businesses
Price: Starts from $75/month
Why should you choose Jira:
Create custom workflows to complete a project.
Comes with templates for multiple purposes that you can customize as per your project needs.
Has release management functionality that monitors project releases and reports the progress.
Helps you manage product roadmaps and share them with concerned stakeholders.
Lets you manage agile and scrum teams.
Easy to record and collect software bugs.
Create custom flows to streamline the onboarding of employees.
Pros:
Free up to 10 users.
Seamless integration with Atlassian products.
Works on auto-pilot.
Cons:
No integrations with third-party products.
Frequent server problems.
SaaS SEO & Digital Marketing Tools
Below are popular and trusted SaaS marketing and SEO tools that you can use to boost lead generation, conversion, and customer retention.
28. Ahrefs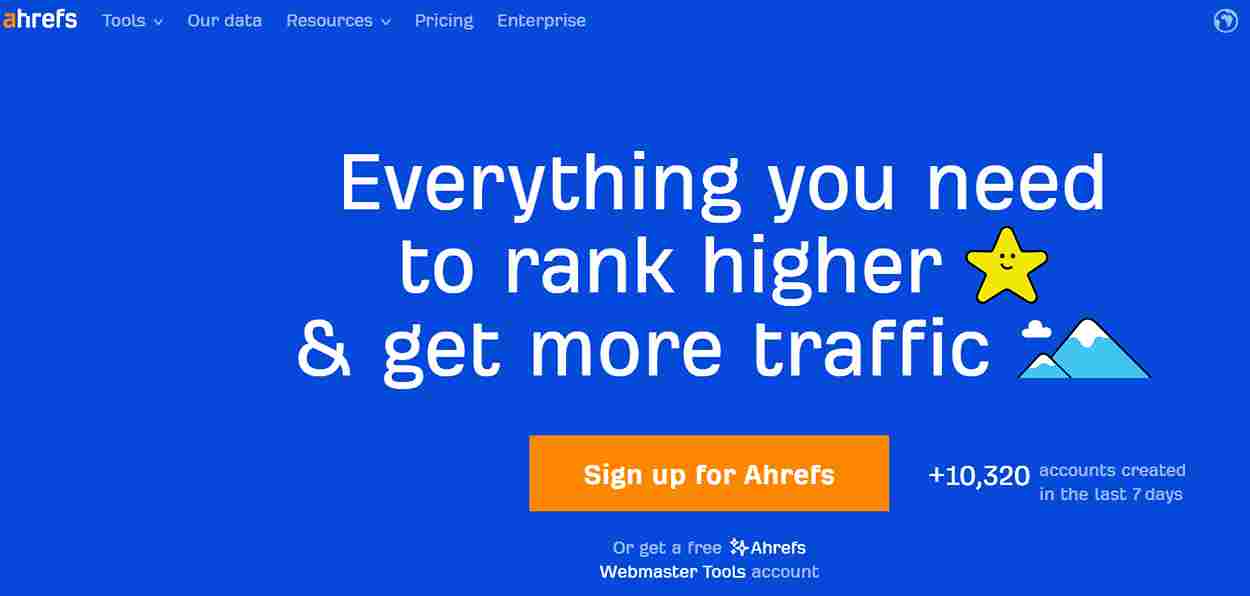 ---
One of the popular SaaS SEO tools in the market is Ahrefs. This one-for-all platform lets you perform link building, keyword research, rank tracking, competitive analysis, and more with just one tool.
With this software, you can perform keyword research on YouTube and Amazon, apart from Google.
Choose for: Link building, keyword research, competitive analysis
Suitable for: Mid-sized and large businesses
Price: Starts from $99/month
Why is Ahrefs the first choice of businesses for their SEO needs:
Has a dashboard that shows a graphical overview of different website metrics.
Provides a website Health Score with its Site Audit feature.
Offers main metrics on backlinks, traffic, and authority from the Site Explorer.
Has a Rank Tracker feature that measures ranking evolution for all keywords.
Comes with an extensive index and backlinks crawl.
Helps you track keyword clicks and distribution, backlink growth, content gaps, ranking history, outbound links, etc.
Lets you analyze SERP history and internal backlinks.
Pros:
Great for market research.
Offers organic search traffic results.
Database updates.
Cons:
Paid versions have restricted features.
No API in the regular subscription.
29. Semrush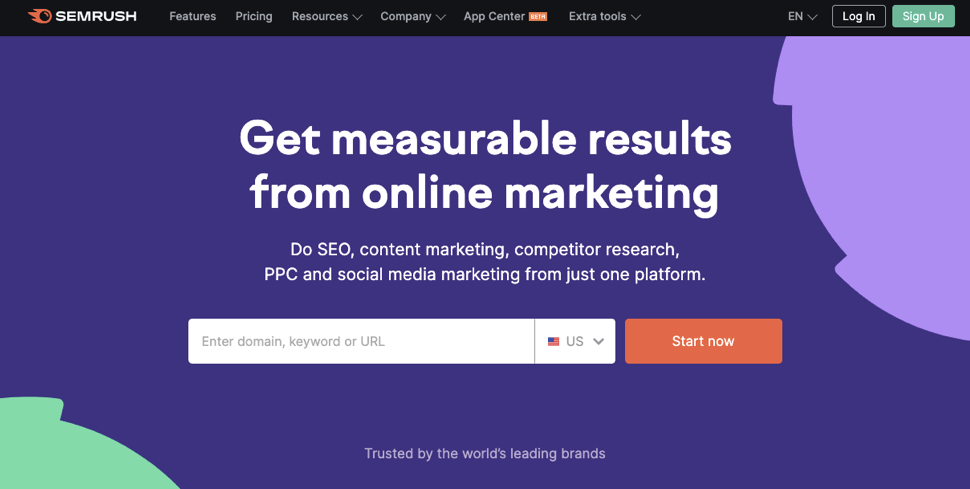 ---
Another SaaS SEO tool for businesses is Semrush. It comes with multiple add-ons and with over 50 other products for social media, content, PPC keyword research, paid ads, etc.
One of the best things about Semrush is that it integrates seamlessly with Google products.
Choose for: Market research, SEO, keyword research
Suitable for: Mid-sized to large businesses
Price: Starts from $119.95/month. Free version available
Why should you choose Semrush as your SEO tool:
Helps you discover long-tail keywords and explore each keyword's seasonality.
Lets you explore MSV (Monthly Search Volume) and CPC (Cost-per-click).
Each keyword triggers multiple SEPR features.
Offers on-page SEO tracker, position tracker, project dashboard, keywords alerts, etc.
Help you get organic traffic insights and offer a domain overview.
Has link tracker, keyword magic and tagging, rank tracker, site audit, traffic percentage metric, etc.
Lets you conduct a competitive research analysis.
Supports content optimization and interface language selection.
Comes with a content marketing toolkit and SEO content template.
Pros:
Visibility report.
PPC competitor tracking.
Detailed position tracking tool
Cons:
Some features you get as starters in other tools cost more with Semrush.
Not user-friendly.
30. Screaming Frog SEO Spider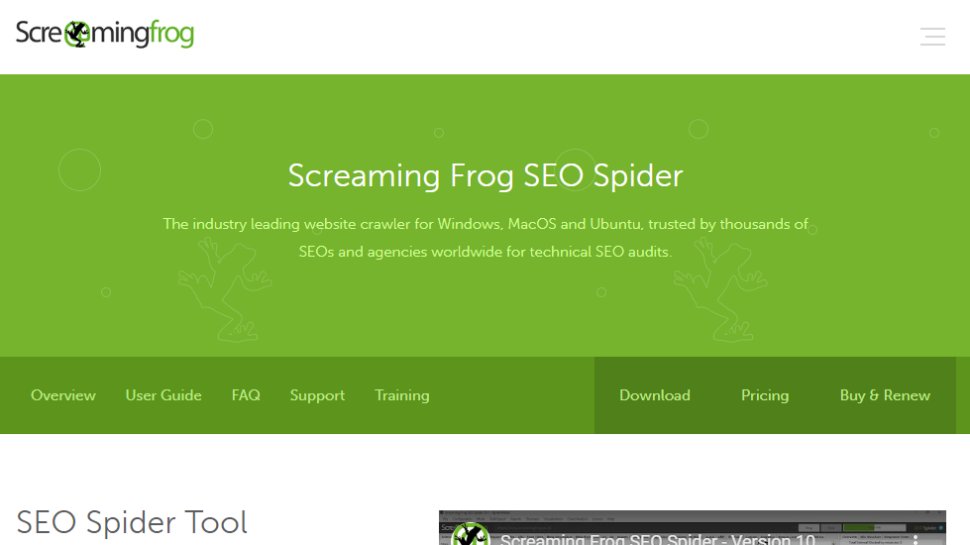 ---
Screaming Frog SEO Spider is an incredible tool that helps you crawl websites for on-site data audit issues and analyze the results. It comes with various features like scheduling the crawl, duplicate page detection, and much more.
Choose for: Website crawl and scheduling, sitemap generation, site visualization
Suitable for: Mid-sized to large businesses
Price: Starts from $149/month
Why should you choose Screaming Frog:
Offers multiple features like site visualization, generating and reporting XML sitemap, forms-based authentication, and more.
Tracks all types of server errors and helps export the source URLs to correct them.
Crawls websites of all sizes.
Lets you track broken links.
Enables marketers to examine meta descriptions and page titles.
Helps monitor permanent and temporary redirect links.
Finds blocked URLs using tag directives.
Uses XPath, CSS path, and regular expressions to scrape data from HTML of website pages.
Offers third-party integration with Google Search Console, Google Analytics, Link Metrics, etc.
Pros:
Catches technical SEO errors.
Track site health.
Sitemap cleanup.
Cons:
Crawl Map needs improvement.
Has a slight learning curve.
Live Chat Tools
According to statistics, 33% of customers consider switching brands after a single bad customer service experience.
Of course, you don't want this for your business. So, here are the top SaaS live chat support tools you can use to automate your support services and make the process efficient.
31. ProProfs Chat
---
ProProfs Chat is among the best SaaS tools for live chat. It comes with features that are easy to use and highly useful for businesses.
This live chat support tool lets you monitor website visitors and understand their behavior to personalize customer journeys.
It offers many valuable features such as multiple third-party integrations, lead storage, and more.
Choose for: Live chat support, AI-based customer support
Suitable for: Small to large businesses
Price: Starts from $15 per month
Why ProProfs Chat is a choice of many businesses:
Supports smooth chat transfer.
Helps manage individual chat routine needs.
Lets you add CTAs and links in the chat.
Enables you to monitor customer behavior on the website landing pages.
Helps you deploy a pre-chat form to collect crucial visitor information such as email IDs.
Has a rich library of canned responses for real-time support.
Analyzes operator performance reports & summary reports and tracks customer ratings.
Comes with a supervisor dashboard.
Supports integration with Salesforce, Microsoft Dynamics, and other 50+ integrations.
Pros:
Fast and responsive tool.
Pre-chat form to collect customer data for email lists.
Cons:
Needs more chatbot templates to capture leads.
32. LiveChat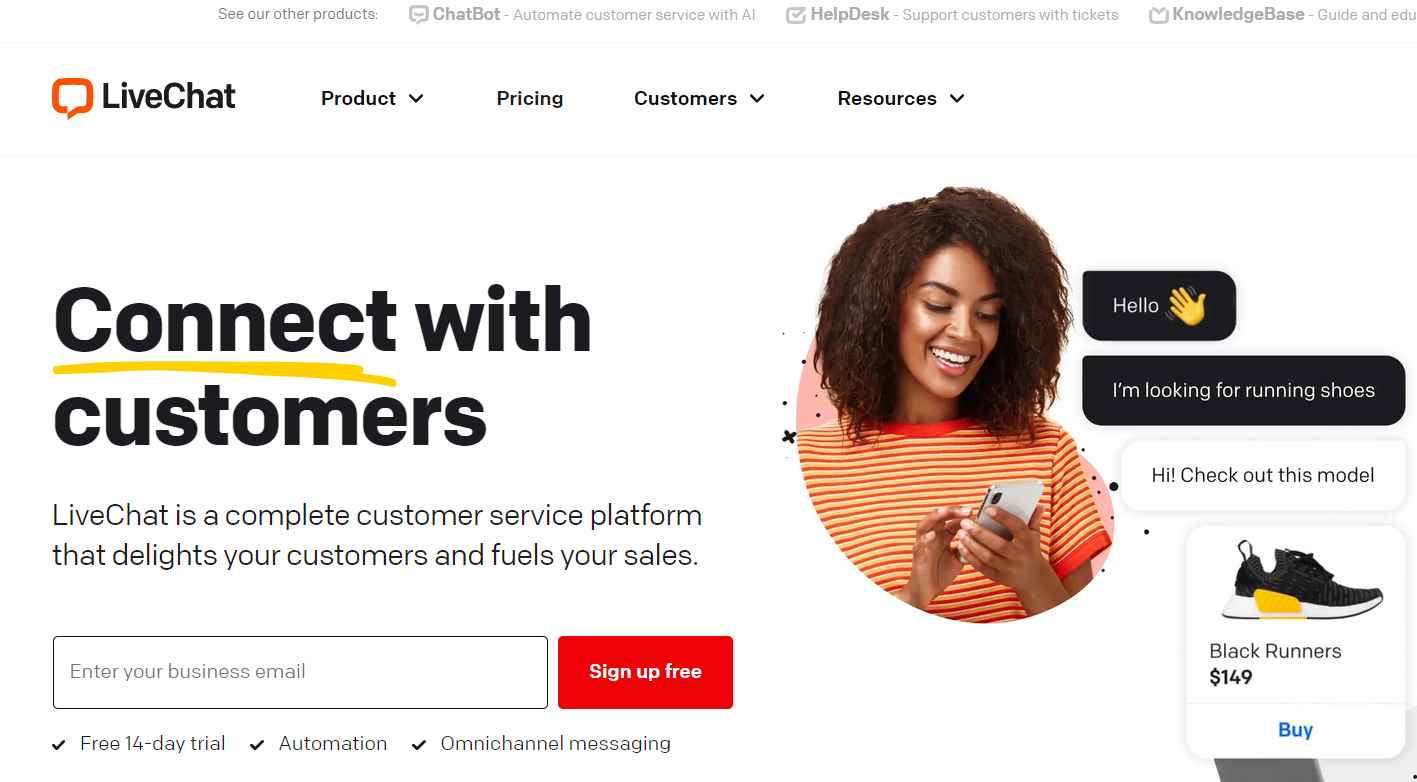 ---
Another SaaS product for automated chat support is LiveChat. The tool helps businesses around the world create incredible sales experiences.
You can get quality leads using an AI-powered chatbot and offer real-time assistance to your customers 24X7 and 365 days a year.
LiveChat lets you resolve customer issues, reduce wait time on tickets, and increase engagement.
Choose for: live chat, AI-based customer support, ticketing system
Suitable for: Small to large businesses
Price: Starts from $16/user/month
Why consider LiveChat as your live chat support partner:
Offers Sales and eCommerce features like sales and goal trackers, product cards, etc.
Lets you save customer data.
Anticipates questions that customers might need help with.
Lets users initiate chat and ask for assistance regarding their issues.
Supports customizable branding.
Comes with an in-built ticketing system to create a streamlined process.
Offers targeted messages for specific visitor behavior and traits.
Lets you add chat ratings for individual chat support personnel.
Supports file sharing during ongoing support sessions.
Pros:
Has security features like credit card masking, encryption, single-sign-on, etc.
Visitor banning.
Cons:
Lacks operator-to-operator chat functionality.
33. Zendesk Suite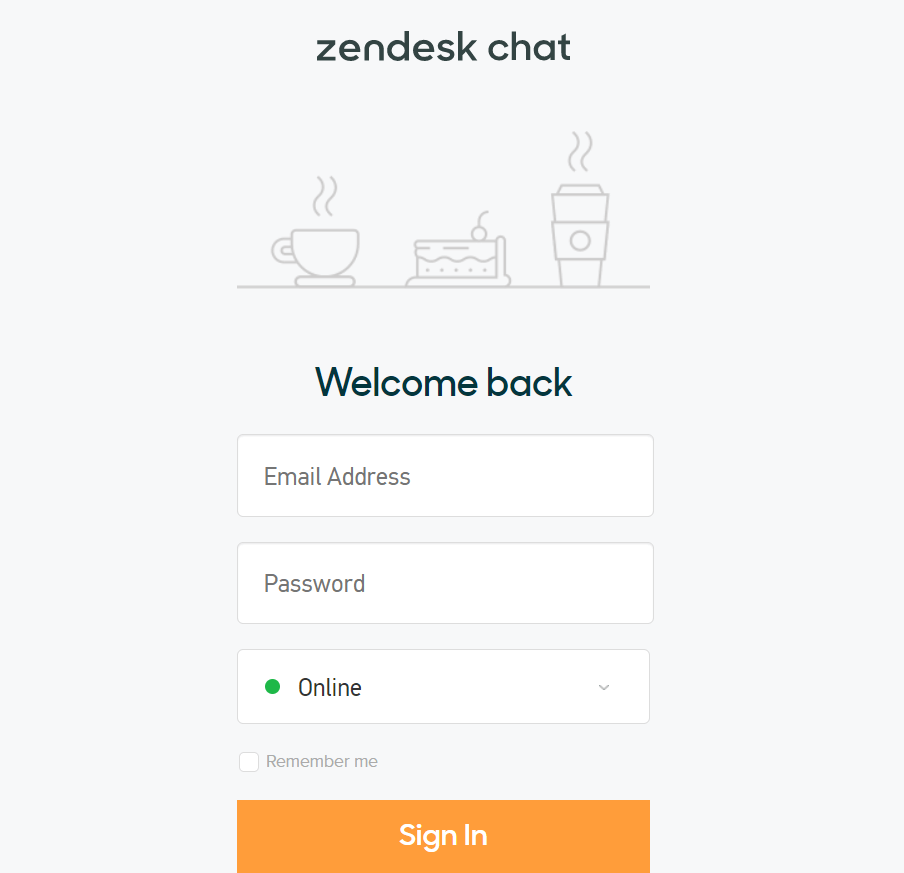 ---
Formerly known as Zendesk Chat, Zendesk Suite is another great option as a SaaS live chat software. It offers a real-time chat facility so businesses can actively resolve customer queries and issues.
It is a great tool to create a rich and engaging conversational experience with customers using automated support and features like GIFs and emojis.
Choose for: Live chat, automated chat support
Suitable for: Small to large businesses
Price: Starts from $$19/user/month
What features make Zendesk Chat an amazing tool:
Correctly anticipates questions customers may ask during their support session.
Effectively automates canned responses.
Comes with a mobile chat app for your support representatives to be available for your customers.
Supports chat routing to assist customers in finding answers to their questions faster.
Chat customization available
Pros:
Translate chat into multiple languages.
Helps customize chat hours, so representatives are only available during selected hours.
Cons:
No chat metrics to measure performance.
No customization for the chat widget.
SaaS Social Media Management Tools
There is rarely a business that doesn't have a social media presence in today's time. Because businesses have multiple accounts on different platforms, it becomes challenging to handle them all simultaneously.
You should choose any of these SaaS social media management tools if you don't already have one to manage your social media accounts in one place.
34. Buffer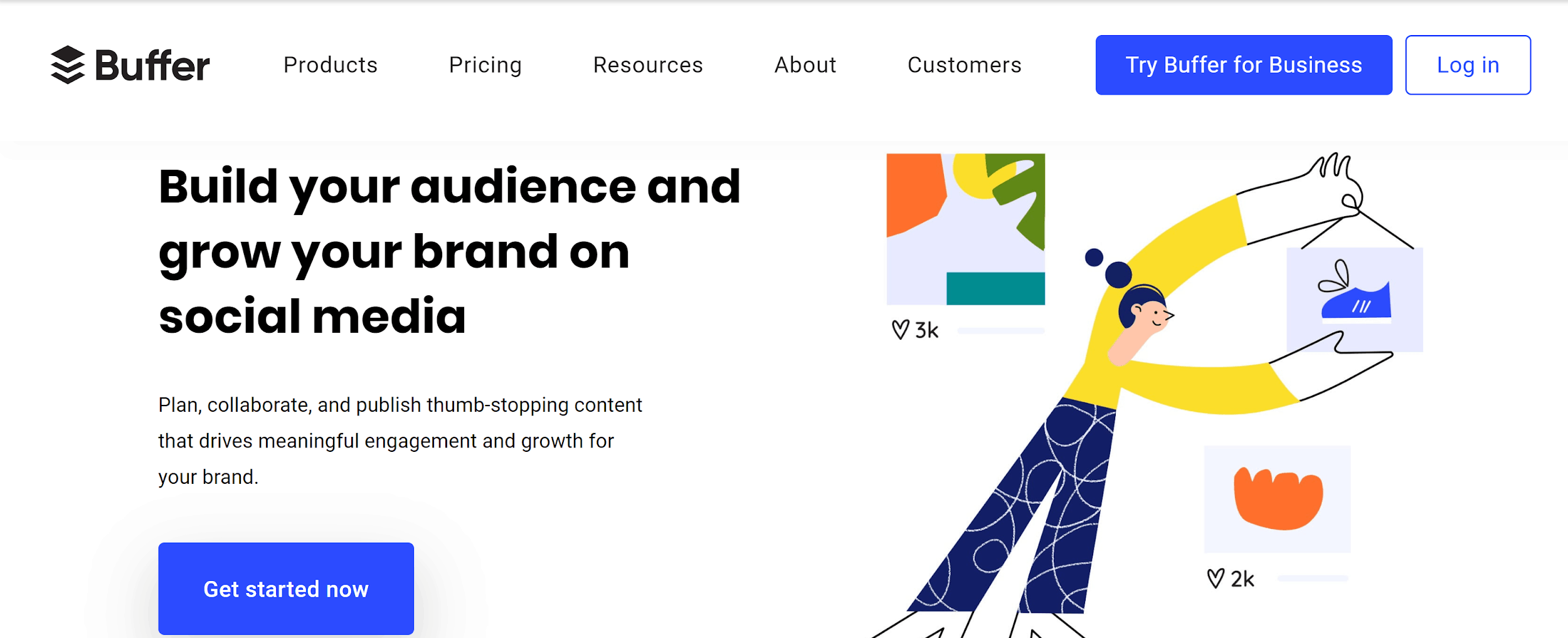 ---
Buffer is a well-known social media management tool perfect for SaaS businesses that want to streamline their social media marketing. It is an intuitive platform that makes the management of your social media accounts a breeze.
Choose for: Social media management
Suitable for: Small to large businesses
Price: Starts from $15/month
Here's why businesses choose Buffer for social media management:
Helps you schedule your social media posts on several networks.
Offers an incredible Slots feature that helps you set time slots in advance so the posts you create later get added automatically.
Shows your scheduled posts in a calendar view and makes tracking easier.
Comes with a helpful photo editor Pablo.
Offers exclusive features for Instagram e.g., it automatically adds the first comment when you publish a post.
Facilitates collaboration between teams with team management features.
Offers multiple integrations like Bulk.ly, Mention, Instapaper, Pocket, SharpSpring, WordPress, etc.
Pros:
In-depth analytics and reports.
Simple-to-use interface.
Cons:
Can't view your incoming mentions.
Offers very basic Pinterest and Instagram features.
35. Hootsuite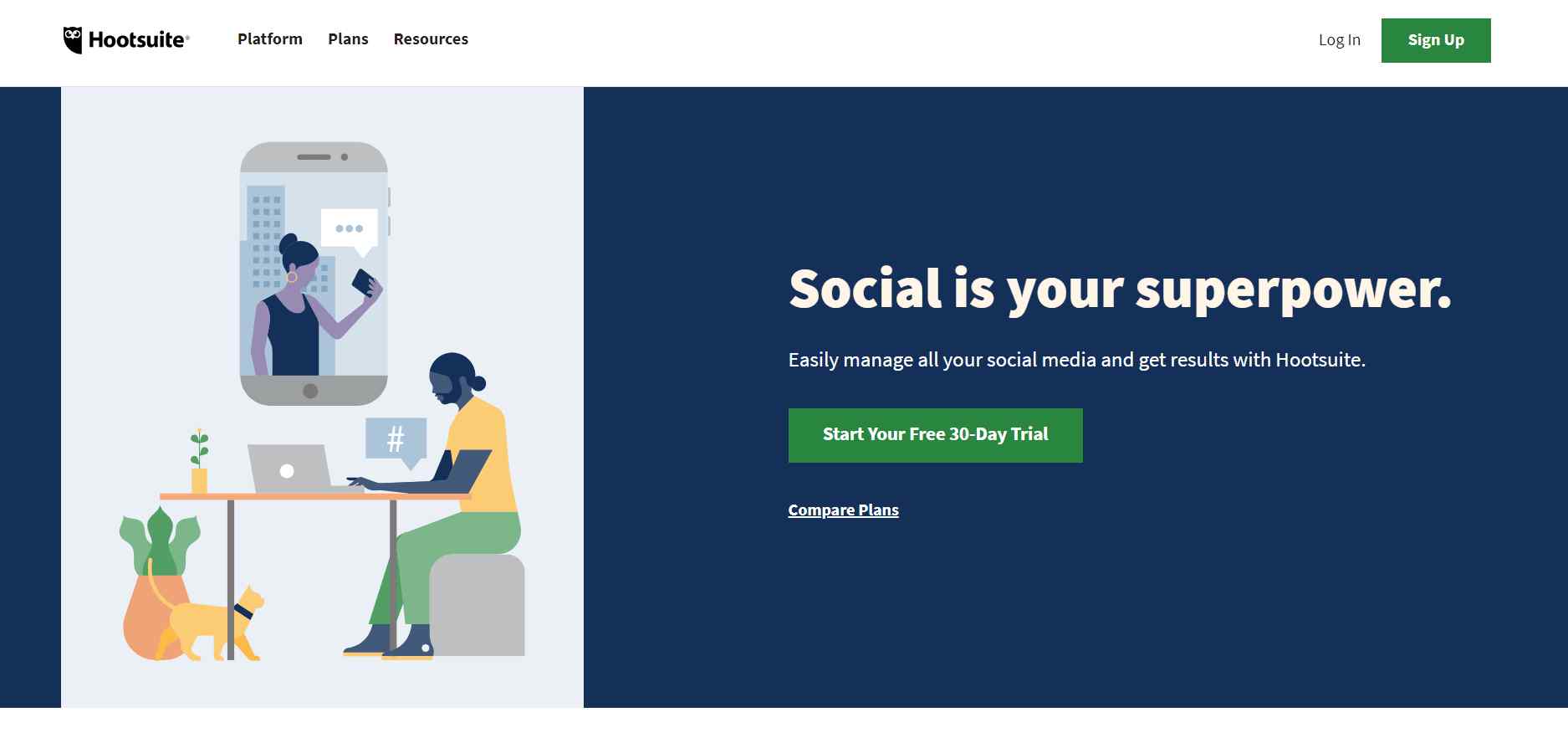 ---
If you want more options, we've got you covered. You can opt for Hootsuite, another incredible SaaS social media management tool, but it's slightly more expensive than Buffer. With Hootsuite, you can schedule your social media posts for different platforms at once.
It also helps manage paid and organic social media content tracks conversations and facilitates collaboration.
Choose for: Managing social media accounts, automated post scheduling
Suitable for: Small to large businesses
Price: Starts from $49/month
Why should you choose HootSuite for streamlining social media activities:
Automates post scheduling and tracking key performance metrics.
Offers analytics data to track the performance of your content across platforms.
Lets you monitor multiple streams simultaneously in one dashboard.
Helps you manage multiple accounts, pages, and channels on the same platform.
Comes with a team management facility.
Enables administrators to delegate responses to team members.
Lets team members send private messages to communicate.
Has a web app that works on Windows. Mac OS, Linux, and more.
Pros:
Intuitive dashboard.
Saves time by scheduling posts.
Cons:
Basic plan allows two accounts only.
Has a slight learning curve.
The interface needs work.
SaaS Ecommerce Tools
Businesses use these tools to digitally process payments on their website and mobile apps. You can refer to the list below to make your payment process secure and streamlined.
36. Shopify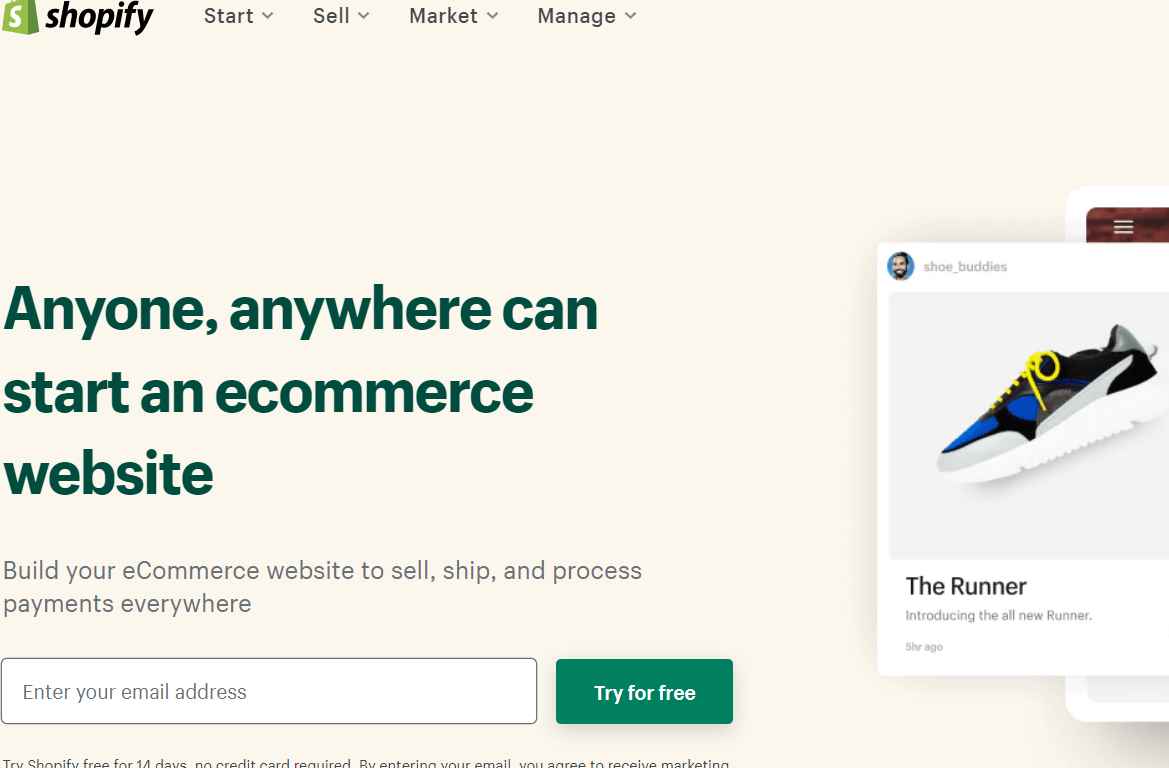 ---
Shopify is among those SaaS tools that you shouldn't overlook. It comes with incredible features that your business will surely benefit from. The tool lets you create, host, operate and manage your websites.
It comes with several tools catering to different purposes such as marketing, shipping, payment, customer engagement, sales, etc. You also get a library of templates to design websites.
Choose for: Design websites, secure payment
Suitable for: Small to large businesses
Price: Starting at $5/month with the Shopify Starter plan
Why should you choose Shopify for eCommerce needs:
Offers a feature called Smart SEO that automates metadata input and sends structured data to different search engines.
Comes with multi-language support.
Helps you gather insights using its Analytics feature that tracks customer activities, marketing, and sales operations.
Helps you create different versions of the same website in different languages.
Lets businesses deal in multiple currencies.
Sends notifications to customers with filled shopping carts to complete the purchase and reduce the cart abandonment rate.
Pros:
Offers 256-bits SSL Certification to all websites created with Shopify.
Highly personalized.
Fast loading speed.
Cons:
Challenging to add custom fields.
Reporting functionality is only available in expensive plans.
37. Square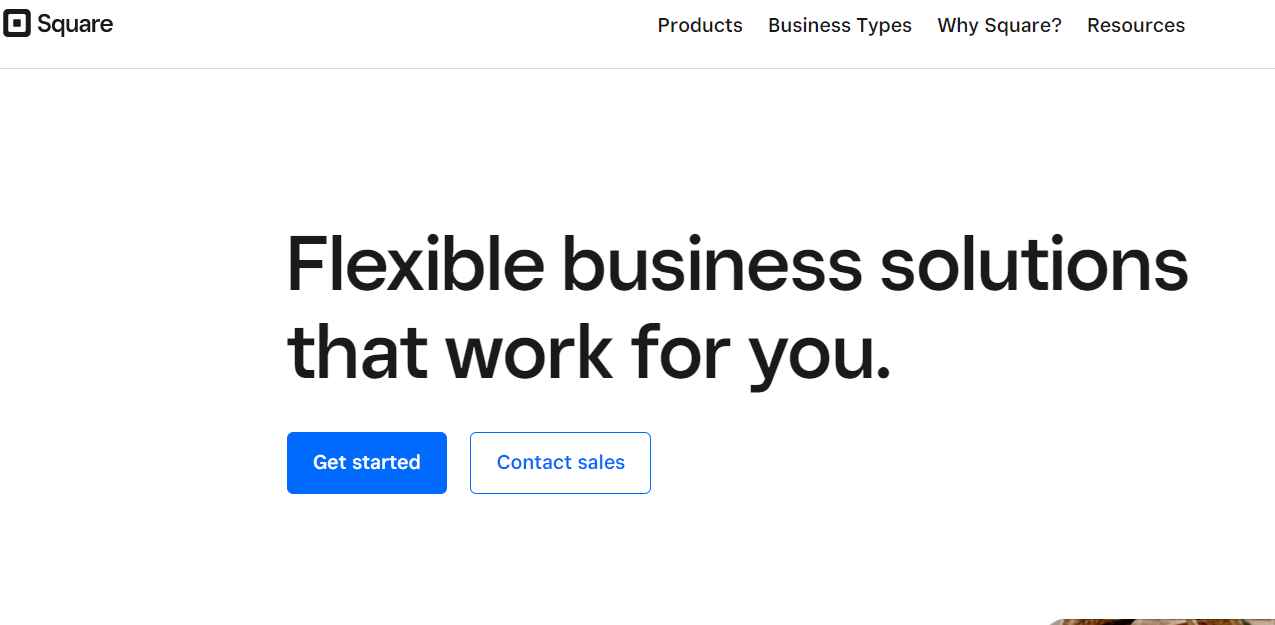 ---
Square is an online payment processing company that offers payment systems and point-of-sale solutions to all businesses. It helps businesses make sales and collect payments digitally.
With Square Payments, businesses can accept payments from any location, different credit cards, send invoices, and sell through e-commerce platforms, among other things.
Choose for: Secure payment, digital payments, payment processing
Suitable for: Small to large businesses
Price: Starts from $12/month annually
Why should you choose Square for payment processing:
Offers you a free URL.
Comes with features like free unlimited hosting, inventory management and tracking, and advanced and integrated reporting.
Offers seamless integration with other Square products.
Provides support for the in-store pickup.
Helps link the point of sale with online stores.
Pros:
All-in-one payment system.
Has a responsive web design.
Integrates well with other eCommerce tools.
Cons:
No adjustable rates.
Incompetent shipping strategy.
Has account stability issues.
Human Resource Management Tools
Like all processes, the human resource management process needs to be managed, tracked, and streamlined for efficiency. Here are some SaaS tools you can use.
38. Microsoft SharePoint HRMS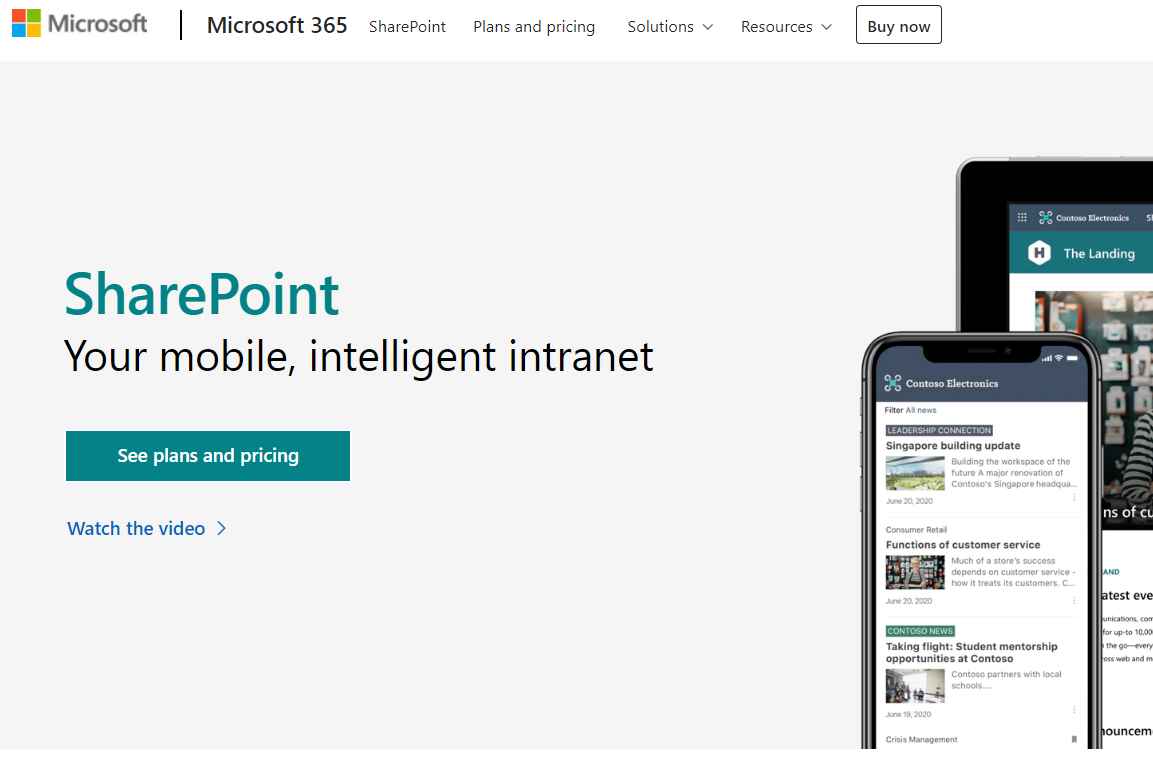 ---
Microsoft's SharePoint is one of the top HR SaaS tools available. It lets you search for premium candidates, increase employee retention, and smoothen the employee lifecycle management.
One of the benefits of using SharePoint HRMS is that you can reduce your L&D and hiring costs. It caters to multiple industries such as retail, healthcare, SaaS, finance and banking, etc.
Choose for: Employee lifecycle management, hiring and onboarding
Suitable for: Mid-sized to large businesses
Price: Starts from $5/month/user
Why should you choose Sharepoint as your HRMS:
Has features that facilitate employee information management to keep all data streamlined.
Helps you streamline employee lifecycle management, payroll management, and compensation management.
Offers a lot of custom HR documentation templates to make the process effective.
Comes with other features like unique branding, HRMS page layouts, etc.
Offers dashboards to track the performance of employees and the HR team.
Pros:
Highly customizable.
Centralized administration.
Site consolidation.
Cons:
Complex setup.
Costly to license and host.
Slight learning curve.
Other SaaS Tools
Here are some more SaaS software we think will help you with different business purposes.
39. Movavi Video Editor

Movavi Video Editor is a feature-rich software designed for businesses seeking a dependable and user-friendly video editing solution. It caters to users who want a hassle-free experience, even without prior editing skills.
The tool provides an extensive selection of pre-made templates and effortless exporting capabilities, enabling businesses to swiftly create captivating product demos, customer testimonials, and compelling promotional videos.
Choose for: Video editing and content creation
Suitable for: Small to large businesses
Starts from: $54.95/year
Why choose Movavi Video Editor?
Built-in content library consisting of music, videos, backgrounds, and effects.
Comes with AI-powered tools for motion tracking, background editing, and noise removal.
Add up to 99 tracks for video, audio, and titles.
In-depth color adjustment options, cropping and rotation tools, and overlays.
Ability to apply stunning slow-motion effects.
Supports multiple output formats and resolutions.
Pros:
Simple, easy to use interface with intuitive controls.
Produce professional videos in minutes.
Affordable license fee.
Cons:
Watermark with the free version.
Limited features
40. Canva
---
Canva is an incredible design tool that lets you create social media posts, infographics, and more without professional graphic designing skills.
Its drag-and-drop editor makes the whole designing process a walk in the park. Another fantastic feature is that it offers hundreds of templates and free icons to make the content more interesting and the creation process efficient.
Choose for: Graphics designing, infographics, social media posts
Suitable for: Small to mid-sized businesses
Price: Starts from $12.99/month
What makes Canva a leading designing tool:
Offers a wide variety of content such as infographics, resumes, social media posts, and more.
Comes with a drag-and-drop editor to make editing easier.
Offers 50,000+ ready-to-use and customizable templates for photos, posters, infographics, and more.
Offers tons of stock images, icons, and fonts to use for free.
Lets you resize videos.
Pros:
Organizational Charting.
Free video recorder.
Cons:
Limited features in the free version.
Only works online.
41. ServiceNow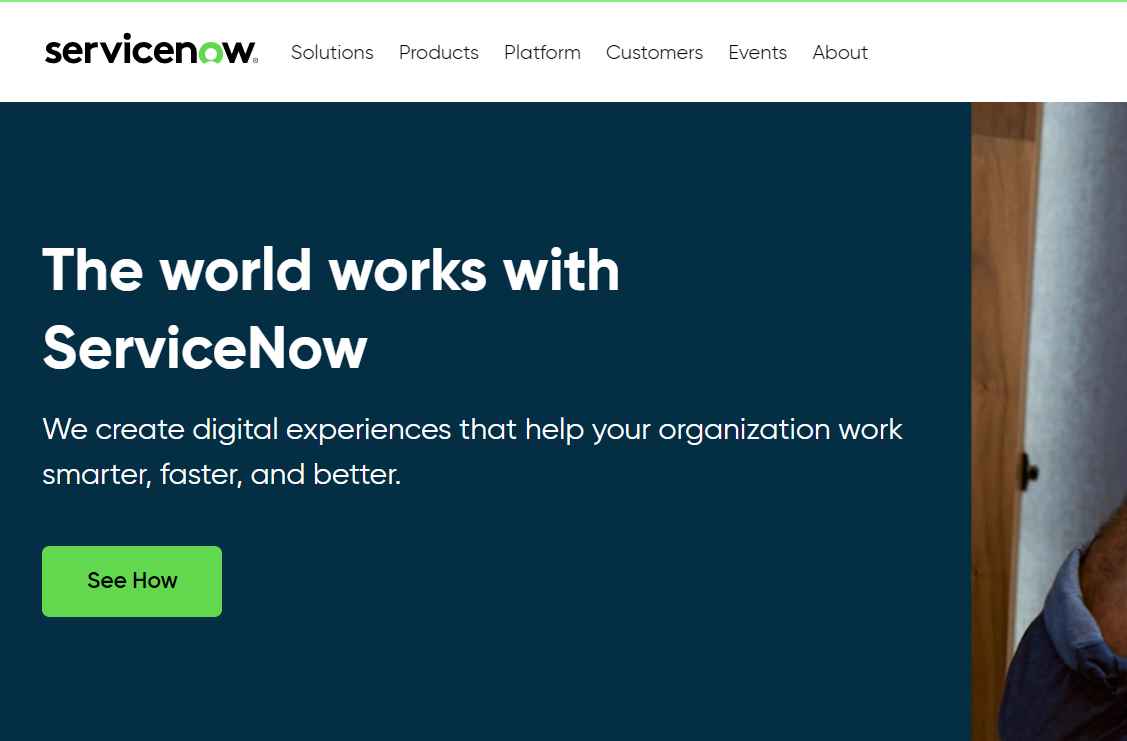 ---
ServiceNow is a popular SaaS cloud computing tool that assists companies in controlling digital workflows for their enterprise processes. It uses a single data model to design workflows and automate your business processes.
It also has an Intelligent Automation Engine that amalgamates machine learning with automated processes to save time and reduce costs.
Choose for: Cloud computing, processes automation
Suitable for: Small to large businesses
Price: Available on request
Why should you choose ServiceNow:
Offers a variety of pre-designed ITSM products to automate enterprise processes.
Lets you create executive dashboards.
Helps you prepare reports on KPIs.
Supports virtualization lifecycle management, infrastructure discovery, change orchestration, and more.
Helps you create and categorize tickets to initiate conversations.
Comes with a knowledge base that helps resolve queries faster.
Pros:
Offers asset lifecycle management.
Supports asset tracking.
Automated routing.
Cons:
Slow in loading.
Complicated ticket search system.
42. G Suite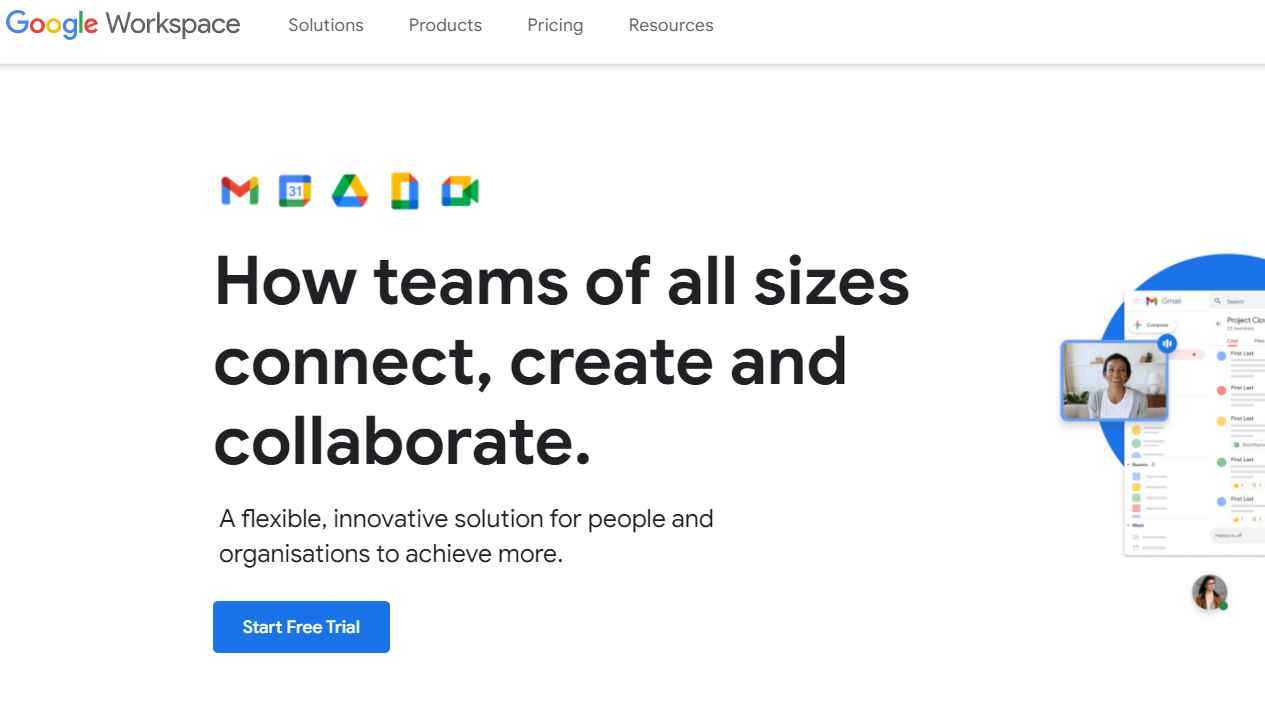 ---
G Suite is an all-in-one workspace you would ever need for internal communication and collaboration between teams.
G Suite offers many other tools for different purposes such as Calendar, Gmail, Sheets, Docs, Meet, and more.
Choose for: Collaboration on projects, Workspace
Suitable for: Small to large businesses
Price: Starts from $6/user/month
Why should you choose G Suite:
Lets you schedule meetings and share online links via emails.
Automatically saves meeting schedules in Google Calendar and also sends reminders.
Helps you create notes and checklists using its Keep feature.
Enables you to create spreadsheets and documents and share them using live links.
Offers you storage space in Drive for free up to 15 GB.
Pros:
Spam protection.
Real-time collaboration in documents and Google Sheets.
Cons:
Price can be costly for mid-sized or large businesses.
43. LastPass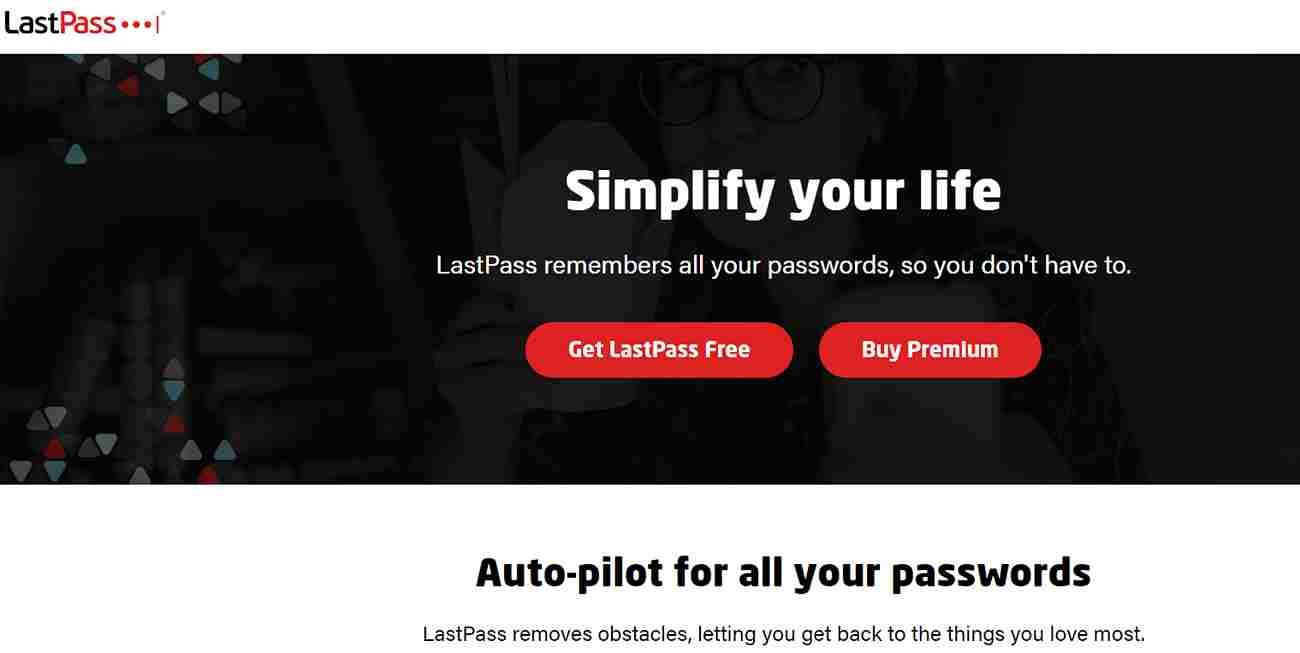 ---
LastPass is a fantastic SaaS password manager tool that you can use to secure sensitive data such as passwords from cyber threats using the tool's zero-knowledge security infrastructure. It offers control settings to admins to monitor and keep track of the data.
Choose for: Password protection, password storage and management
Suitable for: Small to large businesses
Price: Starts from $4/user/month
Why should you choose LastPass:
Enables you to secure data such as login passwords.
Lets you save other data such as Network SSIDs, credit cards, notes, social security numbers, bank accounts, etc.
Provides you access to features like single sign-on for up to three cloud apps.
Supports multi-factor authentication (MFA).
Lets you create random passwords.
Pros:
Randomizing passwords.
Offers Chrome extension.
Auto-populates fields.
Cons:
Interface needs improvement.
44. Momentive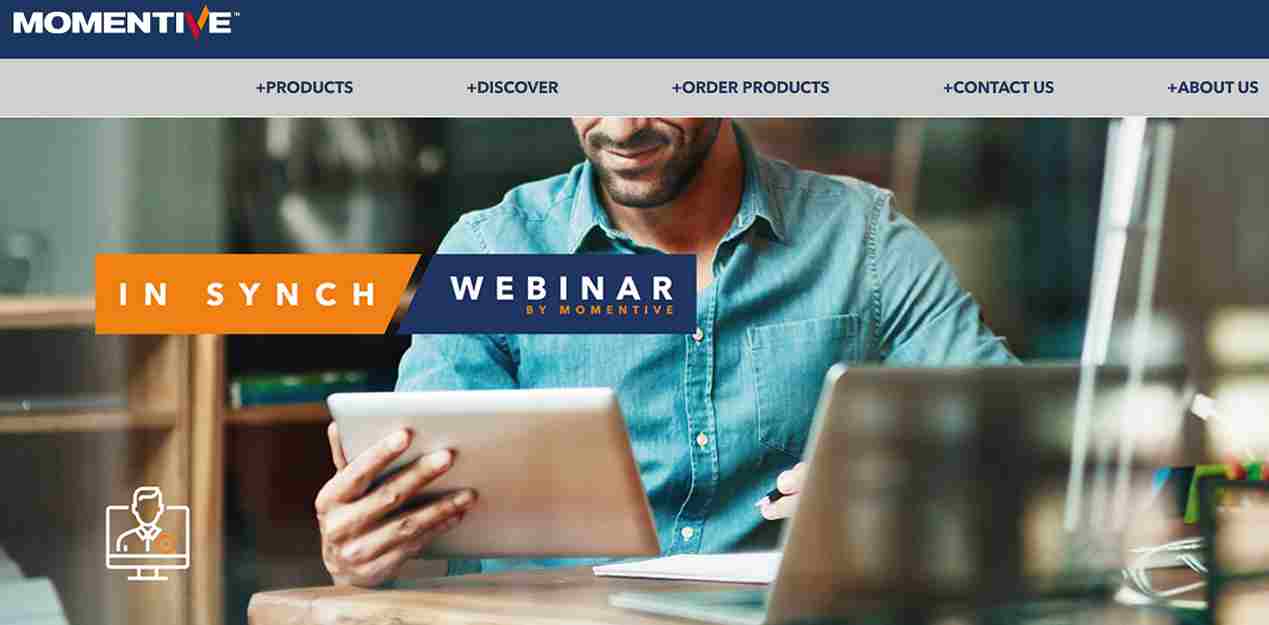 ---
A part of the SurveyMonkey feedback tool, Momentive is an agile experience management platform that uses AI to help companies create seamless customer experiences. The tool helps with collecting customer feedback and conducting market research.
It offers various features such as language translation, custom research design, and more.
Choose for: CX, market research, marketing, feedback
Suitable for: Mid-sized to large businesses
Price: Available on request
Why should you choose Momentive:
Comes with feedback tools such as SurveyMonkey and GetFeedback.
Lets you collect customer insights on different platforms such as websites, mobile apps, and prototypes.
Enables you to track multiple customer metrics such as NPS, CES, CSAT, etc.
Offers an in-house research program and supports custom research design.
Offers language translations for feedback and surveys.
Comes with analytics and reporting to gather valuable insights from collected data.
Pros:
Assists in market research.
Supports multiple-survey types.
A library of pre-designed survey templates.
Cons:
45. Box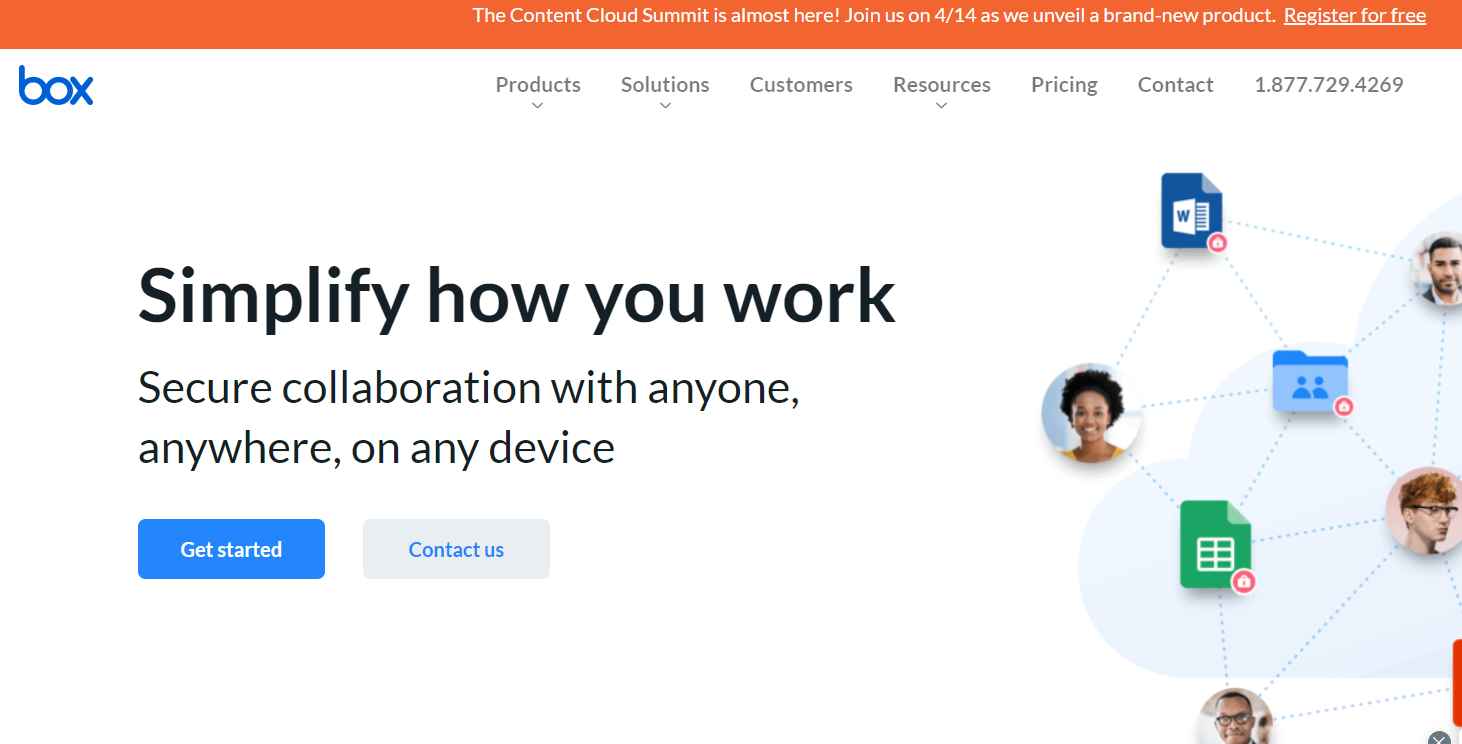 ---
Another SaaS tool in our list is Box. It is a cloud-based collaboration and content management tool that facilitates file sharing within the organization. The tool also helps with document management.
Choose for: Document storage, cloud storage, content management
Suitable for: Small to large businesses
Price: Starts from $15.25/ 3 users/month
Why should you choose Box for your business:
Offers a feature called Box sign to create a native E-signature.
Provides data privacy and GDPR compliance.
Offers an admin console that helps manage and control your business processes.
Lets you store large files such as folders, videos, and other documents on the cloud.
Support editing and hosting MS Word and Excel documents on the platform.
Comes with other features like device syncing, audit logs, user and role management, etc.
Enables integration with Box Shield, Box Governance, Box Platform, and Box Zones.
Pros:
Secure storing of documentation.
Cons:
Can be more user-friendly.
46. Zapier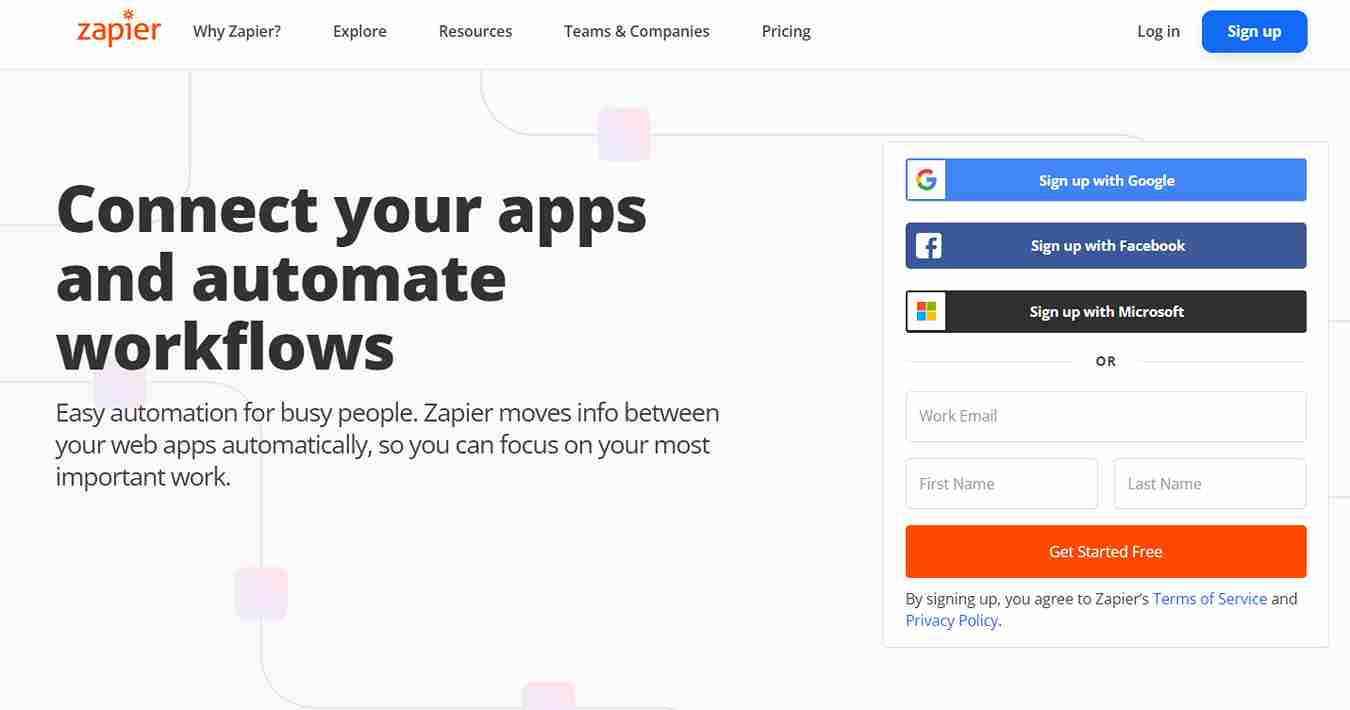 ---
Zapier is a platform that helps automate workflows and enables SMBs to integrate different web apps without writing a single line of code.
It offers more than 2000 web apps you can choose to integrate. These integrations are a great way to streamline and make the processes efficient.
Choose for: Process automation, third-party web application integration
Suitable for: Small to large businesses
Price: Starts from $19/month
Why should you choose Zapier for your business:
Lets you integrate with popular apps like Salesforce, MailChimp, Pipedrive, Slack, and more.
Offers no-code real-time integration with other applications.
Comes with pre-built and custom connectors.
Supports data mapping, routing, and orchestration.
Has data encryption for your integrations.
Pros:
Data virtualization.
Managed file sharing.
Cons:
ZAPs don't work sometimes.
Customer support is not great.
Consent Management Tools
With more than 137 countries having a data privacy law in place, consumers are now increasingly concerned about privacy. It is important for businesses to earn customer trust and also stay legally compliant. So here is a Consent Management Platform (CMP) that can help your business with compliance.
47. CookieYes

---
CookieYes is a market-leading cookie consent solution trusted by over 1.3 million websites worldwide to comply with privacy laws like the GDPR and CCPA. With CookieYes, you can implement a cookie consent banner, auto-block third-party cookies and maintain a record of user consent for auditing and reporting.
Choose for: Cookie consent management
suitable for: Small to large businesses
Price: Starts from $10/month. Free plan available
Here's why businesses choose CookieYes for cookie consent management:
Simple 3-step implementation: set up without any coding
Advanced banner customizations for complete personalization
Centralized dashboard to manage all domains and consent management
Scheduled scanning and auto-updated cookie lists
Geo-targeting for GDPR and CCPA compliance
Real-time consent records for proof of compliance
Free privacy and cookie policy generators
Pros:
Ease of setup
Multilingual banners and auto-translation
Cost-effective paid plans
Feature-packed free plan
Timely customer support
Cons:
Not compatible with mobile apps
Geo-targeting is not available in the free version
48.We360.ai
We360.ai is a cloud-based employee monitoring software that provides insights into the team's work environment to optimize productivity and enhance employee satisfaction.
The software comes with features like automated attendance, productivity monitoring, live streaming, activity monitoring, project management, and much more. Its user-friendly platform comes with a free trial and 24×7 remote support.
We360.ai also integrate seamlessly with major workspace tools to streamline data management and increase team productivity and collaboration.
Choose for: Employee monitoring, time tracking, productivity enhancement, workflow optimization, productivity measurement
Suitable for: Small to large businesses
Price: $6.99 per user/month
Why choose We360.ai for employee monitoring:
Provides comprehensive employee monitoring capabilities, including real-time activity, time tracking, and productivity analysis.
Offers customizable monitoring settings to ensure effective tracking without impeding productivity.
Prioritizes data security and privacy, encrypting all data and restricting access to authorized personnel.
User-friendly UI with detailed, easy-to-understand reports and analytics.
Offers cost-effective solutions for businesses of all sizes, with scalable plans.
Compliant with all relevant laws and regulations related to employee monitoring.
Pros:
Real-time insights
Customizable settings
User-friendly interface
Native We360.ai mobile app for remote monitoring
Cons:
On premise solution not available below 100 licenses
Choose the Right SaaS Tool to Grow Your Business
With that, we complete our list of top SaaS tools that organizations use for most of their business purposes. We are sure you'll be able to find suitable tools for all your business needs.
For example, you can pick Buffer to manage your social media, ProProfs Chat to automate your chat support, Qualaroo for collecting in-context feedback to improve your customer experience, and so on.
Just make sure to properly analyze what your business needs, such as your budget and the scale of the business needs, and examine the features of the tools you are consider trying and you're good to go.
Want insights that improve experience & conversions?
Capture customer feedback to improve customer experience & grow conversions.