CHAPTER 1
Getting to Know the Voice of Customer
When a business is in its initial stages, it is easier to test the waters first-hand and listen to the voice of customers and implement their suggestions in real-time.
But as a business grows, the feedback is no more streamlined across all departments; rather, it turns into silos without a natural flow to reach the right ears. Irrespective of this, all is not lost.
A well-planned Voice of Customer strategy can pave the way for your feedback silos to flow uninterrupted across all departments, providing something valuable to each one.
We have curated this guide to discuss everything about the voice of the customer. The guide covers everything you can possibly have questions about, from the basics to what to do with the gathered data from your VoC strategy.
So, let's begin!
What is the Voice of Customer?
Voice of Customer (VoC) is the feedback collected directly from your customers about your product or service.
VoC is the feedback that can be qualitative, like comments, and quantitative, like a Net Promoter Score survey or other type of ranking.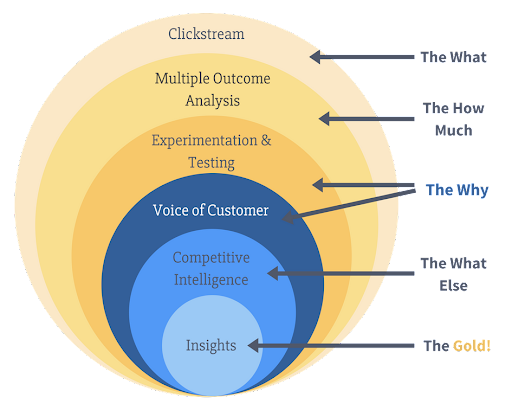 How to Collect Voice of Customer Feedback
You can collect it through on-site surveys, email, and other surveying methods. Organizations also use their customer support, social media channels to collect the Voice of Customer feedback.
The VoC is the difference between a successful and unsuccessful company. An organization should understand the needs of its customers, stated or otherwise, to stay ahead in the game.
This is how the whole process of gathering Voice of Customer feedback looks like-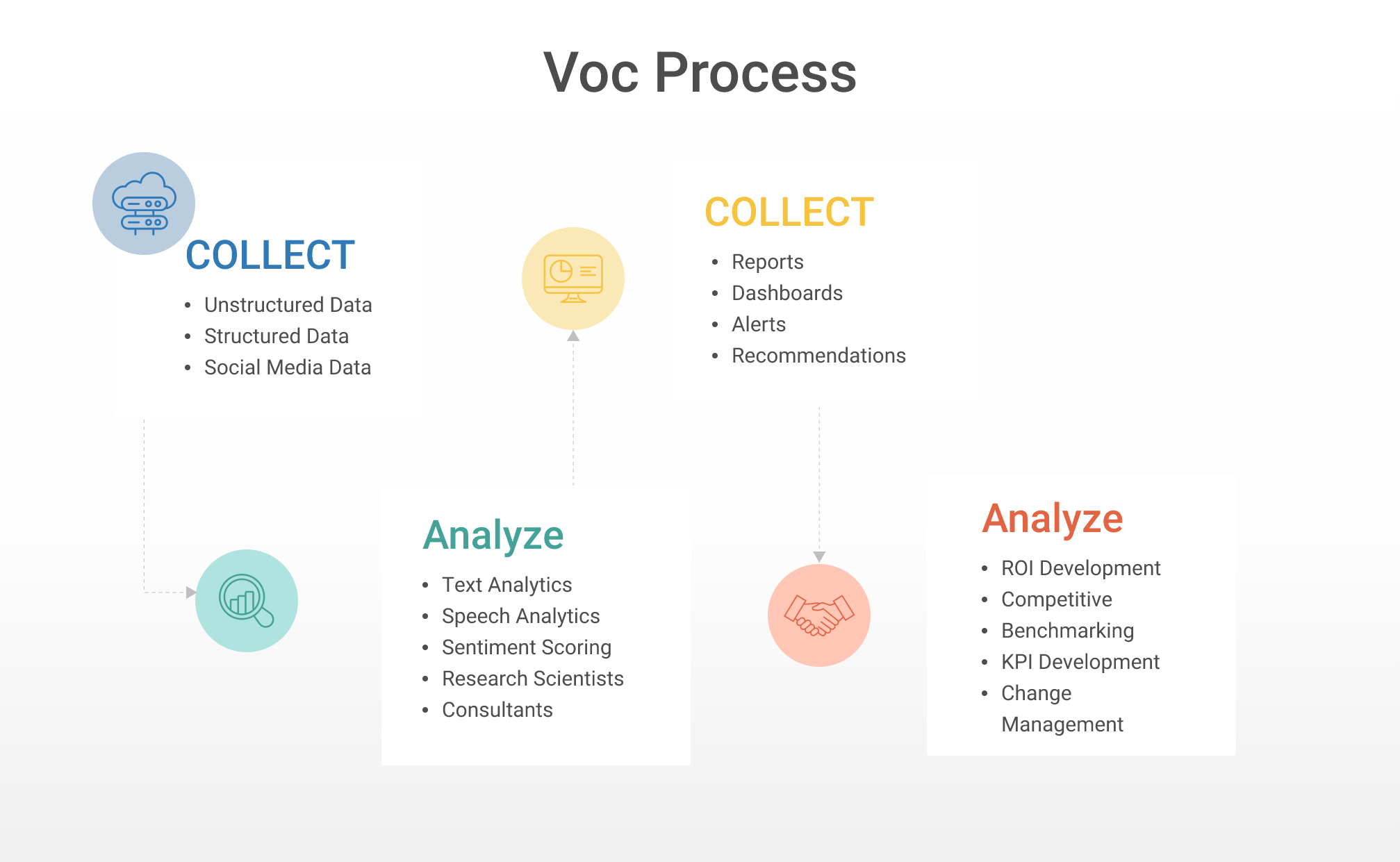 Why Is the Voice of Customer Feedback Important for Businesses?
Voice of Customer feedback is crucial because it represents the collective sentiment of how your customers perceive your company and the value of your products and service. The Voice of a customer is arguably the most critical data because it is the market's response to your offerings.
Voice of Customer data is used by companies in all sorts of ways, from optimizing their websites to improving their customer service, announcing new product features, service plans, and whatnot.
Here are some convincing benefits of Voice of Customer analysis advocating why it is pivotal for businesses:
1. Improvement in Service and Products
For businesses, customers are the best critics and supporters. It only makes sense to seek the feedback of those who are the end-users, isn't it?
Of course, you can sit for hours in boardrooms brainstorming ideas, but customer feedback is that one ingredient that can make all your efforts worthwhile and fruitful. By .gathering feedback via multiple channels, you:
A. Can gather inputs and feature suggestions from your customer for new product development.
B. Can identify the bottlenecks your customers face while doing something or using your product/service. This way, you can explore areas of improvement.
C. Will be able to ask if there are some features/services customers like to be added.
All of this ripples down to higher customer satisfaction— ultimately the end goal of all the endeavors.
2. Brand Image and Awareness
Brand image and awareness play an integral part in making a company successful. Companies often spend as high as 20% of their revenue in marketing when launching a new product or service. Now, this makes it a priority decision you should only make with complete information.
Customer feedback allows you to peek into customers' minds and understand how they perceive your brand, services, and products. This way, you will identify the best strategies for effective brand awareness campaigns, customer loyalty, and market share.
How to Do This
The best way to check the pulse of your customers is to ask them directly using tools like feedback surveys. Online surveys like Net Promoter Score (NPS), Customer satisfaction surveys (CSATs), Customer Effort Survey (CES), and Exit-intent surveys, to name a few, are perfect for this task.
Bonus Read: How To Design Customer Satisfaction Surveys
3. Midas Touch to Your Marketing
Gone are the days when you can simply throw your business pamphlets into the wind and hope for people to notice your offerings.
Personalization now plays a big role in marketing and customer experience strategies. Brands are coming up with unique marketing approaches to encourage more business from customers.
Feedback is the ultimate tool to make your marketing strategies align with buyer personas. Customer feedback opens up new avenues for better marketing, such as word-of-mouth marketing, which works better than most strategies.
CASE STUDY: Udemy
For example, Udemy used surveys by Qualaroo to know where the majority of the customers get to know about the brand and which marketing channels bring in more traffic.
With customer feedback, Udemy discovered channels that bought impressions they weren't even targeting or aware about. Using the feedback, Udemy improved its marketing strategy and re-allocated marketing funds for even better marketing campaigns.
Watch: 3 Ways Udemy Learns From Their Students
4. Supports Product Innovation and Development
Just like how feedback enables you to improve your existing products/services, it also opens up opportunities to innovate and develop new services and products. You can track the trends via customer feedback and provide what customers want and need, which is currently missing in your business.
For instance, say you have developed a photo-filter application that has numerous different filters, photo-editing tools, and such features.
You can see that the majority of the people are only interested in some particular filters from your app. If things continue like this, users might completely lose interest in your app as there are new ones with different features.
Now, you can use in-app surveys to ask customers what filters they like the most, which filters they hardly use, and what other filters or features users would like to use in your app.
The surveys can look like this: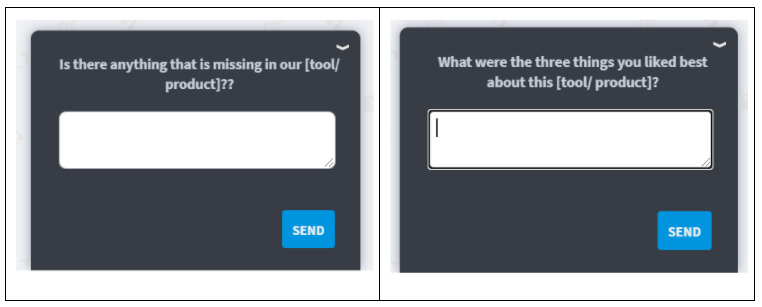 5. Achieve Higher NPS
Net Promoter Score (NPS) is an important metric to look for when evaluating customer satisfaction. Customer feedback is the backbone of NPS since it helps you distinguish your promoters from your detractors.
Once you know what you are missing by analyzing the customer feedback, taking active measures will help you improve your NPS.
Bonus Read: Best NPS Software
Here are some measures that you can take to improve your NPS:
Perform a root cause analysis
Close the customer loop by collecting context behind the feedback
Keep discussions around NPS alive
Make sure NPS is a priority in your company
6. Increase in Revenue
From reducing churn rate and cost of customer retention to increasing retention rate, repeat business, and loyalty scores, customer feedback does it all for a business.
The valuable and actionable insights businesses derive from the data analysis of the feedback help take proactive measures. All of which ripples down to increased revenue.
A Gartner report mentions that companies who create robust VoC programs spend 25% less on customer retention than those who don't. The same report also states that optimum use of customer feedback increases cross-selling by 20% and upselling by 15%.
As you can see, the Voice of Customer can be used in many different and vital ways to improve the performance of any business.
VoC Feedback: Who Needs It?
For some organizations such as startups or SMEs, it might not be compulsory to create a strategy to get a hold of customer feedback.
At such a nascent stage, the stakeholders or the decision-makers can connect with the customers directly to understand their pain points and take constructive criticism. For the rest, we will discuss below.
Mid-Size Businesses
Unlike startups or SMEs, it becomes a bit challenging for mid-sized companies to stay directly in touch with the customers, and thus, it calls for an effective Voice of Customer strategy.
A company with 100 or more employees needs to have a streamlined process for the VoC. Besides the direct feedback, research also becomes departmental, which is not streamlined in most cases. Not only it becomes an internal problem but a competitive disadvantage as well.
Large Organizations
Things become even more complicated when it comes to large organizations with more complex departments and many employees.
Although the established organizations have the most to gain from the VoC strategy, they face more challenges in its implementation.
The Voice of Customers becomes distorted and divided into departments with data silos. The customer feedback does not have a smooth flow in the organization at this point.
Each department collects its own data and takes whatever insights they need from it but hardly shares it with other departments. That's where a robust Voice of Customer strategy comes to save the day.
Venture-Backed Startups
Startups and IT-based companies backed by ventures operate in a dynamic environment where they will either ride the tide or get buried under it. For such enterprises, the Voice of Customer is crucial at every step since it keeps them on the right track.
Since venture-based startups grow swiftly, they need to have a good VoC strategy in place to be tracked and referred to when needed.
Even a slight shift from customer-centric practices can risk such startups' survival, and VoC strategy is their best bet to make it through.
CHAPTER 2
Getting Started With VoC Feedback
Prerequisites for Voice of Customer Feedback Strategy
It is pivotal for any strategy or program to first have a strong foundation for future plans.
Just like you need a perfect batter to bake a delicious cake, there are things you should do before starting to create a VoC program.
Bring the Leadership Onboard
The decision-making authorities of an organization are pivotal for making and implementing customer-centric processes. If they are not convinced of a particular idea or program, it is bound to fail even before the commencement.
The leadership, such as executives and managers, provides pace to the goals and helps realize these efficiently. So, make sure your plan to improve customer experience via a VoC strategy is heard, accepted, and supported by the leading figures.
Set Crystal-Clear, Realistic Goals and Expectations
Any VoC strategy is doomed to failure if the purpose is ambiguous and expectations unrealistic. A clear vision and mission are pivotal to bring everyone on board and work towards the ultimate goal.
Your agenda for utilizing Voice of Customer feedback can be anything from what we discussed in Chapter 1 in the benefits section - Brand image and awareness, identify scope for improvement, development, and innovation leveraging customer feedback and finding new avenues in marketing.
Once everyone is clear on where they should focus, a well-planned and structured Voice of Customer program is inevitable. You can express your vision with simple yet power-packed statements resonating with your plan, its benefits, and the time needed.
You need to make it clear what to expect from the Voice of Customer strategy and set realistic expectations so that you can achieve the goal without being discouraged if things go south.
Streamline Existing Feedback
Your Voice of Customer strategy will start taking shape once you collect the existing feedback trapped in the form of data silos among departments. You need to audit your company on the feedback gathered by different departments to compile, segregate, and categorize it for better analysis.
But there is one catch.
While compiling different sets of feedback, you can also collect partial data that might hamper the results. Each department has its metrics and priorities. Thus, they prefer feedback that caters to those metrics.
For example, the marketing department will focus on customer behavior and trends to strategize campaigns accordingly. In contrast, the sales department will incline towards feedback from satisfied customers instead of unhappy customers to try to validate their strategies.
Besides the accumulated existing feedback, you need to consider other indirect sources of feedback and not let it go to waste.
For instance, we, at Qualaroo, gather feedback from surveys and look out for implicit sources such as our Knowledge Base.
We track the keyword searches on our platform to understand what customers are searching for more often, which we do not provide. This way, we get to know customers' needs without even asking them.
Other sources of implicit customer feedback are event or webinar feedback, requests for product information, reviews of third-party forums, and social media, to name a few.
Find Common Denominators Between Customer Feedback and Experience
The next step after compiling feedback from all departments comes naturally - Analyzing it compared to existing customer experience.
You can compare customer feedback with the actual customer experience touchpoints to know room for improvement and innovation. If you realize something is missing from your customer experience but cannot pinpoint it with the help of existing feedback, you can resort to other feedback channels.
On-going feedback surveys that you can conduct on-site, in-app, long-form, or in the form of the pop-up are great to gather actionable insights.
*Note: You need to ensure your feedback has an equilibrium of quantitative and qualitative feedback to achieve the best Voice of Customer implementation.
For this purpose, you can:
Use Sentiment Analysis (to gather qualitative data)
Deploy A/B Testing and NPS calculator (to collect quantitative insights), and
Refer to reports and analytics (to analyze the collected feedback)
Choose a Hub to Store Voice of Customer Feedback
Once you've mapped out your Voice of Customer strategy, it is time for you to find a platform where you will store future feedback.
A feedback platform enables organizations to create a robust VoC strategy by offering excellent features such as the most sought-after integrations to prevent different data silos within the organization.
Create a team responsible for managing the feedback on the platform, creating reports from relevant data for feedback to reach all ears. It will streamline the smooth flow of customer feedback, and every department will be able to gather actionable insights appropriate to their team goals.
How To Collect Voice of Customer Feedback: Best Methodologies
Voice of Customer feedback can be collected in a variety of different ways and through various methodologies. At the highest level resides the structured Voice of the Customer and unstructured feedback.
Types of Voice of Customer Feedback:
Structured Feedback
Structured Voice of Customer feedback is collected through things like on-site surveys, email surveys, and customer development interviews. These surveys are formatted so that Voice of Customer feedback can be easily aggregated and analyzed.
Surveys ask questions, such as which features are most important to users, how satisfied they are with the product or service, and more. One prevalent Voice of Customer survey is the Net Promoter Score (NPS) survey.
Structured Voice of Customer feedback is collected through website surveys, email surveys, mailed surveys, NPS questionnaires, phone surveys, and customer interviews.
Bonus Read: 30 Best Website Feedback Tools
Unstructured Feedback
Unstructured Voice of Customer feedback is collected from customers through customer support inquiries, reviews on third-party sites like Yelp, Amazon, and G2 Crowd, social media and forum posts, and complaints and kudos.
Such unstructured feedback can be analyzed for common patterns with natural language processing or can be used to support the quantitative or structured Voice of Customer feedback anecdotally. Alternatively, it can surface areas of concern or opportunity for other structured feedback collection.
Want to uncover Voice of Customer insights? Let us help you.
Methodologies to Gather Voice of Customer Insights
Since it is better to retain the existing customers than to focus on bringing new customers every time you lose sales, we can help you with how to do it.
Here are some techniques you can use to gather Voice of Customer feedback and create an excellent strategy.
Customer Interviews
One of the old-school ways to gather customer feedback is through personal interviews. Companies used to conduct customer interviews back in the day as a part of the Voice of Customer strategy, but what is surprising is that this methodology stood the test of time and is still relevant.
Such interviews can be conducted with individuals, a specific group of customers belonging to a particular demographic for segmented feedback via emails, calls, video calls, or in-person.
Regardless of how tedious and costly such interviews may be compared to other feedback channels, brands to this day practice this technique to get to the core of the voice of their customers and forge trust.
Watch: The Rules for Customer Interviews
In-App and on-Site Surveys
One way to get Voice of Customer feedback from potential customers (those who have not yet bought your product or service) is to run a survey on your website.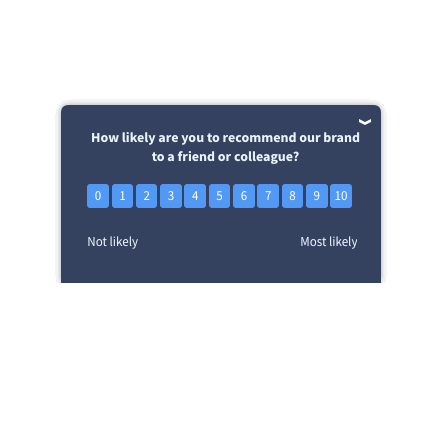 Using a service like Qualaroo, organizations can ask qualitative questions from visitors on their website or on a particular landing page or point in their conversion funnel. The collected feedback can be used to inform their website optimization efforts.
Bonus Read: Best Online Survey Tools
The first step towards collecting Voice of Customer feedback with website and mobile app surveys involves goal setting. To do so, ask yourself these questions:
Do you want to identify potential problems hurting your conversion rate?
Do you want to understand why people are coming to your site in the first place or what they're looking for?
Do you want to understand why people abandon their shopping carts?
Once you have identified your goal, you want to target your survey at the right people visiting your website or using your app. It can mean placing your survey on particular pages of your website like a landing or checkout page, and in the case of an app, the homepage.
You can conduct many types of surveys like Net Promoter Score (NPS) survey, CSAT (Customer Satisfaction) survey , CES survey (Customer Effort Survey), UES survey (User Effort survey), SUS survey (System Usability Survey), etc.
You can simply target the survey towards a particular group of people—for instance, those coming through a specific ad campaign or search engine. Targeting your website survey ensures that you're getting the Voice of Customer feedback from the people you most want to hear it.
After you've targeted your survey, the next step is to determine the questions you want to ask your website visitors. It's something we have exhaustively covered in Chapter 5.
But to give you a sneak peek, here are some basic questions:
What did you come to our website to do today?
Were you able to find what you were looking for?
Was there anything that prevented you from purchasing (or signing up) today?
What convinced you to purchase from us today?
How did you first hear about us?
You can get your hands on structured and unstructured feedback by adding such questions into your surveys.
To optimize your survey endeavors, you can leverage branching or skip logic for follow-up questions.
For example, a customer unable to find specific information not explicitly available on the landing pages can be routed to customer support to have their question answered, collecting valuable feedback and saving a potential sale in the process.
Bonus Read: Best Customer Feedback Tools
Offline Surveys
Besides conducting feedback surveys on websites, some companies also send survey links via emails and SMS. Although you can collect customer feedback with this technique, the response rate is generally too low to be worth it.
It's an excellent option to try alongside your on-site or in-app surveys, but not on its own. Customers do not often open the emails just to take your survey, and even if they do open it, the chances of them completing the survey are slim.
Visitor Behavior on Website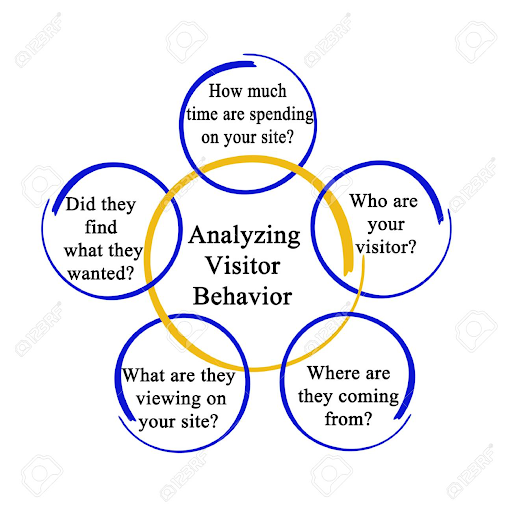 Besides leveraging on-site long-form or pop-up surveys and live chat, you have one more source offering you internal insights that you couldn't gather even by asking your customers.
Analyzing visitor behavior is your golden ticket to cracking unsaid customer feedback. You can track how your customers interact with your website, which pages they often bounce, which sections they focus on, how they navigate between landing pages, and more.
There are plenty of conversion rate optimization (CRO) tools to try that offer relevant features such as heatmaps, scrolls, and one of the popular features, session recording, to help you understand your customers' behavior.
Live Chat Support
In today's time, approx 41% of the visitors expect to see a "How can I help you?" pop-up from the bottom-right corner of a website.
Yes, live chat has become huge among customers that they expect a website to offer this service. In fact, 44% of online shoppers believe Live Chat to be the best thing about E-Commerce websites.
Live chat is one of the most effective channels to collect fresh feedback from customers in real-time.
For example, a customer had some queries; they clicked on your live chat option; got through to a support representative who helped in every way they could.
To understand whether the help was satisfactory, you can again leverage the live chat to incorporate ratings as a survey to gauge the quality of support and their overall experience when it is still fresh.
Remember, contextual feedback is the actual gold. So, if any customer gives a low rating or score, you can place an open-ended question to capture their verbatim customer experience.
*Tip: Try to choose a feedback platform that offers plenty of integrations such as Live Chat to allow you to conduct surveys within your live chat software.
Customer Support Call Recordings
You must have experienced an incident yourself where customer support asks your permission to record your call session.
These call recordings are not just used for training purposes but are analyzed for valuable insights that might help the company improve on its imperfect aspects.
Many companies also refer to these recordings, find out the common areas of concerns and queries, and document them as FAQs.
Although this may be time-consuming at first, companies save many resources this way in the long run since they do not have to address the same customer concerns repeatedly.
It helps the company focus on improving customer experience by finding innovative ways rather than just being stuck in a loop of the same concerns.
Social Media Platforms
Social media platforms have time and again proved to be an irreplaceable asset for organizations to increase brand awareness, establish a brand image, loyalty, and forge trust among the customers.
Brands these days come up with killer social media strategies to increase engagement on their content and campaigns. These brands actually shoot two birds with a stone; they collect real-time unfiltered customer feedback while engaging with their customers.
Take Netflix, for example. The brand has made headlines for its interactive social media strategy with a human approach.
Not only does it engage with its customers in the most entertaining ways, but it also keeps an eye out for making the customer experience better by actively seeking out feedback via social media channels.
Another apt example is Instagram. The platform allows you to ask questions where users can answer a specific word limit and conduct quick poll surveys. Feedback from such interactive sources is always fresh and valuable. You can analyze the trends and strategize accordingly for a better customer experience.
Online Reviews on Third-party Platforms
It is a fact that word of mouth is stronger than any marketing campaign. So, no matter how excellent your marketing strategy is, if people are spreading negative comments about your company, it will all go down the drain.
With all their challenges, these online reviews are a great source of honest customer experience and feedback. People pour their heart out in the online reviews on platforms like Reddit, Capterra with unfiltered feedback.
Dedicated Feedback Form
Many companies practice placing a feedback form permanently on their website. It allows users to express their experiences and share their suggestions to improve services or develop new ones.
Because it is a dedicated customer feedback form, you are not asking the questions here, instead of providing an opportunity to your customers to initiate. But, its Achilles' heel is that customers hardly ever give feedback without you asking.
Group Interviews
A great way to tie the knot on gathering Voice of Customer, group interviews take place at the end after conducting on-site surveys. It just adds a flavor of first-hand feedback and raw feedback insights from specific customer groups.
It helps brands understand their targeted audience a little better and put the finger on their pain points, perception, etc. to create a seamless customer experience. Generally, businesses resort to this VoC technique when they are about to launch a new product or service in the market.
CHAPTER 3
Best Practices for an Efficient VoC Strategy
In the previous chapters, we covered end-to-end what VoC is, who should try VoC, what are the things to consider before creating your Voice of Customer strategy, and what techniques you can use.
Now we will uncover the best practices of the Voice of Customer feedback and share real-life uses of brands that are ahead in their VoC game.
Best Practices: How to Ace Your Voice of Customer Feedback Process?
Prerequisites to the Voice of Customers cover all the things you should prepare before establishing a VoC strategy for your company. On the other hand, best practices show you how to do it in the best way possible.
So, here are the best practices you should consider:
Deliver Valuable Insights to All Who Matter
There is no point in devising a Voice of Customer strategy if it will not include everyone involved in the organization. The whole purpose of VoC is to provide a holistic view of how a company's products and services are perceived by the end-users so that everyone involved can do their part to deliver a better experience.
Merely showing your findings from the feedback during presentations or board meetings will not bring out the best. You need to give them access to the data in the right form to see how they utilize it.
Tools like Qualaroo offer dashboard analytics and reporting features for everyone to analyze the insights. With impressive integrations, you can create a feedback loop that allows feedback to flow easily from one platform to another.
Collate the Data From All Sources Together
Again, you do not want feedback data silos in your organization to fail your Voice of Customer strategy. Its purpose is to streamline the feedback from every nook and corner and make it accessible for everyone.
You can choose one, a combination, or multiple types of feedback techniques we discussed in chapter 3 and amalgamate the feedback from all sources.
You can then segregate the collective feedback based on many parameters for analysis and clarity. Standalone feedback data from one source might only give you a half-truth than the one you can see by connecting it all.
Think of the data from different sources as puzzle pieces, each piece on its own is meaningless until it joins other parts to reveal the bigger picture.
Facilitate Inter-Department Data Exchange
Besides multiple sources, each department also conducts its research to gather customer feedback, focusing on aspects only relevant to their KRAs. Although the feedback analysis may be biased, the raw data can be used by other teams to explore pertinent insights.
So, for your Voice of Customer feedback to reach every ear in the company, establish a streamlined flow of sharing information, where feedback software such as Qualaroo can help with its integrations like Salesforce and HubSpot.
Listen to Your Employees
Any product or service involves two parties - end consumers and employees. Many companies only focus on the feedback from customers but fail to realize the importance of the voice of employees.
Voice of the customer speaks to the overall quality of experience customers had with your brand. The voice of employees resonates with what they feel about the product or services and the feedback collected from the customers.
To make your Voice of Customer feedback strategy bear fruit, make sure to listen to your employees and consider their inputs as well.
Measure Your Metrics in ROI
When you are involved with so many things, it is natural to lose track of why you are doing it. You may start focusing on several micro-goals so much that the main goal starts to fade in the background.
You should always remember why you are doing something - for ROI. All of the strategies you create should offer you an ROI higher than you invested. So, keep this mindset while measuring CS metrics (Customer Satisfaction metrics) from the voice of the customer.
Bonus Read: How to Measure Customer Satisfaction
While calculating the ROI of your VoC strategy, besides the CS metrics, you should also focus on the cost incurred and the level of efficiency you were able to achieve in your task.
CHAPTER 4
Voice of Customer Feedback - Real-life Case Studies
Our journey of understanding Voice of Customer would be incomplete without halting at the use cases stop. Discover how several companies have realized the benefits of utilizing customer feedback and have devised strategies to make the most of their Voice of Customers.
Amazon
This market giant manages to top every list it enters, and the Voice of Customer strategy is no different. As per this article, Jeff Bezos, in the early days of Amazon, focused highly on the voice of its customers.
He used to provide customer support with unhappy customers' emails to be reviewed on priority and resolve standing issues. We can't deny that this active approach helped the company achieve many feats.
Belron
One of the leading companies in the automobile windshield repair business, Belron wanted to optimize its website to convert customers who need to make a purchase instantly. For this, the company heavily believes in the power of customer feedback.
"The only way that we can continually provide [the easiest possible] experience is by understanding and internalizing what previous customers have told us." -Jamie Carter, Voice of the Customer Manager
Considering that replacement of broken windshields is something that requires a grudge purchase, Belron's Customer Journey Improvement Manager went for a feedback tool that allowed them to gather, process and act on customer feedback.
For this, the company deployed customer feedback software Qualaroo that gave them an easy way to look at qualitative feedback with its Sentiment Analysis integration that helped in sifting through and investigating customers' free-form responses. They were also able to use the software's reporting features to quickly identify detractors and promoters.
Planview
Planview is a portfolio and works management solutions platform that hosts meetings for customers to participate. The organization interviews the customers via a series of sessions.
So far, Planview has invested in 40 sessions where 1000 customers have participated so far. This proactive approach to VoC has the company improve in many aspects. They overhauled their services and products as per the customer feedback and enhanced the customer experience.
In the words of Brian Urioste, CMO
"...even though the feedback and changes extended product development cycle, [they] ended up with a product that better served the needs of all customers..."
Zappos
Zappos is one of those companies that value the customer experience and believe in going above and beyond to forge a loyal relationship with its customers.
The company conducts surveys in the Live Chat support to gather post-service experience with the customer support personnel. It wants to know how emotionally customers are attached to the brand.
To promote customer loyalty, the brand also allows its employees to send gifts to the customers to show appreciation and consideration. Isn't it an innovative way to build a solid and loyal customer base?
CHAPTER 5
Voice of Customer Survey Questions
The insights from previous chapters have allowed us to understand customers' feedback in depth and which companies are leveraging it in the best way.
This chapter explores what to ask your customers to get their valuable feedback that can give you valuable insights.
Voice of Customer Questions To Ask
This section has several common scenarios with relevant questions provided to get the feedback you need.
Scenario 1: Brand Image and Awareness
We have established that brands must keep tabs on the brand image they have in the market and how aware people are about it.
It enables companies to re-evaluate their marketing strategy and come up with innovative campaigns to improve brand awareness.
So, while gathering your VoC feedback, here are some questions you can ask your customers:
What brand/company comes to your mind when you think of (product/service name)?
What company name do you think of first when you hear or see (product/service/brand name)?
Where did you hear or see anything related to (company name) in the past 3 or 6 months?
How many times did you see or hear anything related to (company name) in the past 3 or 6 months?
Explore this survey questions library for more questions to ask.
Scenario 2: To Develop Communication
Communication is key to forging good relations with customers and turning potential customers into loyal ones. A company should have a wind about on-going trends and changing customer preferences, i.e., which communication channels they prefer.
Here are some questions you can ask for this purpose:
What communication channels would you prefer to interact with (company name)?
Which social media platforms do you actively use?
*Here, you can add a list of social media platforms for customers to choose from.
Scenario 3: For Lead Generation
Lead generation is used to keep potential customers in a loop to turn them into loyal customers. Here is how you can ask customers whether they would like to keep the engagement alive with the brand to pitch your product/service accordingly.
Would you like to receive a follow-up from (company name) for (state reason here)?
Scenario 4: Gauge the Competition
By asking the questions given below, you will understand your targeted customers' shopping habits and behaviors. Also, you will get to know about your potential competitors.
What do you think (company name) compares with (competition name)?

*Provide a few choices as options for customers to choose from.

From which brand or company did you buy (product/service name) in the past 6 or 12 months?
Did you purchase (product/service name) from any other brand besides (company name) in the past six months?
Scenario 5: To Pitch a Concept
If you plan to expand your product/service line, it is best to ask customers what they would like to see from you next. The question given below will help you get the right feedback.
How appealing do you find each option given below?

*Add your list of options below.

What features/services would you like to be added to the (product/service name)?
Scenario 6: For Decision Making
Asking your customers directly about important things will make the decision-make job easier for companies since they can make appropriate decisions based on solid information. For instance, if you are launching your company, then this is the question you can ask to gain clarity for better marketing:
What factor(s) is essential for you when choosing a company for (product/service)?
Scenario 7: To Analyze Demographics
Asking demographic questions is a great way to segment your customers to understand your user personas better and make decisions accordingly. Below are some question examples to ask.
You can ask about anything from age, gender, sex, occupation, marital status, parental status, income level, location, industry, and education.
Which industry do you work in?

*Provide a list of industries to choose from.

Which of the following best describes your ethnicity/race?
Tip: Always provide an "Other" or "Prefer not to say" option for such personal and sensitive questions.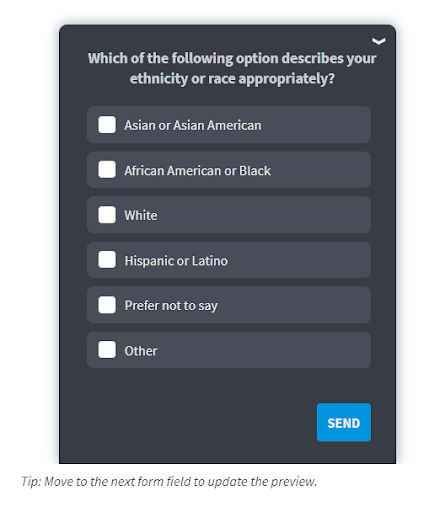 Scenario 8: To Measure Key Performance Indicators (KPIs)
As much as we refrain from collecting negative feedback, it is even more crucial to collect and analyze than the positive one since criticism is the way to improve.
So, you can gauge the customer perception towards your brand and differentiate your promoters from detractors by asking such questions:
NPS Metric

What is the likelihood you would recommend (company name or product) to a friend or colleague?

UES Metric

To what extent do you agree or disagree with the following statement? (Mention a statement here)

CES Metric

To what extent do you agree or disagree with the following statement? (Mention your statement as shown in the image below)

SUS Metric

I think I would like to use (product/service) frequently. Rate your extent to which you agree or disagree.
Scenario 9: Finding Volunteers for Future Research
You can ask your customers to participate in future research to get better insights and feedback from the right people. Here is how you can ask for it:
If the opportunity presents itself, would you like to participate in future market research with (company name)?
Scenario 10: Ask About Performance
Besides evaluating performance yourself, it is advised to ask the customers how they think the products/services perform. Here are a few questions you can ask for the same:
What is it that you like best about (company/product/service)?
On a scale of 1 to 5, how would you rate your satisfaction level with (company/product/service name)?

What would you like to improve in (product/service name)?
Scenario 11: Optimizing a Website
A company's website should have every crucial information that customers want to know to maintain the engagement. You can ask these questions to gauge customers' preferences for the same:
What type(s) of content would you like to see or read on (company name) website?
According to you, what kind of information is mandatory for a website like (company name) to have?
Download the Voice of Customer Template
Once you have the feedback data, you can use voice of customer templates like the one below to analyze and categorize the feedback.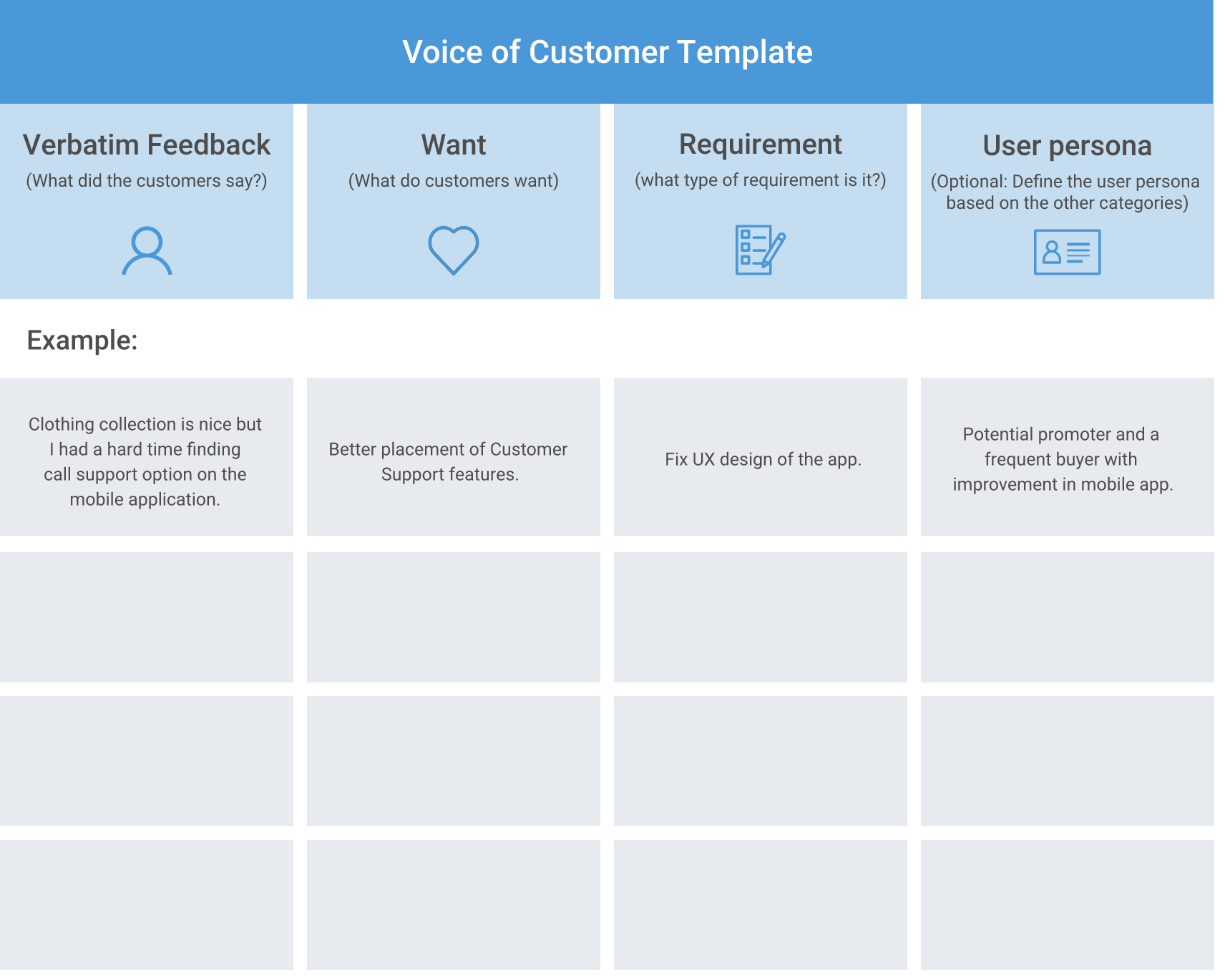 CHAPTER 6
VoC Strategy Bottlenecks and Implementation
Irrespective of how cautiously you design your VoC strategy by implementing the best practices, some problems will always present themselves.
If you already know what is ahead of the curve, you can prepare better to deal with the obstacles.
Mistakes to Avoid While Creating a Killer VoC Strategy
Here are the challenges that we find are common while collecting Voice of Customer feedback and strategizing around it.
Not Considering the Right Customer Group
Many times, companies become so overwhelmed in collecting feedback that they often confuse one customer group for the other. For instance, they might consider feedback from the demographic which isn't that relevant to the intended purpose.
It is why you must have clarity on your purpose for collecting VoC feedback and then choose the relevant customer groups.
Choosing an Unsuitable VoC Collection Method
We have discussed all the ways you can collect the VoC feedback in chapter 3. Some companies fail to pick the proper technique for their purpose and cannot get the most out of their VoC strategy.
You need to realize your purpose for VoC and then choose the correct form of collecting feedback or leverage multiple techniques at the same time, targeted to procure feedback in different ways.
For instance, if a customer does not take the survey on-site, you can send a follow-up email with the survey link to ensure a high response rate and engagement.
Ignoring Critical-to-Quality Characteristics in the Feedback
CTQ characteristics are the parameters on which a product's or service's performance is measured to fulfill the needs of the customers. It is normal for companies to get ambiguous VoC feedback that mentions the bottlenecks of customers but not in detail.
For example, if you get feedback saying "the product can improve," it leaves the company in a conundrum as to what aspects of the product need improvement. You need to know everything that customers mean when they give such feedback to take reasonable actions.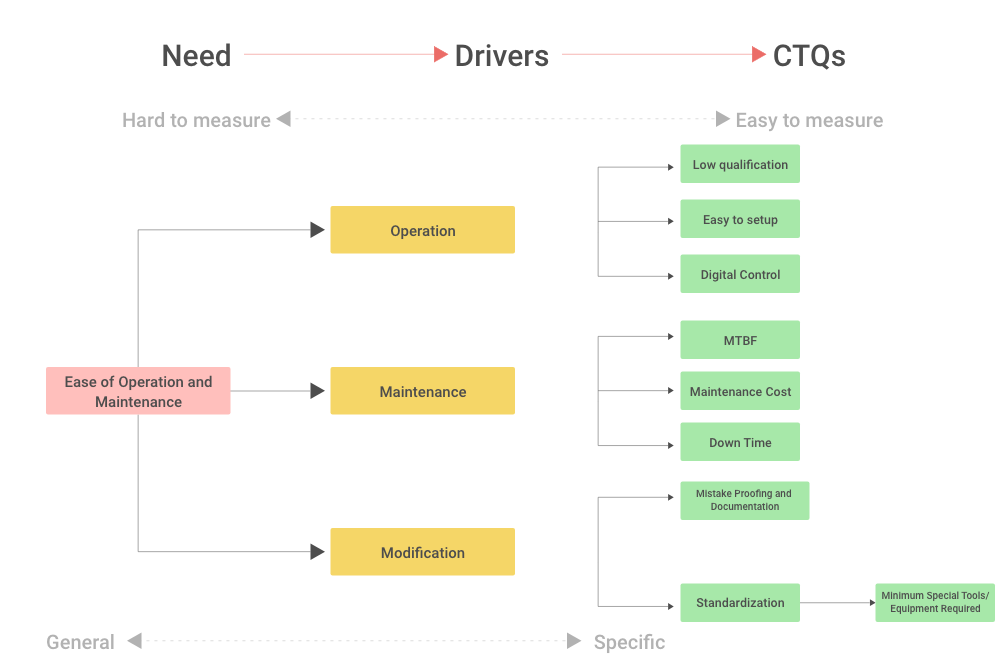 It is where a CTQ tree like the one above helps make the process organized for clarity. You can keep asking what exactly customers want improved until you get the answers.
Getting Conflicting Feedback
An instance can occur where you end up with contradicting feedback from the same customer group, which can hamper the insights from the data.
It often occurs when two different groups are mistakenly clubbed together, or you failed to identify a subgroup that you unknowingly surveyed. In this case, you need to study the focused customer group you are surveying and make sure there are no more surprises to get authentic data.
What to Do With the Voice of Customer Feedback Data?
Voice of Customer insight can be used to improve and inform everything from the conversion rates on your website to the features offered in your product. When you collect the Voice of Customer feedback from the website, you can take immediate action on the feedback with skip logic.
Skip logic lets you configure intelligent follow-up questions and actions based on your website visitors' response to the survey questions.
For example, a website visitor who doesn't want to pay to ship could be presented with a limited-time coupon for free shipping to complete their purchase while still on the site. Users who have questions about pricing could be routed to sales, and returning customers with unresolved issues can be sent to the support team in real-time.
By taking immediate action on the Voice of Customer feedback with Qualaroo, you can improve the performance of your website and the satisfaction of your customers.
Other ways you can utilize the Voice of Customer feedback as follows:
Boost Customer Experience
If you missed it in the previous chapters, the Voice of Customers is a great tool to look into the minds of your users and understand their point of view towards your brand, products, and services.
Once you clearly hear what they have to say and implement their suggestions, you can increase the quality of your customer experience by multifold. All this inevitably leads to more recurring and new business from customers.
Overhaul Product Development
To make your product successful, you should be aware of every aspect of the product and its standing in the market. The Voice of the customer reflects the true experience of users with it and what improvements will make it better.
It also helps analyze the product in relation to its market price, quality, needed features, and more. You will know if the existing product or service line is enough for your customers or need new service or innovative product via VoC feedback.
Understand the Market Better
Your targeted customers make the majority of the market you deal in. By understanding customer behavior, you can unlock emerging trends, preferences, and everything in between to make your services personalize and fit to stand the competition.
Reputation Management
What may start with one customer can influence others and change the brand image from what you intended it to be. Whatever is said on the internet, good or bad, always stays on it.
Voice of Customer feedback provides you the accumulated perception of customers and how they see your brand. It will help you change the narrative by allowing you to take proactive measures.
Over To You
Irrespective of its size, every organization needs to hone listening to its customers by creating a robust VoC strategy suitable to its internal business model and existing VoC feedback.
Each Voice of Customer technique could be used on its own or by coupling it with other ways for optimum results. But for your efforts to turn into desired results, you need the right tool by your side. With Qualaroo surveys, you can get started with collecting real-time, unbiased feedback and procure qualitative insights from your quantitative data.
Want to know about the voice of your customers?
We have the world's most versatile VOC feedback & user research survey tool.