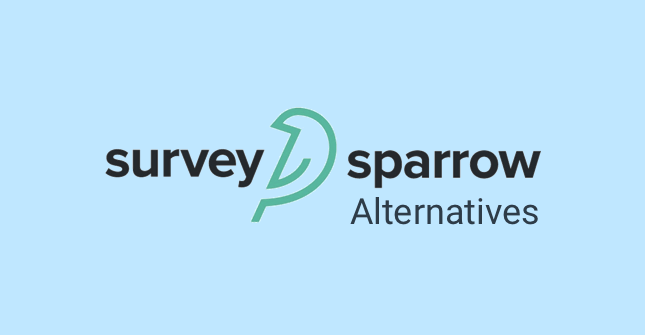 As an entrepreneur or anyone working in the marketing, product development, or user interface design field, you already know how much customer feedback is involved in every stage of every process.
While there are thousands of feedback software tools that Google may recommend to you on its first few pages, we know how useful they actually are.
SurveySparrow is one of the feedback tools you will see on the list. If you have used the tool and find it insufficient for your needs, you must switch to better alternatives.
So, instead of trusting the efforts of other tools' SEO teams, we did a little research of our own and came up with the list of top SurveySparrow alternatives you can try for your business that fulfills your business needs.
Before you explore this comparative list of SurveySparrow alternatives, let's see why you need the alternatives.
What is SurveySparrow?
SurveySparrow is a feedback survey builder software that allows you to create surveys to collect customer feedback. From laggy editor to slow response time on the part of customer support, the reasons for businesses to stick with SurveySparrow are few and far between.
Here are some other cons that justify why companies look for SurveySparrow alternatives.
Cons:
Dependency on developers
Webhooks doesn't connect with AWS public gateway
Limited email marketing features
Lacks drag and drop editor
So, here are the best 12 feedback software that won't make you miss using SurveySparrow.
Top 12 SurveySparrow Alternatives In 2023
SurveySparrow Alternative #1: Qualaroo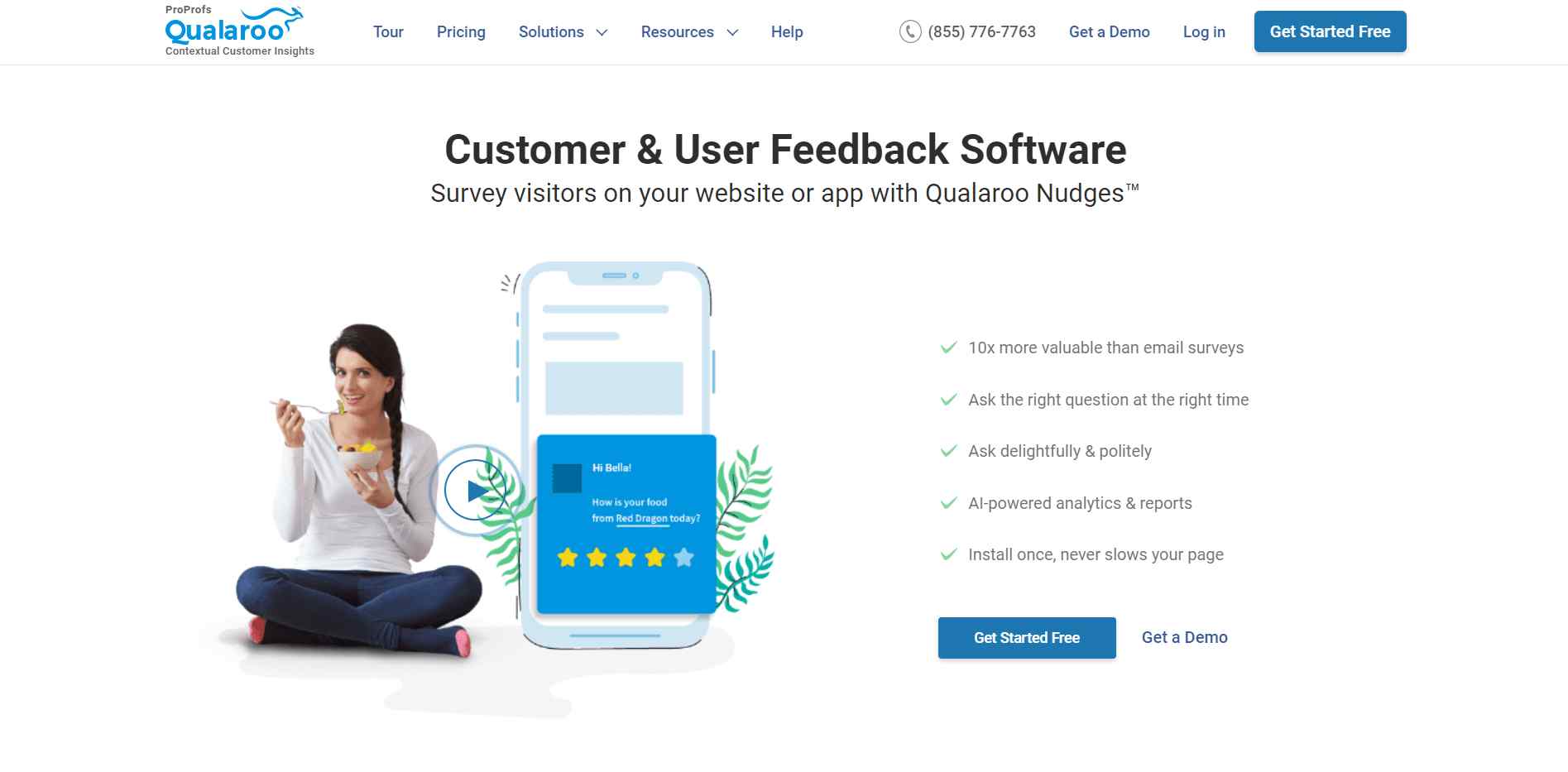 ---
If you are looking for a tool that is easy to use and to create contextual surveys to collect customer feedback then Qualaroo is the best surveysparrow alternative. It is a survey feedback software that helps businesses elicit unbiased and in-depth feedback from customers in a non-intrusive way with its pop-up Nudges™ surveys.
Apart from email surveys, the tool lets you collect contextual feedback at the right time, right place, and from the right people. Brands like LinkedIn, Udemy, and Twilio trust Qualaroo for making their customer experience the best out there.
Excellent for: Conducting multi-channel surveys, advanced reporting, AI-based Sentiment Analysis, pop-up surveys
Third-party integrations allowed: Yes
Good for: Medium to large businesses
Price: Starts from $69 per month.
Free trial available: Yes
Features
Easy to set up without using coding or help from developers.
Can deploy several types of surveys like Customer Satisfaction (CSAT) surveys, exit-intent surveys, Net Promoter Score (NPS) surveys, User/Customer Effort Survey (UES/CES), System Usability Surveys (SUS), to name a few.
Offers pre-designed survey templates with a vast question library to customize surveys with different questions types like open-ended, MCQs, using rich media like images and videos, and so on.
Supports integration with popular tools like Salesforce, HubSpot, Zapier, MailChimp, and more.
Helps you get the desired insights with advanced targeting.
Create surveys with question branching and skip logic to make them more appropriate to respondents.
Analyze the collected feedback data with advanced reporting.
Get qualitative insights with IBM-Watson Sentiment Analysis.
Pros:
Set survey triggers to appear with specific actions and at intervals
Customer pulse-check with pop-up surveys
Survey branding customization
---
Case study: Lalamove
Lalamove is an Asian logistics company that specializes in intra-city delivery. They needed a tool to conduct user research and identify different user needs in different locations.
They use Qualaroo to collect information about users to understand how happy they are with a specific feature, for instance. Then they customize these feedback loops around precise actions taken in-app or within their web platform.
---
SurveySparrow Alternative #2: ProProfs Survey
---
Another great SurveySparrow free alternative is ProProfs Survey Maker. ProProfs offers quizzes, polls, forms, and more as options for businesses to collect diverse customer feedback via multiple channels.
Companies like Dell, Sony, etc., choose ProProfs Survey Maker to collect customer insights and improve their customer experience strategy.
Excellent for: Conducting multi-channel survey, Surveys, Quizzes, Forms, and Polls
Third-party integrations allowed: Yes
Good for: Small to Medium businesses
Price: Starts from $19 per month.
Free trial available: 15-day free trial
Features:
Easy navigation due to simple user interface.
Drag and drop editor to edit questions in surveys.
Incredible customization to edit the surveys as per personal branding to give the in-house feel.
Offers support for 40+ languages.
Comes with a vast survey question library with 1,000,000 goal-oriented questions.
Supports integration with third-party software like MailChimp, Zendesk, etc.
Professionally designed templates to help companies create effective surveys fast.
Design web forums for product feedback, job recruitment, etc.
Embed surveys on-site, in-app, or send via email and links.
Pros:
Send surveys via multiple channels
Offers forms, personality quizzes, polls, and more.
Non-intrusive feedback button
Cons:
Multiple surveys type not available
Survey editor has a slight learning curve
Case study: Penelope Flynn
Penelope Flynn is an American author and graphic artist and wanted to engage more with her targeted audience. She picked ProProfs Survey Maker to ask questions from the audience and make it highly interactive.
In her own words — "I wanted a survey tool that would help me invite members of the target audience and determine their clan membership. And ProProfs Survey Maker with its interactive surveys did complete justice to my thought process."
---
SurveySparrow Alternative #3: LimeSurvey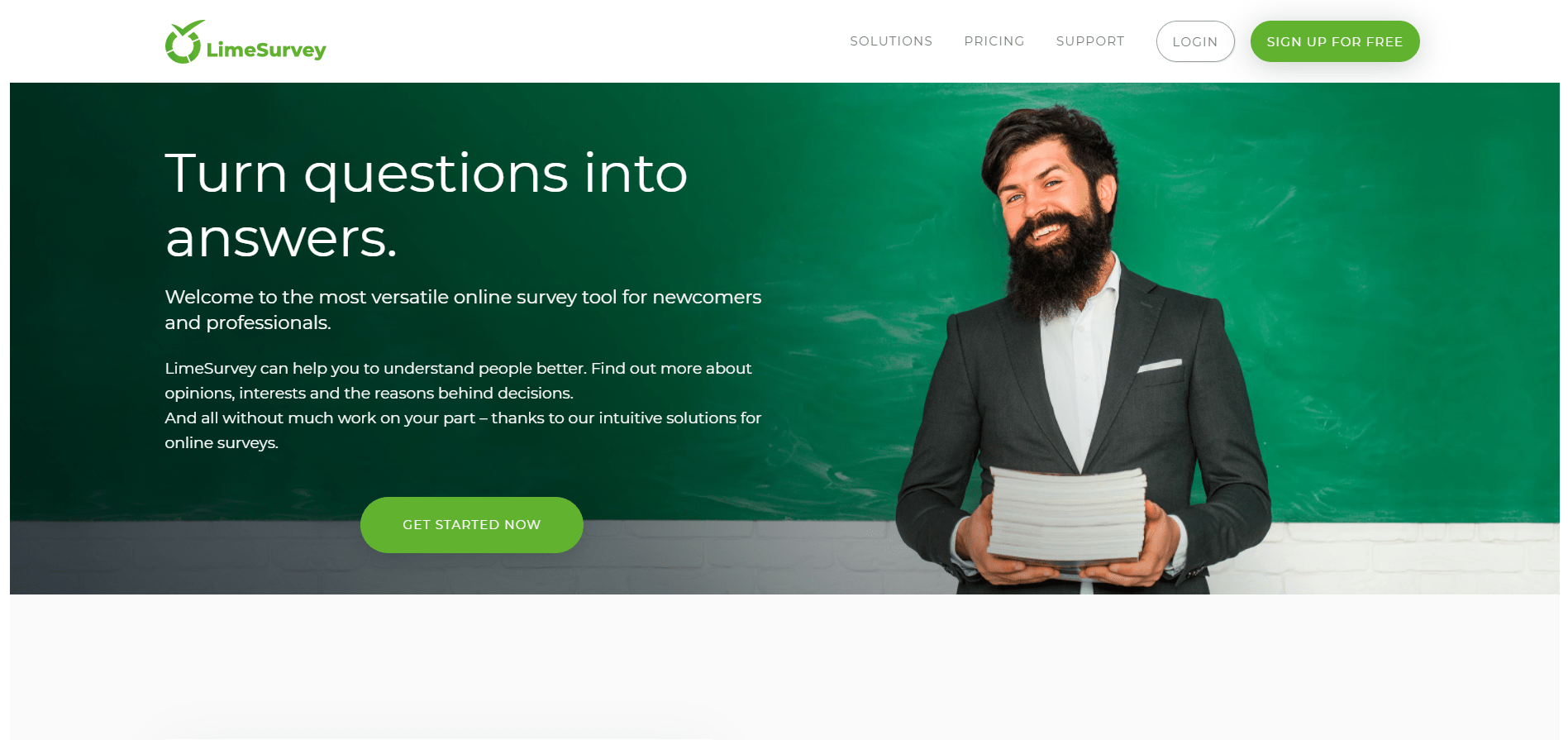 ---
An open-source survey tool, LimeSurvey is very similar to SurveySparrow in features. You can get this tool for free as well as via subscriptions. It has an open code so anyone can access its features and also modify the tool as per their needs.
Excellent for: Market research, employee and customer satisfaction surveys, polls, elections, academic research
Third-party integrations allowed: Yes
Good for: Mid-sized to large businesses
Price: Starts from €8
Free Trial Available: Yes
Features:
Navigation is easier, thanks to the responsive user interface design.
Offers hosting options to customers on its servers and self-hosting.
Has a vast survey library to help you gather in-depth customer insights.
Create surveys for different purposes like employee and customer satisfaction surveys, market research, polls, etc.
Data analysis to segregate feedback data into understandable visuals like bars, graphs, charts, etc.
Highly customizable branding, including logos on surveys, survey colors, and so on.
Select custom URLs for surveys to target them to selected website pages.
Apply branching, skip logic, and visuals like videos and images for feedback collection.
Pros:
Customizable branding for surveys
Different survey types like polls
Cons:
Some features are complicated
Hard to train employees
Limited email handling
Practical Use Case:
Not available.
---
SurveySparrow Alternative #4: Alchemer (Survey Gizmo)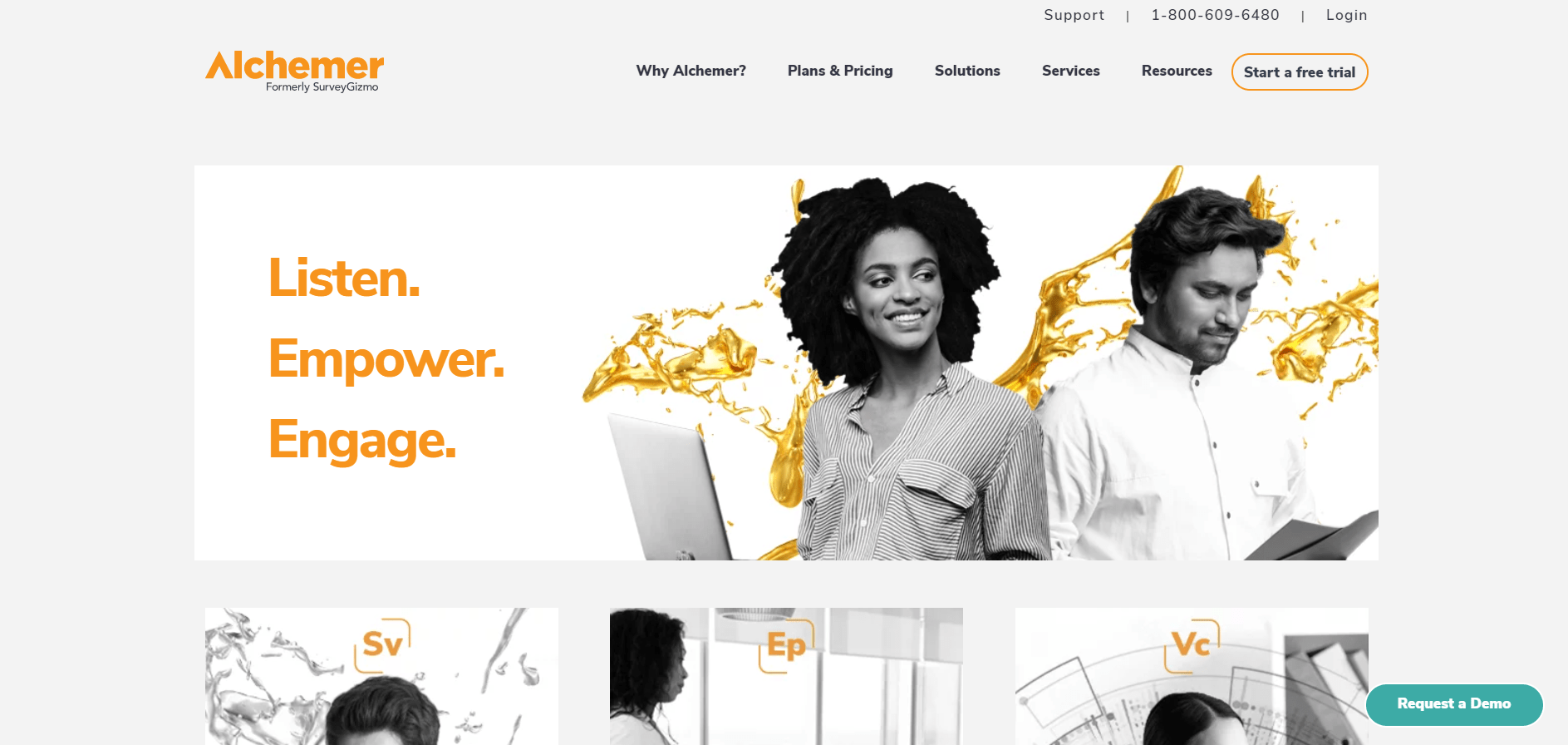 ---
Alchemer was formerly known as SurveyGizmo. It is one of the SurveySparrow competitors you can try as an alternative. This survey tool is ideal for companies to design their custom surveys and gather actionable customer insights.
Alchemer offers more question types than its competitors and has the easiest setup+, so you don't need a developer to install it.
Excellent for: Survey customization, survey management, mobile surveys, reporting
Third-party integrations allowed: Yes
Good for: Medium to large businesses
Price: Available on request
Free Trial Available: No
Features:
Offers customization for branding, skip logic, branching logic, mobile in-app surveys.
Comes with multiple question types to allow businesses to ask for feedback the right way.
Reporting and analyses feature helps understand the crux of the cumulative feedback.
Survey builder with pre-designed templates to save time and allow companies to ask the right questions.
Supports multi-lingual and multi-media surveys.
Offers BI tools and integration with Webhooks, Salesforce, and more.
Offers data exporting permissions.
Pros:
No separate charges per-response
Ease of use
Has intuitive CMS
Responsive surveys
Download reports in multiple formats
Cons:
Too many sub-menus may confuse you
Needs more customization functionality
Only makes selective surveys private
Practical Use Case:
Not available.
---
SurveySparrow Alternative #5: SoGoSurvey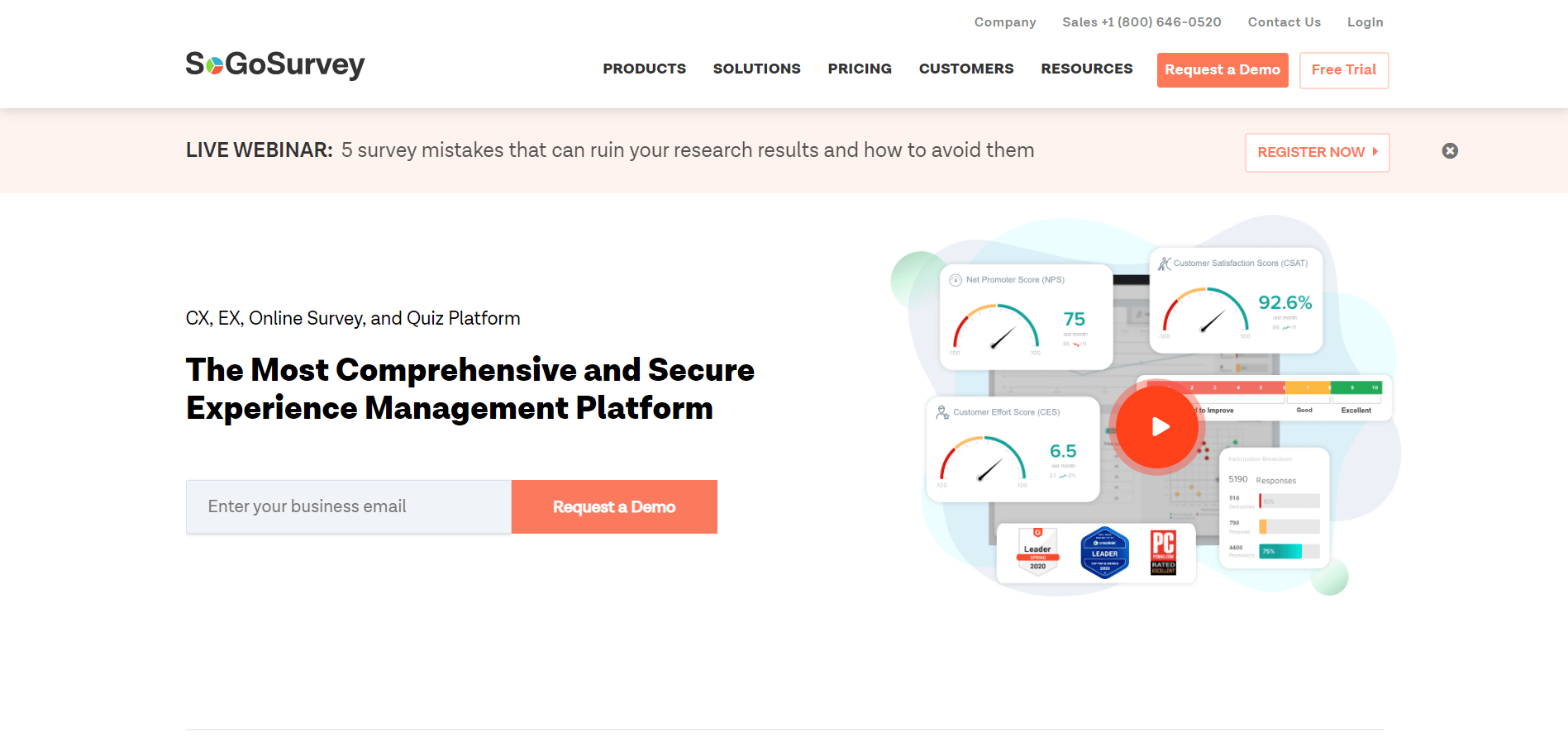 ---
SoGoSurvey is another SurveySparrow alternative that businesses opt for when they need to collect customer feedback. It is an experience management software offering a suite of tools to accomplish different purposes of organizations.
It comes with SoGoCX to improve customer experience and SoGoEX that focuses on increasing customer engagement.
Excellent for: Employee engagement, customer experience, automated data collection
Third-party integrations allowed: Yes
Good for: Small to large businesses
Price: Starts from $25/month
Free Trial Available: Yes
Features:
Design surveys questionnaires using a drag and drop interface.
Offers automation of feedback data collection and analysis through APIs.
Comes with an easy-to-navigate user interface.
Incredible reporting and data visualization.
Integrates well with tools like Zapier, Salesforce, and Google Analytics.
Promises data security.
Offers an in-built survey template library for businesses to save time and roll professionally designed surveys.
Supports branching logic and skip logic.
Pros:
Drag and drop editor for easier survey creation
In-built templates
Response alerts
Customization of surveys, polls, and quizzes
Cons:
Shows server and programming-related errors
Limited features in the basic version
Limited email templates
Case study: Association for Utah Community Health
Association for Utah Community Health (AUCH) wanted to create surveys to understand what the people needed. They had an in-house team of developers who used to design the surveys but were not the priority for the team.
With SoGoSurvey now, they do not face such problems. In the words of Shelly Philips, the Data Resources Coordinator, "SoGoSurvey was way ahead of the competition in the top slot with the second contender much further down…Its reporting capabilities varied, and advanced question types and easy customization were especially important to AUCH."
---
SurveySparrow Alternative #6: Formstack
---
Formstack is a form builder and one of the best survey sparrow alternatives with which you can create web forms. You do not need coding knowledge to use the tool. It helps embed mobile in-app surveys, mobile-friendly web surveys. You can also share surveys on social media to bring in more leads.
The platform is praised for its HIPAA compliance, making it a reliable and trusted software for businesses. It is a very flexible tool and can be used across industries for different purposes.
Excellent for: Multi-channel survey deployment, Calendar management, Badge management, Contact management
Third-party integrations allowed: Yes
Good for: Medium to large businesses
Price: Starts from $59/month
Free trial available: Yes
Features:
Drag and drop survey editor makes it easy to deploy interactive surveys faster.
Offers 50+ web apps and collaboration tools like MailChimp, Salesforce, PayPal, and more.
Offers a variety of features like attendee tracking, badge management, contact management, calendar management, document management, to name a few.
Supports compliance tracking and archiving surveys.
Business process automation feature handles survey feedback data.
Comes with a customizable dashboard to let businesses manage how they want to see and analyze the feedback data.
Support feedback data analysis with its analysis tool that helps businesses visualize the insights and take actions.
Pros:
Intuitive and simple UI
Advanced features offer control
Conditional logic like skip and branching logic
Seamless payment integrations
Cons:
Tricky WordPress plugin
Doesn't support date and time fields as triggers
Integrations stop working sometimes
Case study: Salesforce
The Real Estate Technology team at Salesforce wanted to streamline data collections across 150 locations. They used Formstack to implement a single form consolidating into a "decision-tree" format.
---
SurveySparrow Alternative #7: SurveyMonkey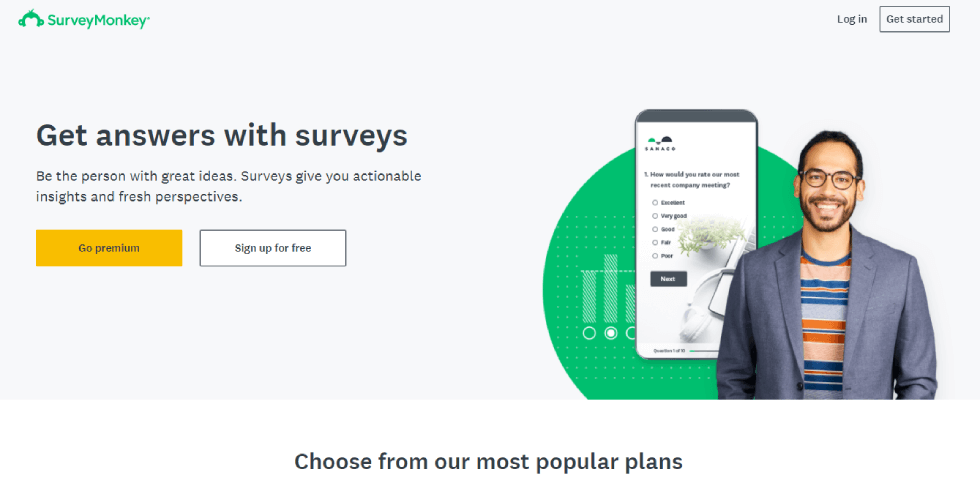 ---
SurveyMonkey is a well-known feedback gathering platform very similar to SurveySparrow. The tool helps you collect customer insights along with employee feedback. This surveysparrow alternative assists in performing user research, market research, marketing research, and more without doing programming.
Excellent for: Conducting multi-channel survey, employee feedback management, market research, user research
Third-party integrations allowed: Yes
Good for: Small to large businesses
Price: Starts from $31/month
Free trial available: No
Features:
Allows you to add components like a progress bar, question randomization, scoring mechanism, etc., to the surveys and quizzes.
Simple visual editor to create intuitive and interactive surveys which receive high responses from customers.
Comes with pre-built templates to allow businesses to create effective surveys.
Use skip logic, branching logic, different answer types, and more to design customized surveys.
Offers survey language translation to reach a wider audience.
In-app ratings to collect app ratings.
Its AI-based Genius engine estimates the completion rate automatically and shows how effective surveys are so you can improve them.
Collect qualitative data with sentiment analysis and word cloud generator tools.
Integrates well with HubSpot, Salesforce, Automate.io, and more.

Pros:
Automatic charts, graphs, and feedback summaries for easy analysis
Simple setup
Supports anonymous feedback
Cons:
Expensive for advanced functionalities
Website glitches
Limited customization
Case study: Audi
Audi Business Innovation is a leading automobile company that uses SurveyMonkey Enterprises in a variety of ways to connect with its users, develop customer-centric prototypes, understand what customers expect in several areas, etc.
---
SurveySparrow Alternative #8: TypeForm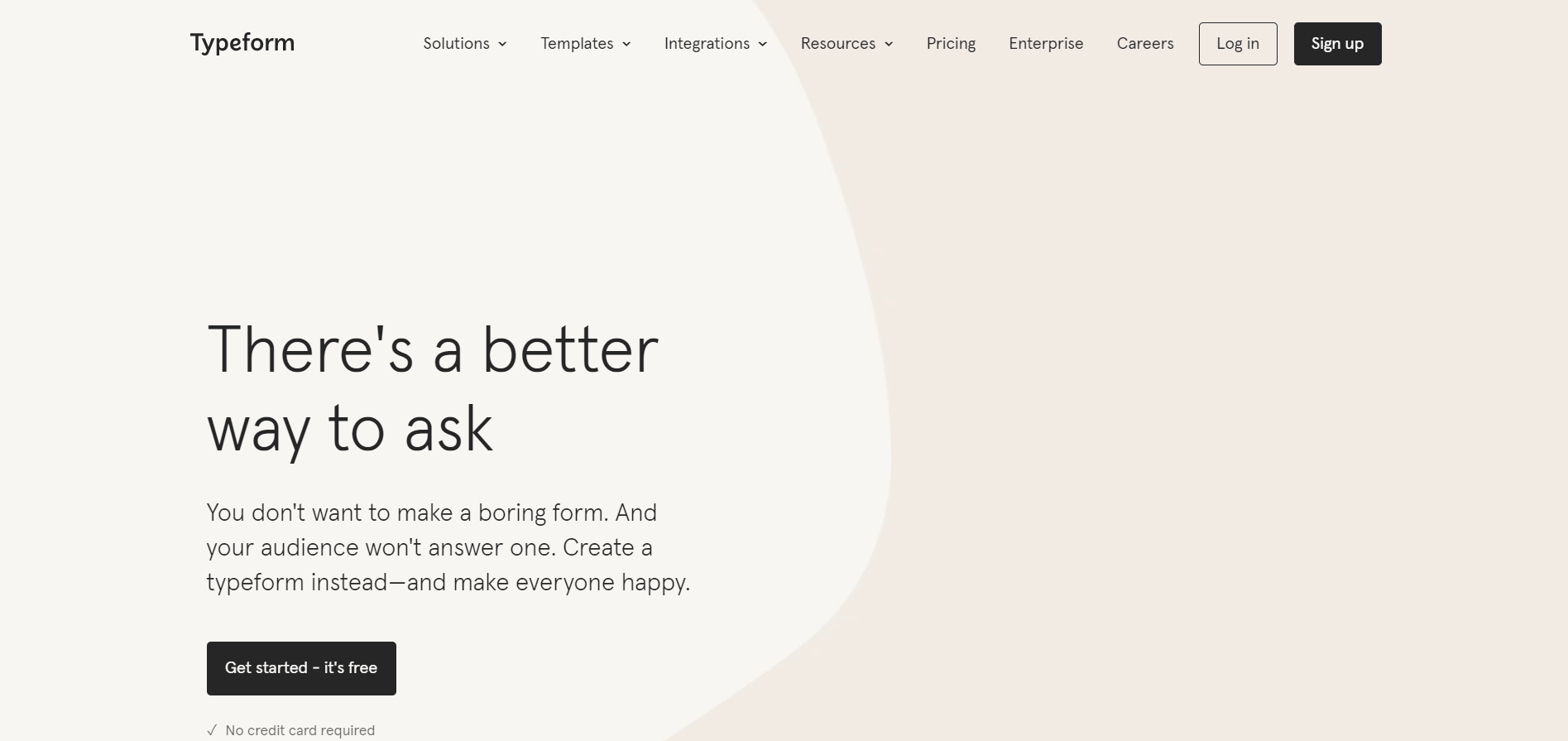 ---
TypeForm is an excellent SurveySparrow alternative for businesses to try. The feature set of both tools is very similar. TypeForm supports surveys for both website and mobile apps, making it a perfect multi-platform survey tool.
Excellent for: Multi-platform survey deployment, conducting multi-channel surveys, Third-party integrations allowed: Yes
Good for: Small to large businesses
Price: Starts from $35/month
Free trial available: Yes
Features:
Has a very flexible feature set allowing businesses across industries to improve customer experience, increase awareness of education among employees, and more.
Creates feedback loops and offers 360-degree feedback to help companies make data-backed decisions.
Supports feedback management to streamline feedback data from multiple channels.
Email distribution ensures surveys get a high response rate.
Offers live results tracking and facilitates real-time decision-making.
Comes with features like online pills, question branching, skip logic, rich media in surveys, poll management, and more.
Reporting and analysis feature systematically presents the feedback data to derive useful insights.
Pros:
Design responsiveness
Works well with all browsers
Library of pre-designed templates
Cons:
A little complicated to create sophisticated surveys
Can't change the payment structure
Case study: HubSpot
HubSpot used TypeForm to create strategic questionnaires gauging different customer personas, which the platform has but wasn't aware of to create exceptional customer experiences.
---
SurveySparrow Alternative #9: Survicate
---
Survicate is an excellent feedback survey tool and a great alternative to SurveySparrow. You can gather new leads, research and marketing data, and so on across the user journey.
This customer feedback system is a complete solution in itself and can be easily integrated into your website.
Excellent for: Collecting real-time feedback, multi-channel survey deployment, predictive intelligence analysis
Third-party integrations allowed: Yes
Suitable by: Small to large businesses
Price: Starts with $89/month
Free trial available: Yes
Features:
Launch surveys on multiple channels, including website, mobile, chat surveys, and web apps.
Supports creating surveys like Customer satisfaction surveys, customer effort surveys, net promoter score surveys, etc.
Offers integrations like ActiveCampaign, Google Analytics, HubSpot, and more.
Manage feedback from multiple sources.
Comes with 125+ professionally designed templates to increase survey deployment.
Pros:
Response management and monitoring with Feedback Hub.
Embed surveys to Intercom Messengers
Cons:
Questions types are not optional
The basic plan has limited features
Case study: Brainly
Brainly is one of the largest peer-to-peer learning platforms. Jakub Piwnik, Communications Manager at Brainly, says that they wanted to understand the needs of their users. "We want to know their problems and feelings about education. Our analyses are often backed up by actual conversations with users."
It is how they came to use Survicate and collected more than 1.5 million responses via surveys.
---
SurveySparrow Alternative #10: CrowdSignal (PollDaddy)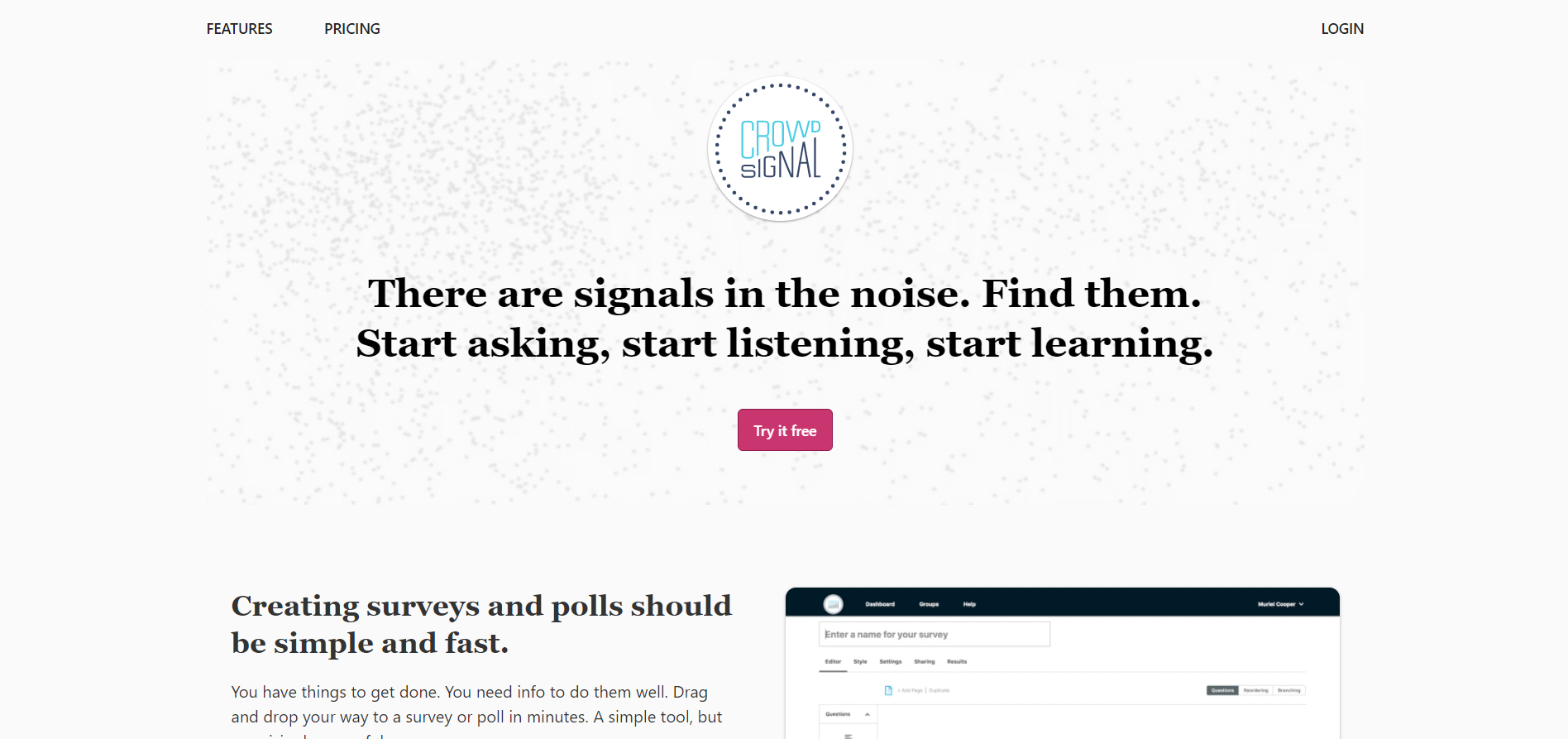 ---
Formerly known as PollDaddy, now CrowdSignal, is a well-known survey and poll builder tool, making it a free SurveySparrow alternative. The software lets you create surveys and polls for social media, websites, email campaigns, etc.
Companies like Cisco, Allianz, FedEx, PayPal, etc., have used CrowdSignal to capture customer feedback and improve their processes.
Excellent for: Design polls and surveys for different platforms
Third-party integrations allowed: Yes
Good for: Small to large businesses
Price: Starts from $25/month
Free Trial Available: Yes
Features:
Easy to create and customize polls and surveys to match the personalized branding.
Use surveys and polls templates to know the pulse of your customer with the right questions.
Comes with a reporting engine to aggregate, print, and export results from feedback data.
Supports email distribution and marketing, and feedback management.
You can track live results to take real-time decisions backed with honest customer feedback.
Supports skip logic, branching, and adding rich media like images, videos, audio in the surveys.
Pros:
Easy-to-use and responsive polls/surveys
Simple setup and doesn't require technical knowledge
Question branching with a variety of questions
Streamlined reporting
Mobile-optimized surveys
Cons:
Doesn't avoid multiple responses from a single participant
Shows poll answers immediately to the respondents
Can't optimize uploaded images in mobile view
Practical Use Case:
Not available.
---
SurveySparrow Alternative #11: Delighted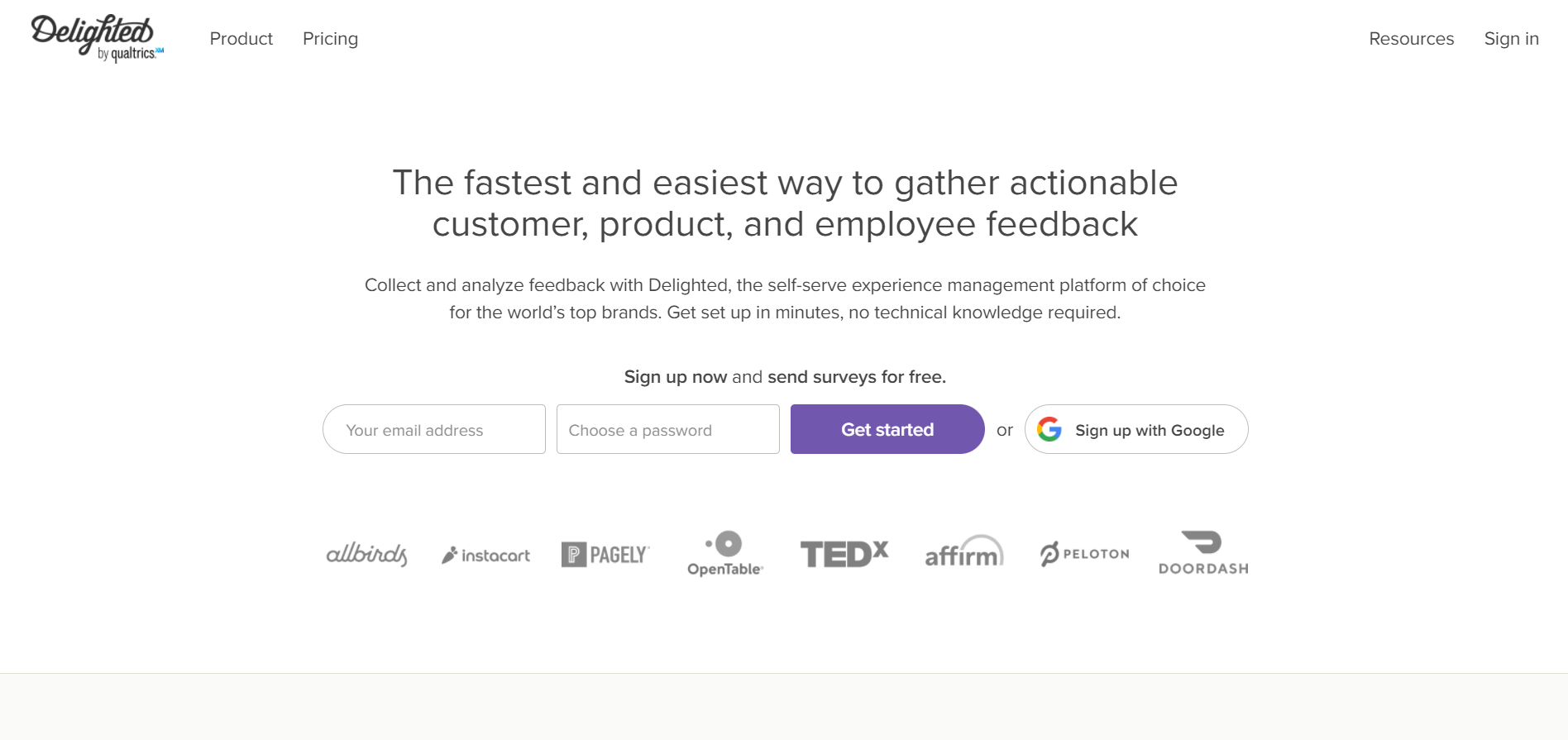 ---
Delighted is another tool similar to SurveySparrow. It is flexible as it collects nuanced data insights from the customers. It helps create multiple survey types, including NPS surveys and long-form surveys.
Excellent for: Multi-channel surveys, In-depth data dashboards, reporting
Third-party integrations allowed: Yes
Good for: Medium to large businesses
Price: Starts from $224/month
Features:
Allows you to create multiple surveys for web apps, iOS apps, websites, and email.
You can create single-question surveys with multiple branching questions.
Supports question randomizer, skip logic, targeting options, several response types, mobile responsive design, and survey design customizations.
The reporting dashboard is great for gathering valuable insights from the collected data and segregating it into categories like gender, tags, locations, and more.
Offers sentiment analysis to track customers' emotions and collective qualitative insights.
Seamless integration with Slack, HubSpot, Heap, Segment, and other such third-party tools.
Comes with an in-built NPS score calculator and supports benchmarking trends with a trend monitor.
Pros:
Offers more flexibility with survey types
Has decent features in a basic plan
Cons:
Lacks variety for question types
Limited survey targeting options
Case study: Bonobos
A men's clothing and accessories brand, Bonobos, wanted to know how customers feel about the new shipping process. The brand used a Delighted NPS survey and found that the customers were not happy with the changes.
After analyzing the NPS score, the company was able to go back to the process customers prefer and avoided making a wrong decision.
---
SurveySparrow Alternative #12: Paperform
---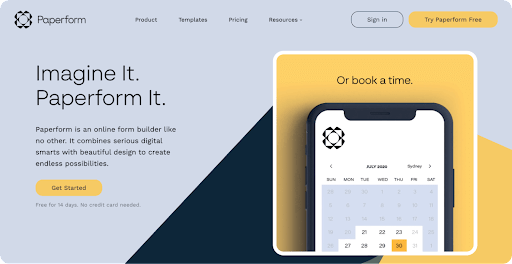 ---
Paperform is a form solution not only to collect in-depth customer feedback but take payments, schedule appointments, and product pages, and automate workflows. It's essentially an all-in-one tool to help small businesses cut down on busy work.
Excellent for: Conducting multi-channel survey, advanced reporting, AI-based Sentiment Analysis
Third-party integrations allowed: Yes
Good for: Small to Medium businesses
Price: Starts from $20/month
Free trial available: Yes
Features:
28+ Advanced features like conditional logic, calculations, skip logic, matrix fields, and more.
Automated workflow capabilities
Comes with e-Signature and payment support.
Provides 650+ expertly-designed templates for surveys, lead generation, enrollment forms and more.
Advanced customization and theming for personal branding. You can add videos, images, bespoke UI and even GIFs to the surveys as part of customization.
Gives a unique URL for surveys to easily embed in the website.
Tailored success, redirect and partial submission responses
Customizable logic allows you to set triggers and control when, where, and how frequently respondents see the survey.
Survey summaries are sent to respondents via emails.
In-house Analytics and reporting, plus integrations with Google Analytics and Facebook Pixel.
Easy to analyze data via reporting and analysis.
Export reports in CSV and PDF file format.
3,000+ integrations with popular apps like MailChimp, Slack, Trello, ActiveCampaign, etc
Pros:
Drag and drop editor
Allows receiving payment via payment integrations
Cons:
No free trial is available
Limited features in the basic plans and top tier plans are expensive for a form builder
Case study: Bold City Legal
Paperform helped a law firm, Bold City Legal, save up to 25+ hours in onboarding multiple customers at once as compared to before.
In the words of Larissa Bodniowycz, attorney at BCL – "Paperform has helped us create a dynamic intake system that saves us hours of time during client onboarding. For example, if we have a client come on board who needs a trademark registration, we have a specific intake form which allows us to receive exactly the information we need from them to get started."
Bonus Read – 11 Best Refiner Alternatives & Competitors
Choose the Best Survey Tool
And with this, we end our list of the top 12 SurveySparrow alternatives that businesses of all shapes and sizes can try for whatever purpose they want. For instance, you can choose Qualaroo for Sentiment Analysis and gather qualitative insights or choose something like CrowdSignal to create polls.
One thing to keep in mind while choosing the best SurveySparrow is to make sure it offers features suitable for your business and gives you room to explore your customers' minds and avenues to improve your customer experience.
Bonus Reads
---
Want insights that improve experience & conversions?
Capture customer feedback to improve customer experience & grow conversions.