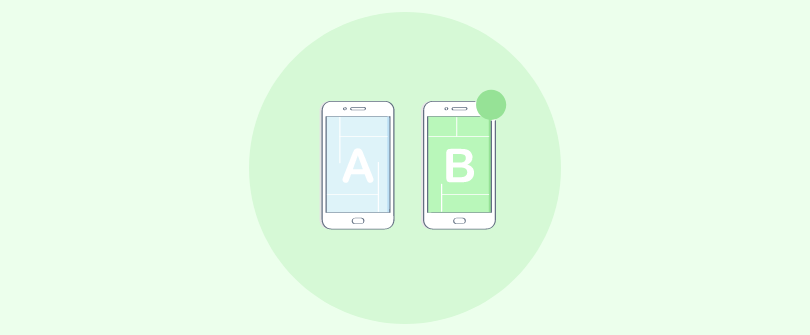 Are you searching for the best UserTesting alternatives? Look no further.
While UserTesting is a valuable tool for testing product usability and prototypes, there are better options available for everyone.
Factors such as pricing, features, functionality, and the scope of offerings can lead users to consider transitioning from the UserTesting platform. So, if you're one of them, keep reading.
I tested different tools and curated a list of the top 10 best alternatives to UserTesting to simplify your search.
Here's what we have covered for each tool:

Salient features
Pros
Cons
Pricing
Let's see each tool in detail.
10 Best UserTesting Alternatives for 2023
While testing the tool, I considered factors like user-friendliness, UI design, available data analysis techniques, and pricing to select the top UserTesting competitors. I am sure you will find the ideal tool that aligns seamlessly with your requirements.
Best UserTesting Alternative for Gathering Feedback on Design Prototypes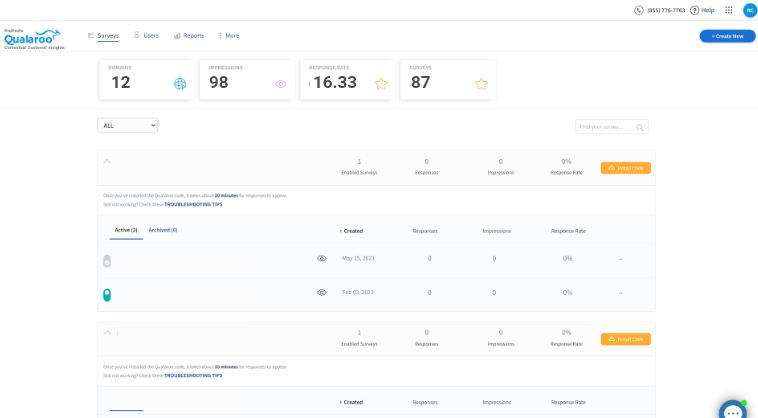 Qualaroo enables you to craft tailored, contextually relevant survey prompts for gathering feedback on design prototypes, such as those created in Figma, before and after deployment.
I used the intuitive editor to design and deploy the five-second test for the website UI mockup in minutes. I could collect feedback on the new design from team members and stakeholders.
Another feature that makes Qualaroo a fitting UserTesting alternative is the advanced user targeting feature. You can use the built-in triggers to show the survey to the right people based on their actions and behaviors on the website.
But that's not all – Qualaroo has an AI sentiment analysis engine to help you identify the recurring themes in the responses. It also categorizes the responses based on user emotions to reduce the analysis time significantly.
What you'll like:
What you won't like:
Survey respondents can't add media to the responses.
Some users may want a longer trial period to try all the features.
Pricing:
Starts at $69/month. A 15-day free trial is available.
Best UserTesting Alternative to Test Your Website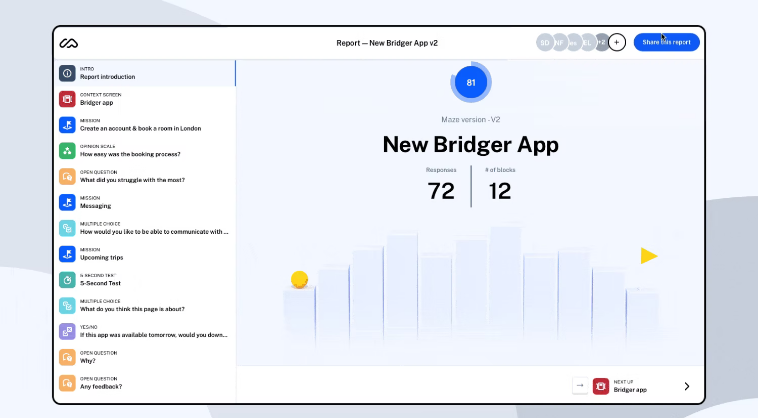 While Maze offers several usability testing approaches, its live website testing capability impressed me the most. It lets you design tests to conduct post-launch evaluations and enhance your website.
For example, by setting success tasks and pathways, you can quickly validate if visitors can navigate to desired settings.
It also provides integrated comparative reports to visualize the anticipated versus real user interactions for optimizing the user flows, making it a fitting UserTesting alternative.
What you'll like:

Multiple remote usability tests like card sorting, open question, tree test, and 5-sec test.
Optimization for your live product, concept design, wireframes, prototype, and content copy.
Ability to add surveys to your usability tests and share them with your participants via a shareable link.
Screen capture and video feedback options.
Built-in panel CRM to manage and grow your participant list.
In-depth reporting dashboard to monitor test results.
Easy to track success/failure rate, bounce rates, misclicks, heatmaps, and other metrics.
Custom reports and dynamic charts to visualize the test data.
Ability to create team spaces, invite stakeholders to observe the tests, assign roles, and add comments.
What you won't like:

Complex Mazes (studies) may increase test load times for users.
No dedicated panel to recruit testers and participants.
Pricing:
Starts at $75 per month.
Best UserTesting Alternative for Unmoderated Prototype Testing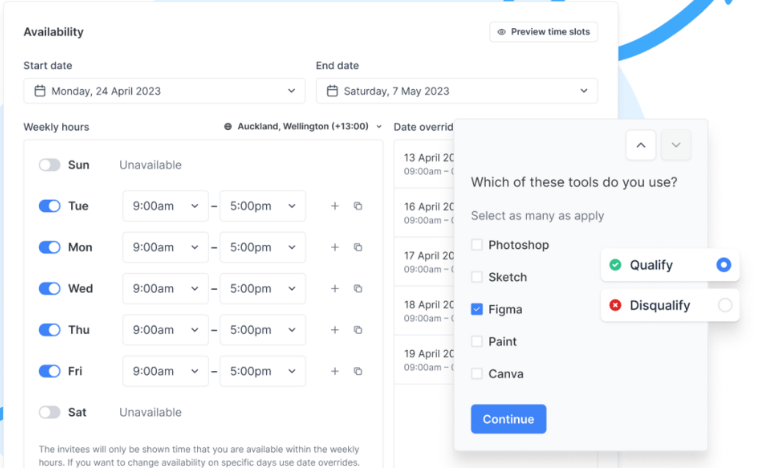 UsabilityHub is one of the best UserTesting alternatives to test your design prototype and product mockups. The tool offers ready-to-use usability testing templates for different scenarios. I created a navigation test in minutes using the built-in template.
The reporting section also provides click maps, and user path analysis reports to help you evaluate informational architecture and UI.
What you'll like:

Online surveys for contextual feedback on your website, prototype, and product.
Design tests in minutes using templates and customize the tasks to suit your testing method.
Run usability tests on your wireframes and design prototypes.
Easy to export data in CSV format for further analysis.
Multilingual user testing is available in 30 languages.
Seamless integration with G Suite, GoDaddy, Airtable, and Asana.
What you won't like:

Cannot create a custom participant list.
No option to add branching logic to the questions.
Pricing:
Starts at $175/month.
Related Read: 17 Game-Changing UX/UI Tools for Designers & Researchers in 2023
Best UserTesting Alternative for Moderated User Testing and Live Interviews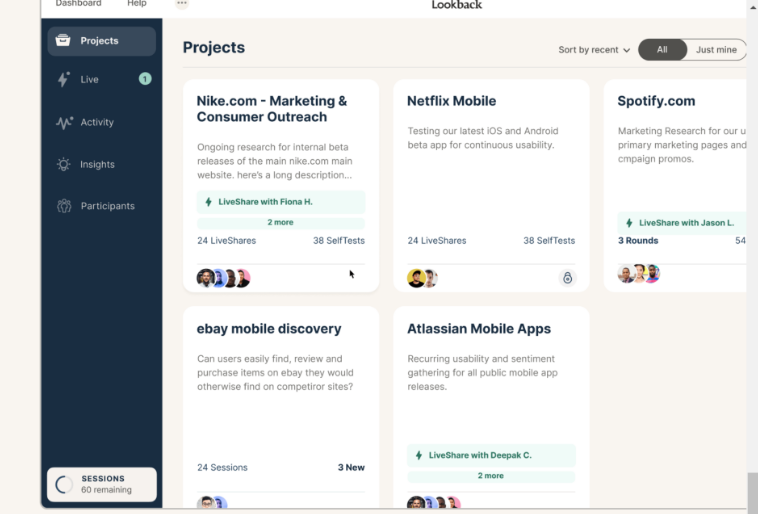 Lookback's video conferencing feature gives you a comprehensive overview of how testers engage with your product, application, or website.
You can also include the stakeholders in the observation process during live testing and record the video. Doing so facilitates more in-depth analysis and discussions post-testing.
The tool also provides an AI-based data analysis tool to summarize and transcribe the sessions into easily digestible headlines automatically. What's more, you can connect with the testers using live interviews and ask follow-up questions to gauge their experience.
What you'll like:

Easy to run unmoderated and moderated usability tests.
Visual test builder to create tasks and add instructions for the participants.
Recruit participants using a private or private test URL link.
Schedule live remote interviews with test participants.
Ability to choose participants from Lookback's panel or add your users.
Eureka to transcribe sessions, add timestamps, create highlight reels, and add notes.
Collaborate with team members, post comments, and add tags to the feedback.
What you won't like:

Loading issues with iOS device testing.
Sometimes the test URL doesn't work correctly.
Pricing:
Starts at $25 per month.
Trymata (Formerly TryMyUI)
Best UserTesting Alternative for Running First Impressions Tests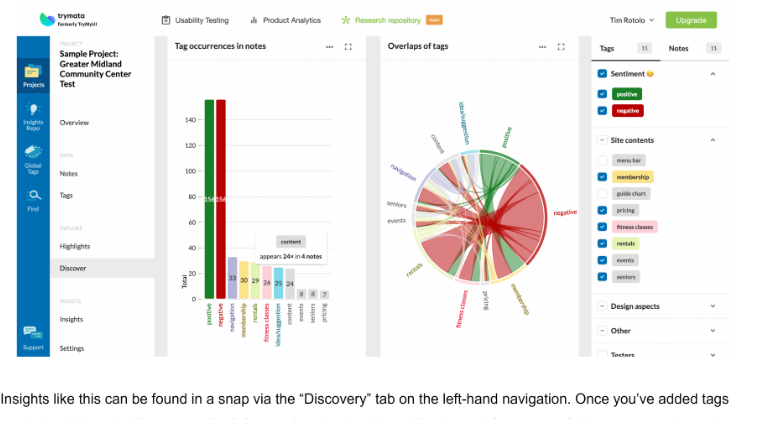 I tried the first impression test with different tools, but Trymata came on top with its seamless deployment and session analysis. It's easy to design and run the test to collect feedback on users' initial reactions and gauge the immediate appeal of the product.
Additionally, TryMyUI's collaboration feature within session videos facilitated seamless teamwork, enabling tagging and commenting for efficient post-test analysis.
What you'll like:
Unmoderated and moderated and remote testing to improve the website or design templates.
Test your live website, wireframes, and prototypes.
Surveys during the test to collect feedback from testers.
Ability to choose participants from TrymYUI's panel or add your own testers.
Collaborate within the tool with other team members.
Tag video feedback transcripts, leave comments, and track timestamps.
Video annotation tools and ability to create highlight reels to extract valuable insights
What you won't like:

UI needs an update to add more flexibility.
Not suitable for testing complex interactive prototypes.
Pricing:
Starts at $333 per month.
Best UserTesting Alternative for User Experience Testing and Research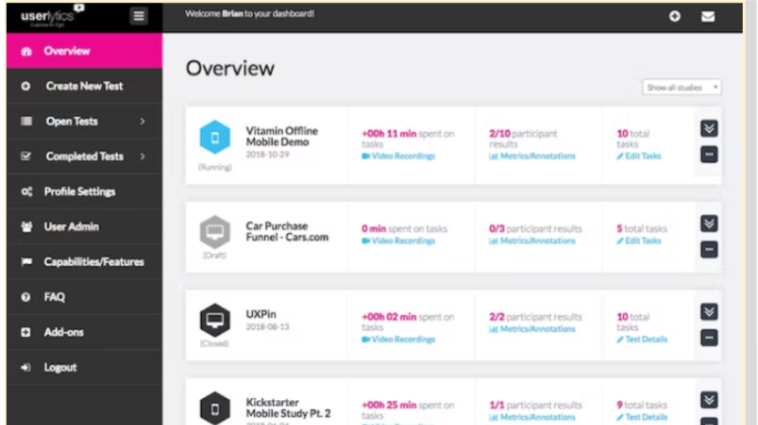 Creating UX studies with Userlytics was refreshingly simple, streamlining the entire UX research process. But what truly captivated me were the robust data analysis options.
From audio transcription to sentiment analysis and even AI-powered UX analysis, Userlytics provides a range of methods to extract qualitative and quantitative insights from the session data.
The tool also offers professional services to help you create and conduct user experience studies, making it one of the top UserTesting alternatives.
What you'll like:

Different tests like prototype testing, tree testing, card sorting, and usability testing.
Ease of gathering UX and UI feedback data on your products and prototypes with targeted tests.
Multiple question types, branching logic, rebranding, and multi-language support to design test tasks.
A participant panel of 100K quality testers.
Screen recording and video feedback options to observe the participants in real-time during the tasks.
In-depth analytics dashboard to monitor metrics like success/failure rate, time on tasks, and survey scores.
What you won't like:

Requires separate panel credits for each company account.
A bit more expensive than other similar tools.
Pricing:
Starts at $499 per month.
Best UserTesting Alternative for Moderated Testing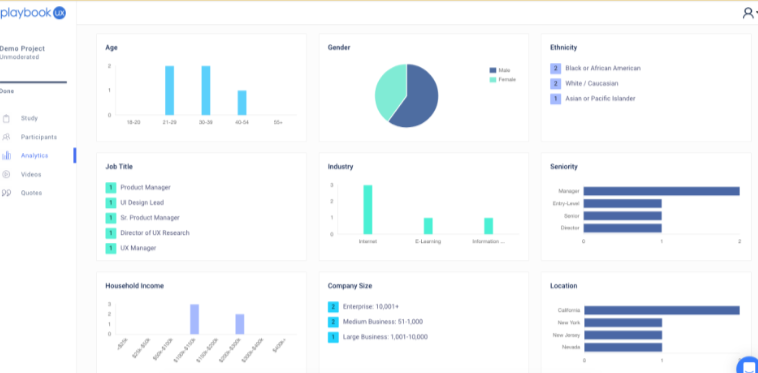 What truly makes PlaybookUX worthy of this list is its remarkably effective moderated testing interface. It seamlessly bridges the gap between researchers and real users. I tested it by setting up interviews to interact with our product users in real time.
It helped the UX team to foster insightful conversations and move beyond closed feedback. Plus, I could add moderators during the testing process to facilitate the discussions, ensuring they are on track and aligned with the research objectives.
What you'll like:

Card sorting, tree testing, and remotely moderated and unmoderated usability testing.
Run tests on any device, i.e., desktop, mobile, and tablet
Screener questions, multiple answer types, saved test templates, and cross-browser testing.
Dedicated participant panel to help you find suitable testers.
Seamless participants management in PlaybookUX.
Ability to analyze the video transcripts, create clips, add notes to timestamps and create highlight reels.
Download and share sessions and clips with a click.
Custom reports and sentiment analysis to assess common phrases in feedback data.
What you won't like:

No option to send surveys during the test.
Pricing:
Starts at $267 per month.
Read Also: How to Use Screening Questions in Your Survey – A Complete Guide
Best UserTesting Alternative for Building Your Research Panel
One of the standout features of Userbrain is its vast and diverse pool of UX research participants. Whether I need insights from specific demographics, industries, or expertise levels, Userbrain has it all.
It's a great feature if you need to compare the test results for different types of users. You can set the filter and select participants based on criteria such as age, location, and device preferences.
Running the tests with Userbrain is equally smooth. The platform's user-centric design lets testers engage with the product naturally and intuitively. The effortless tester selection process and user-friendly testing setup make it one of the best UserTesting alternatives.
What you'll like:

Features to test live websites, products, prototypes, competitors' websites, etc.
Automate testing and schedule tests.
Multiple question types, test templates, and a drag-and-drop builder to create usability tests.
Choose from the Userbrain's participant panel of 85K or bring your own testers.
Audio and video feedback collection from testers during the test.
Ability to analyze the feedback data and add comments to video/audio transcripts.
Tag and collaborate with different team members within the tool.
What you won't like:

Needs better screening features.
Would be better to deploy surveys during the test to collect feedback.
Pricing:
Starts at $99 per month.
Best UserTesting Alternative for Advanced Test Results Analysis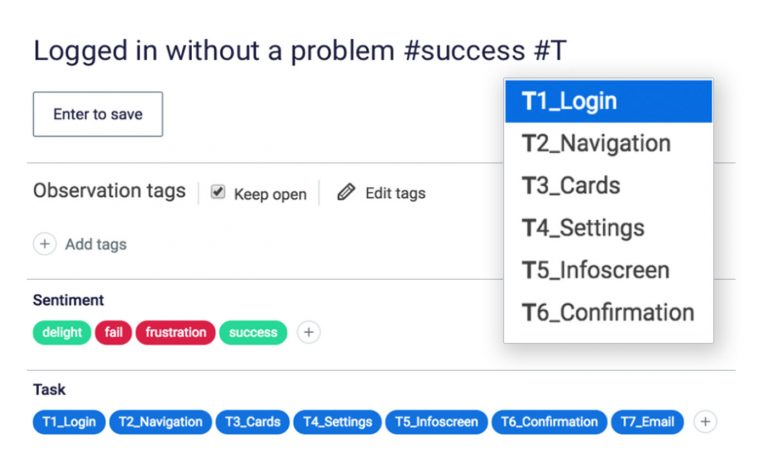 Optimal Workshop is another top UserTesting alternative because of the array of analysis tools, especially the Reframer dashboard. It was easy for my team to analyze the test results from usability testing methods available in Optimal Workshop, like card sorting and tree testing.
It also provides a built-in sentiment analysis engine to extract in-depth insights into user behavior and responses. It empowers researchers to understand users' underlying thoughts in real time.
What you'll like:

Reframer feature which facilitates real-time capturing of users' thoughts and emotions during testing sessions.
Multiple usability testing methods, including tree testing, card sorting, and first-click testing for comprehensive user feedback collection.
Built-in affinity mapping to distill insights from complex data by visualizing patterns and relationships within user responses.
Remote usability testing to enable researchers to reach a global audience and gather diverse insights.
Heatmaps and clickstream analysis to visually represent user interactions and behaviors on websites or prototypes.
What you won't like:

Doesn't provide a built-in panel of participants like some other tools.
Researchers cannot interact with testers in real time during testing.
Pricing:
Starts at $208 per month.
Best UserTesting Alternative for Post-Test Research Interviews
When it comes to user interviews, Dscout is a top-notch UserTesting competitor. It lets you engage in deep, one-on-one conversations with participants and delve into the "why" behind their actions. What's more, setting up these research interviews is surprisingly intuitive.
Dscout's platform effortlessly guided me through the process, from crafting thoughtful interview questions to selecting participants.
Another area where Dscout stands apart from other tools is the ease of data analysis. The platform's analytical tools help review, code, and categorize the collected insights. You can tag specific moments in the interviews, collaborate with team members, and set time markers in real time.
What you'll like:

Unmoderated remote tests for desktop and mobile devices.
Invite test participants from Dscout's 100K panel to get relevant testers.
Targeted screener surveys to disqualify irrelevant participants.
Video recording, screen capture, and surveys to gather user feedback.
Lets you conduct live interviews with participants.
Multiple data analysis options like live-annotate, invite observers, auto-transcribe, and share screen.
Add stakeholders to the tests and let them observe the testers remotely.
In-built data analytics tools to sort the data, cut specific video clips, add tags, include timestamps, and create highlight reels.
What you won't like:

Needs more filters to find the right participants from the panel.
Pricing:
Custom pricing
Start Running Usability Tests With the Right Tool
There it is, the top ten UserTesting alternatives under one roof. The right tool can be the difference between a half-baked product and an optimized one that appeals to the users.
It can help you collect valuable insights from the concept stage and run continuous testing throughout the entire product lifecycle.
To pick the suitable alternative to UserTesting, you can start by categorizing the tools by price or the features you want. Then, look for additional elements that can help you scale it in the future as per the requirements.
Here are our top three choices for the tools:
Option A: Qualaroo
Qualaroo offers tailored surveys for feedback on design prototypes like Figma mockups. With its intuitive editor, you can conduct usability tests like a five-second test for a website UI and gather feedback efficiently.
Plus, its advanced user targeting and AI sentiment analysis streamline response categorization and theme identification, making it a strong UserTesting alternative.
Option B: Userbrain
Userbrain stands out with its extensive and varied UX research participant pool, catering to diverse demographics and industries. Its user-centric design enables seamless testing, while intuitive tester selection and setup make it a top-notch alternative to UserTesting.
Option C: Lookback
Lookback's video conferencing offers insights into user engagement, involving stakeholders during live tests. Its AI-based analysis summarizes sessions and enables live interviews for deeper insights.
Live interviews and follow-up questions also enhance post-testing discussions, making it a comprehensive tool.
If I had to choose one, I'd go with Qualaroo since the feedback from its contextual surveys can really make or break a product design.
Find the right UserTesting alternatives and run UX tests on your website, app, product, and prototype.
Frequently Asked Questions
Want insights that improve experience & conversions?
Capture customer feedback to improve customer experience & grow conversions.