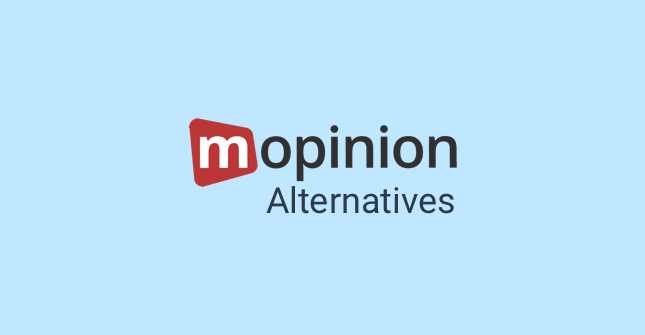 If you already aren't convinced as an entrepreneur why feedback is a big deal for all businesses then, Elon Musk may be able to clear it up for you a bit —
"I think it's very important to have a feedback loop, where you're constantly thinking about what you've done and how you could be doing it better."
Feedback, and customer feedback, in particular, is one of the deciding factors for a company's success. If an organization fails to listen to the voice of its customers to create an effective feedback loop, it's aiming to stay stagnant and not evolve with customers' needs.
Feedback software tools like Mopinion are helping companies across industries gather unaltered customer insights and preferences to help them deliver an on-point customer experience.
Of course, there are many alternative tools that you can use instead of Mopinion, and we are here to help you with them.
In this list, we will present the top 14 Mopinion alternative feedback software tools businesses can use to check the pulse of their customers.
But first, how about we have a sneak peek at Mopinion to understand why you need a tool similar to it?
What is Mopinion?
Mopinion is a suite of customer feedback tools that help provide a frictionless digital experience. This customer feedback analytics software provides real-time analysis and is available for both website and mobile apps.
You can create and configure feedback forms from scratch. Mopinion offers support for multiple languages so you can create forms for a diverse audience. Features like targeting allow users to target a segment of users to collect specific feedback precisely.
For example, feedback from leaving customers would help you understand why they aren't converting. You can achieve this by simply setting triggers that use forms like modal, embedded on webpage, or slide-in, all depending on the user behavior.
Choose it for: Conducting multi-channel survey
Third-party integrations available: Yes
Good for: Small to medium-sized business
Free trial: Yes
Price: Starts from $229/month
15 Best Alternatives for Mopinion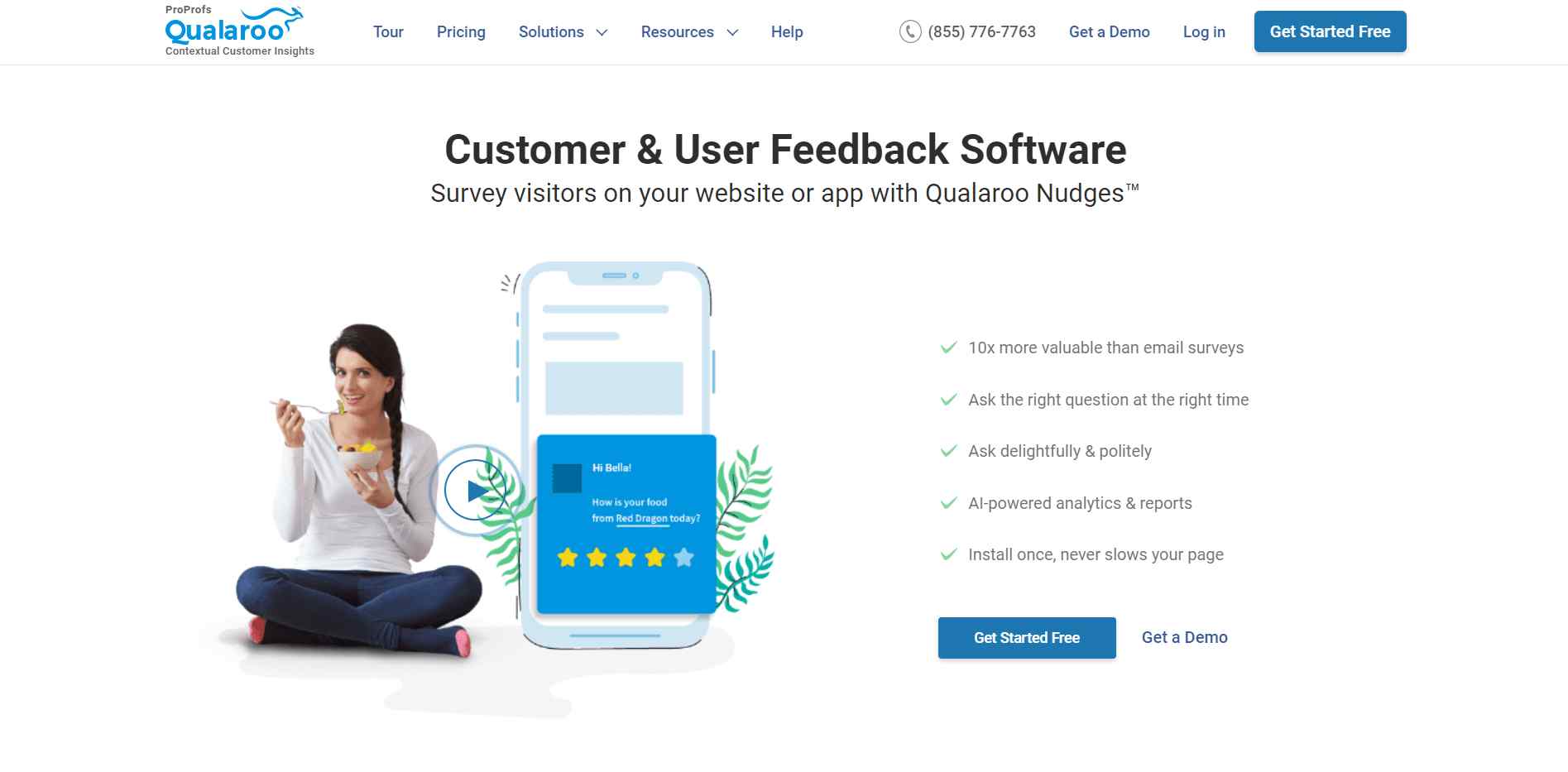 ---
Qualaroo is a strong contender in the list of 'best alternatives to Mopinion.' It's a survey feedback software that offers survey deployment on multiple channels like in-app, on-site, prototype, emails, links, etc.
This Mopinion alternative helps you ask your users/customers directly and collect valuable insights directly from the source by deploying and creating surveys.
You can ask the right questions from the right people at the right time using its proprietary NudgeTM technology. You can ask for detailed insights using pop-up surveys without disrupting the customer experience.
Choose it for: Conducting multi-channel survey, advanced reporting, AI-based Sentiment Analysis
Third-party integrations allowed: Yes
Good for: Medium to large businesses
Price: Starts from $69 per month.
Features:
Offers features like branching and skip logic to make your surveys in-depth and flexible as per customers' choice of responses.
Create multiple surveys like Net Promoter Score, System Usability Score, Customer Effort Score, etc., from scratch or use templates for each type of survey and ask questions that derive valuable insights.
Helps you reduce bounce rate with its exit-intent surveys by asking for feedback from leaving customers.
Easy to set timers for the surveys to control when they pop up, where they are shown, who sees it, and how many times they see it.
Comes with a visual survey editor with pre-built survey templates, 10+ types of questions, rebranding options, customized designing, and support for 21 languages.
Has impressive integrations, namely, Zapier, HubSpot, Marketo, MailChimp, and so on.
AI-powered IBM Sentiment Analysis to analyze verbatim responses and add qualitative insights to your feedback data.
Pros:
Great to collect quick feedback with its NudgeTM pop-up surveys
Makes user research easier with its multiple survey types and customizable features.
Quickly checks the pulse of customers in a very non-intrusive way
Supports embedding surveys in the design templates so you can test them and collect feedback
Cons:
Dashboard needs improvement
Case Study:
ART.com allows people to visualize art pieces with augmented reality. It was looking for a survey tool capable of getting the customers' pulse without disrupting their experience on the website.
"We are quite keen on establishing more of a pulse format than a long traditional, involved survey format. Qualaroo is powerful when it comes to this kind of surveying strategy", says Ajantha Suriyanarayanan, Director of Consumer Insights for Art.com.
---
---
ProProfs Survey Maker is another great survey maker alternative for Mopinion. It's known for its multiple types of surveys, including polls, quizzes, forms, and a lot more. You can ask any question and anyway you want to ask to collect diverse feedback data.
ProProfs' impressive clientele includes some industry giants like Sony, Dell, Intel, to name a few. ProProfs has helped small and medium-sized businesses create and conduct 50000+ surveys taken by 4 million respondents.
Choose it for: Conducting multi-channel survey, Surveys, Quizzes, Forms, and Polls
Third-party integrations allowed: Yes
Good for: Small to Medium businesses
Price: Starts from $19 per month.
Features:
Simple interface makes it easy to navigate.
Helps create surveys with 1,000,000 goal-oriented questions for businesses to collect unbiased feedback.
Offers drag and drop questions feature for easier and faster survey creation.
Customize your surveys with personal branding.
A massive survey questions library with professionally designed templates.
Helps design web forms for purposes like job recruitment applications, product feedback, and more.
Embed on-site surveys to start collecting feedback directly from the website.
Has a detailed reporting section for quick feedback analysis
Supports 40+ languages
Comes with integrations like Zendesk, MailChimp, and more.
Pros:
Lets you share designed surveys on multiple platforms using several channels
Has a non-intrusive sidebar feedback button you can add to a website
Helps engage with customers with more options besides surveys like personality quizzes, preference polls, and so much more
Cons:
Has a slight learning curve to the survey editor
Doesn't provide multiple survey types
Case Study:
One of the leading IT companies, Intel, needed a survey maker tool to collect 'out of scope' insights for a particular project.
ProProfs Survey Maker stood out for them because of its simplicity and ease of use. They also liked the fact that this tool offers complete customization of the survey to give it an in-house touch.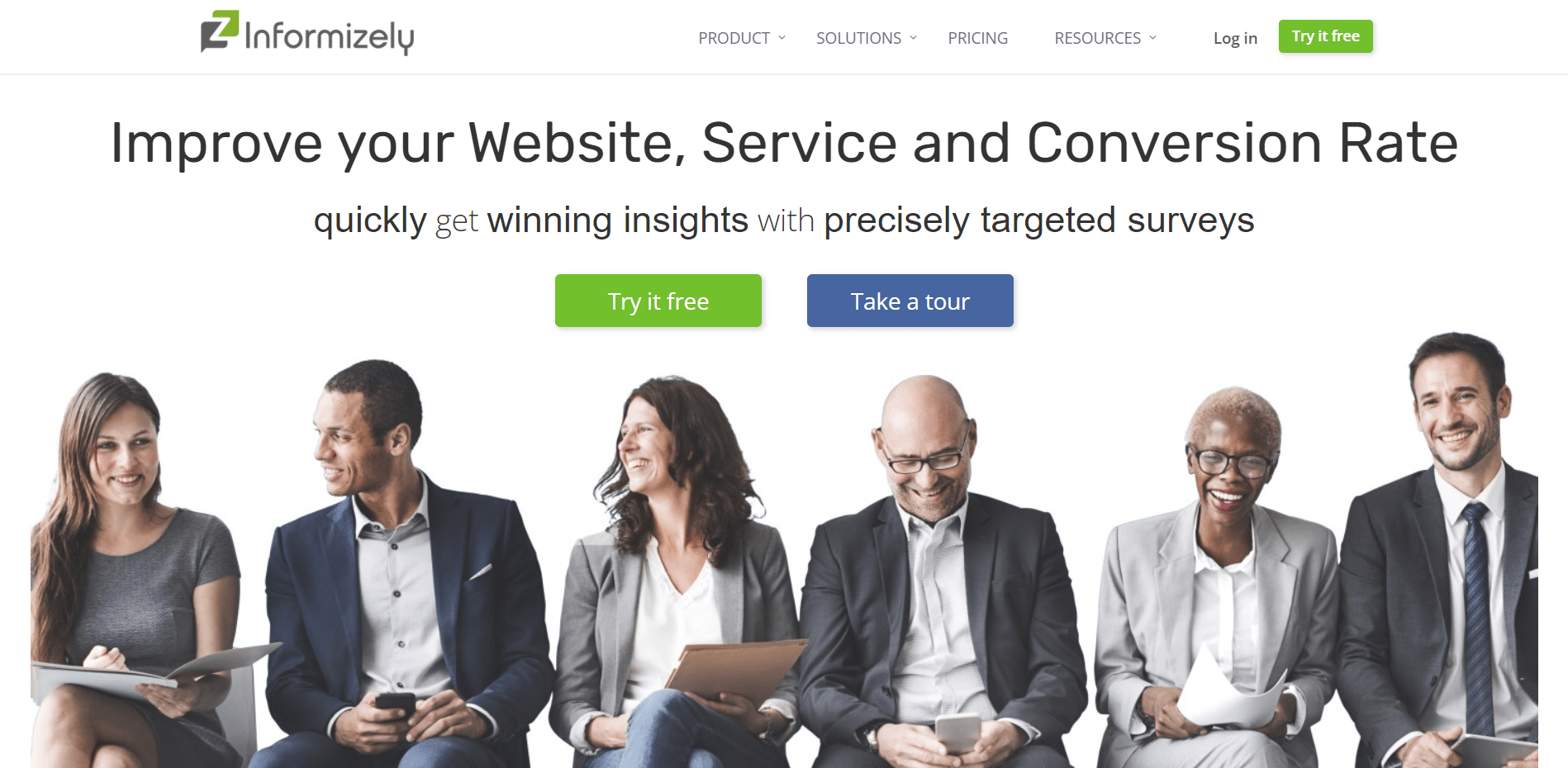 ---
Informizely is a customer experience management software and another Mopinion alternative that you will find in the market. It is very easy to use and is popular for its incredible features like reporting, transparent subscription plans, and survey builder that helps build multiple types of surveys with different questions.
It's a great tool to collect valuable customer insights and understand their motives. Its features help improve websites, products, services, conversion rate, and overall customer experience with the survey feedback functionality.
Choose it for: Conducting multi-channel survey, Surveys, Quizzes, Forms, and Polls
Third-party integrations allowed: Yes
Good for: Small to large businesses
Price: Starts from $59/month
Features:
Offers skip logic, multiple answer types, and allows multiple question types on a survey.
Lets you set survey triggers so that surveys are deployed in response to certain actions to make them more relevant.
Comes with functionalities like data analysis, email marketing, question branching, mobile survey, question library, site intercept survey, and also supports rich media like audio, images, video.
Integrates well with Google Analytics, Webhooks, ActiveCampaign, FullStory, GetResponse, Intercom, MailChimp, Sendlane, SessionCam, Unbounce, and Zapier.
Supports creating custom segments for comparison and campaigning.
Offers APIs to promote customization.
Great real-time reporting functionality.
Pros:
Built-in reporting and analytics
Offers smart filtering and verbatim response analysis
Sliding widgets for seamless integration of survey with websites
Drag and drop builder
Offers training through documentation and webinars
Advanced trigger functionalities
Cons:
Surveys for mobile need improvement
Lacks cross-tab feature for the web interface
Outdated-looking interface
Case Study:
Not available.
Related Read – Here is our list of 20 Best Customer Experience Management Software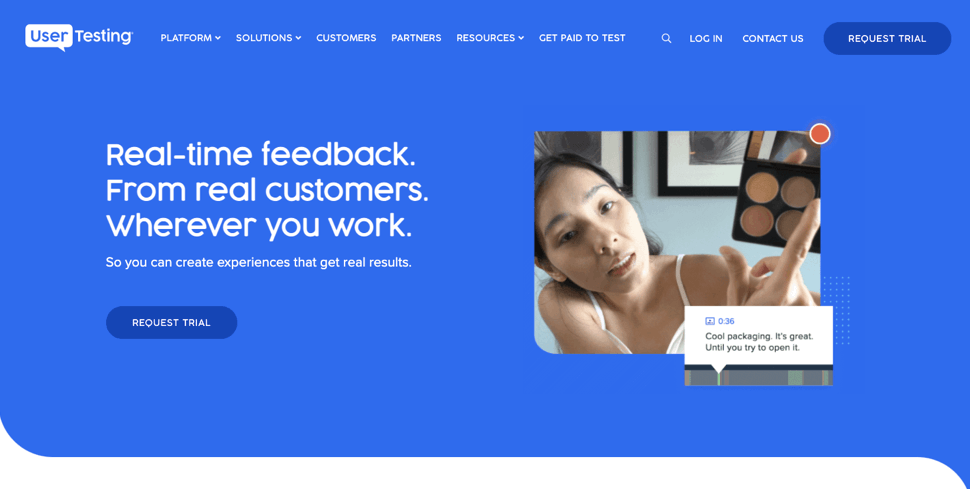 ---
Another suitable Mopinion alternative is UserTesting. The tool does a great job of scaling across all areas of UI/UX designing, marketing, and product development by reducing the empathy gap.
User Testing features are focused on closing the empathy gap by making them more customer-centric than they think they are using surveys, reporting, and analysis, etc.
Choose it for: Conducting multi-channel survey, reporting and analysis, survey management, process management, and system management
Third-party integrations allowed: Yes
Good for: Mid to large businesses
Price: Available on request
Features:
Lets websites test using user demographics that are similar to companies' targeted audience.
Quick tool to optimize mobile experience with the testing feature.
Great tool to engage with your customers and test features and products, the usability of your website, and more.
Fetches instant feedback for discovery, design, build, launch, and iterate stages.
Easily assesses the overall performance of the content, marketing campaigns, and ads on multiple channels.
Helps track time on task and surveys website visitors for Net Promoter Score.
Comes with integrations like Adobe XD, Slack, Jira, and more.
Pros:
Supports unmoderated testing
Qualitative testing is possible
Helps in participant recruitment
Cons:
Moderated testing is only available in premium subscription
Costly for SMEs and startups
Case Study:
Microsoft is an IT giant and needs to understand the changing needs of its customers in order to make the right investments in technologies and products. UserTesting seemed to be a perfect choice to check the pulse of customers and come up with innovative solutions and perform remote qualitative research.
The tool helped develop empathy in researchers, designers, product managers, and marketers at Microsoft towards the targeted customers to make services more customer-centric instead of product-centric.
5. Zonkafeedback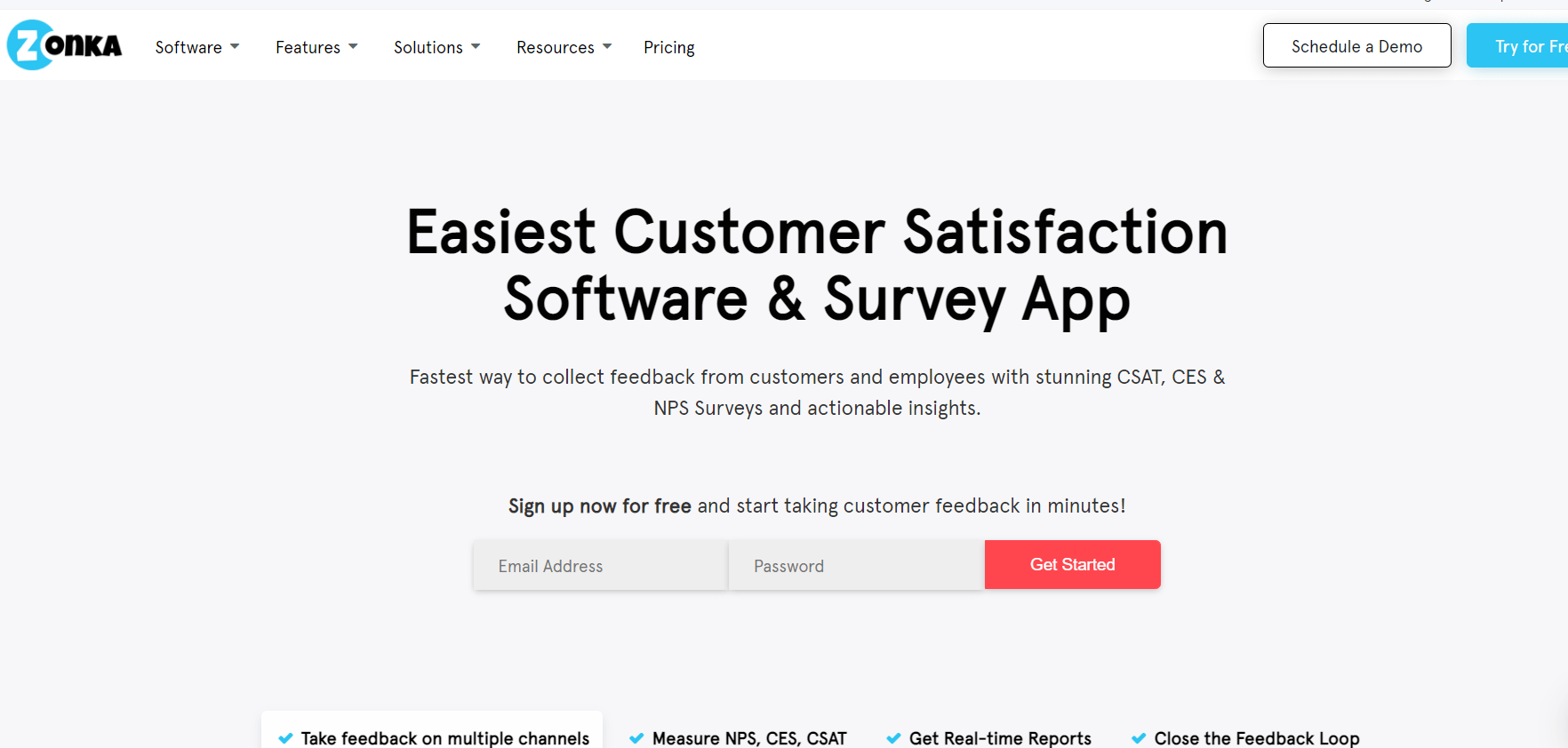 ---
Zonka Feedback is a powerful alternative to Mopinion and offers even more functionalities than the latter software. It's not only built to create surveys and gather customer feedback but also to measure CX metrics like NPS, CSAT, and CES, take action on feedback and close the feedback loop effectively.
Zonka Feedback offers ready-to-use templates and 40+ question types. It lets you create customized surveys in multiple languages, white label them to add your own branding and style, and also add logic to your surveys to make them logical and interactive. You can send these surveys across multiple channels like SMS, email, website, Android tablets, and smartphones.
Besides measuring customer feedback using CX Metrics across all channels, you also get in-depth feedback reports, real-time feedbacks and responses, the ability to assign tasks to your teams, and manage actions to enhance customer satisfaction. You can also conduct live quizzes and polls with Zonka Feedback.
Choose it For Creating and sending surveys through multiple channels, measuring CX metrics – NPS, CES, and CSAT, analyzing reports, taking action on feedback, enhancing customer satisfaction
Third-party integrations allowed: Yes
Good for: Small to large-sized businesses
Price: Starts from $29/month billed yearly
Features:
Comes with ready-to-use templates for every industry and 40+ question types with customization features.
Skip logic and question branching based on the customer responses.
Multilingual surveys for customers with different origins.
Distribution of surveys through multiple channels online and offline – SMS, email, website, and kiosks.
Facilitates creating metric surveys and measuring CX metrics like Net Promoter Score(NPS), Customer Satisfaction(CSAT) Score, and Customer Effort Score(CES).
Real-time response alerts and notifications to take immediate action on feedback.
Exit Intent Surveys to ask for feedback from leaving customers and prevent churn.
Powerful Integrations like Google Sheets, Slack, Zendesk, Freshdesk, Shopify, Zapier, and more.
Ability to run live surveys, polls, and quizzes with ongoing Webex meetings.
Pros:
It is super-easy to set up and work with Zonka Feedback
It offers templates to create surveys of different types – Guest Feedback Survey, Patient Feedback Survey, Student Feedback Survey, and more.
It works offline, can store survey response data for weeks without the internet, automatically syncs when connected.
It supports the embedding of surveys in emails and on websites.
It easily integrates with powerful tools to facilitate seamless workflow for the users.
It also offers a free trial for 15 days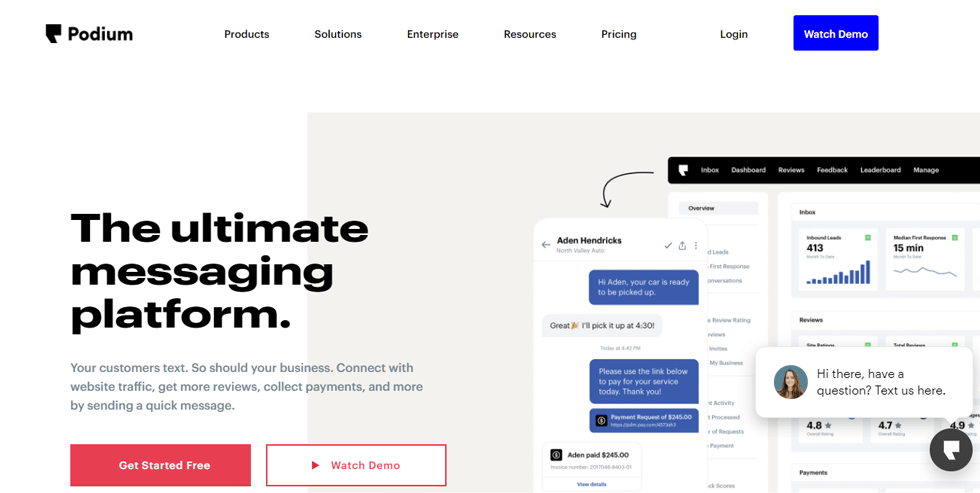 ---
Podium is a good alternative tool for Mopinion. It's changing how customers now interact with businesses. This tool collects reviews that matter from the website, collects payment via text, text-enabling the websites using Webchat, collecting customer feedback, and more.
Podium brings everything from inbox text messages, web leads, to social media and email leads, all into one place.
Choose it for: Locally-focused businesses
Third-party integrations allowed: Yes
Good for: Medium-sized to large businesses
Price: Available on request
Features:
Manages all texts from customers from the central dashboard.
Integrated with 180+ different solutions including AdvancedMD and Salesforce.
The interaction management employs messaging to make the interaction with leads, customers, and the team at every customer touchpoint even more convenient.
Offers functionalities such as ACH Payment Processing, Batch Communications, Campaign Management, Feedback Management, and more.
Pros:
Easy connect with customers and gather their feedback without using phone numbers
Great for generating honest and authentic customer reviews
Easy to use and train
Cons:
Clunky notification system
Conversations manually refresh with new messages coming in.
Costly for some
Case Study:
LA Furniture is a furniture retailer company and wanted to improve the response rates with customers to gather valuable insights. They were only relying on emails but saw disheartening results. With Podium, the company improved from a 4.2 average star rating to 4.8 as they were able to send review requests easily.
---
Nicereply is a survey feedback tool and another great Mopinion alternative that allows companies to gauge customer satisfaction at every stage in the customer journey.
It offers one-click surveys like Customer Satisfaction (CSAT) surveys, Net Promoter Score (NPS) surveys, Customer Effort Score (CES) surveys that garner a high response rate since they do not take much time or effort to take.
Choose it for: One-click CSAT, NPS, CES surveys
Third-party integrations allowed: Yes
Good for: Small to Large businesses
Price: Starts from $49/month
Features:
Helps track customer metrics like CSAT, NPS, and CES of each team, agent, and organization-wide.
Send email surveys after taking care of a support ticket to gather post-query-resolution feedback.
Offers in-signature surveys for your emails to gather in-the-moment and contextual customer feedback.
Helps combine post-query-resolution and in-signature surveys to increase response rate by 200%.
Offers integration with your native helpdesk along with third-party integrations like Front, Zendesk, Freshdesk, Helpscout, LiveAgent, and more.
Lets you set survey triggers.
Offers visuals and branding customizations with designing own survey questionnaires.
Sends reports and notifications directly to the emails and Microsoft Teams channels.
Pros:
Easy-to-use dashboard and tool setup
Impressive front-end to check reviews
Automation makes it easy to work with the tool
Easy and simple user interface
Integrates well with other tools
Cons:
Doesn't show when the surveys are closed
Can't add more contacts to a live survey
Lacks communication with the respondents within the tool
Doesn't show responders count
Doesn't support multiple campaign reports in a combined view
Case Study:
The customer support (or as they call it WOW team) at Mindvalley, a learning experience platform, wanted to measure their customer service performance. They chose Nicereply as one of their KPIs for the task and it became a crucial component of their email customer support which is their largest marketing channel.
Nicereply offered them all the major KPIs of customer satisfaction and helped them improve response rate and also their services, at large.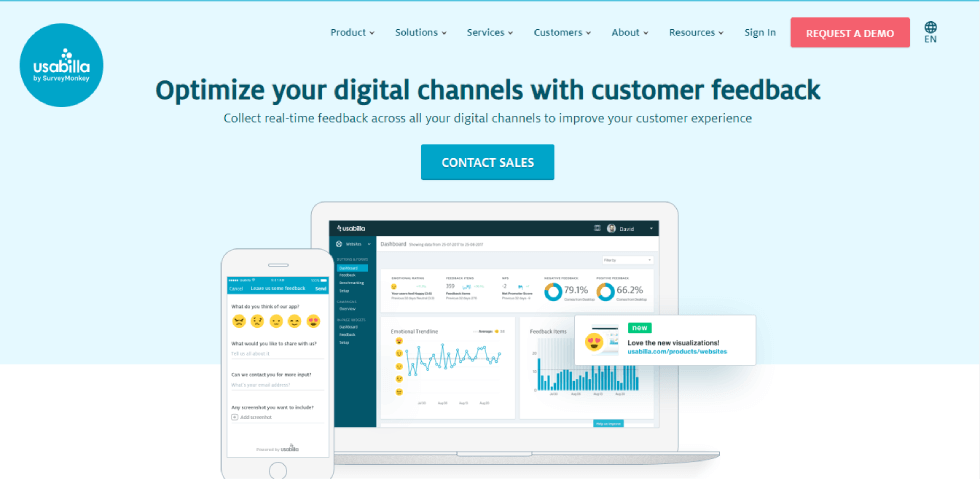 ---
Usabilla is an impressive Mopinion alternative with many useful features that ensure companies are able to offer the best customer experience.
Usabilla helps accumulate user feedback and offers a feedback button that can be placed on any page of your website, mobile app, or the entire website.
Choose it for: Collecting real-time feedback, multi-channel survey deployment
Third-party integrations allowed: Yes
Good for: Small to large businesses
Price: Start at $49/month
Features:
Comes with Usabilla API so that companies can pull feedback data collected in Usabilla and save it in their system environment for detailed analysis.
Great for collecting real-time feedback on multiple channels like in-app, on-website, prototypes, etc. to enhance the user experience.
Lets you add feedback widgets on any page or at the end of particular content to gather in-context feedback.
An impressive slide-out poll to collect emotional responses and ratings of customers.
Visualized the collected data in the forms of bars, pie charts, bars, graphs, etc.
Offers integrations with Zendesk, salesforce, Google Analytics, Zapier, Slack and more.
Pros:
Easy-to-create, manage and implement triggered campaigns
Dashboard displays conversion rate and impressions
Lets users submit screenshots in their feedback responses
Can manage multiple websites, apps, and product
Cons:
Its passive feedback surveys aren't customizable
Limited styling options for the feedback button
Case Study:
Trivago, a trip advisor and hotel booking platform, wanted to quantify its value to customers. For this, the user research team at Trivago used Usabilla and collected in-context and in-the-moment user feedback throughout the user journey.
The teams at Trivago are now able to prioritize projects better based on customer feedback, explore new features and update possibilities, and more.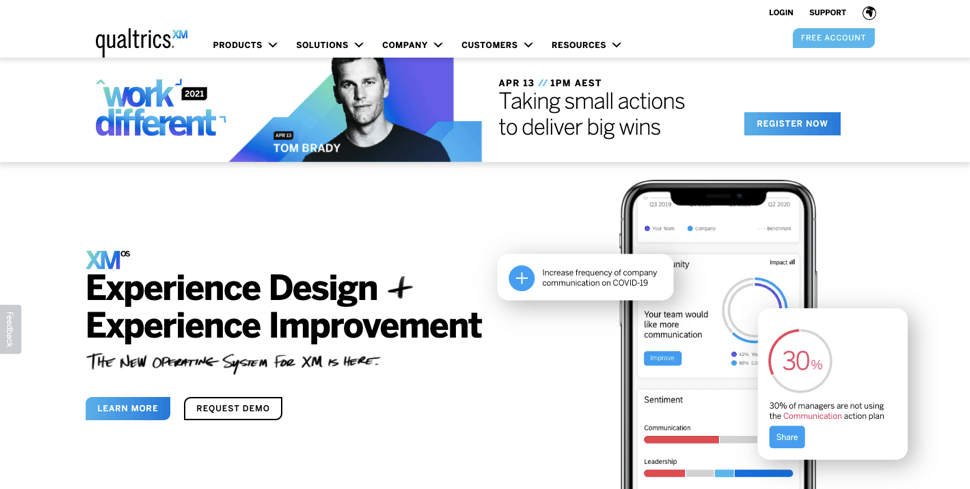 ---
Qualtrics XM is another all-in-one survey software alternative to Mopinion. It comes with an impressive and diverse feature set. You can design custom surveys using the drag and drop functionality which makes survey creation and deployment faster and effective.
This Mopinion alternative tool employs predictive intelligence to analyze feedback data and reports and drive valuable insights. It helps collect feedback from several platforms like websites, mobile apps, chatbots, and mobile apps.
Choose it for: Collecting real-time feedback, multi-channel survey deployment, predictive intelligence analysis
Third-party integrations allowed: Yes
Good for: Small to large businesses
Price: Available on request
Features:
Comes with pre-built survey templates designed by professionals with several question types to design surveys.
ExpertReview feature analyzes each question to offer real-time survey design recommendations.
Predictive analysis is an impressive feature of Qualtrics XM that analyzes feedback data and unravels unanticipated insights.
Offers data visualization in 30 different kinds of graphs.
Lets you share the reports in several formats like Word, PowerPoint, CSV, PDF, and more.
Integrations with other platforms like Marketo, Salesforce, Adobe, and more renders the tool more versatile.
Pros:
Good for quick one-time surveys
Reporting and crosstab functionality
Easy to generate reports
Cons:
Difficult to analyze verbatim responses
Limited customization options
Adding contract data to directories is slow
Case Study:
BMW wanted to make the overall customer experience as remarkable and unparalleled as their product experience. Using Qualtrics XM, BMW re-engineered its CX program in order to increase return service and repurchase rates.
The team at BMW North America also used Qualtrics XM in order to explore new workflows within the company to direct dealerships around the customer.
Also Read: 11 Best Qualtrics Alternatives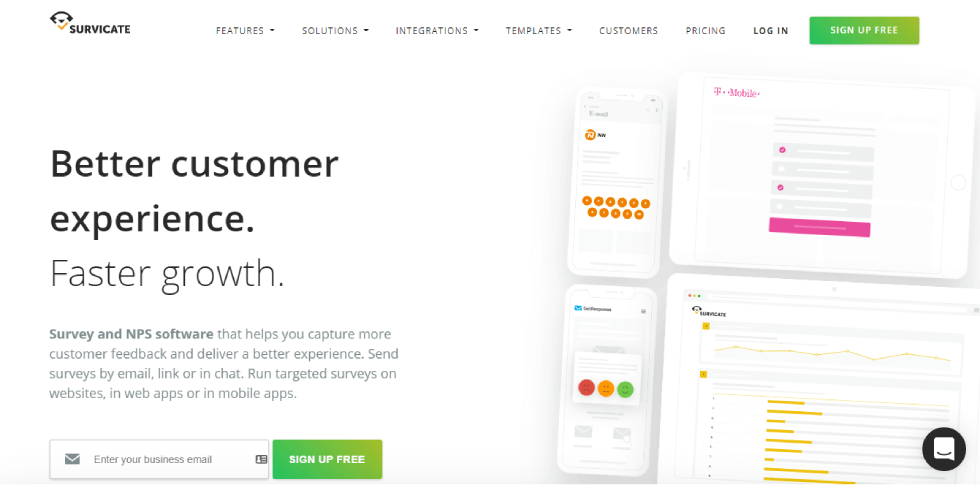 ---
Survicate survey maker is one of the best Mopinion alternatives you can use to collect user feedback, new leads, marketing, and user research data, and more across the customer journey effectively. It is a complete customer feedback system easily integrated into your website, so your visitors can take the survey without leaving the website.
Choose it for: Collecting real-time feedback, multi-channel survey deployment, predictive intelligence analysis
Third-party integrations allowed: Yes
Suitable by: Small to large businesses
Price: Starts at $89/month
Features:
Supports targeted surveys on web apps, mobile apps, chat surveys, and websites.
Lets you manage feedback from multiple sources.
You can create NPS surveys along with other types like CSAT and CES.
Integrations include Google Analytics, HubSpot, ActiveCampaign, and more.
Easy-to-create surveys with 125+ templates to expedite survey deployment.
Offers surveys for multiple platforms like website, mobile app, web app email, and URL link.
Pros:
Effective survey responses monitoring and management with its Feedback Hub.
Supports embedding surveys to the Intercom Messengers
Cons:
A few necessary features like advanced targeting are not available in the basic plan
Some question types are not optional
Case Study:
Weex is a mobile virtual network operator and a digital wallet service provider that was facing a spiking churn rate. Concerned about the progressing churn rate and what it will lead to, the company turned towards valuable customer feedback and Survicate helped in the process.
The company used email surveys to understand what people needed but did not get from Weex. Survicate easily integrated with their CRM, Intercom, and made everything streamlined.
Must Read: 10 Best Survicate Alternatives in 2023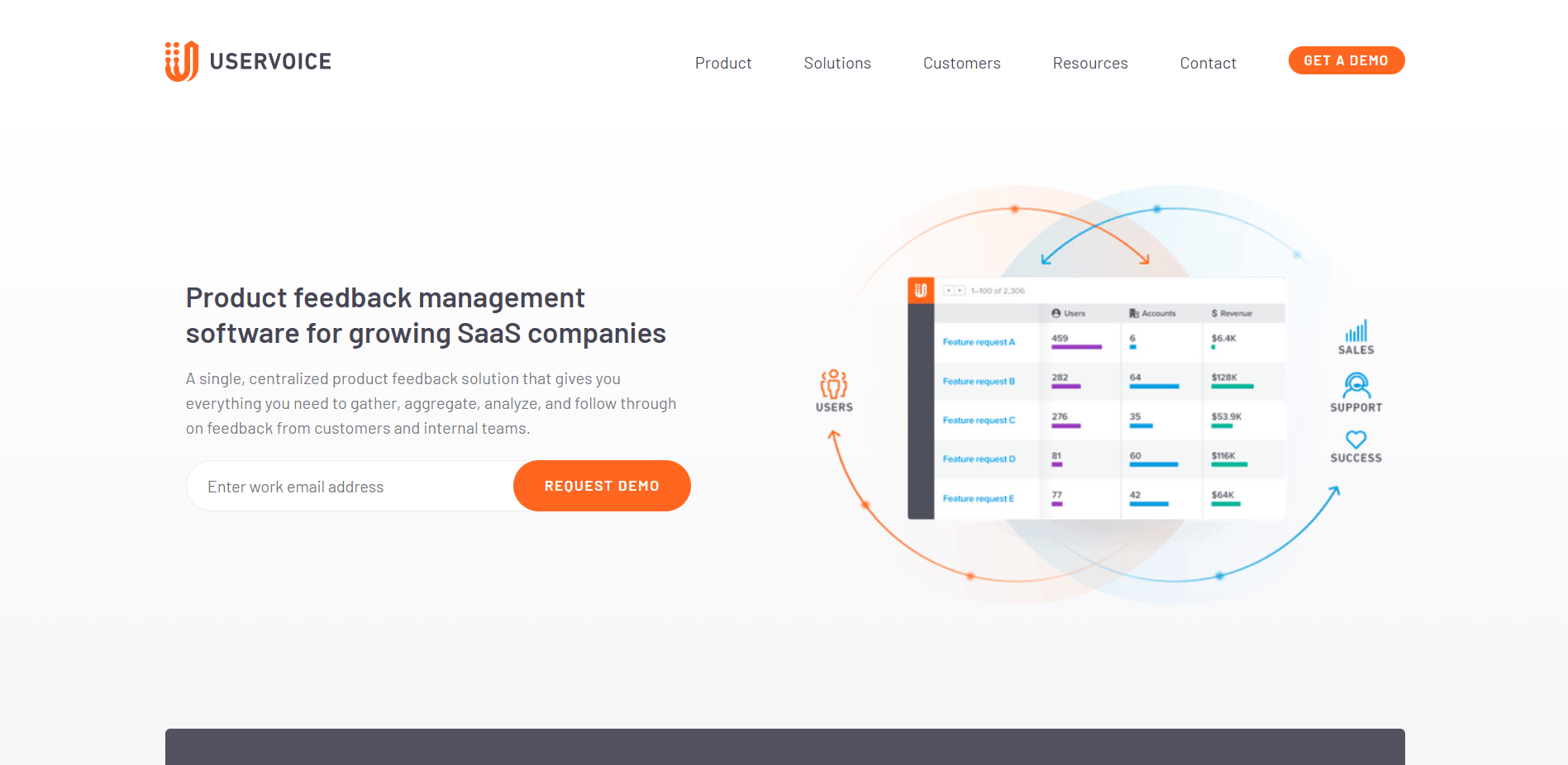 ---
Another Mopinion alternative is UserVoice. What's impressive about this tool is that it's the pioneer of the B2B feedback platform SaaS. The tool is known for its easy-to-configure and simple integrations. The tool is perfect for integrating qualitative data with quantitative metrics.
UserVoice collects the feedback directly from the end-users and makes it reach every year in the organizations with its streamlined features and integrations.
Choose it for: Knowledge base management, negative feedback management, survey and poll management
Third-party integrations allowed: Yes
Good for: Mid-sized to large businesses
Price: Available on request
Features:
Offers customer segmentation, forums, feedback management, knowledge base management, and negative feedback management.
It has a self-service portal and supports survey and poll management
Integrations with third-party platforms include Jira, Microsoft Teams, Marketo, Salesforce, Slack, Zapier, Zendesk, Asana, and more.
Comes with a simple and easy-to-navigate dashboard.
Pros:
Integrates better with native sites and makes customers feel like it's a part of the website
Offers feedback loop and transparency
Has a feedback forum with a keyword search function
Cons:
Highly expensive than other better alternatives
Confusing email integration
Dashboard is slow
Salesforce integration is not customizable
Case Study:
ShareGate helps other businesses move their business to the Cloud. They needed detailed customer feedback to design their roadmap effectively. UserVoice helped ShareGate gather feedback wherever they can collect it from the customers, including over the phone.
UserVoice manages the data and keeps it in one place using its integrations and allows companies to analyze the data effectively.
Related Read: 10 Best Uservoice Alternatives in 2023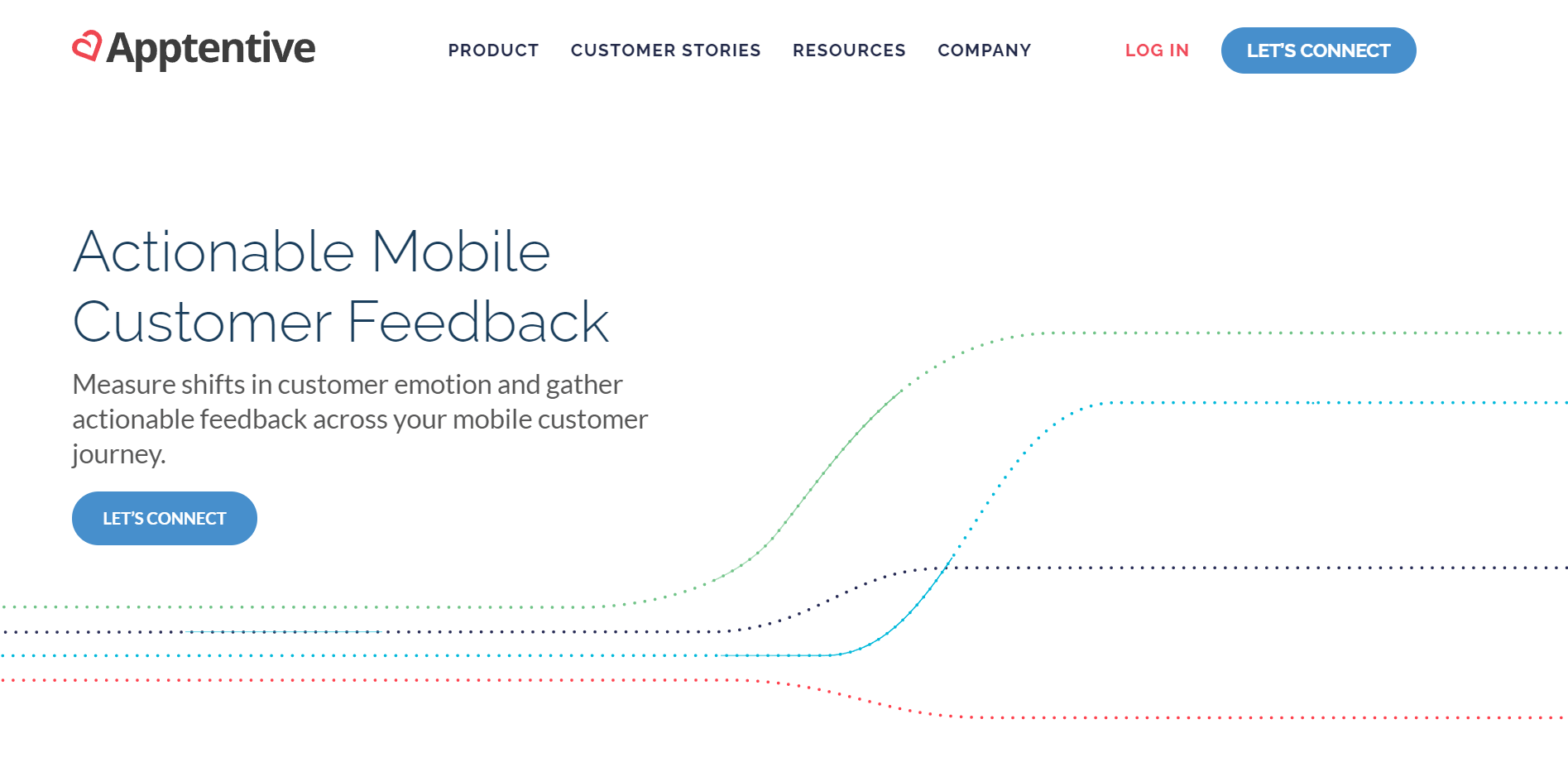 ---
Apptentive has great features that make it a viable Mopinion alternative. The tool focuses on in-app interactions and mobile-optimized surveys. It helps companies evaluate changes in the behavior and emotions of customers towards a company.
These actionable insights help companies make predictive decisions to improve their product, marketing, and everything in between.
Choose it for: Knowledge management, WYSIWYG Editor, Data segmentation, feedback management
Third-party integrations allowed: Yes
Good for: Small to large businesses
Price: Starts from $29/month
Features:
Offers features that facilitate Knowledge Management, Churn Management, and Communication Management.
Comes with a simple yet effective dashboard to see reports.
Analytics is one of the most popular features of Apptentive as it helps assess the feedback and derive actionable insights.
Has editor so you can preview how your in-app surveys will look to the customers.
Offers integrations like Slack, Uservoice, Zendesk, Airship, Oracle Service cloud, and more.
Facilitates Q/A testing and provides live chat functionality.
Helps make predictive decisions based on real-time customer feedback
Supports A/B testing
Pros:
Reviews tagging
Two-way conversation between company and customers
Exports sentiment and customer comments
Shows feedback and app store ratings
Cons:
Sentiment Analysis confuses positive and negative reviews sometimes
Lacks UX freedom and API customizations
Current dialogs are not fully editable
Case Study:
Zillow, a real estate and rental marketplace has been using an in-house rating tool that did not fulfill Zillow's needs. The company needed a tool that can help them understand when and where they should ask for customer feedback to elicit more responses.
Using Apptentive, they employed business logic and were able to figure out the right place and the right time to present a survey to their customers. They can also update the logic as per the changing customer needs.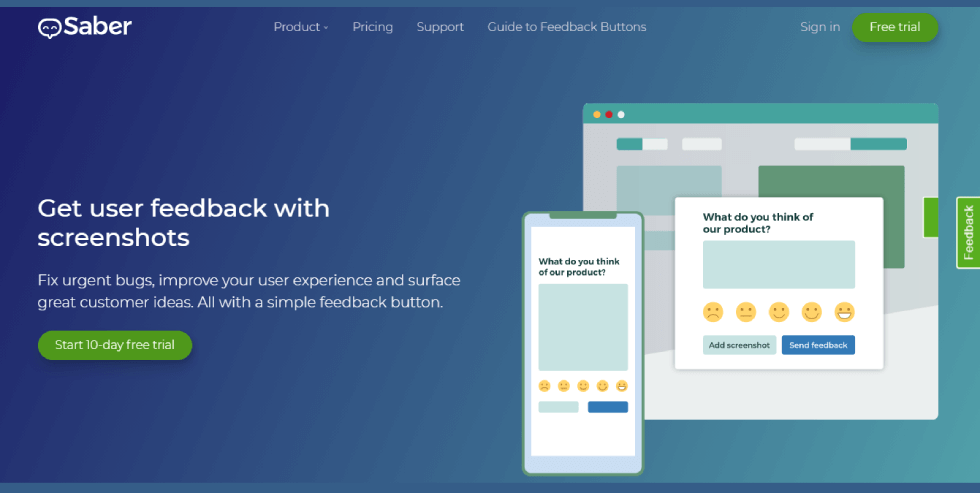 ---
Saber Feedback offers an impressive collection of tools for a very competitive price, which is why it made it to our best Mopinion alternatives list.
It has the ability to integrate natively with indispensable third-party tools and lets you collect feedback visually. These are just a few features that make Saber Feedback a great pick.
Choose it for: Form logic, feedback collection using visuals
Third-party integrations allowed: Yes
Good for: Small to large businesses
Price: Starts from $29/month
Features:
Offers a feedback button to collect customer feedback easily and in real-time.
Lets you customize the feedback button or use the default one as is.
Users can highlight issues on the website, which will be presented to you as screenshots instead of drawings.
Native integration with Jira, Trello, Slack, etc.
Collects feedback in different languages.
Offers 14 options to customize feedback surveys like emoji, check box, open-text, ratings, etc.
Pros:
Helps identify UX bugs
Simplified Q/A process
Cons:
Case Study:
AICPA is the association of members who represent accounting as a profession. They wanted the software to gather student feedback and also enable students to show where they are facing problems on the website.
They chose Saber Feedback for the task and were impressed by the results. They still use the tool for content issues and use it on every page of their website.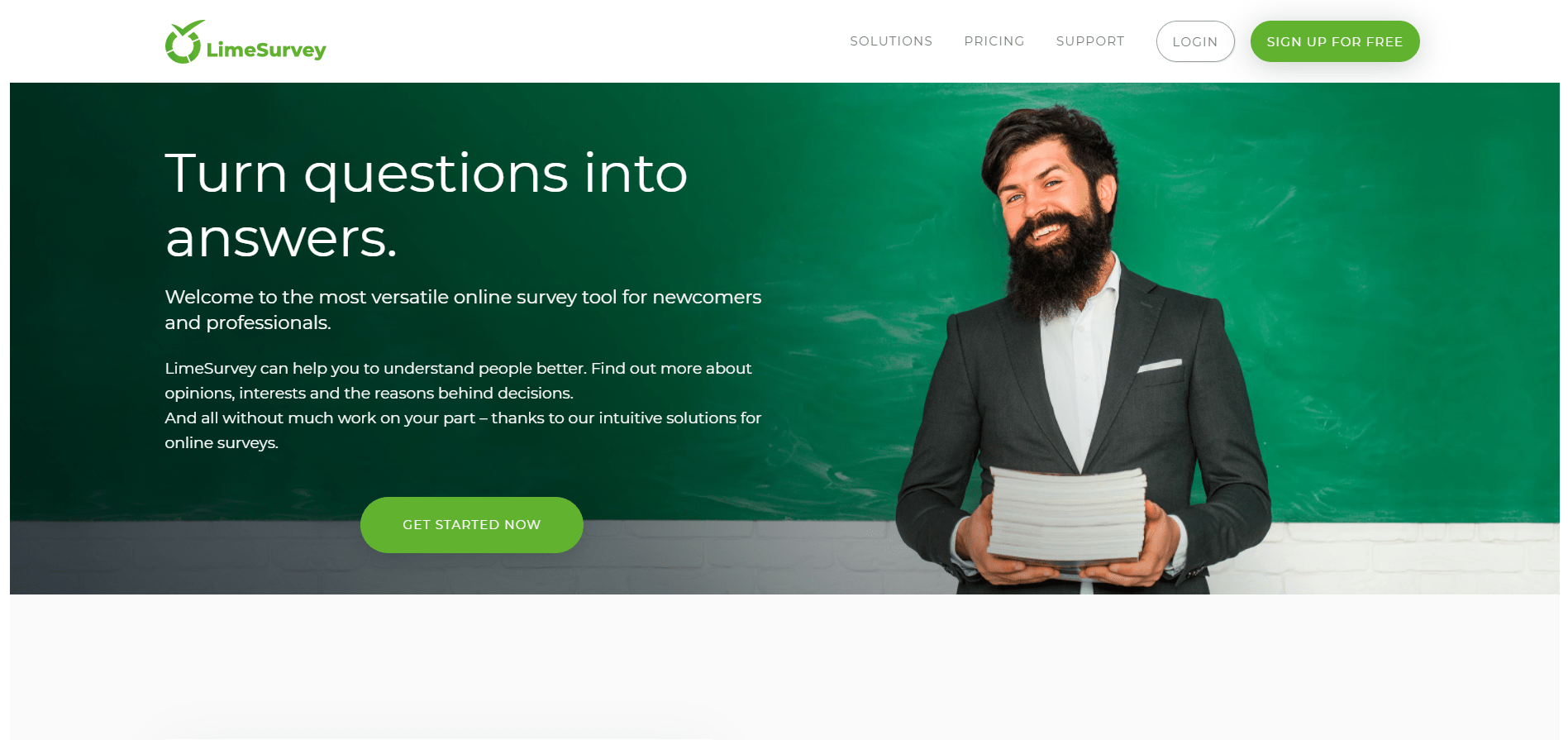 ---
Lime Survey is an open-source survey tool. You can get this Mopinion alternative for free as well as subscription plans. The code for the software is open for everyone's access and can be modified for individual needs.
Choose it for: Market research, employee and customer satisfaction surveys, polls, elections, academic research
Third-party integrations allowed: Yes
Good for: Mid-sized to large businesses
Price: Starts from $9.35
Features:
Provides hosting on its own servers and also promotes self-hosting for customers.
Offers surveys for all kinds of needs including market research, employee and customer satisfaction surveys, polls, elections, and more.
Use its survey library to collect in-depth customer feedback.
Support customization of logo and branding to allow users to make the surveys seem in-house.
Responsive design makes navigation easier.
Lets you choose custom survey URLs so your surveys appear on selective pages.
Impeccable data analysis tool that segregates the collected feedback and helps visualize it with charts, bars, graphs, and so on.
Comes with question branching, skip logic, and supports visuals like videos and images for feedback collection via surveys.
Pros:
Highly customizable
Several survey types
Cons:
Little complicated with some features
Offers limited email handling
Challenging to train staff to use the tool
Case Study:
Not available.
Related Read – Best Limesurvey Alternatives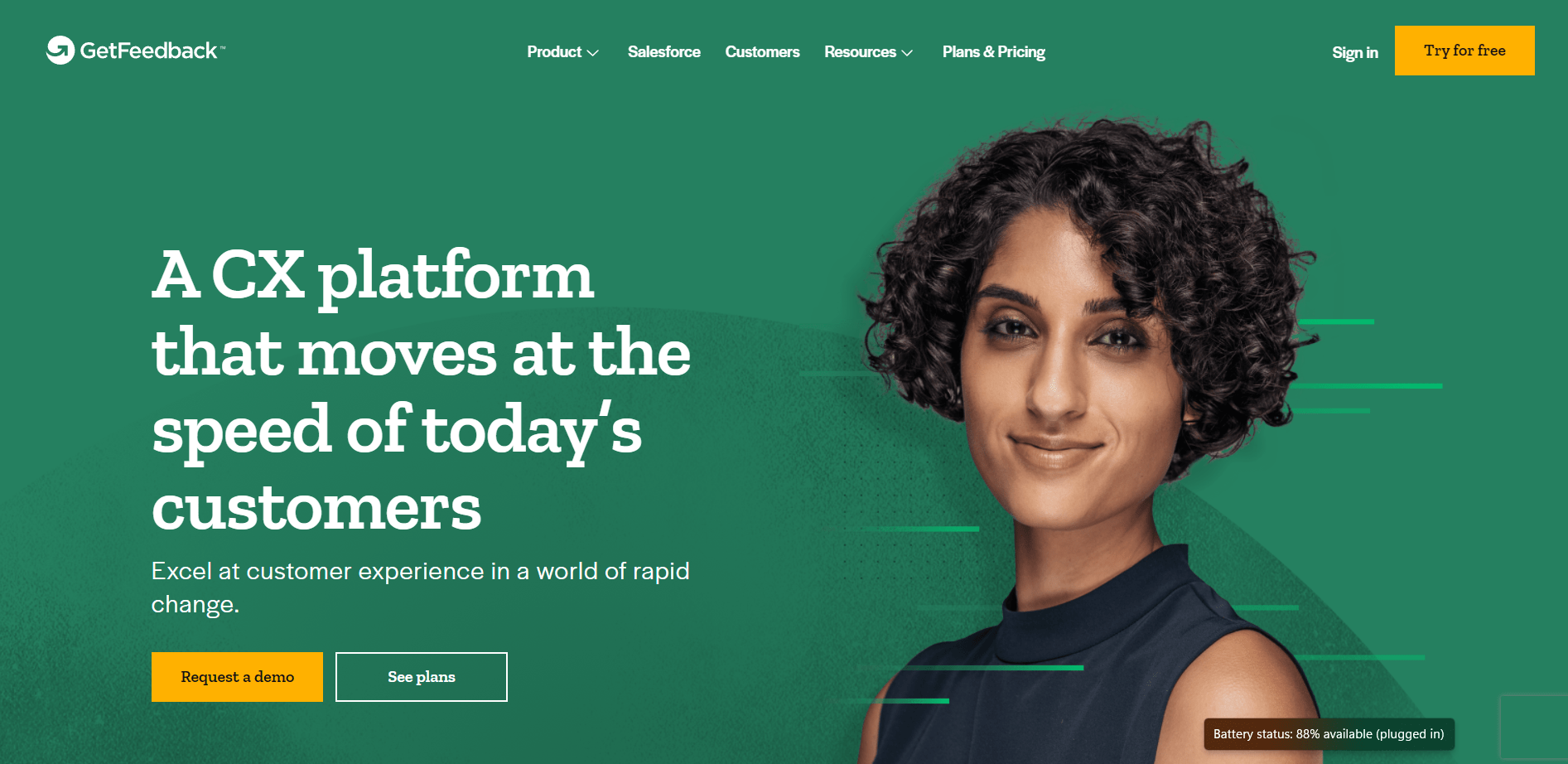 ---
GetFeedback is a survey tool and another Mopinion alternative that allows users to create effective surveys using its drag and drop feature and offers customization to fulfill every business's needs. The tool is highly adaptable to all the channels and platforms that are used to send surveys to respondents.
Choose it for: Complaint monitoring, customer segmentation, negative feedback management
Third-party integrations allowed: Yes
Good for: Small to large businesses
Price: Available on request
Features:
Offers feedback management with its customizable surveys and reporting.
Has a useful dashboard that displays data analysis and provides 360-degree feedback.
Provides mobile surveys, multi-channel communication, and data collection.
Supports predictive analysis to allow businesses to make data-backed decisions
Create effective surveys with question branching and question library to gather in-depth data.
Successfully integrates with SalesForce, Slack, Zendesk, Jira, and more.
Pros:
Customization for surveys
Easy to implement
Easy-to-take surveys
Automated survey triggers
Cons:
Pre-defined templates need improvement
Expensive when you want SalesForce integration
Case Study:
Yeti, an outdoor gear manufacturer, wanted to improve their omnichannel feedback strategy, and GetFeedback helped them achieve that by gathering feedback during multiple touchpoints like email, web, chat, etc.
Yeti was able to design a customer experience program that focuses on unraveling customers' issues and needs.
With this, we conclude our list of top 15 Mopinion alternatives that you can try and see which one works best for you. Remember to choose a tool that offers you the best value for your money.
Some features aren't easy to come by in every feedback software but can make a world of difference in your customer experience strategy. So, make sure to choose the one with unique USP and features
Want insights that improve experience & conversions?
Capture customer feedback to improve customer experience & grow conversions.