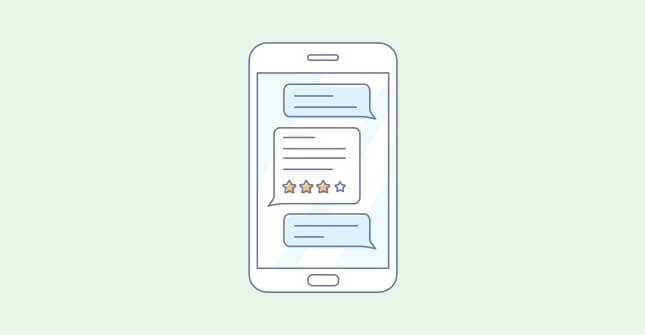 Improvement is an integral part of app development, and a lot of improvements can be made when a business listens to their customers at the right place and at the right time.
But the reverse is also true. If a brand is not integrating feedback, they end up with a terrible user experience.
Here is an example of how designing a not-so-user-friendly mobile application can backfire:
The app in question is the Clover Dating App, and seriously, if the designers thought that missing out on providing labels for fields requiring a certain data entry is okay, then clearly there's scope for improvement. It would have been better if they didn't get to hear it on a social platform!
That's why collecting feedback with in-app surveys is crucial but how can you do it?
After reading this blog, you will get a good idea about the different types of in-app surveys and know:
when to use them
what questions to ask
You'll also learn about the overall benefits of collecting user feedback through in-app surveys and the role of good feedback software in deploying such surveys.
Let's begin.
Best Surveys to Collect In-App Feedback
An in-app survey is one of the best tools for gathering valuable feedback from customers, understanding user preferences, boosting customer engagement and retention, and getting in-depth usage insights. We have narrowed down some of the most effective online survey types that can be of great help when it comes to collecting in-app feedback.
User Effort Score Surveys
This is a type of online survey which lets businesses find out the user-friendliness of the application. It is available as a poll where users can mark on a scale of 1-10 how much they agree or disagree.
How it looks: Here's how a typical UES Survey or User Effort Score Survey looks-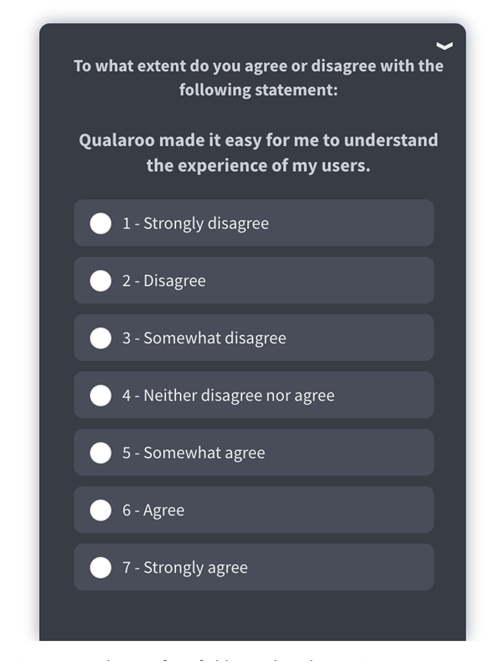 When to use: Use these surveys to evaluate how easy it is (or isn't) for a user to:
Complete specific tasks
Take certain actions on your product or service
What are the questions to ask: While deploying the UES Survey, staying task-oriented is pretty crucial to recognize the goals that users are trying to accomplish. Based on that, here is a list of some of the most common UES survey questions:
Was it easy for you to make a hotel booking on our website?
Were you able to find and buy the desired items on our website?
How would you rate the overall user-friendliness of our application?
Was it easy to rate our services?
Was it easy to book a hotel room using our app?
Was it easy to buy the items you desired?
Was our checkout process easy?
Watch: How to Collect Customer Feedback Using Surveys
---
Thanks to Customer Effort Score (CES), you can quickly check the amount of time and effort your customers had to put forth to get their queries resolved. In this way, you will get to know how easy it is for customers to buy your products or services and then receive the desired customer support. It is one of the best practices to empower customers as you are saving them precious time.
The added bonus is that it also helps in reducing support tickets.
How it looks: Here's how a typical CES Survey or Customer Effort Score Survey looks like-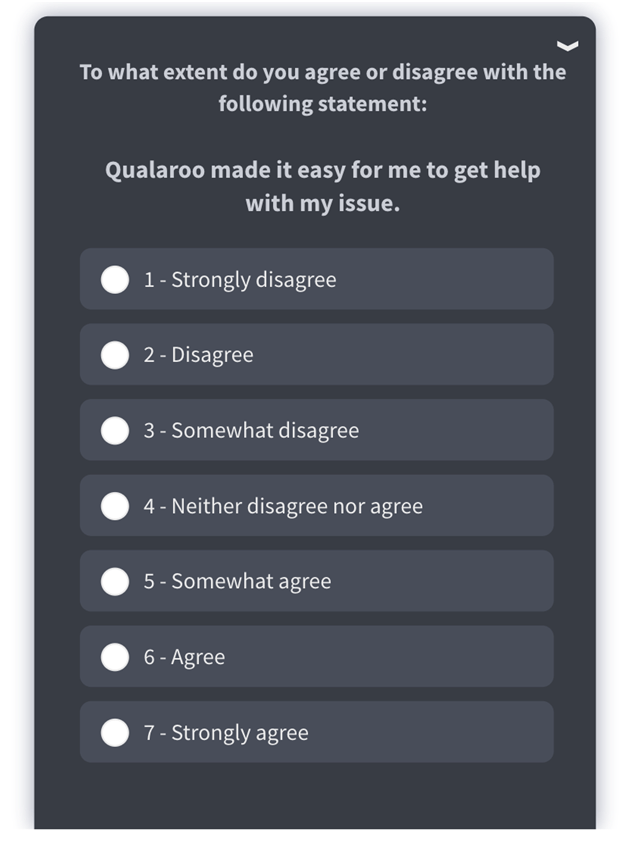 When to use: Here are some of the common scenarios when you can deploy an in-app customer effort score survey-
After a live chat write-in seeking support
After exchanging email support mails
After customer sends a support ticket
After an issue is resolved (via direct social media messages)
After a phone call with a customer service rep
While a customer is browsing through your help center articles/support forum
Once you have found where exactly multiple customers are facing a problem, you can resolve the issue without wasting time on problems that don't matter. Doing this will help you save a substantial amount of money spent on online reputation management, as lesser customers will take on social media to post negative feedback.
What are the questions to ask: Here are some common examples of Customer Effort Score Survey questions-
Was the customer support representative able to resolve the issue?
Was it easy for you to get help with your issue with our live chat or support ticket function?
How easy was it for you to find a solution via our help center or support forum?
For better context, you can even follow up these questions with this one:
"What is the reason for your answer?"
CES surveys let you take the next step after a customer satisfaction survey since support is a big part of a customer's satisfaction with your product.
Net Promoter Score Surveys
Net Promoter Score is one of the most powerful ways to assess customer loyalty and measure customers' chances of recommending your product or services to their family, friends, and colleagues. It is somewhat similar to the rating that you receive on the app store, but with in-app surveys, you can access the feedback directly in your app.
Based on their rating, there are three categories of NPS Survey takers as mentioned below:

Calculating the net promoter score is pretty easy. You need to take the percentage of promoters and then subtract that from the percentage of detractors, and you will get your final score out of 100.
How it looks: Here's how a typical NPS Survey or Net Promoter Score Survey looks like-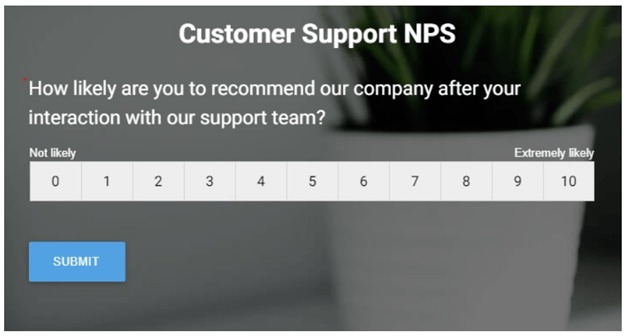 Once you have the score, compare it with the net promoter score of some of the most successful brands in the world and your competitors. In this way, you will get a better idea of how the customer feels about the brand when compared to others in the business and then work on improving the overall customer experience.
Your basic goal is to have a positive score and then further benchmark it against other companies in your industry.
When to use: Use these surveys in the following scenarios-
Watch this video to learn some recommended targeting strategies that can be useful if you use an in-app survey tool:
---
What are the questions to ask: For NPS, the question is fairly simple –
"What is the likelihood that you would recommend this product to a friend or colleague?"
Now that you know about the different types of surveys that can be deployed to get in-app feedback, let's have a look at how such surveys can be deployed.
Offering Support and Extracting Feedback with In-App Chat Surveys
One common feature that you will notice on several websites and applications is a live chat icon placed right at the bottom corner. In the last few years, it has become a popular medium that:
allows users to have a word with a customer representative regarding any concern
gives the support person a chance to ask further questions and trigger a particular message to the user, which enhances customer engagement.
To deploy chat surveys, you can choose customer feedback or online survey software that allows you to integrate with multiple chat platforms for business. A good example of such software is Qualaroo which features multiple chat integrations and readymade survey templates to choose from.
As per a recent study on consumer engagement & experience by Deloitte, more than 50% of the customers feel that a great experience prompts them to shop for products or services from a particular brand.
So, if you are offering excellent customer support experience by making customers feel more involved in the support and feedback process, you can earn loyal customers who will undoubtedly boost future sales.
What's more, at the end of your conversation you can also ask for their feedback, like how they would rate the overall experience and are they going to recommend your product or services to other people.
This is often more effective than traditional online surveys: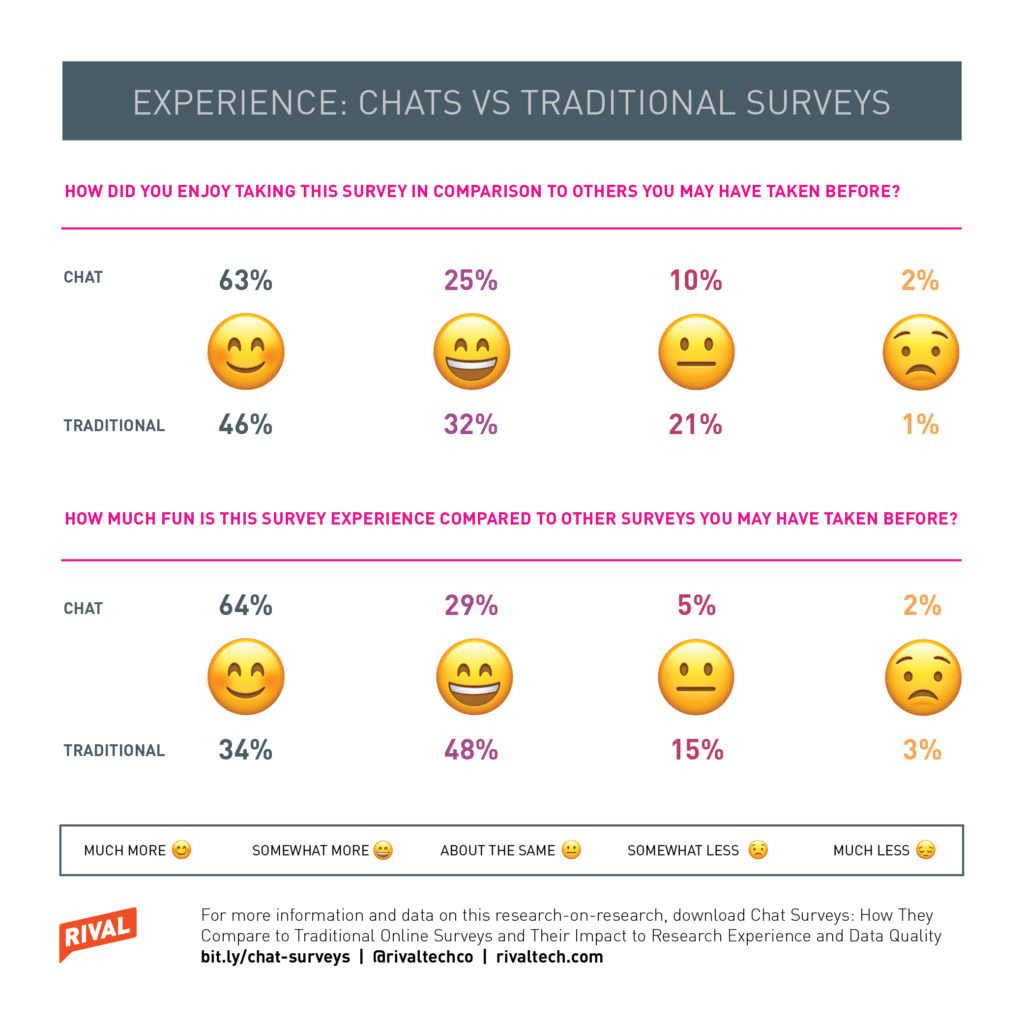 Here are some of the most useful post-chat survey questions –
Did the customer support executive resolve your concerns?
Were we able to exceed your expectations?
Rate the representative's problem-solving skills on a scale of 1 to 10.
Are there any additional comments or feedback for us?
Collecting User Insights Using Nudge
Another great way to deploy in-app surveys to get feedback is to use Qualaroo Nudge™. These are tools that can be placed on any section of your app to collect user insights. They can be triggered based on responses or can be timed. You can also use them to target users based on certain parameters.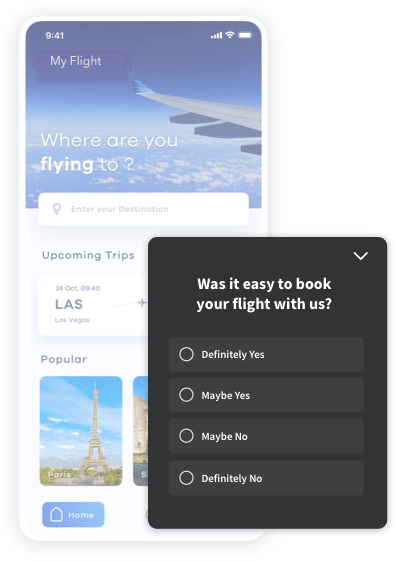 ---
Now that you've learned how different types of surveys can be useful in collecting feedback, let's have a look at their overall benefits.
Benefits of Collecting User Feedback through In-App Surveys
Increase in the number of customer feedback responses
It lets you target specific customers and ask the right questions at the right time
Surveys allow you to focus on a product roadmap plus make smarter choices on where to dedicate your resources.
Boost retention rates by knowing the issues faced by multiple users
Know more about app usage and usage of particular features
Carry out a pre-launch market research
Deploying an in-app survey the right way to get accurate and actionable insights means having good feedback software that can help you achieve all this in a few clicks. Check out their top benefits in the upcoming section.
Opt for Customer and User Feedback Software
Customer and user feedback software does it all for you without having to worry about using multiple surveys to collate feedback from customers. There are numerous advantages of customer feedback software, as follows:
Increase in-app customer engagement with proactive user feedback
Collect feedback from customers without taking too much of their time or annoying them
Collect feedback in context, which works 10 times better than the traditional survey methods
Get instantaneous customer feedback insights that help in advanced reporting and bookmarking responses
Filter responses, track sentiments and get actionable insights with intelligent analytics
---
Read More: Best In app Survey Tools
Stay on the Right Track With In-App Feedback
Leveraging in-app feedback to make your app more engaging, your product more useful, and the whole customer experience more delightful is easy if you deploy feedback surveys the right way.
With feature-packed online feedback software like Qualaroo, you can simplify the entire process of collecting in-app feedback to reach these goals.
---
Related Read: 23 creative ways on how to increase Mobile app conversion rate
---
If you have any questions, feel free to call (855) 776-7763 (toll-free) to speak with one of our representatives.
Want insights that improve experience & conversions?
Capture customer feedback to improve customer experience & grow conversions.