30 Best Website Feedback Tools for 2022
November 22, 2021
Forbes describes ignorance towards conversion rate optimization (CRO) as business suicide and points out that CRO tools offer an ROI of 223%.
The following visual shows the trends in global conversion rates in online shopping (2018-2019).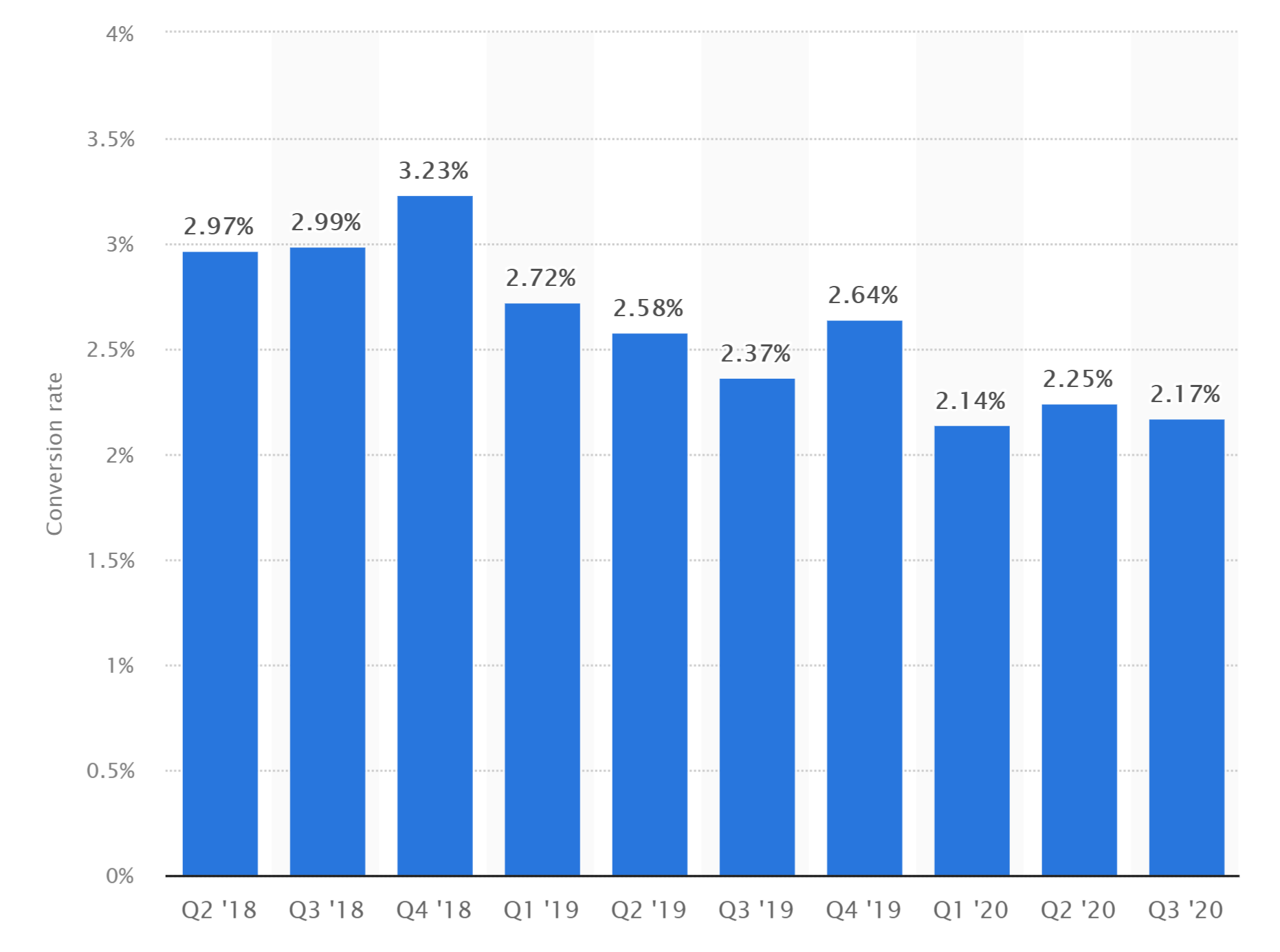 ---
The graph reveals that the average conversion rate stays below three and is the actual business metric that directly impacts your revenue. Despite this, the most common content marketing metrics are social media engagement and website traffic.

With all the businesses across the globe fighting to get this minute conversion rate, where do you think you should focus?
The answer is simple – focusing on customer behavior, purchase intent, and motivation towards the same.
And, believe us when we say that none other than your customers can give you just the right and the most honest digs into your website and business!
That's where the website feedback tools come into the picture.
What is Website Feedback?
Website feedback is a type of feedback collected from users visiting a website. Website feedback can be collected using online surveys, pop-ups, widgets, etc. This helps in gathering information about the overall user experience on your website.
How do Website feedback Tools help you?
It enables organizations to understand the general public sentiment, and these tools offer actionable analytics and insights into customer behavior to improve website traffic, user experience, and conversion rates.
Many people argue over the credibility of a website feedback tool by pointing out that data and metrics can be gathered via analytics tools. However, while analytics can tell you what the visitors are doing, they cannot tell you why they are doing so.
Here's a scenario to explain this further:
A data analytics tool may tell you that 60% of your customers quit right after reaching the checkout form without pointing out any reason. On the other hand, a good website feedback tool can help you understand the reasons behind it, like enormous shipping costs, prolonged delivery time, etc.
For example, Dell initially did not have a dedicated customer feedback platform. The brand lost its image among the customers, and consequently, it had to rework its way towards customer satisfaction. Now, it has a different website for customer feedback – IdeaStorm and has made great progress towards customer success.
Before diving into deeper waters, let us determine how website analytics tools differ from website feedback tools.
Website Feedback Tools vs Website Analytics Tools
Website analytics tools measure visitor activity and behavior on a website. For example, they tell you:
How many users visit your website?
How much time do they spend browsing your website?
How many and which pages do they visit?
Did they arrive directly, or by following a link, etc.?
Analytics tools deal mainly with numbers and are used to measure and benchmark your website's performance. They also offer insights into business KPIs, such as purchase conversion rates.

On the other hand, website feedback tools gather and analyze the feedback, comments, reviews, and responses from website visitors. So, instead of focusing on the "What" aspect of visitor activity and behavior, they uncover the "Why," such as:
Why do users leave your website right before payment?
Why do users want to leave your website without making a purchase?
Why do visitors exit even after adding items to their cart?
Now, let's get some valuable information on the benefits offered by website feedback.
Benefits of Website Feedback Tools
Whether it is from a random website visitor or a loyal customer, website feedback benefits your business in more ways than one
Structured Information Access
When you have customer feedback software on your website, you get access to more information, and that too in a structured way. Customers share a lot of information while leaving feedback, such as images, comparisons, and service credentials – all of them form the most trustworthy knowledge pool for the other customers.
They can no longer feel the need to ask a question and can find the answer independently. This increases the ease of use and your conversion rates.
On-the-fly Feedback
When you have website feedback tools, such as feedback widgets, your customers don't have to switch the context, just for leaving their feedback. Traditional feedback gathering required the customers to leave what they are doing for sharing feedback.
This deters them from doing what they visited the website for and can even lead to customer frustration. On the other hand, a website customer feedback survey can do the job silently and effectively.
Behavioral Analytics
When you ask bravely and openly for honest feedback from your customers in a proactive manner, they feel truly valued and connect deeper with your brand. This, in turn, powers on their motivation to stick to your brand and contribute towards its growth in a positive manner.

Behavioral analytics is one of the most potent business intelligence metrics which can work wonders for your brand as a whole.
Improve UX
Website feedback offers actionable insights into user behavior and motivation, and that too in their own words. So, you gain a better understanding of the customer journeys on your website and figure out how they feel while interacting with your website.
Feedback also points out hidden trends in user behavior that allows you to devise strategies to improve UX and boost conversion rate.
Related Read: Best 16 UX/UI Tools for Designers and Researchers
Bug Reporting
Bugs are nothing new to websites and software. However, many times, they become a source of frustration for the users while being hidden from developers' eyes. This, in turn, results in customer churn.
Website feedback tools allow your visitors to send bug reports with visual feedback or annotated screenshots. Thus, they can include all the contextual information in their feedback, and it becomes easier to identify, tackle, and remove bugs.
Get Qualitative Data
Thorough website feedback offers you direct insight into the customer experience, figures, and trends. This way, you don't have to keep guessing why your visitors are not converting; or why it takes so long for the visitors to finally make the payment.
A smart website feedback software will instantly let you know that most of your visitors are not able to find the shipping details and leave even after adding items to their carts.
Thus, website feedback offers qualitative data and eliminates all kinds of assumptions about visitor behavior. Furthermore, when it comes to getting contextual insights into UX, a delightful customer feedback software does an excellent job by facilitating gathering visual feedback with contextual information, such as an inability to choose postal code for any particular location, etc.
Prioritizing and Directing the Feedback
When you have a standard email for communication with your customers, you end up receiving hundreds or thousands of unstructured customer emails. Apart from consuming some of the most productive hours of your support team, these emails also demotivate you from a careful assessment of customer feedback.
On the other hand, when you use a feedback widget, you can create custom fields for collecting specific information, such as order details, customer priority level, ticket number, etc. You can also integrate it with your helpdesk or ticketing system for effectively directing data across the support staff.
Related Read: 15 Best Helpdesk Software in 2022
Tackling the Most Urgent Queries Automatically
You can automate customer ticket triaging using suitable feedback software, which means you can solve the most urgent queries first, automatically.
If your customer feedback is structured into widget form fields, you can flag particular keywords that are automatically prioritized when encountered in the incoming queries. So, the customers seeking immediate assistance get automatic priority and don't have to wait in long queues for assistance. This enhances your brand image and boosts conversion rates.
While we are talking about collecting website feedback for conversion rate optimization, we cannot miss out on the types of feedback tools. Let's take a look at them in the next section.
Bonus Read: 20+ Best Customer Experience (CX) Management Software
Types of Website Feedback
On-page Surveys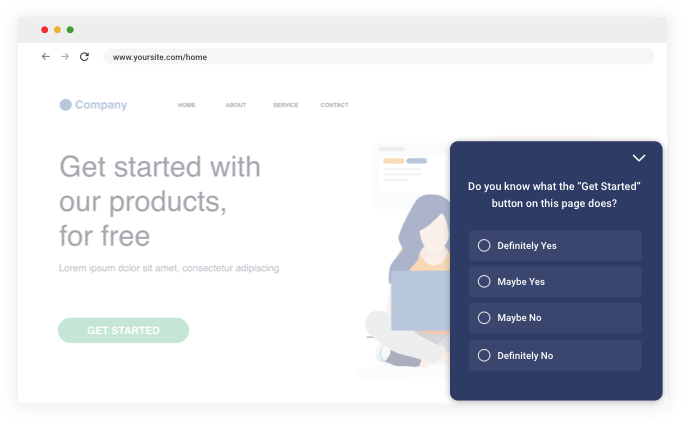 ---
On-page surveys are one of the leading website feedback tools that sit on your web pages and scroll from bottom to up, just like a chatbot. Such surveys don't distract the customers from what they are doing, and neither do they demand a context change. So, if you are looking for website survey tools that do the job without interrupting your customers, we recommend opting for unobtrusive on-page survey software.
Pros:
You can ask questions in different formats – open-ended surveys, and multiple-choice questions, etc.
You can program the survey to appear after a visitor has spent a set amount of time on the webpage.
Bonus Read: Understanding the User Experience with On-site Satisfaction
Popup Surveys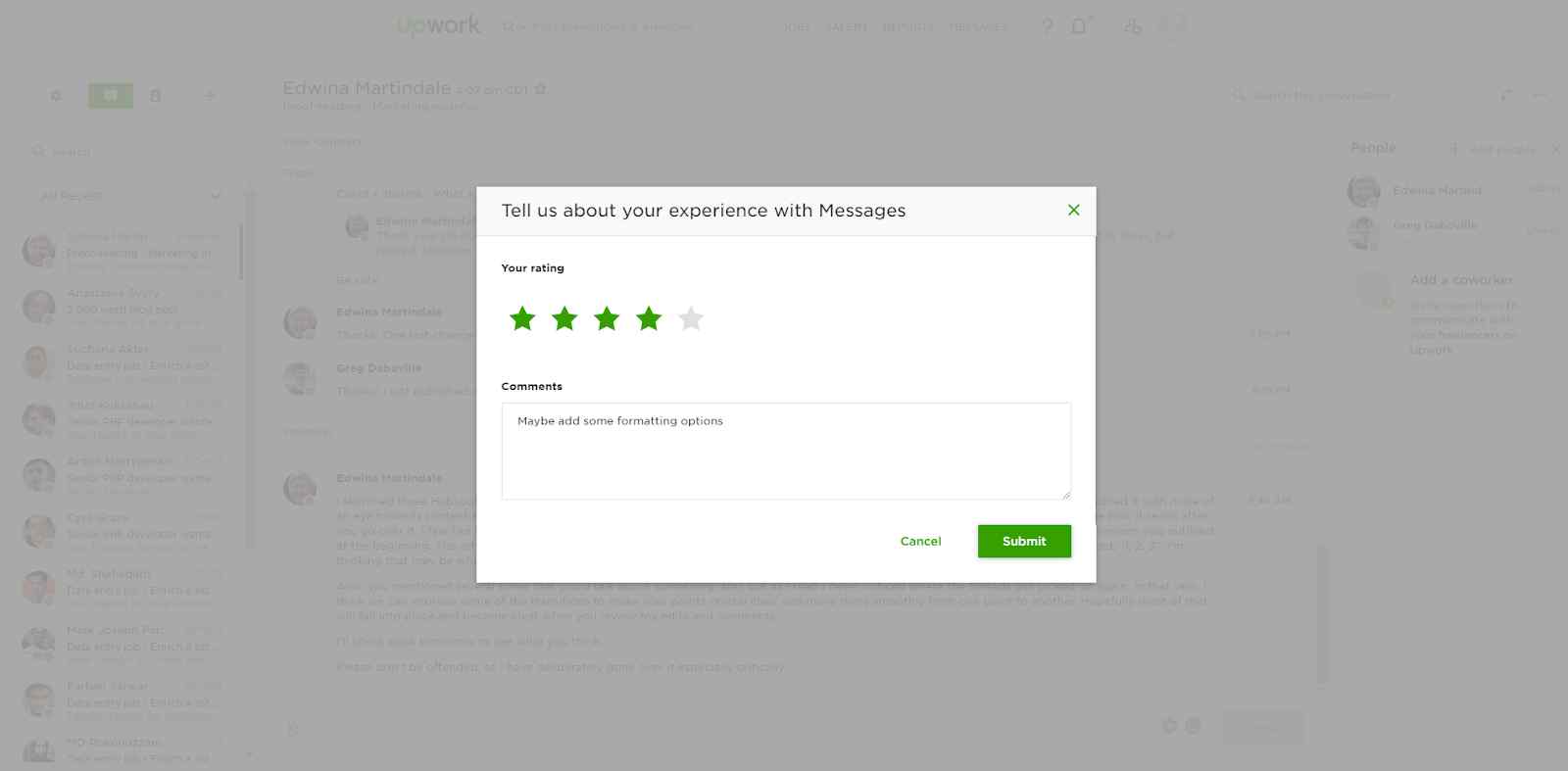 ---
Pop-up surveys appear mid-screen and are a more assertive way of gathering feedback from your customers. While they might seem to be more attention-grabbing, the pop-up surveys can be annoying to some customers while they are occupied with something important.
The best way to make the most of them is to keep them short & simple and employ them for extreme visitor actions, such as exit intent.
Pros:
You can seek a distinct and more direct customer response.
You can get better insights into the exit intent of your visitors.
Must Read: 10 Best Exit-Intent Popup Tools
Feedback Widgets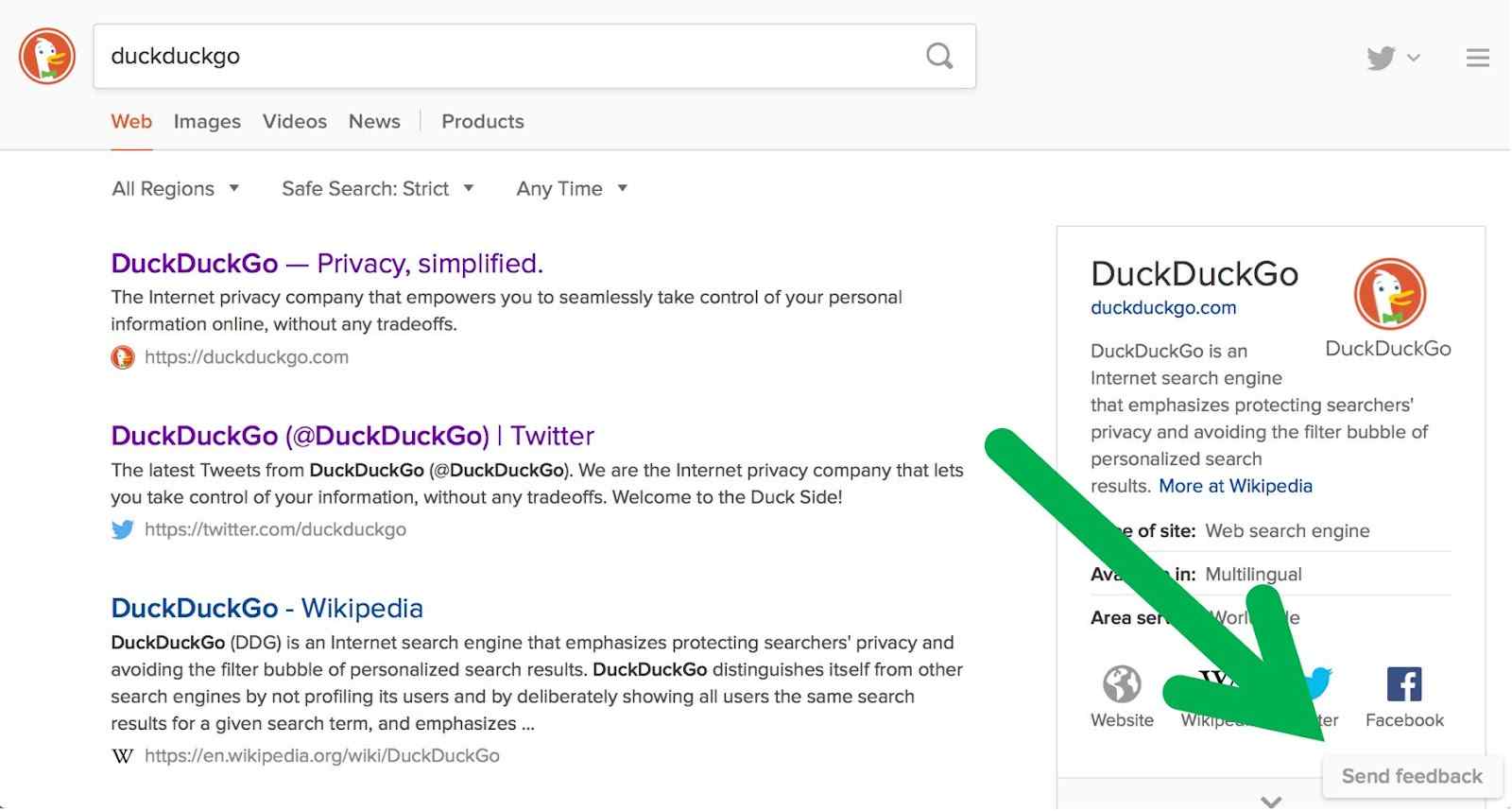 ---
Feedback widgets are located on the edge of a webpage and are clickable. Upon clicking, they ask open-ended questions such as "how can we improve ordering and checkout processes?" or "how do you like the discounts/offers?"
If you are looking for more comprehensive customer feedback, then a widget is better than an on-page survey.
For example, suppose your visitors leave your website after reaching the product descriptions page. You might think that this is because they don't find the descriptions comprehensive. But, their inability to find the right information, or discount options applicable, can also be the reasons behind their exit.
Pros:
You can gain insights into the unknowns by using widgets.
You can avoid confusion and highlight the specific element while collecting feedback.
Feedback Buttons
---
A feedback button is an easy and efficient way to gather customer feedback. Why? Because the customers who initiate the action of sharing feedback from their side are more likely to finish the process than those you request for feedback.
You can create a button leading to the feedback form or survey page and gain actionable insights from your customers.
Pros:
Yields better results as motivated customers leave their suggestions and feedback.
Offers more reliable data when you have quality concerns.
Read Also: Comprehensive Guide to User Feedback
Exit Surveys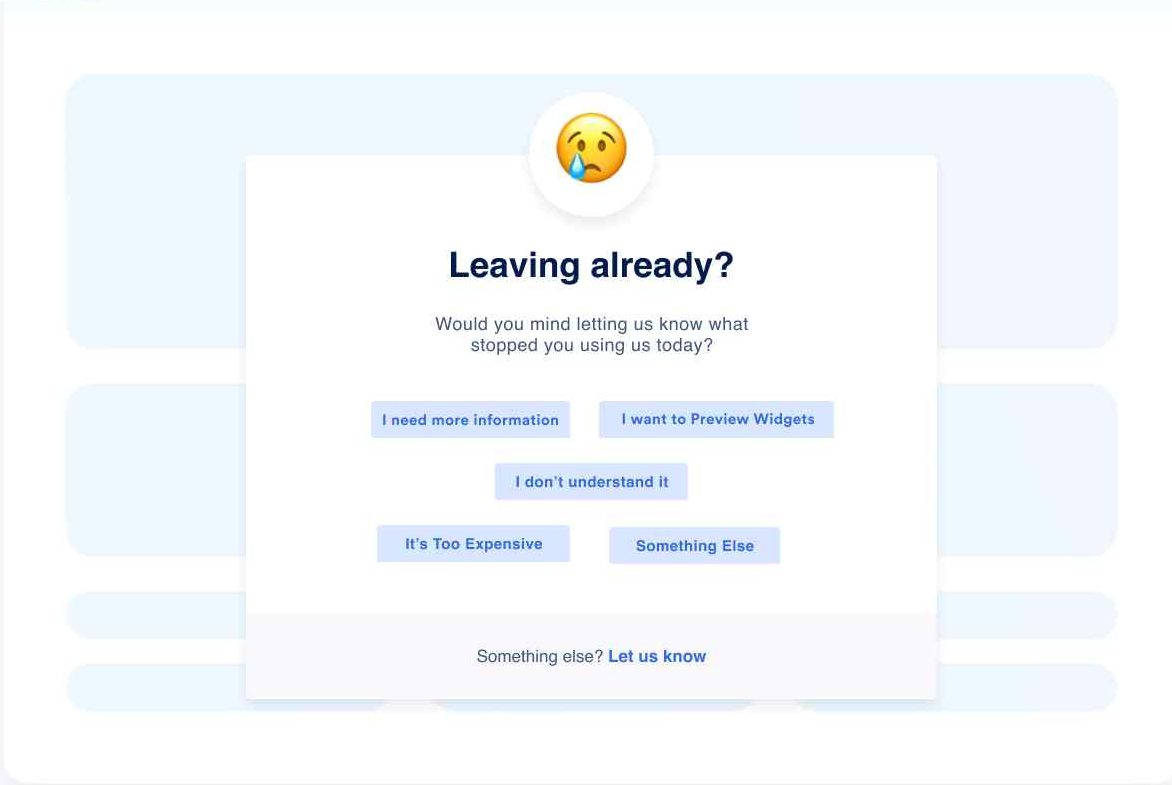 ---
The exit surveys are questions seeking the reasons for a customer's exit. Employers also use them to foster a more fruitful and attractive work culture for their employees. The exit surveys must have a handful of questions and should not be lengthy.
Pros:
They offer a direct peek into the reasons visitors leave your website without converting it into sales.
They help you improve conversion rates by offering a holistic view of areas where your website lags.
---
Feedback Pages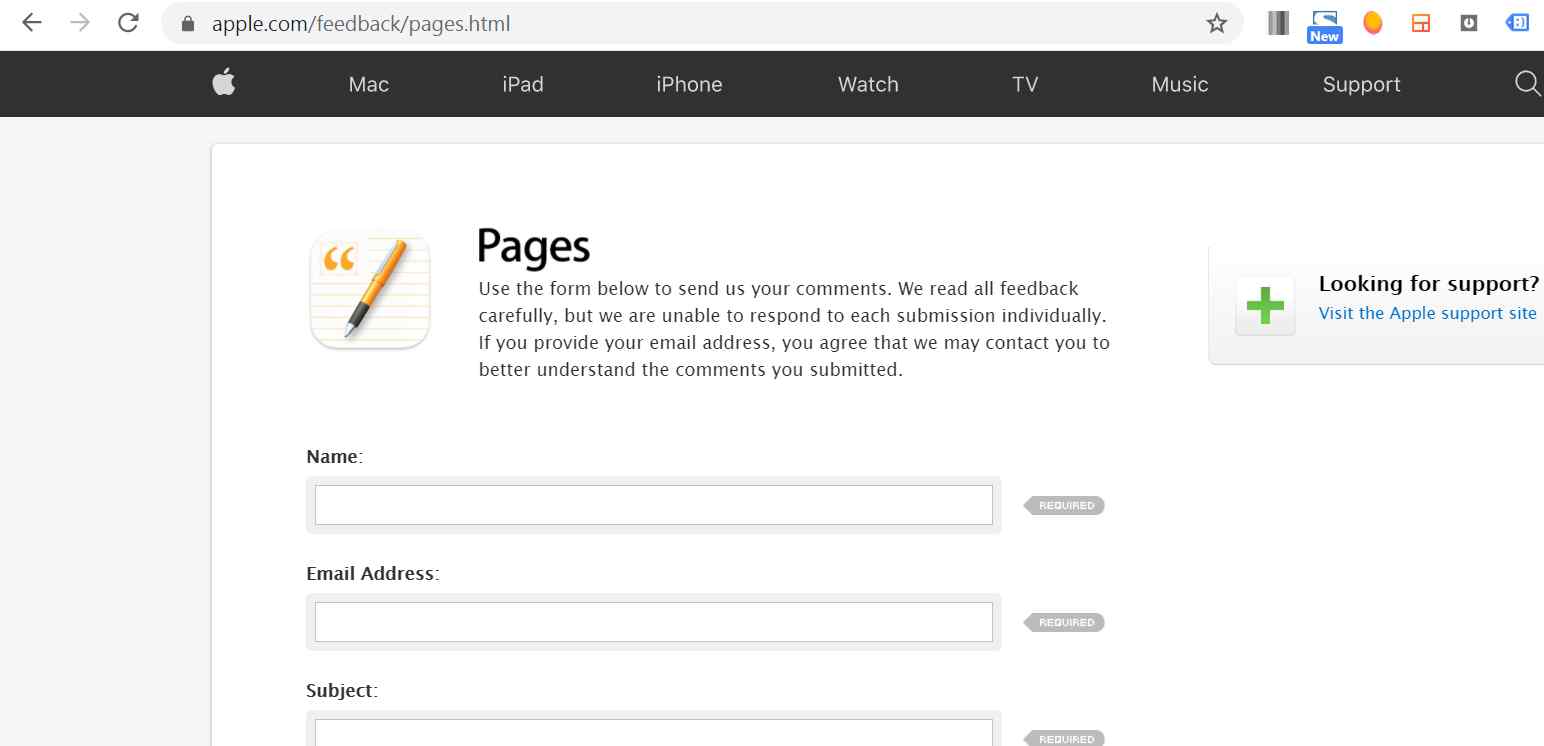 ---
Many brands offer dedicated feedback pages, like Dell and Starbucks (as mentioned in the earlier section). New or existing customers, visitors, community, and employees can access these feedback pages and raise their issues as well as share their ideas for improvement.
---
Pros:
Intelligent receptive feedback gathering and submission becomes possible.
Customers can easily find and share helpful information.
Best 30 Website Feedback Tools
The website feedback tools discussed here are classified into multiple categories so that you can pick one easily based on your requirement.
A. Website Voice of Customer Feedback Tools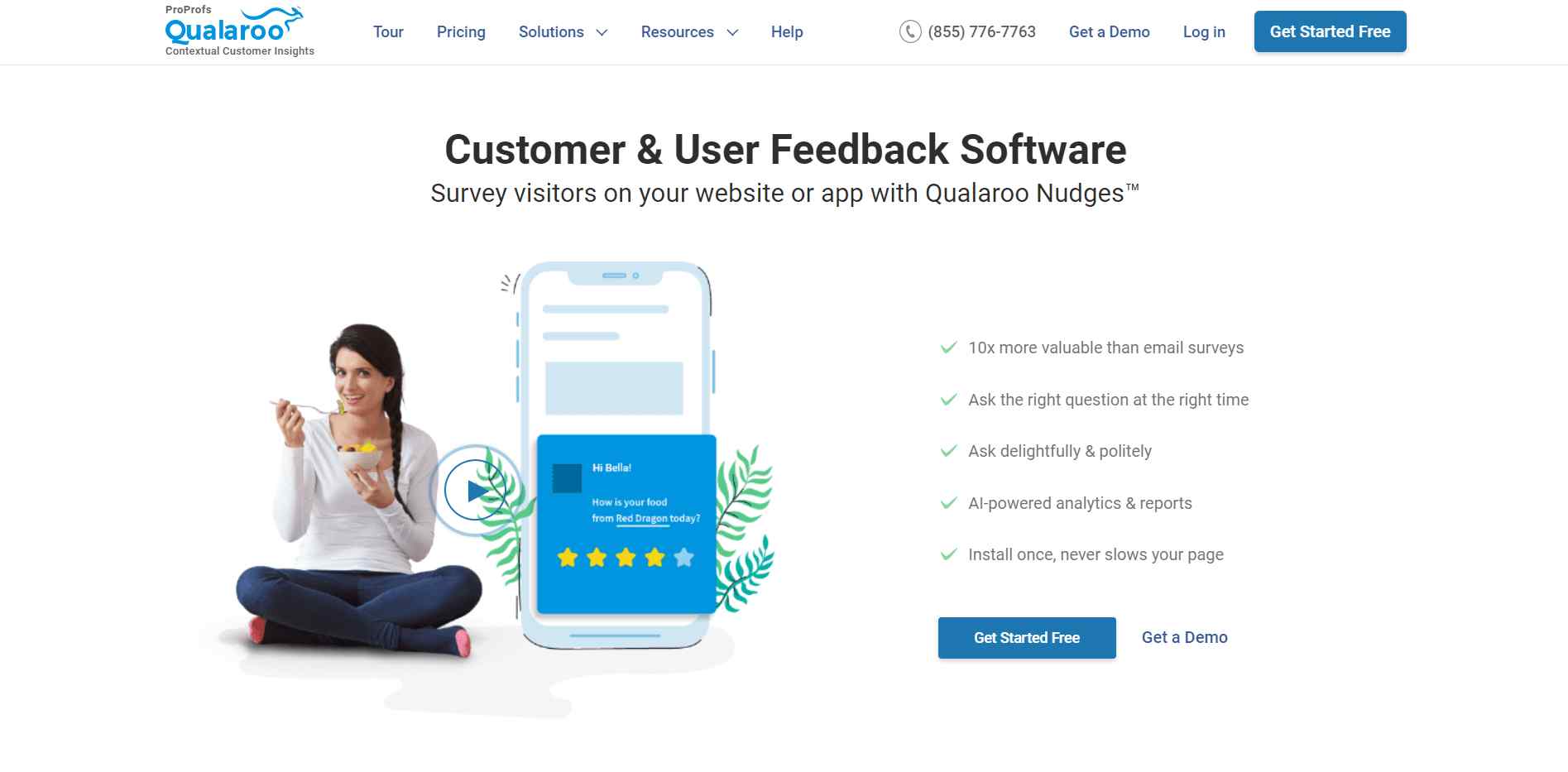 ---
Qualaroo is a smart customer feedback software that records responses via its proprietary website feedback widget called NudgeTM which has been designed for unobtrusive and contextual feedback collection right on the website. This allows you to request customers' opinions in a polite and delightful manner.
It offers several types of templates that are fully customizable and advanced targeting options to capture feedback from customers or visitors based on where they are, who they are, when they visit, and more parameters. Website Feedback
The software is incredibly light and doesn't affect your website's loading speed or performance. The visual reports are data-intensive and deliver insights that can be shared across different teams in your company to utilize website feedback better.
Best suited for:
Customer experience (CX) or user experience (UX) researchers and designers seek precise customer-generated website feedback to boost conversions.
Pricing: $ 0.0008 Tracked Pageview/mo
Bonus Read: Best Customer Feedback Tools For 2022 Compared
---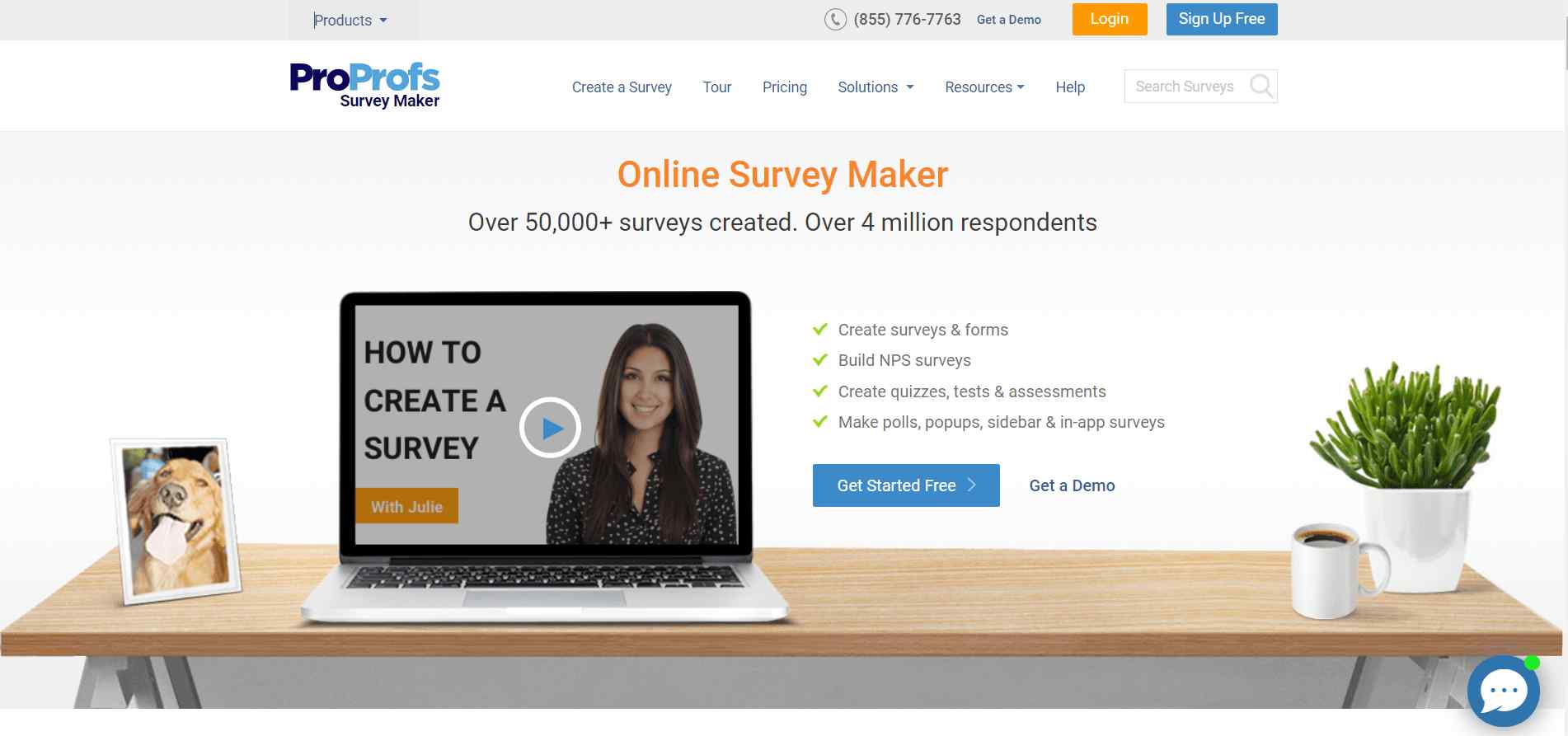 ---
ProProfs Survey Maker is an intuitive and effective tool for conducting all kinds of surveys, such as client satisfaction surveys. It is perfect for employers, business owners, trainers, and anyone else looking for an easy-to-use survey maker.

Some of the most powerful features include multiple question types, response grading, detailed survey steps, and cross-device compatibility of the surveys created using the software. You can easily create and embed the surveys as per their preferences. You can also share the survey on social media for better reach.

Best suited for:
Business owners, trainers, teachers, event managers, and universities, etc.
Pricing:
Starts at $50/Month billed annually, and there is a free trial as well.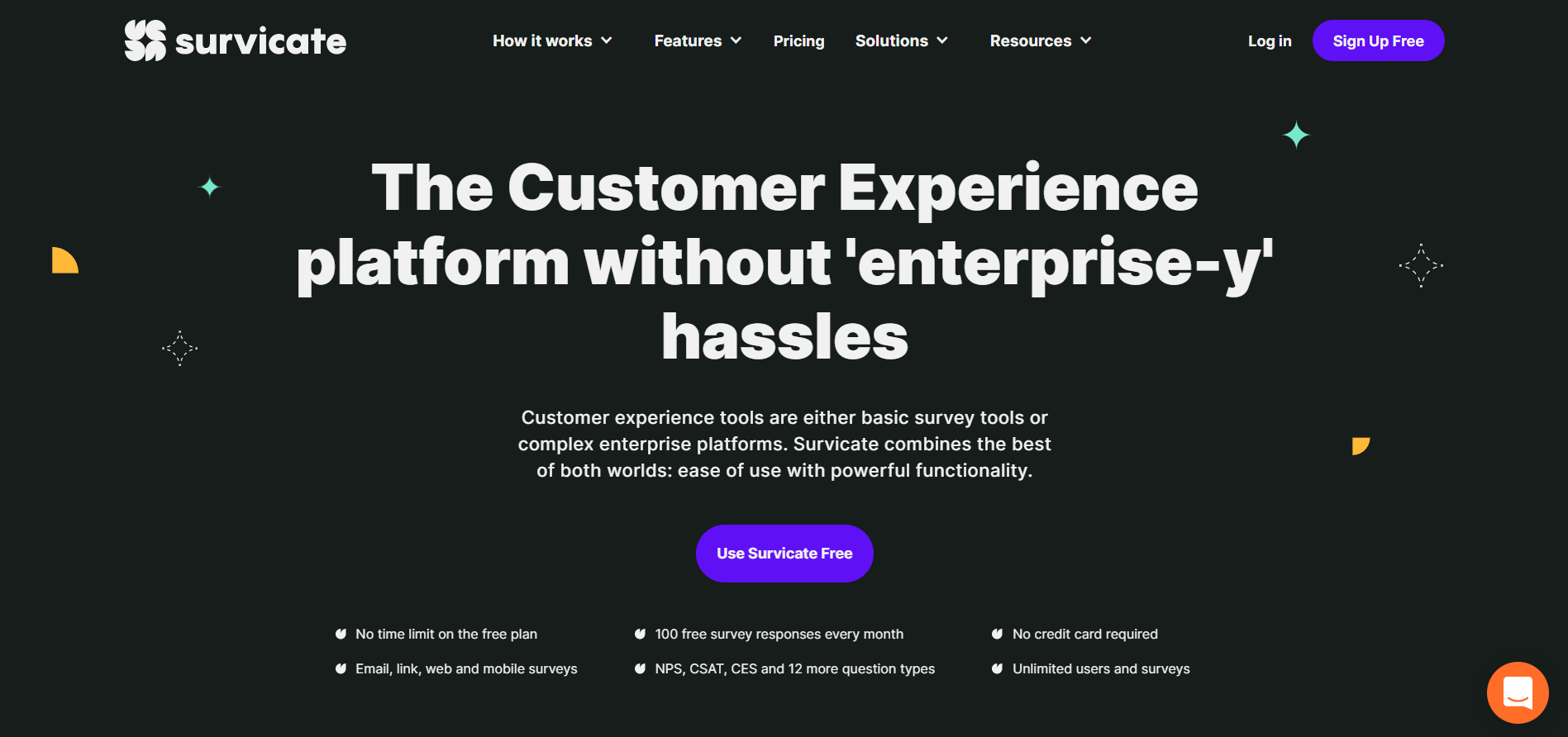 ---
Survicate is an NPS and survey software that facilitates gathering valuable customer feedback and improving customer experience. You can send the surveys via email, chat, or share the survey links. Survicate allows you to run targeted surveys on websites and mobile apps.
Best for:
SMEs and Large Enterprises
Pricing:
Starts from $49 per month.
Read Also: 10 Best Survicate Alternatives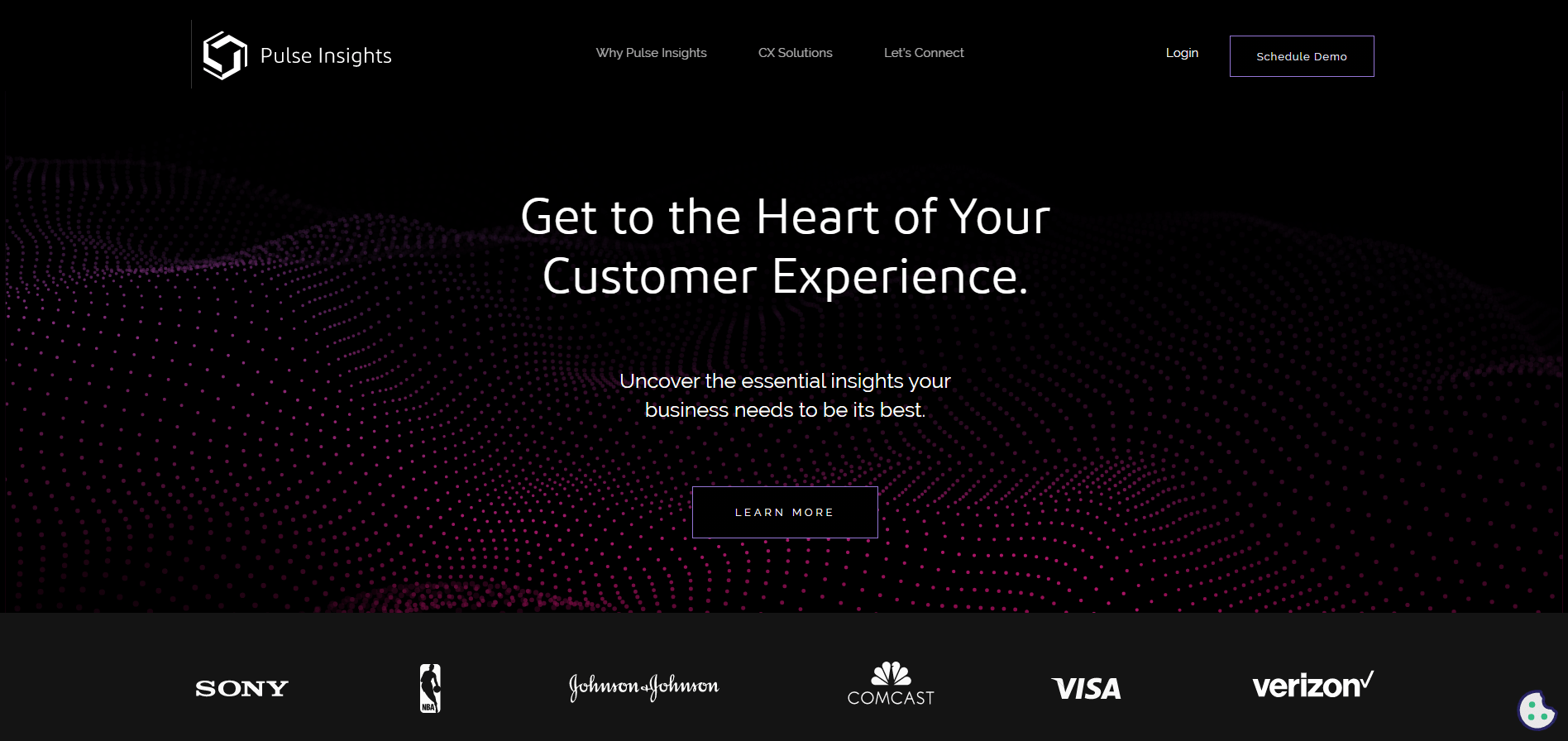 ---
It is yet another easy-to-use and accessible website feedback tool that comes with unique options, such as customization of action bars, collection of user preferences, negative feedback management, etc.
It allows you to ask contextual questions without disturbing the current website activity of your visitors. It comes with multi-channel data collection and poll management as well.
Best for:
Enterprise-level organizations
Pricing:
Starts from $4000 per month.
Bonus Read: Top Net Promoter Score Survey Tools for 2021
---
It is a full-stack customer data platform that offers highly contextual and personalized customer engagement across multiple channels, such as Facebook, SMS, mobile notifications, email, etc.
You have access to highly structured customer data that facilitates designing cross-channel campaigns based on data-driven insights.
Best for:
Consumer businesses
Pricing:
Available on request.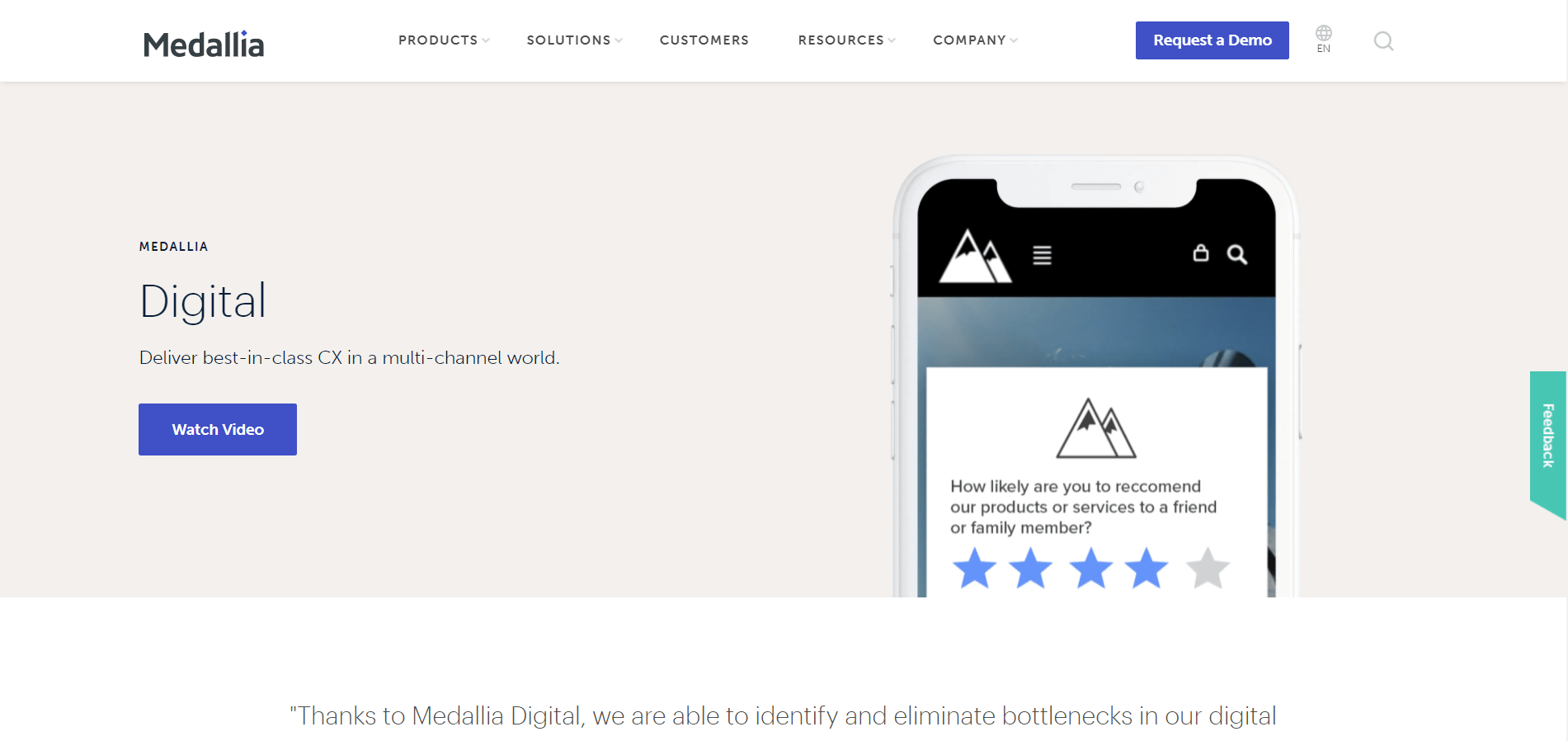 ---
Medallia Digital is a customer feedback platform helping digital businesses listen to customers across all touchpoints on the customer's journey. It converts user suggestions into actions, helping you implement them into your product or service.
It is a customer feedback solution for increasing feedback generation. There are multiple templates for creating forms of different types and apply several designs to the survey forms that ask for feedback about your product or service.
There is an active form wizard that helps you to customize your forms.
Best for:
Digital product companies
Pricing:
Pricing by quote only.
B. Online survey Tools
These tools focus on surveys as the means of collecting customer feedback. You can design different types of surveys, and ask your customers direct questions regarding your website.
7. SurveySparrow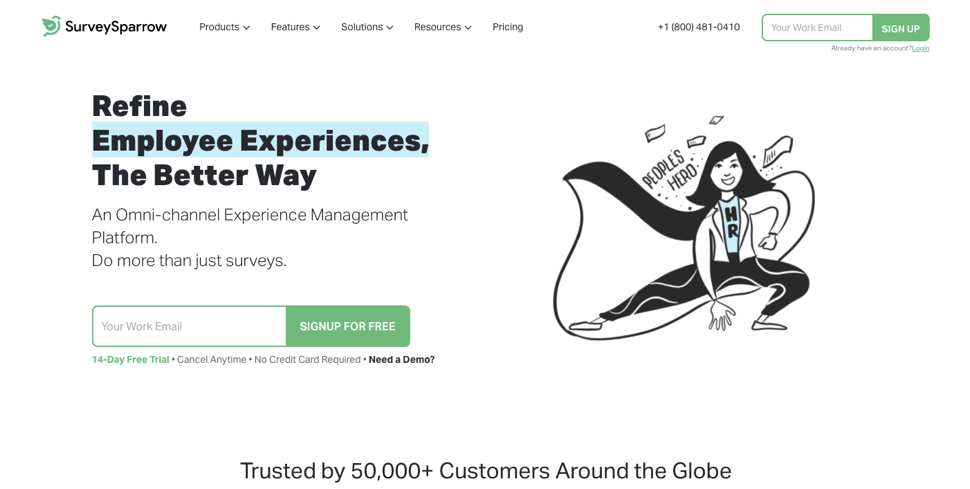 ---
SurveySparrow allows you to get feedback from your visitors while they are using your website. This way you can get direct opinions from your visitors while they are still engaged with your website.
You can create engaging and conversational surveys with SurveySparrow and make the most of the collected data with the awesome reporting and analytics capabilities it offers.
You can also track the survey performance and optimize them for increased responses.
Best suited for:
Periodic surveys for businesses of all kinds and all scales.
Pricing:
Starts at $19 per month per user and also offers a free trial.
Read Also: 12 Best SurveySparrow Alternatives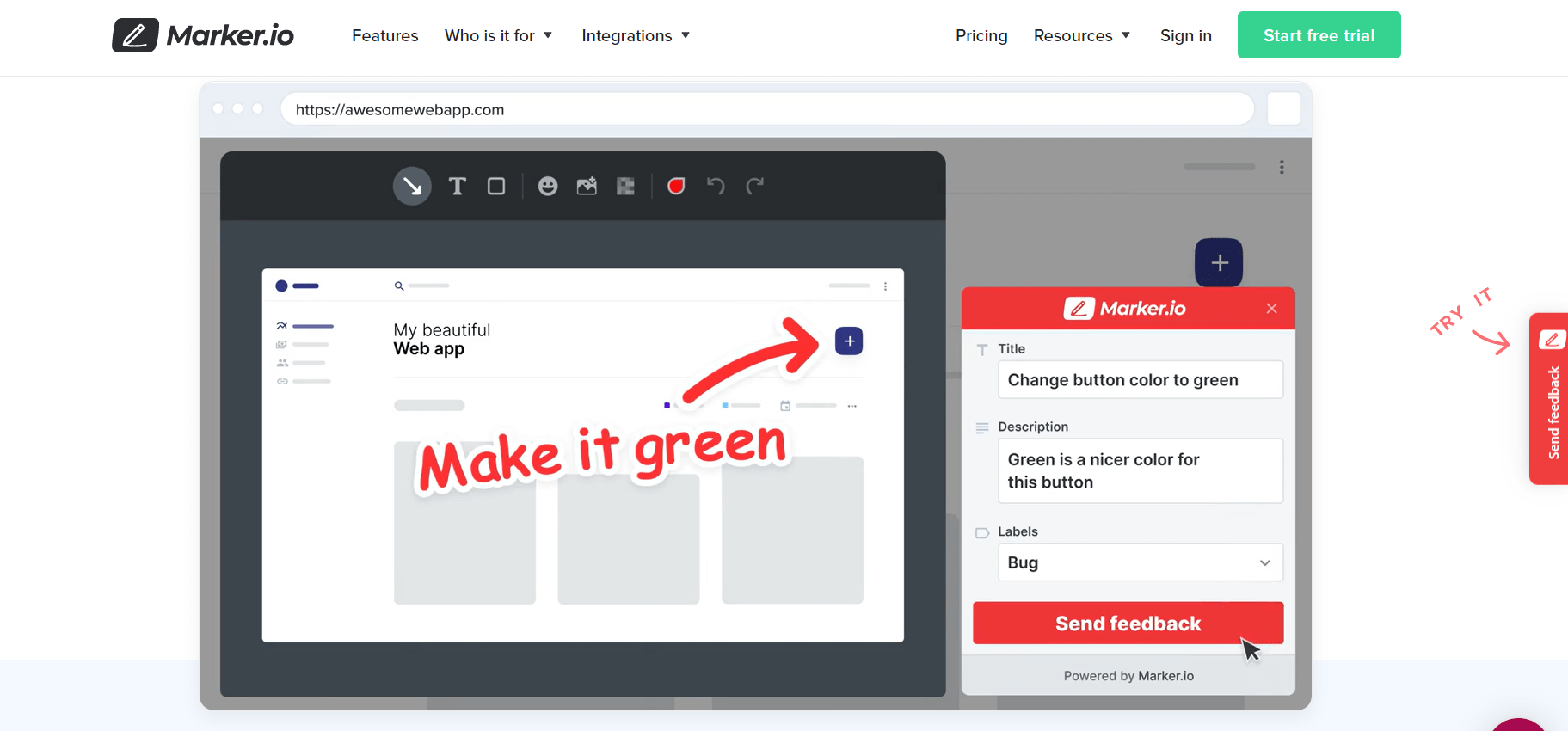 ---
Marker.io makes bug reporting easy for users and developers alike. With this tool, you (or your product development team) can collect website feedback from clients "without driving developers crazy." Even beta testers can report bugs directly to the issue tracking tool you may already be using, e.g., Asana, Jira, Trello, GitHub, etc. Marker.io integrates well with these, as well as other apps.
It claims to be perfect for customer feedback agencies and product teams. Their mobile product (still in the beta phase, though) makes bug tracking from your smartphone relatively easy. Marker.io also has features to help out project managers and QA testers in native apps and responsive testing.
Best for:
Software development companies
Pricing:
Starts at $49 per month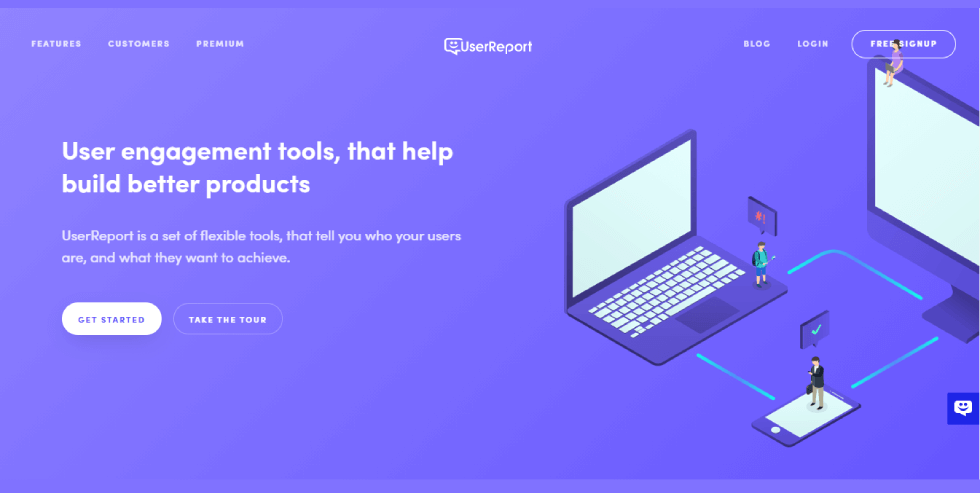 ---
UserReport is one of the best website feedback tools that enables user identification and satisfaction tracking while a user is interacting with your website. It offers analytics, 360-degree feedback gathering, survey management, and complaint monitoring.
Best for:
SaaS organizations, gaming platforms, and large enterprises.
Pricing:
Available on request. A free trial version is also available.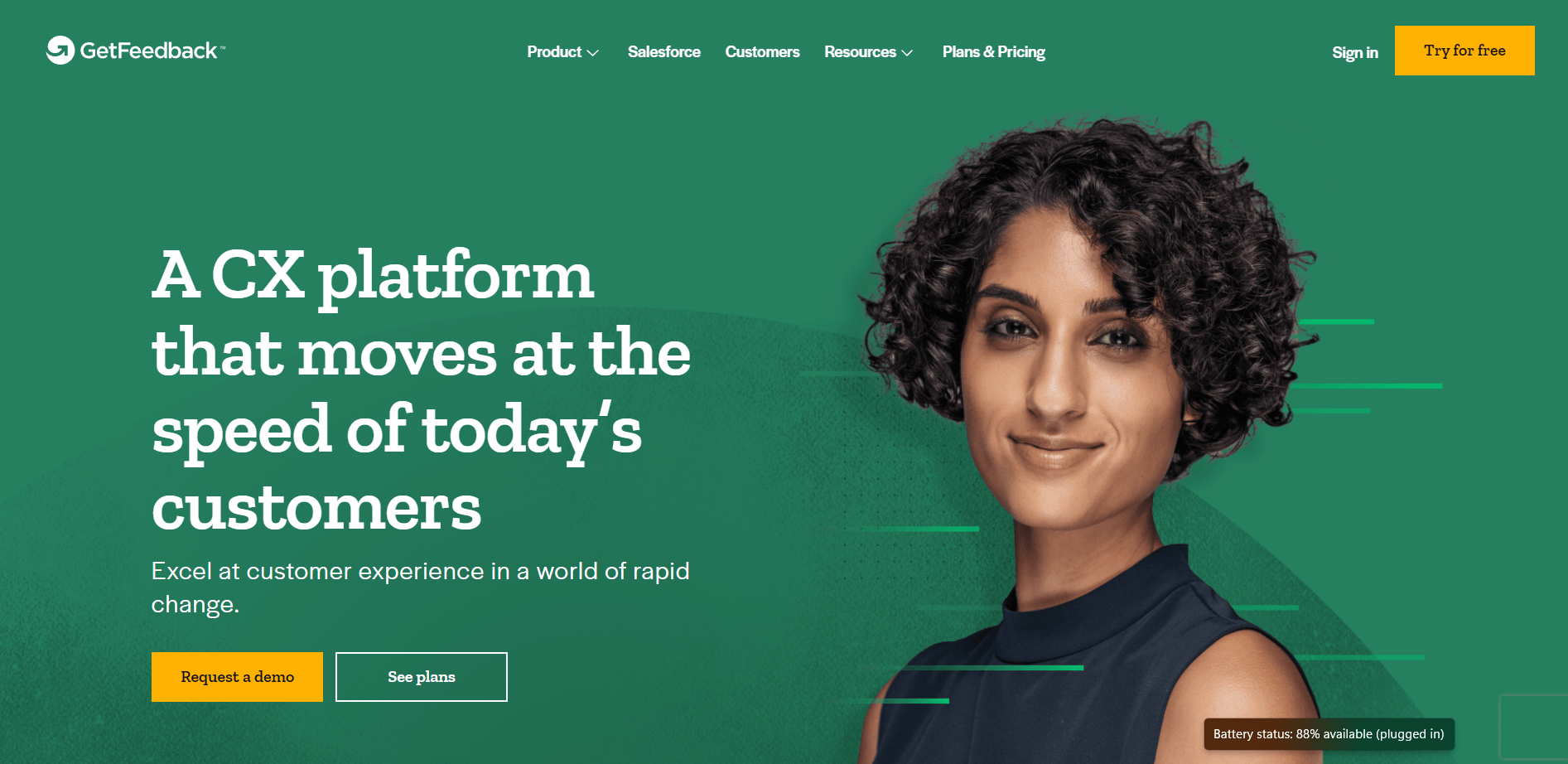 ---
GetFeedback is a SurveyMonkey product. Global brands use GetFeedback integration with Salesforce to obtain real-time insights into their customers' minds. The product was created to make it easy for customers to share how they feel with businesses without having to "jump through hoops," as they put it.
GetFeedback (along with Salesforce) simplifies the process for customers to share in-the-moment feedback through the most relevant channels.
Best for:
Businesses of all sizes.
Pricing:
Contact them for pricing.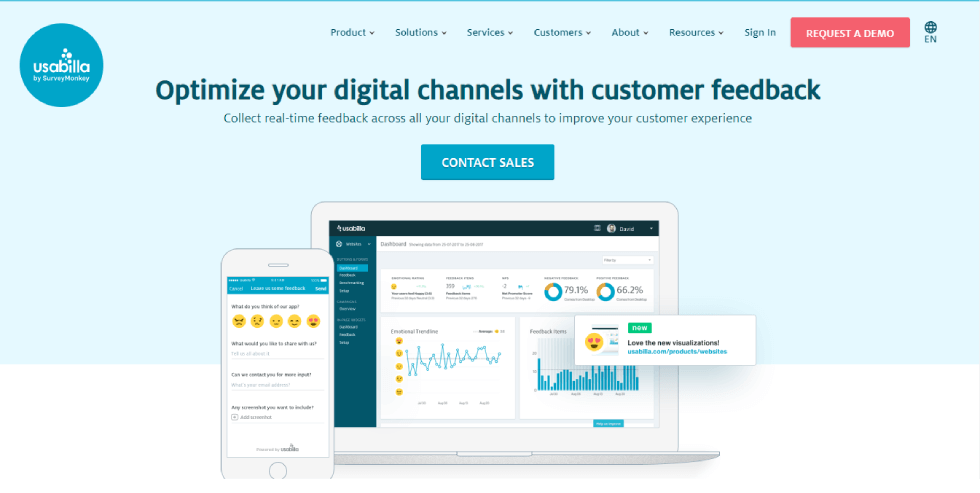 ---
Usabilla is a customer satisfaction tool that comes with analytics, negative feedback management, and poll management. You can monitor and improve your customer satisfaction levels by using highly structured and insightful data.
Usabilla helps in identifying unhappy customers and advocates as well. You can benchmark your performance against competitors and build customer loyalty as well.
Best for:
SMEs
Pricing:
Request a tailored quote
Bonus Read: Best Conversion Rate Optimization (CRO) Tools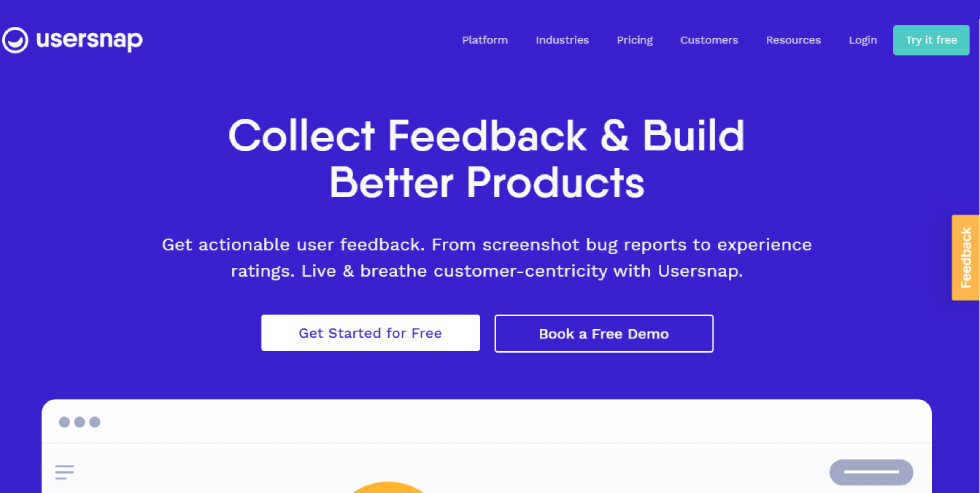 ---
Usersnap's core competency lies in measuring customer satisfaction with micro surveys to measure user experience. It gives you actionable user feedback. Bug reports can be reported via screenshots. User experience ratings are easy to record and report using this tool.
Customer-centricity is the main buzzword when it comes to Usersnap. Issues in your app or website can be captured and annotated by users. This makes solving customers' pains easier for your product teams, CX researchers, website administrators, and customer support. The task of collecting user feedback is simplified.
Best for:
SMEs
Pricing:
Starts at $15 per month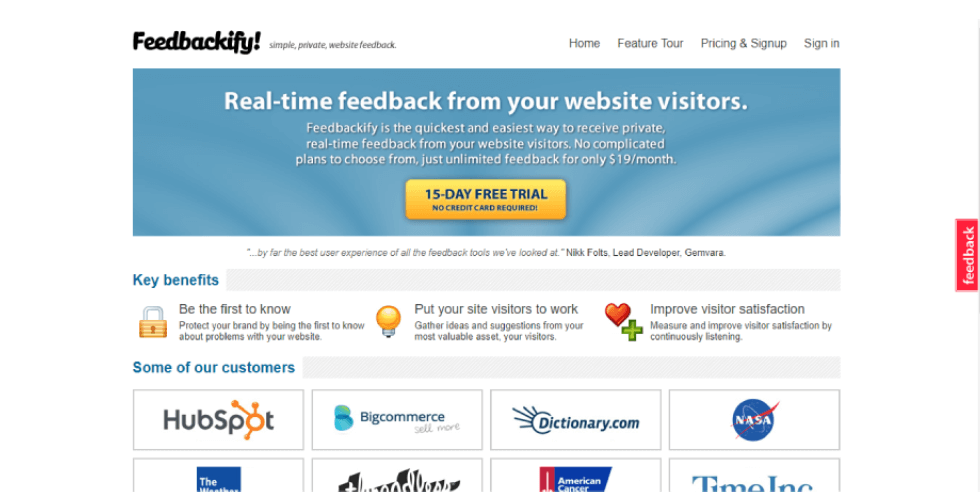 ---
Feedbackify allows you to collect great suggestions provided by your website visitors. Keep your visitors right on your website so that they can give in-context feedback without having to leave (and share feedback on other review sites or social media.
Their valuable contributions go a long way in making your business more customer-centric. You can customize your website feedback channels with the company logo to strengthen your brand image. There is also a strong focus on your customer's privacy.
An instant feedback process with no registration required for website visitors reduces feedback drop-out.
Best for:
Online (website-dependent) companies
Pricing:
Starts at $19 per month.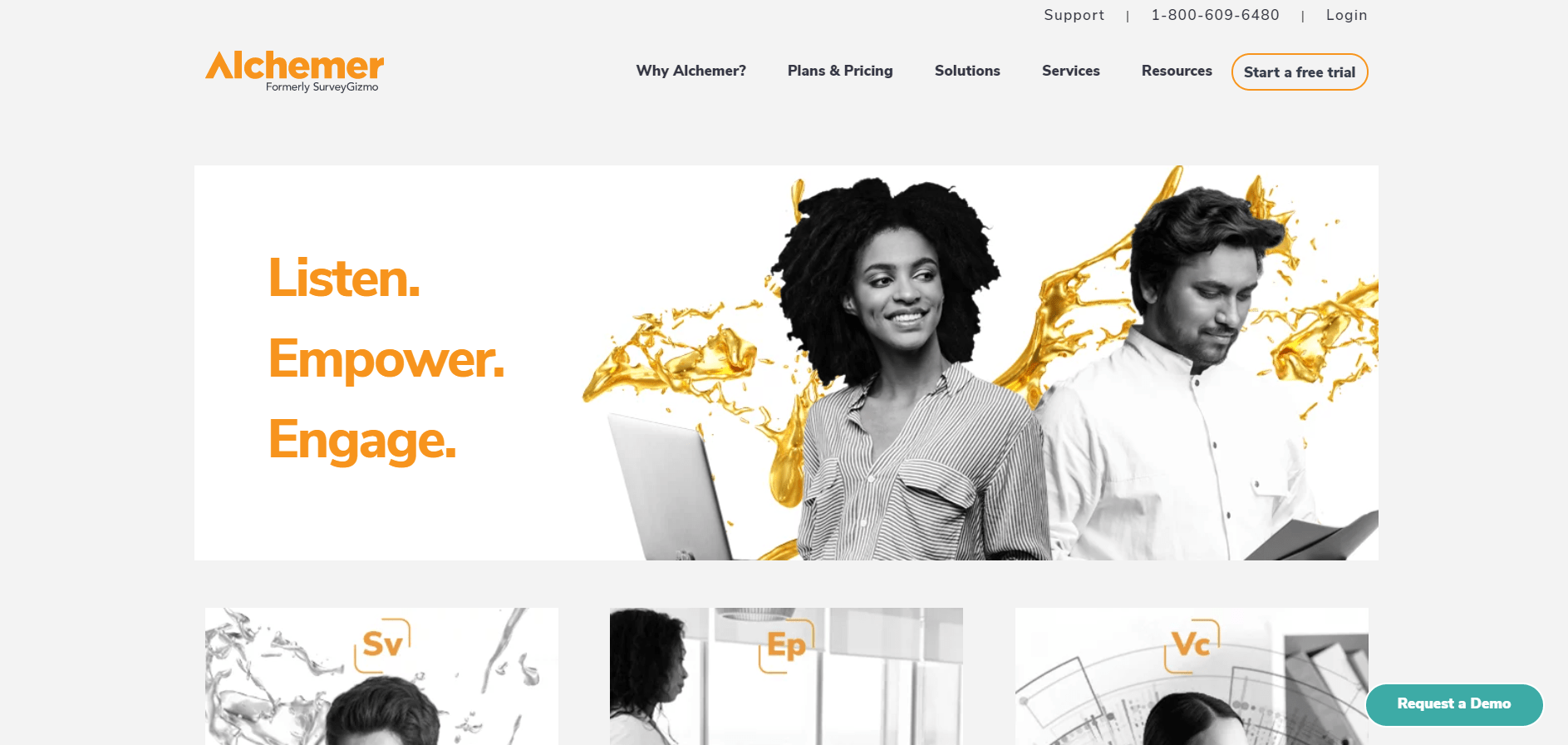 ---
Alchemer (formerly known as SurveyGizmo) is an excellent survey and website feedback tool that facilitates your transformation into a customer-centric business. It offers custom survey URLs, site intercept surveys, mobile surveys, data analysis tools, question libraries and skip logic, etc.
It also comes with progress tracking and reporting features that offer crucial data for website feedback.
Best for:
Startups to Fortune 500 businesses
Pricing:
Starts from $49/month. Alchemer also offers a free version.
Bonus Read: 11 Best Mobile In-App Feedback Tools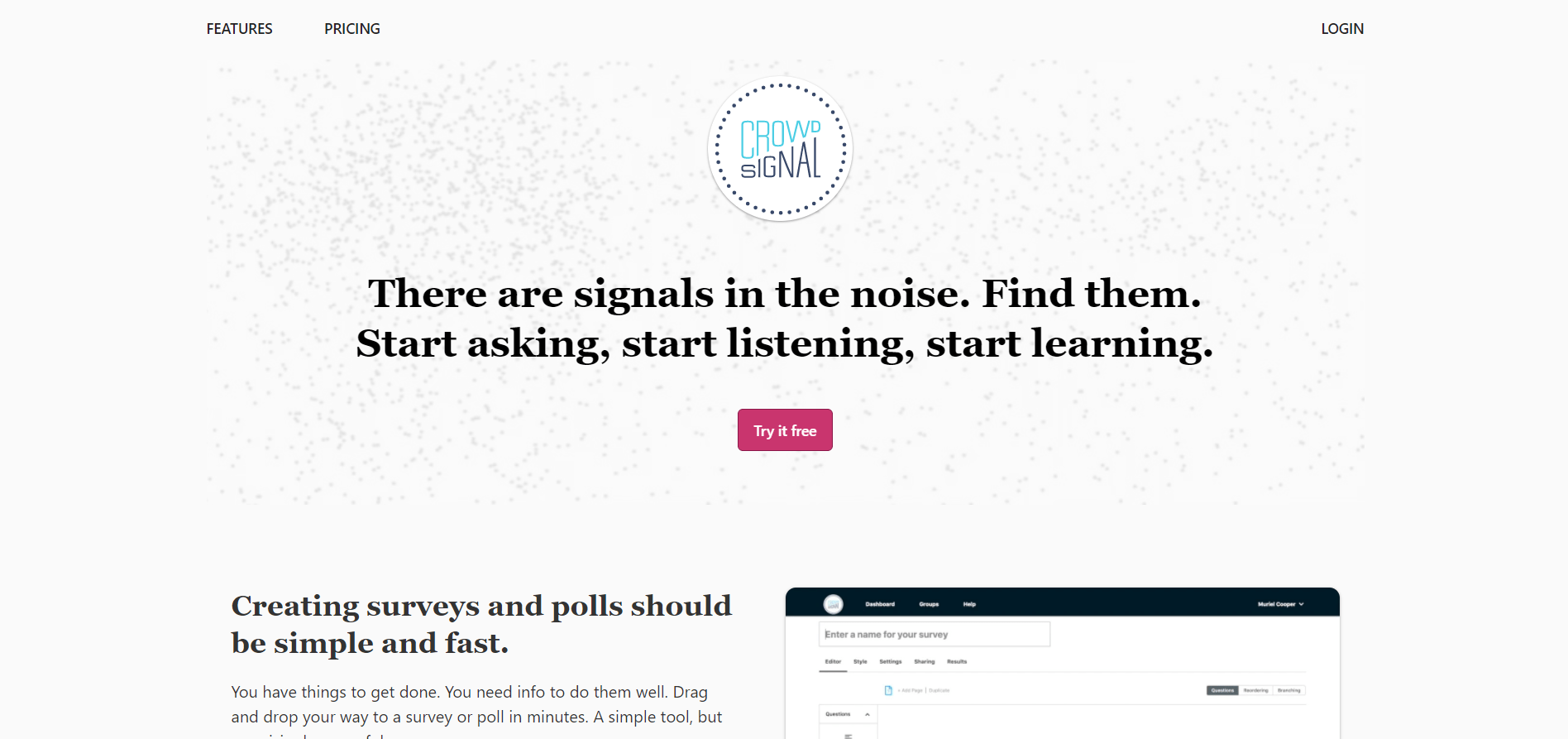 ---
Crowdsignal (formerly known as PollDaddy) is a smart website feedback tool to create polls and surveys for your website, social media handles, and blogs. It comes with email marketing as well and facilitates creating simple yet flexible polls for a thorough pulse check.
Best for:
Startups and SMEs
Pricing:
Starts from $200 per year.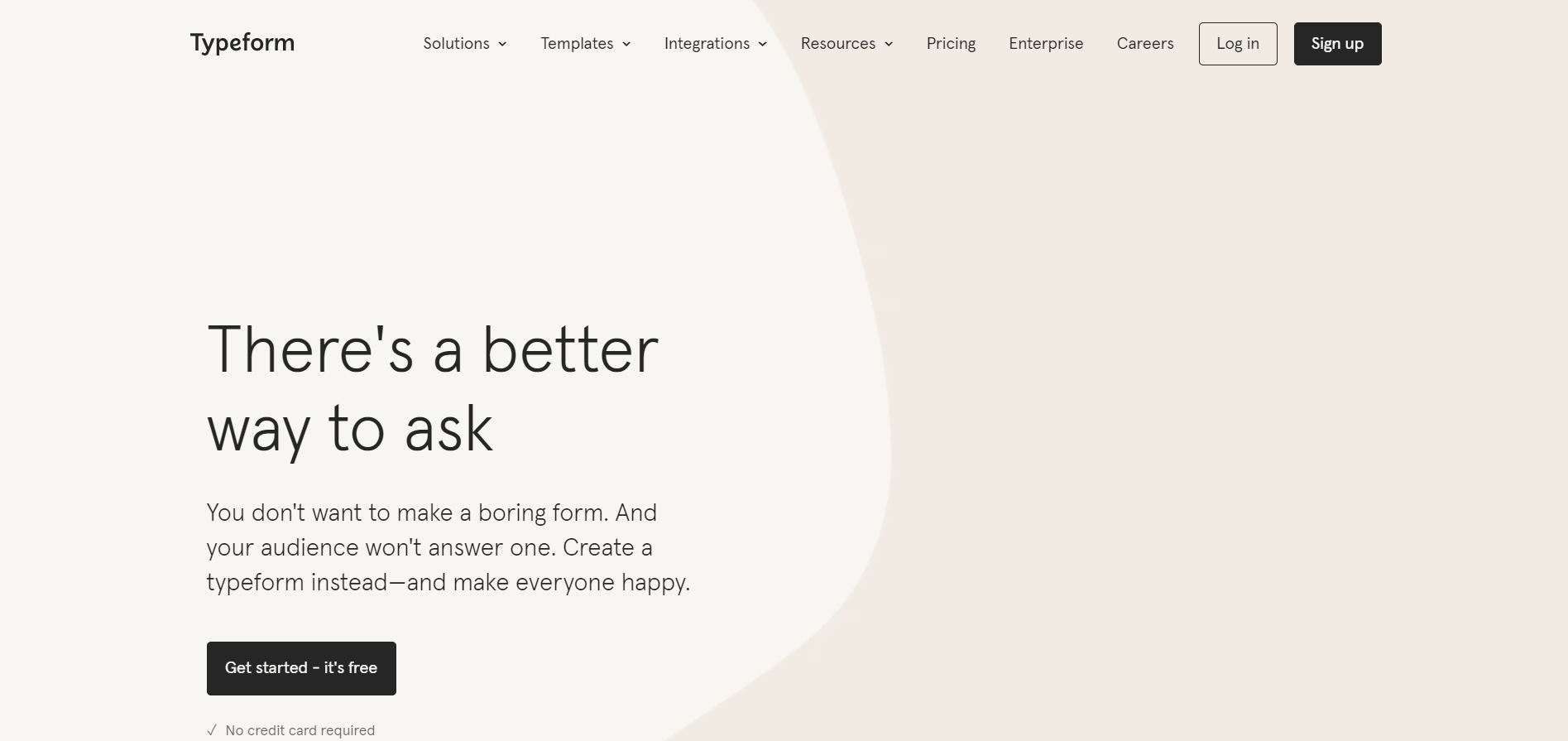 ---
If you require robust data to identify your customer experiences and brand reputation, nothing beats Typeform. It is one the best website feedback tools. Integrating with more than 500 apps, Typeform makes information sharing fun and easy via forms and surveys. Data analysis, question branching, skip logic, and mobile surveys are some of the best features it offers.
Best for:
SMEs and large business organizations
Pricing:
Starts from $35 per month. Free trial is available as well.
You can check out more tools in our article on 25 Best Online Survey Tools & Software.
C. Usability & Behavioral Analysis Tools
These track website visitors' cursor activity using recordings, mouse-click heat maps, and voice analysis to identify the areas of maximum user activity and attention.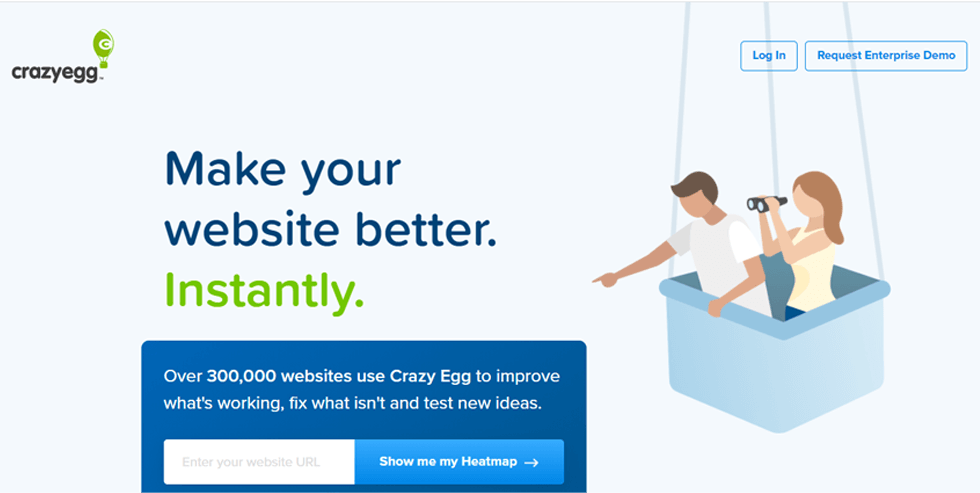 ---
CrazyEgg is another fantastic website feedback tool that has its foundation in heat maps and analytics. Heat maps show the areas with the highest visitor activity and tell you exactly what your visitors love about your websites. The analytics delivered by CrazyEgg is focused on customer activity and offer the most intensive customer feedback.
While it might take you some time and effort to develop a grasp over the data-intensive maps and reports, you can find some really insightful conversion feedback.
Confetti, Scrollmap, Overlay, and Heatmap are the four most impressive tools in the bundle that can help every business struggling with conversions.
Best suited for:
UX designers, web designers, and business owners.
Pricing:
Starts at $24 per month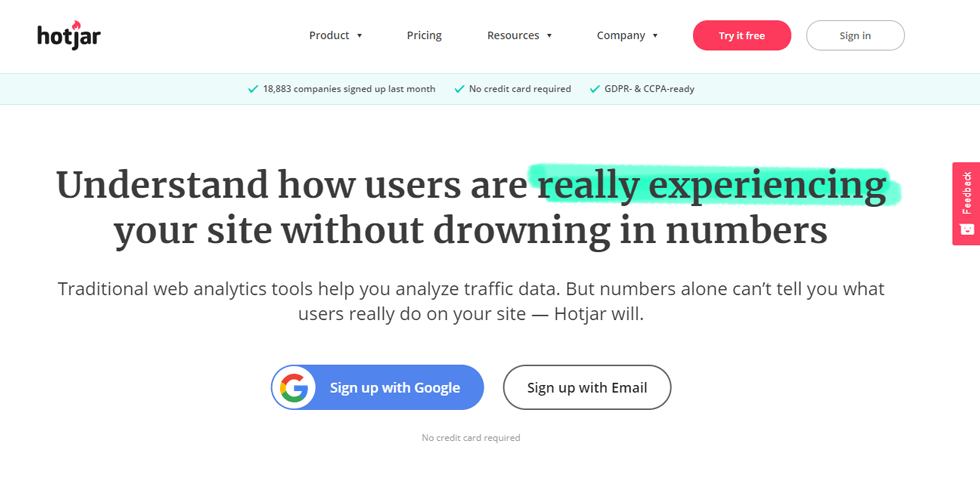 ---
Hotjar is one of the top website feedback tools that offer instant visual feedback and tells you how your visitors are using your website. You can learn what your visitors like, want, care about, and where they spend most of their time on your website. Hotjar shows their click, scroll, and tap behavior for a better understanding of your visitors.
Hotjar is a visual tool that also offers heatmaps and helps you make data-based decisions for website updates, designs, and A/B testing.
Best suited for:
Online sellers, UX designers, product managers, and data analysts.
Pricing:
Starts at $39 per month and also offers a free version.
Bonus Read: 30 Best A/B Testing Tools For 2021 Compared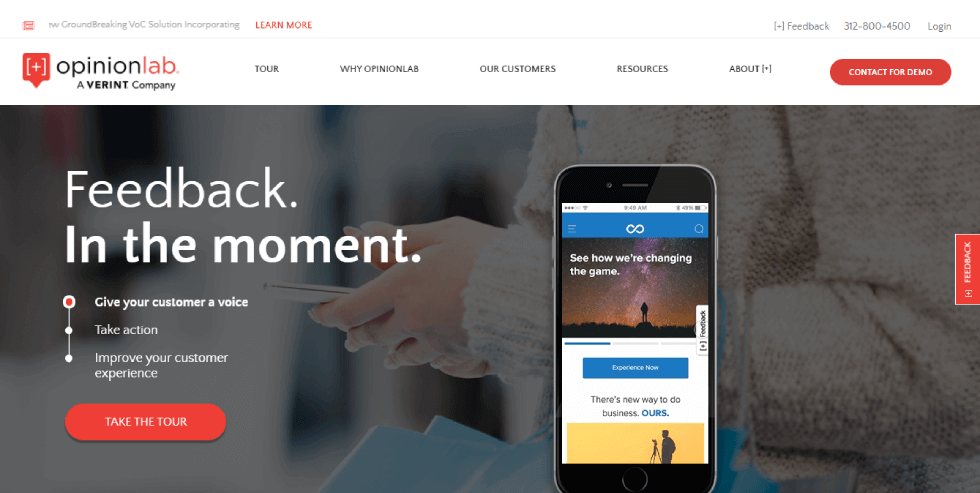 ---
OpinionLab empowers business owners by leveraging the Voice of Customer or VoC and collects their feedback in the form of their opinions. Customers can share their opinions about your company and its products. This website feedback tool asks multiple-choice questions to the customers and gathers their feedback easily.
Apart from conducting surveys, you can use this tool to find demographic details of customers for delivering personalized experiences. This proves helpful in launching new products, rolling out upgrades, and releasing discounts. The tool is not limited to websites and can be used for marketing campaigns and mobile apps.
Best suited for:
Retailers, hospitality companies, and CX leaders.
Pricing:
Starts from $29 per month per location.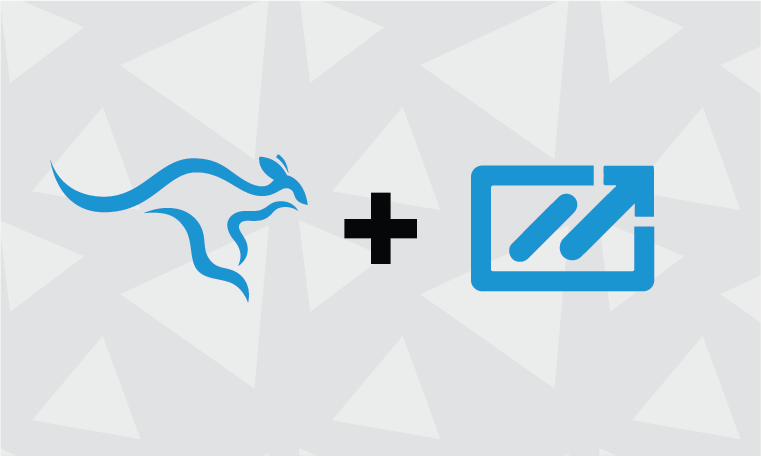 ---
With SessionCam, you get the complete package of behavioral analysis tools and website feedback tools like heatmaps, session replays, customer journey maps, and others. Study the most interacted portions of your website using the heatmaps for optimizing the positions of crucial elements like CTAs and analyze how visitors interact with your website with session recordings to design streamlined user flows.
This tool also helps you to create and study journey maps to design an effortless customer experience. Plus, you can use it in conjunction with survey tools like Qualaroo to extract deeper insights into customers' website behavior.
Best For:
UI/UX designers, product managers, data analysts, marketing teams
Pricing:
Request for a quote
D. Community feedback Tools
These tools facilitate collecting community feedback through appropriate forums or platforms where the users share suggestions and discuss your website's user experience and functions.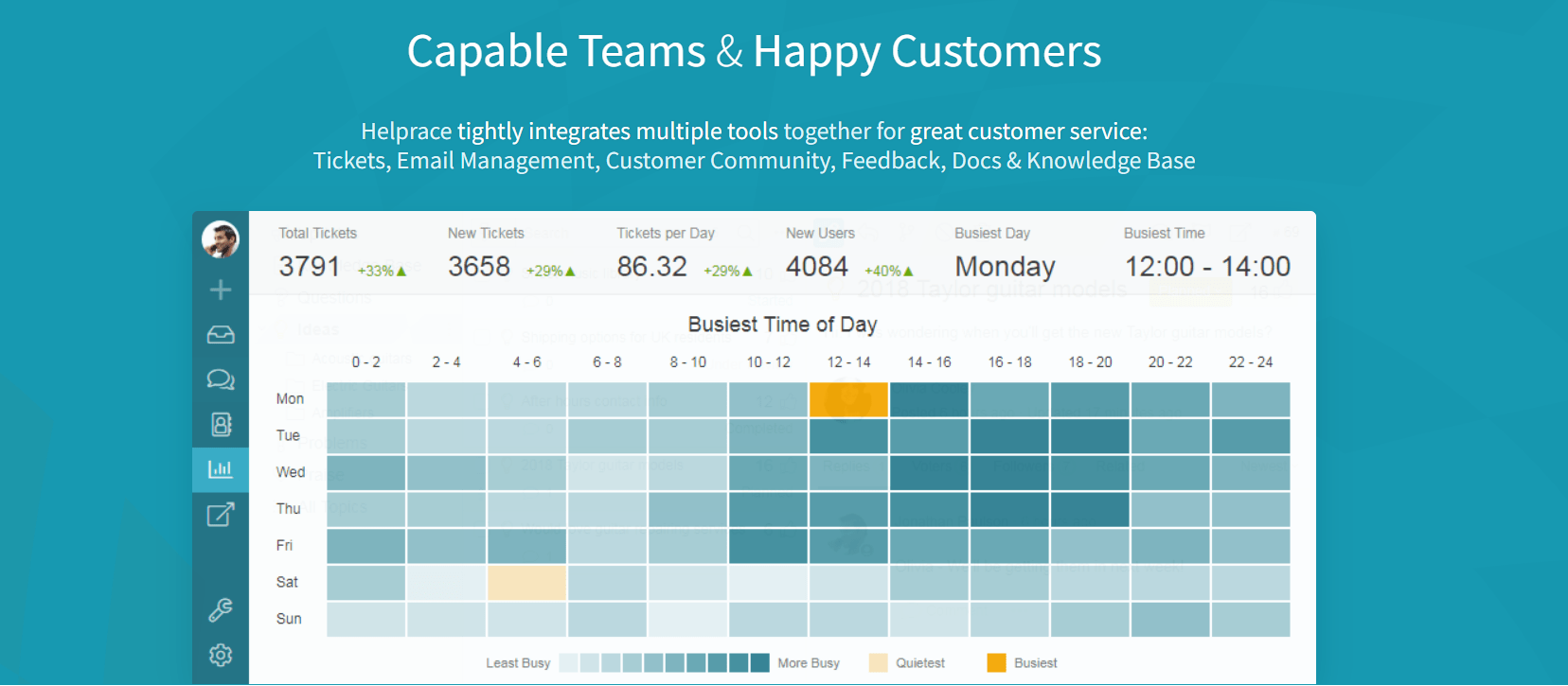 ---
Helprace is a cloud-based helpdesk and customer service software suite, complete with a ticketing system. The idea behind Helprace is to help businesses collect feedback and build an internal knowledge base. It integrates multiple tools that enable businesses to provide better customer service.
The Helprace software claims that it is a customer service solution that gives you the easiest way to manage customer-company interaction. It takes care of Tickets, Email Management, Customer Community, Feedback, and other customer service aspects.
Best for:
Businesses with large consumer bases
Pricing:
Starts at $10 per month.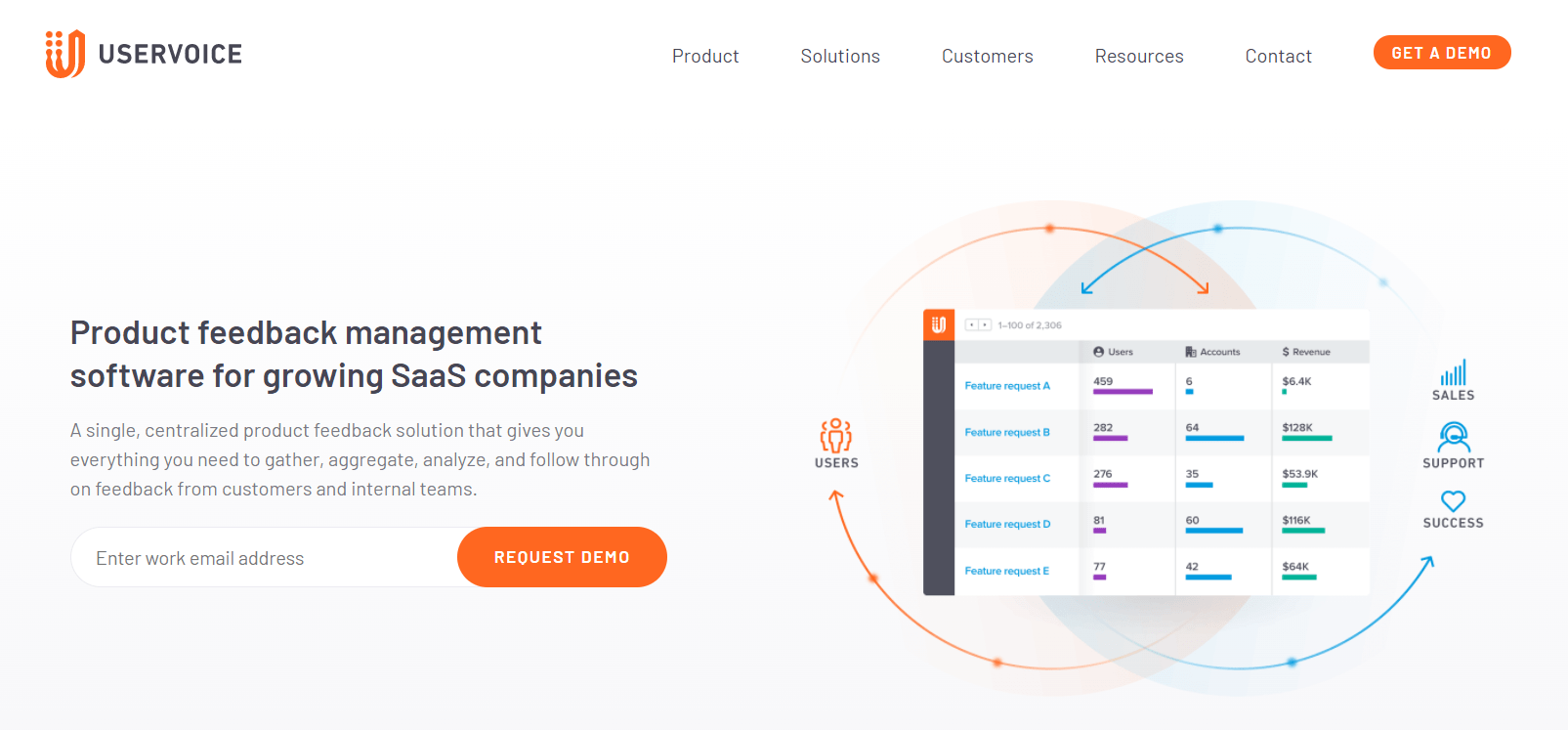 ---
UserVoice compares your current products' key features with the projected ones and offers comprehensive and intelligent product feedback. You can find and focus on what your customers want or need the most in your products. Hence, it efficiently bridges the gap between customer requirements and the current functionalities you offer.
If you plan to upgrade or extend the product functionalities and revisions in your products, UserVoice offers highly segregated and crucial data. The tool comes with a live chat feature and forum that enhances communication with customers and encourages free discussions.
Best suited for:
IT business owners, product managers, and customer advocates in SaaS and Software-related businesses.
Pricing:
Starting price available on request. There is a free trial available.
Bonus Read: SaaS Marketing Strategies & Techniques to Grow Your Business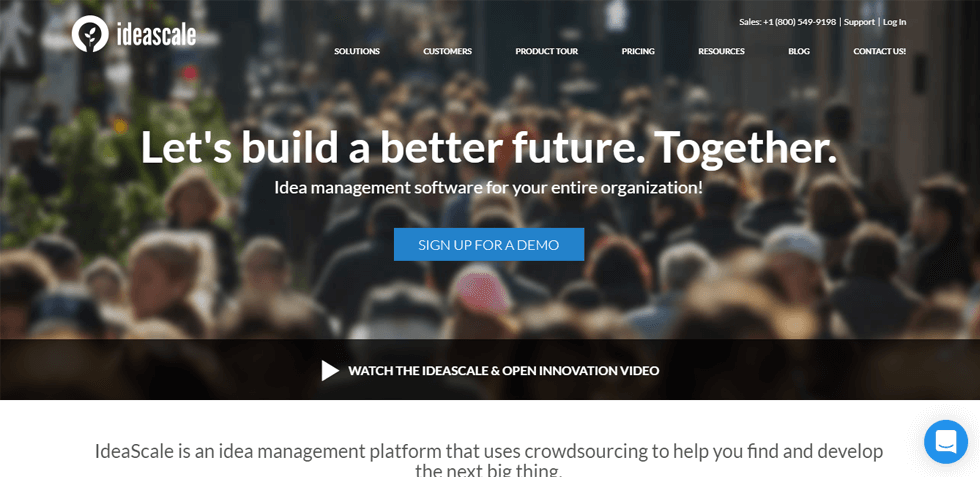 ---
IdeaScale boasts of being the largest innovation software platform running on the cloud that allows business organizations to collect user ideas through website feedback and involve public and private communities in business development processes. The users can vote for others' ideas and contribute their ideas, which are evaluated and implemented to drive conversions.
Best for:
Innovation departments in enterprise-level organizations
Pricing:
Starts from $4999 per year.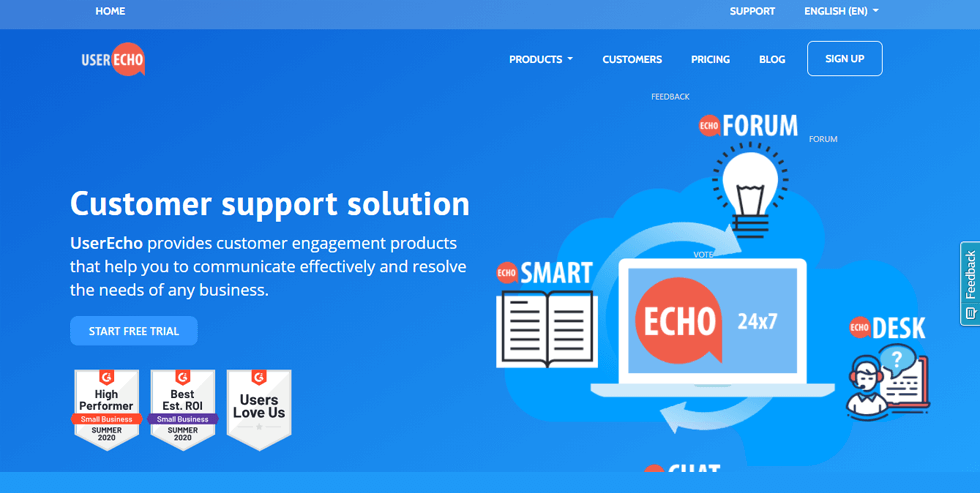 ---
UserEcho is a delightful customer experience software that empowers you to deliver robust customer support via helpdesk, knowledge base and live chat, etc. It is suitable for businesses of all kinds and all scales and allows you to capture customer reviews.
Your customers can take part in the ongoing forum discussions, review your products and services via educational posts, and contact your support team instantly via live chat. Its efficacy lies in grabbing direct customer feedback and reviews for quality maintenance and upgrades.
Best suited for:
CX teams and businesses of all scales and sizes.
Pricing:
Starts at $15 per month per user and also offers a free trial.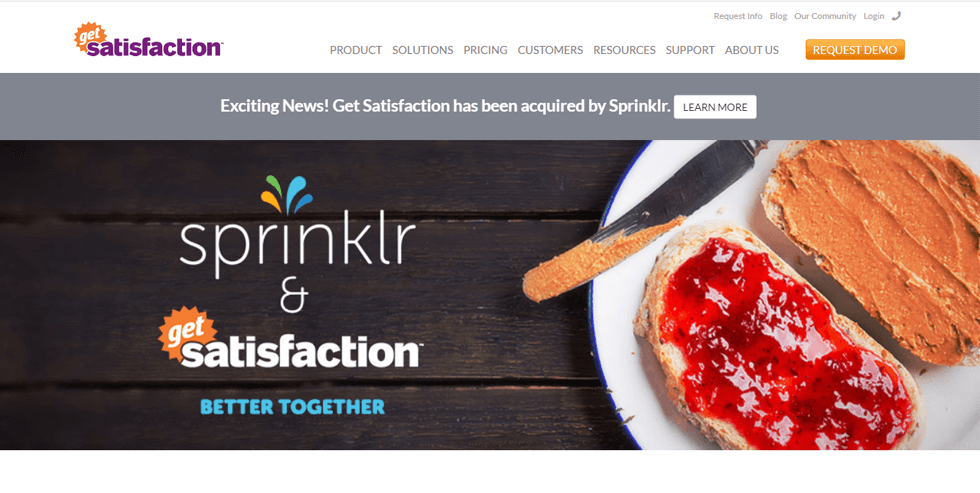 ---
GetSatisfaction is another reliable and smart website feedback tool and customer engagement platform that allows you to gather product ideas as well. You can build and reposition your brand, create sales opportunities, and improve your customer support to scale without bearing high costs. It comes with complaint monitoring and analytics to offer actionable insights into your customer data.
Best for:
SMEs and enterprise-level businesses
Pricing:
Starts from $19.99 per month.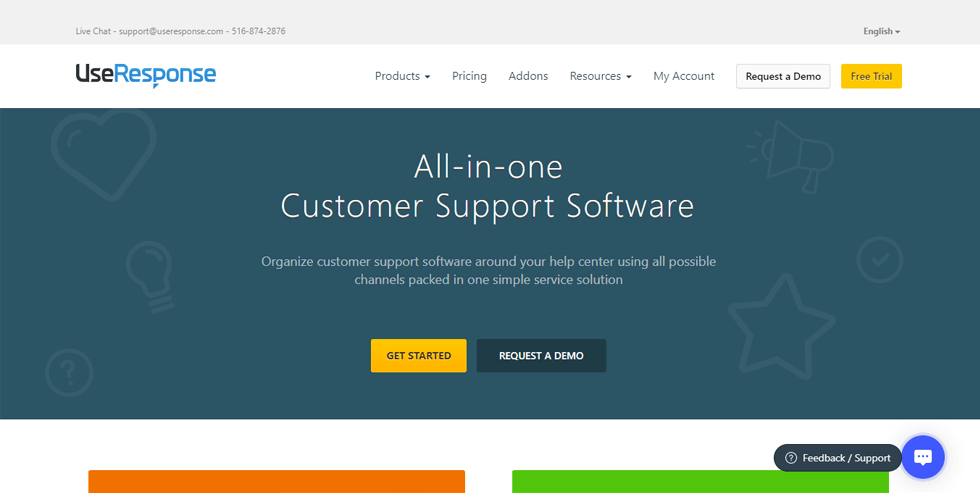 ---
When it comes to collecting automatic feedback at critical touchpoints of the customer journey, UseResponse is a great website feedback tool and does an unparalleled job. You can gather more contextual information and measure valuable customer metrics, such as CES, NPS, CSAT, etc.
Behavior analysis, survey management, analytics, text analysis, and multi-channel data collection are some of the most impressive features UseResponse offers.
Bonus Read: 7 Important Customer Satisfaction Metrics to monitor in 2022
Best for:
Global brands
Pricing:
Available on request.
E. Review Websites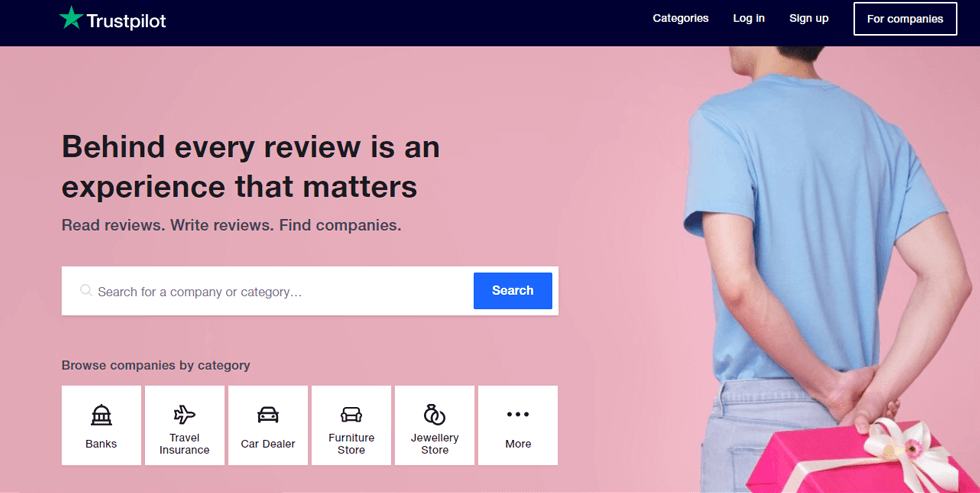 ---
TrustPilot lets you make the most of consumer reviews. The real story about your user experience comes from customers. On TrustPilot, they share their reviews about your brand. It lays claim to being "the world's most powerful review platform," and it is free to use for you and your customers.
Reading your customers' reviews tells you their expectations. Aligning your strategy with their expectations helps improve conversion rates.
Best for:
Businesses for whom customer reviews are essential
Pricing:
Starts at $200 per month for the standard plan.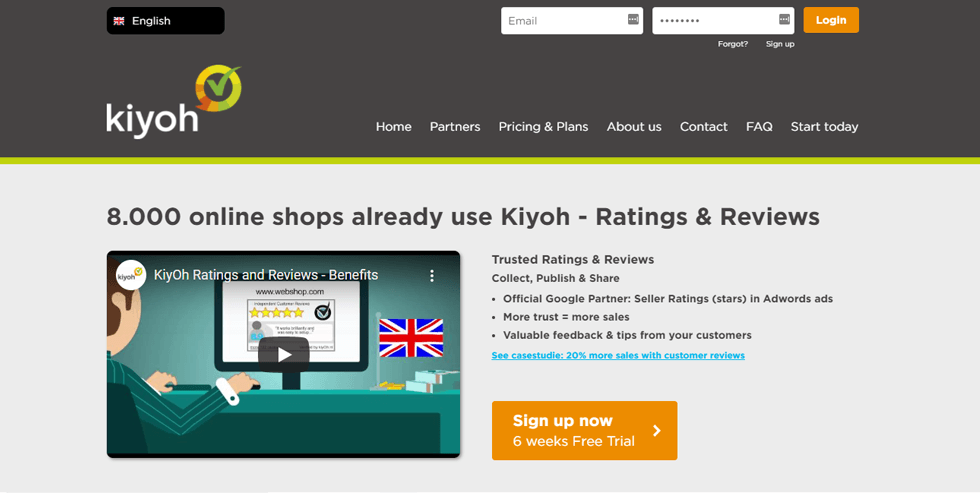 ---
Located in the Netherlands, KiyOh allows businesses to collect, integrate, and share independent customer reviews on social media platforms. This customer review management solution also supports automation, with in-built features such as Campaign Management, Negative Feedback Management, Response Management, Review Monitoring, Review Notifications, Review Requests, and Social Sharing.
Best for:
B2C companies are driven significantly by word-of-mouth
Pricing:
Starts at $21.95 per month.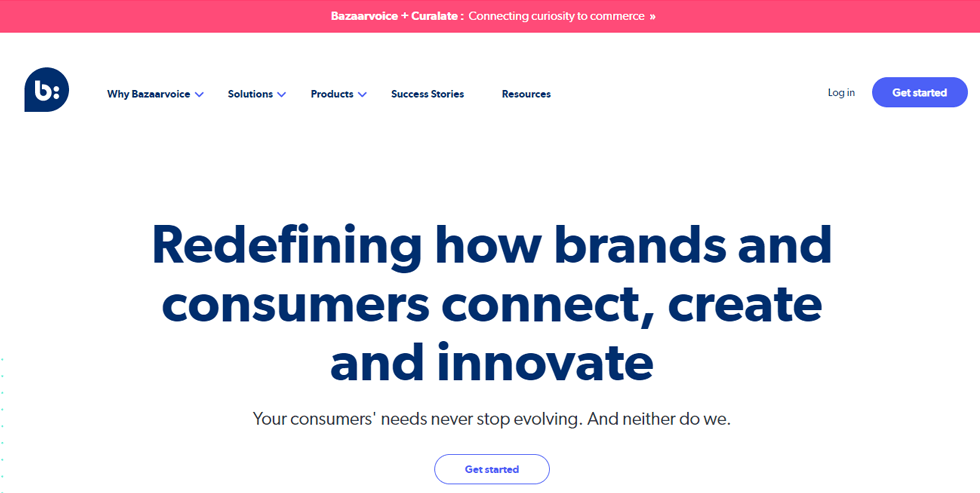 ---
Bazaarvoice has its main motive as helping you connect better with potential consumers. When they explore your product or service through Bazaarvoice campaigns, they may be more inclined to choose you over your competition and become regular customers.
It acquired Influenster to improve the product review process and enhance user-generated content solutions. It provides software that allows you to gather and showcase several types of user-generated reviews from and on social platforms.
Best for:
Retail brands with social media presence
Pricing:
Contact them to know their 'current pricing'.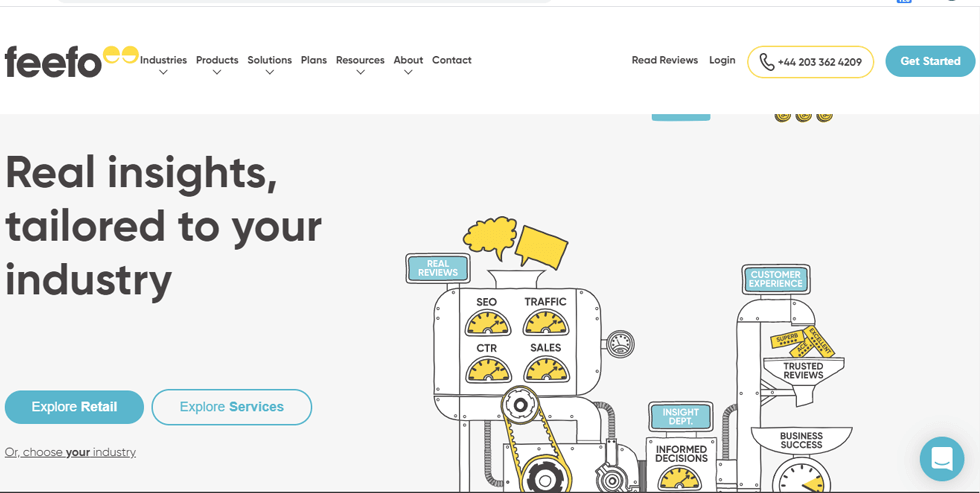 ---
Feefo is a review aggregator software suite. Among its chief features for businesses to control and use their customer feedback channels is Customer Feedback Campaign Management, Negative Feedback Management, Response Management, Review Monitoring, Feedback Analysis, and Social Sharing.
Further, Feefo offers these add-on features for the content generation process with a focus on customer reviews: Communication Management, Content Syndication, Feedback Collection, Video Content, Negative Feedback Management, and Predictive Analytics.
Best for:
Consumer-reviews reliant businesses
Pricing:
Starts at $93 per month.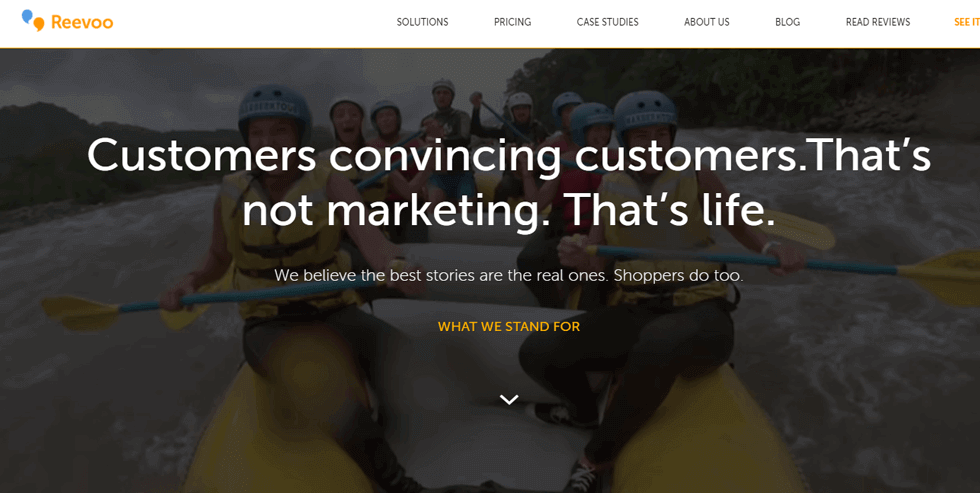 ---
Reevoo is a web-based business solution focused on managing website content, collecting customer reviews, and streamlining customer interactions. Customers also read reviews on Reevoo to decide which product or service they should purchase.
Businesses worldwide use Reevoo to understand what makes their customers decide what to buy and which brand to trust over others. Reevoo's commitment to being transparent and taking an independent approach creates the difference that makes them enhance honest communication between businesses and customers, making the long-term experience better for both sides.
Best for:
Businesses of all sizes
Pricing:
Contact them for pricing details.
Unlocking CRO Success with the Right Website Feedback Tools
CRO success is a cumulative result of various strategies and efforts, of which website feedback is a crucial one. While no single website feedback tool can guarantee 100% coverage, a thoughtful assortment of tools delivering the best-in-class features can do the job.
We recommend using a powerful combo of simple, smart, and efficient cro tools such as ProProfs Survey Maker, Hotjar, Qualaroo, CrazyEgg, Hubspot, etc.
Every business has unique needs. Identify yours and assimilate a suite of software and tools to ace your conversion game!
---
Want insights that improve experience & conversions?
Capture customer feedback to improve customer experience & grow conversions.
More posts
May 25, 2022
In-app feedback or users' feedback is a prominent part of any app development process. As a developer, you get to know the flaws you have in your app, what users want, and what can be improved. Now, with the in-app feedback option, you give your app users the freedom of sharing their experience instantly.
Read more