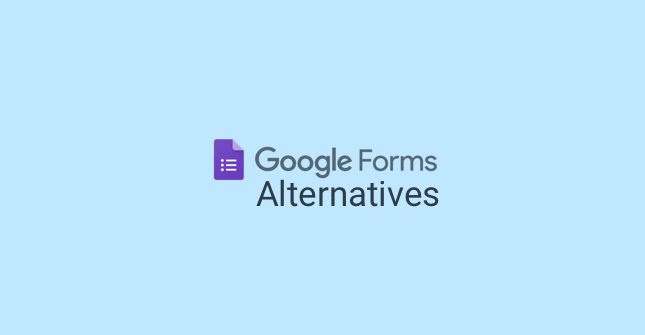 Surveys are arguably one of the most popular and effective ways of collecting first-hand data from the audience themselves.
When it comes to surveying, Google Forms is tremendously popular in the online feedback domain because it offers simplicity of use, which is also the key factor for people picking up an online form builder.
But surveys can get complicated at times.
What if Google Forms is not capable of catering to your specific survey needs and handling the complex data you throw at it?
Not being able to capitalize on the feedback will mean that you're letting go of some of the biggest opportunities of gaining actionable insights.
But don't you worry.
We have compiled a detailed list with 22 of the best Google Forms alternatives out there that are highly capable and which you can try for yourselves.
Factors that we will cover about every tool:
About
Features
Best for
Third-Party Integration
Price
But before jumping into the list of tools, let's briefly discuss what Google Forms is and why you need alternatives to it.
What is Google Forms?
---
Google Forms is arguably one of the simplest form builders out there, which users can access for free and create unlimited forms and send them to people online via the link. Users can easily transfer the data to spreadsheets for further in-depth analysis.
It even analyzes the results in real-time and provides quick results, which makes it ideal for individuals and small business owners seeking simple and sophisticated survey solutions. Also, there are not many free alternatives to Google Forms that can deliver so much without costing anything.
Features:
Choose from 12 different field types and 9 question types, including text, photo, and video fields.
Randomize and shuffle the order of questions in the survey to create differentiation.
Customize your surveys using different themes to make them look more attractive and professional.
Limit the responses to only once per user.
Autocomplete answers with the help of machine learning and predictive analysis to save time.
Create quizzes on Google Forms to better interact with the users and collect a diverse set of data.
Analyze the survey data using an in-built reporting system.
Send unlimited surveys and store the data on Google Drive for future references without any extra cost.
Best For: Quickly creating engaging forms for free and easy analysis of data using graphs, pie charts, histograms, and many more.
Third-Party Integrations: Yes
Price: Free to use
Related Read- If you are looking for more information on how surveys can be conducted, consider taking a look at The Marketer's Guide To Surveying Users
Why Do You Need Google Forms Alternative?
Google Forms is without a doubt a simple and effective solution to a lot of people's surveying needs. However, It can only be suitable for basic usage and does not offer much functionality in terms of earning money for website owners.
But there is no shortage of surveying tools out there.
Every professional form builder or online survey tool is highly capable, and each tool does something unique and different than the others. Here are some of the reasons for selecting Google Form alternatives:
Better Functionality
When it comes to being functional, Google Forms does not offer some major functions like accepting and processing payments, making it impossible for business owners to earn any money through their website.
Customer data management is also very basic as all the data is simply stored in the database, and Google Forms only uses it to create graphs and pie charts of the numeric data.
More Customizations
Google Forms is not the most customizable tool out there. For starters, you only get a limited choice when it comes to changing the appearance of surveys, and even the survey question has limited customization.
You only get to choose from a very restricted set of options which is something that Google Forms competitors take care of.
More Flexibility
When it comes to being flexible, Google Forms does not offer some of the simplest features like conditional logic, which means users will collect a lot of redundant information which will have to be discarded. Also, the security features are quite basic, and you cannot lock your forms using passwords or two-factor authentication. This is what most Google Forms competitors offer as standard.
Now that we have highlighted the areas where Google Forms falls short on, let's dive right into the list of tools to see which Google Forms competitor is best for you.
Related Read – To have a better understanding of the importance of surveys, consider reading 7 Reasons Why Surveying Users Is Important
Google Forms Alternative Tools
1. ProProfs Survey Maker
---
Another tool that is very similar to Qualaroo in terms of its offering and is also a viable contender for Google Form alternative is ProProfs Survey Maker. You can easily create quizzes, polls, forms, surveys, and so much more to collect user feedback in any possible shape or form.
Also, you're not limited by different collection techniques because you get to customize everything from top to bottom to bring your creative imagination to life.
Features:
Offers an extremely easy-to-navigate interface to help new users.
Ask the right question to the right users using 100+ professionally built survey templates.
Collect survey data using different methods like personality quizzes, sidebar surveys, in-app surveys, and many more.
Create surveys quickly and with ease using a drag-and-drop editor.
Deploy surveys and quizzes on multiple platforms and send them using multiple different channels.
Process survey data faster with the help of question branching and skip logic.
Create web forms for job application, product feedback, and contact us.
Best For Creating buyer personas and understanding customer preferences along with circulating information to large audiences.
Third-Party Integrations: Yes
Price: You can get started for free. Starts at $0.05/response/month.
2. SurveySparrow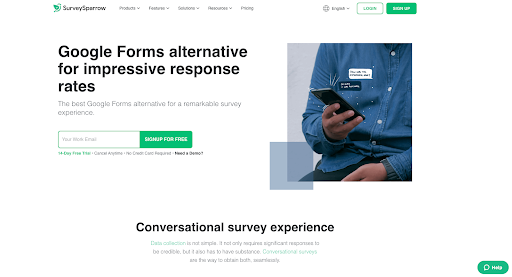 SurveySparrow, considered as one of the best alternatives for Google forms, is known for its engaging conversational surveys. You can quickly create and deploy customized surveys, quizzes, and polls in no time to collect feedback from your target audience.
The tool also provides beautiful pre-made templates to aid you in generating effective surveys effortlessly. Plus, the executive dashboards let you track the business KPIs and analyze the survey insights in real time
Features
Create any type of quizzes to measure CX, PX and EX.
Availability of pre-made templates, attractive color themes and fonts with questions approved by experts.
Industry-wise tailored surveys can be generated in multiple languages.
API Integrations with Hubspot, Slack, Salesforce, Mailchimp, etc.
Understand your audience better with sentiment analysis.
Ability to quickly export/import data and generate real-time reports.
Share your results in PDF, CSV, and SPSS formats.
Collect data both online and offline using an app.
Best For: Engaging surveys, Multiple sharing options, Dashboard reporting.
Third Party Integrations: Yes
Price: 14-day free trial. Price starts at $19 per month.
3. WPForms
---
Another tool in the market that serves as an alternative to Google Forms and is also known for its simplicity, security, and customization, is WPForms. It is one of the most beginner-friendly WordPress form plugins that is used by millions of people out there.
You can make your forms look much more professional using some of the features like Survey and Polls add-on and Form Pages add-on.
Features:
Build a customizable standalone form using the popular Form Pages add-on.
Create forms in real-time and with ease using the drag and drop builder.
Get stellar support from knowledgeable and friendly customer service, which is available through multiple channels.
Visualize your data using beautiful graphs and charts once you have gathered all the required data.
Receive automatic email notifications about the activity of your forms to see how they are performing.
Customize and use the form on mobile devices as well with the help of multiple device support.
Best For: Working seamlessly with WordPress and receiving payments through their integration with PayPal and Stripe.
Third-Party Integrations: Yes
Price: Starts at $39.50/year.
4. Zoho Forms
---
Zoho Form is one of many offerings that extend from Zoho Apps, and it is an extremely popular online form builder and another one in the domain of tools similar to Google Forms. A major benefit of Zoho Forms is that it lets you automate your workflow and route between different Zoho applications for a more flexible work experience.
Features:
Create, manage and submit forms offline natively from Zoho Forms mobile application.
Design forms to accept payments from your users with ease.
Collaborate with all your teams seamlessly with the in-built collaboration tool.
Assign tasks to different users and also track status in real-time.
Assign team roles and keep your data safe with the built-in security system.
Create engaging surveys with the drag and drop editor, which contains over 40+ field types.
Keep track of your survey's performance using built-in analytics and export statistical data to share with team members.
Best For: Transitioning and managing workflow seamlessly through all Zoho apps along with creating reports and configuring approvers for collaborative work.
Third-Party Integrations: Yes
Price: Starts at $10/month.
5. Microsoft Forms
---
Microsoft Forms is Microsoft's version for Google Forms, which is another contender in the race for being the perfect Google Forms free alternative. It is popularly known for allowing users to use Excel over Google Sheets, making it a preferred choice for some people. It's one of the free alternatives to Google Forms for people who have a Microsoft 360 subscription because it ties up perfectly with those tools.
Features:
Set up forms easily and quickly using the visual drag and drop editor.
Build forms with ease using the pre-built surveys templates of quizzes, customer feedback, event registration, etc.
Import all your data from Excel to Microsoft Forms instantly.
Add different form fields and multiple-choice questions for greater flexibility.
Edit and break down the fields of your forms in different sections for a higher level of customization.
Best For: Seamlessly working with Microsoft 360 applications and analyzing data using complicated formulas in Excel.
Third-Party Integrations: Yes
Price: Free to use.
6. 123FormBuilder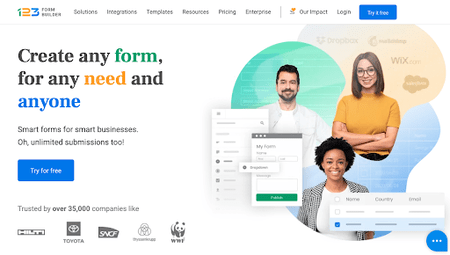 ---
123FormBuilder is an extremely simple solution to building online forms. If you are looking for a free solution to build a limited number of online forms other than Google Forms and also don't mind a basic look, 123FormBuilder will get your job done.
Features:
Build forms quickly and with ease using an assortment of in-built templates.
Create forms from scratch using the drag and drop editor.
Get up to 5 forms with the basic plan and purchase more from additional bundles.
Add an unlimited number of fields in each form.
Get up to 10 GB of upload storage with the most basic plan.
Create your own custom domain with the help of domain aliasing.
Remove backlinks automatically from the forms if required.
Best For: Creating simple forms instantly and sending them to your email recipients by attaching relevant files in the forms.
Third-Party Integrations: Yes
Price: You can get started for free. Starts at $19.99/month.
7. Typeform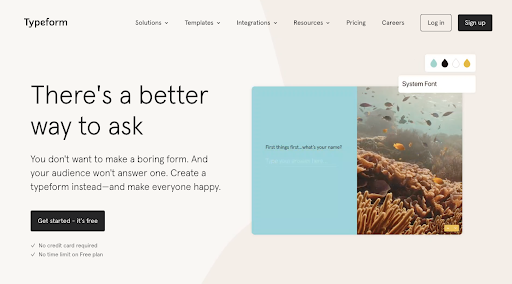 ---
Typeform believes that surveys should be easy, appealing, and human. This is why Typeform aims to create frictionless forms and surveys that people would love to participate in. It primarily aims at creating survey forms that aren't boring and can attract users to participate in. It also discards conventional long-page surveys by making them brief and engaging.
Features:
Offers tons of in-built templates along with a photo and video library to customize your surveys.
Extremely easy to set up and deploy surveys on different platforms.
Build contact forms using conditional logic and different jump features.
Only shows one question at a time to keep surveys conversational and engaging.
The CTA button is easily visible and works on mobile devices as well.
Build personalized user flows and filter out irrelevant questions.
Best For: Generating user engagement and analyzing customer preferences to create campaign strategies.
Third-Party Integrations: Yes
Price: You can get started for free. Starts at $25/month.
Also Read: 12 Best TypeForm Alternatives to Check-in
8. Formidable Forms
---
Formidable Forms is a Google Forms alternative that is more technically advanced for users with the relevant skill set. You can perform advanced web developments through your forms using this tool. It is a powerful WordPress builder that provides users with solution-focused forms.
Features:
Create advanced forms in real-time using the drag and drop builder.
Build forms with personalized fields based on previous answers using conditional logic.
Create quizzes and also display the results based on your custom grading scale.
Visualize your survey data using graphs and charts for ease of understanding.
Allow visitors to perform calculations using payment calculator and mortgage calculator.
Use different plugins and templates to create product forms.
Best For Advanced level of WordPress customization and email marketing services for advanced users and developers.
Third-Party Integrations: Yes
Price: Starts at $39.50/year.
9. HubSpot Form Builder
---
HubSpot Form Builder is another very capable alternative to Google Forms that comes as a part of an all-in-one marketing platform that includes CRM, email marketing, and other sales features as well. It pairs form building with its cutting-edge technology to give users more capability out of the form.
Features:
Create forms with ease and collect all the useful data from the HubSpot CRM.
Set up automatic email follow-ups for the users who fill the form using HubSpot's marketing automation feature.
Create smart forms that are able to adapt according to the user's browser history.
Analyze the data using analytics included in HubSpot's marketing hub.
Convert anonymous visitors into leads using unlimited forms, fields, submissions that connect to your contact database.
Set reminder tasks and follow up with your leads or send them personalized emails using HubSpot CRM.
Best For: Data enrichment for contact profiles which makes it ideal for teams to manage all their forms from a single system.
Third-Party Integrations: Yes
Price: You can get started for free. Starts at $45/month.
10. Cognito Forms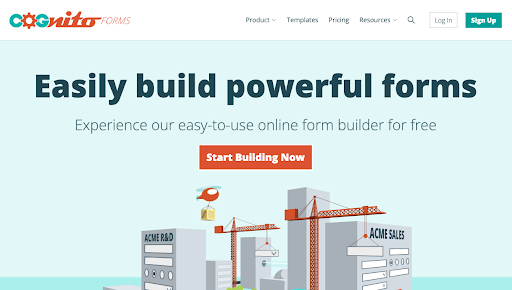 ---
Another very popular freemium survey tool in the market that acts as another Google Forms free alternative is Cognito Forms. It offers some of the most amazing integration and payment options to users, which is why it has been gaining traction in the market. Also, if you like to use Square or PayPal for payment, this can be the right tool for you.
Features:
Offers tons of pre-built templates which you can explore and build forms right away.
Build forms easily with the visual drag and drop editor.
Calculate costs and perform other calculations on the form itself using the built-in feature.
Add conditional logic to your forms to gather relevant information from the users.
Collect payments from the visitors by integrating forms to Square and PayPal.
Organize and manage your data using the in-built data management system.
Best For: Easily gathering and validating data along with securely conducting online transactions through popular payment partners.
Third-Party Integrations: Yes
Price: You can get started for free. Starts at $15/month.
11. Paperform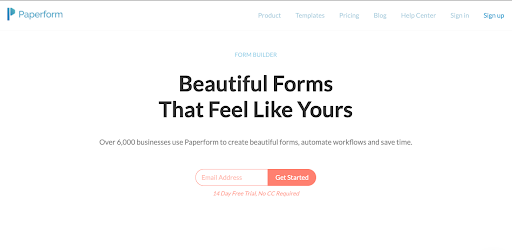 ---
Paperform is a very popular online form builder solution that avoids almost all the shortcomings of Google Forms. It is a perfect tool for people who are aiming to sell a physical or digital product through their platform because it creates forms that look like landing pages for taking orders from visitors.
Features:
Add photos, videos, headings, and long text to the forms to tell the story behind your product offering.
Create all sorts of forms and explore possibilities using in-built templates.
Collect visitor's data on custom landing pages for PPC ads and targeted marketing campaigns.
Create a product catalog and complete it with ordering and payment options.
Create restaurant reservation pages and add location maps for better support.
Manage your inventory with the in-built order and management system.
Best For: Creating simple yet diverse forms and accepting information and orders for your products at the same time.
Third-Party Integrations: Yes
Price: Starts at $20/month.
12. Formstack
---
Formstack is an online productivity platform that also offers powerful form-building features. It is a highly intuitive Google Forms alternative and provides users with a more streamlined solution for improving the team processes. For companies performing in highly regulated industries, Formstack will arguably be the best option.
Features:
Automate your workflows using pre-built templates and various different integrations.
Pick any template and customize it with the help of a drag and drop editor.
Manage your data in a better way using the in-built data management system.
Collect sensitive and classified data with the help of Formstack's HIPAA and GDPR compliance.
Receive automatic notifications and warnings if your form does not meet Section 508 Compliance standards.
Conduct A/B testing using the Formstack Conversion Kit to see which variant of your form performs better.
Best For: Automating your workflow and creating high-performing forms along with analyzing the results on the spot.
Third-Party Integrations: Yes
Price: Starts at $50/month.
13. JotForm
---
JotForm is a highly competitive form builder in the market that supersedes Google Forms and aims to create robust forms to collect important customer insights. It offers limitless customizations to the users along with making data and payment collection seamless to never let the work slow down.
Features:
Choose a theme for each template and edit them to look beautiful and engaging at the same time.
Collect data offline even without any internet connection.
Build forms on mobile devices and access them anytime and anywhere.
Make your forms HIPAA compliant for health organizations and nonprofit organizations as well.
Create online appointments, collect files, arrange e-signatures and accept online payments.
Receive an email notification for form submission, which can also be customized.
Duplicate your forms as many times as you like without any restrictions.
Best For : Healthcare professionals who can take advantage of the extensive telemedicine toolkit and manage patients in real-time.
Third-Party Integrations: Yes
Price: You can get started for free. Starts at $24/month.
Related Read: 12 Best Jotform Alternatives & Competitors in 2023
14. NinjaForms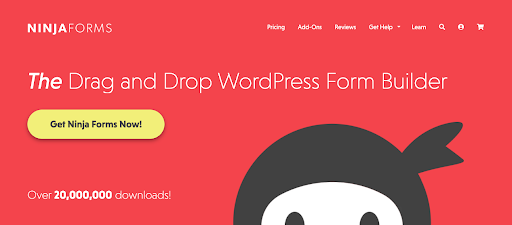 ---
NinjaForms is another popular WordPress form builder that is very well-loved within the WordPress community. NinjaForms offers simplified WordPress form building that anyone can do even if they are not a developer, especially with the help of their dedicated support team. It's a beginner-friendly tool that does not require any coding skills to build forms.
Features:
Create beautiful forms with the help of drag and drop fields and their easy row and column layout.
Upload files in the forms for better usability.
Send or export user submissions as Excel files, PDFs, or Google Sheets for greater flexibility.
Send emails from any form only to the select users who need to see them.
Accept PayPal and credit card payments from your WordPress forms easily and securely.
Best For: Completely customizing signup or lead generation form to get better conversions and grow your business.
Third-Party Integrations: Yes
Price: Starts at $49.50/year.
15. SurveyMonkey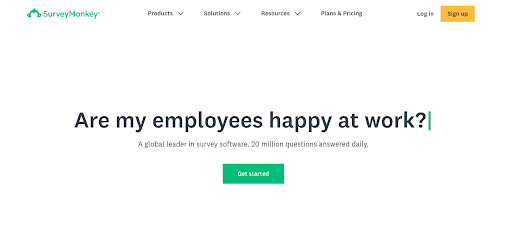 ---
SurveyMonkey, another one of many tools similar to Google Forms, is extremely popular for its general usability and the range of customizations that it offers. You can create and analyze surveys, quizzes, polls and share them with your audience with ease. You can't resist talking about Survey Monkey when it comes to choosing alternatives to Google Forms.
Features:
Ask the right questions to the right people using over 1600 questions written and provided by the experts.
Create forms from over 15 different types of questions to tackle all audience types.
Process your data faster using conditional branching and skip logic.
Embed surveys into emails to get a better response rate.
Understand your audience better using WordCloud and Sentiment Analysis.
Export your results in different formats, including CSV, XLS, PDF, PPT, and SPS
Best For: Posting recurring surveys and tracking customer sentiments to get the accurate context behind the data.
Third-Party Integrations: Yes
Price: Starts at $25/month.
Read Also: Best 15 SurveyMonkey Alternatives
16. SurveyLegend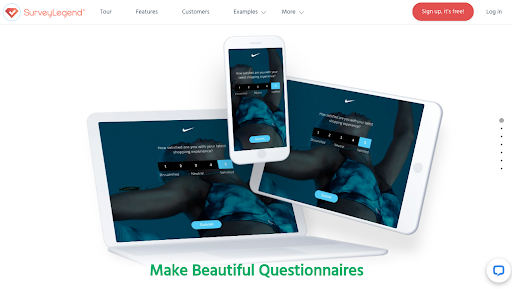 ---
SurveyLegend is a next-generation online form builder that allows you to create beautiful surveys anytime and anywhere. These surveys are extremely mobile-friendly and provide the users with the flexibility to create and take surveys in any possible manner. The added level of customization and flexibility makes it a perfect Google Forms alternative.
Features:
Design beautifully branded surveys using a wide range of templates, color schemes, fonts, and many more to reflect your brand.
Create surveys on tablets and take them on mobile devices with the help of multiple device support.
Share your surveys via email, Facebook, Twitter, SMS, and many more with just one click.
Gather real-time insights using the in-built analysis system that processes data as soon as it comes in.
Conduct academic research using the surveys built especially for students and scholars.
Measure customer satisfaction at every stage using CSAT templates.
Best For: Conducting market research using research templates, quickly visualizing the results, and then sharing them with your team to create strategies.
Third-Party Integrations: Yes
Price: You can get started for free. Starts at $15/month.
17. Qualtrics Core XM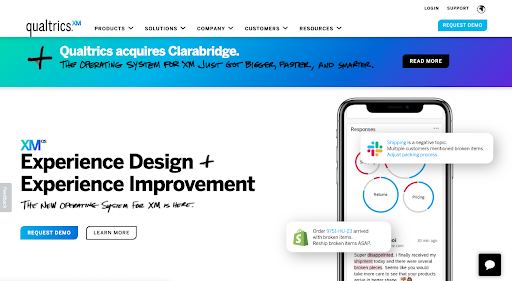 ---
Qualtrics just pushes the boundaries when it comes to accomplishing things with a survey tool, which makes it a perfect Google Forms alternative. It excels in offering some of the most basic yet useful features like survey templates, logic branching, and email triggers which makes it an ideal feedback tool in general.
Features:
Ask the right questions every time with the help of 100+ question types and tons of built-in templates.
Segment customers based on their demographics.
Spot future trends and patterns using predictive behavior analysis.
Understand the perception of customers by conducting sentiment analysis of the gathered data.
Monitor responses in real-time using machine learning and AI.
Export results in either CVS or SPSS compatible format.
Best For Collecting customer feedback efficiently and analyzing customer sentiments to spot future trend patterns
Third-Party Integrations: Yes
Price: You can get started for free. Subscription-based pricing.
Must Read: Qualaroo vs. Qualtrics – Why Teams Choose Qualaroo Over Qualtrics
18. ClickUp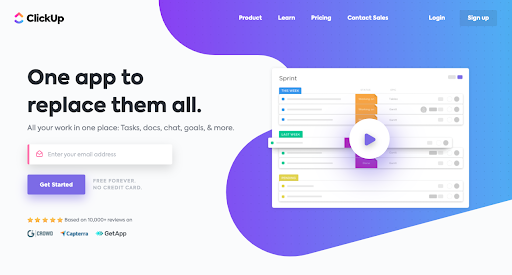 ---
ClickUp is a very popular project management software that is mainly used by teams in larger organizations or startups across the board. It comes with a built-in state-of-the-art form view that allows users to create interactive forms within minutes. This is the reason why a project management software like ClickUp makes it to the list of best Google Forms alternatives.
Features:
Create surveys with ease using the intuitive drag and drop editor.
Streamline the data consolidation process and generate more leads with ease.
Embed multiple virtual data collection points in your landing pages to maximize responses.
Collect specific types of data like emails, phone numbers, location, salary, and many more with the help of custom fields.
Convert the responses into actionable tasks automatically instead of simply dumping the data.
Customize all the aspects of your forms, including themes, avatar, assignees, hidden fields, and much more.
Best For: Creating interactive forms and collaborating with teams by assigning roles and tasks based on feedback.
Third-Party Integrations: Yes
Price: You can get started for free. Starts at $5/month.
19. Wufoo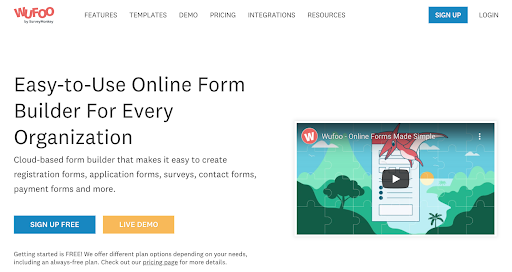 ---
Wufoo serves as a cloud-based form builder that aims to simplify creating registration forms, contact forms, surveys, payment forms, and many more, easier for the people. Wufoo offers an award-winning interface that can easily be customized, monitored, and analyzed, and all of these make it an ideal alternative to Google Forms.
Features:
Create forms instantly with the drag and drop editor without typing a single word.
Customize branding on your forms to reflect your organization or brand.
Allows users to upload files in all possible formats.
Transfer data with maximum security using 256-bit SSL encryption.
Accept payments with the help of multiple integrated payment providers for better flexibility.
Get updates in real-time whenever you receive any response on the survey.
Build customized reports based on the collected data.
Best For: Transferring the data to the CRM systems along with monitoring and automating the workflow.
Third-Party Integrations: Yes
Price: You can get started for free. Starts at $14.08/month.
20. Formsite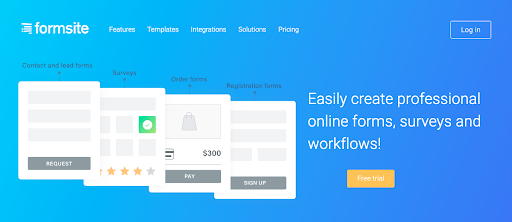 ---
Formsite is another viable alternative to Google Forms that lets users easily create professional surveys, online forms, and workflows. It also heavily focuses on data security by allowing users to encrypt the text in specific form fields. Also, with tons of customization options, Formsite is an ideal and secure solution for people looking for intelligent Google Forms alternatives.
Features:
Customize the style of your forms by uploading your own logo and make changes to suit your branding.
Embed your forms on any page without any programming by copying the code.
Create secure forms and protect submissions using SSL encryption.
Link multiple forms together and carry responses across multiple platforms.
Create order forms with automatic totaling, including payment modes like PayPal, Braintree, Authorize.net, Stripe, or Pay By Check.
Visualize your results in multiple different formats and embed your results.
Best For: Creating order forms and collecting payments through various payment providers with added security.
Third-Party Integrations: Yes
Price: Starts at $21/month.
21. Conversational Form
---
The last installment in this list includes Conversation Form, which is slightly different from the rest as it is an open-source concept from SPACE10 and quite a distinctive alternative to Google Forms. It easily turns information into conversations and focuses on user experience by immersing users in what feels like a social media conversation.
Being open-source, Conversational Form is arguably one of the best choices in terms of free alternatives to Google Forms.
Features:
Add unlimited sections and fields to your forms without any restrictions.
No additional coding or add-ons are required.
Customize colors, fonts, and text to suit your branding.
Enable conversation on existing forms by changing the layout settings.
Queue up your own CSS for more advanced styling and customization.
Answer surveys on mobile with the help of multiple device support.
Best For: Implementing conditional logic and calculated fields to calculate field values that are updated in real-time.
Third-Party Integrations: Yes
Price: Free to use.
Honorable Mention for WordPress users
WordPress makes it easy and convenient to add surveys with plugin options. WPForms is a free drag-and-drop survey builder that won't slow down your website's loading speed and doesn't require any coding skills. Setting it up is uncomplicated and it can look just as good as a survey made with any other professional tool. The included real-time insights feature automatically builds a report that can be customized and exported. WPForms is one of the best survey builders for WordPress sites you'll find.
Final Thoughts
Now all you need to do is check your business and survey requirements, and then pick a Google Forms alternative that serves your needs in the best possible manner.
However, if you are a beginner and have rarely worked with form builder tools, consider giving Qualaroo a shot. It is dead-easy to use, and the implementation takes just a couple of minutes.
Finally, if you want our verdict for the perfect Google Forms alternative, we hate to break it to you, but there is no such tool out there with all of the best features combined into one. Any tool that is capable of catering to all your problems effectively is a perfect tool for you.
Bonus Reads
Want insights that improve experience & conversions?
Capture customer feedback to improve customer experience & grow conversions.