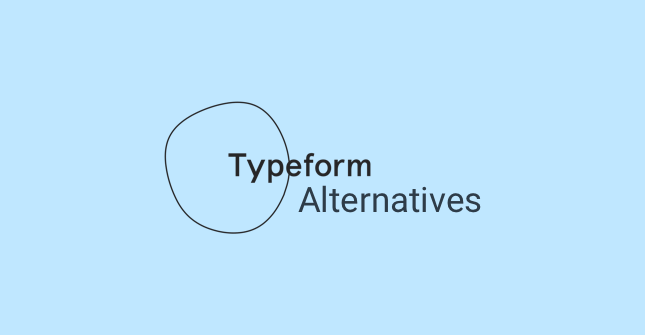 Looking for some of the best TypeForm Alternatives out there.
To quickly give you the context, online survey tools are among the fastest, cheapest, and most effective ways of gathering customer feedback and insights.
Businesses across the world deploy different types of online surveys regularly, and this is the reason why tons of companies have jumped on the bandwagon to provide the "best online survey solution."
Naturally, when there are many options to choose from, we tend to get a bit hazy. So we have prepared a detailed, comparative list of the 12 best TypeForm alternatives for you.
Factors covered here about every tool:
About
Features
Best for
Integration support
Price
But before we jump into the alternatives to Typeform, let's take a closer look at what Typeform does and why you need to look out for its alternatives.
What is Typeform?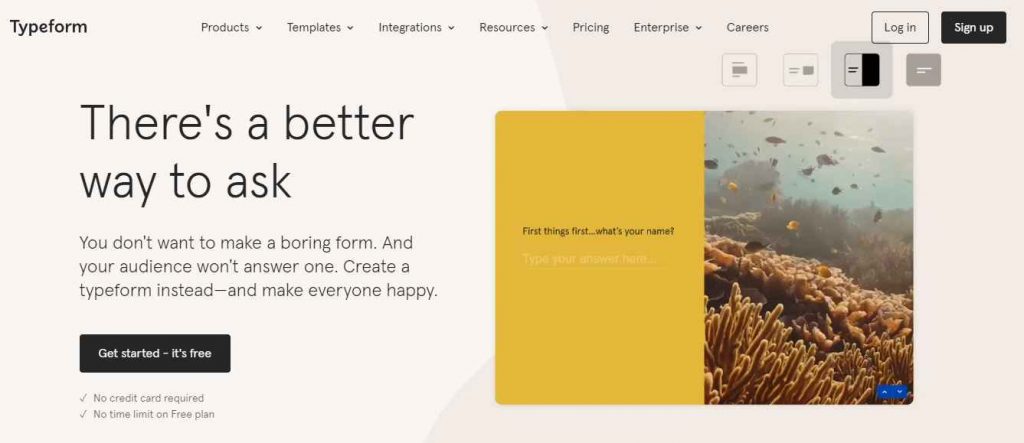 ---
TypeForm is an online survey tool that aims to create frictionless forms and surveys online that people would enjoy participating in. TypeForm collects robust data, which it uses to accurately identify customer experience and perception along with the overall brand reputation. It primarily focuses on creating forms that aren't boring and which the users would love to participate in.
Features:
Consists of a built-in photo and video library and custom templates to choose from.
Easy to set up and use for the new users.
Ability to create engaging and casually approached surveys.
It is well optimized for mobile devices, tablets, and browsers and can easily display surveys on all platforms.
Ability to collect demographics of the customers for understanding their purchase behavior.
Allows users to build personalized user flows and filter out irrelevant questions.
It crafts a better user experience for faster growth.
Best for: Creating positioning strategies based on analyzed consumer perception and patterns.
Integration Support: Yes
Price: Starts at $25/month.
Why Do You Need Typeform Alternatives?
TypeForm is, without a doubt, a highly capable survey tool that is easily available in the market. But is it the only tool capable of doing all that? Surely not.
There's a wide range of selection out there when it comes to choosing survey tools, and each tool does something different and better than the other. Here are some of the reasons why you should look for more suitable Typeform alternatives:
Better Functionality
TypeForm offers diverse functionality to users to create and circulate their surveys anyway they want it. However, TypeForm lacks wider language customization for the users. It also does not allow the users to completely customize the surveys to maintain the pre-defined intuitiveness.
That's why you need to take a look at tools similar to TypeForm that offer much better functionality.
Better Flexibility
The design scheme and the pre-built templates are quite limited, and they tend to get repetitive after a while. Also, TypeForm does not natively integrate with some of the popular websites like Hubspot and Squarespace. TypeForm only displays one question at a time, and there is no option available to show the sequencing. This often makes the respondents wonder about the survey length.
Here is the list of Top Typeform Alternatives in 2023
Typeform Alternative #1. ProProfs Survey Maker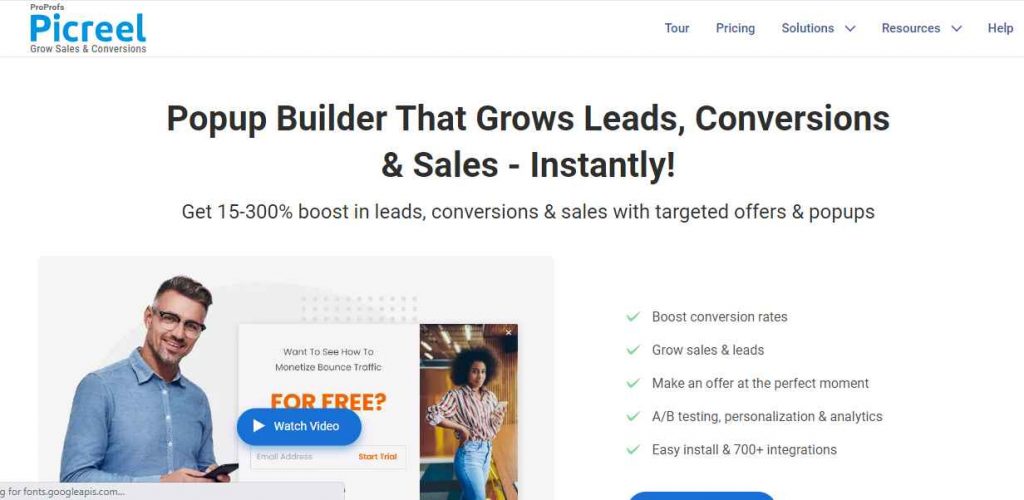 ---
Another survey tool that goes head-to-head with Typeform in terms of its features and offering is ProProfs Survey Maker. It is an extremely popular tool known for its ability to personalize surveys and ask any question in any possible manner. With its easy-to-navigate interface, users can create multiple surveys with over 1,000,000 goal-oriented questions to gather unbiased feedback.
Features:
Ability to create simple and engaging NPS surveys, quizzes, polls, sidebar surveys, in-app surveys, and pop-up surveys.
It contains over 100 professionally built survey templates.
It provides the ability to drag and drop questions in surveys to prevent the users from creating them from scratch.
Ability to deploy surveys and quizzes on multiple platforms using different channels.
Also contains question branching and skip logic for faster processing of surveys.
Ability to create web forms for Job applications, Product feedback, and Contact us.
Allows the users to grade the user responses.
Can easily post surveys on websites using embed code.
Best for Medium and large enterprises collect customer and employee data, engage with them online, and circulate necessary information to large audiences.
Integration Support: Yes
Price: You can get started for free. Starts from $ 0.05/response/month.
Typeform Alternative #2 . Formstack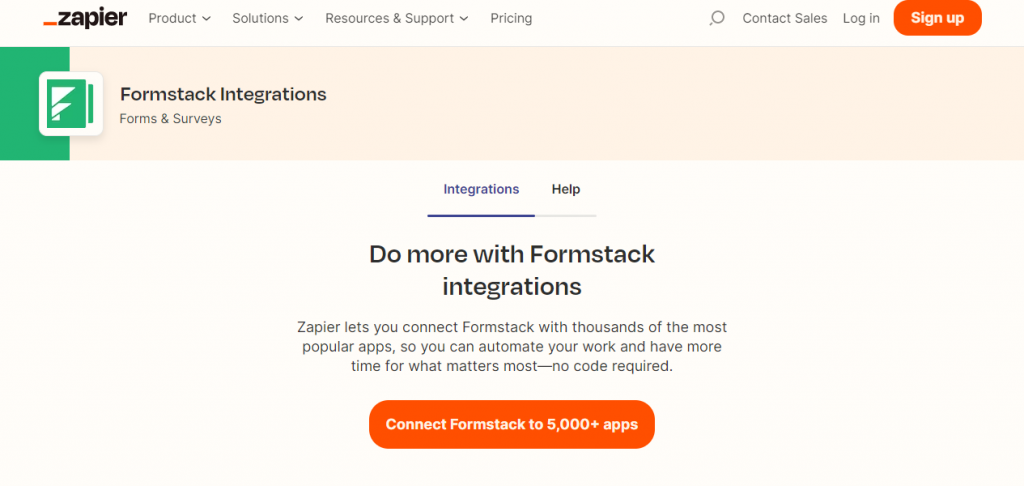 ---
Another great Typeform alternative, Formstack is a secure workplace productivity platform built to produce ingenious solutions to the everyday work that slows organizations down. Formstack has specialized in streamlining digital work through online forms, documents, and signatures that require no code. These things make it one of the top TypeForm competitors in the market.
Features:
Users can easily build form and go live within minutes with the easy form creation tool.
Manage long lists and push updates to all the forms from a single location.
Displays one question at a time for a much better mobile survey experience.
Minimizes survey fatigue, bias and prevents redundant scrolling.
Capture electronic signatures from any device.
Notify the respondents about their form submission through automated follow-up emails.
Users can also input custom URLs to increase brand recognition.
Import form from the FormStack form builder.
Best for: Creating a dynamic workflow process that allows multiple people to connect and creating accessible hubs for organized data collection.
Integration Support: Yes
Price: Starts at $50/month.
Typeform Alternative # 3. Google Forms
---
Google Forms is one of the simplest and free TypeForm alternatives that collect valuable feedback from the customers and provide a quick analysis of the results. Google Forms is a perfectly ideal survey solution for individuals and for organizations that seek simple and sophisticated survey techniques.
Features:
Ability to shuffle questions and randomize the order of questions in the survey.
Ability to limit the responses to only once per user.
It has tons of different customizable themes to make the survey look appealing to the respondents.
It automatically generates answer suggestions to the surveyor while creating survey forms.
Respondents also get the option to upload files in the survey forms if the question requires them to.
An in-built reporting system that gives users quick statistics of the responses collected.
Users can send unlimited questions and surveys without any extra cost.
Best for Quick and easy survey creation and visual analysis of the data through pie charts, histograms, line graphs, and many more.
Integration Support: Yes
Price: Free to use
Typeform Alternative #4. PaperForm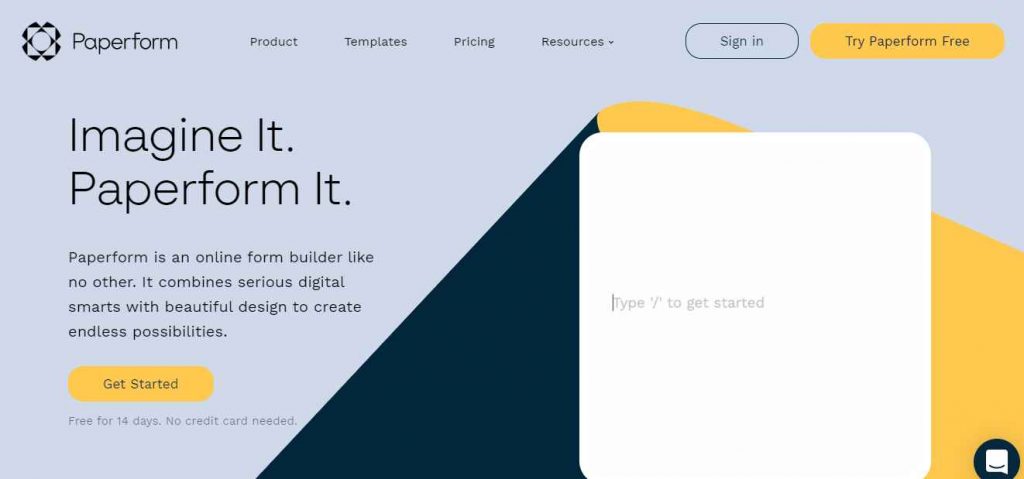 ---
PaperForm is another great Typeform alternative that aims at democratizing digital creation by making beautiful survey forms easy to create for everyone. Building forms on PaperForm is as simple as writing a document, and anyone can create beautiful forms, payments, and product pages without any additional knowledge or skill.
Features:
Users can create an unlimited number of forms without any restrictions.
A variety of themes and form customizations are available with over 20 question types.
PaperForm surveys have enhanced security which they provide through SSL encryption.
Advanced users can also make use of HTML and CSS customization options in PaperForm.
Includes built-in scoring system for surveys and quizzes.
Ability to add multimedia files in the form of images and GIFs.
Ability to create survey forms through mobile devices as well.
Users can also make product suggestions and feature requests.
Best for: Automating marketing operation from data collection, segmenting leads, sending personalized thank-you emails, and more.
Integration Support: Yes
Price: Starts at $12.50/month.
Typeform Alternative # 5. JotForm
---
JotForm is a fully-featured online form builder and a survey tool similar to TypeForm that makes it easy to create robust forms and collect crucial customer data. This Typeform alternative acts as a gateway to gather significant information to power your business. It also makes online data and payment collection as seamless as possible to never let the work slow down.
Features:
JotForm allows you to collect data offline, even if you don't have an internet connection.
Customize notifications and get push notifications for every new response.
Supports form building even on mobile devices.
Ability to collect responses in the form of emails for all your surveys.
Users can duplicate the forms on their account as many times as they like.
Receive an email notification for form submission, which can also be customized.
Users can also set conditions to send notifications from specific people based on the selection.
Add sub-account users to your account to share your survey data.
Best for: Simplifying customizable surveys and data collection for increasing the productivity of the team members.
Integration Support: Yes
Price: Starts at $24/month.
Typeform Alternative # 6. SurveyMonkey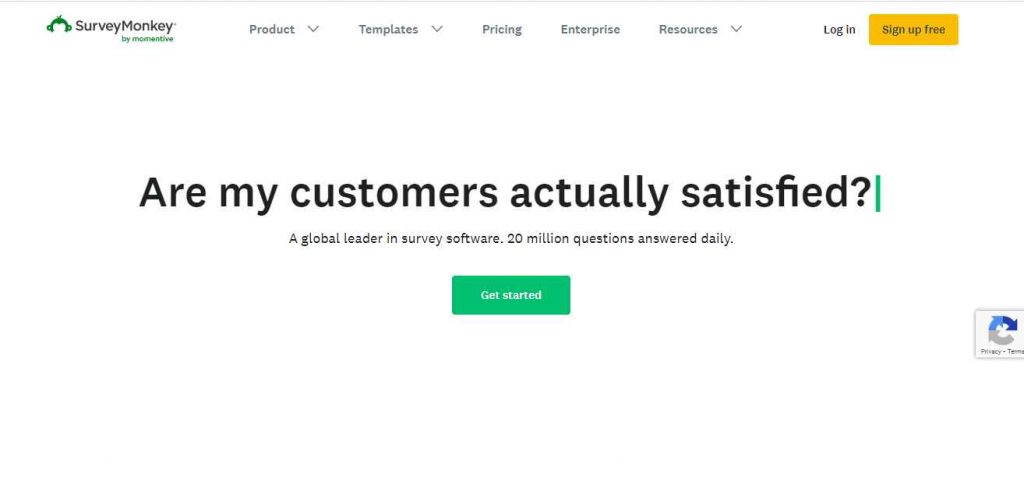 ---
SurveyMonkey is another viable alternative to TypeForm that collects feedback in real-time and provides different ways for customers to voice their opinions. The combination of market research and customer experience solutions through their feedback software tool gives the power of feedback to organizations of all sizes.
Features:
Extremely easy to create surveys, polls, and quizzes for any type of audience.
Pre-built survey templates and questions to allow users to only ask the right questions.
Use survey techniques like question branching and skip logic for faster processing.
Embed the surveys into emails for getting a higher response rate.
Gather feedback via web links, mobile chat, email, social media, and many more.
An in-built analysis tool automatically analyses the data and gives meaningful insights.
Export your results in different formats or to different platforms.
Best for: Implementing recurring surveys for tracking customer sentiments and getting an accurate context behind the data.
Integration Support: Yes
Price: Starts at $25/user/month.
Read Also: Best 15 SurveyMonkey Alternatives in 2023
Typeform Alternative # 7. Wufoo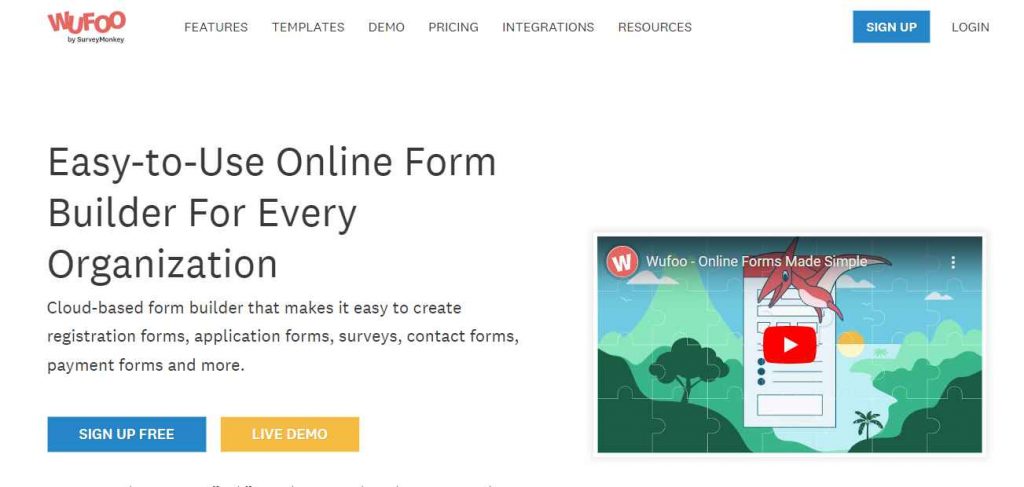 ---
Wufoo is another viable alternative for TypeForm as it's a cloud-based form builder that makes creating registration forms, surveys, contact forms, payment forms, and more, easy for the users. With Wufoo, you get an award-winning interface, which is easy to customize, implement and monitor all at the same time.
Features:
It allows users to drag and drop the questions without typing in anything.
Customize the branding on the form as per your requirement.
Tons of integrated payment providers for increased flexibility in accepting payments and donations.
Lets respondents upload files in any format.
256-bit SSL encryption for a higher level of data security.
Real-time notifications to get updates as soon as someone fills up a form.
Set rules to personalize respondents' form-filling experience.
Build custom reports based on the data collected.
Best for: Seamlessly transferring your data to CRM and marketing tools to automate the workflow.
Integration Support: Yes
Price: Starts at $14.08/month or $169/year.
Typeform Alternative # 8. Qualtrics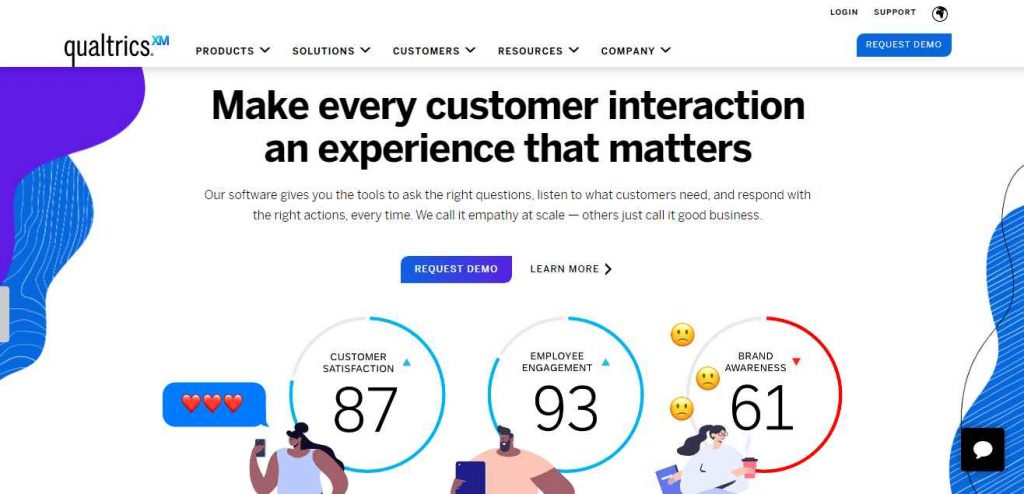 ---
Qualtrics is another TypeForm competitor that pushes the boundaries of what a survey and feedback tool can accomplish. With over 100 question types and tons of survey templates paired having survey logic and email triggers, it is ideal for customer feedback surveys. The real-time analysis tool of Qualtrics also allows users to export the results to either CVS or SPSS, this is what makes qualtrics one of the most valuable Typeform alternatives.
Features:
Segment customers based on different demographics.
Lets surveyors conduct sentiment analysis to understand the perception and the behavior of customers.
Conduct predictive behavior analysis to spot future trends and patterns.
Uses AI and machine learning to monitor responses in real-time.
Create custom surveys using the drag and drop interface and multiple question format.
Collect feedback across multiple channels, including mobile devices, applications, chat boxes, websites, and many more.
Scans the text responses and presents a sentiment analysis for the users.
Best for: Critically analyzing the feedback data and visualizing the reports, and assessing the customer sentiments and their buying patterns.
Integration Support: Yes
Price: You can get started for free. Subscription-based pricing.
Related Read: Qualaroo vs. Qualtrics – Why Teams Choose Qualaroo Over Qualtrics
Typeform Alternative # 9. Zoho Forms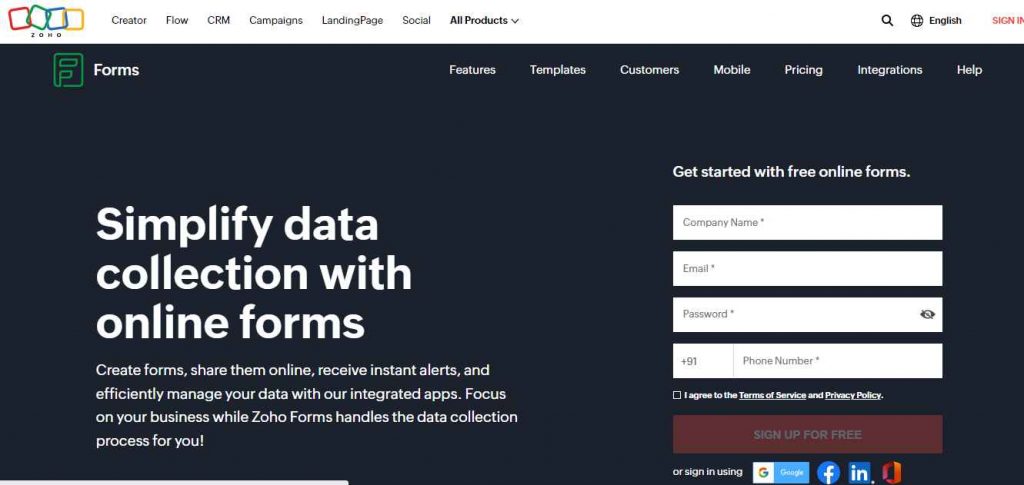 ---
Zoho Forms is another simplified solution presented by Zoho that primarily collects data and pushes it to other Zoho apps. It is relatively limited in terms of what users can do because Zoho Forms acts as a front end for all the backend applications.
Both Zoho Forms and Zoho Survey cater to different needs, and Zoho Forms is the most suitable when it comes to TypeForm alternatives.
Features:
Native mobile application of Zoho Forms has the ability to create, manage and submit forms offline.
Accept payments from your end users through the forms that you design.
Assign tasks to users in the organization and also track status.
Users can also configure email notifications as per their needs.
Drag and drop feature with over 40+ field types to create interactive and engaging surveys.
Validates the answers while the respondent is filling the live form.
Respondents can also add multiple entries or line items in a single section.
Best for: Creating reports, configuring approvers for the users in the organization to track incoming records, and approve/deny business processes.
Integration Support: Yes
Price: Starts at $10/month.
Typeform Alternative # 10. Involve.me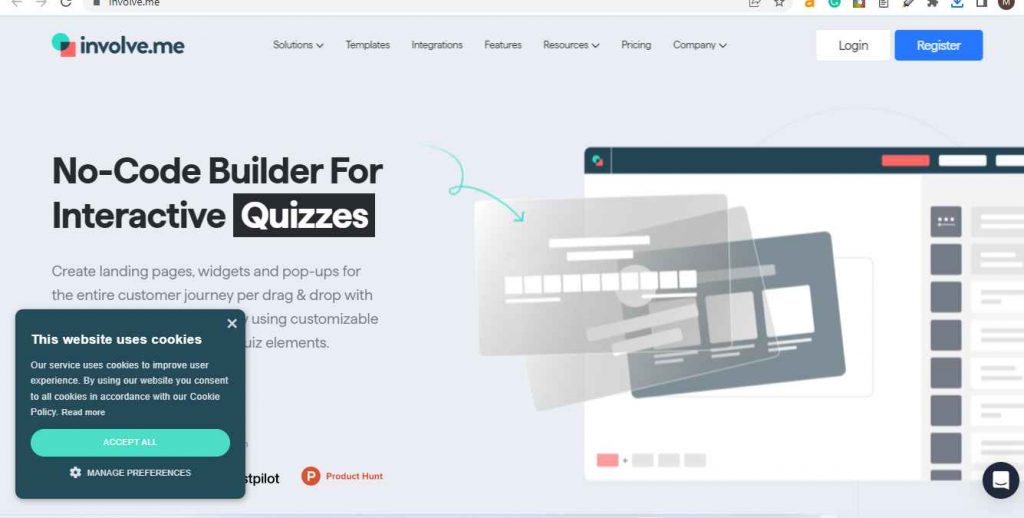 ---
Involve.me is a modern customer experience platform that helps businesses in creating personalized interaction at every step of the customer journey. They aim to increase the involvement of the audience and also gather better and more significant data.
Involve.me is a Typeform alternative that allows users to easily create and publish interactive funnels for acquiring leads, personality tests, segmentation, and much more.
Features:
Lets users create campaign segmentation based on custom variables.
Monitor complaints with ease.
Create customer profiles and also create customer segmentation based on those profiles.
Pre-built customizable templates to give the surveys a better look.
Users can easily copy and paste the embed code to embed it on the website
Send email confirmation to users who integrated with your website and customize other variables.
Recover lost leads and gather more data from people who did not finish the form.
Best for Extracting and analyzing customer data and creating advanced lead segmentation.
Integration Support: YesPrice: Starts at $14/month.
Typeform Alternative # 11. Alchemer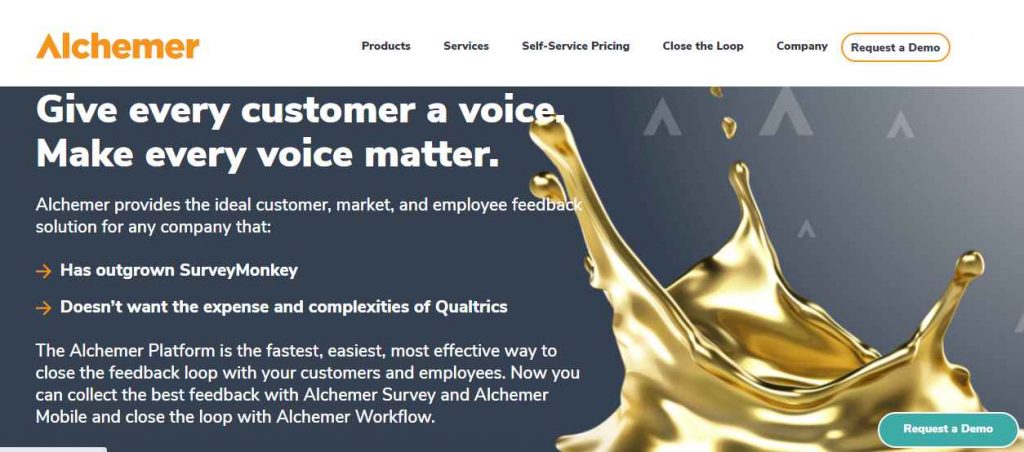 ---
Alchemer is another popular tool similar to TypeForm that is known for creating beautifully designed surveys that enable you to transform into a more customer-centric business. Alchemer takes the customers' voice and puts it into the hands of the users to act upon them.
Features:
Gives the users the ability to choose from multiple question types, including everything from radio buttons to the Likert scale.
Lets users customize the branding on their surveys with the help of unique logos, colors, and images.
Conduct survey diagnostics to determine how likely a survey is to be successful and the response that it may fetch.
Easy to style and customize the surveys using the in-built theme builder.
Offers fully customizable XHTML/CSS templates for professional customization.
Surveys are automatically optimized for viewing on different devices like mobile phones and tablets.
Best for: Generating detailed reports of the survey through a real-time reporting system that helps make sense of the raw data.
Integration Support: Yes
Price: Starts at $49/user/month.
Comparison Table
| Tools | Price (Starting From) | Free Account | Analytics Tool | Third-Party Integration |
| --- | --- | --- | --- | --- |
| Qualaroo | $80/month | Yes | Yes | Yes |
| ProProfs Survey Maker | $0.05/response/month | Yes | Yes | Yes |
| Formstack | $50/month | No | Yes | Yes |
| Google Forms | Free to use | Yes | Yes | Yes |
| PaperForm | No$12.50/month | No | Yes | Yes |
| Jotform | $24/month | Yes | Yes | Yes |
| SurveyMonkey | $25/month | Yes | Yes | Yes |
| Wufoo | $14.08/month | No | Yes | Yes |
| Qualtrics | Subscription-based | Yes | Yes | Yes |
| Zoho Forms | $10/month | No | Yes | Yes |
| Involve.me | $14/month | Yes | Yes | Yes |
| Alchemer | $49/month | No | Yes | Yes |
Final Thoughts
Now that you have gone through the all TypeForm Alternatives list, you can now be sure to set foot in any direction and make an informed decision about an online survey tool.
The possibilities are endless as there are hundreds of options to choose from. But eventually, it all comes down to what your requirements are and which tool would be able to fulfill those in the best possible fashion. The best tool is always the one that does the job efficiently for you.
Bonus Reads
Want insights that improve experience & conversions?
Capture customer feedback to improve customer experience & grow conversions.