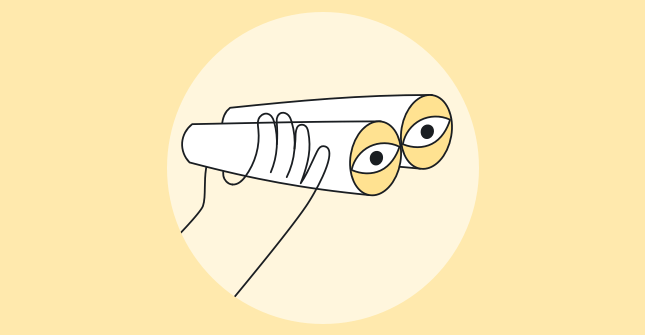 Asking the right market research questions can help you understand your target customers and map their behavior and preferences.
But what does it actually mean?
Let's look at a sample from a market research survey report for mapping brand awareness: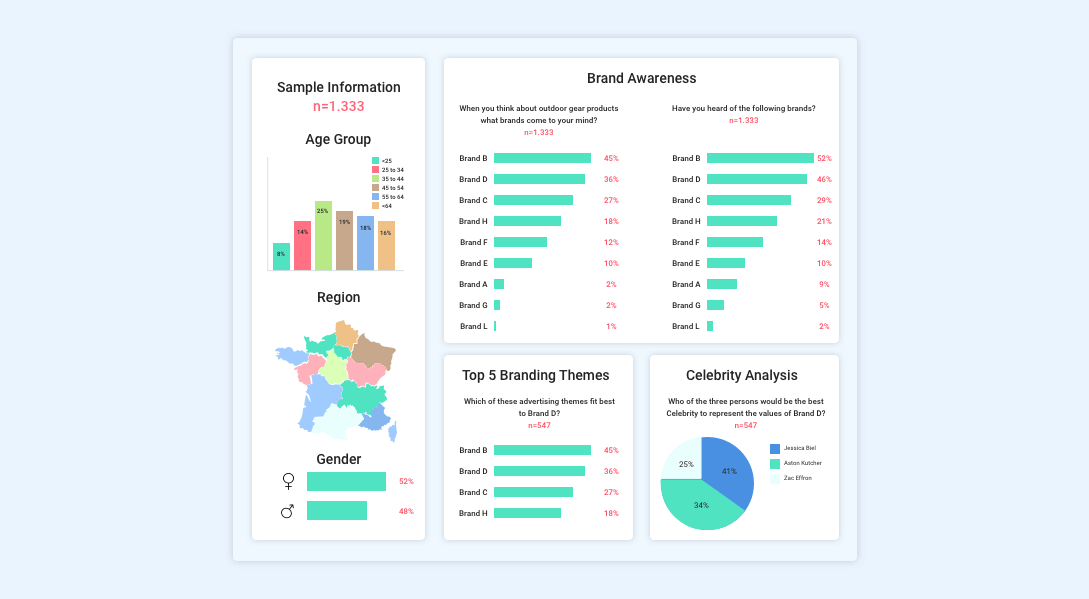 ---
From this simple Q&A report, you can:
Visualize the proportions of demographic segments among your audience.
Measure how your brand is performing in comparison to others.
Pick the top preferred brand among the customers, explore what makes it stand out, and apply the same techniques to your brand.
See how your target market perceives brand advertisements and promotional efforts.
Now imagine if this type of data set is available for different aspects of your business – product development,marketing campaigns, optimization plans, and more.
That's what market research does for you.
With the evolution of customer interaction points and constantly changing market trends, more and more businesses are fueling efforts in doing in-depth market research, as evidenced by the steady increase in the revenue of the market research industry worldwide.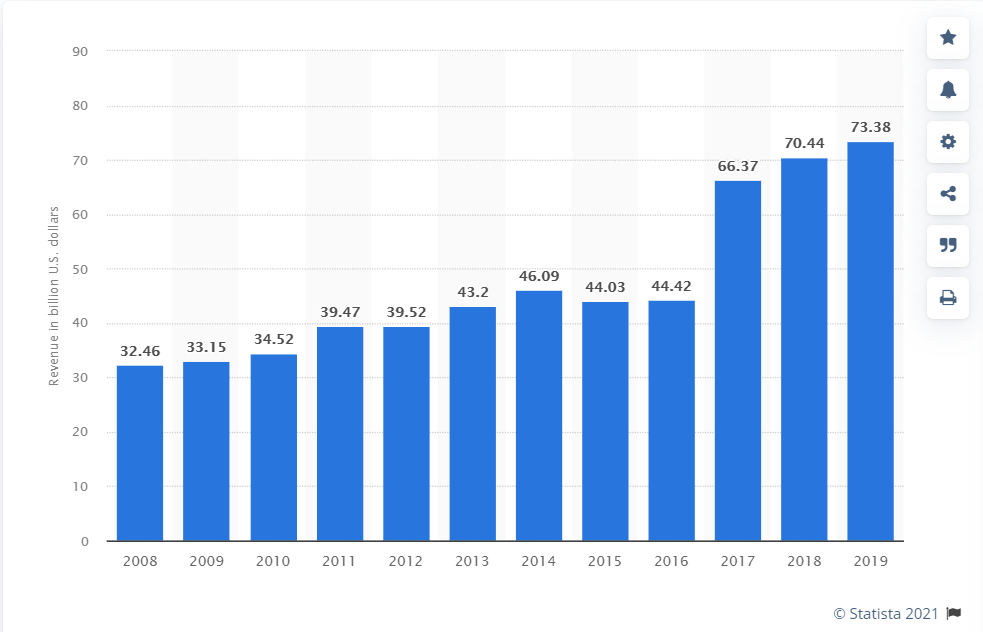 ---
Market research can help you develop essential business strategies and maintain a competitive advantage over other brands to increase conversions and customer base.
And it all starts with asking the right questions to the right audience.
That's why we have created this collection of 100+ market research questions to ask your target market. Each question aims at uncovering a specific attribute about your customers. You can use a combination of these market survey questions for your market research surveys, interviews, and other marketing questionnaires for customers.
We have also added key tips to help you write your own effective market analysis questions if the need arises.
Here's how the blog looks like:
What Are Market Research Questions & its Types
The given answer choices in a market research survey question can significantly impact the quality and reliability of the data you collect from the audience.
Some answer types help categorize the audience, while others measure their satisfaction or agreement.
So, before listing the market research survey questions to ask your target audience, let's understand their types:
1. Multiple-Choice
A multiple-choice question lets users select more than one answer from the given options. These questions are great for collecting multiple data sets using the same question and gauging people's preferences, opinions, and suggestions.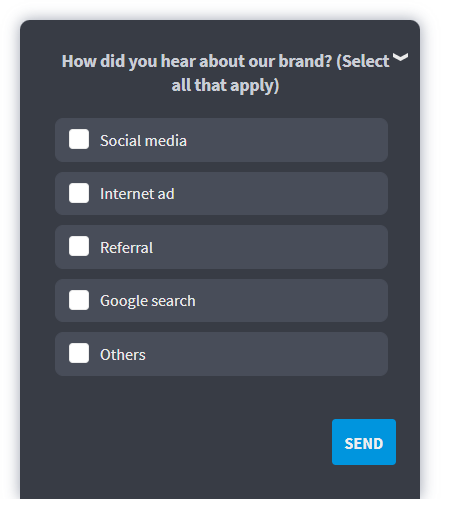 For example:
How did you hear about our brand? (Select all that apply)
Social media
Internet ad
Referral
Others
2. Single-Choice
In a single-choice question, the respondent can select only one answer from the given options. This question type is great for:
segregating the users
prioritizing product updates based on user consensus, and
disqualifying irrelevant respondents by placing the question at the start of your market research survey.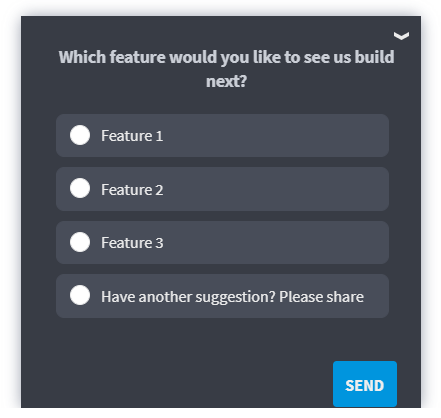 ---
Which feature should we add to the mobile app next?
One-step checkout
Guest order placement
Product Image recognition
There are different types of single-choice questions like the Likert scale, rating scale, and dichotomous.
3. Matrix Match
A matrix matching grid can combine multiple market research questions into one to make the survey shorter. There is only one condition – the individual questions should have the same response anchors as shown in the image below: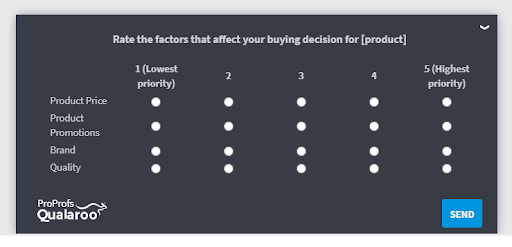 ---
The questions are arranged in rows while the answer options occupy the grid columns.
This question type can significantly decrease the survey length. However, it also increases the tendency of straight-lining, where the respondent may choose the answer randomly without reading the question correctly. This behavior may skew your response data.
4. Ranking Question
A ranking question can help map customers' preferences and set priorities for product development companies. This question type asks the respondent to arrange the given options in their decreasing/increasing preference.

---
For example:
Arrange the following options in the decreasing order of impact they have on your purchase decision:
Product Price
Offers and discount
Product features
Customer support
5. Dichotomous
A dichotomous question poses a simple yes or no scenario to the respondent. These question types can help disqualify irrelevant people from the survey and categorize the users into two groups.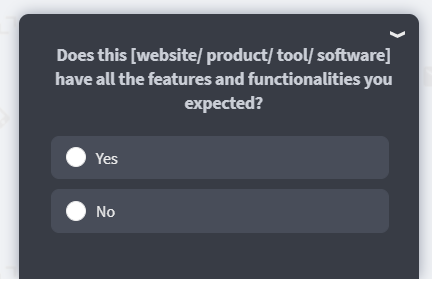 ---
For example:
Did you find what you were looking for on our website/app?
6. Likert Scale
Likert scale market research questions can help you measure the extent of respondents' agreement/disagreement to the given statement. The answer options are arranged from positive to negative sentiments or vice-versa, with the neutral option in the middle.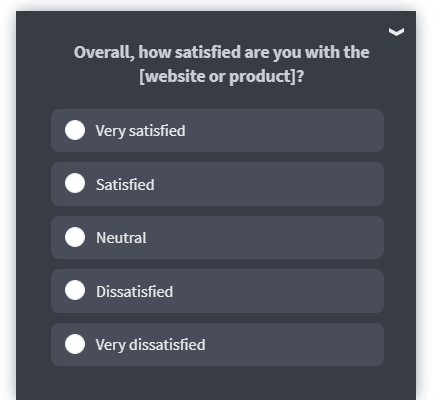 ---
There are two types of Likert scale: 5-point and 7-point. A 7-point Likert scale gives more choices to users but might also introduce the paradox of choice, making it harder for the respondent to select an answer.
These offer a better understanding of your audience than simple yes or no questions, as you can gauge the extent of their sentiment for a given question
7. Open-Ended
Open-ended market questions let you explore the respondents' minds without adding any restrictions to the answer. This question type is followed by a blank space for the respondent to add a free-text response.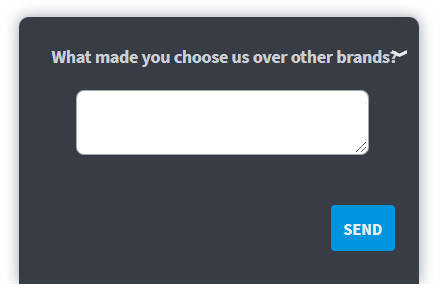 ---
For example:
What made you choose us over other brands?
You can add an open-ended question as a follow-up after the first question to explore reasons for the customer's previous answer. It also lets you collect more in-depth information about their issues, pain points, and delights.
However, since there is no definitive structure to the answers, these question types are hard to analyze and interpret to uncover valuable insights.
The good thing is most survey tools offer advanced analysis techniques like sentiment analysis, text analysis, mood metrics, and word cloud to make the feedback analysis simpler and faster.
Here's a look at a survey software's inbuilt text analytics and sentiment analysis engine that helps categorize the responses based on user moods and highlights the key phrases in the responses, so you don't have to dig through each response manually.
Let's say you ask a question like: Do you like the new features in our product?
---
---
---
100+ Great Market Research Questions to Ask Your Customers
Now that you know how to go about preparing such marketing questionnaires, here is a carefully curated list of over 100 market research questions to ask your potential and existing customers to collect valuable insights:
1. To Explore New Product Opportunities
What was your first reaction to the product?
Would you purchase this product if it were available today?
What feature would you like to see in the website/product?
Which feature do you think will help improve the product experience for you?
Of these four options, what's the next thing you think we should build?
What's the one feature we can add that would make our product indispensable for you?
Would the implementation of [this feature] increase the usability of the [product name]?
Please let us know how we can further improve this feature?
What problem would you like to solve with our product?
2. To Collect Feedback on Existing Products
Have you heard of [product name or category] before?
How would you feel if [product name] was no longer available?
How disappointed would you be if you could no longer use [Product/feature name?]
How often do you use [product name]?
How long have you been using [product name] for?
When was the last time you used [product name]?
Please rate the following product features according to their importance to you.
According to you, In which area is this product/service lacking the most? Specify below.
How does the product run after the update?
Rate our product based on the following aspects:
Have you faced any problems with the product? Specify below.
What feature did you expect but not find?
How are you planning to use [product or service]?
How satisfied are you with the product?
3. To Segment the Target Market
Please specify your age.
Please specify your gender.
Select your highest level of education.
What is your current occupation?
What is your monthly household income?
What is your current marital status?
What is the name of your company?
Where is your company's headquarters located?
Please specify the number of employees that work in your company.
What is your job title?
In which location do you work?
Which activity do you prefer in your free time?
Which other physical activities do you take part in?
Where is your dream holiday destination?
Please rate the following as per their priority in your life – Family, work, and social life?
Are you happy with your current work-life balance?
Do you describe yourself as an optimist or a pessimist?
How often do you give to charity?
How do you travel to work?
How do you do your Holiday shopping?
4. Do a Competition Analysis
Which product/service would you consider as an alternative to ours?
Rate our competitor based on the following:
Have you seen any website/product/app with a similar feature?
How would you compare our products to our competitors?
Why did you choose to use our [product] over other options?
Compared to our competitors, is our product quality better, worse, or about the same?
Which other options did you consider before choosing [product name]?
Please list the top three things that persuaded you to use us rather than a competitor.
According to you, which brand best fits each of the following traits.
5. To Gauge Brand Awareness
[Your brand name] Have you heard of the brand before?
How do you feel about this brand?
How did you hear about us?
Describe [brand name] in one sentence.
Based on its current features and attributes, would you recommend [your brand name] to others?

If yes, please tell us what you like the most about [your brand name]?
If no, please specify the reason.

How likely are you to purchase a product from this company again?
Have you seen this brand's advertisements?

If yes, where have you seen or heard about our brand recently? (Select all that apply)

Do you currently use the product of this brand?
Have you purchased from this brand before?
Do you currently use the product of this brand?
Of all the brands offering similar products, which do you feel is the best brand?
Please specify what makes it the best brand for you in the category.
Which of the following products have you tried? (Select all that apply)
On a scale of 1 to 10, how likely would you recommend this brand to a friend or colleague?
---
6. To Map Customers' Preferences
What influences your purchase decision more – price or quality of the item?
How many hours do you spend on social media like Facebook, Instagram, etc.?
How do you do your monthly grocery shopping – online or through outlets?
How do you search for the products you want to buy?
Rate the factors that affect your buying decision for [product].
What persuaded you to purchase from us?
How likely are you to purchase a product from us again?
Please rate the following aspects of our product based on their importance to you.
What is the most important value our product offers to you?
Which of the following features do you use least?
How well does the product meet your needs?
---
7. To Map Customers' Reservations
Is there anything preventing you from purchasing at this point?
What's preventing you from starting a trial?
Do you have any questions before you complete your purchase?
What is the main reason you're canceling your account?
What are your main reasons for leaving?
What was your biggest fear or concern about purchasing from us?
What is the problem that the product/service helped to solve for you?
What problems did you encounter while using our [product]?
How easy did we make it to solve your problem?
What is your greatest concern about [product]?
Have you started using other similar products? If yes, what made you choose that product?
8. To Perform Pricing Analysis
Would you purchase the product at [price]
According to you, what should be the ideal price of the [product name]?
Is our product pricing clear?
According to you, what is the ideal price range for the product?
9. To Collect Feedback on Website Copy
Please rate the website based on the following aspects:
How well does the website meet your needs?
Was the information easy to find?
Was the information clearly presented?
What other information should we provide on our website?
How can we make the site easier to use?
What could we do to make this site more useful?
Is there anything on this site that doesn't work the way you expected it to?
How easy was it to find the information you were looking for?
Have feedback or an idea? Leave it here!
Help us make the product better. Please leave your feedback.
How to Write Your Own Marketing Research Questions
It's imperative to have a dedicated repository of market research questions for your surveys. But nothing's better than crafting your questions.
For this, you need to sit with your team and discuss what information you require from the customers. It lets you analyze and document how much data you already have in your system, which can help set the market research scope.
We have listed some questions you need to ask yourself before asking market research questions to your potential customers or target market:
1. Audience Segmentation Questions
Audience segmentation questions help to size up your target market and provide a granular view of the audience. Not all customers are equal, and audience segmentation makes it possible to focus on each group individually to address their issues, fears, and expectations.
---
Here's what you need to know before you start writing questions to understand your audience:
Do we understand the demographics of the new market we are trying to target? (Age, location, ethnicity, education, company, annual income, etc.)
What are locations that drive the most customers to our business? How are these locations different from others?
What are the interests, preferences, fears of people from our new target market? Have we addressed these situations for our current customer base?
What are the psychographics attributes of the current customers and potential market? Are we targeting these in our campaigns?
What are the most popular engagement channels for our customers? Which channels drive the most traffic to our website?
Do we have enough data to perform value segmentation to separate high-value customers from low-value customers?
How often do these high-value customers make a purchase?
2. Product-Based Market Research Questions
Product-based market research questions can produce precious insights to channel into your product development and optimization strategies. You can see how changing technology affects customers' behavior, what new features they want to see in your product, and how they perceive your products and services over the competition.
---
Start by gathering information about the following:
How does our product compare to the competition based on the features?
What products do our competitors offer?
What new features do customers want to see in our products? Do we have a product roadmap to deliver these updates?
What unique solutions do our products offer? What is the value proposition that reflects this offering?
Does our product incorporate the latest technological advancements?
What channels do we use to collect product feedback from our users?
What are customers' preferences while choosing our products over competitors?
3. Pricing Market Research Questions
Pricing analysis can help you make your product more affordable to different customer segments while maintaining the desired gross margin. It also lets you restructure the pricing tiers to provide features depending on the customers' requirements and company size.
Watch: (1/5) Supercharge Your Revenue With Data-Driven Pricing
---
Your sales and marketing team can help you hone in on the market research questions to ask your customers for running pricing analysis:
Do the customers ever complain about the difficulty in finding the pricing information?
What is the pricing structure of our competitors for the same products? What features do they include for a specific price?
How do customers find our pricing when compared to the competitors?
Do our products provide value for money to the customers? Does the sales pitch reflect this point?
Can we restructure the pricing, and how will it affect the revenue?
Are there any customer segments that have high-value potential but find the current pricing unaffordable? What are the plans for such customers?
Are we in a situation to offer a basic free plan to encourage customers to try our product before upgrading?
What promotions can we run to attract more customers?
Should we target customers based on income, company size, or type of solution to set our product prices?
4. Brand Reputation Market Research Questions
A brand reputation questionnaire for marketing research gives you information on how well your target market knows about your brand. You can uncover previously unidentified channels to increase brand awareness and find potential customers to promote your brand.
---
Start by gauging what customers are saying about your brand:
Which channels receive mentions of our brand? Are these posts positive or negative?
Do we have a system in place to analyze and monitor these reviews and posts?
What are the reviews of our brand on different sites? What is the overall impression of our brand in the market?
How are we currently addressing the negative reviews and complaints? What do our customers think about the handling process?
What is the impression of our brand in our target market?
What brand awareness campaigns are our competitors running?
Is our brand among the top choices of our target customers?
5. Advertisement & Campaign-Based Questions
These market research questions let you assess the effectiveness of your current value propositions and campaigns. You can channel the customer insights into your advertising strategies to design targeted campaigns for different customer segments to reduce the overall acquisition cost and increase conversions.
---
Ask the following questions to collect information about the different marketing campaigns are performing:
What are the best modes to run the advertisement campaigns to reach our target audience?
What is the estimated lifetime value of customers acquired from current campaigns? Is it higher or lower than the acquisition costs?
Which campaigns bring the most ROI and why?
How well do our advertisements present our value proposition to the customers? Do these address customers' fears and expectations to attract them?
Are we running A/B tests to improve our online campaigns? How are we gathering data to build the A/B test hypotheses – surveys, heatmaps, eye tracking, etc.?
What advertisement campaigns do our competitors run?
Quick Tips for Writing Awesome Market Research Survey Questions
With the inter-team research complete, you are ready to write your own market research questions to ask your target audience. Keep these general dos and don'ts in mind to ensure that the market survey fulfills the purpose without affecting the data quality or response rate.
1. Use Mutually Exclusive Response Options
If you are using response anchors with specific ranges like age group or income, check that the options do not overlap. Otherwise, it will produce an irregular data set.
For example:
Please specify your age:
10-18
18-28
28-35
35-50
50-65
65+
In the above example, the respondent lying on either extremity of the given age ranges may get confused on which option to choose. For example, a 28-year-old respondent can choose from both second or third options.
Plus, two different respondents of the same age may select different options, which will skew your demographic data.
You can avoid this confusion by creating mutually exclusive groups as shown below:
Please specify your age.
10-17
18-28
29-35
36-50
51-64
65+
2. Always Add A "Not Applicable" Or "Rather Not Say" Option
Since market research questions extract personal information, some respondents may not want to share such details with you. These include questions about age, income, gender, hobbies, social activities, and more.
---
Forcing such questions on the customers without allowing them to skip can irate them and lead to survey abandonment. That's why it's advisable to add the 'I'd rather not say' option or make the question optional.
3. Calculate the Required Sample Size
Sample size plays a vital role in your market research questions to determine the reliability of your response data.
If the response volume is low, the results may not be conclusive to point towards customers' consensus. On the other hand, a larger sample size than required means a waste of the company's valuable resources and time.
That's why it's important to calculate the required sample size to estimate the number of responses you need for your market research survey questions.
You can use any survey sample size calculator available online to get started. Just fill in the required details to get the required sample size.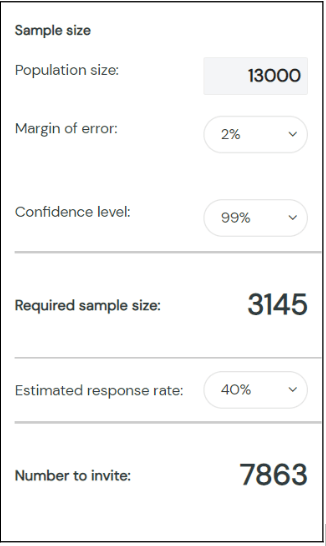 ---
For example, to reach a statistical significance of 99%, you need at least 3145 responses to your market research questionnaire.
4. Consider Adding Incentives
Studies show that Incentivized surveys or questionnaires fetch higher response rates than general surveys.
---
This behavior results from the availability of an immediate reward for the respondent for their time.
It means creating a gated questionnaire for marketing research can help you reach the required sample size quickly. The incentive can be a simple discount code, free shipping coupon, free ebook, or other freebies.
---
However, there is a possibility that irrelevant respondents may fill the survey randomly just to get to the offer, which may skew the results.
5. Avoid Double-Barreled Market Research Questions
A double-barreled question poses two questions into one. The problem with such questions is that the respondent may have opposing views about the two statements in the questions. It makes it harder for them to choose one answer from the options.
For example:
Please rate the [product name] on a scale of 1-10 based on overall quality and price?
Here, the respondent may find the product quality appreciable while thinking it to be overpriced at the same time. In such a case, they may skip the question or select any option randomly.
You can easily sidestep this hurdle by breaking your double-barreled market research question into two to make it less confusing for the respondents.
Fuel Your Strategies With Market Research
There you have it – a comprehensive list of over 100 market research questions for your surveys, questionnaires, and interviews. But to get the most out of it, you need to choose the medium that lets you collect the most reliable data without adding too much weight to your budget.
You can use a single market research tool like Qualaroo or combine customer insights using different methods like focus groups and surveys to collect in-depth information. Whatever mode you choose, just pick the required market research questions from the list to ask your target market and fuel your product development, marketing, and sales strategies.
Want insights that improve experience & conversions?
Capture customer feedback to improve customer experience & grow conversions.