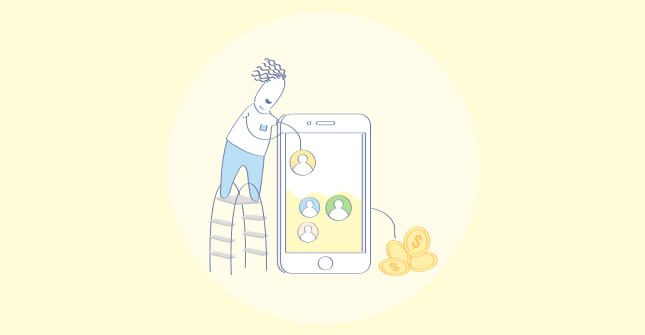 In-app surveys play an important role in business growth, and great in-app survey designs make continuous customer-driven product development much more impactful.
How?
There are over 7 million apps in Apple and Google Play Store combined. Every business has an end goal of creating an app that speaks to its customers, and the more you interact with your customers, the better you know what to build.
In-app surveys give a seat to your audience at the table so that you make decisions that are best in everyone's interest.
But how do you make your customers want to speak to you?
For that, you'll have to design a survey with two primary goals in mind:
It's relevant to the user experience
Ensure the users would need to put in the minimal effort while filling it out
To help you with this, we have compiled the best practices in this blog to nail the perfect in-app survey design. We will also discuss the core aspects of a good survey and the steps to create one in your business.
Stay with us!
In-App Surveys: Defined
In-app surveys are short questionnaires triggered contextually and are responsible for collecting customer feedback specific to the products, services, or user experience.
For instance, whenever you book an Uber, how often do you see a prompt to give a star rating for the service provided? Probably every time. That's exactly how in-app surveys work. They are triggered at crucial touchpoints along the user journey when users interact with your app.
For example:
Post-purchase in-app surveys let you collect data about users' shopping experiences.
Post-update surveys collect feedback about the app update, like a new feature or UI changes.
In-app NPS surveys try to find how much the users like your app.
With the right in-app feedback tool, you can add custom triggers to your in-app surveys to target specific user actions and behavior.
These advanced targeting modes make surveys more relevant and contextual to collect feedback at crucial moments in the user's journey.
Now that we know what in-app surveys are let's talk about some of the benefits of conducting in-app surveys.
4 Benefits of Conducting In-App Surveys
We know there are plenty of ways to gather feedback – email surveys, paper surveys, SMS surveys, and many more.
But when it comes to collecting in-the-moment feedback, none of them work as well as in-app surveys. In a nutshell, in-app surveys will help you with the following:
1. Higher Response Rates
Surveys can sometimes be intimidating if they demand answers from users about topics they don't understand or care about.
Similarly, you can ask someone for their opinion on a topic only to find out they don't have one.
In either case, you'd end up with no feedback or feedback that gives you false data.
That's where in-app survey design can make a difference. You can display these only to the users who take specific actions on the app and validate as per set conditions.
It means you're asking the right questions to relevant users at the right time, automatically improving the response rates.
The users who take specific actions on the app are requested to provide their input on questions related to those actions.
It also makes identifying trends and patterns with issues much easier.
2. Specific & Targeted Feedback
A great thing about in-app surveys is that you can reach your specific customer segment just by tweaking some settings in the targeting menu of your online feedback tool.
Want to collect feedback from users from Lithuania who use an Android smartphone?
Not a problem!
Collecting feedback only from user segments that interact with your app will help you build a very accurate and specific database to define what changes you can make to improve conversions and product stickiness.
But in-app survey design takes targeting even further.
You can time your surveys to appear at various intervals during a user's product experience or simply target specific actions to display in-moment surveys for highly relevant and specific feedback.
For instance, if you post a generic NPS survey open to all users, you may get a diverse set of scores ranging from good to bad.
But unless you target the survey towards specific features and the user experience related to those features, you won't understand the reason behind those individual scores in the first place.
Read More – Customer Stickiness: How to Measure & Improve It
3. Faster Responses
Time is money, and waiting for users to come to you when they have a problem doesn't help. Users would flock to your competitors by that time for better services and products.
Create an in-app survey as soon as your product or new features go live to see how your users respond to them. The faster you receive feedback, the quicker you can get back to the drawing board and start fixing the problems.
Of course, responses may not be instantaneous, but they sure are extremely fast by gathering feedback on the spot as users don't have to be redirected anywhere.
Instead of relying on lengthy and exhausting traditional methods like interviews and sampling, you can get to work by benchmarking and comparing data from your in-app surveys.
4. Easy Data Analysis & Response Automation
Once you have established a customer feedback loop, you can set automated workflows to maximize the ROI on your in-app surveys.
For instance, if someone gives you a high Net Promoter Score (NPS), you can immediately thank them and ask them if they'd be interested in rating you on the app store.
Users with high NPS scores are more likely to be loyal, and loyal customers don't mind going further to show appreciation.
The best part is that you can easily automate your responses through branching logic for every option your users can select.
Also, when it comes to the analysis part, you can always ask your product team to pull the data from your feedback tool for an in-depth analysis.
3 Core Elements of In-App Survey Design
When we talk about in-app survey design, a few core elements play an important role in determining the ROI of your survey campaigns. These elements are:
1. Core Design
The core design of your surveys will lay the groundwork on which you'll build your entire campaigns. It helps to determine how personalized or generic your surveys will be.
Good survey designs let you gather the necessary feedback to make informed decisions that can determine your business's success.
The design will primarily have two essential elements:
Question types- The types of survey questions will entirely depend on the type of data you're trying to collect.
Want to know if your customers will recommend your brand and spread positive word of mouth? Deploy NPS surveys.
Want to know the changes you can make to make your website better? Deploy open-ended surveys
There's also no shortage of question types. For instance, with survey tools like Qualaroo, you can deploy 12+ question types and collect almost any type of data from your users.
Your question types can include the following:
Multiple choice questions
Open-ended questions
Star rating questions
Net promoter score (NPS) questions
Emoji-based questions, etc.
Number of questions: The number of questions you ask in your surveys and questions per page is a critical aspect of in-app survey design. You want to collect in-depth feedback without intimidating the respondents. You can select a single-question, muti-question, single-page, or multi-page in-app survey design.
For short-form or intercept surveys, it's best to keep your questions between 8-10. This won't take more than 2-3 minutes of your respondent's time which is quite ideal because when you interrupt your users in the middle of something, you want to make sure you make it quick, or users may bounce off the app or website.
2. Aesthetics
Engagement and immersion are paramount when you conduct in-app surveys to ensure higher response rates. People are less likely to interact with bland surveys.
It's particularly true for long-form surveys that require time and effort to fill out.
For instance, if your survey aims to gather informed input or translate complex scenarios, ensure it offers an engaging experience throughout, or people may abandon it.
Studies have also shown that visuals and colors improve people's willingness to read and participate in surveys by 80%.
There are plenty of elements that you can modify to improve the overall aesthetics of your surveys, like:
Theme
Layout
Progress bar
Time to complete
Alignment
Button layout
Survey placement
And if you're unsure how to customize the survey, you can always take advantage of feedback tools. They offer ready-to-use templates to reduce your effort and time in creating an in-app survey design that nails the users' attention for the best results.
3. UX
User experience in this day and age can make or break your online survey game.
Not all users respond to your surveys. But when surveys offer a bad user experience, the number can drop like a ball. It means a waste of time and effort.
Offering a great user experience through surveys is not only crucial to keeping your users engaged, but it also helps in gathering honest and reliable data.
You can tweak many elements in your in-app survey design, so that users don't find it unbearable. Here are some ideas:
Deployment modes- What if your audience finds it convenient to have a sidebar survey that they can click on when they like, but you show them an overlay survey? You'll end up with more frustrated visitors.
The deployment mode becomes even more crucial when talking about in-app survey design due to screen size restrictions. So, it's best to test out various means, like overlays, sidebars, Nudges™, buttons, etc., to see which works best for you.
Mobile responsiveness- What's the point of showing the survey if the app users cannot read it? A lot of companies deploy mobile surveys that are either not supported for different operating systems or are not responsive on mobile devices.

It's a part of an in-app survey design you cannot afford to ignore because almost 60% of all internet traffic comes from mobile users.

The best practice for in-app survey design is to pick an online survey tool that supports surveys for all mobile operating systems like Android, iOS, and Windows.

Time to load and submit- Your surveys should be extremely agile while loading on your page and when the user submits them. The respondents don't have to see a loading screen because they would not think twice before leaving. Also, when they leave, you're the one who loses.

What's more, the survey tool you use should not slow down your webpages.

Save and continue- Giving your respondents the ability to save their survey progress and continue from wherever they left off is a great step toward an amazing user experience. Visitors keen on providing constructive feedback; will benefit greatly from the save and continue feature because they won't have to start over if they decide to keep the survey for later.

It's especially beneficial for long-form surveys because they take significantly longer to complete. If given a choice to save and continue, the respondents would not have to start over every time they visit the website.

5 Real-Life Brand Examples of Great In-App Survey Design

It's time for show & tell. Here are some real-life examples of engaging in-app survey designs to show you how brands do it right:

1. Qualaroo

Qualaroo's survey widget is a perfect example of how you should implement in-app survey designs to collect quick and actionable insights from users in real time.

Qualaroo excels in single and multi-question NPS surveys that pop out on one side of the screen. These surveys are completely unobtrusive and don't interfere with the user experience by popping over the app screen.

Qualaroo's in-app survey UI design is extremely minimal, pleasing to the eye, and greatly appeals to it, complementing the color scheme and fonts. It makes the survey design even more immersive for the respondents.

On top of that, these survey widgets can be customized for placement, targeting, and triggers and never slow down your web page.

2. Slack

Slack goes a step further in terms of the survey length. They also offer a single-page survey with three questions to collect qualitative and quantitative feedback.

The survey combines a basic CSAT question that asks users how they feel about using Slack, and then to add context to the CSAT metric, there's an open-ended question as well, which provides users a text box to share their thoughts on the app.

3. Evernote

Evernote is another popular brand that helps users organize their information across multiple devices. To understand how their product is performing across different channels, they deploy a simple in-app survey to collect device-specific information.

Evernote has a very simple metric strategy to measure their product's performance, and they do it through star rating questions.

Their single-page survey has five-star rating questions measuring the users' overall satisfaction with the product.

But the difference here is that Evernote goes into the details of measuring customer satisfaction by asking four questions about the different elements of experience, including ease of use, feature availability, responsiveness, and reliability.

It helps to compare the app on multiple levels using a single in-app survey design and compare the scores over time.

4. Customer.io

Source

Customer.io also happens to be quite elegant with their in-app survey design as they conduct a very subtle yet effective NPS survey (quite like Qualaroo) to keep a close tab on customer satisfaction.

Another element of this in-app survey design is the deployment of the NPS survey, as they take a very subtle approach here too. The feedback pops up at the bottom of the screen, which doesn't bother users and enables them to complete their tasks before giving their feedback.

5. Twitter

Source

Twitter is arguably the most popular social media platform in the world, and with an audience this size, you ought to have an in-app survey UI design that doesn't annoy them.

Twitter blends its survey to be a part of the usual in-app experience. The company makes its surveys a permanent section on the feed so that users can discover these at their own pace without getting surveys popping up in their faces.

Twitter's survey gives users an external link that redirects them to the survey page to show multiple-choice questions to accurately understand its product and services.

With that, we're done with examples of good in-app survey designs. Let's now move to the crux of the blog and look at the best practices.for survey design

---

Read More – Mobile App Survey: A Complete Guide

In-App Survey Design: 7 Best Practices to Follow in 2023

Creating good in-app survey designs is not as easy as it looks. You need to have a plan in mind, and these best practices will help you design engaging surveys. Let's have a look at them:

1. Pay Attention to the Context

When brands build surveys, they normally ask broad questions that cover a range of scenarios because it's very common to assume that you might only get one opportunity to ask your visitors.

But here's the problem – Going all out with just one survey does more harm than good.

When your users get bombarded with a range of questions, some of which they probably won't even relate to, they would just end up abandoning you, bringing you back to square one.

To tackle this, you can start by breaking down your questionnaire into smaller surveys, where one survey should only talk about one feature or particular experience related to the brand.

For instance, you can create the following:

One survey for the homepage and its layout
Another one to gauge product experience and recommendations
A survey that collects insights about the overall brand experience
A separate post-purchase survey to check the checkout process, etc.

Once you do this, you can start focusing on the customer's journey because a big problem with loose contexts is that people often tend to ask questions sooner than they normally should.

Source

For this, you would have to dive into the technicals of your in-app survey designs to trigger your surveys based on relevant actions from your customers.

Going back to our previous example, if you want to collect data about your checkout page, you should trigger your surveys only when a user makes a purchase. This way, your users will get relevant insights from them.

Your in-app survey popup can be as simple as a single question or more detailed with multiple questions. But hitting the sweet spot with your timing is what will get the job done.

2. Match the Look & Feel of Your Brand

Your in-app surveys should be a part of your application's UI. Create one that's in harmony with the look and feel of your brand so that users don't think of them as some added element that holds no value.

When users come across plain and generic surveys, they might hesitate to fill them out because of fear of it being from an unknown 3rd party source.

But branded surveys are different. Users can instantly recognize the brand, and it encourages them to share their thoughts and opinions.

Also, don't forget that customers emotionally connect to your brand, so branding your surveys can initiate that emotional response and help them differentiate you from your competitors.

So how do you do it? How do you brand your surveys and create a stellar in-app survey design?

For starters, you would have to customize the theme of your surveys by choosing your corporate colors and customized font. Style your layout and buttons as you do for your brand and marketing campaigns.

Once your theme is set, you can add your logo to the in-app survey's top left, top right, bottom left, or bottom right corner for maximum visibility.

Pro tip: Always leave some white space around your-logo to make it look floating and appealing.

Also, for the task, you can pick any online in-app survey tool like Qualaroo that offers tons of customization options, including white label and custom branding capabilities.

3. Keep It Short & Simple

A tip that we cannot stress enough is keeping your in-app surveys short, crisp and simple.

Your in-app surveys should be easy enough to comprehend and also shouldn't take more than a couple of minutes of your user's time.

If you're confused about what to ask, just ask the questions you can't afford to miss.

Here's an example of a short and simple in-app survey question:

Are you satisfied with the responsiveness of our application on your device?

When your questions are short and simple, users can have one quick look at your survey and decide to participate because they perceive it as a simple task they can breeze through.

Arguably the best practice in survey design for implementing this would be through the built-in survey templates. These survey templates are designed in such a way that they help you ask the right questions without making things complicated.

Now, if you're thinking about how many questions you should ask, we'd suggest that one or two-question surveys are always the best in terms of completion rates and the overall user experience.

You can also add more follow-up questions if you want to gather in-depth information. Just test out your survey before deploying it.

Pro tip: The questions would eventually depend on the type of information you're trying to collect, but your goal should always be to ask the least number of questions possible to maximize participation.

4. Avoid Bias in Your Surveys

The possibility of bias seeping into your in-app survey design is quite high, and you should avoid it at all costs. Even the most carefully created in-app survey designs are vulnerable to such problems.

The first part of the in-app survey design is avoiding such biases to ensure that when you structure your questions, they don't allude to any personal opinions.

By keeping your questions neutral, you don't risk influencing the decisions of your audience through personal opinions and can also ensure credible data collection at the same time.

To give you an example, here's what a leading question looks like:

Here is what a neutral question looks like:

Similarly, the other half of the bias in your survey design comes in through your sample size. If you leave out participants from your surveys due to their underlying characteristics, it's called sampling bias.

To deal with this, ensure your sample size is selected randomly and apply no filters to exclude a certain group of participants.

For instance, you want to conduct a UX survey of your application in Canada and need to ensure that 50% of your respondents are males who use your application and are selected at random. The next 50% of your respondents should be random female users selected at random.

It's easily doable in the targeting section of your online feedback tool, which is designed to reduce bias. It'll help you avoid both gender and sampling bias in your surveys and help collect reliable data.

5. Use Targeting & Segmentation

The right question in the appropriate context targeting the right person can make all the difference in the world.

But how do you know what questions to ask and to whom?

That's where segmentation can help you crack the code.

You can segment your users based on their underlying characteristics like gender, age, location, or the features they have used on your application.

For instance, once your users have interacted with the filtering option on your app, you can create a separate segment of those customers and ask a CSAT question based on their interaction.

You can pose your question like this:

Once you create user segments, you can start focusing on targeting the right audience segment. A lot of users may have never come across the feature you're trying to collect data on, so you need to keep the customer's journey in mind.

Going back to our previous example, if you want to gather data about your homepage, you can target your surveys to show up for users who have spent more than 5 minutes on your app.

Similarly, if you have released a feature only in a specific country, let's say Spain, and only on Android devices, you can geographically target your surveys to only show up to the users in Spain who use an Android device.

Watch: How to Create In-Context Surveys

6. Use Open-Ended Questions

Open-ended questions are a crucial part of in-app survey designs. This question type lets app users speak their minds as they can give their thoughts and opinions on your application.

Your open-ended questions can begin like this:

Please tell us more about how….
What more can we do to….
What would you like to….
How can we….

A good thing about open-ended questions is that you get a ton of insights about your mobile app and can also identify your most engaged customers.

One thing to note here is that you shouldn't ask open-ended questions in isolation. It's best to ask a closed-ended question first and then follow up with an open-ended question. Add them as follow ups to the closed-ended questions to gather more nuanced data.

This will let users leave contextual feedback telling you how you can improve your products and services.

Also, if you're unsure about which questions to ask, you can refer to our detailed article- What Survey Questions Should I Ask?

7. Analyze & Track the Data

Collecting feedback is just 50% of the work; the second half involves analyzing and tracking the data and taking necessary actions.

Analyzing the feedback offers the following benefits:

It helps to refine your in-app survey design by tracking the completion rate and type of responses.
It lets you quickly uncover users' pain points to close the feedback loop.
It solidifies your reputation in users' minds to motivate them to stick with your brand.

You can see where users drop off from the survey to make the required changes to the design. And if you're not getting the expected responses, you can optimize the questions for improved feedback quality.

The simplest way to analyze the data is to dig into your responses and get a general overview of overall sentiment.

Now it sounds simple and very much doable. But the manual analysis would take ages when you have thousands of responses pouring in.

That's where AI-based analysis systems can prove helpful. They can help to analyze open-ended feedback and automatically categorize it based on user sentiments.

What's more, they can track the impact of customer experience scores like NPS and CSAT on your business KPIs like revenue.

And it's all in real time.

Source

Once you have the insights, you can get in touch with your unhappy customers to address their problems. And implement the lessons learned in the next campaign to improve the overall in-app survey design.

Read More – 15 Best Sentiment Analysis Tools To Choose

Create In-App Survey Designs That Make an Impression

In-app survey designs are not just about pretty looks and aesthetic feel; they go further than that and include wording, placement, button layout, targeting, triggering, and more.

The challenge is to find the right mix of all these elements.

And if you do, you can collect targeted insights from app users to fuel your product development, marketing campaigns, retention efforts, and more.

So choose the right survey tool and implement these strategies and ideas to design the perfect in-app survey. Boost your response rates, feedback quality, and ROI on your campaigns.
Want insights that improve experience & conversions?
Capture customer feedback to improve customer experience & grow conversions.