The Best Ways Big Companies Use Customer Feedback
March 21, 2017
Building customer loyalty isn't just about building a better product. Customers will pay up to 60% more for your product just to have a better experience.
Some of the biggest tech companies have achieved long-term success because of their obsession with customer experience. Jeff Bezos explains that, at Amazon, "[they] innovate by starting with the customer and working backwards. That becomes the touchstone for how we invent." You'd think that feedback goes unnoticed when they have over 54 million Amazon Prime members alone, but applying customer feedback is what has kept them successful for over 20 years.
Level up your customer experience game by learning from these five big companies. Here's how they act on customer feedback to create a superior experience and gain lifetime customers.
1. Apple uses NPS surveys to generate over $25 million in additional revenue
Apple spends close to $1 billion per year on its retail stores even though they have an online presence. Ron Johnson, an executive behind the Apple store design, said: "[The stores] would be designed to encourage an ongoing relationship with customers, not merely a one-off purchase transaction. The delighted customers […] would tell their friends and colleagues about their wonderful experience at the store."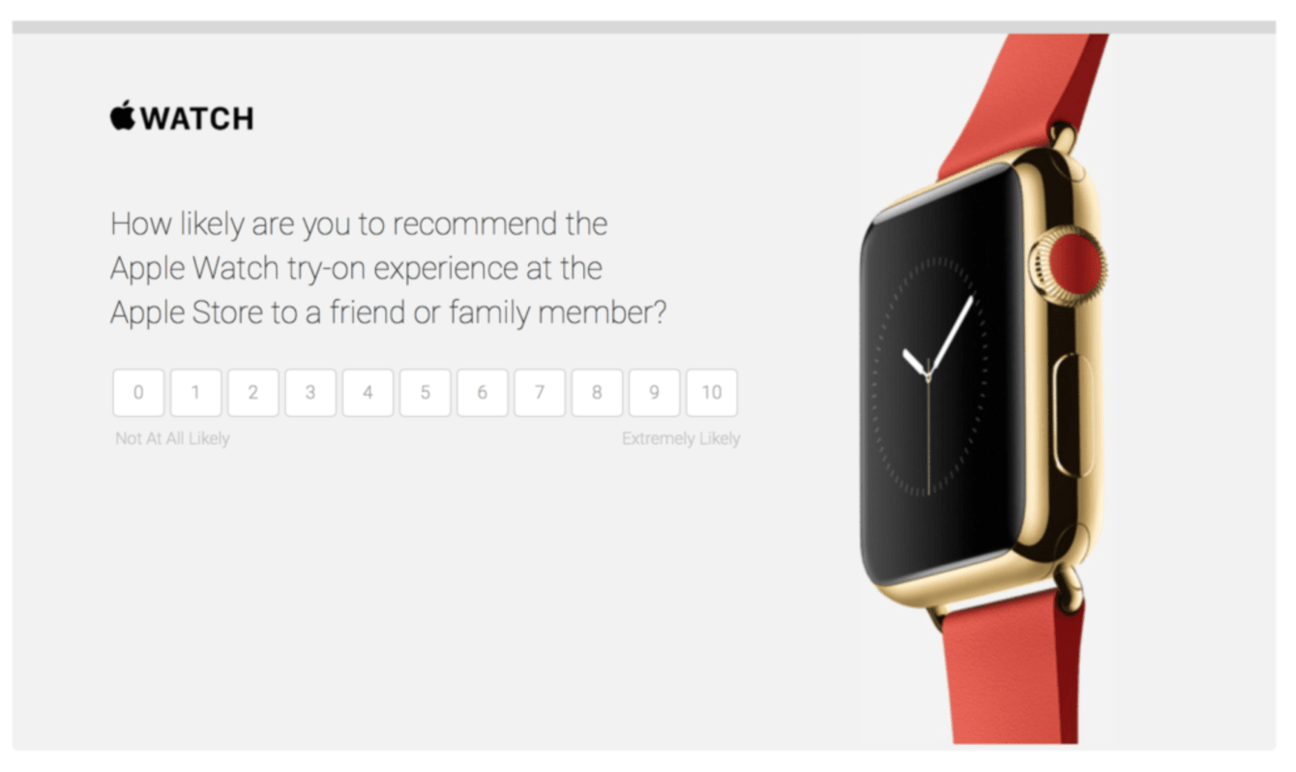 Apple uses NPS surveys to find detractors and improve their retail store experience. Whether a customer made a purchase or scheduled an appointment to try on an Apple Watch, they e-mail a survey to rate the in-store experience.[Source]
Apple carefully analyzes NPS survey comments on a daily basis and follows up with customers who score 6 or lower on the survey. In many of their retail stores, customer comments from NPS surveys appear on a large TV in the break room. And store managers and employees meet daily to review this NPS feedback and discuss how to adjust their work accordingly. They address detractor comments as a team and work together to resolve these issues.
Within 24 hours, store managers call detractors to find out what problems they encountered and what could have been done to improve it. Managers share feedback from these calls to teach their employees how to improve customer interaction.
Their determined efforts to follow up paid off. Apple found that some detractors they contacted were becoming bigger purchasers than promoters. This simple follow up generated over $25 million in additional revenue in a year.
Apple has consistently achieved the highest sales per square foot of any US retailer because of their relentless focus on the store experience.
2. Southwest Airlines uses social media to address customer travel concerns
Southwest Airlines manages up to 3,900 flights per day. They also monitor the needs of over 100 million yearly customers.

Southwest uses social media to quickly respond to and manage their customers' travel concerns. They have a specially designed social media "Listening Center" where 31 team members monitor and respond to thousands of tweets per day.
[Source]
They carefully analyze tweets or other social media posts mentioning Southwest Airlines to see if a customer needs help. This allows these team members to provide real-time customer service, such as tracking down lost luggage or rebooking a missed connection. With this system, Southwest has been able to respond to customers on Twitter faster than any other airline.
Their fast response time lets them connect with their customers on a deeper level, earning them lifetime customers. For example, when a Southwest pilot waved to a five-year-old, his mother posted his experience. Southwest noticed her post and quickly arranged a special meeting between Hudson and Captain Mike Hickey.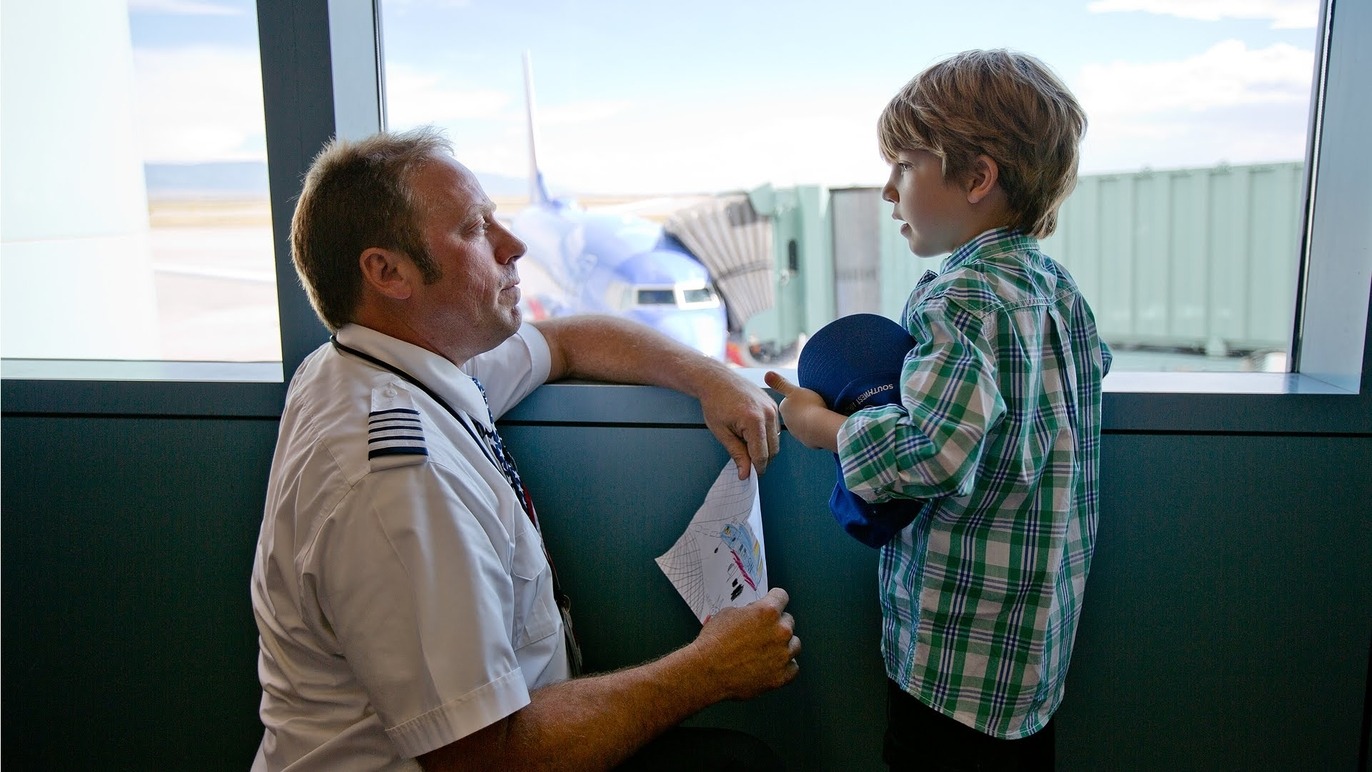 [Source]
Southwest uses social media to carefully listen to their customers and provide excellent service. They take the time to go beyond low-cost flights to create loyal customers.
3. Zappos uses phone support to provide personalized service
75% of Zappos purchases come from repeat customers who make large purchases more than twice a year, and 43% of new customers come from word of mouth. Zappos' success relies heavily on how they use their 24/7 support channel.
Zappos uses phone support to make personal connections with each customer. A Zappos customer service agent answers up to 5,000 calls a month. But there aren't any time limits or scripts because they want to give quality attention to each caller. After a four-week training process in company culture and customer service ideals, Zappos gives their representatives freedom to do whatever they feel is the right thing for the customer without a supervisor's approval.
This lets representatives creatively go out of their way to make their customers happy. For example, when a nearby customer called about shoes that were out of stock, the representative purchased those shoes from another store and hand-delivered it to them for free.
The recurring revenue from loyal customers outweighs the cost of personalized customer service. Zappos invested in customer experience so that customers will do the marketing for them.
4. Salesforce collaborates with customers to innovate
Thousands of customers have ideas to improve Salesforce, but it seems inefficient to try to listen to all of these suggestions. Salesforce cares so much about this feedback that they created an organized collaboration platform.
Salesforce has created the IdeaExchange to manage customer suggestions for new features. After ideas are submitted, customers can search them and vote on which features should be included. Once an idea gets 250 votes or 2,500 points, it's reviewed by the Product Development Team.

[Source]

But Salesforce doesn't stop at collecting feedback and deciding which features to include. They make their customers feel valued by individually thanking them for an idea if it's included.[Source]
By involving their customers in product development, Salesforce has introduced features that serve their customers' specific needs. They delivered over 50 new ideas from IdeaExchange in their most recent product release.
5. Trader Joe's listens to shopper preferences to customize inventory
Trader Joe's makes about $1750 in sales per square foot by customizing each store's inventory.
Every store's inventory is a result of listening to feedback. But their feedback doesn't come from focus groups, e-mail, or call centers. The store captains and crew members have conversations with and offer product samples to their shoppers. They learn first hand which products their shoppers really want.
For example, one customer had tried a soy ice-cream cookie at a Trader Joe's location in Southern California. When she didn't see it at her local Reno, Nevada store, she requested it, and they soon started carrying it.
As Audrey Dumper, VP of marketing for Trader Joe's, says, "We like to think of Trader Joe's as an economic food democracy." They use feedback to remove products that don't sell well and make room for more heavily demanded products.
By customizing inventory, they've created a unique experience that's tailored to local shoppers. This keeps shoppers coming back for products they want and drives sales.
Use feedback to increase customer lifetime value
Listening to your customers will reveal specific areas where you can improve their experience. But following up on their feedback can help you build more than a positive experience. As Jeff Bezos said, "If you do something good for one customer, they'll tell 100 customers."
When you use feedback to build deeper connections with your customers, you'll retain more loyal promoters who are excited to share their experience. They'll become your best marketers as you continue to grow.
---
---
Do you want a free Survey & Feedback Software?
We have the world's most versatile user research & feedback survey tool starting at $0
More posts
September 30, 2021
A positive and memorable customer experience has a huge impact on whether your customers will keep using your service in the long term or move onto your competitor. Such customer experience encompasses a wide range of factors, from customer service interactions to personalization and user journey optimization.
Read more