Who would know better about customer delight and its importance in business growth than Qualaroo, whose entire structure is built around developing delightful products and experiences? So we thought to cover this topic in detail.
Delighting experiences build long-term bonds, a loyal customer base, and a trustworthy brand. Customers who are happy with you are more likely to become your biggest promoters.
But how do you delight customers? What does it take apart from providing a satisfying experience to make them go WOW!
That's what we have in store for you today. We will give away some measures that we use at our end to make it happen. We have also added real-life examples from our own interactions and shared their experience to show how you can do it in your business.
So buckle up and give it a read. We are sure they are some takeaways for everyone looking to exceed the customers' expectations and promote customer delight.
What Is Customer Delight: Definition
Simply put, customer delight is defined as providing a great experience to your users and prospects by exceeding their expectations.
But does it mean – Exceeding customer expectations?
Well! for us, D.E.L.I.G.H.T. means,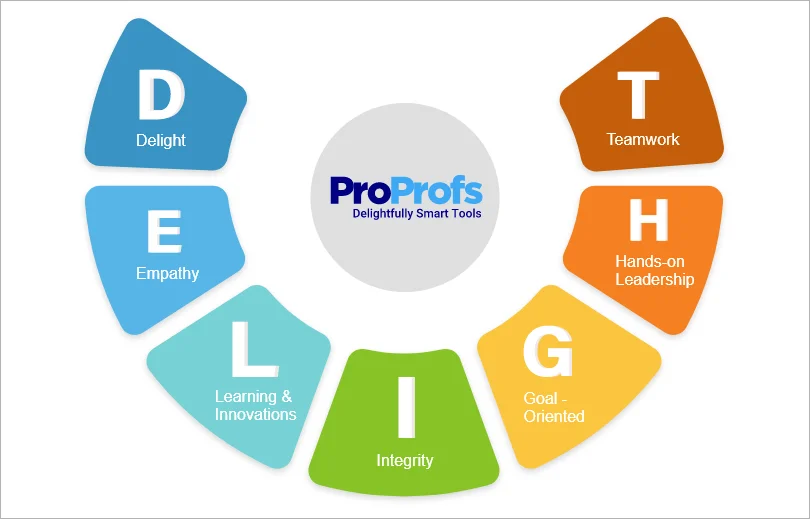 It's when the brand goes beyond customer satisfaction to surprise customers at interaction points along their journey.
But how would one differentiate between customer delight and customer satisfaction?
Let's take a simple example. Suppose you order from a new restaurant. The food arrives on time, it's delicious, and your belly is content with the meal. In short, you are satisfied.
In another universe, the food arrives on time, and as you open the package, you see a handwritten note that says,
'Food unites us all, irrespective of where we are from. Thank you for being among the first of our customers. The next meal is on us. Please use the coupon code to get 100% off on your next order.'
It's a real-life incident that happened to me. Was I blown away? Take a guess!
The first thing I did was rate the food and restaurant on the app. Next, I told my colleagues about it, and now we are its regulars.
But what is the difference between the two scenarios? Is it the discount?
They could have just given away the discount. But they wrapped it in a beautiful message and thanked the customer. That's what delighting the customers is about. Simple & effective!
Even in B2B and SaaS-based services, you can design strategies to exceed the minimum effort and deliver customer delight.
And the best part is customer expectations are not that high, which puts brands in an advantageous position to Wow them with simple strategies.

Importance of Customer Delight
While every business is in the race to satisfy the customer, going up and beyond normalcy adds points to your basket and helps to build your brand.
Builds Loyalty
If you are able to leave a lasting experience on your customers, they are more likely to return for more business. The reason is they feel appreciated and valued. They trust you to provide high-quality products and services.
According to Gartner, 81% of customers make decisions based on how much they trust a brand and refuse to do business if they don't.
It means creating delightful experiences helps build trust and long-term relationships with customers.
Read More: Customer Experience Management – Tips, Strategies & Steps
Here is a customer delight example from Southwest Airlines:
In 2018, Southwest Airlines deployed its 'Wanna Get Away' campaign to provide flyers with an enjoyable experience. The perks included free snacks, personalized in-flight entertainment, and prompt customer service, among other things.
What's more, they also ran a contest to promote the campaign on social media by using the hashtag #WannaGetAway. The result was increased customer satisfaction, loyalty, brand mentions, and revenue.
Increases Revenue
The effect of delivering customer delight trickles down to an increase in revenue. Along with repeat purchases, happy customers are more likely to entertain your upselling and cross-selling campaigns.
It's because they see value in your product offerings and trust you to provide high-quality experiences. Plus, delighted customers are the ones to recommend the brand to others, which means new customers and an increase in profits over time.
Promotes Positive Word of Mouth
Online reviews and feedback impact customers' purchase decisions and help imbue brand trust. Nearly half of people trust online reviews as much as a recommendation from a friend or family.
So, delighted customers can spread positive word of mouth for you and become your brand ambassadors. Delightful experiences help to shape a positive brand perception in customers' minds and help to engage new customers through word-of-mouth marketing.
You can send surveys to happy customers and ask them to share their feedback on review sites to improve your brand image and attract new customers.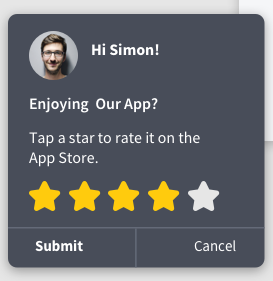 Who's Responsible for Customer Delight?
Consider the customer journey: It comprises individual interactions at different touchpoints. So essentially, every team in direct or indirect contact is responsible for delighting the customers and prospects.
Marketing and Sales Teams
Marketing and sales teams are at the forefront of your conversion funnel. They are the ones coming up with targeted campaigns with targeted product messaging, drafting proposals, and convincing prospects about purchasing the product.
So if they can delight the client, it becomes easier to push them toward the end of the funnel.
But here is the caveat – finding the right audience. If you use the time and resources to attract the wrong customers, they will churn after some time, irrespective of how delightful the experience was.
So run a market segmentation, find the right people to target, and then design the WOW moments to rope in delighted long-term customers.
Service Teams
Next in line are the service teams. Studies show that support services play an important role in providing an exceptional experience leading to improved customer satisfaction, loyalty, and delight.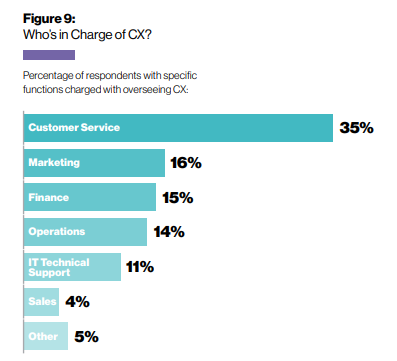 Think about it! The customer/prospect comes to you with a query or problem, and if you are able to solve it, they go away satisfied. But if you go the extra mile to empathize with the client, provide first-contact resolution, and then follow up with the customer to ensure that the issue does not resurface, you have a client that may stay with you for a long time.
Development Teams
Though development and UX design teams don't directly deal with the client, they are the reason for a delightful experience on your website, app, or product. If you can offer a better product in terms of ease of use, intuitive UI, scaling, and other aspects of your product offering, you can make the users fall in love with the product.
Here's what Gina Gotthilf, Former VP of Duolingo, says,
'You know the red dot on your app which indicates a new notification or something unresolved? That led to an increase of 1.6% in the DAUs (daily active users).'
Here is real- life example of customer delight using product development from the ecommerce brand Revolve.
To combat return due to wrong fit and improve the shoppers' experience, Revolve add a new feature called 'Additional Try on size' on their website. This features lets the customers add the item to the cart in another size without any extra cost.
So the customer can try both the products in delivery and return the that didn't fit (or both).
This simple feature made sure that customers get the right product in the first go without frustration, wait, or extra cost. A key step for customer delight.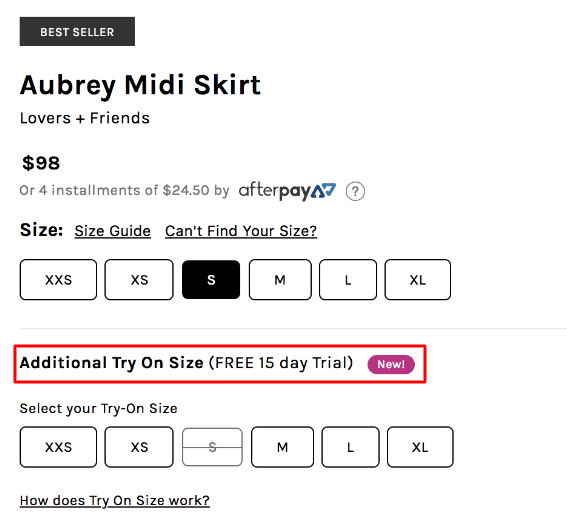 5 Core Principles of Customer Delight
Irrespective of the strategies you implement, some elements form the pillars of delight. Some say they form a part of customer delight strategies, but we at Qualaroo know better.
Listen to the Customers
It works for any customer experience index(CXI) model. If you want to know what makes your customer tick, you need to start listening to them. It helps to map their expectations and design strategies to exceed them.
Luckily, there are plenty of simple ways to do it, such as:
Use targeted surveys to gather data on customer behavior and bottlenecks during the customer journey.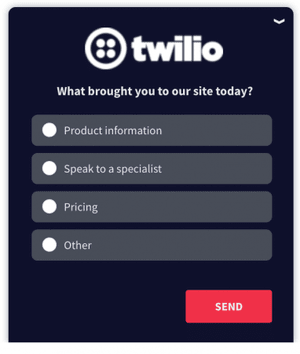 Interpret the data on your helpdesk tickets and complaints to find customers' common problems and issues.
Dig through customer data in your CRM to analyze purchase patterns and other customer activities to study their behavior.
Build Policies but Focus on Experience
Policies help to keep things in check and streamlined for team members and customers. But sometimes, you have to look past the rules to understand customers' situations and take action to assist them.
Prioritize Personalization
When it comes to brand interactions, people are looking for personalized experiences. In fact, personalized experienced tend to produce more loyal customers and even increase lifetime value.
But there is a huge gap between customer expectations and actual personalized experiences, meaning just random personalized product suggestions won't do. You need to get a little deeper than that to delight the customers.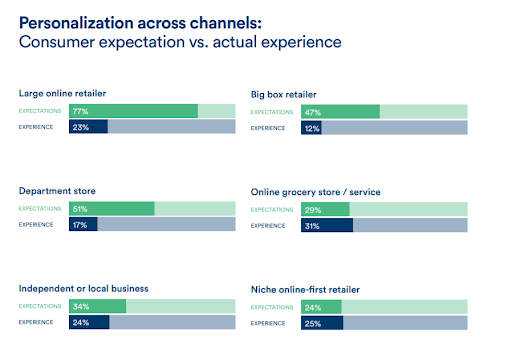 For example, tracking previous issues or monitoring session reports to suggest optimization options to product users. Or Using the purchase behavior to deliver discounts by bundling up the most searched products by the customer on your website.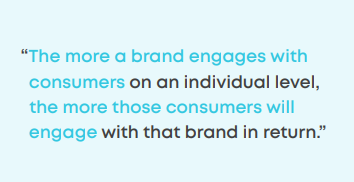 Provide Effortless Interactions
Whether the customer touchpoint is your website, blog post, landing page, customer service, or live chat, frictionless interactions are what persuade customers to move ahead toward conversions.
Even Gartner shows low-effort service experiences promote higher repurchase probability and customer loyalty.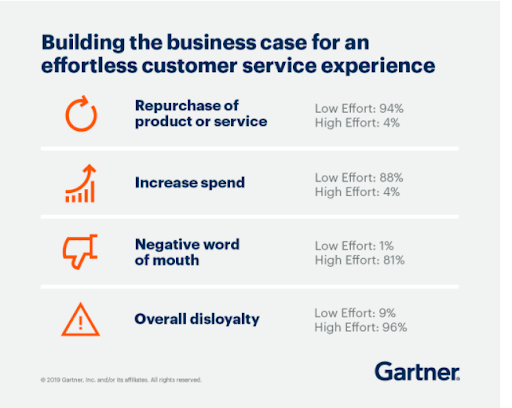 If people don't have to struggle while interacting with your brand, they are more likely to be delighted with you.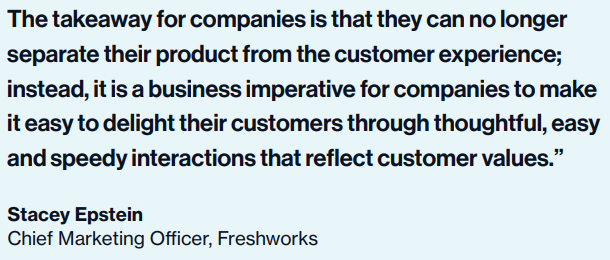 Build Trust
As we mentioned before, trust matters. It helps to build a loyal customer base. When everyone is up for profit showing the customers that you value their opinions and preferences can go a long way. Be transparent about your policies and product offerings.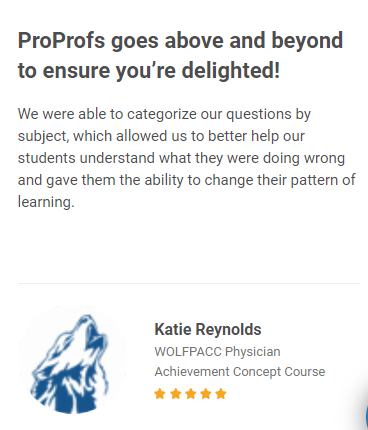 ---
How to Measure Customer Delight With Surveys (3 CX Metrics)
The good thing is you can employ the same metrics you use to measure customer satisfaction and gauge customer delight.
First, add the standard CSAT or NPS question and then use the follow-up questions to understand whether you could surpass their expectations.
Net Promoter Score (NPS)
NPS is a standardized metric used worldwide to measure customer satisfaction and loyalty.
The NPS survey poses a standard question to the respondents – On a scale of 0 to 10, how likely are you to recommend our product/service to others?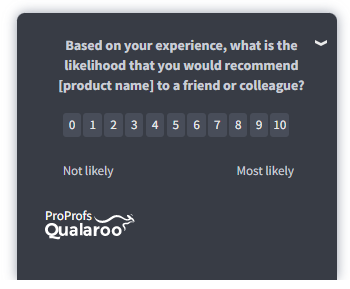 The NPS score is calculated using the percentage of detractors and promoters.

What's fascinating, you can use skip-logic to ask follow-up questions to extract insights about client delight. For example, what was the most delightful part of your experience with our brand/customer service?
Once you have feedback data, you can use it to optimize the overall customer experience.
Read More: 18 Best Net Promoter Score Survey (NPS) Tools & Software for 2023
Customer Satisfaction (CSAT) Score
Unlike NPS, which measures long-term satisfaction, CSAT measures transactional experience at the desired customer touchpoint.
The respondents are asked the following question – How happy are you with the products and services?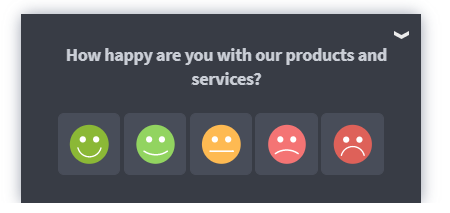 It's a fantastic metric to see how happy customers are, and if you add relevant follow-up questions to your CSAT survey, you can extract insights about customer delight.
For example, Was the shopping experience delightful? Please describe it in your own words. What can we do to make it better?
The data can is used to compare the experiences of different customer segments at a specific point along the customer journey and make data-backed decisions to optimize it for client delight.
Read More: How to create an effective customer satisfaction (CSAT) survey
Customer Effort Score (CES)
Developed by Gartner, CES takes customer services into account to gauge customer delight.
The respondents are asked to rate the service experience on a 5 or 7-point scale – 'How easy or hard was it to resolve your queries?'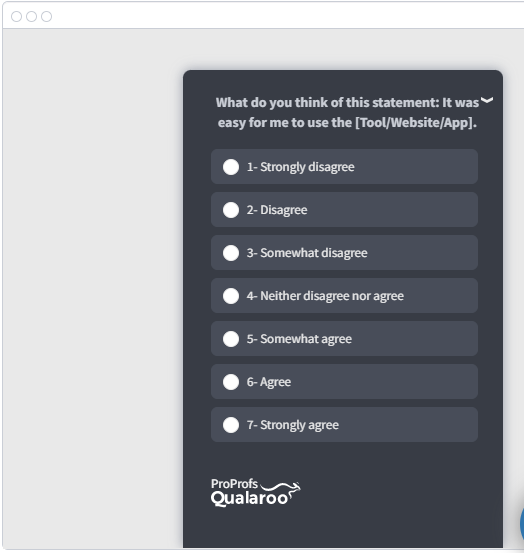 The CES score is calculated using the following formula: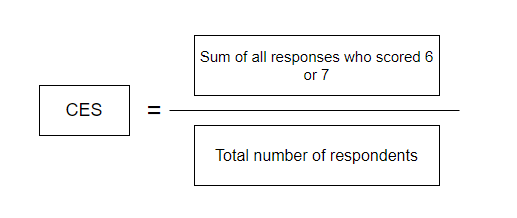 You can collect the CES at different service touchpoints like
At the end of the live chat or call.
On the Knowledge Base page and help articles.
After the resolution of the helpdesk tickets
The CES score is important to build an effortless service experience for customers and delight them. A higher score is an indicator of long-term loyalty and higher repurchase probability.
8 Ways to Delight Your Customers & Make Them Happy With Examples
Create a Feedback Loop
Listening to the voice of your customers is the first step towards delivering customer delight. The next step is to put a system in place that channels these voices into a meaningful conversation. That's creating a feedback loop.
But more than half of the people think companies don't act on their feedback.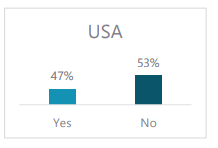 So the situation is that businesses are asking customers to take time and provide valuable insights, but then the data just sits there. Imagine how you would feel in that situation as a user or customer.
By acting on the feedback, you can take advantage of this fact and show that you care about them to deliver customer delight.
Here's how:
Use surveys to collect feedback about the products and services.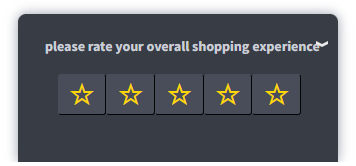 Tag your helpdesk tickets based on the priority to tackle the high-value customers and serious issues first.
Pick the negative feedback first and respond to it promptly.
Follow up with the customer after the first response to check on them.
If you have large data sets, use AI-based analytical methods like sentiment analysis to categorize the data in real time and act on it.
For example, VOC tools like Qualaroo provide sentiment analysis to dig through real-time feedback.
Read More: 10 Best Voice of the Customer(VOC) Tools for 2023
Create Customer Journey Maps
As we said earlier, personalization and effortless interactions play an important role in providing a delightful experience to customers.
And the road to personalized experiences starts with mapping the journeys of various customer segments. It works because a customer journey map breaks the entire experience from discovery to purchase into individual interactions. It helps to find nuanced opportunities for enhancing the customer experience.
So you can visualize the behavior, actions, inspirations, and preferences of various customer personas to deploy tailored strategies for each customer type to exceed their expectations.
Here is a customer journey map: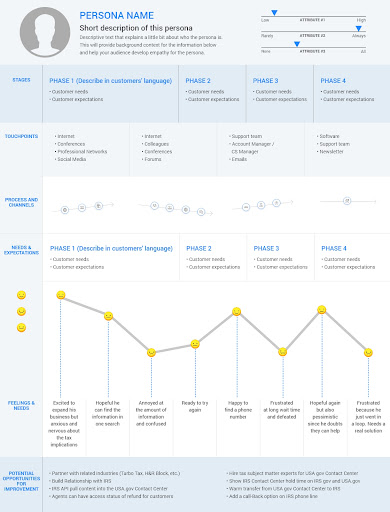 You can clearly see the sentiments and issues. What's more, it also outlines the opportunities at these touchpoints to optimize the experience.
CJM tools like Qualaroo can help you find the gaps in the actual and perceived experience across various customer stages using targeted surveys. It will help to point where people drop off from the funnel to plug the leaks.
Read More: 20+ Best Customer Journey Mapping Software in 2023
Say you see that the customers landing on your trial signup page leave before completing the form. You run the survey on the page to find out why. The results show that the form asks for credit card information from the prospects, and people are reluctant to share it.
To optimize the form, you can modify it to remove the credit card information or add trust seals to ensure the prospects that their data is safe with you.
Help Them Achieve Their Goals Effortlessly
Nothing is more frustrating than giving time to do something and not getting desired results. The same goes for your prospects and customers.
Suppose a visitor lands on your page, adds the product to the cart, and tries to pay for the order but gets an error message. They try to find the explanation for the error in the help section but to no avail. To make matters worse, there is no option for real-time customer support like a live chat.
What are the chances that this customer would return after this frustrating experience?
None. Nada. Zilch!
If you extrapolate it to the entire journey, you can see the major drop-off points.
From consideration to purchase and beyond, small unexpected interactions can lead to customer frustration. But you can convert them to moments of 'AWW' by showing care and giving importance to the customers' time and effort.
Here's how:
Follow up with the customers who abandon their cart or order at checkout to convince them to complete their purchase.
Set a payment fail alert on your system and ask the teams to contact the customer promptly to explore the reasons. Connect with them to show you care, find out why the payment failed and, if possible, add a small discount for the inconvenience. Or do one better. Help them place the order.
You can also use exit-intent surveys to target people who abandon the page.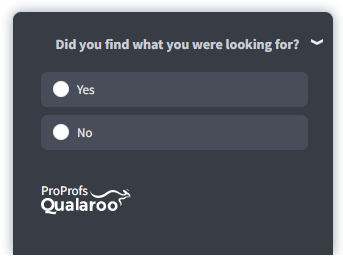 Take it one step further. Add a live chat widget to your pages and deliver customer delight through exceptional support.
Offer Omnichannel Experience
Today, an average person uses over three channels to connect with a brand and get their issues resolved. So, promoting customer delight across all these mediums at your disposal makes sense.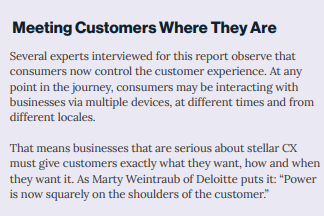 For example, every business provides data synchronization across the channels, but are you going up and beyond to provide it in real time? In the same way, there are other steps you can take to exceed clients' expectations.
Here's how:
Deploy surveys on channels like the website, app, product, helpdesk ticket, social media, etc., to map customers' preferences and issues.

Real-time chat widgets improve customer satisfaction but consider asynchronous chat so both parties can leave messages from any device, even if the other is offline.
Similarly, use AI-based chatbots to help customers at odd hours. You can also integrate it with your helpdesk system so the bot can help people create tickets and raise complaints automatically.
Here is an example of a seamless omnichannel experience from Amazon:
In 2019, Amazon launched the Amazon Go stores to eliminate waiting lines and provide a unique shopping experience to customers.
The shoppers just scan their Amazon app as they enter the store, pick up the items and leave. The items are automatically added to the cart in the app, and they can pay via the app without waiting at the checkout counter.
From shopping store to app to checkout effortlessly.
The unique approach to improving customer convenience has helped it become one of the most successful retailers in the world. And they plan to expand it to other states.
Leverage Discounts & Coupons (Surprise Them)
Discounts, coupons, and cashback always work in your favor. Studies also show that discounts make customers happy and relaxed.
And if you time it right to deliver a personalized offer, you can delight customers with surprise and earn a conversion.
For example, if the data shows that a visitor has searched for a product multiple times during the week but did not place the order, they might be waiting for the price to come down. Suppose you send a personalized email with a discount coupon for the same product category. In that case, you can not only push the customer toward conversion but create a positive impression.
That's what true experience personalization is. You map the behavior and purchase patterns to find the WOW moment of client delight.
Another strategy for using discounts is running sweepstakes and contests. Once you have a winner, you can post their name on your social media handle to boost engagement and build a happy customer base.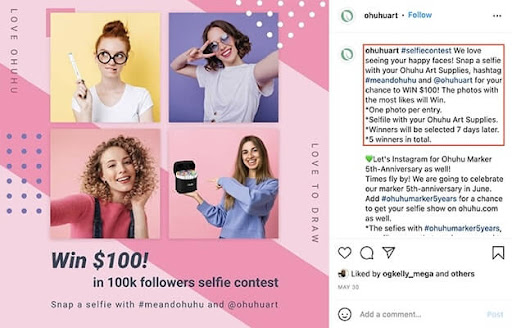 Loyalty programs also work the same way. They reward the customers for doing repeat business with you to show that you care about your loyal customers.
Here is an apt example from Starbucks:
The Starbucks Rewards program offers customers free drinks, personalized rewards, and other monetary incentives. It's designed to reward loyal customers and enhance their experience.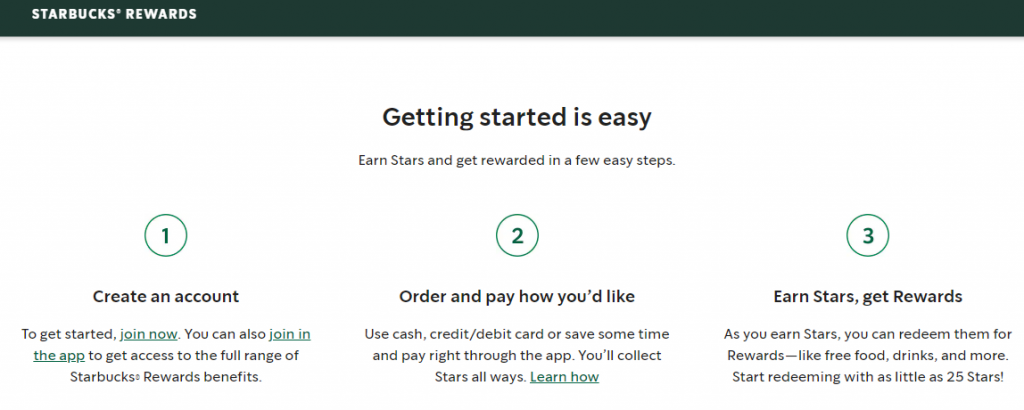 This strategy has increased the revenue for the brand and created a loyal customer base that keeps returning for more coffee. Moreover, it helps Starbucks collect valuable customer data to design targeted marketing strategies and drive more sales.
Be Emphatic
Empathy is looking at the situation from the customers' perspective. There may be times when the customer is distressed or facing an issue. These situations require you to listen to them and show that you care. Even if it means you have to put aside some of the policies.
Suppose a long-term customer complains about product issues. You check the product and find out the concern is genuine, but there is a roadblock. The warranty has expired.
What would you do in this situation?
Well! One of our clients who own a clothing business approved the exchange for free and even provided the free return shipping label. The same client is now a high-value customer and avid brand promoter.
Case Study – How Ryanair Airlines generated $1.39 billion in profit using an empathy-based approach?
Ryanair Airline started the 'Always Getting Better' to identify the trouble spots that communicated a lack of empathy. The findings led the company to implement measures to enhance customer experience and deliver client delight, like removing hidden charges, scrapping unallocated seating, and reducing carry-on luggage restrictions.
The exercise led the airline to jump 13 spots on the empathy index and generate a net profit of $1.39 billion in the first year.
As the CEO Michael O'Leary says,
"If I'd only known being nice to customers was going to work so well, I'd have started many years ago."
There are other simple steps you can take to build an empathetic company, like:
Empower the employees to use small monetary discounts at their discretion to engage customers.
Building a dedicated backend team to handle cases requiring a personal touch.
Alleviating your staff from the pressure of rigid rules and regulations.
Provide Easily Accessible Self-Help Options
Customer self-service options play an important role in promoting customer satisfaction and loyalty. Over 85% expect brands to offer online self-service options.
But there's a huge gap between how businesses perceive dissatisfaction and the actual satisfaction level with the self-service options.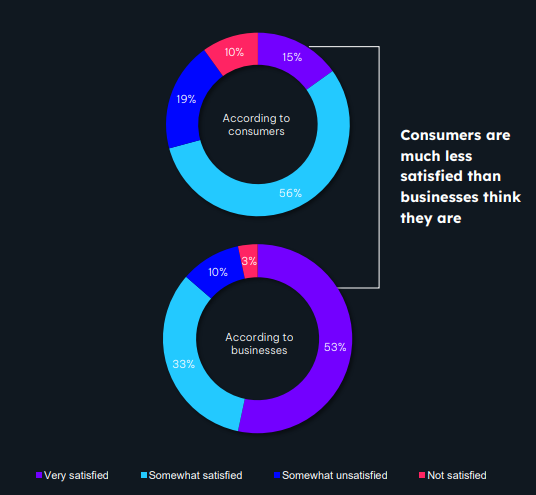 And 81% of customers want to see more business offer more self-help options.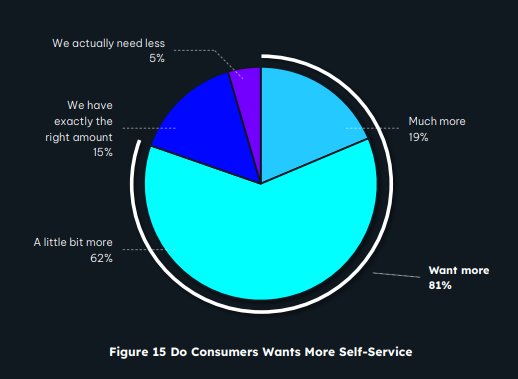 It means you have a great opportunity to surpass expectations with integrated self-help options and human assistance.
What are easy self-help options combined with personalization and omnichannel access equal to? Customer Delight!
Here's how to do it:
Introduce in-product tooltips on important settings and features to provide a seamless product experience.
Add live chat options with AI chatbots to all your channels, including your website, app, and product. If possible, integrate your chat services with Whatsapp to provide a seamless service experience to the customers.
Once you have set the self-help options, the next step is to monitor whether they are working as expected. For this, collect customer feedback on these channels to optimzie them further. Deploy surveys to collect CSAT scores and ask follow-up questions to collect rich client insights.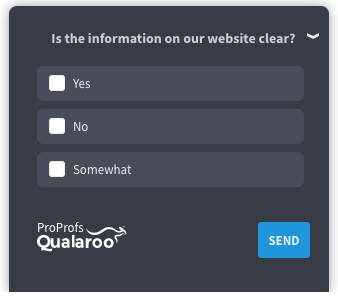 It does two things:
Gives you a clear idea of where to make the improvements.
Helps to build a better relationship by showing the customers that you value their time and care for their suggestions.
Use Custom Data to Impart Delight
If you have a robust CRM like BIGContacts, you can track the customer data and find insights to delight customers.
Here are a few examples of what we try to do at Qualaroo:
Keep track of important customer dates depending on your business type, such as birthdays, anniversaries, etc., to surprise customers with special treats and offers.
For example, if you offer SaaS-based services, you can design special offers to upgrade their plans to people who have completed two years with you.
Monitor churn and churn probability to reach out to the customer in time. You can deploy a survey whenever a customer discontinues the services to gather more information about their decision. It will help to find a way to convince them to come back.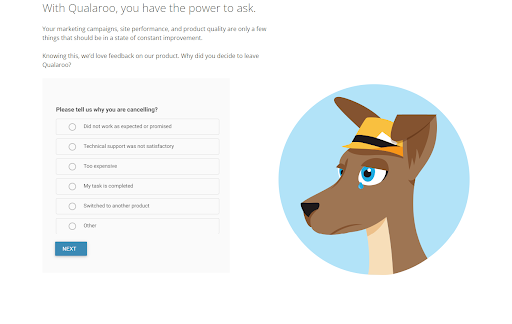 Satisfactory Experience Works but It's Time to Wow the Customers
Creating WOW moments across the customer journey is essential to achieving customer delight.
You can create a lasting impression on the customers by going above and beyond the customers' expectations.
And you don't need to go on a full-scale mission to make this happen. Small experiences like personalized messages, surprise gifts, excellent customer service, etc., can go a long way to make them feel special and valued.
Remember, delighting the customers is an ongoing process that requires constant measures, but it's all worth it. You can cultivate a loyal customer base and set yourself apart from the competition.
Our advice – Start by mapping the customers' journey and collect data about their preferences and expectations. Tools like Qualaroo can help you target different customer segments across various channels.
Once you have the data sets, determine the gaps between the actual and intended experience to develop strategies to deliver customer delight.
Want insights that improve experience & conversions?
Capture customer feedback to improve customer experience & grow conversions.