Do you exactly know what your customers desire?
You might truly believe that you know what your customers want, but when your product hits the market, there may be times when reality will not meet your expectations.
It happens to the best of products and the biggest of companies. And it's a painful learning lesson for sure – a very bitter pill to swallow!
What happens when you have a product where the choice of the buyer is very subjective? That was a monumental challenge for the art curation website Art.com.
So what did they do?
They used contextual feedback to successfully create the right product-customer fit in an innovative way.
To understand how they did it and how your business can too, in this article, we'll discuss Art.com's success story and learn what a customer feedback software is capable of
Whether you have just started thinking about using customer feedback software or are planning to switch to a better one, this article will help you learn how to select the best one for your business.
So let's begin with the basics and understand the difference the tool actually makes for your business.
Customer Feedback Software: A Shortcut Tool for Long-Term Learning
If we were to explain what a feedback software does for you in 5 words, here's what it would say – It takes out the guesswork.
In a broader sense, it lets you avoid the one-size-fits-all approach with your strategy, empathize with your customers, and understand & solve their biggest problems. Now let's understand these aspects in detail.
Avoid the One-Size Fits All Approach
Customer Categorization & Segmentation –Enable precise sorting of customers into different segments based on their characteristics. Create insightful buyer personas using different feedback channels.
Strategy Formulation & Testing- Gather practical data-based information to confirm which customer satisfaction strategies are having the right effect. Measure and boost your customer satisfaction and customer loyalty based on various defined metrics, such as NPS (Net Promoter Scores).
Empathize With Your Customers: Put Yourself in Their Shoes
Understand Customer Needs– Use customer feedback to validate your ideas in the early exploration phase itself to reduce wasted efforts & resources.
Meet Customers' Needs Appropriately– Aim to deliver products & experiences that are backed by customer-centric data to serve customers in the best way.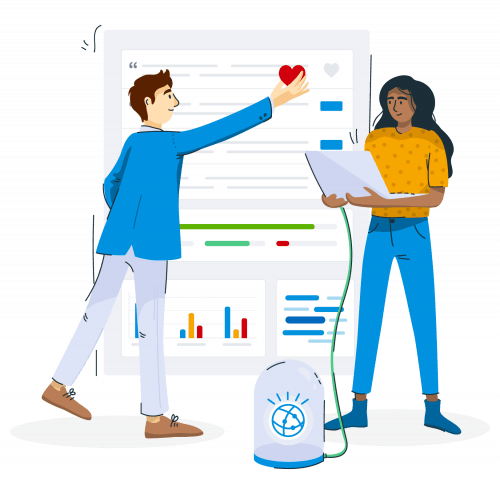 Understand & Solve Your Customers' Biggest Problems
Ongoing Testing of Customer Satisfaction– Once your product is available to customers, evaluate the efficiency of post-launch optimizations through customer feedback. Check how well their user experience is and what their pain points are.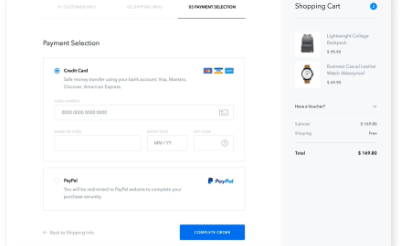 Strengthen & Supplement Strategy – Identify the ideas that aren't going down very well with customers (and even the ones that are), and work the insights into future strategy by understanding the Voice of the Customer.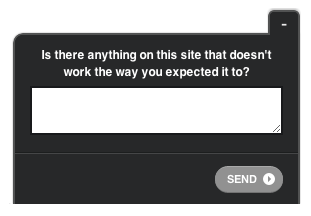 Driving Innovation and Positioning With User Feedback – a Case Study
Art.com is an art curation website that seeks to "democratize" the process of people enhancing the spaces in which they live and work through artisan craft and artistic visuals. They aim to make it easy for people to buy art regardless of their location and situation.
The challenge: By its very nature, art is highly subjective.
Customers may only have a vague idea about what they want, and sometimes not even that. Art.com saw right away that it could not take a one-strategy-fits-all approach.
What they needed: A way to know what every unique customer had in mind at the beginning of the art-purchase process so that they could steer that customer towards the right piece(s) of art that would fit their needs.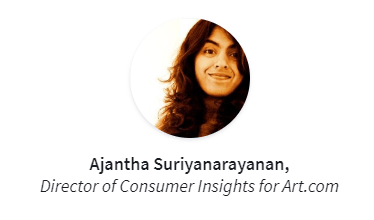 So here's what they did:
They started by asking customers what they needed, to zero in on the art they thought would enliven their life or workspaces. The responses told them that most art buyers would like to visualize how any art they were considering would look in the space they had demarcated for sprucing up.

Based on this feedback, Art.com used cutting-edge technology, the ARKit, to develop an augmented reality feature, ArtView, for their iOS app, so that customers could virtually see how their prospective purchase looked on their wall, in their foyer, in the garden or hanging from the ceiling.
The happy result: more satisfied customers, better sales!
And that's not all.
Art.com continued to listen to what their customers felt through low-pressure, short unobtrusive online surveys for gathering individual feedback that helps take the right action.
To overcome hurdles as Art.com did, you can also use customer feedback software to make sure you are giving customers exactly what they need from you.
How to Choose the Best Customer Feedback Software
Do you have any idea how many types of customer feedback software offerings are out there in the vast, uncharted territories of the World Wide Web?
Hundreds, if not thousands. So how do you separate the wheat from the chaff?
By prioritizing those factors that are most crucial for your business.
Here's your checklist for choosing the best customer feedback software. Decide which ones are the highest priorities for your business and choose the best customer feedback software accordingly.
Customer-Focused & Business-Friendly
The best customer feedback software should ideally work on the principle that every customer has unique needs, and so does every business.
Tip: Choose software with advanced targeting features to get information about their identity, location, number of purchases, and more.
For example, customer feedback software like Qualaroo makes each response count with its advanced targeting capabilities in its feedback surveys.
Flexible, Scalable & Customizable
Apart from these three factors, your choice must also consider your budget considerations & optimum resource utilization.
Tip: Choose software that provides an extensive question bank and customizable feedback templates.
Capable of Response Analysis
Whether customers choose from preset options or submit freeform answers, the customer feedback software should be able to categorize & analyze their responses.
Tip: Choose software that uses artificial intelligence to mine through hundreds of responses to give you valuable qualitative and quantitative insights.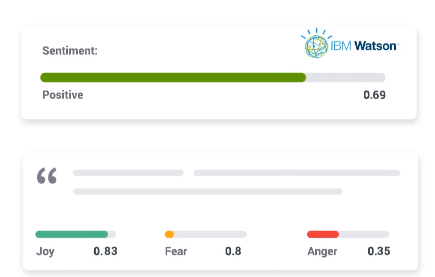 Data Volume Handling Capacity
Depending upon your business' size, you may get a small amount of very detailed feedback or huge amounts of succinct responses. The ability to handle large volumes or make full use of low volumes of data varies from software to software.
Tip: Choose the tool according to your expected response volume.
Dynamic Logic Branching
You may (or may not if the question you need to be answered is relatively simple) need to ask different follow-up questions to customers who respond in certain ways to questions. This is called logic branching and is an integral part of advanced customer feedback software.
Dashboard & Result Reporting
Are you mostly on the move as you manage your business? In that case, you need customer feedback software that has a mobile-friendly dashboard. Are you expecting a deluge of responses? Then the reporting feature should be able to give you the most important info at a glance.
Follow-Up & Revert to Feedback
Feedback can be a 2-way street if you want it to, provided your customer feedback software has the features that enable you to respond to users directly to their feedback or through your customer support teams as a part of product/service improvement drives.
Tip: Choose software with the ability to integrate with a mailing or helpdesk system to complete the circle.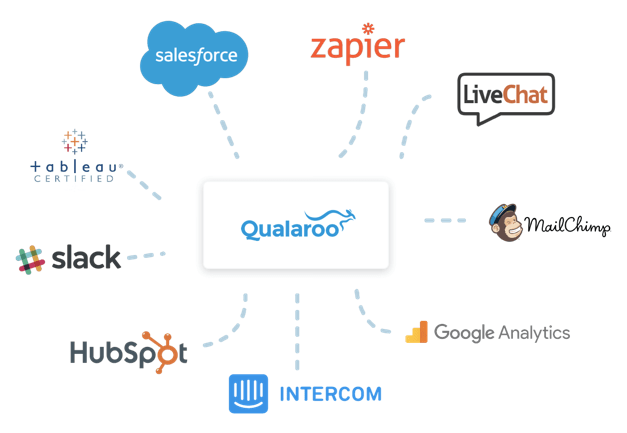 Data Storage, Security & Privacy
In this day and age, it is highly essential to assure customers that the data they share is not going to be misused, sold, or tampered with.
Tip: Choose your customer feedback software wisely, keeping privacy and data theft concerns in mind.
Also, check out this insightful video on the core principles of taking feedback to learn more:
Make Customers Happy & Reap the Rewards!
Making your business absolutely customer-focused goes a long way in building long-lasting customer relationships. The deeper your understanding of customer demands, the better you can fulfill them.
Using the most suitable customer feedback software helps you achieve this goal, with the happy outcome of satisfied customers with great lifetime value and better business results in the long run!
Start by choosing a holistic customer feedback software that makes customer feedback collection and analysis easier for you, like Qualaroo.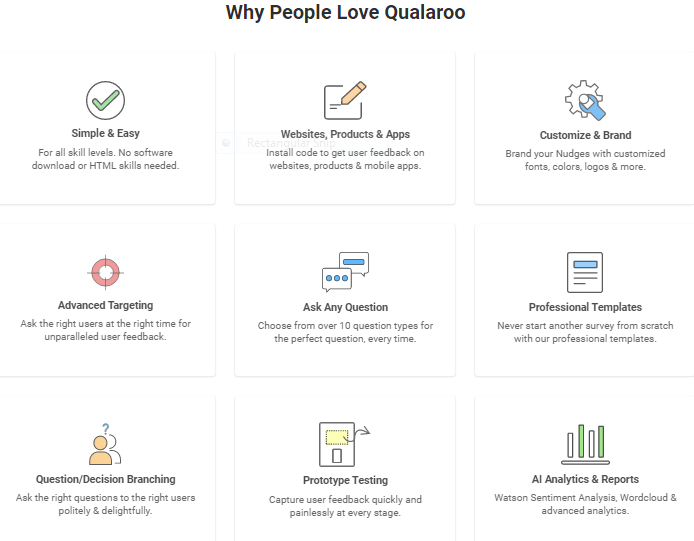 See How Qualaroo Works
With Qualaroo's precise customer feedback and analysis, meeting your goals will be easier than ever!
For a free, no-obligation consultation, call (855) 776-7763 (toll-free).
Want insights that improve experience & conversions?
Capture customer feedback to improve customer experience & grow conversions.