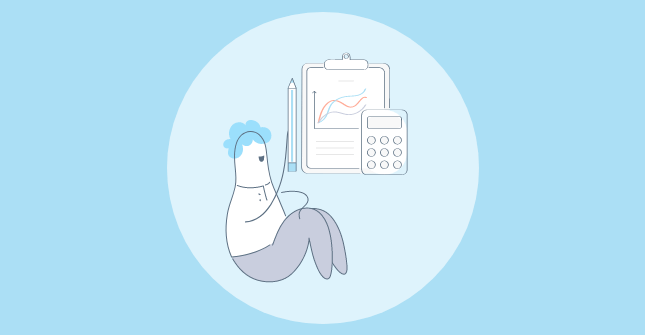 From creating an interactive website to relentlessly optimizing for SEO, all your efforts are not solely to bring traffic to your website.
You don't just want VISITORS; you are in the pursuit of CUSTOMERS. Your end goal is to convert website visitors into paying customers.
What if this doesn't happen?
Then, you won't earn new customers from that page, and your acquisition cost would go up. And without customers, your business will cease to exist.
---
Of course, you are not going to give up without a fight. You'll look for how to convert website visitors into customers and may try different website traffic conversion strategies.
Some will work, and some will not. But we will share the top 18 tips on how to turn visitors into customers for good.
You already might be implementing some of them, but if it's not working, you are missing something. So, why don't we start our journey to the answer you seek by discussing the reasons for poor conversion?
Why Do You Have Poor Conversions Despite Good Website Traffic?
So, before we explore the possible solutions to convert website visitors, here are a few significant reasons why you are getting traffic, but it doesn't reflect well on your website traffic conversions.
You're Attracting the Wrong Traffic
Do you have a lot of daily traffic on your website but not enough conversion? It's alarming since high traffic should mean a reasonable conversion rate.
So, what's not adding up?
Although you are getting good traffic, it's not the one you want, i.e., the traffic you are getting is not from your target customers. There are a few reasons why this could be happening:
You don't know who your target customers are, i.e., lack of user research.
You are targeting the wrong keywords.
You're competing on price and attracting low-paying customers.
There's a lack of market research to identify your converting audiences' pain points and goals.
Too Many Pop-Ups on Your Site
Too much of anything is never good, no matter how useful it seems. Similarly, too many pop-ups don't convert website visitors. You have to ensure you don't get too excited with pop-ups.
---
You should always prioritize customer experience; adding too many pop-ups can defeat that purpose. It hampers customers' experience with your website, making them more likely to leave without completing their goals.
Solution?
Use one pop-up per page with a relevant CTA.
You can switch between floating bars and slide-ins to prompt customers to take action.
Hard for Visitors to Find What They Need
Like arranging products on shelves in a brick-and-mortar store, your website or online store should be as organized and easy to navigate to convert website visitors.
This way, customers can find what they are looking for with a single search or a click.
For example, Freakins, a clothing store's website, has neatly displayed product categories.
Customers can browse through them and choose a specific page without getting lost on different landing and product pages.
---
You can simplify the navigation further for website visitors by introducing a live chat tool. Customers can seek assistance if they have some queries or want to find something specific.
Tip: A live chat tool or exit-intent pop-ups can direct customers to the right page.
18 Tips to Convert More Website Visitors
Coming straight to the point, here's how you can convert website visitors and traffic to sales and boost your lead generation.
Encourage Leaving Visitors to Stay with Exit-Intent Pop-Ups
You must've heard about using exit-intent pop-ups to increase website engagement or lead generation.
Companies see conversion rates from 10% to even 300%, but it all depends on different factors such as leaking website traffic, amount of website traffic, conversion types, etc.
In any case, exit-intent pop-ups make for an effective strategy to stop visitors from leaving the website by helping them reach their goals.
These pop-ups work on a crucial trigger: when the visitors move their cursor toward the "Close" tab button.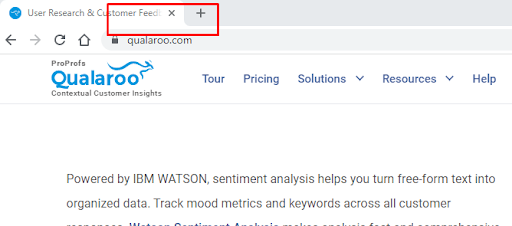 ---
The purpose and heading of these pop-ups differ for B2B and B2C industries. For example, an e-commerce website can show an exit-intent pop-up with a discount coupon or gift voucher.
On the other side, an IT business will ask visitors to subscribe to the newsletter, showcase gated content, or try to help them with their issues.
CASE STUDY: BELRON
Belron is a windshield repair company operating in different countries. It experienced a high bounce rate on its website and wanted to get to the bottom of this issue.
Using survey feedback software Qualaroo's exit-intent pop-up surveys, the customer journey improvement manager at Belron, Stephen Payne, found that their assumptions about their user personas were wrong.
In the words of Payne,
"We've got to hear from the person who's never had a windshield done before, who's come to our website for the first time. That's the person I want to hear from… What have we not made clear to them? We won't find the solution from sitting around the boardroom."
So, here are a few things you can do with your exit-intent pop-ups:
Add social media links to the pop-ups and encourage visitors to connect with your brand on different social platforms. This way, the leaving visitors are not leaking through your conversion funnel, and you can target them later. You can do this with specialized tools like Picreel.
Another way to ensure that your leads don't escape from your sales funnel is to offer access to gated content through exit-intent pop-ups. One fine example is how WordStream pushes its guides and ebooks to visitors through pop-ups.
---
Try collecting their contact information through newsletter signup forms to add them to your email subscribers list. This way, you can target them through different marketing campaigns and push them towards conversions.
Top Your Engagement Game with Live Chat
Adding live chat functionality to your website is one of the best ways to convert website visitors into customers. This conversion rate optimization strategy has gained so much popularity because it works!
According to McKinsey, many B2B customers prefer digital and human interactions when engaging with a company. Live chat engages customers on your website with real-time conversations around resolving their queries/issues, which boosts engagement and increases the chances of website traffic conversions.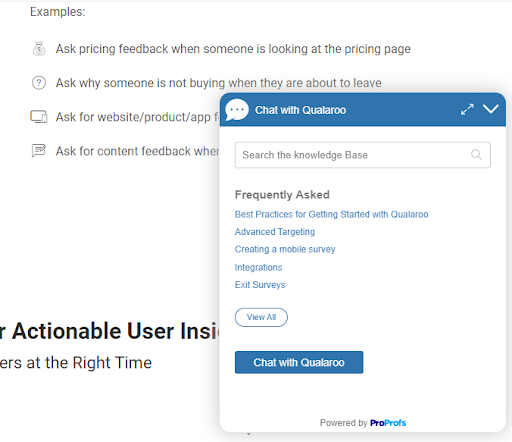 ---
Tools like ProProfs Chat let you conduct one-question surveys to gauge the quality of your support and further enhance the visitor experience.
You can also use branching in your live chat tool to create flows that lead customers into the conversion funnel.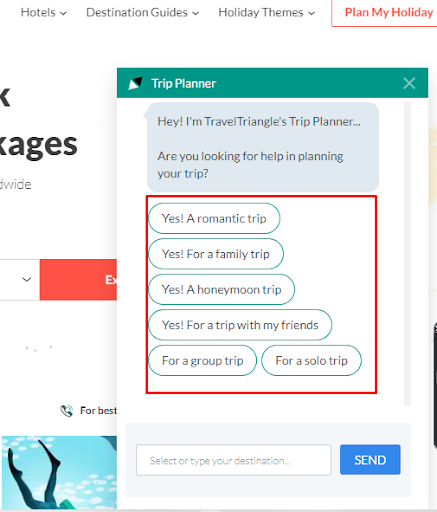 ---
With the right tool, you can also personalize the messaging on your live chat widget to evoke customers' interest and motivate them to engage. For instance, you can personalize messages for first-time visitors and repeat customers to make your targeting strategy more effective.
Look Beyond Your Homepage
More often than not, companies get lost in tunnel vision and focus solely on targeting their homepage to convert website visitors.
Even deploying targeted ads won't fetch optimized results if your ad quality score is not good. And the score quality is heavily influenced by the relevance of the landing pages you target in your ads.
So, instead of always targeting your homepage, you can create landing pages dedicated to your ad campaigns to boost conversions.
Google AdWords also favors ads with relevant landing page copy. Here's an example:
When we searched for the "Lead generator" tool in Google, it came up with a bunch of ads that are, of course, favored by Google's algorithm.
When we clicked on one of the ads by Lusha, it took us to a dedicated landing page rather than a home page.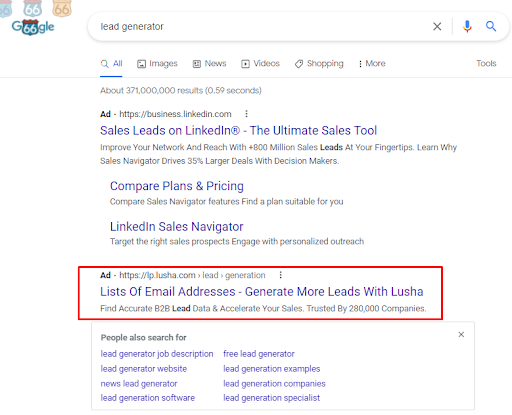 ---
So, the visitor lands on the page with relevant information instead of the homepage with multiple product offerings.
They can quickly scan the page and move towards the conversion with a click.
You can see that targeting pages other than your homepage can bring positive results and help boost conversions.
---
So, if you see low conversions despite high traffic on your website, know that it's time to shift focus to the pages that matter.
For instance, if you run an ad on Google for a particular product but link your homepage instead of that product's landing page, visitors may get confused and leave without checking out the product.
4. Identify Marketing Channels That Work for You
Besides having insights into your targeted customer base, knowing where they are coming from is crucial.
You can use Google Analytics' Acquisition dashboard to identify your business's most profitable acquisition channels. Go to the Source/Medium view and add the Event as conversion to the data table as a secondary dimension to get these insights.
Pop-up surveys are another way to identify your channels with the most conversions. You can add these one-question surveys to your website and mobile app to ask customers how they found out about your company.
---
Here's how Udemy successfully overhauled its marketing strategy using pop-up surveys:
CASE STUDY: UDEMY
"We use Qualaroo to understand exposure and get a true attribution of awareness…We begin asking questions weeks prior to a new campaign which gives us a baseline understanding of where people come from. As we turn on different methods of advertising, we can see how those values change." – Claire Menke, Director of UX Research for Udemy"
---
Udemy is a world-renowned online education platform offering people free and paid online courses globally.
Since the company receives website traffic from many countries, it wanted to identify the acquisition channels bringing in the most leads.
Using Qualaroo's Nudge™ surveys, Udemy asked its users how they found out about their platform. After analyzing the survey responses, the company re-allocated its marketing funds and resources to the most profitable marketing channels.
---
5.Don't Shy Away From Contextual CTAs
Let's be honest; even as customers, we don't fall for every CTA that comes our way while browsing different websites.
Call-To-Action buttons are too mainstream and expected on landing pages. And although they do significantly contribute to conversions, they are not the only area of focus.
A contextual CTA such as the one used in-between blog posts related to the immediate heading or content above can be compelling for the visitors. Here's what a contextual CTA looks like for our blogs:
For example, while talking about the use case of our client (Udemy) above, we placed a relevant CTA for you to check out more of such helpful case studies.
This contextual CTA does not ask you to sign up or get a trial immediately. On the contrary, it aims to help you explore how a feedback tool can help you solve different business issues by showcasing real customer stories.
Such CTAs are not in the face of the visitors but encourage them to engage more with your brand. You can ask them to sign up or opt in later in the customer journey.
---
6. Target Keywords for Bottom-of-the-Funnel (BoFu) Content
The success of a business relies on both new and existing visitors. Since the top-performing keywords bring in more leads and traffic to the website, it makes sense why businesses focus much of their SEO efforts on them.
So, it would help to combine these long-tail keywords with bottom-of-funnel content to bring in repeat customers/visitors.
Long-tail keywords will benefit your conversion strategy if your customer journey map is aligned with your content strategy.
You can segment "Returning Visitors" in the Google Analytics dashboard. Then, overlay this with traffic from different channels to analyze search queries and explore what the bottom-of-the-funnel conversions seek out.
7. Counteract Cart Abandonment
Did you know that the average online shopping cart abandonment rate for 2021 March has dropped to 79.8% from 88.5% in 2020?
---
So, the question is – How can you lower the cart abandonment rate on your website?
Well, one surefire way is abandoned cart automation. You can send a cart abandonment email to the users and remind them to complete their purchases. Besides this, here are a few more tips:
Add a progress indicator
Allow guest checkout
Increase payment gateway options
Optimize your website
You can also deploy exit-intent pop-up surveys at the checkout using a survey feedback tool to discover the shortcomings in your process and how you can improve.
---
CASE STUDY: KINGSPOINT
KingsPoint is an agency that helps companies improve their conversions by offering tailored CRO solutions.
Its clients have different problems requiring unique solutions. To that end, customer feedback is essential in understanding their clients' customers and discovering issues that need to be addressed.
KingsPoint used Qualaroo to collect customer feedback on checkout pages, resources pages, product pages, etc., of its clients' websites and asked questions like:
What can we do to improve our website?
What stopped you from completing your order?
What information is missing from this page?
In doing so, they'd found issues like some client websites had JavaScript issues preventing users from purchasing, outdated coupon codes, and so on.
8. Switch Banner Ads with Two-Step Pop-Ups
Banner ads are now a thing of the past. After many years of banner ad saturation, visitors have acquired "banner blindness".
In essence, they have learned to consciously or subconsciously ignore content that resembles banners and ads, as per a report by UI/UX consulting firm NNG.
So, how can you sidestep this behavior to convert visitors to customers on your website?
Enter POP-UPS!!!
You can use pop-ups to inform visitors of deals and discounts (personalized or general) you offer on the website.
Unlike banner ads, these personalized pop-ups will effectively grab your visitor's attention towards your offering, boosting your sales, lead generation, and conversions.
You can take it up a notch with two-step pop-ups using tools like Picreel.
For example, say you are offering a free webinar and create a pop-up to display this information to the visitors.
Then, you can add options like "Yes" and "No, Thanks" to gauge visitors' interest. If they click on the "Yes" option, they will be shown another pop-up asking them to sign up. And if they choose "No, Thanks," a "Thank You" message will appear.
Here's a glance at what it will look like: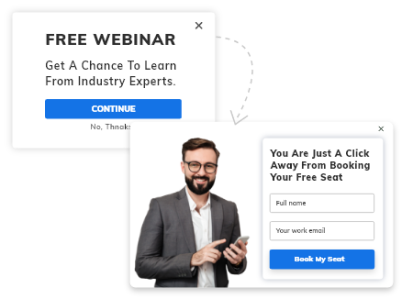 ---
If you are wondering why visitors would engage with a multi-step pop-up, let us familiarize you with the Zeigarnik effect. It states that people are more likely to complete an action or a task they willingly start.
Since visitors will interact with your pop-ups willingly, they are more likely to finish the process. This way you can inform visitors about different offers and increase your signups.
---
9. Invest in Paid and Retargeting Ads
It's okay if you tried using exit-intent pop-ups to convert and stop visitors from leaving your website, but some of them still did.
Those visitors who still left the website are not a lost cause, at least not yet. You can leverage retargeting advertisements on social media platforms to encourage them to revisit your website.
For example, while scrolling through Instagram, you must come across ads such as this:
---
Even though you might have browsed the website for a few seconds, you'll still see such ads on your social media with time-sensitive deals and discounts.
It's a great way to target customers interested in your offerings and who have even added products to the shopping cart.
Apart from leaving customers, you can invest in paid ad campaigns to increase brand awareness and bring new traffic to your website. But as we've mentioned in one of the points above, you need to do it right by dedicating a landing page to your ads.
10. Make It Easy for Visitors to Navigate
A picture indeed speaks louder than words.
So, out of the following two website pictures, which one do you think you'd enjoy navigating more?
The one with text-overflow and cluttered interface?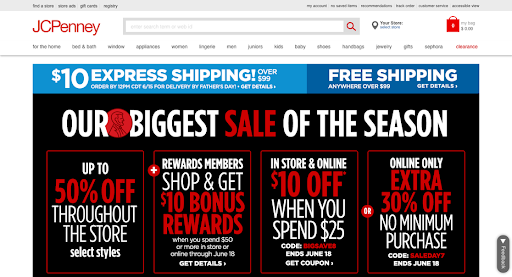 ---
Or the one with the clutter-free and simple interface?
---
We are sure you'll choose the latter since it's aesthetically pleasing and easy to navigate. The more complex your website design is, the harder it would be for your visitors to browse.
It would hamper the user experience, which would affect your conversions. So, a simple and clutter-free interface is paramount to your conversions.
Create a user experience that's well defined, clear, and easy to follow so that customers don't get confused or overwhelmed while navigating.
One of the best ways to design a user-friendly website is by mapping customers' preferences, discovering their pain points, and asking about their site experience. This information will help address obstacles, improve what needs improvement, and offer a seamless experience.
To that end, you can deploy surveys on different landing pages and collect customer feedback on your website design.
Some questions you can ask are:
Were you able to use our website with ease?
What do you think of our website design?
Do you think our CTAs are easy to find?
Were you able to easily differentiate links?
Did you think the content on the website was useful?
11. Don't Forget About Cross-Selling
It's good to learn from the best in the industry. So, let's look at how Amazon cross-sells its products on its website.
When you check out a product on Amazon's website, it will also show recommendations for similar products or products often bought together.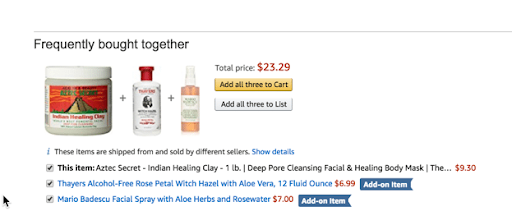 ---
How does it help?
Well, personalizing recommendations is a great way to engage customers, make them aware of different products, and boost sales.
As per research by Accenture, 91% of customers prefer brands that remember, acknowledge, and provide personalized recommendations and offers.
Even Shopify claims that personalized recommendations can boost conversions up to 35%.
Here's another example from H&M, a clothing brand with a similar section on every product page to cross-sell.
---
You can personalize product recommendations and run retargeting campaigns to cross-sell and up-sell using Natural Language Processing (NLP), browsing, and purchase history of the website visitors.
You can also create product recommendation quizzes that can ask for the user's preferences in a fun, engaging way.
Companies also use product recommendation forms that help collect psychographic data and understand customers' lifestyles.
For example, if you have an eCommerce beauty products app, you can use a form like Sephora to gather customer details and recommend products tailored to their needs. This way, you are not just upselling or cross-selling but offering them viable solutions.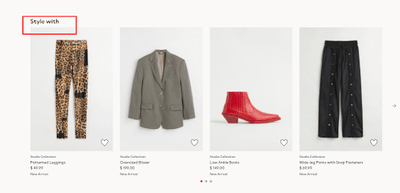 ---
CASE STUDY: AVIS (AWA DIGITAL)
AWA Digital is an agency helping its clients improve online sales. One of its clients, Avis, a car rental company, wanted to increase the number of units per sale and overall revenue.
AWA Digital deployed feedback software Qualaroo's NudgeTM surveys on Avis' website, asking which add-on products are or aren't useful for them.
In the words of Jonny Green, their Conversion Optimizer, "Qualaroo enabled us to get customer insights that we couldn't get elsewhere."
Using the feedback from the pop-up surveys, AWA Digital pushed popular add-ons before the booking stage and increased unit sales and revenue.
12. Don't Underestimate the Power of Social Proofs
Imagine yourself as your customer. What would your customer journey look like in the discovery and exploration stages?
Of course, you'll search for product/service customer reviews, testimonials, customer stories, awards, recognitions, etc., on different platforms.
But why?
Because as humans, we tend to trust the experiences of others quickly. Instead of blindly giving in to flashy marketing, today's customers believe in the real experiences of other customers and their reviews.
So much so that in a study conducted by G2 Crowd and Heinz Marketing, 92.4% of respondents said yes when asked if they are more likely to buy a product/service after reading a trusted review.
Also, it will benefit you to focus on other social proof elements such as GDPR compliance, transparent data protection, privacy policy, etc.
Now, it's easy to collect customer reviews, but what about testimonials? They are a hard nut to crack.
Well, not exactly. Customer experience tools such as Qualaroo allow you to tag survey responses and use them as testimonials.
You can also use its sentiment analysis technology that examines all the responses and highlights the most-used vocabulary.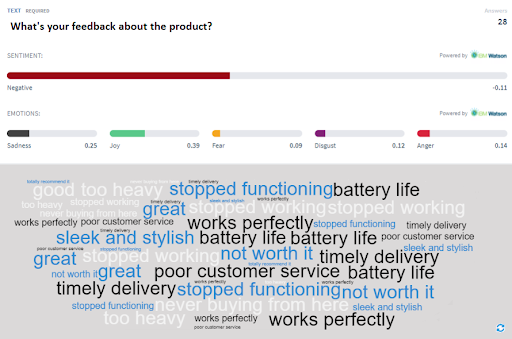 ---
For example, if you want to see responses with positive vocabulary such as "Amazing quality," "Worth the price," "Excellent service," etc., you can use this tool to target these words.
The tool will highlight all the survey responses with such vocabulary so you can tag responses you want to display as testimonials on your website.
You can also leverage surveys like NPS to:
Find your promoters and target them with follow-up surveys to check on their experience from time to time.
Ask them to share a review on third-party review sites.
You can also ask customers to rate your products/service using pop-ups in your product or mobile app and add a redirect link.
---
13. Gamify Your Visitors' Experience
Did you know that gamification and interactive content can increase your conversion rate by 6X?
What does that tell you?
It means that customers enjoy interactive interfaces and business processes.
Gamifying processes like signups, purchases, etc., improve customer engagement, which boosts conversions.
You might think that implementing gamification for your business would require a big chunk of your capital. In some sense, it does. Nonetheless, you can start with simple things that don't need much investment.
For example, you can add a progress bar so that customers know how far along they are in a process or deploy a spin wheel to offer different deals and discounts.
---
You can also create interactive quizzes using tools like ProProfs Quiz Maker to gamify your website and make the experience more fun. For instance, if you have an eLearning platform, you can design engaging quizzes to help visitors practice and boost your engagement.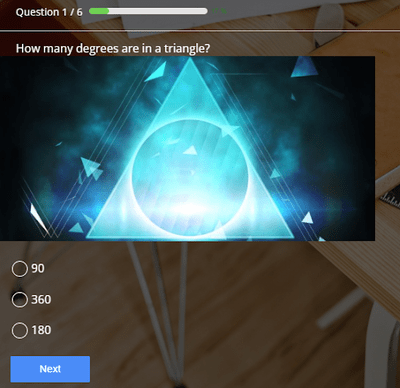 ---
And to take it further, leverage branching logic in your quizzes and redirect visitors to relevant product pages based on their responses.
14. Segmentation of Website Visitors
Your business has multiple user personas for which you create different content strategies.
Since all visitors are different in terms of language, occupation, location, behavior, etc., you can't target them the same way.
It's where segmentation can help you. Segmenting users to target individual segments can help you improve customer engagement and optimize your strategies.
For example, you can leverage the advanced targeting feature in feedback survey responses to segment them based on different factors like browsers, devices, etc.
CASE STUDY: CANON (AWA DIGITAL)
Another client of AWA Digital, Canon, is a consumer electronics brand that wanted to improve the product demand in different locations.
AWA Digital leveraged surveys to understand the customers' preferences instead of going with A/B Testing straight.
The feedback revealed that customers in some regions had reservations about purchasing expensive cameras. In other regions, brand authority and authenticity were a priority over price.
Based on the intel, AWA Digital segmented the website traffic and optimized the brand messaging according to different geographies and customer segments. As a result, it increased the ROI by 700%.
Read more about it here.
15. Leverage Floating Bars and Slide-Ins to Improve Engagement
Besides pop-ups, you can use two other elements on your website to boost engagement and convert website visitors- Slide-ins and floating bars.
Slide-ins are excellent means to bypass banner blindness. They are small pop-ups that slide automatically to show different CTAs.
---
Floating bars are CTAs that emerge on the top of a website for a short while. The visitors can remove them if they don't want to engage.
---
Both slide-ins and floating bars are non-intrusive to visitors. They also have better visibility since they stay on the screen until the visitors close them.
So, a visitor might not engage with them initially but may become intrigued after spending some time on the website and seeing the slide-ins and floating bars CTAs.
You can use them in different ways, such as:
lead magnets to collect visitor information
collect feedback
showcase discounts
encourage visitors to check your social media
redirect traffic to a specific landing page
16. Keep on Testing Your Strategies
Irrespective of what strategies you use, you can't be sure which one will work for you.
In that case, you can experiment with different strategies and A/B test them to see which ones convert website visitors the most.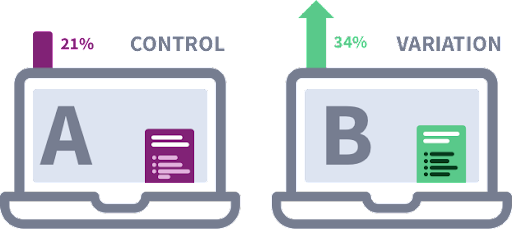 ---
For example, if you deploy pop-ups that don't attract many visitors, you can A/B test them with other options like slide-ins and floating bars.
There is no limit to how many A/B tests you should perform as you are doing it to find what works best for your business. But be careful of the common A/B testing mistakes.
17. Loyalty & Referral Programs Still Work
Retaining customers is as important as converting website visitors.
So, how can you retain your existing customers?
Simple – By acknowledging their loyalty and rewarding them for it through your loyalty program.
You can include anything in your loyalty program, from exclusive access to time-sensitive deals to discounts, gift coupons, spin-the-wheel deals, etc.
You can use the loyalty program as a selling point to convert website visitors and encourage them to try your products/services. You can convert visitors and also encourage existing customers to purchase again.
For example, you can target existing customers and visitors with a loyalty program by showing discounts and deals with pop-ups and slide-ins and creating dedicated landing pages to educate them about it.
Referral programs are also a great strategy to encourage existing customers to refer your brand to potential customers. You can also send follow-up emails to those who abandoned their carts and encourage them to return and complete the purchase using rewards.
18. Track Your Conversions
How would you know what's working for you if you leverage multiple tips from above to convert visitors into customers?
Besides conducting A/B tests, you should also track your conversions.
Enter Google Analytics.
You can filter the data to segment it as per your needs and get clear insights into which CTAs are converting website visitors and which elements need to be updated.
Now that you have a grasp of all the strategies to improve website conversions, let's have a look at the software that can help you deploy these as part of your marketing and sales plan.
5 Best Tools to Convert Website Visitors into Customers
The right tools to execute your carefully devised conversion rate optimization strategies range from feedback software to chat tools and testing tools that can help you tackle the challenges with a 360-approach.
As you can see from the above points, Qualaroo is a versatile tool to convert website visitors to buyers. You can use its exit-intent pop-ups to stop the leaving visitors and convert them into clients.
You can add pop-up surveys to your website to ask customers about their experience and what they would like to improve on the website.
Besides these benefits, here are a few more features the tool offers:
Pre-designed pop-up survey templates to get you started instantly.
Multiple question types and a vast question library.
Lets you set multiple triggers for pop-ups.
Offers advanced targeting, advanced reporting, and response tagging.
A dashboard that shows reports in charts, graphs, etc.
---
We've already discussed how a competent live chat tool can help you boost engagement and website traffic conversion. We cannot recommend a better tool than ProProfs Chat to help you convert website visitors.
It's a feature-rich tool that monitors visitors on the website to understand their behavior and helps you create personalized customer journeys. Besides various integrations with excellent tools, here are some more features:
Lets you add CTAs and links to landing pages.
Sets individual live chat routing requirements.
Supports seamless chat transfer between support personnel.
Helps you gather data from visitors with a pre-chat form.
Has a wide selection of canned responses to offer seamless automated chat support 24X7.
At this point, you are well aware of what pop-ups can do to boost user engagement. So, all you need to know is which tool can help you convert website visitors.
And that's where Picreel comes in. It's a cloud-based pop-up tool with which you can design different pop-up types using pre-designed templates. Other features include:
Helps create flawless two-step pop-ups.
Offers integrations with One-click and Zapier.
Comes with redirect links overlays, deals & offers overlays, lead form overlays for retargeting, etc.
Allows you to add interactive elements like timers and CTA buttons to your pop-ups.
Convertize is a great A/B testing tool you can use to create websites that convert.
Using its drag-and-drop editor, you can perform on-site experiments for your website conversion strategies. Some of its features are:
Comes with an Autopilot built-in feature that overlooks the traffic and enables you to experiment around.
Offers high-speed load time for pages that improve search engine ranking.
Has a Hybrid Statistics feature that combines Frequentist and Bayesian methods to offer a detailed test analysis.
Lets you customize web notifications.
Button Optimizer is another tool that can help you convert website visitors. It could be excellent for you if you struggle to create interactive and attractive CTAs for your landing pages. It comes with an editor with which you can design CTAs tailored to your business' branding.
You can also download CTA buttons in CSS and PNG format.
If you want something more extensive, you can check out our detailed guide, "The Beginner's Guide to Conversion Rate Optimization," which covers the best CRO tools to use for different purposes.
Time to Start Converting Website Visitors!
If you employ these strategies to convert website visitors, we're sure you'll accomplish your goal.
You need to remember one thing: Rome was not built in a day.
It would take time and experimentation with these strategies to ultimately find the methods that increase website visits and convert website traffic into customers.
Make sure to listen to the voice of your customers, i.e., ask them what they think about your website's UI and customer experience.
This way, you'll get rich insights directly from customers to create hypotheses and run A/B tests with different website conversion strategies.
Armed with this information, what are you waiting for?
Want insights that improve experience & conversions?
Capture customer feedback to improve customer experience & grow conversions.