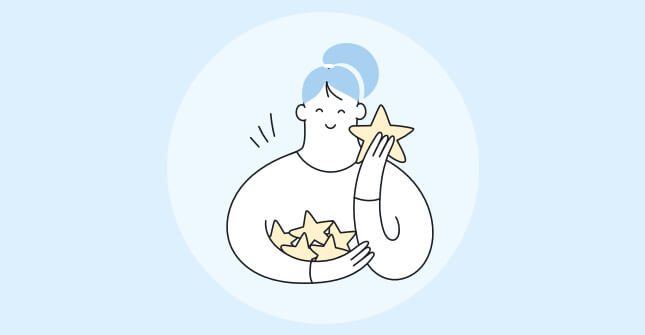 Have you ever tried to walk a mile in your customer's shoes? A customer journey mapping software allows you to do exactly that.
Every point where they interact with your business, whether knowingly or unknowingly, is a touchpoint on your customer journey map.
Why don't we take a look at these touchpoints to uncover the 'why' behind customer actions?
Retracing their path can yield actionable insights that improve your brand perception.
But how do you walk that mile?
By recreating the customer's journey.
With a customer journey map, you'll get a clearer picture of your customer's experience at each stage and learn what you need to improve it. Once you know the touchpoints in the customer journey, you can identify potential areas of improvement for increasing customer satisfaction.
The process of improving customer experience can begin by asking questions such as:
What are the possible obstacles customers might face while deciding to buy?
What is missing or can be improved, at least, at the most critical touchpoints?
What are the ways through which customers can get all their issues resolved?
All you need is the right tool that helps you analyze customers to map their journey, and that's what this blog will help you choose. Let's take a look at the categories, some essential features, and how merging customer feedback with customer journey maps can lead to pretty large rewards in the long run.
Of course, if you're well-aware of the benefits of customer journey mapping software, just scroll ahead to our list of 20 Best Customer Journey Mapping Software to Grow Your Business in 2023!
Essential Features of Customer Journey Mapping Software
A customer journey mapping software should have certain features to warrant inclusion in our best customer journey mapping tools list. Here are a few we feel are must-haves that you should definitely look out for:
1. Template-Based Map Design
There should be no need to know how to code to create a customer journey map because the tool you select should have point-and-click customer journey map creation from template functionality.
2. Quick Editing & Map Creation
If you create new products and services regularly or need to respond quickly to changing customer demands, you need the option of creating your customer journey maps in a jiffy.
3. Instant Shareability Across Teams
To make sure that every person who is involved in your customer journey is on the same page, you need to share your maps. So, the software you select should let you share customer journey maps easily with teams and employees.
4. Collaboration in Real-Time
To leverage shareability effectively, you need the customer journey mapping tool to allow your teams across the organization to communicate and work on (or use) the map in real-time. The permissions to view, edit, and create journey maps need to have granular control as well.
5 Customer Feedback Data Analytics
The map you create needs to be built using empirical data that you may or may not have collected beforehand. If you have good quality data with you, it really makes sense to select a user journey mapping tool that has an analytics feature. This will make your customer journey map more accurate, thus making your strategic decisions based on it much better-informed.
6. Customer Action Tracking
A good customer mapping tool tracks the actions of the customer right from the point they become aware of your brand to their post-purchase experiences. When you can empathize with their actions through their journey, you are better positioned to wow them with awesome CX.
7. Customer Persona Creation
A customer mapping software may include a feature that lets you create personas that help familiarize your sales, marketing, and support teams with the kind of people they are going to be dealing with on a day-to-day basis.
To get a better idea, check out this guide on how to create accurate customer personas.
8. Multi-Channel Customer Feedback Data Integration
Selecting the best mapping software should also take into account the possibility of integrations with both online and offline customer data sources from other software like Salesforce and HubSpot. This is because you may have a preferred customer experience management software already running for your business, so its data should be used to map customer journeys.
9. Unlimited Number of Customer Journey Maps
To cover many target demographic segments of customers, you need lots of maps that lay out each customer type's journey. So, the selected software should impose no limits on the number of either customer personas (if it has the functionality to create them) or the number of maps.
Tip: Make as many maps as you need because you shouldn't have to stick to a single customer journey mapping template that doesn't suit your overall customer journey framework.
10. Easy to Interpret Customer Journey Maps
The visual appeal of customer journey maps is not to be taken lightly. You and your customer satisfaction and success teams will be able to relate better to customers if they can see clear icons, animated actions, and (if possible) drawings that represent your target customer(s).
Now that you know how to choose the tool, let's have a look at what you can choose from.
Customer Journey Mapping Software Categories
Depending upon what sort of customer journey mapping tool you need, you can select from the broad categories of such software we've broadly defined below.
Customer Journey Mapping & Visualisation Tools
The purpose of such software is to recreate your customers' actions all the way through their journey with your product or service. No matter what you sell, your 'average' customer – who can be identified with user personas – goes through a series of interactions with your brand.
This broad category of customer journey mapping software helps you map out the touchpoints – the most important ones are named 'Moments of Truth' – so that your conversion rates go up.
These tools fall in this category:
Qualaroo
Microsoft Visio
Gliffy
Custellence
UXPressia
OmniGraffle
Smaply
IBM Journey Designer
Visual Paradigm
1. Qualaroo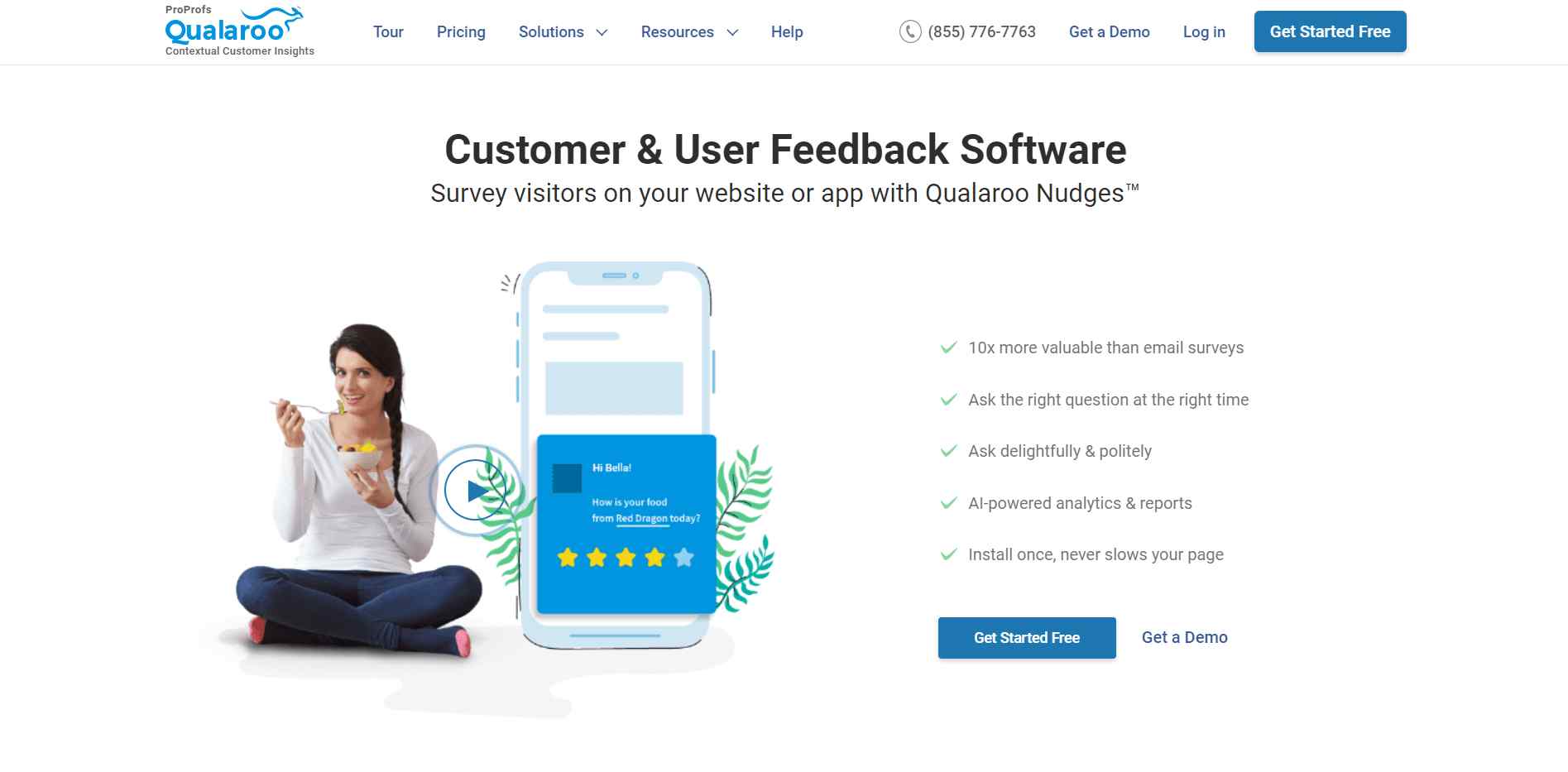 ---
Qualaroo is an automated user research tool that lets you understand a customer's journey via feedback. From the research stage, where a prospect is trying to find a product after identifying a need and viewing your offerings, to the stage where customers can be turned into loyal advocates of a brand, Qualaroo has all the features to provide actionable insights.
Features:
It offers pre-built survey templates and question types that allow you to only ask the right questions.
Ability to conduct surveys like Customer Satisfaction Surveys, Customer Effort Score surveys, Ease of Use surveys, Navigation Testing, Exit Intent surveys, Building Persona surveys, Product Development surveys, NPS surveys, and more.
It uses question branching and skip-logic to quickly get through the redundant respondents.
It offers advanced targeting features to get higher responses and more accurate results.
Backed by AI-powered IBM Watson Sentiment Analysis to quickly mine through the open-ended responses.
The flexibility of use includes multiple device support like mobiles, tablets, and browsers.
Ability to natively integrate with other popular tools like Slack, Zapier, Hubspot, and many more.
Best for: Gathering accurate user insights and visualizing customers' perception towards a particular product or service.
Price: Starts from $69 per month.
.
---
2. Microsoft Visio
---
Microsoft Visio provides many interactive elements (like drag-and-drop visuals) that make it a great tool for customer journey mapping through diagrams. Visio is a part of the Microsoft suite of tools and connects to many data sources as well as exports the maps in various formats.
Even though it can take a while to get used to the elements of the very visual interface, Visio can get the job done quite quickly and painlessly once you get the hang of it.
Features:
Supports the effortless creation of powerful diagrams.
Can convert Microsoft Excel process map data into Visio diagrams through Data Visualizer.
Easily documents your mapping data from Visio to Microsoft Word.
Can break down complex mapping diagrams into single parts using Microsoft PowerPoint snippets.
Let's you collaborate with others to share your Visio data.
Ensures the security of data while sharing it on different platforms.
Offers ready-to-use templates that are based on brainstorming and project planning.
Can connect flowcharts and diagrams to real-time data to create more accurate visualizations.
Best for: Creating powerful and professional diagrams of customer mapping and seamlessly integrating with other Microsoft applications.
Price: Starts from $5/user/month.
3. Gliffy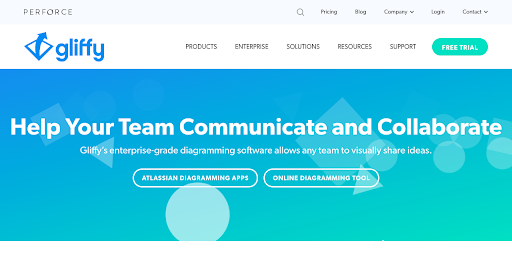 ---
Gliffy is primarily a graphics and flowchart creation tool that can be used to create and edit customer journey maps. It is not meant for projects (or organizations, in general) that need collaboration features to make the customer journey mapping process work effectively.
With a free Gliffy account, you are limited to constructing five journey maps, which will be available to the public – so make sure you don't integrate any confidential data in the maps! Making flowcharts with Gliffy is pretty intuitive, so if your customer journey has a lot of decision points and options for the customer to consider, this tool can be pretty handy.
Features:
Ability to customize the API as per the need of the user.
It also supports a reporting and analytics feature that gives a more detailed perspective of the data.
Extremely easy to administer and easy to learn.
Ability to integrate with other popular tools like Atlassian and add visuals directly to Jira and Confluence.
Supports drag and drop feature with ready-to-use templates to create diagrams with ease.
Users can share the data with anyone using the URL or embedding feature.
Best for: Providing necessary visualization to management in terms of business process change and for planning workflow of the project.
Price: Starts at $3.99/user/month.
4. Custellence
---
What you can do with it: A simple-to-use drag-and-drop interface allows you to not only view a map of the customer's journey but also see the measure of their emotional experience along with the costs to implement improvements. Custellence offers a one-hour online master class to ensure that you can hit the ground running when you sign up.
Features:
It provides a bird's eye view of the overall data to choose the level of detail to be shown to the audience.
It offers color-coded mapping cards to be placed inside the customer timeline for pinpointing specific instances.
Ability to drag and drop the elements for faster diagram creation.
Ability to invite viewers to get a detailed perspective of the project.
The openness of the interface allows you to control how you create customer journeys and service blueprints.
Users can also provide inputs at any point on the customer map.
The comment section allows the users to provide detailed feedback and also open a dialogue between the team members.
Best for: Collaborating and getting feedback from the team members on the ongoing projects.
Price: Starts at $25/user/month billed annually.
5. UXPressia
---
A customer journey mapping tool that enables your team to collaborate in real-time. UXPressia also has features for creating elegant persona cards as well as impact maps. This tool lets you rapidly-produce a journey map using one of 30 templates tailored to specific business sectors. You can even incorporate real-time analytics.
Their online UXPressia Academy offers practical courses for those who are new to customer and user experience (UX). Want to see what the end product will look like? UXPressia doesn't keep their maps close to the vest—you can download and use their templates based on real-life examples of customer journeys.
Features:
It offers enhanced visualization capabilities for a better customer experience.
You can also analyze, share and export professional customer journey maps, personas in just minutes.
Ability to share and collaborate with teammates from all across the globe.
Ability to define user archetype and design as per their needs to increase overall loyalty and conversion.
Users can get feedback on their personas and maps from consultants and experts from the organization.
Users also get a dedicated account manager and also annual account reviews.
Ability to integrate with popular online tools like Google Analytics, Slack, and Mixpanel.
Users can easily export to different file formats, including PPTX and many more.
Best for: Aligning team activities with overall business objectives to make better roadmap decisions with the help of impact maps.
Price: Starts at $13.3/user/month billed annually.
Read More: 25 Best Customer Experience Management Software & Tools in 2023
6. OmniGraffle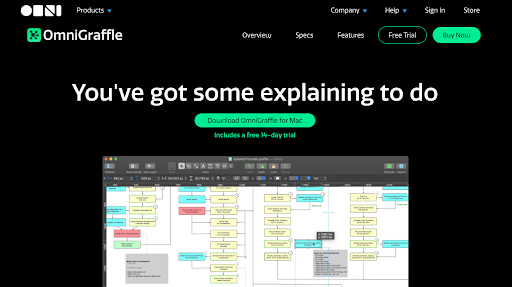 ---
OmniGraffle (created by OmniGroup) is a handy diagramming tool to consider if you want to make comprehensive customer journey maps. The limited shareability of the maps you create with OmniGraffle makes it a tad difficult to collaborate with colleagues across your organization, though. It has quite a sharp learning curve and doesn't take much time to get used to.
Features:
Ability to drill into layers and groups, change canvas, layer, and object name in the sidebar.
Users can create infinite canvases that expand in all directions.
Ability to make alterations to the shape's vector points.
It also supports SVG files, and they can be dragged and dropped in the OmniGraffle.
Ability to convert text and lines to shapes.
Users can secure their files and data with additional passwords and touch unlocking features.
The unified sidebar allows users to integrate every object with layers and canvas, which makes labeling easier.
Accurately attach lines with the help of a magnet tool.
Best for: Creating accurate diagrams using the 'stencil' tool and importing and exporting multimedia in various formats.
Price: Starts at $12.49/month.
7. Smaply
---
Through an intuitive interface, Smaply enables users to create a customer journey map that shows the overall emotional journey of a user by channel. They also offer a "live share" mode so you can broadcast your customer journey map during meetings, ensuring that the most up-to-date version is being used.
Features:
Ability to visualize relationships between the internal stakeholders and the influence on the customer journey.
Pre-built gallery of professional illustrations to allow better connection with the user's experience.
Ability to see all the backend functions and processes occurring in tandem with the customer journey.
Persona slider allows you to visualize the persona's character traits and much more.
Users can import journey maps from other tools like Miro, Mural, Lucidspark, Excel.
Ability to visualize the customer interest and intensity on a one-dimensional scale.
Live sharing of personas with the team, manager, or clients for them to see a live version of the events.
Best for: Understanding the relationship between the customer journey and internal stakeholders to determine the opportunities to improve the customer journey.
Price: Starts at $29.99/month.
8. IBM Journey Designer
---
As you would imagine for a former product from Big Blue (now rebranded by Acoustic Inc.), this journey mapping software is more buttoned-down and straightforward, with less flash and dazzle than many of the journey mapping tools made by startups.
Features:
Near-instant collaboration with teams across the organizations and supporting agencies.
Ability to look at offline and online channels and visualize the customer journey over a period of time.
IBM also offers top-of-the-line data security and encryption.
Supports integration with Watson Campaign Automation to build smarter marketing campaigns by leveraging AI platforms.
Ability to harness AI and machine learning to detect pain points much faster.
Ability to collaborate with teams and simultaneously create visual journey storyboards.
Best for: Collaboration of marketing, sales, and customer service teams to visualize cross-channel journeys and set common marketing objectives.
Price: It has a customized billing plan delivered by Acoustic Inc.
9. Visual Paradigm
---
What you can do with it: In addition to mapping out the customer journey with Visual Paradigm in a graphical format, you can create links within the tool that reference particular touchpoints, customer emotions, and possible solutions. These linkages can appear on the customer journey map, allowing stakeholders to dive further into your analysis when looking for solutions to gaps in the customer experience.
Features:
Ability to use graphical tools to manage the scrum process and user stories.
Tons of different tools for the technical staff to manage codebase, database, and enterprise architecture.
It also offers a UX mockup tool for the developers.
Ability to visualize business workflows with the help of Business Process Model and Notion (BPMN) to generate high-quality process reports.
The process navigation tool allows the users to easily go through the ADM phases.
Users can also make use of reengineering process management tools to document their plans and create new designs.
Matrix style process map editor with over 40 design templates.
Best for: Strategic planning and process management that helps you define a business's strategic goals.
Price: Starts at $6/month.
Read More: 16 Best UX/UI Tools for Designers and Researchers In 2023
Collaborative Customer Journey Mapping Software
A vital part of every comprehensive top customer journey mapping software list is collaboration software, which lets teams across the company share insights about your customer's journey.
Distributing ownership of sections of the customer journey map among appropriate teams leads to better accountability and faster resolution of any gaps or hindrances in the customer journey.
These tools fall in this category:
LucidChart
ExperienceFellow
Mural
Mapovate
Transformation
Jive
1. LucidChart
---
LucidChart helps you draw up comprehensive diagrams to replicate the CX from start to end. Their "user story software" can also act as a guide for building a customer-focused website or app. This is because it has tools that let you map the steps of your customers' journey as you would want them to navigate your digital product, so you (or your development team) can build suitable features and parts.
Features:
It allows for company-wide collaboration across teams and verticals with in-editor commenting and real-time chats.
Ability to share and publish customer journey maps and templates and also integrate with other tools seamlessly.
Tons of nifty keyboard shortcuts to make the overall work smoother and faster.
Ability to include links and layers to easy-to-read diagrams and keep them clean at all times.
Users can easily style or customize shapes in the diagram to fit their project needs.
Ability to expand your canvas by removing the sidebars and working on a bigger space.
Ability to organize diagrams in a much better way using the containers and swimlanes.
Best for: Automating the diagramming process by just pulling up the data and letting Lucidchart automatically create them.
Price: Starts at $7.95/user/month.
2. ExperienceFellow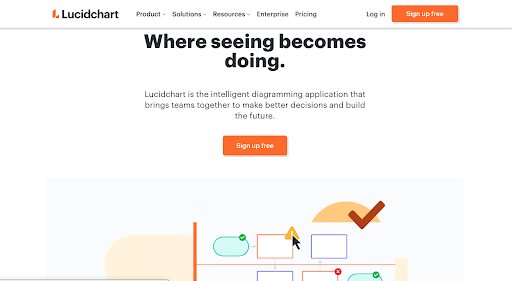 ---
What you can do with it: Rather than creating a customer journey based on your understanding, ExperienceFellow brings in customers' feedback from different points in their journey to build a map for you. Taking all the customer touchpoint data, you can export the findings as a journey map to help you determine which steps delight a user and which need improvements.
Features:
Ability to segment customers who opt for a customer journey mapping research project by different personas and geographies.
You can filter the responses to create a more comprehensive journey map that indicates customer sentiments.
All the data is gathered in real-time, and it can be shared with other researchers to collaborate with them.
Flexibility to export data as PDF, Excel, Zip file or print it as a customer journey map.
Users can choose the type of data to collect and also the emotional scale to collect the data on.
Ability to use filters and tags to segment the data and use it for analysis.
Best for: Triangulating analysis to single out the touchpoints that need further improvement and inviting other researchers to analyze and comment on the presented data.
Price: Starts at $10/user/month.
3. Mural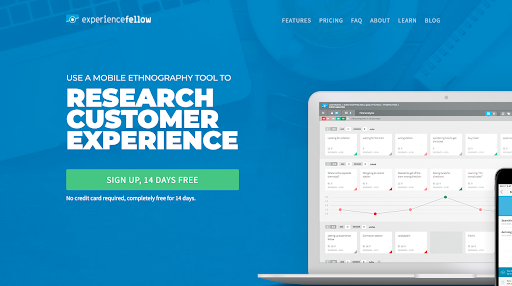 ---
Mural is a good choice if you require a 'workspaces' functionality that can be accessed remotely using almost any device. In these workspaces, your teams can collaborate on creating customer journey maps in-person or virtually, saving resources and time. There are inbuilt templates as well as frameworks to draw & share insights into customer behavior in real-time with all teams.
Features:
Effortlessly add thoughts, ideas, and feedback to projects with the help of sticky notes.
Extensive library of icons and templates and create beautiful designs and diagrams.
Ability to drag and drop images and gifs in the projects to enhance a collaborative session.
You also get the option to sketch using a freehand tool to maximize creativity.
Ability to integrate with other tools like Jira to make the workflows even more agile.
Users can take control of the virtual rooms and manage them with ease.
Ability to bulk edit the objects and also filter them with ease.
Best for: Enhancing the creativity and uniqueness of the projects and collaborating with the team to run productive meetings and workshops.
Price: Starts at $9.99/user/month billed annually.
4. Mapovate
---
Mapovate can be considered a unique customer journey mapping software due to a feature that enables real-time customer feedback analytics. Mapovate is also quite easy to understand and is designed to support first-time users in drawing and visualizing their customers' journeys right from the get-go.
Features:
Customizable notifications and alerts for follow-up actions for each map and collaborate with your teams to improve CX.
The wizard feature simplifies the process of creating journey maps.
Ability to capture Voice of Customer (VOC) feedback with the help of a real-time reporting system.
Users can notify key stakeholders in the organization about the customer's pain points through emails.
Users also get access to a learning bank to get a more detailed understanding of the journey maps.
The reporting dashboard gives real-time data from the customers.
All subscription plans include the Customer Experience Measurement Tool.
Best for: Visualizing customer experience and highlighting key areas that need to be focused on.
Price: Starts at $99/month.
5. Transformation
---
Transformation is a touchpoint-focused customer journey mapping software that lets you collect all of your customer journey touchpoints in one place. Once you have them collected, you can clone the entire collection and edit them to create variants of customer journeys. Each touchpoint can be appended with rich detail. What's more, various teams can also add details.
Features:
Ability to collect all your touchpoints in one place and re-use them with the help of cloning.
Drag and drop touchpoints onto versionable customer journey maps.
Gather and input key details to the touchpoints to build knowledge and context around the maps.
Create reusable touchpoints and map templates to speed up the time to insight and action.
Ability to add more details to the reusable touchpoints and gather feedback from the team members.
Ability to turn the touchpoints into visual context to understand what needs to be done.
Best for: Leveraging the insights gained from touchpoints and their connections to achieve business objectives.
Price: It has a customized billing plan.
6. Jive
---
Jive has developed its proprietary PeopleGraph™ technology to leverage machine learning (ML) for mapping connections within your digital ecosystem. Using this customer journey mapping tool, you can identify links "between people, content, and activities." This allows for immediate syncing of information about your customers' experience with your digital product throughout your organization to keep all stakeholders on the same page without losing time.
Features:
It enables 360-degree communication and brings remote teams of organizations closer.
PeopleGraph understands the people and uses intelligence to deliver information whenever and wherever they need it.
Ability to enhance the search capabilities by bringing in a Google-like search engine for the information architecture.
User-friendly interface that delivers the most adoptive intranet and personalized dashboard for better engagement.
Ability to import data from external data and build a comprehensive employee directory by synchronizing the data.
Team members can submit and vote on ideas to select the best possible course of option.
Ability to integrate with tons of popular tools like Google Sheets, Microsoft Office, Salesforce, and many more.
Best for: Turning a dispersed organization into a close-knit community by igniting communication and influencing collaboration.
Price: It has a customized billing plan.
Customer Experience Software & VoC Software
A welcome addition to the categories of customer journey mapping software in recent years is customer experience (CX) management software and Voice of Customer software.
Such software adds the collection, sorting, and analysis of customer feedback to the process of recreating and testing the customer journey. The insights gained from customer feedback analysis are used to improve the journey for your customers, resulting in higher retention rates.
These tools fall under this category:
Autopilot
CFN Insight
MaritzCX
Designing CX
UserZoom
Touchpoint
Companies with an accurate customer journey visualization program "earn 350% more revenue from customer referrals!" See more impressive stats about the positive effects of consumer journey mapping in this blog post by Mr. M. Hinshaw, President/CEO of McorpCX, written for 'CMO by Adobe'
1. Autopilot
---
This beautiful web interface allows you to drag and drop icons and text to define the customer journey. But Autopilot is more than a mapping tool. The name implies that it helps you automate your marketing efforts across multiple channels according to the customer's actions. Through the interface, you can not only define the experience, but you can also automate triggers to personalize the experience.
For example, suppose a user opts into a particular event via email. In that case, you can then programmatically send an SMS or email reminder prior to the event—all this can be defined within Autopilot. The tool can also sync leads/prospects to CRM applications, like Salesforce and Pipeline, and lets you easily segment customers by the channels they've interacted with.
Features:
Provides intelligent mobile-friendly insights along with onboarding and support packages.
Ability to integrate and sync leads, contacts, and accounts from popular CRM tools like Salesforce and Pipedrive.
It allows you to instantly track and capture leads from different platforms like blog posts, landing pages, and web pages.
Inbuilt template directory to allow users to find journey ideas and best practices in creating visuals.
Ability to send personalized and automated messages across the entire customer lifecycle.
Users can also automate their sales and marketing workflow.
Best for: Automating the entire customer journey with visual marketing while helping you stay close to the customers.
Price: Starts at $49/month.
2. CFN Insight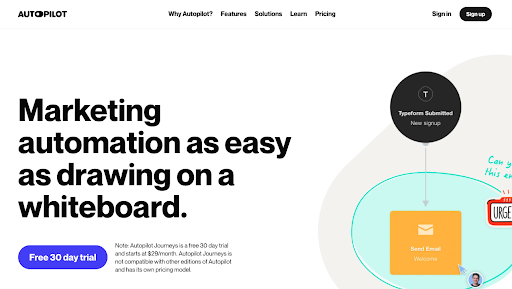 ---
What you can do with it: In addition to building out a customer journey map with CFN Insight by Clarivate, you can also assign an owner to be accountable for each customer touchpoint. It provides an action-oriented system, which lets users create an action scorecard for tracking each task related to the customer.
Features:
Managers get the ability to assign tasks to sales and CS teams across the organization while documenting each interaction.
Customer data is processed and reviewed to automatically provide an internal path to assist teams with customer complaints.
Gives customers the ability to constantly refresh their guides and address problem areas.
It focuses on the customer experience to increase conversions.
It has tons of standard and custom reports and custom views showing the journey data, which helps make smarter decisions.
Best for: Putting the focus on the touchpoints that create the maximum results out of all the touchpoints.
Price: Starts at $99/month.
3. MaritzCX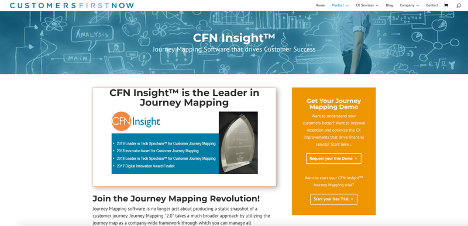 ---
MaritzCX (acquired by InMoment in 2020) suits big businesses quite well. Due to large numbers of customers, big businesses need data analytics and holistic CX management, which the MaritzCX/InMoment combination delivers without a hitch. Their customer journey maps help in driving up customer retention rate and customer lifetime value (LTV) by ensuring complete coverage of your customers' steps before, during, and after buying your product or service.
Features:
Ability to manage all the big data from a single dashboard for the customer experience professionals and business leaders.
Offers cutting-edge consultancy services like governance along with journey mapping.
Ability to capture customer feedback either individually or collectively through case management and action planning tools.
Uses text analytics to get to the bottom of the customer sentiment and organize feedback.
The all-in-one reporting platform is extremely easy to use.
Ability to layer both text and sentiment analysis to guide your customers and insights.
Best for: Conducting market research through its market research software that uses the customer feedback for analysis and turns it into a competitive advantage.
Price: MaritzCX has a customized billing plan offered by InMoment.
4. Customer Experience Journey Mapping Toolkit (Designing CX)
---
Designing CX gives you the option to start customer journey mapping anew with blank canvases and posters or draw up quick maps with their Customer Experience Journey Mapping Toolkit. This toolkit comprises guides, materials, and tools to help you replicate your customers' journeys as closely as possible without expending excessive time and resources on the task.
Features:
Takes little to no time to implement an organization-wide customer journey mapping process.
Availability of multiple tools as PDF, Excel Spreadsheet, and PowerPoint presentations.
Customer journey mapping tools have blank posters and canvases.
Includes detailed methodology and steps for the users to implement customer journey mapping at their organization.
Best for: Comprehensive resource collection for advancing customer experience strategy and design initiatives.
Price: Free to use. Consultation and facilitation are paid.
5. UserZoom
---
UserZoom is an advanced UX insights-identification solution. It can help in creating empathetic customer journey maps that replicate what your digital product's users think and act by tracking their behavior. Your product teams will be able to build a useful product and simultaneously identify areas of improvement through user testing using UserZoom.
The customer feedback can be shared quickly with stakeholders for delivering great UX to your customers. If your digital product needs to evolve rapidly to keep up with your competition, UserZoom is a great asset.
Features:
Easy to use platform with simple navigation.
Allows businesses to source users for testing with the help of automated sourcing engines.
Businesses have the ability to also source participants through their own channels like social media, emails, and more.
Data gathering functionality allows users to capture qualitative UX insights via usability testing.
Ability to analyze metrics such as success rates, time on page, page views, clicks, and more
Non-coders can easily create mockups of enhanced prototypes to evaluate design concepts.
Best for: Collecting user feedback and gathering actionable insights along with usability benchmarking and informative architecture research.
Price: It has a customizable billing plan.
Read More: 18 Best Prototyping Tools for UX/UI Designers in 2023
6. Touchpoint
---
With Touchpoint, you can make custom journey maps using their varied templates and dashboard. The touchpoints support drag and drop functionality, so the process is pretty easy – even fun! The software lets you assign a specific priority to each touchpoint. The fun factor is enhanced by the feature that lets you put images, audio, and video within the touchpoints, giving you a novel way to represent the customer journey.
Features:
Lets you create and cancel touchpoints with high accuracy and speed.
Very suitable for business communication, presentations, and customer mapping.
Extremely easy-to-use program with a self-explanatory user interface.
Compatible as a website application and for mobile devices as well.
It enables the users to draw on over 250 selection criteria to create a list of users based on different demographics and criteria.
Ability to send customizable emails and text messages directly from the database to every member.
Best for: Easily visualizing the experience that customer holds and mapping their interaction.
Price: It has a customizable billing plan.
The Combined Power of Customer Feedback & Journey Maps
A customer journey map will give you many opportunities to make the customer experience better. But how will you know if your attempts at doing so are working?
By asking the right questions at the right time.
Combining customer feedback with customer journey maps lets you measure how well your CX improvement plan is working. Choose the right kind of survey (or simply use one of the templates), integrate the survey responses with your favorite tools and software, and voila!
Some advantages of using the powerful combination of customer feedback and journey maps:
Higher return on marketing (& other) investments
Improvement in customer support (and retention rate)
Better word-of-mouth marketing & social proof
Increased NPS & chances of customer referrals
More opportunities for cross-selling & up-selling
When you collect relevant customer feedback and merge it with your accurate customer journey map, your business can benefit from the faster implementation of improvements and insights.
Related Read: Check out our comprehensive list of Best Customer Feedback Tools for 2023 that help you collect user feedback intelligently.
The Long & Short of Customer Journey Mapping Tools
Accurate customer journey mapping is a painstaking process because your customers themselves are quite complex. That's why customer journey mapping is easier with a specialized customer journey mapping software that lets you have both – a bird's eye view and a magnifying glass on individual touchpoints in the customer journey. We hope this list of 20 customer journey mapping tools comes in handy for you.
To gauge the effectiveness of the improvements you make to your customer journey touchpoints, implement unobtrusive, delightful micro surveys that ask the right questions at the right time!
Want insights that improve experience & conversions?
Capture customer feedback to improve customer experience & grow conversions.