There's an abundance of survey tools in the market, and each one does something better than the other.
When it comes to Limesurvey, unlike most other tools in the market, it is an open-source web application for conducting surveys.
This is what differentiates Limesurvey from its competitors.
But is Limesurvey the best survey tool out there? It's questionable.
This is because being an open-source project brings in a lot of downsides, such as complexity of usage, which is always a big red flag when picking a survey tool.
But it's not the end of the road because we have carefully compiled a list of the 10 best survey tools that will act as perfect LimeSurvey free alternatives.
But before we get to the list, let's give you a quick overview of Limesurvey and how it works.
What is LimeSurvey, and How Does It Work?
LimeSurvey is a web-based survey tool that lets users create powerful and intuitive survey forms quickly and easily. These surveys can work perfectly for anyone, from a small business owner to a large business owner.
Even though it is an open-source project, LimeSurvey does not put a limitation on the number of surveys or participants, and users can even pay an additional fee to get services like individual consulting, support contracts, additional templates, and also code development.
On paper, it might sound quite similar to any other survey tool in the market, but that is not quite the case.
This is because LimeSurvey is installed on the user's server, after which users can manage the application from the web interface. In terms of customizations, users can use rich text in questions and messages, using the rich text editor and also integrate photos and videos into the survey.
Pros:
Supports over 80 different languages
Users can receive up to 100,000 responses a year
Offers priority email support
Deploy expression scripts to build logic and get advanced outputs
Offers quota management to restrict storage capacity of the shared servers
Cons:
Email handling is quite limited
You need a little patience for setting up the surveys
Some customizations are a little difficult to implement
Being an open-source project makes the software lag due to non-extensive support
Does not have a larger variety of complex questions
The main website and the survey website are both different and require additional knowledge to deal with their complex UI
The admin interface needs more work to make it compliant with WCAG (Web Content Accessibility Guidelines)
Related Read- If you would like to learn more about surveys and their uses, then take a look at The Marketer's Guide To Surveying Users
Now that we have a pretty good understanding of what LimeSurvey can and cannot do, let's take a look at some of the LimeSurvey alternatives.
10 Best LimeSurvey Alternatives
There is a variety of different survey tools out there in the market, but considering the limitations of LimeSurvey, here are 10 survey tools that fit the bill.
1. Qualaroo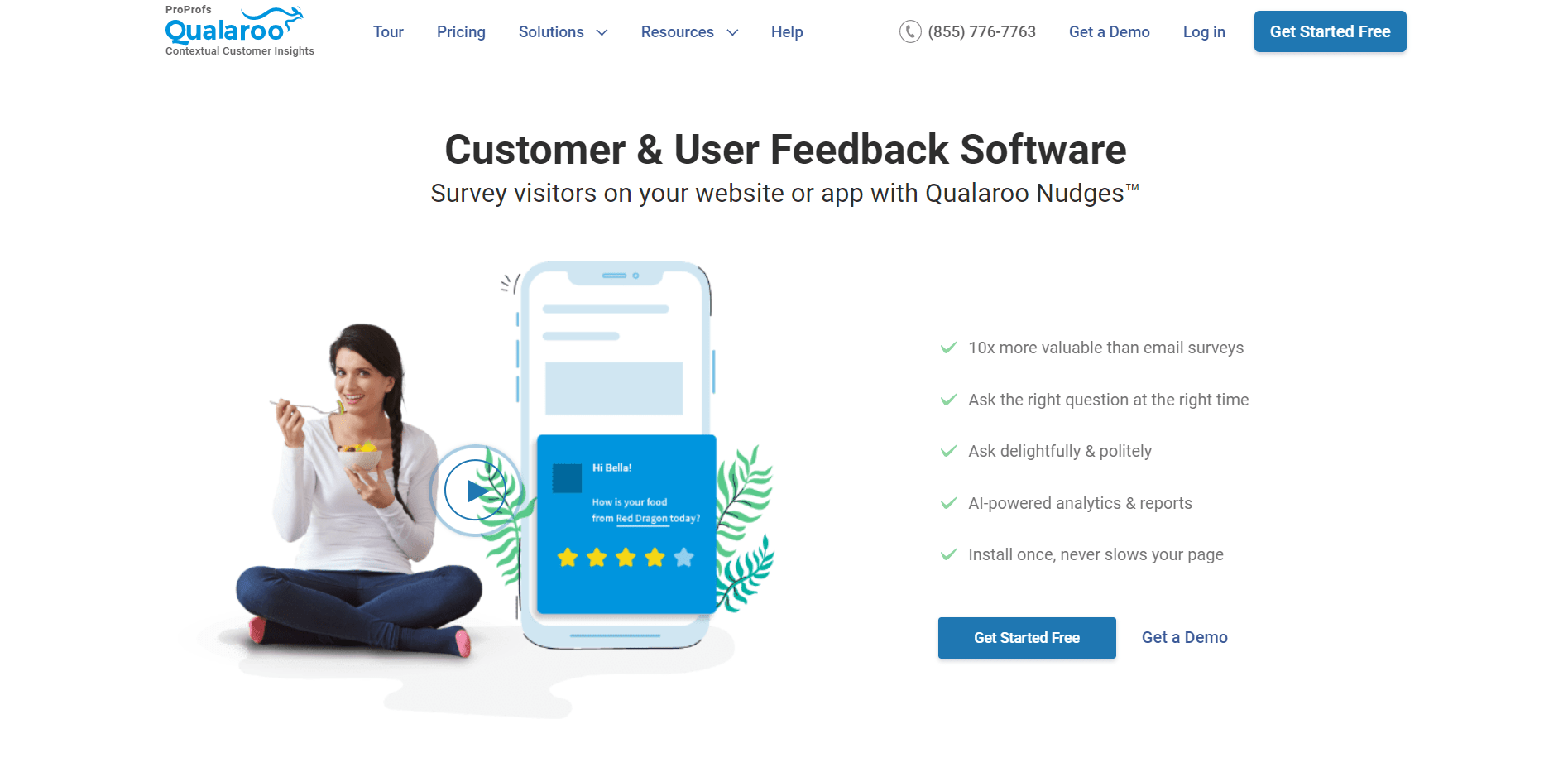 Qualaroo has to be one of the top picks because it ticks all the boxes when it comes to choosing the best LimeSurvey alternatives. This online survey tool is extremely popular and easy to use, which makes deployment a breeze for any user.
You can even target your surveys to specific users in order to collect contextual feedback based on who the respondents are, where they are located, how much they spend, and much more.
Qualaroo also offers unobtrusive NudgesTM to help users get maximum responses with the help of clever & intuitive popups which lets them make data-driven decisions with ease.
Features:
Easy to set up and deploy
Create any type of survey instantly with the help of ready-to-use survey templates
Ask questions of any nature with the help of 12+ question types, including NPS, CSAT, CES, UES, SUS, and more
Filter the information you want to collect using question branching and skip logic features
Easily duplicate your surveys and Nudges™ instead of creating them from scratch
Send surveys to users on any platform with the help of 6+ channels embedding
Automatically analyze data and derive insights through the IBM Watson Sentiment Analysis engine.
Pros:
Almost little to no learning curve
Extremely effective question branching and skip logic
Perfect for redirecting customers through NudgesTM
Over 100+ personalization options
Easily export survey reports
Well designed targeting options
24/7 customer support
Cons:
Needs a fresh batch of ready-to-use templates
The dashboard could use a little more functionality
Suitable for: Small, medium, and large enterprises
Best for: Seamlessly gathering contextual feedback from real-world users for conducting user research at scale.
Price: Starts from $69 per month.
2. ProProfs Survey Maker
---
ProProfs survey maker is another highly capable online survey tool that packs features like advanced online survey and real-time analytical capabilities. With its easy-to-interact user interface, ProProfs Survey Maker is an ideal survey solution for both surveyors and respondents.
ProProfs Survey Maker offers almost all the necessary features you could ask for, and the basic plan is sufficient for almost everybody. You get unlimited surveys with over 100+ professionally built templates and tons of customization options, all in the basic plan of the software.
You can carry out advanced response analytics along with creating polls, pop-ups, sidebar, and in-app surveys. You can also share these surveys via dedicated URLs & links on social media or embed them on the website.
Features:
Easily navigate through the tool with its super user-friendly interface
Always ask the right questions with the help of 100+ professionally designed survey templates
Collect data using multiple methods, including personality, in-app, and sidebar surveys
Build surveys with ease using the built-in drag and drop editor
Send surveys and polls to users anywhere with the help of multi-channel support
Filter users and responses with the help of branching and skip logic
Create job applications, product feedback, and contact us forms with ease
Pros:
Built-in templates for easy survey creation
Highly effective sidebar surveys
Data-driven feedback for better decision making
Supports automatic scoring
Schedule automatic check-ins
Randomize the order of questions
Cons:
Suitable for: Small, medium, and large enterprises
Best for: Building conversational surveys to conduct market research and gauge customer perception.
Price: Starts from $19 per month.
Related Read: 12 Best Online Market Research Software
3. SurveyMonkey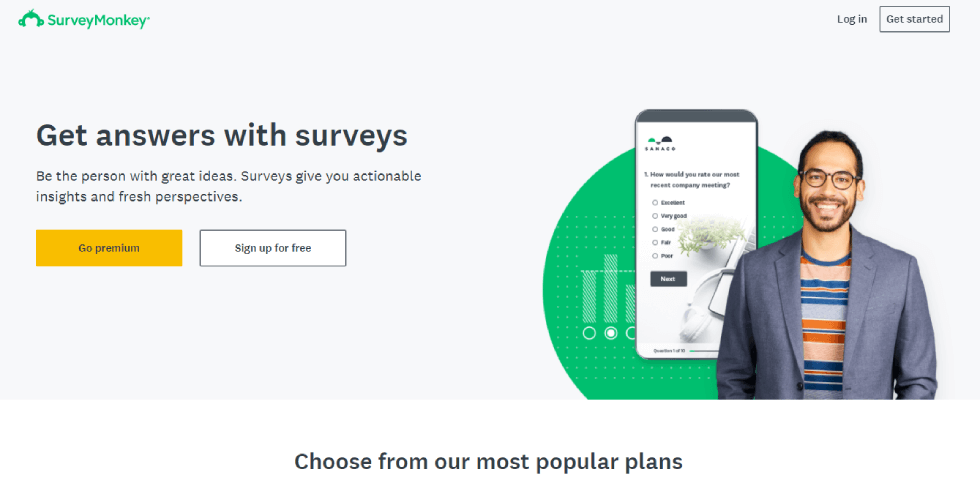 SurveyMonkey is another highly capable survey tool that can serve as a perfect LimeSurvey alternative due to its all-inclusive questionnaire building solution along with its built-in analysis engine.
Users can easily build complex question sets without any knowledge of coding, and they also get fine control over who they send their surveys to. You can even gather all the comments in one place, create an asset library of your on-brand surveys and integrate with other powerful tools for a much better survey experience.
Features:
Offers over 1600+ questions which are written by the experts
Ask questions of any magnitude with the help of 15 different question types
Collect and analyze feedback in real-time
Support patient-provider communication with the help of healthcare surveys
Easily analyze survey data with the help of Wordcloud and sentiment analysis
Integrate easily with other powerful online tools
Pros:
Survey questions built by professionals
Multiple different question types to collect all forms of data
Effective branching and skip logic
Easily embed surveys into emails
Export results in CSV, XLS, PDF, PPT, and SPSS
Cons:
Not suitable for measuring the overall satisfaction with accuracy
Resurveying the audience after a particular period is not effective at all.
Suitable for: Small and medium enterprises
Best for: Marketing and IT professionals who are looking to gather real-time feedback to improve their products and services.
Price: Starts at $25/month.
Also Read: 15 Best SurveyMonkey Alternatives
4. Zoho Survey

---
Zoho Survey is one of the major LimeSurvey competitors, which with its long list of features and the level of user-friendliness, makes it an ideal tool to carry out basic surveys.
Zoho Survey is a popular survey solution because of its ability to collaborate seamlessly with other Zoho applications but running complicated surveys is not something that Zoho Survey can deliver on.
If you are already working with other Zoho Office applications, then Zoho Survey can provide great collaboration opportunities through its seamless integration.
Features:
Frame questions of any kind using over 25+ different question types
Filter data with ease using skip logic and piping
Collect survey data through social media and email campaign
Ensure the greater level of data security through SSL encryption
Easily customizable and presentable visual resorts
Pros:
Easy collaboration with teams
Natively supports mobile application
Accept payment from users
Assign team roles
Assign tasks and track individual progress
Cons:
Live surveys are hard to determine
Needs more complex features in surveys
Suitable for: Small enterprises
Best for: Going beyond basic survey questions by branding your surveys and supporting a large number of responses.
Price: You can get started for free. Starts at $20/month.
5. Qualtrics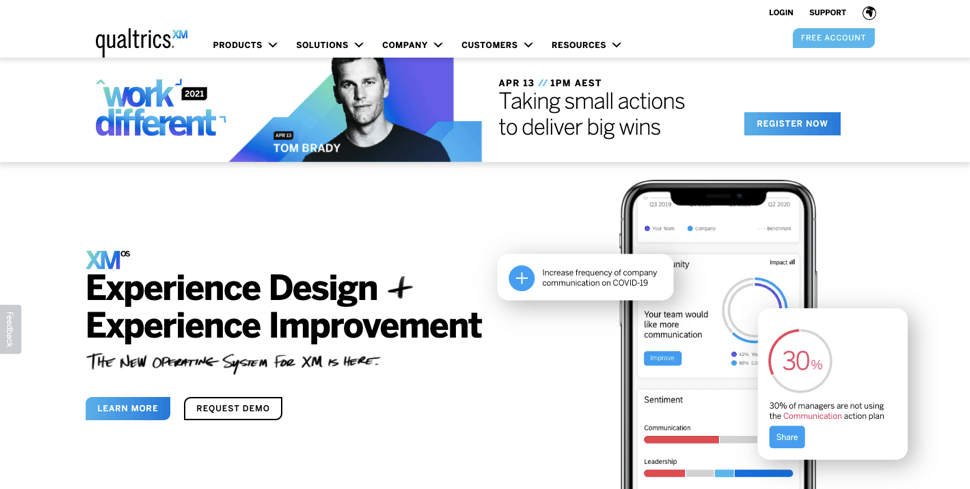 ---
Qualtrics is another free survey tool and a LimeSurvey competitor that aims to push the boundaries of traditional survey methods.
With a library of over 100 question types and tons of readily made survey templates, survey creation has been made easier than ever through Qualtrics. It even offers real-time reports and analytics where users can choose from 30 different graphs and export the data to CSV or SPSS.
Qualtrics also offers some of the most advanced features like text and voice response analytics and the capability to deploy surveys through apps, websites, email, SMS, chatbots, etc., which makes it one of the top choices as a LimeSurvey alternative.
Features:
Capture all the data in a centralized location for easier access
Analyze future trends with ease using powerful predictive analysis
Collect data from over 27 different channels and over 128 data sources
Collect customer feedback in real-time
Build, configure and automate workflows based on your personal needs
Pros:
Offers over 100+ question types
Segment users based on demographics
Understand perception with the sentiment analysis engine
Monitor responses in real-time
Cons:
Survey customization is quite limited
Open-ended responses are difficult to analyze
Suitable for: Large enterprises
Best for: Conducting feedback and surveys through various distribution modes and managing customer insights data in one location.
Price: You can get started for free. Subscription-based pricing.
Related Read: 11 Best Qualtrics Alternatives & Competitor in 2023
6. QuestionPro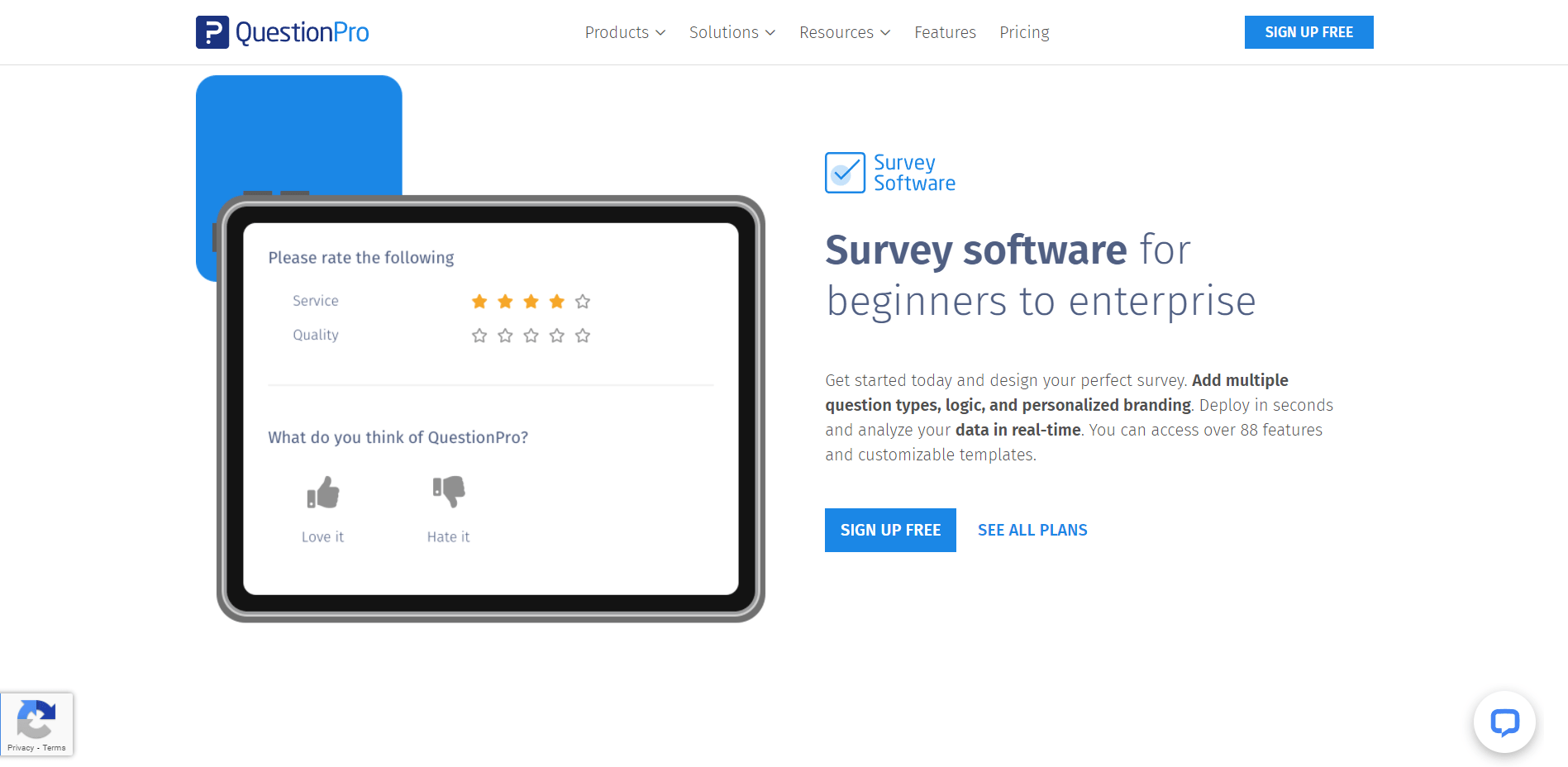 If you are looking for a free yet competent enterprise-level survey tool, QuestionPro might just be the tool for you.
Creating surveys and polls with QuestionPro is extremely easy as it offers over 30+ question types and built-in templates to aid users with the creation process. All of these things combined with the ease of use make QuestionProv a solid contender as a LimeSurvey alternative.
Features:
Make visually appealing surveys using 20+ professional survey themes
Send surveys to users anywhere and anytime using email or popups
Get accurate analysis data with the help of heatmap analysis
Export raw and analyzed data in multiple formats
Endless possibilities of customizing the panels
Pros:
Transfer responses to graph with ease
Tons of comprehensive analytics features
Easily digestible reports
Easily adapts to mobile use
Extremely high response rates
Cons:
Interface feels outdated
Runs slowly with lags between switching tabs
Limited features depending on the license
Suitable for: Small enterprises
Best for: Conducting employee experience surveys and analyzing results to help companies thrive.
Price: You can get started for free. Starts at $35/month.
7. Hubspot Form Builder

Hubspot Form Builder is another very popular LimeSurvey alternative that is not just a survey tool but comes as an all-in-one marketing platform that includes CRM, email marketing, and many other sales features.
Users get a lot more functionality out of the Hubspot forms as it pairs its cutting-edge technology with form building.
Features:
Set up automatic email follow-ups whenever someone fills a form
Create smart forms that adapt to the user's browser history
Analyze the data with ease using a built-in data analytics engine
Convert anonymous visitors into leads using unlimited forms, fields, and submissions
Set reminder tasks and follow up actions with your leads
Pros:
Extremely easy to install and use
Drag and drop editor for seamless form building
Integrates easily with other Hubspot applications
Powerful segmentation options
Cons:
Needs more flexibility with styling
The reporting system is not refined enough
Suitable for: Medium and large enterprises
Best for: Creating website forms and automatically routing the participants into the HubSpot CRM.
Price: You can get started for free. Starts at $45/month.
8. SurveyPlanet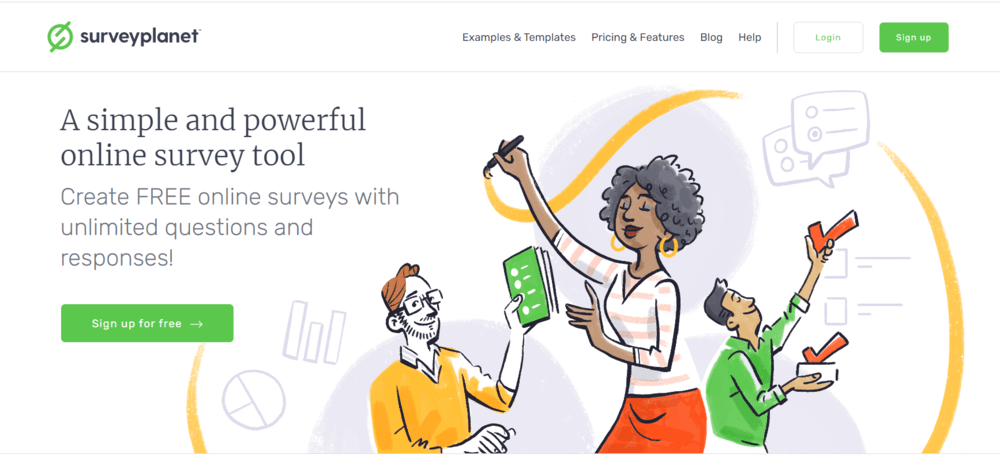 ---
SurveyPlanet is a free alternative to LimeSurvey that offers a wide range of built-in survey templates that are also highly customizable, which makes it an ideal tool for almost any survey requirement.
Users can also fine-tune the themed templates with the help of the user interface, and the question branching and multilingual support just add up to the overall functionality and experience of the tool.
Features:
Extremely user friendly and easy to use
Supports over 30+ languages for greater flexibility
Visualize your survey in real-time using the live preview
Data is safely stored and is not mined or sold
Preview your surveys on any device with the multiple device support
Pros:
Little to no learning curve
Offers a great survey experience
Wide range of customizations
Preview surveys on any device
Tons of customizations under the free plan
Cons:
Data needs to be well-organized
Not enough features to work with multimedia content
Suitable for: Small enterprises
Best for: Allowing users to bring expression and creativity to surveys and collaborating with team members.
Price: You can get started for free. Starts at $20/month.
9. SurveyLegend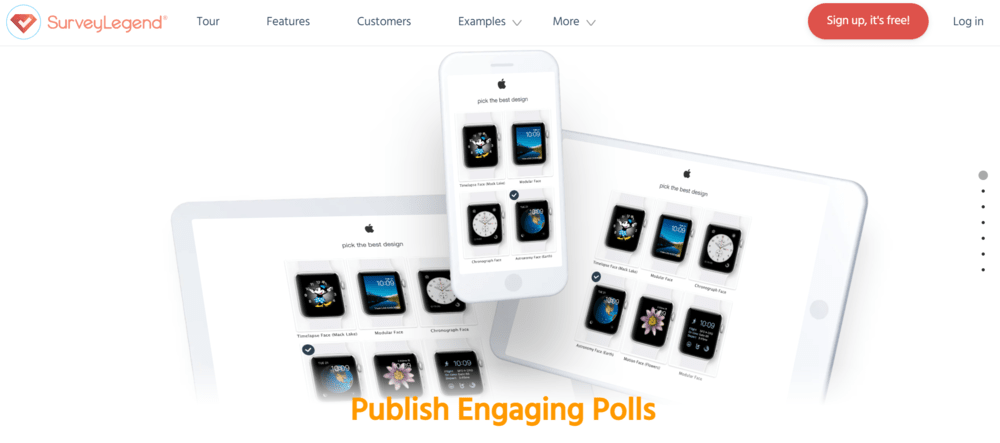 ---
SurveyLegend is another one of many popular LimeSurvey competitors that lets you create amazing surveys anytime and anywhere. The quick learning curve and the well-designed survey editor let you create surveys quickly.
There are tons of templates that users can pick and customize as per their needs, and once done, they can share those surveys using email, text messages, social media sharing tools (like Hootsuite), etc.
Features:
Easily create surveys with the drag and drop editor
Saves data automatically to prevent any data loss
Caters to a wider audience through multilingual support
Unpublish and close surveys with ease
Redirect to custom pages after submitting the survey
Pros:
Pre-built templates and themes for easy survey creation
Can work on any device
Share surveys with just one click
Gather real-time insights using built-in analytics
Suitable for conducting academic research
Cons:
Suffers from data failure and survey error
Customer support is a little unreliable
Suitable for: Small enterprises
Best for: Creating smarter visual surveys instantly to deliver a better user experience.
Price: You can get started for free. Starts at $15/month.
10. Google Forms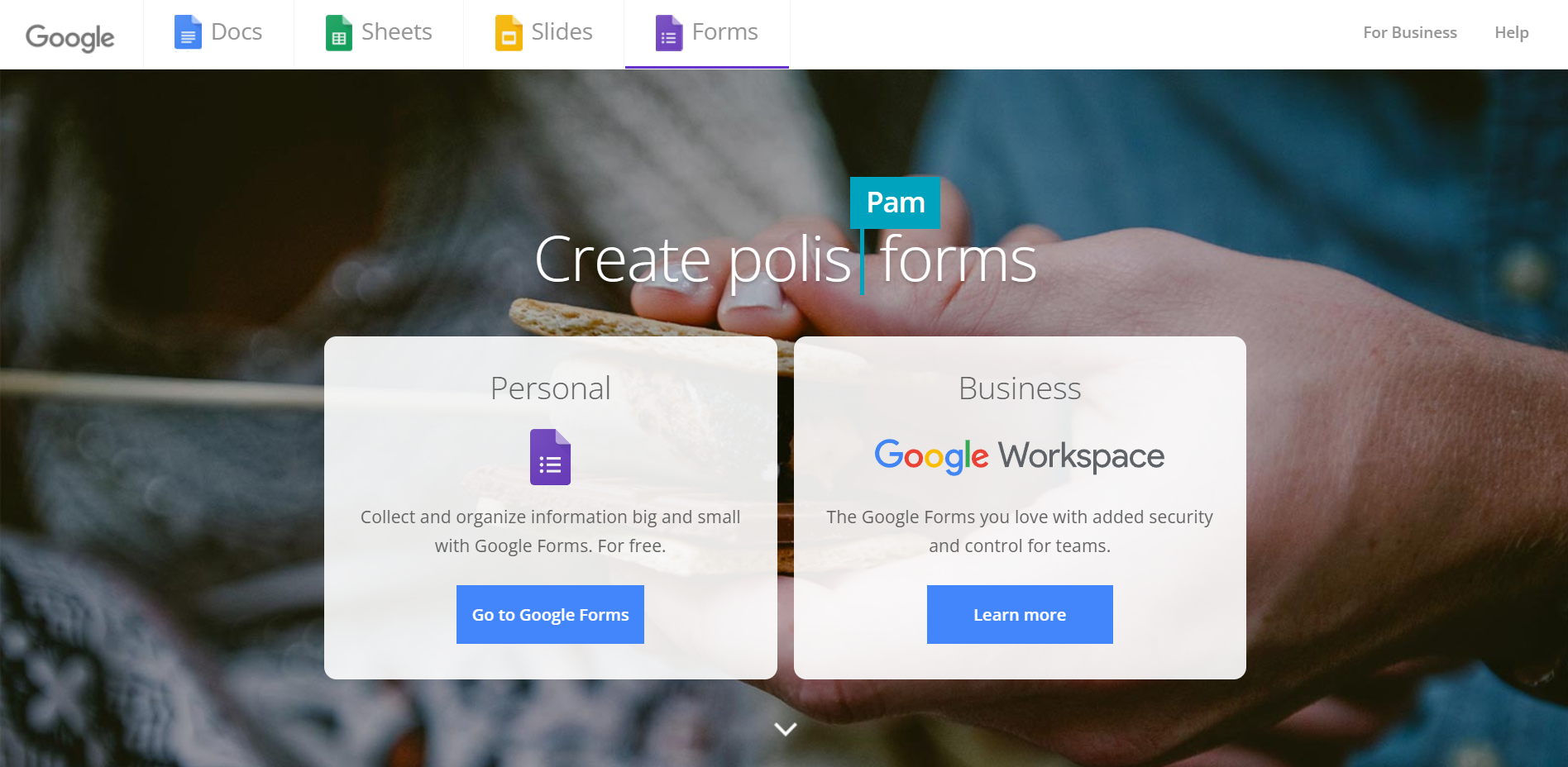 ---
Google Forms has to be the most popular alternative to LimeSurvey if you are looking to collect valuable feedback from customers with relative ease and for completely free.
It is available for free as a personal version or you can get it as part of the G Suite for commercial platforms. The surveys created through Google Forms are simple in nature, and their data can be transferred to Excel spreadsheets easily.
Features:
Offers professional-looking surveys for a corporate setting
Share forms with anyone either through email or website
Only accept the right data using data validation rules
Get an overview of the data instantly using automatic summaries
Collaborate with teams in real-time
Pros:
Offers 12 different field types and 9 question types
Randomize and shuffle the order of questions
Built-in themes for better customization
Limit responses for every user
Autocomplete answers with the help of the AI engine
Cons:
Does not support branching logic
Limited options for embedding the survey
Suitable for: Small and medium enterprises
Best for: Establishing connectivity to the third-party systems and integrating forms with the G Suite applications.
Price: Free to use.
Read Also: 21 Best Google Form Alternatives
Feature Comparison Table
Now that we have gone through all the tools in our lineup, let's quickly compare them one last time using the feature comparison table.
Tool
Features
Suited for
Price
Qualaroo
Easy to set up
100+ built-in templates
12+ question types
Question branching & skip logic
Survey & Nudge duplication
6+ channels embedding
Sentiment analysis engine
Small, medium & large enterprises
Starts at $80/month
ProProfs Survey Maker
Easy navigation
100+ built-in templates
Personality, in-app & sidebar surveys
Drag & drop editor
Multi-channel support
Collect payments
Small, medium & large enterprises
Starts at $0.05/response/month
SurveyMonkey
1600+ questions
15 different question types
Analyze feedback in real-time
Support patient-provider communication
WordCloud & sentiment analysis
Small & medium enterprises
Starts at $25/month
Zoho Survey
25+ question types
Skip logic & piping
Social media & email embedding
SSL encryption
Small enterprises
Starts at $20/month
Qualtrics
Centralized location
Predictive analysis
27 different channels
128 data sources
Build & configure workflows
Large enterprises
Subscription-based pricing
Question Pro
20+ question types
Heatmap analysis
Export raw & analyzed data
Send surveys anytime & anywhere
Small enterprises
Starts at $35/month
Hubspot Form Builder
Automatic email follow-ups
Adaptable smart forms
Data analytics engine
Unlimited forms & submissions
Set reminder & follow up actions
Small enterprises
Starts at $20/month
SurveyPlanet
User friendly
30+ language support
Real-time visualization
Data security
Small enterprises
Starts at $20/month
SurveyLegend
Drag & drop editor
Automatic data saving
Multilingual support
Unpublish & close surveys
Redirect to custom pages
Small enterprises
Starts at $15/month
Google Forms
Professional look and feel
Email/website sharing
Data validation
Automatic summaries
Real-time collaboration
Small & medium enterprises
Free to use
Make the Right Choice
Choosing the right survey tool will entirely dictate the quality of feedback you receive and the success of your marketing efforts.
Limesurvey is without a doubt a great survey tool and even more suitable for people who prefer working with software codes and programming.
However, you need to pick a tool that is going to cater to your specific needs in the best possible manner.
We have done our bit, and now the floor is yours. Go out there and pick the tool that is best for you.
Want insights that improve experience & conversions?
Capture customer feedback to improve customer experience & grow conversions.