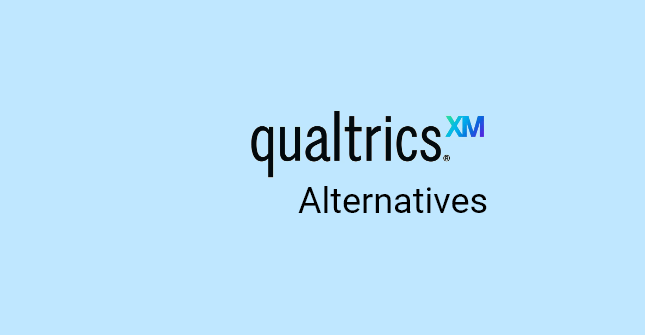 There is no dearth of customer experience and feedback tools in the market but choosing one to deliver impeccable customer experience can be a little daunting.
So, the first thing you do is type in Google – Best customer feedback software.
You get a bunch of options as a result, and you start going through the choices. If this is how you stumbled upon Qualtrics, you're not alone.
Qualtrics is a very popular survey feedback tool, but unfortunately, it has some flaws that can't be overlooked.
So, we decided to create a thorough list of top Qualtrics alternatives and competitors you can consider.
To help you swiftly navigate through each tool and still get detailed information, some points we will cover are:
Suitable for
Choose it for
Price
Pros
Cons
Case study
Before anything, let's have a brief look at what is Qualtrics and why you should consider switching to better alternatives.
What is Qualtrics?
Qualtrics is a Customer Experience Management (CEM) platform that mainly focuses on gathering insights, managing the data, and analyzing it to bring deep insights of statistical significance.
It helps collect actionable insights and increase customer engagement. There are various Qualtrics products and their survey tool is one of them.
Even though it has many versatile functionalities such as Qualtrics analysis, pre-built survey templates, predictive analytics, and popular Qualtrics features, there are many reasons why you need to make a switch to an alternative.
So, what are they? Let's discuss them below and understand why you need to look for Qualtrics alternatives for your business.
Why do you look for Qualtrics Alternatives?
Qualtrics online survey software is not free from flaws. These can affect the efficiency of your customer experience endeavors and give you half-baked results. Some of the issues of Qualtrics that make businesses look for its alternatives are:
Takes a lot of time to load reports for large amounts of data.
Surveys time out frequently, giving you blank responses.
Very basic functionalities in the basic version and mediocre survey templates.
Limited options for result analysis.
WYSIWYG offers basic functionalities.
Not easy to use and requires some training.
Limited survey customization
Top 11 Qualtrics Alternatives for You to Try
Now that you know why you need to look for competent Qualtrics alternatives, you can choose the best survey and analytics tool to create your customer experience ecosystem. Keep in mind that the order of the tools doesn't signify their competence as a resource.
Qualtrics Alternative #1:Qualaroo
---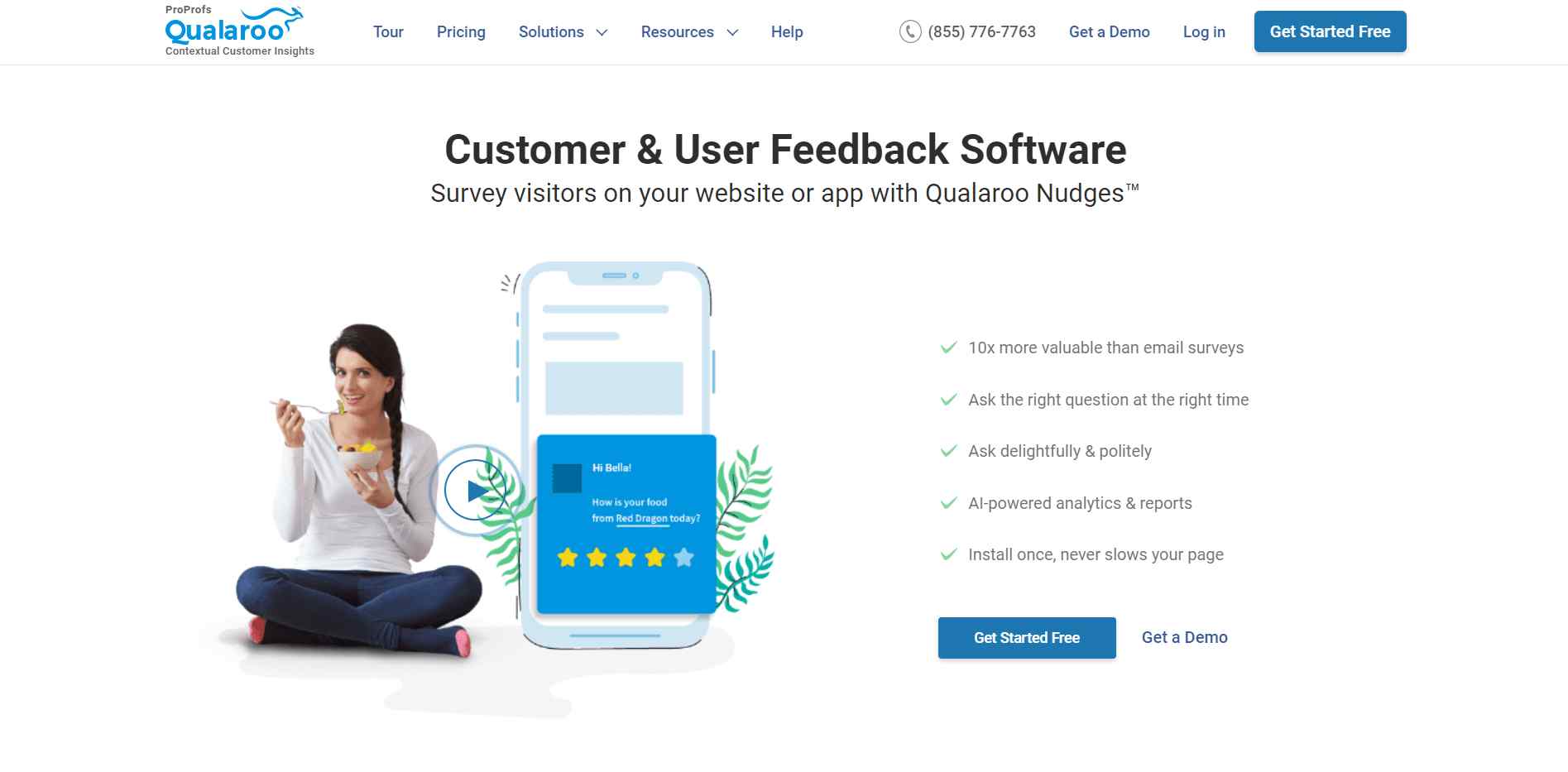 Qualaroo is a strong Qualtrics competitor in terms of features. The customer feedback survey tool allows you to conduct surveys on the website, mobile apps, and prototypes.
It is a great option to collect contextual feedback with features that aren't common in survey tools. Let's have a detailed look at its features.
Suitable for: Medium to large businesses.
Choose it for: Conducting the multi-channel survey, advanced reporting, AI-based Sentiment Analysis.
Price: Starts from $69 per month.
Features:
Helps ask the right questions from the right people at the right time with Nudge™ pop-ups.
Supports creating various surveys such as Net Promoter Score (NPS), Customer satisfaction surveys (CSAT), System Usability Score (SUS), User/Customer Effort Score, etc., from scratch.
Comes with various survey templates for each type of survey for faster deployment.
Offers features like branching and skip logic that makes surveys flexible as per customers' responses and helps target the right audience.
Exit-intent surveys that let you ask for feedback from leaving customers to reduce bounce rates.
Schedule surveys to appear after a visitor spends a specific time on the website.
Can control surveys for when they pop up, where they are shown, who sees it, and how many times they see it.
Has a visual survey editor with 10+ question types, customized designing, rebranding options, and support for 21 languages.
Has seamless integrations with tools like Zapier, HubSpot, MailChimp, Marketo, Salesforce, and so on.
Offers IBM-powered Sentiment Analysis to analyze open-ended responses and add qualitative insights to your feedback.
Pros:
Case Study: Hootsuite
Hootsuite is a known social media management platform enabling its users to manage all social media accounts in one tool.
The company faced a high bounce rate on its website landing pages and couldn't figure out why.
With the help of Qualaroo, Hootsuite launched pop-up exit-intent surveys asking the leaving customers what the website lacked. The responses collected through the surveys unraveled that customers needed more information than provided.
Not every website visitor was aware of the kind of services Hootsuite offered, and the website only highlighted sophisticated features instead of explaining what the tool does.
With this feedback, Hootsuite gave a complete makeover to its website and reduced the bounce rate.
Read Also: 30 Best Website Feedback Tools
---
Qualtrics Alternative #2: ProProfs Survey Maker
---
---
One of the effective Qualtrics alternatives is ProProfs Survey Maker. The tool is handy for creating multiple types of surveys, polls, quizzes, forms, and a lot more. ProProfs has an impressive clientele, including some industry giants like Sony, Dell, and Intel. 50000+ ProProfs surveys have so far garnered responses from over 4 million respondents.
Suitable for: Small to Medium businesses.
Choose it for: Conducting the multi-channel surveys, Surveys, Quizzes, Forms, and Polls.
Price: Starts from $50 per month.
Features:
Has a simple interface making it easy to navigate and use.
Design surveys with over 1,000,000 goal-oriented questions to collect unbiased and authentic feedback.
Drag-and-drop editor for easier and quicker survey creation and deployment.
Customize your surveys with personal branding.
Comes with a huge survey questions library with pre-designed templates.
Helps design web forms for different purposes such as job recruitment applications, product feedback, etc.
Supports integrations with Zendesk, MailChimp, etc.
Allows you to embed on-site surveys to collect feedback on the website.
Facilitates quick feedback analysis with a detailed reporting section.
Supports 40+ languages for creating surveys.
Pros:
You can share designed surveys on multiple platforms with different channels.
A non-intrusive sidebar feedback button that you can add to a website.
Helps engage with customers with more options like preference polls, personality quizzes, and more.
Cons:
Survey editor has a slight learning curve.
Doesn't offer multiple survey types.
Case Study: Intel
Intel is one of the leading IT companies which needed survey feedback software to gather 'out of scope' insights for a specific project.
They picked ProProfs Survey Maker since it was simple and seemed easy to use. They also appreciated that the tool offers complete survey customization for in-house touch.
Related Read: 12 Best Market Research Tools & Software in 2023
Qualtrics Alternative #3: GetFeedback
---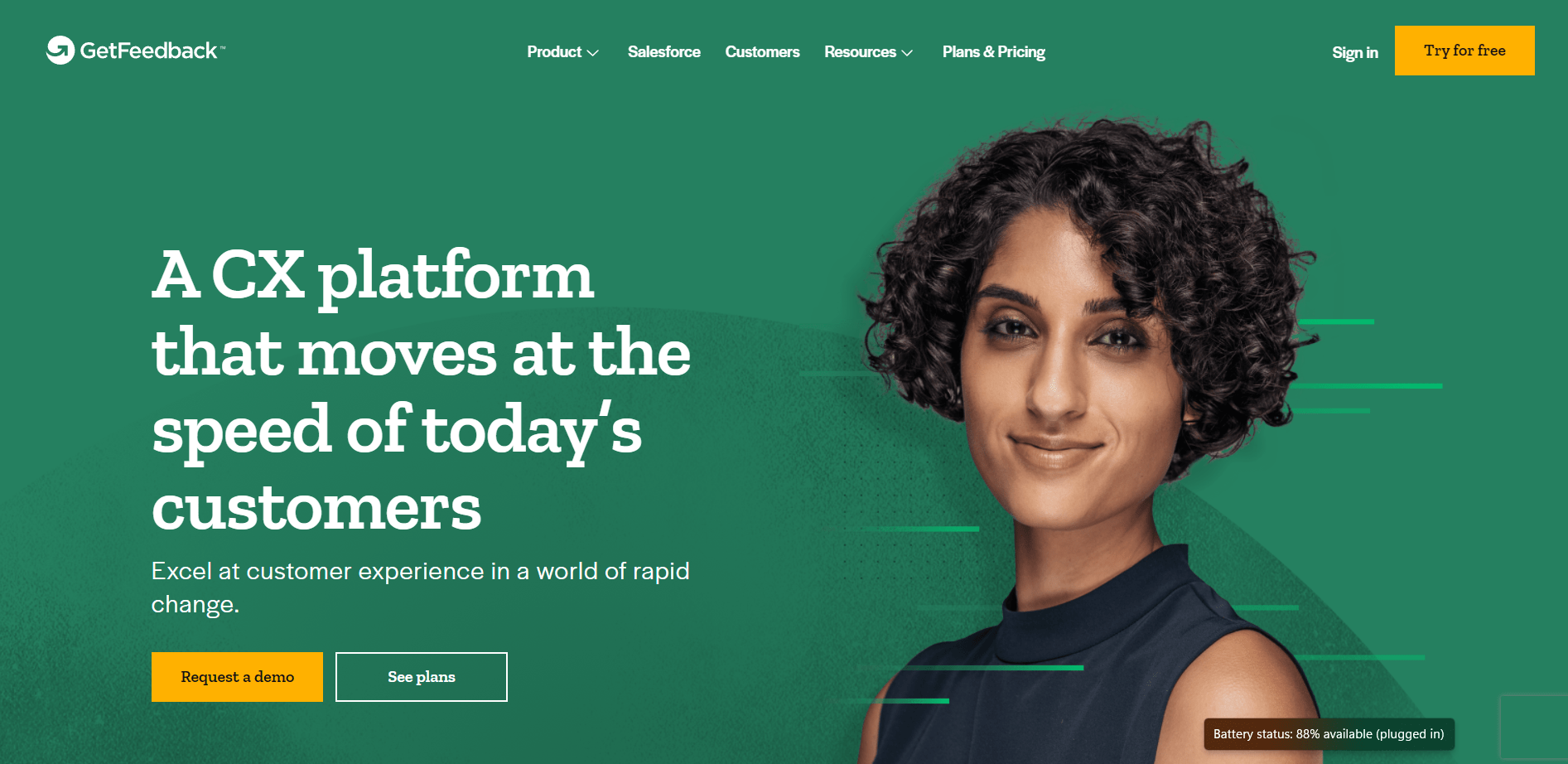 ---
Another perfect alternative to Qualtrics is GetFeedback. It is a survey tool that enables users to design beautiful surveys with a drag-and-drop editor. You can customize the surveys to fulfill your business needs. The tool easily adapts to all the channels and platforms used to send surveys to respondents.
Suitable for: Small to large businesses.
Choose it for: Complaint monitoring, customer segmentation, negative feedback management.
Price: Available on request.
Features:
Helps with feedback management as it has customizable surveys, reporting, data analysis.
Comes with a practical dashboard displaying feedback analysis reports to give 360-degree feedback.
Offers mobile surveys, data collection, and multi-channel communication.
Comes with a predictive analysis feature to allow companies to make data-backed business decisions.
Design surveys with branching logic and a vast question library to collect contextual data.
Offers seamless integration with platforms like Salesforce, Slack, Jira, etc.
Pros:
Survey customization.
Simple surveys that are easy to take.
Automates triggers for surveys.
Cons:
Templates need improvement.
Becomes costly if you also want Salesforce integration.
Case Study: Yeti
This Qualtrics alternative bagged a client named Yeti, an outdoor gear manufacturer. Yeti needed to improve its omnichannel feedback strategy and wanted a tool for the same.
It used GetFeedback software to achieve that by collecting insights during several touchpoints such as email, chat, web, etc.
As a result, Yeti designed a CX program to understand customers' issues, wants, and feedback.
Read Also: 60 Best Online Lead Generation Tools to Grow Your Business
Qualtrics Alternative #4: Alchemer
---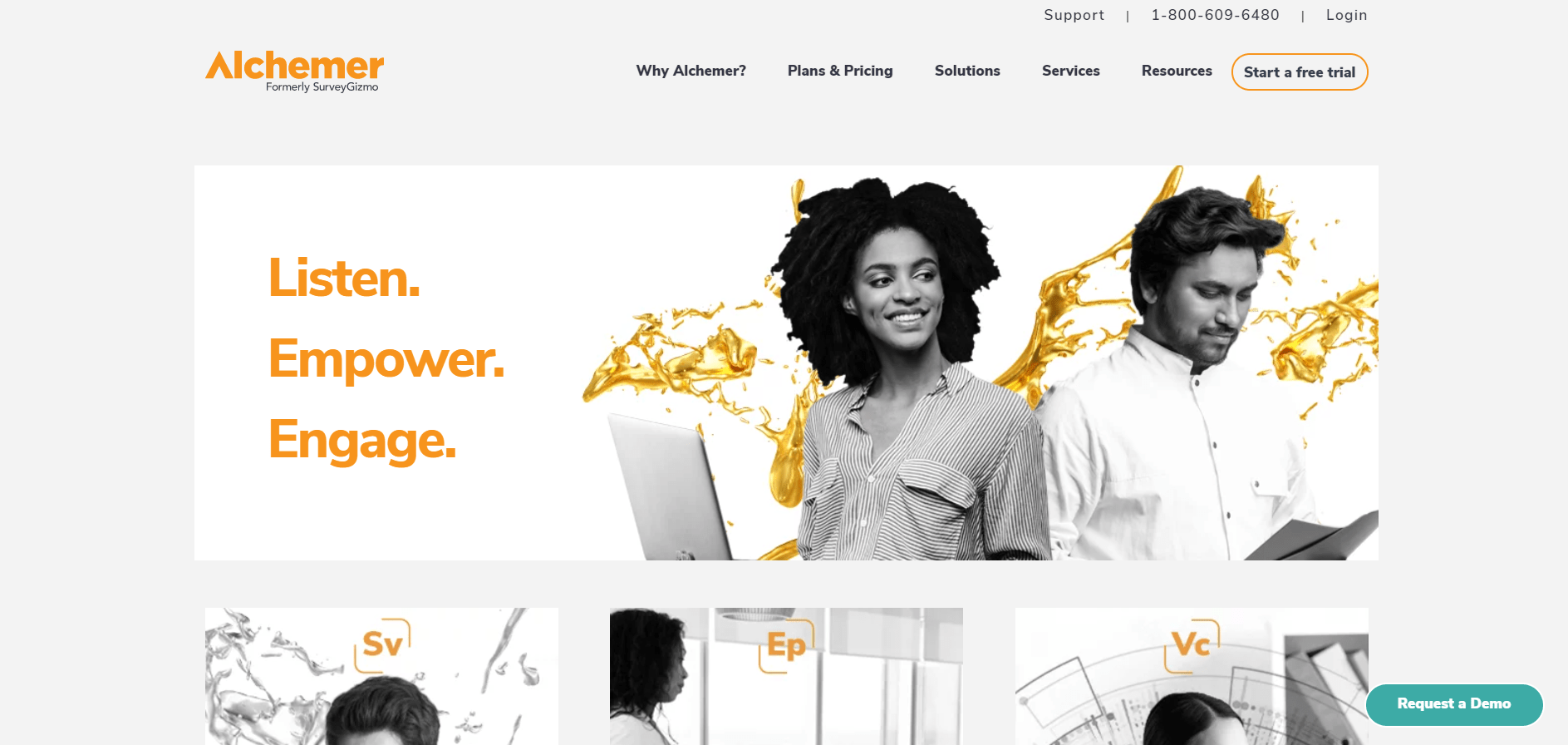 ---
Alchemer, formerly known as SurveyGizmo, is a viable Qualtrics survey alternative. The survey tool is suitable for businesses to create custom surveys and collect contextual and actionable feedback.
Alchemer is known to provide more types of questions as compared to its competitors. It is also easy to set up without the need for a developer to install it.
Suitable for: Medium to large businesses.
Choose it for: Survey customization, survey management, mobile surveys, reporting.
Price: Available on request.
Features:
Has multiple question types to ask for feedback the right way.
Allows you to customize survey branding, skip and branching logic, and mobile in-app surveys.
Comes with features like reporting and analyses to understand the crux of collected feedback.
Offers pre-designed templates that save time and enable businesses to ask the right questions to the right people.
Comes with support for multilingual and multimedia surveys.
Has BI tools and integration with Salesforce, Webhooks, and more.
Pros:
Gives data exporting permissions.
Responsive surveys.
No additional charges per response.
Comes with an intuitive CMS.
Downloadable reports in multiple formats.
Cons:
Too many sub-menus get confusing.
Limited customization functionality.
Only makes a few surveys private.
Case Study:
Product Madness, a social casino operator, had a cumbersome Net Promoter® Score (NPS®) program that was limited to only quarterly NPS surveys at the most. This problem was remedied with Alchemer.
They also integrated their Slack channels with the Activated VoC solution to respond quickly to poor scores and trigger words given by customers in their feedback. This greatly aided them in retaining customers and understanding how to better create events and promotions.
Qualtrics Alternative #5: SurveyMonkey
---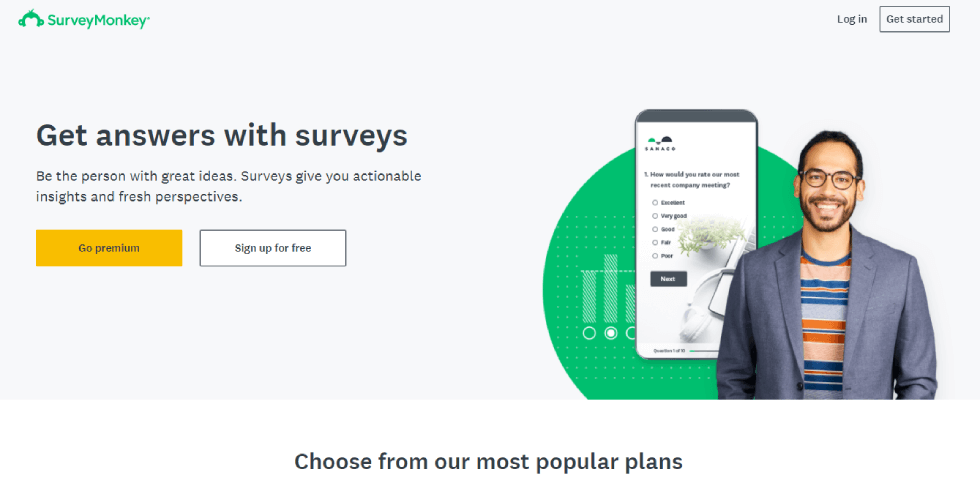 SurveyMonkey is a popular feedback platform and a Qualtrics competitor. The platform is excellent for collecting insights from customers and employees. You can use it to conduct market and user research, marketing research, etc.
Suitable for: Small to large businesses.
Choose it for: Conducting multi-channel survey, employee feedback management, market research, user research.
Price: Starts from $31/month.
Features:
Comes with a visual editor to design intuitive surveys that gain high responses from respondents.
Helps add components to the surveys and quizzes such as question randomization, progress bar, scoring mechanism, and more.
Offers pre-built professional templates and enables you to design beautiful surveys.
Supports skip and branching logic, various question types, etc.
Gather qualitative data with sentiment analysis technology and word cloud generation tools.
Allows in-app ratings to collect app ratings.
Supports survey language translation to reach a wider audience.
Comes with an AI-based Genius engine that estimates the completion rate. It represents how effective the deployed surveys are and what needs to improve.
Offers effective integration with HubSpot, Salesforce, Automate.io, and so on.
Pros:
Easy and quick to set up.
Has automatic charts, graphs, and feedback summaries.
Offers anonymous feedback.
Cons:
Costly with advanced functionalities.
Suffers from website glitches.
Limited customization options.
Case study: Audi
The Qualtrics survey alternative has provided its services to Audi Business Innovation. The brand uses SurveyMonkey Enterprises in different ways to connect and communicate with its users.
The tool also helped the Audi team to create customer-centric prototypes and uncover what customers expect in several areas.
Also Read: 15 Best SurveyMonkey Alternatives & Competitors in 2023
Qualtrics Alternative #6: TypeForm
---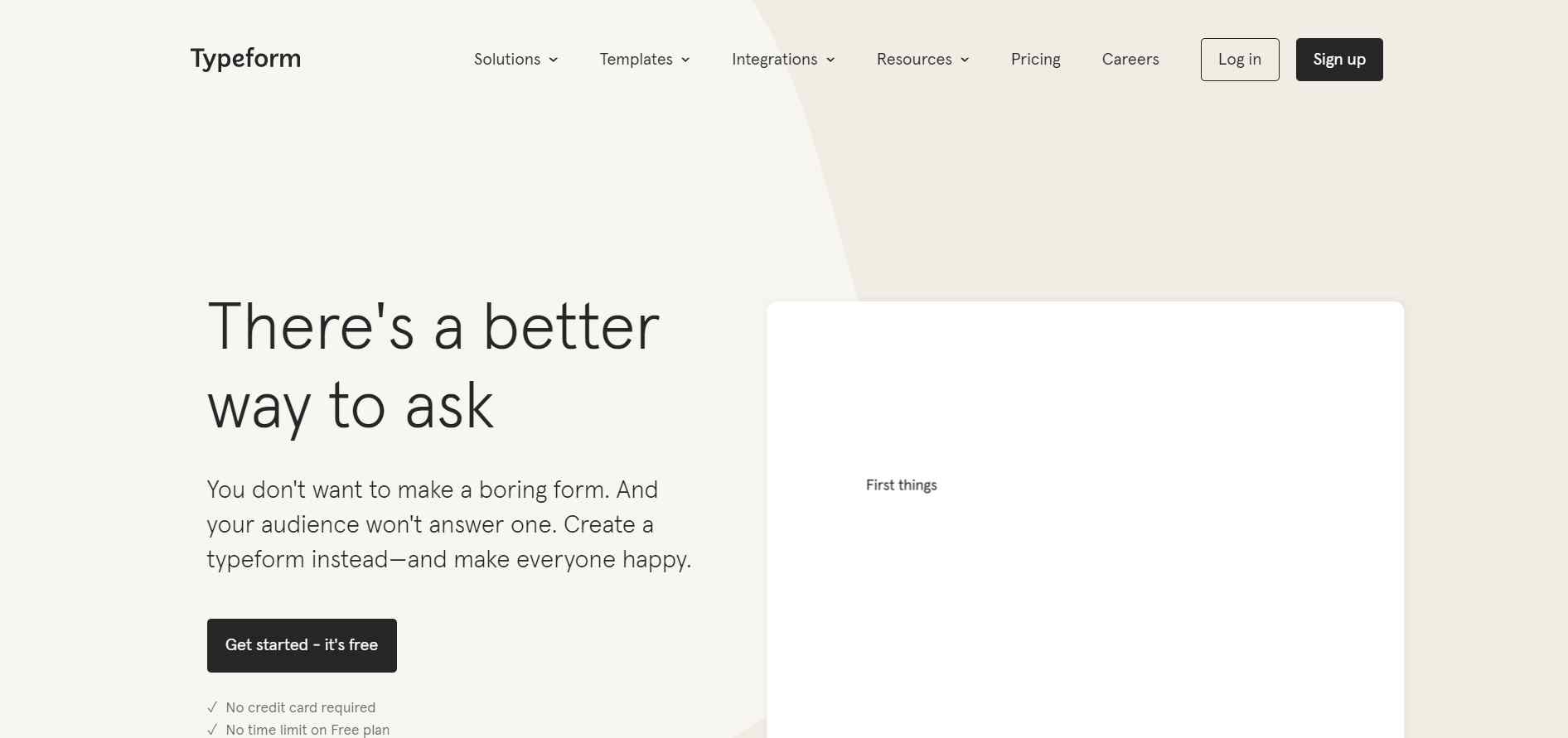 ---
TypeForm is one of the competent Qualtrics alternatives for collecting customer feedback. It offers a feature set that is similar to Qualtrics. TypeForm offers support surveys for websites and mobile apps, making it an excellent multi-channel feedback tool.
Suitable for: Small to large businesses.
Choose it for: Multi-platform survey deployment, conducting multi-channel surveys.
Price: Starts from $35/month.
Features:
Offers email distribution which makes sure that surveys receive a high response rate.
Comes with a very flexible feature set that allows companies from different industries to enhance customer experience, and improve employee training and education, among other things.
Helps make seamless feedback loops to facilitate 360-degree insights.
Supports feedback management to streamline feedback data from multiple channels.
Facilitates tracking of live results and supports decision-making in real-time.
Has features such as question branching, online polls, skip logic, poll management, rich media in surveys, etc.
Provides reporting and analysis functionality that systematically shows the data for easier analysis.
Pros:
Has a library of designed survey templates.
Supports all browsers.
Cons:
Tricky to create complex surveys.
Rigid payment structure.
Case study: HubSpot
You can tell it is one of the best Qualtrics survey alternatives when HubSpot trusts its services. HubSpot had multiple user personas that they were unaware of and wanted to explore.
It employed TypeForm to design strategic questionnaires that explore various user personas and render exceptional customer experiences.
Must Read: 12 Best Typeform Alternatives to Check-in 2023
Qualtrics Alternative #7: Salesforce Surveys
---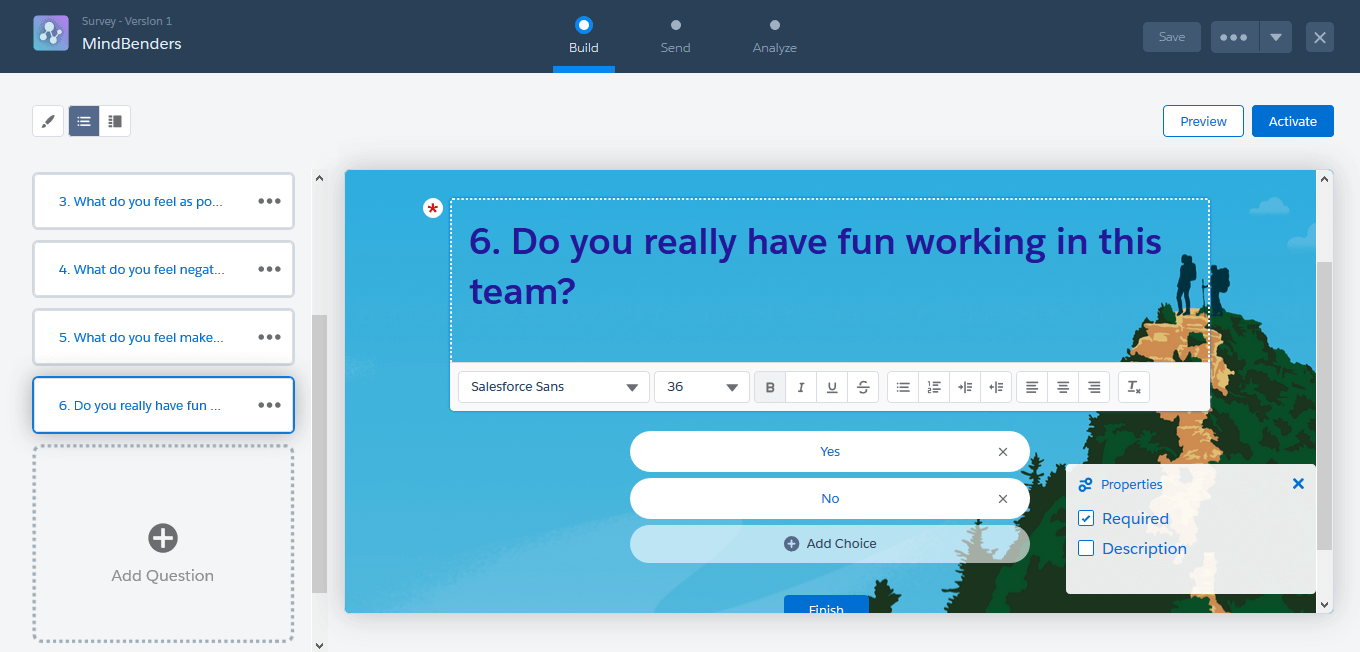 ---
Salesforce is a world-renowned CRM platform that offers Salesforce Surveys as a part of its suite. It is an excellent alternative to Qualtrics survey software since it allows surveys to be hosted on a community cloud.
It runs like an app in your community. So, if you want to give access to community users, you can add them as guest users without login credentials. Anyone with access to community pages can take the survey.
Suitable for: Small to large businesses.
Choose it for: Survey creation, feedback data management, enterprise surveys.
Price: Starts from $25/month.
Features:
Has a simple editor to help you create easy-to-use surveys.
Helps you to map feedback to existing customer records at all stages in the customer lifecycle.
Available in Salesforce Classic, Lightning Experience, Enterprise, Performance, etc.
Comes with a question library so you can create surveys on the go.
Helps export survey data to create reports and analyze in the dashboard.
Pros:
Personalization of surveys.
Analyzing and logging data.
Cons:
You have to purchase a suite plan to access surveys.
Case Study:
Not available.
Qualtrics Alternative #8: Zoho Survey
---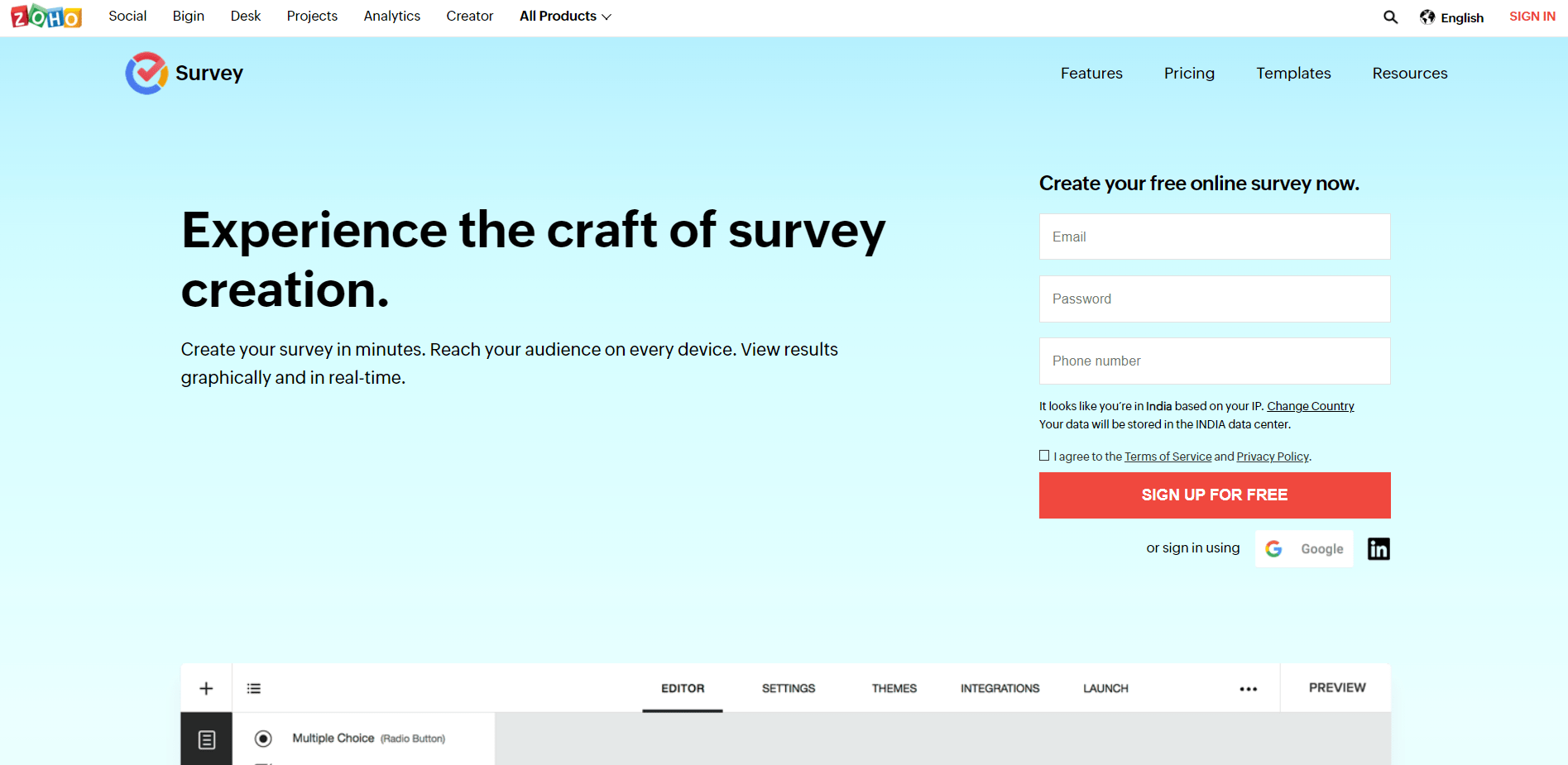 ---
Zoho Survey is one of the products Zoho offers to collect customer insights.
It has surveys for different purposes like measuring customer satisfaction, education, market research, human resources, employee satisfaction, etc. The Qualtrics competitor offers 10 questions for each survey and 100 responses on each survey.
Suitable for: Small to large businesses.
Choose it for: Multi-channel distribution, feedback management, mobile survey.
Price: Starts from USD $9/month.
Features:
Comes with pre-built templates and a vast question library.
Offers customization of surveys as per your need.
Facilitates offline surveys, which collect data that can be reviewed once online.
Supports multilingual surveys in 33 languages. It helps reach out to the global audience and gather diverse feedback.
Supports live results tracking.
Has advanced reporting, panel management, email marketing and distribution, and online polls.
Offers seamless integration with Zoho CRM, MailChimp, Slack, Webhooks, etc.
Helps design surveys with branching logic and skip logic using multimedia for more attractive surveys.
Supports personalization of surveys as per company branding.
Comes with great analytics and reporting with BI tools integration.
Pros:
Automated NPS calculation.
Easy setup.
Easy to design surveys.
Offers several features in the free version.
Cons:
Stops collecting responses when updates are done.
Limited integrations.
Case Study:
Not available.
Qualtrics Alternative #9: Thematic
---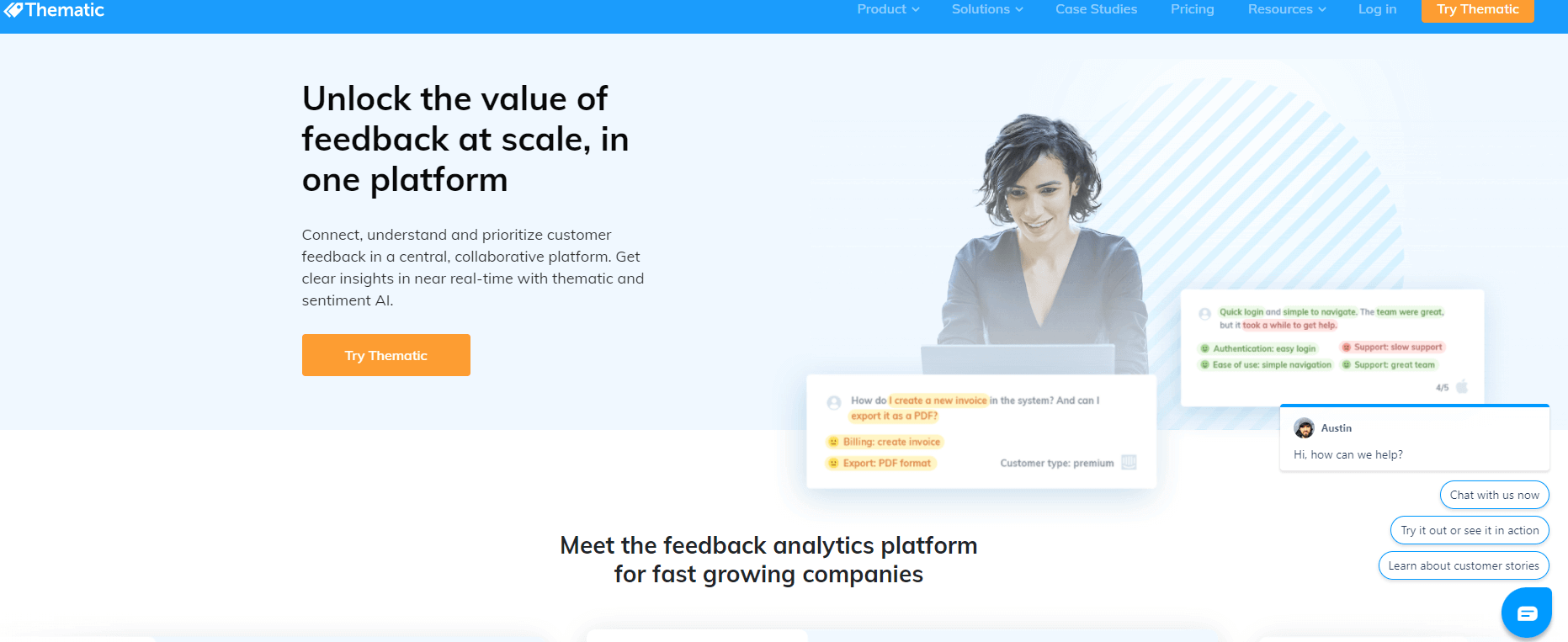 ---
Another one of Qualtrics' competitors is Thematic. It is a holistic feedback collection and analysis platform, making it a good Qualtrics alternative. It doesn't solely focus on survey creation but provides all the tools and features you need to centralize feedback analysis.
Suitable for: Mid-large businesses.
Choose it for: Centralized feedback analysis, in-product NPS survey.
Price: Starts from $500/month.
Features:
Has an in-product NPS survey.
Automates VoC responses tagging for Intercom, Zendesk, and other comments with themes, intent, and sentiment.
Requires no coding knowledge to set up.
Offers integration with Qualtrics, Zendesk, SurveyMonkey, Intercom, etc
Collects feedback data from different sources such as NPS surveys, comments, phone calls, etc., and helps analyze them in one dashboard.
Pros:
Centralized feedback analysis.
Cons:
Very expensive for start-ups or small businesses.
Case Study: Atom Bank
Atom Bank is the UK's first app-only bank to grow its customer base via various customer experiences. The bank collected customer insights on its 3 product lines via 7
engagement channels.
Even then, each channel only offered siloed feedback and a partial view on customer experience. With Thematic, the bank leveraged AI to identify feedback themes automatically. As a result, the bank successfully –
Reduced calls related to unaccepted mortgage requests by 69%.
Reduced complaint calls related to saving maturities by 43%.
Calls related to the device issues decreased by 40%.
Qualtrics Alternative #10: Confirmit
---
---
Confirmit again is a viable solution as an alternative to Qualtrics. It is a scalable end-to-end feedback platform that allows you to design and deploy surveys, manage and analyze the feedback, etc.
It facilitates the multi-channel employee experience, customer experience, and market research solutions.
Suitable for: Mid to large businesses.
Choose it for: Employee pulse surveys, mobile surveys, science-based templates, Cloud-based surveys, full panel management.
Price: Available on request.
Features:
Offers highly flexible features such as expansive data collection open API, to name a few.
Comes with many data analysis tools such as text analysis.
Supports website and mobile-first surveys.
Facilitates multi-channel feedback collection and distribution.
Offers other features like panel management and poll management.
Supports adding rich media like audio, video, and audio to surveys.
Integrates well with tools like Salesforce, Affectiva, Brandwatch, Import.io
Pros:
Supports query HTML, JavaScript, and CSS.
Allows you to edit and customize survey templates.
Flexible integrations.
Cons:
No industry-specific surveys.
Limited variety of surveys.
Case Study: Heathrow
An international aviation hub, Heathrow Airport had a massive ecosystem with complex operations. To ensure customers have a satisfying experience with them, they surveyed 500,000 passengers per year. Using Confirmit, they could digitize the whole process and analyze the responses to make improvements.
Qualtrics Alternative #11: Medallia
---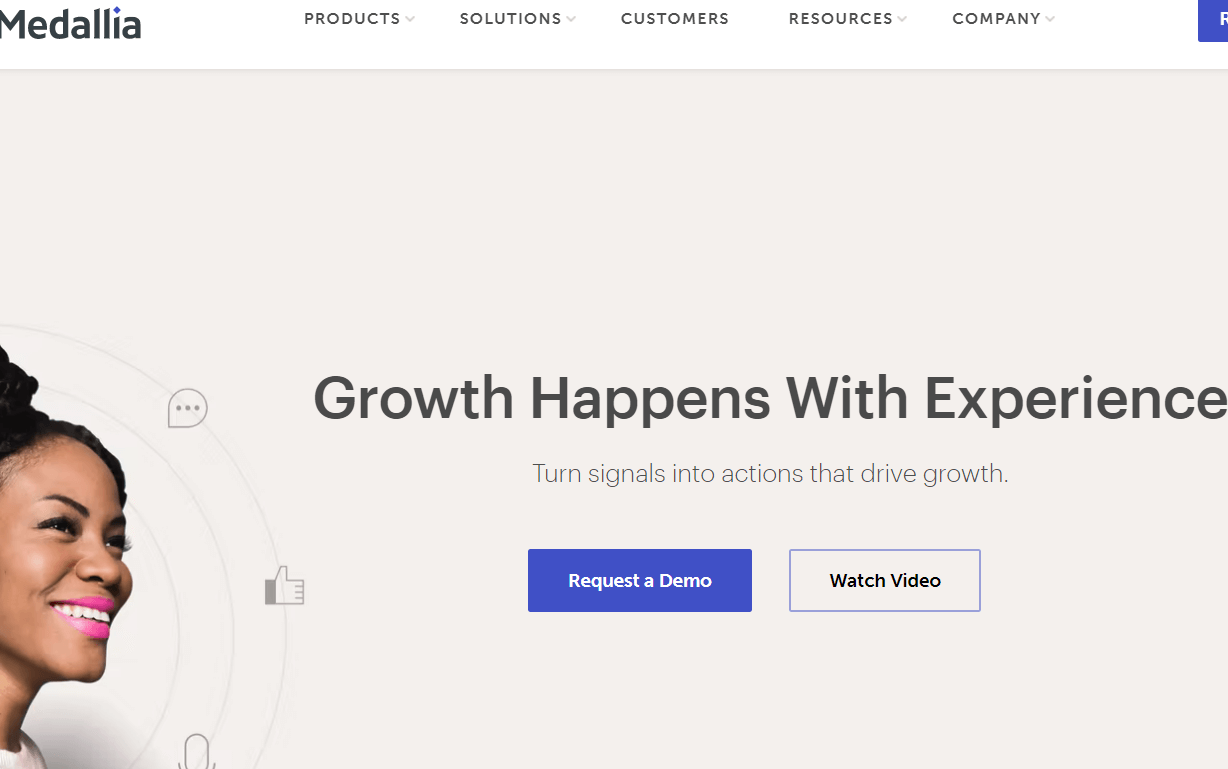 ---
Last but not least, One of the competent Qualtrics competitors is Medallia. The tool is an experience cloud platform that helps manage customer experience.
You can create surveys and launch them on a website, in-app, and share via email and social media. It is also known for its conversational messaging capabilities.
Suitable for: Mid to large business.
Choose it for: Multi-channel deployment, Experience cloud features, NPS surveys.
Price: Available on request.
Features:
Helps review comments using text analysis.
Facilitates analyzing Google reviews directly from the dashboard.
Enables you to flag reviews based on scores, timings, keywords, and other factors.
Offers integration with widgets that encourage customers to share feedback on Google through surveys.
Allows you to share access and reporting based on roles.
Helps benchmark performance for comparison with competitors.
Pros:
Easy navigation.
Helps track customer complaints to resolve them.
Offers word cloud.
Impressive dashboard.
Cons:
Sometimes shares feedback not relevant to a business.
Not consistent with its word cloud.
Case Study: Four Seasons
Four Seasons is a global hotel chain that collected feedback via comment cards in rooms and web surveys. This created data silos which prevented a holistic view of customer experience across all properties.
Medallia helped Four Seasons to record and manage feedback from all sources in one place to spot any customer trends across properties.
Choose the Right Survey Feedback Tool for Accurate Insights
With this, we conclude our list of best alternatives to Qualtrics and how the different tools compare to each other.
All the points listing out features will help you discern which tool matches most of your business needs. This way, you can choose a customer feedback platform that'll work for you.
Want insights that improve experience & conversions?
Capture customer feedback to improve customer experience & grow conversions.