Market research tools have been at the heart of every business's success. In a world where competition seems to be never-ending, knowing the ins and outs of your target market is more crucial than ever.
According to a study conducted by PwC, companies that benchmark can achieve 69% faster growth and 45% greater productivity as compared to those that don't.
Market research has enabled organizations to uncover not only some of the biggest revelations about the market but also the tiniest details that most people miss. Market research helps organizations read between the lines and make informed decisions, which makes the process ever so important.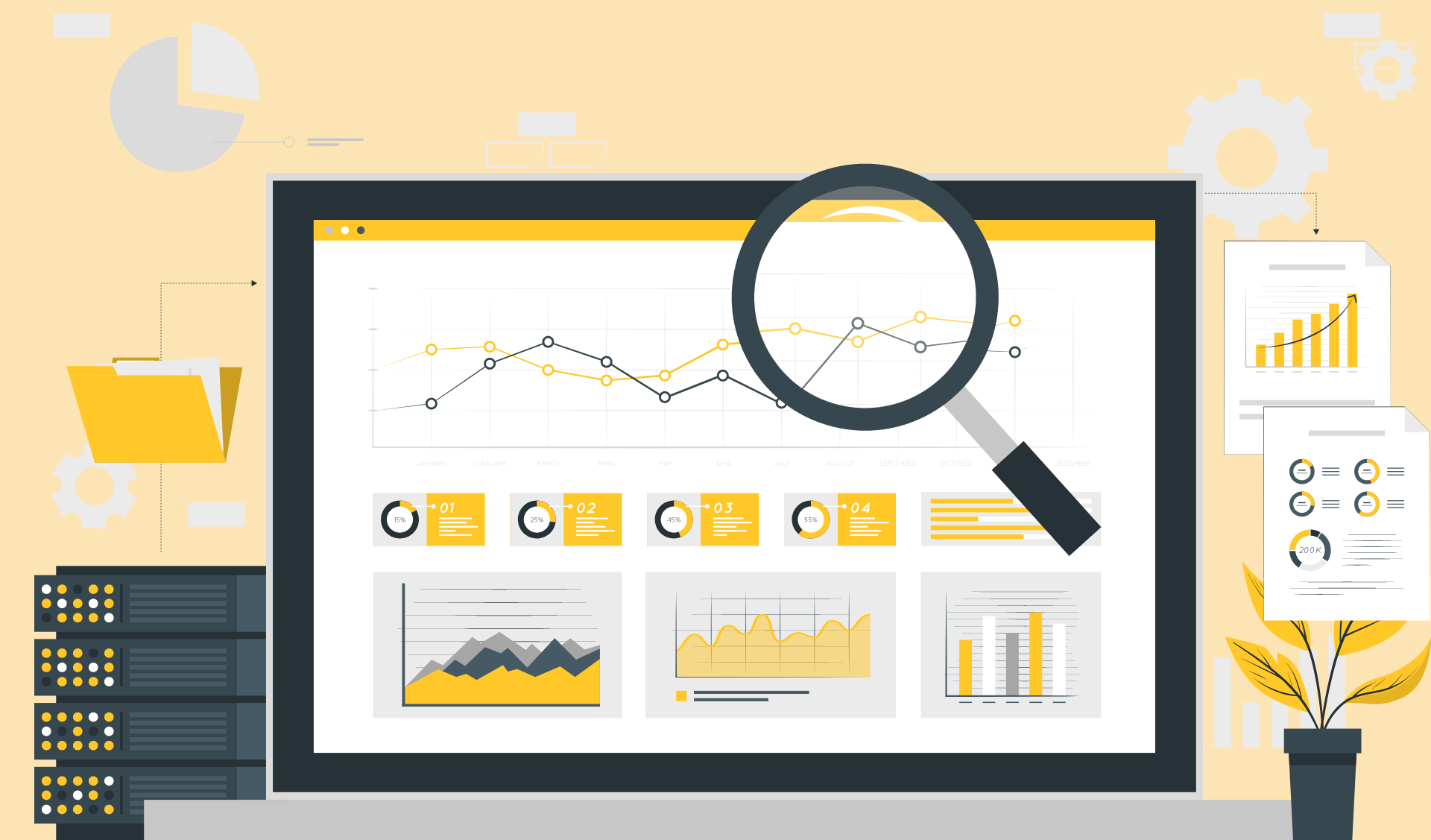 Thankfully, in the 21st century, we do not require an insider to give us data about the market in the name of research. We now have some of the world-class software tools at our fingertips that would enable us to truly improve, evolve and empower our products and services for the people.
In this blog, we've included a list of 12 of the best market research software and tools out there with some of the key details that you should know before making a decision to choose the one for you.
But first, let's take a closer look at what market research actually is.
The 24 Best Market Research Tools in 2023
There are plenty of online market research software tools that you can choose from. Here is a list of 12, which the users think very highly of:
Market research tool # 1. Qualaroo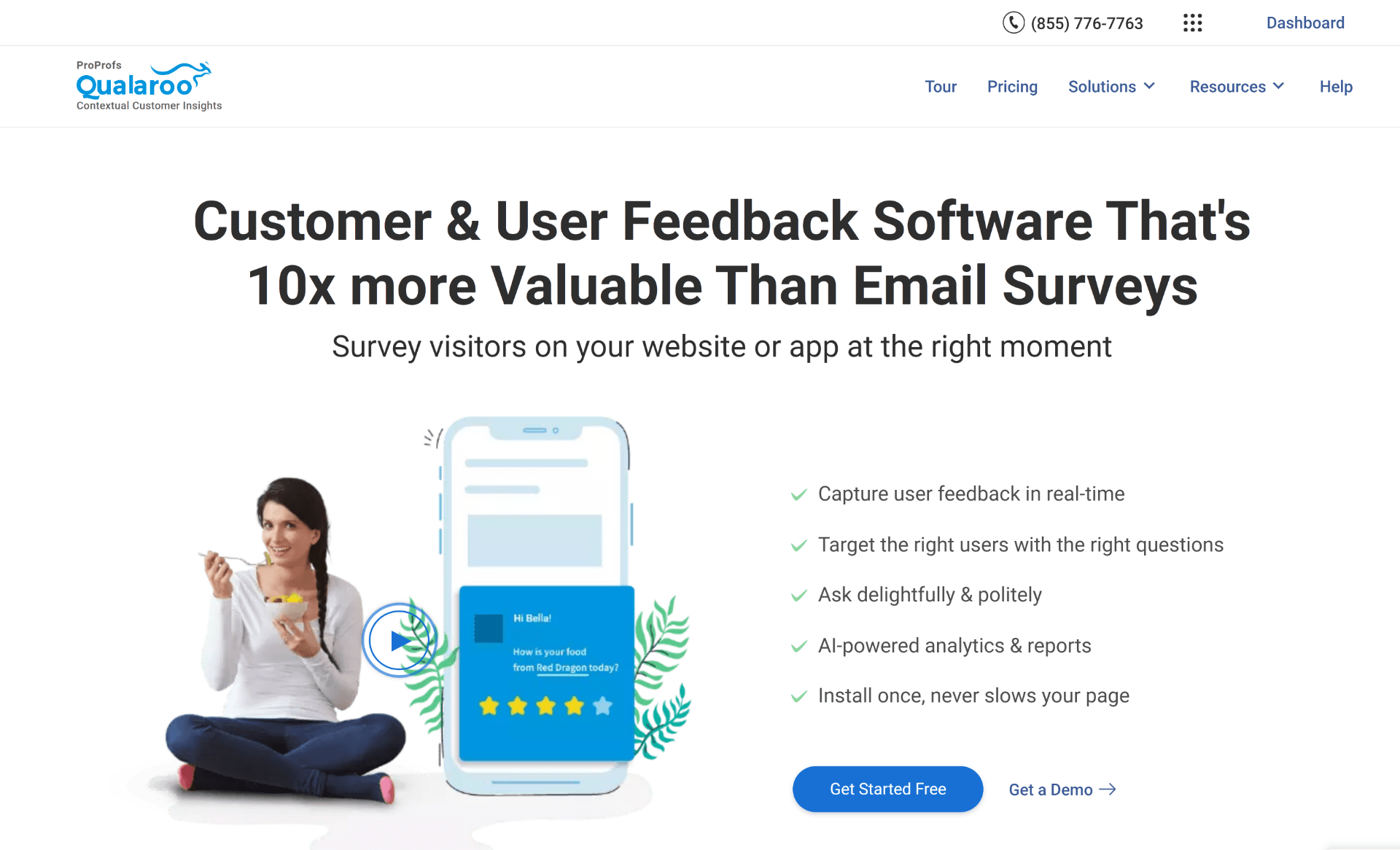 Qualaroo is the best market research tool and one of the best online survey software out there for conducting market research. It provides users with a market research platform that is easy to use and also offers actionable insights.
Qualaroo also helps you develop user personas through advanced targeting, which helps you better understand your users and easily track their goals & behavior patterns.
Features:
Easy to set up and can instantly start taking feedback.
Professionally designed survey templates to ask just the right questions.
Catches your visitors in real-time with context for valuable responses.
Users can easily determine who and where the survey targets are
Can help create detailed customer journey maps.
Ask for product/website/app feedback from the audience based on engagement.
Supports branching logic to easily go through the redundant users.
Integrates with popular tools like Hubspot, Zapier, and Slack.
Pros
Perfect for measuring customer satisfaction and loyalty using Net Promoter Score (NPS) surveys.
Helps to gather user experience (UX) feedback at every stage of the design process for any product.
You can test prototype templates through unobtrusive pop-up surveys called Nudges™.
Makes analyzing customer sentiments and open-ended survey results easier through the sentiment analysis engine
Cons
Needs more filters and export options for the reports.
Lacks a bulk action button in the survey dashboard.
Pricing: Starts from $69 per month.
Related Read- If you want to know more about the NPS tools, have a look at Best Net Promoter Score Software & Survey Tools
---
Google Trends is a free market research tool that presents data in the form of trend lines from all over the internet. When you enter a specific term into Google Trends, it will give you an accurate representation of how trendy that term has been over the course of time and also gives it a score out of 100.
Features:
Shows the frequency of your searched term in Google with respect to the website's total search volume over a given period of time.
Refines your search by adding location filters.
Presents the trend graphically for better visualization of the result.
Easy to respond to surveys on any device, including mobile, tablets, and computers.
Integrates with popular tools such as Zapier, Automate.io, and Integromat.
Data is generated into organized Google Sheets that can be instantly presented without making any alterations.
Pros
Useful tool to acquire keyword-related and geographic data about the users.
Instantly uncover any search spikes due to special events for a search.
Cons
Sometimes shows irrelevant results for a searched term.
Shows only relative numbers, so a comparison analysis is necessary.
Pricing: Free to use
Read Also: 25 Best Online Survey Tools & Software
Market research tool # 3. SurveyMonkey
SurveyMonkey is another market research software that offers new market research techniques and provides different ways to customers for voicing their opinions. They have combined an enterprise-grade platform with a suite of specialized market research and customer experience solutions to ensure that the power of feedback can be given to organizations of all sizes.
Features:
Professionally built question bank to ask accurate questions.
Personalized survey techniques like skip logic, branching logic, etc.
AI-powered analysis tool to get expert feedback on the survey draft.
Test creative concepts by asking the right set of questions from the right audience.
Ensures quality of data gathered from over 144 million users worldwide.
Ability to get help from market research experts and dedicated accounts managers with the flexible engagement model.
Potential to monitor market dynamics of a specific product category over time.
Pros
Easily design recurring surveys to track sentiments with time.
Embed survey questions into emails to improve response rates.
Provides accurate context from the updated benchmark data.
Cons
Analytical dashboard needs improvement to make data presentation better.
Sometimes glitches a little while designing surveys.
Pricing: Starts at $25/user/month.
Related Read: 15 Best SurveyMonkey Alternatives in 2023
Market research tool # 4. Statista
Statista is one of the top market research tools that specializes in data visualization and market research. It picks up data from reputable reports that are present all over the internet and makes them easy to comprehend and digest for researchers and other users. It can find the specific data relating to your industry and create a statistical report on it, which would be much easier to understand.
Features:
Ability to filter content based on a specific type.
Hundreds of metrics to choose from and the ability to customize visualizations.
Also features forecasts and surveys reports.
Flexibility to analyze the markets across 150+ countries.
Presents global stories and statistics in a vividly visualized manner.
Ability to conduct Global Consumer Surveys to understand what drives the consumers.
Can integrate with other marketing tools by simply copying the HTML code.
Pros
Great tool for portraying Key Performance Indicators (KPIs) to understand the consumer market outlook.
Helps research and gather information about the companies like their headquarters, the number of employees, and revenue performance.
Cons
Can be challenging to find relevant data for long-tail search terms.
Pricing: Starts at $39/month
Related Read: 11 Best Mobile In-App Feedback Tools
Google Keyword Tool is a highly sophisticated market research software and analysis tool that acts as a window into the behavior of customers when searching online. Google Keyword tool provides valuable insights into queries that your target audience is searching on google.
It acts as an accurate product research tool that tells you what the customers are looking for. To use it, you need to create a free Google Adword account.
Features:
Shows you the volume of keyword searches.
Lets you filter keyword searches based on location and language.
Lets you filter searches based on the device that people use to search.
Helps marketers build a content strategy and marketing strategies as well.
Offers users insights into the current marketing trends.
Expand long-tail efforts by discovering other important keywords in the same domain.
Integrates with other tools using Google API.
Pros
Shows the relationship between different keywords to help you find targeted related keywords.
Excellent tool to understand the competitiveness of the keywords.
Cons
Shows fewer keyword suggestions than other similar tools.
Needs more keyword filters in the dashboard.
Pricing: Free to use.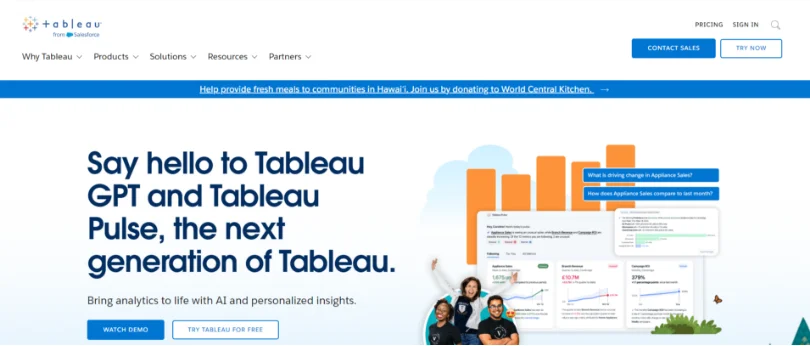 Tableau is a business intelligence suite for data visualization that needs no programming knowledge. Tableau uses analytics, visualization, and business intelligence to present the data in a visually appealing fashion for a better understanding.
It aims to transform the way we see and use data to make decisions. Tableau empowers its users with the help of its highly sophisticated market research tools to make the best out of their data.
Features:
Lets you visualize data on anything.
Can easily extract data from PDFs, Excel, text, Python, SAS, and many more.
Tableau dashboard provides a comprehensive and wholesome view of your data.
Enables the marketing team to directly access the data from different formats.
Visualizes the market research data to generate actions and make quick decisions.
Natively integrates with other market research tools like Qualtrics and Salesforce.
Pros
Flexible team collaboration and data sharing options.
Makes it easy to connect with live data sources to stay up to date.
Offers data heat maps to give a general sense of the emerging patterns in the market.
Cons
Can be an expensive tool for some businesses.
You may need help from the IT department to set up the tool.
Pricing: Starts at $70/user/month.
Related Read: 10 Best Product Feedback Software
Market research tool # 7. Typeform
Typeform is another market research software and online survey tool that allows you to conduct market research surveys to get a direct response from your targeted audience. It has a built-in photo and video libraries and a wide range of design themes to choose from. Typeform primarily aims to create people-friendly forms by making them appealing, which would gather more responses and better insights.
Features:
Shows the viewers one form field at a time.
Easy to use and optimize for mobile devices.
Let's you create a wide range of question types.
Make the form uniquely yours with a wide range of customization options.
Integrates with other tools like Google Sheets, Salesforce, Slack, etc.
The drag and drop feature allows users to create forms within minutes.
Variety of question types including multiple-choice, rating, opinion scale, free-form text, and many more.
Pros
Creating conversational and casually approached surveys.
Gathering demographics of the customers to understand their behavior patterns.
Creating positioning strategy through survey results.
Cons
Survey design options need more flexibility and customization options.
It would be good if there were more filters in the reporting dashboard.
Pricing: Starts at $25/month.
Related Read: 12 Best Typeform Alternatives to Check-in 2023 
Market research tool # 8. SEMrush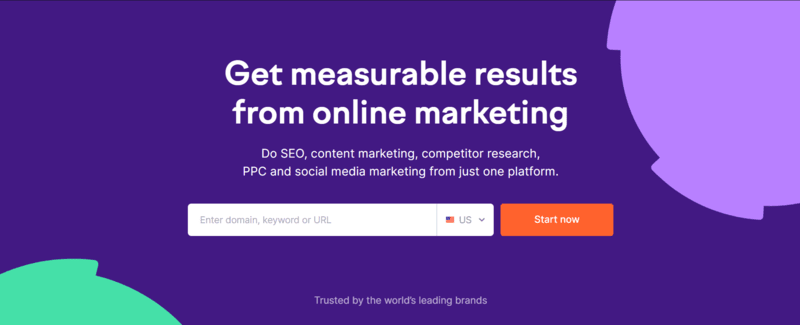 ---
SEMrush is another very effective market research software tool that marketers use to boost their conversion rates. It has over 40 tools under its portfolio that can be used to attract more visitors and increase conversions.
This tool primarily aims at improving online visibility and discovering marketing insights by offering services like SEO, PPC, SMM, Keyword Research, Competitive Research, PR, Content Marketing, Marketing Insights, analytical tools for market research , Campaign Management.
Features:
Provides tools like keyword research, on-page SEO, and local SEO.
Easily monitor and manage organic rankings.
Provides tools for content marketing, creation, distribution, optimization,
It's the best tool for market analysis.
Lets you explore and analyze the demographics of competitors in the market.
Determine how to market competitors earn their traffic and also estimate your market share.
Integrates with popular Google and social networking applications.
Pros
The technical audit report gives in-depth suggestions for site optimization.
One of the best enterprise-level tools.
Provides a plethora of segmentation options for keyword suggestions to find the right keywords.
Cons
Training docs can be hard to navigate. It can be hard to find what you are looking for.
Backlink suggestions dashboard can be improved. Sometimes, it misses a lot of backlinks.
Pricing: Starts at $119.95/month.
Related Read: Best Customer Experience Management Software
Market research tool # 9. Ahrefs
Ahref is also the top tool for business research or market research that offers a fully-packaged suite of conversion rate optimization tools is Ahrefs. It is an extremely diverse software that has tons of functionality and can easily make anyone an SEO expert. It is an extremely powerful tool for backlinks, SEO analysis, and also managing your SEO health over time.
Features:
Ranks keywords with respect to their level of difficulty and traffic potential.
Conduct site audits to understand the weak links and boost the conversion rates.
Conducts keyword research for Google, YouTube, and Amazon.
Finds content that performs well on a given topic.
Tons of different metrics to measure the data on.
Integrates with tools like Tray.io and Rank Ranger using Ahrefs API
Pros
Provides insights into competitors' organic search and backlinking profiles on different websites.
Helps to find the most optimized and well-performing content to generate new ideas and analyze competitors' content.
Cons
Coes with a slight learning curve. Needs inline tooltips in the product menus for quick access.
PPC features need some optimization.
Pricing
Starts at $83/month, billed annually
Pricing: Starts at $99/user/month.
Read Also: Top 35+ Best Conversion Rate Optimization (CRO) Tools
Market research tool # 10. Upwave (Formerly Survata)
Upwave, formerly Survata, is one of the best analytics and market research platforms to help you measure the effects of your brand advertising efforts. You can use the inbuilt dashboard to track every campaign across various channels and optimize them to improve ROI. The data from Upwave has been featured in brands like Forbes, USA Today, CBS News, and The New York Times.
Features
Track and optimize brand advertisement to improve brand awareness.
Get real-time updates about outperforming aspects of every campaign to run timely optimization.
Receive email notifications to get refreshed reports directly in your inbox.
Provides automated tracking of different demographic & behavioral profiles in each campaign.
You can see how accurately each campaign is reaching the target audience across various channels.
Create customer dashboards to monitor the performance of your campaigns.
Leverages AI-based Upwave Customer Forecast feature to predict brand lift and customer acquisition for your campaigns.
Pros
Track market penetration, i.e., the percentage of the target audience you reached for any campaign.
You can estimate customer acquisition numbers to study the effectiveness of your brand marketing campaigns and make changes.
Cons
Needs more filters to include other behavioral traits in the dashboards.
Dashboard UI can be overwhelming for new users.
Price
Contact for a quote
Answer the public is the best software for market research according to their home page, 'There are 3 billion Google searches every day, and 20% of those have never been seen before". AnswerThePublic is responsible for listening to autocomplete data from search engines and cranking out every useful phrase or question that people are asking about a given keyword.
Features:
Helps you get a sense of what the people are really asking for.
Gives you the context behind every search.
Very easy to use and digestible for beginners.
Listens to autocomplete data from search engines like Google and cranks out useful phrases and questions.
Also acts as a goldmine for consumer insights, and the data can be used to create extremely useful content and product.
Integrates with other popular applications to generate more insights.
Pros
An excellent tool for insights, validation, creativity, and creating content strategies.
Word Cloud feature is fantastic to visualize related keywords and their relationships.
Helps to uncover the untapped potential of search demands for different queries.
The database is constantly updated to help you spot new trends, slang, and topics.
Cons
Sometimes, the results become less relevant when you search for more than two keywords simultaneously.
It's challenging to find keywords for niche markets.
Social Mention is one of the best tools for market research that digs through 100+ social media websites like Facebook, Twitter, WordPress, and many more, to determine the number of times your brand or keyword has been mentioned. It has the ability to accurately track and measure what people are saying about your brand.
Features:
Displays how much your keyword crops on all social media platforms.
Distinguishes between positive and negative sentiments.
Gives a general overview of the customer's perception of your brand.
Users can determine the overall footprint of their brand and make informed decisions.
Supports simple integration with popular social media applications for more meaningful data.
You can also determine the number of people talking about your keyword at any given time.
Pros
You can set up alerts for more minor updates using tags within broader categories.
Consolidates the data from all over the internet under one dashboard for real-time monitoring.
Makes it easy to research specific domains where the audience is looking.
Cons
The UI can be updated to improve navigation for new users.
Price
Free
Recommended Read: 30 Best Website Feedback Tools for 2023
Think With Google is a one-stop information resource to monitor customer behavior, get marketing insights, and view the latest industry trends. It offers several tools to find the right demographic audience for your business, test and optimize your website, and track real-time consumer behavior across any location. So, if you are looking for the best market research resources, this is the one to go for.
Features
Run a site audit on your domain and get custom tips on improving site speed, UX, and other aspects.
Lets you search trends and actionable consumer insights for specific locations.
Track emerging technologies to plan the future of your marketing strategies.
Benchmark your website against industry standards with a simple test.
Use Google Trends to discover trending topics, latest stories, and other hot topics.
Pros
Free-to-use online repository to explore new markets, find the right audience, and access global consumer behavioral data.
Cons
No advanced features to find information on sub-categories or niche markets.
Price
Free
Market research tool # 14. BuzzSumo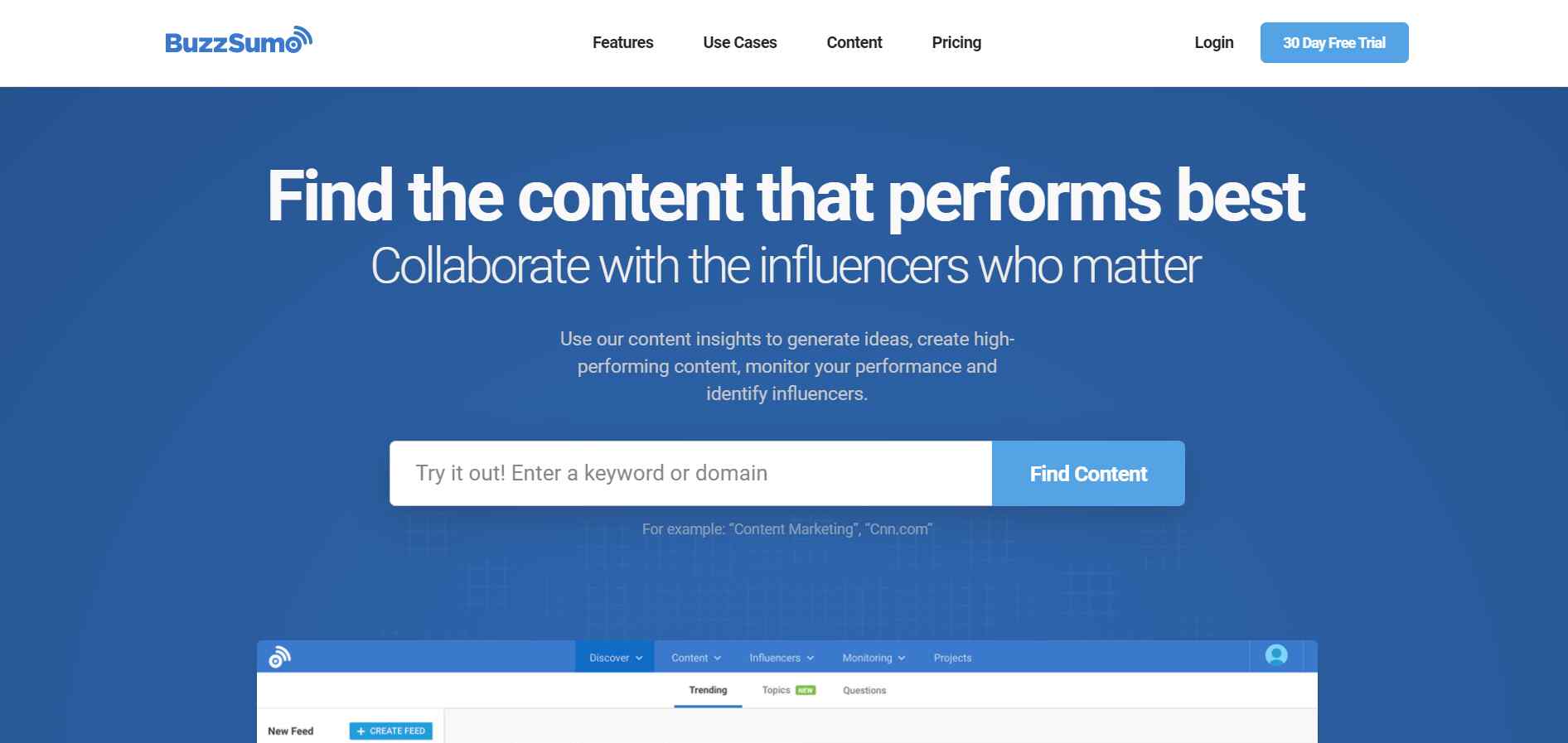 BuzzSumo is an excellent content marketing and researching platform to produce high-performing content. You can do keyword research, competitive analysis, brand monitoring, and more to grow your business. The platform also offers a chrome extension to make the job easier.
Features
Find the target keywords to design your content based on monthly search volume, cost per click, and other parameters.
Track viral trends in real-time for any domain, topic, and location.
Track new content around your target keywords to design your SEO strategies.
Find the most popular influencers worldwide for any topic to sponsor them for your brand.
Set alerts for desired keywords, blogs, brand mentions, competitors, and influencers.
Track backlinks to your domain from all over the internet.
Pros
One of the best tools for social listening and keyword research.
The Chrome extension is an excellent addition to one-tap monitor the performance of your campaigns.
Cons
Doesn't monitor the content or engagement data for Instagram posts.
Needs more filters to separate news and general topics.
Price
Starts @ $79/month, billed annually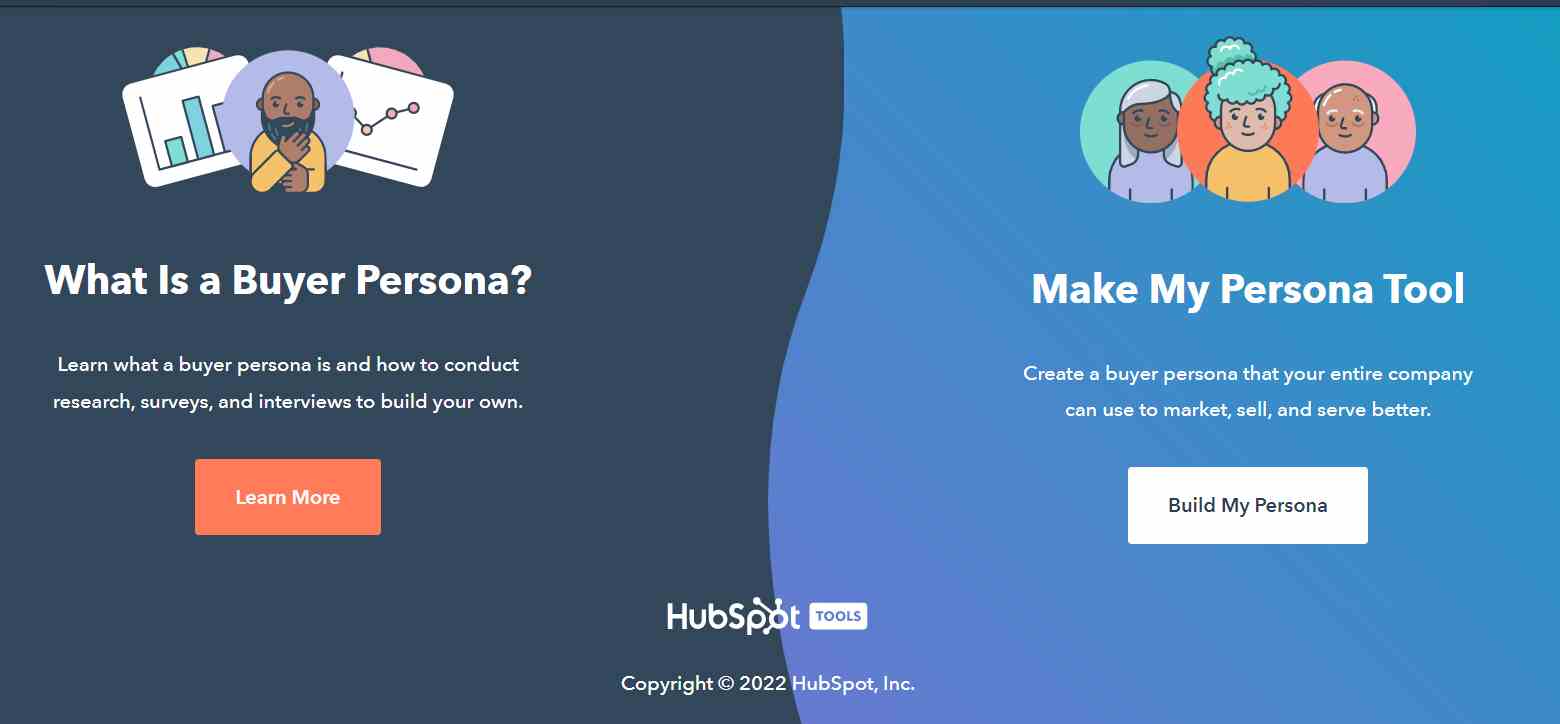 If you are new to building a buyer or user persona, then MakeMyPersona is your tool. It's a simple market research software from HubSpot that creates a buyer persona based on the data you enter into the form. Just fill in the details, and you get a ready-to-use persona template to study different customer segments. And it's free.
Features
Uses demographic and psychographic details of your target audience to build a buyer persona.
It asks for details like age, organization's size, job title, goals, challenges, etc.
You can also add new sections manually, if necessary.
Download and export the buyer persona with a click.
Pros
Quick and easy to use to build customizable persona templates.
Cons
Requires market data from your end. You cannot use it to find information on the target market.
Price
Free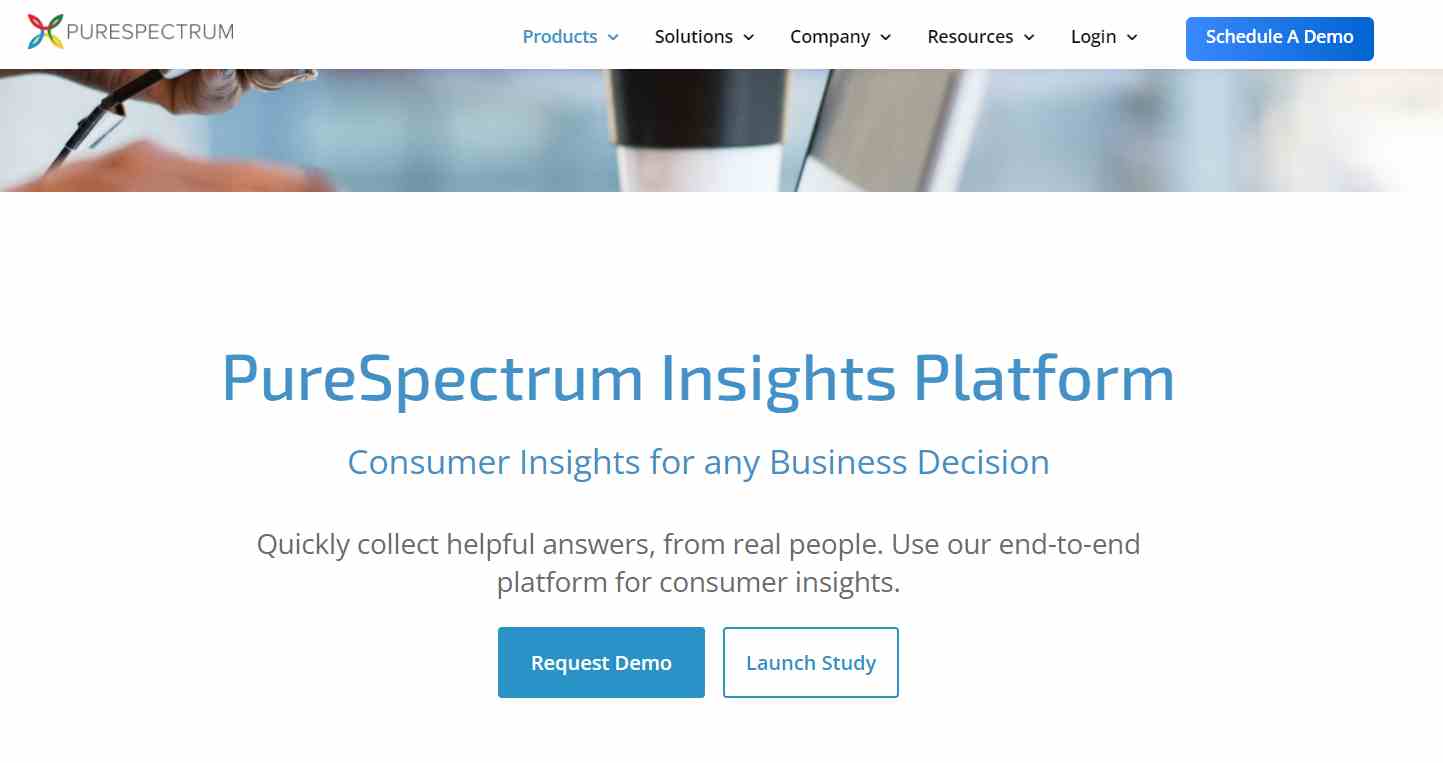 PureSpectrum Insights (formerly Upwave Instant insights) is a consumer insights platform to collect market research and brand tracking data. You can create surveys and questionnaires to ask questions to the right audience to gather valuable insights for your marketing strategies. The company also offers PureSpectrum Marketplace to help you buy samples from multiple market research panels with one click.
Features
Create focused research and brand tracking surveys and distribute them to the target audience.
Target the right people based on age, gender, shopping behaviors, income, job title, and other inbuilt attributes.
Get real-time updates about the performance of your market research campaign.
Use the PureSpectrum marketplace to find the right target audience for your surveys.
Track the data in real-time using detailed reporting dashboards.
Pros
The panel service helps to get to the required sample size quickly.
To improve data quality, you can create crosstab reports and set up significance tests in minutes.
Cons
Limited survey options as compared to other tools.
Price
Contact for quote
Market research tool # 17. Loop11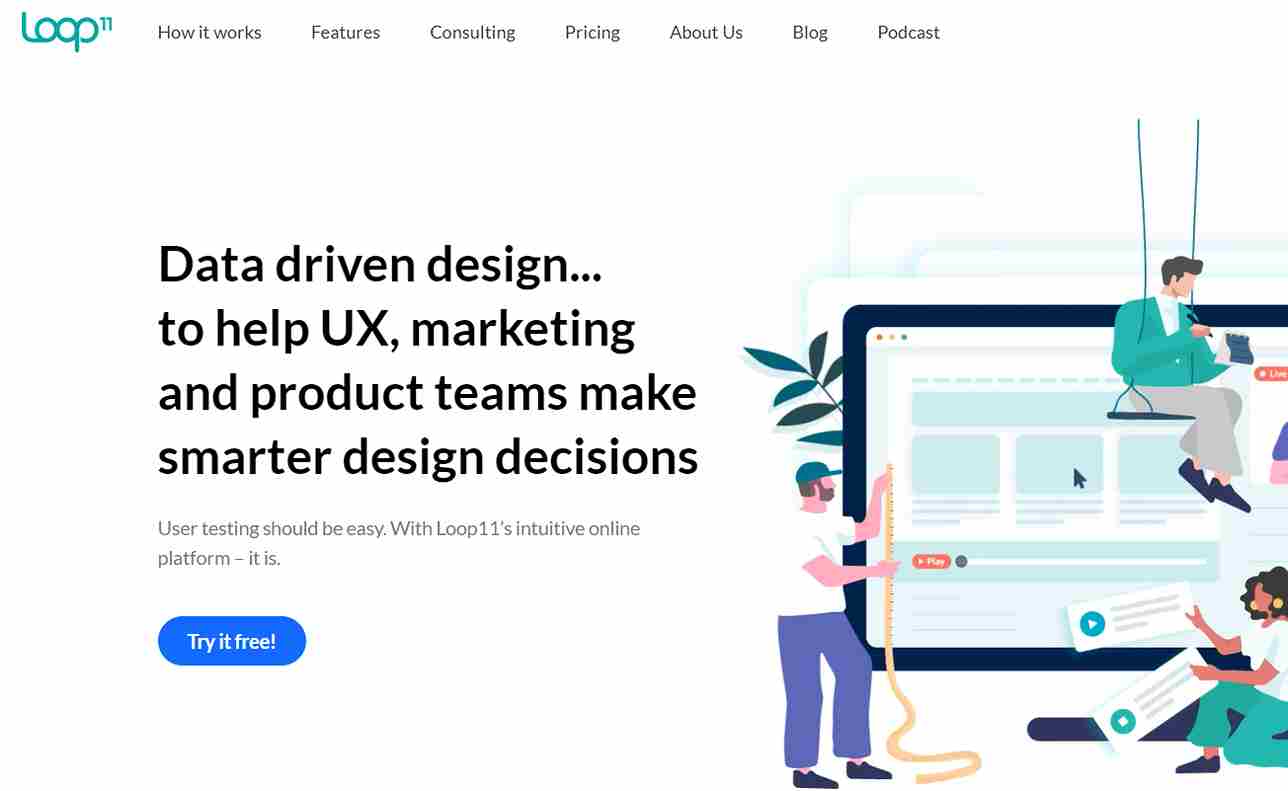 Loop11 is a usability testing and market research tool to build better products. You can perform usability testing, benchmarking, prototype testing, information architecture testing, and more using the same tool. It offers both moderated and unmoderated testing so you can find the right audience to test your product and prototypes.
As an audience research tool, you can use it to see how your product appeals to your new target market, explore their preferences, and channel the insights into the design.
Features
Offers a user-friendly test builder to guide you at every step of designing a test. No coding is required.
Create tasks, such as five-second, first click, tree testing, etc.
Add surveys to your test to collect in-depth demographic and psychographic data.
Design surveys using multiple question types like multiple-choice, single-choice, NPS, rating, and System Usability Scale (SUS).
Run your test on any device like desktop, mobile, or tablet.
Provides a dedicated participant panel service to find the right participants globally for your tests.
Offers video, audio, and screen capture to collect first-hand data from users.
Edit videos to extract useful points like adding time-stamps, assigning tags, and more.
Track test metrics like task completion rate, lostness, time on task, and NPS scores.
Use inbuilt behavioral analysis tools like heatmaps and clickstream to map participants' journeys during the test.
Pros
Offer more flexibility in annotating and sharing the clips than other similar tools.
An inexpensive tool with a wide range of testing options.
The participant panel offers niche filters to help you target the right people for your tests.
Cons
You cannot make changes to a test after publishing it.
It may slow down your website a little.
Price
Starts at $63/month, billed annually
Market research tool # 18. Qualtrics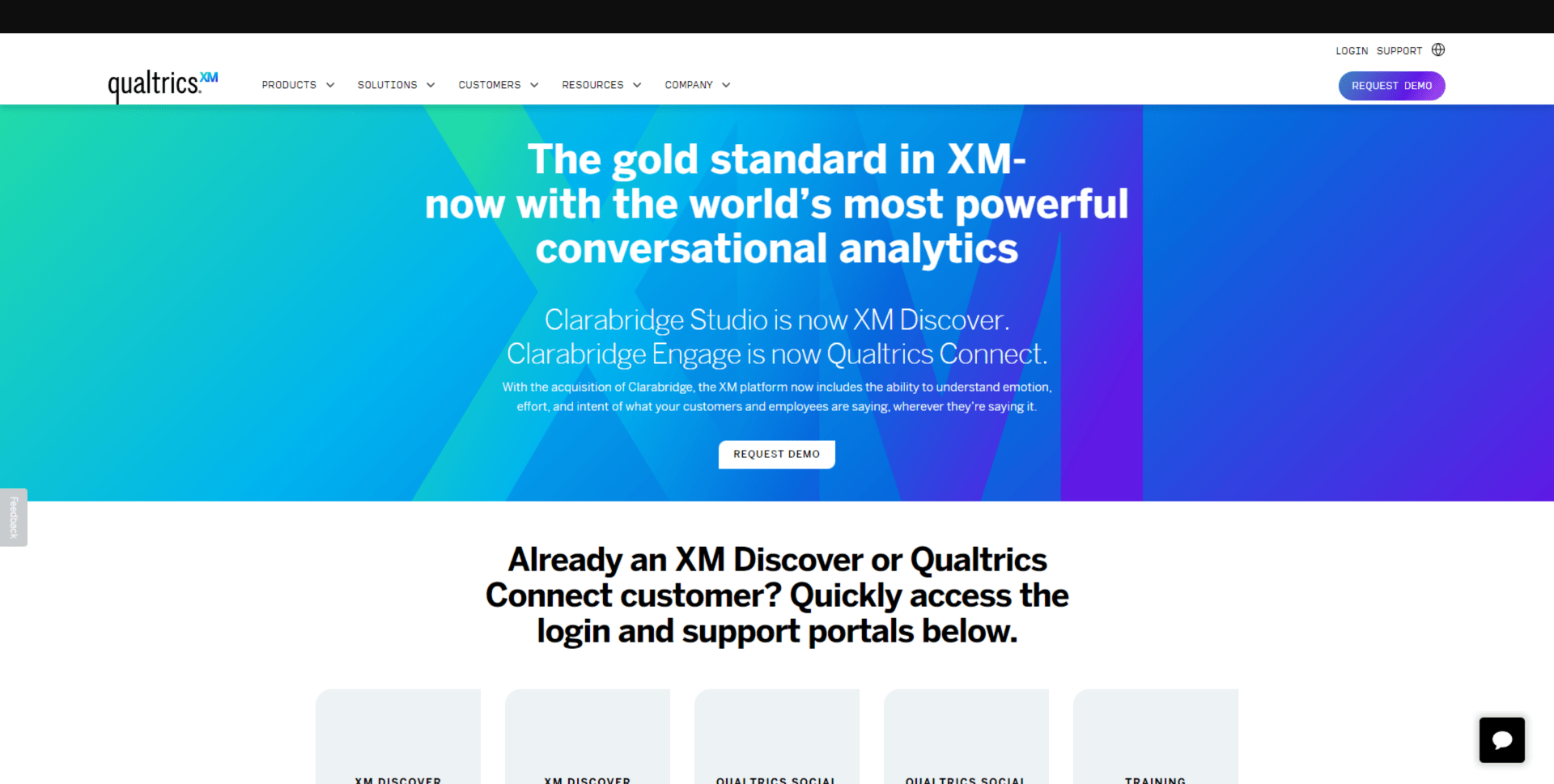 Qualtrics is one of the most advanced experience management platforms in the market. It comprises different product suites to cover different aspects of your business. You can gauge customer satisfaction, optimize products and services, run market research campaigns, and track brand awareness from the same platform. Plus, AI-based analytics put it among the leading Market research tools to collect data for brand tracking and advertisement optimization.
Features
Track brand awareness through AI-based dashboards.
Uncover the aspects that provide positive and negative brand perceptions among your audience.
Set up automated alerts to track changes in brand signals or awareness.
Run surveys to collect customer feedback and market research data.
Offers 27+ deployment channels like website, app, link, email, and QR code.
Use the drag-&-drop builder, 50+ answer types, branching logic, 100+ templates, theme customization options, rebranding, and other features to design surveys.
Provides targeting options to target the right people.
The iQ™ analysis engine leverages AI, machine learning, and NPL to extract data, spot opportunities, and suggest improvements automatically.
Pros
Offers XM services to collect and manage market research data for you.
Generate custom resorts to align your data with your business KPIs for real-time insights.
Cons:
Limited customization options for your surveys.
It takes time to add the contract data to directories. It could be improved to make the process faster.
Price
Contact for a quote
Market research tool # 19. SimilarWeb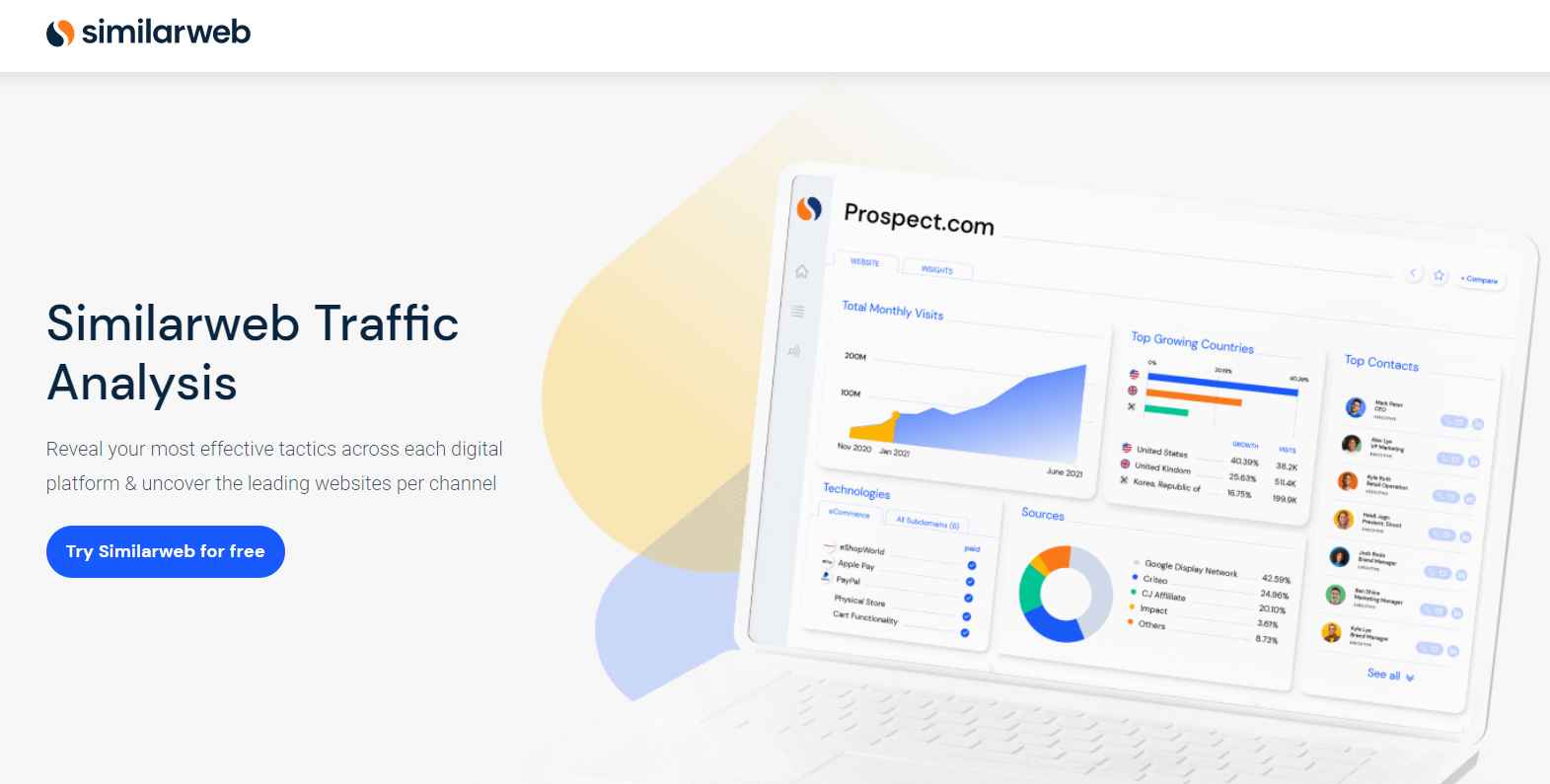 SimilarWeb is among the most trusted and leading market research tools that offer in-depth data on different industries. You can find the top website, best apps, top trending topics, and other data around your industry. The company also offers data intelligence services to help you collect insights into your target market and audience. Plus, you can perform keyword research to find relevant keywords for your marketing strategies.
Features
Analyze any website and mobile app to view their ranking, total traffic, demographic targeting, competitors, marketing channels, etc.
Uncover top keyword trends based on organic vs. paid search, channels, traffic sources, and other attributes.
Perform keywords research to find new keywords.
Run benchmarks for your website against industry standards.
Leverage the data repository to track and monitor consumer data signals from over 100 million sites worldwide.
Explore competitive insights, global market trends, and audience behavior on domain and sub-domain levels.
Get shopper insights to track consumer behavior across your website, marketplace listings, and app.
Pros
Offers a Chrome extension to get quick performance insights about any open web page.
Easy to use and navigate. The UI is intuitive and user-friendly.
Cons
Sometimes the data does not accurately represent the actual insights.
Poses a learning curve for new users. Could benefit from a detailed knowledge base.
Market research tool # 20. Userlytics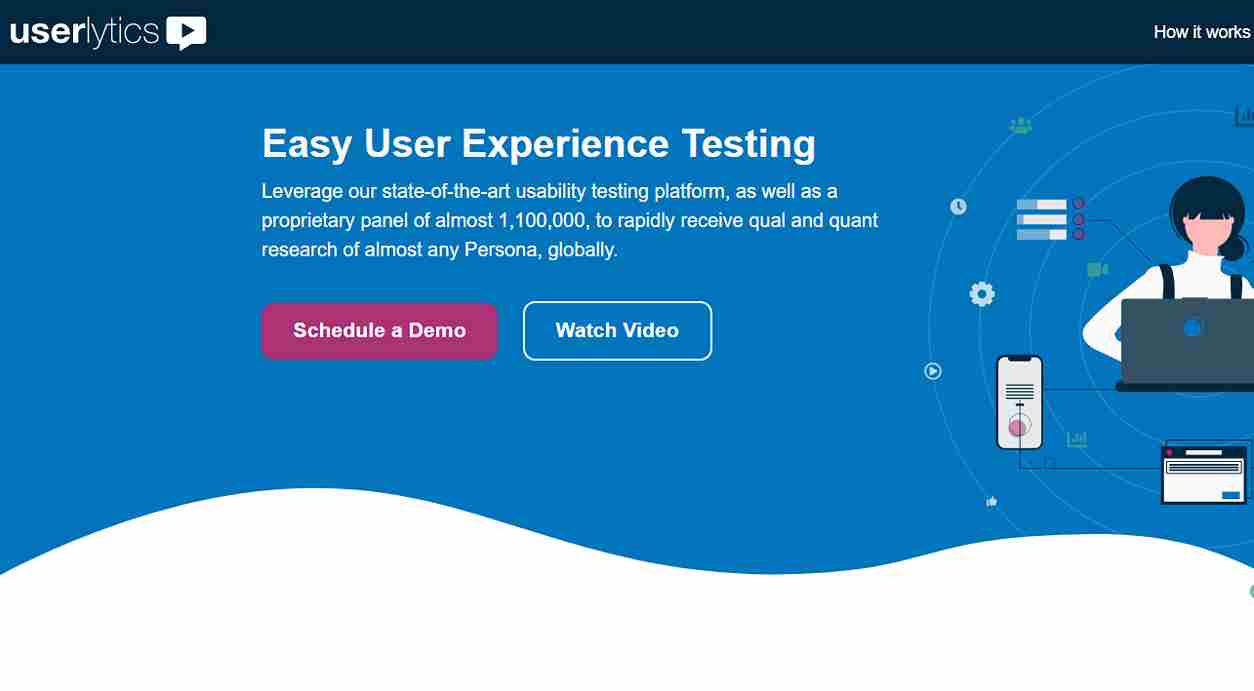 Userlytics is one of the best tools for market research and user testing. You can easily conduct remote usability testing to align your products with the target audience. It also lets you collect information about your participants and interact with live conversations to gather in-depth market data without the hassle of arranging personal interviews, making it a perfect online market research tool.
Features
Choose from a plethora of test types like tree testing, card sorting, usability testing, prototype testing, and more.
Use the tests to find the right product-market fit, test products, and conduct in-depth market research.
Offers features like multiple question types, branching logic, rebranding, multi-language support, and others to create targeted tasks.
Use built-in targeting options to select the right audience for your tests.
Provides picture-in-picture recording to view how participants perform the tasks.
Choose your own participants or access Userlytics' panel services to select your target audience.
Offers advanced dashboards to track metrics like NPS scores, time on tasks, and success/failure rate.
Pros
The Global participant panel with inbuilt filters makes it easy to find the right audience.
The feedback editing tool lets you create highlight reels, bookmark, download, tag, share, and rate the transcripts to extract valuable insights.
Cons
The panel credits needed to recruit participants cannot be shared with other users within the same company. So, you have to buy more credits for each separate account.
It can be expensive for small businesses.
Price
Subscription plans start at $399/month. billed annually
Market research tool # 21. Temper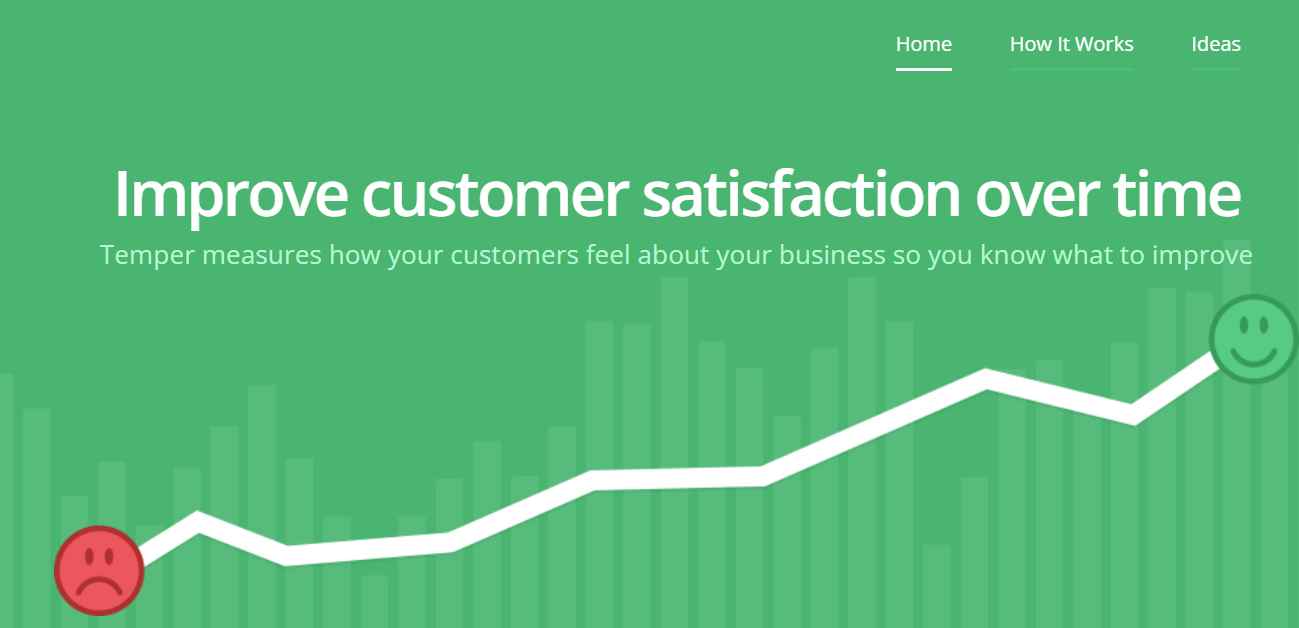 Temper is among the more straightforward feedback and audience research tools that let you collect user insights and other important data about your products and services. With simple surveys on different web pages, you can measure customer satisfaction, collect demographic and behavioral data on your target audience, gauge customer experience, and do more.
The tool is perfect for small businesses getting started with market research resources or creating a feedback loop.
Features
Create and add survey widgets to your website and email.
You can show the widget as a page pop-up or embed it into the page.
Provides multiple question types like NPS, emoji, free-text, rating scale, and more.
Fetches respondents' meta-data to build your market research resources.
Add custom tracking variables to pull other user data like email address, user ID, order number, etc.
Offers inbuilt targeting options to show the widget to the right audience.
In-built sentiment analysis dashboard to show overall sentiment score for each campaign.
Beautiful dashboard to view scores with time and track any changes in real-time.
Pros
The dashboard is simple but intuitively designed to display all the data without appearing overwhelming.
Custom tracking is an excellent way to identify logged-in users and quickly act on their feedback.
Cons
Lacks more question types offered by other similar tools.
No advanced tools for quick data analysis.
Price
Starts at $12 month
Market research tool # 22. BrandMentions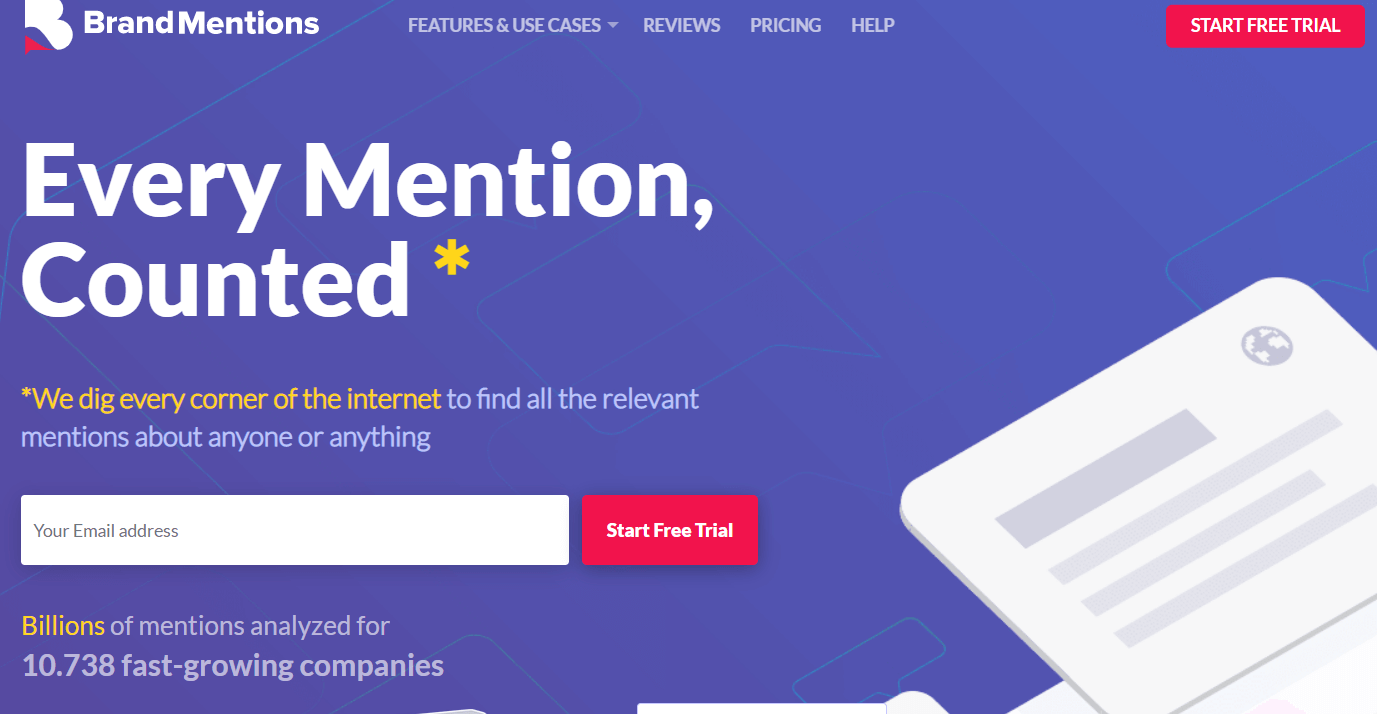 If you want to know what people are saying about your brand, BrandMentions is the perfect tool. It's a great market analysis tool to instantly search every corner of the internet and track brand engagements. From social listening to competitor spying, you can do it all and more with this feature-packed platform.
Features
Track aggregated social mentions across various social channels like Facebook, Instagram, Twitter, etc.
Respond to people's brand mentions from the dashboard to build an online community.
Find and connect with the right influencers to fuel your marketing efforts.
Monitor Hashtag performance across different channels.
Run sentiment analysis of all the brand mentions and track the overall sentiment tone of people about your brand.
Perform competitive analysis to analyze how your rivals are performing on the internet.
Track your competitors' brand mentions, social shares, and other data to identify their most popular channels.
Set alerts for trending topics and news to stay on top of optimizing your business strategies.
Pros
The UI is simple to use and navigate.
Set real-time alerts for negative mentions to take quick action and build brand reputation.
Cons
The initial setup takes time. We recommend consulting tutorials or help guides.
Needs a bigger integration stack to export/import data to other workspace tools.
Price
Starts at $99/month
Market research tool # 23. GrowthBar SEO
GrowthBar offers an all-in-one SEO toolkit for keyword research and competitive analysis to grow your business. You can find new target keywords, create new content ideas, and track competitors' websites with a click. The business research tool also offers a Blog Marketplace to help you find the top freelance SEO writers for your blogs.
Features
Offers AI-based content assistant to auto-generate optimal titles, headers, introductions, word counts, images, and more for your blog posts.
Use the inbuilt dashboard to view related keywords, difficulty scores, and suggestions for any keyword.
Track DA, targeted keywords, Google and Facebook Ads, backlinks, and other data for any competitor website.
Access the Blog Marketplace to find the right freelance writers to publish quality blogs.
Pros
Offers Chrome extension to get SEO insights about any open webpage without leaving the browser.
The AI-based content assistant comes in handy to generate optimized content outlines in minutes.
Cons
Cannot do advanced SEO research like other similar tools.
No option to track broken links.
Price
Starts at $29/month, billed annually
Market research tool # 24. Ubersuggest
Ubersuggest is another market research tool to generate new keyword ideas for your campaigns. You just need to enter a domain or keyword. The tool shows keywords suggestions, monthly volume, and other data to help you identify the best opportunities for the target keyword. UberSuggest was acquired by Neil Patel, who has since expanded its feature list significantly.
Features
Generate long-tail and short-tail keywords ideas for your target keyword.
Track metrics for each keyword like monthly search volume, PPC competition, average CPC, SEO competition, and more.
Track top-ranking pages for any target keywords with estimated traffic, social share, and domain scores for each website.
You can also analyze any domains for traffic, domain score, organic keywords, backlink score, and other useful information.
Provides an SEO analyzer to run Site Audit and speed tests on your website and show suggestions to optimize it.
Pros
The free version offers all the features to generate new keyword ideas.
Uses location-based data to enhance data accuracy.
Offers Word-Cloud keyword display to help you identify relevant keywords around the target term.
Cons
Lacks several technical SEO features.
Show limited results for niche target markets.
No custom reporting option.
Price
Free. Paid plans start at $12/month
Must-Have Features in Market Research Tools
You have already come across what market research software tools can do and how they are useful to marketers. But what makes a market research tool great and desirable? Let's take a look at some of the features that every market research online tool should have
1. Identifying the Target Audience
Each step in the process of market research is crucial, but it stems from identifying your target audience in the initial stages. The inability to identify the right target audience would automatically result in the market research being void and halt the process entirely.
Therefore, a market research tool should, first and foremost, be able to fetch you the right set of audience to ask the questions from.
2. Creating a Research Questionnaire
The step that follows the identification of the target audience is the creation of a research questionnaire that will fetch you the answers that you are looking for.
A good market research tool should provide users the ability to draft questions that:
3. Sharing Your Research Questionnaire
Another must-have feature of any market research tool is the ability to share the research questionnaire on multiple platforms through different channels. The flexibility of sharing your research questionnaire on different platforms is directly correlated to gathering accurate and significant data.
Respondents should be given the ability to opt for platforms that are convenient to them, like emails, social media, web links, SMS shares, and many more.
4. Collecting Data and Creating Information
A good market research tool should always be able to collect raw data and process it in such a way that it gives valuable information to the researcher. This is where an analysis tool comes in.
The analysis conducted by the research tool should give actionable market insights by analyzing the data on a granular level and presenting it with the help of a robust reporting system.
Final Tips for Conducting Market Research
At this point, you are well aware of how important ongoing market research is for the organization's long-term success. But even if you fully understand the depths of market research, you need to leverage it effectively.
For that, here are some of the quick tips that would be useful for you while conducting market research:
1. Context Is Everything
Data is everywhere, yet so little of it is of any use. Even with tons of invaluable information at our fingertips, we often are clueless as to how we should use them. Understanding the true meaning and the reasoning behind the information is what makes research complete.
As a good researcher, you should always be aware of the possibilities and limitations out there and harness the vast potential of information out there to paint a clear picture in the form of market research.
This can be done by always trying to look beyond the data points and asking questions to understand the actual meaning around the data.
Also Read: How To Measure Customer Satisfaction In Context
2. Make It Personal
When it comes to interpreting the data, you should always try and engage with the researchers and the analysts to understand how the data would be applicable to your organization. Market research is not about reading recorded visuals and texts or purchasing a report card and moving on.
There is a vast amount of information captured on a daily basis that does not make it to a publication and remains unused. Research is often widely applicable, which is why you should personally engage with research personnel or analysts who work behind the scenes to curate the research.
Asking them the right questions about the applicability of research would give you a much better understanding.
Remember, Research Is an Ongoing Process
We live in an ever-changing society, where the consumer's needs and market trends change at a rapid pace. In order to analyze and interpret those trends and consumers' needs, you need to study them on a regular basis. Research needs to be an ongoing process with no inevitable end to ensure that you always stay ahead of the curve at any given point in time.
Ask the Right Questions
Before starting with your marketing research, you need to have your objectives in place. These objectives act as a blueprint for your research and would guide you towards successful market research.
While focusing on the core objective, you would need to derive the right set of questions that would gather the specific data needed to fulfill your research. Here is a quick example of questions that can be applied in your research:
To understand how your visitors came to know about you
How did you find our website?
What search term did you use to find our website?
What was the first thing you found out about us?
Understanding the purpose of your visitors
What brings you to this website today?
What product or service are you looking for?
Understanding the exit intent
What is preventing you from signing up?
What is preventing you from starting a trial?
What could we do to make this site more useful?
Related Read – To know more about the survey questions, have a look at What Survey Questions Should I Ask?
Reflect on the Insights
Conducting market research is not the end of the process. The important bit is what comes afterward. Sharing the research data with your team and other organization members is the ideal thing to do when it comes to interpreting it.
You can also use the analytical tool provided in the market research software that would comprehensively decipher the data and give you a bird's-eye view. This is how reflecting on the data would give you the ability to make critical decisions.
Conclusion
Ultimately, market research will always be considered as a highly sophisticated way of gaining insights and answers that will eventually reduce business risk and ensure overall success.
Research success can always be determined by comparing your discoveries with the business objectives. Proper deployment of market research tools is one of the biggest enablers of this success.
With that being said, you have been enlightened with some of the best market research tools out there. All you need to do now is evaluate your needs and map them with the tool that can make it happen for your business by helping you develop what your customers need.
Want insights that improve experience & conversions?
Capture customer feedback to improve customer experience & grow conversions.