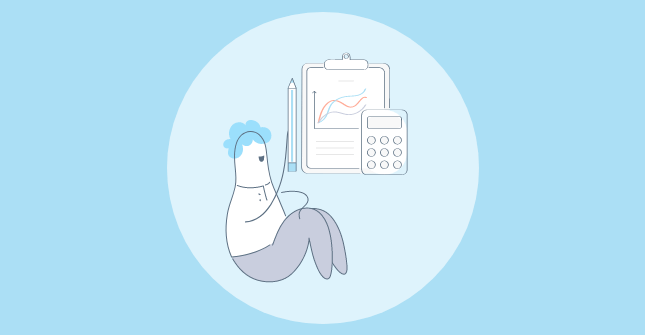 If you are looking for the top Jotform alternatives that share a similar purpose but offer a distinct experience, you've come to the right place.
Form building is an essential part of feedback and data collection, and Jotform's a top-rated tool in the domain.
But, no matter how popular Jotform is, it is not for everybody.
There are some downsides and limitations with Jotform that many other tools tend to overcome to provide a better form-building experience.
So to help you pick the best form builder, we have carefully crafted a list of 12 of the most highly proficient Jotform alternatives out there. We have added features, prices, pros, cons, and pricing for each tool under one roof so you can make a thoughtful decision.
Go through this list, and you won't have to jump from page to page on the internet to find the right form-building tool.
But before we jump to the list, let's quickly get a little overview of what Jotform is.
What Is Jotform?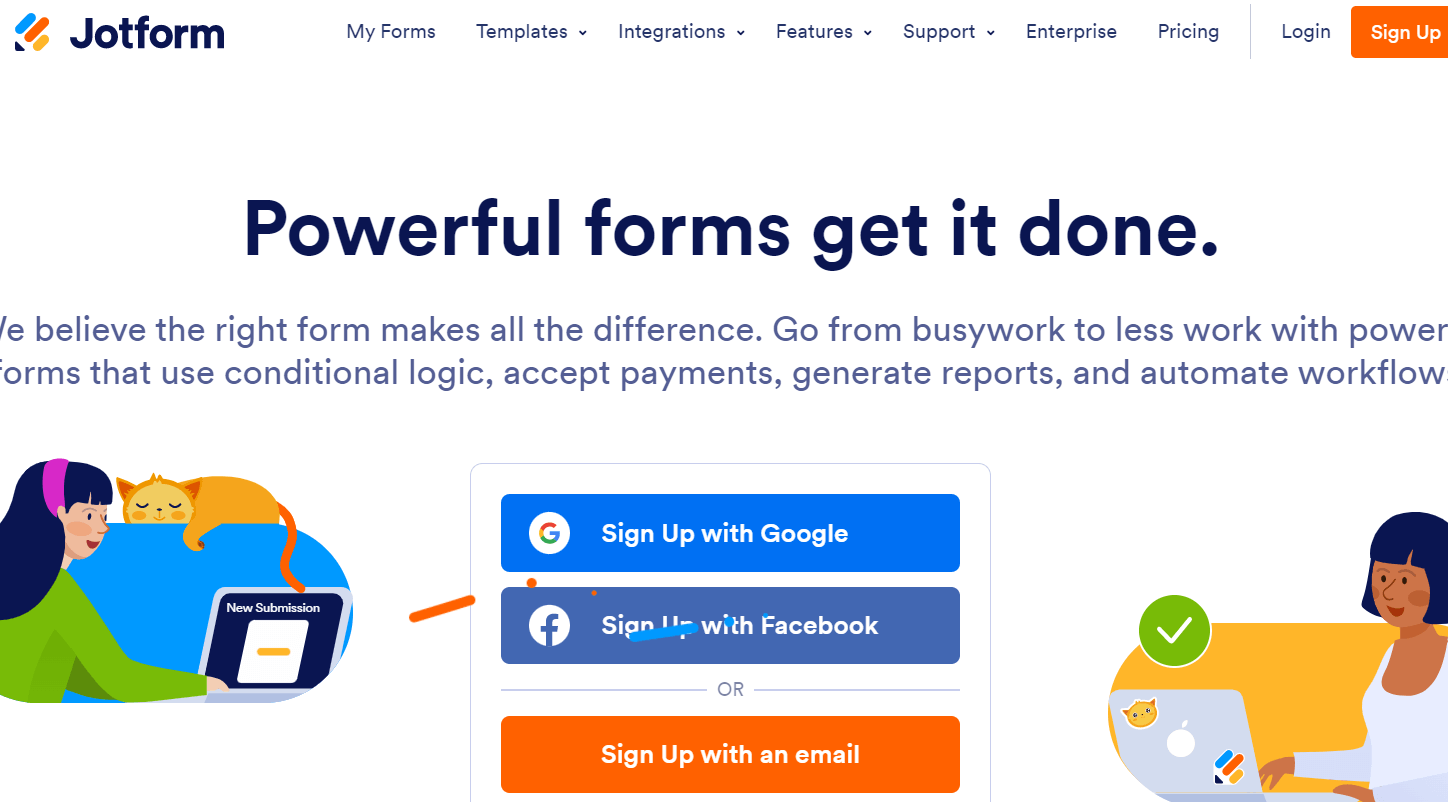 ---
Jotform is a powerful web-based tool that enables people to quickly create custom online forms without any coding. Since Jotorm is an entirely SaaS-based freemium tool, users don't have to install any software to get it working.
Creating online forms is what Jotform specializes in, and businesses and organizations use it to create registration forms, order forms, new product surveys, and much more. Users can create and customize their forms based on the data they are trying to collect, and Jotform automates the rest of the process.
Features
Drag-and-drop editor for quick and effortless form and survey building.
Built-in templates are available for both free and paid plans.
Form widgets, including the checklist, e-signatures, image slider, and more.
Edit and customize your forms and surveys with the help of left and right sidebars.
Why Should You Look for Jotform Alternatives?
Before we dive into the alternatives, let's have a look at why users feel the need to switch to its competitors so that you can take the decision keeping all these factors in mind:
Finding the right form element can be difficult due to the dozens of options in each category.
The drag-and-drop editor can feel a bit outdated.
The customization dashboard opens on a separate page, making it a disjointed experience.
Limited placement options for widgets in the forms.
The colored box behind the forms cannot be removed.
Does not have live chat support.
Forms in the templates library are quite generic.
No option to change the 'Back' and 'Submit' buttons on the last page.
Cannot apply themes to all the pages at once.
Now that you know what Jotform can and can't do let's dive right into some of the top Jotform alternatives.
12 Best Jotform Alternatives & Competitors In 2023
There are tons of form builders in the market that have the potential to make this list of Jotform competitors, but here are the 12 best options: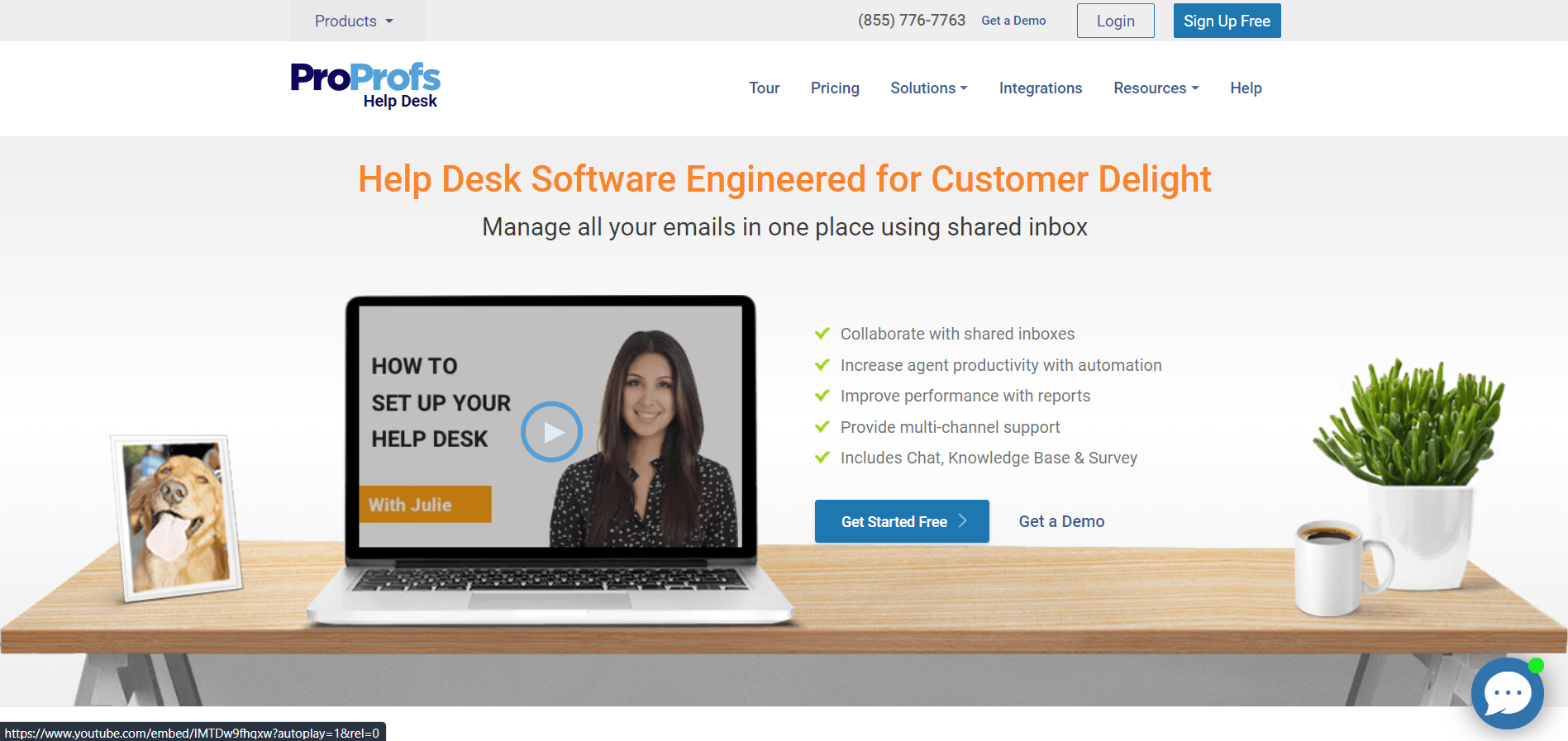 ---
ProProfs Survey Maker is another strong Jotform competitor that helps users seamlessly create surveys, quizzes, polls, forms, and much more.
With its ability to customize surveys from top to bottom and gather unbiased feedback through goal-oriented questions, ProProfs Survey Maker is one of the top choices to use as Jotform's alternative.
Suitable for: Small, medium, and large enterprises
Best for: Deploying polls, sidebar surveys, and forms to gather authentic feedback
Features:
Get started within minutes with its easy-to-use interface.
Create interactive forms, surveys, and polls without any coding knowledge using the built-in drag-and-drop editor.
Gather any data with the help of 100,000+ built-in questions and 15+ question types.
Target different customer segments with multi-channel survey deployment.
Create web forms for different use cases like job recruitment, product feedback, and more.
Track survey and form performance with the help of real-time analytics and reporting.
Integrate with other powerful marketing and CRM tools to give more power to your feedback.
Pros:
Highly intuitive interface.
Unobtrusive sidebar feedback to collect suggestions.
100+ built-in survey templates.
Cons:
Survey editor can be a little tricky to use.
Could use some more customizations for survey templates.
Price: Starts from $19 per month.
JotForm Alternative #2- Qualaroo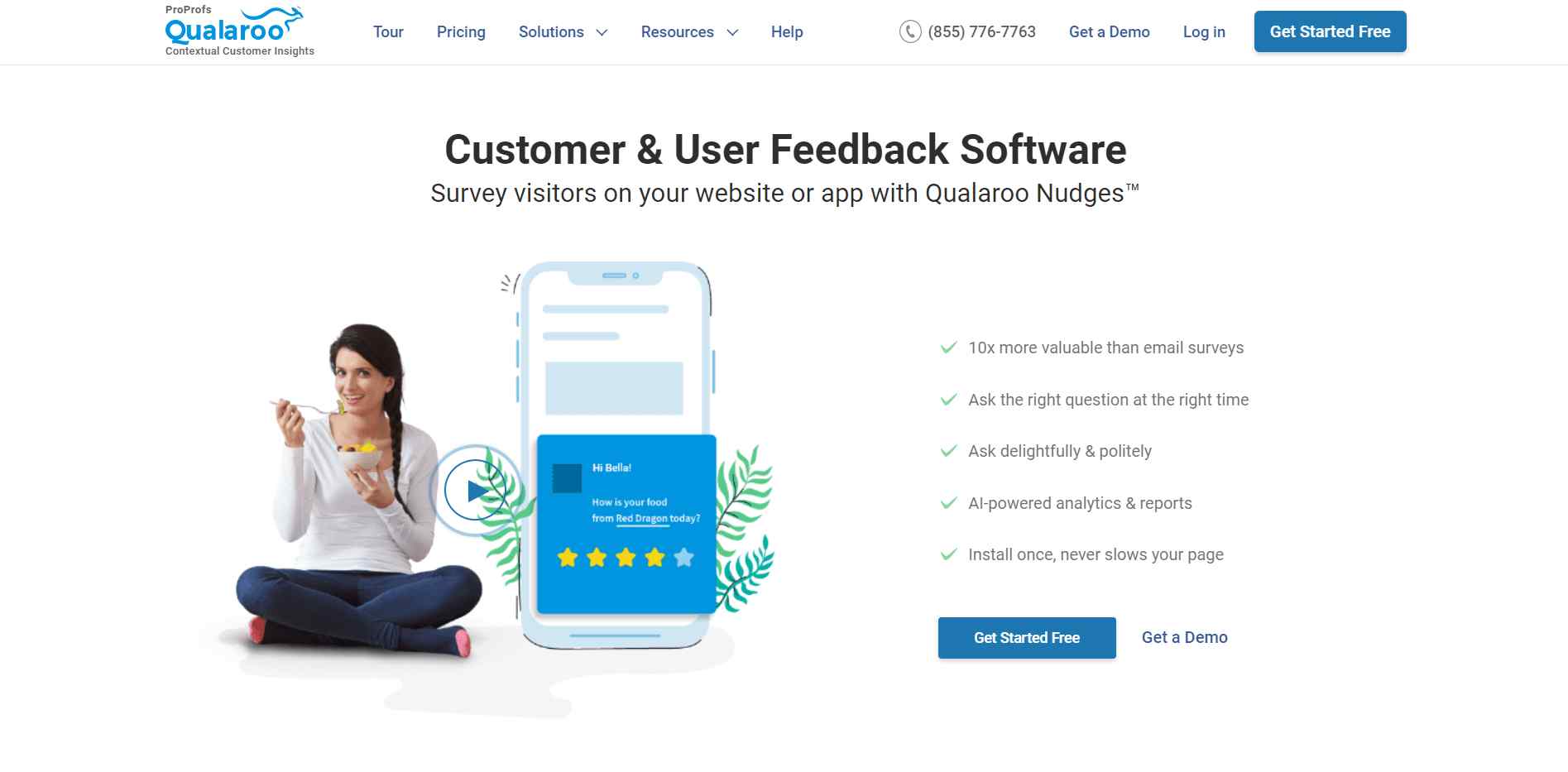 ---
Qualaroo is one of the most sought-after survey/form builders out there that lets you ask the right questions at the right time using unobtrusive surveys called Nudges™.
The tool is easy to use and can help users collect contextual feedback in real-time across multiple channels, including website, email, mobile apps, SaaS tools, and many more.
Suitable for: Small to large enterprises
Best for: Unobtrusive surveys, multi-platform reach, AI-based data analysis
Features:
Start collecting feedback instantly with quick setup and easy deployment.
Design beautiful surveys and forms with the help of built-in survey templates like NPS, CSAT, UES, CES, and more.
Diversify your surveys using 12+ question types.
Customize your surveys to represent your brand using white-label and branding features.
Screen through irrelevant respondents with the help of branching and skip logic.
Get to your users no matter where they are using multi-channel surveys (6+ channels).
Globalize your surveys with the help of 100+ language support and translations.
Pros:
Tons of targeting options.
Receive notification for every submitted response.
Custom survey triggers based on user actions and behavior.
Built-in analytics to check the pulse of customers in real-time.
Cons:
The dashboard UI needs more refinement.
Needs more industry-specific templates.
Price: Starts from $69 per month.
---
Jotform Alternative #3- Formstack
---
Formstack is another extremely well-built workplace productivity platform & a great alternative to jotform that aims to streamline digital work and provide solutions to problems that slow down the organization. Formstack helps users build online forms, signatures, and documents to collect information and automate the essential processes in your business.
Suitable for: Medium and large enterprises
Best for: Populating information in custom documents and simplifying workflows
Features:
Send forms live within minutes with the help of the easy-to-use form builder tool.
Customize your templates as you want using the drag-and-drop editor.
Manage and handle your data more efficiently with the built-in data management tool.
Gather more leads by sharing your forms on social media.
Provide a better surveying experience by displaying only one question at a time.
Embed custom URLs to improve brand recognition in your surveys.
Use the Formstack Conversion Kit to A/B test your surveys and forms.
Pros:
Capture digital signatures.
HIPAA compliant.
Customizable dashboard.
Cons:
No triggers for date and time fields.
The WordPress plugin can sometimes feel glitchy.
Price: Starts at $50/month
---
Jotform Alternative #4- Wufoo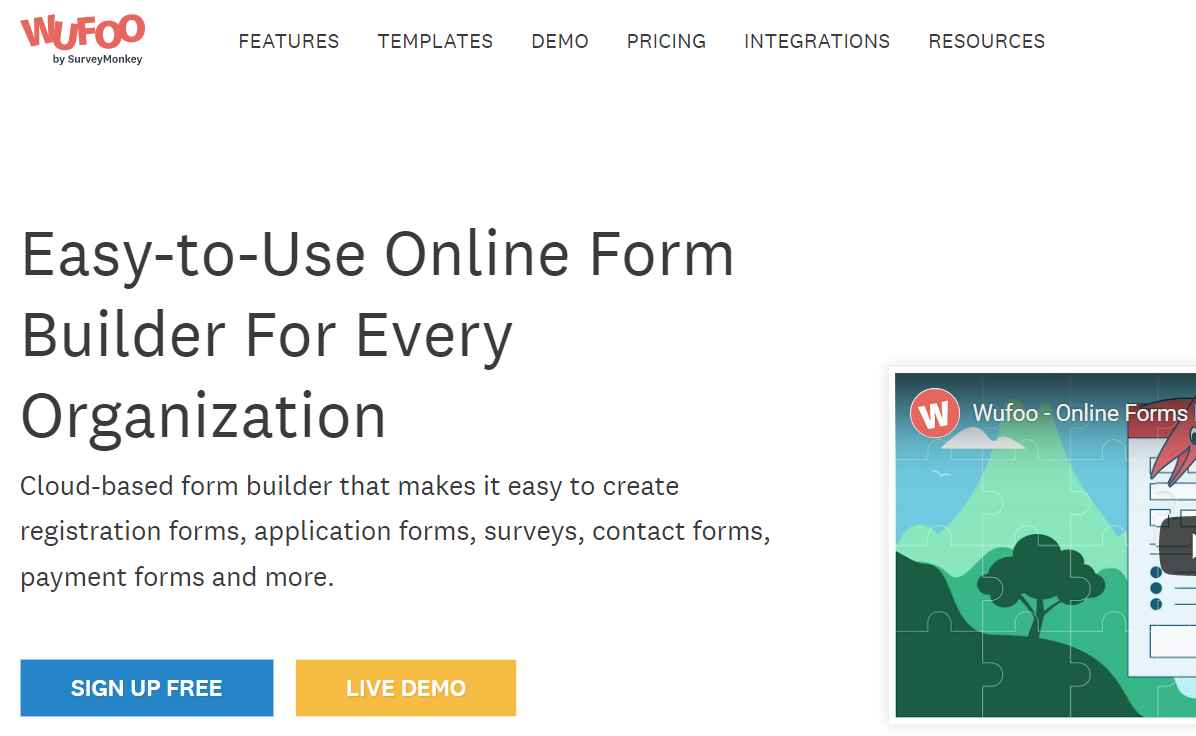 ---
Wufoo is a cloud-based form builder and a worthy Jotform competitor. It provides a delightful experience and allows users to create custom forms and surveys within minutes. Wufoo is known for its extremely simple and minimalistic interface with little to no learning curve and tons of customizations to help you create forms of all kinds.
Suitable for: Small and medium enterprises
Best for: Create forms, simplifying workflows
Features:
Use the drag-&-drop builder to create surveys in minutes.
Accept payments from your users through popular integrated payment providers.
Allows respondents to upload files in the forms.
Represent your brand in the forms using several branding and customization options.
Protect your data with 256-bit SSL encryption.
Analyze the form data and build custom reports.
Pros:
Real-time notifications.
Seamless integrations and data transfer.
Cons:
The form manager dashboard needs more improvement.
Needs more design options.
Price: Starts at $14.08/month
Jotform Alternative #5- Typeform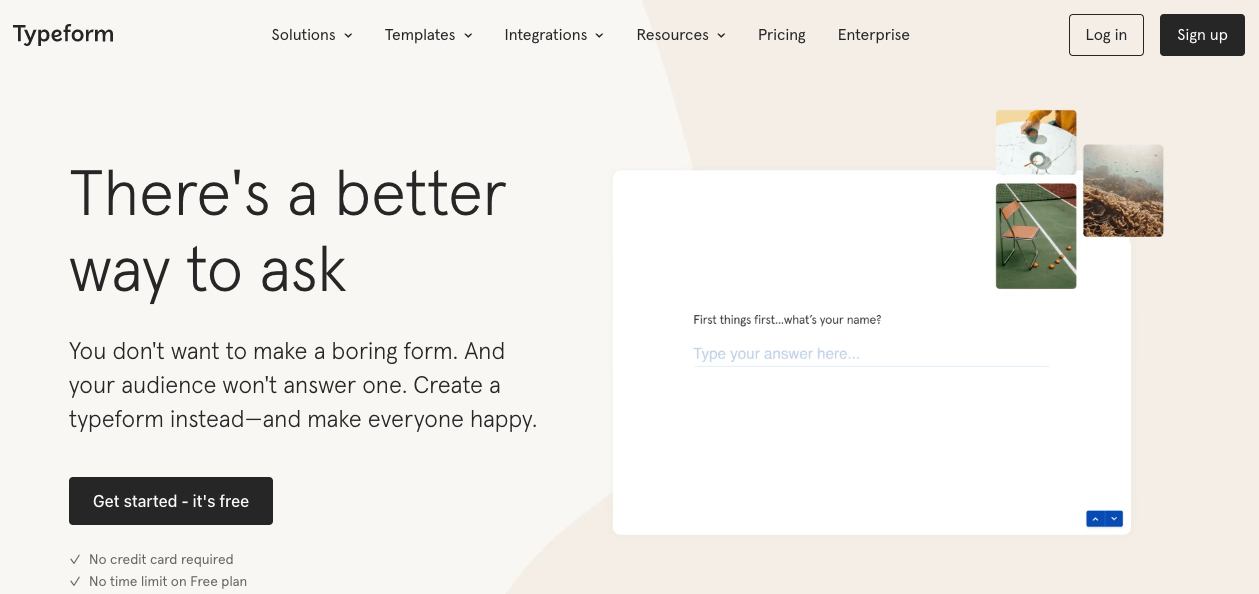 ---
Typeform is one of the most popular online survey tools that help create engaging, frictionless surveys that the users would love to participate in. The platform is known for its unique features and combining superior design with functionality to offer a great surveying experience. You can deploy the surveys on the website and mobile app, making it an excellent multi-channel feedback tool.
Suitable for: Small, medium, and large enterprises
Best for: Mapping customer experience and boosting survey engagement and participation
Features:
Intuitive and easy to use, even for new users.
Create beautiful-looking surveys in minutes with the help of built-in templates and a photo and video library.
Elevate surveying experience with pulse and multi-question surveys.
Improve data quality using conditional logic and jump logic.
Build engaging and conversational surveys with multiple question types.
Collect visual and verbal feedback with the help of the built-in VideoAsk feature.
Pros:
Inline training tips to help with product adoption.
Great for running basic usability tests.
Cons:
The dashboard needs more filter options.
The customization section needs more flexibility.
Price: Starts at $25/month
---

---
Speaking of free Jotform alternatives, Microsoft Forms comes as a part of the Office 365 suite. You can easily create surveys and quizzes and analyze the results instantly. Another great thing about Microsoft Forms is that it can seamlessly integrate with other Microsoft tools to transfer data for added functionality, making it one of the best free Jotform competitors.
Suitable for: Small, medium, and large enterprises
Best for: Integrating with the full suite of Microsoft tools to export, analyze and visualize the survey data
Features:
Create forms instantly with the help of a built-in drag-and-drop editor.
Build customer feedback forms, registration forms, and surveys with ease using built-in templates.
Add multiple form fields and use different question types to make your forms diverse.
Access your forms from any browser and on any device.
Gather specific details from your forms using branching questions.
Import data from Excel to your Microsoft Forms account seamlessly.
Pros:
Instantly visualize results.
Assess progress with quizzes.
Add video to questions for greater engagement.
Cons:
Slightly challenging to set up and use.
Needs more complexity for matrix questions.
Price: Free to use
Jotform Alternative #7- WPForms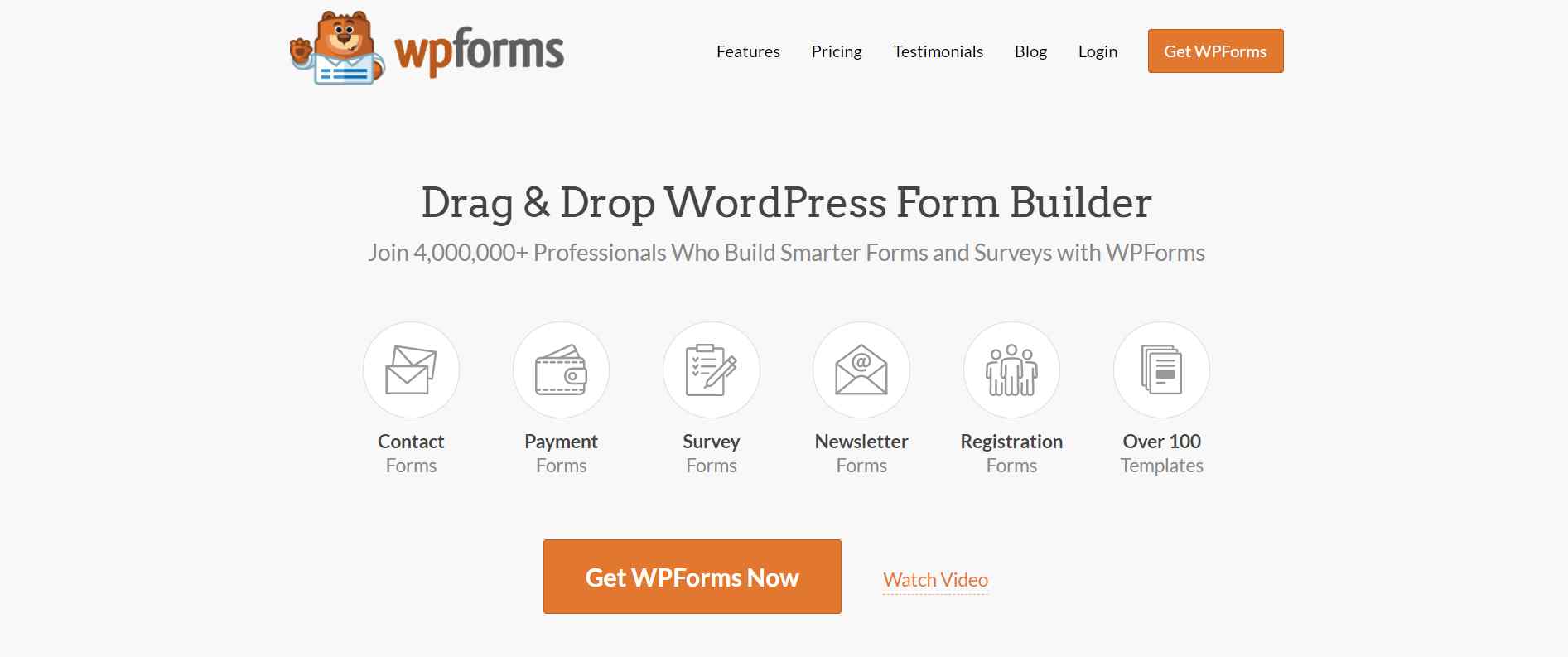 ---
WPForms, also known as WordPress Forms, aims to make form building on WordPress extremely simple with the help of their drag-and-drop editor. You can easily create online contact, registration forms, and surveys within minutes without coding.
It integrates with a number of tools like MailChimp, Constant Contact, and GetResponse to help you grow your email list. You can also view all the leads at one place with its entry management feature for a streamlined workflow.
Suitable for: Medium and large enterprises
Best for: Creating smart WordPress forms and surveys
Features:
Create contact forms, donation forms, survey forms, and much more instantly.
User customizable templates to build smarter workflows.
Deploy your forms anywhere with 100% responsive forms that work on mobile, tablets, and desktops.
Create high-performing forms with conditional logic.
Receive email notifications for every form submission.
Avoid spam with the help of smart captcha and other spam protection features.
Pros:
Flexible customization options.
Easy embedding.
Cons:
Limited CSS access.
No sorting options for logic nodes.
Price: Starts at $39.50/month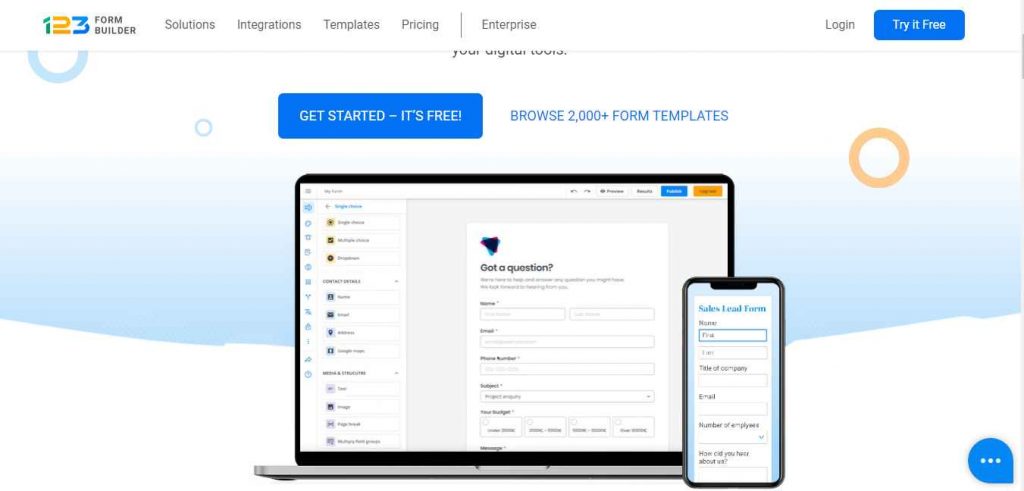 ---
If you are looking for a free Jotform alternative, 123FormBuilder is the one to look out for. It's a fantastic tool similar to Jotform that aims to simplify the process of building registration forms, order forms, and application forms for everyone. The tool allows users to create secure online forms, surveys, and questionnaires. It is also flexible enough to integrate with other online digital tools to increase the efficiency of your workflow.
Suitable for: Small and medium enterprises
Best for: Creating secure forms and questionnaires and managing form data effectively
Features:
Build forms effortlessly with the help of 2000+ built-in templates.
Use registration forms, order forms, application forms, and many others for an unlimited number of use cases.
Receive payments from users by creating PayPal order forms.
Add the desired number of form fields to create a range of complex forms.
Get up to 10GB of cloud storage with the basic plan.
Use domain aliasing to create your own custom domains.
Pros:
35+ advanced integrations.
Automatic backlink removal.
Cons:
No real-time form preview while editing.
It has a slight learning curve.
Price: Starts at $19.99/month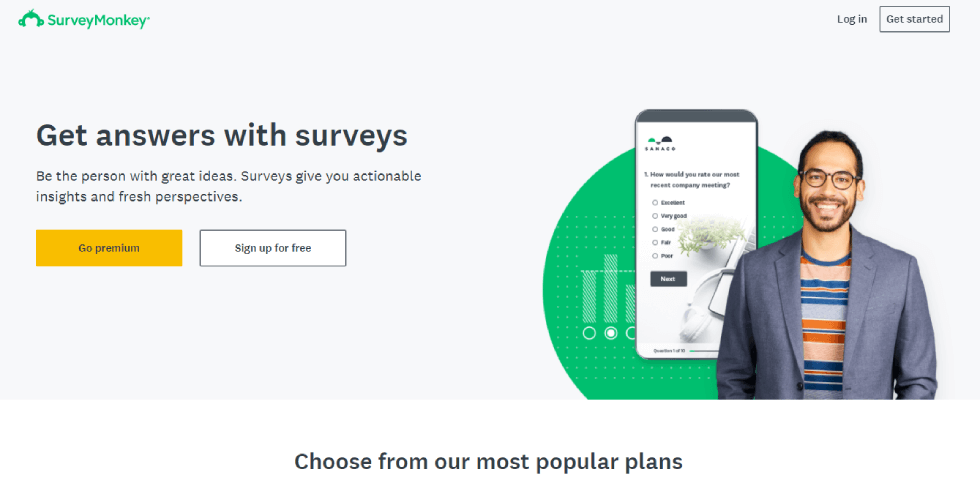 ---
SurveyMonkey is a tool that is hard to miss when you talk about Jotform alternatives or good form builders in general. It provides multiple different ways for customers to voice their opinions and concerns.
You get a lot of flexibility and control over survey creation and management. You don't require any coding knowledge to build excellent forms, making SurveyMonkey a great Jotform competitor.
Suitable for: Small, medium, and large enterprises
Best for: Building complex question sets to conduct market research and provide customer experience insights
Features:
Always ask the right questions with the help of built-in survey templates and questions.
Create personalized forms by adding branching logic, question randomization, a progress bar, and other elements.
Design beautiful surveys from scratch using the visual editor and drag and drop feature.
Personalize your surveys with different question types, customization options, and language translations.
Reach a wider audience by embedding your surveys into emails.
Export your results in multiple formats for easy visualization.
Pros:
Easy to set up and intuitive UI.
Option to gather anonymous feedback.
In-depth analysis engine.
Cons:
Glitchy survey editor.
The dashboard needs more customization.
Price: Starts at $25/month
---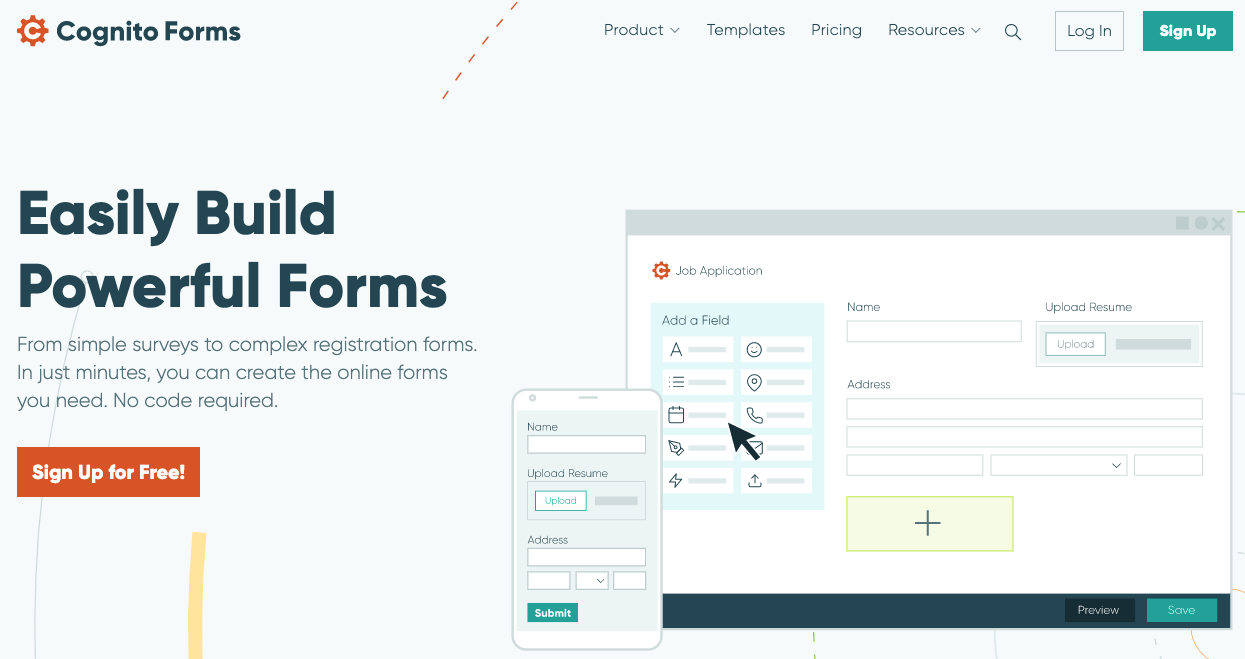 ---
Cognito Forms is another tool with great functionality that is similar to Jotform. It is one of the free Jotform alternatives that is easy to use and provides a powerful solution for building complex and straightforward registration forms and surveys. The tool works great for data collection and lets users efficiently manage data and analyze the results through powerful in-built visualization tools.
Suitable for: Small and medium enterprises
Best for: Data management, automatic data visualization, secure payment forms.
Features:
Build surveys and registration forms right away with the help of built-in templates.
Customize your data collection forms by adding the appropriate field types.
Transform your forms conditionally with the help of skip-logic and automation.
View and manage all your information at your fingertips with the help of a built-in data management system.
Protect your customer's information and secure your data with privacy regulations compliance.
Accept online payments seamlessly using forms via Square, PayPal, and Stripe.
Pros:
Top-notch data security.
Powerful integrations.
Advanced formatting options.
Cons:
Complex forms need to be tested before deployment.
Requires a knowledge base to train users.
Cumbersome interface.
Price: Starts at $15/month
Jotform Alternative #11- Zoho Forms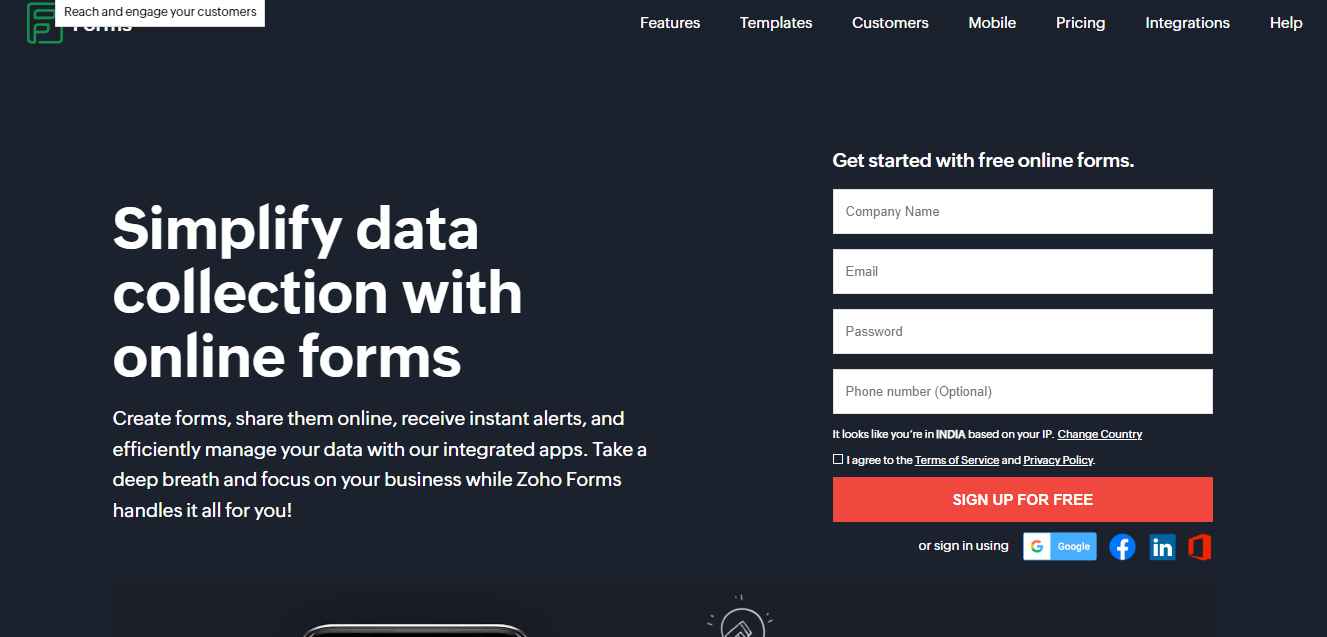 ---
Zoho Forms is another hugely popular form builder similar to Jotform. It lets you easily create, track and manage all your forms in one place, including your mobile device. Like Microsoft Forms, you can integrate Zoho Forms with the other Zoho tools to give your survey data more power through unique analysis and visualization.
Suitable for: Small, medium, and large enterprises
Best for: Interactive forms and automating your workflow between different Zoho applications to improve collaboration
Features:
Create, and manage forms online with the native Zoho mobile application.
Build feature-rich forms with over 30 different field types and situation-specific templates.
Engage with your website visitors by embedding your surveys onto the web pages.
Share form links on social media and through email to reach a wider audience.
Stay informed about your surveys by setting automatic conditional email and SMS notifications.
View and analyze data instantly and export it to spreadsheets for further analysis.
Pros:
Survey logic flexibility
Analyze the answers in real-time.
Accept payments from end-users.
Cons:
The website is not user friendly.
Form designs are limited.
Price: Starts at $10/month
Jotform Alternative #12- FormAssembly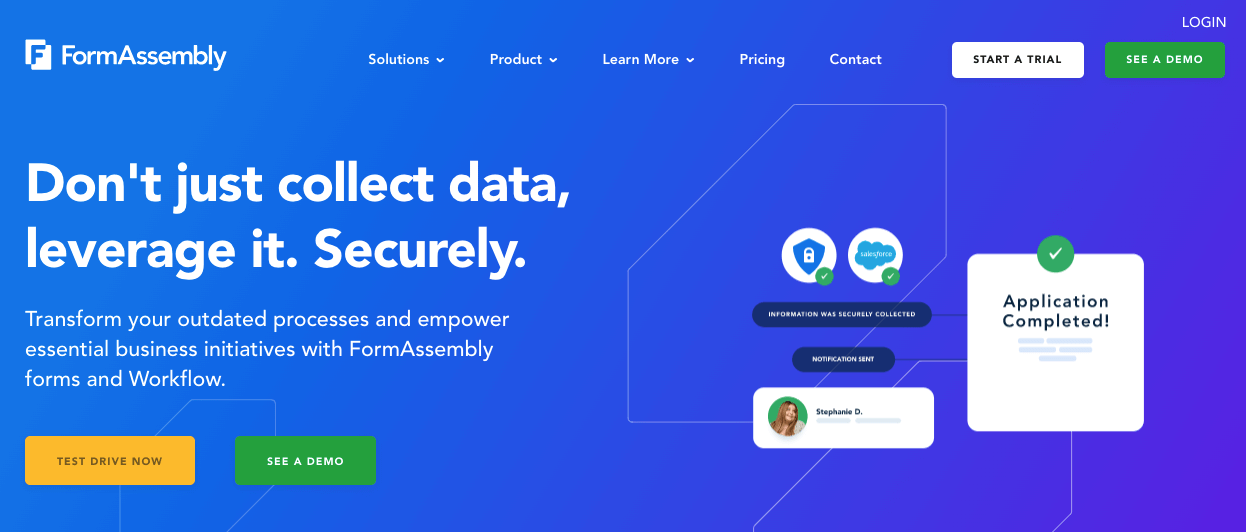 ---
FormAssembly is a powerful platform for data collection and helps streamline outdated processes with the power of feedback. With FormAssembly's workflow, your teams can visually map out the flow of data and help make better business decisions. The tool is also HIPAA and GDPR compliant.
Suitable for: Medium and large enterprises
Best for: Streamlining the cross-departmental process and eliminating manual effort in handling feedback data
Features:
Streamlines processes and eliminates manual entry with FormAssembly workflow.
Easily create forms with the help of a built-in drag-and-drop editor.
Create diverse forms and questionnaires with multiple field types.
Only relevant data with conditional and branching logic.
Eliminate manual work with powerful integration APIs.
Pros:
Intuitive form builder.
Prefilling forms.
Cons:
Cannot add a background image to the forms.
Theme builder needs more flexibility.
Price: Starts at $89/month
Did You Find the Jotform Alternative That Suits Your Needs?
Jotform is a great form-building tool. But unless it can handle everything you throw at it, you need to look for other options.
As we always say, the best form and survey tool is the one that caters to your needs in the best possible manner. Whether your priority is budget, features, or specific functionality, try to find a tool that gives you a little of everything.
It will save the pain of replacing it in the future.
With that, the floor is yours. Go out there and create great forms with the tool that is right for you.
FAQs
What are the best alternatives to Jotform.com?
Tools like Qualaroo, ProProfs Survey Maker, Typeform, and SurveyMonkey provide an amazing form-building experience, making them some of the best alternatives to Jotform.
What are the most common reasons to look for an alternative to Jotform.com?
Jotform has a few shortcomings like an unintuitive PDF builder, limitations in widget placement, form positioning issues, and a slightly complicated UI for new users.
Apart from that, the built-in templates are pretty generic, and users don't get live chat support, unlike most other competitors in the market. These issues make it important to look for other options.
Want insights that improve experience & conversions?
Capture customer feedback to improve customer experience & grow conversions.