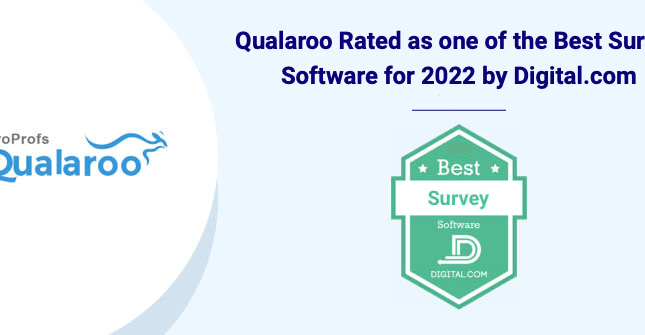 Qualaroo has been positioned as one of the best survey software companies by the widely renowned SaaS review website, Digital.com!
In its list of Best Survey Software Companies of 2023, based on user feedback, and reviews, Qualaroo acquired a position in the top 10. The users acknowledged Qualaroo for its ease of use, impressive features, flexible pricing, and a free trial option. Being a trusted choice of big brands like eBay and TripAdvisor made things self-explanatory.
We were appreciated for our highly effective on-site and in-app surveys that give companies the ability to ask the users questions the moment they draw in with the brand. Businesses can now connect with their prospects, customers, or users proactively to make improvements and optimize the sales funnel.
Qualaroo's Nudges™ (the proprietary name for micro popup surveys) are found to be far better than email surveys in discovering and comprehending what more can be done to provide the best user experience while recognizing the pitfalls.
An outstanding feature that made many Qualaroo users unanimously favor it was its advanced targeting option that helps them reach the right people at the right time.
We are also considered a valued tool for our matchless customer support. As per the words of a customer, "I like that customer support is very responsive and helpful. I always get my answers on the same day."
Qualaroo has consistently been a prominent choice of customer feedback tools amongst users. We are admired due to the ease of creating surveys with professionally designed survey templates, customization options, branding options, branching technology, and powerful integrations.
The sentiment analysis by IBM Watson-powered AI, which enables website owners to understand user intent from their free-form feedback without any error or bias also makes us stand out in the crowd.
We'd like to take this opportunity and thank Digital.com for awarding us with this rank in the Best Survey Software Companies category.
Want insights that improve experience & conversions?
Capture customer feedback to improve customer experience & grow conversions.