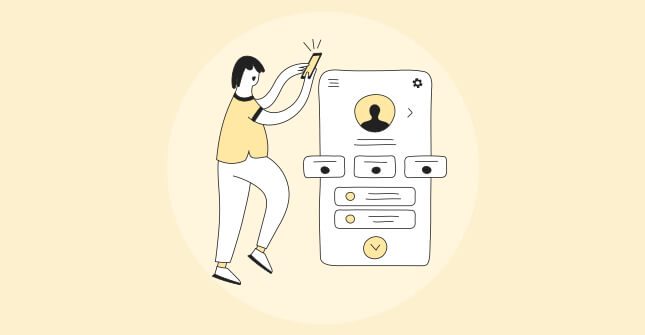 There are two types of products: The one that's an instant hit among its target customers, and the other which isn't and no one knows why.
What separates them? Their product strategy (or lack of one).
A good product strategy is your product's backbone, driving everything from its vision, mission, business model, and features to product delivery.
Don't fret if you already have a product doing rounds in the market without a stellar product strategy; it's not too late.
We have this comprehensive guide to get you started on developing a sustainable product success strategy at your end.
Even better if you have your product in the pipeline, as you can create a product strategy tailored to your product entirely right from the development stage.
So, let's begin.
What Is a Product Strategy?
A product strategy defines what a business plans to achieve with a product and how it can do so. Before figuring out the what, when, and how, you must answer the 'Why' as a new enterprise or before launching a new product/service.
That's what product strategy is for.
What product strategy is NOT is a plan to create a product or features. The purpose of a product strategy is to define your goals and how you'll achieve them.
You should work on your product strategy before getting into the nitty-gritty of customer journeys, roadmaps, and product features.
To create a robust product strategy you must be on top of your market research game. That includes:
gauging your target audiences' attitudes towards a product like yours and
performing user research to understand their current challenges and create a product to combat them.
Bonus read: 24 Best Market Research Tools & Software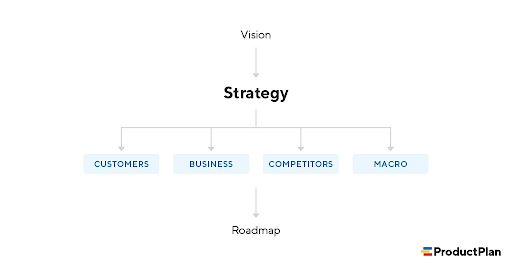 9 Essential Ingredients That Make a Stellar Product Strategy
Before we discuss how to develop a product strategy, it's only obvious to understand the elements of a product manager's strategy. Here are the crucial components that go into developing one:
Product Vision
In simple words, product vision is the long-term mission of your product. Vision statements indicate the purpose of the product and what it aims to achieve. It represents the 'why' behind your product.
For a startup or medium enterprise, product vision would be the overall vision for the company, but for large organizations, it can be narrowed down to the customer journey.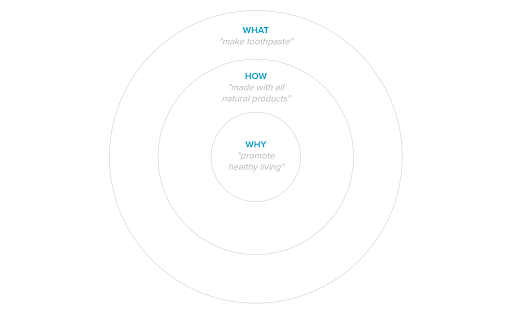 Challenge
Challenges are essential to your product strategy as they can be seen as business objectives your team needs to accomplish during product development.
These challenges can occur throughout the customer journey and provide opportunities to find loopholes and fix them.
Voice of the Customer
Collecting feedback from your target audience significantly improves your product feedback strategy. It's an indispensable part of user research that enables you to understand the different customer demographics, preferences, online shopping behavior, and pain points.
One of the most straightforward ways to listen to the voice of your customers or prospects is by conducting long-form and short-form online surveys.
This way, you get a holistic view of your target market and can mine through feedback for quick and automated analysis. There are survey feedback tools like Qualaroo that automate feedback analysis making it more accurate and easy.
Business Model
Your business model determines how you'll create value for your company, solve customers' problems, and prosper as an organization.
Some popular business models are:
Freemium: Customers are given free access to the product's core and basic features and can upgrade their plan to access premium functionality. Some great examples are Spotify, Dropbox, Trello, Grammarly, and YouTube.
Premium/Subscription: In this business model, users pay a premium (buy a subscription plan) to use the product. Popular examples of brands that use this model for product success strategy are Netflix, Apple Music, Grammarly, and New York Times.
Free Trial: Users can sign up for a free product trial for a limited period. After the trial period ends, users need to buy a subscription to access the product. Some brands that thrive on this business model are Adobe, Salesforce, and LinkedIn Learning.
Licencing: Technology and innovations are licensed to the users to monetize them.
Open-Source/Free: Open-source products are essentially free to use. Users can make changes to the source code for personal use but cannot resell the product to others. For example, social media platforms, Google Suite, and GitHub.
Product Positioning
Product positioning is a marketing strategy devised to identify the primary and secondary target audience and show-stealing features to create a seamless brand experience. Product positioning encompasses everything in marketing, such as content strategy.
Customer Personas
Customer Personas are the fictional characters you create based on the traits of your target audience. These buyer personas help you design products and customer experiences that fulfill the requirements of your prospective customers.
If you don't have relevant customer personas, you can't create a reliable customer journey that ensures your product's success.
Creating buyer personas is a huge part of user research that can be done via online surveys using survey feedback tools.
You can create surveys and launch them on websites to ask questions to visitors and customers to map out their collective needs, behavior, demographics, etc.
Discover more about it in our Complete Guide on How to Build Customer Personas.
Competitive Analysis
No product strategy is complete without analyzing your competition. The competitive analysis becomes all the more imperative if your target market is saturated. You need to know what the competitors offer, their approach to solving customer pain points, and what they lack.
For this, online surveys come in handy, among other methods. You can create surveys asking relevant questions, such as the one mentioned below, and analyze the collected feedback.
No product strategy is complete without analyzing your competition. The competitive analysis becomes all the more imperative if your target market is saturated. You need to know what the competitors offer, their approach to solving customer pain points, and what they lack.
For this, online surveys come in handy, among other methods. You can create surveys asking relevant questions, such as the one mentioned below, and analyze the collected feedback.
It's important to ensure that this is a recurring process in your product development plan so that you are always ahead of your competitors.
Goals
Your goals are time-bound, measurable objectives you set at different touch points throughout the customer journey. These goals have numerous success metrics you can use to track your performance.
Initiatives
The high-level efforts you put in and the big theme strategies you implement to achieve your goals are known as initiatives.
For example, say your goal is to bring X amount of traffic each month for Q4; the initiative would be to create relevant and trendy content and invest in PPC ad campaigns (Pay Per Click).
7 Different Product Strategy Types & How Feedback Fits in Them
There are multiple product strategies businesses can use per their business model. Some focus on the cost, some on features, and some on offering quality. Let's discuss each one in detail and also how feedback can help you with them:
Cost Strategy
An effective cost strategy is all about designing a remarkable product for the lowest price in the market. Here, the priority is to lead on the price front since the quality of the products is more or less the same in the market.
It works best for daily consumer products where customer loyalty isn't the primary factor and customers don't put too much effort into buying.
Cost strategy assesses the ways to save money during the production process. For instance, acquiring resources at the lowest price to reduce the production cost per unit.
Use of feedback in cost-based product strategy
During your user research, you can conduct an online survey to test a small portion of your target audience regarding how much they are willing to pay for a service/product like yours and what kind of business model they expect the product to have.
It'll help you clarify how you can reach a middle ground where customer expectations and your business growth are balanced.
Watch: (1/5) Supercharge Your Revenue With Data-Driven Pricing
If your ideal customers are active on social media, you can launch polls and surveys on platforms like Instagram, Facebook, Twitter, LinkedIn, etc.
Focus Strategy
In focus strategy, you focus on one particular buyer persona, niche market, or product line to create products that customers would need and want to purchase. It's about personalizing your product and customer experience.
This strategy works best when you want to boost brand loyalty and acquire new customers from a specific user segment.
For example, Gucci, a luxury fashion brand, collaborated with a K-pop artist and their global brand ambassador KAI on a personalized and limited edition capsule collection to target user personas belonging to the fan demographic of the artist. It not only invited new customers but also helped boost brand awareness.
Use of Feedback in Focus Strategy
Feedback from potential customers can play a crucial part in identifying which user personas, niche markets, and locations should be a part of your focus strategy and what requirements your products should target.
For example, you can ask your audience about their challenges, requirements, and pain points with the current products in the market to offer something useful and increase your business value.
Product-Led Growth Strategy (PLG)
Remember how Zoom swept the market off its feet during the pandemic with its instantaneous growth?
It was a miracle of their product-led growth strategy.
This strategy deems the product to be the center of growth. The product drives customer acquisition, satisfaction, activation, and retention.
Some products (like Zoom) thrive with this strategy as it leverages the network effect to boost scalability: the more people use the product, the more people they tell.
But it's not the sole characteristic of this strategy. Companies like Spotify and YouTube use freemium and subscription models as a part of this strategy to make their product reach more users.
Use of Feedback in Product-Led Growth
Since this strategy focuses on the product and removing any friction points from the user experience, listening to the users will help remove those obstacles. As a result, customers will see the value of the product throughout their customer journey.
You can always conduct surveys and polls on social media, in-app, on-site, and prototypes to explore the opportunities to scale.
Interesting read: Prototype Testing: A Step-by-Step Guide
CASE STUDY: LALAMOVE
Lalamove specializes in intra-city deliveries across 110 Asian cities. Since the operations are ever-expanding to new cities, it makes collecting customer feedback from different regions all the more critical.
The team at Lalamove uses Qualaroo surveys as a part of their product feedback survey strategy to perform market research in the markets they plan to enter.
It helps them understand customer challenges in each region and how Lalamove can offer them tailored solutions with their products and services. As the Product Manager at Lalamove, Brian Garcia, puts it –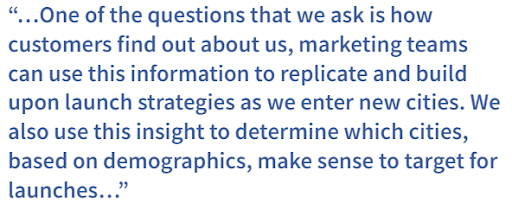 Product Segmentation
A very popular strategy among big organizations is product segmentation. It's where companies create different, tailored versions of the same product for diverse customer segments based on demographics, location, etc.
For example, Coca-Cola sells cola made with sugar in some areas of the U.S. instead of the normal cola made with fructose. It's because the customer demographic in those areas prefers the sugar version.
Additionally, Cola-Cola's competitor, Pepsi, also offers the sugar version, so it makes sense to segment the product.
Product segmentation is prevalent in the automotive industry. General Motors have segmented its product lines into different products – Hummer, Cadillac, Buick, and Chevrolet.
Even Uber preaches product segmentation as it offers rentals, parcel delivery, Uber Eats, and other products.
Use of Feedback in Product Segmentation
Product segmentation requires two things – customer behavior analysis and feedback. Besides monitoring your target customers' online behavior, needs, preferences, and shopping habits, sometimes it's best to ask them directly about what they want.
You can survey customers to collect information on their income threshold, age, gender, and other factors. It'll help you identify the most profitable customer segments you should be targeting.
Differentiation Strategy
As the name suggests, this strategy focuses on highlighting your product's feature(s) that make it different from the rest. For example, Apple has distinguished itself as a product company with the most robust data-security features.
Use of Feedback in Differentiation Strategy
For your existing product, you can collect feedback on your website, mobile app, and social media about your customers' favorite features of your product. You'll discover what's popular among your customers to improve further and make it your USP.
Service Strategy
Service strategy focuses on offering exceptional customer service. Having the best customer service strategy helps when you operate in a saturated market where you can distinguish your product based on customer support. It boosts customer loyalty and improves brand image.
For example, many companies opt for self-help tools such as knowledge base software, where customers can resolve small queries using a vast database of information.
Use of Feedback in Service Strategy
Simple follow-ups with your customers about their experience with your support services go a long way. You can ask them about the quality of the service and support personnel and if their issues were resolved promptly.
You can send a customer service satisfaction survey via email or ask them right when customers chat with your support. Tools such as ProProfs Chat enable you to embed surveys to collect feedback.
Quality Strategy
By following the quality strategy, companies try to stand out in the market by offering exceptional quality of product, design, and functionality. Unlike the cost strategy, the market for such products isn't saturated, and even if it is, the products count as a luxury and customers are willing to pay for them.
For example, instead of competing on the cheapest product front, you should invest in a high-quality product that customers don't mind paying for.
So, if you design an app, instead of keeping the subscription cost at the lowest, work on offering features that your competitors don't offer.
Use of Feedback in Quality Strategy
Just asking your customers what they would like improved will get you a long way in improving the quality of your products/services. As discussed in other strategies, you can use many feedback channels and platforms.
Pro Tip:
Don't lose your strategy in the 'either-or' situation. You can leverage multiple product strategies at once to deliver the best product and experience in the market.
Many of these strategies overlap (Quality strategy can be a part of your differentiation strategy), so create your blend tailored to your business needs.
Why Is a Product Strategy Foundational to Your Product?
If you're still confused about how feedback strategy for your product will help you, here are a few reasons to convince you otherwise.
Clarifies the Ultimate Business Goal to Guide Your Teams
A clean and well-mapped-out product strategy is critical to lead your teams toward the end goal.
To be on the right track, everyone in your organization should know the vision for your product and what it stands for. That way, little product tweaks and team decisions will ultimately serve your business goal.
Discover the Most Lucrative Market Niche for Your Product
Do you know what a robust product strategy does?
It helps you avoid making the same mistakes with your product that Google made with its Google Glass.
A product strategy covers all the essential elements your business needs to make the right decisions for your product.
It includes understanding your ideal customer personas, the niche market you need to target, and if there's a demand for your product. This way, you won't end up creating a product people don't want.
Helps Focus on the Right Elements of the Product Map
If you jump on the product roadmap before you have a clear product strategy, you'll prioritize the wrong elements, which may lead to wrong business decisions. But, if you have a clear vision of your product, it'll help you create a roadmap to reach your business goals.
Improves Your Team's Tactical Decisions
Remember, a product roadmap is not set in stone. You'll face hiccups in the product development process, so if you have a product strategy backed by customer feedback, you'll know how to get your roadmap on track and in sync with your goals and objectives.
Your team will be able to face the challenges head-on and make the right decisions by referring to your product strategy.
Product Strategy Examples: 3 Real-World Use Cases
Nothing helps better understand a concept than some real-life examples. So, here are a few product success strategy examples of companies that continuously improve their product management strategy using feedback.
Belron
An automobile windshield repair company, Belron, suffered from a high bounce rate on their website. It didn't make sense to the team why the visitors were leaving the website since Belron's products are necessary for customers who have damaged their windshields.
After deploying exit-intent surveys on their website to collect feedback from the leaving prospects, they discovered the three customer journeys they weren't aware of.
They were able to analyze the new-found customer journeys, align them with their product strategy, and update their website and its content accordingly.
You can read a detailed case study of Belron to explore how it leveraged customer feedback to improve the NPS and bounce rate.
Uber
The ride-hailing juggernaut, Uber, didn't just become the industry leader on a fluke. Its success is owed to its commitment to listening to the customers and the drivers alike.
Both riders and drivers can rate their ride experience and submit feedback on the Uber app.
But that wasn't enough. Customers could only share their feedback using limited options on the survey. Even choosing the 'Other' option didn't allow riders to share their contextual feedback.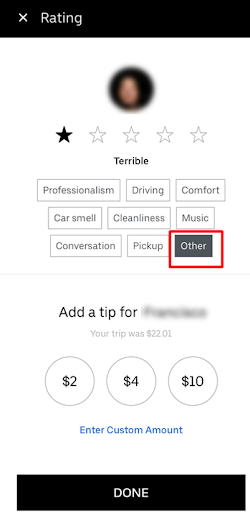 Uber considered customer feedback and introduced more options in the survey to collect detailed customer feedback and experience.
[Bonus read: 11 Best Mobile In-App Feedback Tools]
UberEats
Uber initially launched its food delivery service as a part of the Uber ride-hailing app. The aim was to make the Uber app a one-stop for all user needs, from hitching a ride to ordering a steak with a salad on the side.
But things didn't go as planned as the product manager at Uber, Chetan Narain, expected. With customer feedback, they realized that -"…our ambitions for what UberEATS could become was far larger than this app that we'd built for transportation…."
The designer researcher at Uber, Hilary Hoeber, went to different cities to collect real-time customer feedback as the users attempted to order their food from the app.
The customer insights from these efforts helped the company improve the UI and UX of the UberEats app and introduce options for delivery speed and distances, among other things.
You see, you can create new product feedback strategies for multiple products by assessing the customer requirements by just asking them.
5 Ways to Develop a Product Strategy Using Feedback
Product strategy planning is paramount whether you're launching your first product, a new product line, or just adding new features to an existing product.
So, let's discuss the step-by-step process to create a successful product feedback strategy:
Talk to Your Target Audience and Explore Their Pain Points
If you're thinking of creating and launching a product first and then seeing people's response towards it to make changes, let us save you some time – it's not going to end well.
Users should be at the core of everything you do to ensure your products are what they want.
And what better way to know what your customers/target audience wants than to ask them?
For example, had the company which invented 'Trongs' created a product strategy with users at the core, it would've dropped the product idea altogether. The product didn't perform as well as the inventors had hoped.
Why?
Because the customers are not willing to pay for something they can do without.
So, before going into product strategy development, understand the pain points of your target audience, whether they are worth solving, and if your product has the potential to resolve them using feedback and behavior analysis.
Now let's see how understanding the audience can help you develop better products.
CASE STUDY: TWILIO
Twilio lets users create SMS, Video, and Voice messaging apps for different business types.
Since they have multiple buyer personas and industries to target, customer feedback becomes indispensable as it helps them understand each client's unique needs.
Using Qualaroo's NudgeTM surveys, Twilio collects valuable customer insights to stay on top of customer needs and issues. They perform A/B testing to tailor their product development strategy for each client.
In the words of Laura Schaffer, the Product Manager for Twilio's Experimentation Platform:,
"In less than 5 minutes, teams can go from having almost entirely opinion-backed ideas to having ones that are data-backed by targeted customer feedback. This empowers teams to deliver products and experiences that are data-proven to best serve our customers."
Paint Your Product Vision
As we discussed above, product vision is critical to your product strategy. You must establish what it is for your product to move forward in your strategy and development.
Conducting user research with diligence and customer feedback will help you set the right expectations for your product and what purpose it should serve.
Once you have all the qualitative and quantitative research data points, you'll be able to define your product vision better. Apart from the research, consider these points:
Set long-term goals that inspire viable product vision.
Ensure every member of your organization knows about your product vision.
Assess Where You Are and Where You Want to Be
You can only achieve your goals if you know what the current situation is for your product experience and where you ultimately want it to be.
You can use customer feedback and data points from your market research to create a roadmap with the touchpoints to reach your final destination (the target product experience).
Also read: 100+ Market Research Questions to Ask Your Customers
Once you have a long-term vision for your product, you can define goals and set high-level objectives you want your product to achieve.
For example, your objective could be to identify new buyer personas using customer data and feedback to create customer journeys that have high lead generation.
Along with setting your goals, you need to establish key success metrics to measure your performance and how far you need to go to achieve your objectives.
This way, you can successfully lead your teams to plan out features, functionalities, and other elements.
Once you have a long-term vision for your product, you can define goals and set high-level objectives you want your product to achieve.
For example, your objective could be to identify new buyer personas using customer data and feedback to create customer journeys that have high lead generation.
Along with setting your goals, you need to establish key success metrics to measure your performance and how far you need to go to achieve your objectives.
This way, you can successfully lead your teams to plan out features, functionalities, and other elements.
Nail the Strategy Execution
Once you have a roadmap prepared with all the high-level objectives, all there's left to do is divide those objectives into time-sensitive goals with measurable metrics.
Breaking a large goal into small doable milestones will get you closer to your overall goal with each step.
Consistently Review and Improve the Strategy
Much like product development, product strategy is also an iterative process. Even if you have one in place, it's always a good practice to review it from time to time and see if your product roadmap aligns with it.
You can do certain things like:
Check your priorities
Evaluate resources required during the process
Competitor analysis
Review your goals
User research to find opportunities for new products, features, and updates

3 Important Product Strategy Templates
Since you know how to create a strategy using feedback, it'll help you have some templates to speed up the process. Let's have a look at them:
Buyer Personas
Use This Buyer Persona Template
Market Research
Use This Market Research Template
Market Vision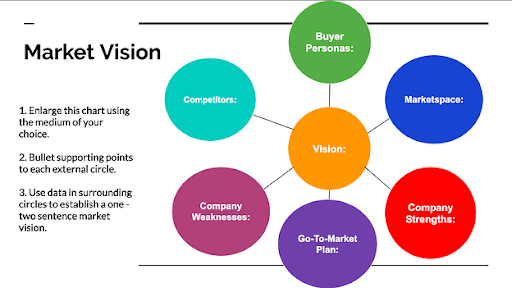 Leverage Customer Insights to Start Your Product Strategy
So far, we've covered end-to-end what a product strategy is and the role customer feedback plays in helping you create one.
But, one question remains: How would you know you need a product strategy, or if you have one, is it being followed?
In a podcast, Melissa Perri, an author and expert on Product Management, UX, Agile, and Lean, mentions if your team is pulling all-nighters and releasing new products/features but the metrics still aren't moving, that's the time to evaluate your product strategy.
If you have a product strategy in place, ensure that it's being properly communicated to all the employees and stakeholders who are a part of vital business decisions.
Melissa Perri also mentions that the gap in the leadership for product managers affects the product strategy and how it's being followed.
The gist is – understanding your market, target audience, vision, and long-term goals and appointing the right resources to overlook the product strategy will help you push out products that customers actually want. And feedback is what gets you valuable qualitative and quantitative insights on which you can base your product strategy.
Want insights that improve experience & conversions?
Capture customer feedback to improve customer experience & grow conversions.