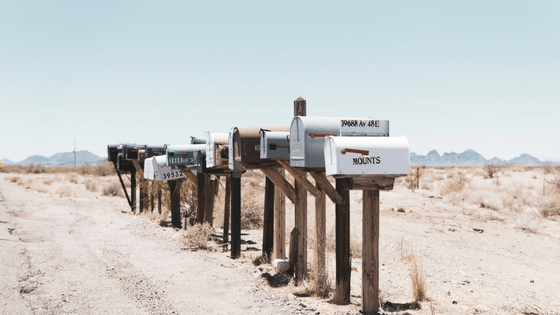 This post is written and contributed by feedback expert Michael Nadelman.
Using the Net Promoter Score (NPS) is the world standard for getting a pulse of how your customers feel about your brand, product or service. The insights you receive from your NPS survey can help you find more customers through referrals, reduce churn activity by activating on feedback and discover opportunities for your product roadmap.
How you conduct your NPS campaign can impact your response rate and the quality of your responses. For the purpose of this post, we're going to explore both email and onsite as avenues to reach your customers for NPS feedback.
Email campaigns have clear strengths, which is why they're so widely used today. If you're interested in gathering a Net Promoter Score onsite, it's important to implement a strategy that maintains these benefits. More specifically, here are the ways email campaigns do it right:
Removed from any moment of truth or critical action. This allows for a holistic and unbiased response

On a set interval. This lowers the chances of users being over-surveyed


Unobtrusive option. This allows the user to provide feedback or decline with ease

Along with these benefits, email campaigns have clear shortcomings that can make getting a response more difficult. Here's where email campaigns fall short:
Dependent on the recipients schedule. There are times you can send email that could increase your chance of getting a response.

See here



Not top of mind. While emails can eliminate bias by asking at a time separate from any call-to-action, they run the risk of asking at a time where the user does not have the company, features, or offerings top-of-mind


Competing for attention. Introducing an opportunity for feedback when there are so many other calls-to-action (emails) vying for their attention

Ask In The Moment
With an ever-increasing need for better data from an audience that demands convenience, it is more crucial than ever to optimize your feedback campaign. We have seen a shift away from email surveys to capturing feedback from the user directly within their experience or application.
Why Onsite Excels:
Highly engaged. Response rates aren't as dependent on the day of the week, but when your visitor is (engaged) onsite; when they're giving your product or service attention.

Control of your CTAs. You have full control of any calls-to-action on-site, which allows you to eliminate any potential distractions. Every distraction represents a potential barrier to higher quality data.


Hybrid approach. If done correctly, on-site surveys are able to maintain all the strengths inherent to email campaigns.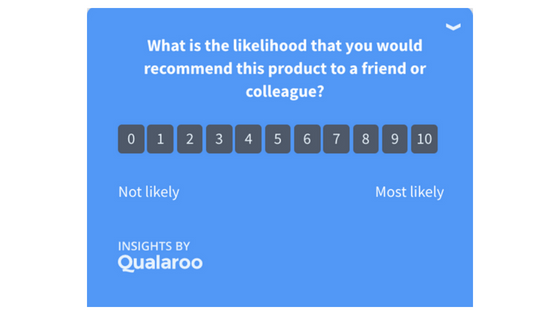 Two Different Methods: Benchmark and Lifecycle
There are two different methods for running your NPS survey onsite, the Benchmark Method and Surveying by Lifecycle. Below, we will detail how each can be accomplished and the associated strengths and weaknesses.
Benchmark Method Implementation
This method employs a survey being fired every few months on an interval period suitable for your industry. As a best practice, make sure to ask for NPS feedback in a neutral area of your site away from any moment of truth. To ensure even a new user has time to experience your site, set to fire after x pages , -1 or -2 from your average pages visited as a best practice (if your average is 2 pages, fire after 2 or more pages have been visited). In addition, set the survey to fire after a short on-page time delay, which can also be determined by the average time spent on each page.
Here is an example of the targeting specifications for the Benchmark Method:
On any page before the login wall as long as the below criteria are met


After a visitor has visited: 3 pages


After a visitor has been viewing the page for: 10 seconds


As long as a user has not responded to another survey


Until a visitor provides a response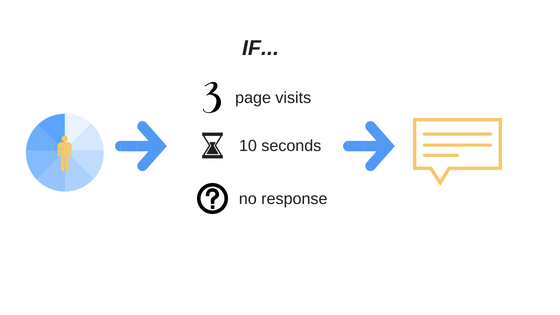 One drawback to this method is that you cannot ensure you are asking non-first time users. Another drawback is that there are periods where feedback is not gathered, and your users are left unheard. For these reasons, we propose another, more sophisticated method: Surveying by Lifecycle.
Surveying by Lifecycle
This method leverages user traits to deploy the survey at the opportune moment for each individual user. To elaborate, this method tracks the user's sign-up date in order to ask after an interval period specific to that user. By tracking the user's sign-up date, you can avoid the page delay and simply ask on the homepage instead. The homepage represents a neutral area that will allow your visitors to provide an unbiased response, and the lifecycle delay ensures they have had more experience with your site.
This method also establishes a mature NPS, eliminating the possibility of over-surveying, removes the chance that a new user will be prompted for feedback, along with every other benefit mentioned above.
Because this method allows for the survey to stay on indefinitely, it provides two main benefits: the survey will require less upkeep and won't have to be turned on and off and allows for a scalable solution to close the loop with your customers as the feedback steadily trickles in rather than all at once.
Here's an example of the targeting specifications for Surveying by Lifecycle:
On the homepage as long as the below criteria are met


When today's date is: user's sign-up date + 90 days


After a visitor has been viewing the page for: 10 seconds


Until a visitor provides a response


Conclusion
If you're not currently running an NPS program, we recommend that you do. The insights you gather from your scores and respective feedback can help you find more customers, launch new products and extend customer tenure. How you launch NPS can be time and resource intensive and so recommend doing it in the moment and manage as you receive feedback versus outside of the user experience.
Ready to get started? Get on a call with us!
Want insights that improve experience & conversions?
Capture customer feedback to improve customer experience & grow conversions.