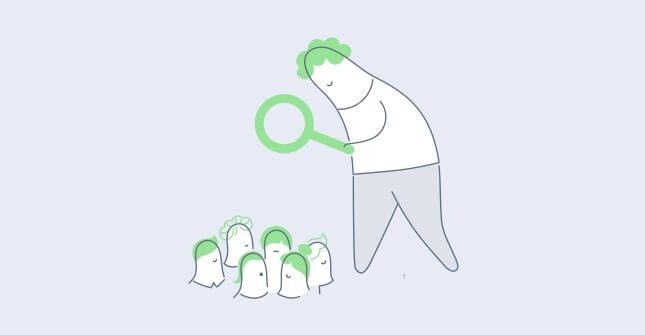 Bringing Tried and True Strategies to your Most Challenging Research Questions
Long associated with a form of warfare, the term guerrilla is borrowed from the Spanish language and describes both a group of armed civilians and highly strategic, unconventional forms of militant combat.
When describing guerrilla user research in her book, UX Strategy: How to Devise Innovative Digital Products that People Want, UX strategist and author Jaime Levy spotlights famous guerrillera, or female guerrilla fighter, Juana Galán. At just twenty-years old, Juana was not afraid to call the shots and defend her region, La Mancha, against thousands of well-trained Napoleonic soldiers in 1808.
She organized the women in her village to resist and rise up against the oncoming troops by turning household items into weapons and attacking from strategic, elevated locations where civilians were safe. Her fighting sense of urgency and use of unconventional tactics not only caused the soldiers to retreat but also led to victory in a later battle of the Peninsular War.
So what can we take away from this early feminist icon and revolutionary? Constraints are your friend.
Far too often, user research is considered a luxury, or something that will take up too much time and money. As frustrating as this can be, these financial and time-based constraints can actually create just the right environment for fast and easy user research practices like guerrilla research.
So what is guerrilla research, anyway?
Put simply, guerrilla research just means you are committed to doing user research in a way that saves time and money.
Think of guerrilla research as the minimum viable product of research.
Sounds easy enough. But what does that actually look like?
Well, it depends. You might only ask users one specific question. Or you may want to ask a specific set of users a handful of questions. Perhaps you will do remote testing in place of in-person interviews.
Narrowing your scope like this can prevent you from spending too much time and effort on research without sacrificing quality-insights. Think of guerrilla research as the minimum viable product of research.
Here are several signs that guerrilla research might be the right method for you.
You have a very specific question to ask users.
You want to see whether or not users can perform a task.
You are trying to show that even a little user research, in its simplest form can significantly improve decision-making.
Your product is one that can be tested remotely.
Your users don't need to have much prior knowledge to help you find answers.
Your budget for full-scope UX research was denied.
Your company doesn't have a designated UX researcher or you're the only UX person and have to do everything.
You're on a tight timeline for a project but still need to validate with users.
Your questions are straightforward and not of a sensitive nature.
On the other hand, here are a few indications guerrilla research may NOT be the right approach for you right now.
You want your user research to cover more than 1-2 focus areas!
You have the time and/or resources to do full UX research.
You have to conduct ongoing user research and don't have a fixed timeline.
You need answers from select individuals with specific domain knowledge.
You will be asking sensitive questions that would be better answered in private.
Your research could negatively impact how users engage with the product if done incorrectly.
Your research is about validating the product idea which means you need to understand the problem, the need and the context in-depth and guerilla research will probably not allow for that.
Bonus Video
Like Juana, you can make use of the limited resources available to you and still reign victorious. Luckily for you, success means showing your company how valuable it is to collect user insights and having the right tools to do so quickly and effectively, rather than fending off herds of armed French soldiers!
Financial and time-based constraints can actually create just the right environment for fast and easy user research practices like guerrilla research.
Before you roll up your sleeves and grab your warpaint, let's talk about the defining factors, or as we like to call them, the three Fs of guerrilla user research.
1. Focused: Set intentions and know your scope
As with most projects that are centered in design-thinking, focus on the problem that you want to solve rather than the solution you plan to develop. The more specific your problem is, the more impactful guerrilla research can be. Focusing your scope is the true game-changer that allows you to cut back on costs and time spent. Narrowing your scope doesn't have to impact the quality of insights you get.
Addressing only 1-2 things at a time can help ensure that you walk away with an actionable plan that is easy to implement. "To accurately scope user research," UX researcher Jim Ross writes that, "you must have a somewhat detailed understanding of the project's business goals, the users, and their tasks." If you go through the scoping process with stakeholders and realize you need to conduct user research on more than 1-2 topics, it might be best to follow the more rigorous procedures of full UX research.
Lastly, as you begin thinking through the best way to answer your research questions, don't feel as though the methods of full-on UX research aren't available to you. Many of these methods can be adapted for the guerrilla research mindset. For example, if you don't have the budget to incentivize every user with a promised gift card, you might promise a free trial or sample of your product for participating! Instead of doing user testing in-person, you can try out remote testing. Your 30-page survey can be boiled down to the top 5 crucial questions. Modifying these UX practices helps to make it faster, cheaper and mitigates the risk of bias.
2. Fast: Make feedback collection easy and simple
Oftentimes, when we throw around the term 'guerrilla' research, we envision a model, known as street intercepts, where you approach strangers and collect live feedback. This approach has long existed in the user researcher's toolkit. But what if your company has neither a physical product to offer nor the resources to send a team out into the public?
If your company interacts with users via a website or an app, think of this as a public 'location' where your target audience can still be reached. For example, we drink our own Kool-aid here and use the nudge, to ask our users questions about their experience.
3. Frugal: Save money as a way to be a team player
Making the case for a UX design and user research-specific budget can be challenging at some companies. But what better way to advocate for the impact of user research than by running a low-cost user research experiment?
If you prove that user research has a wide array of benefits (not the least of which includes long-term viability and a better bottom line) gathering user feedback in a way that's cost-effective will also demonstrate the insights and unrealized revenue your team could be leaving on the table.
What better way to advocate for the impact of user research than by running a low-cost user research experiment?
Not to mention, signaling to company leadership that you're budget-savvy by minimizing costs and maximizing impact allows you to establish and further build authority and credibility as a leader in the company. Naturally, as a UX professional, you're paving the way in user-centered design. But as an employee, you're also showing that you're attentive to the company's business needs and can analyze problems from a 360° view.
Learn more about creating executive buy-in.
Final Tips for Guerrilla User Research
Armed with the 3 F's of guerrilla user research, you're ready to pursue invaluable user feedback, the fourth and final "secret F."
Feedback makes user research worth doing and is what most companies are woefully missing out on.
If you're still wondering whether or not Guerrilla Research is right for you, check out this guide on "Going Guerrilla." In it, blogger Amanda Stockwell shows you how to "guerrilla-ise" traditional UX research methods.
Finally, like our guerrilla heroine, Juana Galán, be bold. Don't shy away from
Utilizing constraints to your advantage and success
Pioneering or developing new, unconventional methods in the name of feedback
Innovating and strategizing around user research within your company
If your company primarily interacts with its users online or through an in-app experience, your first foray into guerrilla user research might be best conducted with the help of a digital tool. Our software is explicitly designed to be fast and focused, powered by simple automation. You can even begin collecting feedback immediately with our free trial. With expertise in user research, let Qualaroo go to work for you as foot soldiers in your guerrilla user research.
This post was written by Qualaroo team member Anastacia Valdespino.
Want insights that improve experience & conversions?
Capture customer feedback to improve customer experience & grow conversions.