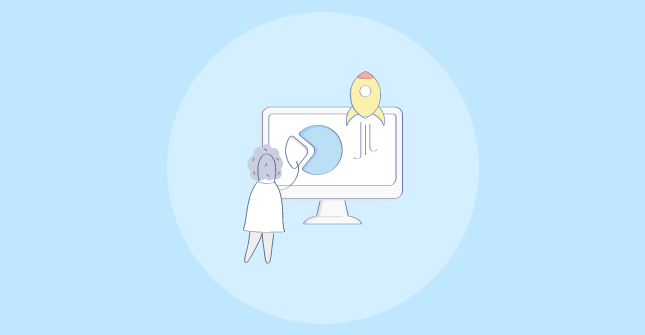 Who doesn't want happy customers, high conversions, and a negative churn rate (kidding, there's no such thing, but you get the point)?
It sure seems easy, but achieving all this requires businesses to focus on one crucial thing – customer success.
Providing a smooth, hiccup-free user experience distinguishes your brand from your competitors for the customers.
Don't bite your nails just yet.
It's never too late to focus on customer success. We have prepared a list of the best customer support software to help you improve your customer experience and get happy customers.
Here's what the list looks like:
But, hold on. Let's just clear one thing first –
What Is Customer Success Software?
In simple words, customer success software caters to your business needs, from increasing engagement, boosting conversions, and reducing retention, to tracking customer satisfaction and assisting customers.
A few defining features of customer success software are:
Customer experience feedback
Analytics for customer engagement
Customer lifecycle analytics
Product usage monitoring
User profiling
With this out of the way, let's get into our list of top customer success platforms to consider.
10 Best Customer Success Tools & Software You Need to Try in 2023
Please remember that the sequence of any customer success software does not reflect its competency as a tool. Each CS platform offers unique features that are valuable for businesses. So the last tool is as effective as the first if it fits your requirements.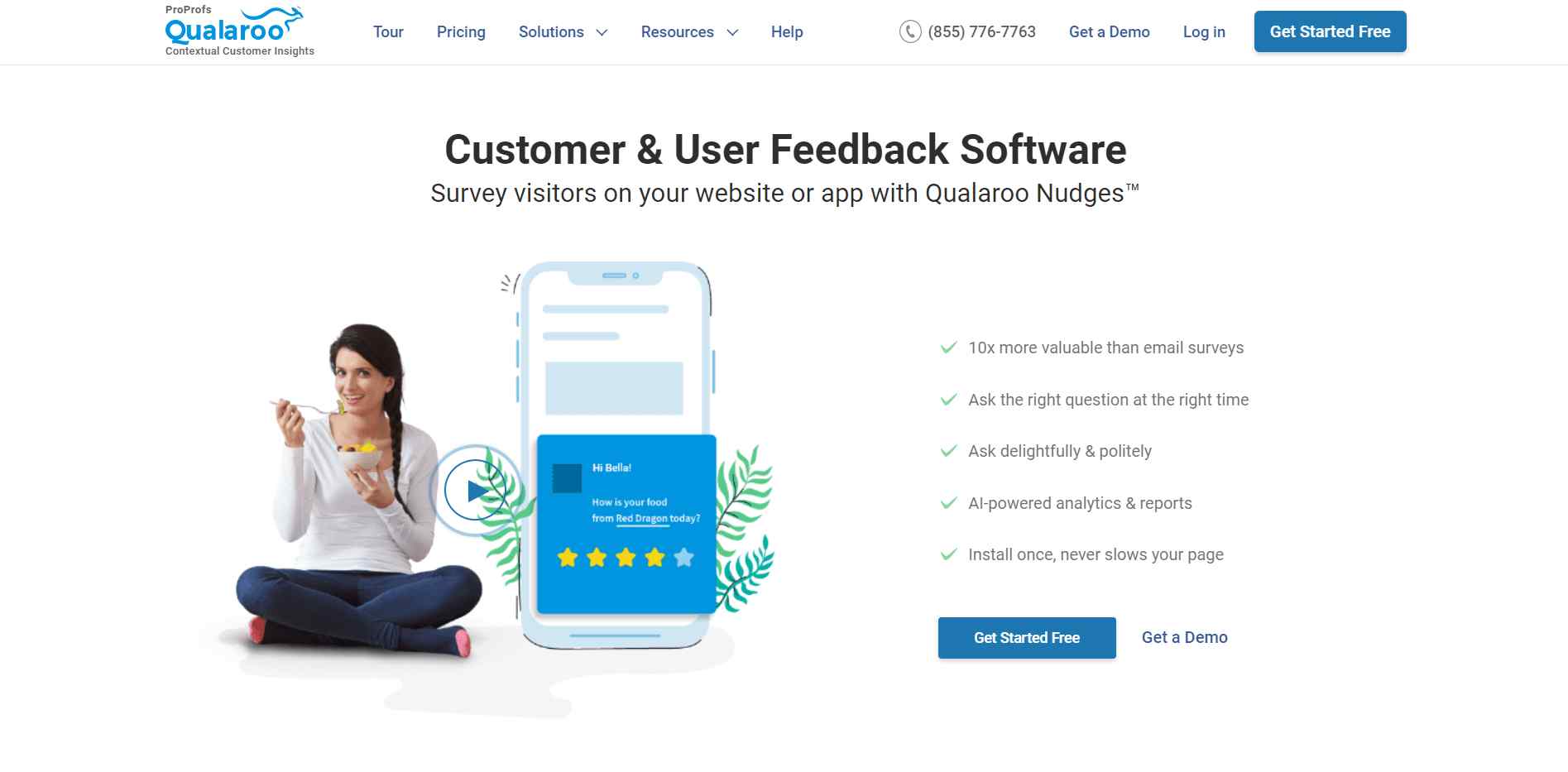 ---
Qualaroo is a unique customer success software perfect for collecting in-context feedback. It offers survey widgets called Nudges™ that subtly gather feedback from visitors and app users.
The tool helps track Customer Health Score, Net Promoter Score, and Customer Effort Score and unravels the reasons behind the churn rates.
You can leverage Nudges™ throughout the customer journey from lead generation, onboarding process, and user research to post-purchase and gain a holistic view of the customer experience.
More so, it's packed with various features that analyze the data in real-time to give you qualitative and quantitative insights.
Choose for: Intuitive feedback reporting, pop-up surveys, advanced user targeting, multiple survey types
Suitable for: Small to large businesses
Price: Starts from $80 per month. 15 days trial available
Features:
Has an easy and code-free setup.
Offers pre-built survey templates like NPS, CSAT, CES, Exit-intent, etc.
Automatically calculates and shows your NPS scores on the time-chart dashboard.
Comes with a wide variety of question types and a library like closed-ended, Likert scale, dichotomous, etc.
Offers detailed branching and skip logic to ask the right questions to the right audience.
Lets you set up survey triggers to target a specific type of audience.
Supports seamless integration with Salesforce, Marketo, Zapier, etc.
Helps you customize and personalize survey branding.
Comes with AI-powered Sentiment Analysis that captures customer emotions from the written feedback.
Pros:
Great for pulse-checking customers
Detailed dashboard that shows the analysis for each survey campaign
Lets you embed surveys into prototypes
Cons:
No industry-specific templates
Related Read: 11 Best Online Survey Software
---
Another customer success solution on our list is ProProfs Survey Maker, a feedback survey tool that offers you sidebar surveys, polls, and quizzes.
What's great about this tool is that it offers a drag-and-drop editor, which makes survey creation a breeze. Besides customer success, you can use this tool for market research and user research.
To optimize this tool, you can use it in collaboration with the ProProfs Help Desk (we'll discuss this tool right after) and get a complete view of customer experience and issues.
Choose for: Survey deployment, Multiple survey types
Suitable for: Small to large businesses
Price: Starts from $50/month
Features:
Comes with pre-designed, customizable templates.
Helps design simple and complex surveys.
Offers surveys for different channels like emails, SMS, mobile app, etc.
Has a rich question library so you can ask the right questions at the right time.
Supports reporting, analytics, and skip logic.
Helps you target individual pages with custom URLs.
Integrates with tools like Constant Contact, Campaign Monitor, Zendesk, etc.
Pros:
Easy to use
Offers personality quizzes, polls, etc
Sidebar button to collect feedback without disrupting CX
Cons:
Supports only a few survey types
Related Read: Best Product feedback software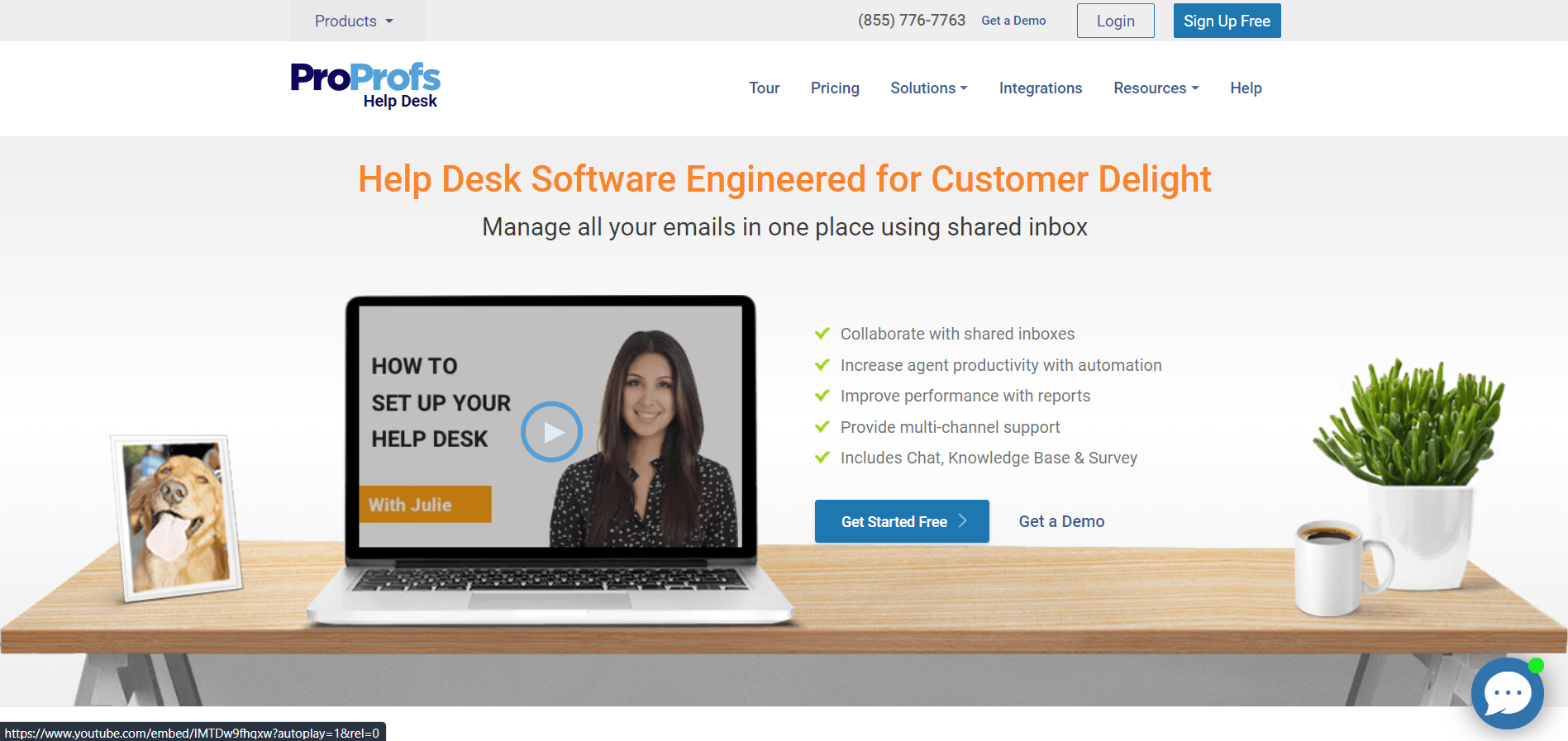 ---
ProProfs Help Desk is another excellent customer success software that helps with ticketing and knowledge base management.
This CSM tool comes with a shared inbox to manage tickets for different departments, such as customer support, billing, and more.
You can also set SLAs for the collected tickets, monitor overdue alerts, create child tickets, and gather feedback to track your support channel's performance.
Choose for: Streamlining ticket management, improving agent efficiency
Suitable for: Small to large businesses
Price: Starts from $10/user/month
Features:
Integrates with the live chat system to convert customer interactions with chatbot into tickets automatically.
Has a unified dashboard that manages and tracks all incoming tickets.
Easy to customize agent availability settings.
Tracks staff's response time.
Manage permissions and roles easily.
Allows you to add private notes to the tickets.
Efficiently manage customer requests from social media channels.
Offers advanced reports to track agent performance and customer satisfaction.
Seamlessly integrates with ProProfs Chat, Knowledge Base, Microsoft Dynamics, etc.
Pros:
Intuitive interface
NPS and CSAT surveys
Cons:
Lacks asset management feature
Limited integrations
Related Read: Best Customer Experience Management Software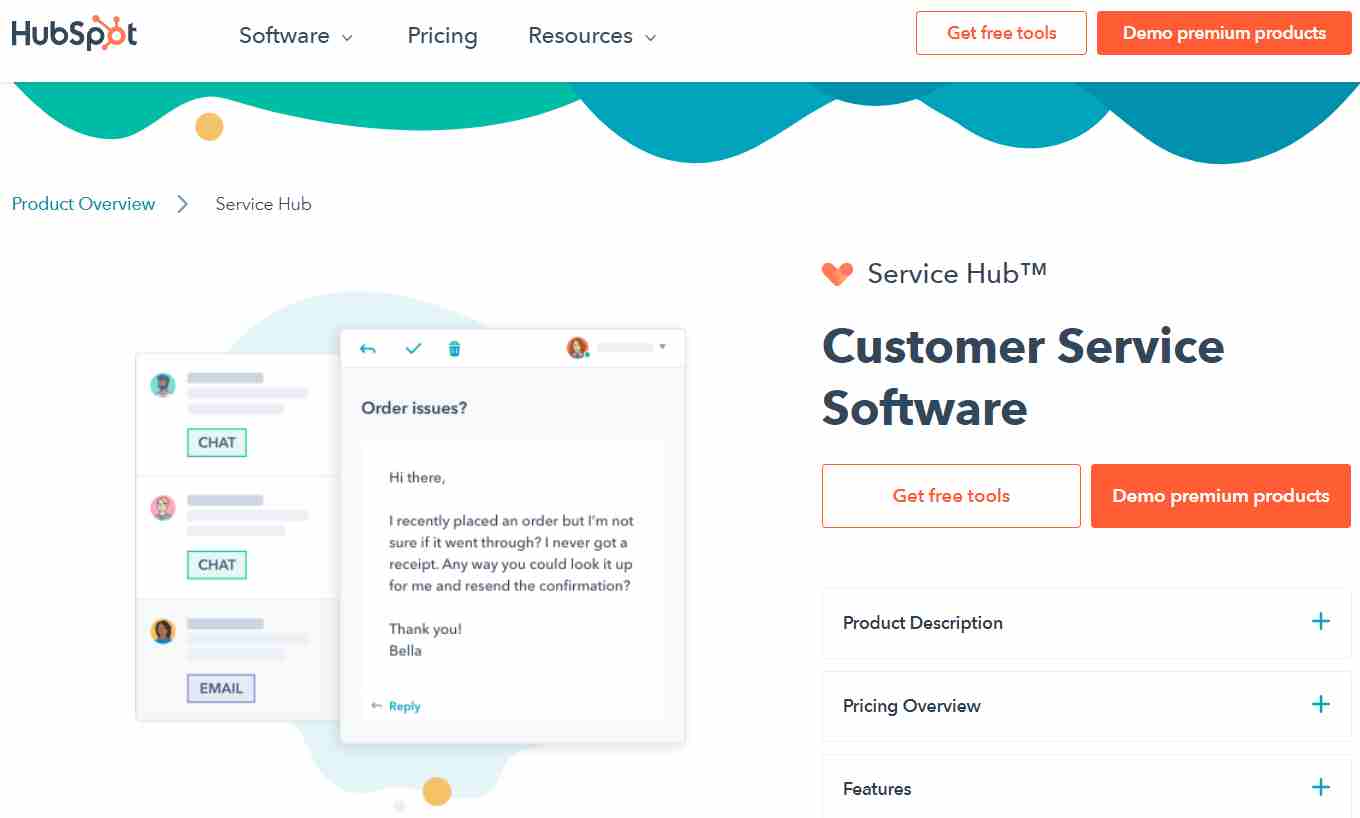 ---
HubSpot is a very versatile customer success management software that offers many features for customer-facing processes. It offers tools like content management, SEO, social media marketing, etc.
This all-in-one tool helps you create buyer personas, track customer satisfaction metrics, manage and analyze customer data, manage content, streamline operations, and create emailing lists for engagement.
Choose for: Data enrichment and managing all the forms in a single system
Suitable for: Medium to large businesses
Price: Starts at $45/month
Features:
Helps create forms that adapt to customers' browser history.
Lets you set reminders for tasks and follow-up actions.
Offers unlimited forms to convert visitors into leads.
Sends automatic follow-up emails to the respondents.
Comes with a built-in data analytics engine.
Integrates well with Netsuite, SugarCRM, Salesforce, etc.
Pros:
Easy to deploy and set up
Integration with other HubSpot tools
Cons:
Rigid styling
Reporting system needs improvement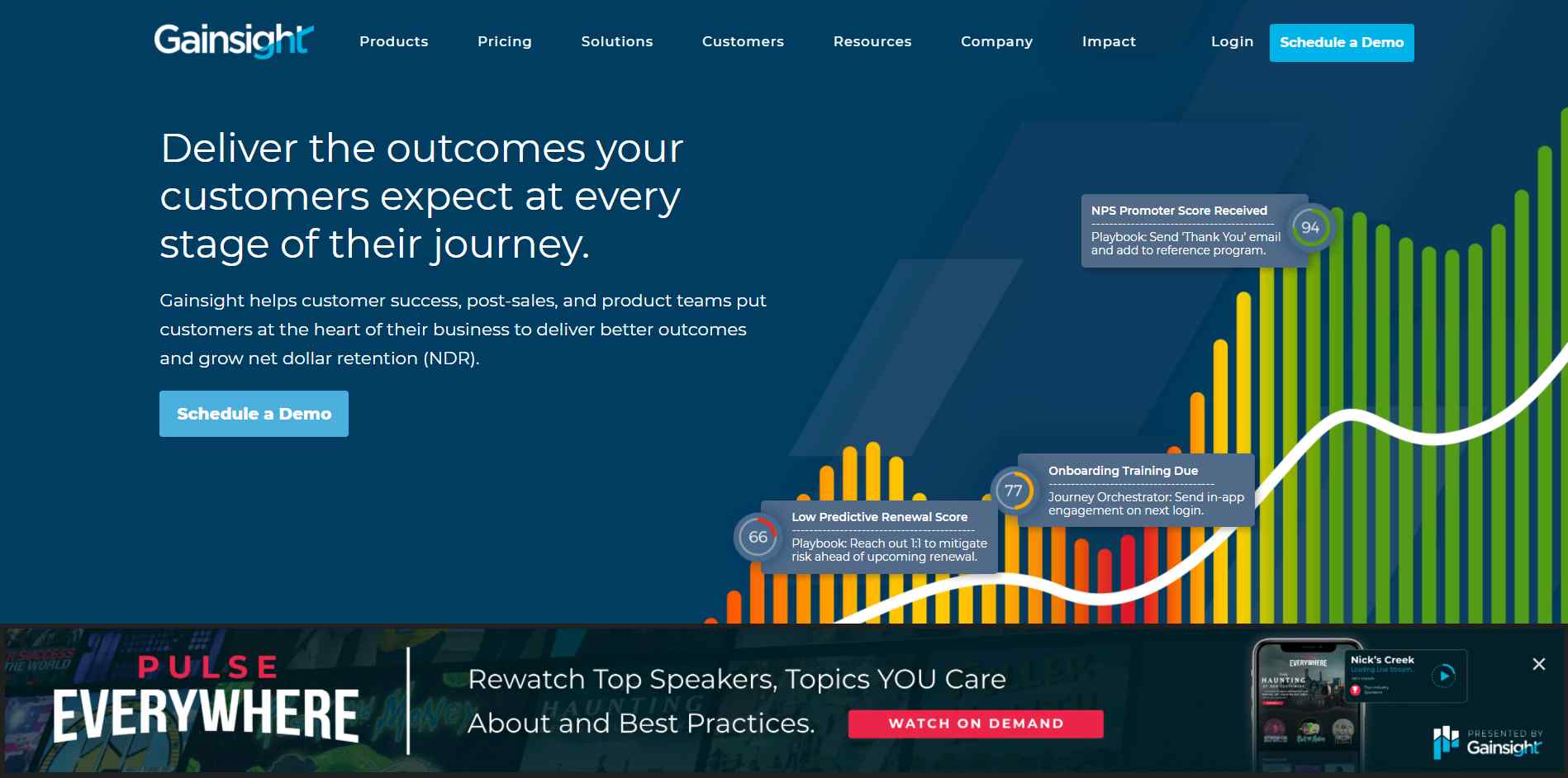 ---
One of the top tools for customer success in the market is Gainsight. This survey tool comes with a suite of features that help achieve multiple goals like customer experience improvement on mobile, websites, etc., revenue optimization, and much more.
This customer success platform is excellent for uncovering deep customer insights, data management, improving communication between teams, etc.
Choose for: In-app guide, in-app surveys, advanced analytics, knowledge center bot
Suitable for: Small to large businesses
Price: Available on request
Features:
Supports multiple languages for targeted surveys.
Helps create surveys, guides, onboarding walkthroughs, etc.
Has 7+ question types and customizable survey designs.
Skip logic helps get accurate feedback from surveys.
In-built question library so you don't ask the wrong questions in your surveys.
Supports advanced targeting options for surveys.
Captures information from incomplete and abandoned surveys.
Text analytics effectively categorizes and breaks down free-text responses by identifying underlying customer sentiment.
Comes with advanced analytics that tracks the performance of surveys, individual responses, trends in responses, user sentiment, and more.
Offers custom reports to filter and visualize data.
Easy to automate in-app MPS and CES surveys.
Integrates with third-party apps like HubSpot, SAP, and Microsoft Dynamics.
Pros:
Feature-rich survey editor
Real-time CS analytics
Workflow automation
Cons: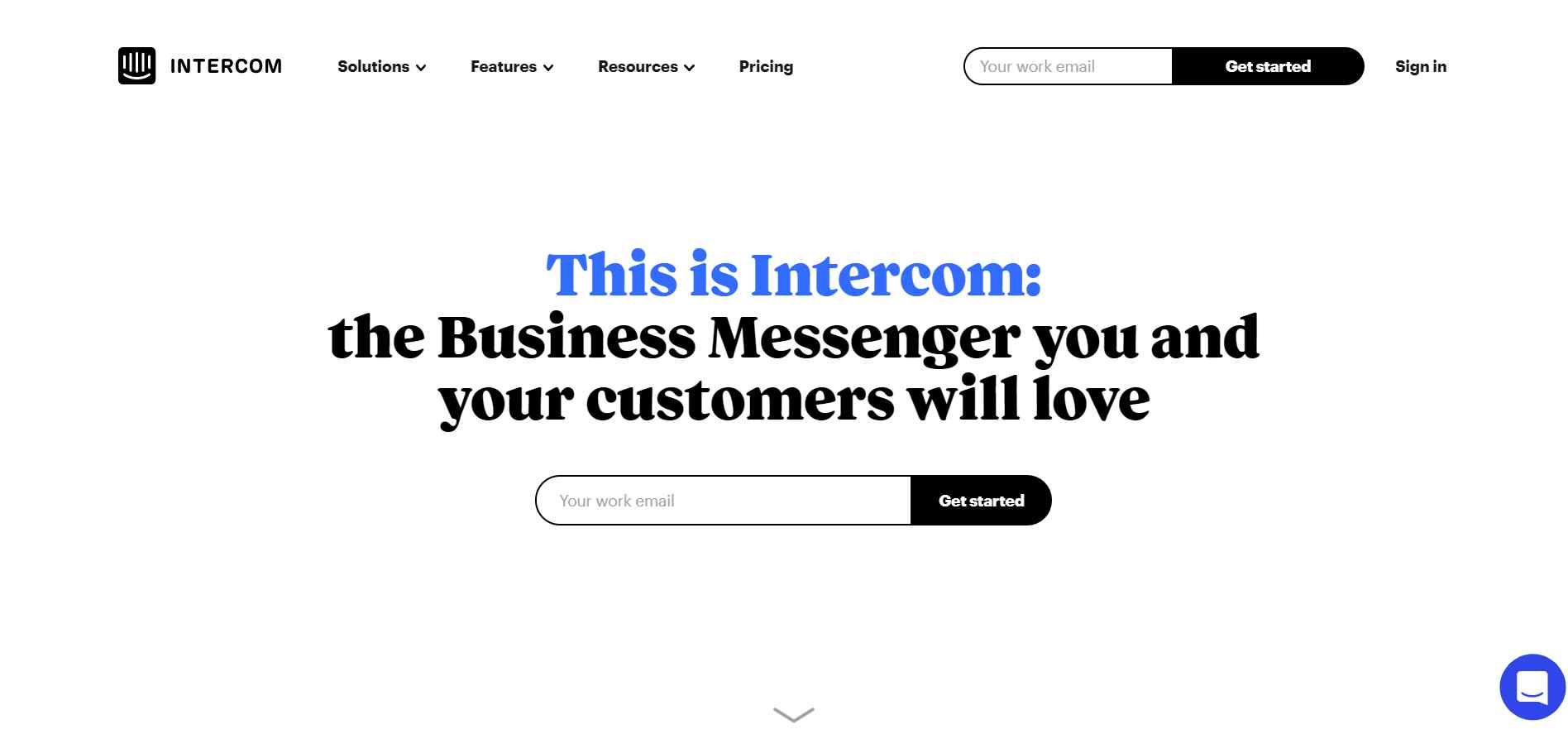 ---
One of the best customer success software we would like to recommend is Intercom. It's well-known for its live chat functionality and messaging. It's got multiple features that make it an excellent client success tool.
For example, it comes with email analytics, usually absent from other similar tools in the market. On top of this, the tool also offers templates for agents to save time while dealing with customers, chat with them on your website to procure insights, and more.
Choose for: Live chat, internal messaging
Suitable for: Mid-sized to large businesses
Price: Starts from $74/month
Features:
Offers Intercom Messenger that you can deploy on your website.
Has canned responses, images, articles, emojis, links, etc., to make customer conversations more interactive.
Offers live chat transcripts.
Enables you to snooze, mark, and resolve chats on priority.
Exports chat transcripts.
Compatible with mobiles, desktops, and tablets.
Offers a chat widget for customers to reach you in real time.
Schedules outbound messages for recurring events.
Integrates with Jira, Stripe, Zendesk, Segment, Google Analytics, Slack, Salesforce, etc.
Pros:
A/B testing
Triggers bots automatically
Pricing is confusing
Cons:
Chargeable add-ons
No message preview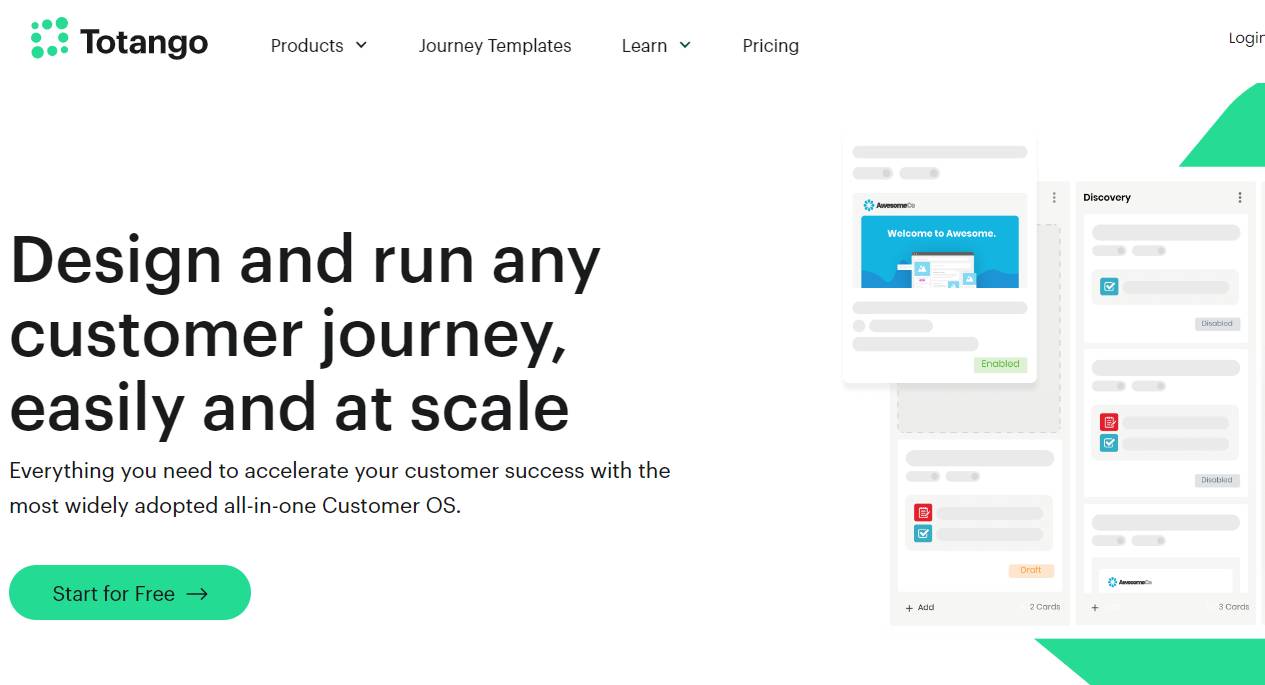 ---
Totango is one of the market's top customer success management tools as it comes loaded with several much-needed features. The tool focuses on serving enterprise companies with a huge team to manage customer relationships.
Out of its rich feature stack, Spark supports customer health scoring along with product usage analytics.
Choose for: Customer health scoring, product usage analytics
Suitable for: Mid-sized to large businesses
Price: Starts from $199/month
Features:
Offers customer health scorecards and best practice templates.
Spark offers targeted features for the CS teams, and Totango Zoe offers features targeted for the whole organization.
Comes with a conversational interface with easy access to customer health data and customer-centric activities.
Offers data security, user access & permission, customer monitoring, etc.
Integrates with Zoho, Intercom, Zendesk, etc.
Pros:
Easy to create segments based on customer health
Helps identify return users
Detailed dashboard to see overall account health
Cons:
Difficult to synchronize data
No direct marketing automation integrations available
---
ChurnZero is an excellent customer success tool uniquely designed to integrate well with CRM software. It assists businesses in understanding their customers and how they use the products/services.
The tool also tracks customer relationship health scores and chances of repeat business through subscription renewals.
Choose for: Customer engagement, automate CX, track CS metrics
Suitable for: Mid-sized to large businesses
Price: Available on request
Features:
Personalizes and automates customer experience via in-app content at crucial touchpoints.
Helps you track customer health scores and Net promoter scores.
Easy to segment users and track customer journeys.
Comes with a command center that allows customer-facing teams to track their daily tasks.
Lets you communicate with customers in real-time from within the product.
Comes with features, such as account management, alerts, activity dashboard, activity tracking, churn & client management, content creation, feedback management, etc.
Integrates with NetSuite, Salesforce, Help Scout, Segment, etc.
Pros:
Data export is quick and easy
Keeps track of all client interactions
Has a consistent theme throughout the product making it user-friendly
Cons:
HubSpot integration doesn't sync emails or notes, just tasks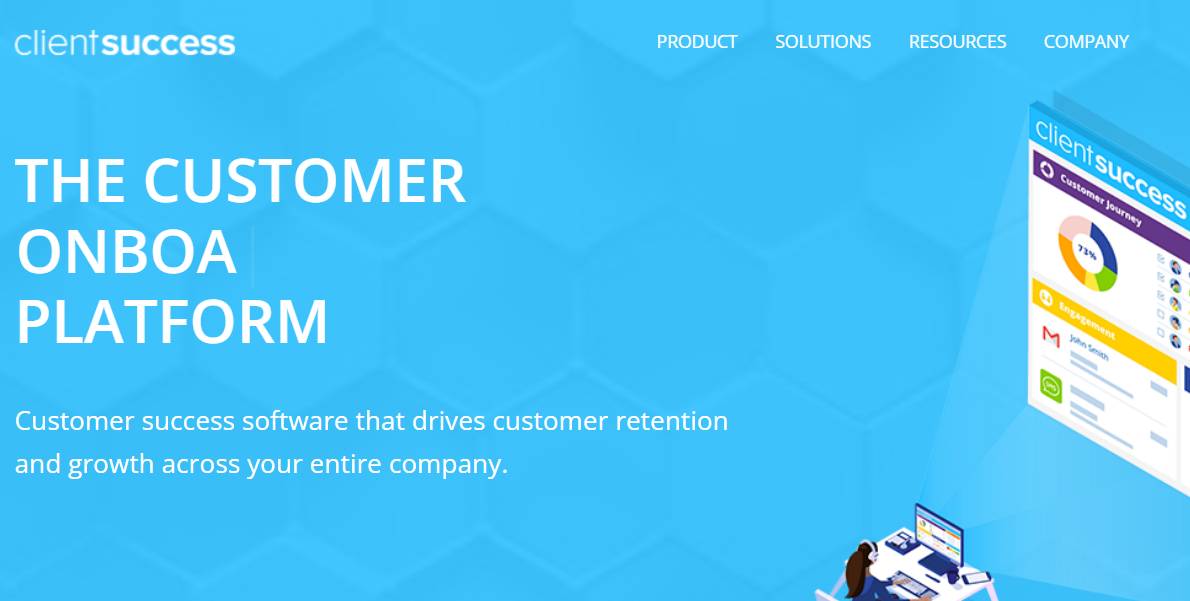 ---
Coming to another stellar customer success platform on our list is ClientSuccess. It's a feature-rich tool that facilitates customer profiles, product engagement, customer segments, churn risk alerts, and more.
You can pick this tool to design a scalable customer success process, guide your team towards efficiency, and deliver flawless user experience.
Choose for: Churn management, Client management
Suitable for: Mid-sized to large businesses
Price: Available on request
Features:
Supports account management to keep things streamlined.
Facilitates customer monitoring to help learn their online behavior.
Helps track customer satisfaction metrics like CSAT, NPS, CLV, and more.
Offers customer data security so that your customer data isn't compromised.
Easy to create customer segments.
Helps with document management, onboarding, revenue management, email management, etc.
Integrates well with Zoho, Pipedrive, HubSpot, Uservoice, Slack, etc.
Pros:
Easy to personalize dashboard
Tracks engagement with customers
Gmail integration pulls all the email threats into the account profile
Cons:
Has too many tracking features, which may become overwhelming for new users
---
Look no further if you've been searching for perfect customer success software to monitor financial metrics. One of the finest tools for customer success on our list is ProfitWell, a well-balanced tool with a good feature set.
One of the tools in ProfitWell's stack is Retain, which helps businesses improve the retention rate. It uses AI algorithms to find the best ways to stop customers from churning.
Choose for: Dunning, churn management
Suitable for: Mid-sized to large business
Price: Available on request
Features:
Comes with a ProfitWell API that fetches and adds data automatically.
Retain feature is white-labeled.
Exports and imports data seamlessly.
Supports data security and data visualization.
Identifies users on trial for you to target and convert.
Helps you recover user cancellation by 25-30% by connecting to your billing system.
Recommends at-risk customers in need of your attention and which customers to upsell.
Has workflow capability.
Integrates with Chargify, Stripe, Google Tag Manager, Twilio Segment, Hubspot, Summit, etc.
Pros:
Gives an overview of SaaS metrics
Allows you to set targets
Offers Health Scores
Supports visual analytics
Cons:
Can't combine data with Stripe account
Poor customer support
Why Do You Need Effective Customer Success Software?
It always helps to know how a tool can help your business while making a purchase decision. So, here's a bunch of benefits of customer success software.
Helps Reduce the Churn Rate
With the right customer success tools, you'll be able to reduce both voluntary and involuntary churn. The tools take care of the customer experience and resolve issues around onboarding, poor customer support, quality of service, etc.
Gives a Better View of Customers
You need to know where your customers face or will face problems in their journey to ensure a seamless experience. For this, having an in-depth understanding of your customers' behavior, needs, and wants helps.
That's where customer success software can help you collect valuable customer data and uncover insights from it. With these insights, you'll be able to remove any obstacles that stand in the way of providing a flawless customer experience.
Offer a Personalized Experience
You can personalize product recommendations, feature optimization tips, and answers to customer queries using the right tools for customer success. You can also automate the in-app messages using triggers and take a proactive approach to improve the experience.
Explore Cross-Sell and Up-Sell Opportunities
Besides exploring customer behavior that increases your churn rate, you can also use software for customer success to identify and grab cross-sell and up-sell opportunities.
For instance, you can show pop-ups to customers on a free trial using triggers or recommend other tools in your suite that go well with certain products.
Successfully Track Customer Metrics
CSM tools offer advanced reporting functionality that lets you track multiple customer satisfaction metrics. Doing so helps businesses know if their strategies are working, the kind of brand experience they have, and much more.
How to Land an Awesome Customer Success Software
Although our list will be sufficient for you to pick the customer success software suitable for your business, having a requirement checklist helps make the purchase decision. We've divided the whole thing into simple steps that you can follow in choosing the best tool.
Step 1: Start by defining your needs
Assess your business and find the loopholes that you need to work on. If you know your weak areas, you can get the tools that'll help you improve on those fronts.
For example, if you have a high bounce rate on your home page, you need tools to help you explore the reasons behind it. Asking visitors for their feedback what they want or don't want will go a long way in making the website user-friendly.
Step 2: Set a budget
Once you know what purpose you need to fulfill (issues you want to resolve), it's time to set a budget. This way, you'll know exactly how much you can afford and choose a tool that meets your budgetary requirements.
Step 3: Mark the must-have features
Irrespective of knowing what you need, a single tool or a set of CSM tools can't take care of all of your needs. It's seldom the case that you'll be able to check all the features in your list.
So, what can you do? The next best thing to do is prepare a list of must-have features you require. This way, if not all, you'll have tools that offer the exact features you can't do without.
Step 4: Try out the tool
It's always best to pick a tool that offers a free trial so that you can get a lay of the land before committing to a customer success software.
Achieve Success With the Right Tech Stack
Now that we've covered all the major points, it's time to conclude our list of customer success tools and software with our top picks. Since each tool targets different needs of a business, you can choose the one that meets your needs or create your custom tech stack to optimize your customer success processes.
You can pick Intercom for live chat capabilities to talk to your customers and resolve their problems in real-time. For email automation, you can never go wrong with HubSpot.
If you don't want to skip on customer feedback and soak up all the benefits of deep customer insights, you can definitely try Qualaroo and create effective surveys for real-time feedback.
Want insights that improve experience & conversions?
Capture customer feedback to improve customer experience & grow conversions.