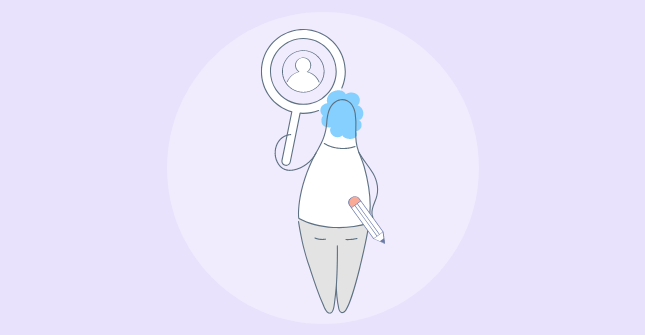 Bringing new customers in is one thing and retaining them is a whole different story.
Everything from your website and mobile app to your product/service contributes to shaping the customer experience that determines how well you can retain customers.
So, if you want to ace every interaction and give customers a reason to stay, you need a reliable tech stack to help you achieve this.
But let's be honest, no one wakes up in the morning and goes – Yes! Today I will shop for customer retention software.
Having the best tech stack is necessary, but that doesn't mean you have to grind away to get the best picks. Simply go through our curated list of top customer retention software for you to compare and choose from.
The customer retention tool list consists of:
Choose for (The best aspect of the tool)
Suitable for (Applicability based on industry size)
Price
Features
Pros
Cons
Now that you know what factors you'll be looking at, it's time to make a choice!
What Are the Top 10 Best Customer Retention Tools in 2023?
Please remember that the numbering does not signify the potential of the customer retention software listed in the article. Each tool has something unique to offer and can help you improve your conversions.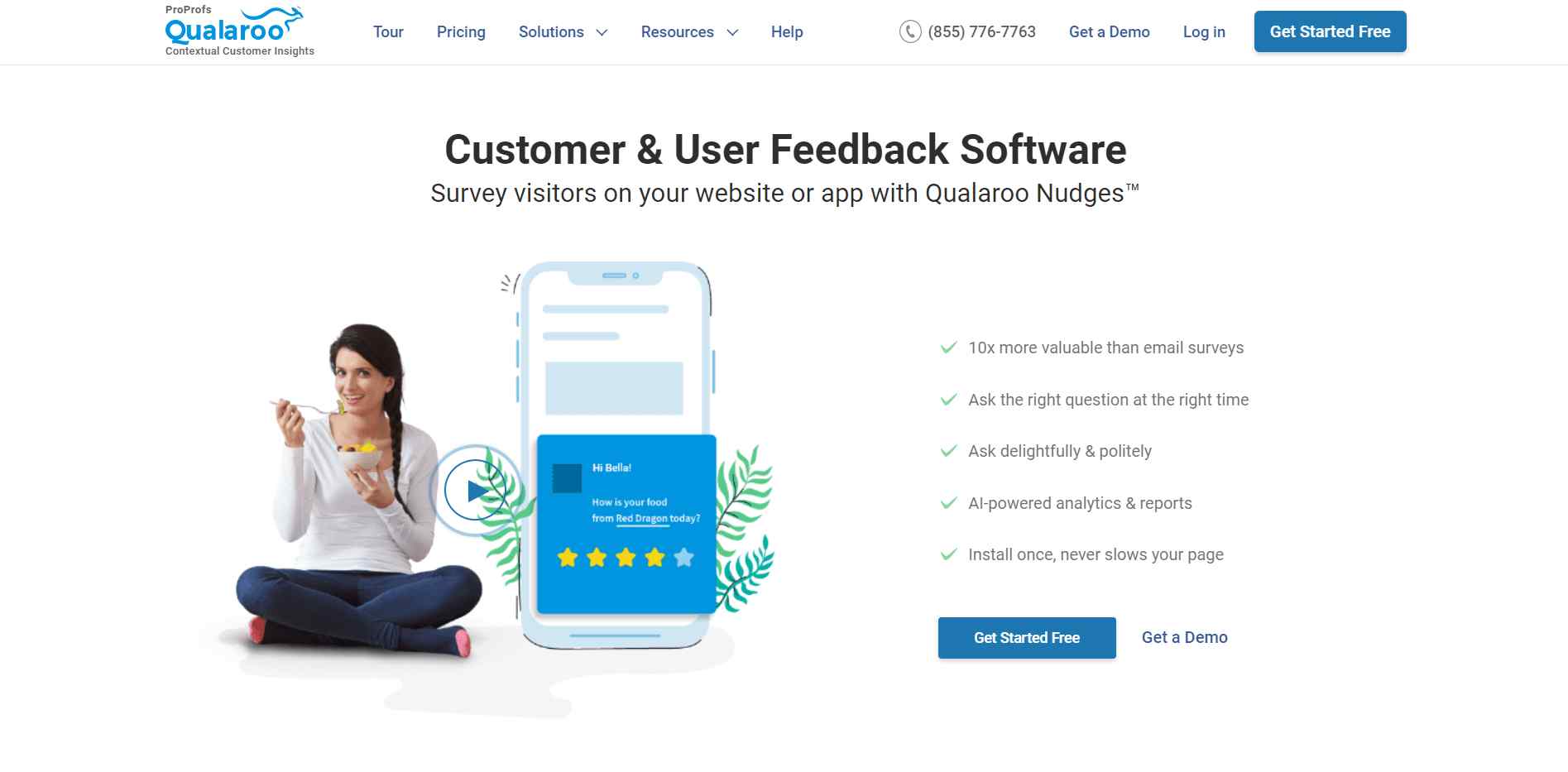 ---
The first customer retention software on our list is the customer feedback and experience tool Qualaroo. It lets you deploy various surveys, such as Net Promoter Score, Exit-Intent surveys, Customer Satisfaction Surveys, etc., to collect real-time feedback from customers.
With the collected feedback, businesses can understand their customers' overall experience, resolve their queries, and retain them. It helps businesses like Udemy, Twilio & Hootsuite single out unhappy customers by tracking NPS & customer satisfaction and giving them the help they need. With the collected feedback, you can even identify high value customers and try to retain them with the right kind of offers.
Choose for: Multi-channel survey deployment, AI-based analytics, Design prototype testing
Suitable for: Small to large businesses
Price: Starts from $80/month
Features:
Comes with pre-built survey templates and a visual editor to help you create attractive surveys without errors.
Lets you deploy surveys on multiple channels of your choice such as websites, mobile apps, prototypes, email, send via URL links, etc.
Supports 130+ languages and comes with 12+ question types.
Offers rebranding options and high-level customization.
Provides branching and skip logic to zero in on the right audience and collect accurate contextual feedback.
Niche targeting options in advanced targeting to collect insights from the right audience.
Support advanced reporting and analytics with the AI-based Sentiment Analysis engine.
Easy to filter feedback using filters with attributes like demographics, psychographics, etc.
Offers integration with tools like Salesforce, Zendesk, Zapier, Slack, and more.
Pros:
Automatically calculates NPS score for quick customer segmentation
Trigger exit-intent pop-ups to retain leaving visitors
Easy analysis of free-form feedback
Cons:
Needs industry-specific templates
Related Read: Top Online Survey Software
---
More than just a survey maker, ProProfs Survey Maker is a comprehensive customer retention tool that also lets you create forms, polls, and pop-ups. The tool helps you explore what's lacking in your customer experience and what you can improve to make your customers stick.
It also enables you to deploy surveys in mobile apps and websites to gather customer insights in fun ways, like with quizzes. You can gauge customers' personalities with personality quizzes and cater to their needs to retain them.
Choose for: Multi-channel deployment, Surveys, Polls, Quizzes, Forms
Suitable for: Small to large businesses
Price: Starts from $50/month
Features:
Lets you create scored quizzes and personality quizzes for lead generation.
Comes with a drag-and-drop editor to make survey creation easy and expedited.
Offers 100+ templates and 15+ question types to help you ask the right questions.
Supports 40+ language translations and customization options for surveys, polls, quizzes, forms, etc.,
Can deploy surveys on different platforms like mobile apps, websites, email, and social media.
Enables you to add a sidebar feedback button as a non-intrusive way to collect feedback.
Offers integration with tools like Zendesk, Mailchimp, Campaign Monitor, etc.
Pros:
Interactive surveys, quizzes, polls, etc.
Extensive question library
Data security and seamless integration
Cons:
A little bit of a learning curve
---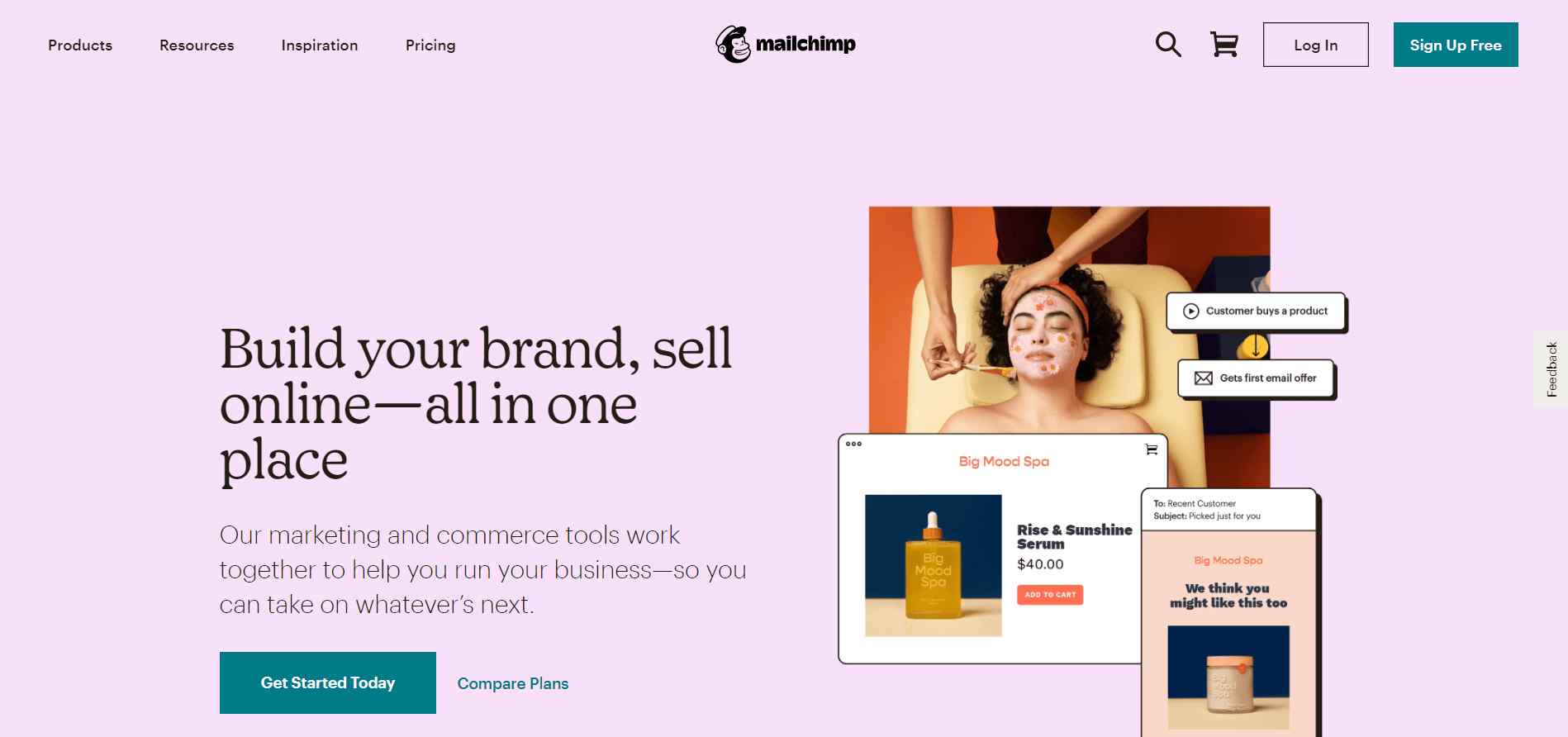 Another best customer retention software on our list is Mailchimp. It's perfect for strengthening your email marketing automation game and launching successful email campaigns.
It comes with AI-powered capabilities that help automate sending emails, re-engaging customers, and reducing cart abandonment. You can also design customer satisfaction surveys to understand your customers' experiences and improve them.
Choose for: Email automation, targeted ads, marketing campaigns, lead forms
Suitable for: Small to large businesses
Price: Starts from $9.99/month
Features:
Helps personalize emails and landing pages.
Supports A/B testing, performing analytics, and reporting.
Supports mobile view and behavioral targeting.
Helps automatically send high-volume outbound emails.
Supports creating ad campaigns and deploying them on social media.
Comes with multiple email templates and a drag-and-drop builder.
Enables you to automate follow-up emails.
Comes with robust integration with tools like Salesforce, Google Analytics, Qualaroo, and more.
Pros:
Free plan supports 2000 contacts
Customizes templates with HTML/CSS editor
Tracks campaign performance
Cons:
Related Read: Best NPS Software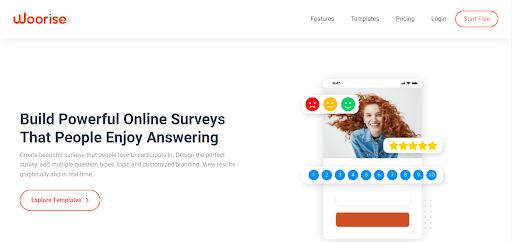 ---
Woorise is an excellent customer retention software catering to different business purposes. For example, it offers surveys, forms, quizzes, landing page creation for campaigns, and more.
It comes with a drag-and-drop campaign and form builder to get you started in real-time. What's more, you can embed the campaigns on your Facebook page, subdomains, live chat, and websites. Let's look at its helpful features.
Choose for: Feedback collection, analysis
Suitable for: Small to large business
Price: Starts from $23/month
Features:
Offers a lot of campaign options that help businesses increase leads.
Supports multiple languages to target different demographics and customer segments.
Integrates with multiple tools like ActiveCampaign, Bitly, HubSpot, Webhooks, etc.
Comes with a drag-and-drop editor to create surveys and landing pages with no code installation.
Offers ready-to-use surveys and form templates.
In-depth analytics to measure the performance of your campaigns.
Export data in CSV file format.
Helps create great referral programs.
Enables you to automate email notifications for each form/survey submission.
Facilitates geo-targeting, two-step authentication, and fraud detection.
Pros:
Simple and user-friendly UI
Pre-made templates
Mobile responsive
Cons:
Media upload and custom domain are only available in Pro subscription
Has a learning curve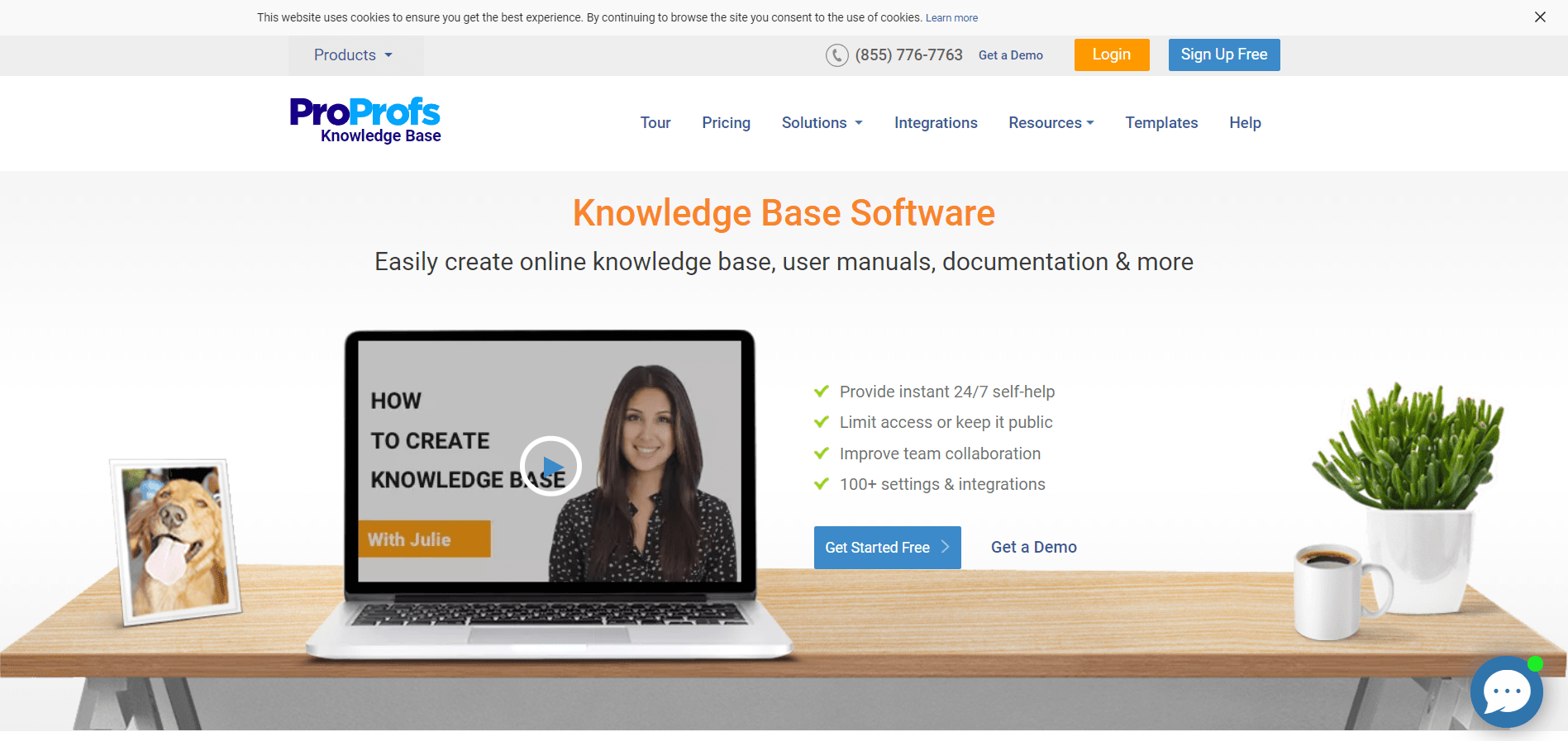 ---
ProProfs Knowledge Base is an excellent client retention software that helps businesses like yours offer self-service round the clock. This customer retention software lets you create self-help platforms and user guides to improve documentation.
Users can resolve minor issues on their own quickly and in real-time, which helps companies significantly reduce the number of tickets.
Choose for: Knowledge base, self-help sections for customers
Suitable for: Small to large business
Price: Starts from $30/month
Features:
Helps reduce the workload on support personnel with ready-to-use resources for the knowledge base.
Comes with an MS Word-type editor and Google-like search functionality.
Enables you to add videos and images to your knowledge base pages.
Supports importing word docs, PDFs, PPTs, files, and more to your knowledge base.
Offers 25+ pre-designed professional knowledge base templates.
Can create a table of contents for structure and increase scannability.
Has a Callouts feature to inform visitors about the changes in the content.
Provides lightboxes, tooltips, conditional content, and pop-ups.
Offers support for 90+ languages.
Prevents data loss and recovers lost pages through the Vault feature.
Offers insightful reports, roles and permissions, and branding and customization.
Pros:
Integrations in the free trial
Manages multiple knowledge base sites in one dashboard
Cons:
Managing some landing pages is tricky
Related Read: Best Product feedback Software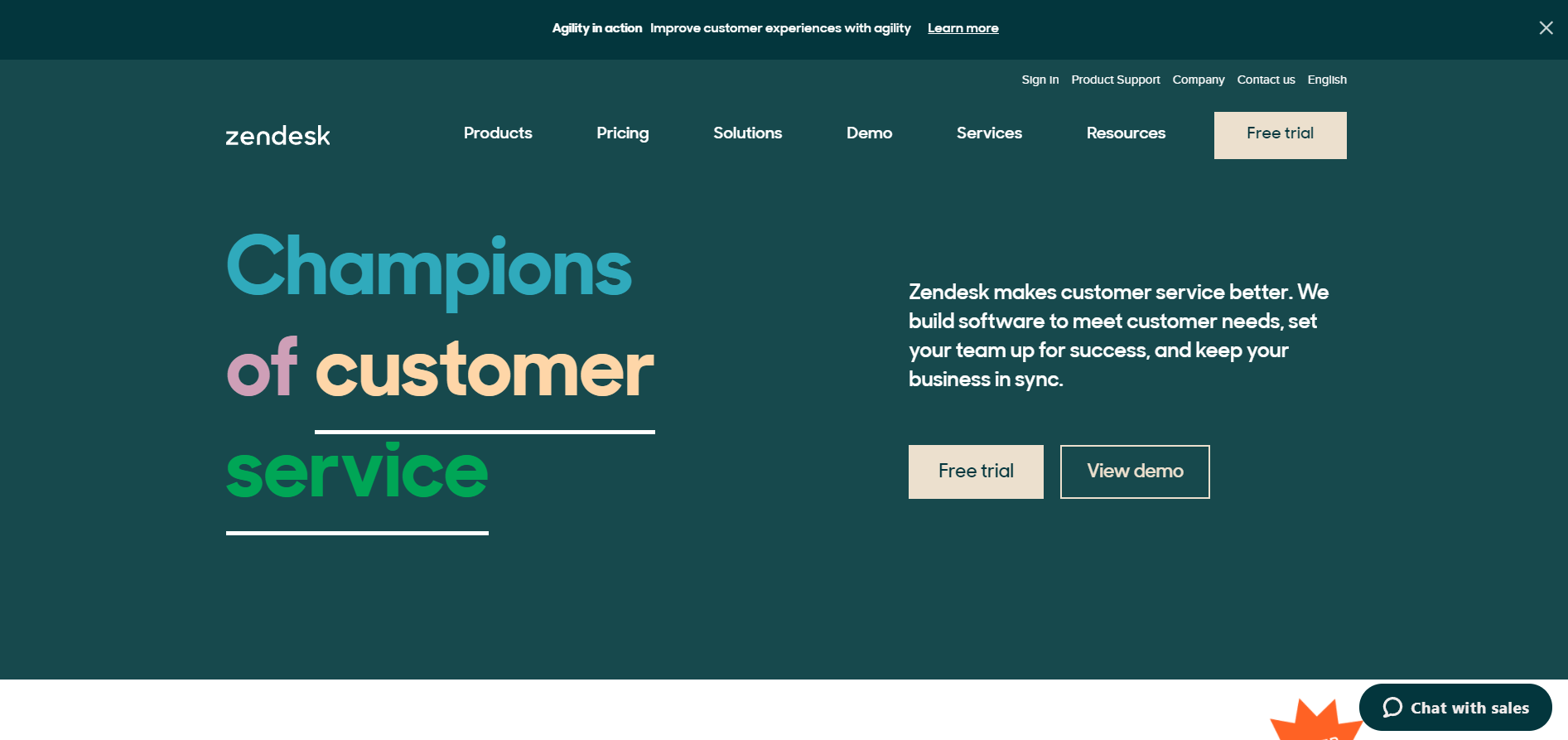 ---
Zendesk is an excellent customer retention system that offers help desk functionalities to enrich conversational experiences across websites and social media. It's an excellent tool that helps your customers reach your support team easily.
This customer retention software offers API access, white labeling and customization, canned responses, integrations, authentication, and analytics to measure customer satisfaction metrics.
Choose for: Help desk automation, service level agreement (SLA) management, ticketing, and collaboration
Suitable for:
Price: Starts from $49/per agent
Features:
Lets users find customer support easily to resolve queries.
Updates you in real-time of agent activities such as who is viewing tickets, attending to tickets, updating, etc.
Supports a streamlined flow of information between teams.
Comes with request forms and ticket fields.
Lets users set ticket parameters using a service-level agreement (SLA).
Integrates with tools like Zoom, Trello, Salesforce, etc.
Pros:
Support personnel can tend to tickets using the mobile API
Has a user-friendly interface
Cons:
Slows down with multiple integrations
---
Heap.io is a fantastic customer retention platform that perfectly caters to your analytics needs. It monitors user interactions like CTA clicks, forms completed and submitted, and more.
It can be used for websites and mobile apps so businesses can have a bird's eye view of their services, products, and customer experience. This robust customer retention tool also lets you know which channels bring you the most traffic.
Choose for: Tracking customer behavior, website analytics
Suitable for: Mid-sized to large business
Price: Available on request
Features:
Comes with a simple and easy-to-use analytics dashboard.
Doesn't require you to create trigger events to track website traffic.
Tracks crucial metrics like bounce rate, retention rate, return rate, and more.
Helps you track website traffic in relation to the sales funnel and average session length for measuring customer engagement.
Comes with retroactive reporting that predicts specific trends based on the analytics data.
Supports tracking of website traffic and behavior data for mobile apps.
Integrates with tools like Shopify, Snowflake, Intercom, Redshift, etc.
Pros:
Provides custom and real-time reports
Retroactive analysis
Optimized for complex websites and mobile apps
Cons:
Algorithm can expose personally identifiable information
Difficult to manage storage data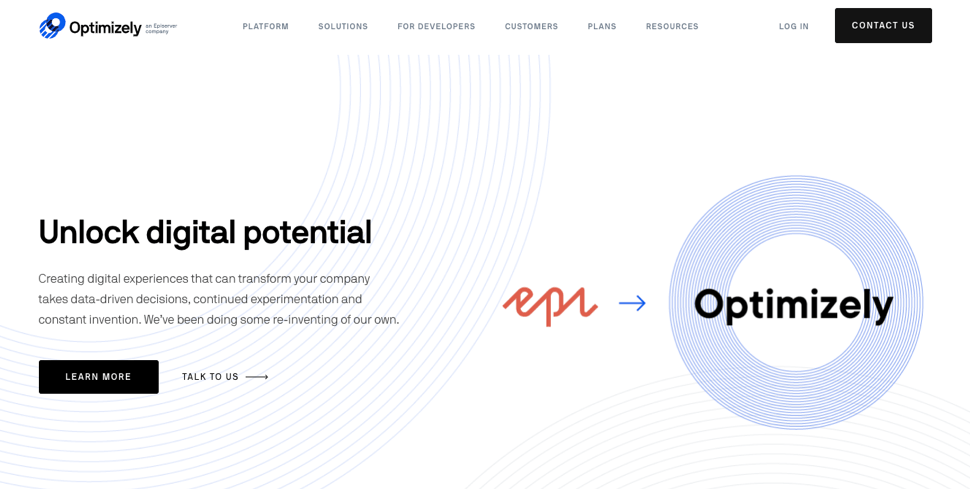 ---
Another incredible retention tool on our list is Optimizely which helps businesses like Fortune 100 companies optimize their digital products and experience.
It's great for A/B testing, among other things that help businesses make data-backed decisions and significantly improve customer experience. Let's look at its feature set to see why it's on our list.
Choose for: Digital experience optimization, content management, user testing
Suitable for: Mid-sized to large business
Price: Available on request
Features:
Powered by Experiment Delivery Network, the Performance Edge feature expedites experiments and scales experimentation without affecting the performance.
Comes with the WYSIWYG functionality that lets users make updates without developers.
Has a rollout feature that helps you ship faster and more securely.
Lets you roll out features to a small fraction of users for user testing.
Pros:
Supports multivariate testing
Easy to use for beginners
Flexible for advanced user tests
Filters audience data
Cons:
Too many settings and dials
Takes a lot of time to create different test variants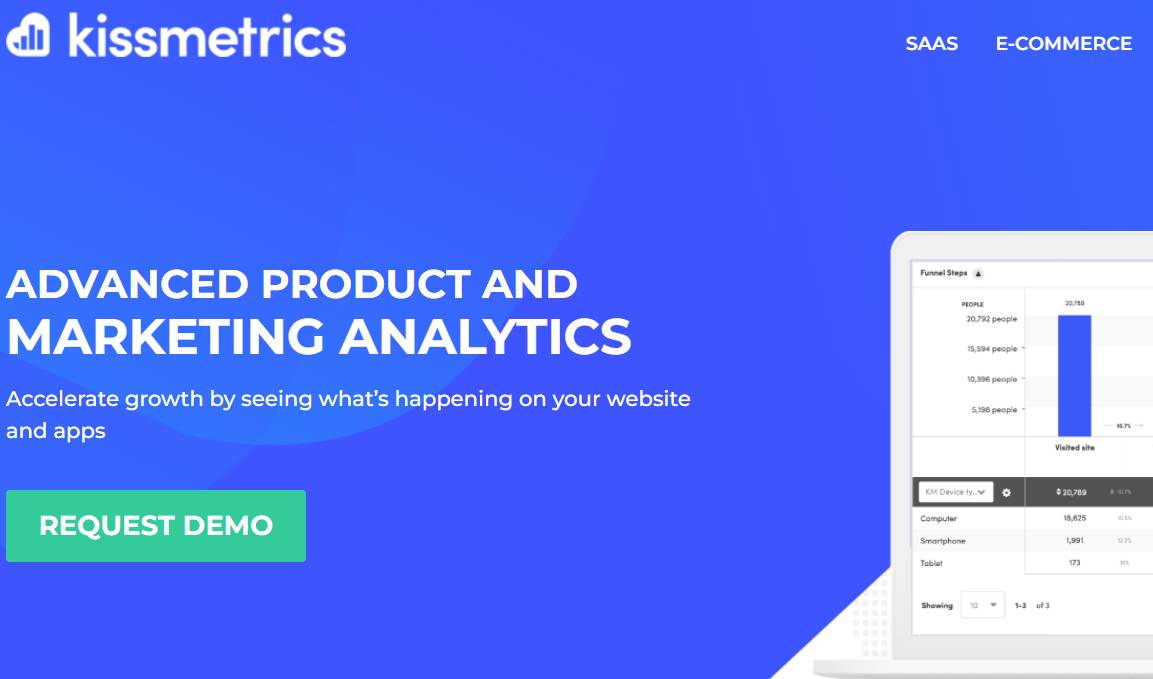 ---
Kissmetrics is another banger customer retention software that empowers customer engagement automation. It offers email campaigns, behavioral analytics, segmentation, etc.
It helps companies engage the visitors and turn them into customers, boost conversions and reduce customer churn rate. It's great for observing user behavior and tracking metrics more insightful than bounce rate and time on-site. The tool has something for all, whether you have an eCommerce or SaaS business.
---
Choose for: Product analytics, email marketing, web analytics
Suitable for: Mid-sized to large business
Price: Available on request
Features:
Helps distinguish new visitors from returning visitors to help you create business strategies accordingly.
Tracks customer behavior in real-time.
Helps you discover categories and trending products.
Facilitates campaign, keyword, and site search tracking.
Supports multiple website management.
Integrates with tools like Zapier, Mailchimp, Slack, Calendly, Trello, Paypal, Twilio, etc.
Compiles revenue reports for detailed insights.
Supports A/B testing so you can experiment with what works for your business.
Pros:
Easy to install using a tracking code
Great configuration and viewing options
Helps track sessions from mobile and desktop
Amazing documentation
Cons:
Related Read: Best Customer Experience Management Software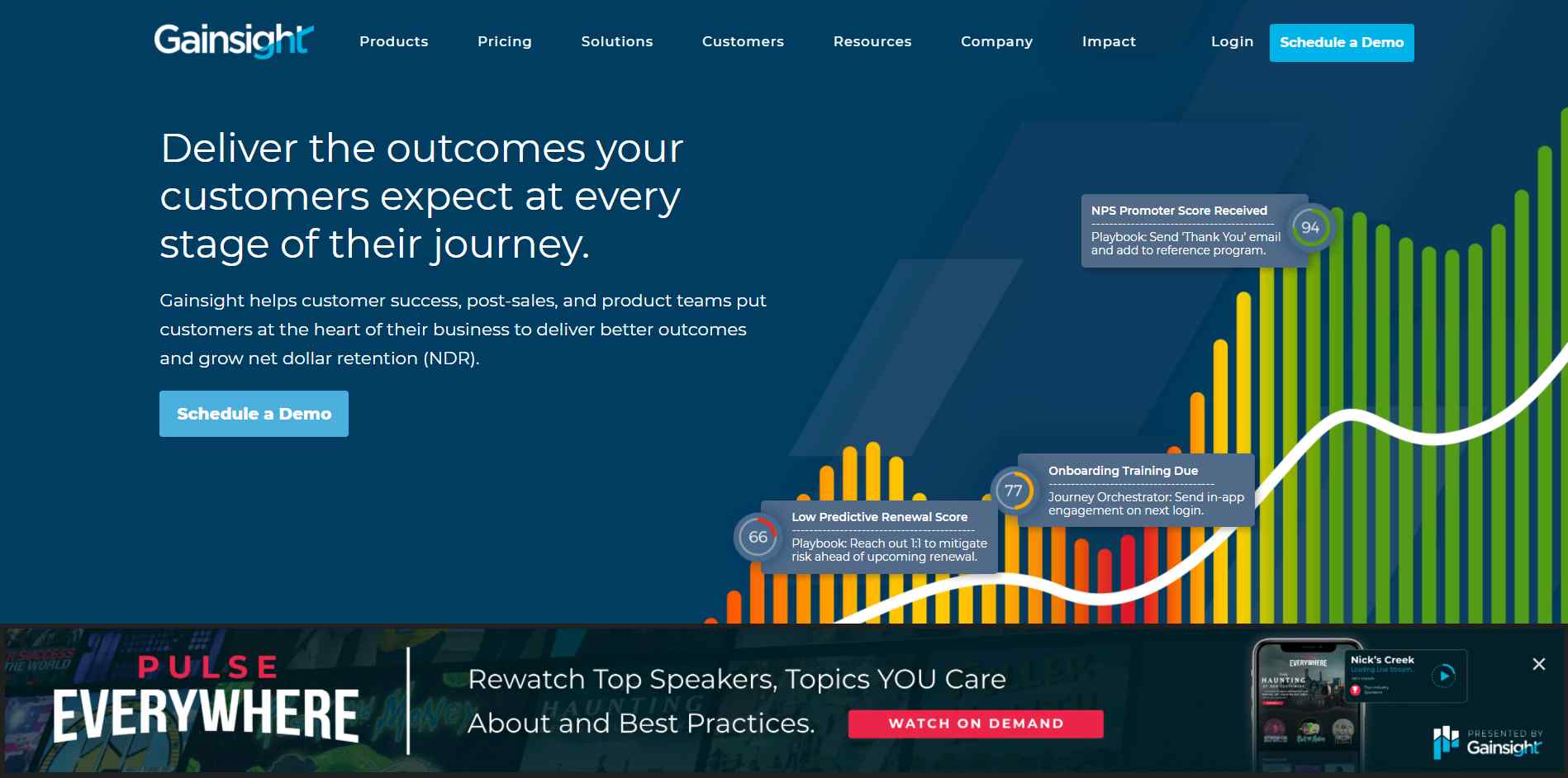 ---
Last but not the least on our customer retention software list is Gainsight. It is one of the excellent tools for customer retention that offer a suite of features and functionalities to accomplish multiple goals.
For example, it offers features for revenue optimization, improvement of customer experience on mobile apps and websites, etc. Gainsight is a powerhouse of features that uncover customer insights, streamline data management, and optimize inter-team communication.
Choose for: In-app guide, in-app surveys, knowledge center bot, advanced analytics
Suitable for: Small to large businesses
Price: Available on request
Features:
Lets you create help guides, in-app surveys, onboarding walkthroughs, and more.
Offers multiple language translations for targeted surveys.
Comes with 7+ question types, customization options for the design, skip logic, advanced targeting options, etc.
Has an in-built question library to create and deploy surveys in real-time.
Saves partial information from abandoned and incomplete surveys.
Offers advanced analytics that helps track survey performance, individual responses, user sentiments, response trends, etc.
Comes with text analytics that helps break down and categorize free-text responses based on user sentiments.
Successfully creates custom reports to visualize and filter data.
Can send how-to carousels, emails, and walkthrough guides.
Automate in-app NPS and CES surveys to track scores.
Offers integration with tools like SAP, Hubspot, Microsoft Dynamics, etc.
Pros:
Has advanced survey editor
Workflow automation
Real-time analytical view of customer experience
Cons:
Retaining Customers Is Just a Choice Away
To sum up, retaining customers is not a one-tool job. Different factors play a huge role in determining your retention rate.
We suggest it's best to create a tool stack that fulfills the holistic purpose of retaining customers.
For example, you can choose Zendesk to set up a helpdesk, Kissmetrics to track campaigns, and Qualaroo to gauge overall customer experience, satisfaction metrics, and more to work out ways to make your customers stay.
Want insights that improve experience & conversions?
Capture customer feedback to improve customer experience & grow conversions.