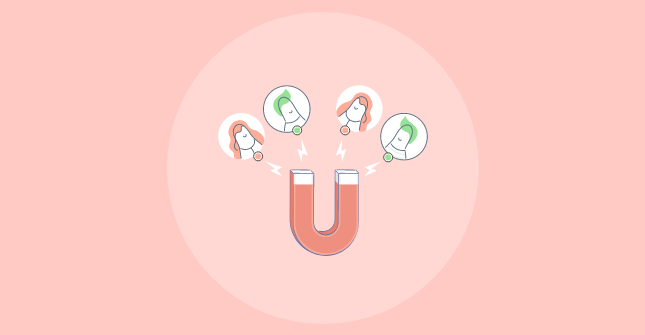 Customer engagement has become a differentiating factor for most successful businesses out there. Businesses all across the globe use customer engagement tools to improve real-time customer engagement, scale customer service, and automate lead generation.
The sad reality is that a 12-year-old on TikTok can generate more engagement than most SaaS companies these days.
In fact, 54% of the customers claim that they fail to engage with the organization because they feel like they are communicating with different departments and not one company.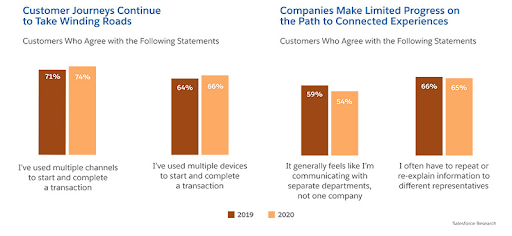 ---
Acceptance is the hard part.
Customer engagement consists of a lot of moving parts, and delivering it also differs from product to product — but the right tool can work wonders for you. This is why we've compiled 20 of the best customer engagement tools from six different categories to help you choose the right one.
The categories that we'll be looking at are:
Customer feedback & Survey tools
Analytics tools
In-app communication tools
Push notification tools
Email automation tools
By the end of this blog, you'll be able to choose the perfect customer engagement tool, deliver great experiences to your customers and build a truly customer-centric brand.
Stick around!
20 Best Customer Engagement Tools
Whether you're looking to collect data from your customers, analyze how they feel, or automate your email marketing campaigns, there's a tool for everything as long as customer engagement is your endgame.
Customer Feedback and Survey Tools
Customer feedback and survey tools specialize in customer experience management and let you collect feedback and insights from your customers for data-driven decision-making.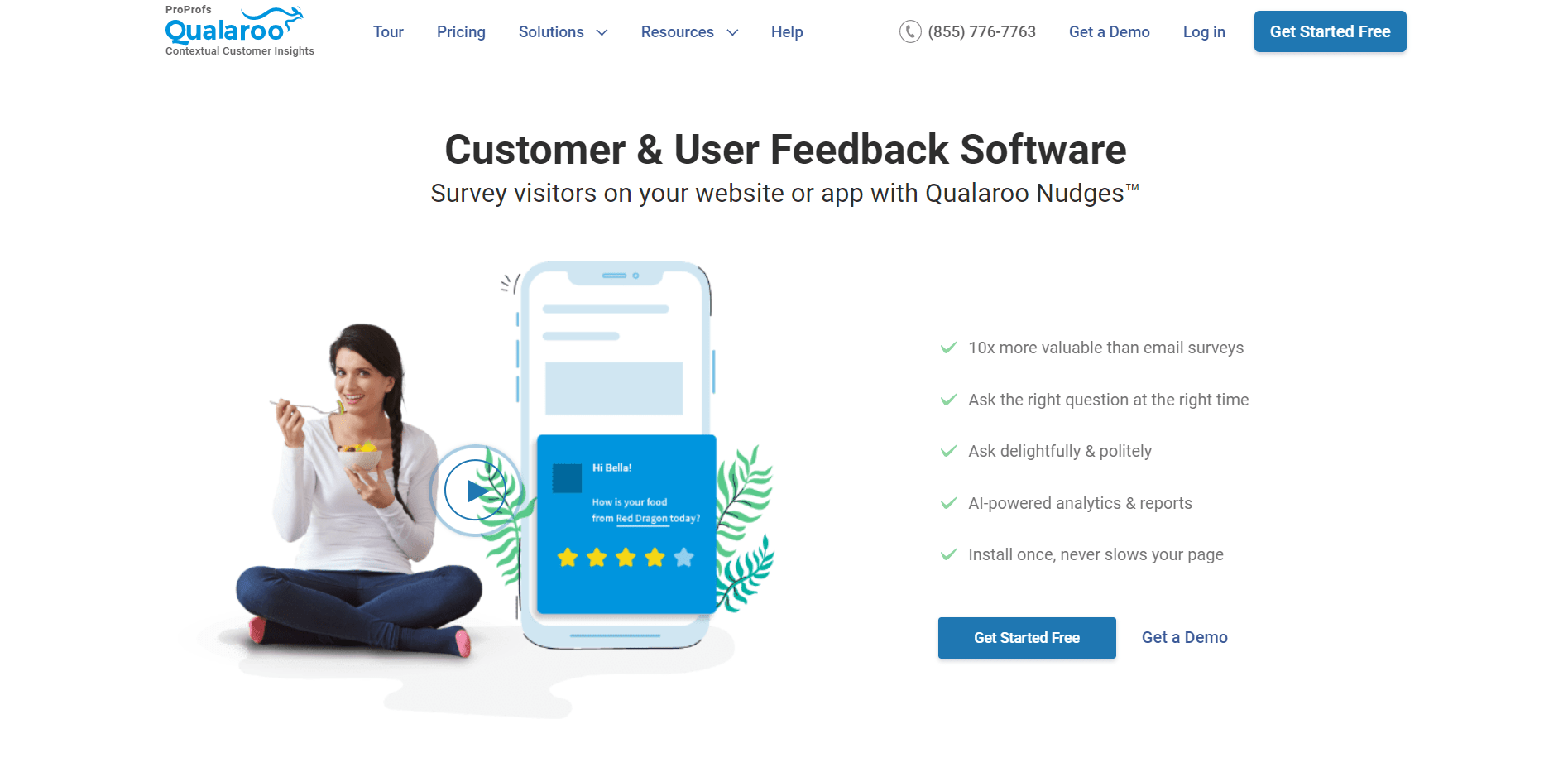 ---
To engage with your customers, first, you need to understand them. Want to know how your customers like to engage with your business? Want to know what they want, who they are, or where they're from to form a solid customer engagement strategy? Then Qualaroo is your best bet.
It is one of the most versatile online customer feedback and engagement tools that help in collecting contextual feedback using its unobtrusive survey popup NudgesTM .
Design targeted in-context surveys for your users to gather insights into their needs, wants preferences, and pain points. Qualaroo also comes packed with some of the most advanced features using which you can always ask the right questions at the right time based on their behaviors and actions.
And with the advanced sentiment analysis engine, you can quickly analyze your responses and channel them into your customer experience management tool to design excellent engagement strategies.
Choose it for: Unobtrusive surveys, multi-channel surveys, AI-powered analytics, and multiple answer selection types.
Integration available: Yes
Suitable for: Small to large businesses
Price: Starts from $69 per month.
Features:
Deploy within minutes and start collecting feedback instantly.
Create beautiful NPS, CSAT, CES, UES and many more survey types with the help of professionally designed built-in survey templates.
Gather data of any kind by creating diverse surveys using 10+ question types.
Make your surveys stand out with tons of customizations and white labeling.
Show your surveys only to the relevant audience using advanced targeting.
Collect only the relevant data and eliminate the rest using branching and skip logic.
Deploy surveys on over six different channels to go where your audience is.
Integrate with powerful marketing and CRM tools to boost your customer engagement efforts.
Pros:
Easy survey embedding
Unobtrusive surveys
Add survey triggers
100+ language support
Cons:
Needs industry-specific templates
The dashboard needs a little more refinement
---
ProProfs Survey Maker is another very popular and versatile tool in this list that is highly intuitive and used by marketers, businesses, educators, and event planners all over the world.
With ProProfs Survey Maker, you can easily create and deploy quizzes, polls, and feedback forms, making it one of the most flexible user engagement tools.
Similar to other good user engagement tools in the market, ProProfs Survey Maker also comes with a detailed, built-in reporting section and can be integrated with other popular tools in the market.
Choose it for: Automatic analytics, drag-and-drop editor, presentation-ready reports, and an intuitive UI
Integration available: Yes
Suitable for: Small to large businesses
Price: Starts from $19 per month.
Features:
Create simple and complex feedback forms within minutes with the help of the super-friendly UI.
Build highly interactive polls, surveys, and questionnaires using the built-in drag and drop editor.
Avoid building anything from scratch with the help of 100+ built-in templates and 100k+ ready-to-use questions.
Bring diversity into your forms and questionnaires by using 15+ question types.
Engage with your audience anywhere by deploying your surveys on your website or mobile app.
Encourage unsolicited feedback with the help of the feedback sidebar.
Integrate with powerful online marketing and CRM tools like Salesforce and Mailchimp.
Pros:
Multi-channel surveys
Intuitive UI
Drag-and-drop editor
Cons:
Survey templates need more customization
Survey editor can be slightly complex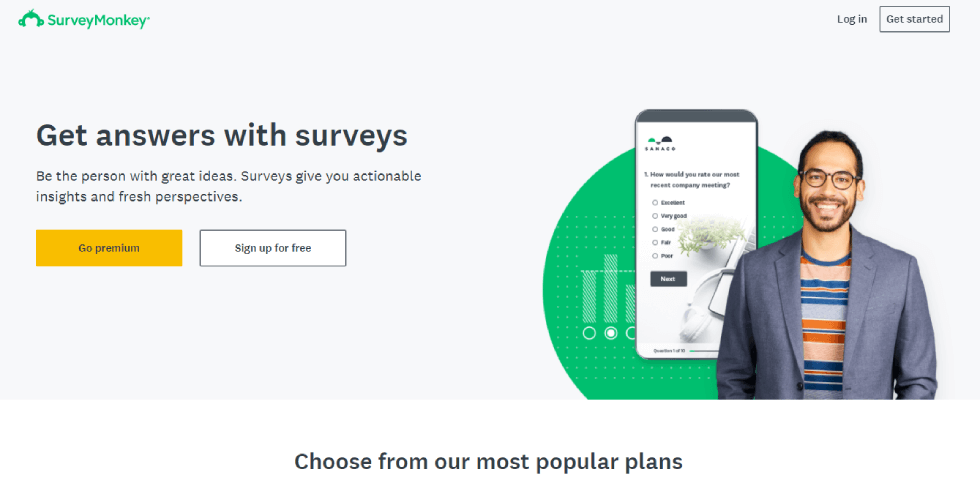 ---
SurveyMonkey is another very well-known customer engagement software that provides plenty of different ways for customers to voice their opinions by collecting feedback in real-time. SurveyMonkey provides a combination of customer experience solutions and market research so that organizations of all sizes can effectively leverage customer feedback.
Choose it for: Contextual feedback, tracking customer sentiments, and recurring surveys.
Integration available: Yes
Suitable for: Small to large businesses
Price: Starts from $25/month
Features:
Create surveys, polls, quizzes, and more for all types of audiences.
Always ask the right questions with built-in survey templates and professionally written questions.
Personalize surveys and quizzes by adding a progress bar, randomization, and scoring system.
Process through your surveys quickly with the help of branching and skip logic.
Identify improvement areas in the surveys automatically with the help of AI-powered analysis.
Design surveys that work globally with the help of automatic language translation.
Pros:
Anonymous feedback
Diverse analysis engine
Niche survey customizations
Cons:
Glitchy survey editor
The analytical dashboard needs improvement
Related Read: Best Surveymoneky Alternatives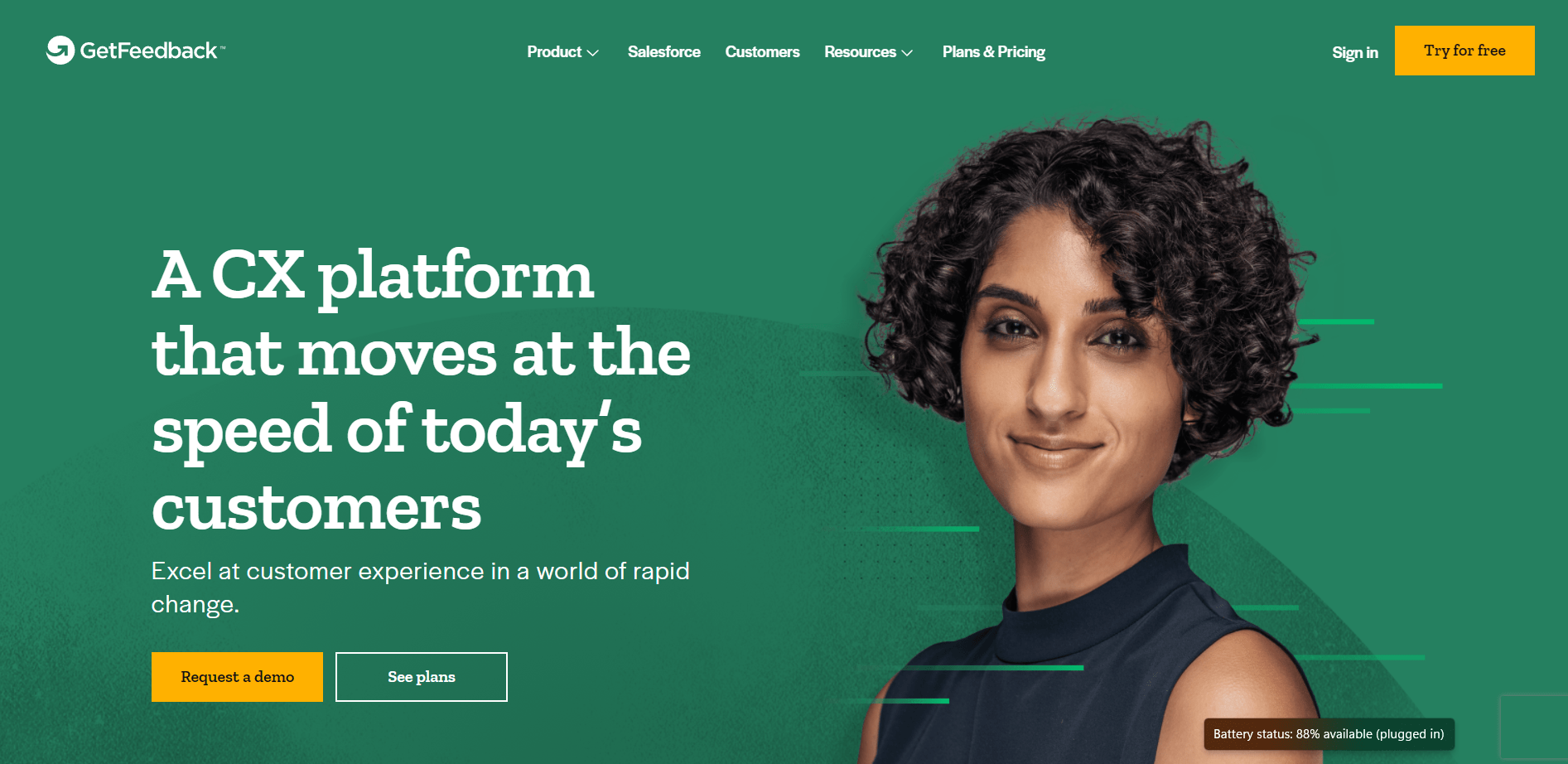 ---
GetFeedback is a popular customer experience platform and an enterprise-level feedback tool that lets you create targeted surveys and evaluate their effectiveness in real-time with the help of a powerful dashboard and analytics.
It also features a drag-and-drop editor using which you can customize your surveys as per your business requirements, making it one of the best tools for customer engagement.
Choose it for: Advanced analytics, complaint management, and customer segmentation.
Integration available: Yes
Suitable for: Small to large businesses
Price: Available on request
Features:
Build diverse surveys using built-in templates, themes, and customizations.
Catch your audience wherever they are with multi-channel surveys.
Display your surveys only to the relevant customers with advanced targeting capabilities.
Collect app store ratings with ease by embedding rating prompts in the application.
Extract valuable data from your feedback using advanced text and sentiment analysis.
Track customer sentiments and spot changes through custom graphs and dashboards.
Pros:
Text analytics
12 question types
Easy integrations
Cons:
Needs improved templates
Expensive Salesforce integration
User Analytics Tools
Customer analytics tools deploy different metrics to help businesses understand their customers' behavior and actions and modify their marketing strategies to deliver better business results.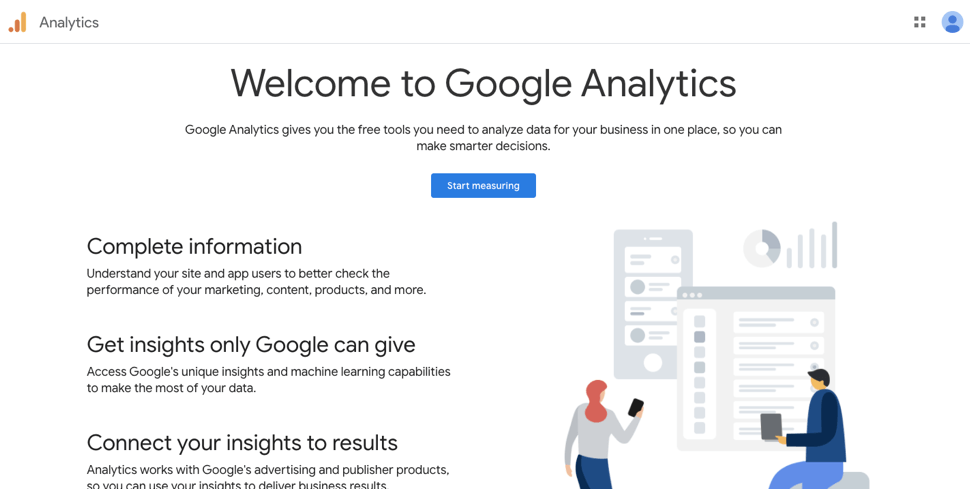 ---
Google Analytics is one of the best tools for customer engagement if used the right way. It's an extremely comprehensive and detailed analytics tool that gathers data about all the websites that people access using Google. With Google Analytics, you can easily uncover everything about your users, including how they react to your website, to make effective changes and improve ROI.
Choose it for: User engagement management, identifying trends and patterns
Integration available: Yes
Suitable for: Small to large businesses
Price: Free to use
Features:
Track the progress of your marketing campaigns with the help of funnel analysis.
Add tracking code to your website and fetch data seamlessly using Google Tag Manager.
Set specific goals and measure their progress by using Smart Goals.
Automatically detect patterns in your data with the help of machine learning algorithms and deep analytics.
Make more sense of your marketing data with the help of auto-generated reports of your marketing campaigns.
Seamlessly integrate Google Analytics with other Google and third-party tools in the market.
Pros:
Customizable reports
Easy progress sharing
Traffic source analysis
Cons:
Has a slight learning curve
Too many dashboard settings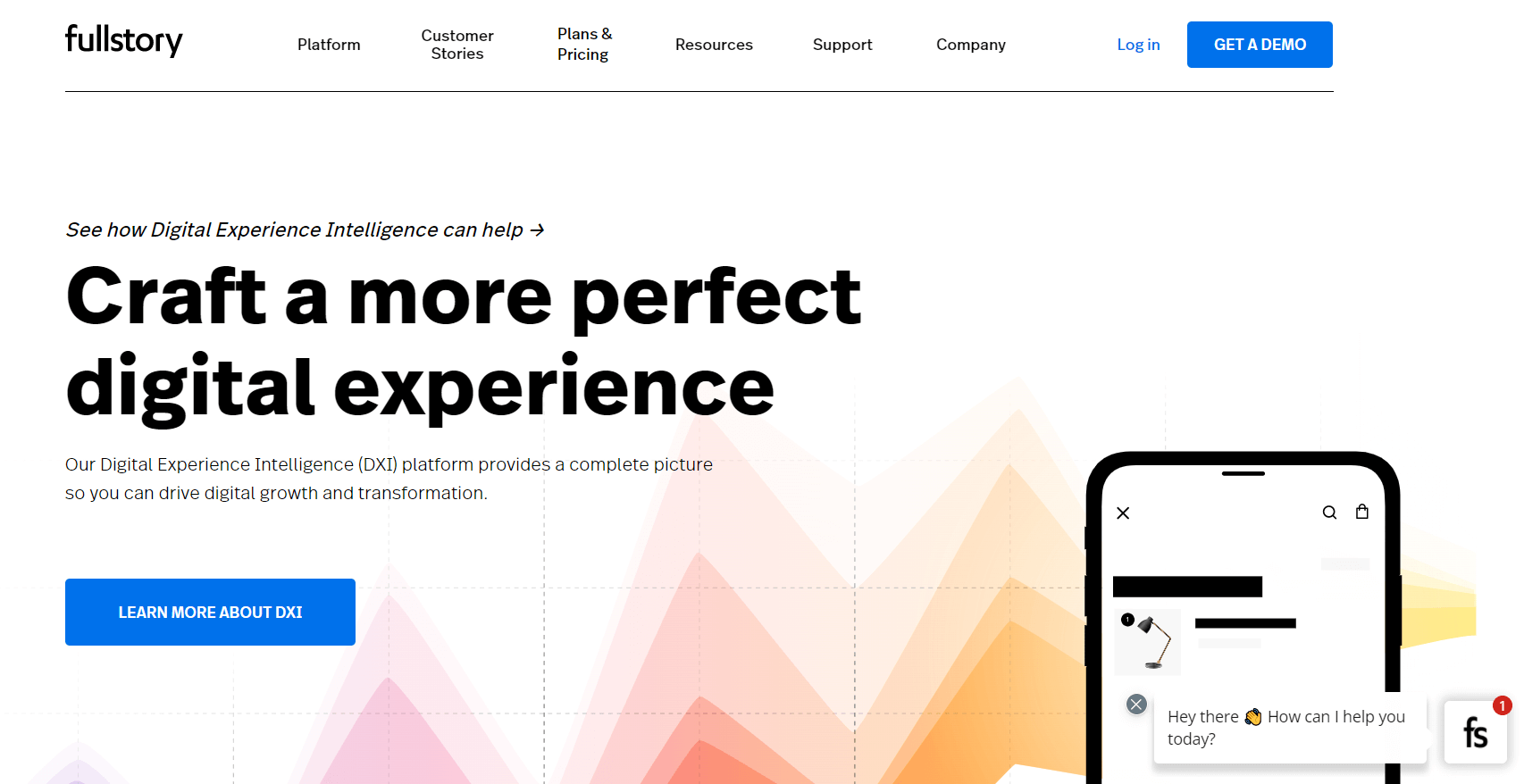 ---
FullStory is a widely known digital experience (DXI) platform and one of the best customer engagement management tools that records every user interaction on your website without any tagging. With FullStory, you can collect all the user session data to understand how your users behave on your website and identify hidden improvement opportunities.
Choose it for: Proactive insights, custom reports, and a better digital experience.
Integration available: Yes
Suitable for: Medium to large businesses
Price: Available on request
Features:
Identify users' issues through user sessions and improve revenue by fixing them.
Label your events with custom names and descriptions using Defined Events.
Run a deeper analysis of your data and uncover hidden patterns using conversion funnels.
Store and analyze every single point of interaction to gain powerful insights.
Troubleshoot and remediate bugs using customer data and improve efficiency.
Protect your customers and their data using privacy controls.
Integrate with powerful online tools to make the most of your data.
Pros:
Create and monitor customer segments
Track user activity accurately
Quantitative data snapshots
Cons:
Has slight website rendering issues
Problems in isolating specific users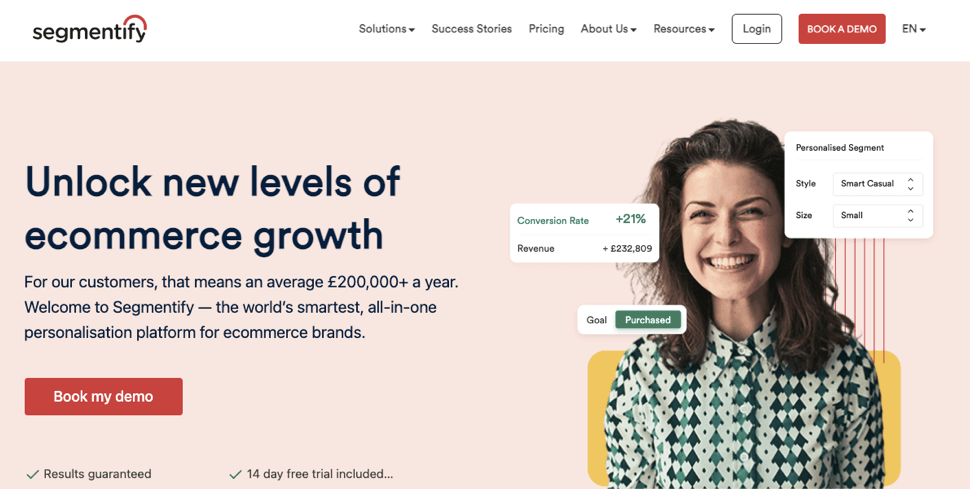 ---
Segment is a brilliant customer engagement management platform that helps businesses make real-time decisions and accelerate growth through clean and reliable data.
With Segment, you can use the same data to power multiple different applications and also deliver personalized marketing experiences to your customers by creating detailed personas and segments.
Choose it for: Custom scenarios, analytics, and marketing stacks
Integration available: Yes
Suitable for: Small to large businesses
Price: Available on request
Features:
Personalize and deliver targeted campaigns on every channel in real-time.
Collect data seamlessly from every customer interaction with your website, mobile app, ads, and more.
Get a complete overview of your customers by combining data from different sources.
Build accurate customer personas using the built-in persona builder.
Create a single customer profile and make it accessible for all team members.
Collect, standardize and unify your customer data using a single API.
Create seamless customer journeys by integrating customer data into every interaction.
Pros:
Easy to set up and implement the SDK
Native integrations
Great customer support
Cons:
Cannot see historical values
Duplicating data can be complicated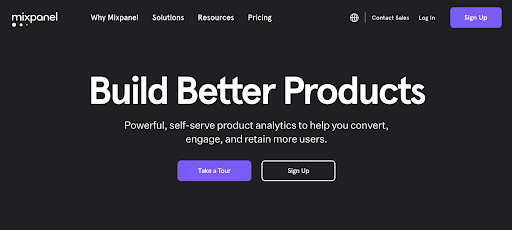 ---
Mixpanel is one of the best tools for customer engagement that leverages product analytics to see how users interact and engage with your products. Mixpanel is used by many teams across the globe for tracking customer retention and conversions to deliver a better user experience and construct better business outcomes.
Choose it for: Tracking user interactions, analyzing data, and A/B testing
Integration available: Yes
Suitable for: Small to large businesses
Price: Starts from $0, paid plans start from $25/month
Features:
Get answers to all your questions with powerful reports.
Know which features are popular and preferred the most using insightful analytics.
Analyze conversion rates on the fly by building retroactive funnels.
See which users stick around and for how long through retention reports.
Create cohorts and build funnels with simple workflows to get answers instantly.
Easily connect with any data lake and read data directly from it.
Understand hidden patterns with the help of limitless segmentation.
Pros:
Group analytics
Data privacy
Team dashboards
Cons:
Time-consuming flow reports
Unclear global filter in funnels
The search feature needs improvement
In-app Communication Platforms & Tools
In-app messaging is a process that lets you communicate with your users inside the app while they are using your product. In-app messaging deploy contextual and timely messages to guide and help the users through their entire product journey.
PProProfs Chat is a customer support chat and a great customer engagement software that helps companies connect and engage with their users in real-time. With ProProfs Chat, you can engage with multiple users at the same time and cater to all the other users with the help of a chatbot and canned responses.
There are also self-help articles and live chat widgets available for users to engage with and get answers to their queries immediately.
Choose it for: Customer support, sales promotions, and user engagement
Integration available: Yes
Suitable for: Small to large businesses
Price: Starts from $10/month
Features:
Resolve customer queries much faster with the help of chat routing.
See how your support teams are performing by viewing operator performance reports.
Provide proactive support to your customers using automated chat greetings.
Always keep your customers updated information through announcements.
Encourage people to check out your products and offers by building one-line announcements.
Integrate with a knowledge base and help desk tools to take your customer support to the next level.
Pros:
Customer support bundles
Feature announcements
Set routing conditions
Monitor key pages
Cons:
Could use more chat window customizations
More languages can be added for better support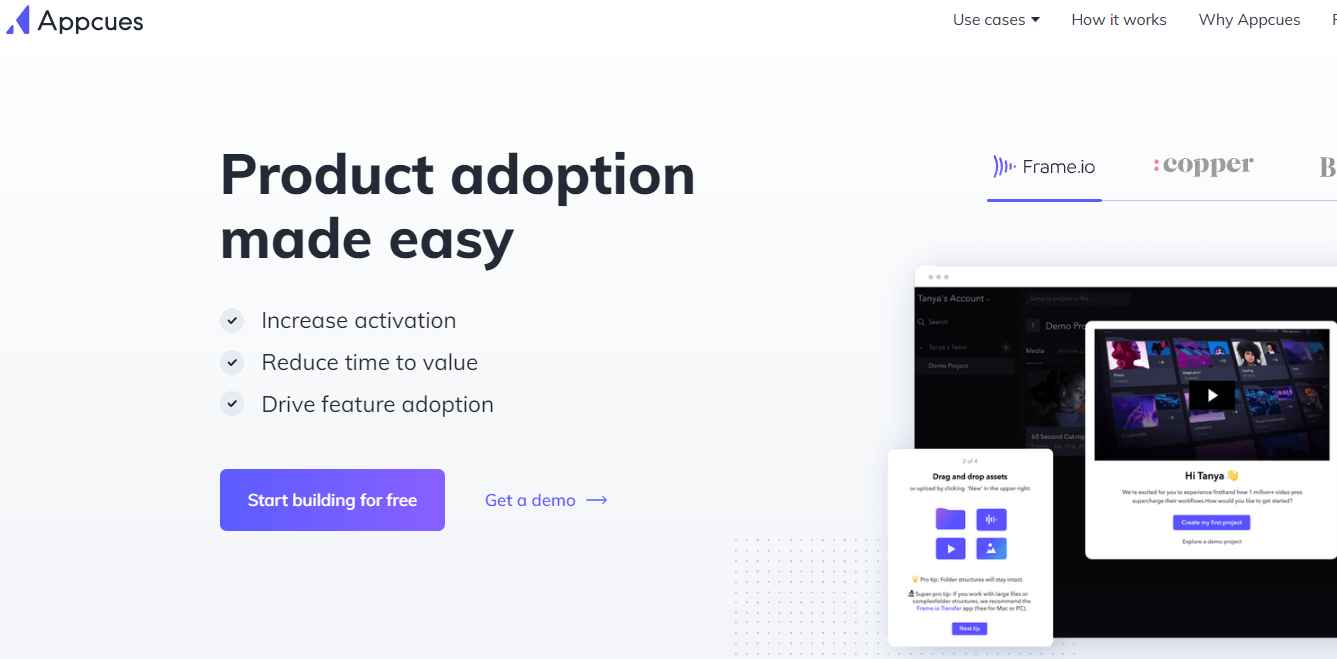 ---
Appcues is a no-code product adoption, and a customer engagement tool that can help you create amazing client onboarding flows for maximum engagement and a great experience. Appcues provides a super-intuitive flow builder that is easy to use and can help you create perfect flows without needing any technical knowledge.
Choose it for: User segmentation, analytics, and audio-video walkthroughs
Integration available: Yes
Suitable for: Medium to large businesses
Price: Starts from $249/month
Features:
Build high-converting onboarding flows without using any codes.
Target experiences to the right audience at the right time using detailed reports.
Use personalized welcome flows to improve user activation and paid conversions.
Reduce churn and improve engagement by building feature adoption flows for your users.
Send targeted in-app messages to your user base and boost growth and engagement.
Know how your optimizations work by looking at product adoption and usage metrics.
Pros:
Instant optimizations
Range of UI patterns
Engagement and completion statistics
Cons:
Also Read: 18 Proven Strategies to Convert Visitors into Paying Customers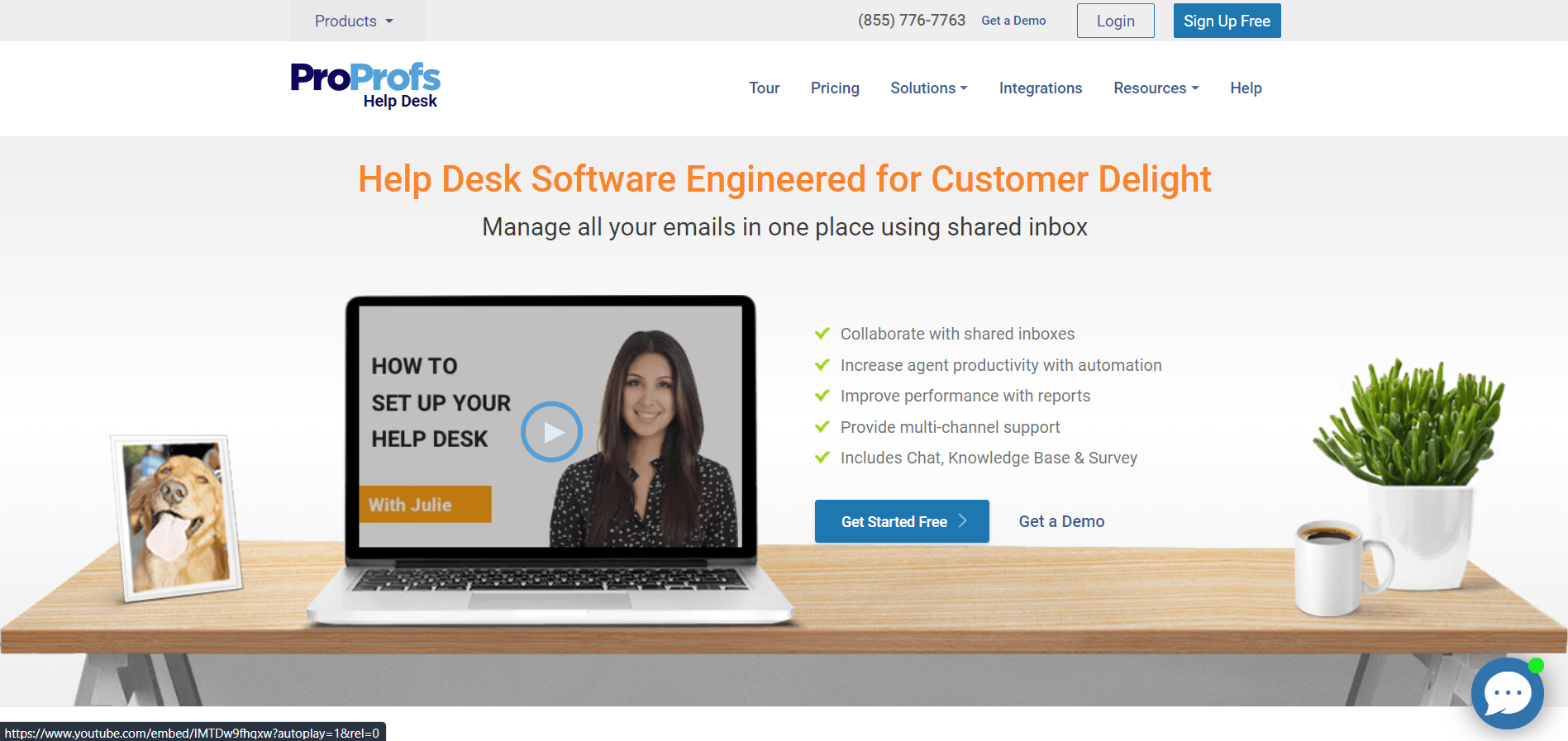 ProProfs Help Desk comes with rich features that help manage several customer-facing inboxes in one place like support@, returns@, contact@, and more. It gives a 360-degree view to support agents of the support experience.
The tool comes with a suite of other tools like live chat, knowledge base, survey maker, etc., to enhance the customer experience.
Choose it for: Ticketing system, Canned responses
Integration available: Yes
Suitable for: Small to large businesses
Price: Starts from $10/month
Features:
Facilitates real-time collaboration between members with canned responses, private notes, parent-child ticketing, etc.
Supports deploying chatbots to help customers and generate leads.
Helps track help desk metrics like customer satisfaction, resolution time, etc.
Has agent collision detection that eliminates ticketing multiple agents for the same ticket.
Lets agents view past conversations with customers to provide context.
Lets you add a support form on the website so visitors can contact them easily for issues.
Integrates with ProProfs Chat, ProProfs Knowledge Base, Salesforce, Microsoft Dynamics CRM, etc.
Pros:
Track key customer service metrics
Manage multiple channels from one place
Streamlined ticketing
Cons:
Can't assign tickets to a specialized agent
Can't personalize messages

---
Helpshift is another engagement tool that focuses on improving the customer support experience.
It is a cloud-based software that simplifies support processes. It has AI-powered automatic workflows that help companies offer a seamless experience to customers.
This customer engagement software automates the issue resolution and offers integration with other third-party tools to reduce the dependency on support agents.
Choose it for: Help desk, Customer service automation
Integration available: Yes
Suitable for: Mid-sized to large businesses
Price: Available on request
Features:
Offers powerful segmentation of issues from the web and mobile apps using tags and user-based criteria.
Helps manage incoming tickets using segmentation based on language, topic, priority, etc.
Segments customers based on online behavior to highlight high-value customers who need help.
Comes with an AI-powered answer bot and powerful analytics.
Supports push notifications, ticket management, push campaigns, etc.
Pros:
Has a lot of macros and shortcuts to improve the productivity of support personnel
Supports in-app messages
Cons:
Usability is not great on iOS
Push Notification Tools
Push notifications work incredibly well in messaging your customers and reminding them about various things to boost customer engagement. Push notification tools deploy messages that pop up on the user's screen while they are navigating through the website or mobile app.
Here are some of the most popular push notification tools: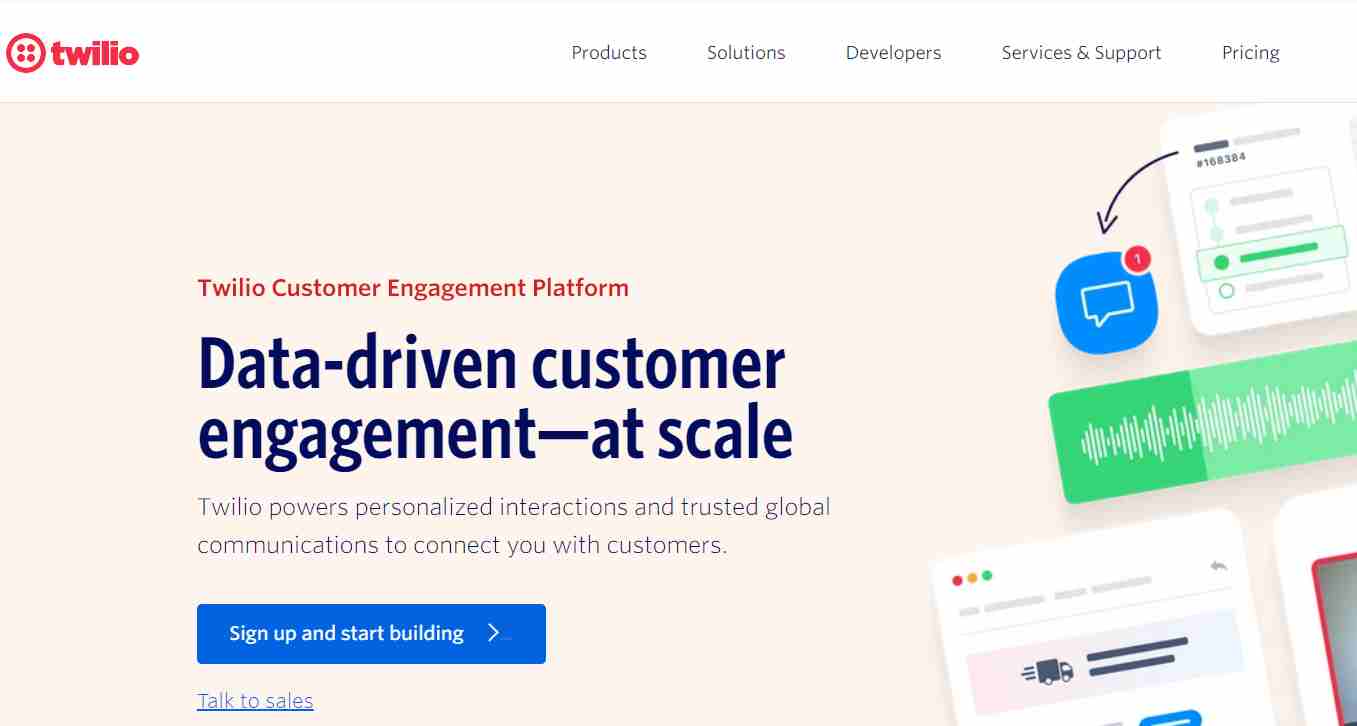 ---
Another one of many such engagement tools for users is Twilio, a well-known communication API tool that offers a suite of tools for different purposes.
This online engagement tool comes with Notify feature that lets you send multi-channel notifications like SMS and push notifications for mobile and web. It offers other tools like serverless tools, Twilio Flex, IVR ( Interactive Voice Response Systems), Bots and more.
Choose it for: Interactive voice response, Communications Platform-as-a-Service, Push notifications
Integration available: Yes
Suitable for: Mid to large businesses
Price: Pay-as-you-go model
Features:
Lets you offer a seamless communication experience to customers by leveraging digital channels like voice, video, messaging, email, etc.
Offers Twilio Flex (programmable cloud contact center), grid marketing campaigns, WhatsApp Business API, Programmable Wireless (IoT), and more.
Supports programmable messaging, programmable voice, and video.
Comes with integrations like Calabrio ONE, Acqueon, Segment, etc.
Pros:
Supports integrations with tools like CRM using Zapier.
Sends bulk notifications
Cons:
Lacks quality analytics data for push notifications
Doesn't offer a dashboard for one-time projects.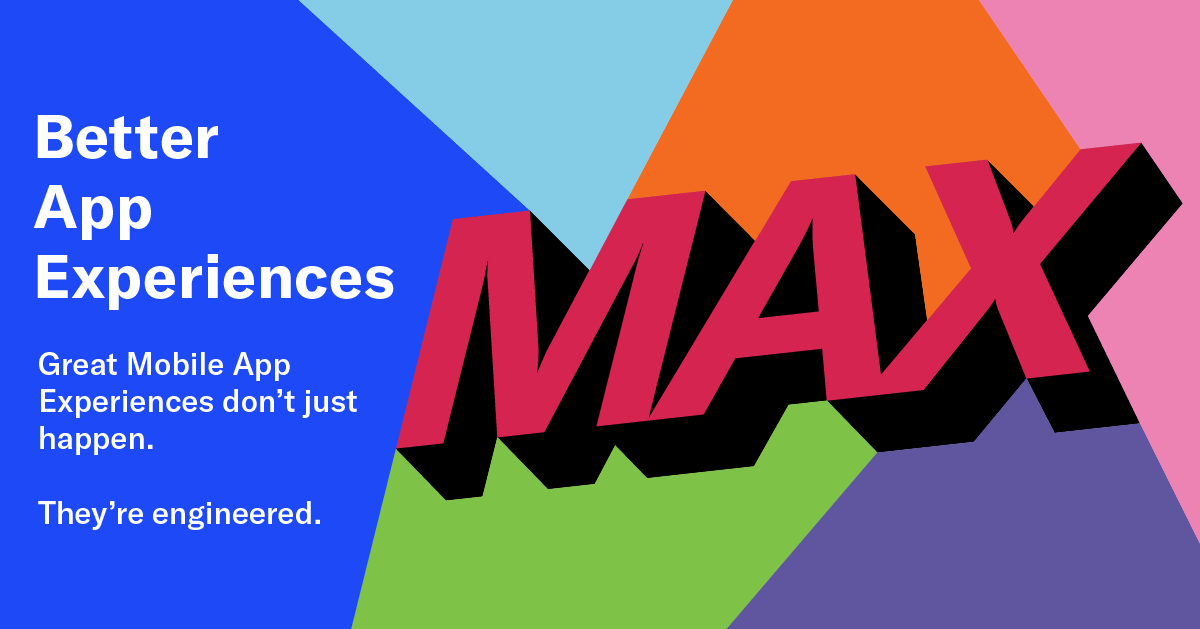 ---
Airship offers different APIs to engage and assist customers in different ways. It is an excellent tool for customer engagement and mobile app experience management. It takes care of everything from onboarding to engagement and retention of users.
The tool also helps personalize the experience, maximize and optimize account creation, and incentivize high-value actions that lead to customer engagement and retention.
Choose it for: Push notifications
Integration available: Yes
Suitable for: Mid to large businesses
Price: Available on request
Features:
Offers REST APIs for messaging, content personalization, and audience management.
Protects data with Transport Layer Security (TLS).
Comes with AXP Messages that help you create personalized and interactive in-app messages.
Lets you adjust the speed of sending messages based on the urgency of the messages and the size of the audience pool.
Helps send push notifications to segmented users.
Comes with other tools that help create walkthroughs of the products without using code.
Helps conduct experiments and product updates using its cross-platform testing feature AXP Experiments.
Offers integration with tools like Zendesk.
Pros:
Constantly offers updates
User-friendly
Great documentation
Cons:
Tricky for A/B testing
Becomes slow when you create detailed and long emails.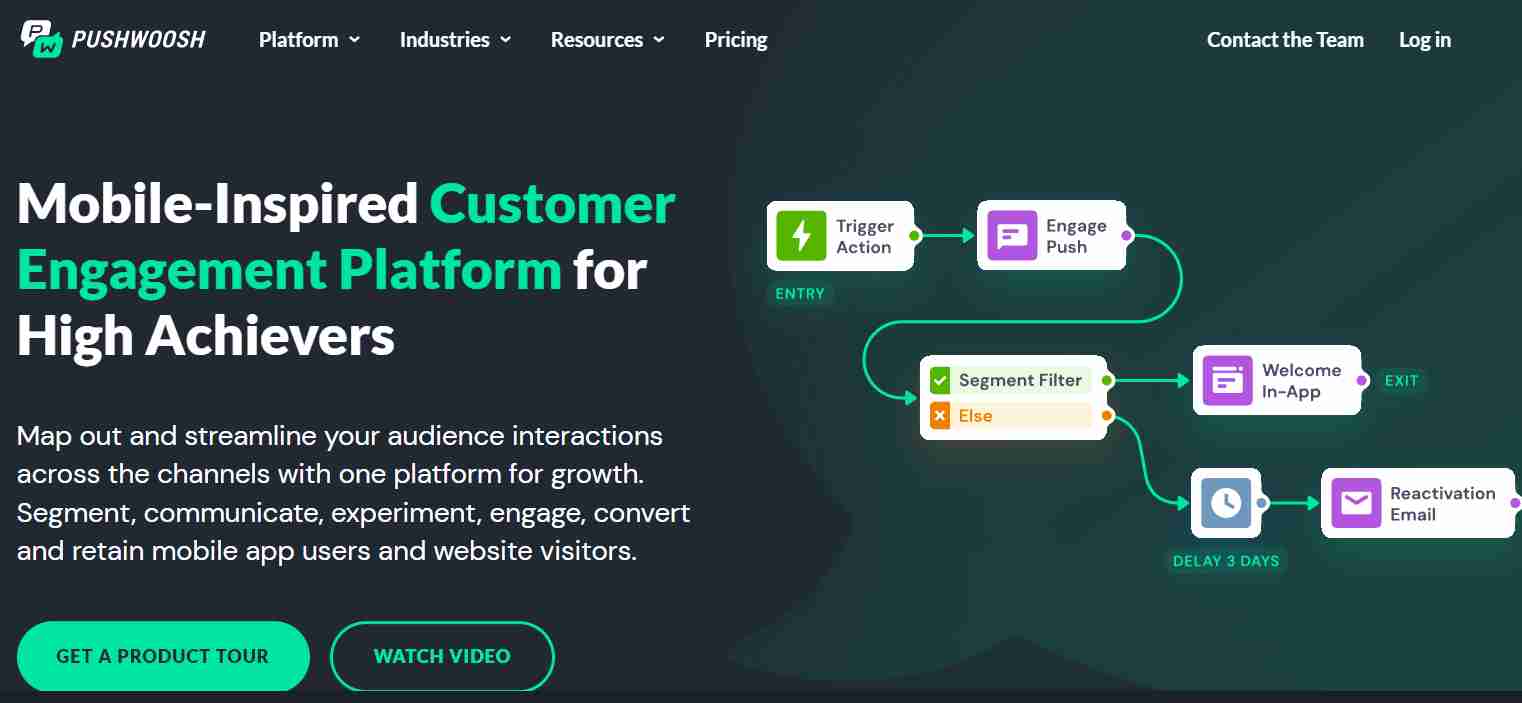 ---
Pushwood is a remarkable customer engagement tool for small businesses. You can create effective marketing strategies and automate them using multi-channel communication like push notifications to boost engagement.
It lets you personalize the push notifications, messaging, and other content types as per the audience based on factors like geographic location, in-app behavior, time zone, etc.
Choose it for: Marketing automation, personalization, push notifications
Integration available: Yes
Suitable for: Small to large businesses
Price: Available on request
Features:
Offers analytics reports on your push notification strategy so that you can see its performance and how to improve it.
Analytics tells you how many customers interact with your push notifications and how many convert.
Facilitates multi-channel communication, including in-app messages.
Has features like deep linking, multi-language support, conversion tracking, A/B tests, and more.
Integrates with Apphud, Google Analytics, Marketo Engage, and more.
Pros:
Target push notifications based on time and place
Email segmentation
Behavioral auto push notifications
Cons:
Confusing and non-intuitive UI
Has a bit of a learning curve
Segmentation doesn't work sometimes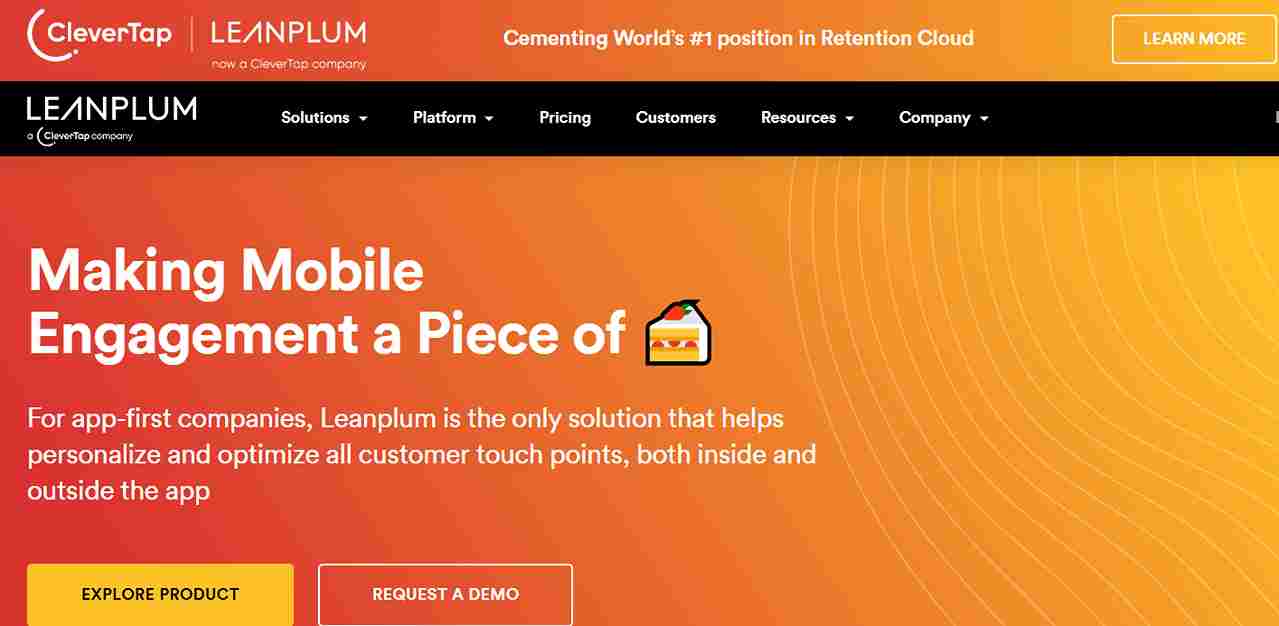 ---
Another customer engagement software on our list is Leanplum. It is a mobile marketing platform that helps businesses enhance the in-app experience with its cross-channel campaigns, including personalized push notifications.
It includes features like in-app and web push notifications, Campaign Composer, in-app messaging, analytics, and mobile A/B testing.
Choose it for: Loyalty-focused marketing, customer engagement, mobile marketing, cross-channel campaigns
Integration available: Yes
Suitable for: Mid-sized to large businesses
Price: Starts from $330/month
Features:
Supports campaign segmentation and management so you can send relevant push notifications to different user segments.
Helps in marketing automation, funnel analysis, drip campaigns, email marketing, mobile alerts, and more.
Offers contextual targeting so that you can place relevant CTAs to increase conversions.
Supports notifications scheduling.
Helps with targeting customers using device targeting and geotargeting.
Integrates with Segment, Tray.io, Tealium, Marketo, and more.
Pros:
Offers multiple messaging, sending, and targeting options
Drip campaigns and triggers work great
Cons:
Analytics doesn't show all reports
Has a learning curve due to its complicated UI
Email Marketing Tools
Another category of online engagement tools is email marketing tools. These tools help businesses strategize, implement, and track marketing campaigns that engage customers with the brand and enhance the experience.
Let's see which customer engagement tools for email marketing you can consider.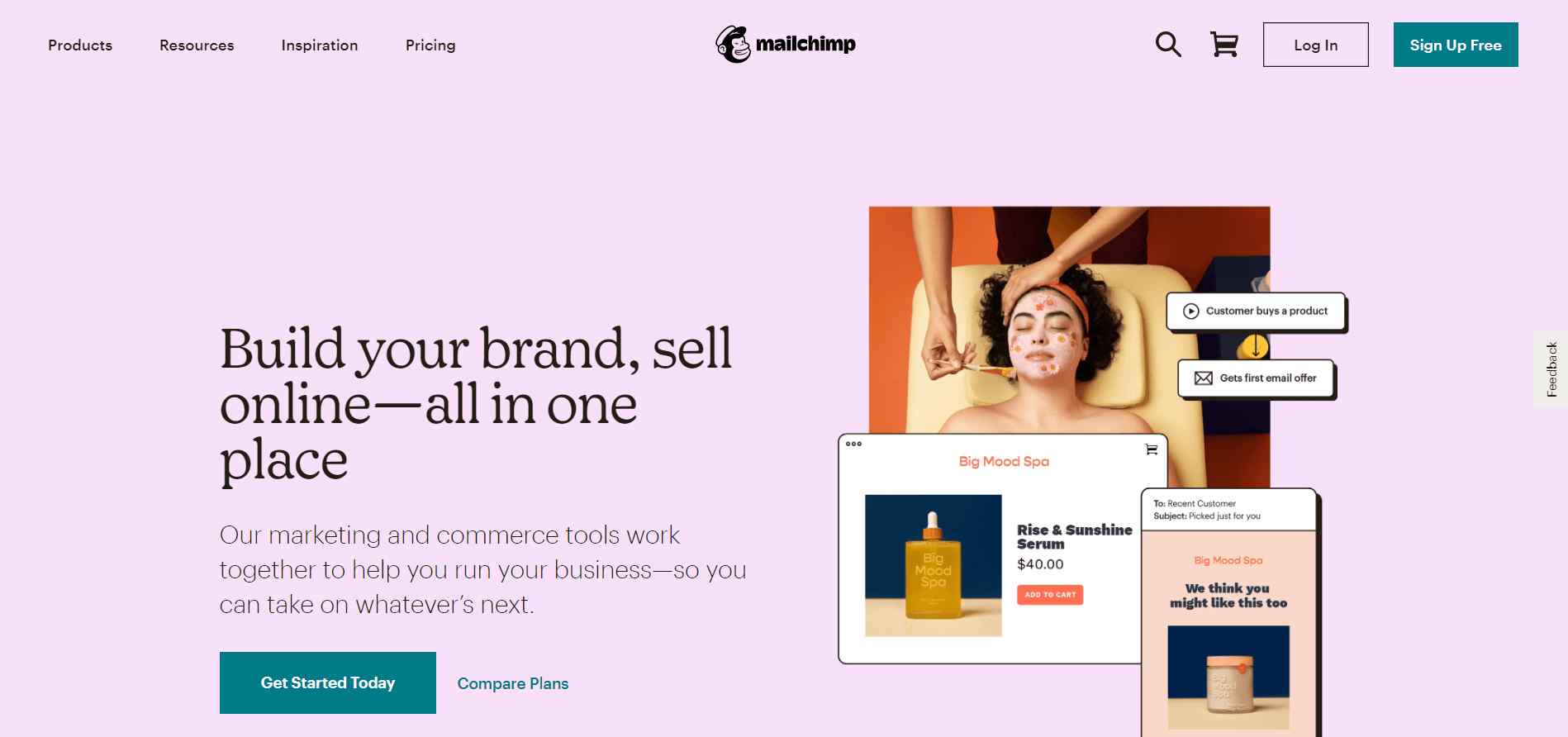 ---
Mailchimp is an excellent digital customer engagement tool for email marketing with AI-powered functionalities to optimize email marketing. It lets you automate emails and create powerful ad campaigns. It helps you stay engaged with customers by helping you remind shoppers about abandoned carts, reengage with lost customers, or even help you cross-sell your products.
Choose it for: Email automation, targeted ads, marketing campaigns, lead forms
Integration available: Yes
Suitable for: Small to large businesses
Price: Starts from $9.99/month
Features:
Helps design landing pages, send postcards, and personalize emails.
Supports reporting, performing analytics, and A/B testing.
Facilitates mobile preview.
Enables you to send high-volume outbound emails automatically.
Offers email templates and a drag-and-drop builder.
Lets you create ad campaigns and post on social media.
Supports automated follow-up emails and behavioral targeting for emails.
Integrates with tools like Qualaroo, Salesforce, Google Analytics, etc.
Pros:
Support up to 2000 contacts in a free plan
Customizable templates using HTML/CSS editor.
Campaign analytics to track its performance
Cons:
Basic templates
Limited features in the mobile app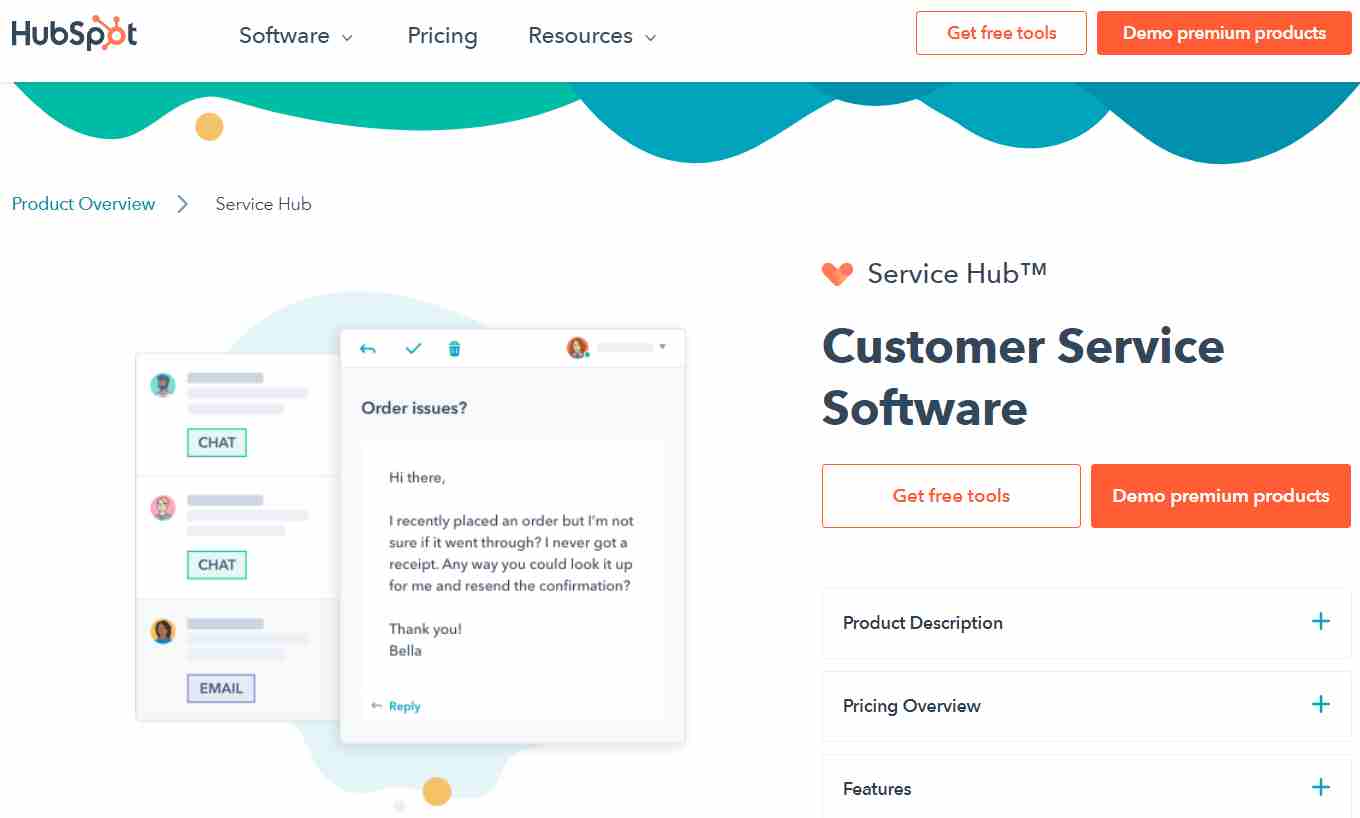 ---
Another one of the best tools for customer engagement is HubSpot. It lets you create, personalize, and even optimize marketing emails without any help from designers.
It also offers tools catering to business needs like social media marketing, customer support, SEO, content marketing, content management, analytics, and more.
Choose it for: Data enrichment, CRM, Email marketing
Integration available: Yes
Suitable for: Medium to large businesses
Price: Starts at $45/month
Features:
Helps you design tailored email marketing campaigns as it fetches accurate data from HubSpot CRM.
Comes with multiple goal-based email templates.
Has a drag-and-drop editor that helps customize layout, CTAs, and other branding elements.
Fetches CRM data to help you create powerful subject lines and CTAs for each customer.
Lets you schedule your email campaign.
Performs A/B tests on emails to help you discover the most relevant and engaging subject lines to boost email open rate.
Facilitates email automation for a quick follow-up on customers
Integrates with tools such as Salesforce, NetSuite, Qualaroo, Microsoft Dynamics CRM, etc.
Pros:
Effective integration with other HubSpot tools
Streamlines reporting
Supports downloadable reports
Cons:
Scatters data from email workflows
A limited number of reports on the dashboard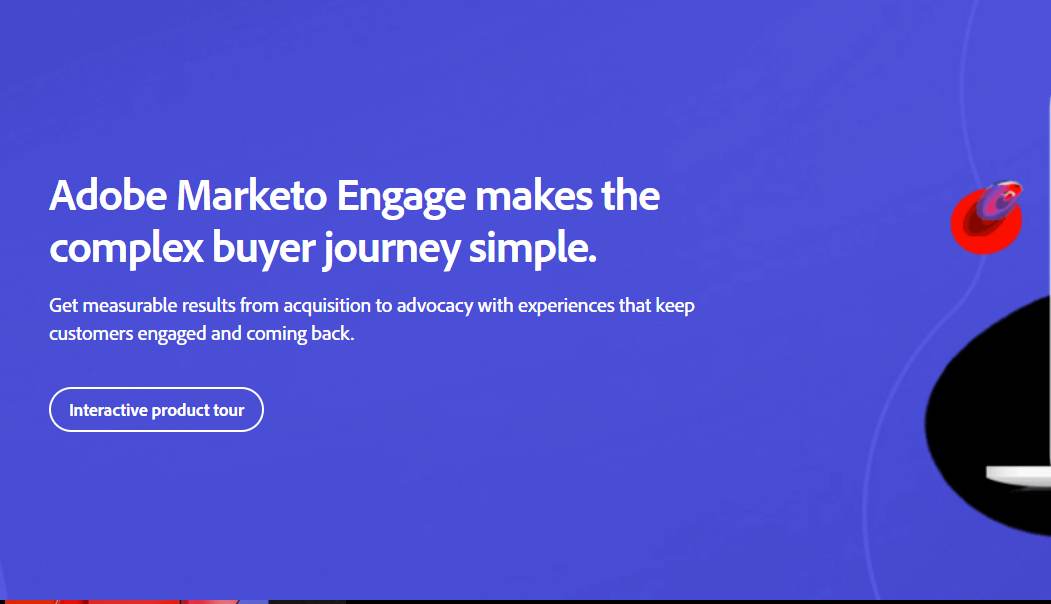 ---
The second last customer engagement tool on our list is Marketo by Adobe, that's perfect for your marketing efforts. It helps create robust marketing campaigns and strategies that boost conversions and engagement.
The tool brings content, customer data, analytics, and automation to measure customer engagement and help personalize the experience. It offers other tools as well as a suite.
Choose it for: Segmentation, Personalization, Marketing automation
Integration available: Yes
Suitable for: Small to large businesses
Price: Available on request
Features:
The suite is segregated into apps so businesses can customize their subscription plan.
Helps you design, automate, and measure marketing campaigns across different channels.
Helps you target customers per account to personalize marketing campaigns using AI.
Lets you communicate with customers on mobile devices.
Helps you launch personalized display ads to target the right customers.
Comes with a Content AI feature that automates the personalization of the content that customers want to see.
Comes with the Marketo Sales tool that helps sales representatives find high-value leads and engage them.
Integrates with Adobe Suite, Slack, Zendesk, Segment, and more.
Pros:
Helps you send engaging content through personalized touchpoints
Offers a comprehensive marketing suite
Flexible/customizable subscription plans
Easy setup
Cons:
Has a bit of a learning curve
No built-in CRM
Analytics and reporting features need improvement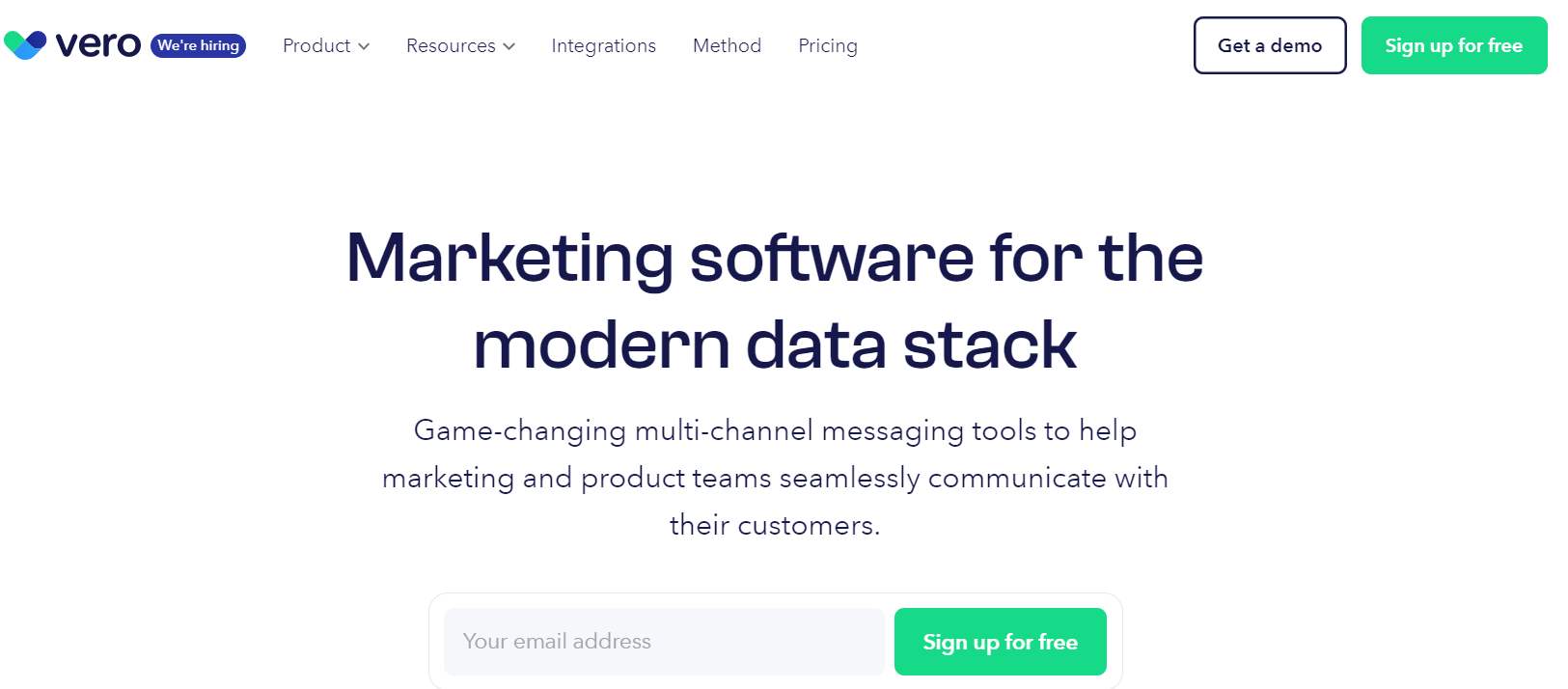 ---
Last but not least engagement tool is Vero. It leverages customer data to help businesses valuable experiences for the customers. It's great for creating personalized customer interactions and managing marketing campaigns. The tool offers two modes of data storage – one as a cloud marketing software and another one called connect which can have marketing powered by your data warehouse.
Choose it for: Behavioral and transactional emails
Integration available: Yes
Suitable for: Small to large businesses
Price: Starts from $49/month
Features:
Comes with campaign analytics, campaign management, CAN-SPAM compliance, and more.
Supports campaign segmentation to target the right customers for specific campaigns, lead management, Drip campaigns, landing page creation, and more.
Lets you create customizable CTAs and perform A/B testing.
Integrates with Segment, Google Sheets, Snowflake, Zapier, and more.
Pros:
Supports event-triggered actions
Target customers based on online behavior
Cons:
Some integrations don't work smoothly
The tool becomes costly if you add too many events
Engaging Customers Is One Tool Away
So, that was our take on the best customer engagement tools you can try to engage your customers and boost retention on your website and mobile apps.
You can consider the above categories of tools to fulfill different purposes in your customer engagement strategies.
For example, you can try FullStory to track rage clicks, page transitions, and Appcues to optimize internal communication. Similarly, Mailchimp is an excellent choice for creating successful marketing campaigns, Twilio to enable push notifications, and Qualaroo to collect in-content feedback.
You can start by listening to your customers, understanding their experience, and creating strategies that ensure high customer engagement.
Want insights that improve experience & conversions?
Capture customer feedback to improve customer experience & grow conversions.