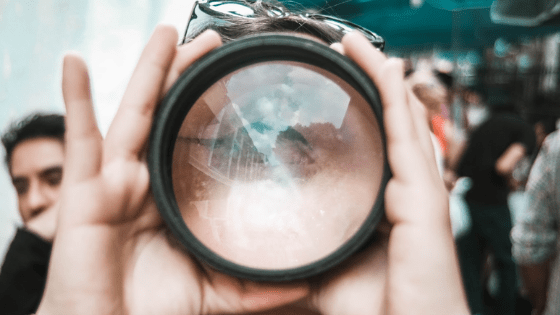 When it comes to methods of gathering feedback, the gold standard for marketers is the in-person focus group. This format offers an opportunity to gather opinions, verbal feedback, and observation of attitudes about your product. However, focus groups can also be costly and time-consuming, which can be prohibitive for small teams or small budgets. But this shouldn't hold you back from gathering high-quality feedback.
Here are four ways to duplicate the results of a focus group from afar.
1. Gain Demographic Data by Polling Web Traffic
It's amazing what people can reveal once you begin asking thoughtful questions. A common pain point that our customers express is not knowing enough about their website traffic. Getting more information about the demographics of your website traffic can help you better understand your audience, and of course, the effectiveness of your marketing campaigns.
A simple way to gather key information about your website visitors is to implement a Qualaroo nudge on your website targeting all "unknown" visitors and asking questions that can help you better segment your audience. Ask questions like:
What industry are you in?
What is your current job function?
Once you've gathered demographic data about your target persona, you can follow up with a question about the particular product or topic that you're researching. Demographic data married with target marekt feedback allows you to segment your audience and better understand pain points in a more contextual way.
To make the most out of your research efforts, you can collect a participant's contact information at the end of your feedback prompt. This will allow you to contact them individually for additional questions, should you find something interesting in their responses or want to follow up on themes that emerge once you've reviewed all responses. This process allows you to ensure that the time you spend having one-on-one conversations is fruitful.
Check out our article on how we use this tactic at Qualaroo.
Why you should use it: When using this tactic, you'll have the combined power of demographic data and feedback. Even if the data is not comprehensive, it will provide important context for marketing and product teams as they build for their customer's needs.
2. Utilize Social Media Channels
One reason that companies love focus groups is that you can gain insights for a specific segment of your target market, such as women between the ages of 25 and 32. But locating and confirming availability for a number of people that fit an (often narrow) set of characteristics can require a lot of time, effort and money.
But with the advent of paid social media campaigns, companies now have a cost-effective way to gain a comparable understanding by targeting specific audiences. Using the demographic data available to them on Facebook or LinkedIn, marketing teams can create social media campaigns that will draw specific prospects on to your site or to a landing page. With social media channels, you can target audiences based on attributes like:
Age, Gender
Interests
Geographic location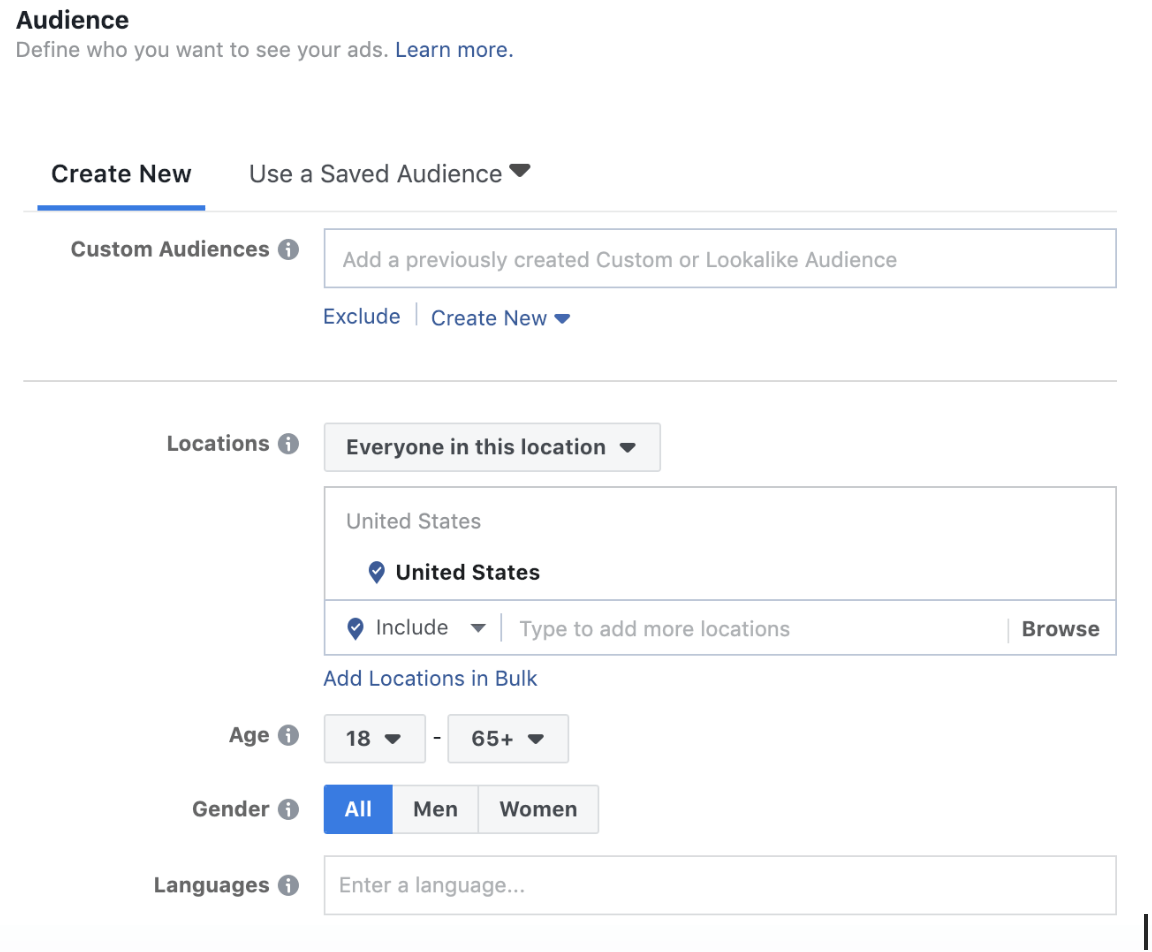 Facebook Business targeting features allow you to target by age, gender, and more.
Make use of UTM parameters to ensure that you're accurately tracking where prospects are coming from in order to assess the effectiveness of your marketing campaigns. With UTM parameters in place, create a trackable call-to-action that will lead viewers to a specific landing page created for the campaign.
Once you have brought your leads to the landing page, ask them questions designed specifically for the segment they represent. For example, you can create a unique UTM parameter for women between the age of 30-35, and ask them a different question than the rest of your audience segments. You can do the same for women above the age of 35 and ask them a different set of questions. This way, you'll have collected feedback for multiple segments of your target market and be able to compare the data and identify any trends.
This is a relatively inexpensive way to gather data about a particular demographic, that also allows you to quickly make edits to the questions you are asking. If you realize that a specific question may not be relevant to women above 35, you can edit your questions accordingly. Automating your persona research efforts makes them dynamic, as opposed to spending thousands of dollars putting together a focus group that you can't easily revisit for additional or different questions when you realize you're off track.
Why you should use it: Targeting the right audience is very easy (and relatively inexpensive) using social channels. As compared to an in-person feedback session, you can also easily change your questions and capture contact information for follow up questions.
3. Utilize Screen Recording and Heat Mapping
One of the great benefits of a focus group is the opportunity to observe your ideal customer, which gives product teams and marketers a clearer understanding of how customers actually interact with their products. This type of data often doesn't make it into traditional survey results because a customer may be struggling with part of a product or using it incorrectly without even realizing it. Being able to observe that misunderstanding in action could reveal the necessity for change.
However, screen recording tools can duplicate that observation for digital and SaaS products without a team ever meeting the actual users. Crazy Egg serves as a great diagnostic tool for identifying what happens before a user exits, the places customers spend the most time, and the spots that may be confusing or frustrating.
If you aren't familiar with screen recording, it's a common user experience tactic where a tool records a user's actions on a site or app. By watching these recordings, user researchers can gauge what aspects of the site may be confusing based on cursor movements or how long certain activities may take to accomplish.
An Example of Crazy Egg Screen recording via Crazy Egg.
Similarly, heat mapping tools can also help researchers gauge usability issues or even things like customer opinions on new messaging or web copy. Heat maps visually represent where on a webpage visitors tend to gravitate or spend the majority of their time.
A Crazy Egg Heat Map Example
For example, let's say you have a sidebar on a webpage with some relevant but not crucial information and realize that customers tend to gravitate to it as opposed to the actual call-to-action on your page. You can ascertain that the sidebar may be confusing (or maybe just distracting) for visitors and causing them to ignore the primary purpose of this page.
This sort of information can inform product or site updates that can lead to improvements in usability and more effective marketing efforts.
Why you should use it: Heatmapping and screen recording are probably the best approximations of in-person testing for digital products. You may not be able to see the facial expressions or hear any audible responses, but viewing the screen of someone who is using your product is the next best thing.
Another powerful feature of focus groups is the ability to connect and interact with your target market. Answering in-depth questions and creating a personal connection is difficult to duplicate online, but you can approximate the experience through the use of an online chat tool.
Hubspot's chat tool, for example, allows for triggers that help put agents in touch with customers at just the right time. If a visitor is having a difficult time on the pricing page, for instance, a live chat agent can step in, answer questions and discern which parts of the page were confusing. One of the best things about this type of tool as well is that you can automate a few prospecting questions before connecting an agent to a lead. This way you're only asking your team to use their time on leads who fit your prospecting profile.
Many of these tools also use logic and question branching as well to not only make the experience more personalized and relevant but also somewhat dynamic. For example, if a visitor indicates they're not a customer but want to learn more about your product, you'll want to display different information than if they indicate they are a current customer having an issue with your service.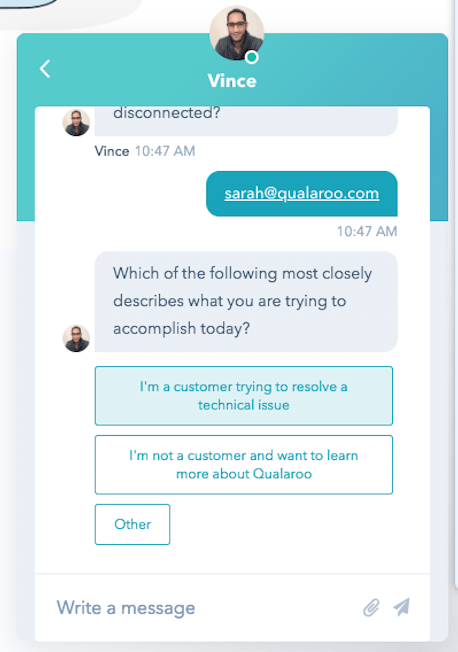 In order to capture feedback, it's important that a sales or customer success team member is behind the keyboard reaching out and gaining insight while making a connection.
Additionally, transcripts of these interactions can be input into sentiment analysis tools, making the tone and content of these conversations easier to track for measuring improvement. We know that this type of open-ended feedback is high-fidelity and typically very insightful, but at scale, organizing it into something that is systematic and easy to understand may require some additional help.
Why you should use it: Live chat gives you the option to blend automation with human interaction. Pre-qualify leads before asking your sales team to connect with them.
Putting it all together
Of course, how to gather feedback is important, but not quite as important as how you use it and what you're able to do with it. Stringing together all of the prospect and customer data with the feedback you receive is important for identifying trends and how to potentially improve your product or service for various customer segments and prospects.
With so many different ways to segment and reach out to your ideal buyer, you can certainly find ways to use the data you have about your customers and prospects to tailor messaging and calls to action. For example, your feedback may reveal that your customers in e-commerce seem to have a much easier time navigating your web app people in the oil and gas industry. Alternatively, you may find that customers who have a product-focused background seem to click more of your video content, whereas marketers tend to gravitate to read the text as opposed to watching videos.
These kinds of insights can enable you to figure out how to improve your product or webpage to personalize the experience and make it as valuable and user-friendly as possible.
High-Quality Feedback Is Always Within Reach
Not every marketing team has the time or resources to put together a traditional focus group. But with the help of these four alternatives, the powerful results yielded by in-person focus groups can be at hand for marketing teams of all sizes and budgets.
Want insights that improve experience & conversions?
Capture customer feedback to improve customer experience & grow conversions.