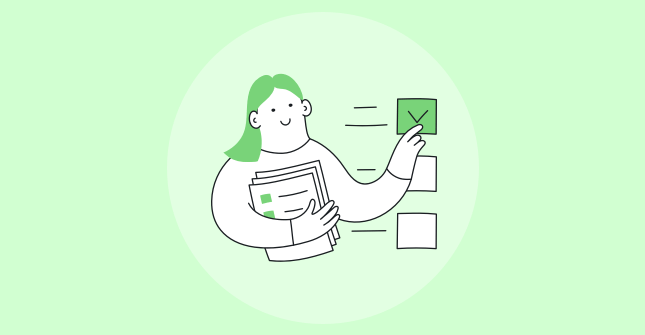 With market saturation comes customer confusion.
Today, the market is heavily saturated with different tools for creating surveys and online forms.
In such a scenario, it becomes difficult for companies to beat the competition and equally challenging for customers to pick the right tool for their business.
For example, if you have been using Formstack but now want to explore the other options to see which one better fulfills your business needs, it won't be that easy.
Well, that's not true.
We will make it easy for you to find top Formstack alternatives.
But, first things first, why do people switch from the tool to its alternatives?
And if you haven't tried Formstack yet, the more appropriate question would be, "What is Formstack, and why should you consider its alternatives?"
So, here we go.
---
About Formstack
Formstack is a form builder tool known for its contact management and web form development features. It renders a code-free experience for creating surveys and forms for web and mobile.
Choose for: Contact management, multi-channel survey deployment, calendar management
Suitable for: Medium to large businesses
Price: Starts from $59/month
Features:
Provides features like attendee tracking, badge management, contact management, calendar management, document management, etc.
Comes with a drag-and-drop editor to build forms and surveys in real-time.
Supports form and survey deployment on social media platforms to increase the response rate.
Offers integrations with 50+ web apps like PayPal, Salesforce, MailChimp, etc.
Offers archiving surveys and compliance tracking.
So, why do businesses keep looking for Formstack alternatives when it offers various features and functionalities?
What's missing in this tool that the users crave? Let's have a look.
12 Best Formstack Competitors To Help Choose Your Perfect Tool

Formstack Alternative #1: Qualaroo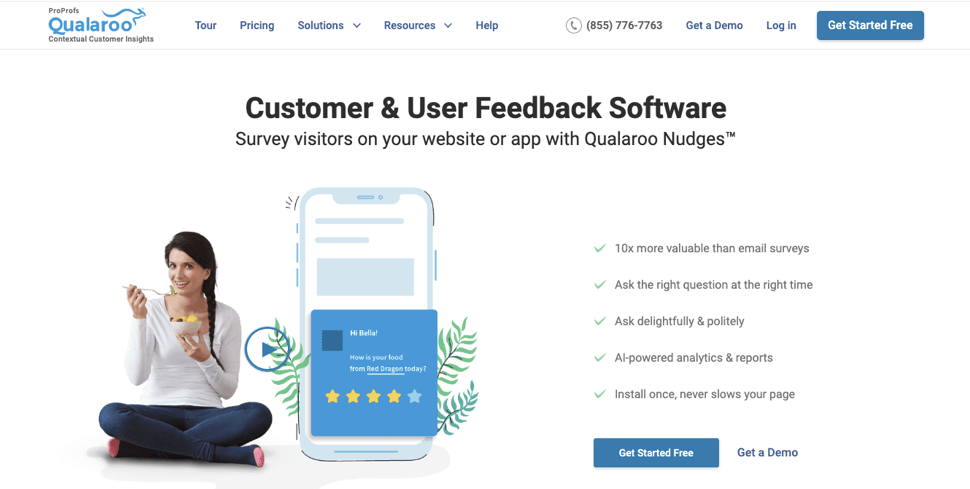 ---
If you want to create aesthetically pleasing and interactive surveys and forms, then Qualaroo is one of the best Formstack alternatives you can look for. This customer experience platform collects feedback on your website, mobile app, and prototypes without disrupting the user experience.
You can use Qualaroo's NudgeTM feature to bypass survey fatigue and get a good response rate on your surveys and forms.
Choose for: Pop-up surveys, intuitive reporting, advanced targeting, multiple survey types, sentiment analysis
Suitable for: Small to large businesses
Price: Starts from $69 per month.
Features:
Easily collect in-context feedback with multiple question types.
Analyze data in real-time using its intuitive reporting and Sentiment Analysis engine, powered by IBM-Watson.
Lets you ask the right questions at the right time and place with advanced reporting, targeting, and AI analysis.
Supports branching and skip logic to align feedback collection with your customer journey.
Comes with various integrations such as MailChimp, Salesforce, HubSpot, Zapier, and more.
Offers various pre-designed templates such as Net Promoter Score, Customer Satisfaction Surveys, Customer Effort Score, and more to help you deploy surveys in minutes.
---
Pros:
Multiple triggers for surveys like exit-intent
Easy customization and personalization options for surveys and templates
Supports surveys in 21 languages
Cons:
Dashboard interface is not as intuitive
Lacks industry-specific templates
Case Study:
GraphicSprings is a free logo maker platform that wanted to increase conversion rates and revenue. The team tried to do it by using traditional email surveys to ask customers for their feedback, but the process was ineffective and slow.
With Qualaroo, the team deployed three surveys on its website: user experience, exit intent, and demographic surveys. Soon, they had all the insights they were looking for to improve what needed improvement.
The result?
The bounce rate dropped by 8%, and the revenue increased by 41%!
---
Formstack Alternative #2: Proprofs Survey Maker

---
ProProfs Survey Maker is yet another Formstack competitor we recommend you to try. The platform is excellent for designing different surveys, polls, forms, quizzes, and more with a gradual learning curve.
Because of its incredible features, the platform has bagged some big industry names like Sony, Intel, and Dell as clients.
Choose for: Conducting the multi-channel surveys, Surveys, Quizzes, Forms, and Polls
Suitable for: Small to Big businesses
Price: Starts from $19 per month.
Features:
Allows you to create surveys with 1,000,000+ goal-oriented survey questions to gather authentic and in-depth feedback.
Simple and intuitive interface that's easy to navigate.
Lets you easily create and deploy surveys and forms with its drag-and-drop editor.
Supports customization and personalization of surveys.
Integrates with third-party tools like Zendesk, MailChimp, etc.
Offers survey templates and a vast question library.
Pros:
Multi-channel surveys
Offers a feedback sidebar button for a non-intrusive user experience
Cons:
Takes a while to get used to the editor
Limited survey types
Case Study:
The California Department of Public Health (CDPH) needed software to help design better learning programs and courses. Using ProProfs Survey Maker, they built some surveys and quizzes to evaluate the knowledge gap.
In the words of Sharon Irvine, Office Tech –
"We save a lot of time in issuing certificates and better training tracking. Our records are well-maintained now, and we can easily share them with other people."
---
Formstack Alternative #3: Zoho Forms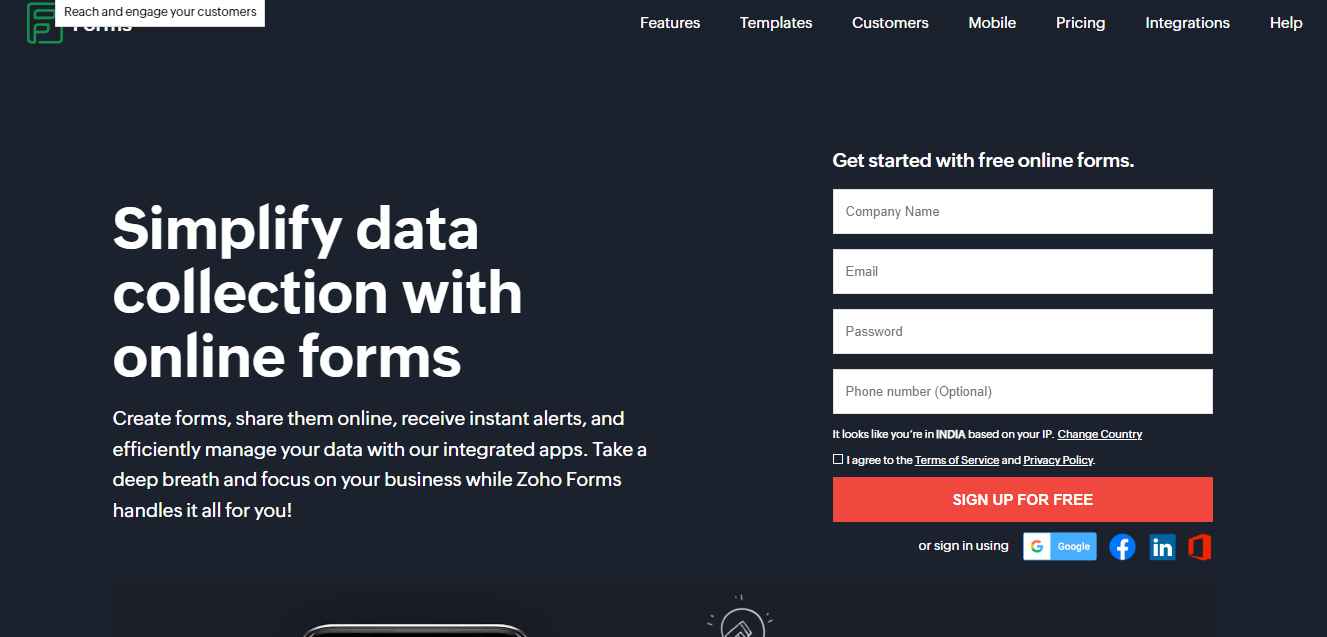 ---
Zoho Forms is an excellent form builder and one of the top Formstack alternatives.
It backs up all the data on the cloud and comes with a drag-and-drop builder that's mobile responsive.
Besides form creation, the tool also supports approval workflows, task assignments to enhance productivity, and native mobile apps for Android and iOS.
Choose for: Forms creation, full-text search, version control, task assignment
Suitable for: Small to mid-sized businesses
Price: Starts from $12/month
Features:
Comes with pre-built, customizable themes and templates.
Easy to integrate with Zoho products like Zoho CRM, Campaigns, Creator, Google Apps, and MailChimp.
Supports sharing forms via email to selected users and a shareable link accessible by everyone.
Lets you create online forms, collect feedback data, and complete workflows.
Comes with an intuitive drag-and-drop mobile and web form builder.
Offers field and form rules to set up spontaneous form flows.
Tracks conversion rate, response errors, etc., through Graphical analytics.
Offers offline support so that you can sync data when you come back online.
Pros:
Tracks the results in real-time.
Offers a variety of response types
Sends response notifications
Lets you export reports in CSV and PDF format
Clean dashboard
Cons:
Doesn't let you add multiple fields on the same row
CRM fields are only accessible to paid users
No custom filters to analyze reports
Case Study:
Waterford City & County Council wanted to push out as many customer queries as possible. For this, they needed a flexible tool to create forms with different control settings.
They used Zoho Forms and soon saw an increase in the response rate for their forms.
---
Formstack Alternative #4: Google Forms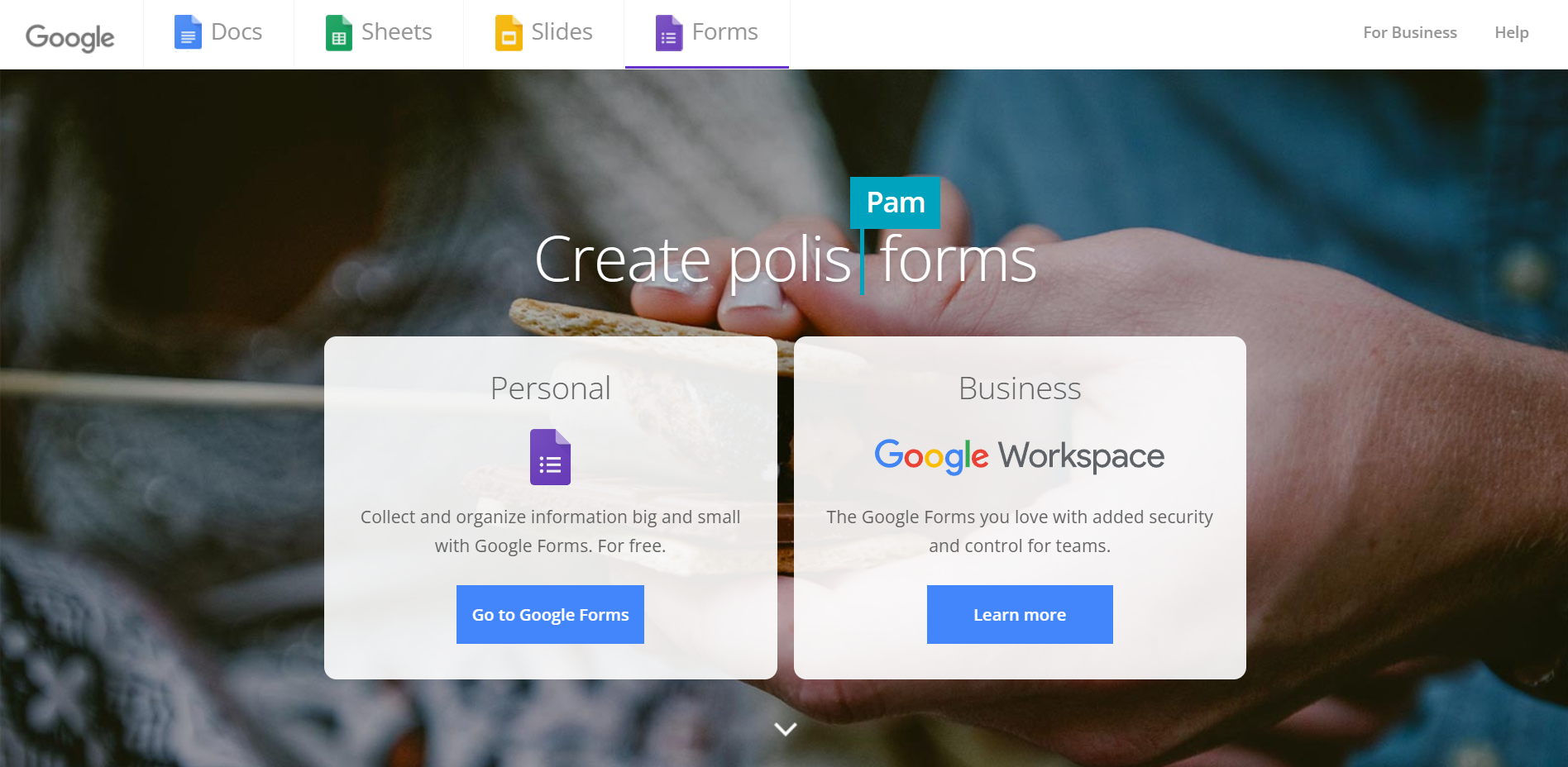 ---
Among many tools in its suite, Google also offers Google Forms, one of the free Formstack alternatives. It's a very simple tool to create and share forms with others using shareable links.
You can opt for Google Forms if you want a free alternative with elementary functions. But if you need features like customization, analytics, etc., you should consider other tools on the list.
Choose for: Online forms, polls, surveys, multi-channel deployment
Suitable for: Small to large businesses
Price: Free
Features:
Lets you design custom questionnaires that can be shared across different social channels.
Gather feedback in real-time with simple questions.
Offers different question types such as open-text, radio button, Likert scale, etc.
Keep forms in the private setting with access control options.
Supports skip and branching logic.
Offers responsive forms.
Integrates with tools like Google Suite, Trello, Asana, and MailChimp.
Pros:
Support for devices like smartphones, tablets, and desktops
Automatically saves edits
Data is saved in the cloud
Cons:
Tricky to make edits while updating
Doesn't support pop-up surveys
Case Study:
Many companies like Kaseya Limited, Inc., and millions of other small businesses and startups use Google Forms to collect customer feedback.
---
Formstack Alternative #5: Jotform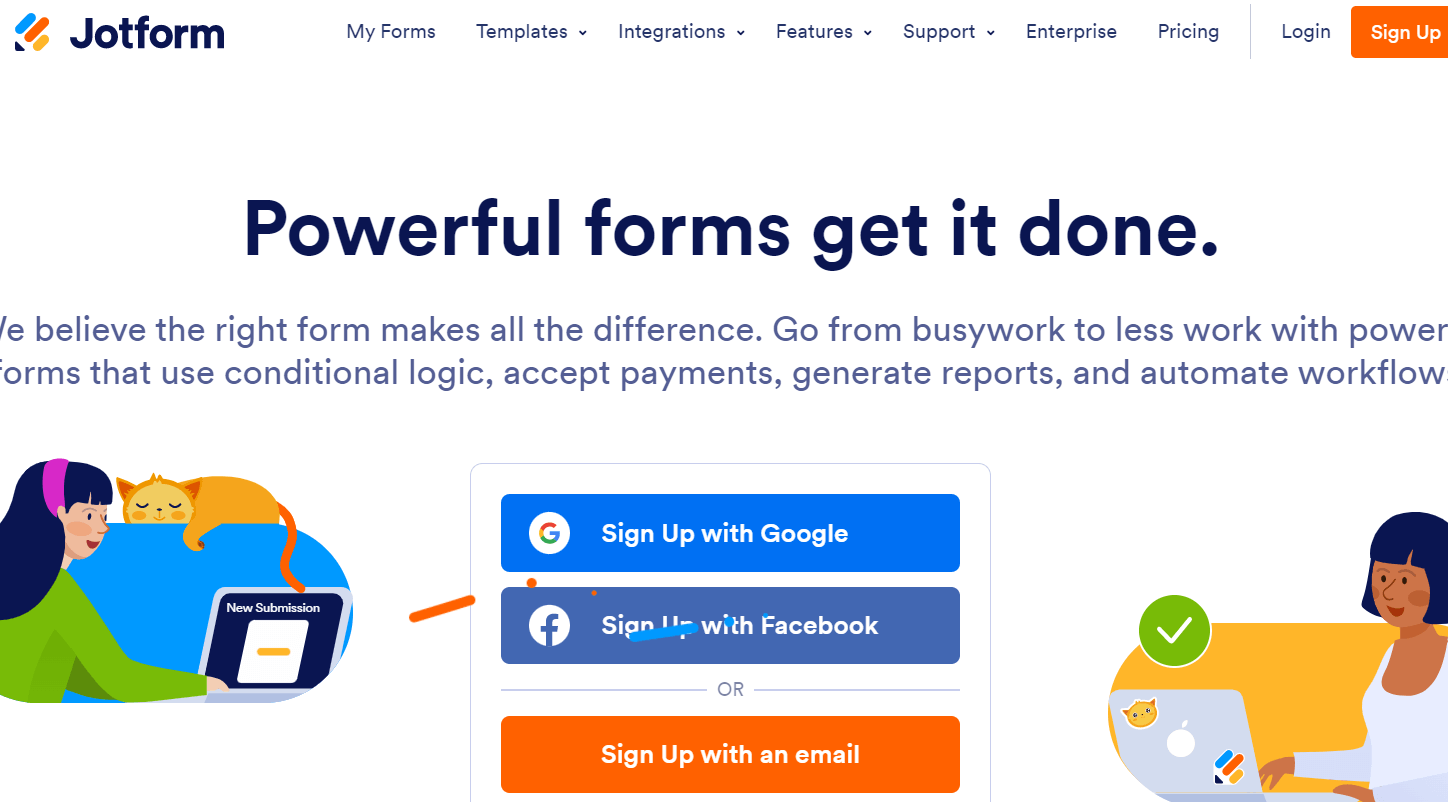 ---
Jotform is yet another one of the top Formstack alternatives on our list. This online survey software offers features such as data analysis of the collected data and extensive integrations with different tools. Apart from the typical Form Templates, it also offers different types of templates, such as Card Form Templates, App Templates, Approval Templates, Table Templates, and PDF Templates to choose from.
Choose for: Online form creation, Form migration
Suitable for: Small to mid-sized businesses
Price: Starts at $24/month
Features:
Helps you create forms for customer feedback, lead generation, and payment gateways.
Offers SAML user authentication.
Enables you to host your Jotform account in any country.
Helps you import existing forms.
Creates mobile-first surveys that you can add to the apps.
Offers 400+ apps and integrations.
Supports offline data collection and data security.
Pros:
Helps create forms on mobile devices
Supports creating HIPAA-compliant forms
Form duplication
Cons:
Customer support
Lack of features on the mobile version
Limited customization options for templates
Case Study:
The Washington Post used Jotform's API to collect information on their web page about their cooking classes without updating it every time someone submitted a cooking class manually.
---
Formstack Alternative #6: SurveyMonkey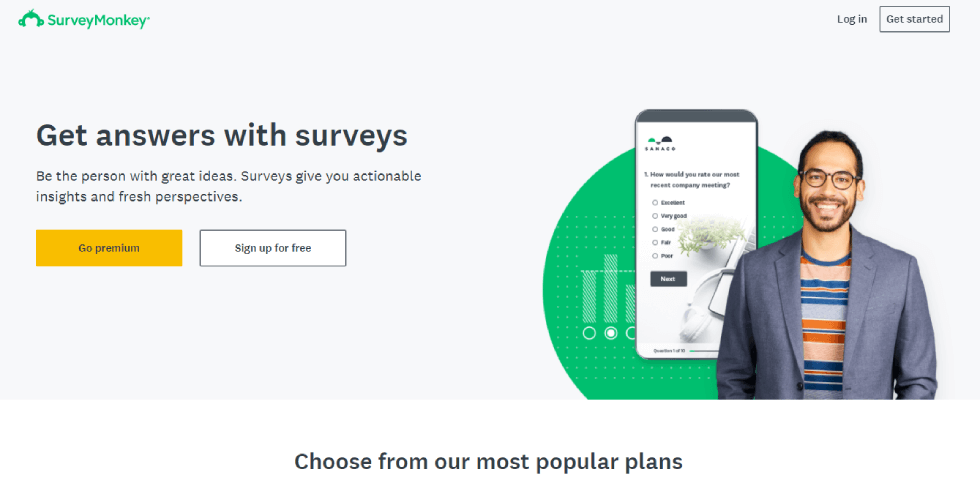 ---
Another one of the top alternatives for Formstack is SurveyMonkey. It is a survey and form-building platform that lets you analyze feedback results in real-time.
The tool helps you create complex question sets without the need for coding. It offers free registration, so you can start creating forms and surveys instantly.
It's known for its asset library of targeted surveys, custom logos, and more.
Choose for: Posting recurring surveys and tracking customer sentiments to get the accurate context behind the data
Suitable for: Small to mid-sized businesses
Price: Starts from $25/month
Features:
Offers 1000+ pre-designed questions to help you deploy forms in real-time.
Supports 15 question types.
Integrates well with multiple tools like Salesforce, Marketo, HubSpot, etc.
Lets you create survey URLs for easy sharing on different platforms.
Comes with Sentiment Analysis and Word Cloud to help you gauge customer sentiment.
Exports data in multiple formats such as PDF, CSV, PPT, XLS, and more.
Pros:
Supports branching and skip logic
Easy to create surveys
Advanced reporting
Cons:
No free trial
Not suitable to re-survey customers after some time
Case Study:
Wahl Clipper offers grooming products across 150 countries. During the pandemic of 2020, customers stopped availing its hairstyling services.
The company needed to understand customer sentiment to evolve as the market changed rapidly.
Using SurveyMonkey's pulse surveys, the company discovered new custom segments who wanted to style their hair at home.
This helped the company redirect its marketing efforts and target this new customer persona.
---
Formstack Alternative #7: Typeform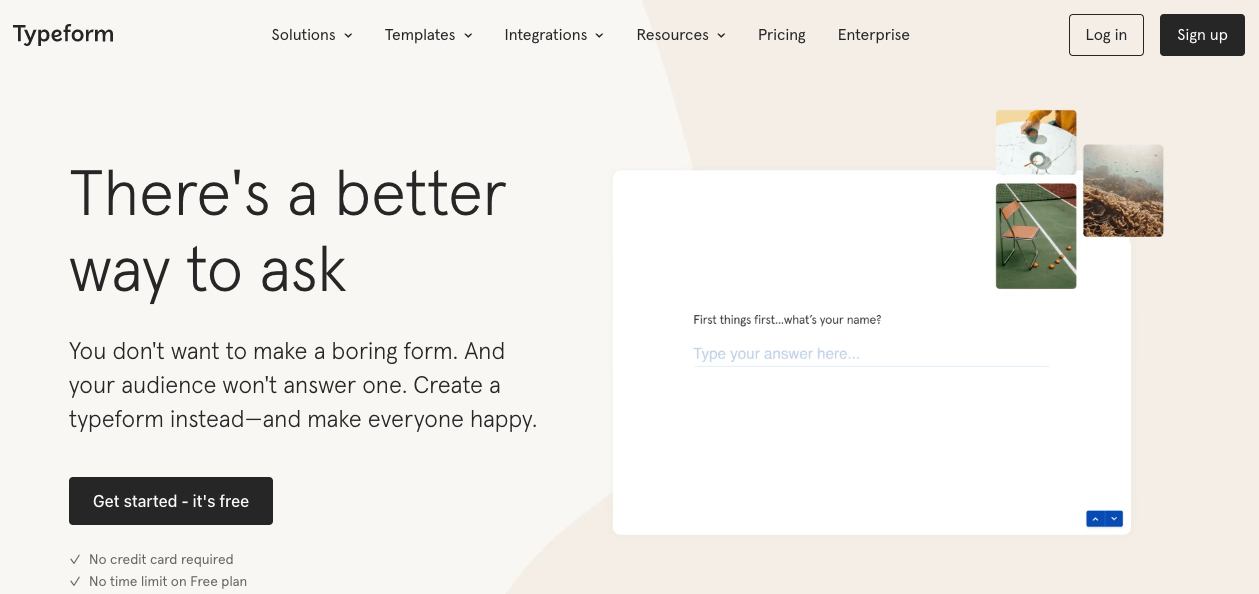 ---
Another one of the Formstack competitors is Typeform, a prevalent online form and survey tool known for its user-friendly interface.
Typeform has many sought-out features like built-in video and photo libraries, custom layouts, and numerous design themes.
It is a great option if you are looking for free alternatives to Formstack. The free version has unlimited questions and answers with options to export reports and access to pre-designed templates.
Choose for: Generating user engagement and analyzing customer preferences to create campaign strategies
Suitable for: Small to large businesses
Price: Starts from $25/month
Features:
Easy to set up and get started.
Comes with an in-built video and photo library to embed into surveys.
Instantly create pulse forms and surveys.
Seamless integration with HubSpot, Notion, Calendly, Slack, etc.
Lets you export data in different formats like PDF, CSV, etc.
Helps you create personalized user flows in forms with conditional branching and skip-logic.
Create forms compatible with different devices like desktops, tablets, and mobiles.
Offers pre-designed themes and templates.
Pros:
No limit for questions in surveys and forms
Conditional branching and skip logic
Can also create single-question forms
Cons:
Rigid form designs
Limited language customization
Case Study:
HubSpot leveraged TypeForm for creating strategic questionnaires to gauge different customer personas, which the platform had but didn't know of. It helped the company create exceptional customer experiences.
---
Formstack Alternative #8: Paperform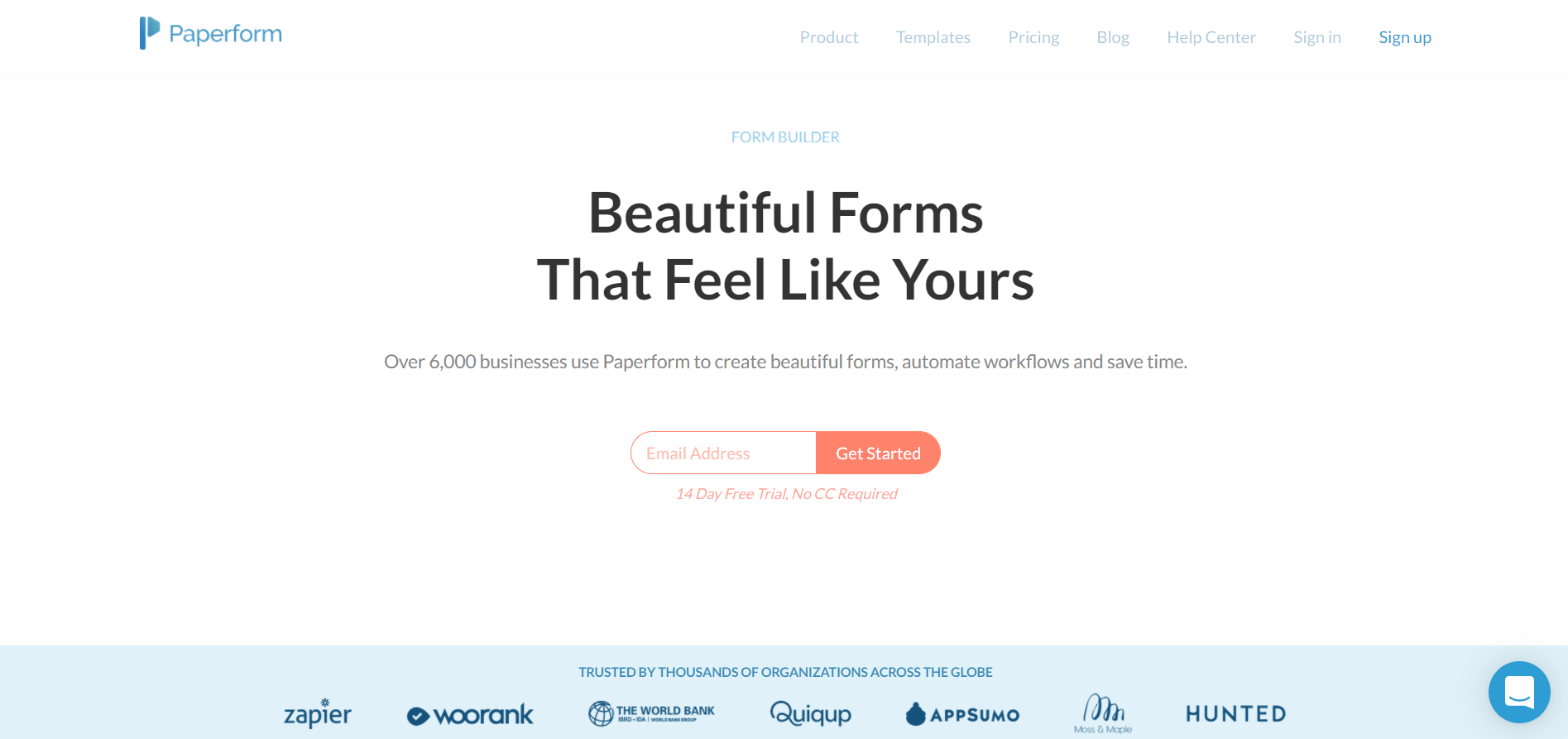 ---
Paperform has unique features and functionalities that make it suitable for our list of Formstack alternatives. The tool lets you create customized forms and deploy them on your website pages.
It offers quiz-style questions, among other types, to make your forms more engaging. An exciting thing about this tool is that it doesn't require a drag-and-drop interface; you can add images, question fields, videos, and text anywhere on the page.
Choose for: Template management, form deployment, in-line text editor
Suitable for: Small to mid-sized businesses
Price: Starts from $12.50/month
Features:
Offers a wide variety of form templates such as client onboarding, lead generation, and much more.
Supports collaboration tools, template management, and workflow automation.
Comes with an in-line WYSIWYG editor instead of a drag-and-drop editor.
Has incredible customization options and themes.
Supports advanced features such as scoring, data analysis, and calculation.
Supports integration with Slack, MailChimp, ActiveCampaign, Trello, etc.
Pros:
Active customer support
Easy to create professional-looking forms
Data security
Cons:
Lacks auto-calculation feature
Requires you to reload the page to start from the beginning
Case Study:
ReasonWhy uses different forms such as HR forms, subscription forms, feedback forms, etc., to create automated workflows and reduce efforts for administrative tasks.
With Paperform, the company can leverage the easy-to-use interface to collect customer feedback and create data-backed products.
---
Formstack Alternative #9: Cognito Forms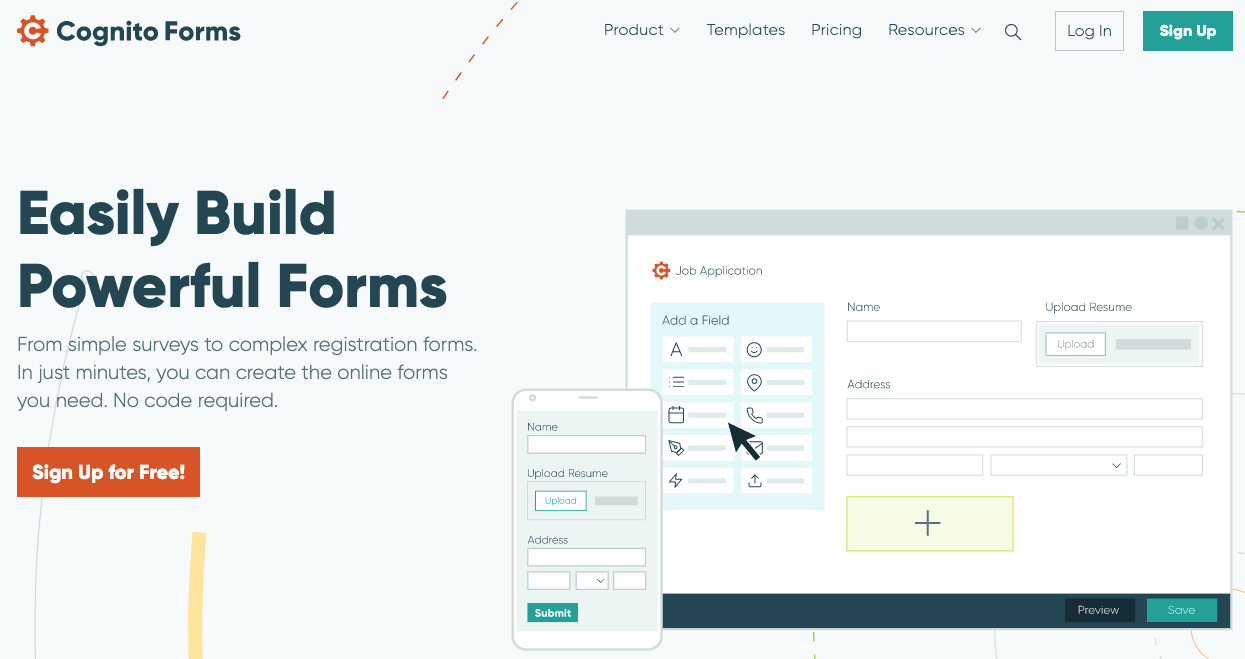 ---
Cognito Forms is an online form creator that offers affordable premium plans. It's an excellent choice for startups as it offers many useful features. That's precisely why we included this tool as one of the Formstack alternatives.
The tool offers advanced features to design complex forms despite its startup-friendly pricing. It offers forms for various purposes such as lead generation, employee appraisals, recruitment, and more. It also reduces the need for third-party tools for business management to an extent.
Choose for: Multi-language forms, industry-specific form templates
Suitable for: Small to large businesses
Price: Starts from $15/month
Features:
Offers 100+ form templates for multiple industries like Information Technologies, travel, and hospitality.
Also provides sub-categories such as marketing surveys, customer service, human resources, local government, education, sales, etc.
Comes with features like webhooks, calculations, CSS styling, and more.
Provides support for 20 languages: English, Dutch, Chinese, French, Spanish, Polish, Japanese, etc.
Offers data encryption and secure payments on the security front.
Has features like conditional logic, multi-page forms, electronic signature, and save-and-resume.
Comes with a set of reporting tools.
Works well with Microsoft Flow and offers seamless integration with other tools using Zapier.
Pros:
Free version for a single user
Highly customizable
Variety of formatting options
Supports HIPAA compliance
Cons:
No filter to search for specific layout templates
Free version only supports 500 form submissions and 100MB of storage
Tricky to add media to forms
Case Study:
Imagination Station is a STEM (science, technology, engineering, and math) educational institution that uses Cognito Forms to automate their form submissions, giveaways, memberships, etc.
---
Formstack Alternative #10: WPForms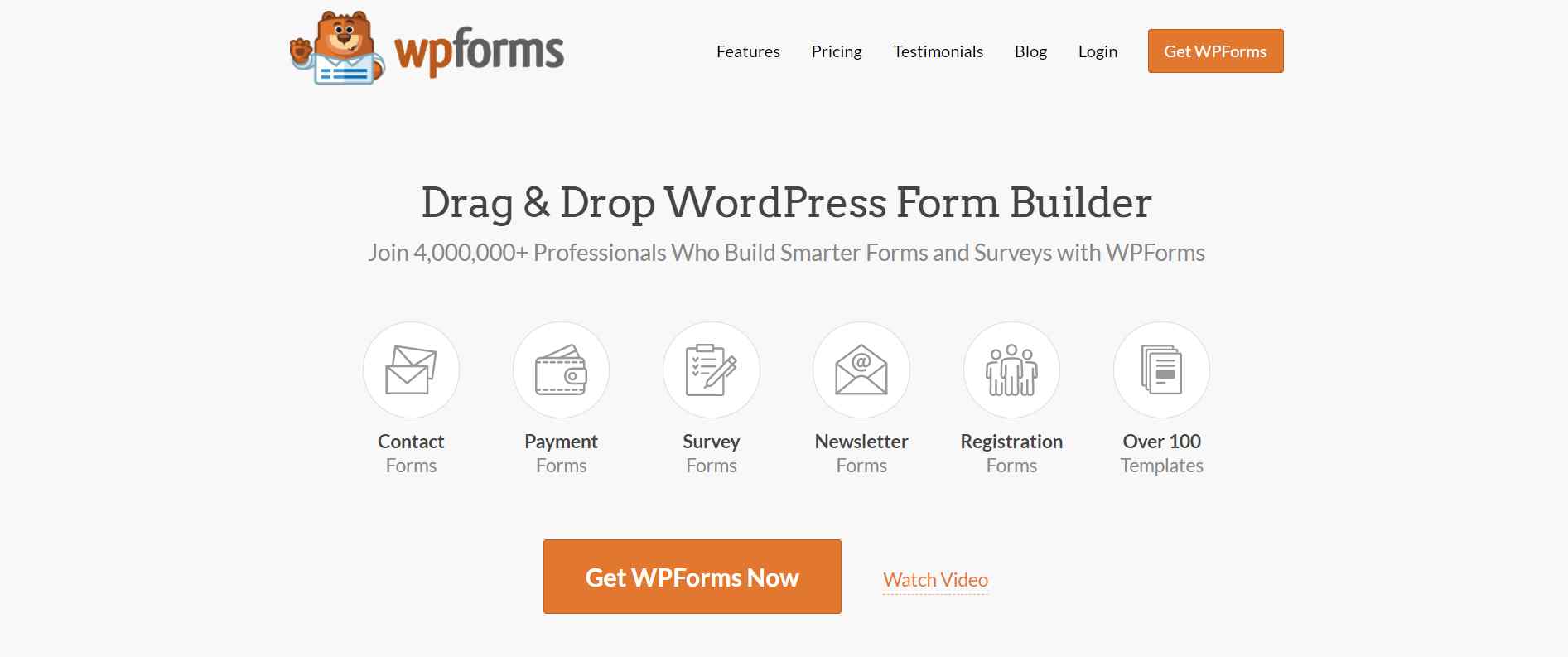 ---
While talking about alternatives to Formstack, we had to mention WPForms. Why? Because it has all the necessary features, you would want in a form builder at its price.
WPForms is the WordPress form builder and plugin. It comes with an online drag-and-drop editor that creates forms suitable for WordPress. It doesn't have a steep learning curve which makes it highly beginner-friendly.
Choose for: Form creation, data management
Suitable for: Small to large businesses
Price: Starts from $39.5/month
Features:
Comes with a drag-and-drop builder to create forms within minutes without coding.
Offers pre-built templates like contact form, request a quote form, billing/order form, donation form, newsletter signup form, etc.
Directly embed your form into the page using WordPress blocks.
Lets you create custom registration and login forms.
Helps you collect payment and donations through forms using PayPal, Stripe, Authorize.Net, and Standard.
Offers add-ons for salesforce, MailChimp, HubSpot, Campaign Monitor, etc.
Pros:
Option to preview the form before submission.
Offers multiple plugins
Sends email notifications for all responses
Cons:
Ads even in the paid version
Case Study:
KnottieHooks.com, a crochet-focused business, used WPForms to boost site traffic and increase its email subscribers.
Previously, the company used Google Forms, but they broke after the site migration. In the words of Faydra Kenning, CEO of the company:
"After replacing the forms I already had on my site, I started building more. I have started to expand the services I offer on my site now that I don't have to keep searching for plugin after plugin to match my needs."
---
Formstack Alternative #11: Wufoo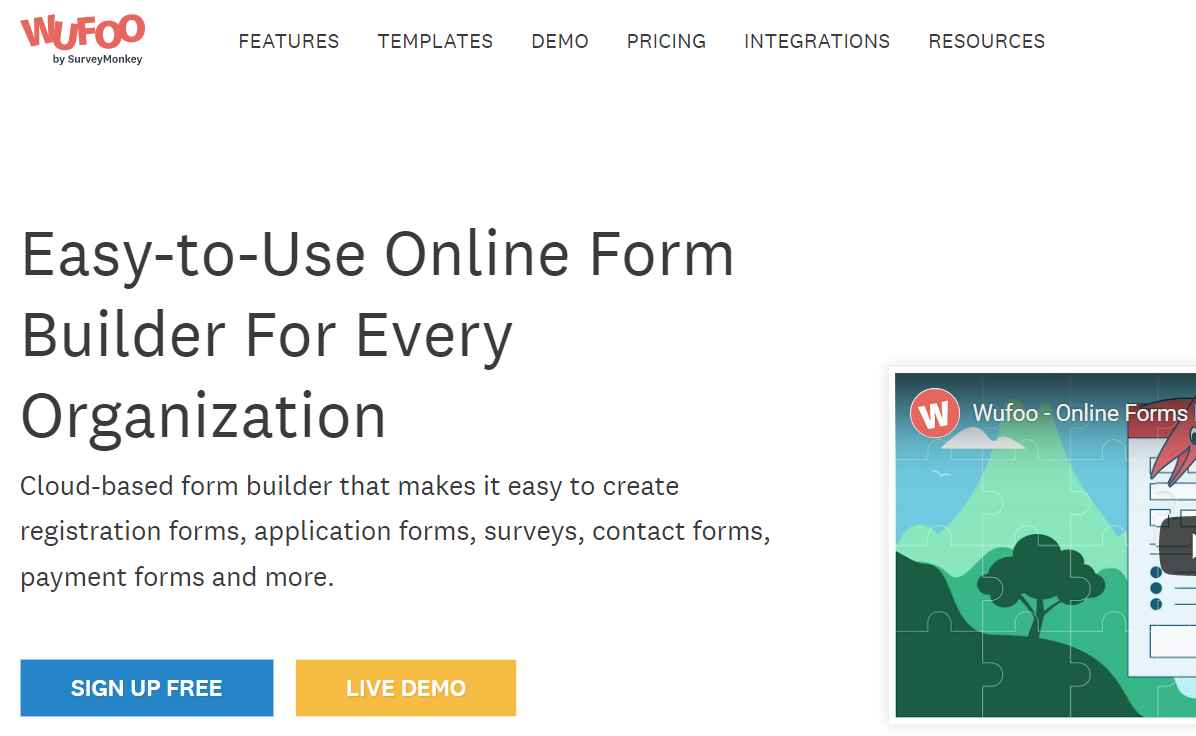 ---
Wufoo was acquired by SurveyMonkey back in 2011 and is hailed to be one of the best Formstack alternatives. The tool helps you create online forms and surveys to gather, manage, and save your customer and employee feedback data in one place. You can easily export the form data to spreadsheets for processing and generate custom reports to make better sense of the data.
Choose for: Automate data collection, payment collection, workflow automation
Suitable for: Small to large businesses
Price: Starts from $14.08/month
Features:
Helps you create online forms from scratch or choose from 400+ templates to customize them.
Lets you accept online payments through the forms for your online store.
Integrates with trusted payment providers.
Respondents can attach files to the forms (if allowed).
Send notifications for new responses.
Offers integrations with tools through Zapier.
Seamlessly transfers feedback data automatically to your CRM.
Offers branching logic for forms.
Pros:
Friendly customer support
256-Bit SSL Encryption
Smart CAPTCHA to avoid spam
Cons:
Forms are very plain
No built-in WYSIWYG editor
Case Study:
Savoir Faire Media is a graphic design and marketing boutique business that creates brand identities for different types of businesses.
The team leveraged Wufoo's free contact forms on their website to capture information from new sales leads that automatically get saved in their CRM.
---
Formstack Alternative #12: 123 Form Builder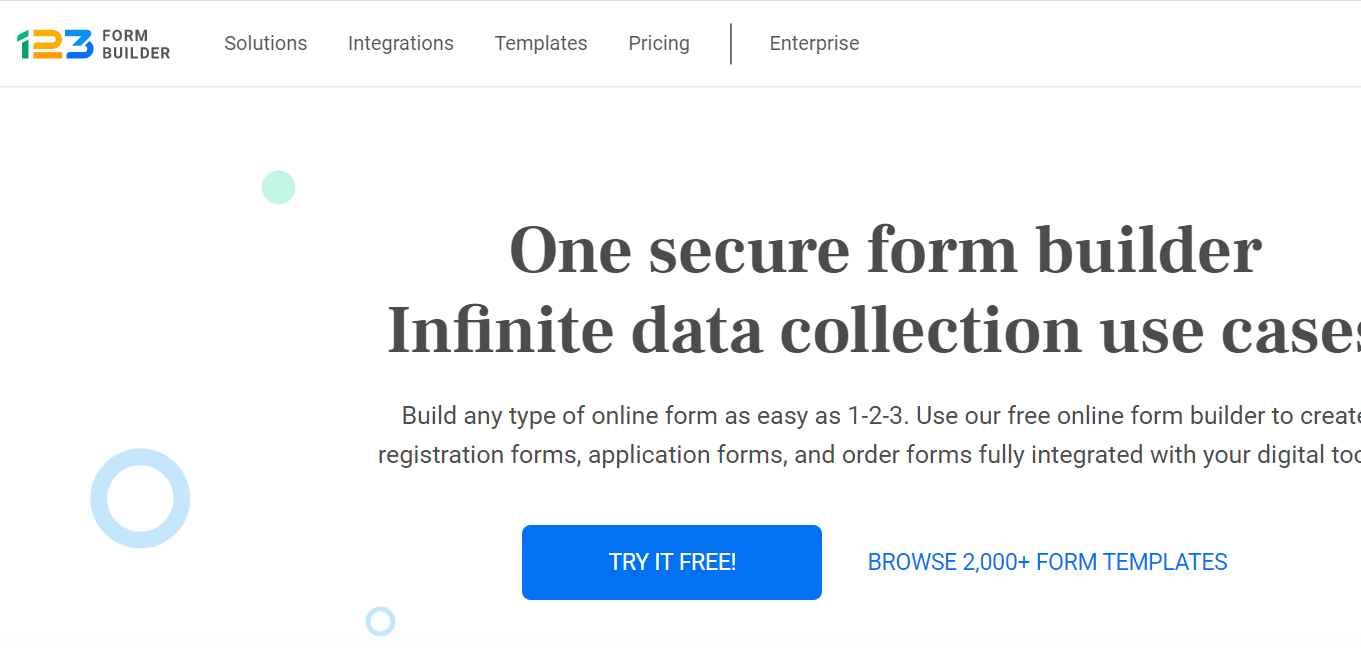 ---
Last but not least, in our Formstack alternatives list is 123 Form Builder. More than 2 million businesses and individuals have used this versatile creator tool. It is very simple to use and offers several features for an affordable price. It claims to offer forms that are fully integrated with your digital tools. Not only this, it offers a variety of forms based on use case and industries.
Choose for: Automate data collection, conditional branching logic, survey and poll management
Suitable for: Small to large businesses
Price: Starts from $19.99/month
Features:
Create unlimited forms using a single account.
Offers you as many as 20,000 submissions for its platinum plan.
Add unlimited fields on the forms.
Provides 2 GB of upload storage.
Add up to 10 sub-users to a single account.
Connects with several Wix websites.
Comes with filters to generate custom reports.
Integrates with Dropbox Forms, MailChimp, Unbounce, Zoho CRM, and Shopify.
Multi-language support for forms.
Supports features like digital signature, multi-channel distribution, offline response collection, and more.
Pros:
Free version is available
Supports unlimited API calls
Provides live chat support
Sends email notifications for every response submission
Unlimited number of form fields
Cons:
Can't choose multiple fields at once
Customer service is not very responsive
Case Study:
Fortitude Consulting Group offers services such as automating processes and digitizing operations to physicians, athletic clubs, personal trainers, etc. It uses 123 Form Builder to create forms that help the company in the patient processing and save time by two-thirds.
Why Should You Look for Formstack Alternatives?

These are some significant cons that may force businesses to consider the alternatives to Formstack. Some of them are:
Uncategorized Information Folders
Formstack doesn't support the feature to categorize information folders that store all forms. It makes things disorganized and renders the whole form creation and deployment process inefficient.
As a start-up, it may not be as bothersome, but for big organizations with large data sets and form responses, it leaves room for errors that can adversely impact the business.
Unstable WordPress Plugin
Although Formstack lets you embed its forms on WordPress through a widget, it's not always reliable. Customers have complained that the form often crashes while filling it.
It's great that Formstack offers many integrations with different tools; however, it's not as seamless as it should be.
With that covered, let's move on to the heart of our discussion – Best Formstack alternatives.
The Right Formstack Alternative Is One Decision Away
So now you have the complete list of the top Formstack alternatives for your business. We get that choosing the right tool is easier said than done.
While browsing through multiple tools, you can make a list of features or parameters essential to your business. You can then evaluate all the options based on which tool provides the needed features.
For instance, if you are looking for free Formstack alternatives, you can choose between Google Forms and Typeform.
On the other hand, if you require an alternative for Formstack offering several templates, a question library, in-depth reporting, and advanced targeting, you can consider Qualaroo.
It offers a number of customization and targeting options for pop-up surveys and forms. Plus, it also has a very intuitive dashboard.
So, that's it; all you need to do at this point is analyze your choices and pick the tool that feels most suited to your requirements and preferences.
Want insights that improve experience & conversions?
Capture customer feedback to improve customer experience & grow conversions.